Social Roost Brings Lavish Cocktails and Exceptional Chicken Dishes to DTSP
Social Roost Brings Lavish Cocktails and Exceptional Chicken Dishes to DTSP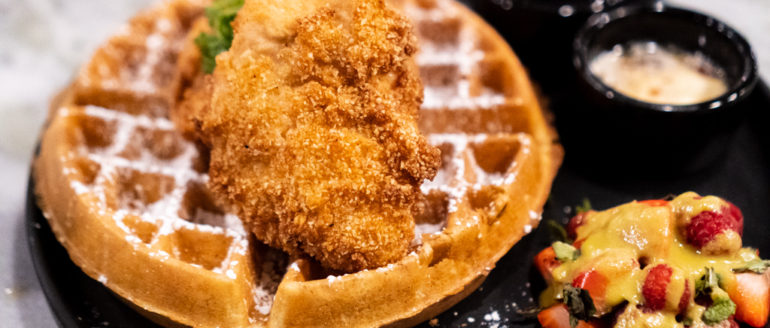 New year, new trendy restaurant to add to your St. Pete restaurant bucket list. Social Roost focuses on spectacular flavors, wow-worthy dishes and so much more. Located in the heart of downtown St. Pete, Social Roost is the new go-to spot with a gorgeous interior, passionate owners and a friendly staff, and of course, wonderful food. The dishes at Social Roost won my heart and stomach, along with the refreshing craft cocktails to quench my thirst. Social Roost's clever take on a chicken restaurant has us craving dishes beyond standard chicken tenders.
Here's why you can count on Social Roost for an impeccable dish while out in downtown St. Petersburg. The owners Rob Bowen and Jason Teabout, who both grew up in St Pete, have manifested an upscale, fine dining experience. Rob Bowen is an award winning interior designer who put his magic touch inside Social Roost with a stunning gold sparkly wall, a beautiful teal and gold artistic touch behind the bar, lovely seating all around, and there's still more to come. For me, I really appreciate the art behind the smaller details like the copper silverware, matte black plates, high end cocktail glasses, and more. You'll see in the photos below how thought out everything is. Plus, you'll feel fancy just by being there, trust me.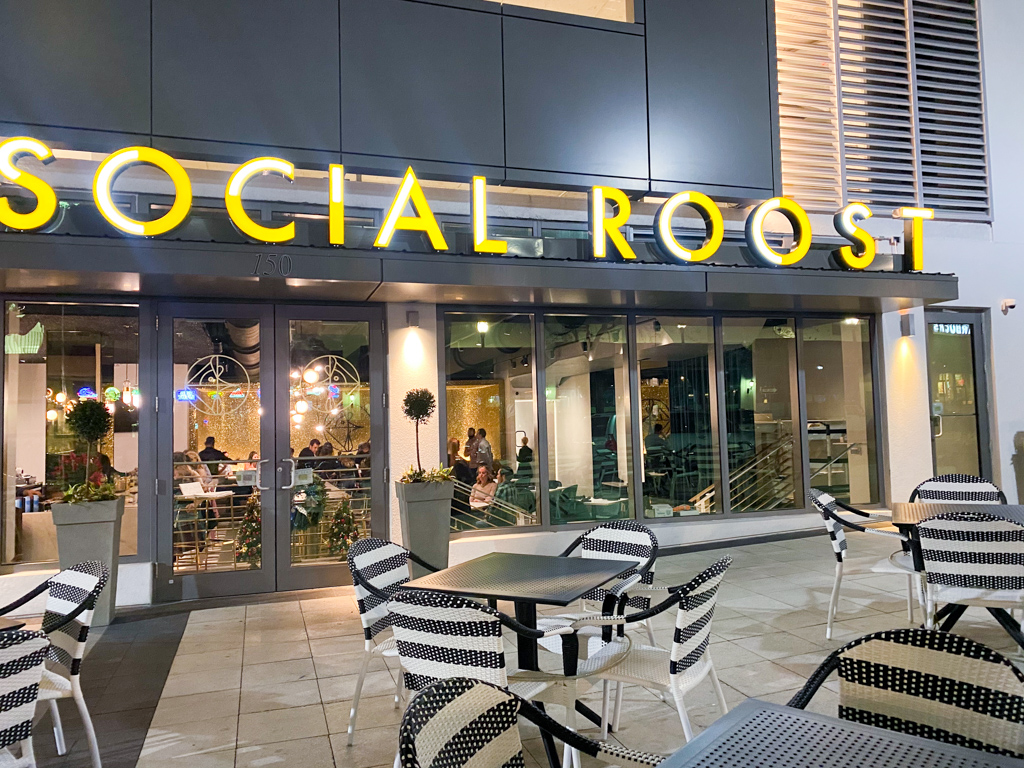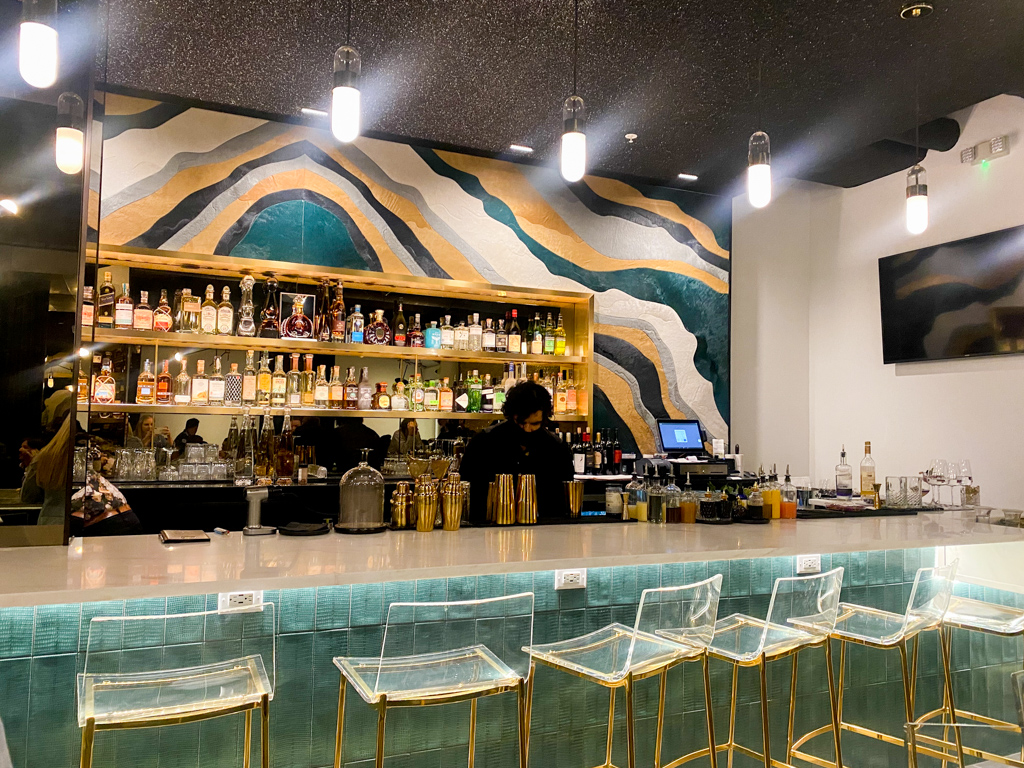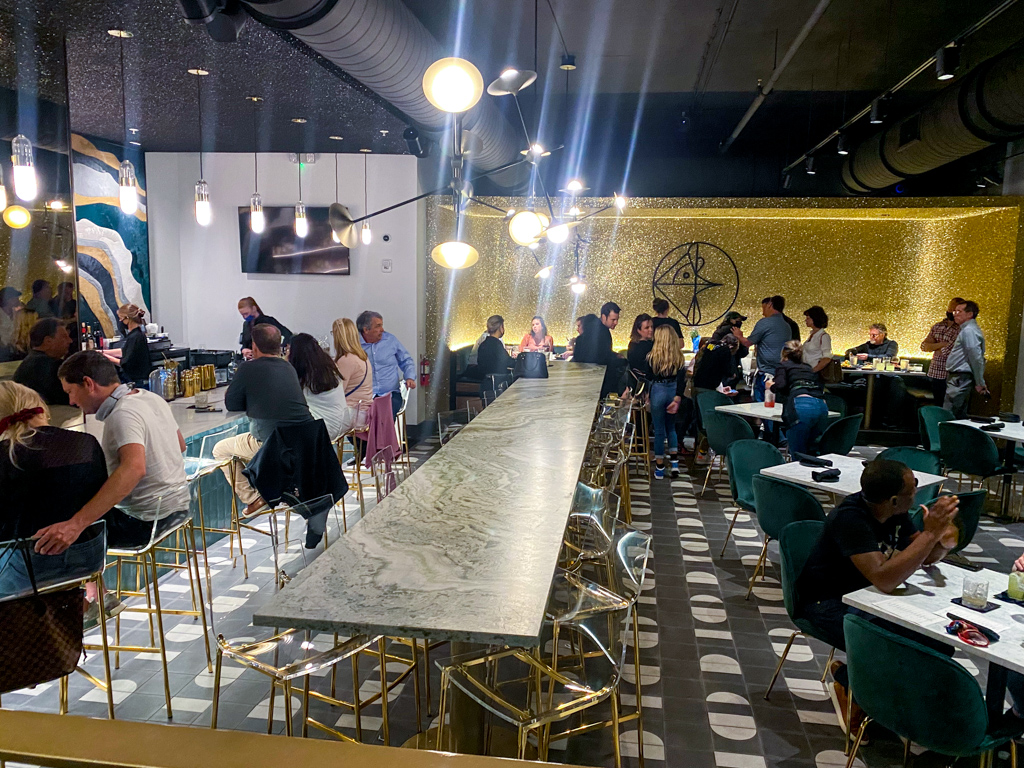 There's a lovely story about the people who make up Social Roost. During the interview process, Rob and Jason were describing their favorite chicken samosas from a restaurant called Spice Market in New York. It turns out the now Executive Chef, Susan Burdian, had cooked there but Rob and Jason did not know this. She has her own take on samosas, and with just one bite in, Rob and Jason knew she was the one to run their kitchen. The bar manager, Max Blowers, also ties into this small world story as he is also from New York and knew Chef Susan from there. He brings such awe-inspiring skills from the Big Apple to the Burg. After having at least five cocktails here, I still can't pick a favorite because they are all so incredible.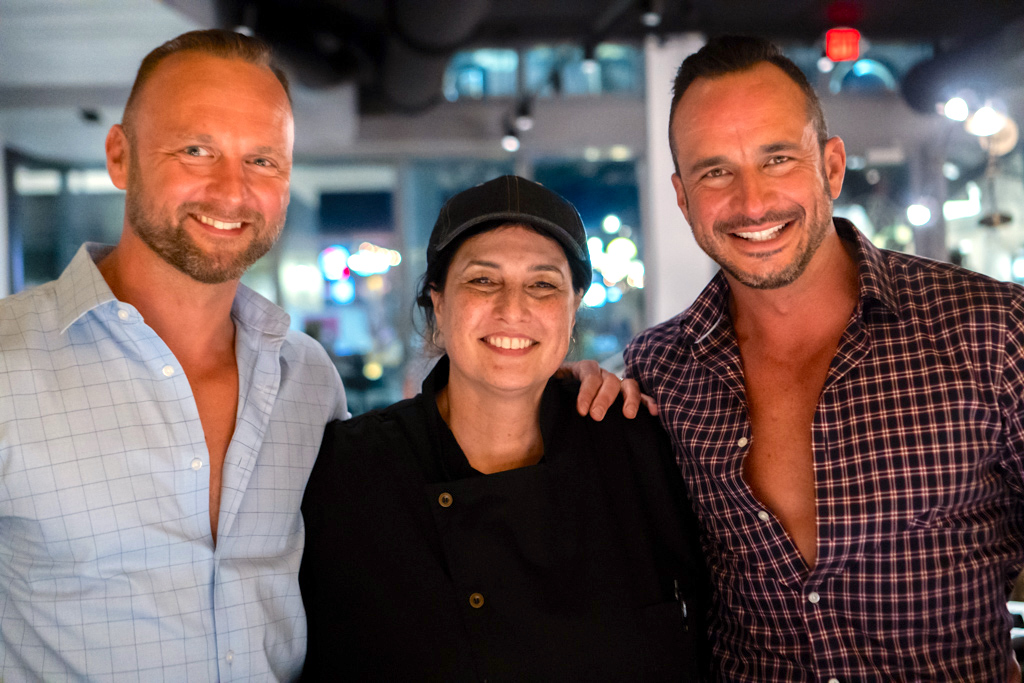 Social Roost offers a wide selection of chicken-focused dishes that will never bore the palate. Chicken, as we all know, can be prepared in many ways, and now you have an array of options from different cultures right at your fingertips from the incredible New York City Executive Chef, Susan. It's time to head into Social Roost for the best chicken dishes in St. Pete which will whisk you on a trip around the world with classic chicken and waffles to soulful chicken pot pie to awe inspiring chicken samosas to top rated chicken tagine and much more. But first, cocktails!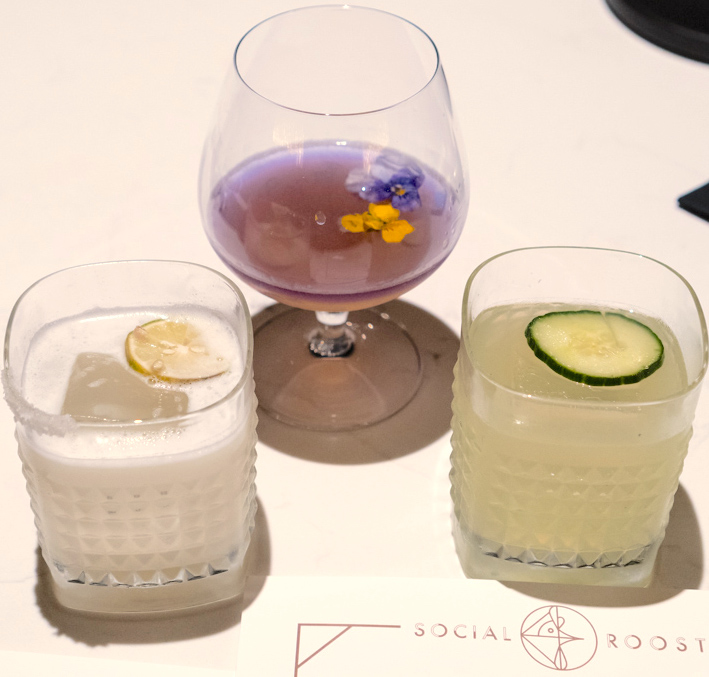 It's funny, I didn't realize, until right now as I'm writing this how the names of these drinks that Kevin, Lori and I ordered are quite relatable. I had the Reunion, which seeing Kevin and Lori for dinner was just that. Reunited at last. Kevin ordered the Social Butterfly and Lori had The Goddess, which are also very fitting for the two of them. Anyway, we all enjoyed our pours. This is a great place to rely on for a delicious cocktail in the heart of downtown St. Pete.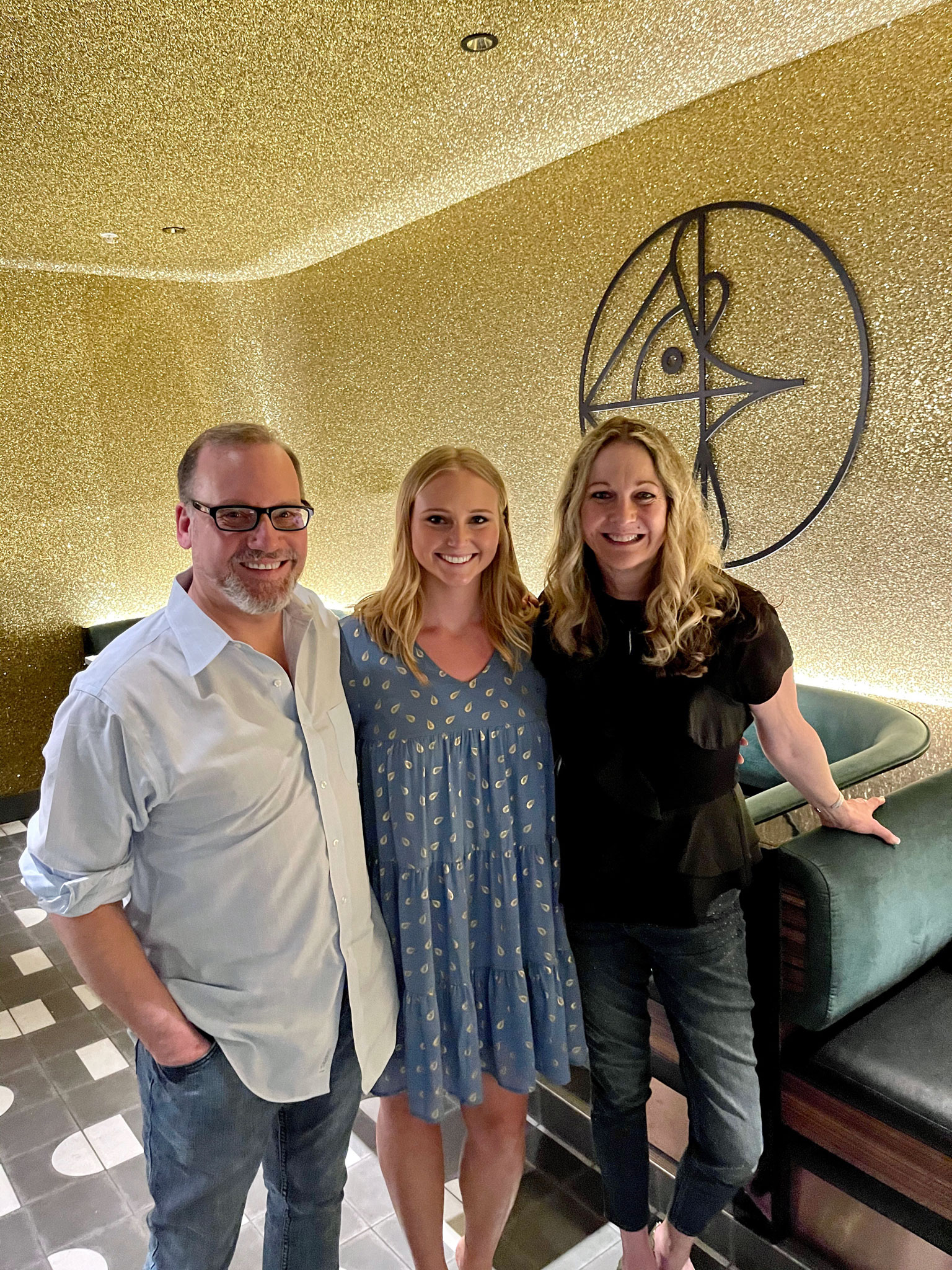 The Goddess, Lori's favorite, is a refreshing cocktail with 21 Seeds cucumber, jalapeño tequila, elderflower, cilantro, cucumber and basil. Lori ordered hers without cilantro and then Kevin ordered one with. They both loved this drink.
The Reunion is a smooth blend of Hiatus Blanco Tequila, Tippler's Florida Orange Cordial, vanilla, sea salt, and coconut foam. If you're looking for a smooth take on a margarita, this is it. The coconut foam was unique and a brilliant touch.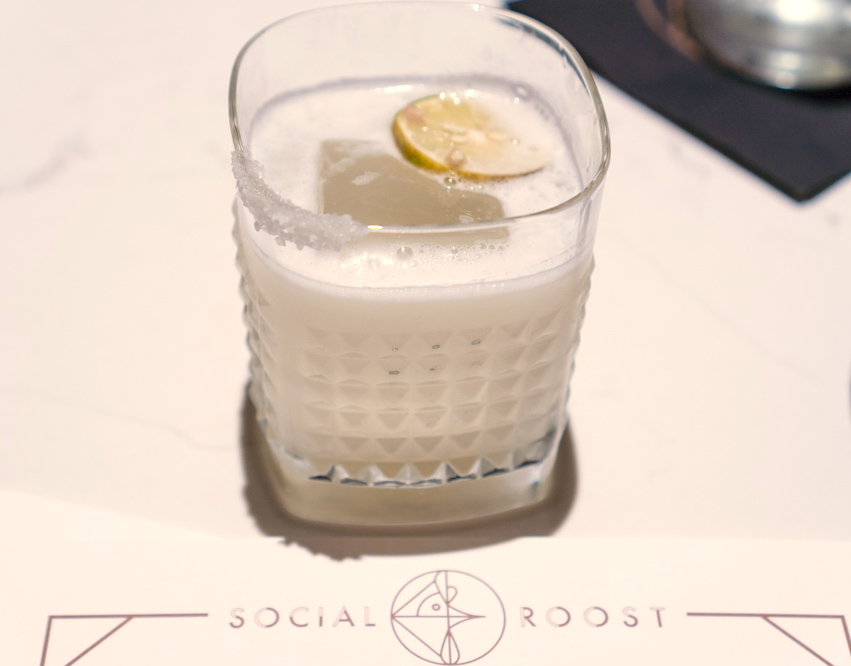 The Social Butterfly is a stunning cocktail. If you love an Instagram-worthy drink, definitely go for this one. Plus, it tastes good too. Kevin gravitates towards anything with Gin, so this was just right for him with Empress Gin, Chinola passion fruit, lemon, and orange blossom.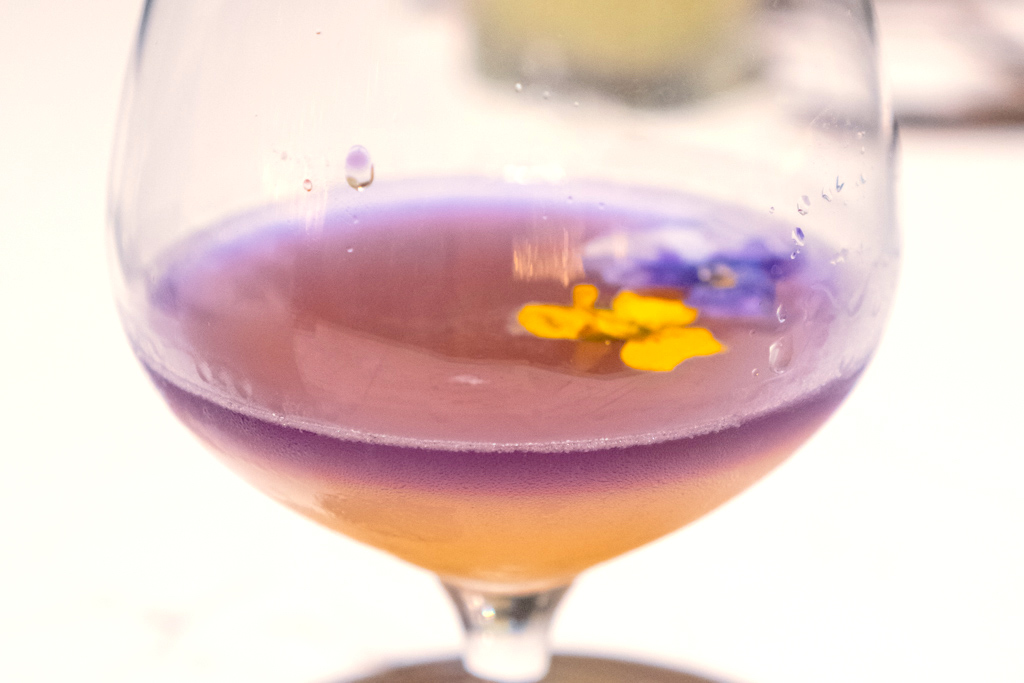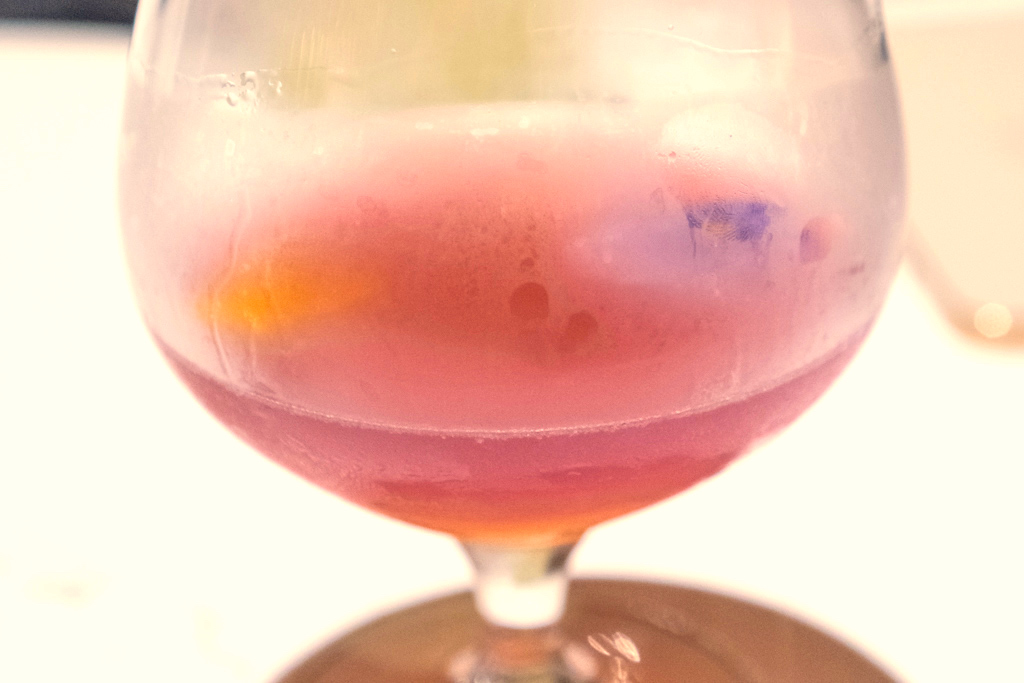 Aunt Karen had the Fashionably Late cocktail, which was also fitting for the night, as she arrived about five minutes late. This light take on an Old Fashioned was way smooth with a citrus tanginess to it with Old St. Pete Sunshine Whiskey, smoked maple syrup and orange.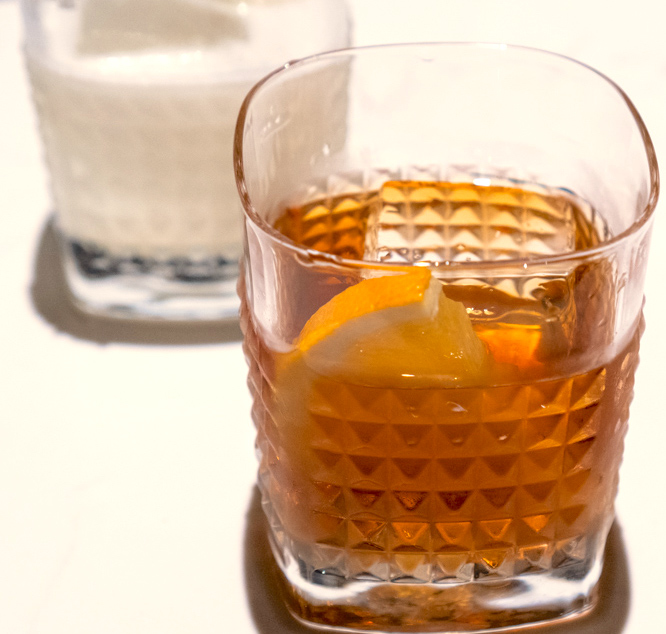 The Jet Setter was recommenced by our server Brenna. It's a tasty mix of Coconut Cartel Aged Rum, spiced pineapple shrub, Nonino Amaro, cinnamon and lime. This was a beautifully balanced cocktail of sweet and savory which provided an overall pleasant aromatic experience.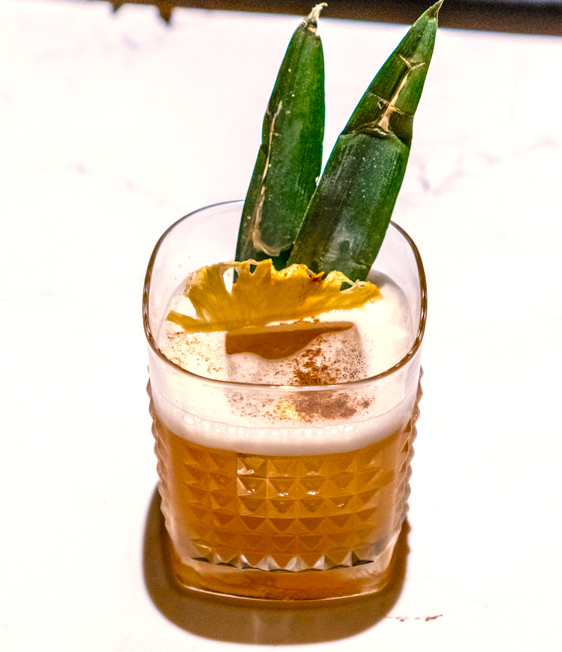 Another pretty cocktail, the Labor of Love ordered by Kevin is a combination of Empress Gin, Giffard Pamplemousse Rose, Lillet Blanc, Campari, pink grapefruit, and St. George Absinthe.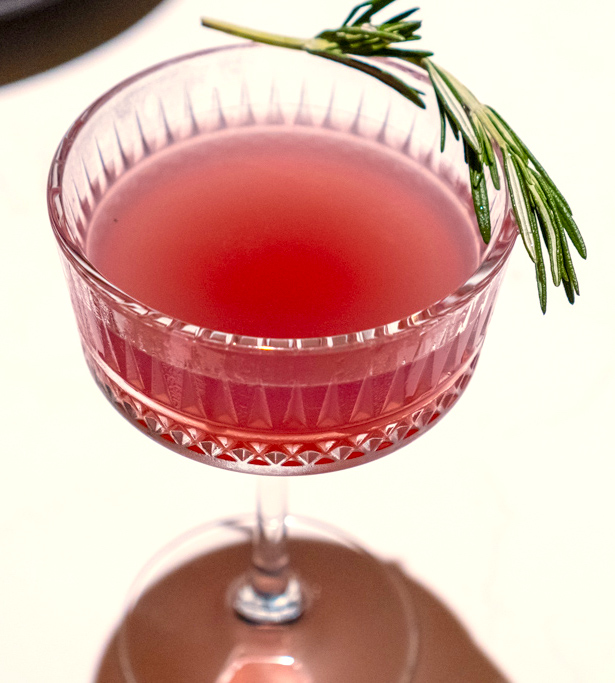 A glass of rosé with a twist, The Socialite, is Corazon Reposado, sparkling Rosé, hibiscus, and burlesque bitters. There is an actual hibiscus flower that is relaxing at the bottom of the glass. My friend Taylor enjoyed this one and she said it was just the right bubbly fixing she needed for her day.
I saved the best for last. My favorite cocktail on the menu is the Soiree with Tito's Vodka, Creme de Mure, blackberry, mint and lime. This cocktail is scary good and I could probably drink it all night. I loved the blackberry sweetness and lime sourness.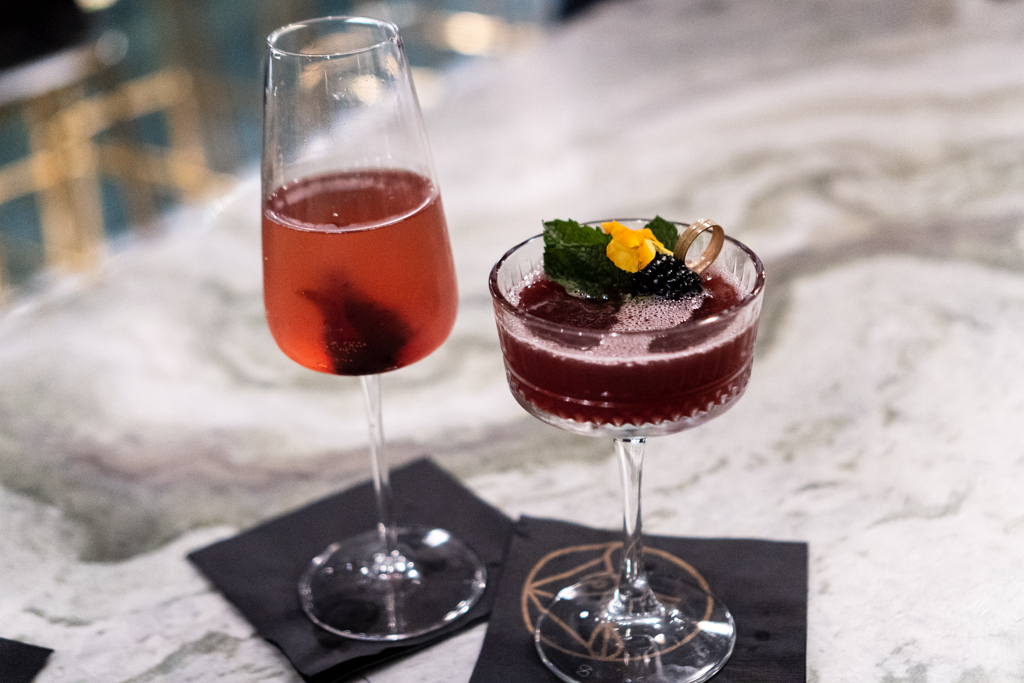 By now you should have a major buzz, so let's dive right into the food.
Hot, crispy and delicious. The famous Chicken Samosas offers an immaculate bite. It should be required to order these as they are the most fabulous samosas I've ever had. Trust us, you won't be able to resist dipping each bite into the siamese ginger sauce and the lime-yogurt dip. We quickly learned that Chef Susan's Chicken Samosas live up to their hype from Rob and Jason with the warm and tasteful chicken, spice and pea filing and delightfully crunchy pastry.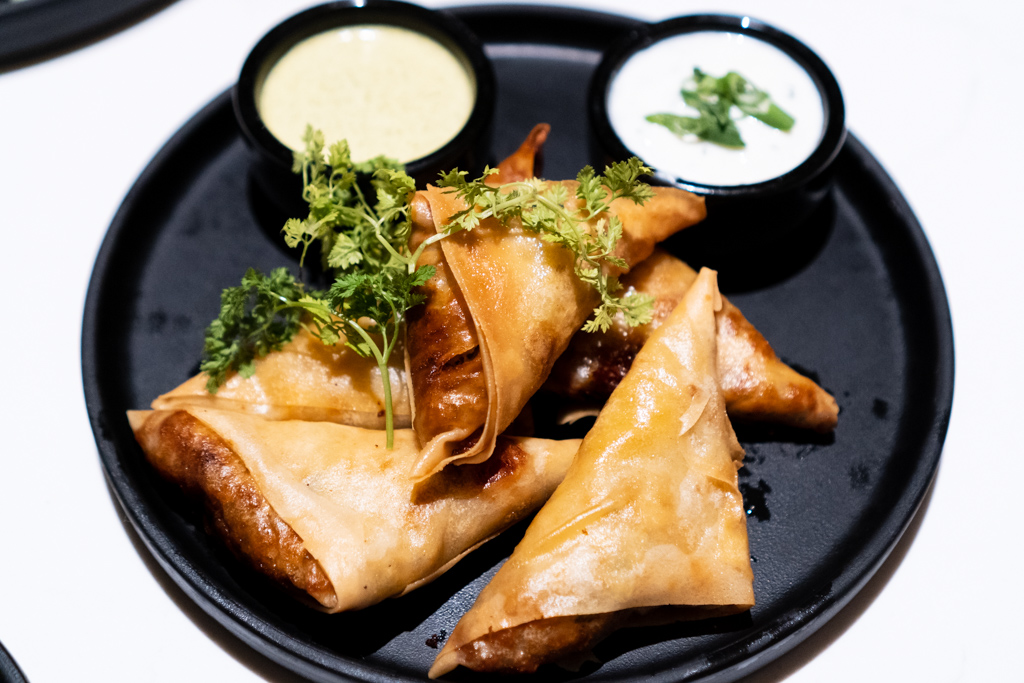 The chicken isn't the only thing Social Roost is doing right. The Wild Mushroom Salad is another staple that I highly recommend ordering.
The Wild Mushroom Salad has a great story to it. When Rob and Jason sat down to try the menu items, at first glance and without hesitation, Rob said no to the Wild Mushroom Salad. Chef Susan still made it and after Rob tried it, not knowing what it was, he expressed excitement and love for it and completely changed his mind. After hearing this, we had to order it to see what the enthusiasm was all about. The Wild Mushroom Salad is a mix of garden rocket, truffle scented portobello mousse, shiitake, crimini, maitake, pearl onion and a red wine balsamic reduction. As a veggie lover myself, this dish was insanely delicious with just the right amount of sauce and seasoning. The variety of vegetables was exciting. Our entire table raved about this dish.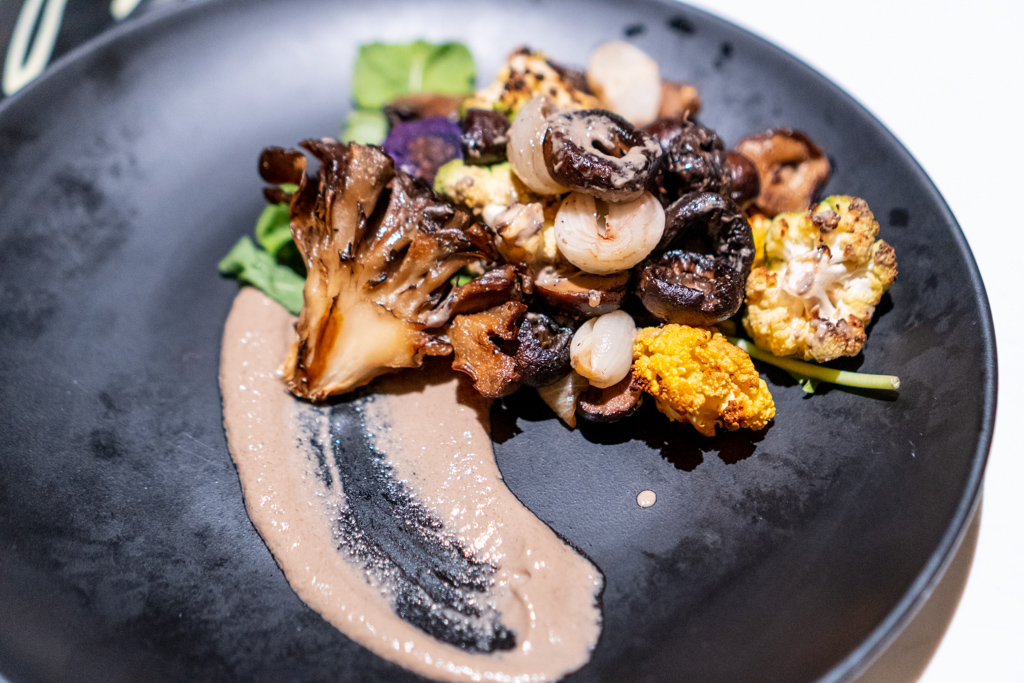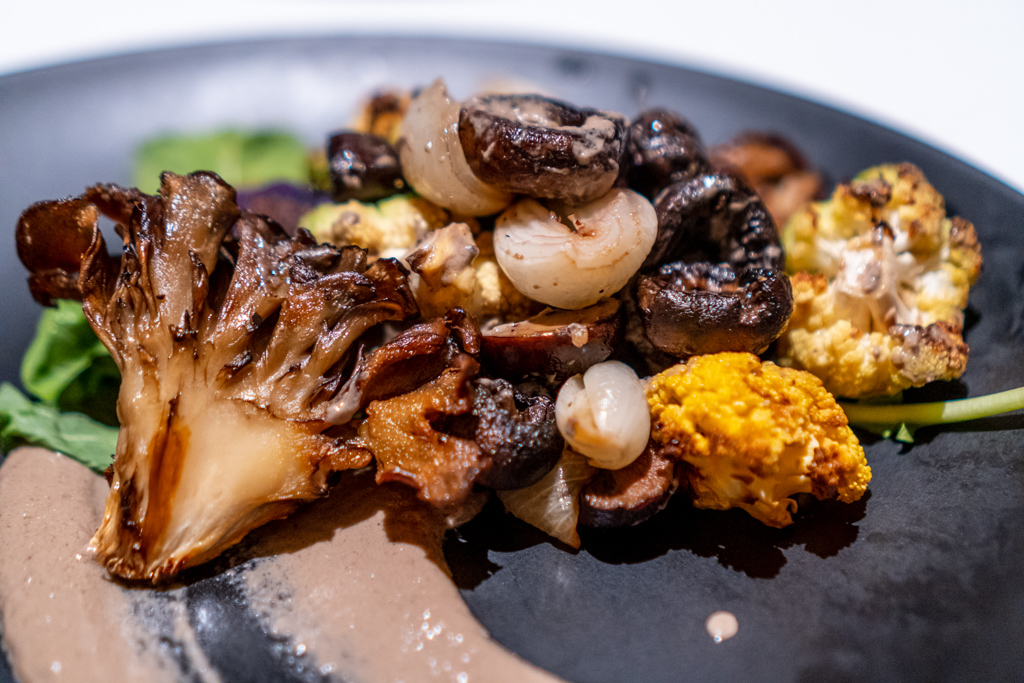 Another great starter on the menu that is more on the light side is the Fresh Ricotta on Toast. Sous Chef, Billy Cargile, makes the ricotta fresh in-house and as our server told us, is very proud of his creation. We could taste why. Served with honeycomb, elderflower strawberries and toast, this dish was simple yet delicious and perfect for holding us over until the Chicken and Waffles arrived. Check out the beautiful silverware in the photo below too. It's such a lovely touch.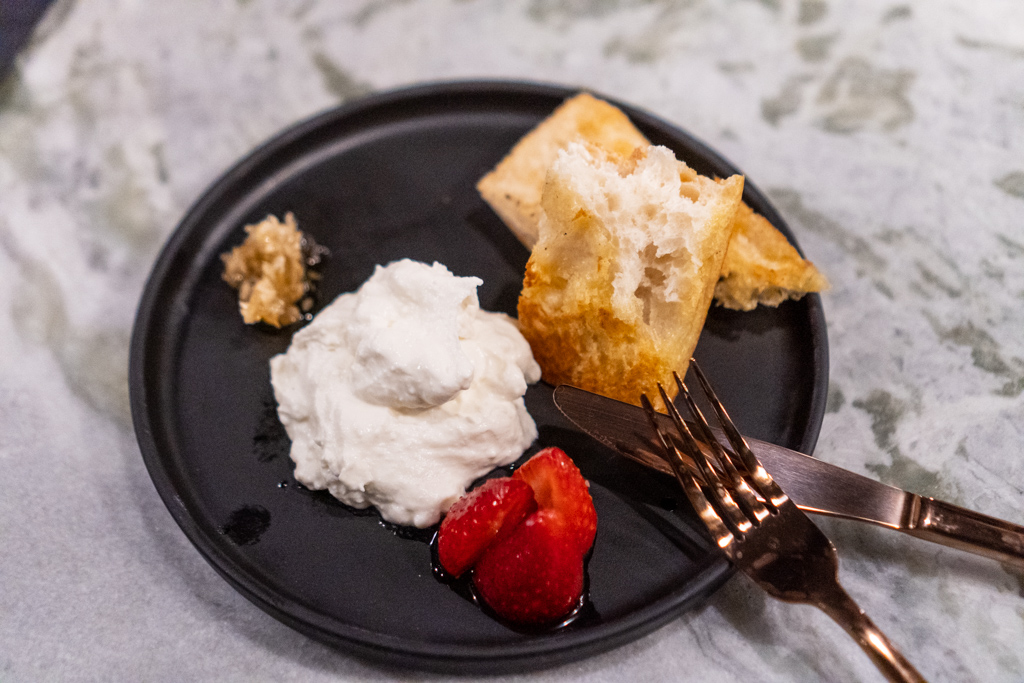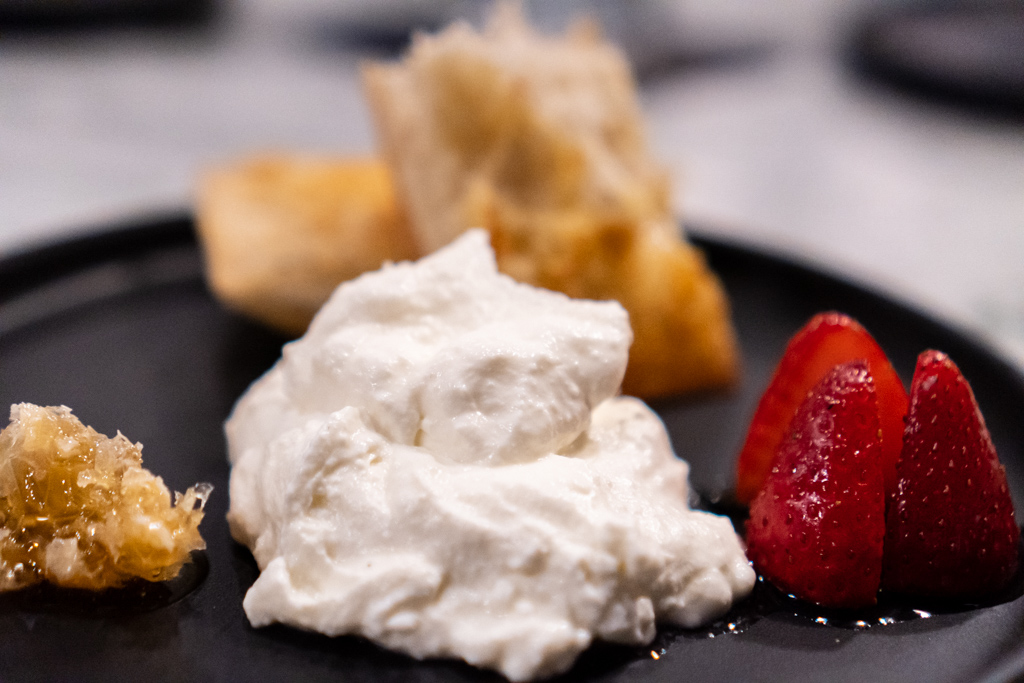 I saw a photo of the Ahi Tuna Poke appetizer on Instagram and couldn't resist ordering it. The plating of this dish is stunning and totally Insta-worthy. The Ahi Tuna Poke comes with sushi rice, honey wasabi aioli, tobiko, avocado cucumber radish salad, chili vinaigrette, and fresh ahi tuna. The poke bowl era is upon us and Social Roost takes a simple approach to theirs. Each ingredient was very refreshing. We split this amongst four people and there was plenty of fresh ahi tuna for everyone.
Honestly, I'd order the scrumptious Chicken Samosas and Wild Mushroom Salad before ordering the Ahi Tuna Poke again only because those two plates were more exotic and unique.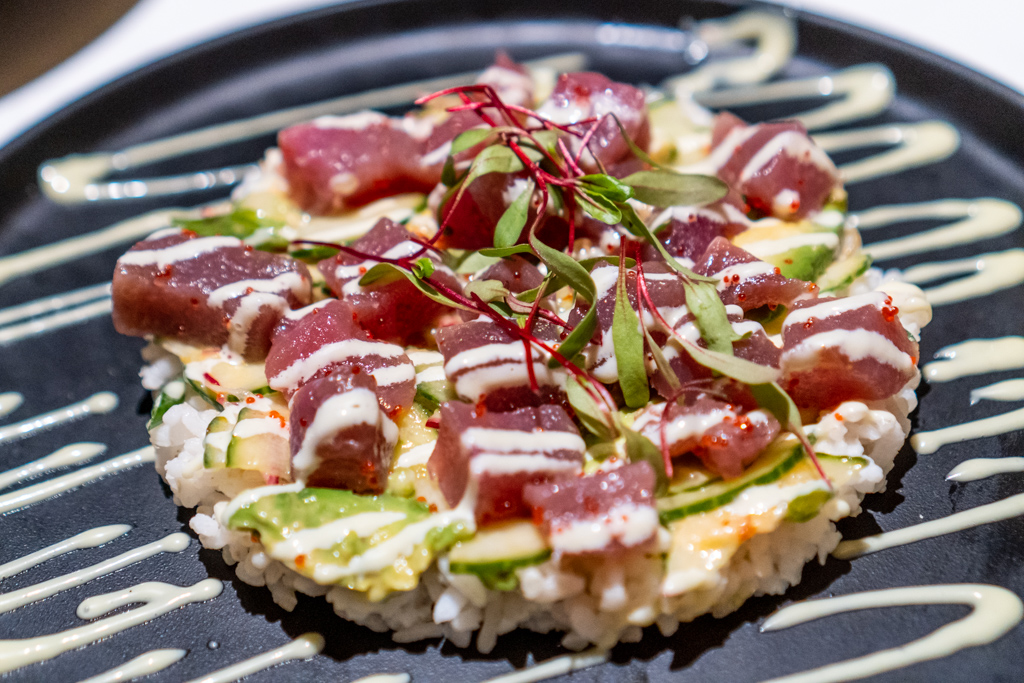 I tried another non-chicken dish, the Scallops, and was pleasantly surprised. The scallops were perfectly cooked, seared on both sides, while the inside was delicate and delicious. The peas and bacon added a salty mix to the dish and we loved it. I would recommend this dish if you're not in the mood for chicken, it's excellent.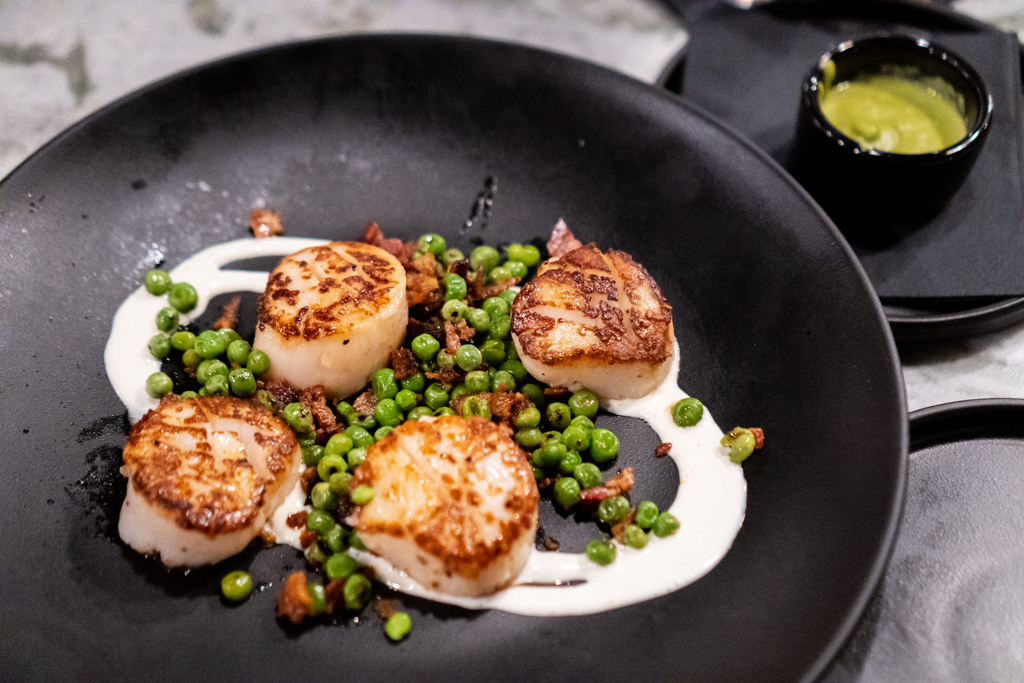 A southern speciality, the Chicken & Waffles from Social Roost, easily receives a 5-star rating from me. This boneless fried chicken was massive, tender, and entirely mouthwatering. The waffle was perfect and never got soggy like I've experienced elsewhere. The maple syrup is smoked in-house and has a unique, rustic taste to it that gives this meal an extra bonus point. The small fruit salad on the side was sweet and tangy.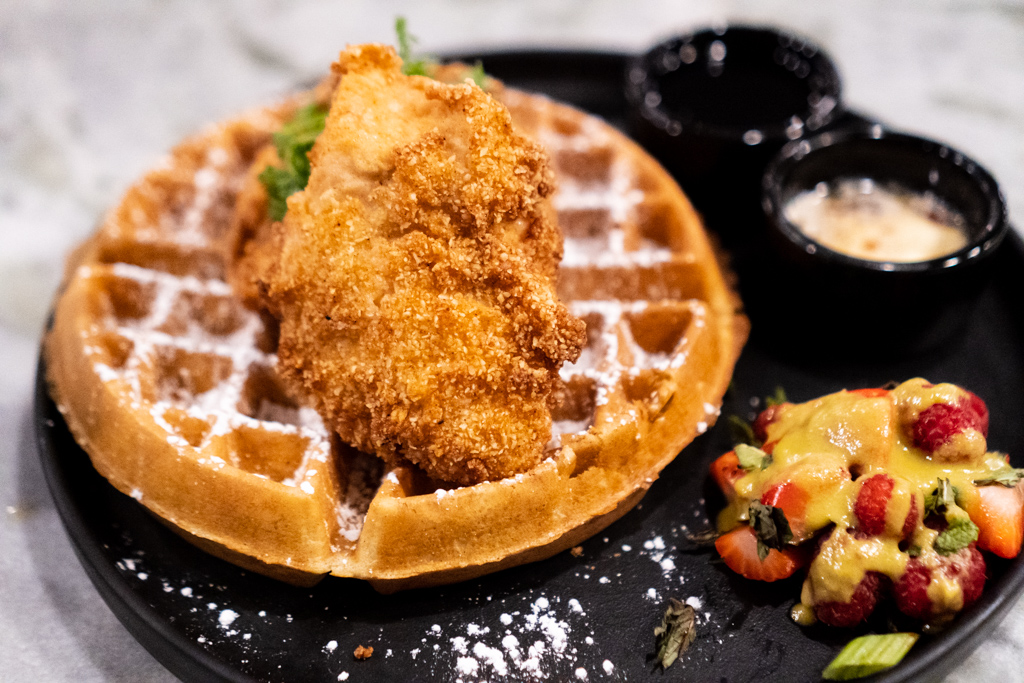 I think it is an indulgence that everyone must experience, but seriously, the Chicken & Waffles is by far a stand out dish on this menu.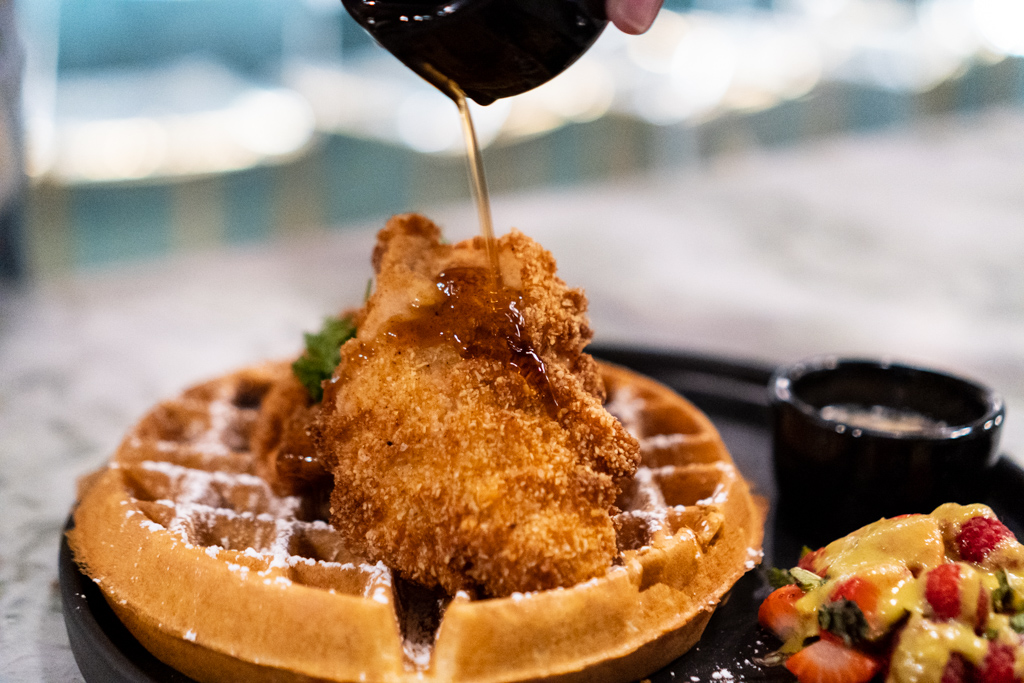 Another dish I will take a moment to spotlight is the Buttermilk Fried Chicken Sandwich. Another fried chicken brilliance, but in sandwich form. The Buttermilk Fried Chicken Sandwich is topped with coleslaw, a few snappy Chill Dill OG Pickles, all on a Brioche Bun. The fries are crispy and hand-cut in house, they definitely needed some salt, but you could tell how fresh they were. This is a safe-call option where you know it will taste amazing each time.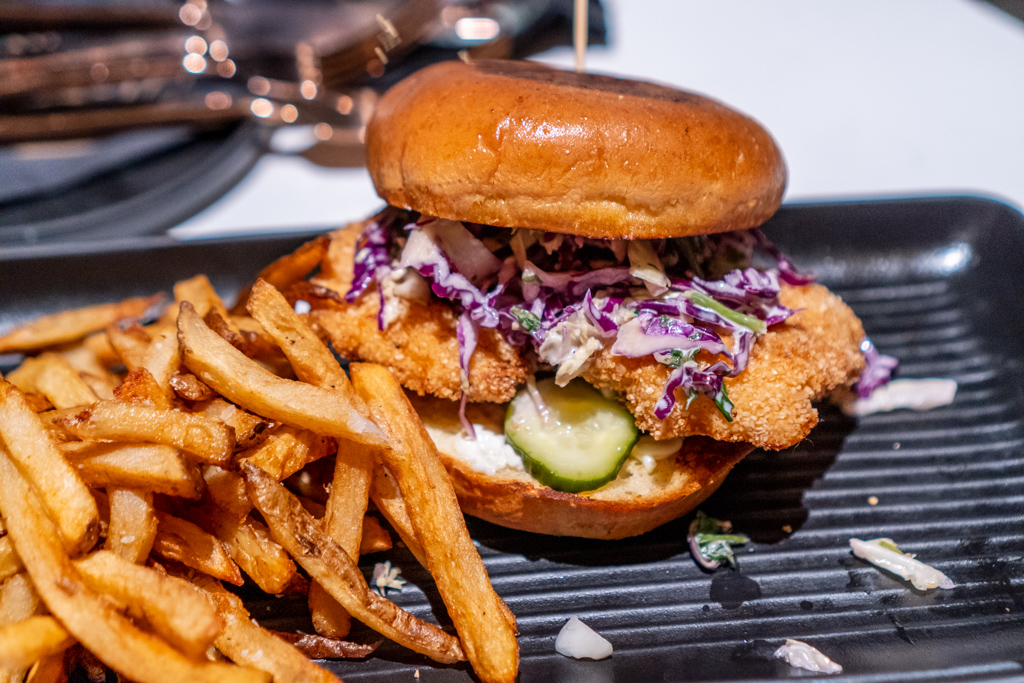 Looking for something soupy to warm you up? The Chicken Khao Soi is a concoction made up of coconut curry broth, egg noodles, rapini, enoki mushrooms, sliced red onion, scallion, and cilantro. Kevin ordered this Southeast Asian inspired dish and said it was aromatic, not as spicy as you might imagine (he definitely prefers more spicy, but for those that don't) and that the flavors are slightly exotic, in a good way.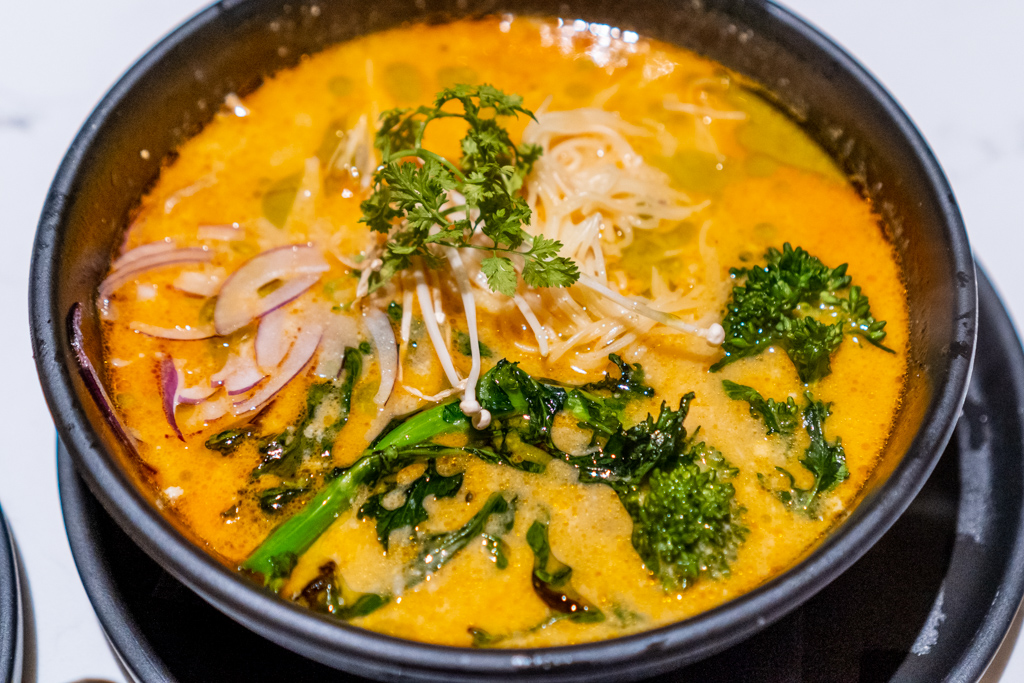 The Chicken Tagine is a burst of African flavors dancing from sweet to tangy. This North African stew has saffron, orange, apricot, spices, and a dollop of lime-mint yogurt. Lori enjoyed this one and had leftovers to take home. The zesty flavors made this meal one to remember.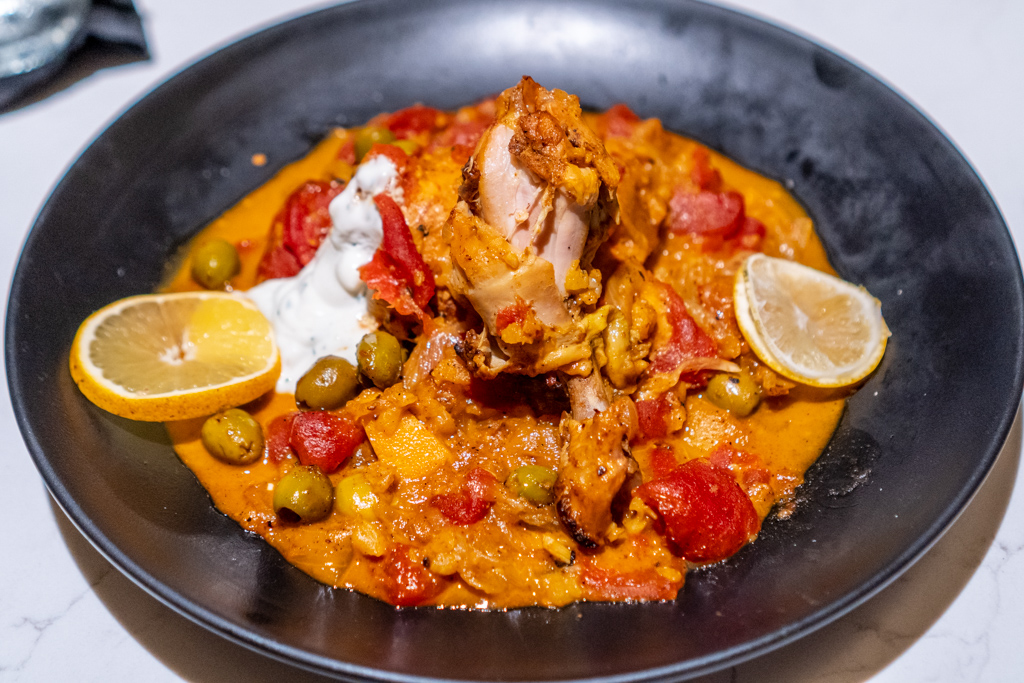 The Chicken Pot Pie is an eye-rolling dish made of a creamy chicken and vegetable filling and an irresistibly golden puff pastry crust. The Chicken Pot Pie at Social Roost is the best I have ever had. The generous portion is enough to feed two people, or have leftovers. The comfort and overall flavors from this familiar dish is outstanding, not to mention its stunning presentation. I would absolutely recommend this dish to everyone that visits.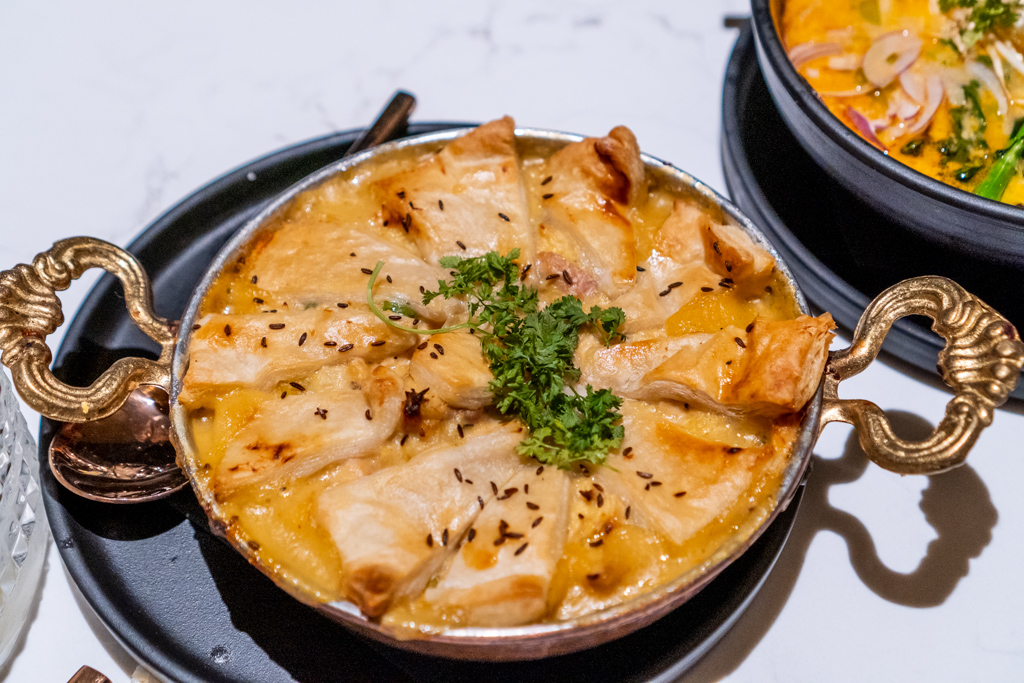 Winner, winner, chicken dinner! Social Roost is the flocking best and you can't go wrong with anything on their menu. From the lavish cocktails to hearty chicken dishes, and everything in between, this restaurant and bar does it all in exceptional fashion.
Social Roost is a world-class fine dining establishment in St. Petersburg.
DISCLAIMER: Kevin, Lori, Abby, Haley, & Lindsey do not dine anonymously (this would be impossible) and we sometimes get free food (though never expected). However, we dine with the locals and we support our own. You will always get honesty in a respectful manner.

PLEASE NOTE: Reviews reflect a certain moment in time. Some restaurants stay extremely consistent over many years, and some change for the better or worse. Some things that may change are: chefs, recipes, food suppliers, ingredients, philosophies, ownership, etc. We always hope that you have the same good, or great experience we had.
More Foodies News, Reviews & Recipes