Superstitious or Not, Everybody Needs Good Fortune in Their Life
Superstitious or Not, Everybody Needs Good Fortune in Their Life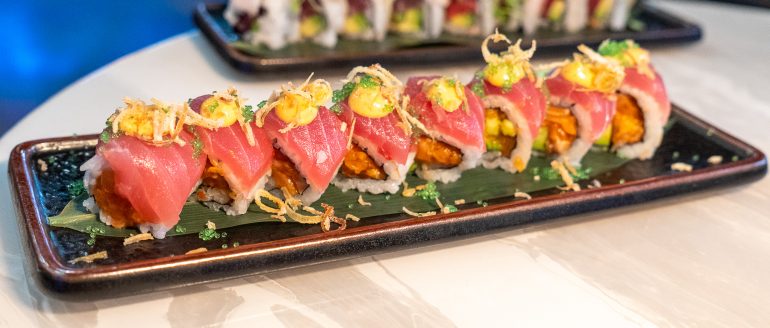 Superstitious or not, everybody needs good fortune in their life and now you can get it with a side of dumplings, boozy cocktails, and a major vibe in downtown St. Pete. Good Fortune is situated where Ichicoro Ane used to be, right under Station House. The menu is Asian fusion with small plates, bowls, sushi rolls, nigiri and sashimi, desserts, and a heavy drink menu with cocktails, Japanese Whisky, sake, shochu, beer and wine.
Once inside, you'll find a vibey bar, a sushi bar, a lounge, a restaurant and a private karaoke room. Around the rooms you will see kitschy fun nods to Tokyo with neon signs, beautiful greenery and flowers, extraordinary murals, and even more to see the longer you look around. It's so much more than just going for dinner and drinks, at Good Fortune, it's an experience that all of your senses will encounter. Scroll to the bottom of the review for pretty much a whole photo album of interior shots because I was blown away by the attention to detail and I really just love a space with a lot of character. I felt like a tourist snapping photos left and right. You'll understand why once you visit.
This is by far my favorite of Hunger Thirst Group's creations. Stephen Schrutt is the mastermind behind The Avenue, Park & Rec, No Vacancy and Dirty Laundry. Though they're all very different concepts, one thing these all have in common is brilliance. Good Fortune stands out not only by its insane amazing energies and decor, but also by the extraordinary Asian and sushi menu and the karaoke room of course.
Stephen, Chef Tim, Chef Chris and our server, Mariah, made our experience truly unique and one to remember. Kevin, Lori and I had a wonderful time at Good Fortune and we left raving about the food and atmosphere. 
From fiery small plates to fresh sushi and so much more, the dishes that filled our table brought delicious smells and flavors that I can't wait to share with you all. They have a Late Night food menu too and starting this Thursday (August 25, 2022), they'll be open for lunch every day.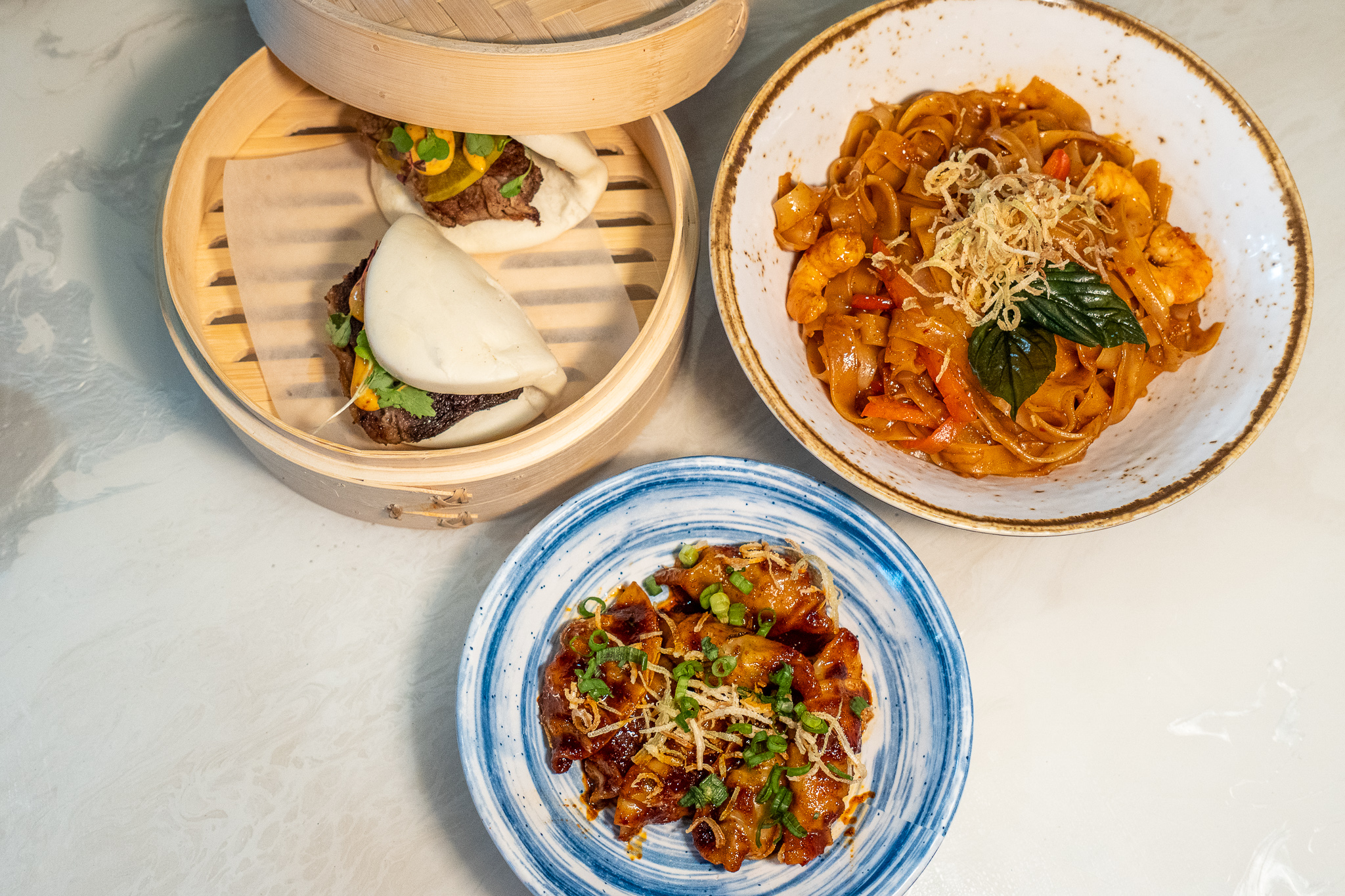 Starting with the best of the best: Szechuan Dumplings. The dumplings have been mastered, after Chef mentioned his trial and error, to perfection. Each dumpling is meticulously made, resulting in lovely soft-skinned pouches filled with pork and chive, and sauced in a house-made chili crisp, then garnished with scallions, and crispy fried leeks. From a spice level, at first, you're like oooh spicy, but then it cools off, so it's the perfect heat that you're able to handle and reach for more. If there's one thing you take away from this food review, it's to order the dumplings and Kevin and Lori will totally back me up on this statement.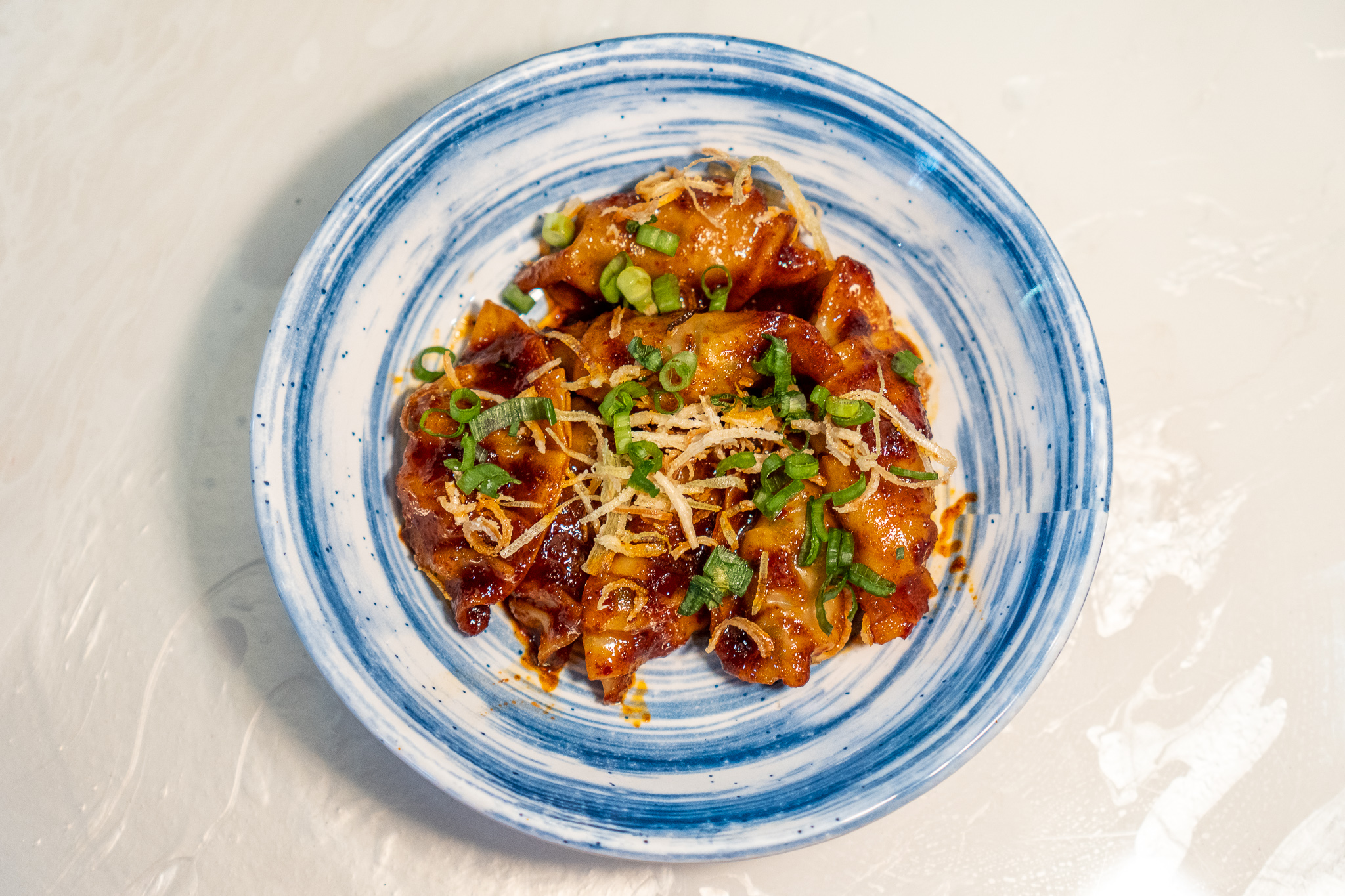 Fun fact: Did you know Bao means bun? So when you say "Bao bun" you're really saying "bun bun". Stay educated and order Bao at Good Fortune. For some serious flavor, get the short rib Bao. They also offer pork belly, shrimp, or falafel. The short rib was smokey with a chipotle-like kick to it, nearly melting in your mouth with a little crispiness, and the Bao was of course dreamy and soft as you can probably imagine.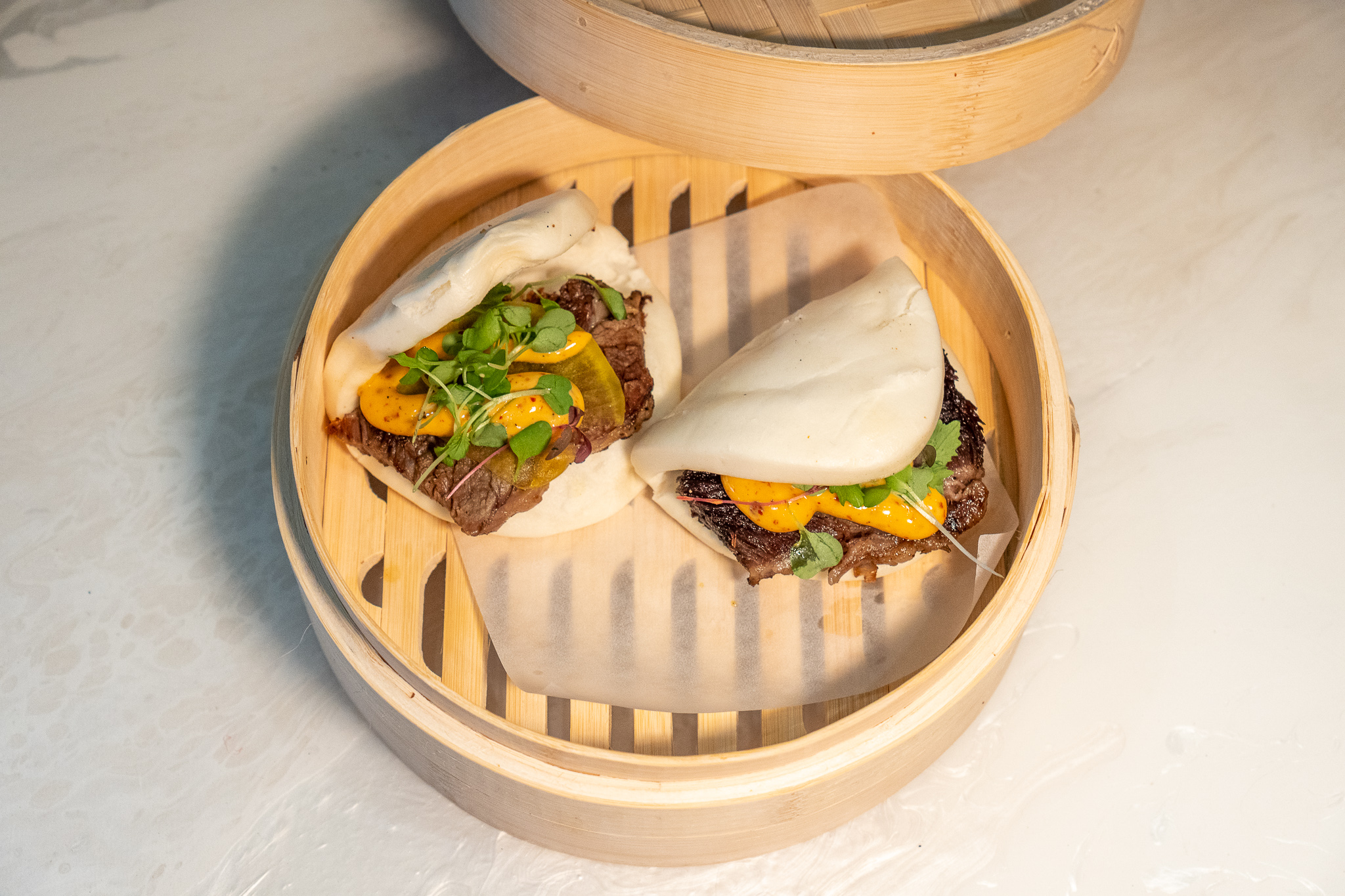 For those looking for a comforting bowl of noodles, the Drunken Noodles are for you with rice noodles, bell pepper, shrimp, baby bok choy, egg, jalapeños, and Thai basil in a drunken sauce topped with crispy leeks. Think perfectly chewy noodles, steamy flavors and some spice. I loved getting a chopstick twirl with everything, especially the shrimp as it had a nice bite to it.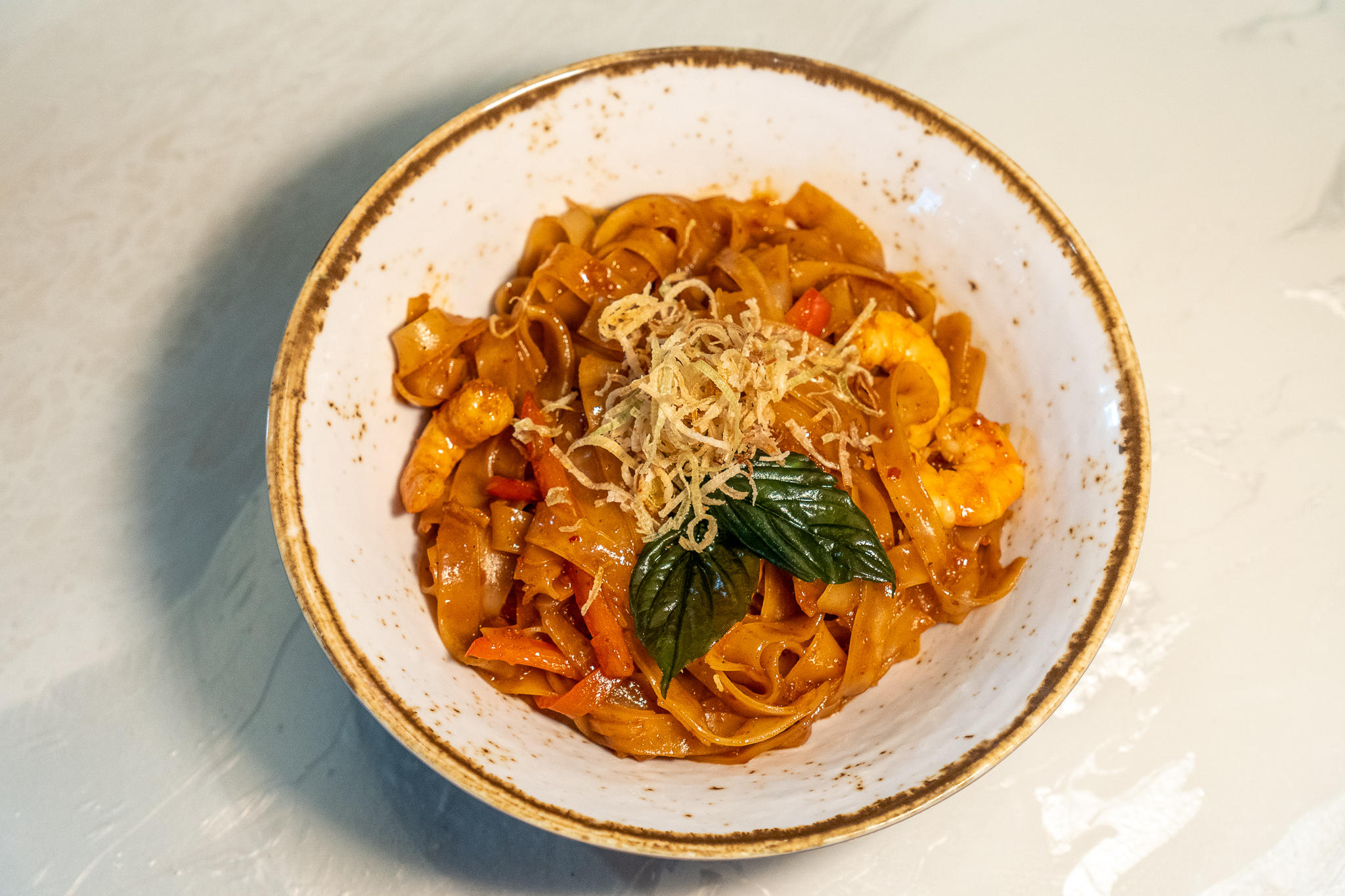 The Fried Rice was quite good, although it wasn't the style of fried rice we had hoped for – the brown greasy NY-style that is hard to find around here. Good Fortune's fried rice was actually more elegant. This hefty bowl comes with fried rice, egg, carrots, onion, celery, and a house chili soy sauce. You pick your meat of choice between pork belly, chicken, or shrimp. We ordered the pork belly and it was good but again, maybe lacking in flavor a little. I think this would make for a wonderful side dish, but compared to the other items that were bursting with flavors, this was just okay.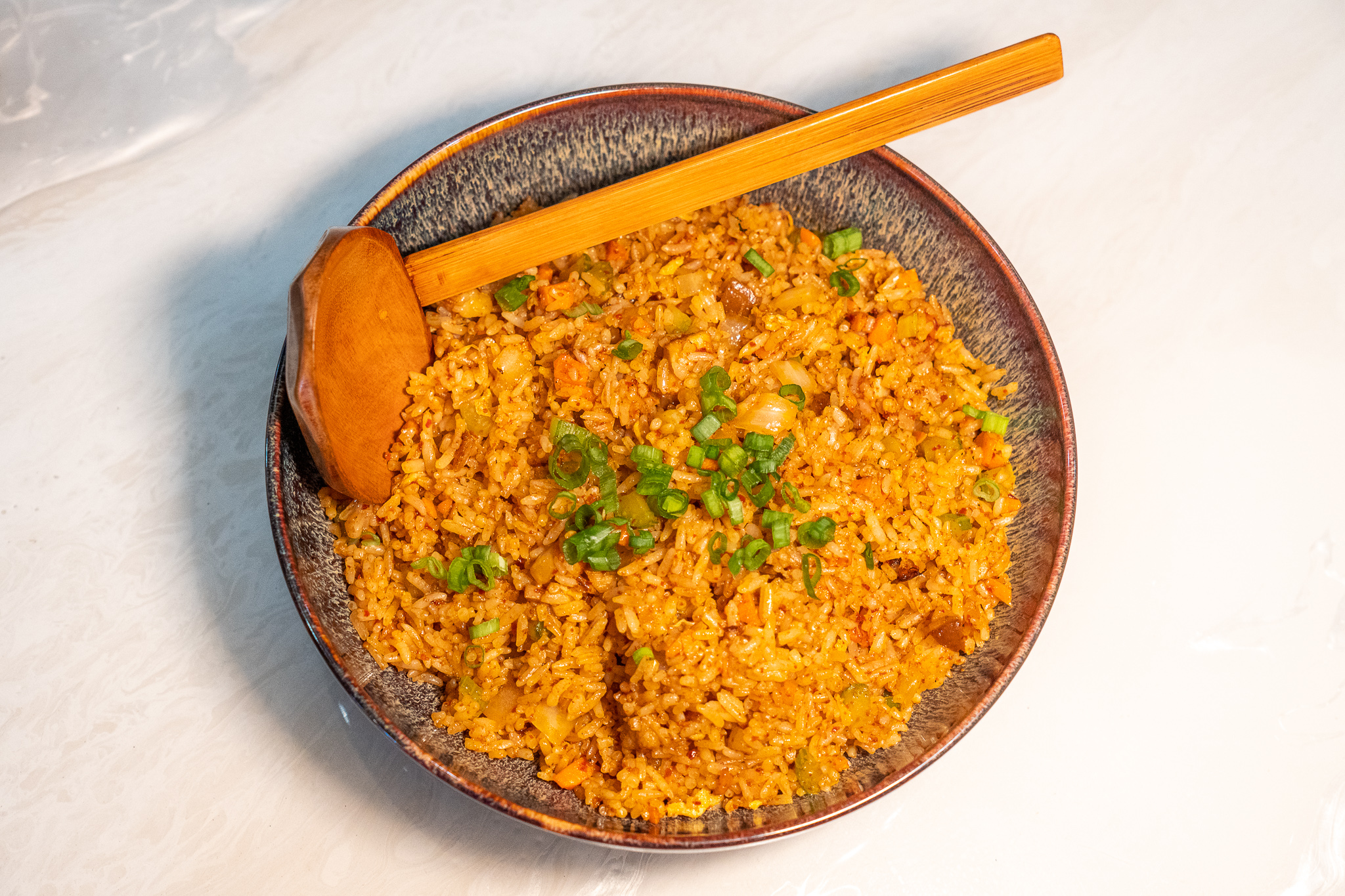 You'd be missing out if you don't order one of their signature sushi rolls, nigiri or sashimi. Boasting a selection of more than 20 kinds of seafood, we were blown away by everything we ate. [Editor's note: We were blown away, but not literally, or we would be dead.] Good Fortune should be famed for its fatty tuna. It's the melt-in-your-mouth quality that separates the best from the rest. I also loved the exquisite salmon belly, as salmon is always my go-to, but the salmon belly really kicks it up a notch. They both melted in your mouth, had a smooth aftertaste, were satisfyingly thick, and made us realize the true freshness.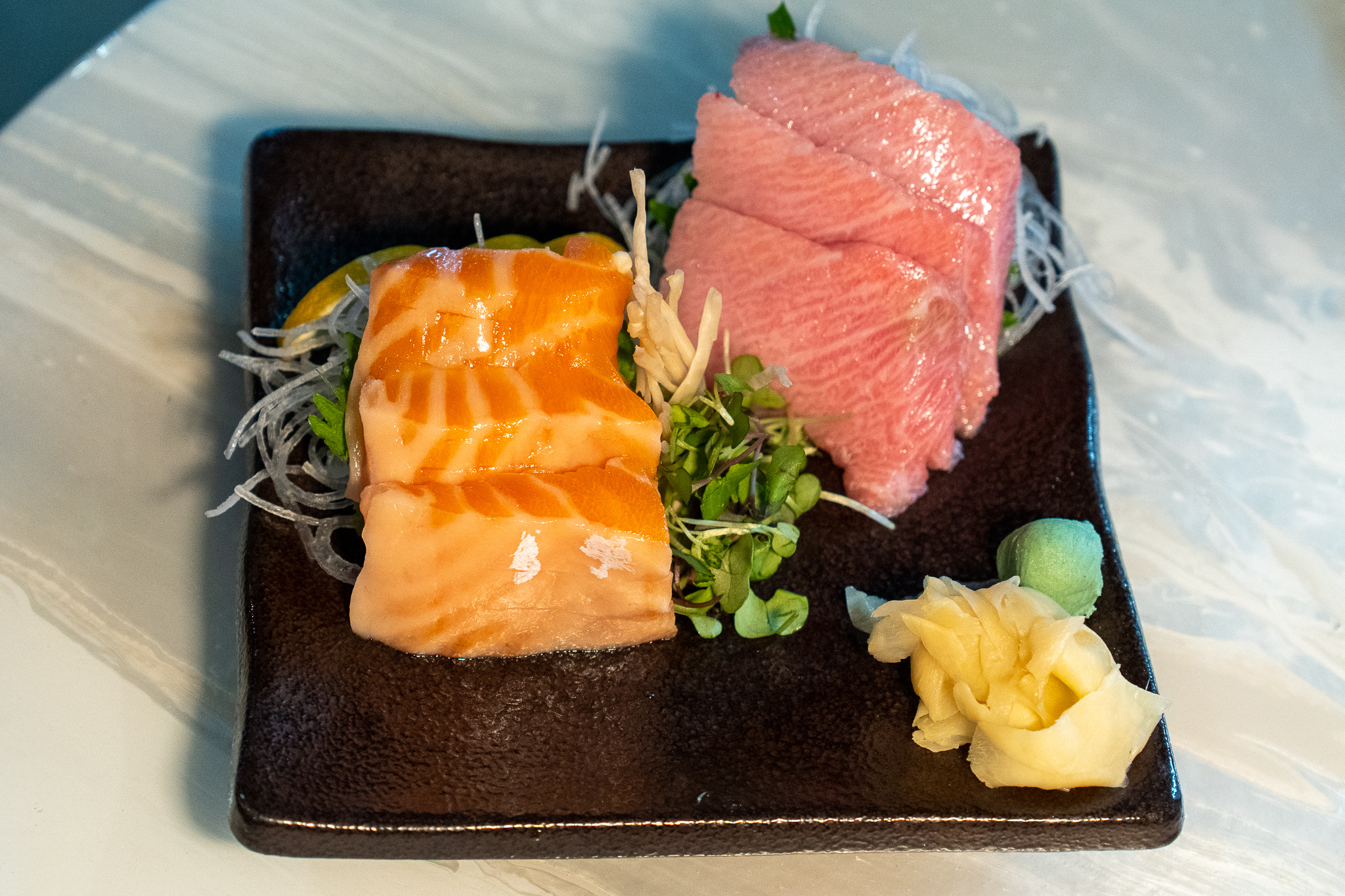 Maybe it's just me but I kinda think the sushi scene in St. Pete is, well, sort of mediocre. But not anymore…the sushi at Good Fortune is deliciously fresh and of excellent quality. To cure all of your sushi cravings, the signature rolls menu is a game changer. We ordered the Double Dragon and Cash Money. Both were outstanding, and I will totally order both of them again.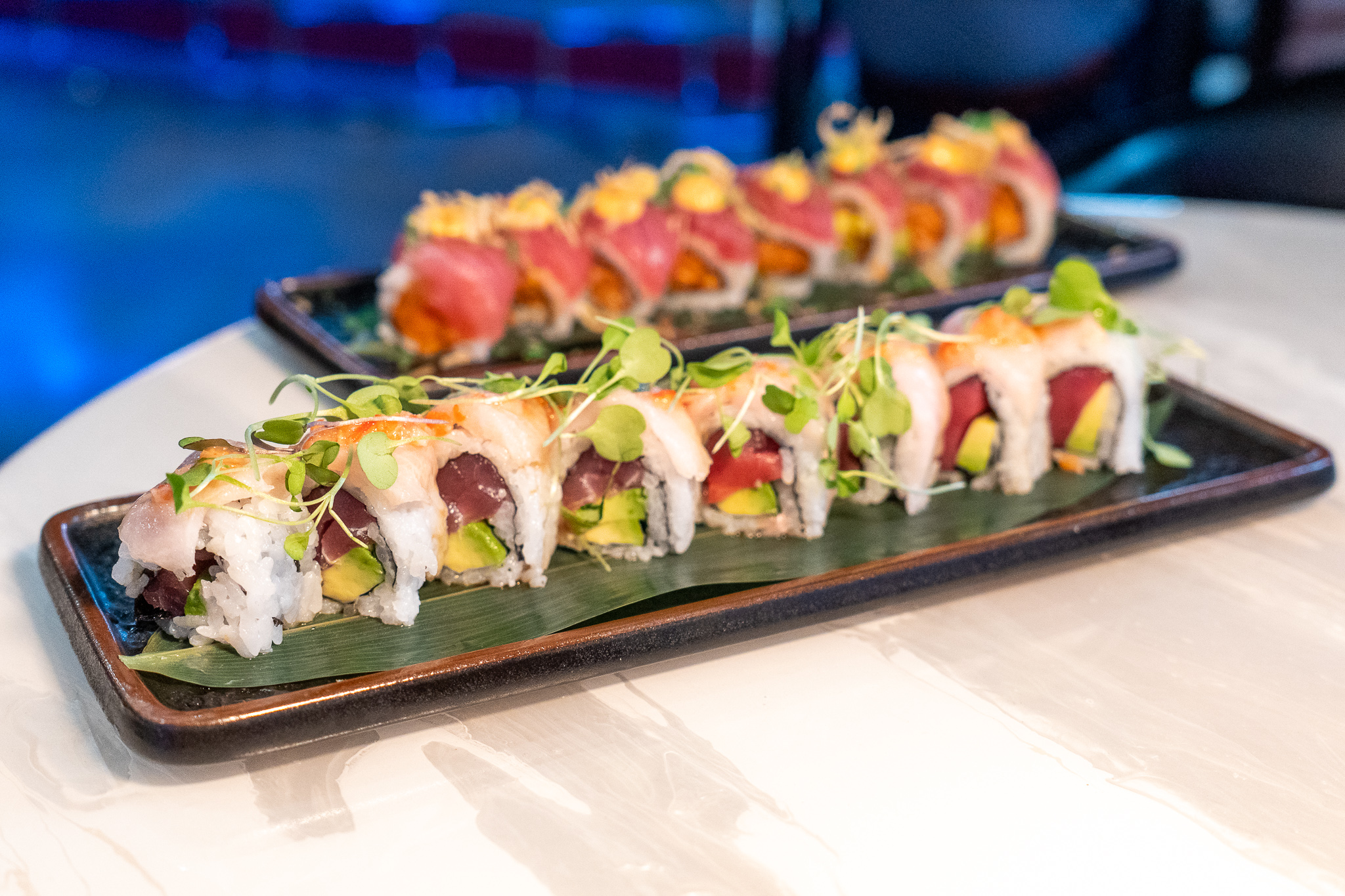 The Double Dragon is simple and seriously delicious with tuna, and avocado, topped with Yellowtail, habanero relish and yuzu ponzu. It's earthy, simple, and so fresh.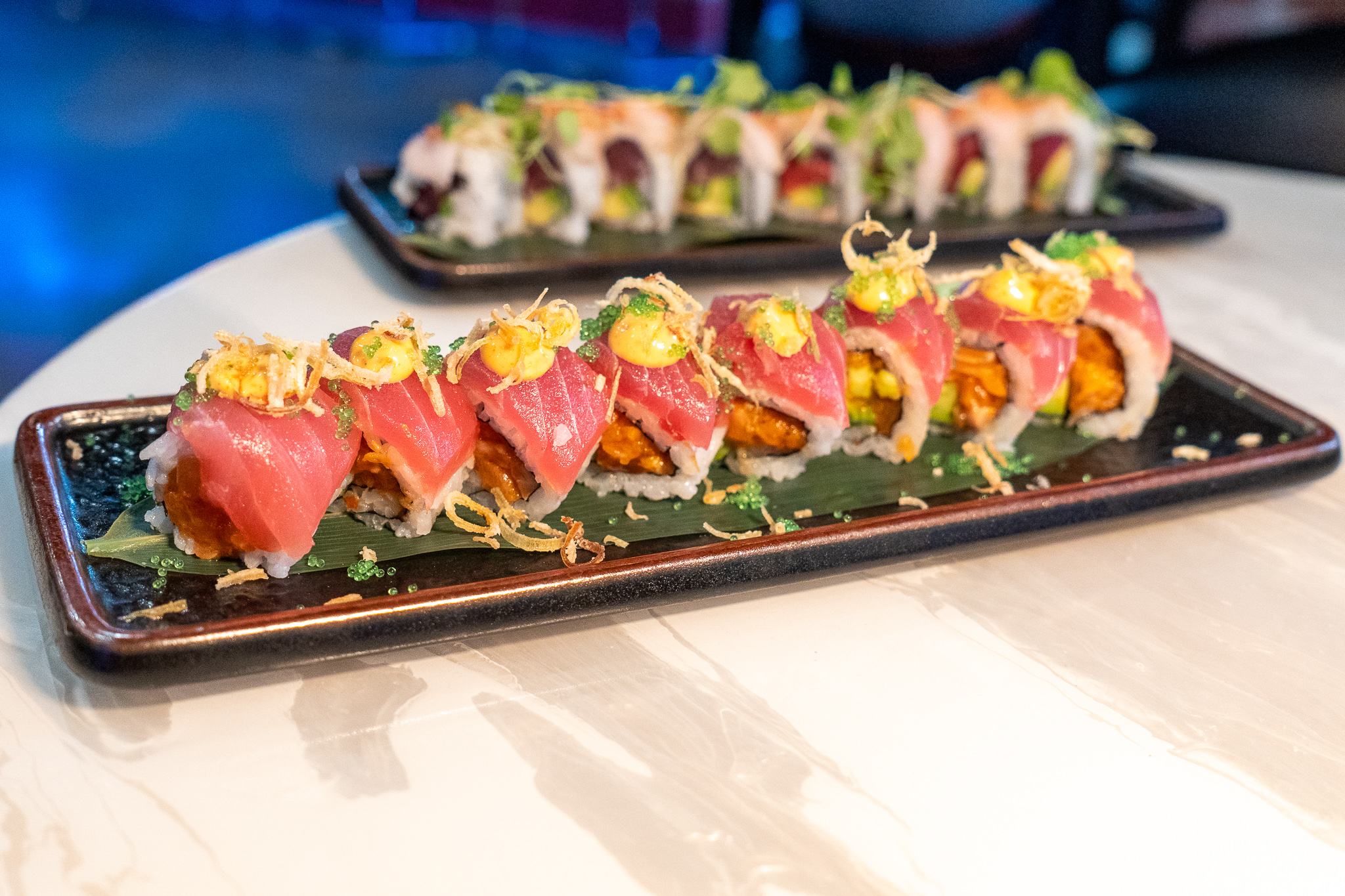 The Cash Money signature roll has spicy salmon and avocado, topped with tuna, spicy mayo, crispy leeks, and green masago. Compared to the Double Dragon roll, this is more elevated in flavor with a slight kick to it. If you like simple, get the Double Dragon, if you like spice and a little more oomph, get the Cash Money. Both were excellent and like I said, definitely one of the best sushi bars in St. Pete in my opinion. I'm excited to try more of their sushi menu offerings.
Do you know what ube is? They're purple yams. Good Fortune really said yes, let's make a cake out of these. This beautiful purple Ube Cake is a creamy custard coconut cake in a coconut buttercream with toasted coconut. You must like coconut and creamy textures to order and enjoy this. Lori wasn't a fan because she doesn't like coconut, I was on the fence because the texture was odd, and Kevin loved it. So to each their own with this one.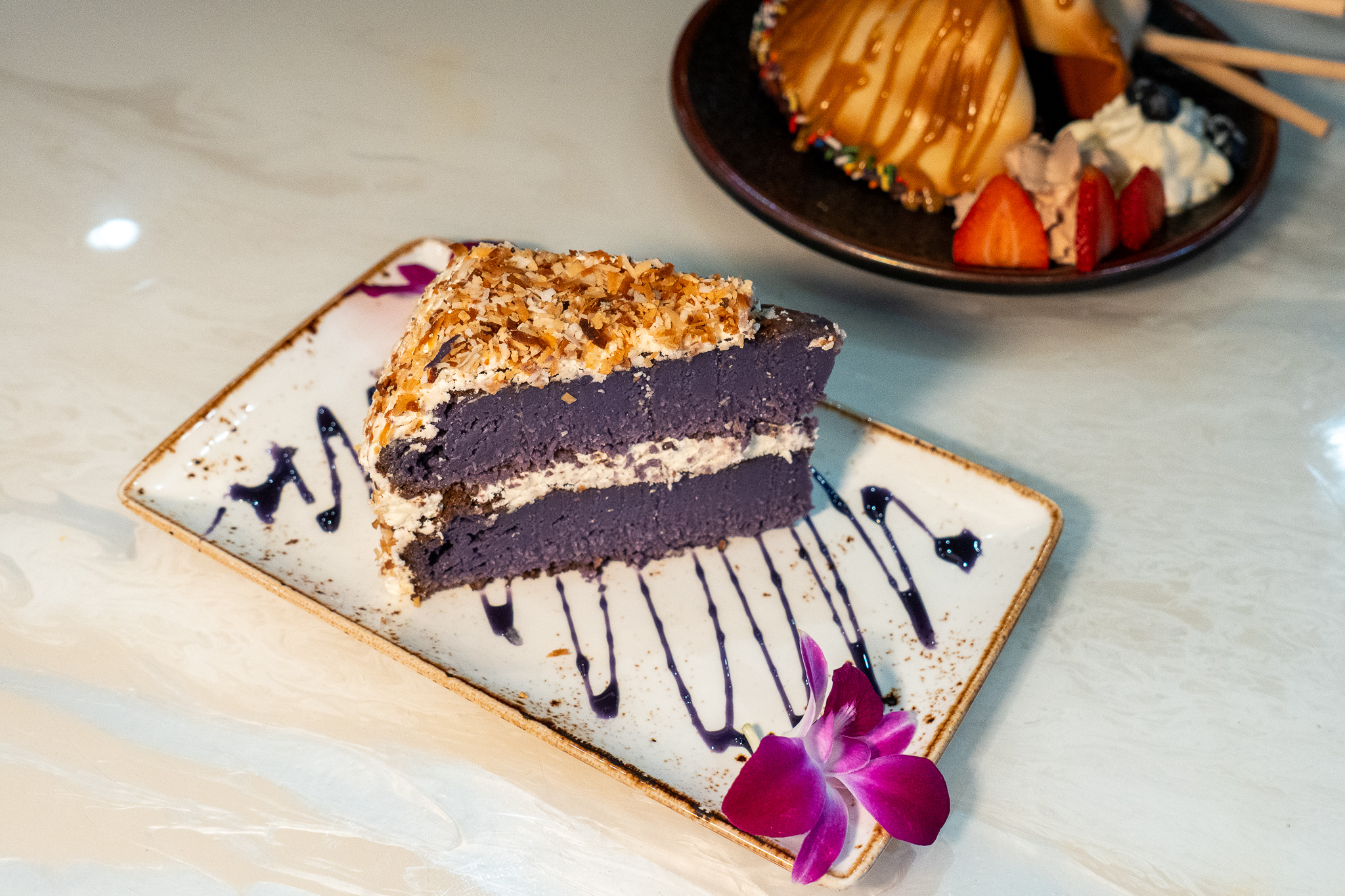 The giant Good Fortune Cookie dessert is giving off major Instagram vibes. This massive fortune cookie is served with yuzu, chocolate cream and fresh berries. The citrus taste is nostalgic and tastes like a normal-sized fortune cookie you get after your meal. The best part? There's a fortune inside and we had fun breaking it open to find it.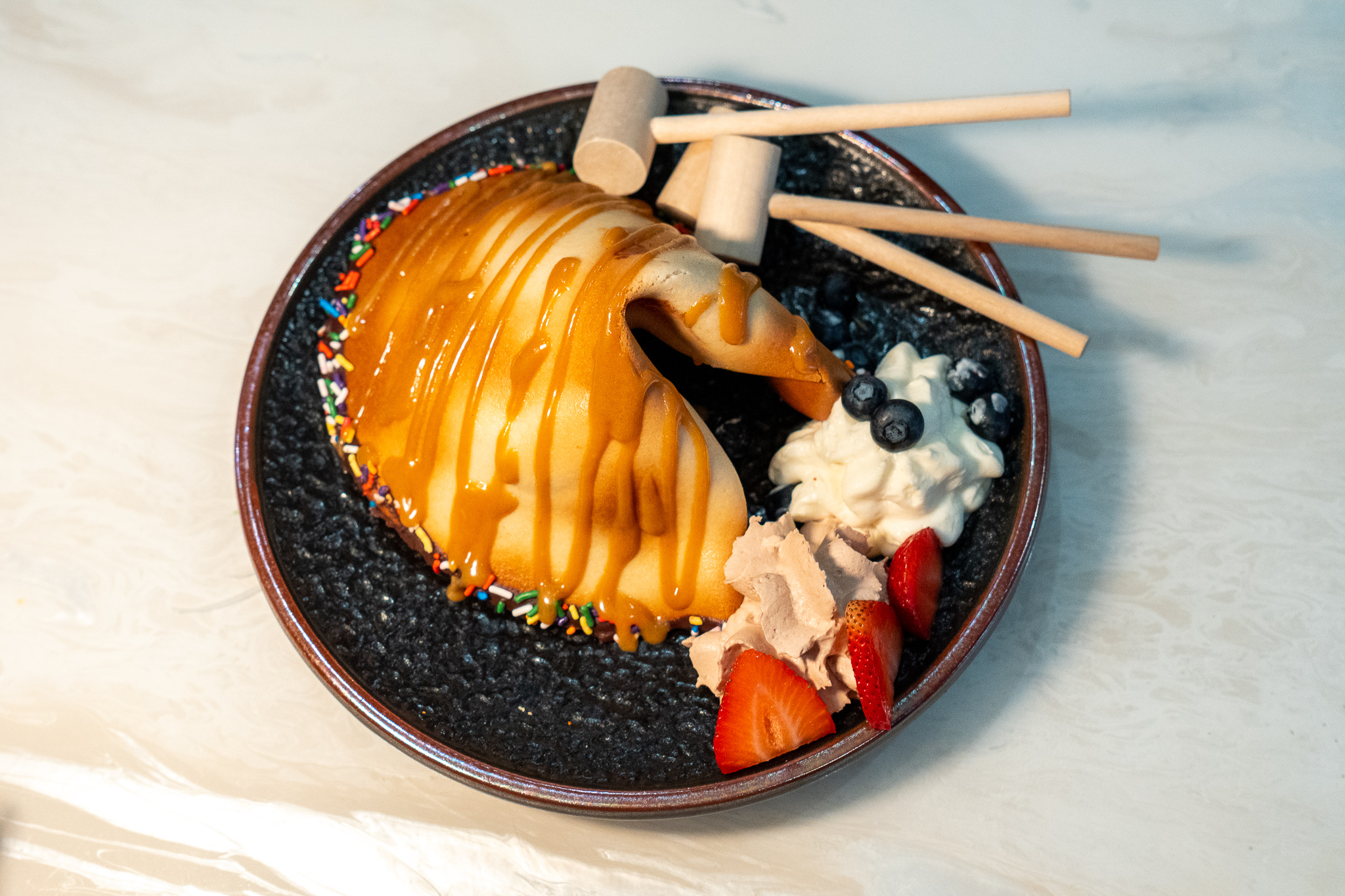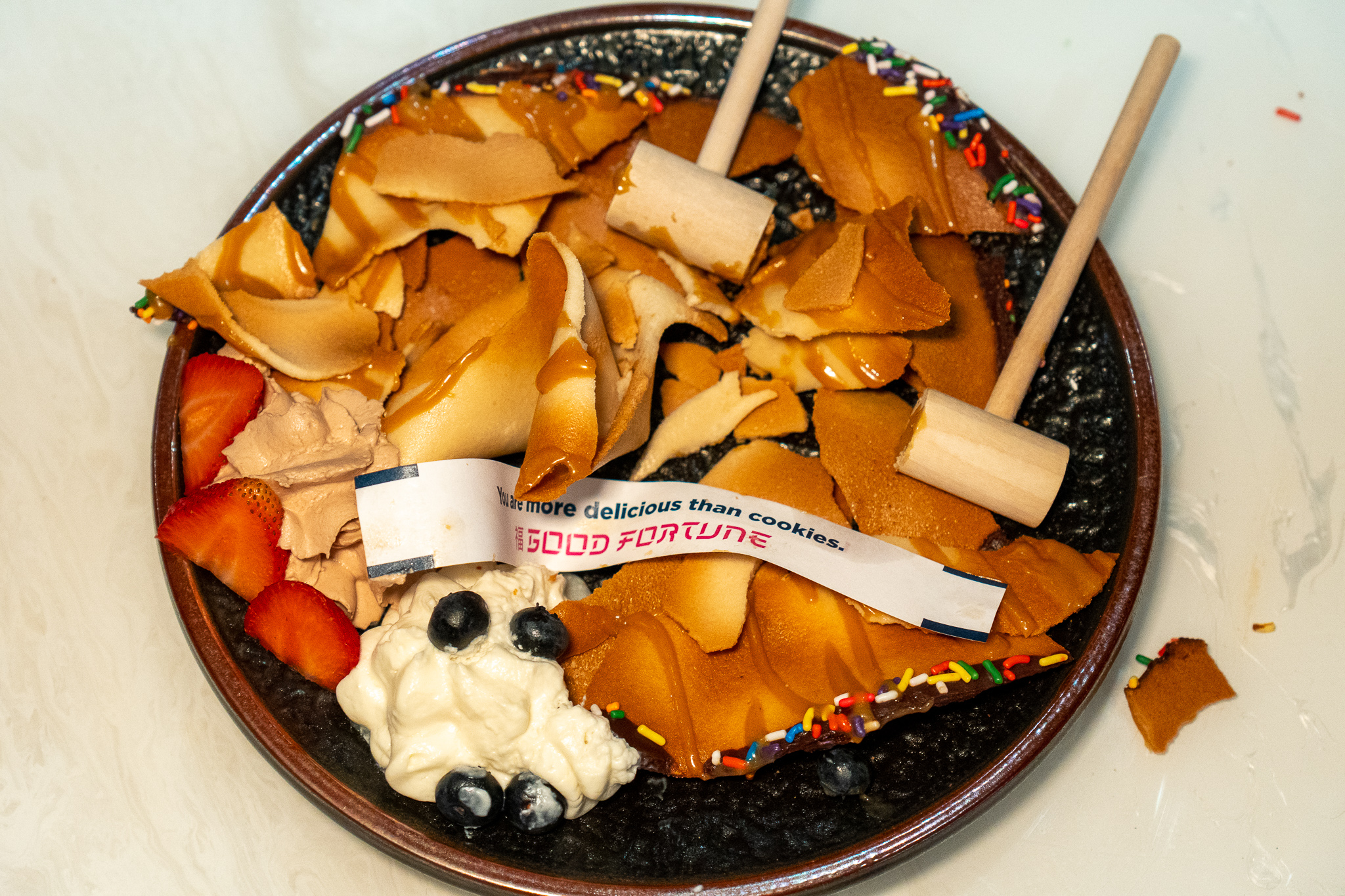 The cocktail list is beyond exciting with all sorts of creative concoctions. I ordered the Pretty Kitty with Satsuma Houzan Shochu, Bushido Sake, Lemon, Raspberries and Calpico. It was very refreshing and sweet.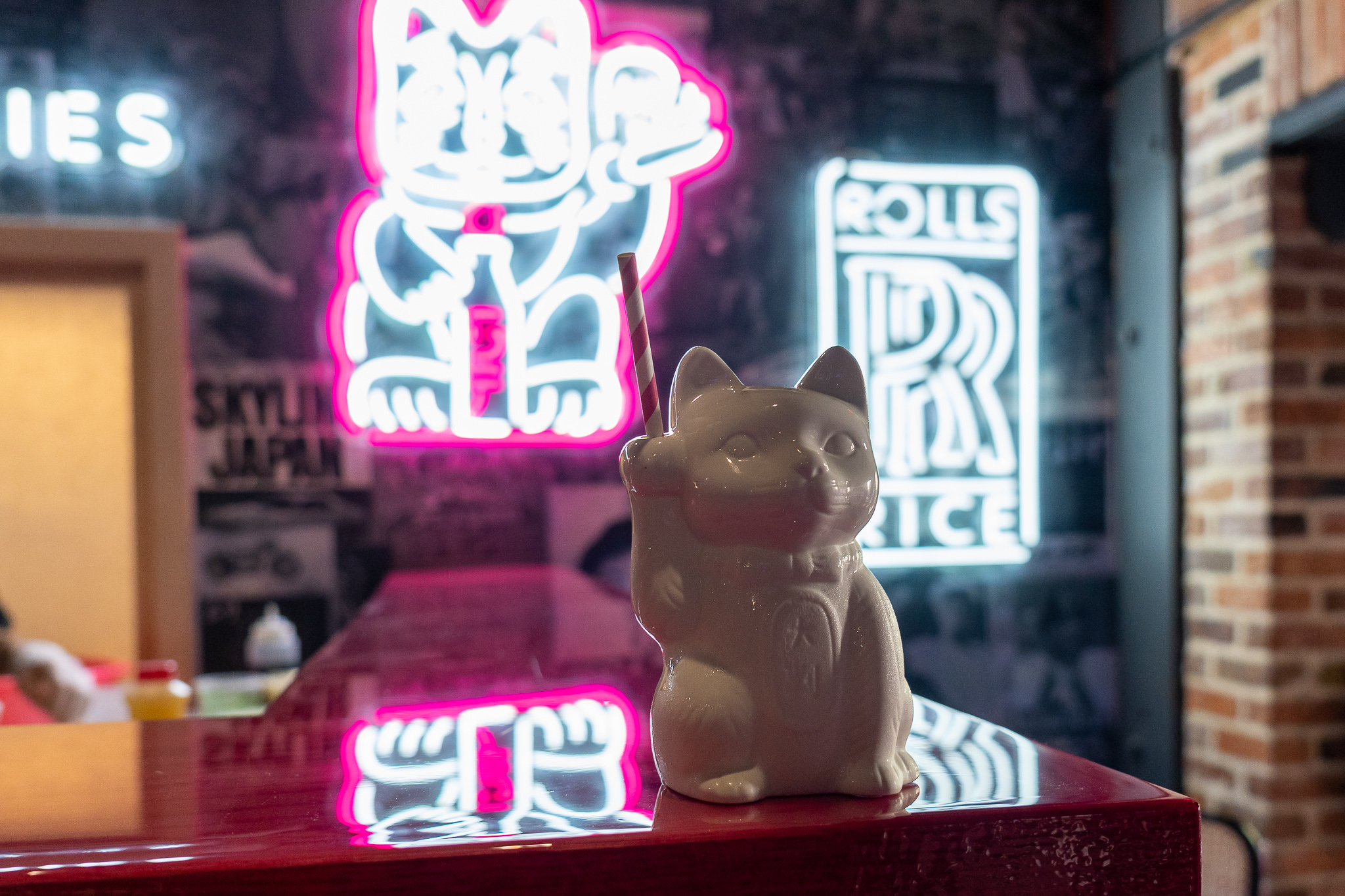 Now for those interior shots. You'll notice more once you go visit but here's a little taste of it.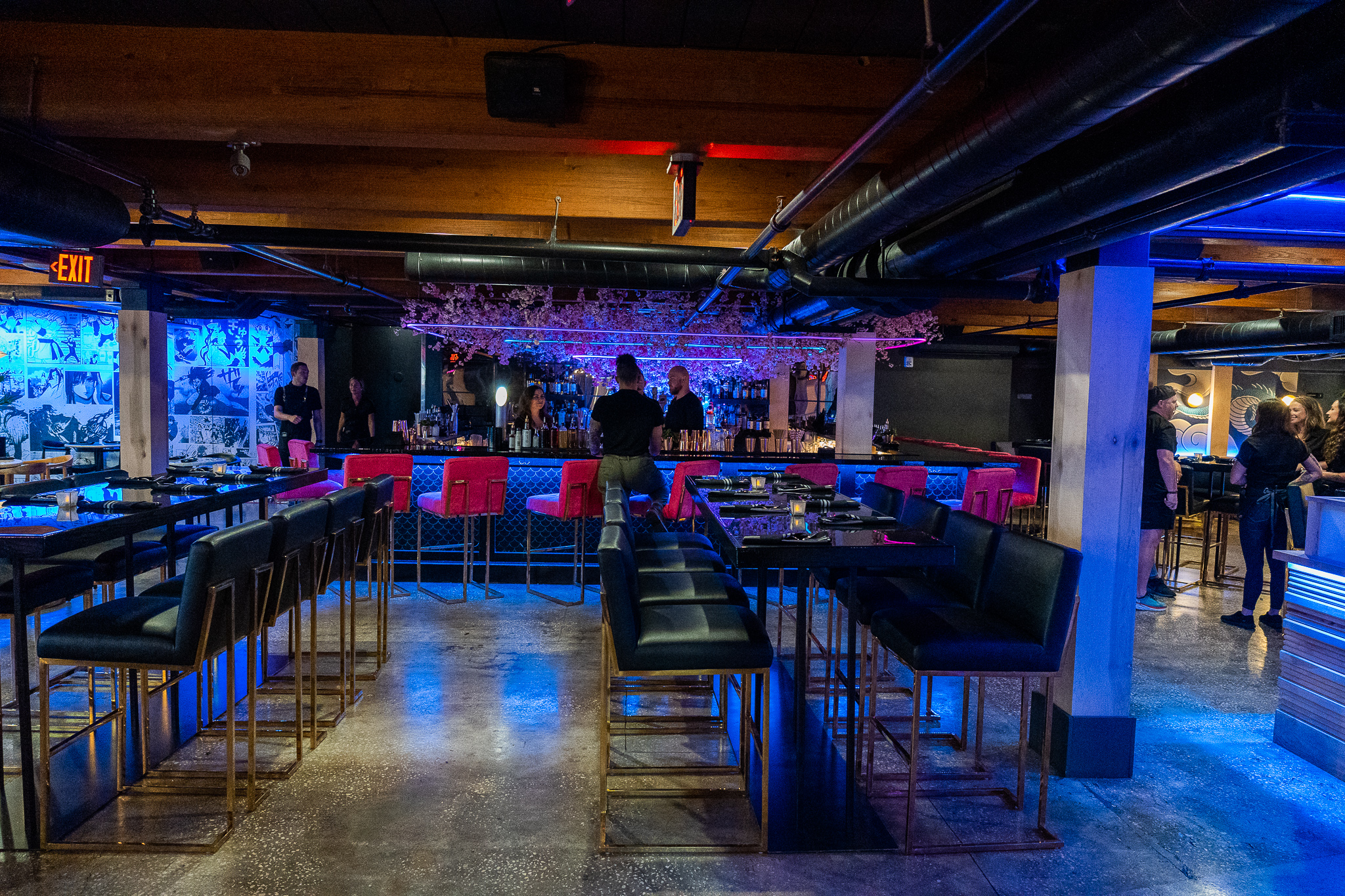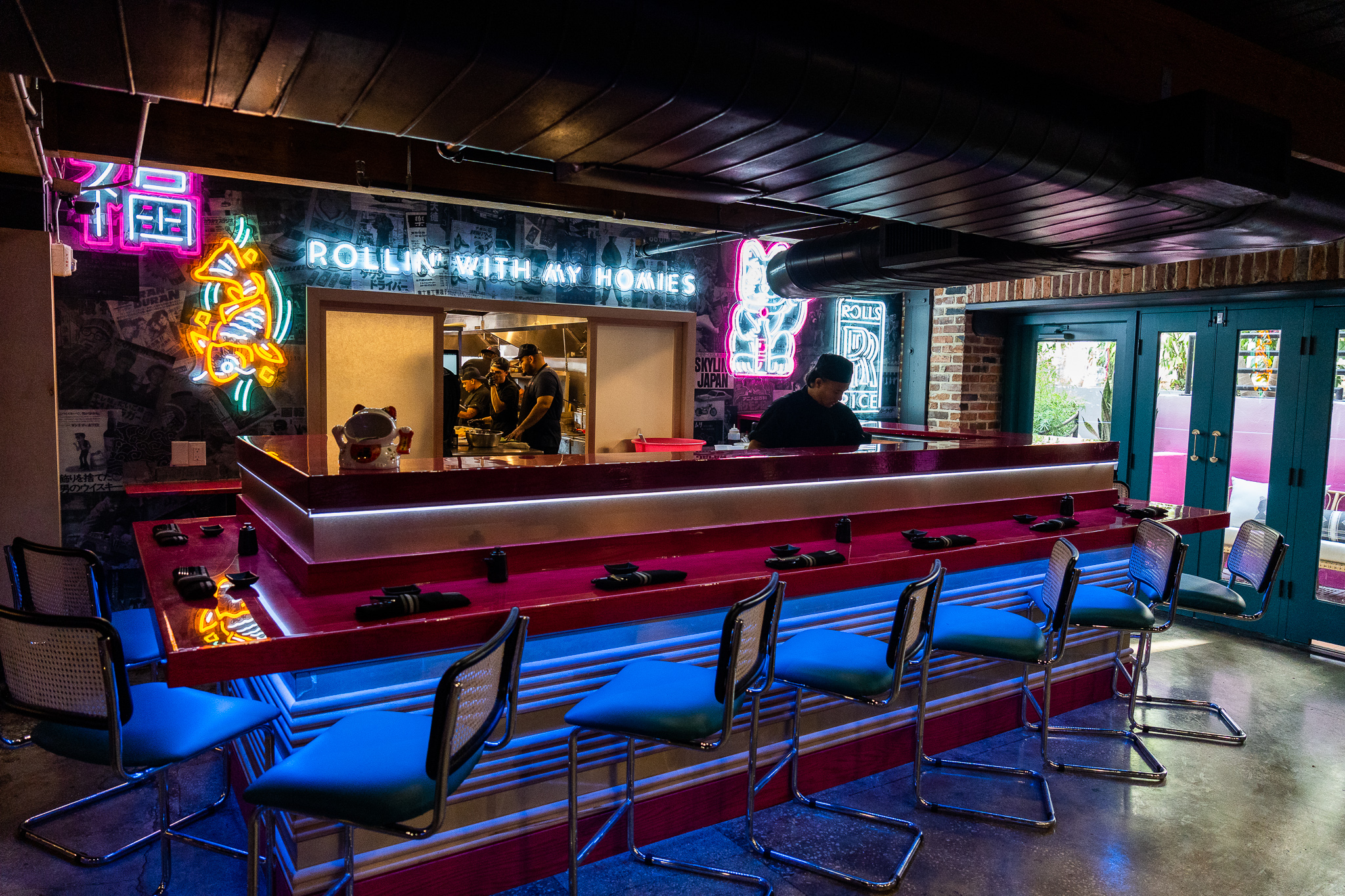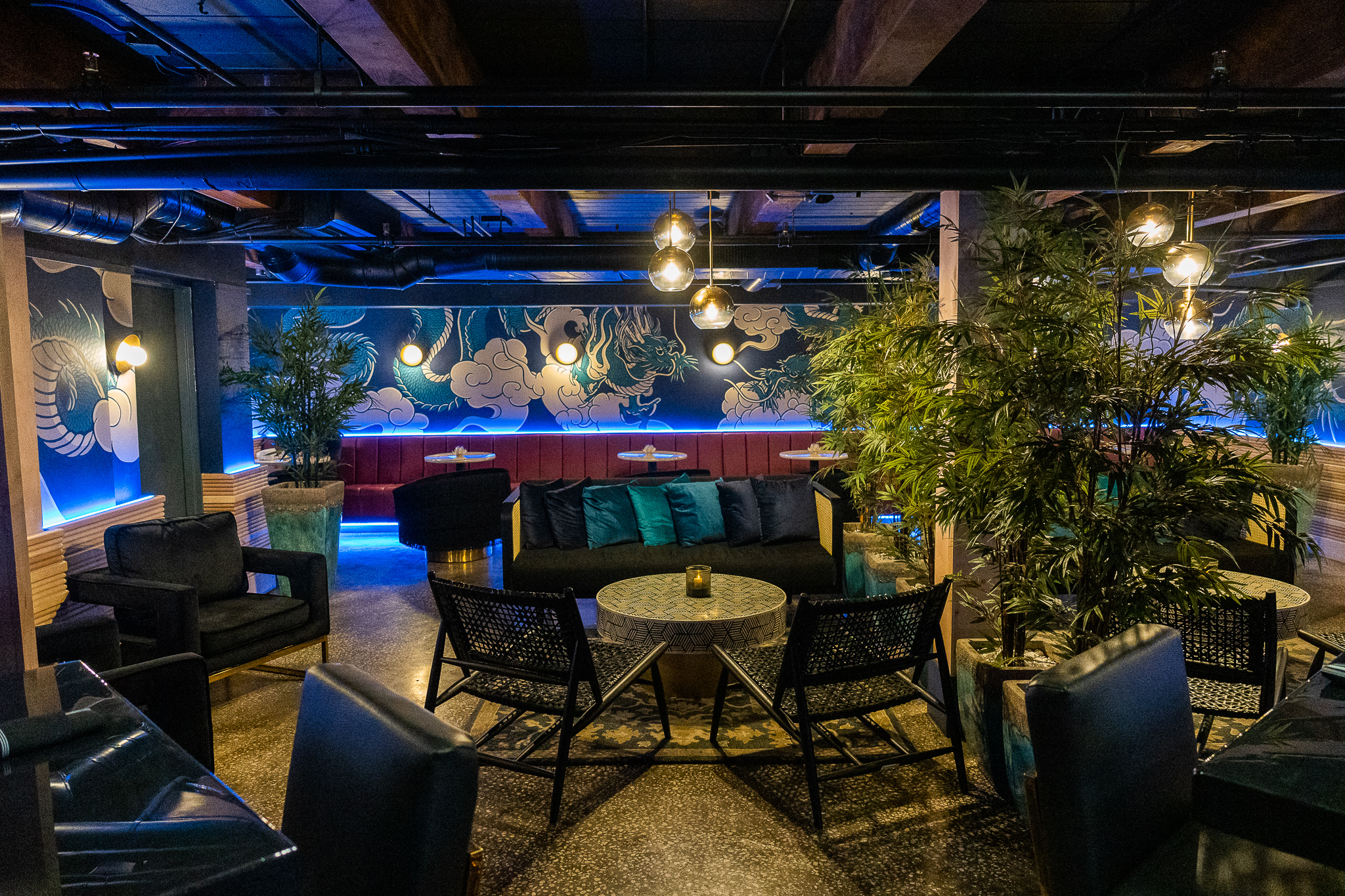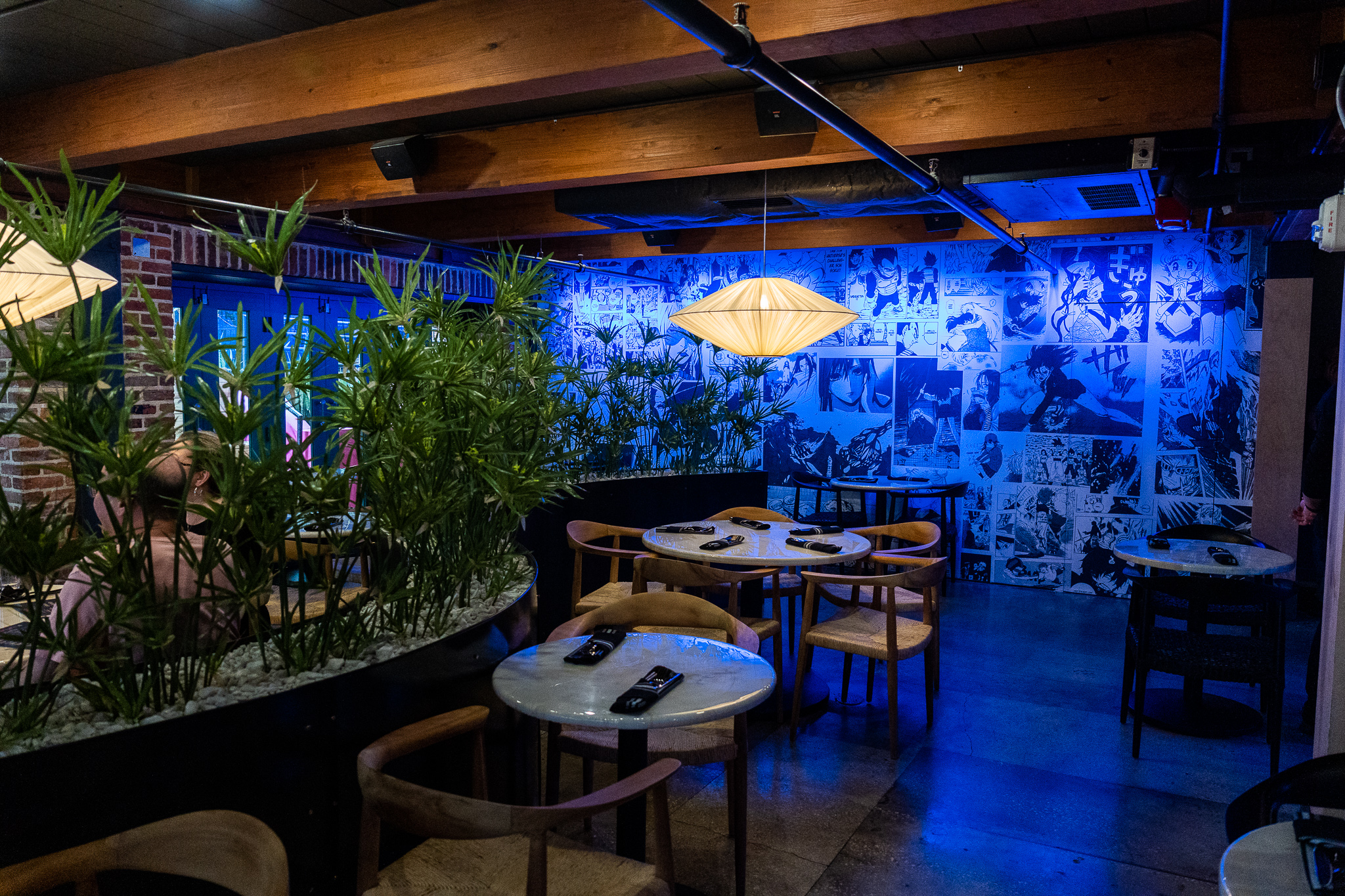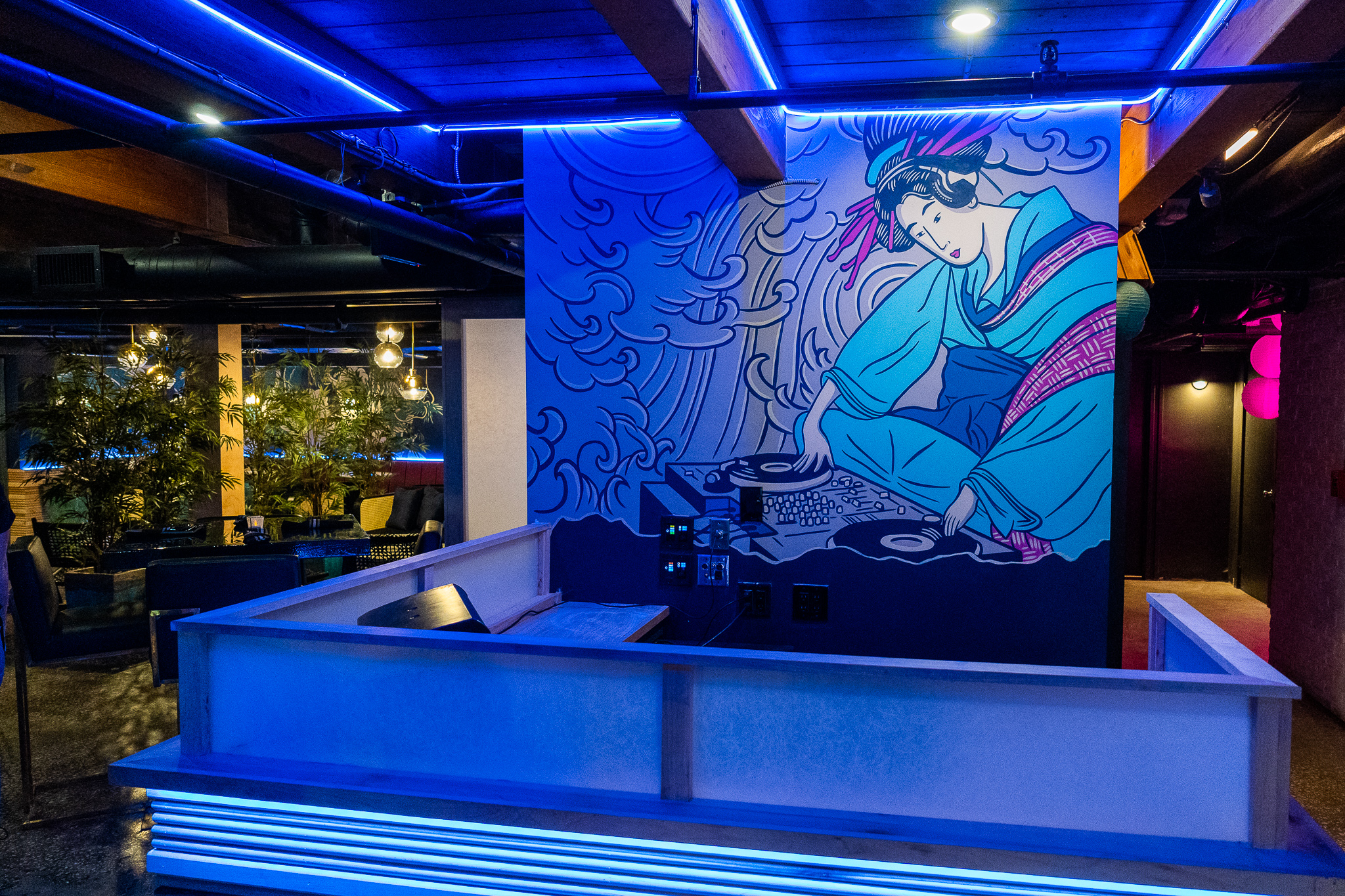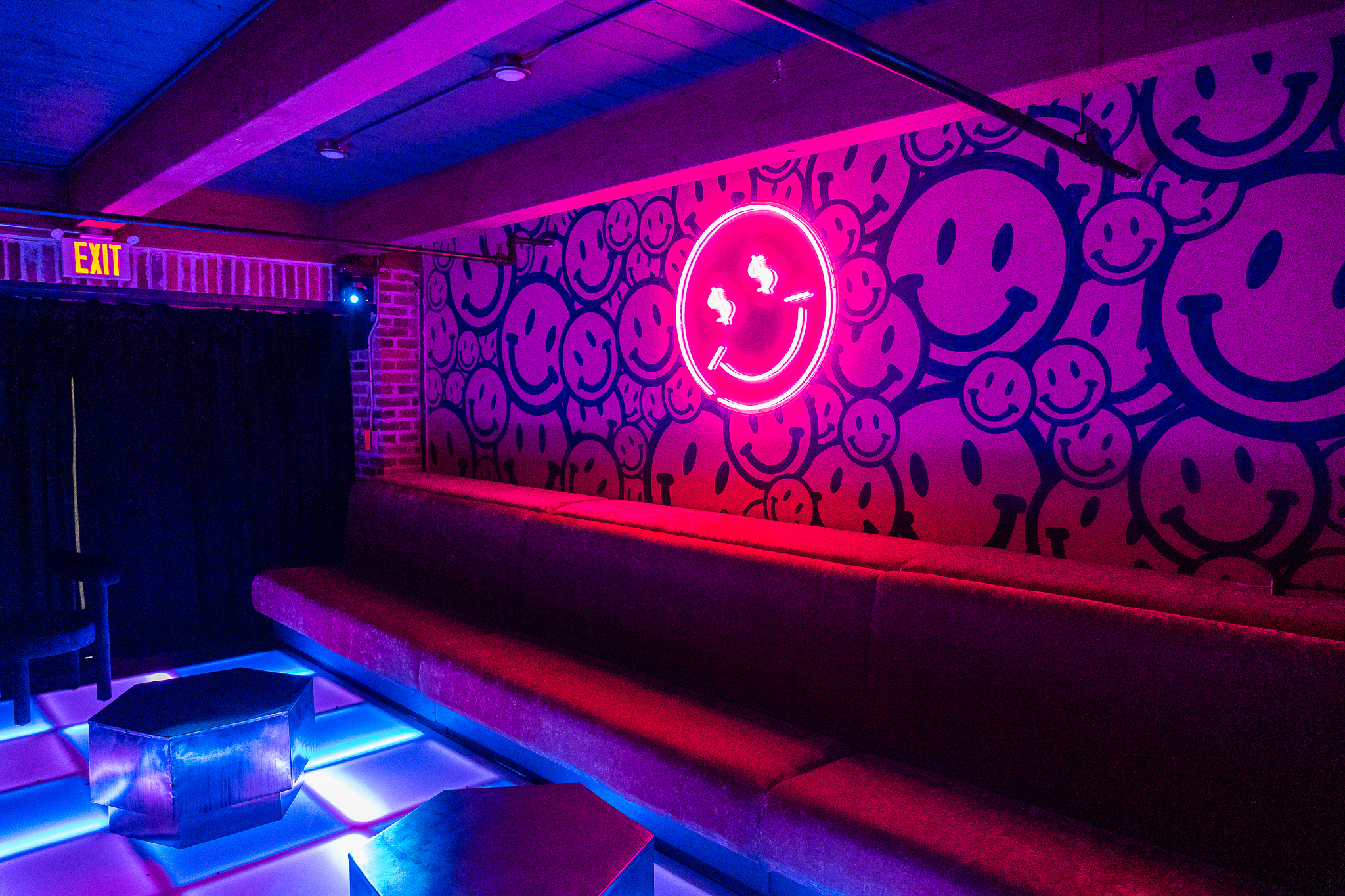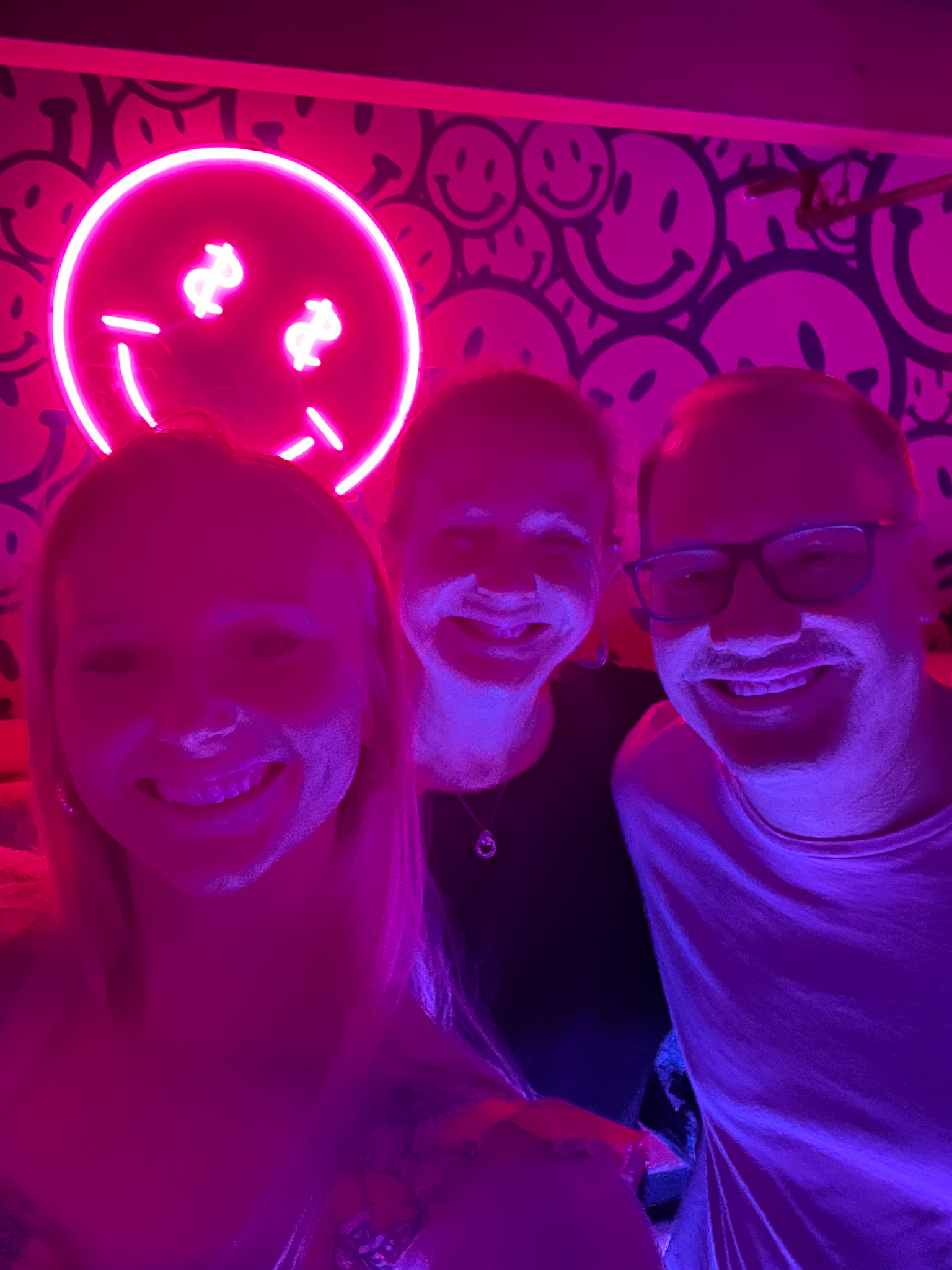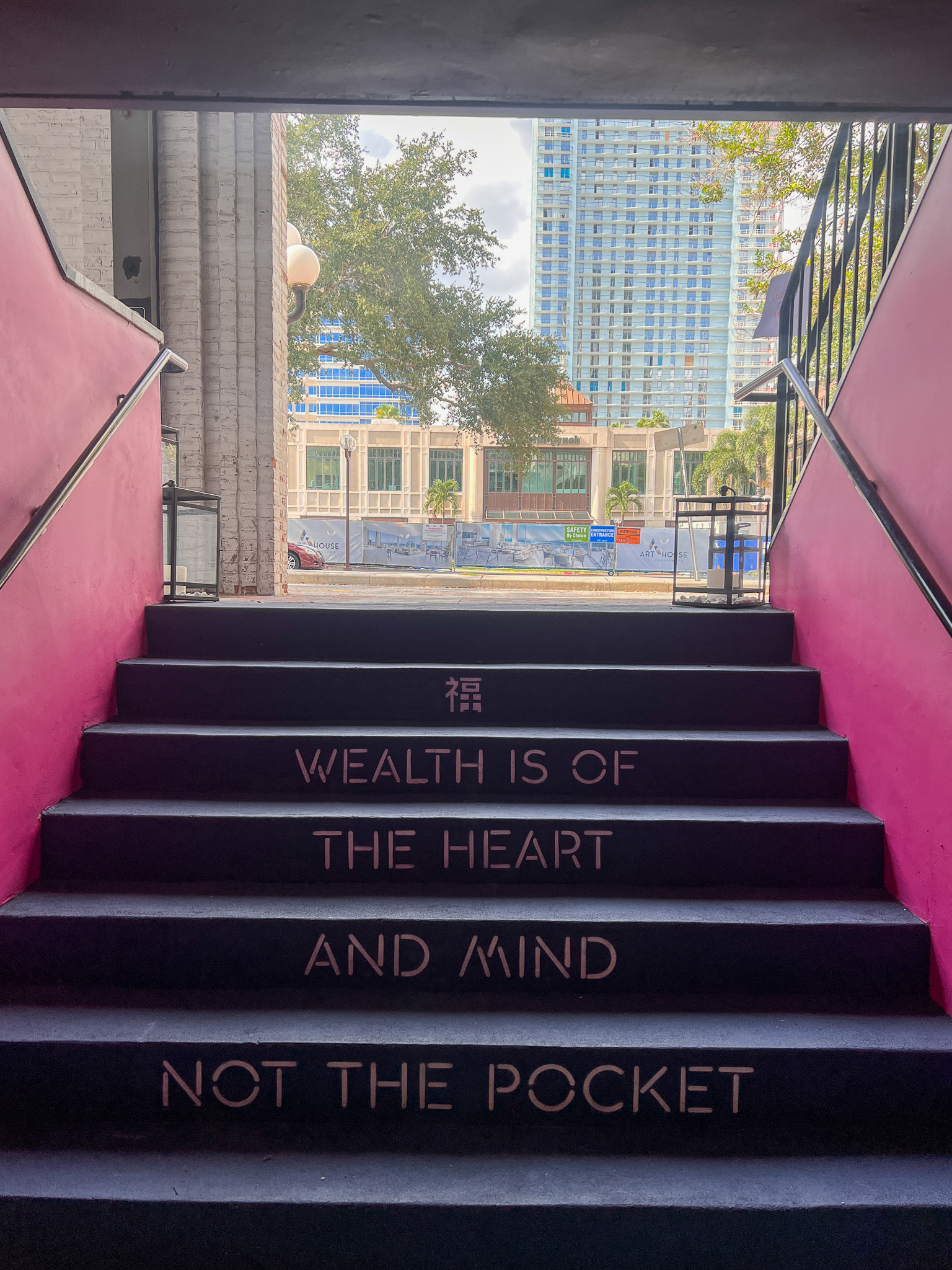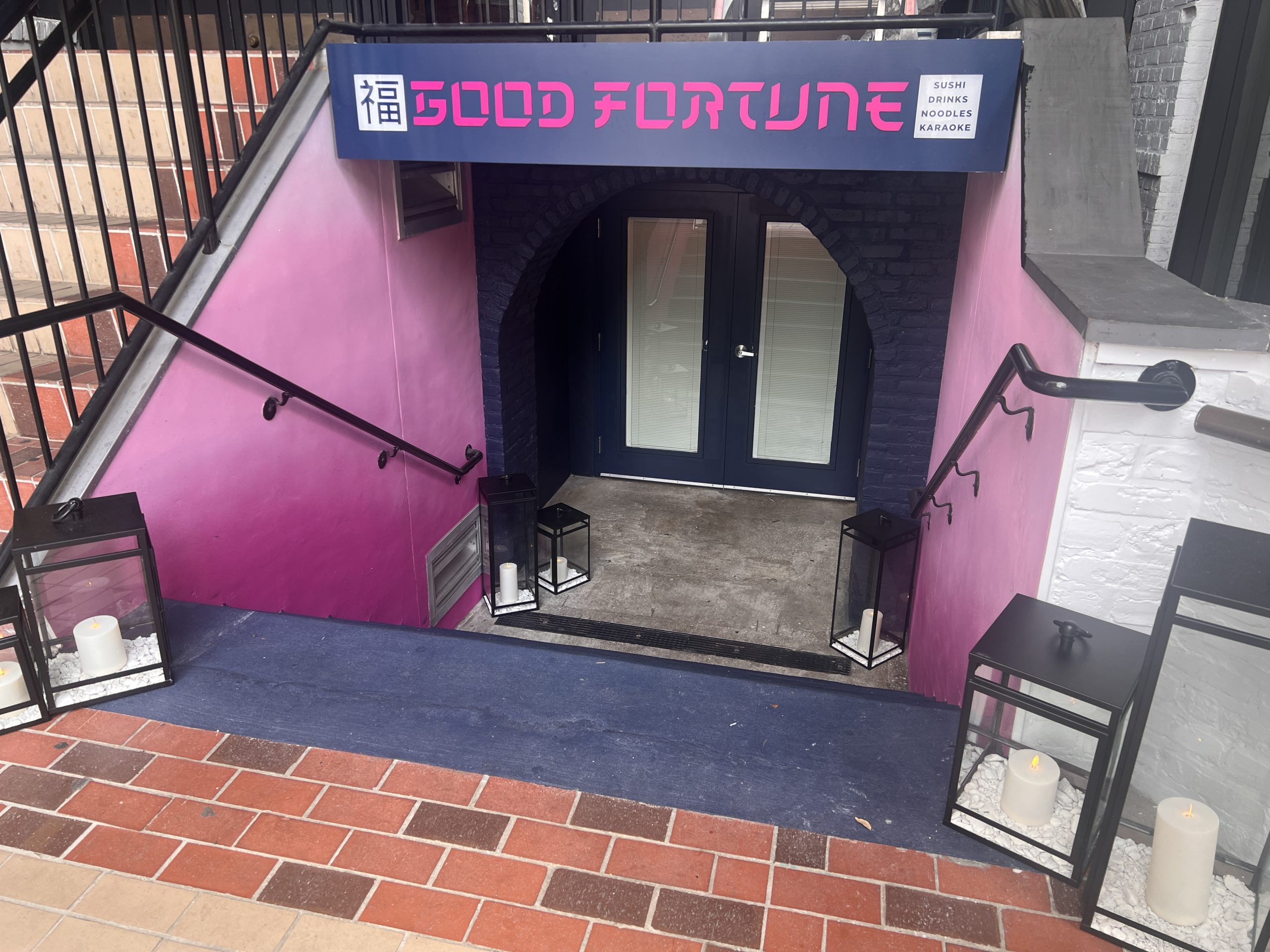 If you're looking for a great spot in downtown St. Pete to enjoy extravagant menu items, and tasty cocktails all while being surrounded by a really cool atmosphere and tons of picture opportunities, chances are very high that you need to make a reservation at Good Fortune as soon as possible.
Good Fortune is a Hunger Thirst Group concept and the latest Asian Fusion restaurant and bar in Downtown St. Petersburg
DISCLAIMER: Kevin, Lori, Abby, Haley, & Lindsey do not dine anonymously (this would be impossible) and we sometimes get free food (though never expected). However, we dine with the locals and we support our own. You will always get honesty in a respectful manner. We do not include any large national or regional chains in our ratings and reviews. We focus on independent locally owned eateries exclusively.

PLEASE NOTE: Reviews reflect a certain moment in time. Some restaurants stay extremely consistent over many years, and some change for the better or worse. Some things that may change are: chefs, recipes, food suppliers, ingredients, philosophies, ownership, etc. We always hope that you have the same good, or great experience we had.
More Foodies News, Reviews & Recipes