He came to Stillwaters Tavern with amazing credentials. Jeffrey graduated top of his class with a degree in Culinary Arts from The Culinary Institute of America in Hyde Park, NY. He has worked for Chef Gordon Ramsay and Chef Angela Hartnett in London at the famous Connaught Hotel and also has spent time cooking in France and Italy. Jeffrey was the Head Chef of the Embassy of Italy, while living in Washington, D.C. along with other notable fine dining establishments.
Opening Night and The Months that Followed
Kevin and I were lucky enough to attend the Friends and Family opening of Stillwaters Tavern. That night we were very impressed. The food and service were very good for a friends and family event and the décor and ambiance were top notch. What a handsome, elegant restaurant!
I also had lunch there a week or so later which I very much enjoyed. But after a couple of other lackluster visits and some not so great reviews from other members of our private FaceBook group, St Petersburg Foodies Restaurant Reviews, we just quit going. There are too many other fantastic places that were very consistent with amazing food and service.
One night, Kevin and I were out with friends and Chef Jeffrey was there. We got to talking and he told me that a lot of the challenges that they faced in the beginning they have been able to overcome and he specifically asked us to come back and give it another try.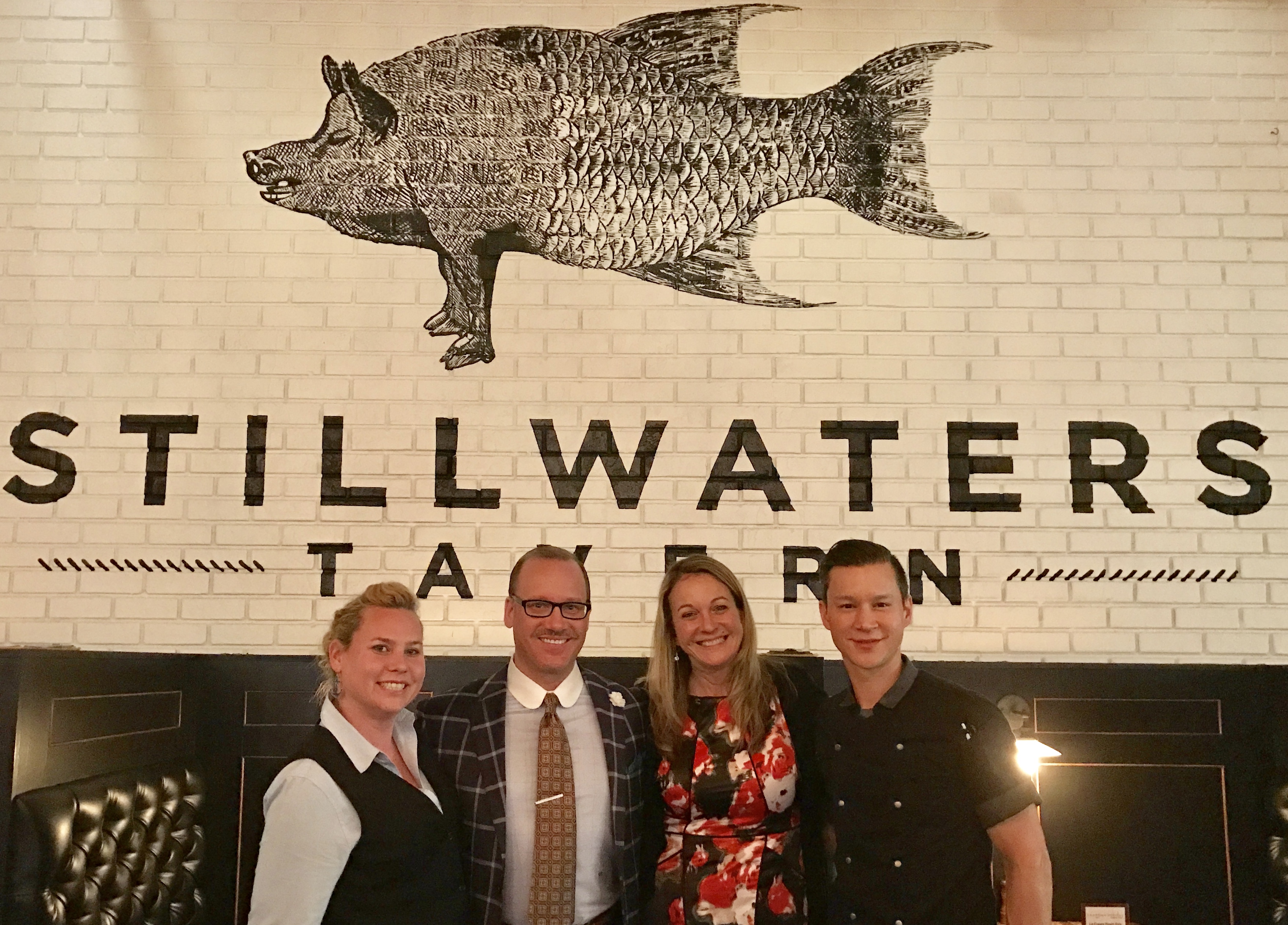 Stillwaters Tavern Revisited
On January 25th, 2017, we were invited in for a special Chef's tasting. Chef brought us small portions of some of his favorites from the menu and explained where his inspiration comes from. He likes to describe the menu as "upscale, low country with a hint of Asian influence."
WARNING: The following photos may cause drooling and sudden hunger pangs.
We started with cocktails. First I had the #84 which is house-made botanical gin, ginger beer and cucumber and Kevin ordered the #19 which is miller's gin, fresh cucumber, lime and ginger. They were great and inventive. My gin was a little too herbal for me, Kevin really loved mine though.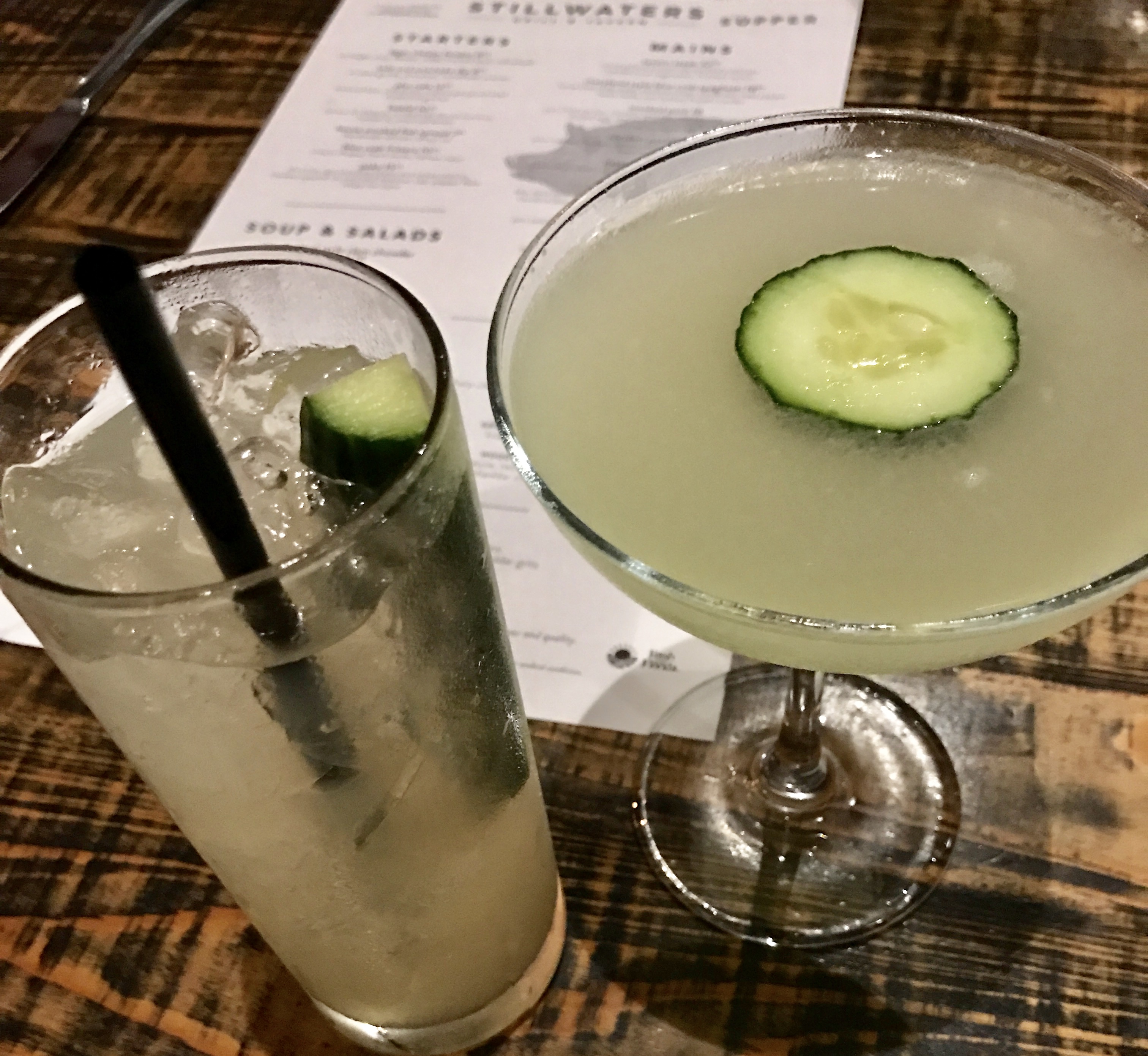 Our first dish was the Pho Rolls. Chef said these are inspired from his childhood. He loves a great bowl of Pho and said this comes from his Chinese side. These are steamed Bao filled with Chili Hoisin, Marinated Spiced Beef, Pickled Jalapeño, Red Pickled Onion, Bean Sprouts and Cilantro. Chef said that the "beef is marinated in everything that's in a bowl of Pho." Very tasty, cooked well, with great flavors. *Note – all of my dishes were made without Cilantro or Fennel. And all of these pictures are smaller portions of the regular portion size.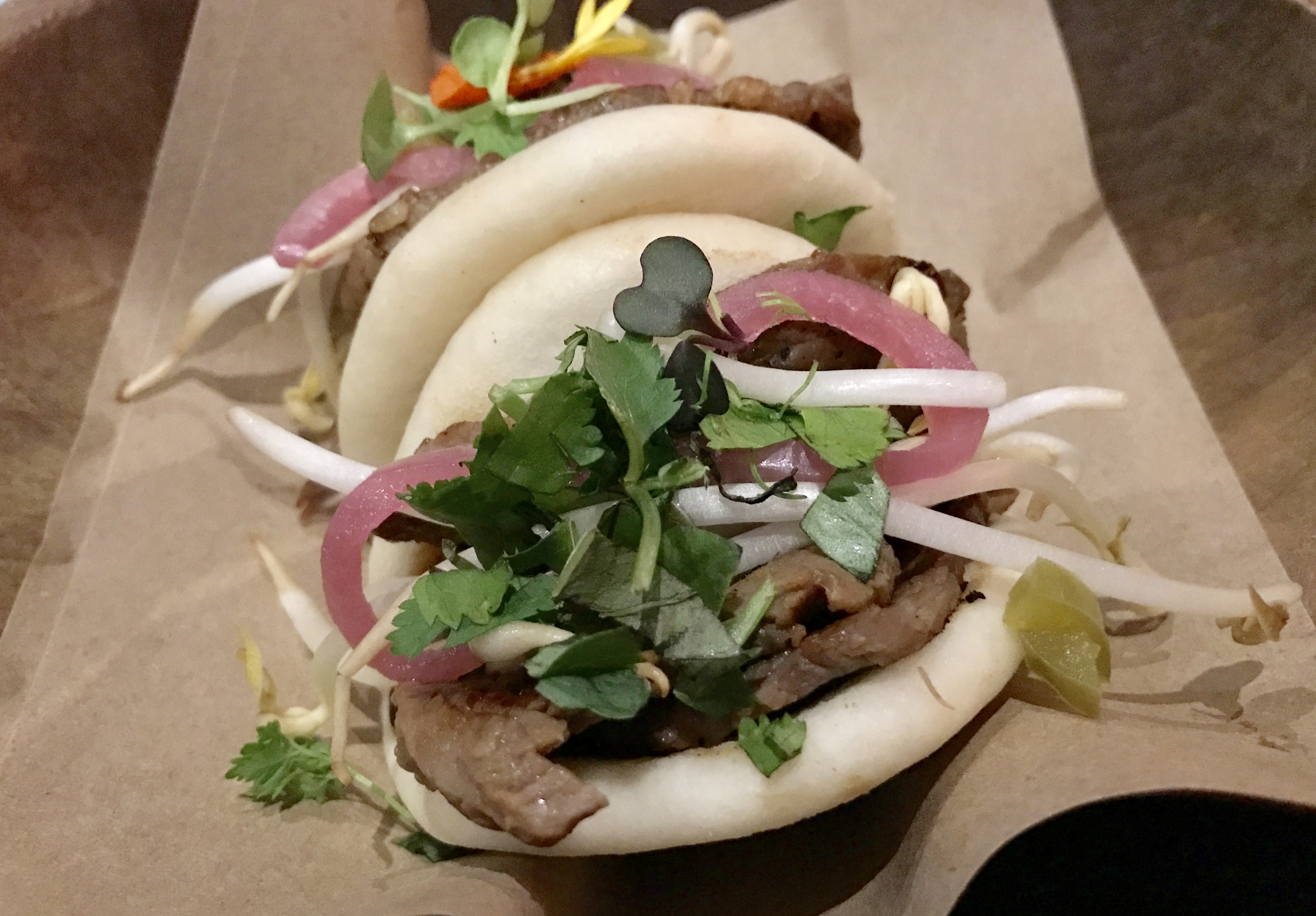 We changed our drinks to go better with the food. Kevin ordered his signature Martini which is his gin choice of the day, very dry, up with olives and I ordered the most delicious glass of Justin Cabernet.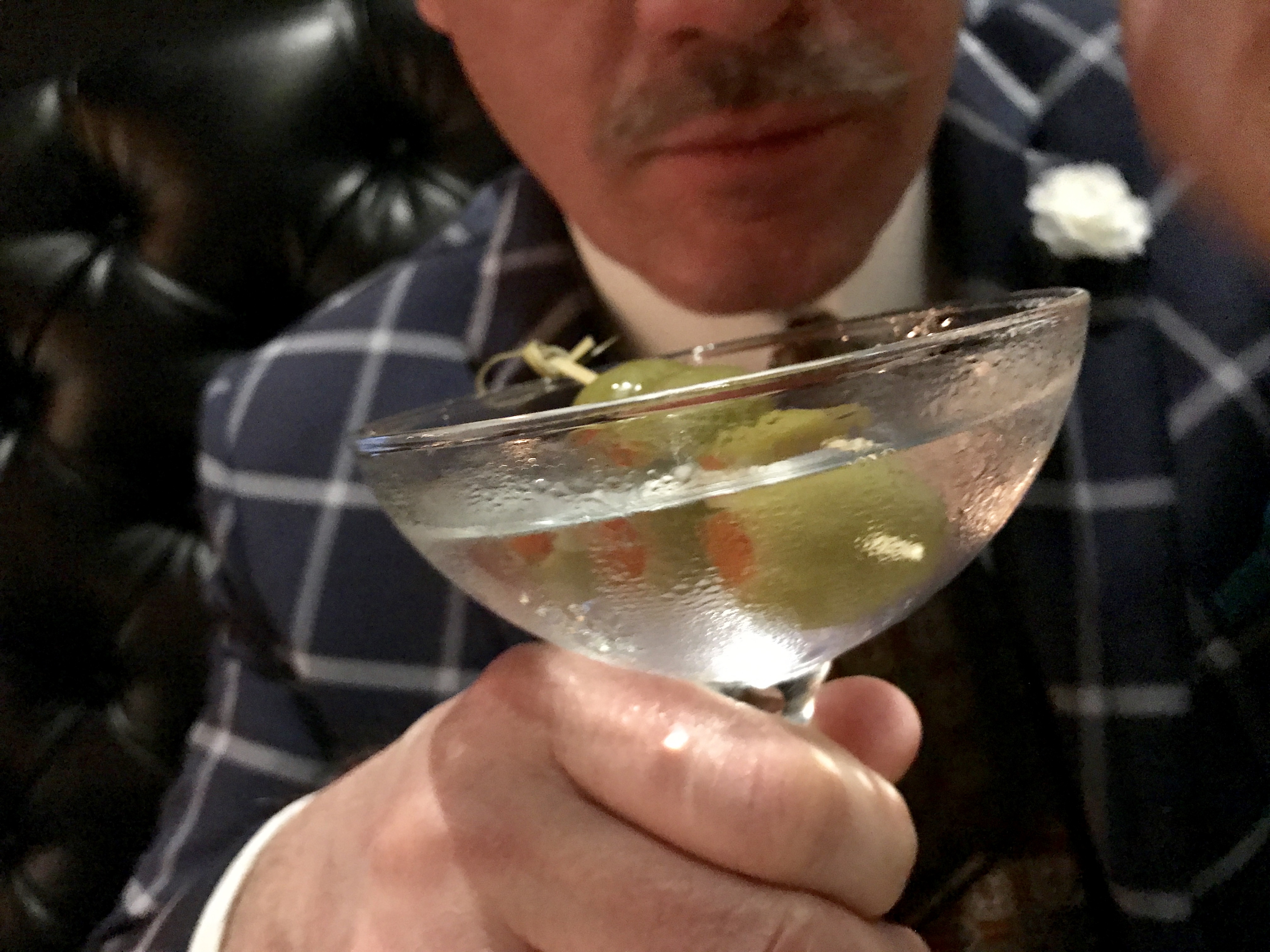 Next up were the Blue Crab Fritters. They are double battered and deep fried and consist of Blue Crab, Cream Cheese, Fresh Herbs and Harissa Mayo. They normally come four to an order. We both felt these were very tasty with a sweet spice to them. They were crunchy and crisp. Even though they are double battered, I did not feel like it was too much. I liked mine better not dipped in the Harissa Mayo. By itself it had such a nice flavor profile and a decadent finish almost like a fine wine.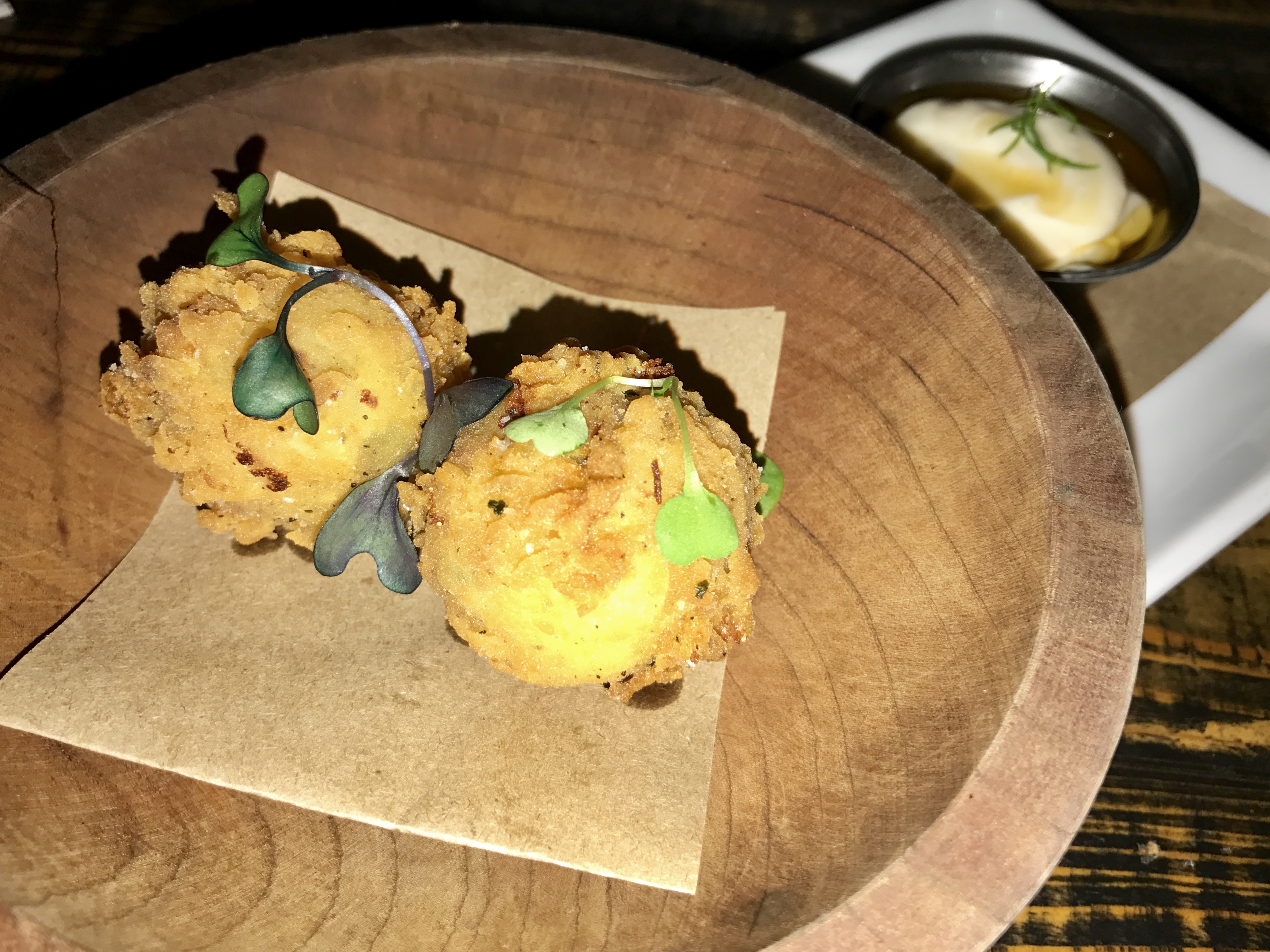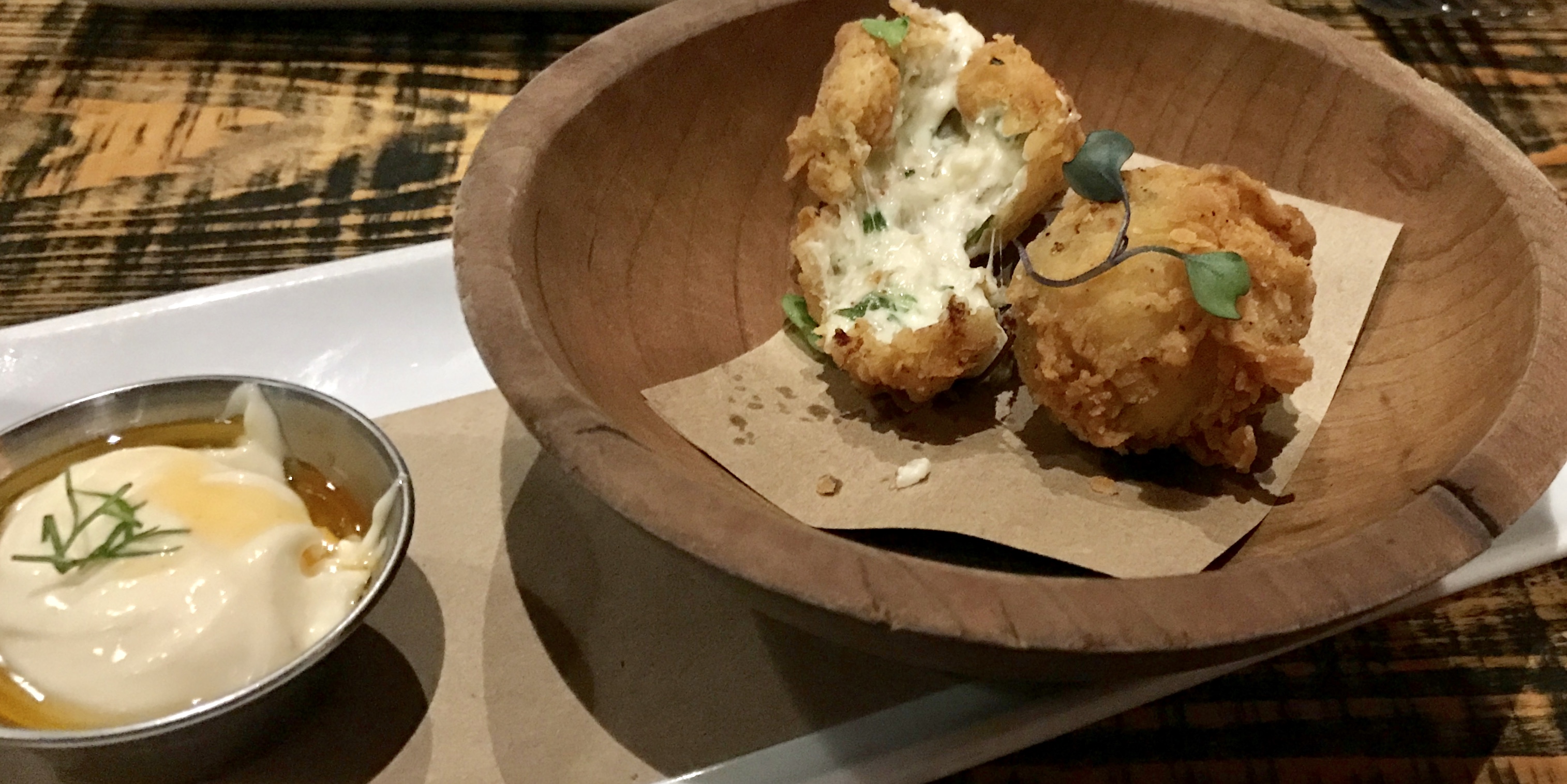 To our delight, because we both saw it on the menu and were hoping to try it, our next dish was the Tuna Poke. Chef said, "This is something that is near and dear to my heart for many different reasons, but Hawaii is one of the main ones." The Ogo Seaweed comes straight from Hawaii. They mix it with the Ahi Tuna, Hawaiian Salt, Crushed Red Pepper, Sesame Oil and Sriracha and serve it on a bed of Gem Lettuce and top it with Fried Wontons. We absolutely LOVED this! The freshness really shines through and the flavor combination was superb. It was Kevin's favorite of the night. My second favorite.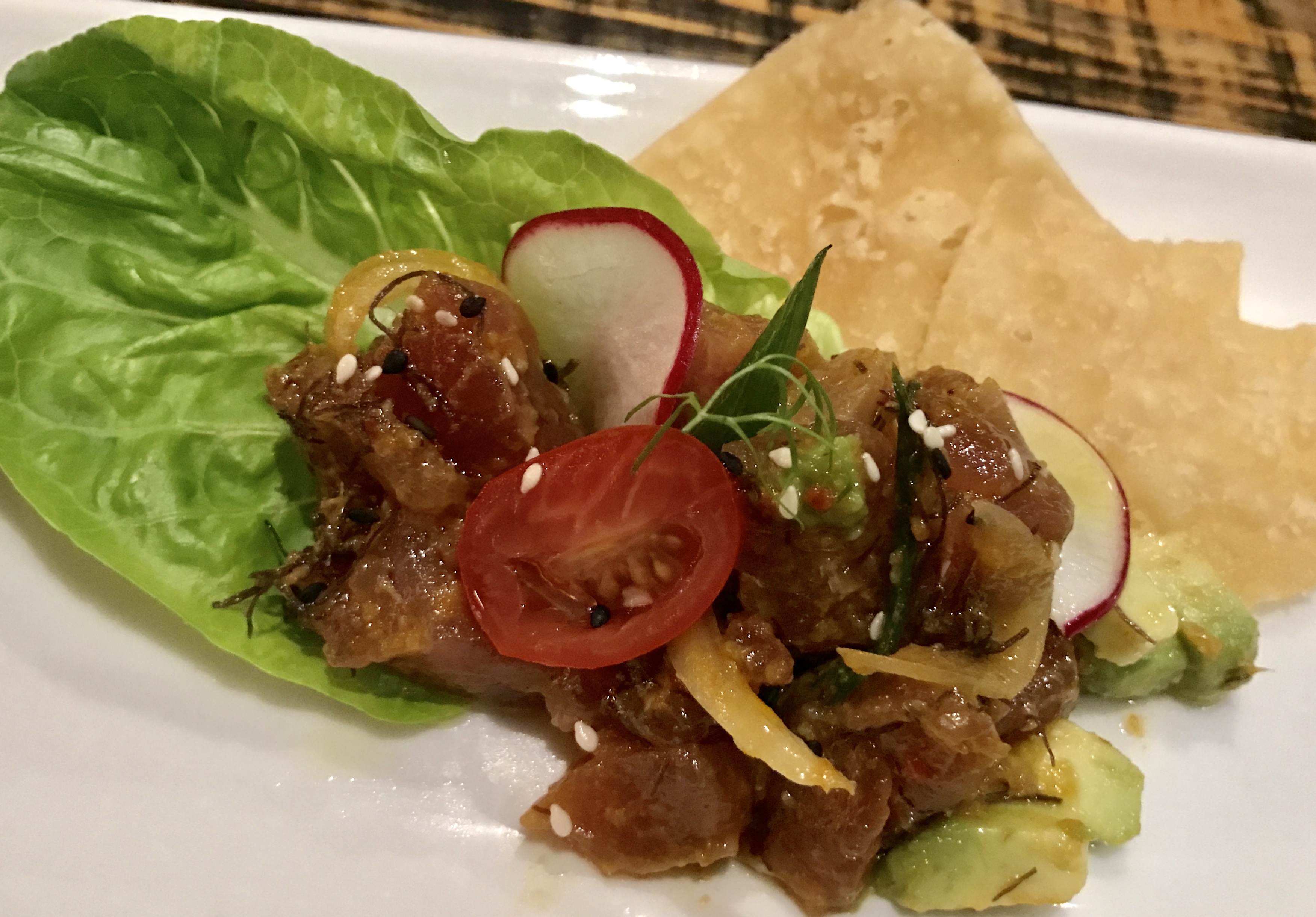 My favorite dish of the night was The Med Salad: Gem Lettuce, Raw Veggies (Asparagus, Radish, Raw Fennel), Roasted Wheat, Feta, Salmon Pastrami and Egg, then topped with Croutons and a Greek Vinaigrette. Wow! What a surprise! A salad is not usually my favorite dish. The Salmon Pastrami is house cured and so unique and tasty. Chef describes the process, "The Salmon brines in house for two days, then it rests for two more days and then we smoke it with Pastrami spice on top ." I can't rave enough about how tasty this salad is!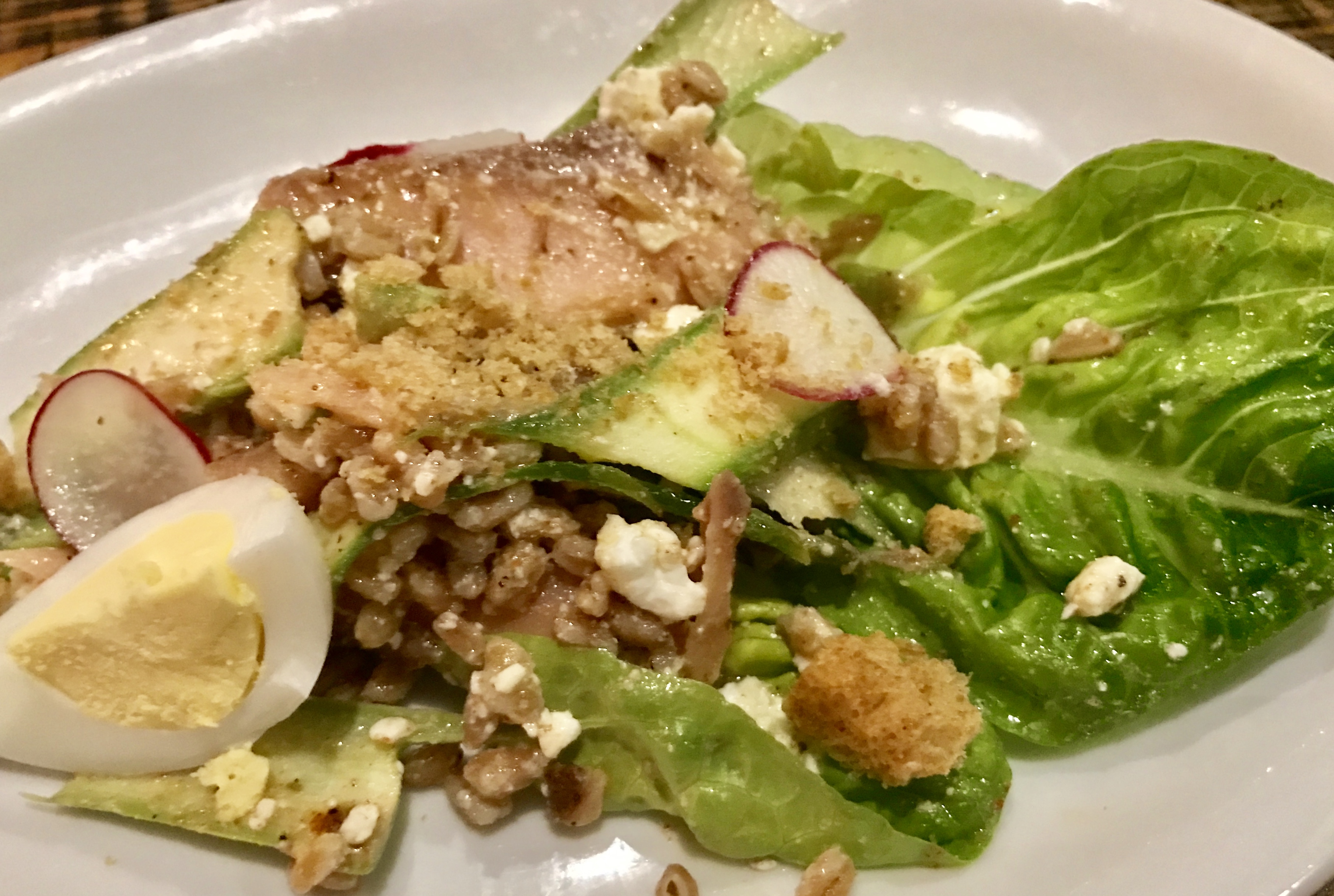 Chef Jeffrey describes this next dish as like a "Crab Cake Pasta" and said, "Growing up in D.C., Blue Crab, Crab Cakes, so this is kind of where the inspiration came from." This dish is called Maryland Style Blue Crab Spaghetti and it consists of Fresh Spaghetti, Lump Blue Crab, Heirloom Tomatoes sautéed in a lemon oil tossed with Old Bay Bread Crumbs that are made from Oyster Crackers.
As we were eating this dish, we both made the observation that there is a sweet, spicy theme that exists in nearly every dish we tried, but especially with this one. I said to Kevin that it almost had the flavor and texture (except that it was spaghetti) of carrot cake. The Old Bay Bread Crumbs are what I think added to this. What I learned from this is that Chef is adding his Asian flare, just a touch, in every dish and in certain parts of China the bit of sweetness is the norm. Not being sweets eaters, I have to be honest and say that it was not my favorite, however, I have gained a new appreciation of the technique. It is all about your tastes.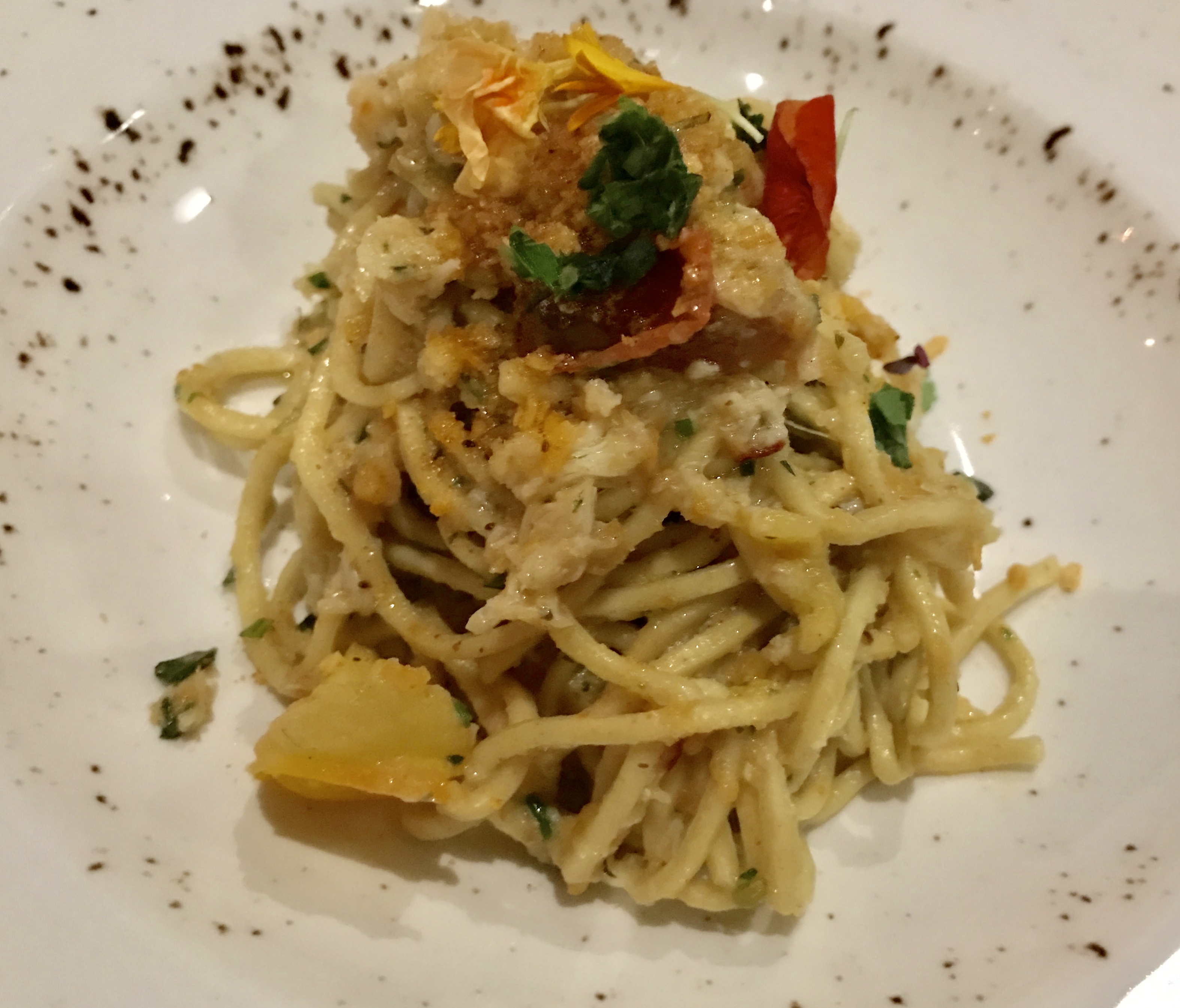 Next up, Chef Jeffrey describes the "Grilled Hogfish, skin on, served with a bed of dirty rice that is cooked in Bacon fat served with grilled Snipped Beans, green Kale from local, hydroponic Brick Street Farms, Escabeche (Mexican, spicy, pickled vegetables) sauce, a little sweet and sour to offset that and then it's topped with Fennel, Watermelon Rind and Pickled Salad on top."
To be fair, I was quite full at this point, but this was my least favorite dish of the night. Kevin really liked it. I got a mouth full of watermelon rind, which was very bitter and that just did me in. The fish was cooked perfectly and the rice was quite good, but overall, I would not order this again.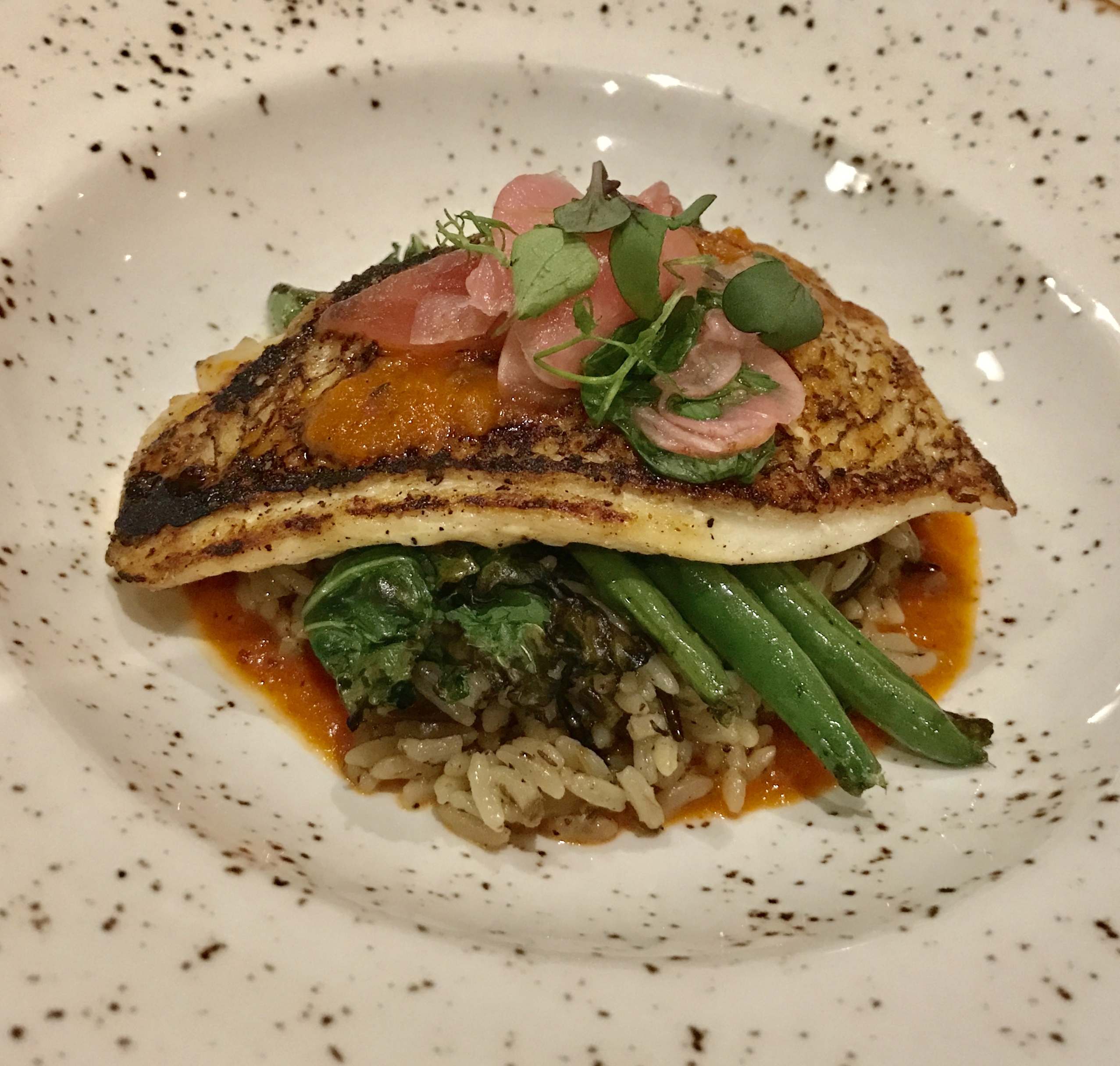 Then came the braised Beef Short Ribs that they marinate in a house made Moroccan seasoning. Then they pan fry it and roast it over night at a very low temperature. It is served with Charred Onion and Scallion Mashed Potatoes, Romesco Roasted Mushrooms and Carrots and basic Jus from the roasting pan.
The short ribs were cooked to perfection, as was everything else. I would have absolutely loved it, if it didn't have the underlying sweetness that I referred to earlier. When it comes to beef, I want it to have that salty, beefy flavoring.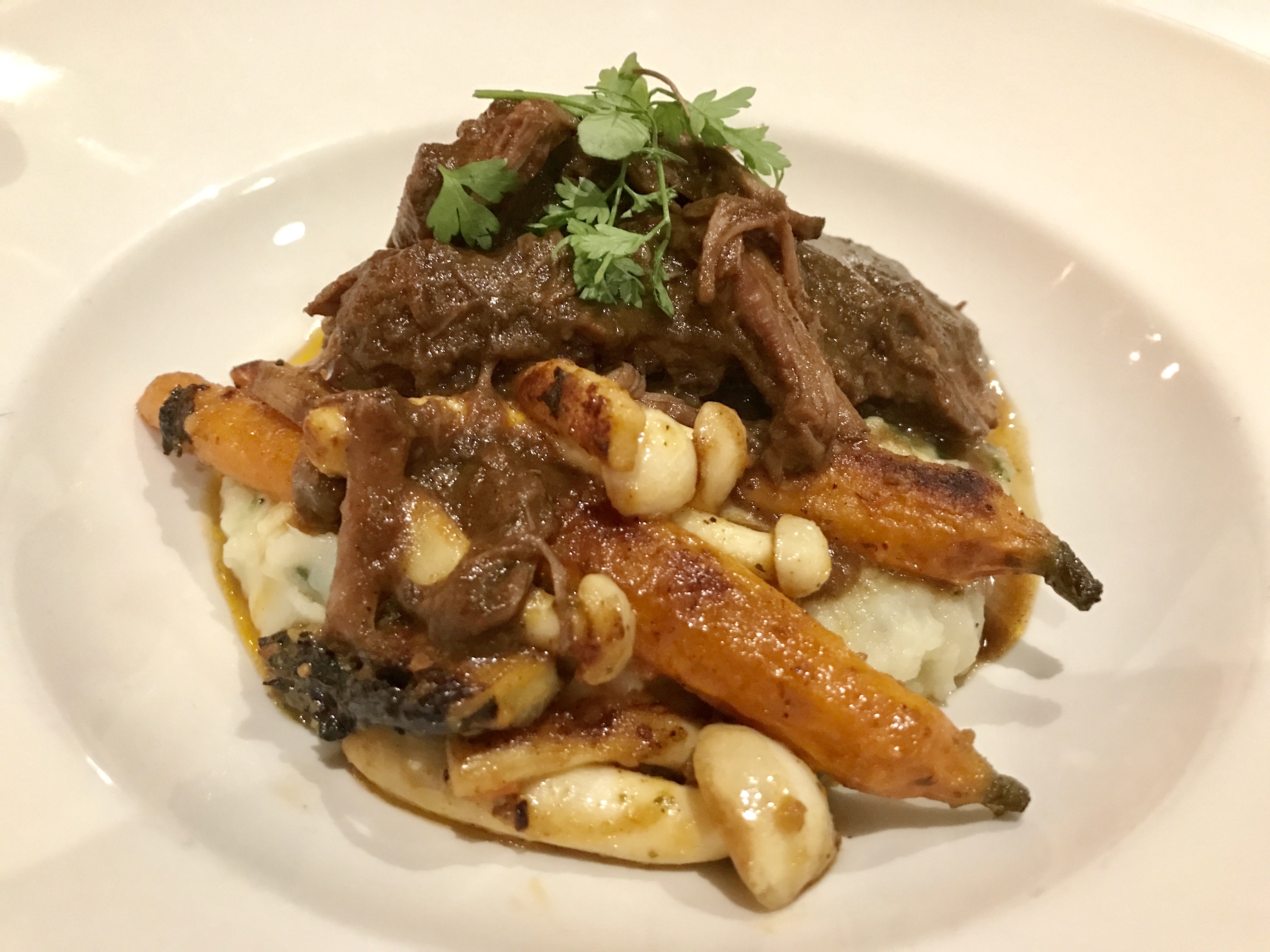 The finale was a dessert called Chocolate Cremeaux. I failed to get a picture of this rich, creamy delight, apparently we had a few too many martinis.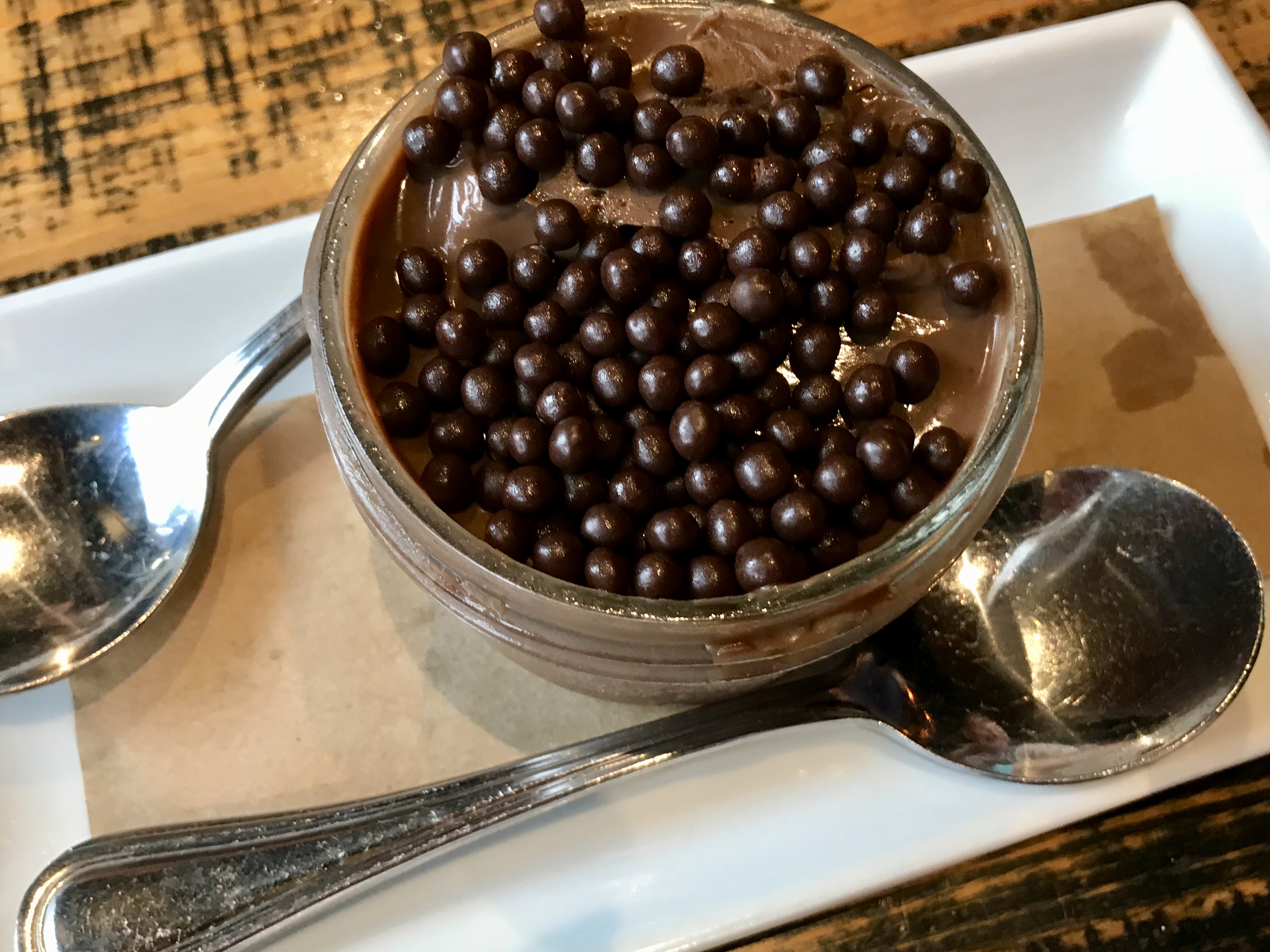 It was a deconstructed dessert made with the Pretzels that they serve with their Cheese Fondue and then Peanut Butter and Dark Chocolate are cooked down with egg yolks and cream and then refrigerated to set. It is served with house made Beer Nuts, Chocolate Caviar and Shaved Chocolate on top. I know…kill me for no picture. But here is why…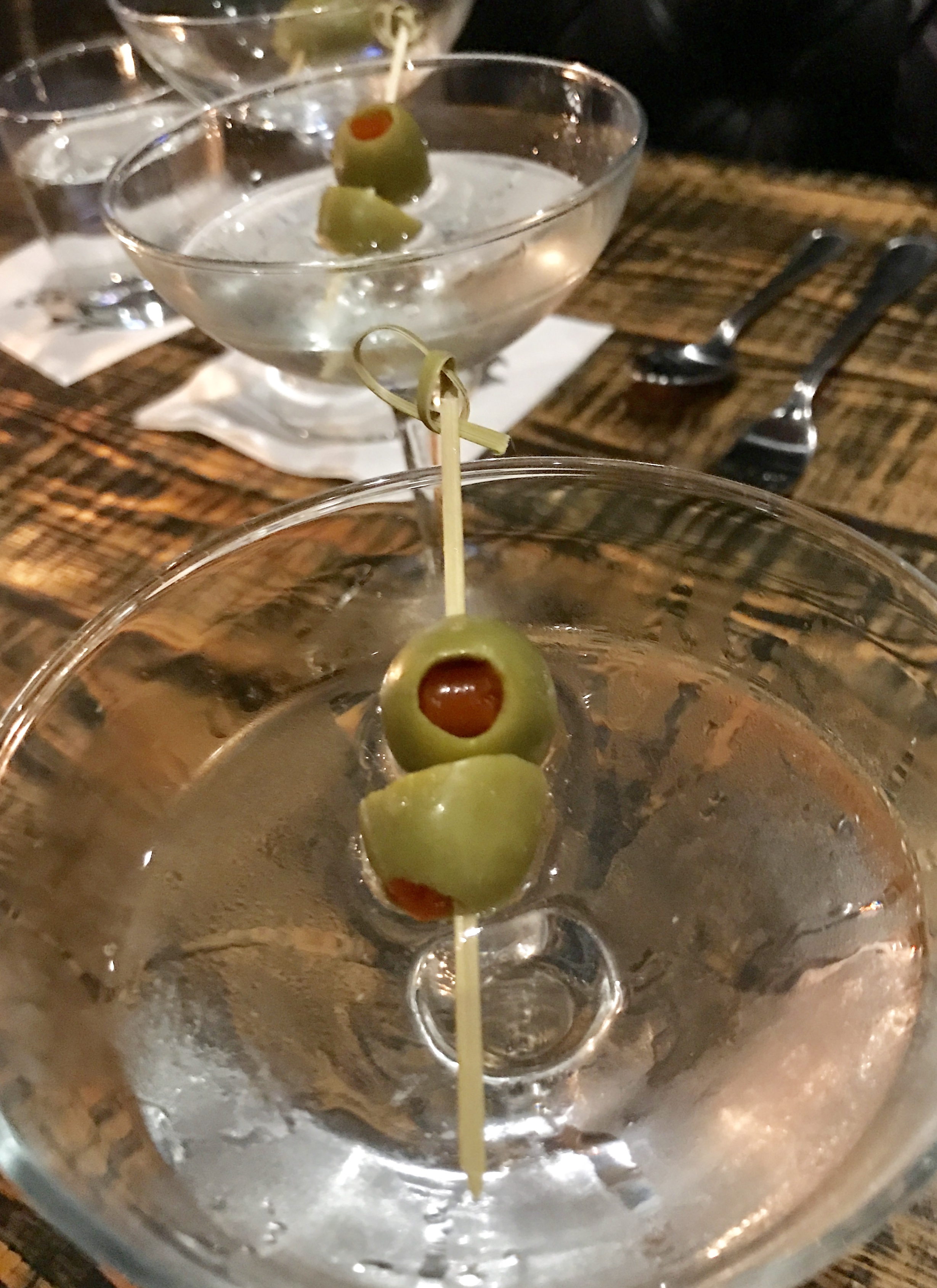 This etching in the marble floor has worn down since they opened but it represents Stillwaters Tavern's latitude and longitude and can be found on their wine glasses and in other places throughout the restaurant.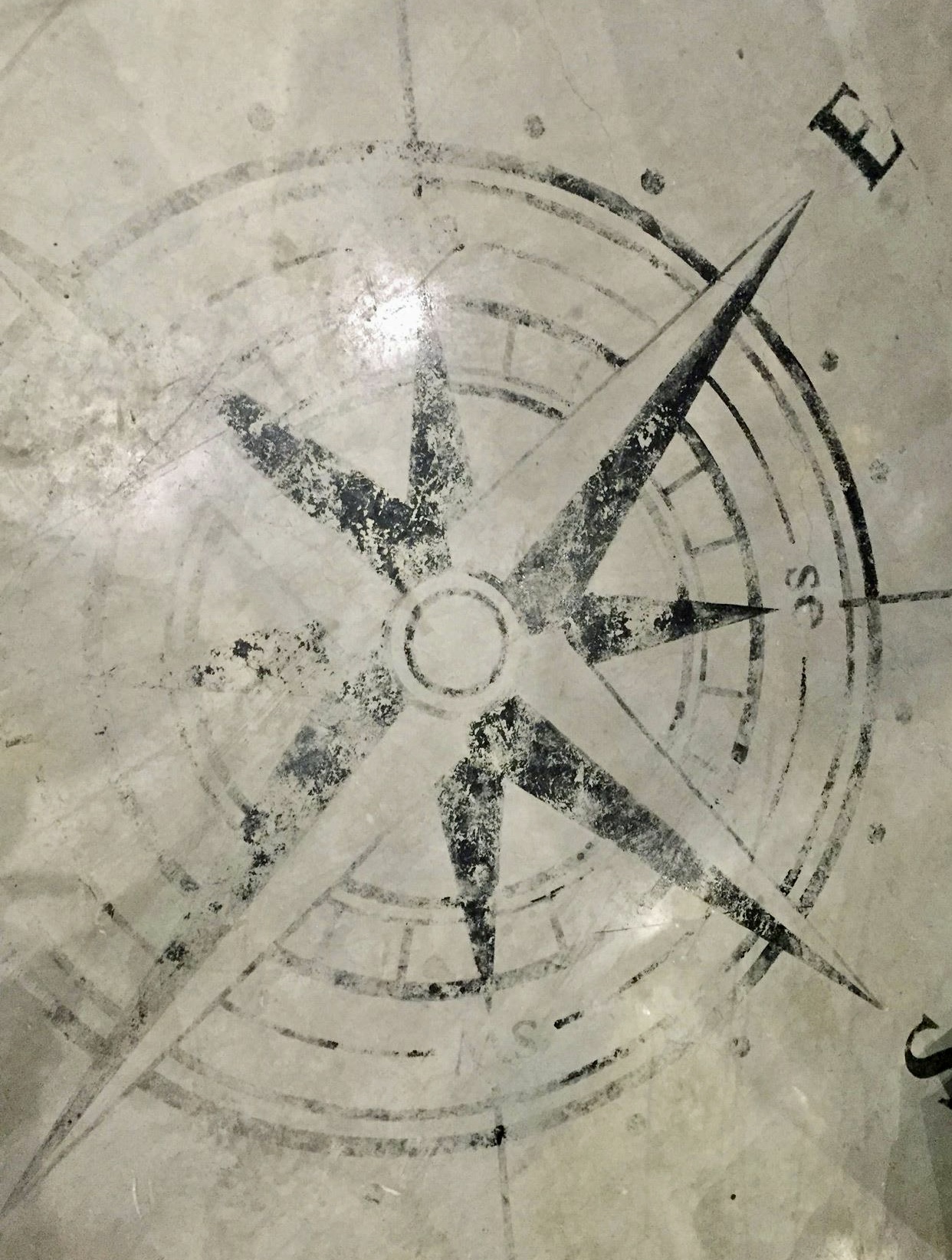 So all in all, we will definitely return again. I have learned that I must approach Stillwaters Tavern and Chef Jeffrey's cooking with a different mindset, as I have learned with other restaurants on our journey. He cooks with an Asian flare that carries an underlying sweetness that I can thoroughly enjoy and appreciate knowing what I know now. And also by adding my favorite accoutrement…salt. My name is Lori Brown and I am a saltaholic.