Sushi Rock Grill: Where Sushi Purists & Adventurous Eaters Alike Unite
Sushi Rock Grill: Where Sushi Purists & Adventurous Eaters Alike Unite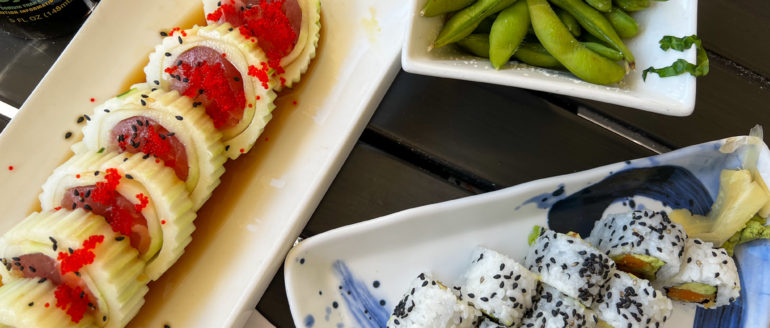 Across the pond (literally) from The Deck Bar & Grille (which I reviewed earlier this month – article here ) you'll find Sushi Rock Grill which houses a completely different vibe and menu than the sports bar. Sushi Rock is located just off of the Pinellas Bayway in the plaza in front of the Isla Del Sol Yacht & Country Club.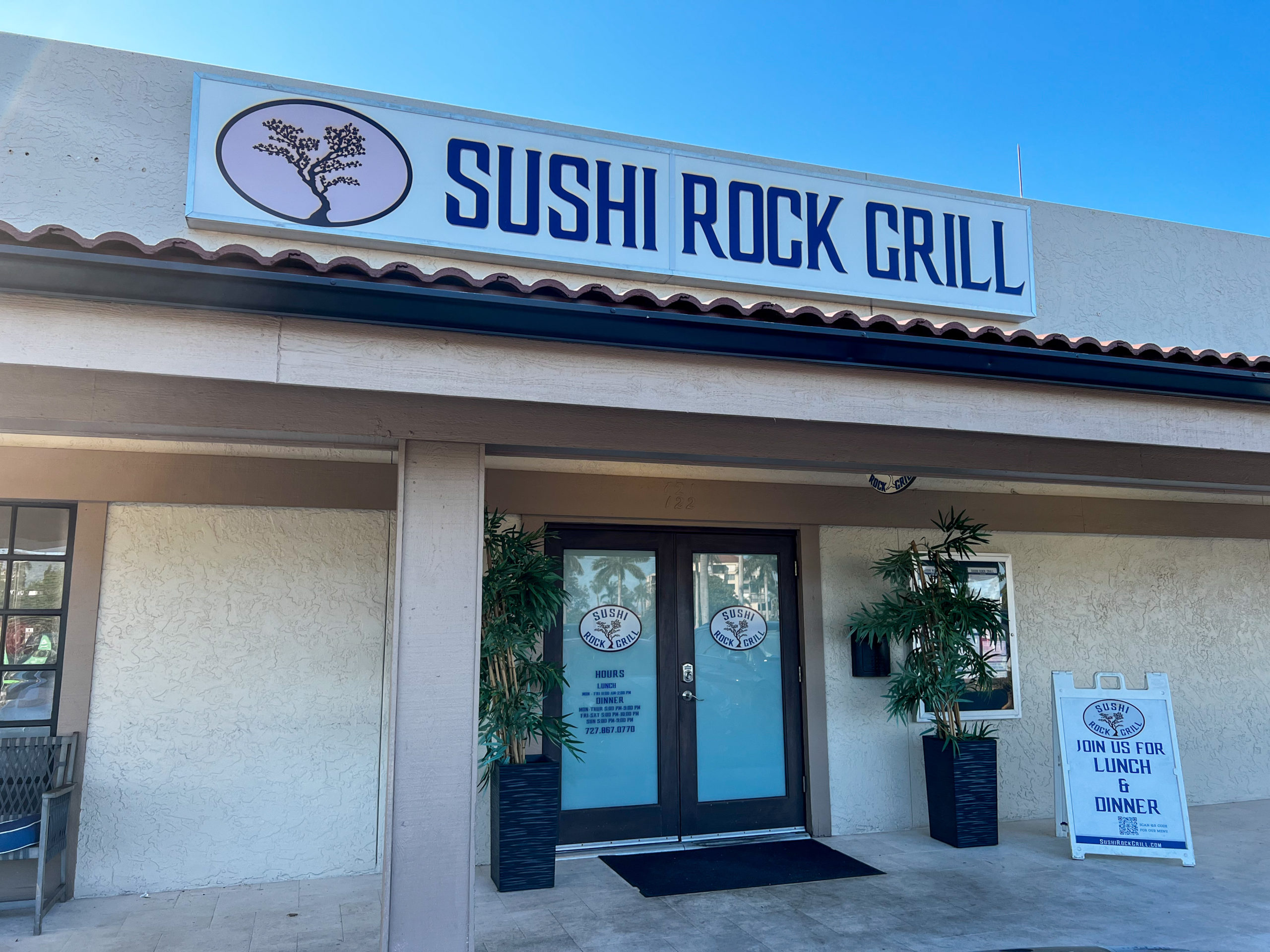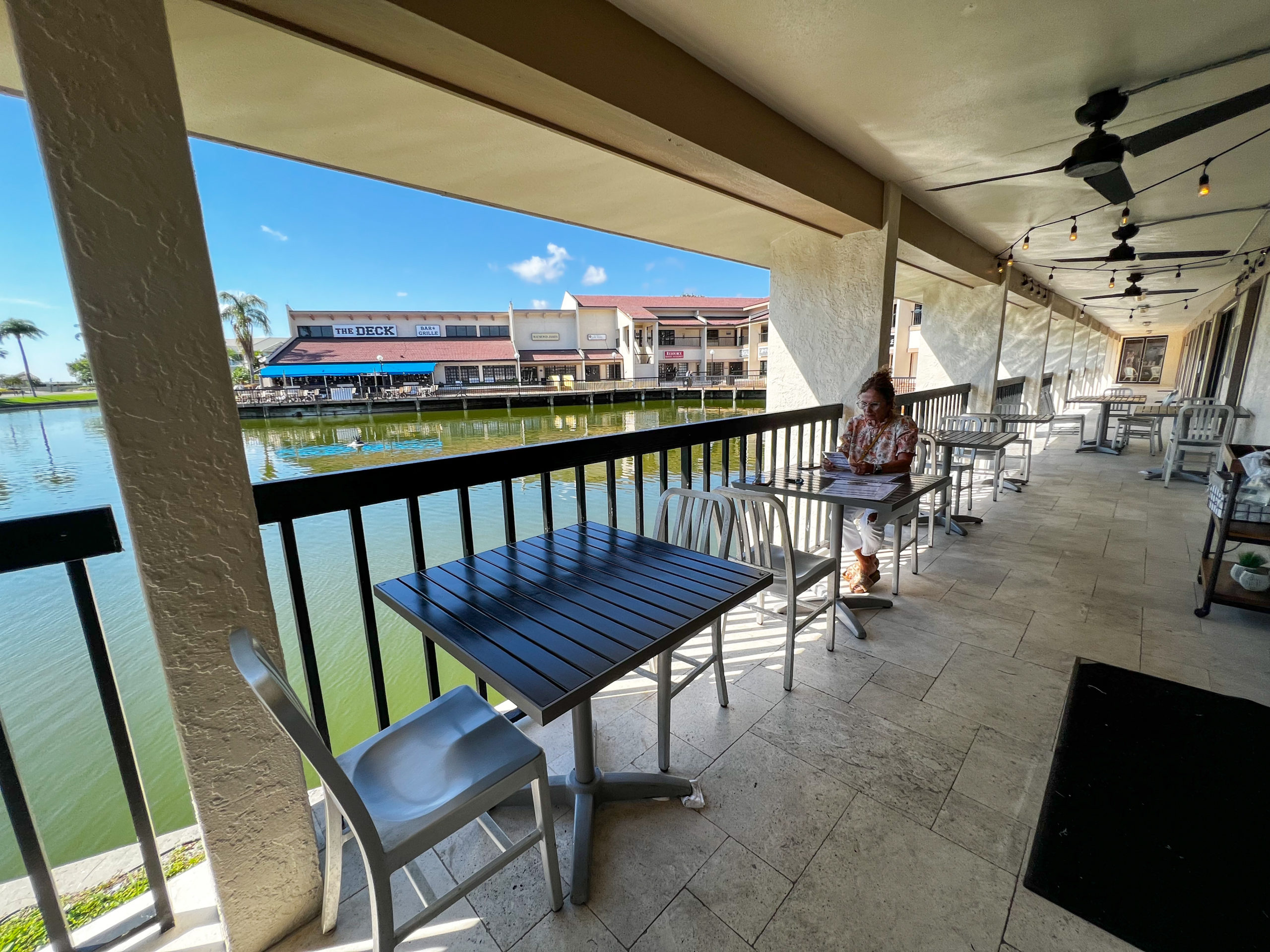 I'll admit that I was shocked when we walked in the front door, as the decor surpassed my expectations. The exterior of Sushi Rock is quaint and very clean. When you pull into the plaza, it's the first business you pass. I honestly don't know what I had in mind for the inside of the space but I was pleasantly surprised when we walked through the dining room. The interior is modern and very clean and modest in size but bigger than I thought with at least a dozen or so tables and a sushi bar with seating.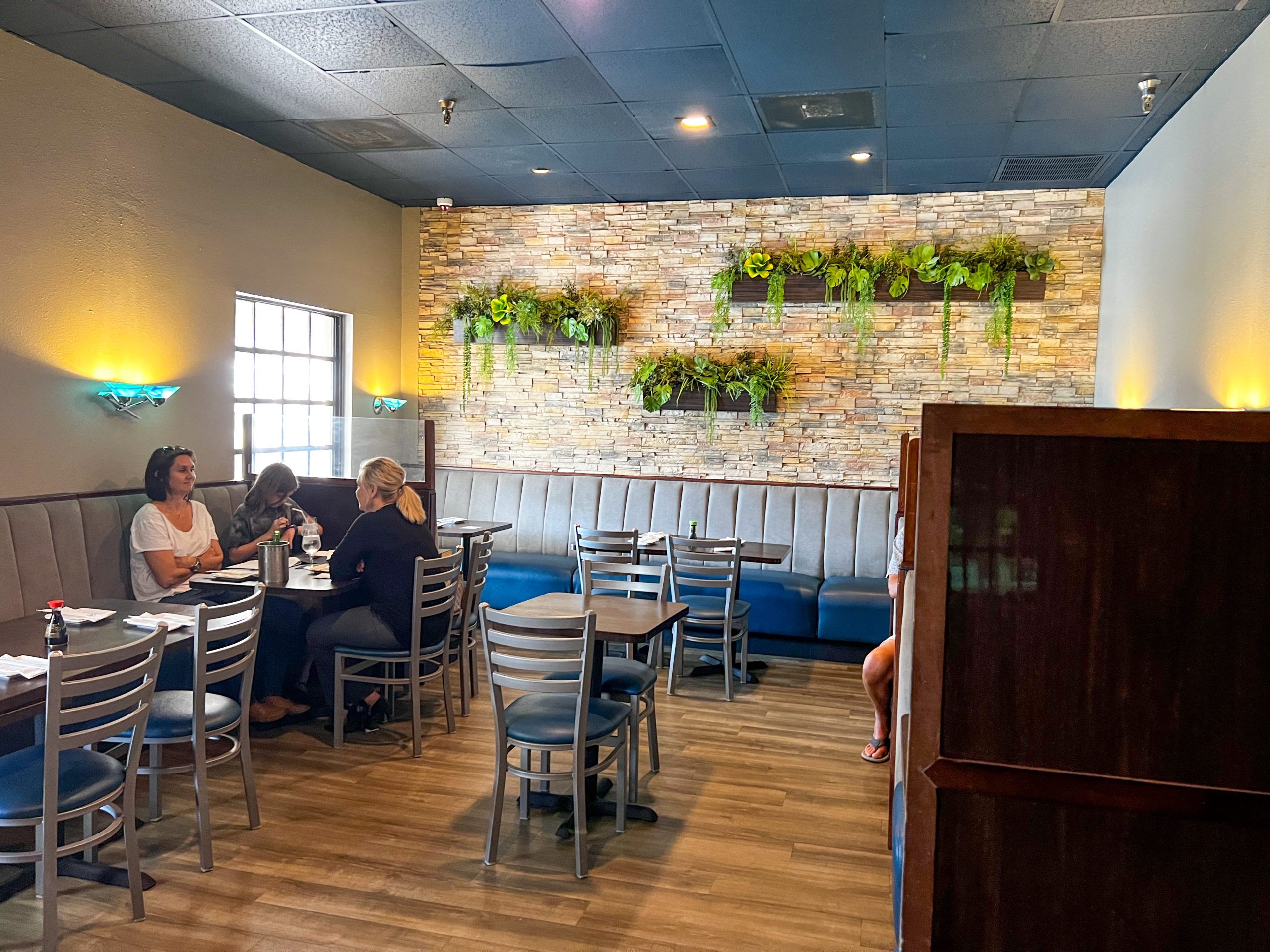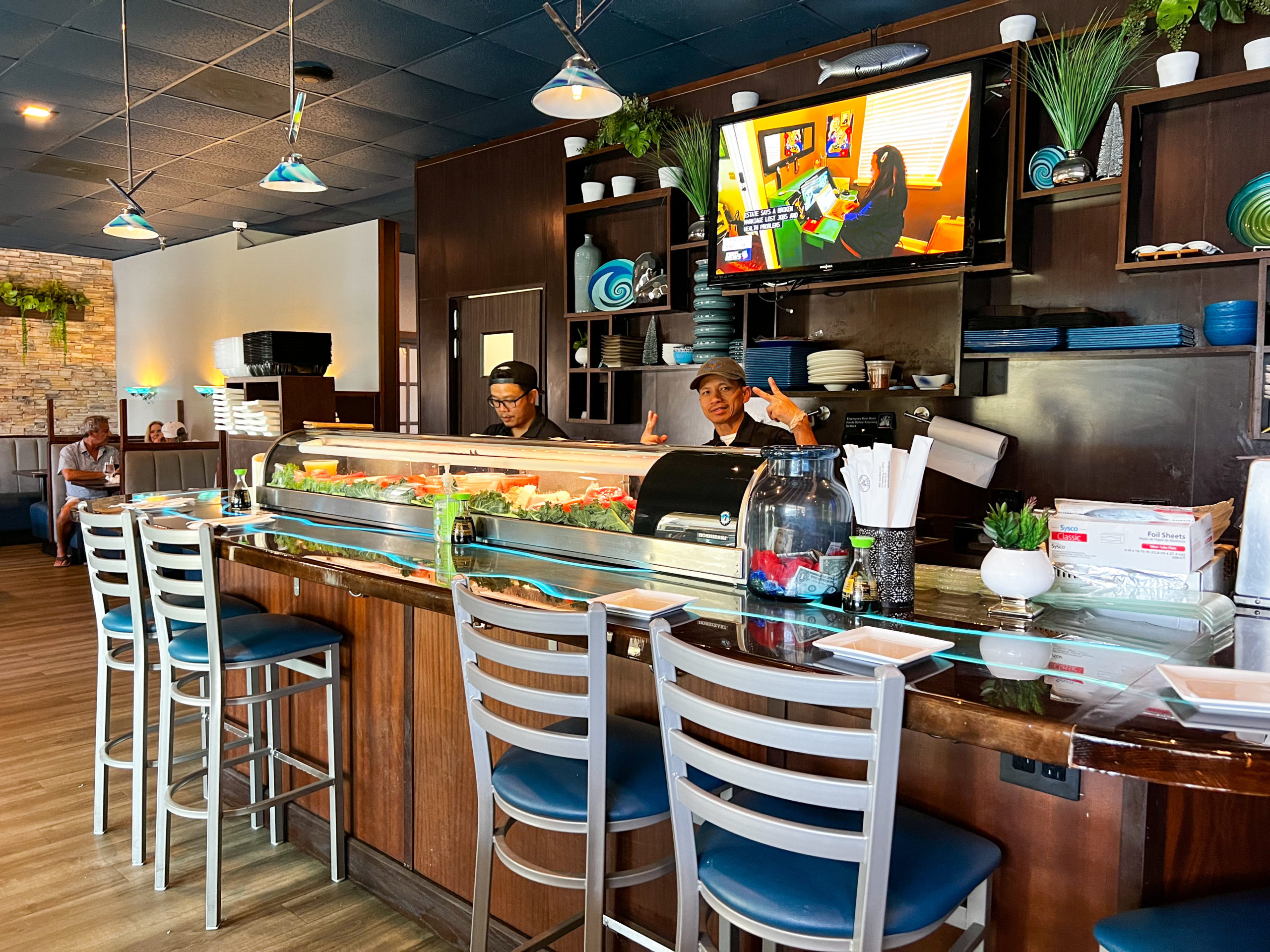 If you continue through the dining room to the patio, you'll uncover even more seating along the water in the back of the building. It was an 80 degree + afternoon with plenty of sunshine and no signs of humidity (yet) so dining on the patio in the early evening was an attractive option. Other folks thought so too because shortly after our 5:00PM arrival every table outside was filled with the exception of a larger table that already had a "reserved" sign on it. The inside was no different either – when we left around 6:00PM, the inside was basically full and multiple take-out orders were ready and waiting to be retrieved and devoured.
Upon taking our seats outside, we jumped right to the drink section – it was a very warm and sunny afternoon and a cool and crisp drink was necessary. Had we been anywhere else I probably would've opted for a rosé or perhaps sauvignon blanc, but being that sushi was in our near future, sake felt right. Our waiter pointed out a few suggestions and even showed us a few off-menu sake options. We went with his suggestion as it's a popular choice and it definitely did the trick. Cloudy but bright, semi-sweet and ultra refreshing.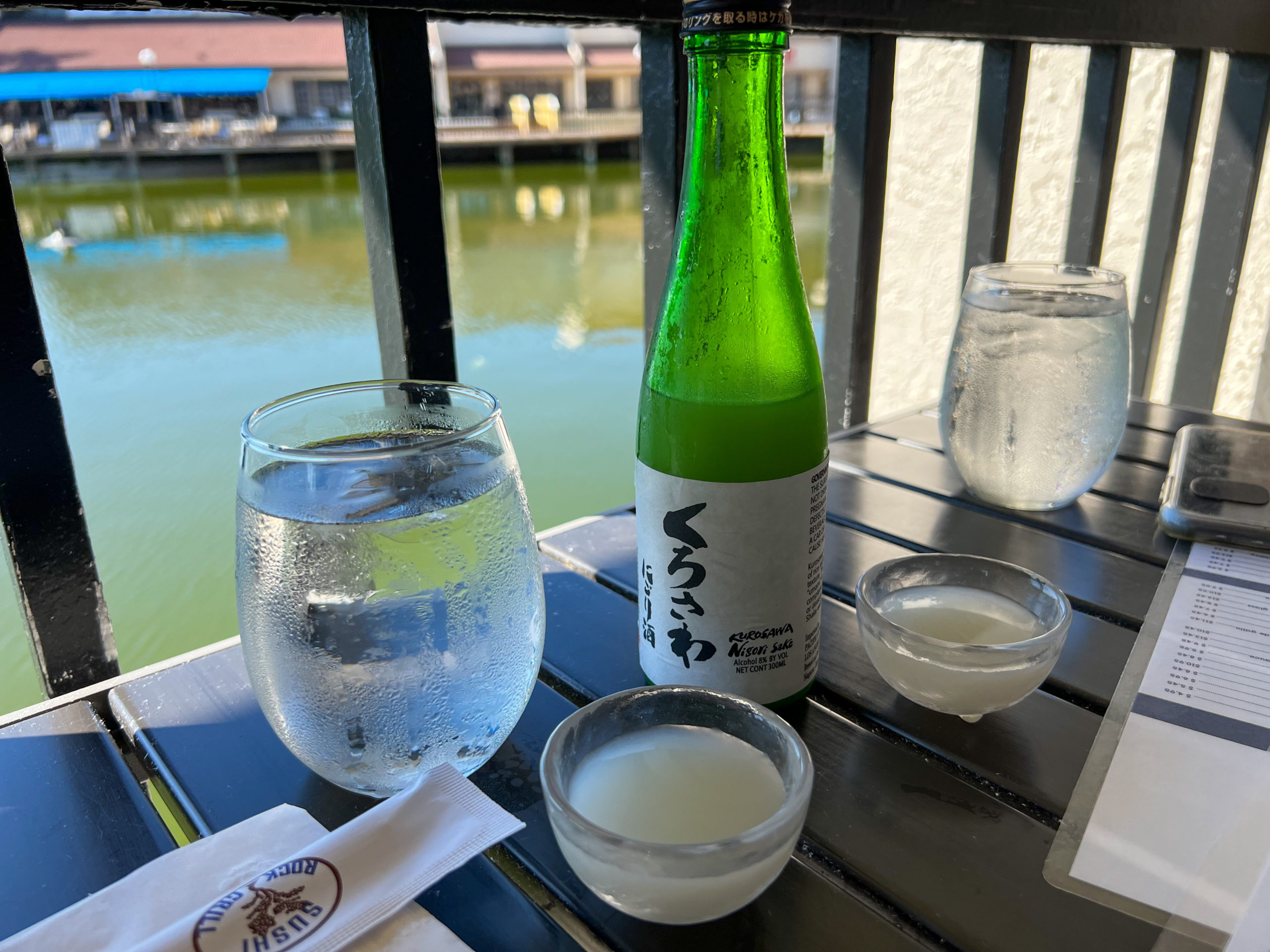 Food wise, we kicked things off with Edamame – perfectly steamed soybeans with a sprinkle of sea salt. I'm a sucker for a snack that I can get a lot out of with minimal effort. Optimal ROI, if you will. Edamame is just that for me. And edamame is nothing to feel guilty about eating. In fact, it's a great little warm up for the meal. Sushi Rock offers this simplistic and classic version of edamame as well as a spicy garlic rendition.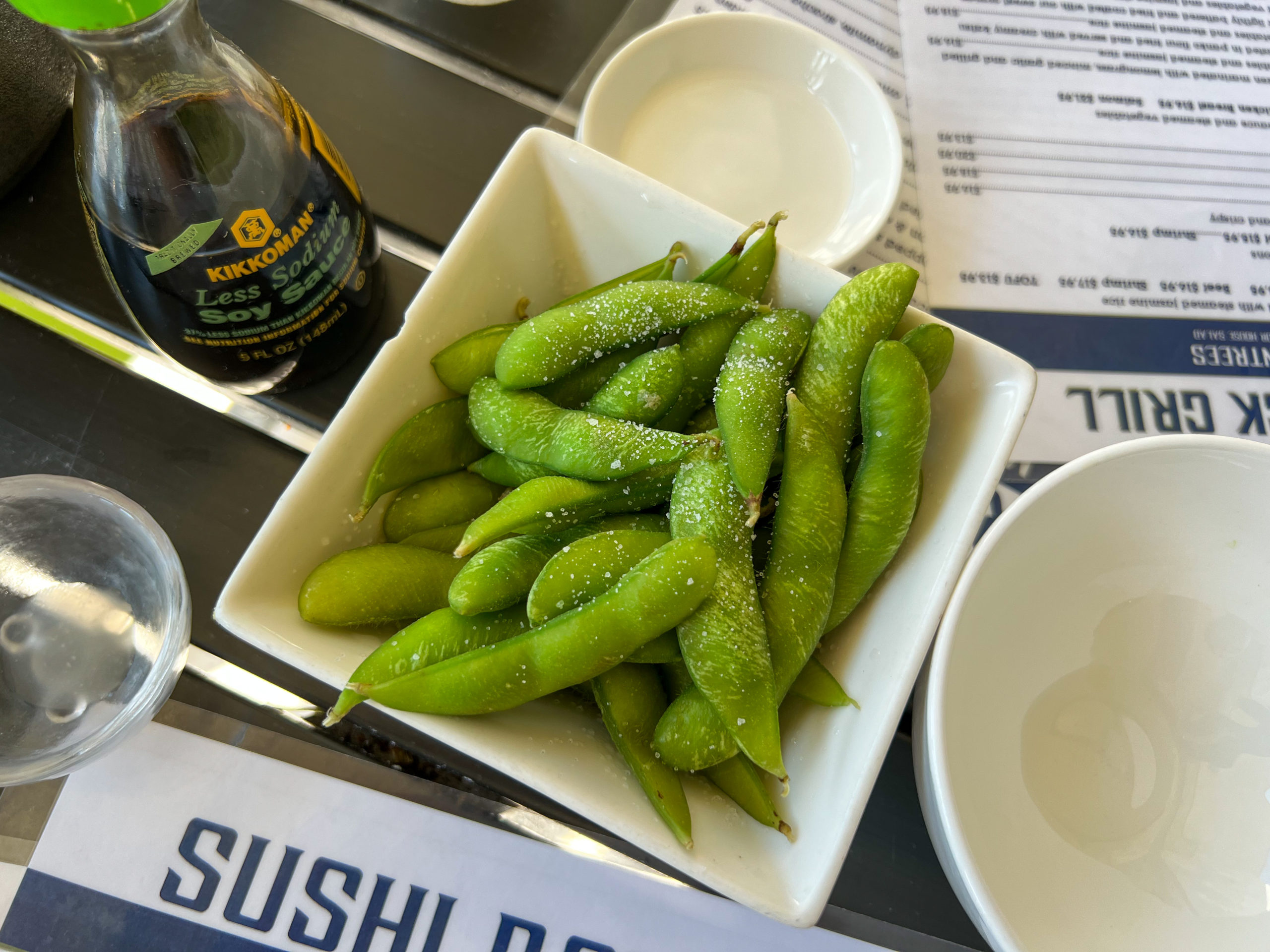 I'm likely to co-sign on an order of vegetable tempura, or anything tempura really. The vegetables are fried in a light and delicate batter. Because the batter isn't that heavy and frying time is minimal, the vegetables maintain their vibrant fresh flavors. I could've easily made a meal out of the edamame and veggie tempura alone. The dish arrives with 6-8 large pieces of assorted vegetables like zucchini, onion, carrot, broccoli and asparagus. Because some of the vegetables were so large they required a fork and knife, so my only suggestion to them would be to cut the veggies (like broccoli and zucchini) into smaller more manageable bites.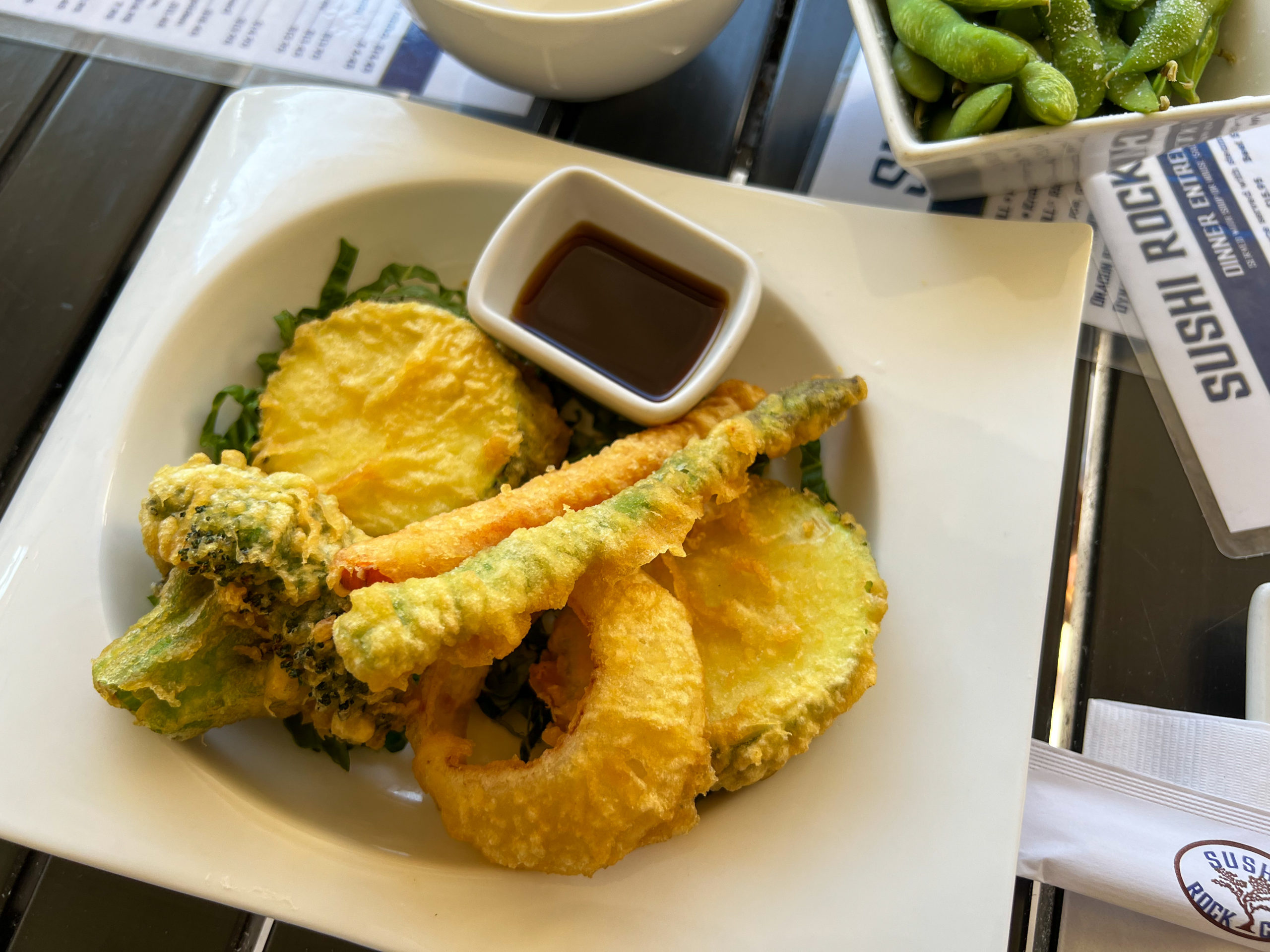 So, you can't just go to Sushi Rock Grill without ordering sushi/sashimi, especially considering the number of rolls offered. They have it all – raw, cooked, partially raw, vegetarian, coconut shrimp rolls, rolls with snow crab and lobster, and the list goes on. Having a tough time deciding on a roll(s)? Order Sushi Rock's Sushi Jo which is a Chef's choice roll with six different pieces of sushi/maki. I actually did not see this option until after we already ordered, otherwise this definitely would've been the move. They have similar options for their sashimi – they have a Chef's choice app with eight pieces or a larger sashimi dinner selection that is also chef's choice.
Two rolls were ordered – the Lollipop roll and the Yummy roll. Two completely different rolls, yet they possessed similar characteristics: notably vibrant and fresh flavors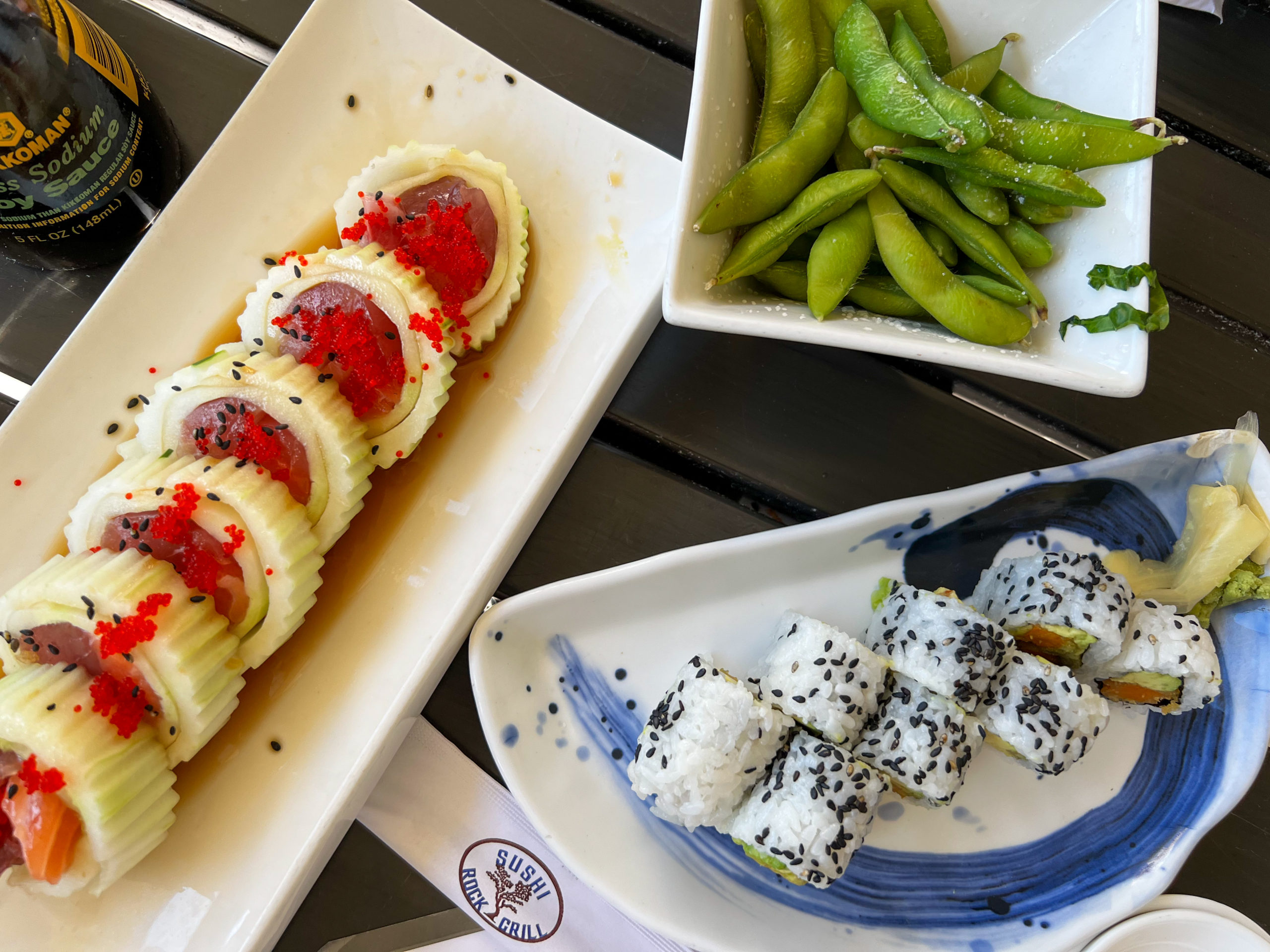 The Lollipop roll is quite different than the typical rolls that I gravitate towards. Unlike most sushi rolls, the Lollipop is rolled in a cucumber wrap which added a fresh crunch with every bite. Wrapped in the cucumber you'll find tuna, salmon and yellowtail and the roll is also served with ponzu and tobiko. It's a very beautiful and appealing roll, bursting with natural flavor notes. The only downfall about the alternative cucumber wrap is that the pieces do not stay in tact, which can make for a more difficult bite.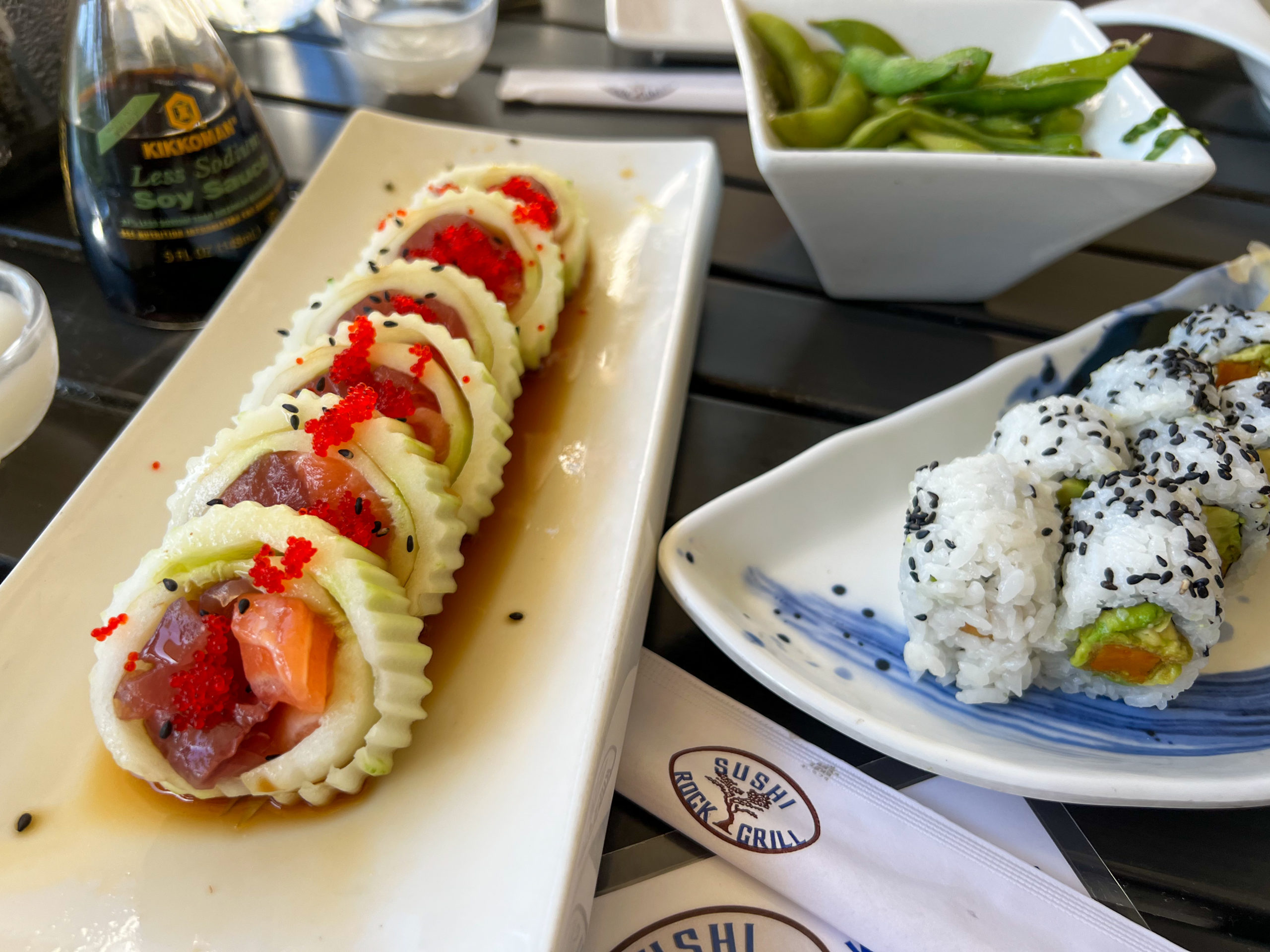 The Yummy roll was selected at random and is comprised of a simplistic combination of sweet potato tempura and avocado. It was much smaller and more manageable to eat and ended up being quite satisfying with only minimal ingredients. This roll is one of their vegetarian options.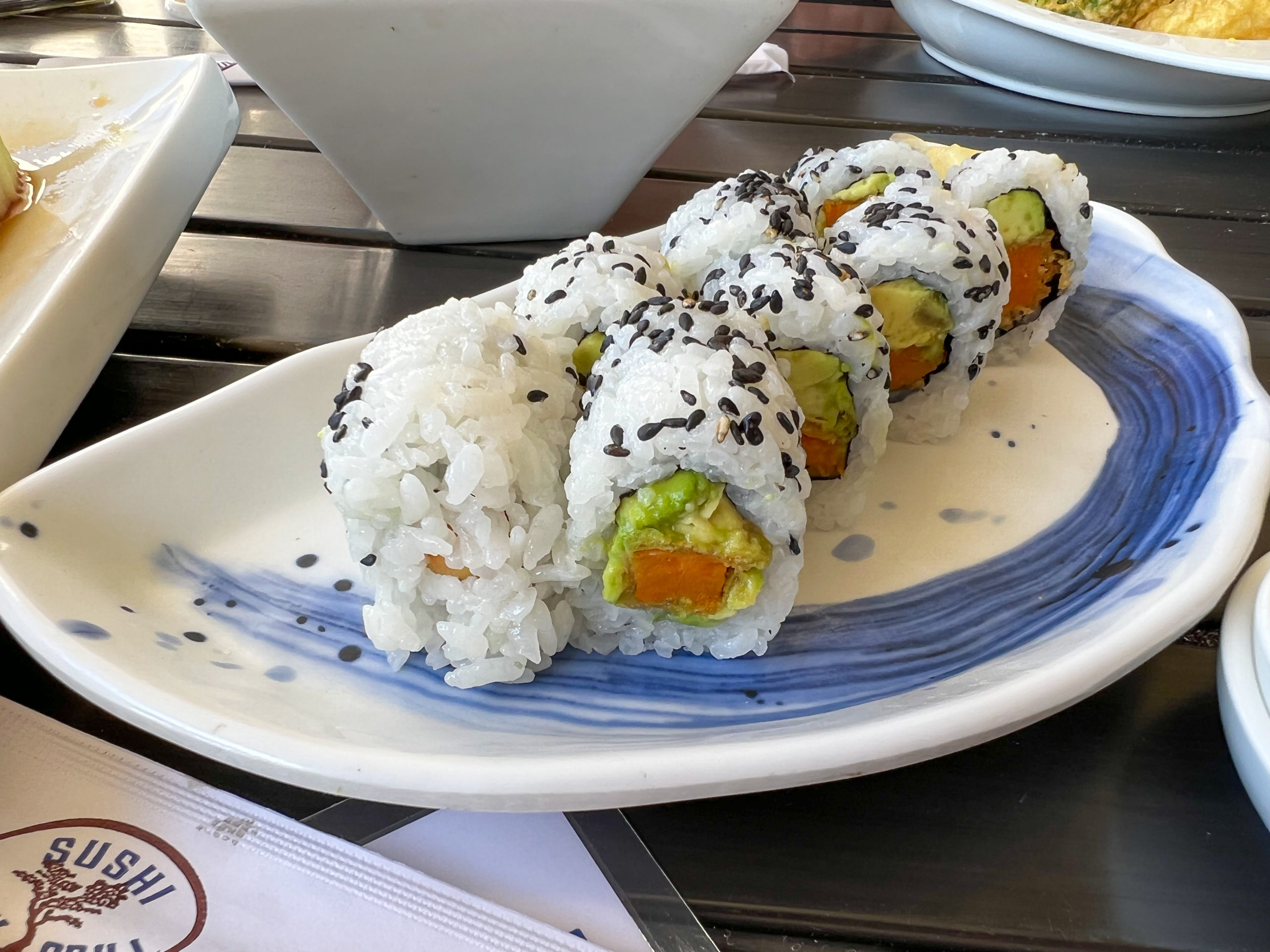 The house salad with ginger dressing is always a highlight whenever we go for sushi, no matter the restaurant. There is just something so satisfying about the cold and crisp lettuce topped with bright and zingy carrot-ginger dressing. At Sushi Rock Grill, all of the entrees come with the options of this salad or a soup. On a warm spring evening in Florida, the salad was an unquestionable move.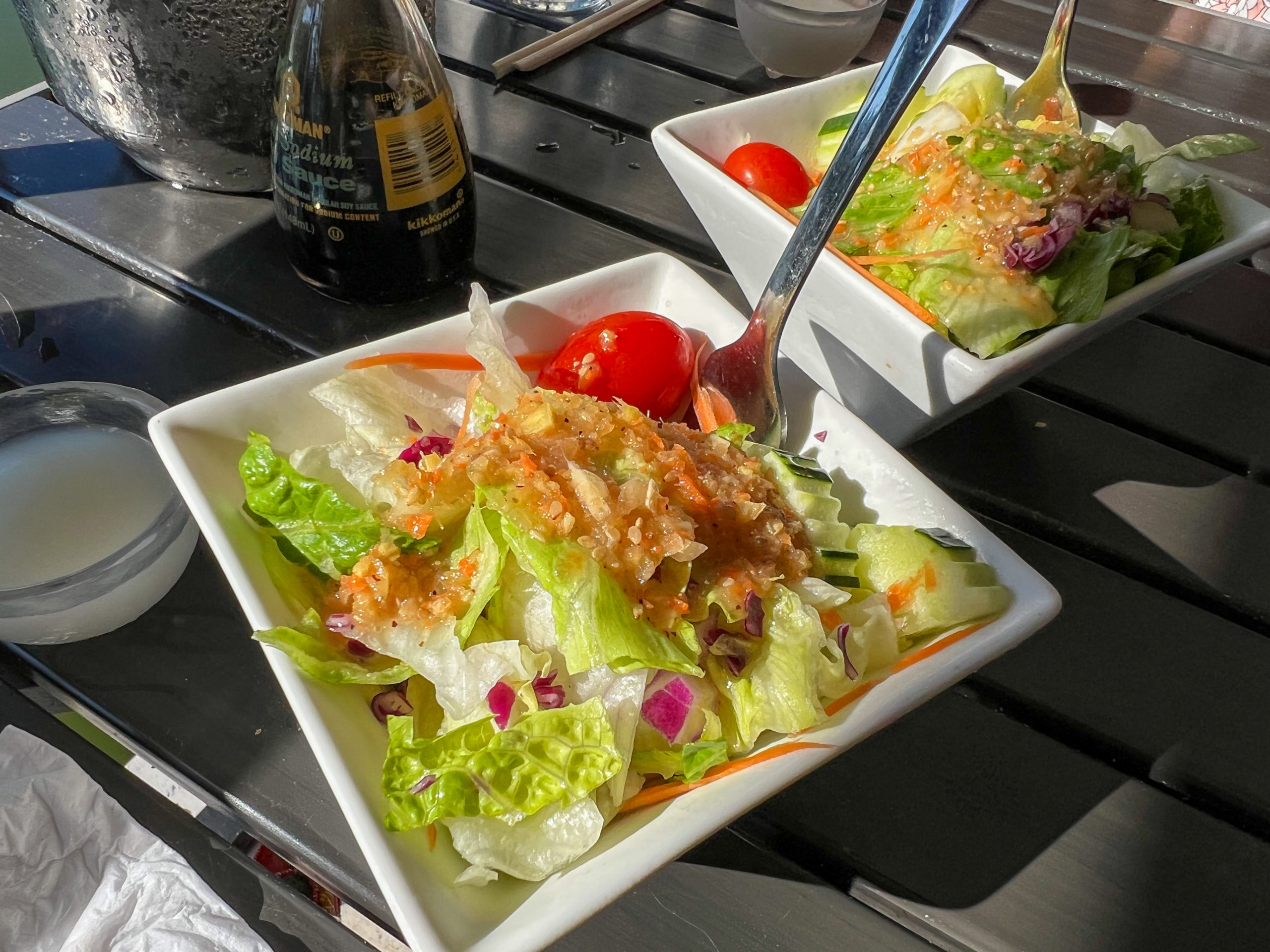 There's much more to Sushi Rock Grill than just the sushi. Their menu is chock-full of non-sushi items like curries, fried rice, beef and chicken dishes like Katsu and Korean Bulgogi and noodle bowls like this one – the Saigon Noodles. All of the noodle bowls (five in total) come with your choice of chicken, beef, shrimp or tofu.  In the Saigon Bowl you'll find rice noodles with tons of fresh Thai basil, bean sprouts, jalapeños and crushed peanuts with a French/Vietnamese sauce and a lime wedge (and you should always use that lime wedge). The vibrant compilation of ingredients makes for an incredibly delicious meal which is just as good leftover the next day.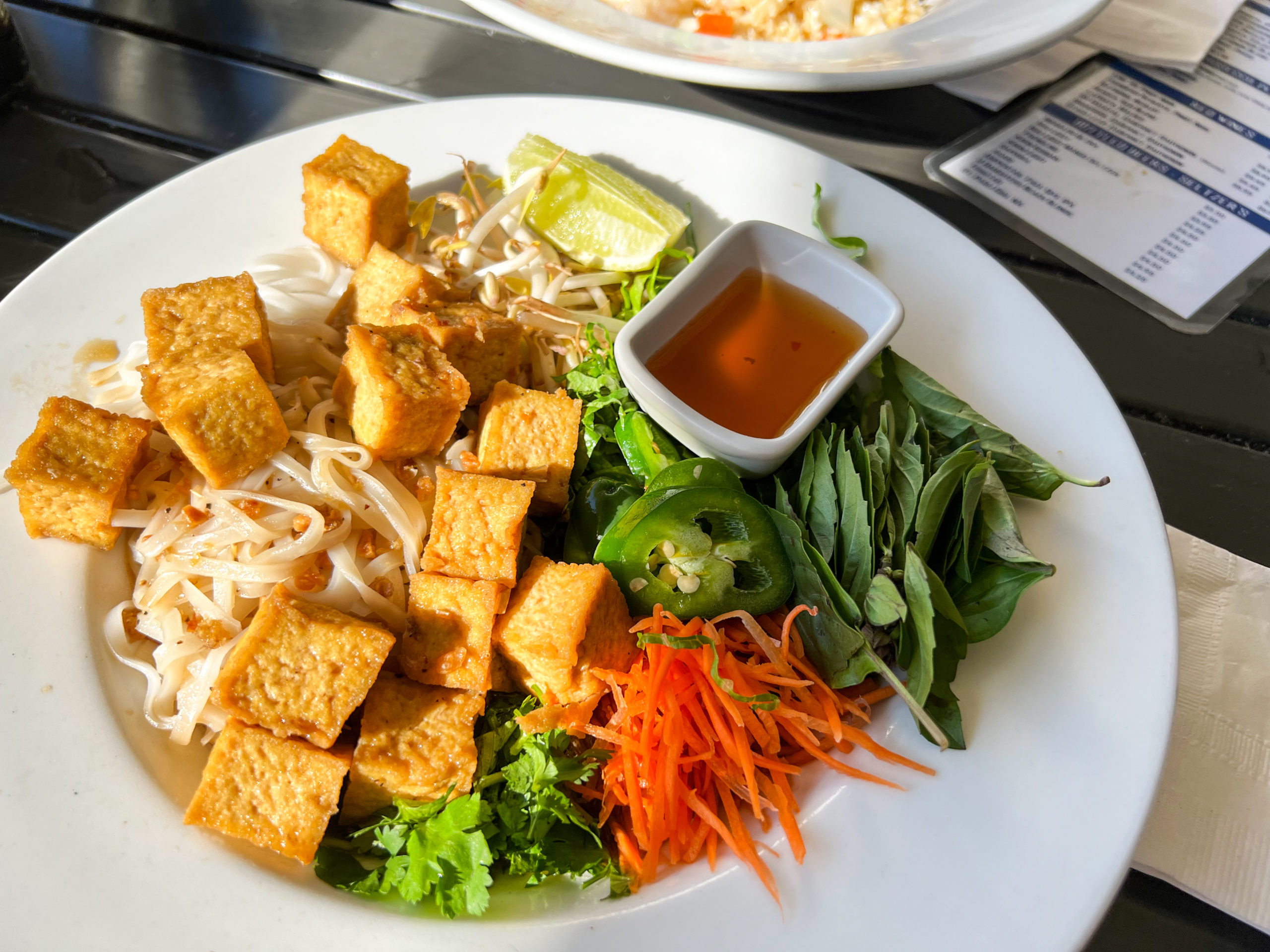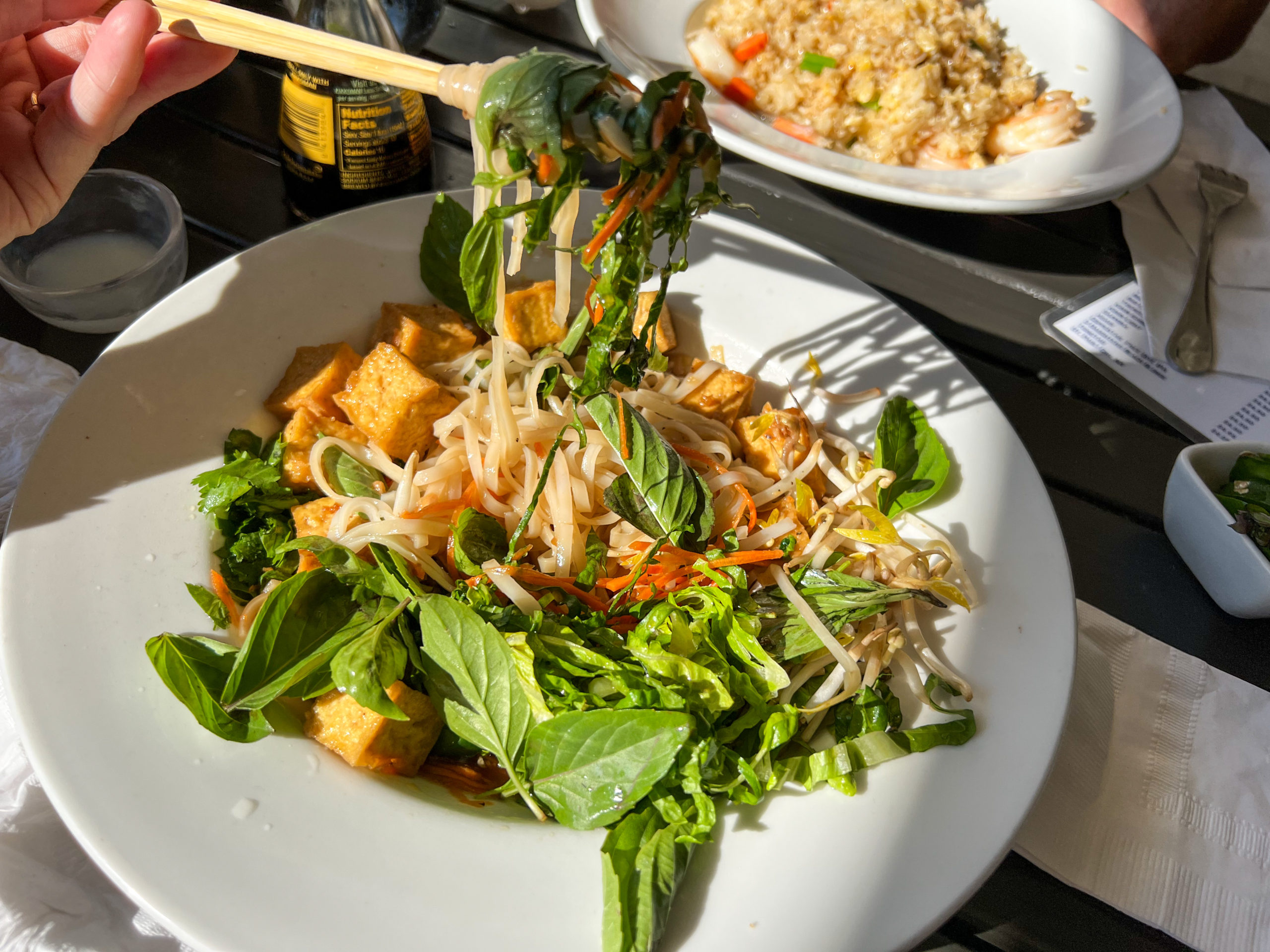 What's not to love about fried rice? Egg, carrots, greens peas and onions all stir fried together – you can't go wrong with a classic like that. Much like the noodle bowls, you also have the option of adding chicken, beef or shrimp to your entree. We opted for shrimp for a change – chicken would've been my standard choice. It was perfect. Nothing fussy or special about it, just really good fried rice with well-cooked shrimp.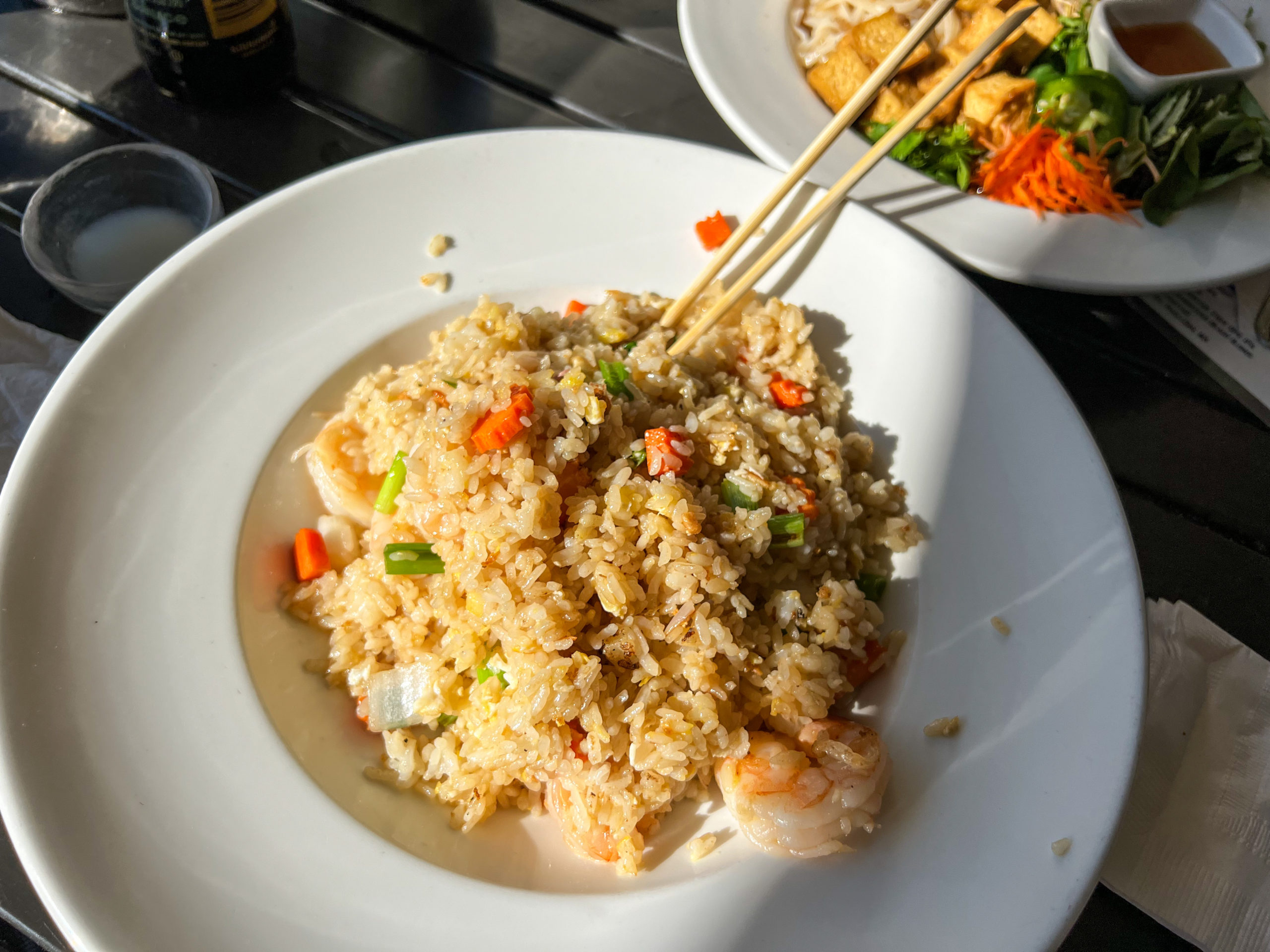 Our experience at Sushi Rock was fantastic. Not only was the food great, but the customer service was absolutely exceptional. All of the staff members were so friendly and helpful.
Sushi Rock's location makes it an optimal dining option on a beach day, as it is on the way to St. Pete Beach. I'd suggest stopping on the way home for an attractive dinner option away from beach crowds, or perhaps on the way to the beach for lunch. Sushi Rock is open for lunch from 11:00AM – 2:00PM. If you're planning to visit during a weekend, a reservation might be your best bet as tables go fast and it's easy to see why.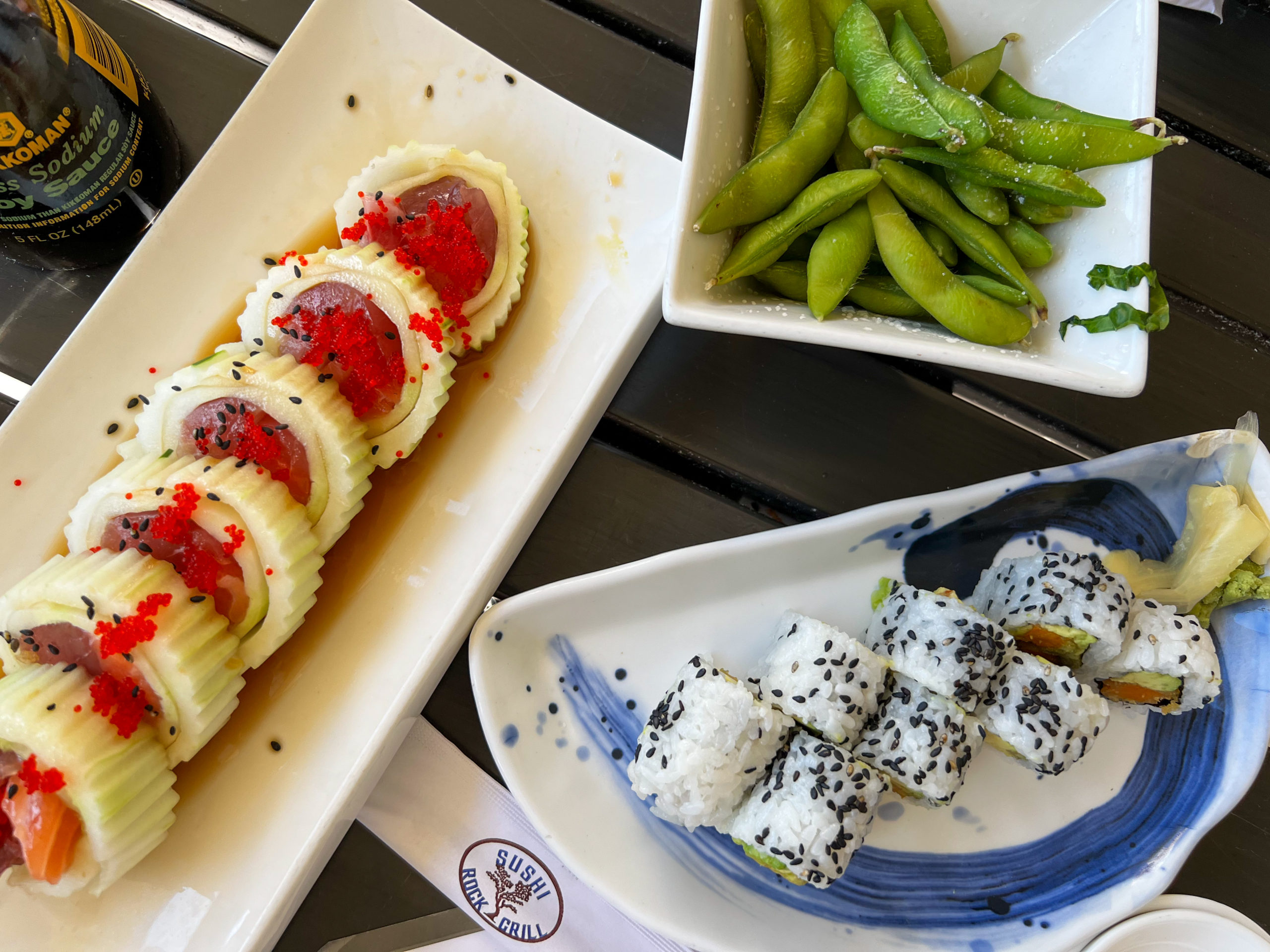 Readers Rating

Rated 4.9 stars




4.9

/ 5 (

Reviewers

)

Spectacular
---
Sushi Rock Grill

727-867-0770

Mon - Fri

11:00am - 2:00pm

Sun - Thu

5:00pm - 9:00pm

Fri - Sat

5:00pm - 10:00pm
5901 Sun Blvd #121

,

St. Petersburg

,

FL

FL

,

United States
---
Whether you are a purist who prefers traditional sushi or a more adventurous diner who desires unique and original meals, you will find what you are looking for at Sushi Rock Grill
DISCLAIMER: Kevin, Lori, Abby, Haley, & Lindsey do not dine anonymously (this would be impossible) and we sometimes get free food (though never expected). However, we dine with the locals and we support our own. You will always get honesty in a respectful manner. We do not include any large national or regional chains in our ratings and reviews. We focus on independent locally owned eateries exclusively.

PLEASE NOTE: Reviews reflect a certain moment in time. Some restaurants stay extremely consistent over many years, and some change for the better or worse. Some things that may change are: chefs, recipes, food suppliers, ingredients, philosophies, ownership, etc. We always hope that you have the same good, or great experience we had.
More Foodies News, Reviews & Recipes