Taste Your Way Through the Tapas at Ceviche on Beach Drive
Taste Your Way Through the Tapas at Ceviche on Beach Drive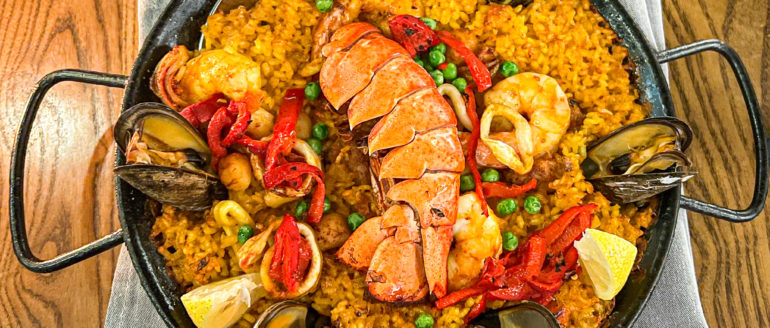 Beach Drive's lux lifestyle has made Spain's tradition of relaxing with small plates of tapas and a glass of sweet sangria from Ceviche a true treat. You'll find fresh seafood paella meticulously paired with a long list of tapas on the menu. Believe me, you'll want to try to save room for dessert too. Ceviche moved from the corner of Beach Drive to the heart of it where The Moon Under Water used to be. This new location is bigger, modern, and roaring with locals and tourists alike.
The decadent list of tapas has endless options and the thoughtful wine list result in a special night out. They have a Tapas Tuesday menu from 4pm-close with select discounted tapas and $6 sangria. Plus, their happy hour offers $6-$8 drinks and bites every day from 3-6pm.
A night out with the girls and a date night made me fall in love with the menu and the delicious options at Ceviche. I love the idea of sharing plates with others because it provides an intimate experience of talking about the dishes together.
Start with a pitcher of the red sangria to get the buzz going. Ceviche's sangria is legendary and has been a staple for over two decades. It's fruity and sweet, just how I like it.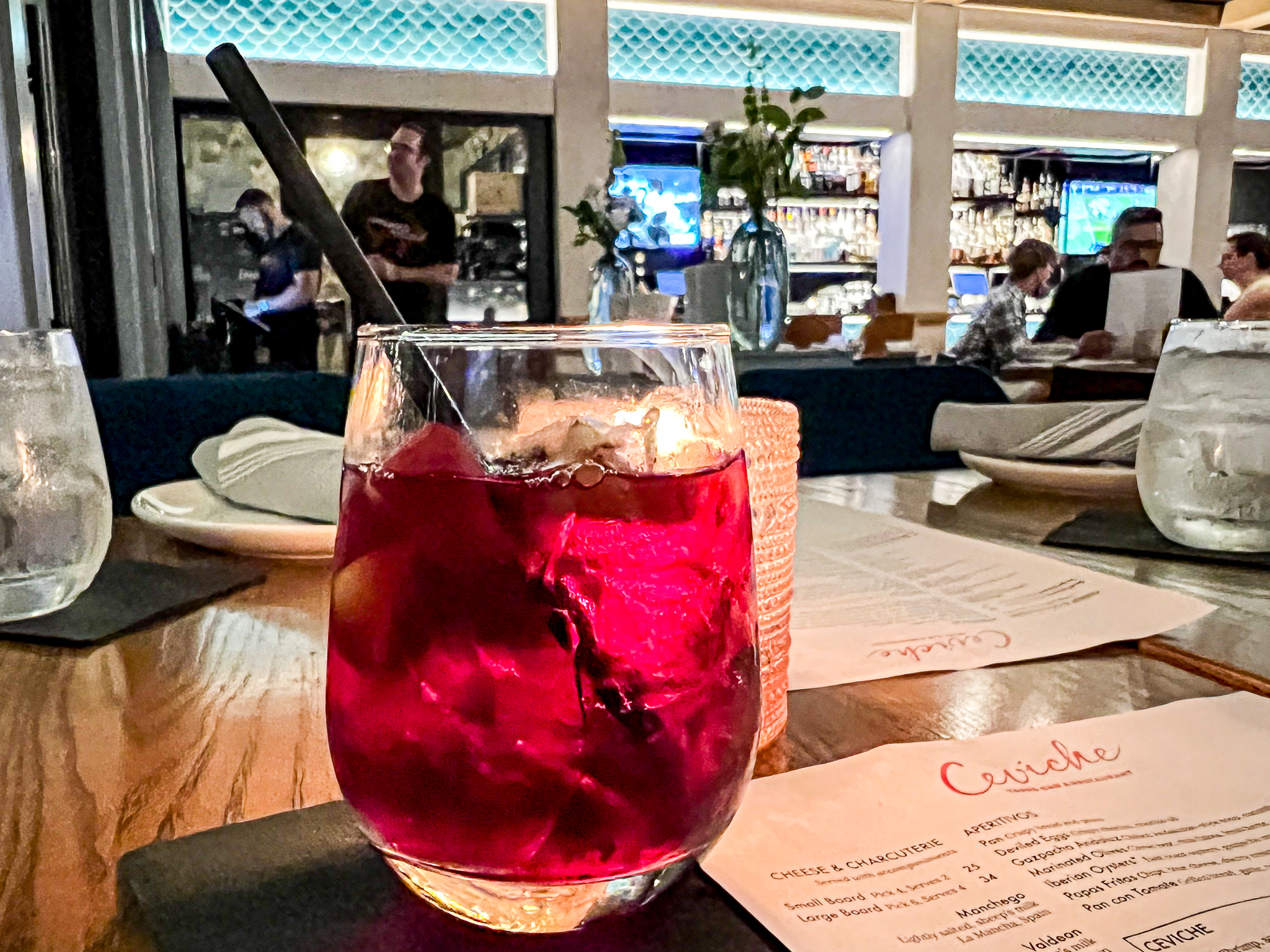 The Mariscos Paella is quite the number with lobster, scallops, shrimp, squid, mussels, chorizo, and brandy. You should definitely nibble on a few tapas while you wait for the paella since it takes about 45 minutes. It's cooked fresh to order and this skillet comes with a handful of fresh seafood over moist Valencia rice. The overall flavor profile is scrumptious and a showstopping dish to share.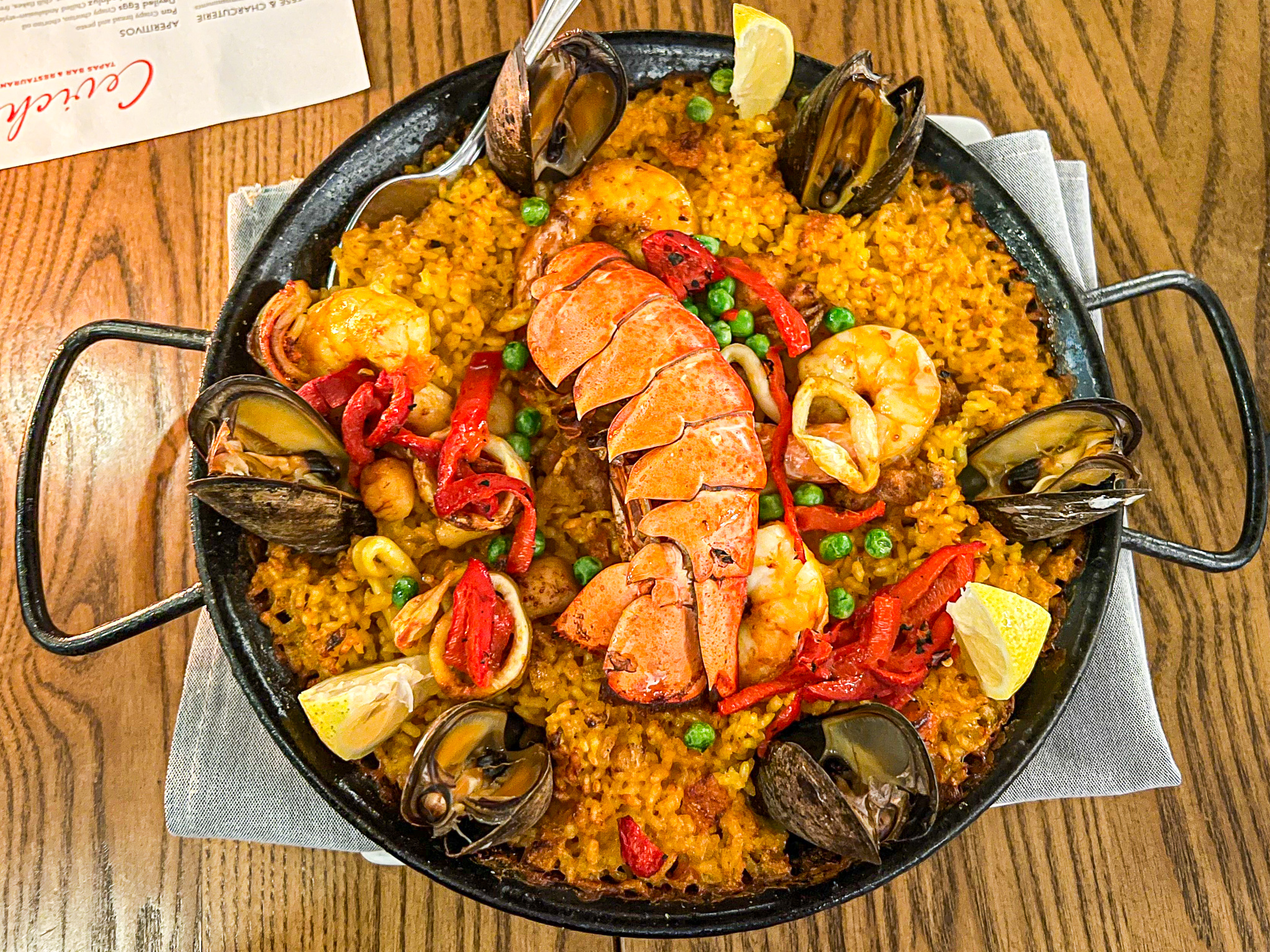 Given the name, Ceviche, you almost have to order it. They have a few different ceviche options and I went with the Casa Ceviche with shrimp, scallops, squid, market fish, garlic, cilantro, onions, tomatoes, and peppers. The scent of seafood and garlic hits you the second its placed on the table and your mouth will soon begin to water. My favorite bites were the flavorful shrimp and grilled squid, which were all simmered in a citrus base.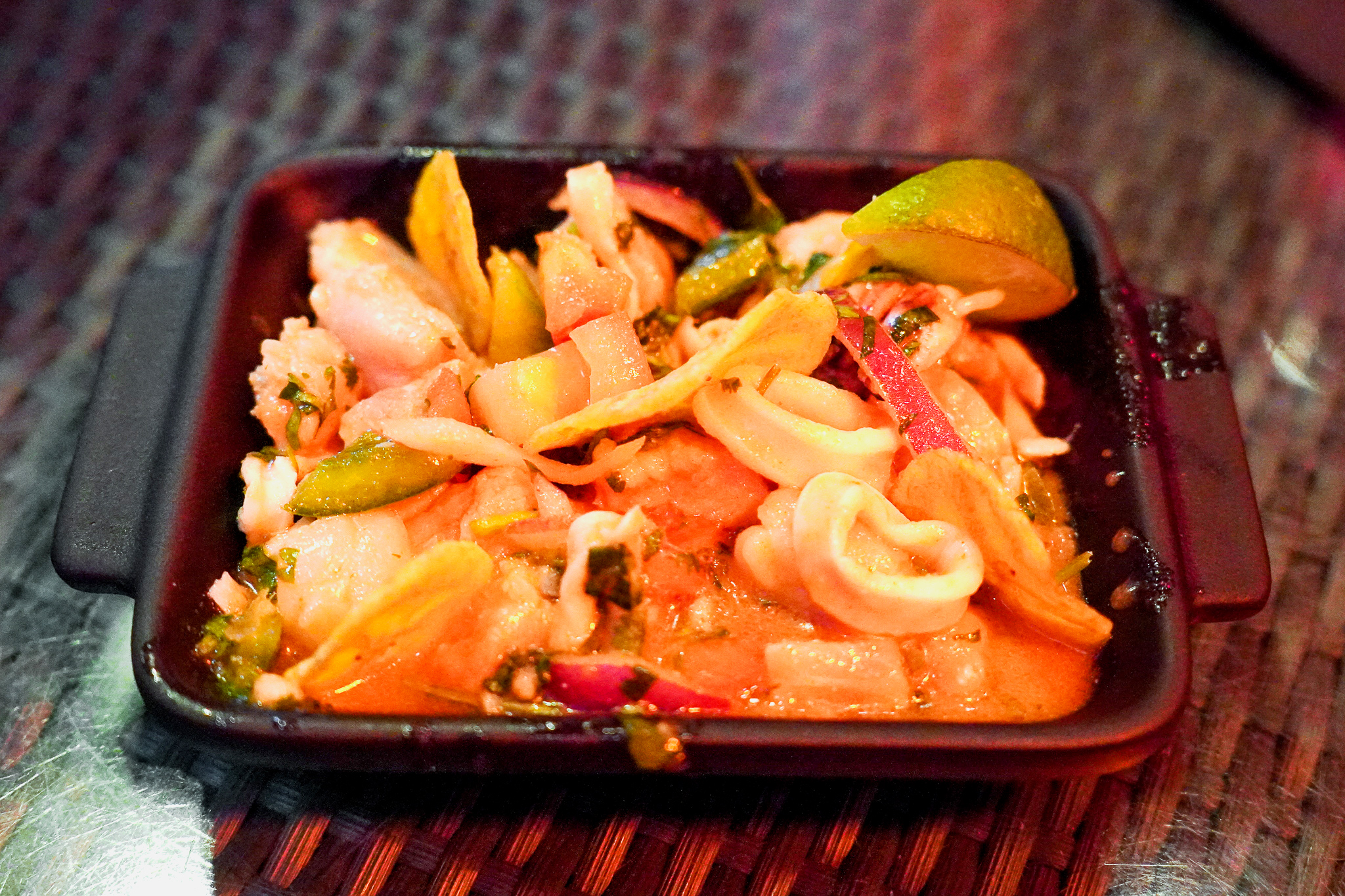 One of my favorite tapas was the Queso de Cabra which is spicy goat cheese and tomato sauce. Call me a simple gal, but this comforting, spicy and creamy small plate really put me in a good mood. I love a good bowl of cheese, don't you?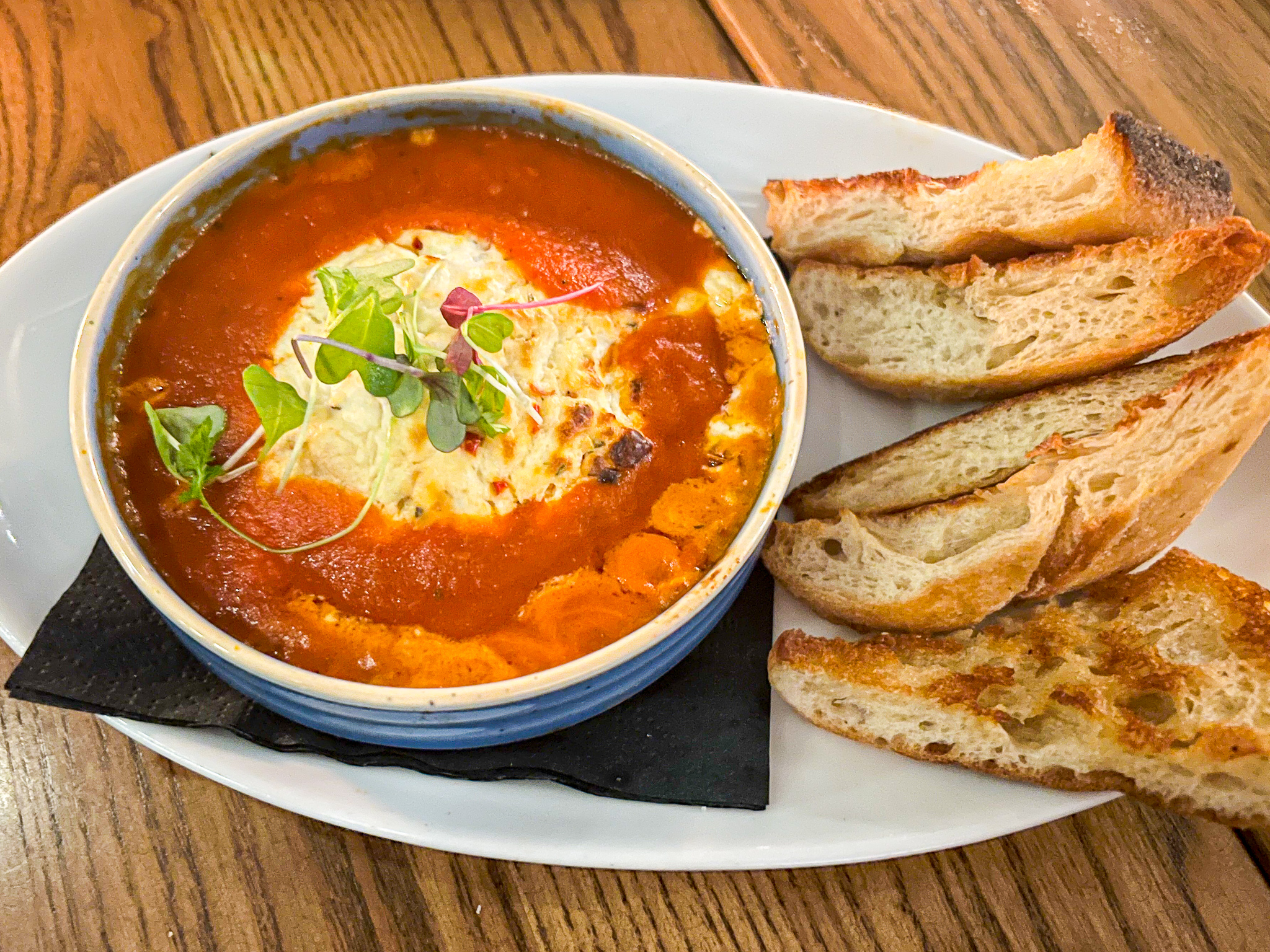 Another small plate from the vegetarian tapas menu, the potatas bravas are steaming hot, smothered in spicy aioli and overall fantastic. Order these with the steak, see below, and you've got yourself a wonderful pairing.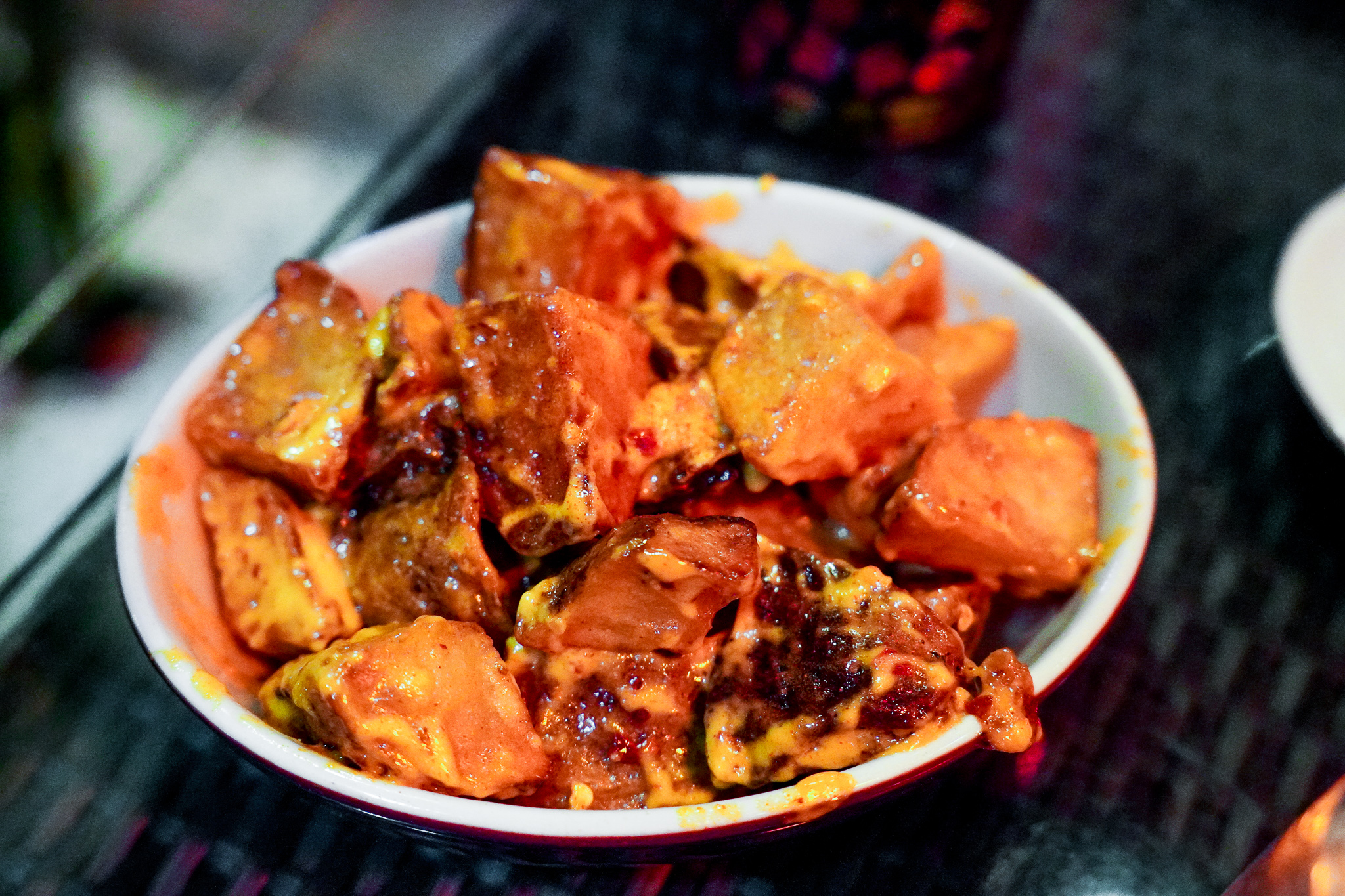 The Picanha is skirt steak, mushrooms, and chimichurri and let me just say, wow. It's easily my absolute favorite tapas here. So much so that I ordered it both times I went. If you love a juicy steak with bright chimichurri sauce, then this is for you to enjoy too.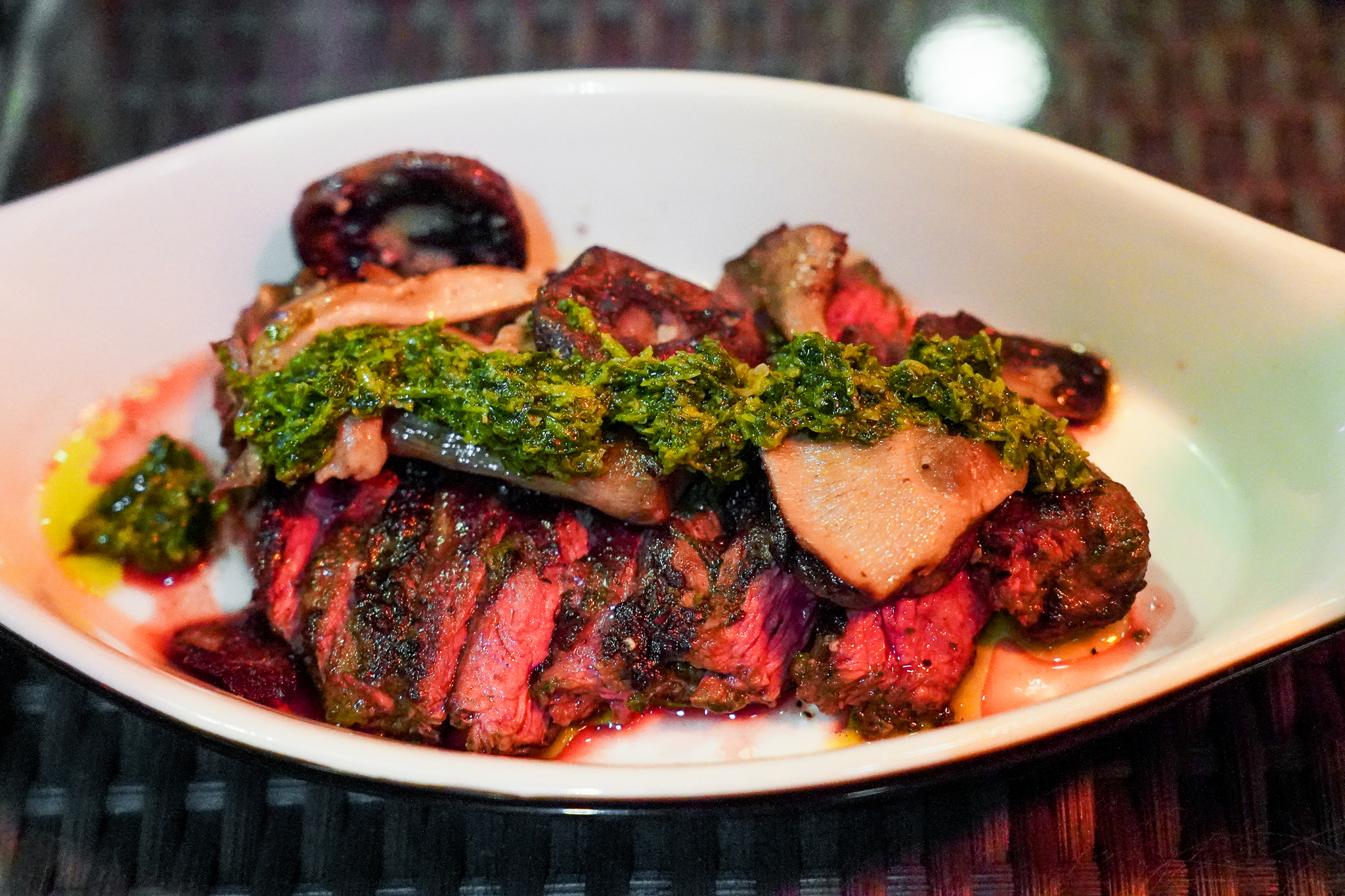 The massive Spanish Pork Ribs are served with a smoked paprika and sherry glaze. The size, taste and preparation of these are unmatched. The meat is completely fall off the bone and the sherry glaze is slightly sweet. I was pleasantly surprised by the outcome here and would definitely recommend trying these.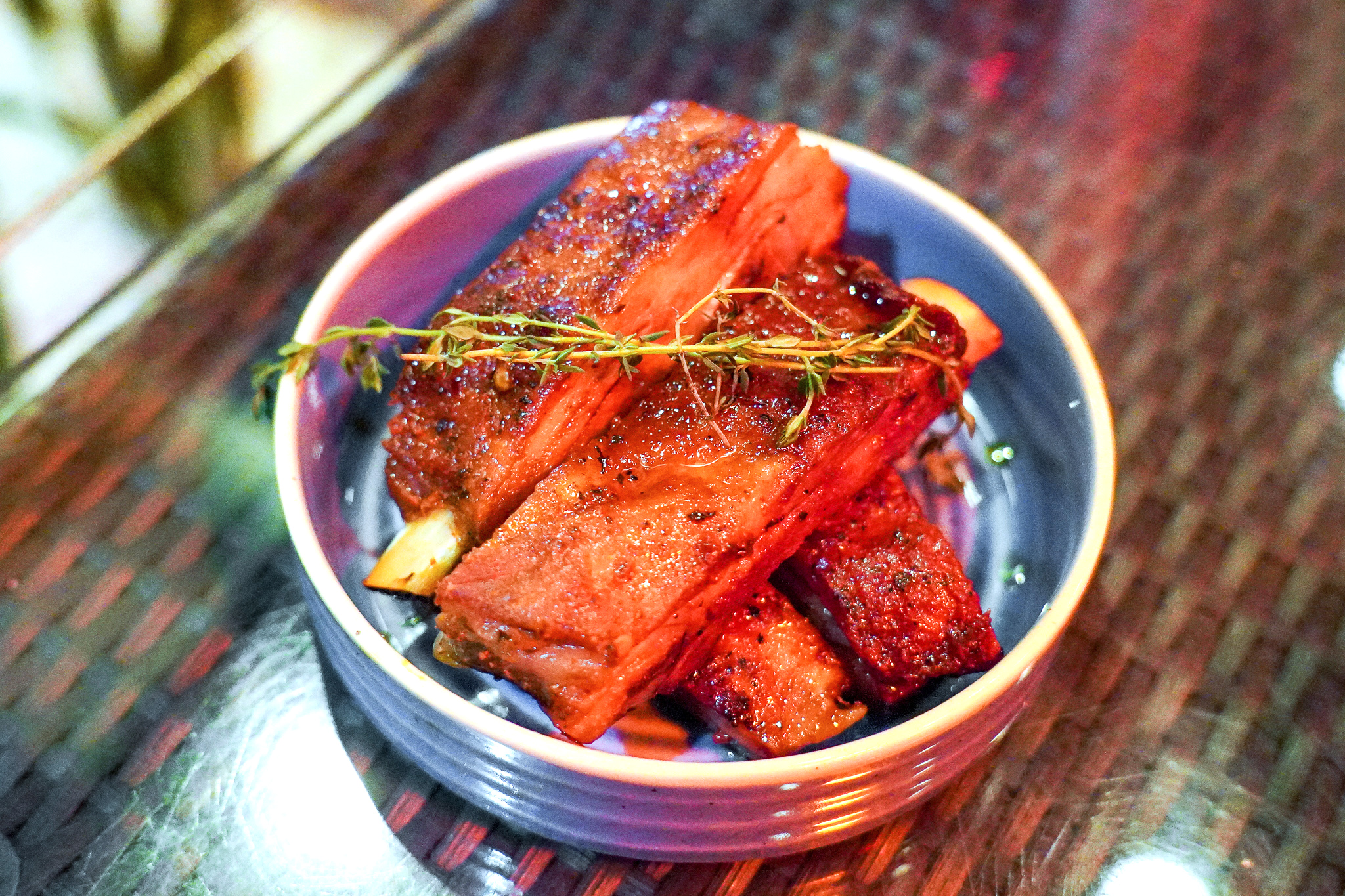 The aperitivos menu has some basic bites that come out quick. We went with the Pan con Tomate right away to munch on something as we were pretty hungry. It's simply grilled bread with garlic, tomato confit and evoo. Though it's uncomplicated it really hit the spot in the moment.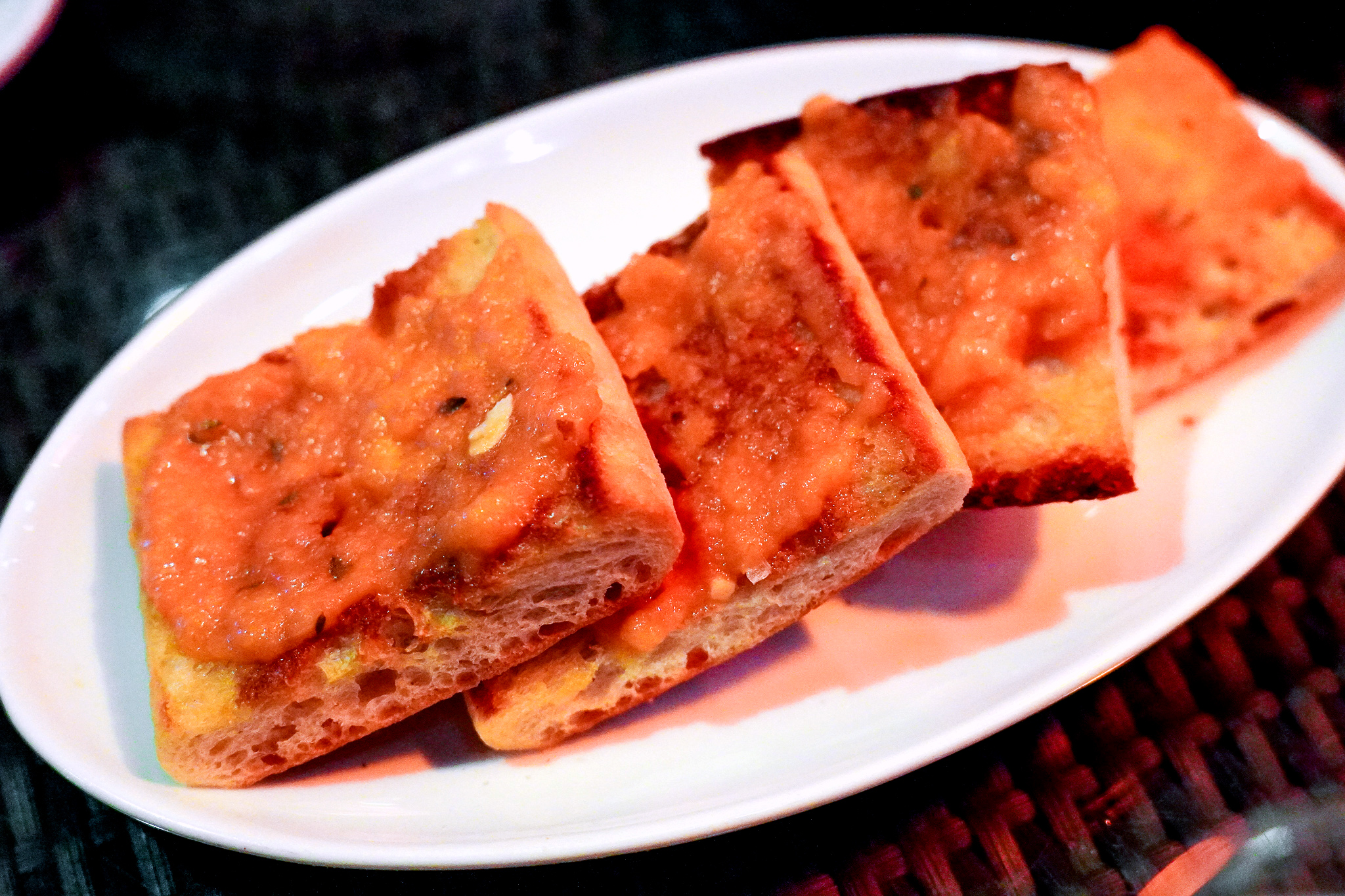 We all know that cheese and charcuterie boards have been trending for a while. Ceviche has both a small and large board to choose from and you pick all of your meats and cheeses. My friends and I went with the small board with Drunken goat cheese, Iberico ham, chorizo and I can't remember the other cheese we got, but I do remember it being really good. This plus wine is a picture perfect girl's night out waiting to happen.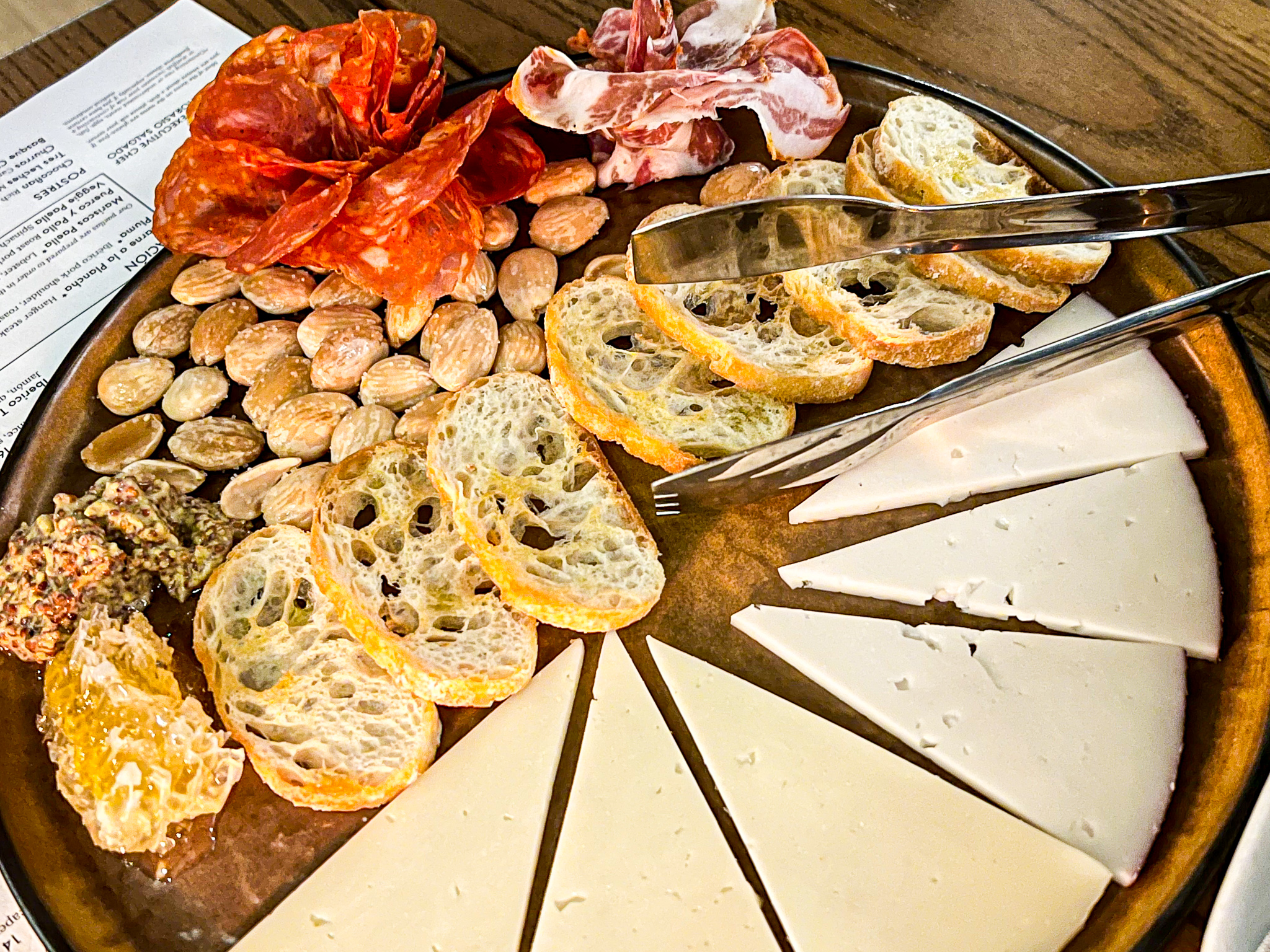 Ah, the moment we've all been waiting for…dessert. The Tres Leches is a must order of meringue cake, cream, nutmeg and strawberries. I mean, just look at it. To sum it up, each bite is moist, creamy, rich and milky. This portion must have been meant to share so grab a few spoons and dive in. You deserve it.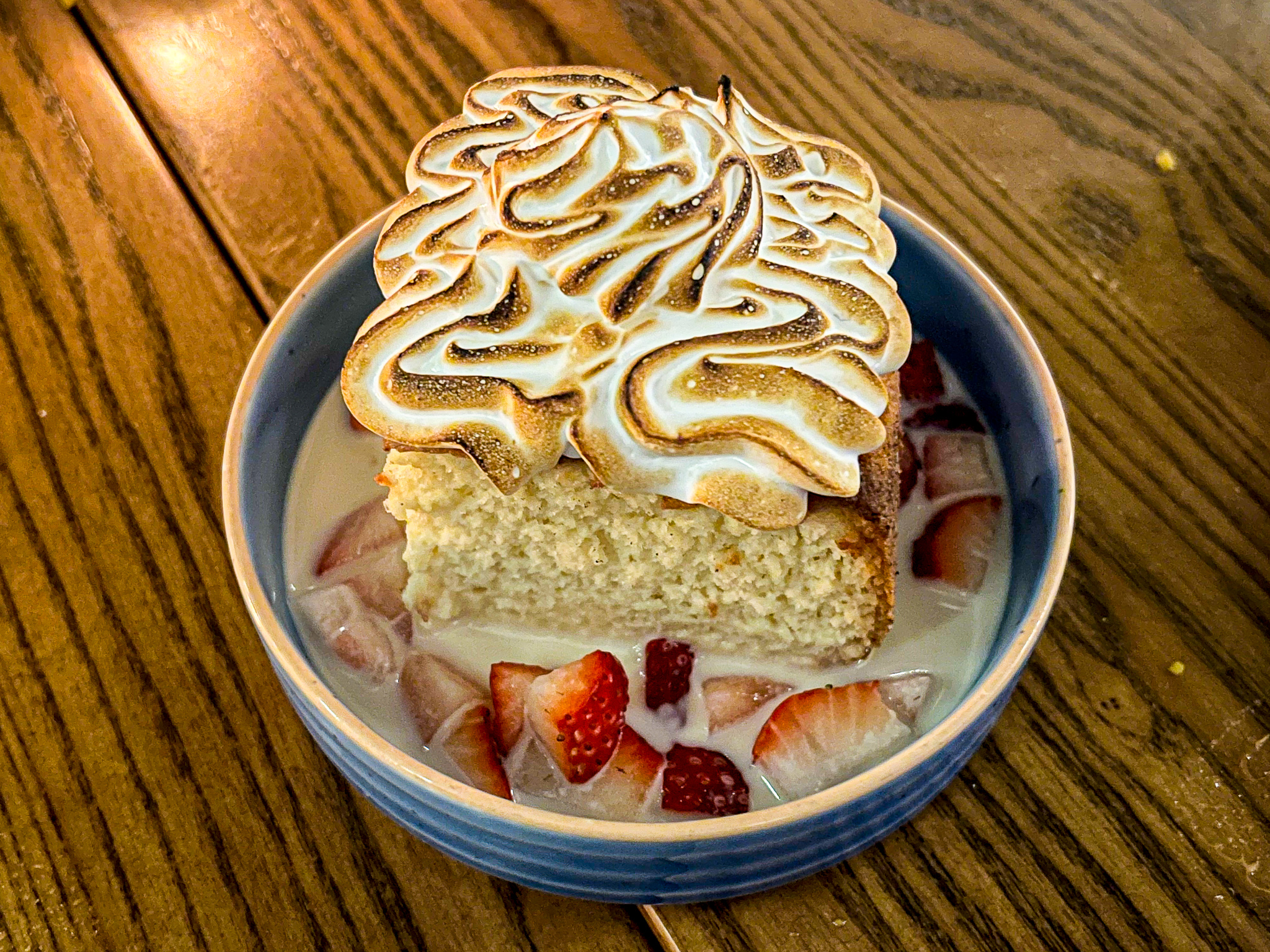 I don't know where my obsession with churros came from. They are everything I dream about, especially the ones from Ceviche with caramel, cinnamon sugar, and a warm espresso chocolate sauce. I ordered them on both of my visits and I will continue to order them again and again. They're the warm sweet treat to cap your experience here. They're perfect for sharing with a group since I believe there's six to an order but I also won't judge you if you eat them all yourself.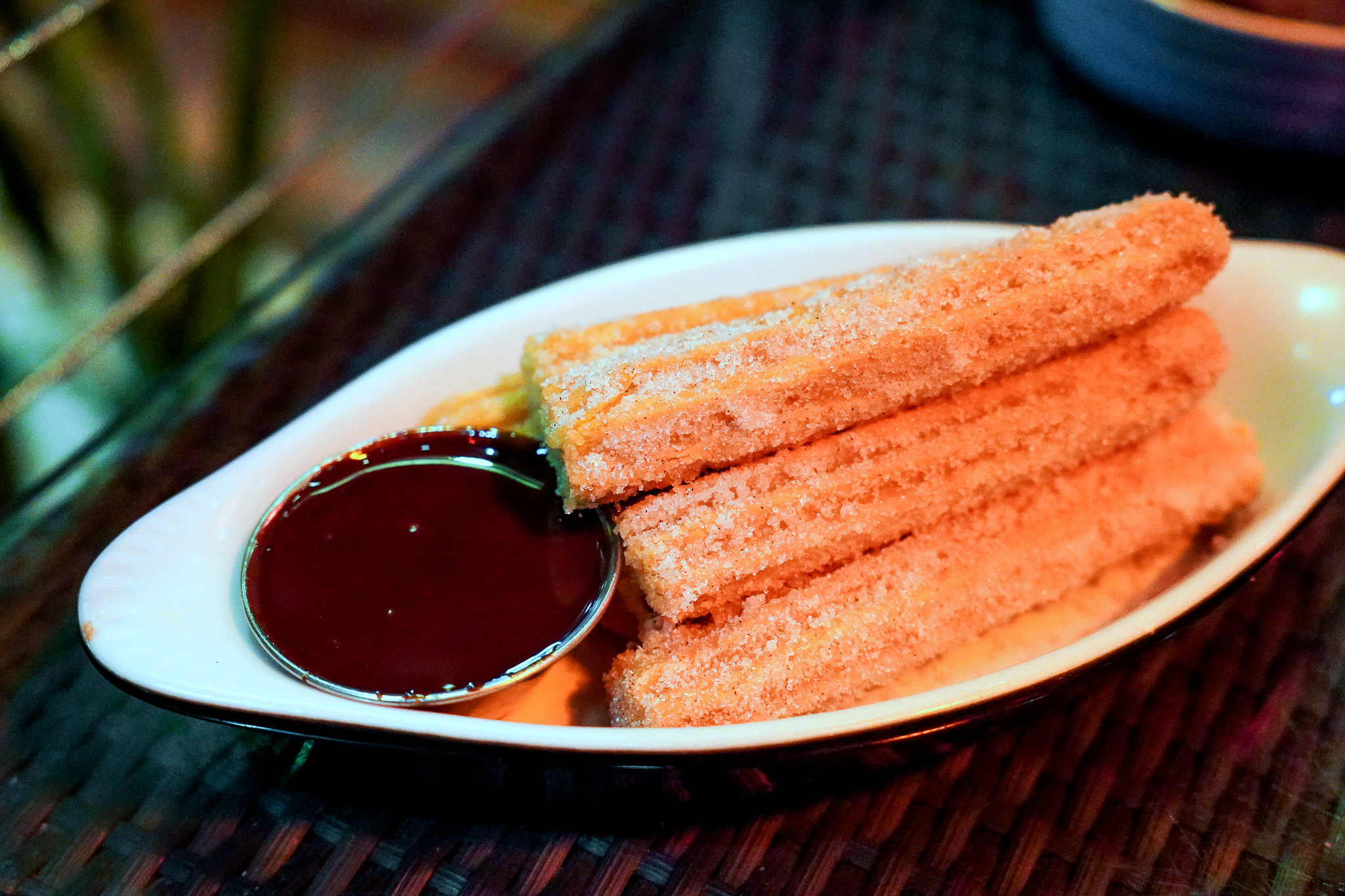 Tasting my way through the tapas, paella and desserts at Ceviche was a great experience and I cannot wait to go back to try more.
---
From Lori & Kevin's visit a few months ago: (Lori's photos and text)
We finally made it to the new Ceviche last night and it was sublime. The interior is unreal. You would never know this was the former The Moon Under Water space. It's so bright and stunning!
Danielle, assistant Sommelier at Ceviche, was nothing short of spectacular and so enthusiastic about her passion. We had just a bit of wine and a lot of food shared between the three of us.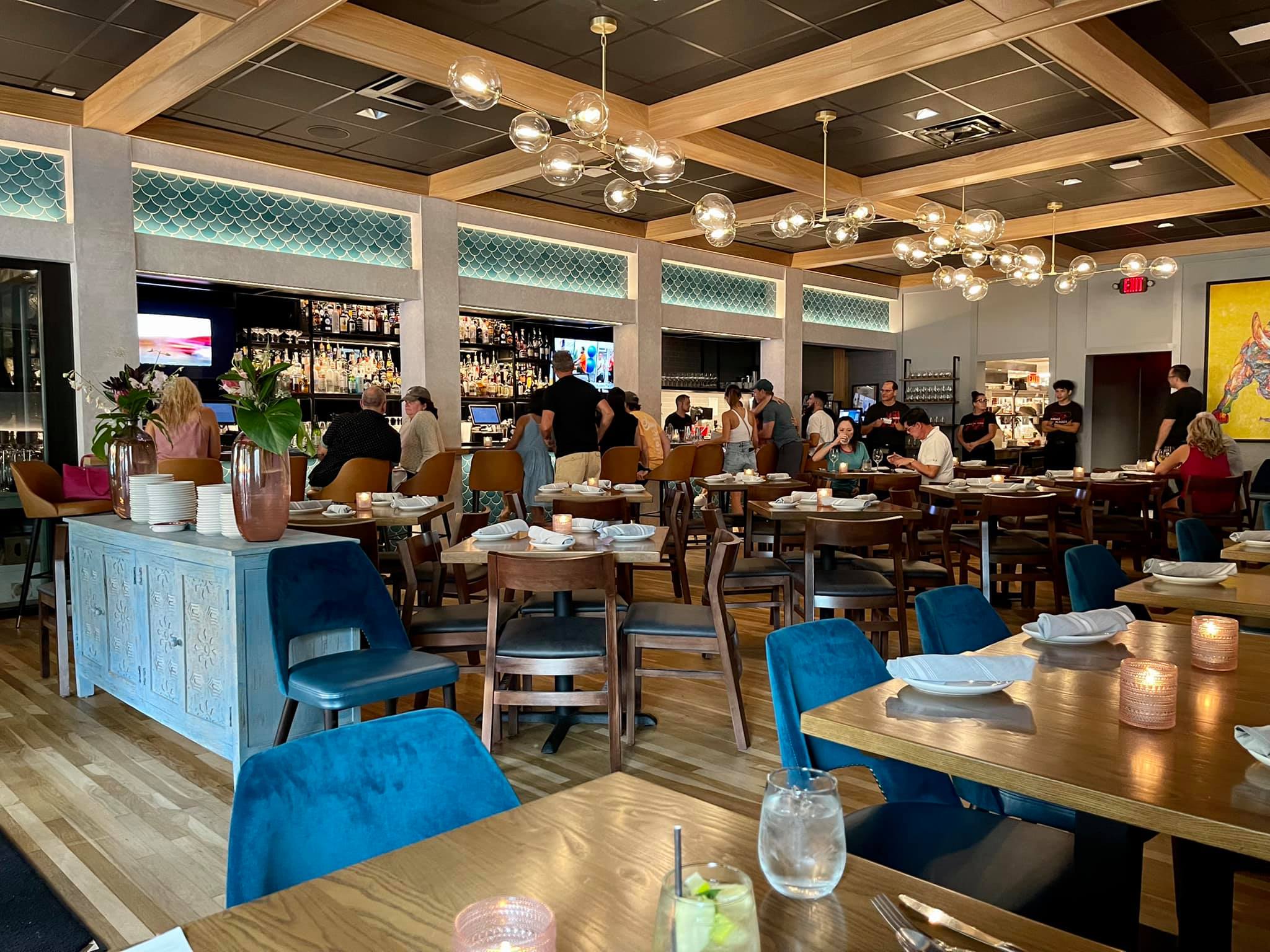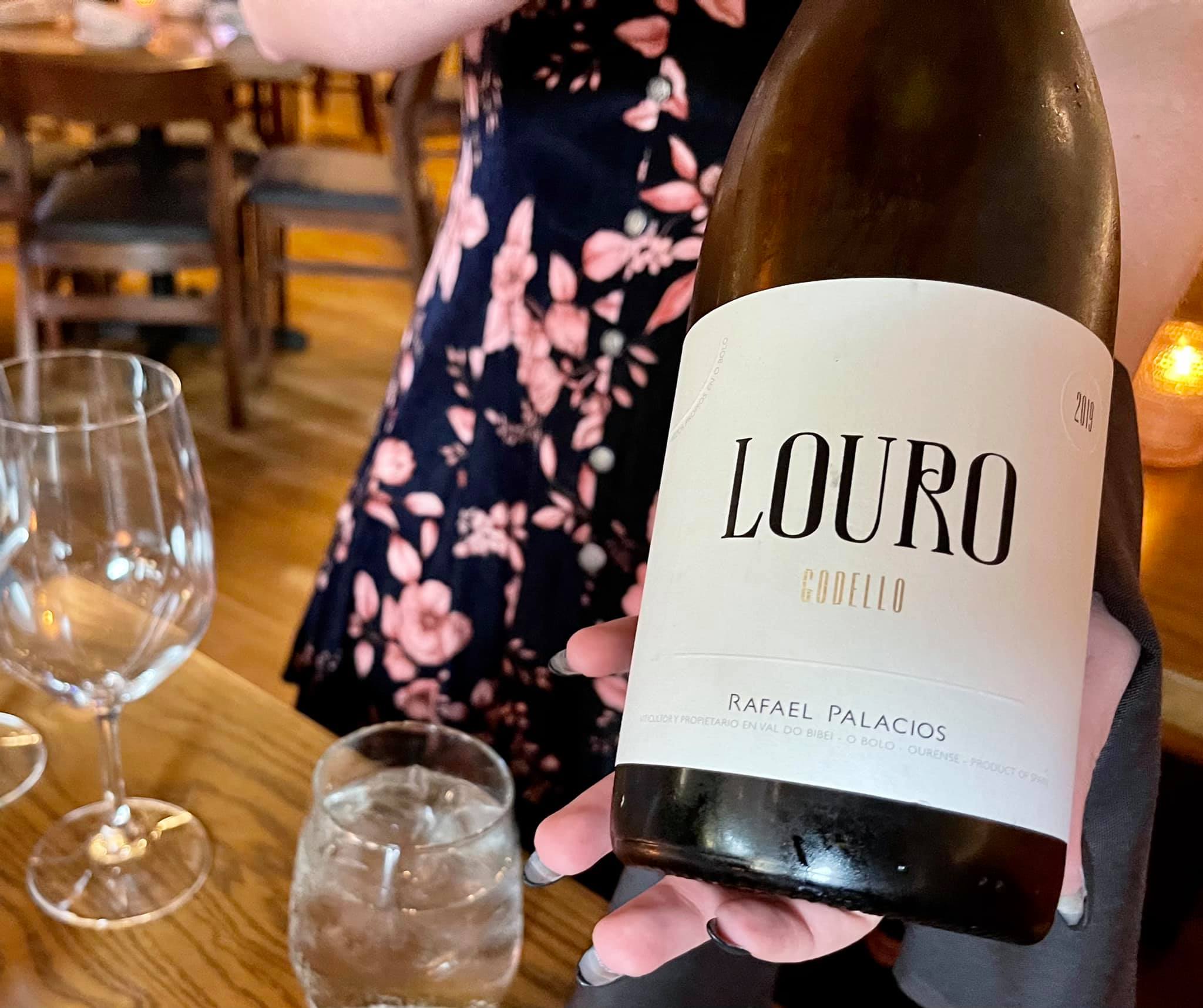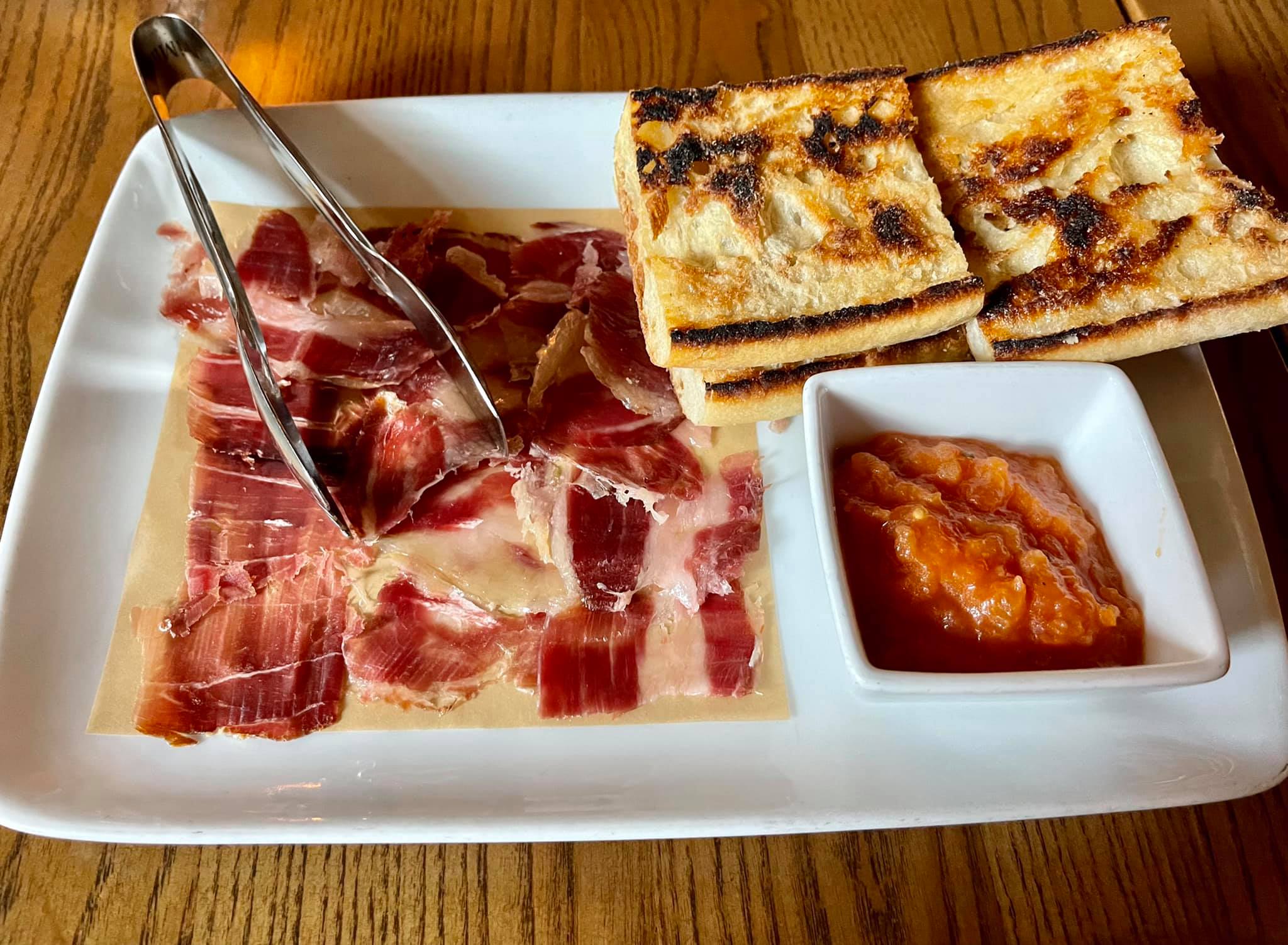 This was a true delight to eat one of the best in the world! Incredible! 100% Ibérico de Bellota served with accompaniments: Bold color, pungent buttery flavor 100% acorn fed, 48-month cured Southwestern Iberian Peninsula Free range ham.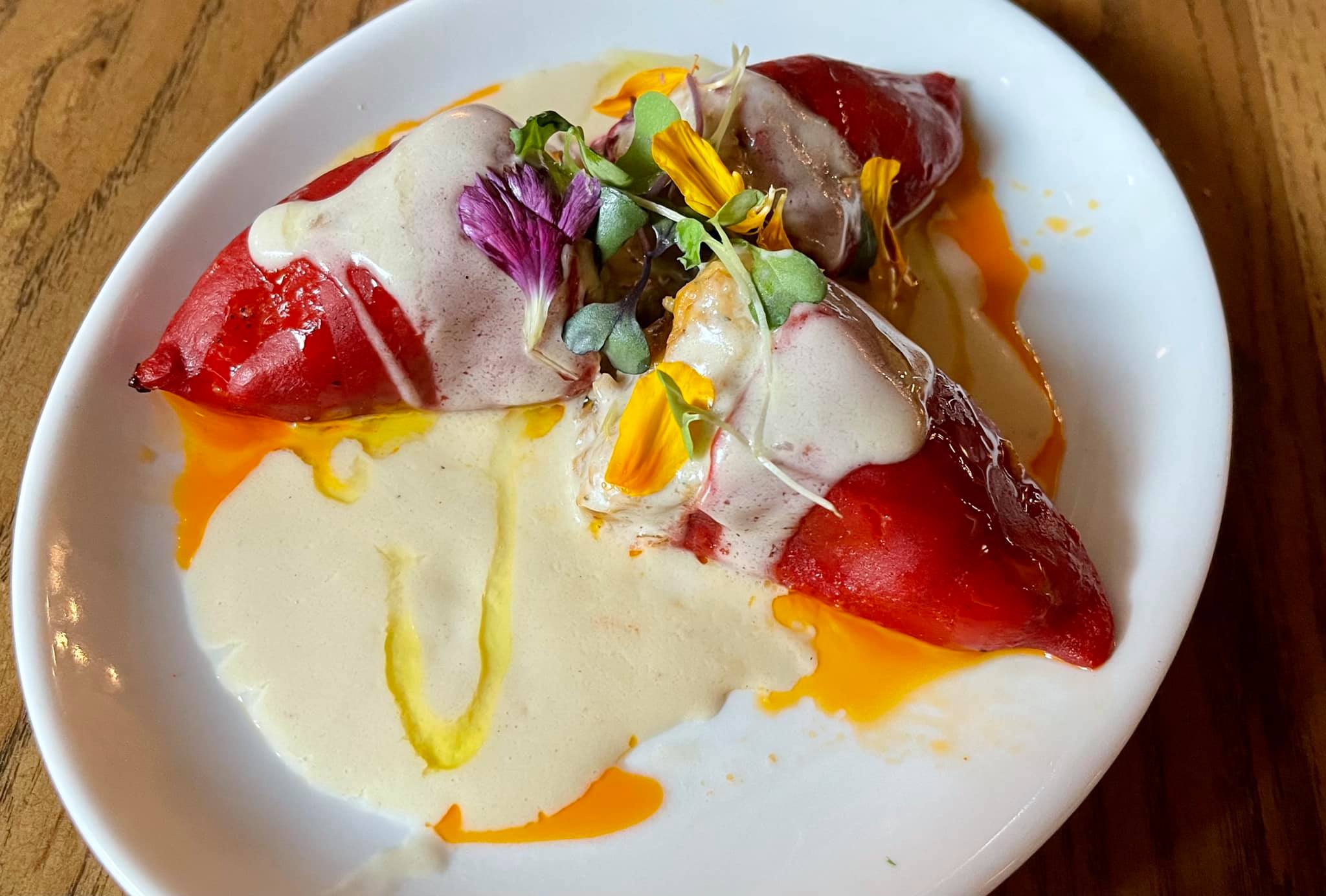 Piquillos Rellenos with red peppers, veal, pork, chorizo, sherry cream. Fantastic flavors! One of my favorites of the night.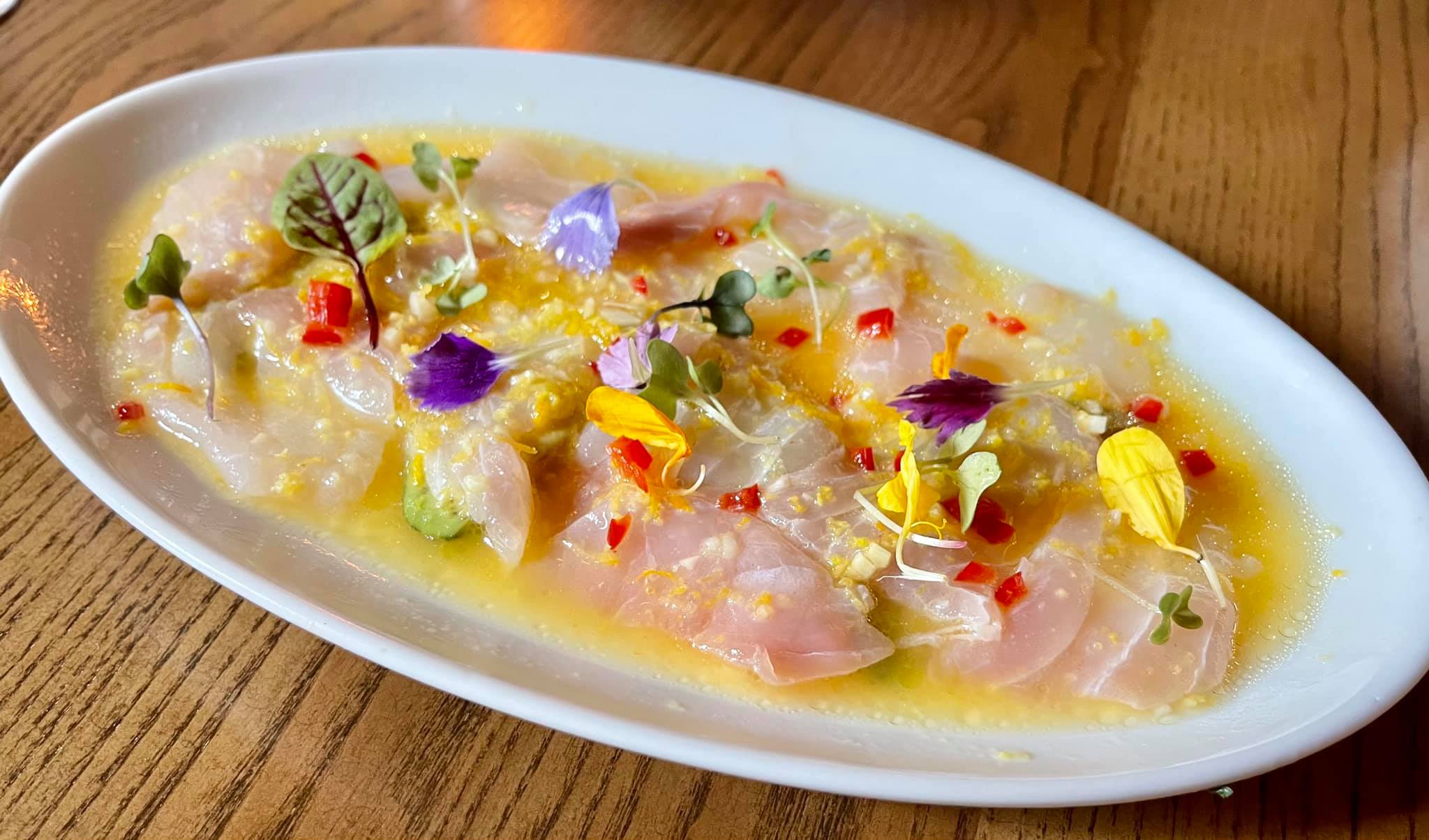 This Snapper Crudo with citrus, ginger, garlic, avocado was very bright and flavorful! It needed a crunchy finishing salt to make it perfection. We got that and added it and it was then one of the best crudos I have had.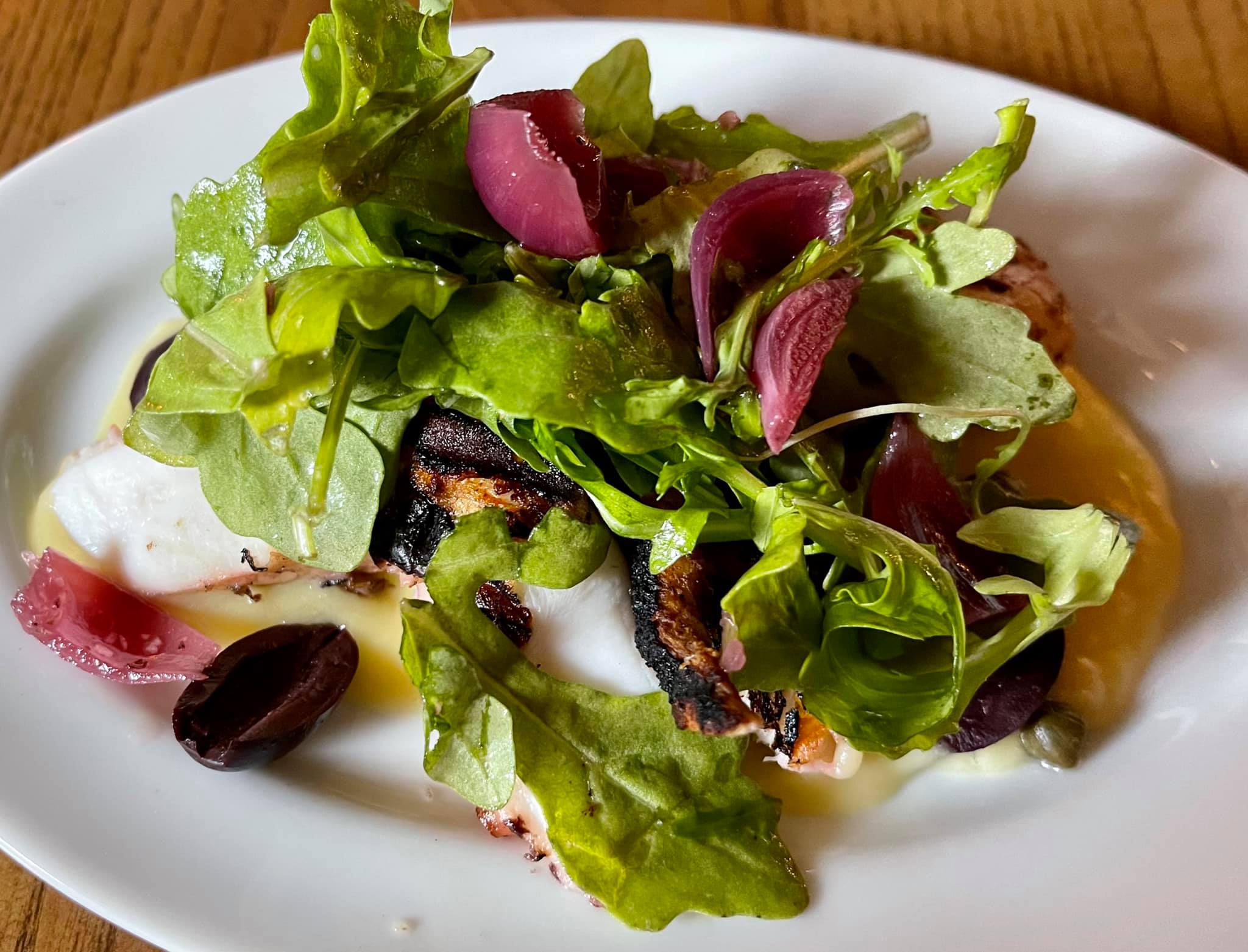 Pulpo a la Gallega with saffron potato puree, capers, olives, evoo. Octopus is on nearly every menu these days. Some are great and some are not. This one was cooked to perfection and the olives with the potato purée and arugula was sheer bliss. It's one of the best in town.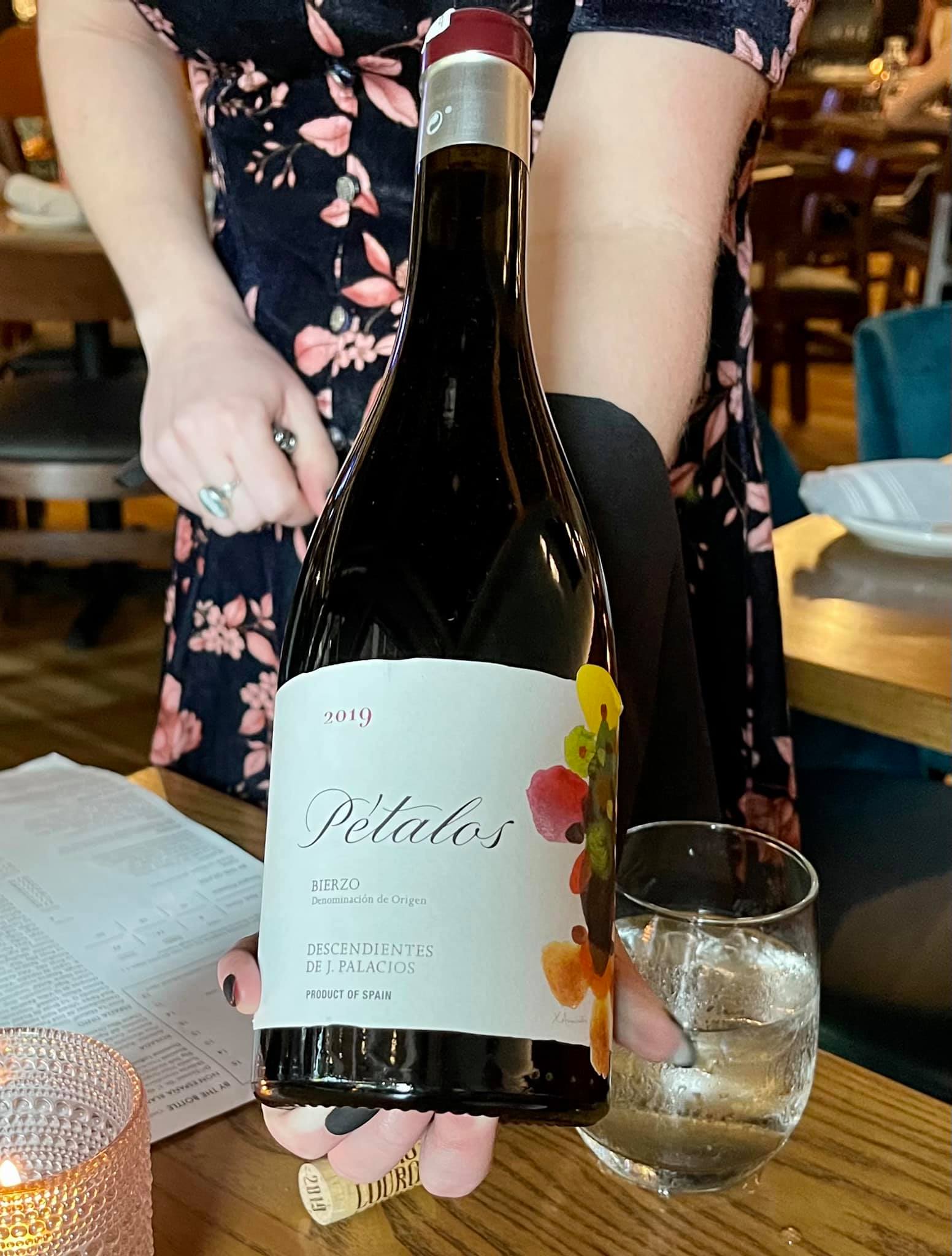 Albondigas – chorizo, pork, veal, manchego, tomato sauce. These have been a staple at Ceviche for as long as I can remember. But this recipe has elevated them to the next level. It has a nice bit of spice to kick them up a notch.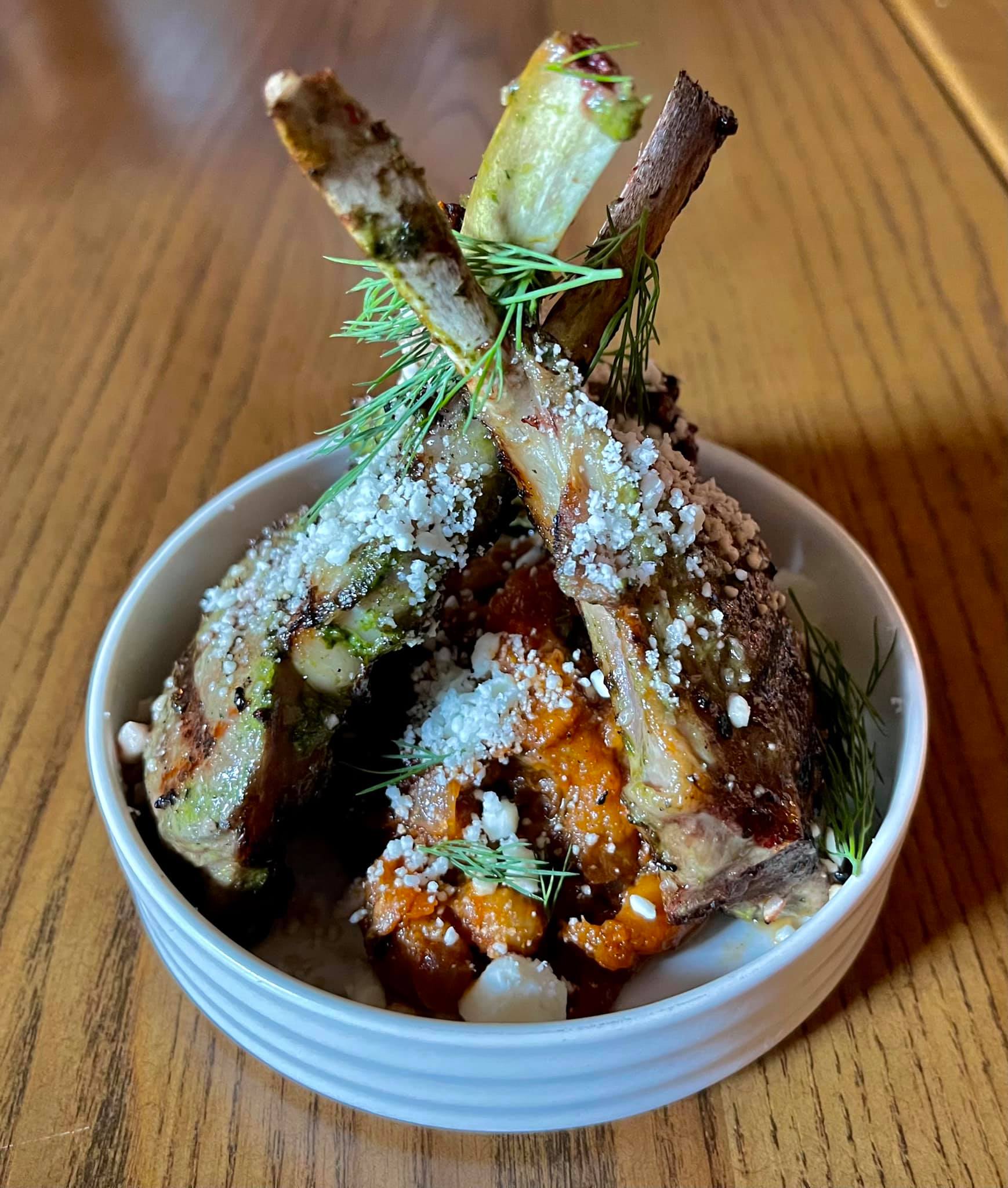 Chuletas de Cordero – lamb chops, eggplant caponata, dill, feta. The lamb chops were cooked perfectly. But also benefited from the finishing salt.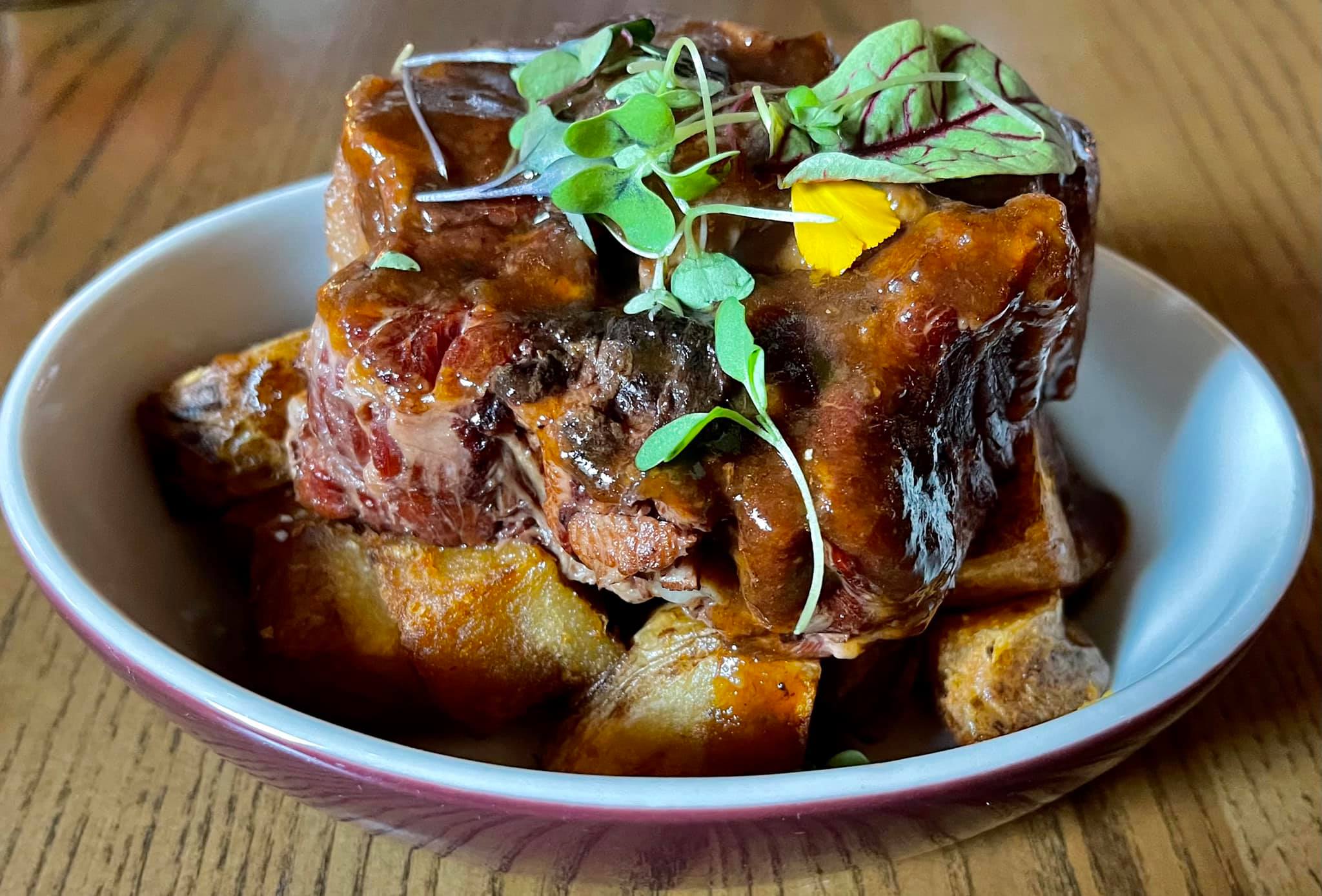 Our server, Nicholas, recommended this dish. And it was excellent! I think my favorite of the night. It just popped with intense flavor. Rabo de Toro – oxtail, red wine, potatoes.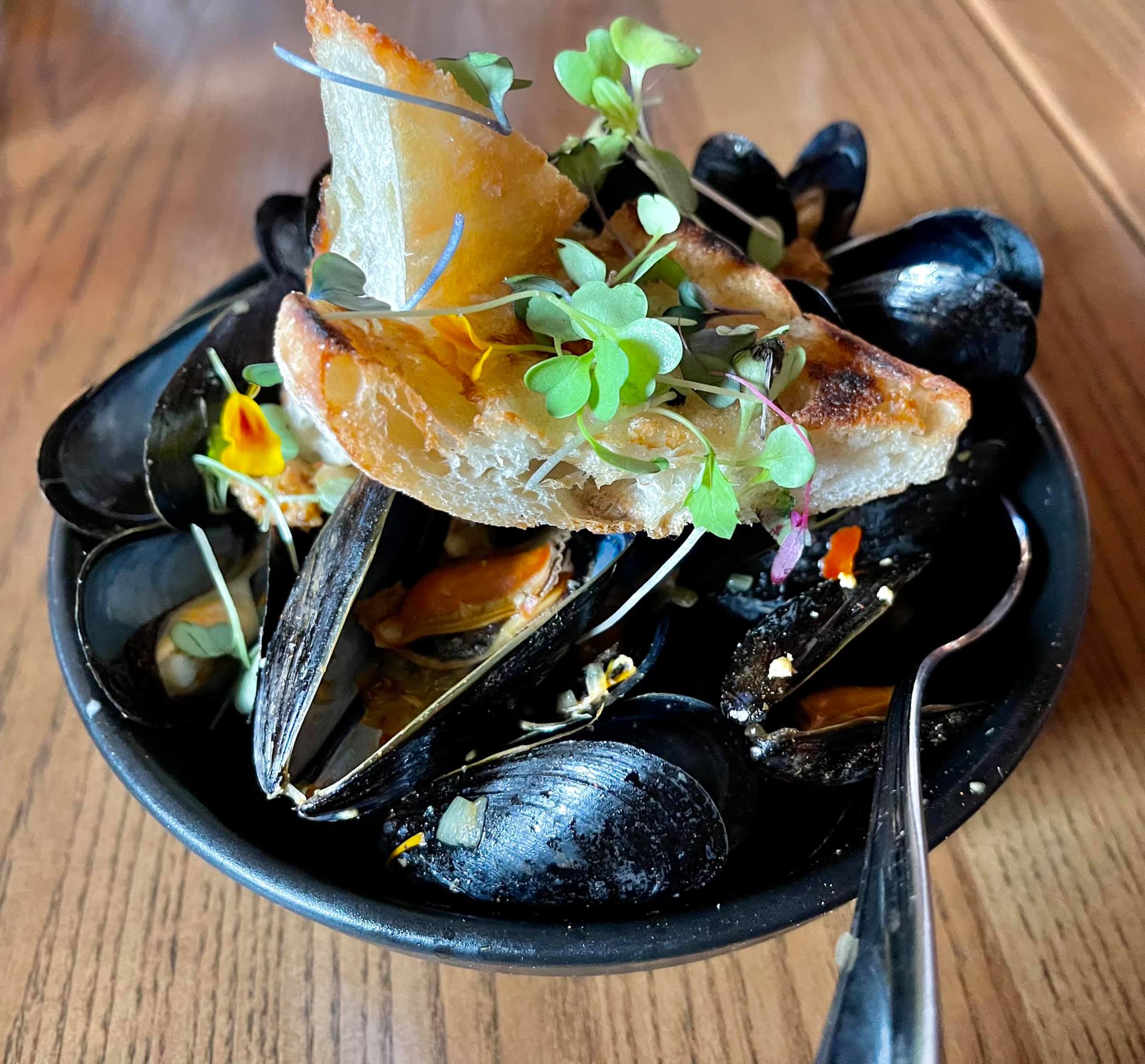 These were scrumptious and cooked perfectly. There are lots of mussels in this dish. The saffron broth was out of this world. Mejillones – mussels, chorizo, saffron broth.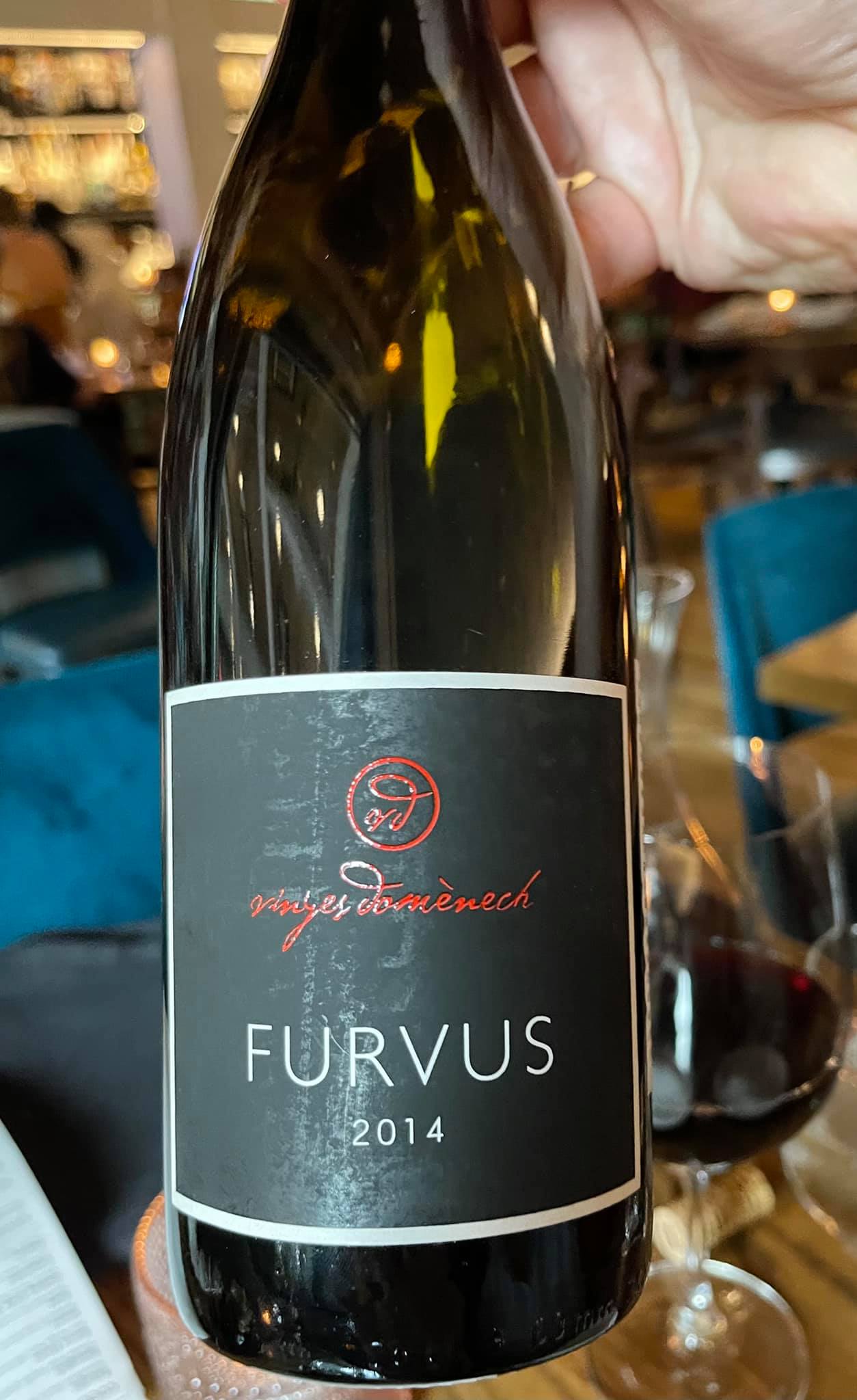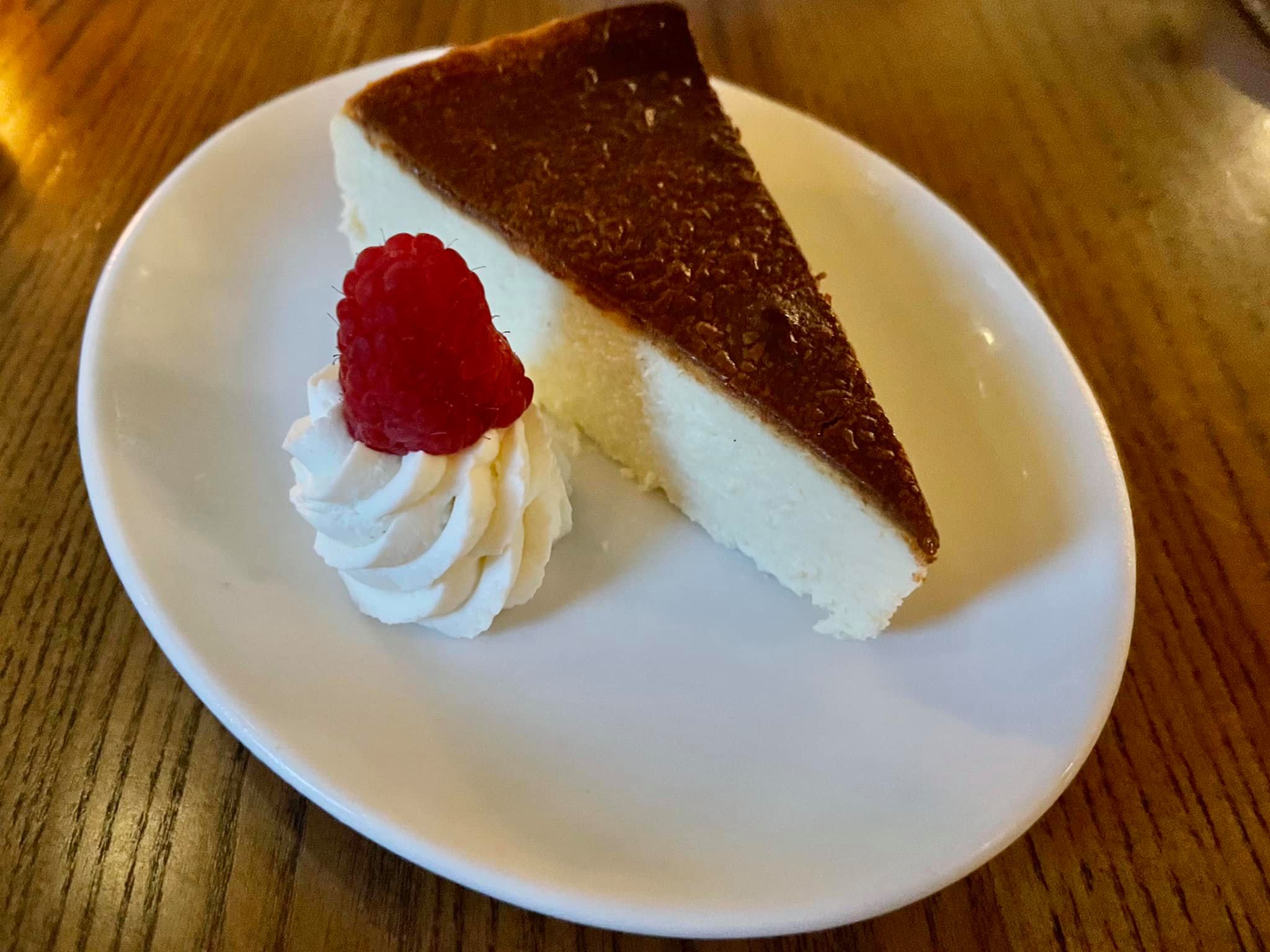 I ordered this cheesecake and the table was thrilled that I did. Wow! Just wow! Light, creamy, incredible!
Inspired by Barcelona with small plates, sangria and more.
DISCLAIMER: Kevin, Lori, Abby, Haley, & Lindsey do not dine anonymously (this would be impossible) and we sometimes get free food (though never expected). However, we dine with the locals and we support our own. You will always get honesty in a respectful manner.

PLEASE NOTE: Reviews reflect a certain moment in time. Some restaurants stay extremely consistent over many years, and some change for the better or worse. Some things that may change are: chefs, recipes, food suppliers, ingredients, philosophies, ownership, etc. We always hope that you have the same good, or great experience we had.
More Foodies News, Reviews & Recipes