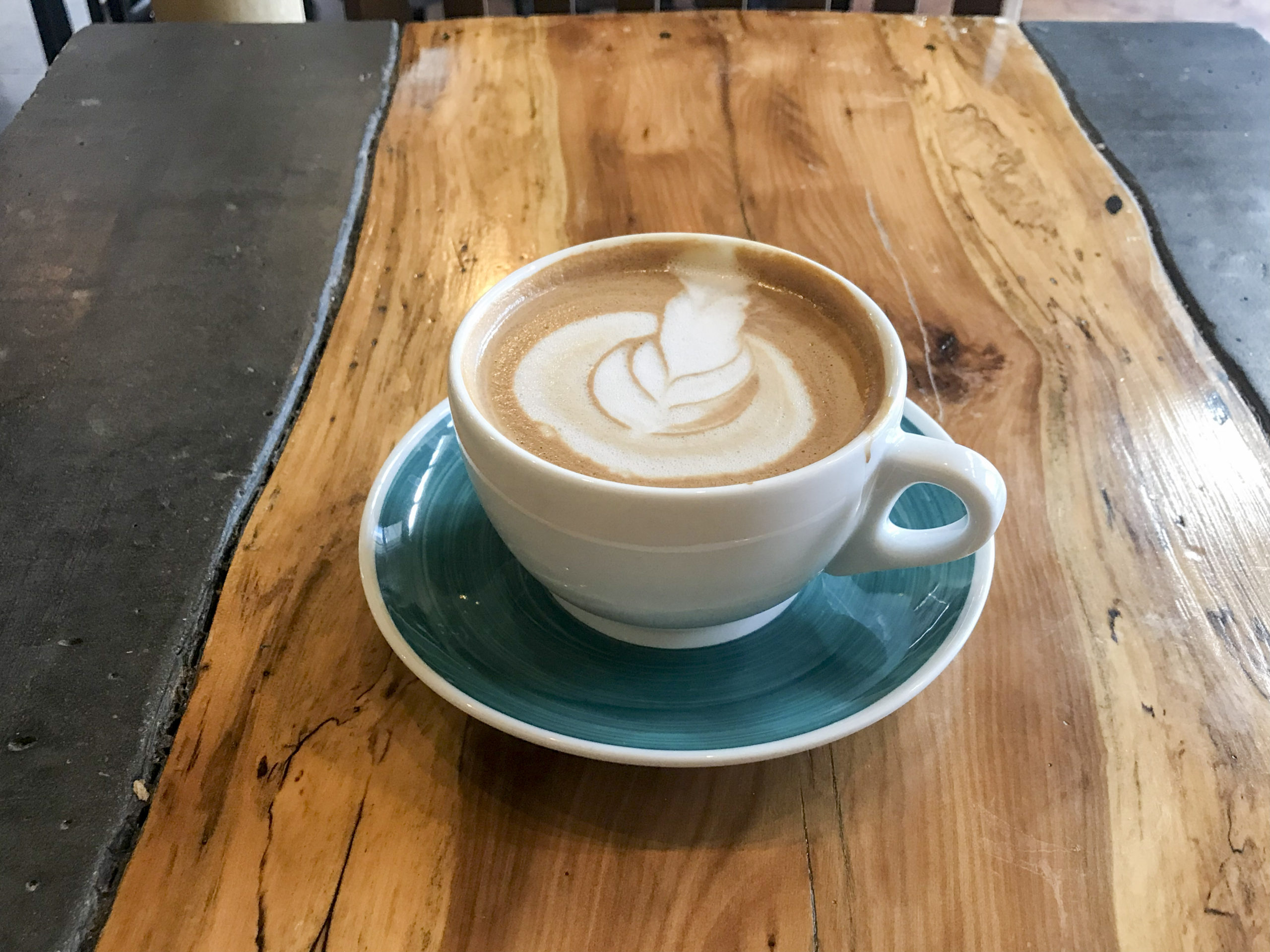 Whether you're grabbing a morning coffee, or stopping in for a bite to eat, Banyan Cafe offers various coffee, espresso and tea options, breakfast (served all day), lunch and brunch, and yes…there's more! They also have wine and beer, house-made pastries on the weekends, and a catering menu. They are part of the Morean Arts Center complex, across from the Chihuly Collection, and near many local shops right on Central Ave. I would say Banyan Cafe is the ideal location for a day exploring Central, with a ton of food and drink options!
Let's get into my favorites!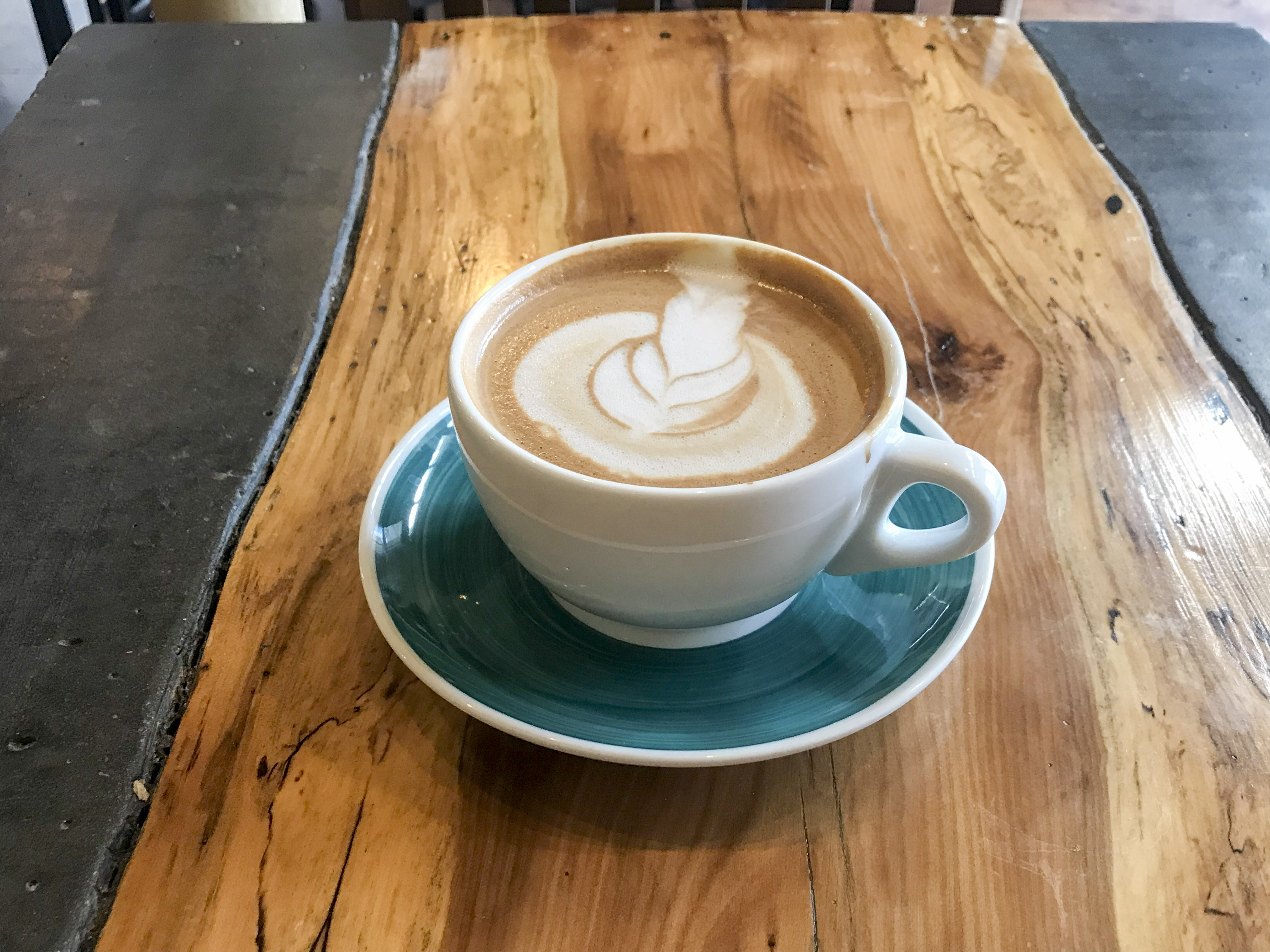 This Mocha Latte is calling your name if you enjoy a sweet, but not too sweet, and smooth  freshly brewed coffee. Banyan gets their coffee from Buddy Brew Coffee, a local company based in Tampa that serves up their specialty roasts across the Bay. I would recommend this if you're looking for a warm and cozy drink to sip on.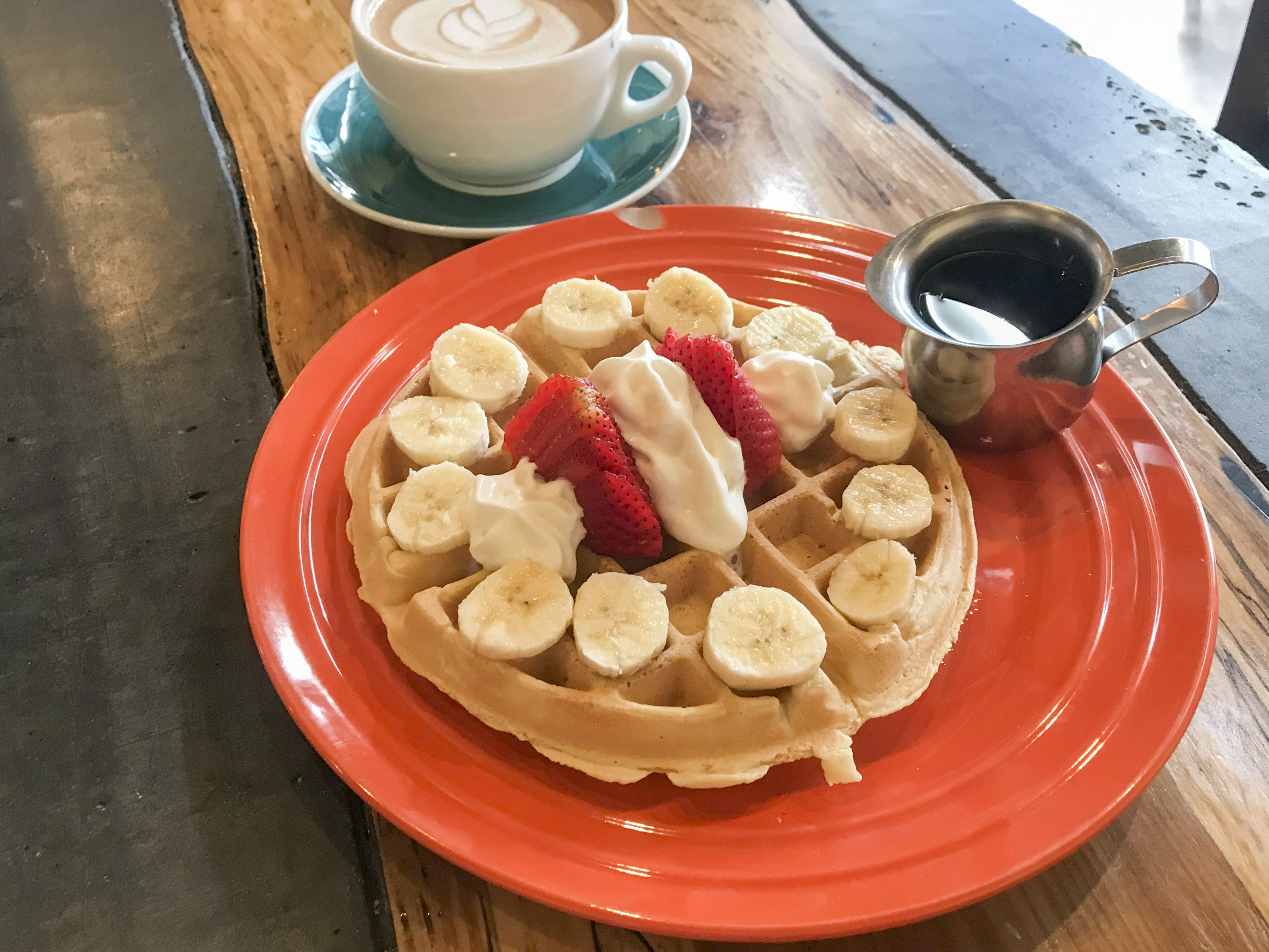 My absolute favorite breakfast is waffles, so when I saw them on the menu I didn't hesitate. They're served warm with fresh strawberries and bananas, house-made whipped cream and maple syrup. Since breakfast is served all day, you don't have to be an early bird to try this delicious meal!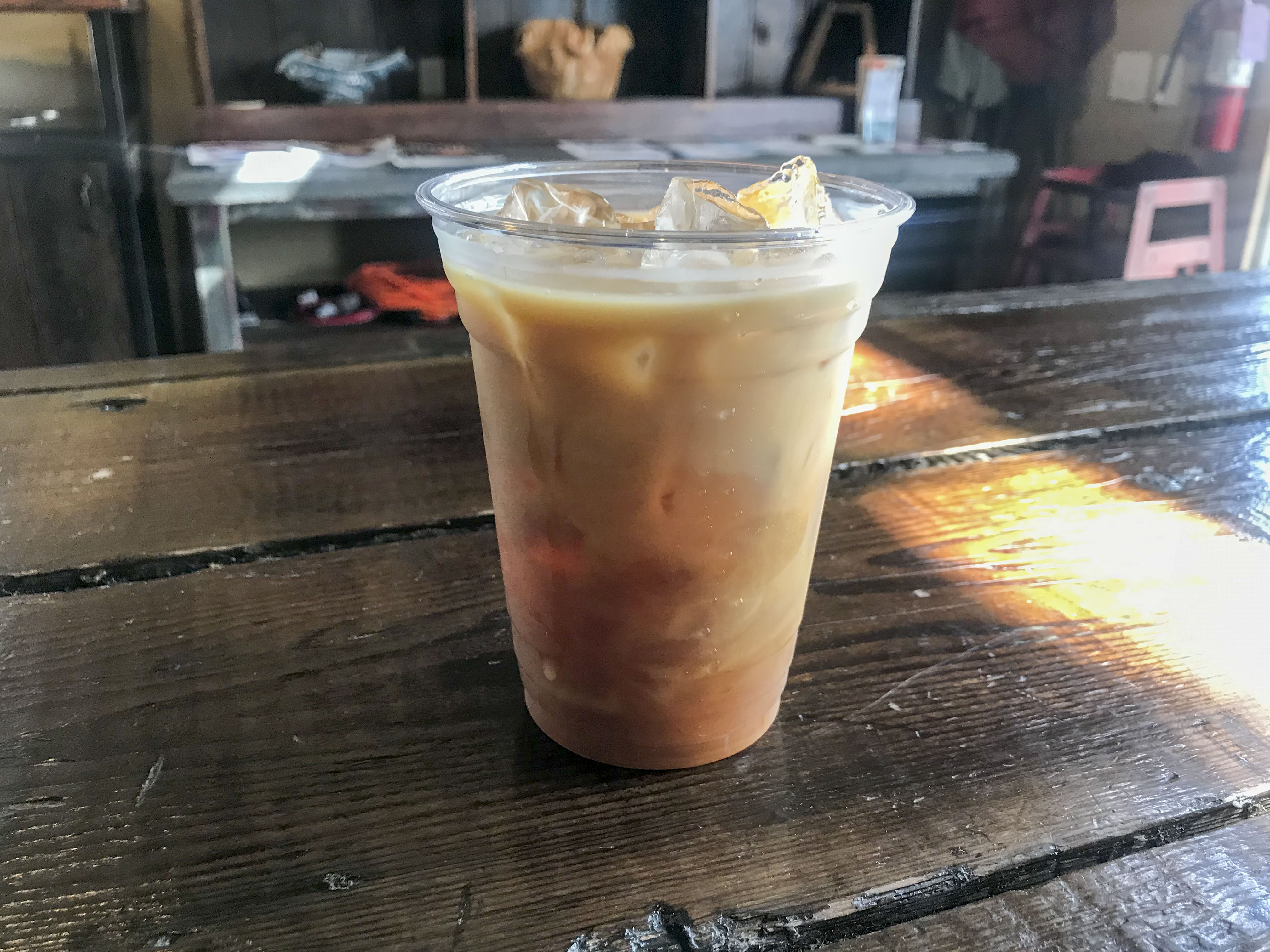 My go-to drink at any coffee shop is an iced coffee with almond milk, so I tried that, with vanilla flavor. They have various flavors like vanilla, mocha, caramel, hazelnut and more. This drink was refreshing and just what I needed in the middle of my work day!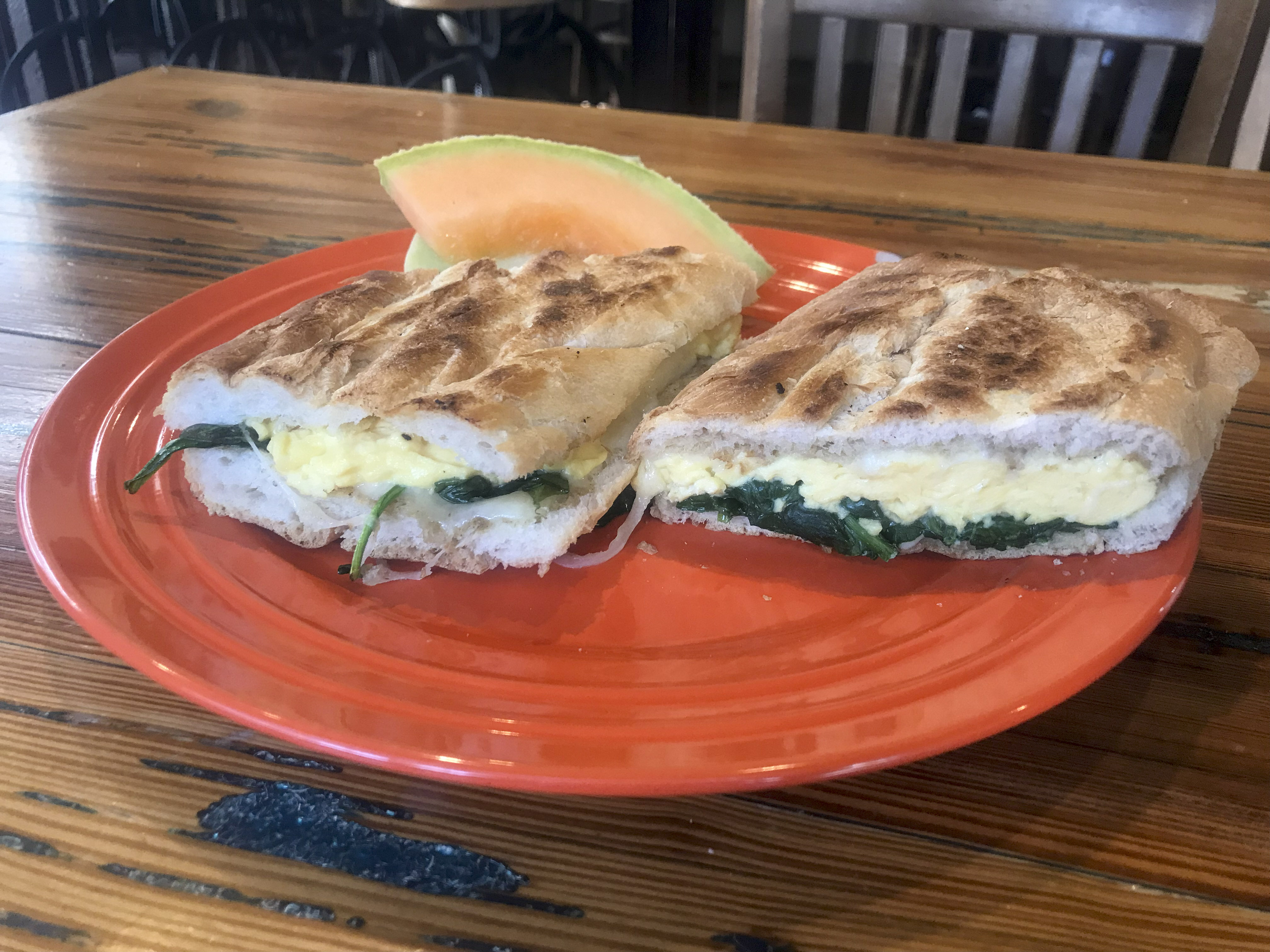 Banyan offers the most perfect breakfast sandwich with two eggs either scrambled or fried, white cheddar cheese and a choice of spinach or bacon, served on toasted Cuban bread. You can't go wrong with this one! It was fresh and delicious, and very filling.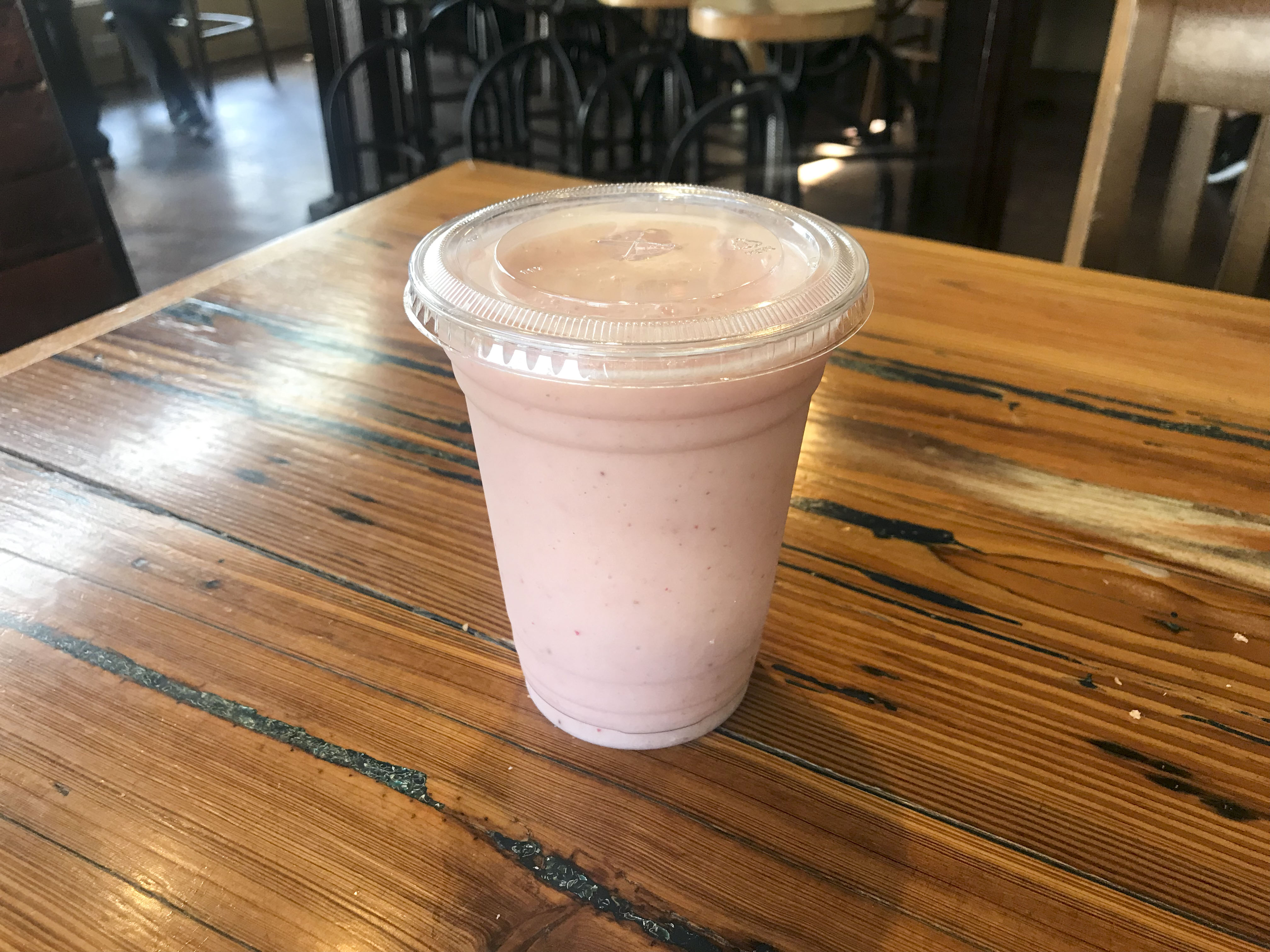 A friend of mine got a fruit smoothie with mango, banana and strawberries. I tried a sip and thought it was refreshing and sweet, in a healthy way! They make their fruit smoothies  from scratch with fresh fruit and absolutely no added sugars or syrup. I would go back to get this for myself if I'm looking for a cold and delicious drink.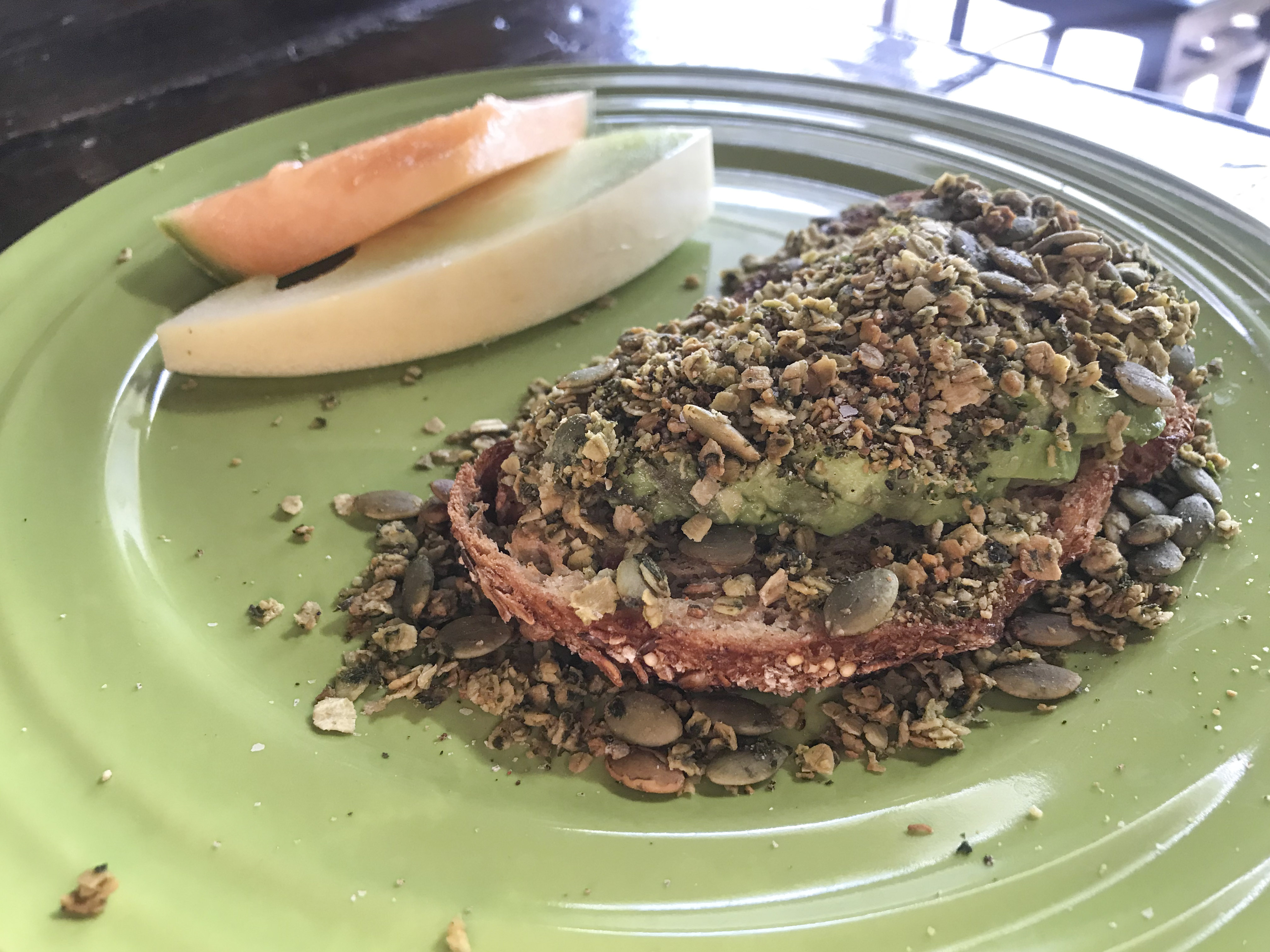 Their avocado toast is insane! As you can see in the photo, they do not skimp out on this meal. First impression, I was a little nervous. All of the avocado toast I've tried was always simple: avocado, toast, maybe salt. At Banyan, they start with multigrain toast, then the fresh avocado which is topped with toasted pesto pumpkin seeds and chipotle-lime salt. Each bite was fully packed with the salt flavor from the seeds and chipotle-lime salt, and it was delicious. If you prefer savory vs sweet, you gotta try this!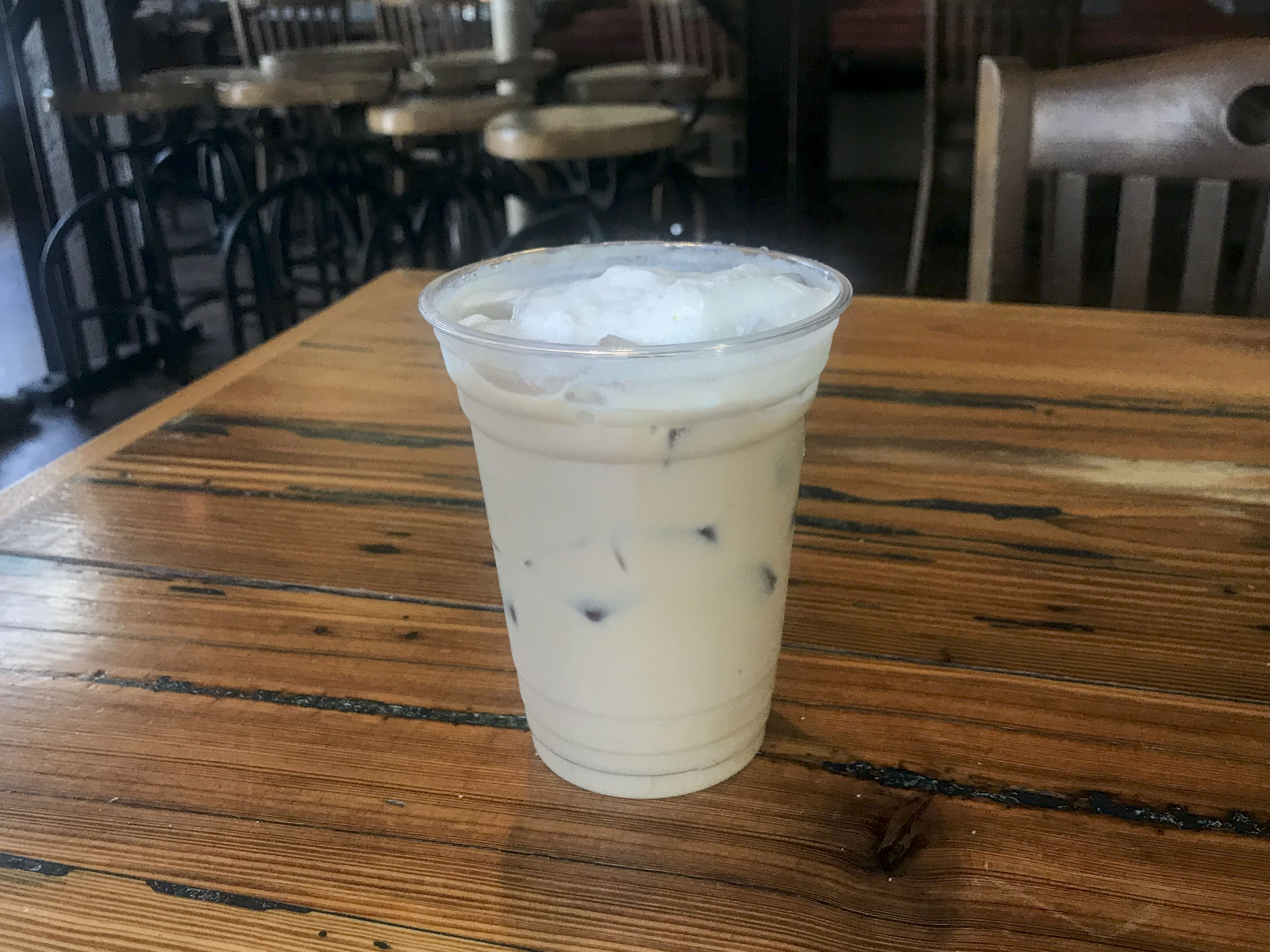 Back to the sweets, their salted caramel iced latte was a delicious sugar rush in a cup. It reminded me of a Starbuck's caramel frappuccino, which is more of a dessert drink in my opinion. It was easy to slurp down since it was so sweet!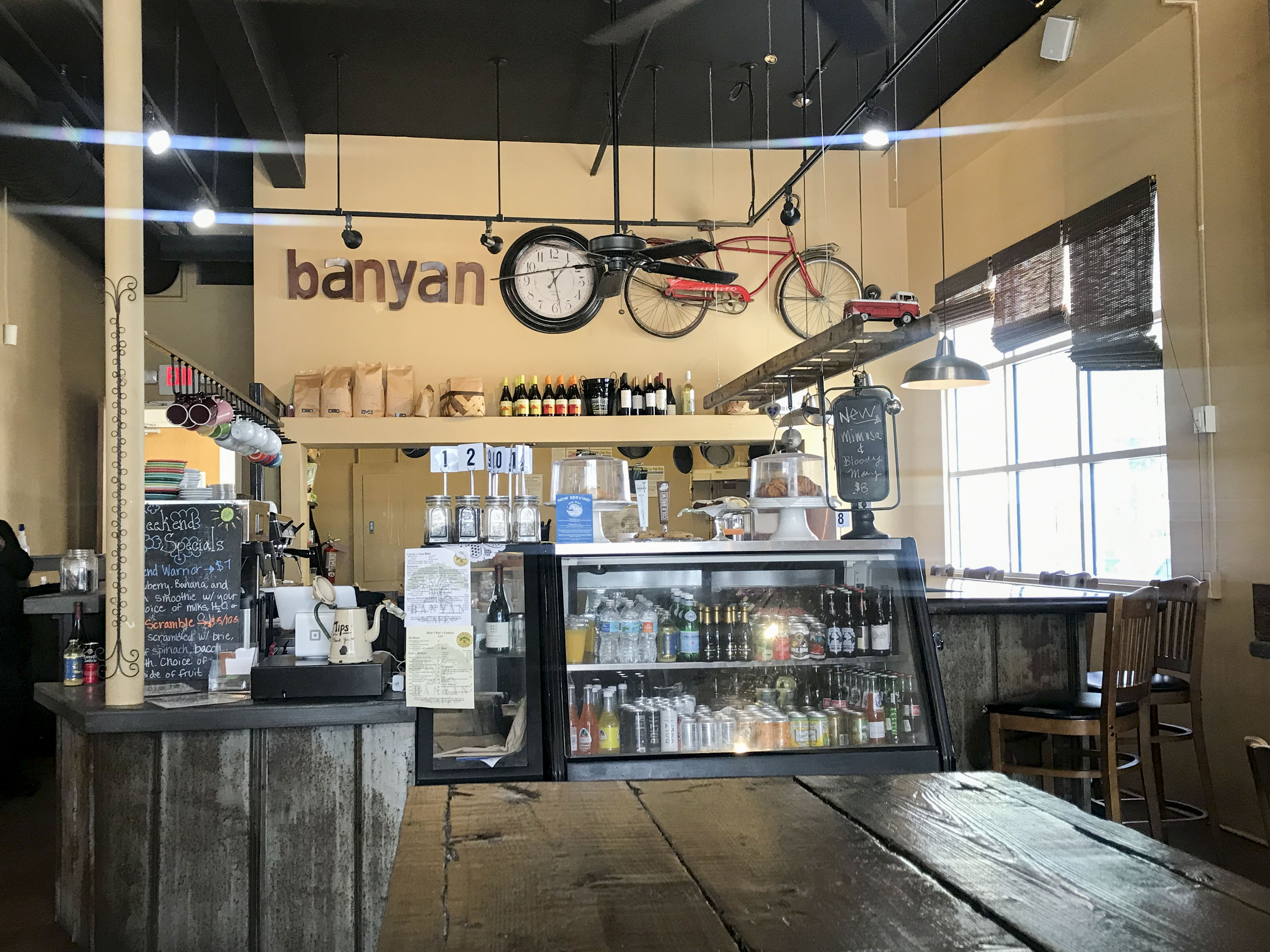 This coffee shop and cafe has everything going for it: fresh and locally brewed coffee, a unique and flavorful menu, and the charming location along Central Ave. You can't go wrong with a trip to Banyan Cafe!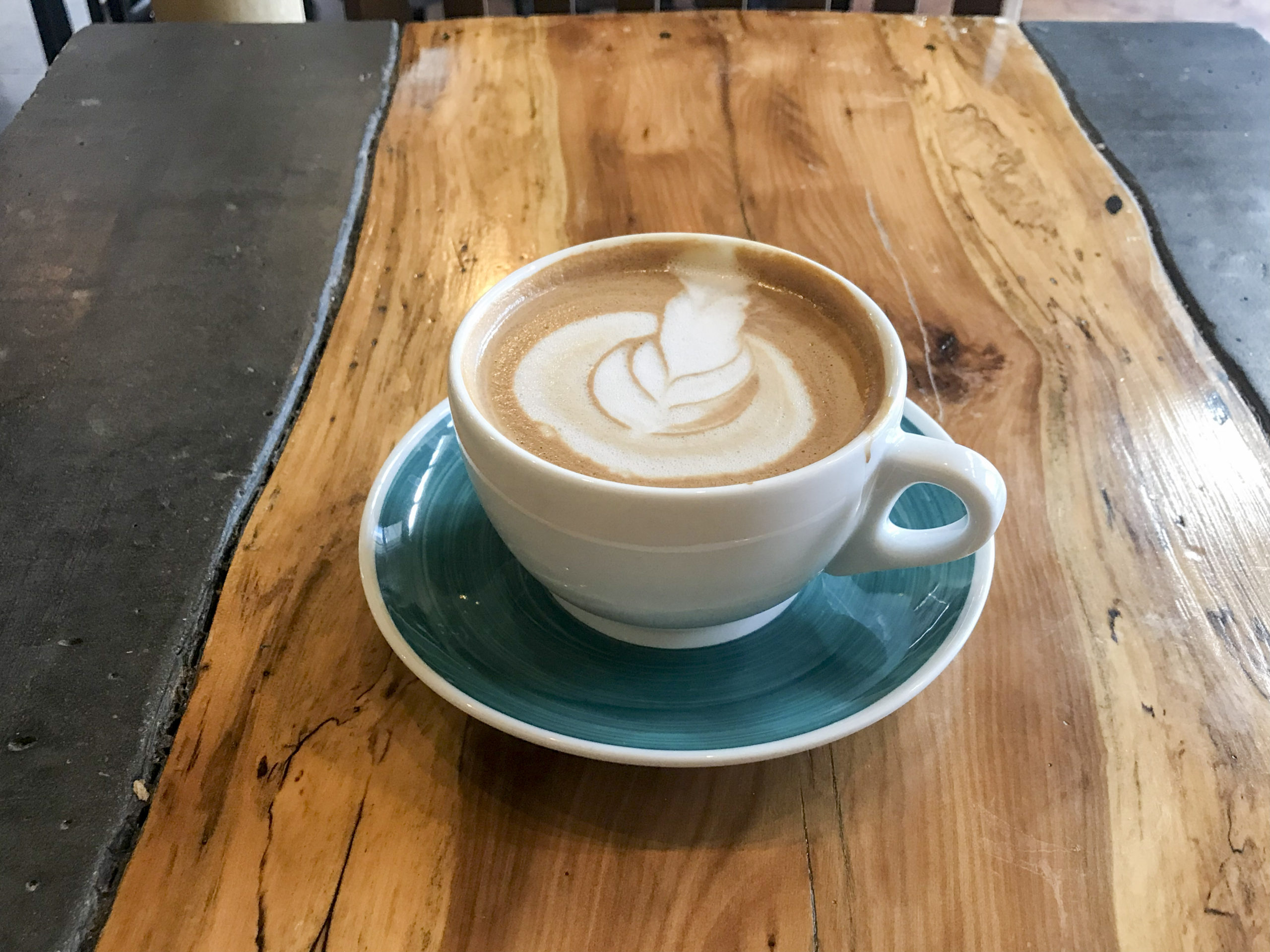 Readers Rating

Rated 5 stars




5

/ 5 (

5

Reviewers

)

Spectacular
---
Banyan Cafe

(727) 896-6600

Sun - Sat

8:00am - 3:00pm
701 Central Ave

,

St. Petersburg

,

FL

33701

,

USA
---
Funky, modern coffee shop serving New American breakfast & lunch fare plus weekend brunch.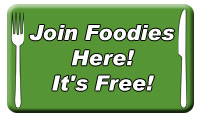 Written by Haley Haman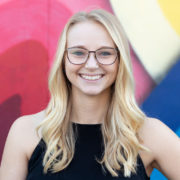 Born and raised in Chicago, I made my way to the sunshine state 3 years ago to explore a different lifestyle (without snow boots and sub zero temps!). I recently graduated from USFSP and currently work as a Marketing and Content Coordinator in this beautiful city. I like to start my day with a bike ride by the Bay and end it by visiting a local dessert, booze or coffee shop!
View all posts by: Haley Haman
More Foodies News, Reviews & Recipes
Comments are closed
#stpetersburgfoodies #stpetefoodies
Recent Posts
July 27, 2021

Beer, Wine, Biggie and Vibes at Hawthorne Bottle Shoppe

One step over the threshold at Hawthorne Bottle Shoppe is all it takes for you to realize that you're in a spot with plenty of cool factor. Walls adorned with shelves of fascinating beers and captivating wines, displays topped with witty merchandise and of course, the notable nods to Biggie Smalls throughout the entire space – it's a place you'll find yourself revisiting time and time again. The doors of Hawthorne Bottle Shoppe opened on February 20th, 2017 by owners Tegan and Amanda. The two of them worked in the craft beer industry together for years and their ultimate dream was a bottle shoppe. Eventually, they spread their wings, said goodbye to corporate America and turned their dreams into reality. Not only did this brilliant duo open a bottle shoppe – they breathed life into a space with their vision and managed to create one of the coolest hangouts in town. The interior of Hawthorne Bottle Shoppe is killer – they totally nailed the aesthetic. In the midst of the abundance of beer, wine and novelties, you'll notice Biggie Smalls almost everywhere you turn. That's right, Hawthorne Bottle Shoppe is a Biggie bar – what's not to love about that? If you don't know, now you know. Since opening their doors a few years ago, Hawthorne has expanded seating areas inside. This now allows patrons to bask in much more of the killer ambiance that each unique area boasts at the shoppe. Seating inside and outside is quite ample at HBS. They have plenty of bar seating, high-tops and also intimate seating areas throughout with these magnificent mismatched chairs. The outdoor space is incredible with tons of seating, covered tables, open air, ambient lighting and more of the fabulous mismatched pieces. One of the best parts about this outdoor space? They rent it out for private events. In fact, they love throwing unique and fabulous parties! Of course, the spotlight at Hawthorne Bottle Shoppe is on their beer and wine program. Not only do they have a vast retail beer and wine section, but they also have some superb options by the glass on their menu. One of the really special things at Hawthorne is that beer and wine on their shelves can be purchased at retail value and you can enjoy them all at the shoppe for that same price! Cans start at $5.00 and bottles of wine at $13.99. For wine bottles consumed onsite, a small $4.99 corkage fee is tacked on. One impressive aspect about Hawthorne's beer program, specifically, is that they join forces with breweries to create their own beer that can only be enjoyed exclusively at HBS. Events are created around each one of these special beers. They collaborate with the breweries on the name, label, ingredients and style. Additional events at Hawthorne include Wine Talks, a once-monthly intimate and relaxed wine educational tasting, and food and beer/wine tastings. The tastings involve teaming up with local chefs and they're something that Tegan said they really have a lot of fun with. In fact, they have one coming up on August 12th with Sara-Ellen Burnett that you should definitely check out on their Facebook page! When I first glanced at Hawthorne Bottle Shoppe's menu, I quickly realized that it was everything that I'd hoped it would be: uncomplicated, intriguing, witty and mouthwatering. A couple of starters (all of which include cheese), a main focus on handhelds, some salads and sides like Lays Chips – I don't know about you, but that's enough to make me happy. Of course the sandwiches are what the clientele at HBS love most. There are eight on the menu to choose from and each sandwich is completely different than the last. We enjoyed a few and are already looking forward to eating our way through the rest of them. To be honest, I have not eaten much meat in the last few months – I just don't crave it quite like I used to these days.  So naturally when my eyes glanced at the Coachella, it immediately appealed to me. The sandwich is made to order and comes with your choice of avocado, sprouts, bell peppers, tomatoes, red onion, lettuce, brie, cheddar, balsamic glaze, apricot jam, blueberry mayo + olive oil.  I decided that I needed all of the veggies of course and then Tegan provided her expert advise and said that I should finish that off with some balsamic glaze, apricot jam and brie – I certainly didn't fight her on it. She also suggested that I toast my bread, which I 100% recommend. Savory, slightly sweet and ever so satisfying, this sandwich hits all of the right notes. If you're into it, you have the option to upgrade this baby with the addition of prosciutto or turkey for only $3.50. If you're into Thanksgiving, you'll be into this stack. Meet, The Woodstock. Turkey slices topped with romaine lettuce, tomatoes and red onion, sandwiched between two pieces of whole wheat bread with house made blueberry mayo. Tegan said that this combination was created to be a play on different components enjoyed on Thanksgiving, with the blueberry mayo standing in for the traditional cranberries/cranberry sauce. This sandwich 100% just works, with the standout for me being the blueberry mayo. It adds the touch of sweetness that this otherwise savory-forward sandwich craves. This blueberry mayo is so good, that I'd more than likely slather it on most anything. The Burning Man sandwich is the most popular handheld on the menu at Hawthorne Bottle Shoppe. Layered with roast beef, arugula, pickled red onions, blue cheese crumbles, creamy horseradish and balsamic glaze between two slices of whole wheat bread. All of the ingredient gleam through in this act, with a highlight on the aspects of salt, fat, acid and heat for the idyllic balance. Snag a bag of Lays Originals to enjoy along side for ultimate gratification. Think toasted pop tarts from your childhood…but grown up and that much better. That's right, the crew at Hawthorne […]

July 27, 2021

Interview with Max Blowers from Social Roost – St. Petersburg Foodies Podcast Episode 152

Interview with Max Blowers from Social Roost Welcome to the St. Petersburg Foodies Podcast Episode 152! On today's episode, we interview Max Blowers. Max is the General Manager & Beverage Director at Social Roost. He is a St. Pete native, but spent 15 years living in NYC, and has worked for celebrity chefs Wolfgang Puck and David Burke. We talk about his time there, and then hear about the wild rollercoaster ride it's been upon his return to St. Pete. After Max, we recap our grilling and meat filled weekend with Juicy Lucy Burgers, Grilled Chicken, Duck Eggs and Bacon—all from St. Pete Meat & Provisions.

July 26, 2021

"Where's Jubes" Australian Brewpub Opening in DTSP

Former Lucky Dill Deli Spot Transformed by Restaurateur Josh Cameron One of the things you don't often notice or think about when strolling on the 200 block of Central Avenue in downtown St. Pete is that some of the buildings have a second floor. This includes the building on the corner of Central Ave & 3rd St. N., which used to house the Lucky Dill Deli. Restaurateur Josh Cameron says that the building reminds him of the brewpubs back home in New South Wales, Australia where many pubs are historic two story buildings chock-full of character. That's why he decided to transform it into just that—Where's Jubes Aussie Brew Pub & Grill. Josh bought the Lucky Dill Deli back in January 2017, and kept it running as such for a few years, and then shut it down for the transformation at the end of 2019. Then two things happened—the already arduous process of permitting in St. Pete, and the pandemic shutdown. A few days ago, the press release for Where's Jubes came out, but we decided to wait until we could talk to Josh Cameron before publishing. Interestingly, the release says that Josh bought Lucky Dill in 2018, but he actually gave us a tour, and we published the news in 2017. When I asked Josh about this, he said, "Holy sh*t! Where is all this bloody time going!?!" He thought it was 2018, but it was 2017. We feel you, Josh. We totally feel you. It turns out that I'm the first to ask the question, "Why is there no question mark in the name or the logo?" Josh laughed, and said, "Very good question. It's a bit of a bloody grammar faux pas there mate. Let me take that to the bloody marketing folk." With Josh's great track record as a restaurant owner, we're not going to be concerned about a grammar detail, but I had to ask the question. The historic building is over 100 years old, and it was originally a hotel. There was always a plan to do something with the second floor, but that will be phase two or three. They will start with just the ground floor space finally coming to fruition with Where's Jubes opening at the end of August. "Jubes" was Josh's nickname back in Australia, and he was, just like now, always busy running several restaurants and was constantly on the move. This resulted in everyone frequently asking, "Where's Jubes?" Just to get open, they will start with a "hoodless kitchen", and use commercial air fryers. Initially, there will be lots of sharables, and a few entrées. The full kitchen and full menu will come down the road as permits and work progress. The sixteen hundred square foot pub will feature repurposed poplar from Australia, industrial steel, four brew tanks, and extensive outdoor lounge seating. "It's a modern, industrial buildout but with the warmth of Boston's Cheers" says Cameron. At Crafty Hospitality, our culture is customer-first. Warm hospitality and a feeling of familiarity for our guests is what we're aiming for." Josh has quite a presence on the historic and bustling "first block". His Crafty Hospitality took over The Oyster Bar in 2013, Fortunato's Italian Market in 2016, which relaunched as Crafty Squirrel in 2018, and now the old Lucky Dill Deli becomes Where's Jubes. (Maybe Josh's nickname should be "The Energizer Bunny".) Some of the food items in the press release are: Rosemary Balsamic Spare Ribs – braised in balsamic & rosemary, slow cooked, then sautéed. Aussie Burger – beef patty, bacon, cheese, egg, caramelized onion, pickled beets, tomato and lettuce. Grilled Prime Rib – garlic mash, asparagus, burnt brown butter and thyme. Beer Battered Wedges – potato in sweet chili, sour cream, and chives. Sticky Date Pudding – served with bourbon infused ice cream. There will also be meatless wings, and meatballs, tofu, curry, lamb, chicken, and beef dishes. There's a lot happening on the beer side, and what follows is a fraction of it. All of the beers are named after Australian towns, "especially towns that have stupid (read naughty) names". In partnership with award winning Australian Brewer, Brian Watson, Cameron has spent the last year importing and perfecting the malts, hops, and barleys using SmartBrew technology. He plans to open with eight to twelve varietals, brewing eighty to a hundred kegs a week. Paying homage to Australia, Cameron branded his beers with tributes to his birthplace. Brews will be served in custom glassware at ten and twenty ounces. Cocklebiddy Porter ABV: 5.3% Hops: East Kent Golding Color: Dark, deep ruby On the nose: Caramel, toffee, and chocolate Taste: Smooth, medium body with a lingering malty finish About Cocklebiddy: No one actually knows what Cocklebiddy means, but it's famous for being home to the longest cave in the world – over 6km long, although 90% of it is under water. A very typical Aussie outback joke, the Nullarbor Links Golf Course is the world's longest golf course with the first hole in Ceduna, South Australia and the 18th hole 1365 km away at Kalgoorlie." Surrounded by mallee scrub, the observatory has studied the birdlife of the area for decades and has recorded over 230 different species including rare migratory birds like red-necked stints and ruddy turnstones which travel over 10,000 km from Siberia. Booti Booti Brut IPA ABV: 6.2% Hops: Galaxy, Amarillo, Citra Color: Pale Gold with slight haze On the nose: Tropical and citrus with a light fruit salad Taste: Very dry, drier than my ex wife, but not as bitter About Booti Booti: Booti Booti is a national park in New South Wales, Australia, 282 kilometres, by road, north-north-east of Sydney. The holiday town of Forster-Tuncurry lies immediately to the north. It gets its name from Buti But, the local Worimi Aboriginal word meaning "plenty of honey". 654 species of native plants makeup Booti Booti National Park, and 17% of the park is classified as rainforest. Park go-ers enjoy hiking, swimming, birdwatching, and in the winter […]

This bright and quaint cafe, Sammy + Paco's Community Cafe, has proven to be quite popular since its opening in May. The owners of Lolita's are the masterminds behind this gem and if you know and love Lolita's as much as I do, then you'll quickly adore Sammy + Paco's. Just as you'd expect, the food and drinks are beyond scrumptious and there's even a case full of baked goods by Chef Megan, who was the pastry chef at Sophia's. Now, if you're wondering where Sammy and Paco came from, they're the names of the owners' cats. Don't you just love passionate pet parents? Trust me, you'll need to schedule a cat nap after a visit here with all of their tasty food options. The blue walls, colorful seating and dainty sunflowers on each table add a lovely touch to this already cute spot. You'll order at the counter and then find a seat either inside or out. This is a really great place to meet up with a friend for breakfast or lunch. Sammy + Paco's offers standout food options from breakfast all day, lunch and a weekend brunch menu. They're connected to Lolita's Catering + Events which is perfect for serving eclectic food for your next big event. If you're looking for a well blended and divine iced latte, Sammy + Paco's should be on your Google Maps search now. The creamy sips were smooth and just right. Plus, the caffeine buzz put the most perfect pep in my step. Also on their coffee menu is drip coffee, americanos, cappuccinos, espresso, chai and matcha. They have a case full of other refreshments for when you're in the mood for a beer, wine, seltzer, sparkling water, juice and so on.  The classic bagel and lox is always a good breakfast choice in my eyes. Sammy + Paco's offer their own variation and it's easily a stand out menu item. The Bagel + Lox is built with beet house-cured salmon, whipped za'atar feta, chopped hard-boiled egg, tomato, caper-berry relish, and house-made Meg's everything bagels. This colorful breakfast is deserving of a crown for its uniqueness and incredible flavors in each bite. The beet house-cured salmon was perfectly salty and the bagel itself was seasoned great and was soft yet toasted just right. If you love savory breakfast items, you must consider ordering this! For lunch with Kevin and Lori, I ordered the Coffee Blackened Grouper Tacos with mango and jicama slaw, pickled red onion, poblanos and chipotle lime aioli on flour tortillas. These were excellent. The elevated seasoning really drew me in at first and I loved the combination of the sweet mango and jicama slaw paired with the spicy-ish chipotle lime aioli.  You can swap out the grouper for Mojo shredded pork which is delicious, as described below. The lunch menu has a variety of sandwiches and you can't go wrong with any of them. The Reuben El Cubanito is an amped up Cuban and Reuben. Think layers of mojo shredded pork, pastrami, sauerkraut, mustard, house-made thousand island dressing on Cuban bread. Two classics merged together for a simply delicious lunch. The chips were crunchy and a great side. The Aristo Cat BLT(S) is a solid option for an exquisitely crafted sandwich. Lori ordered the Aristo Cat BLT(S) which was a party for your tastebuds with seared beet house-cured salmon, bacon, watercress, heirloom tomatoes, tzatziki on French country loaf. I tried a bite and was instantly impressed with the freshness and the variety of flavors. The tzatziki had a really nice zest and the beet house-cured salmon was wonderful. Love a good burger? Order the El Loco Burger. Kevin had this for lunch and loved it. The El Loco Burger is a short rib, brisket burger loaded with mojo shredded pork, muenster cheese, chimichurri, and pickled red onion all in between a brioche bun. Kevin described the burger as melt in your mouth and perfectly seasoned. From what I tried I'd definitely have to agree. Everything about this burger was just right. You should never fight the urge to order something sweet and luckily this case of baked goods has a variety of yummy options. I can't wait to dive into a dessert on my next visit, I mean, just look at those cupcakes! Sammy + Paco's has an impressive wine section, too. What more could you ask for? Can we talk about these smiling faces real quick!? The team at Sammy + Paco's is so friendly and welcoming. I felt an instant sense of community and connection from everyone here on each visit. Finally, check out their gorgeous space. They did a great job at making the aesthetic trendy, welcoming and overall down-to-earth. I'm obsessed with the colors, patterns and sunflowers. Sammy + Paco's is a charming neighborhood spot in Historic Kenwood. I was in awe at the attention to detail with the ingredients on the menu and can't wait to come back over and over again.

If You Don't Go To Matteo Trattoria & Pizzeria, It Will Be the Biggest Mistake of Your Life Matteo Trattoria & Pizzeria just brought the level of Italian cuisine in St. Pete to a whole new level. So did Sauvignon Wine Locker & American Trattoria. If you love Italian food, and especially if you want to be transported to your favorite Italian restaurant in New York City—that's the quality level of both of these places. If you haven't been, put them on your must-go-to list. Read our Sauvignon review here. If you knew Sophia's Cucina + Enoteca, that's where Matteo is in The Grand Central District of St. Petersburg. (Keep in mind, just like we don't say "St. Pete's", we also don't say "Matteo's". No S.) The restaurant is named after owner Nando Silvestri's son. Silvestri started with his first restaurant in Los Angeles in 1992 when he was just 21. He has owned several eateries around the LA area, and still has one there—Tramonto Bistro Malibu. This unstoppable restaurateur's next move was to open Matteo Trattoria & Pizzeria in Tampa in September 2020. The St. Pete location at 2363 Central Ave had their soft opening on July 5, and is now in full operational mode with the exception of the wood fired pizza oven. You can thank the extremely slow pace of the St. Pete inspection system for that. A turtle with two broken legs is faster. Watch for an update to this review once the pizza oven is up and running. Full disclosure, we were invited in, and comped the food and drinks, and left a good cash tip. I did ask for a check, as we never want to be entitled to free food. This does not affect our extremely high regard for this place. Our friends, Abby and Mike joined us, and we shared everything, and compared thoughts. (Abby writes reviews and develops recipes for St. Pete Foodies, and is a monthly podcast guest.) To sum it up, as I said in the beginning, the quality of the food and service is right up there with a great NYC restaurant. Joel Sanchez, GM / Partner, took great care of us, and offered some great recommendations. Sangria drinkers, and even those that don't often sip sangria will love this one. Cesare – Hearts of romaine lettuce, shaved parmigiano Reggiano, homemade croutons & creamy Cesar dressing. The salad was extremely tasty and perfectly dressed. I love Ceasar salad so much that for a few years I ate it every day. I would eat this one every day. House Bread – accompanied with a delicious olive tapenade. Arancini – Arborio rice balls stuffed with peas, mozzarella cheese, Bolognese sauce, breaded & fried. I grew up eating a lot of Italian food, but for some reason, neither mom, grand-mom, or my aunts made arancini. My first encounters were as an adult at just a few places, and this is the best one I ever had. I meant to get a shot of the inside, but somehow missed it. Polpette Della Casa – Homemade meatballs made with veal, pork & beef with marinara sauce & focaccia. The meatball game keeps getting better and better here in St. Pete. It seems my prayers were answered. These will definitely be on the next update to the best meatballs list. Cozze Tarantina – P.E.I black mussels, chili flakes, fresh garlic and marinara sauce. Lori said these were the best mussels she ever had, along with the sauce. Amatriciana – Pancetta, fresh garlic, red chili flakes, olive oil & marinara sauce, bigoli pasta. The Amatriciana is life changing. The bigoli pasta is handmade in-house, and the toothsomeness is eyes roll back in your head amazing. The sauce, pancetta and other ingredients create Italian food heaven. Bolognese – Trio of ground beef, veal and pork with pappardelle pasta. In my experience, most recipes, and most restaurants use ground beef as the sole meat ingredient. When I pointed out to Abby that this one has ground beef, veal and pork, she said, "Yeah, the right way". It was perfection. Lasagne – Layers of ricotta cheese, Bolognese sauce and pasta sheets. Just when you think it can't get any better, the lasagna shows up. Like meatballs to me, lasagna is Lori's go-to as a test of an Italian restaurant. This one gets an A+. Matteo has an actual pizza bar, and a virtual gnocchi bar—that is a special section on the menu with ten different gnocchi dishes. We had the Gnocchi Boscaiola – Wild mushroom sauce – porcini, button, shiitake. I thought it was quite good. My other three companions thought it needed more seasoning. If it was my own dish, and not sharing, I would have just added some fresh ground cheese and pepper. We shared three desserts. Cannoli are pretty much mandatory. We also had chocolate cake, and NY style cheesecake. They were all perfect. Lori liked the chocolate cake the best, and I liked the cheesecake, which does justice to The Big Apple. The Happy Couples
Recipes
July 5, 2021

Curry Chicken Salad and Avocado Hummus Recipe

Hey party people, it's picnic season! And unlike in 2020, get togethers with friends and family are a thing again. This summer wow guests at any celebration with not one, but two sides that will keep them coming back for more. Chicken Salad is often a summer party staple. Now, take it to the next level with the addition of a curry kick, cashews and lots of green onion. Five little minutes is all you need to make this salad yours. Simply buy a Rotisserie chicken, shred the already cooked meat and combine with the rest of the ingredients. Seriously, that's it. Unless you plan on making this into a sandwich (which you totally should) with some toasted Dave's Killer Bread and lettuce. I love hummus a whole lot. You know what I also love? Avocados. When you combine the two, they become a super couple – Avocado Hummus. Also in this irresistible dip are a ton of fresh herbs: Basil, Dill and Cilantro. Use any combination of as many or as little as you like based on your own preferences. My personal favorite vessel for dipping into this hummus comes in the form of Simple Mills organic Seed Flour Everything Crackers, which you can find at Rollin' Oats. They have a delicious selection of flavors, as well as a large array of other health-forward crackers. And of course, you can find all of the ingredients for both of these recipes at Rollin' Oats, too. Curry Chicken Salad and Avocado Hummus It's picnic season, folks! Blow the crowd away at your next party with these simple and summer-friendly recipes. Food Processor Curry Chicken Salad1 lb Chicken Breast (Poached and shredded. Pick up a Rotisserie Chicken if you're looking for a shortcut!)½ cup Mayonnaise (Plus more, as needed.)½ cup Dried Cranberries½ cup Cashews (Roughly chopped.)5 Green Onions (Dark and light green parts only and sliced into thin rounds)2 Celery Stalks (Ends trimmed, cut lengthwise and then chopped into small pieces.)4 tsp Curry Powder1 tbsp Lime Juice (From approximately 1/2 of a lime.)½ tsp Pepper½ tsp Salt (Plus more, as needed)Dave's Killer Bread (optional) (100% recommend this chicken salad on a sandwich!)Lettuce (optional) (If you're making the sandwich, of course)Avocado Hummus½ Avocado (Make sure it's nice and ripe.)1 15 1/2 oz can Chickpeas (Drained and rinsed well.)1 cup Fresh Herbs (Such as Dill, Cilantro and/or Basil. Plus more for garnish.)¼ cup Tahini¼ cup Lime Juice (Plus more, as needed.)2 Garlic Cloves1 tsp Salt (Plus more, as needed)½ tsp Black Pepper2 tbsp Olive Oil1 tbsp Everything Bagel Seasoning Curry Chicken SaladCombine all salad ingredients in a medium bowl and mix until everything is well incorporated.Taste and season with more salt, as needed.To make a Curry Chicken Salad Sandwich, toast your slices of Dave's Killer Bread and assemble by adding a few spoonfuls of salad and some lettuce.Avocado HummusTo a food processor or high-powered blender like a Vitamix, add avocado, chickpeas, tahini, lime juice, garlic cloves, salt, pepper and 1 cup of fresh herbs of choice. Process ingredients for one minute or so until the mixture starts to become smooth (it'll still be a bit chunky, though).Taste and season with more salt, as needed. With the motor running, slowly stream in olive oil.Spoon hummus into a bowl and drizzle with more olive oil, top with fresh herbs and evenly distribute the everything seasoning. Serve with crackers, like Simple Mills. Appetizer, Salad, Side DishAmericanAbby Allen Recipes, Avocado Hummus Recipe, Curry Chicken Salad Recipe, Rollin Oats Cafe St Petersburg FL, Rollin Oats Recipes, Rollin' Oats Natural Food Market

Okay folks, it's June…and that means summer, picnics and the start of grilling season. I don't know about you, but when I think about grilling, a juicy rack of ribs often comes to mind. However, being that we live in a small downtown St. Petersburg apartment with very minimal outdoor space, grilling is not something that we are able to do. Therefore, over the years, I have had to learn how to recreate favorites from the grill in our kitchen. Oven-baked ribs, when cooked properly, are just as satisfying as a slab from the grill if you ask me. Low and slow at 325 degrees and then finished with some high heat will yield a similar product. I typically gravitate towards Babyback Ribs. However, Rollin' Oats offers some incredible St. Louis style spareribs that have changed the game. St. Louis Style Ribs often have more fat (much like a Ribeye steak), but fat means flavor. In addition to quality ribs, Rollin' Oats also has a selection of premium organic barbecue sauces. St. Louis-Style Ribs with Hasselback Cantaloupe St. Louis style spareribs may contain more fat, but that means more flavor. Hasselback Cantaloupe1 Cantaloupe (Sliced into quarters, seeded and then sliced into half moons)1 bunch Fresh Basil 8 oz Fresh Mozzarella (Cut into approximately 1 1/2 inch slices)Olive OilSaltPepperSt. Louis-Style Spareribs1 rack Spareribs (Approximately 2-2.5lbs)1.5 tbsp Garlic Powder1.5 tbsp Paprika1 tbsp Salt1 tsp Brown Sugar1 tsp Cayenne Pepper1 cup Barbeque Sauce (Any will work – we love Annie's Organic!) St. Louis-Style Ribs Preheat oven to 325 F. In a small bowl, combine garlic powder, paprika, salt, brown sugar and cayenne. Rub spice mix evenly all over the ribs.Wrap seasoned ribs in foil completely, place on a baking sheet and bake for 2-2 1/2 hours. Remove ribs from the oven, unwrap. Coat ribs all over in barbeque sauce of choice. Increase heat to 425 F. Place ribs in the oven, uncovered, for 15 minutes (sauce will begin to caramelize). Remove ribs from the oven and serve.Hasselback CantaloupeTake the melon half moons and cut slits every 1" without cutting through the skin. Stuff 1 leaf of basil and a thin slice of Mozzarella into each slit in the melon. Drizzle with olive oil and season with salt and pepper. Appetizer, Main Dish, Side DishAmericanCantaloupe, Spareribs, St. Louis Style Spareribs

May 3, 2021

Short Rib Quesabirria Tacos Recipe

If you tend to keep up with all of the latest food trends, and/or don't live under a rock, odds are, you have heard of Birria or Quesabirria Tacos. However, for those who haven't, Birria tacos are usually comprised of meat, such as beef or goat, that has been slowly braised and is then loaded into a tortilla and pan fried then served with consomé on the side. The meat is braised in a brilliant combination of chilis and spices and oozes with flavors. Quesabirria tacos take things one step further. In essence, they are the perfect storm of a cheese quesadilla and a taco, all wrapped up into one incredible being. Let's get serious, who could be mad about that? While goat is traditionally used, I prefer beef. In fact, utilizing a combination of beef is encouraged, though, not necessary. I love using two pounds of just short ribs when I encounter some beautiful ones, but, use any kind of beef that you can get your hands on. Recommendations include: beef shank, chuck roast, cap roast, etc. Rollin' Oats offers a superb variety of quality beef, most of which is grass fed and organic. Additionally, they have everything else needed for this fancy little taco number that you'll want to make over and over. A lot of Birria recipes recommend Guajillo dried chilis, which are not always offered at Rollin' Oats. However, they do have Anaheim and Pasilla chilis, which boast a very similar flavor profile. Short Rib Quesabirria Tacos Imagine if Birria Tacos and a Cheese Quesadilla had a baby – that's precisely what we have going on here. These babies take a little bit more time to make; however, the cost is totally worth the reward. Meat and Marinade2 lbs Short Ribs, Beef Roast, or Beef Shank (You can use one or a combination of two meats – whichever you prefer)3 Dried Pasilla Peppers (Guajillo or Anaheim will work as well)1 7oz can Chipotle Peppers in Adobo3/4 cup Crushed Tomatoes1/4 cup White Wine Vinegar6 Garlic Cloves (Minced)1 1/2 tsp Oregano1 tsp Paprika2 tbsp Salt (Divided, plus more, as needed)PepperConsome1 White Onion (Medium in size, chopped)1 Cinammon Stick3 Bay Leaves4 cups Beef Broth1 tbsp Olive OilBirria Taco Assembly4 Tortillas (Your preference. I like Siete Foods grain free)1 cup Queso Blanco Cheese (Grated)Minced White OnionFresh Cilanto MarinadeAdd dried Pasilla peppers to a medium heat safe bowl. Bring a few cups of water to a boil and then carefully pour the hot water over the peppers. Allow to soak and soften for about 15 minutes. Remove peppers from water, cut off stems and dump the seeds out into the sink and discard. Add softened peppers to food processor with the rest of the marinade ingredients and 1 tbsp salt and process until smooth. Liberally salt meat with remaining 1 tbsp salt and some pepper. Pour marinade over meat and cover and marinade for at least one hour and up to overnight.ConsomeHeat oil in a large dutch oven over medium heat. Add onion, stirring occasionally, until onion softens, 6-8 minutes. Add in meat and marinade and remaining consome ingredients. Bring to a simmer, partially cover and turn the heat to medium low/low (whichever heat level allows for a gentle simmer) until meat is fall off the bone tender and shreds easily, 3.5 – 4 hours.Remove meat/bones from consome, discard bones and place meat in a separate bowl, shred and reserve for assembly.Carefully strain consome into a heat proof bowl/pot through a mesh sieve and reserve for assembly, discard any solids. Birria AssemblyLadle one half cup or so of consome into a shallow bowl or onto a plate. Heat medium nonstick skillet over medium heat. One at a time, dip one side of tortilla into shallow bowl/plate of consome. Then place tortilla consome dipped side down into the skillet.Liberally cover tortilla in shredded Queso Blanco. Then, top with shredded meat, followed by onions and cilantro.Carefully fold the tortilla in half and continue to cook until each side of the tortilla is lightly crisp and golden. Serve tacos with consome on the side for dipping. Main DishMexicanQuesabirria Tacos, Birria Tacos

April 5, 2021

Lobster Thermidor Recipe

It isn't hard to make a lobster dish fabulous, because, well, lobster is already plenty fabulous on its own. Over time, Lobster was tossed into that category of "occasion-only" meals, along with the likes of Beef Wellington, Prime Rib and Cassoulet – you know, those "never enough time on a weeknight" type-of-meals. Well, I'm here to debunk all of that and prove to you that you can, in fact, not only enjoy, but prepare a beautiful little lobster dinner on any night, occasion, or not. Lobster Thermidor is a French dish, typically comprised of lobster in a rich and creamy sauce. Normally, I'm a simple kind of gal when it comes to lobster. Some sous vide meat, drawn butter – that's all I usually need. However, for Lobster Thermidor, I make an exception. Great to serve as an appetizer for a dinner party, whilst also perfect for a low effort, but impressive weeknight dinner which boasts a high return – it's the dish that delivers whenever you need it. Recently, Rollin' Oats added Luke's Lobster, which is wild caught and sustainably sourced, to their shelves and the quality is incredible! You can find Luke's Lobster meat, claws and tails in the frozen section at Rollin' Oats in St. Pete. Lobster Thermidor 2 Lobster Tails (Preferably wild caught, like Luke's brand in the frozen section at Rollin' Oats)1 cup Heavy Cream1/2 cup Mushrooms (Chopped – I use Cremini.)1/4 cup Butter (Unsalted)2 tbsp White Wine (Nothing too sweet, but, something you would drink!)1/2 tsp Paprika2 Egg Yolks1/2 tsp Salt (Plus more, to taste)1/4 tsp PepperFresh Tarragon (Chopped, for serving (optional)) Fill a stockpot with water and a few heavy pinches of salt and bring to a boil over high heat. Add lobster tails and cook until bright red and beginning to curl up, 8-9 minutes.Remove tails and cool. Once cool, cut each tail in half long-ways. Remove lobster meat from shells, chop and reserve for later use. Additionally, also reserve the lobster tail shells (we'll be stuffing the meat back in later on).Heat a large pot like a dutch oven over medium. Add the butter and when melted, pour in the chopped mushrooms and cook until they become softer and begin to take on color, 6-8 minutes. Add in cooked lobster tail meat, paprika, pepper and 1 tsp of salt and reduce the heat to low.Pour in 1/2 cup of the heavy cream and 1 tbsp of the wine, stir to combine, and then simmer for 5 minutes, then remove from heat.In a small bowl, whisk together the egg yolks with the remaining tbsp of white wine. Pour mixture into a small sauce pan and simmer, whisking constantly, until liquid thickens slightly and becomes a custard.Remove from heat and slowly mix into lobster mixture.Place reserved lobster shells on a parchment-lined baking sheet. Spoon lobster and sauce carefully into each shell. Save extra lobster sauce for serving.Broil lobster tails until they begin to brown, 5-6 minutes. Remove from oven and serve garnished with chopped Tarragon (if using), along side some toasted bread and a light salad. Appetizer, Main CourseFrench

Don't let this semi-intimidating name fool you, this chicken-rice-salad situation may sound intricate, but the truth is, it's anything but. It all starts with some leftover rice, chicken, strawberries, whatever greens you have on hand and a few simple pantry staples items – that's it. What is crispy rice you ask? This was something I discovered in the early stages of quarantine whilst watching Bon Appetit Magazine's YouTube channel. In said video, they showed one of their favorite ways to utilize leftover rice (because let's face it, we all always make way more rice than we need) by simply heating some oil/fat of choice over medium heat, spooning in and patting down some cooked rice and allowing the whole happy party to simmer away. Tenish minutes later, after a nice little invert, you're left with a perfectly golden-brown crisp layer of sheer rice gold. When it comes to the type of rice to use for crispy rice, it's truly all about preference. I usually like to use a basmati, just because that's typically what I have on hand. Rollin' Oats has a premium array of top-notch rice selections to choose from, and as always, they also have every single ingredient needed to make this recipe. Not only do they just have the ingredients, but Rollin' Oats has the premium selection for all of the ingredients needed and so much more. As with the majority of my cooking, this recipe was designed with versatility in mind. It's meant to be prepared in a way that suits you and your likes, lifestyle, etc. For example, if you follow a Vegan lifestyle, omit the chicken, add some crispy tofu or some extra vegetables. Or, if chicken isn't your thing, replace it with a more desirable protein and perhaps swap out the strawberries. Add, subtract and improvise however you see fit. Strawberry-Balsamic Chicken with Watercress & Crispy Rice Brunch, Lunch, Dinner – this recipe is suitable for just about any occasion. Not only that, it screams Spring! Strawberry-Balsamic Mixture1 cup Strawberries (Washed, tops removed and sliced into small pieces)1/4 cup Balsamic Vinegar1 tsp SaltCrispy Rice2 cups Leftover Cooked Rice4 tbsp olive oilChicken & Salad Assembly1 bag Watercress (Or any other similar green, like Arugula.)1 Avocado1 lb Boneless, Skinless Chicken Breast Cutlets (2 8oz cutlets. Or, one 1lb butterflied breast )2 tbsp Olive Oil1 tbsp Balsamic VinegarSalt and Pepper1/4 cup Fresh Basil (Chopped) Strawberry-Balsamic MixtureCombine all ingredients in a medium bowl. Cover and set aside until ready to use.Crispy RiceHeat a nonstick skillet, approximately 8", over medium heat and add olive oil. Spoon cooked rice into skillet while carefully patting down, making sure to cover the entire surface of the skillet. Continue to cook over medium heat until the edges of the rice begin to brown, approxmately 10-12 minutes.When all of the edges are golden brown, carefully place a heat-proof plate face-down over the skillet. Carefully invert the rice onto the plate – the top should be a nice brown color and ultra crispy. Set aside until ready to serveChicken and Salad AssemblyPreheat oven to 400F. Line a baking sheet with parchment. Salt and pepper all sides of the chicken breast cutlets and place on prepared baking sheet. Bake for 15 minutes and remove from the oven. Flip chicken and spoon reserved Strawberry-balsamic mixture over the chicken. If some Strawberries roast on the pan and not on the chicken, that's completely fine.Bake for another 15 minutes. Remove from the oven and allow to cool a few minutes. Remove strawberries from chicken (do NOT discard!) and slice chicken.To assemble the salad, start with the Watercress, spoon in some crispy rice, add avocado, top with sliced chicken, roasted strawberries and basil, evenly distribute oil and vinegar over the two salads and add salt and pepper to taste. Main Dish, SaladAmerican