Pinellas Ale Works PAWsitively Has a Brew for You
Pinellas Ale Works PAWsitively Has a Brew for You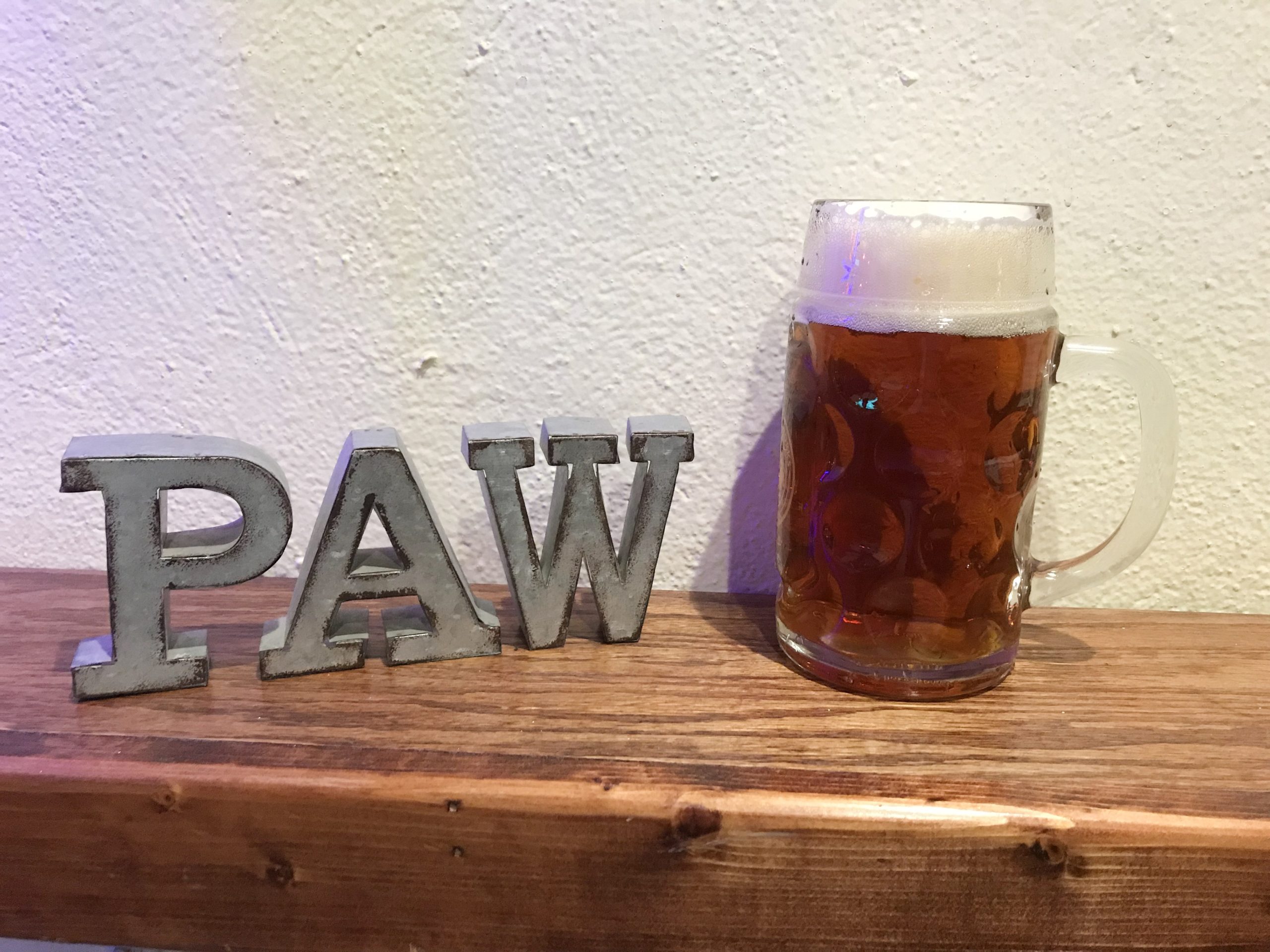 In today's world, it's nothing out of the ordinary to see dogs most places where you usually find humans: shopping malls, restaurants, patios, etc. Actually, our society has even gone as far as creating spaces that cater to dogs and humans. For example, dog bars, dog beaches and dog parks. Dogs are marking their territory on the world, and humans are 100% here for it.
One brewery in St Pete, specifically, is going above and beyond simply allowing dogs in their facility. Pinellas Ale Works (which is cleverly abbreviated as PAW) is making a difference in the lives of dogs in the name of beer.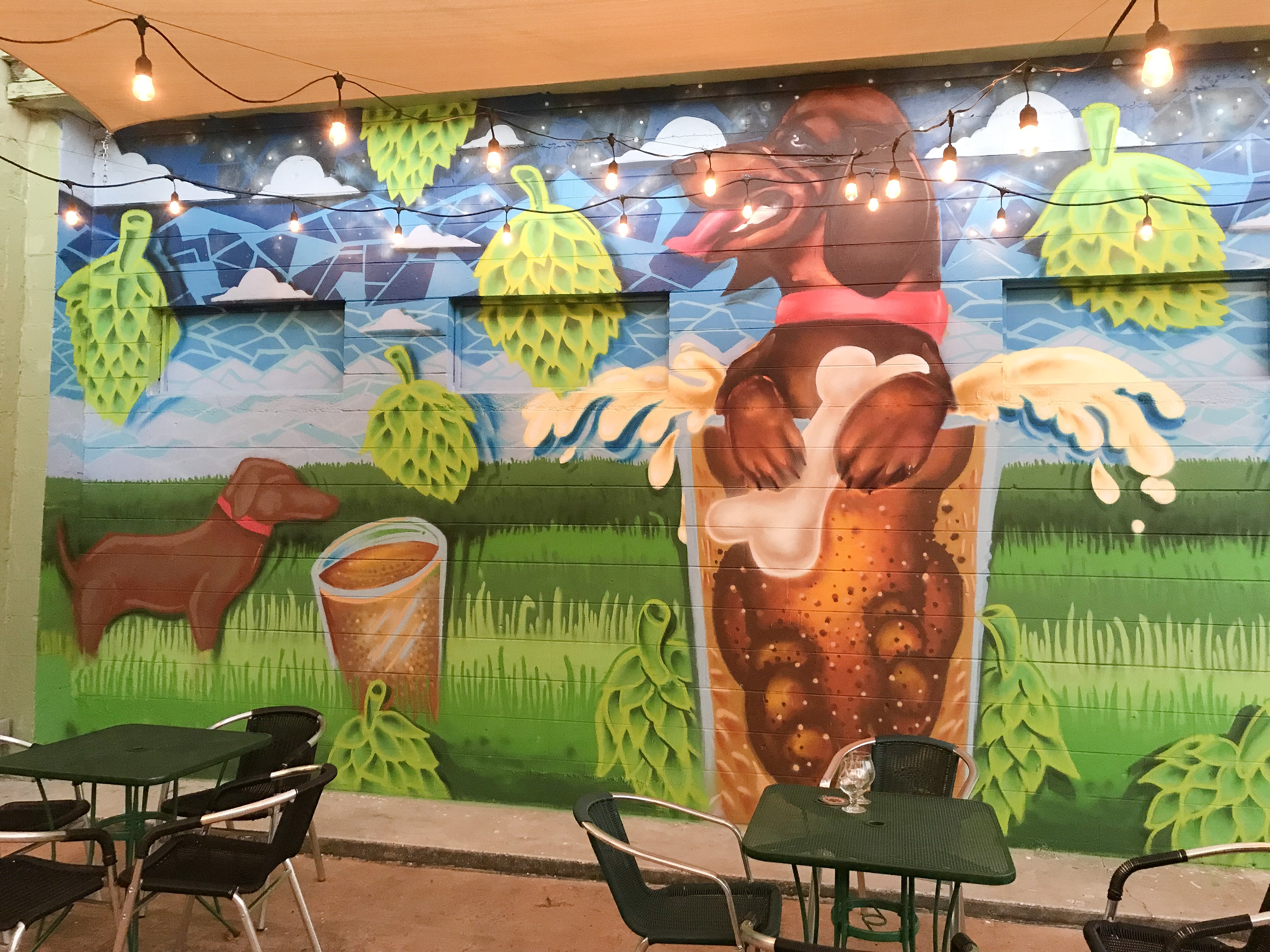 The owner of the brewery, Dennis Decker, said that Pinellas Ale Works came first, and the realization of the acronym "PAW" came second. It was Dennis' intention to make the brewery completely dog-friendly in the first place, so he took PAW and ran with it.
As I mentioned earlier, not only is PAW just dog friendly, but they also like to work with and give back to local dog shelters as often as possible. For example, every Thursday for "Yappy Hour," $1.00 of every beer purchased goes to 1 of 4 shelters that PAW works with (a different brewery each week). Also, on the first Sunday of every month, they hold the Dog Wash and Fundraiser! Pet owners can bring their dogs to the brewery for a bath, nail clipping and quick trim for $10! All proceeds go to Friends of Strays and they've already raised more than $2,000. How incredible is that? Bravo to PAW! Check the upcoming events page here to find additional dog-related events.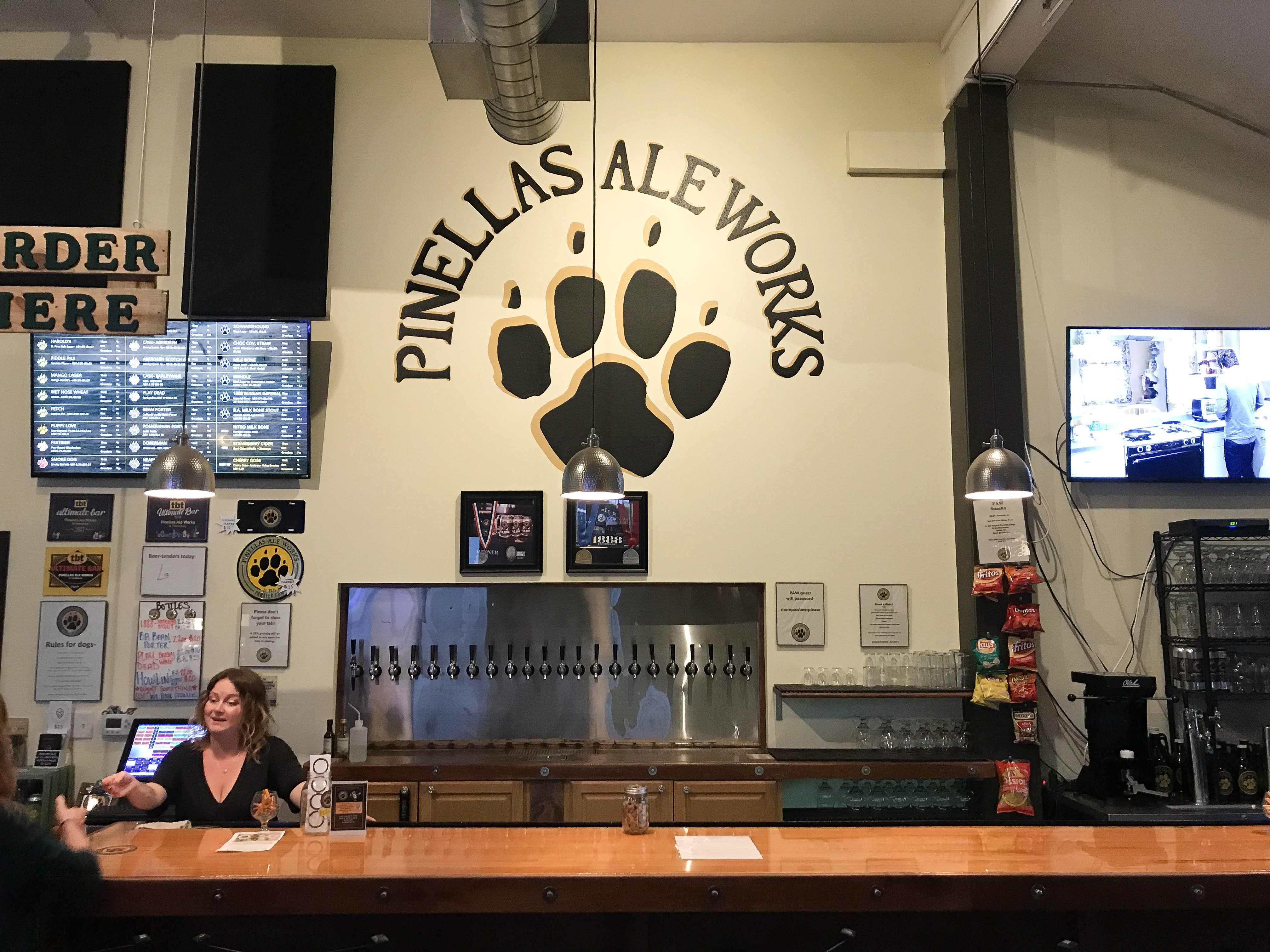 Brewing beer has not been a life-long career for Dennis. Before opening Pinellas Ale Works to the public roughly 3 years ago, Dennis spent most of his time involved with the 3 bicycle stores that he owns in New York, the first, of which, he opened 33 years ago. He began brewing beer roughly 10 years ago, which was around the same time that he purchased a house here by the beach. He initially intended to open a brewery in New York, until he stumbled on the space that he currently has in the Grand Central District and thought that this location would be the perfect fit. Boy, was he right- it took off faster than he thought it would!
Pinellas Ale Works is more than just a taproom, as it's comprised of a few different areas which make the whole space: the brewery, taproom, beer garden and event space. Three different buildings make up Pinellas Ale Works. Dennis purchased the buildings 2 years before opening the brewery and began work on them 1 year prior to opening. Dennis says that it has been, and currently still is, a work in progress. The space is quite large and very well put together. The walls of the taproom boast plenty of local art, memorabilia relevant to the facility and a large quantity of PAWS merchandise. Large community tables and smaller high top tables are ideal for the many events happening in the taproom, including trivia night, which we were present for (it drew a huge crowd!).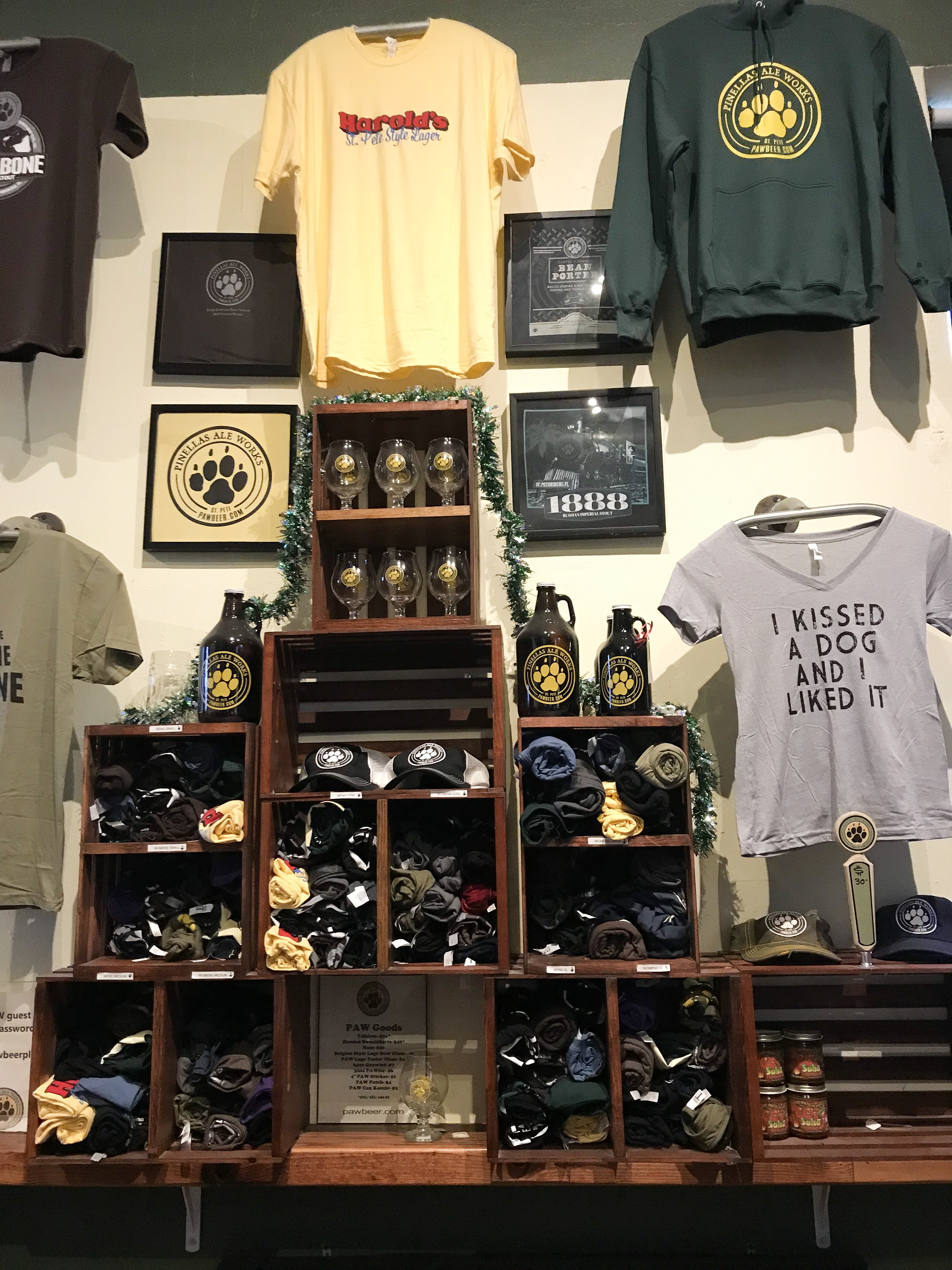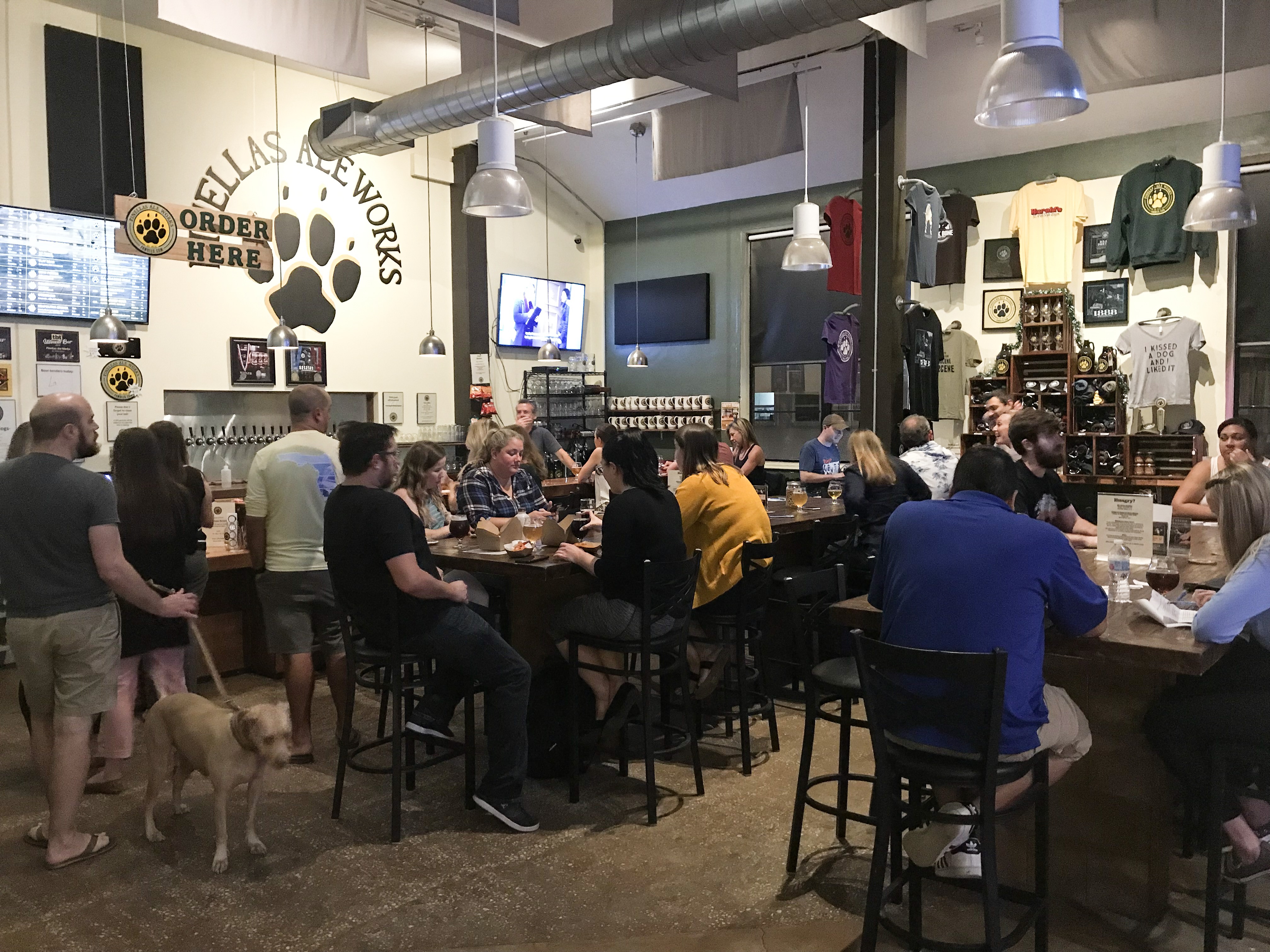 The event space is used most frequently by local dog shelters, and can also be rented out as well. Out back, you'll uncover the beautifully assembled beer garden with tons of seating and a safe space for your dogs to roam (did I mention that the entire facility is dog-friendly?).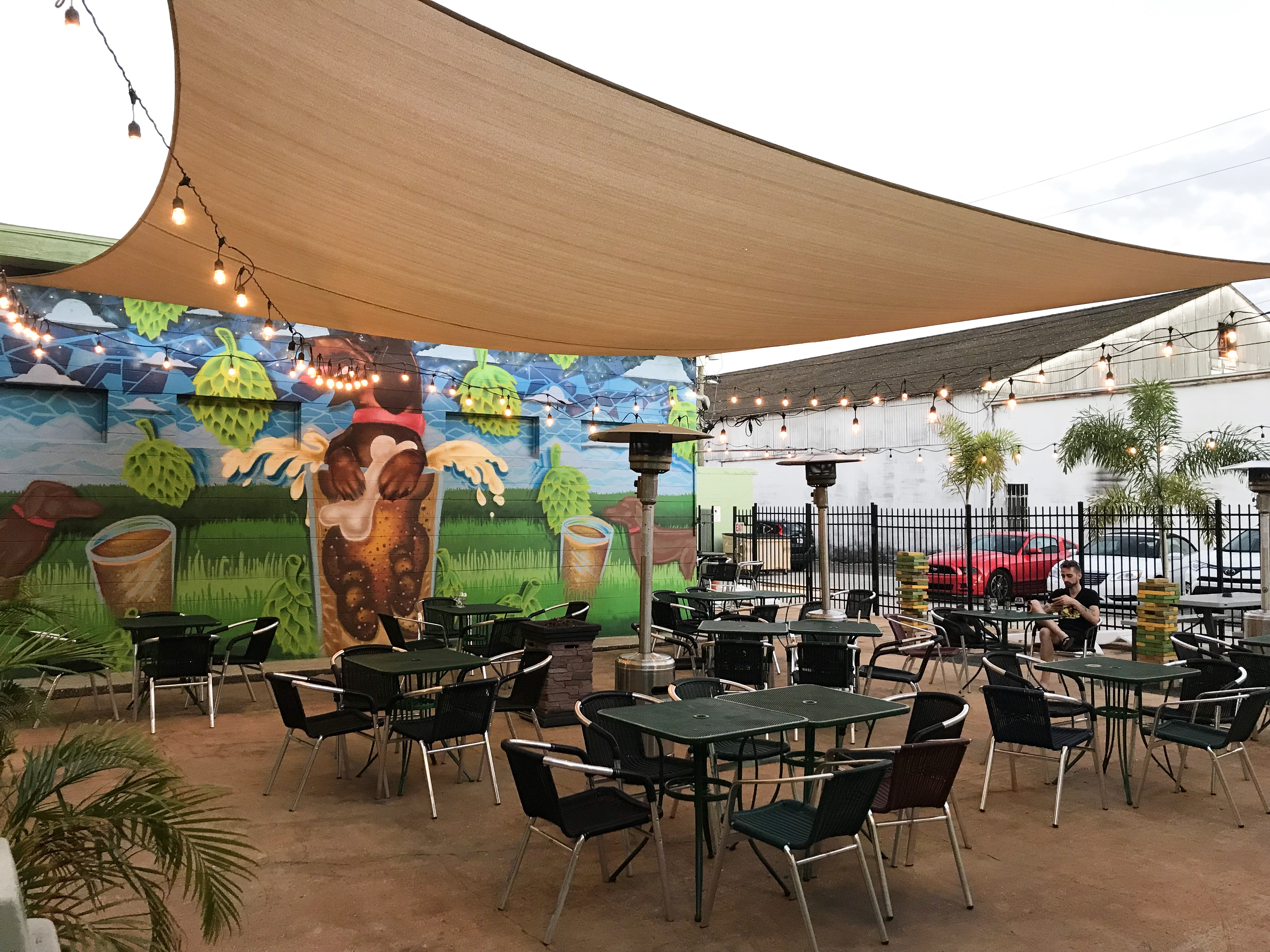 Before the Pinellas Ale Works facility was transformed into a brewery, it acted as an auto body- Harold's Auto Body. In fact, to pay homage to Harold, Dennis named a beer after him: Harold's Lager.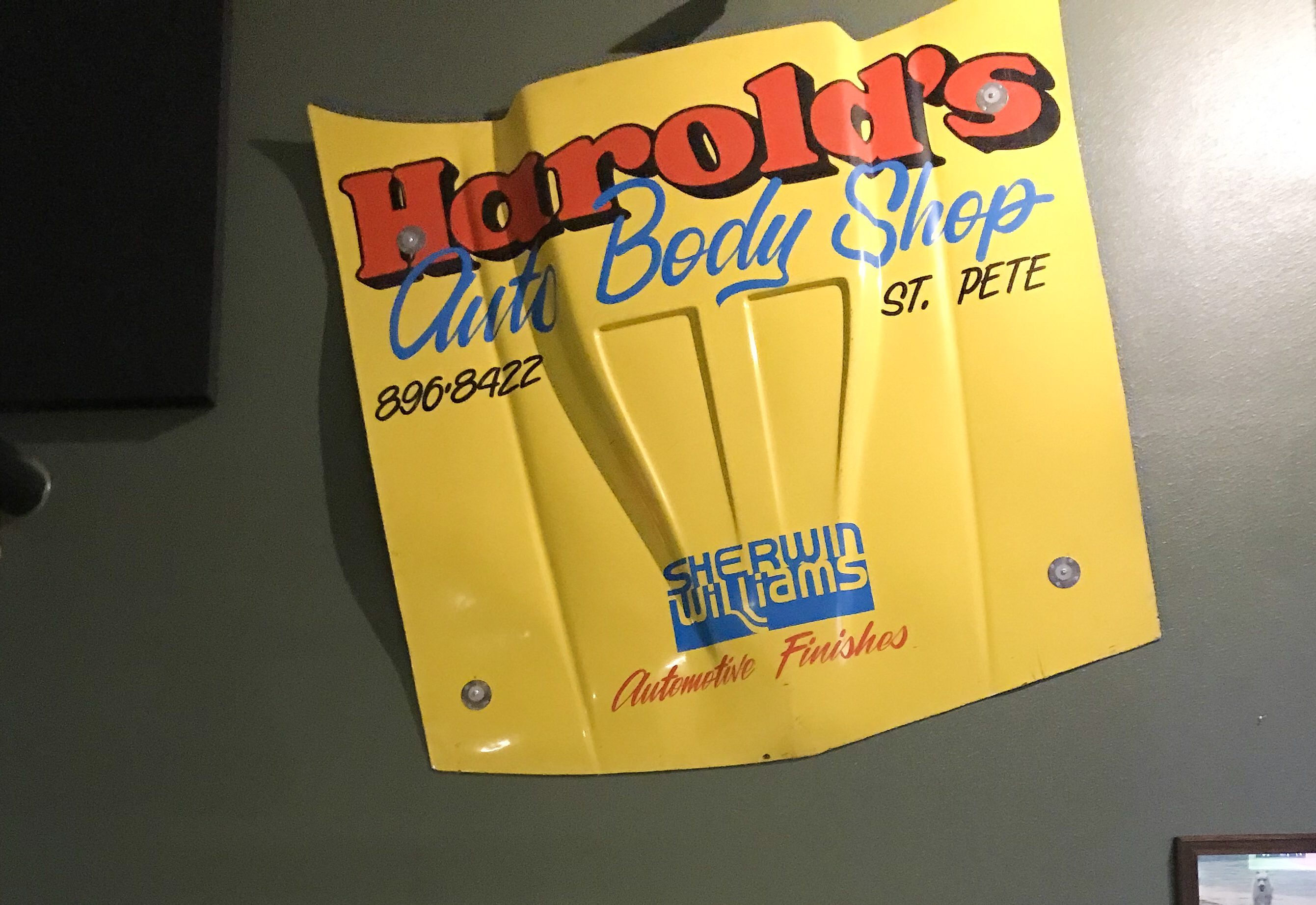 Speaking of beer, Dennis said that they usually have about 25 beers on tap (with the ability to host 30) and of those, 12 are PAW standard beers. The others, are usually one-off variations of the 12 standard beers and 5 of those beers are always changing.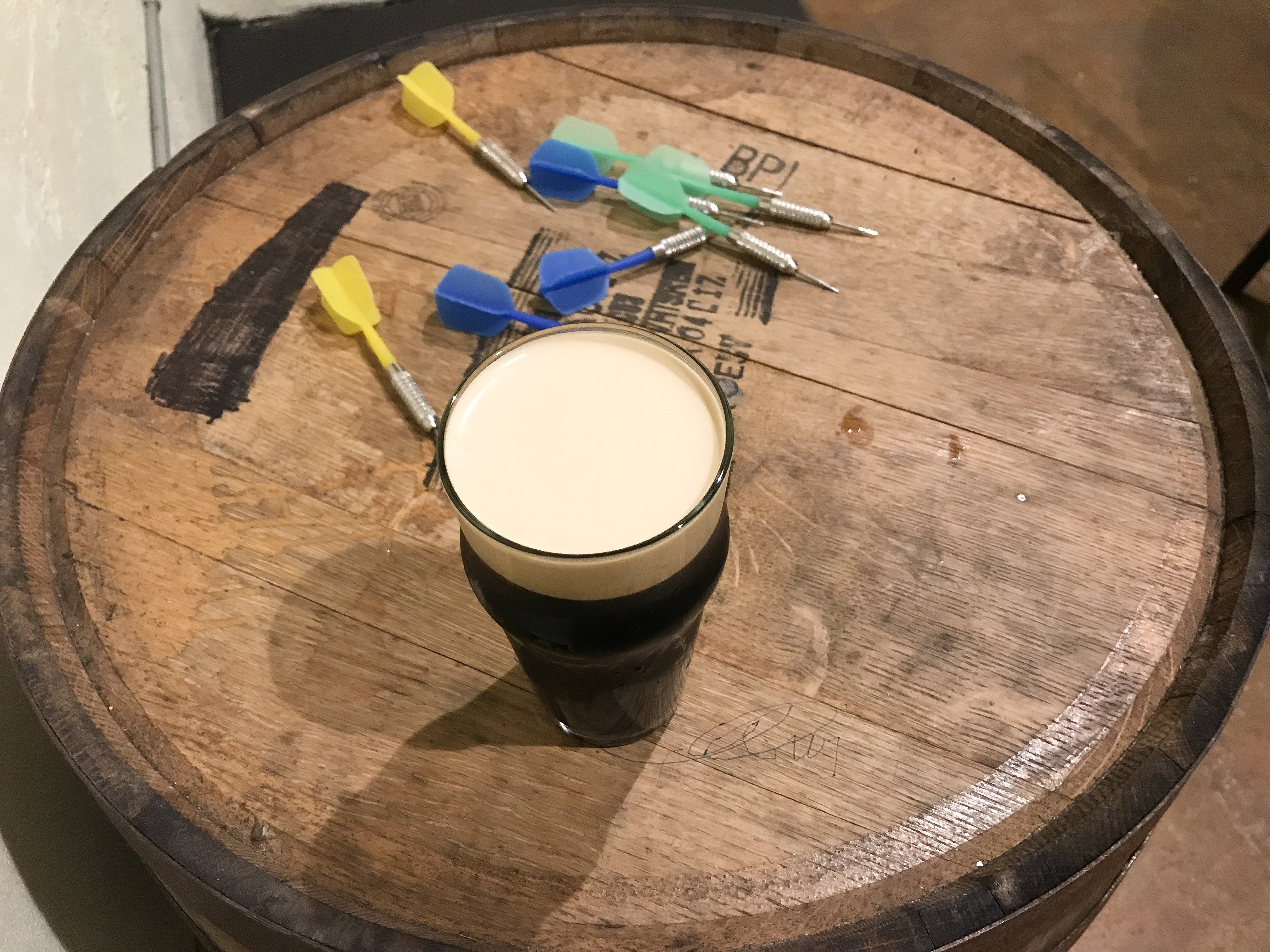 Additionally, they have two beer engines and a nitro tap. Milk Bone milk stout was on nitro during our visit and we had the pleasure of trying it. Stouts (and dark beers in general) are my usual go-to, and this was my favorite beer of the few we tried. In fact, kegs of Nitro Milk Bone are now in distribution! Also in distribution are a handful of their beers in cans, which you can also pick up at the taproom.
Find yourself with the beer munchies while visiting the brewery? Not to worry! PAW is unveiling their new onsite food truck this week! PAWS- PAW-sitively Delicious food truck will be whipping up food for the masses Wednesday- Sunday from 5:00PM- 10:00PM. They will feature wraps, such as: BLT, Chicken, Steak and Veggie. The perfect food to wash down with a beer, or two! My favorite part about the food truck is that they will donate their tips to the dog shelters.
Dogs lives matter just as much as humans, and that's 100% apparent at Pinellas Ale Works. Grab your pup and swing by their taproom to support this local brewery of ours that is filled with the utmost amount of heart.
Pinellas Ale Works Beer Reviews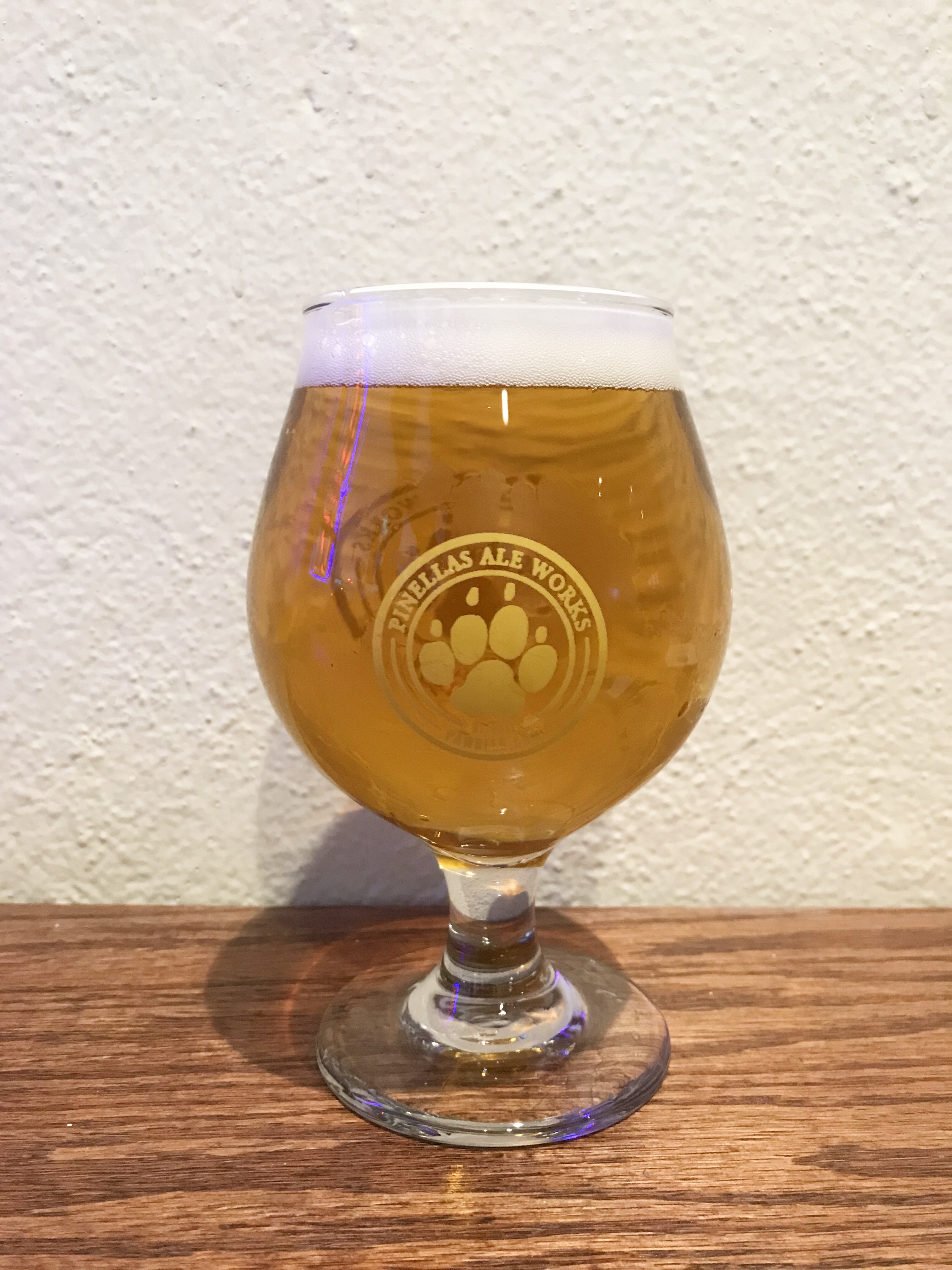 An ode to the facility that Pinellas Ales Works currently occupies. Harold used to run an auto body shop when PAW currently brews their beers. The beer is loosely based on the German Kolsch style, and is made with a proprietary fermentation process, which creates a flavorful, smooth-finishing beer. This beer is a favorite around the brewery.
Nose: Light Citrus, Grass and fine Malt
Color: Deep Canary
Head: Medium head with very thin lacing
Taste: Possesses a rather balanced taste with faint traces of cream
Mouthfeel: Smooth and quite subtle
Overall: A bright and easy-drinking Lager that fits the mold as an all-occasion beer.
Food Pairing: Salads, light Seafood and Asian dishes.
Milk Bone – Pinellas Ale Works
(Milk Stout)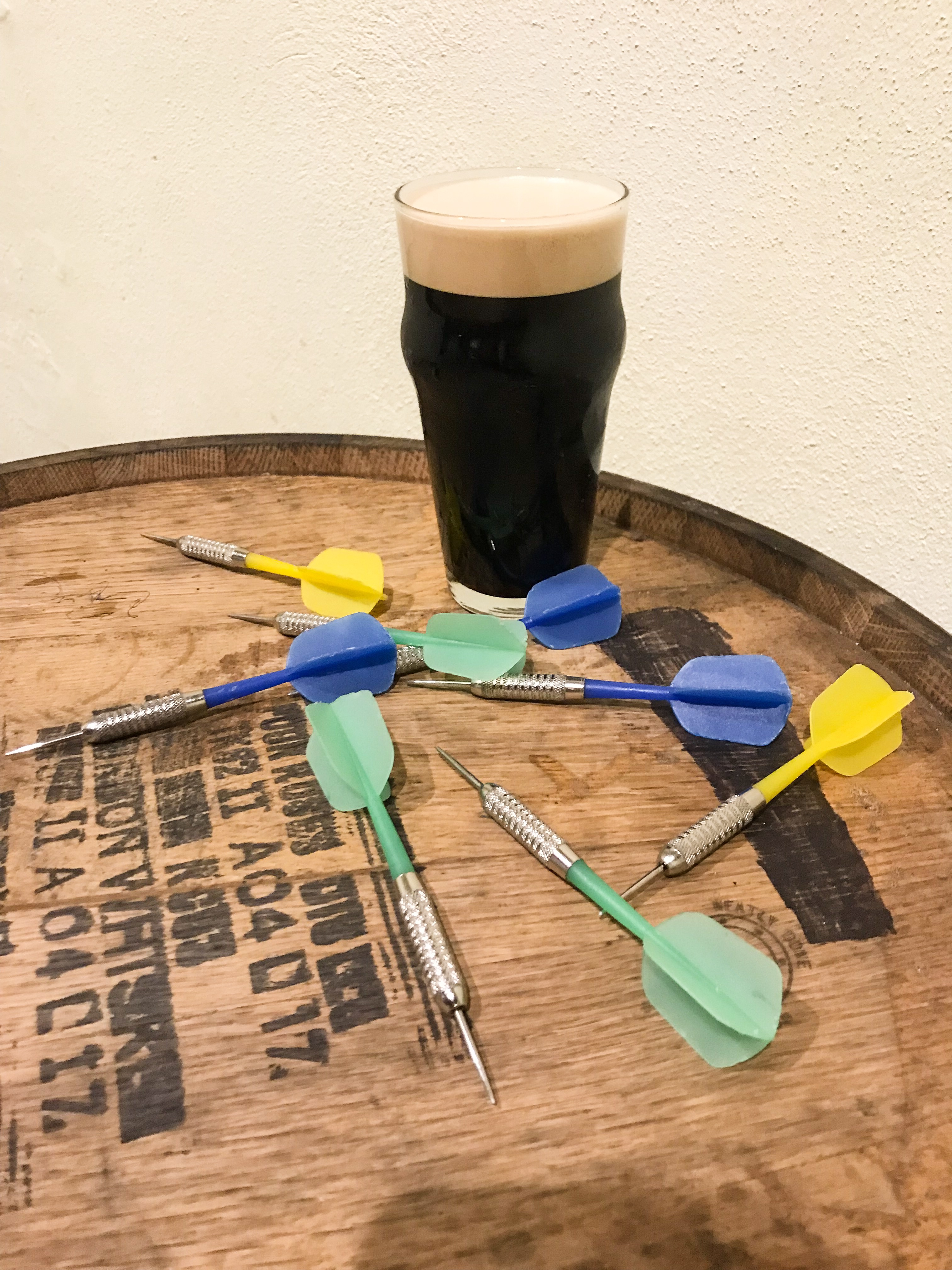 This milk stout has been a best selling beer since day one. This milk stout is brewed with lactose in the boil, which gives a residual sweetness and medium mouthfeel.
Nose: Chocolate, Coffee and roasted Nuts
Color: Dense, dark brown-black
Head: Thick, creamy and tan in color
Taste: Sweet cream, coffee and chocolate
Mouthfeel: Medium
Overall: If you enjoy Cafe Con Leche, you'll love this beer! We were able to sample this beer on Nitro, and highly recommend that you do the same!
Food Pairings: Mexican Mole, Barbecue, Desserts such as Chocolate Cake and Ice Cream
PAWtoberfest (Festbier) – Pinellas Ale Works
(Festbier)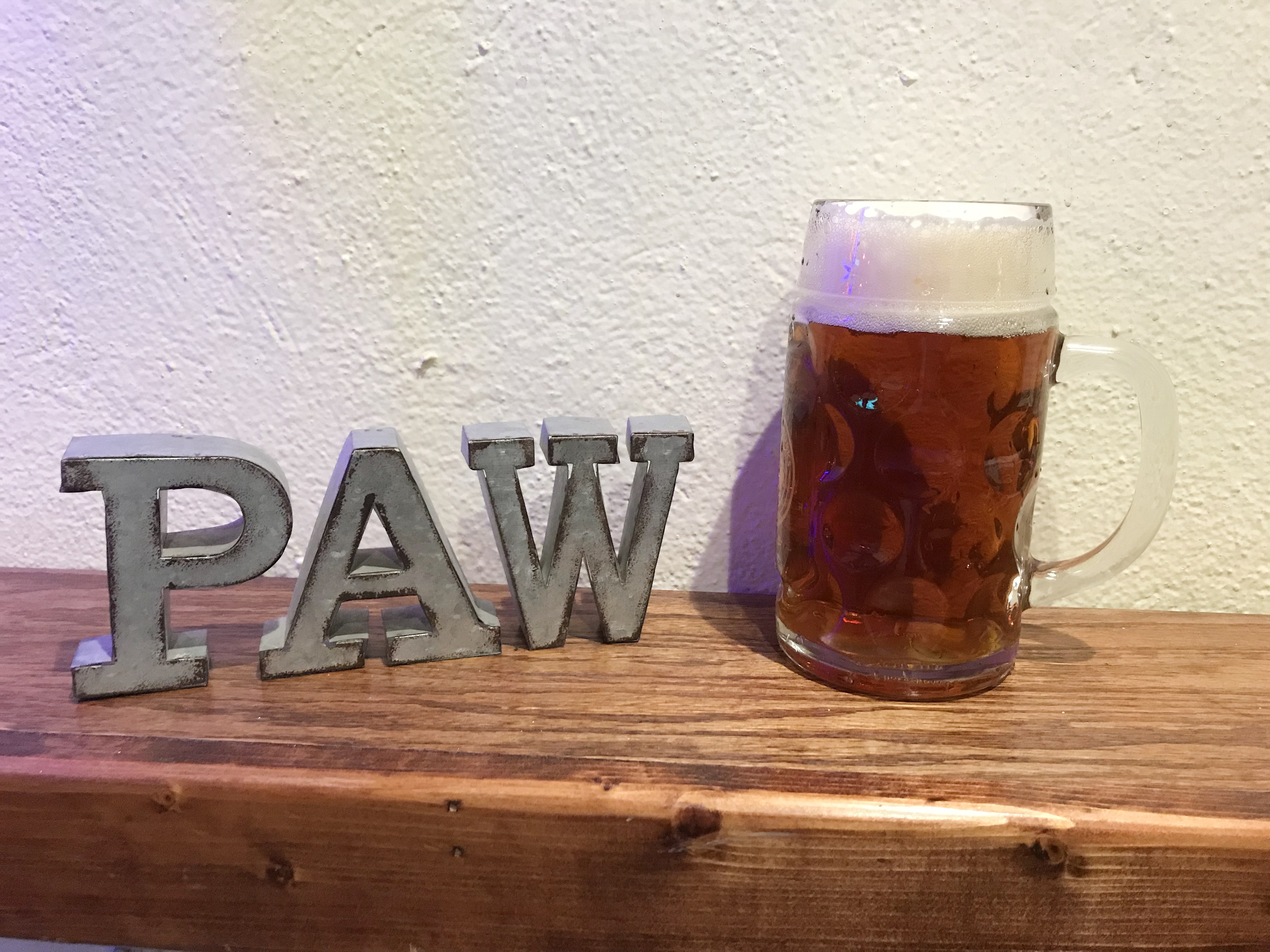 In Germany, this beer is brewed in the summer and released in the fall during the Oktoberfest celebration; however, the folks at PAW love this beer so much that they brew it year-round.
Nose: Nutmeg, Grains, Sea Salt
Color: Copper
Head: Thick off-white head with medium lacing
Taste: Pleasant malty notes and faint Nutmeg
Overall: A Pleasant, easy-to-drink Fest beer that is available in the taproom year-round.
Food Pairing: Roasted Meats, most anything with a red sauce, such as Pizza, and Carnitas Tacos.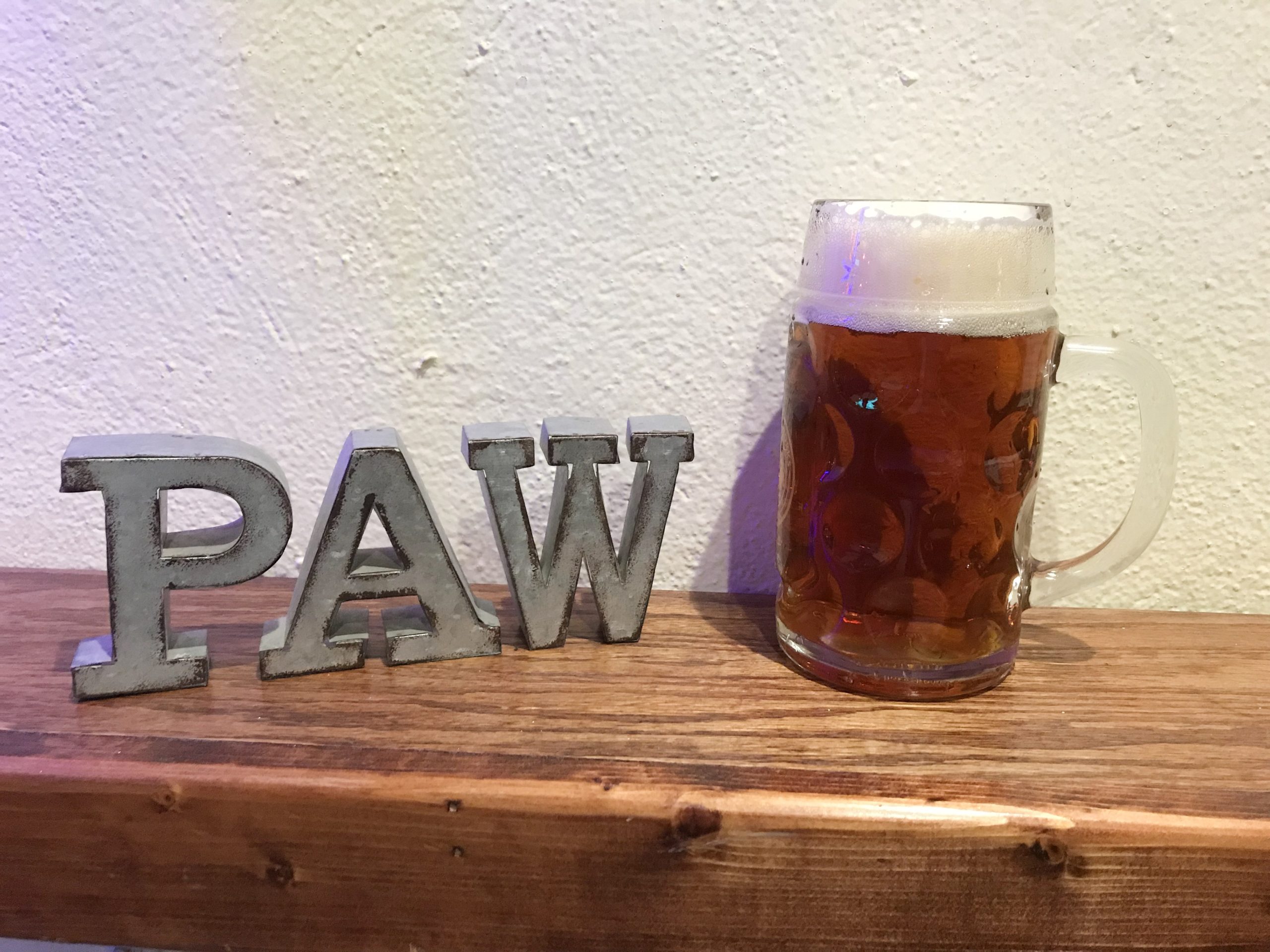 Readers Rating

Rated 5 stars




5

/ 5 (

Reviewers

)

Spectacular
---
Pinellas Ale Works

(727) 235-0970

Craft Beer

,

Specialty Beer

,

Food Truck

Mon - Tue

3:00pm - 9:00pm

Wed - Thu

3:00pm - 10:00pm

Fri -

3:00pm - 12:00am

Sat -

12:00pm - 12:00am

Sun -

12:00pm - 8:00pm
1962 1st Ave S

,

St Petersburg

,

Florida

33712

,
---
More Foodies News, Reviews & Recipes