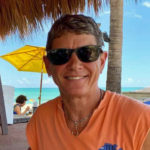 Margaret Covello · Oct 20, 2019 · 2 min read
Florida Cracker Claw and Clam Chowder is an ultimate comfort food.  It's rich, chock full of crab claw and clam meat, and seasoned with Cajun flair.  I created this dish with a twist on traditional Bostonian clam chowder by adding a hint of Southern culture, specifically blue crab claw meat, simple Creole seasoning, and white roux.  Brie and brandy are also added to the dish, making this a distinctive delicacy and a hearty stand-alone meal.
But make no mistake! There aren't any crackers in this chowder. The term "Florida Cracker" refers to colonial-era British and American pioneer settlers and cattle ranchers who used to crack their whips in what is now the U.S. state of Florida. According to Wikipedia, "the term 'Florida Cracker' is used informally by some Floridians to indicate that their families have lived in the state for many generations. It is considered a source of pride to be descended from 'frontier people who did not just live but flourished in a time before air conditioning, mosquito repellent, and screens.'"
So, for those of you who are from Florida, the ingredients will make you feel right at home. And for those of you just arriving to Florida, or not yet here, feel free to use your own local ingredients, or follow mine for FINtastic Florida flavor.