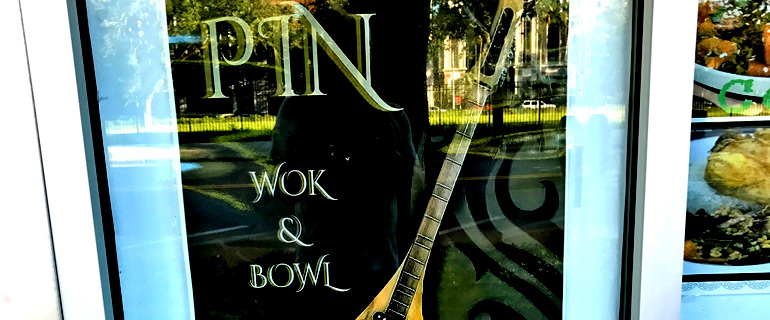 Two New Asian Eateries Makes Three in a Row on Central
According to the American Community Survey (ACS) from the Census Bureau, St. Petersburg only has an Asian population of 3.1%. Luckily for us DTSPers, the Asian restaurant population is about to triple on the 400 block of Central Avenue.
La V Vietnamese Fusion has been thriving there since 2012. They will be opening their new Sushi/ Pan-Asian Fusion next door to the right (east), called Asie (pronounced a-zee), currently slated for October opening at 437 Central Avenue. You can read more about it here.
In roughly, one month—sometime in August we will have Pin Wok & Bowl taking the space just left (west) of La V. This is at 445 Central Ave, which used to house The Mango Tree.
Their name is a play on Rock 'n' Roll. A Pin or Phin is like a guitar. It is a type of lute with a pear-shaped body, originating in the Isan region of Thailand and played mostly by ethnic Laotians in Thailand and Laos. It has frets on the neck over which two or three metal strings run that are plucked by a pick. These Guitars, which will be used to decorate the walls in the restaurant were handmade by the owner Roger Rattanachane.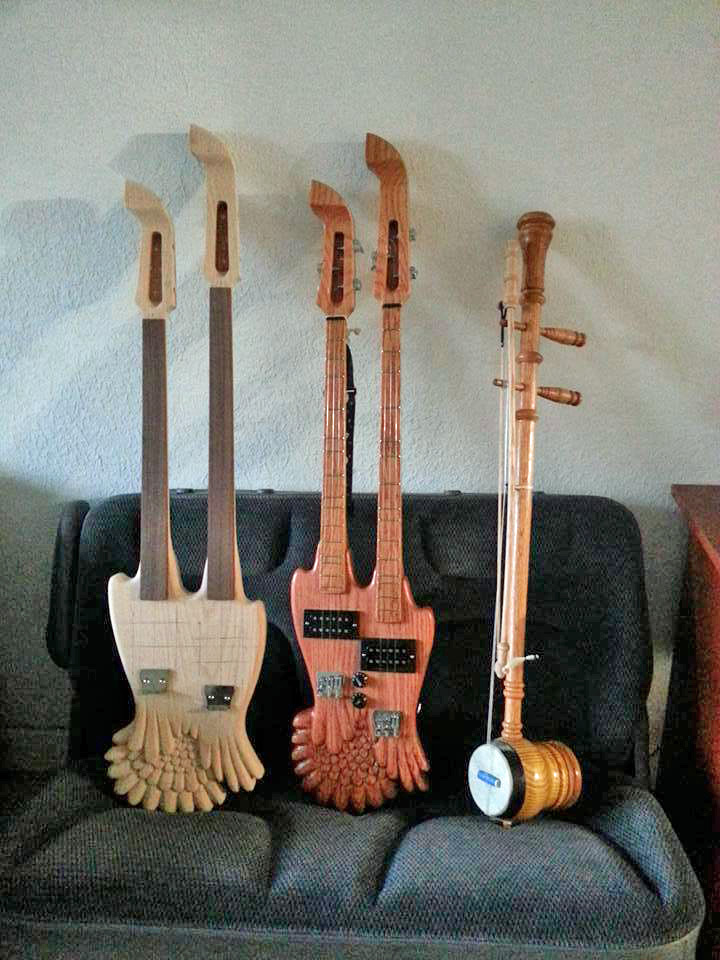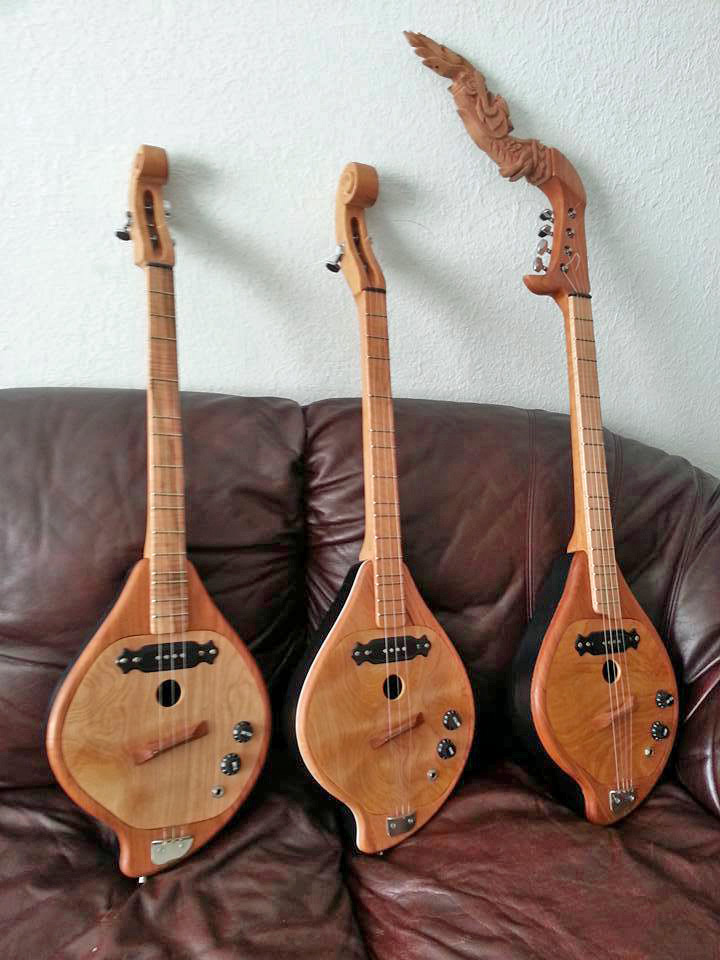 The menu will include Poké Bowls, Sushi, Stir-Fried Asian Specialties, and more.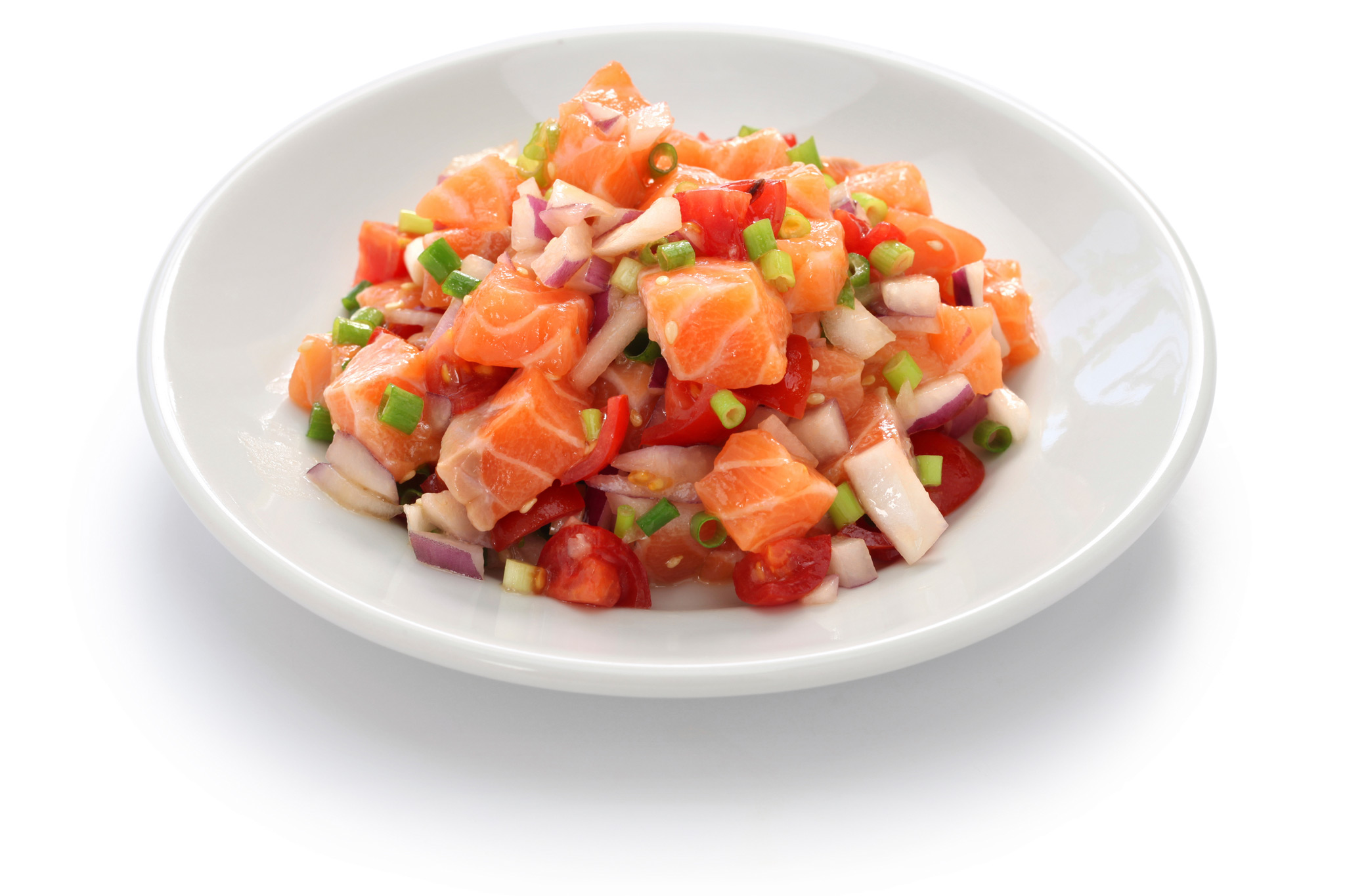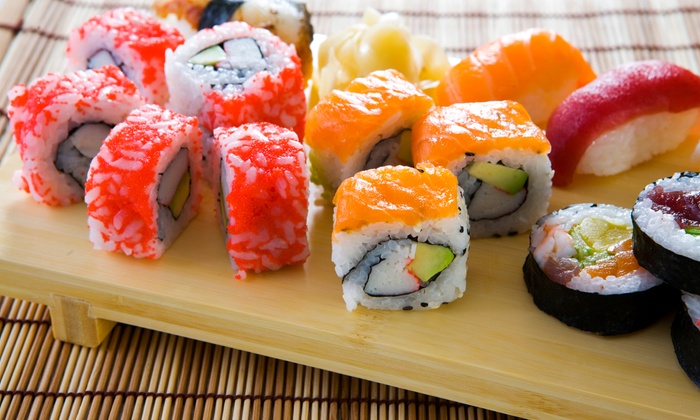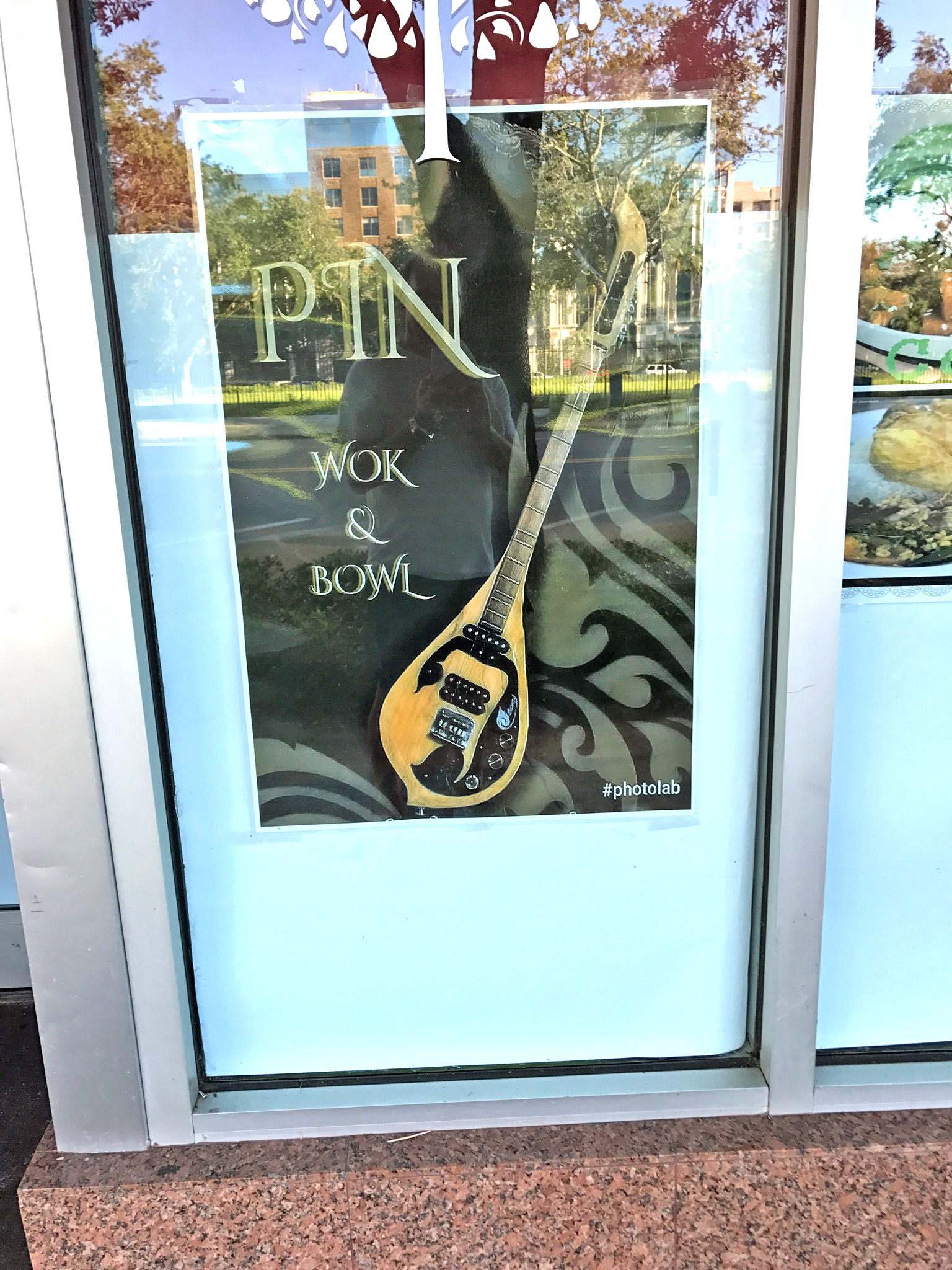 We can't wait to try all of the new Asian food that's coming soon to the 400 block of Downtown St. Pete.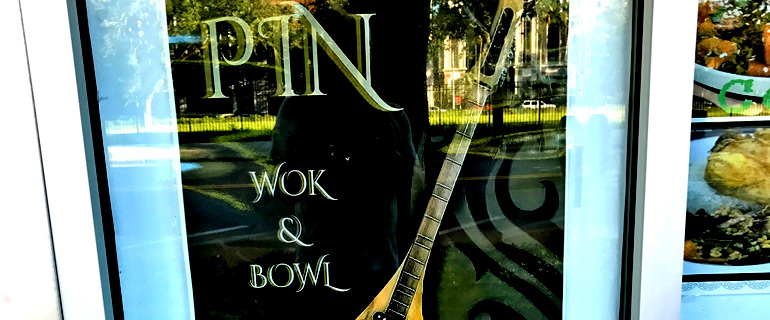 Readers Rating

Rated 4.3 stars




4.3

/ 5 (

11

Reviewers

)

Outstanding
---
445 Central Avenue

,

St. Petersburg

,

FL

33701

,

US
---
Poke Bowls and Asian Wok Specialties
DISCLAIMER: Kevin, Lori, Abby, Haley, & Lindsey do not dine anonymously (this would be impossible) and we sometimes get free food (though never expected). However, we dine with the locals and we support our own. You will always get honesty in a respectful manner.

PLEASE NOTE: Reviews reflect a certain moment in time. Some restaurants stay extremely consistent over many years, and some change for the better or worse. Some things that may change are: chefs, recipes, food suppliers, ingredients, philosophies, ownership, etc. We always hope that you have the same good, or great experience we had.
Written by Kevin Godbee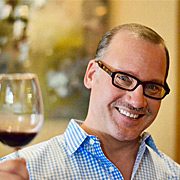 Publisher & Co-Founder of St. Petersburg Foodies
Kansas City Barbeque Society Certified BBQ Judge #112881
World Food Championships Certified Food Judge #1541
Certified Chili Judge #62 by the International Chili Society
Certified Steak Judge #1562 by the Steak Cookoff Association
Certified Pizza Judge #14 by the Pizza Cookoff Association
Rouxbe Culinary School Enrollee
Culinary Institute of America "DISH" Member
I've always loved cooking. When I was 6-years old I wanted to cook. When my mom said that she was just running to the neighbor's and would be right back, I climbed onto the kitchen counter and found Lipton Instant French Onion Soup Mix. By the time my mom returned, I was stirring the pot on the stove, and proclaimed; "Look Mom! I'm cooking!"
In High School, I took three different cooking classes and got an A in each. After getting my first apartment, I used to cook 5-nights a week, and go out two nights. An old girlfriend from decades ago had a brother-in-law that was a CEO of a trucking company, and he used to entertain in Manhattan quite a bit ... and he started taking us along.
This was when I learned about gourmet food and fine wine. For a couple of years, Lori and I went out about 4-5 nights a week, but now we have a better balance of 50/50 between cooking at home, and going out to the amazing restaurants we are so lucky to have in our beloved St. Petersburg.
View all posts by: Kevin Godbee
More Foodies News, Reviews & Recipes
Comments are closed
#stpetersburgfoodies #stpetefoodies
Sponsors
Recent Posts
The Wine House, located on Gulfport's most popular street, Beach Blvd, is serving up incredible barbecue and a slew of wonderful wines. The wine and smoke house opened back in early April and the community welcomed the new establishment with open arms. The location, former home of Backfin Blue, boasts a large selection of wine inside – retail and wine for on-site consumption – and also has a sprawling outdoor space which is connected to the Peninsula Inn. It's truly the perfect setup for experiencing The Wine House's exceptional barbecue while washing it all down with their notable wine selection. The space is hip and ultra laid back with lots of seating, the majority of which is on their covered porch and breezy outdoor patio. The building is hard to miss, as they have painted it a playful hue of pink. The color selection pairs perfectly with the convivial vibe of the wine and smoke house. A handful of seating is available inside as well, but the majority of the indoor real estate is where their large selection of wine lives. Outside is where I suggest you choose to hang. The seating out there is convenient for groups, or just a couple, as well as gatherings with larger parties. The tree tops and a pink canopy provide ample shade and the surrounding plantings make the space feel more cozy and private. They're also pet friendly, so feel free to bring your pup along for the fun. It's an optimal spot for live entertainment, too, which you will be pleased to hear that they do have from time-to-time. We happened to be there on a Saturday afternoon where they did have a live performer and it was so enjoyable. The sound of good music, the taste of wine or bubbly on your lips and the smell of barbecue in the works – it's a dreamy scenario. While the majority of the wine at The Wine House is by the bottle, they also have selections by the glass too (including a flight for indecisive folks like me who want some variety). The Wine House has an array of wine, with plenty of natural and organic wine varietals that range from white to red and basically everything in between. There's no doubt in my mind that they have something in stock for every palate. Enjoy your wine selection on site with a small $5 corkage fee, or stock up with a handful of your favorites to enjoy at home. If you're in the mood for something other than wine during your visit, select beers and canned beverages are also available. We enjoyed a light and bright rose which proved to be extremely delightful on the rather warm May afternoon. As previously mentioned, their food focus is on barbecue. However, if you're not wanting to eat a meal but still want a small bite, The Wine House has an array of cheese and charcuterie options. You can mix and match and create your own spread of four, six, or eight items. With your meats and cheeses, you'll also be served a nice little mix of pickled veggies, jam, honey, crackers (gluten free available by request) and toasted bread  Other options for small bites include hummus and smoked fish dip. Now for the food that you're really anticipating – the good stuff, the barbecue. The menu may sound small, but it's incredibly mighty and I assure you, all that you need. Barbecue is available at The Wine House from Thursday through Sunday. The lineup available during our visit included: St. Louis Ribs (half or full slab), Half Chicken, Smoked Pork and Chicken Wings. The options on the menu do change weekly, so it's worth reaching out to them for the current menu if you're looking to enjoy a specific item. Side options included Truffle Mac & Cheese, Baked Beans and Potato Salad and each order comes with two Hawaiian Rolls & pickles. Unfortunately for us, they ran out of the chicken wings right before we ordered. However, owner Paige Valensky Acree said that the wings were such a success this weekend that they will always have the smoked chicken wings. You better believe that we will be back sooner rather than later to enjoy those for ourselves. We ended up ordering one of everything on the menu. It may sound aggressive, but wasn't an overabundance of food. I love that their meats are available in two different sizes in most cases – 1/2 & full slabs of ribs, 1/2 and whole chickens and 1/2 and full pound options for the smoked pork. They also have an array of sauces to choose from. You can choose to have your sauce of choice tossed with your order or you can ask for it on the side. The food arrived all together on the same tray which was both pleasing to the eyes and quite functional. Small containers are provided if you're sharing the fare family-style with others. We chose to order one of each of the sauces and requested those on the side so that we could sample each as we pleased. I first dove in for the ribs, which were cooked to perfection. – they fell right off the bone. I wanted to try them without assistance from a sauce and I'm glad I did because they were flavor-packed enough to stand on their own. Though, I did try them with some sauce and it obviously made them even better. The meat was juicy, tender and damn near perfect. I wouldn't consider myself a connoisseur of barbecue at all, but I will say that these were some of the best ribs that I've ever had the privilege of trying. We were so eager to finally get a taste of the chicken. We first saw the chicken in person back in April when we were just having a glass of wine before going to a dinner reservation and stumbled upon The Wine House by chance. We […]

June 1, 2023

Lamb Meatballs with Tzatziki & Mint Gremolata Recipe

Meatballs are typically something I associate with a rich red sauce like marinara and a giant plate of spaghetti. However, the temperatures are rising, spring is in the air and summer is around the corner and lately I've been craving lots of vibrancy in my meals. These lamb meatballs with tzatziki and mint gremolata are the perfect dish to enjoy during the warmer months. Bright, zingy and herbaceous – you'll be coming back to this satisfactory combination time and time again. I admittedly do not typically cook a ton of lamb – I find that it is easy to overcook which in turn, makes it a bit tough and gamey. The end product of this juicy meatball recipe though leaves for tender and delicious meatballs. The key is to not cook the meatballs for too long in the oven and also to not overwork them when forming them into their shape before baking. Additionally, buying quality ground lamb (and quality ingredients, in general) makes all the difference in the world. Rollin' Oats carries grass fed ground lamb by Thomas Farms, which I highly recommend. You don't have to make your own tzatziki if you don't want to; however, the process is actually quite simple. In the event that you're pressed for time, or would just simply like to skip crafting your own tzatziki, Rollin' Oats carries a few different options. For those avoiding dairy, may I suggest Kite Hill dairy-free, and for anyone else, perhaps reach for Cedar's Tzatziki. In my opinion, the mint gremolata is what really brings the dish together. Gremolata is traditionally made with parsley, lemon zest and garlic as its main ingredients. But, this rendition is made with mostly mint and a touch of fresh dill. It adds an extra lively zing that is really lovely. You could go the standard route though and opt for Parsley – in fact, feel free to use any kind of fresh herb that you'd like. Crafting gremolata with basil is one of my favorite ways to make it. Serve these meatballs alongside warm pita and lemon wedges and enjoy this with a group as an appetizer, or simply as your main course. Either way, you'll discover that these meatballs will be loved by all. Lamb Meatballs with Tzatziki & Mint Gremolata Recipe These meatballs are bright and herbaceous enough on their own, but tzatziki and zingy gremolata really liven up the party. Feel free to swap out the lamb for ground beef or turkey. Meatballs1 lb ground lamb (you can also use ground beef or turkey instead)1/2 cup panko 1/2 cup parsley1 egg3 garlic cloves (grated)1/2 medium white onion (grated)1 tbsp dried oregano1 tsp cumin1 tsp salt1/4 tsp black pepperpita and lemon wedges (optional – for serving)Tzatziki1 cup greek yogurt1/2 cup english cucumber (grated)2 garlic cloves (grated)1 tbsp olive oil1 tbsp lemon juice1/4 cup dill (chopped)1/2 tsp saltMint Gremolata3 tbsp mint (finely chopped)1 tbsp dill (finely chopped)1 lemon (zest of entire lemon and juice of 1/2 lemon)3 garlic cloves (grated)1 1/2 tbsp olive oilsalt (to taste) TzatzikiAdd grated cucumber to a clean dish cloth or cheese cloth and squeeze out as much liquid as you can.Add cucumber to bowl with remaining Tzatziki ingredients and mix well. Season with salt as needed and refrigerate until ready to use.MeatballsPreheat oven to 400F. In a medium bowl, combine ground lamb, panko, parsley, egg, grated garlic and onion, cumin, oregano, salt and pepper. Mix well.Line a baking sheet with parchment and form meat mixture into golfball-size meatballs. Place meatballs on prepared baking sheet.Bake for 18-20 minutes, flipping meatballs at 9-10 minute mark, until cooked through (meatballs will take on slight color). Be sure not to overcook them, as they will become tough.Mint GremolataWhile the meatballs bake, whisk all gremolata ingredients in a small bowl until well combined. Season with salt as needed.AssemblySpoon and smear Tzatziki on a plate, add a few meatballs, spoon over gremolata and serve with warm pita and lemon wedges. Appetizer, Dinner, Main CourseAmerican, GreekGreek Meatballs, Lamb Meatballs

Kahuna's is a local's gem located on Gandy Blvd. across from the infamous Greyhound Dog Track. From the average passerby's eye, it may seem like a divey bar not worth popping in to, even despite the daily full parking lot. I live just around the corner from Kahuna's and have been a few times. The crowd is always interesting and entertaining, service is quick and friendly, the drinks are cold, and the food is tasty. I decided to grab lunch at Kahuna's with a friend recently on a Saturday afternoon. We sat outside, despite the 90-degree weather. The patio is well covered with fans that keep it manageable to endure the heat. With that being said, I am not sure I could sit out there in the middle of August. The good news is, they have a large inside area with a bar, tables, and bar games to enjoy the A/C. We decided to have a couple of Bud Lights and share a few dishes. Starting off with the Cajun Crab Spread. I don't regret ordering the crab dip, but after it was too late, I realized there was a dip trio on the menu (including the Cajun Crab Spread) that I wish I had ordered instead. The crab spread was made with what appeared to be Krab (imitation crab), mayonnaise/cream cheese, and Cajun seasonings. It was served with sliced tomatoes, pickled jalapenos, and tortilla chips. It reminded me of the filling in a crab Rangoon, but with Cajun seasoning. The key to amping up the flavor was adding a pickled jalapeno on top! Next up, we had fried pickles. The fried pickles are fried in a light yet crispy batter, then well-seasoned and served with ranch for dipping. There's not much to say, except if you like fried pickles… order them! The wings at Kahuna's may be some of the best I've ever had. I don't know what their secret is in the frying process, but they are fried to perfection. We got them tossed in the medium sauce, which is not your typical medium buffalo sauce. They add seasonings to the sauce which really sets it apart from other basic buffalo wing sauces. We finished off our meal splitting a blackened grouper sandwich with zucchini fries on the side. The fish tasted fresh and was seasoned and cooked perfectly. The bun left something to be desired, but I just ate the fish without the bun (I didn't need the carbs anyway). The zucchini fries were delicious! Maybe one of my favorite foods I had that meal. They were very crispy and flavorful. I would go back to just order those as a snack with an ice cold beer. Kahuna's is the perfect place if you are looking for a laid back but fun atmosphere with affordable drinks and food that is delicious at the same time. I live just around the corner from there and will definitely start going more after the few good experiences I've already had there.

Hookin' Ain't Easy definitely deserves your attention while they're making spectacular waves in the seafood scene in St. Pete. The cafe is the perfect spot for a laid back and delightful seafood meal while soaking up the sun and live music. Or, visit their market for an array of fresh seafood from grouper, shrimp, octopus, and so much more, seriously so much. No matter how you like your seafood, Hookin' Ain't Easy is one of the best seafood restaurants in St. Pete that will soon reel you in. The ambiance is relaxed and friendly neighborhood-like as you order from a food truck and listen to live music either on a picnic table or at the tiki bar. Matthew, the owner is passionate, friendly and welcoming. Also he's hilarious as he was showing me around and telling me that he catches the majority of the seafood on the menu and knows where everything comes from, he called himself a "busy hooker". His words, not mine, but nonetheless, hilarious. Let's dive right into the food and what you absolutely must order: Stone Crab Claws (while in season – October 15 through May 1 in 2023). Get cracking and dunk these meaty claws into butter for the best you've ever had. We ordered the Claws Only. The other option is the Claw Dinner which comes with fries and coleslaw. The Stone Crab Claws are fresh and caught by the owner, Matthew. In fact, he catches mostly everything on the menu and if it's not him, he knows the fisherman who did by name. I can't wait to go back for more. Though Hookin' Ain't Easy has only been open for 10 months, locals already know it's the place to visit for one of the best grouper sandwiches in St. Pete. Served blackened or fried and with a side of fries, you can't go wrong either way. I ordered it blackened and really loved it but I must say the seasoning was heavy and salty which, if I had ordered a beer or something more refreshing than water, it would have been a solid pairing. You must order the house-made remoulade sauce. It's tangy, creamy and delicious. The fries were perfection, crispy and salted just right. Anything on the menu, including this freshly prepared Smoked Wahoo Fish Dip, is soon to become a favorite. I would recommend ordering it spicy for a nice kick and more flavor. This fish dip is prepared to perfection. It's probably the freshest fish dip I've had in St. Pete for its high quality and obvious hand craftedness. Add some hot sauce for the ultimate bite. Hookin' Aint Easy is obviously a seafood eatery and this may shock you, but they also have some BBQ on the menu with a smoker on site, house-made BBQ sauce from a family recipe, and more. We tried the Pulled Pork Sandwich and it was massive. I have to admit, we were busy cracking open the Stone Crabs and enjoying the Smoked Wahoo Dip that by the time we were ready to eat the Pulled Pork Sandwich, it had become a little dried out. I bet if we would have started with the Pulled Pork Sandwich, it would have been amazing, but we messed up. It was still great to nibble on and the BBQ sauce really was one to remember. I have also heard great things about the wings which I can't wait to try. Before you leave, pop into the market to pick up some seafood to make at home. They have everything you can hope for, and more. Like I said before, this is a great local spot for great seafood in a casual setting. They have live music every day they're open to go with the beachy vibe. Pop in for a meal or to chef it up at home! Either way, you will be surprised at the freshness that Hookin' Ain't Easy has to offer. Be sure to follow Hookin' Ain't Easy on Facebook for day-of specials and catches.

May 9, 2023

The Pearl Restaurant: Gulfport's Destination for Distinctive & Sophisticated Mediterranean

For many years, The Pearl Restaurant's fine dining establishment operated out of Treasure Island. The restaurant earned a wonderful reputation and became a favorite to many local diners. In the fall of 2022, The Pearl moved into a cozy new home close to the heart, in quaint, but growing Gulfport, FL. The Pearl, which specializes in Mediterranean cuisine with an upscale but casual vibe, has been busy settling into their new spot over the course of the past few months. This new location of theirs possesses a cozy and intimate dining room (similar to that of their original location) as well as a covered outdoor seating area which is idyllic for calm and balmy evenings. The beloved menu, created by chef and owner Karim, fortunately remained the same with a focus on elevated seafood, Mediterranean mains, Moroccan specialties and many other intriguing options like their wide-array of appetizers and enticing entrees like camel. One of the best aspects of the Pearl's arrival in Gulfport is that the food is unlike any other establishment in the small town. The Pearl has added a whole new dimension to the dining scene in Gulfport and they've definitely been welcomed with open arms. For those familiar with the layout of Gulfport, The Pearl is located off of 28th Ave S near 58th St S. – just a few blocks from the town's popular strip that is Beach Blvd. S. Parking is plentiful as the restaurant sits in a small plaza that has a large parking lot. Reservations at The Pearl are not required; however, they are strongly recommended, especially during weekend dinner service. Tables can be reserved both in the dining room and on their patio. Additional seating includes a row of bar seats with an up-close view of the happenings in the kitchen. We secured our reservation recently on a Friday evening at 6:30PM. We requested indoor seating and upon arrival, our table was ready and waiting for us. We were greeted immediately by our wonderful server who promptly introduced the menu specials for the evening which included both appetizers and entrees. We started off with a bottle of wine – Troublemaker Red Blend – and a few appetizers. We selected the lobster bites, stuffed dates, and the mediterranean sampler which was one of the featured appetizers for the evening. Complimentary bread service landed on the table first, followed by the lobster bites. The lobster bites are comprised of sautéed lobster chunks in garlic herb butter. They were dainty, yet delicious – they made for the perfect appetizer as they weren't ultra filling but were enough to satisfy. This is a great appetizer to share between two people. We enjoyed the stuffed dates from The Pearl a couple of years ago and couldn't not order them this time around as they're simply delicious. The dates are stuffed with goat cheese, jalapeños and bacon and make for the perfect combination of sweet and savory. The five dates are served on a skewer over a small bed of greens. It's a good thing that there are not more than five to an order, because I could easily fill up on them. Dates in most any form (but especially with the addition of goat cheese, bacon and jalapeños) are like candy to me. When the mediterranean special of grape leaves, various dips, olives and pita arrived we soon realized that we probably should not have ordered it because it was quite sizable. However, everything served with the special was incredibly appetizing. Because this was a featured special, this means that it is not always available. Though, they have added it as an appetizer special on many different occasions and if it happens to be available during your visit, I do highly recommend it – it's great to share with a group. As previously mentioned, The Pearl has Moroccan specialties available. These specialties include vegetable, fish and lamb tagine with the occasional appearance of a chicken tagine. While the chicken tagine was not available during this particular visit, I have had it before and can say with full confidence that it's one of the best entrees that I have ever enjoyed from The Pearl. We happily settled for the vegetable tagine while another friend in our party ordered the fish tagine which was served with delicate and flakey sea bass. The fish is slowly baked in tomatoes, onions and bell peppers with Moroccan spices and fresh herbs. The vegetable rendition of course includes the above without any fish or protein. Each tagine is served with a side of couscous and is presented at the table in an actual tagine. It is quite the presentation and the portions are very generous – it would have been plenty of food for my husband and I to share for a meal, but with their extensive menu, we couldn't limit ourselves to just one entree. The fish tagine wasn't the only seafood offering that was ordered. We also enjoyed the Salmon Oriental which is pan seared salmon served alongside vegetables and rice with a savory oriental sauce. The fish was seared to perfection and not a single bite was left on the plate. One of the most unique sections on the Pearl's menu is their lineup of wild game. All of the options are not always available so make sure to check with your server to see what they're offering on that specific evening. The wild game options include: camel, antelope, elk, venison, buffalo and ostrich. Camel has been on the radar for some time now as I've read plenty of glowing reviews about The Pearl's preparation of it. In fact, the day of our reservation, I called The Pearl to ensure that it was on the menu for the evening. When ordering the camel, our server recommended a rare to medium rare temperature for the meat so I requested it somewhere in the middle. The filet arrived sliced with a lovely peppercorn sauce that complemented that tender piece of […]
Recipes
June 1, 2023

Lamb Meatballs with Tzatziki & Mint Gremolata Recipe

Meatballs are typically something I associate with a rich red sauce like marinara and a giant plate of spaghetti. However, the temperatures are rising, spring is in the air and summer is around the corner and lately I've been craving lots of vibrancy in my meals. These lamb meatballs with tzatziki and mint gremolata are the perfect dish to enjoy during the warmer months. Bright, zingy and herbaceous – you'll be coming back to this satisfactory combination time and time again. I admittedly do not typically cook a ton of lamb – I find that it is easy to overcook which in turn, makes it a bit tough and gamey. The end product of this juicy meatball recipe though leaves for tender and delicious meatballs. The key is to not cook the meatballs for too long in the oven and also to not overwork them when forming them into their shape before baking. Additionally, buying quality ground lamb (and quality ingredients, in general) makes all the difference in the world. Rollin' Oats carries grass fed ground lamb by Thomas Farms, which I highly recommend. You don't have to make your own tzatziki if you don't want to; however, the process is actually quite simple. In the event that you're pressed for time, or would just simply like to skip crafting your own tzatziki, Rollin' Oats carries a few different options. For those avoiding dairy, may I suggest Kite Hill dairy-free, and for anyone else, perhaps reach for Cedar's Tzatziki. In my opinion, the mint gremolata is what really brings the dish together. Gremolata is traditionally made with parsley, lemon zest and garlic as its main ingredients. But, this rendition is made with mostly mint and a touch of fresh dill. It adds an extra lively zing that is really lovely. You could go the standard route though and opt for Parsley – in fact, feel free to use any kind of fresh herb that you'd like. Crafting gremolata with basil is one of my favorite ways to make it. Serve these meatballs alongside warm pita and lemon wedges and enjoy this with a group as an appetizer, or simply as your main course. Either way, you'll discover that these meatballs will be loved by all. Lamb Meatballs with Tzatziki & Mint Gremolata Recipe These meatballs are bright and herbaceous enough on their own, but tzatziki and zingy gremolata really liven up the party. Feel free to swap out the lamb for ground beef or turkey. Meatballs1 lb ground lamb (you can also use ground beef or turkey instead)1/2 cup panko 1/2 cup parsley1 egg3 garlic cloves (grated)1/2 medium white onion (grated)1 tbsp dried oregano1 tsp cumin1 tsp salt1/4 tsp black pepperpita and lemon wedges (optional – for serving)Tzatziki1 cup greek yogurt1/2 cup english cucumber (grated)2 garlic cloves (grated)1 tbsp olive oil1 tbsp lemon juice1/4 cup dill (chopped)1/2 tsp saltMint Gremolata3 tbsp mint (finely chopped)1 tbsp dill (finely chopped)1 lemon (zest of entire lemon and juice of 1/2 lemon)3 garlic cloves (grated)1 1/2 tbsp olive oilsalt (to taste) TzatzikiAdd grated cucumber to a clean dish cloth or cheese cloth and squeeze out as much liquid as you can.Add cucumber to bowl with remaining Tzatziki ingredients and mix well. Season with salt as needed and refrigerate until ready to use.MeatballsPreheat oven to 400F. In a medium bowl, combine ground lamb, panko, parsley, egg, grated garlic and onion, cumin, oregano, salt and pepper. Mix well.Line a baking sheet with parchment and form meat mixture into golfball-size meatballs. Place meatballs on prepared baking sheet.Bake for 18-20 minutes, flipping meatballs at 9-10 minute mark, until cooked through (meatballs will take on slight color). Be sure not to overcook them, as they will become tough.Mint GremolataWhile the meatballs bake, whisk all gremolata ingredients in a small bowl until well combined. Season with salt as needed.AssemblySpoon and smear Tzatziki on a plate, add a few meatballs, spoon over gremolata and serve with warm pita and lemon wedges. Appetizer, Dinner, Main CourseAmerican, GreekGreek Meatballs, Lamb Meatballs