Pacific Counter: Bringing West Coast Flavors to St Pete
Pacific Counter: Bringing West Coast Flavors to St Pete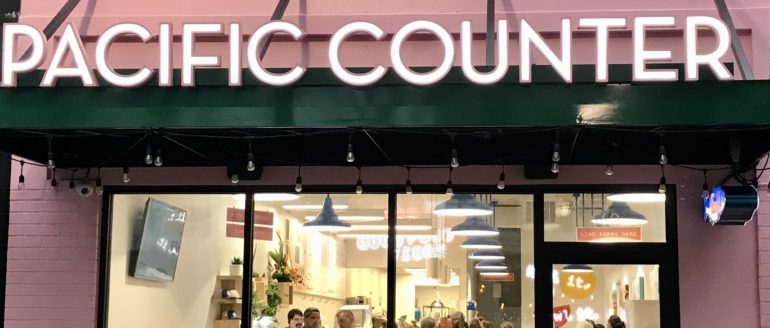 Pacific Counter officially opened yesterday, Tuesday, Sept 4th. Kevin and I were invited for a sneak peek last Thursday, the day before their soft opening. We originally reported on them back in March.
Pacific Counter is the culmination of a dream between partners, Tanner Loebel, Eric Bialik and Chef Chitt Tock. Tanner was the founder of FoodNow, St Petersburg's first delivery service. After he sold FoodNow to Bite Squad last year he mentioned to us that he had something in the works and he would keep us in the loop.
Tanner was determined to make his dream become a reality and approached Eric, whose background is in restaurant management and who was at the time taking a break from the industry, asking him what it would take for him to get back in the restaurant business. His answer was a fast, casual concept with a very strong core team, where he could have a work/life balance. Tanner had also been following Chef Chitt Tock around for over 10 years at different restaurants, as he was a huge fan. So they talked with Tock about joining them and Pacific Counter was born.
Watch the making of the Ring of Fire.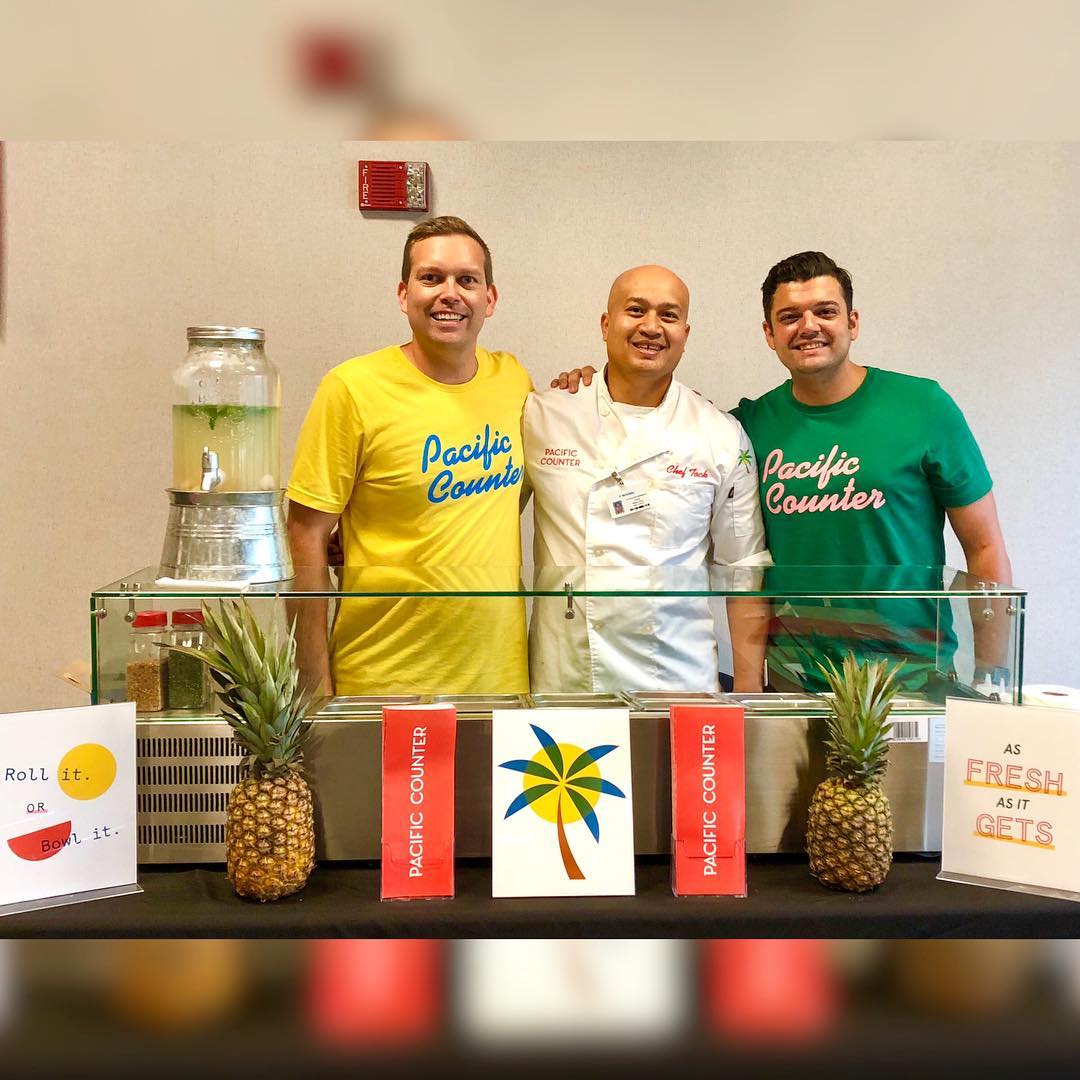 When we first walked in and heard all about the concept, I was immediately struck by the efficiencies and how well thought out and planned it was. I asked if this was an original concept or one they brought from the west coast as a franchise. They took that as a great compliment, because anything is possible and it meant that I could see that potential.
Just below is a rendering of what they imagined Pacific Counter to look like. Below that is a picture I took. I have never seen a rendering that is so incredibly close to how it actually turned out. Amazing!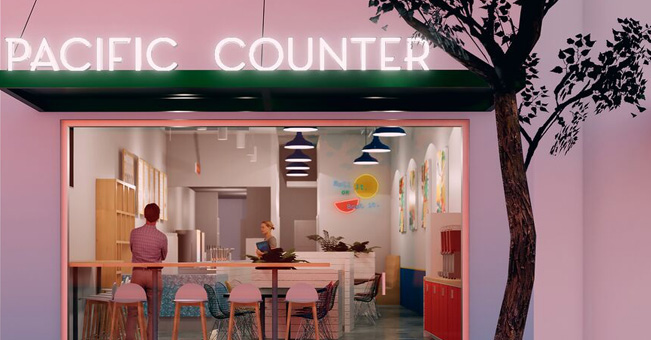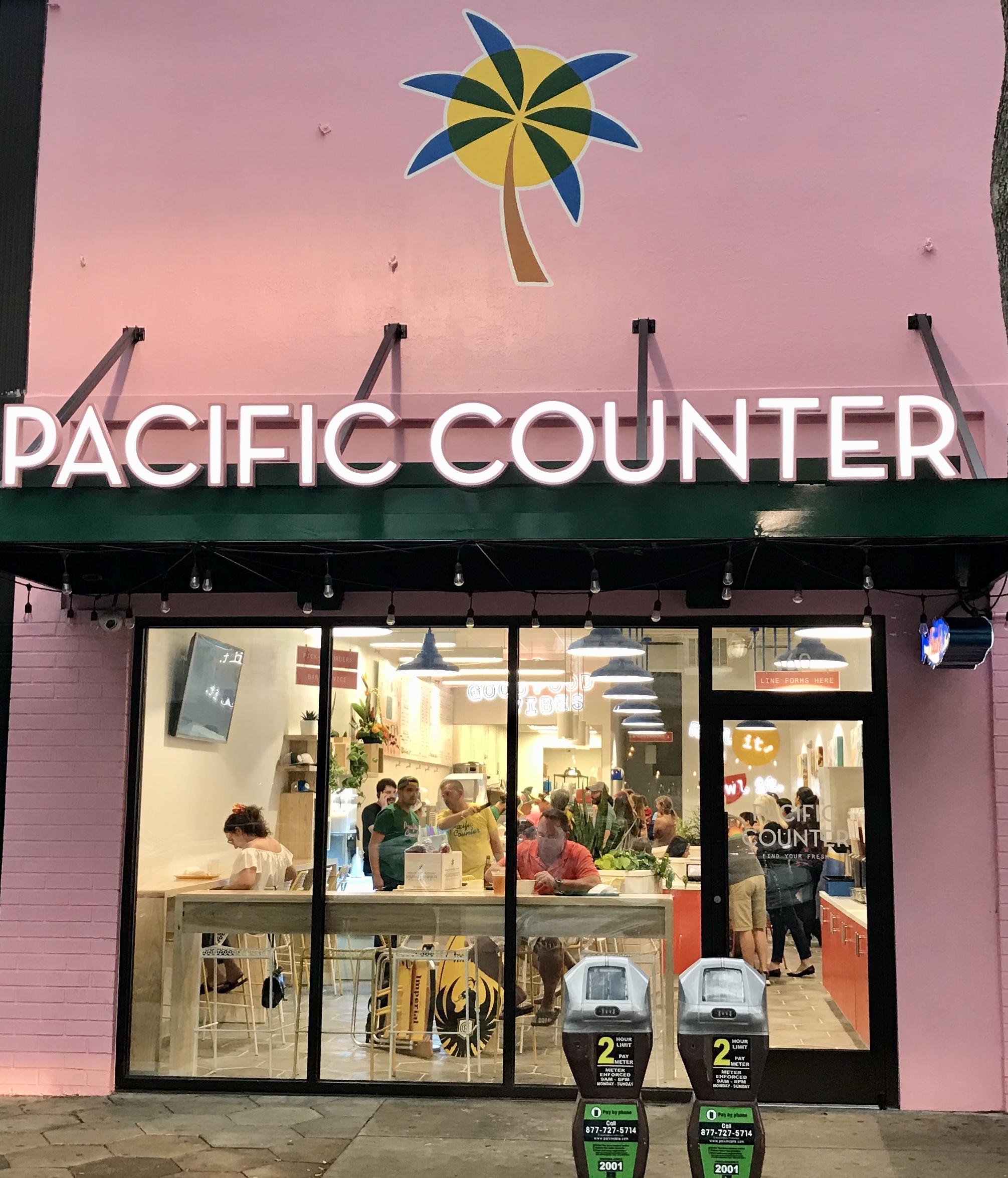 It took over a year to get Pacific Counter opened due to red tape that we know all restaurants experience. And originally they were looking at a space in Tampa, which didn't work out. Then they were looking in the Grand Central District when their realtor told them about this space. Eric saw both Tanner and Tock's face light up when they heard it was on the 600 block, not being from St Pete, he didn't understand. The space used to be the old Fortunato's. Eric said that he had a real hard time seeing the potential in the space because it needed so much work and was a real mess, but Tock could see the potential, as he is also a licensed general contractor and he was able to convince them that it could be done.
The space is light, bright and airy. Eric said, "We wanted it to feel like a west coast lifeguard station." They painted the exposed beams overhead white to help achieve this effect.  The three all have ties to the west coast. Tanner has family in LA and also lived in Costa Rica for a time, Chef Tock is from Laos and Eric is originally from San Diego. So the idea was to bring a bit of their love for the west coast to St Petersburg. I would say that they succeeded.
They commissioned local artist David Williams to paint four original paintings to represent different aspects of the Pacific with ties to the concept. They grace the back right wall. Three are pictured below. All of them add to the vibrancy of the interior.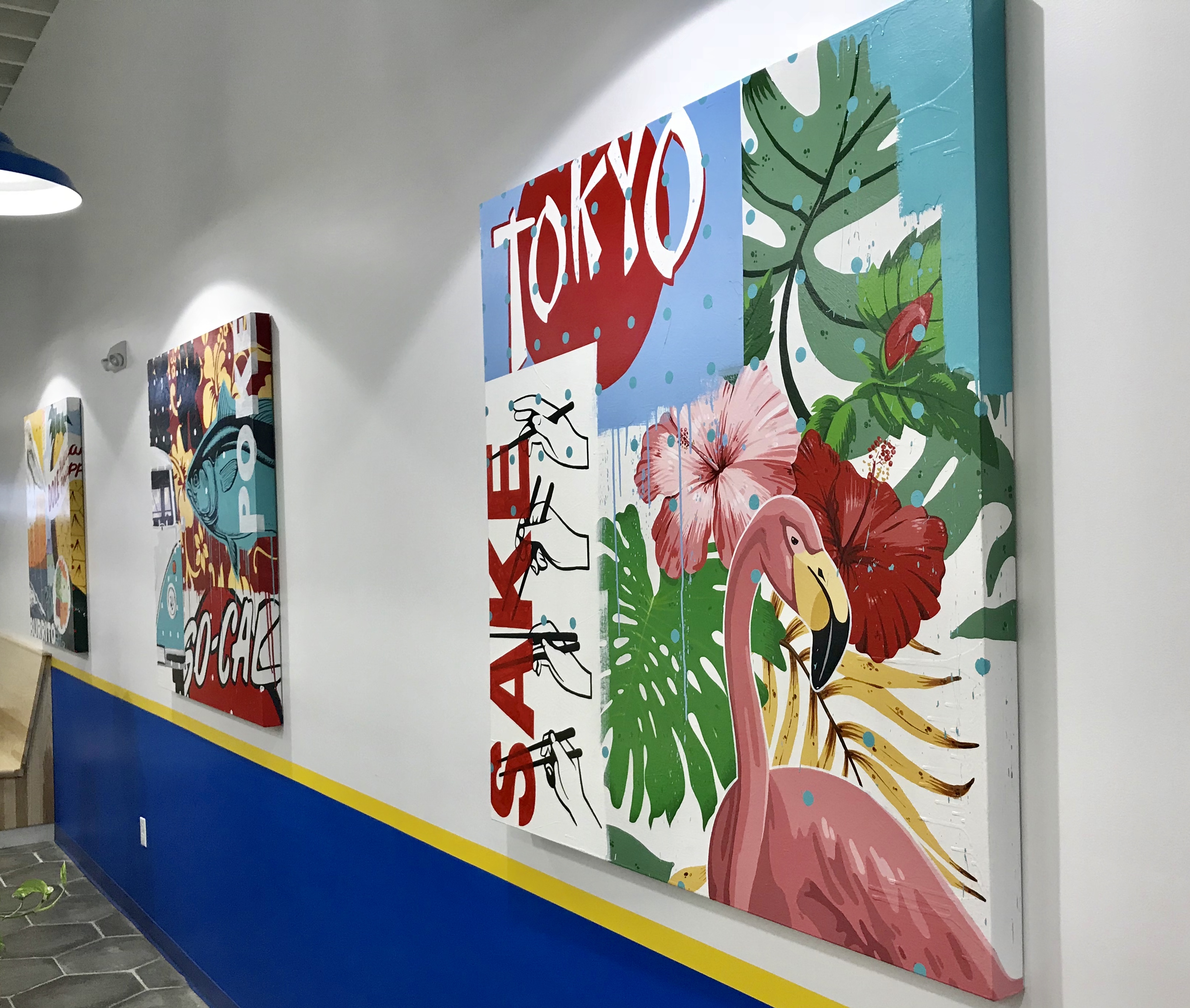 Their slogan "Roll it. Or Bowl it." ties into how you can choose to eat your dish. I will talk more about that later.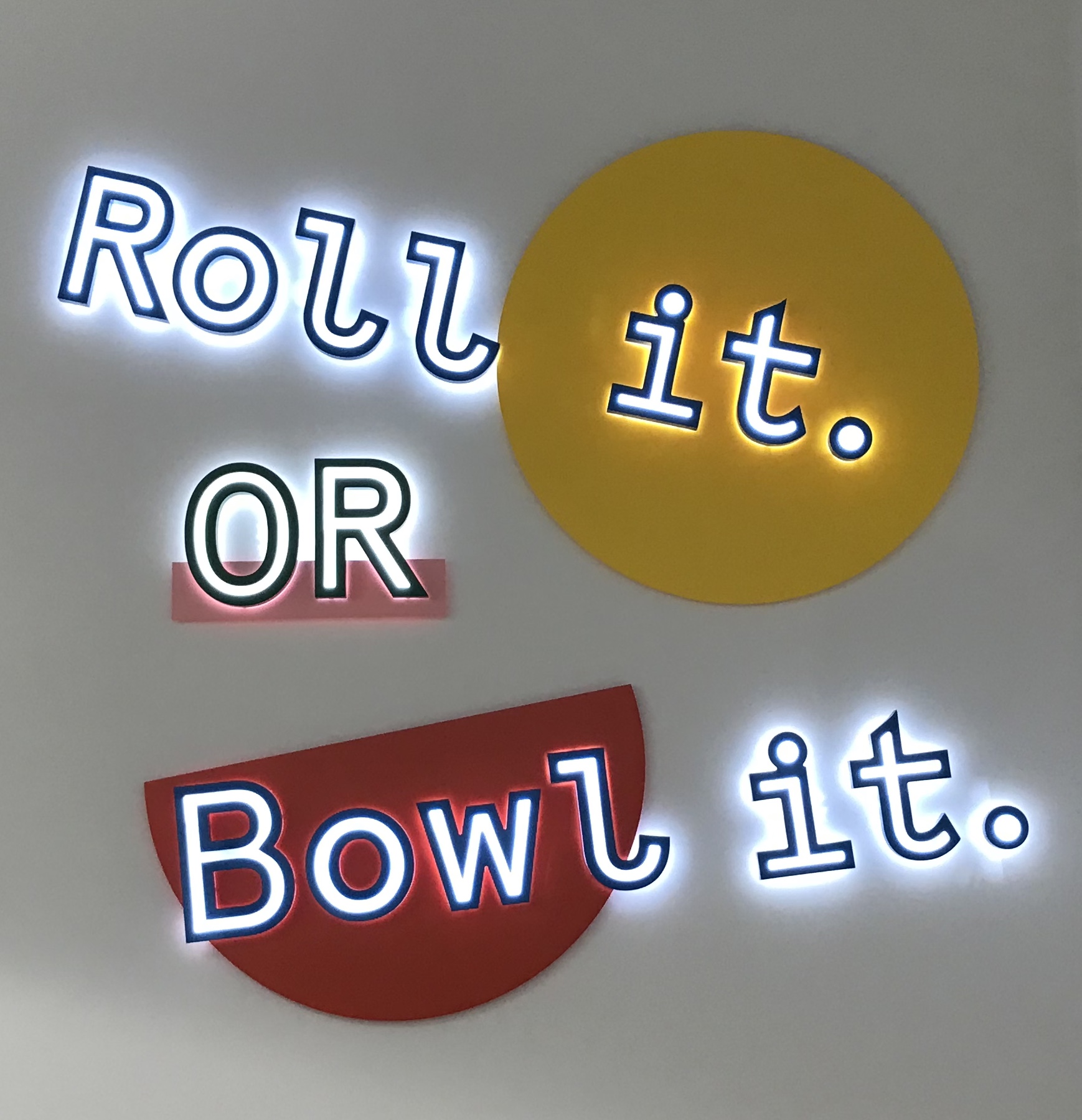 They offer many different items that you just don't find around here. They really want their concept to be more of an elevated fast casual. I had never heard of a frosty Kirin Ichiban before. But apparently it is a thing and it is very difficult to obtain one of these machines. Eric said that there is one at the original Ichicoro in Tampa and at Ichicoro Imoto in Armature Works.
Pictured below to the back right of the Kirin machine, they will also be offering rotating saké slushes (Eric has a background in mixology, as well) and their own version of a hibiscus style frosé.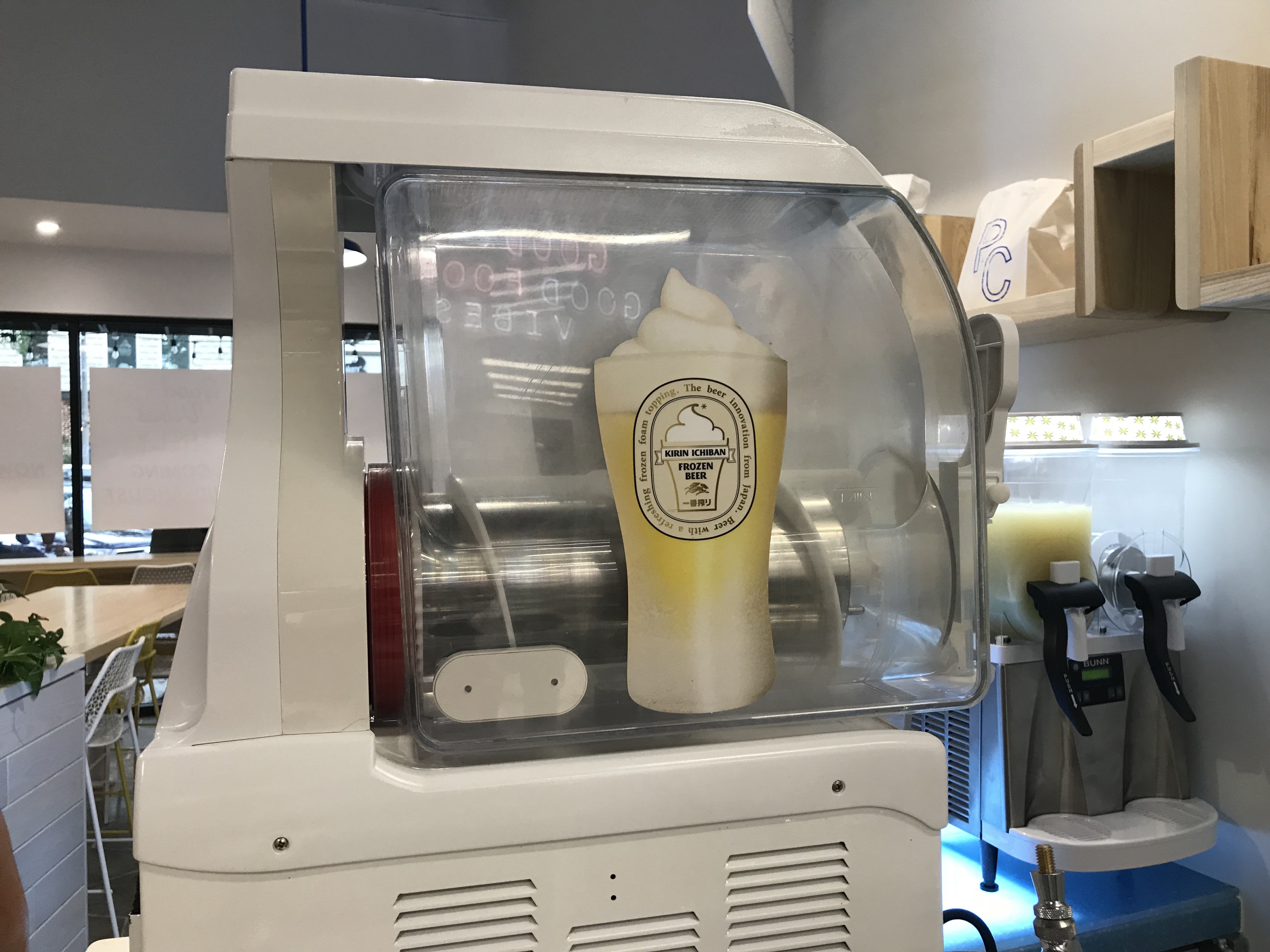 Looks quite tasty and refreshing, doesn't it? Especially for the long days of heat we experience every year.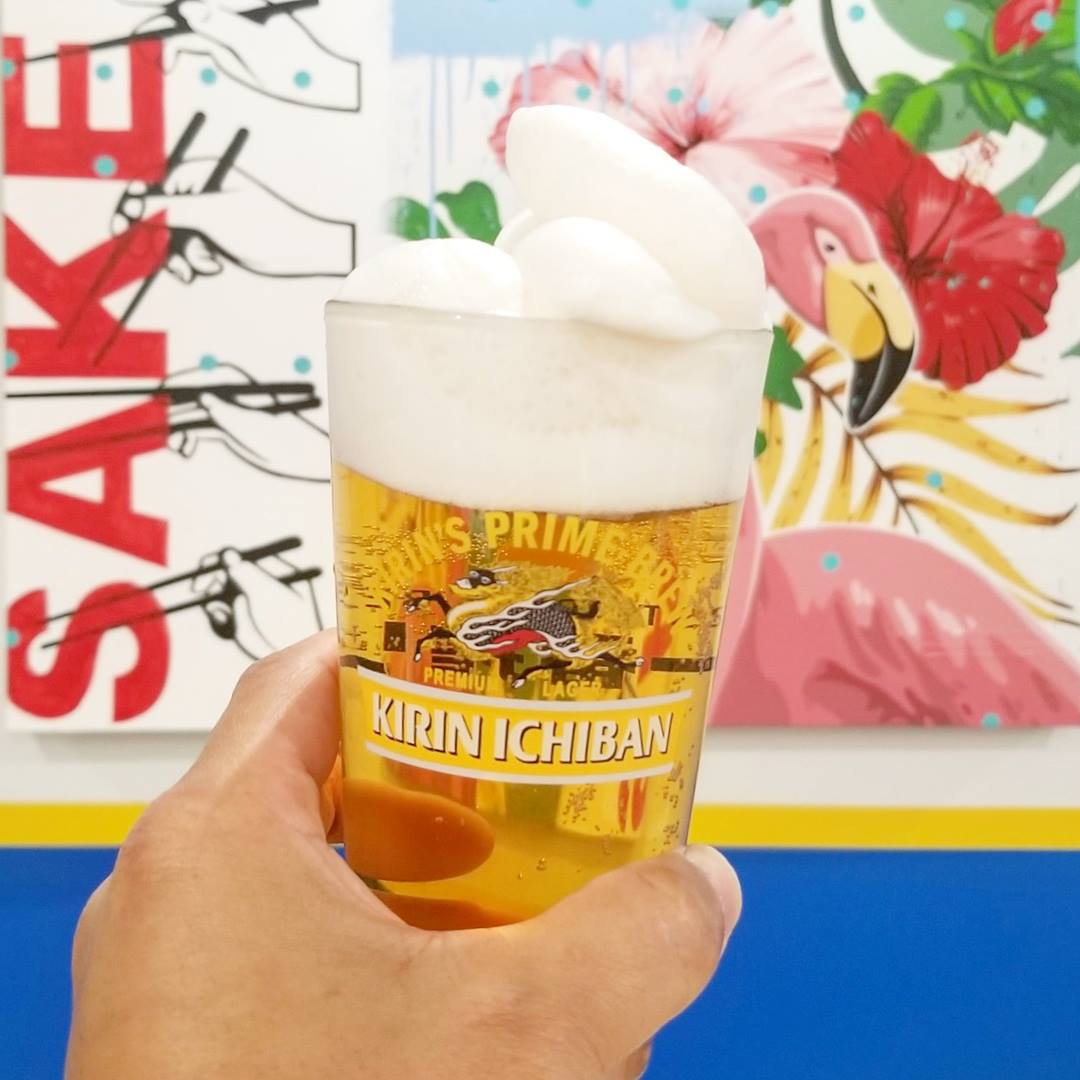 Another unique item that they offer as a drink is fresh coconut juice that you drink straight from the coconut. Once you are done with the drink, they will cut it open for you so that you can eat the meat out of the coconut.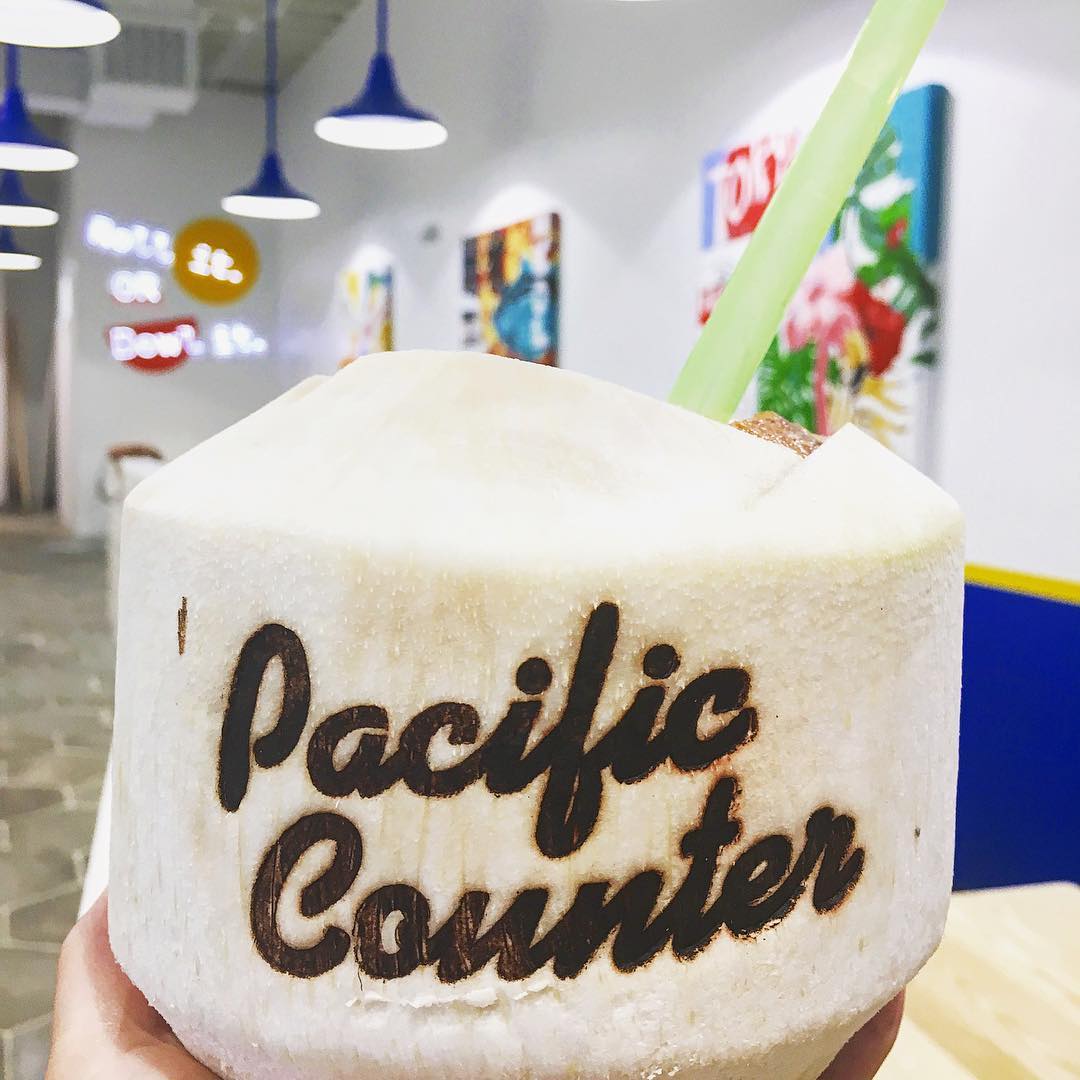 Apparently Dole Whip is a big thing, though I have never had it. I understand around here, before Beans & Barlour opened, the only place you could get it was at Disney World. And now we have two options here in St Pete for you Dole Whip lovers to get your fix. Pacific Counter will offer the traditional pineapple flavor.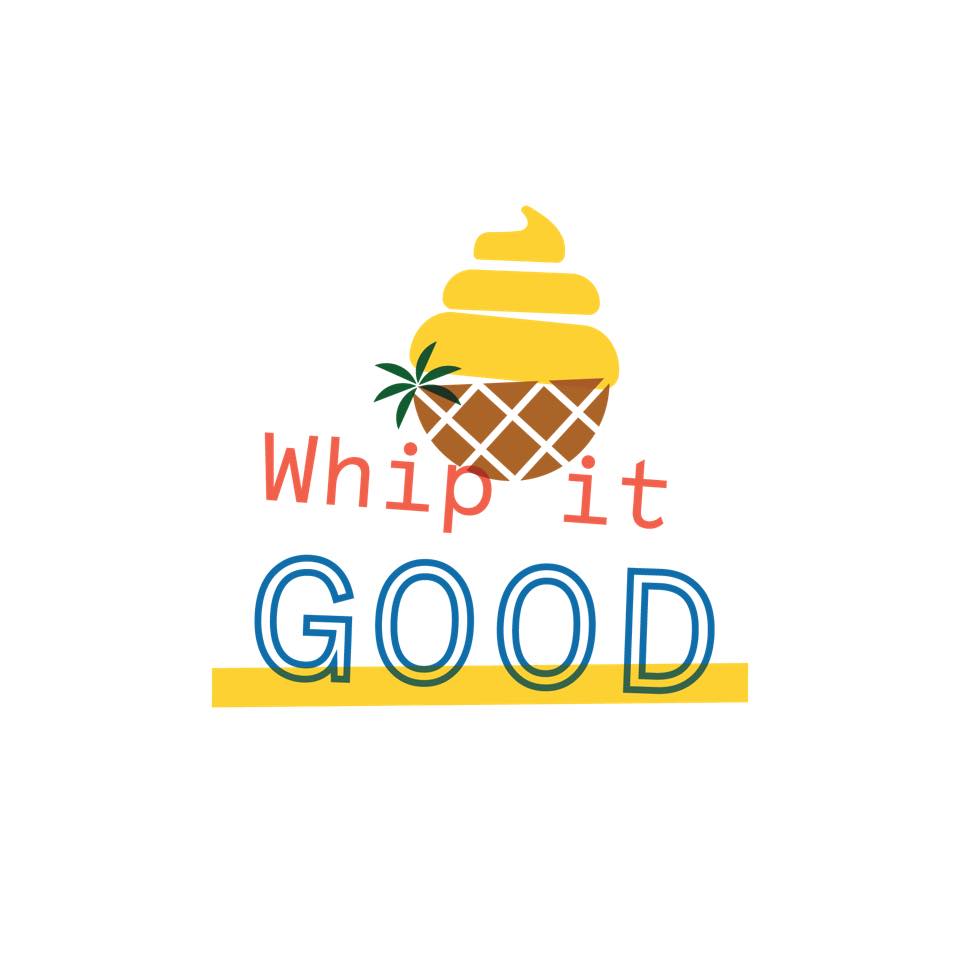 They are dedicated to providing the highest quality ingredients and will source locally whenever possible. All of their leafy greens, daikon and radishes are from Brick Street Farms and as soon as they start to grow other items that they use, they will buy those from Brick Street too. However for their fish products, they wanted to find sushi grade or higher. They actually flew out to Skuna Bay, Vancouver to meet with representatives there and try the salmon. It is currently the highest quality salmon you can buy and that is what they are serving you at Pacific Counter.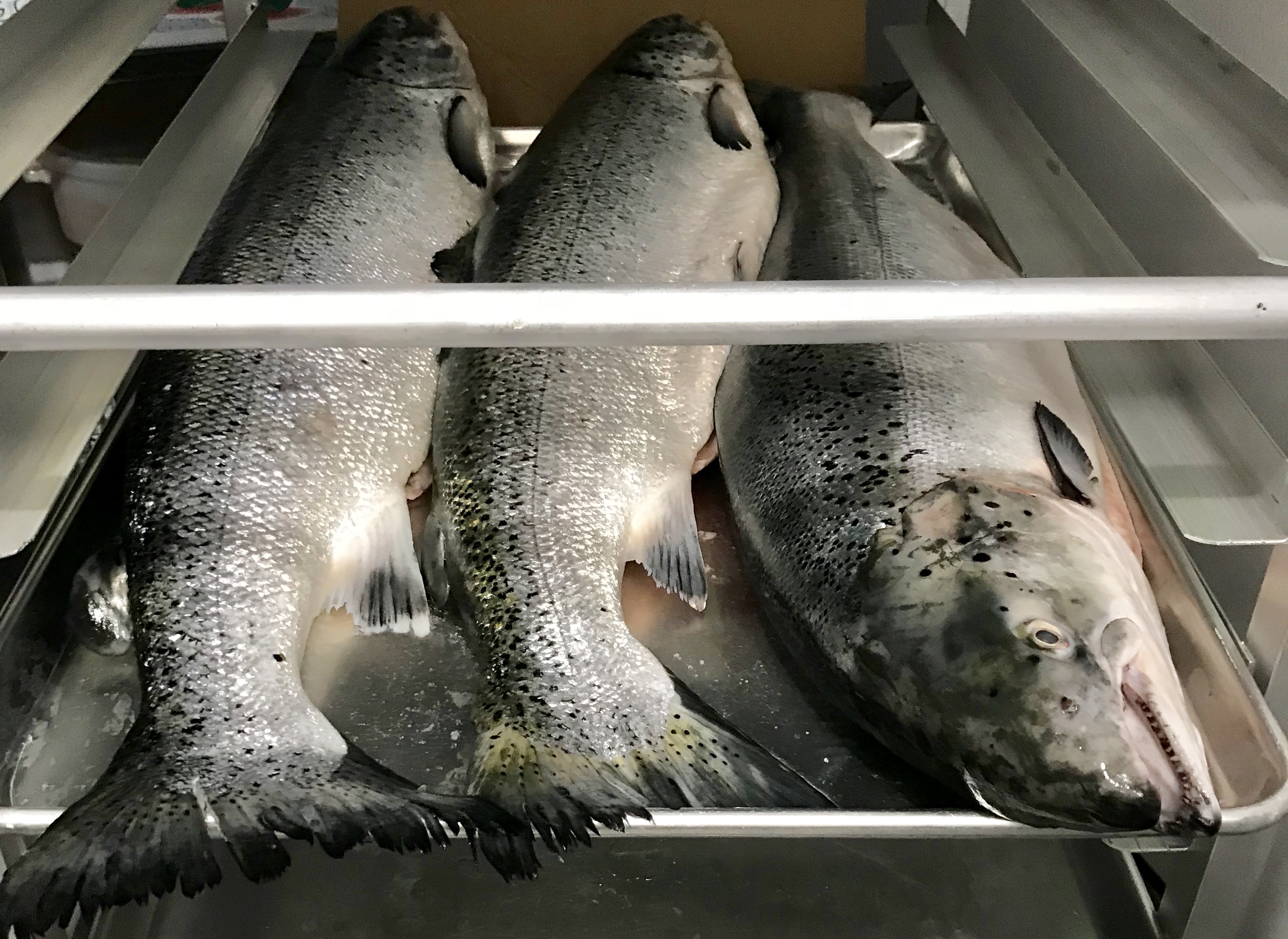 Besides the slushy and frosty drinks they will also have Social Sparkling Wine on tap, along with Mother Kombucha and they will have a tap for a rotating local craft beer. They will offer saké and bottled beers and pictured below a selection of canned Underwood wines. I tried the Rosé bubbles and it was surprisingly very good.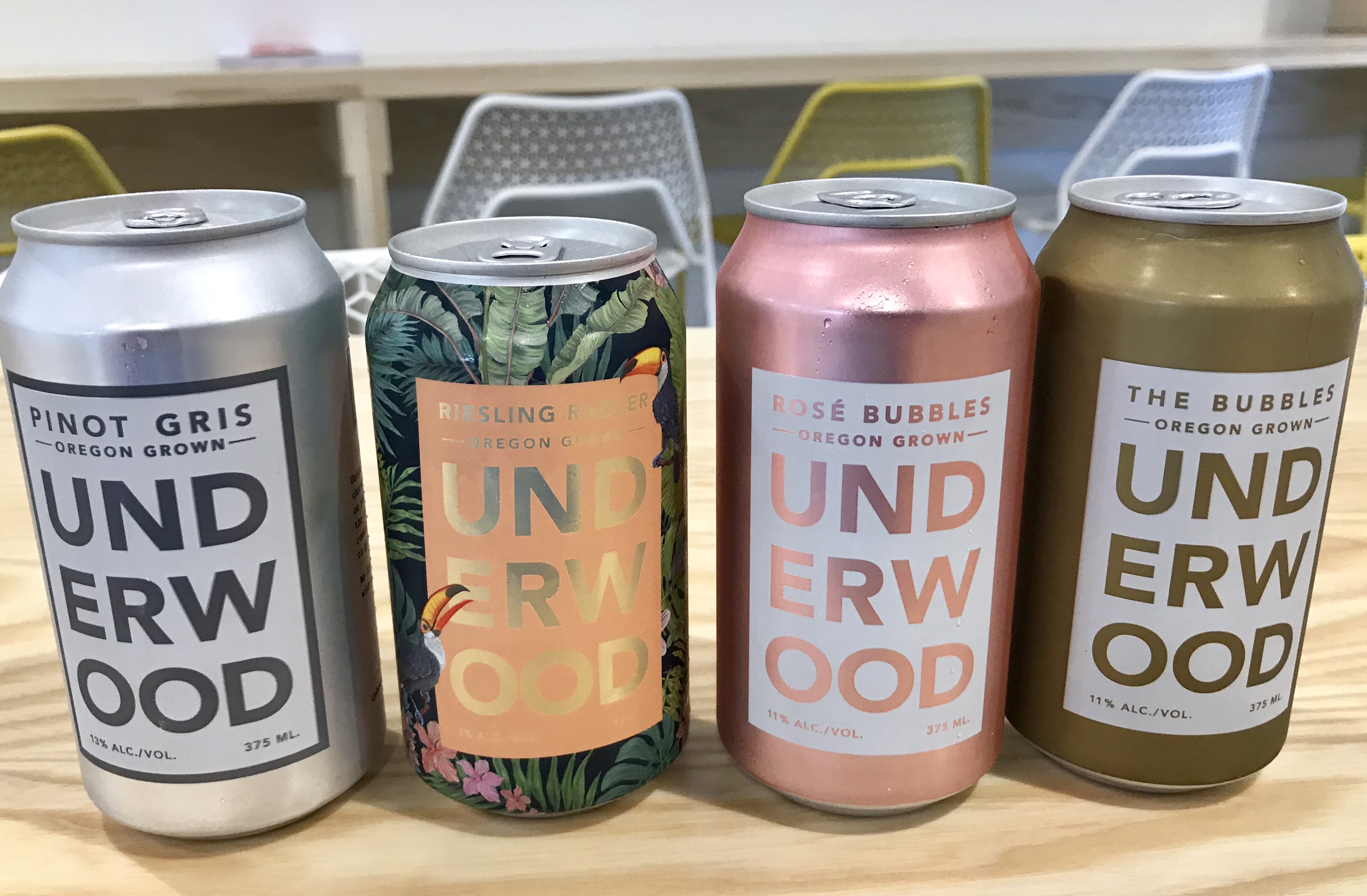 Before we ate on Thursday, we got a tour of the kitchen and I have to say how impressed I am with how they laid it out. All of the equipment is brand new, state of the art equipment and they set up a station in the middle that completely mirrors what you see as you move through the line, building your bowl or burrito. This allows them the freedom to complete to-go orders, delivery orders (of course with Tanner there, you know they will be delivering through Bitesquad) and catering orders, without neglecting or getting in the way of their customers that took the time to come in and order personally. It's those kind of touches that really sets Pacific Counter apart.
Below is the bowl that I built on Thursday. Absolutely delicious! Tock suggested I choose the sushi rice as my base. As Eric said, "It's not just regular white rice, it's done right. It's a two hour process, that we keep replicating all day, everyday." I then added salmon and calamari as my proteins and avocado, seaweed salad, cucumber, edamame and masago as my mixers and toppings. Delicious crunch, texture and flavor and feels oh so healthy at the same time.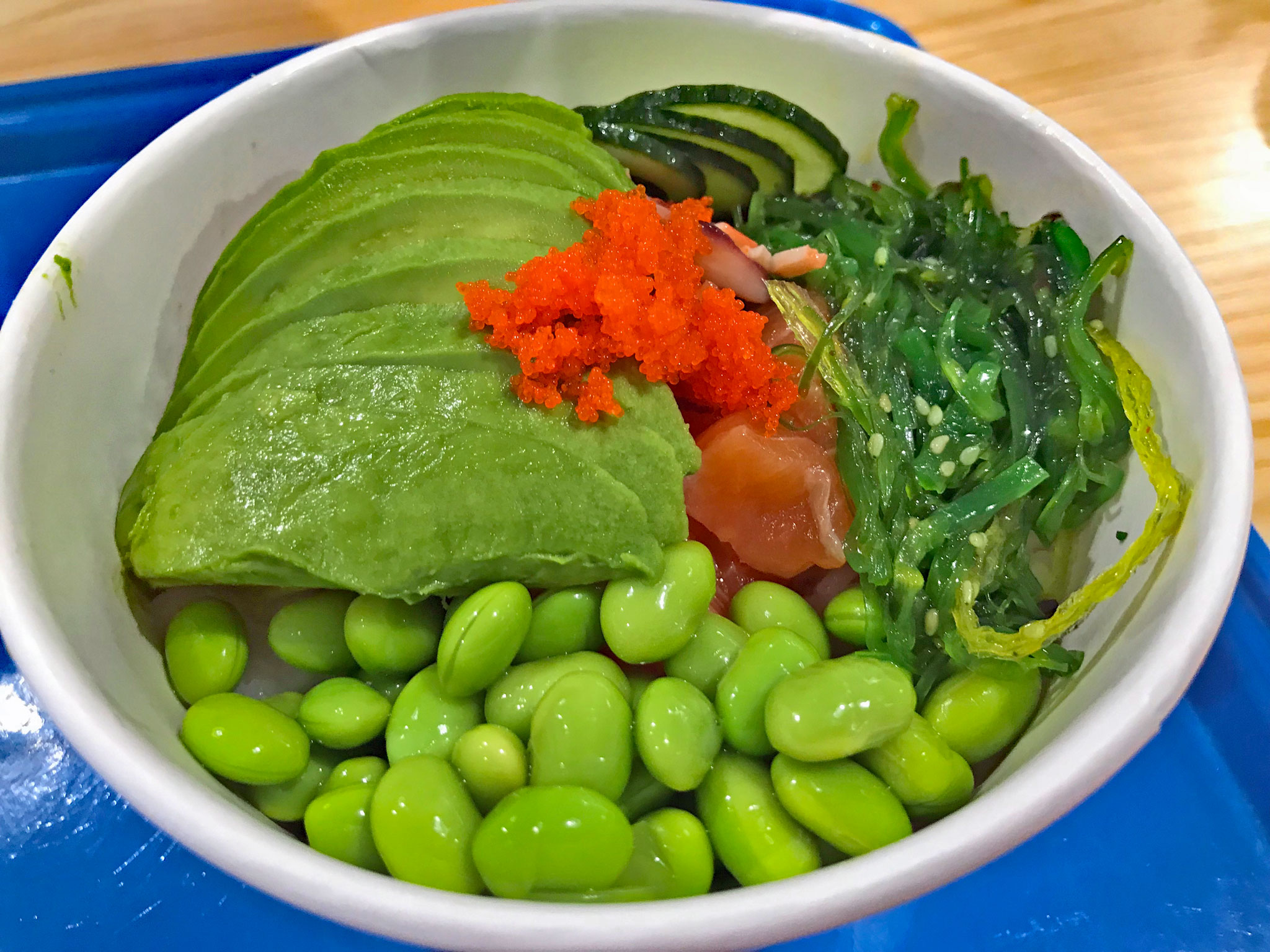 They brought out all of the sauces for us to try so I did not have a specific sauce mixed in. But you can choose to have them mix it for you when you are there, at the area that they call "the pass". That way everything gets coated with their delicious sauces. Kevin and my favorite was the Counter Sauce. They are actually going to bottle the sauce and sell it. Very smart idea! It is spicy though so you have to like spice. However, there is a slight sweet to it that balances it perfectly.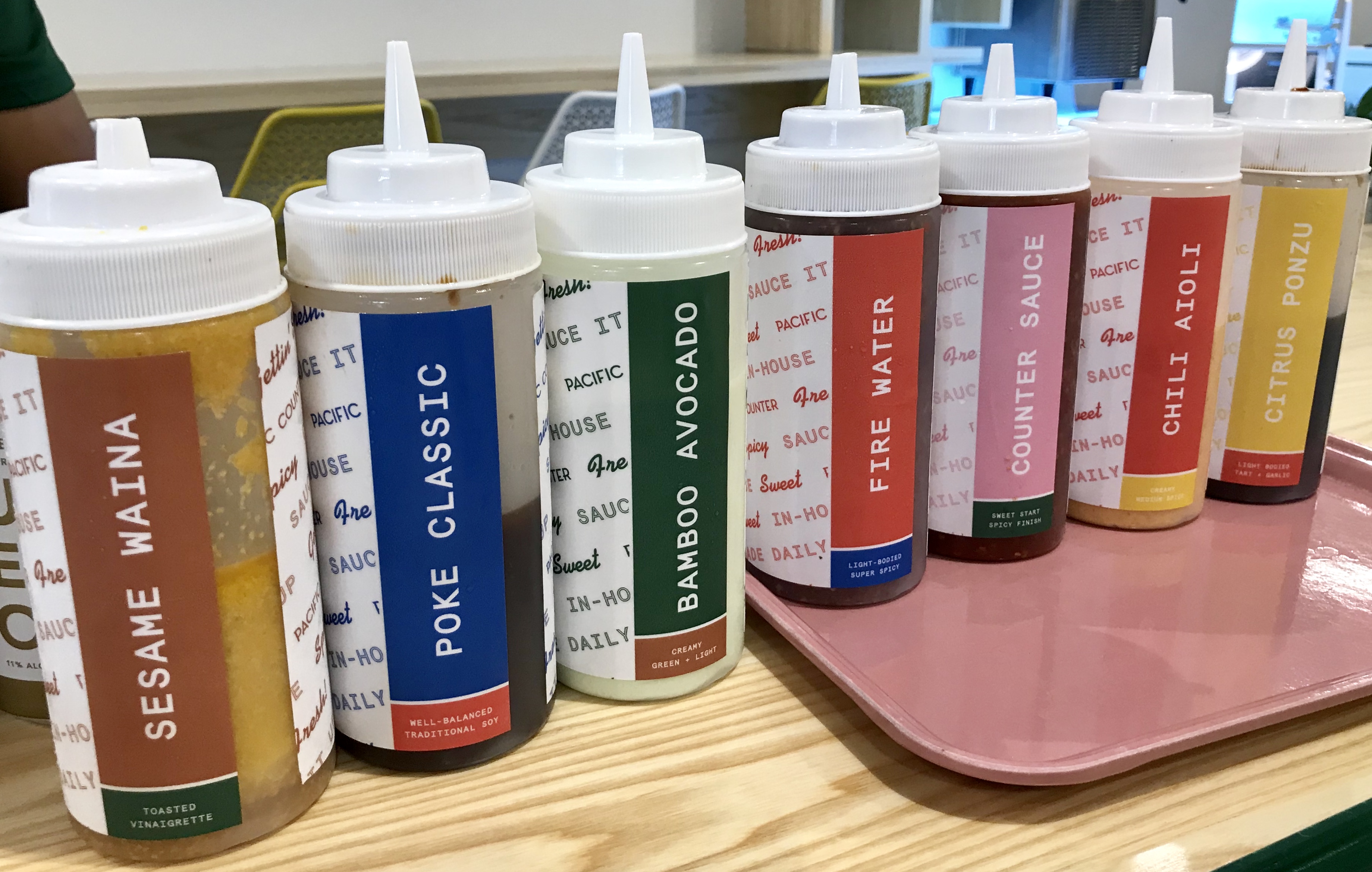 Below is Kevin's bowl of salmon, calamari, edamame, avocado, seaweed salad & shiitake mushrooms on sushi rice. He did not leave even a piece of rice in his bowl. And those marinated shiitake mushrooms are to die for!!!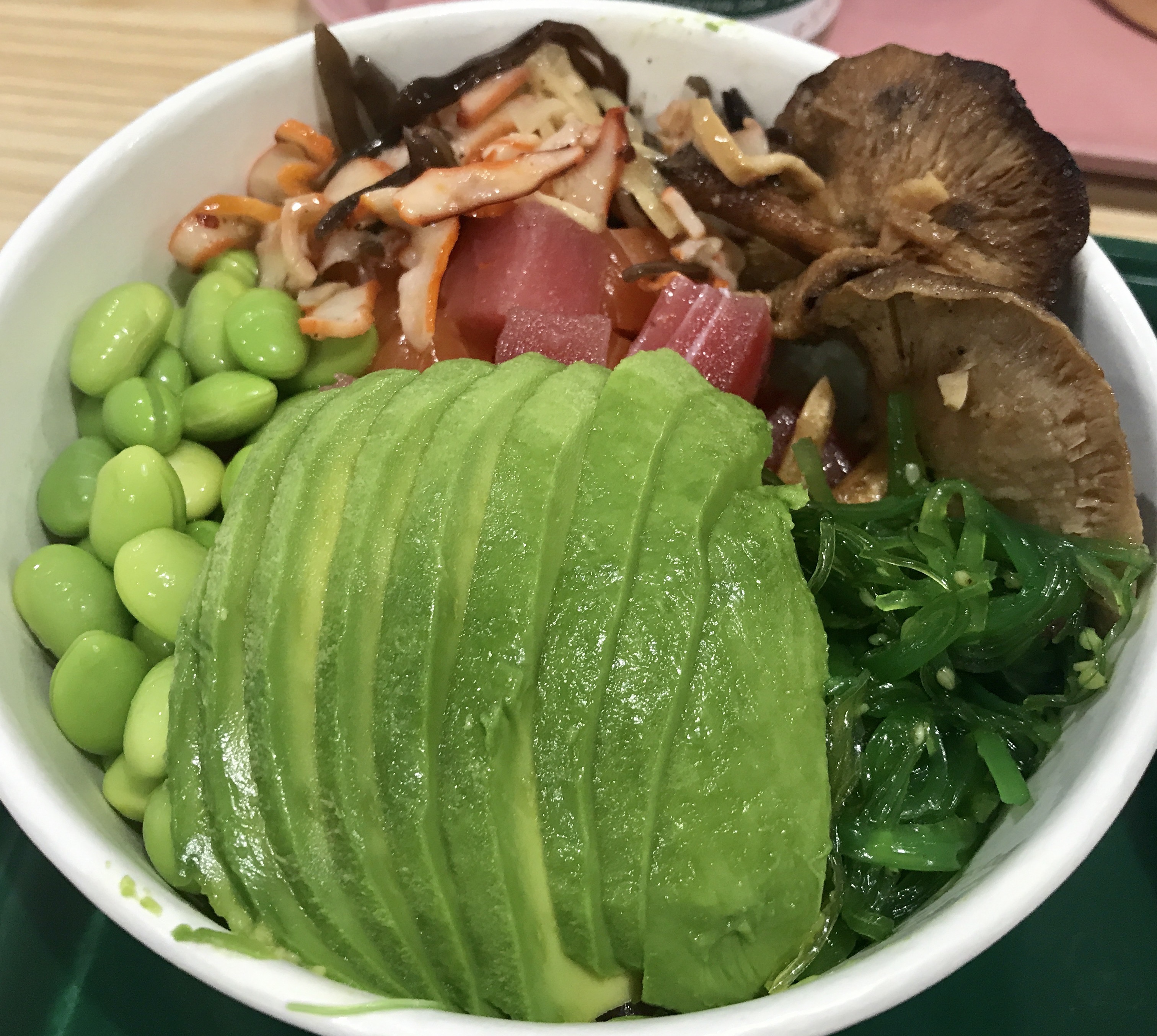 We went back on Friday to their soft opening to take pictures of the restaurant in action and to see it all happen. And also to have some more deliciousness. You can just feel the vibrancy and excitement in the room by this picture. Notice the white rafters above. The line starts by the "Roll it. Or Bowl it." sign. There are 40 seats in house but they anticipate a lot of people will grab and go.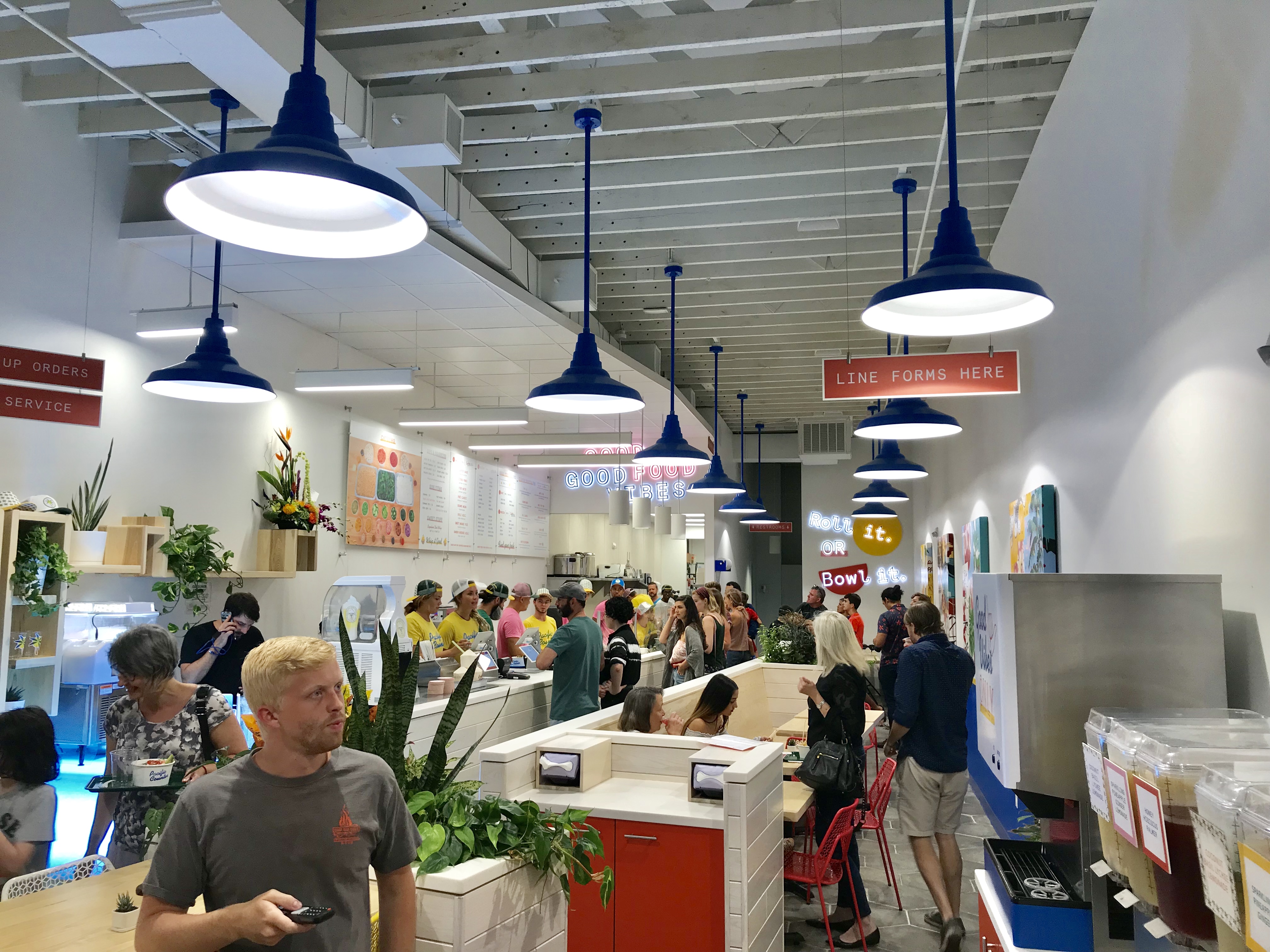 As you first walk in to the right, you see these freshly made juice concoctions. These are mixed by Eric and you can add a shot of sake to just about anything that is non-alcoholic.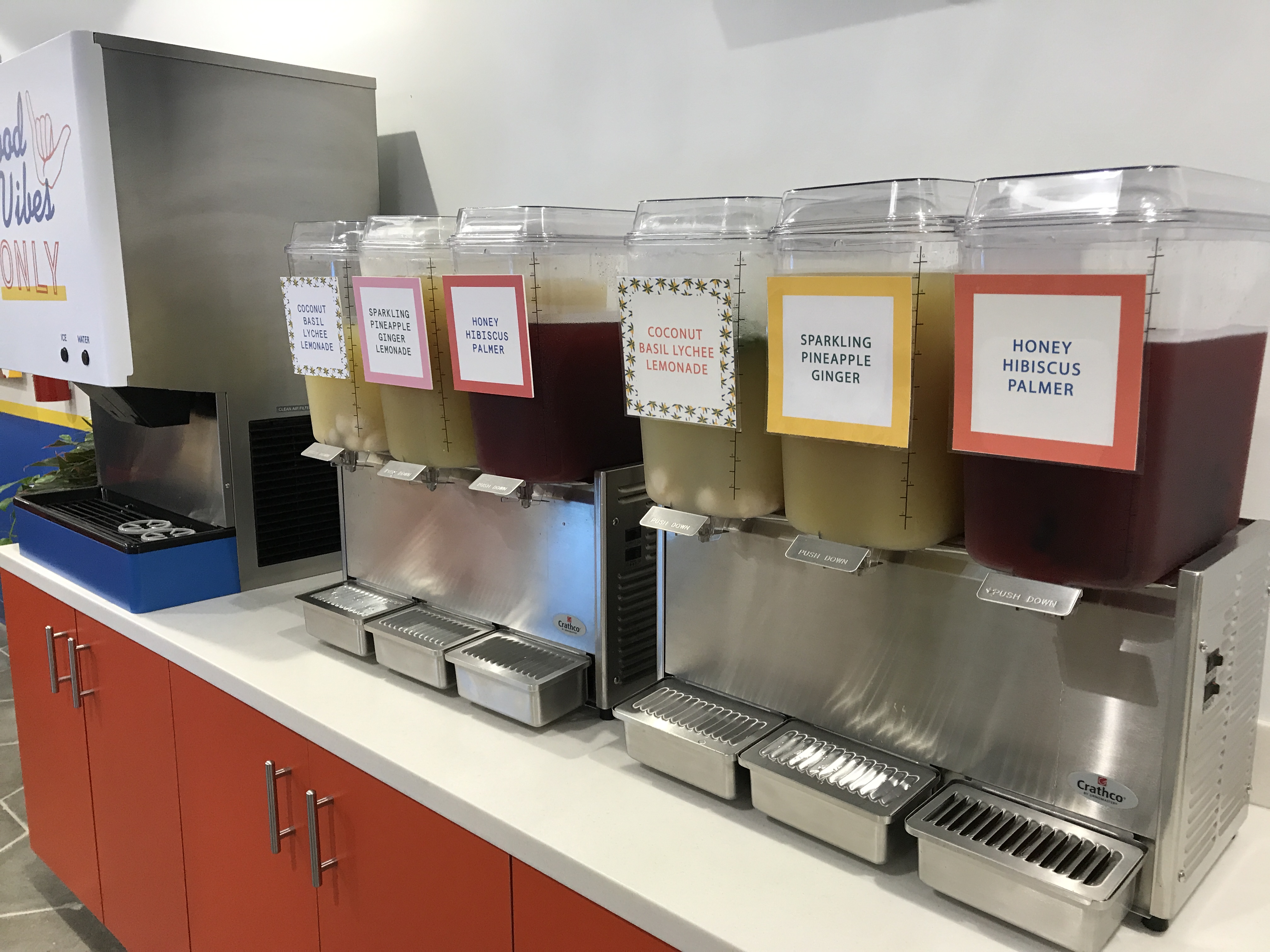 The menu hangs above and behind the work station where you place your order. You can choose to build your meal in a bowl or have it wrapped in a burrito or you can select from ten Counter Creations created by Chef Tock. They actually have the rice robot machine that can produce rice pressed perfectly on the nori in seconds, so they will never run behind.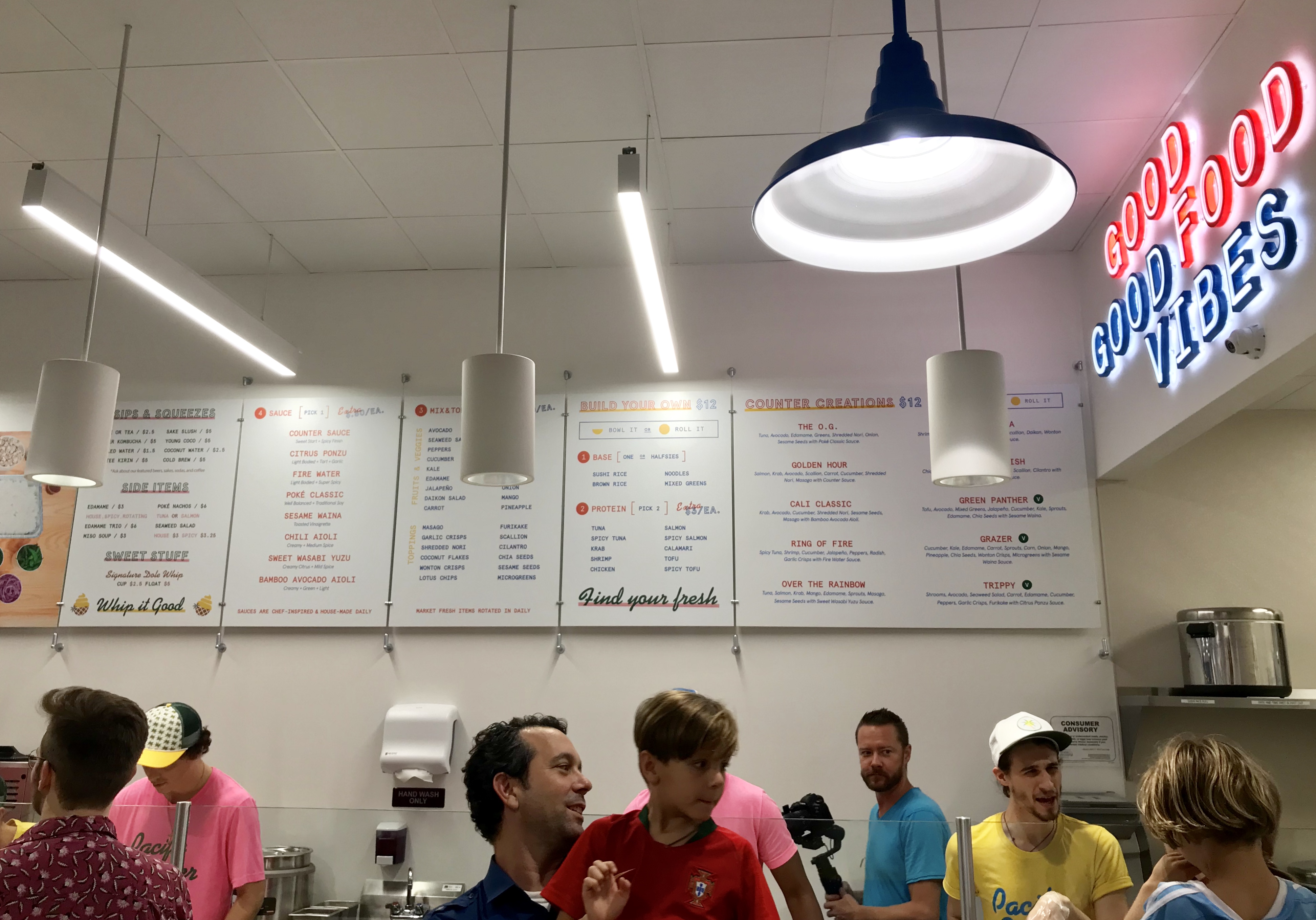 If you are building your own, let them know if you want sushi rice, brown rice, noodles or mixed greens as your base. You also tell them here whether you want your bowl mixed at the pass or not. At the next station you select two proteins. Then you pick 5 mixers and toppings. And then finally the sauce.
They wanted to keep the pricing simple. Every bowl, burrito or Counter Creation is $12. If you want more than two proteins an extra is $3 and if you want an extra mixer or topping they are just $.50 each. Same goes for an extra sauce, just $.50 each.
They also offer three different types of edamame: house, spicy or one that will be a rotating flavor; miso soup; poké nachos and seaweed salad. All of the side items are under $6 and all of their drinks are under $5. The full menu is below.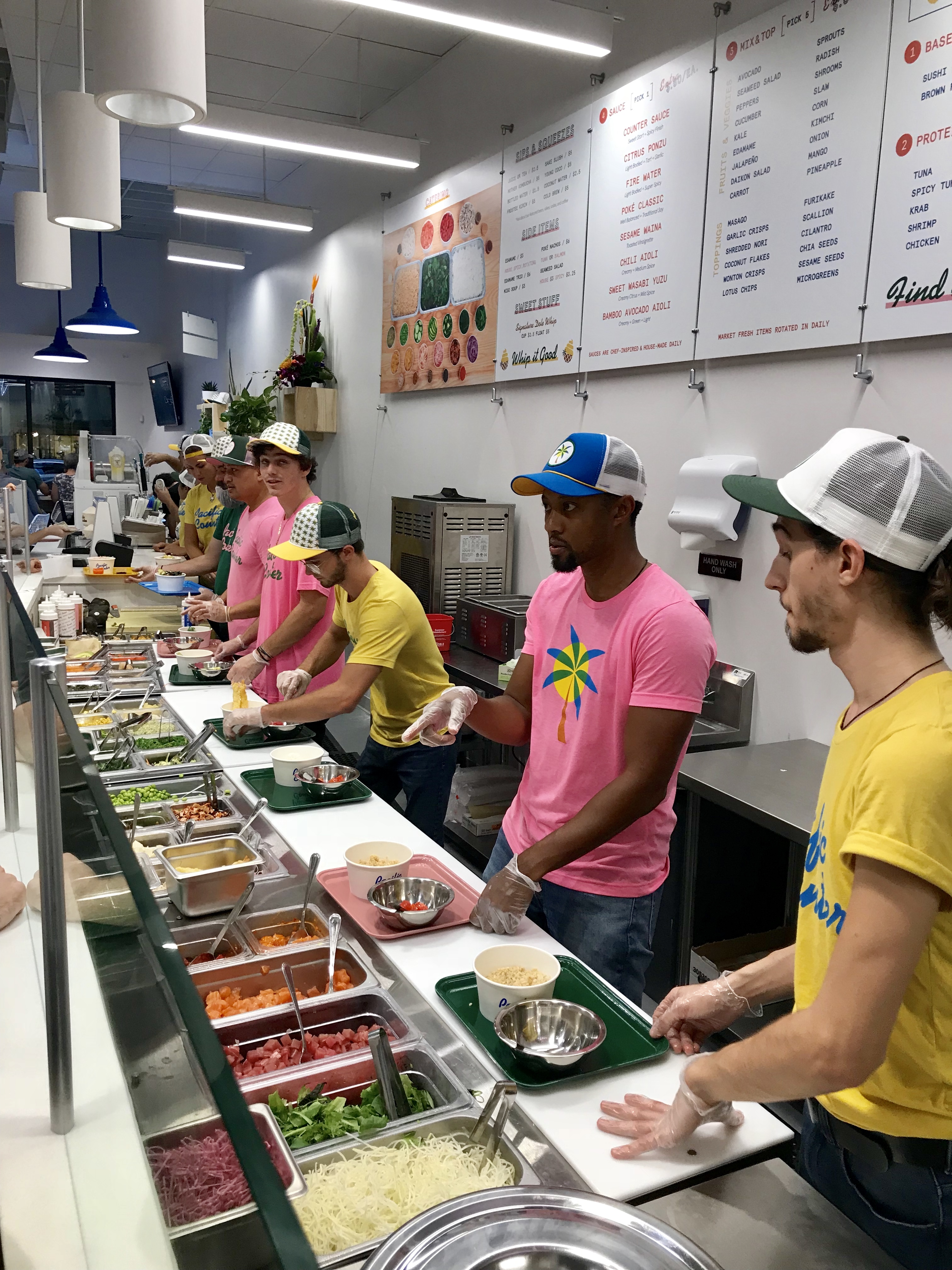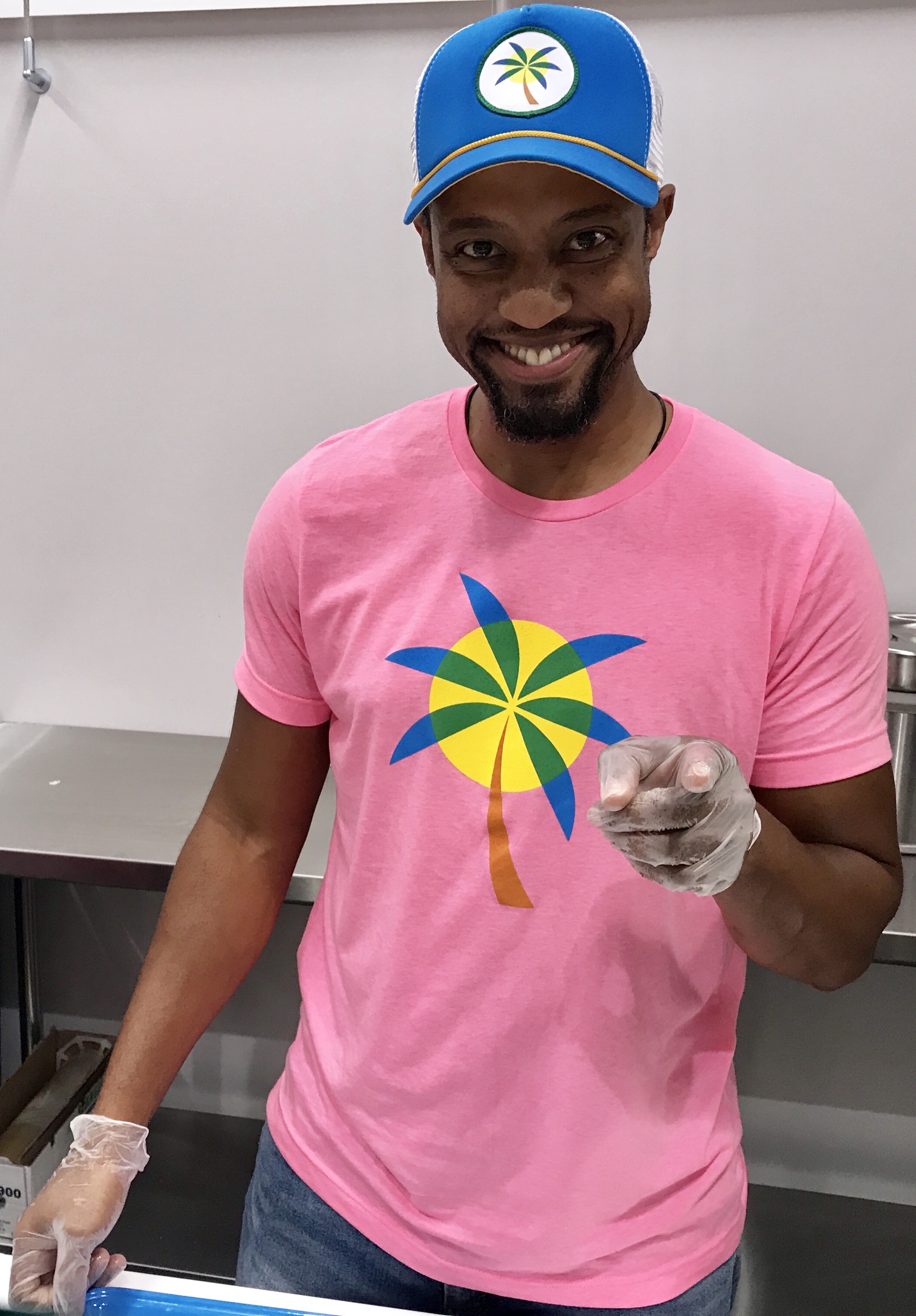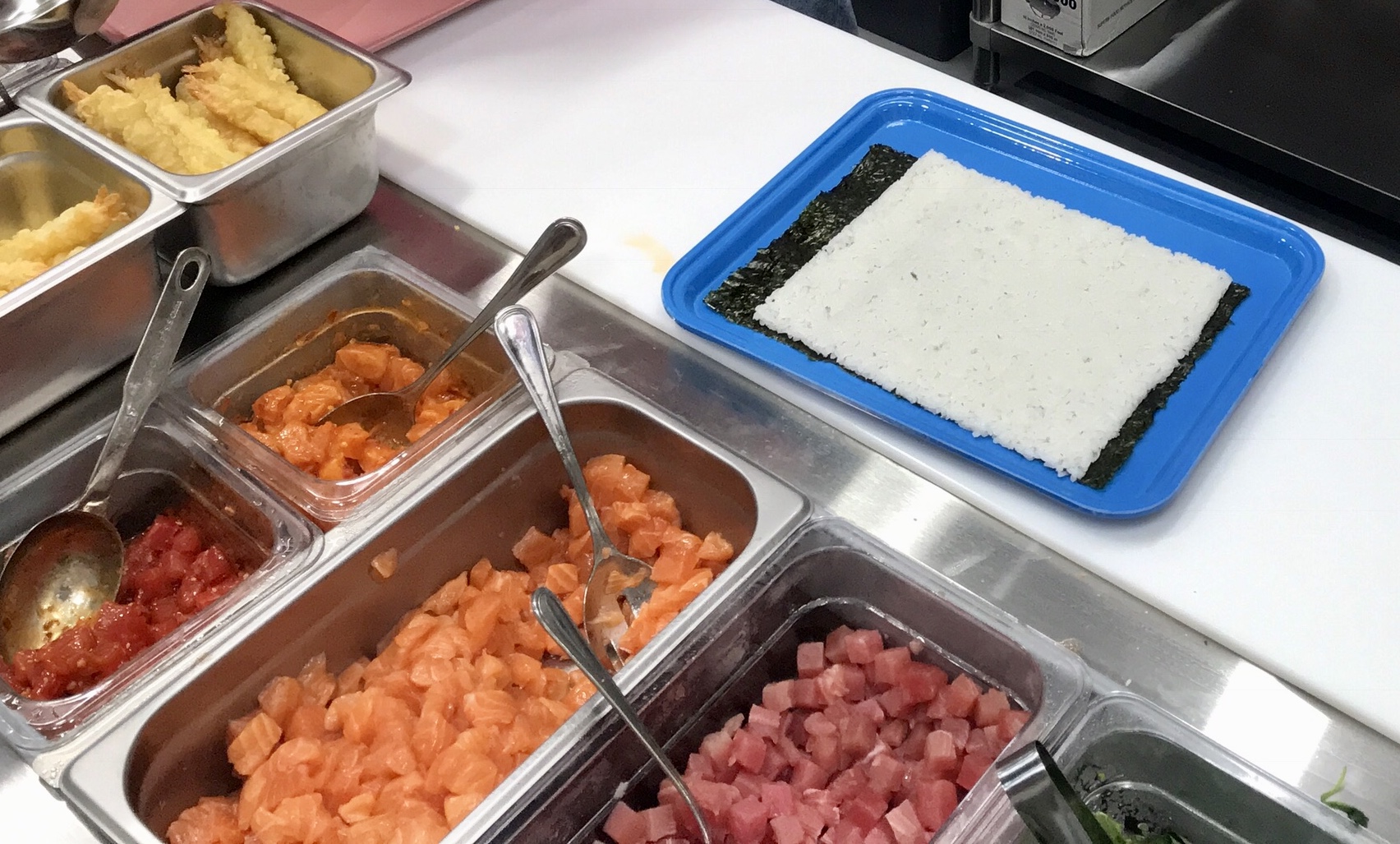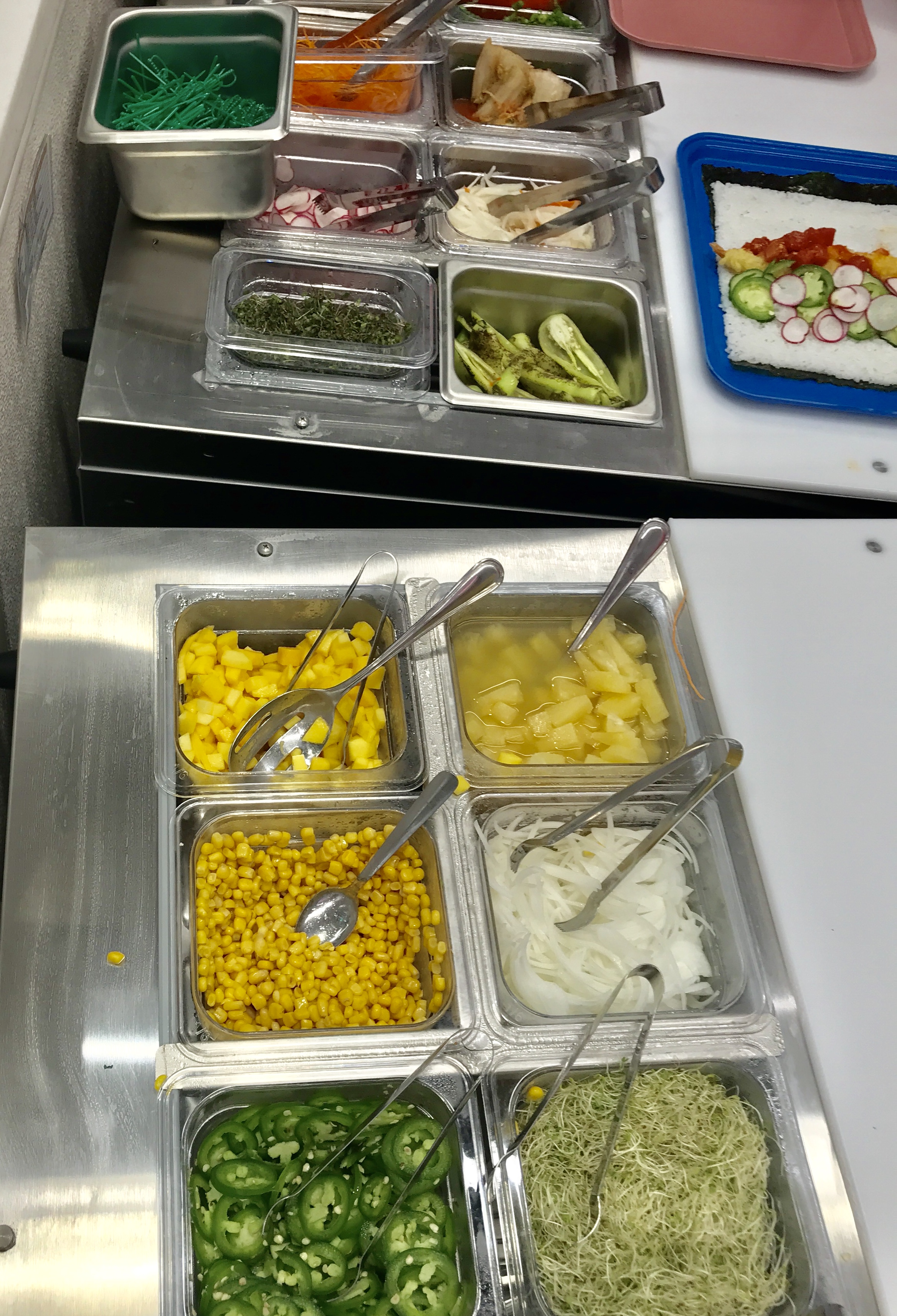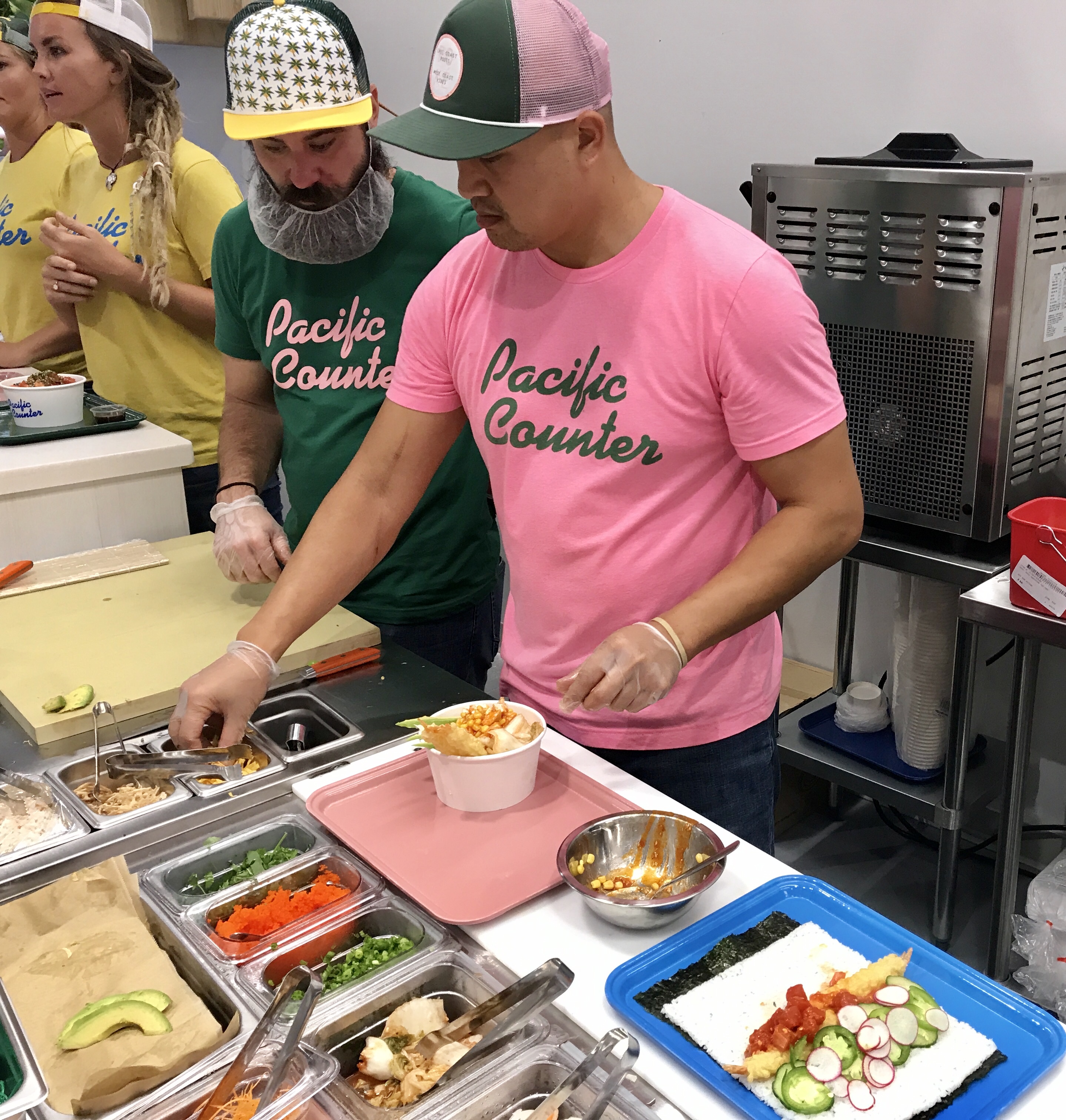 I had the Land & Sea which consists of tempura shrimp, chicken, avocado, corn, kimchi, scallion, daikon,  and wonton crisps with chili aioli sauce. I chose to use the counter sauce instead. What a great combination! The only thing I wasn't crazy about was the shrimp being tempura.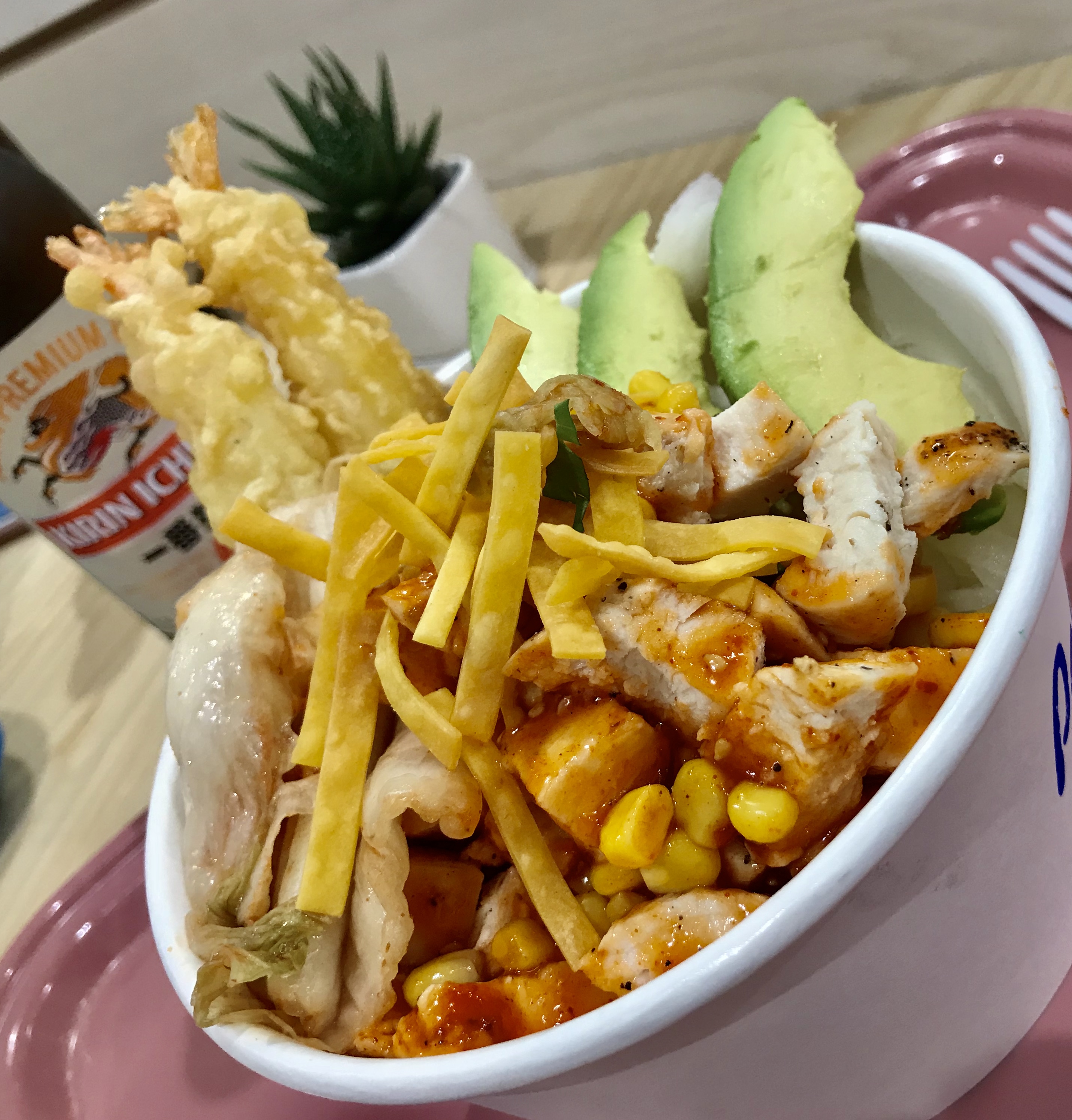 Kevin had the Ring of Fire as a burrito. It contains spicy tuna, tempura shrimp, cucumber, jalapeño, peppers, radish and garlic crips with fire water sauce. He ate every single bite.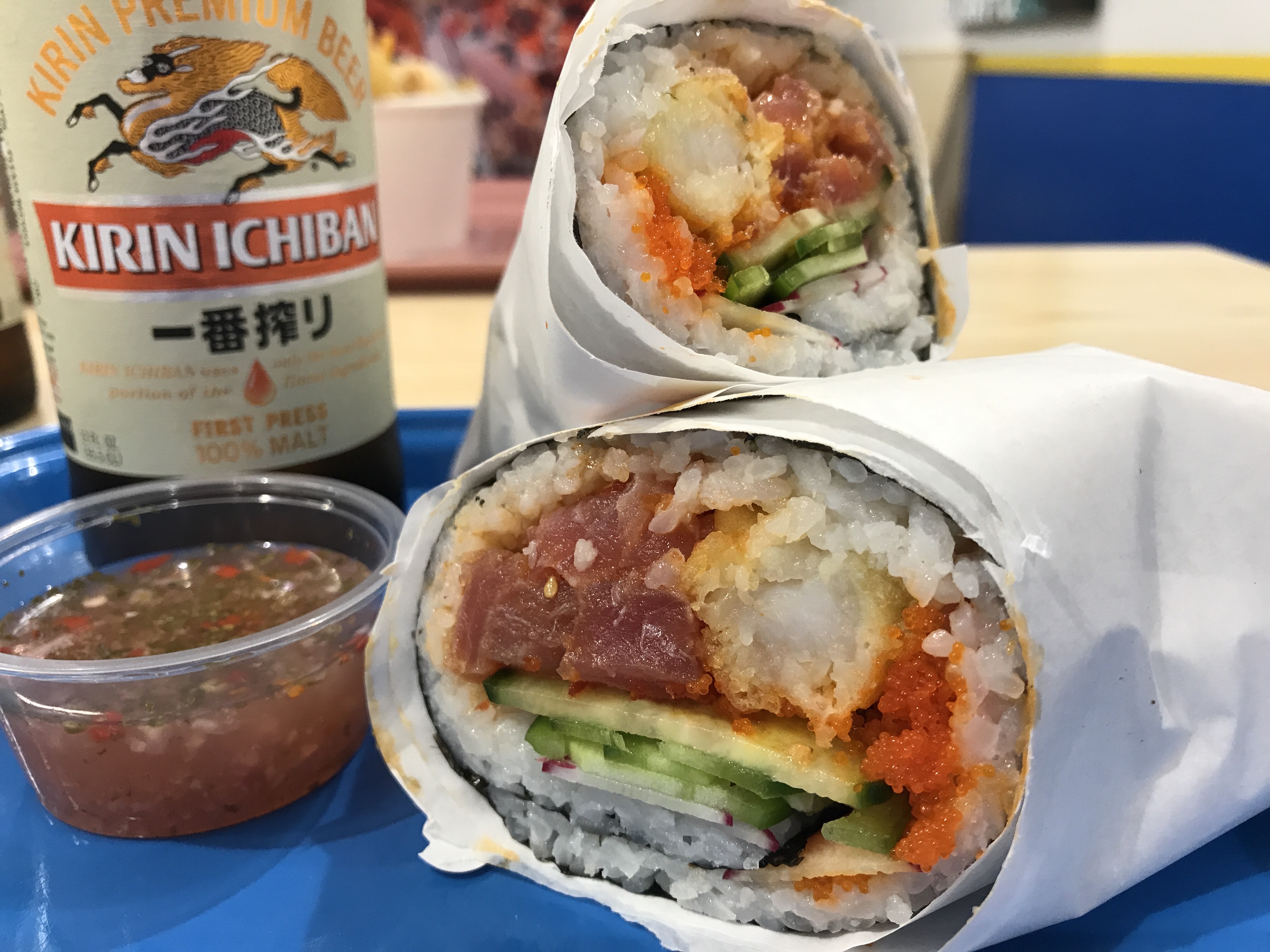 See the hours below and get into Pacific Counter for your delicious sushi or poké fix!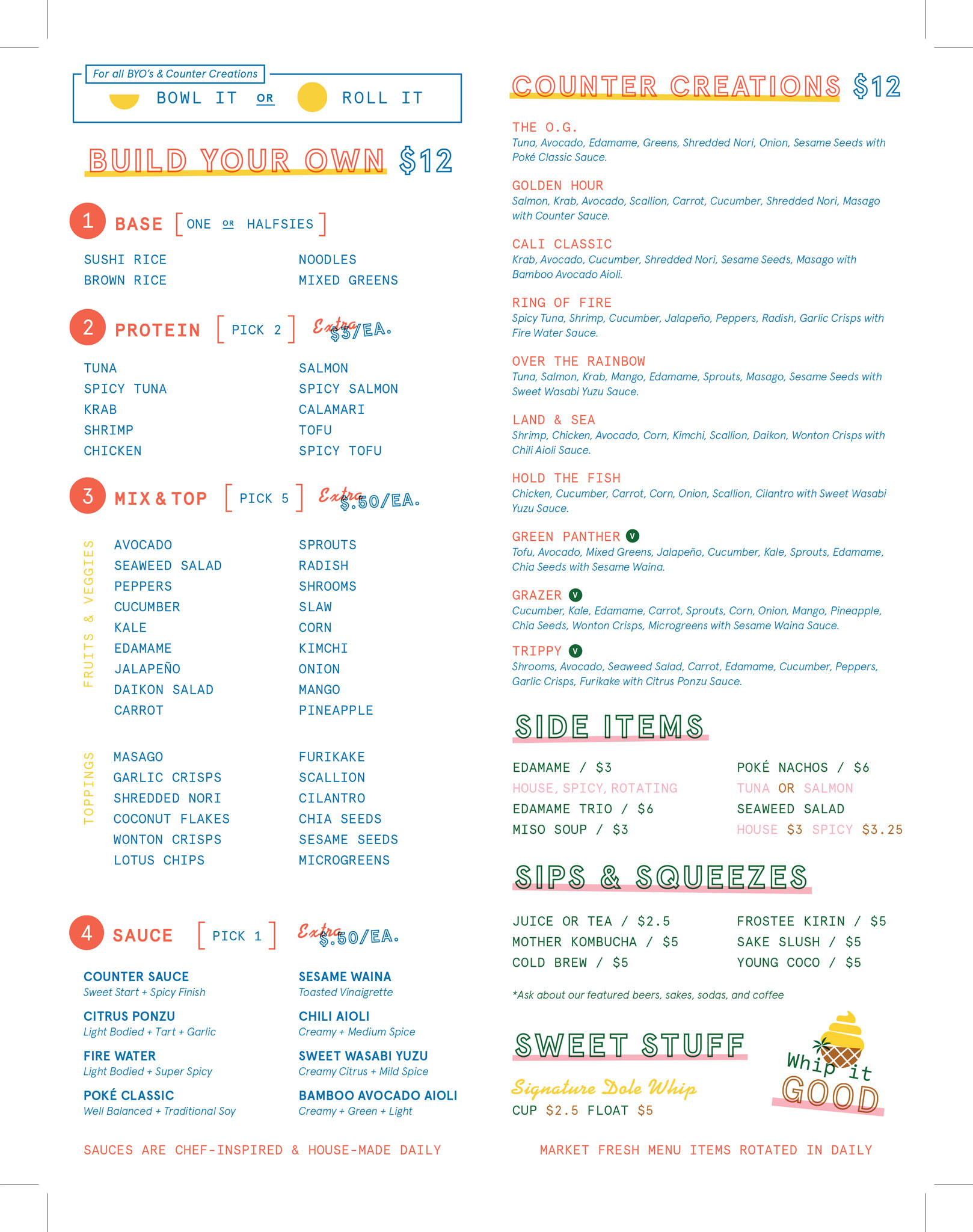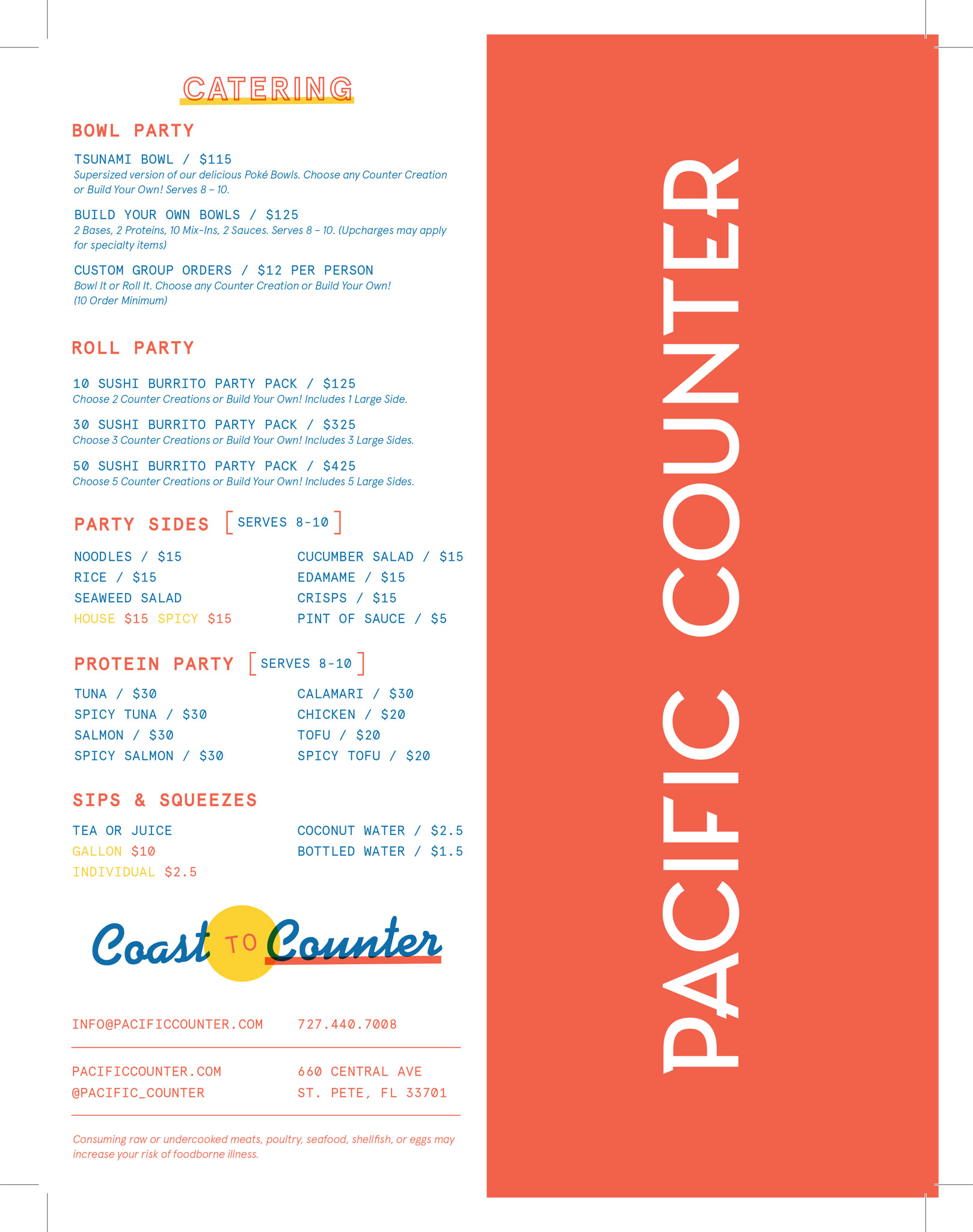 Fast & fresh chef-inspired, customer-crafted cuisine in an environment that inspires healthy eating, drinking, thinking and being.
DISCLAIMER: Kevin, Lori, Abby, Haley, & Lindsey do not dine anonymously (this would be impossible) and we sometimes get free food (though never expected). However, we dine with the locals and we support our own. You will always get honesty in a respectful manner. We do not include any large national or regional chains in our ratings and reviews. We focus on independent locally owned eateries exclusively.

PLEASE NOTE: Reviews reflect a certain moment in time. Some restaurants stay extremely consistent over many years, and some change for the better or worse. Some things that may change are: chefs, recipes, food suppliers, ingredients, philosophies, ownership, etc. We always hope that you have the same good, or great experience we had.
More Foodies News, Reviews & Recipes