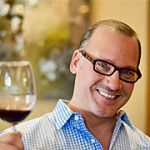 Kevin Godbee · Dec 15, 2020 · 1 min read
Interview with Fred Zammataro from Schramsberg Vineyards
Welcome to the St. Petersburg Foodies Podcast Episode 120! On today's episode, we interview Fred Zammataro, the COO and Executive Vice President of Schramsberg Vineyards in Napa Valley. They were originally founded in the 1800s, and their sparkling wines are one of the only served at The White House. We'll discuss how the Davies family revived the vineyard in the 1960s, President Nixon brought several cases to China in the 1970s, and fast-forward to the present, talking about the terrible fires in 2020. At the top of the show, we have an outtake of Nate Najar telling us about the oldest restaurant in London, Rule's, which was founded in the late 1700s.
Listen right here with our player above, or use your favorite podcast listening app below.
The St. Petersburg Foodies Podcast features interviews with chefs, restaurateurs, sommeliers, bartenders, and more, and covers the burgeoning food scene in St. Petersburg, Florida. Episodes air every Tuesday.
This episode of the St. Petersburg Foodies Podcast is brought to you by Greenstock, Rollin' Oats, The Zest Podcast, Noble Crust, Buya Ramen, and Engine No. 9. Please keep them in mind the next time you are hungry for some fantastic food.
Our announcer is Candice Aviles from Food for Thought  and Channel 10 News. Our theme music is provided by The Chris Walker Band.
Fred Zammataro Interview