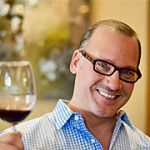 Kevin Godbee · Jan 22, 2019 · 2 min read
Interview with Dr. Tim Johnson from Johnson & Johnson Medical Solutions
Welcome to the St. Petersburg Foodies Podcast Episode 21. For our opening conversational segment, we have a new recipe from Abby, 'Scallops with Grapefruit, Bacon and Chimichurri'. Our featured interview today is with Dr. Timothy Johnson from Johnson & Johnson Medical Solutions. It's our third in a series of interviewing local foodies that are not in the food business, and happen to be local independent business owners. Tim is a super foodie home cook. You'll also get to hear about his attendance at a party at rapper Chris Brown's house in Miami, and getting to meet Celebrity Chef Scott Conant where the chef shaved truffles onto Tim's pasta. Our featured local music comes from Jordan Esker and the Hundred Percent. We feature the song 'No Point' from their album 'Fail to Learn'. Jordan answers the Fast Five Foodies Questions, and we find out that he is the most foodie musician we have had on. He listens to the Bon Appetit 'Foodcast', and has read the book, Salt. Fat. Acid. Heat.
Listen right here with our player above, or use your favorite podcast listening app below.
The St. Petersburg Foodies Podcast features interviews with chefs, restaurateurs, sommeliers, bartenders, and more, and covers the burgeoning food scene in St. Petersburg, Florida. Episodes air every Tuesday.
This episode of the St. Petersburg Foodies Podcast is brought to you by Annata Restaurant & Wine Bar, Engine No. 9, and Alto Mare Fish Bar.
Please keep them in mind the next time you are hungry for some fantastic food.
Our announcer is Candice Aviles from Meet the Chef and Channel 10 News. Our theme music is provided by The Chris Walker Band.
Links:
Johnson and Johnson Medical Solutions
Jordan Esker and the Hundred Percent