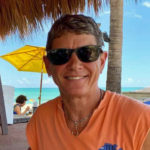 Margaret Covello · Sep 30, 2019 · 5 min read
As a first-time blogger with St Petersburg Foodies, I thought I'd introduce myself and tell you a little about my passion for seafood.
I have loved seafood since I could crawl. As you'll hear in my podcast, I've been fishing as long as I can remember. I have images in my head of me in a diaper with a fishing pole over a puddle of water. My imagination has always pushed me to create things that are one-of-a-kind.
In 2011, I opened the Maximo Seafood Shack in the Maximo Marina. At the time I purchased the shack, it was a small bait and tackle on the end of a dock, known as the Castaways Bait and Tackle. With traffic barely trickling in, I decided it was time to use my imagination to create a memorable experience for visitors and locals. I began to cook. I started with the now-famous Maximo Seafood Shack grouper sandwich, and added new recipes week-by-week. Eventually, I was operating one of the busiest restaurants in the St Petersburg region.
I filleted fish right on site and pelicans would hang overhead as I threw fish scraps into the water. Tourists loved the old Florida experience and locals felt right at home.
Although the Maximo Seafood Shack was forced to close in 2016 due to modernization of the marina, my love for seafood has never waned. I am still creating and concocting new recipes on a weekly basis and now I have the pleasure of sharing my Fishmonger Approved recipes with St Petersburg Foodies.
This recipe is a new favorite of mine. Although there are several steps and ingredients involved, it's well worth the effort for the perfect bite.
Tuna burgers are often flavored with Asian-inspired ingredients, so I thought I'd take a detour from the norm and go with a traditional American-style taste.
The potato salad, slaw and Wharf Dressing bring it all together for a flavor-packed sandwich worthy of any fishmonger.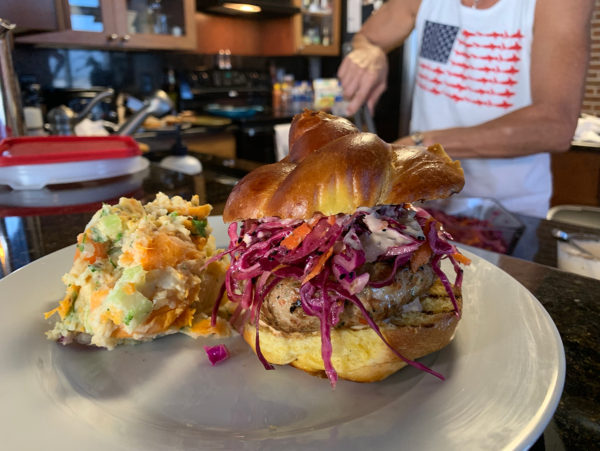 | | |
| --- | --- |
| | |
Whisk all ingredients except cabbage, carrot and onion in bowl.

Pour above ingredients over cabbage, carrot and onion. Mix well and place in refrigerator for 1 hour or more.
Wharf Dressing Instructions
Mix above ingredients together and place in refrigerator for at least ½ hour before serving allowing all ingredients time to acquaint.
Fishmonger Burgers Instructions
Add shallot, red pepper, parsley and garlic to food processor and pulse 3-4 times.

Whisk catsup, brown sugar, Worcestershire sauce, red wine vinegar, salt, black pepper and hot sauce together in bowl and add to food processor. Pulse 2-3 times.

Add tuna to food processor and turn on for 2-3 seconds ensuring that all ingredients are combined evenly. Run until everything is mixed to a consistency for making patties but do not over process.

Evenly portion all burger ingredients on a plate and then make 4 burger patties.

Place burger patties in refrigerator for ½ hour to 1 hour to firm.

Heat cast iron skillet to medium high. Add half of oil to skillet. Cook burgers in skillet for 1-2 minutes or until lightly seared on bottom. Pick up burgers and add a bit more oil to the skillet. Turn burgers and cook for another 1-2 minutes until lightly seared on other side. Do not overcook. Burgers should be lightly seared on outside and pink to light pink on inside.

Remove burgers from skillet and set aside.

Toast center of buns until lightly browned.

Brush Wharf dressing on center of both buns.

Add burger to bottom bun and top with slaw. Add top bun and chow!
Double-Barreled Potato Salad Instructions
Make dressing - Whisk mayonnaise, avocado oil, vinegar, mustard, capers, lemon zest, sea salt, black pepper, and dill seed together in large bowl and set aside.

Place baking potatoes in large pot and add 1 ½ quarts of salted water. bring to a boil on stove top.

Cook baking potatoes for 3 minutes and then add sweet potatoes.

Cook for 6 to 8 minutes or so until both potatoes are tender.

Drain potatoes and add to dressing ingredients in large bowl. Stir all ingredients together, then place bowl in refrigerator to cool for about an hour.

After the potato mix has cooled, mix in olives, onion, celery, and parsley. Let potato salad sit in refrigerator for about another hour to allow all ingredients to cool a bit more and acquaint.