Urban Assault Part 1 – The Story of Urban Brew and BBQ
Urban Assault Part 1 – The Story of Urban Brew and BBQ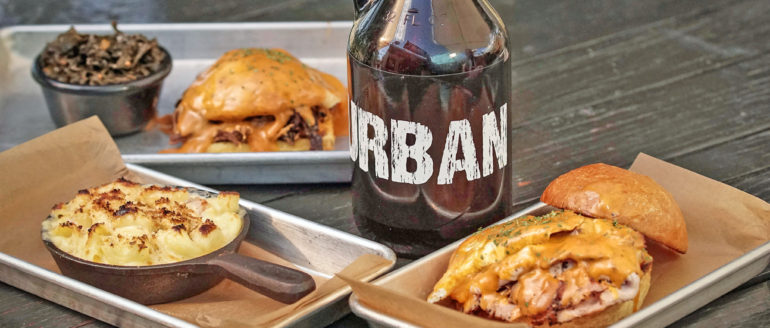 Urban Assault:  Urban Brew and BBQ
On Thursday, January 5th, 2017, Kevin and I had the pleasure of a tour through the Urban Group family which we are calling Urban Assault – St Petersburg Foodies style. We met the founder and owner, Andy Salyards, who gave us extensive background on himself and the concepts and we were accompanied to all locations by the Urban Restaurants Group Marketing Director, Laura Servedio. We also got to meet the General Manager of both Urban Comfort and Urban Brew and BBQ, Caleb Perkins.
Because it all started with Urban Brew and BBQ, this piece will focus on the beginning and history of the first restaurant. With the rest to be continued.
Part 2: Read about Urban Comfort Here
Part 3: Read about Urban Creamery Here
Background
Andy and his wife, local Dermatologist Dr. Jill Salyards, located to Florida in 2012 for her career. They lived out at the beach for a year while Andy worked remotely from home for a company in California as a mechanical engineer. He had to fly back and forth to California every month as part of his agreement. After about a year of this, he decided it was time to either find a new job or to create one.
The Beginning
Create one he did. They settled on opening a BBQ restaurant that sells craft brews. They almost just opened a craft beer bar only. Andy said, "I'm so thankful that we didn't just open a bar. It would have been a huge mistake." When asked how he came up with the name he replied, "I was throwing out all kinds of ideas for a name and Jill didn't like any of them so I asked her what she'd call it and she said Urban."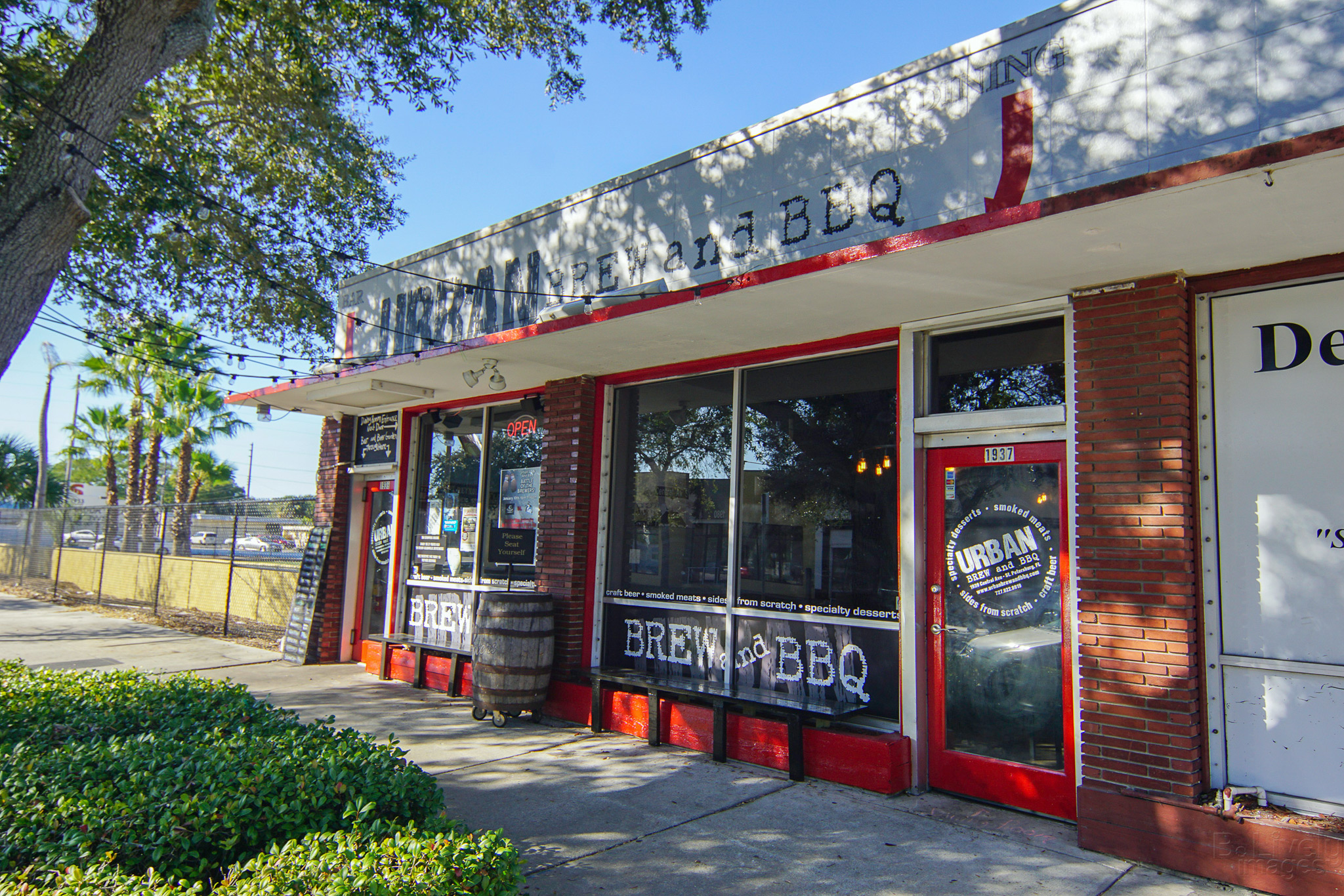 In June of 2013, Urban Brew and BBQ was born. "In the beginning, for a lot of times, it would just be me behind the bar. You'd come in and you'd order your food and I'd run in the kitchen and I'd make it," says Andy. "Then I'd come back out to pour your drink, so it was a lot of hours. But it gained a lot of speed and a lot of momentum and we were able to add a beer garden. After about a year and a half of being open the restaurant was doing enough on its own where I didn't have to be involved in the day to day."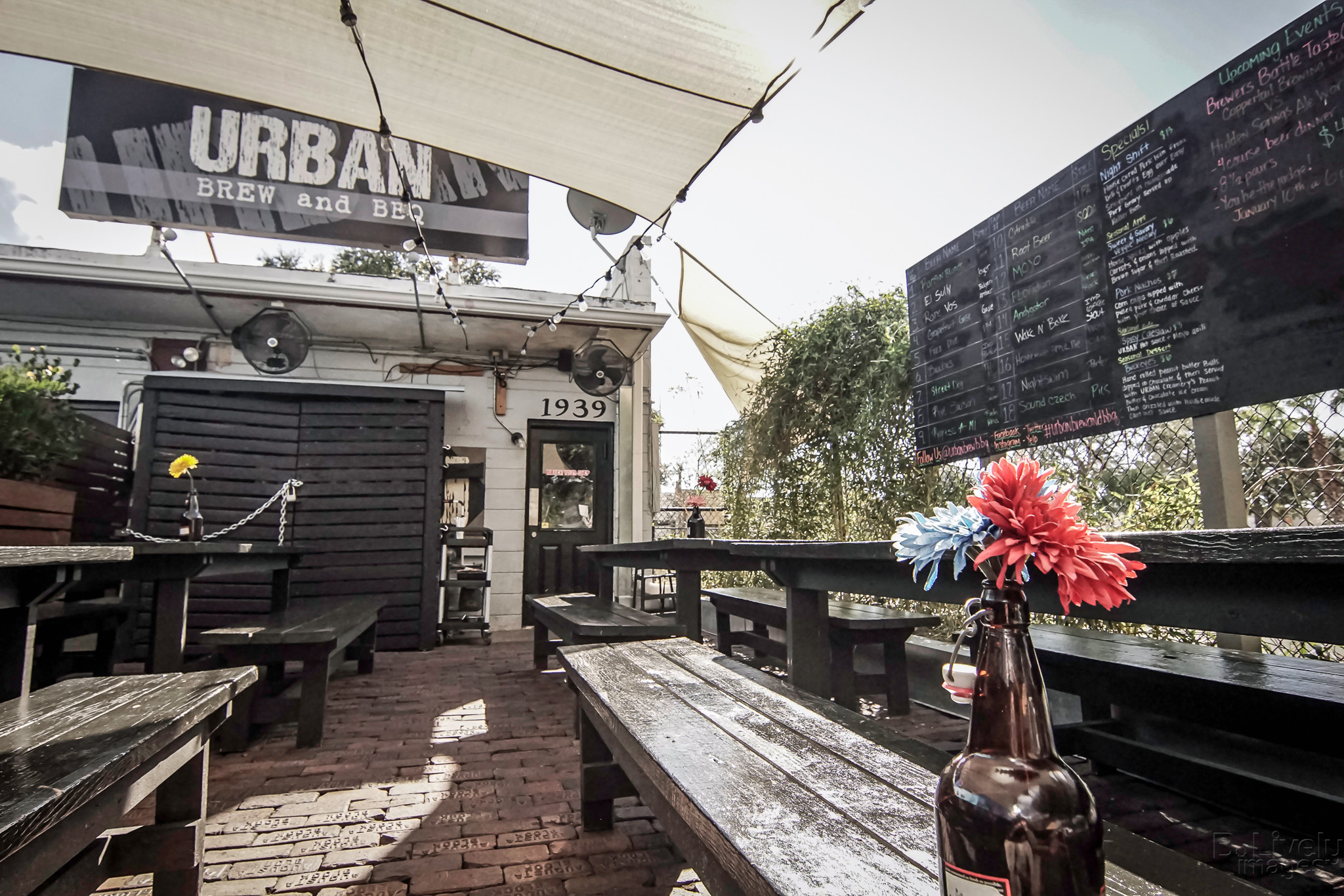 "What next?" he asked himself.  Urban Comfort came next…
The Employees
Andy said, "This all started because I needed a job and now has morphed into something a lot bigger than that. We now have a company goal of being employee owned by 2020. We're going to probably beat that by a long shot. Some of these folks here are going to start the program in Spring/Summer of this year."
He explained to us that in the restaurant industry it is a challenge of having capital to buy into a business. He credits his employees with the success of his business. Therefore they are going to offer profit share in which the employee may choose to spend it on equity shares, upgrade their lifestyle, travel or save up for whatever they like. Andy said, "Urban's grown very quickly. In a short amount of time it's done a lot and that's more to their (his employees) credit than my own. I am just trying to keep things fair and balanced and give credit where credit is due." How incredibly refreshing! Don't you think?
Our Experience
Onto the Urban Brew and BBQ experience…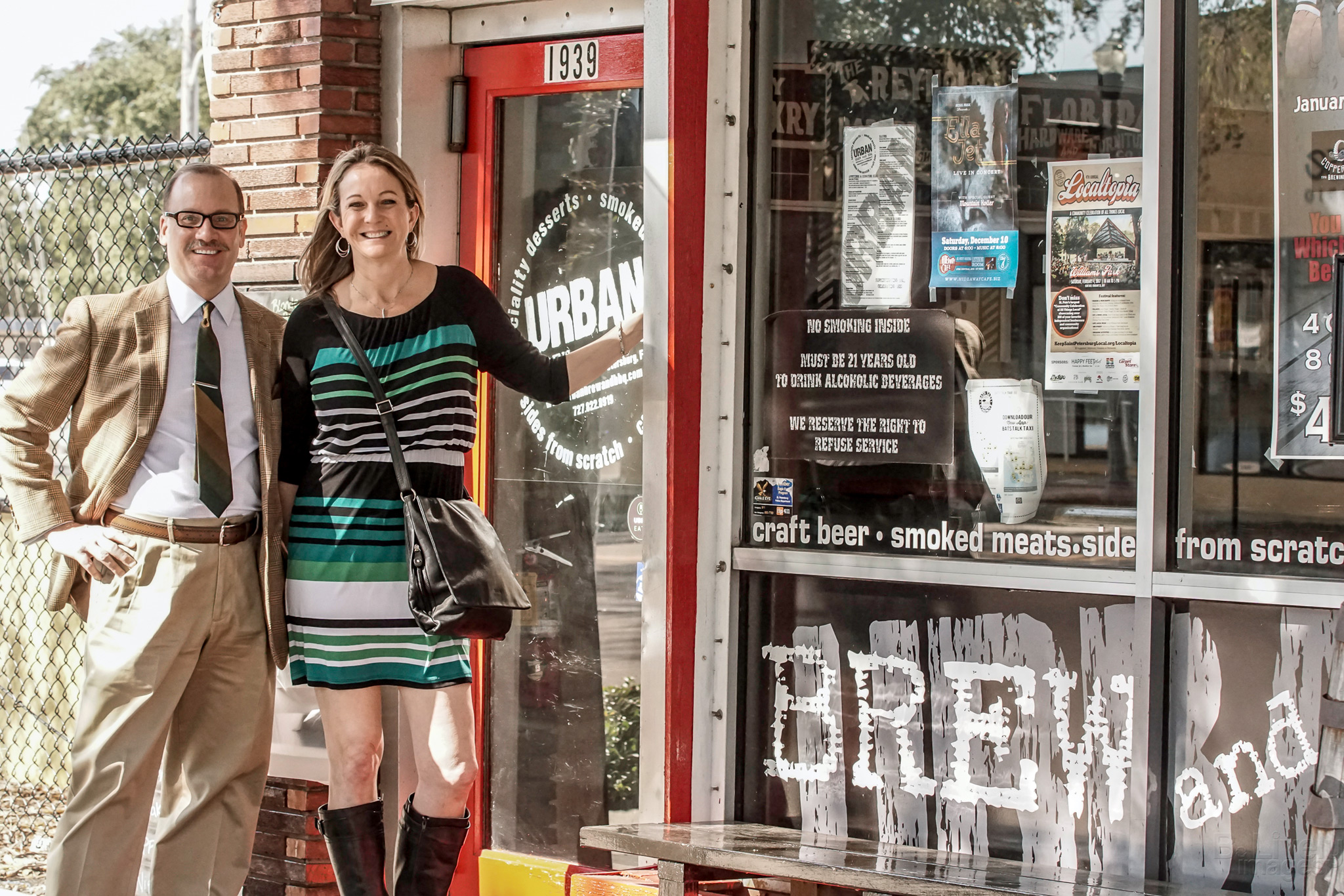 Upon our arrival, the first thing I noticed was the incredible mural outside. The mural consists of mentions of many of St Petersburg's local breweries.  It also has Andy and Jill's wedding date, 6/27/09, on the train that represents a San Francisco train, since Andy is originally from California.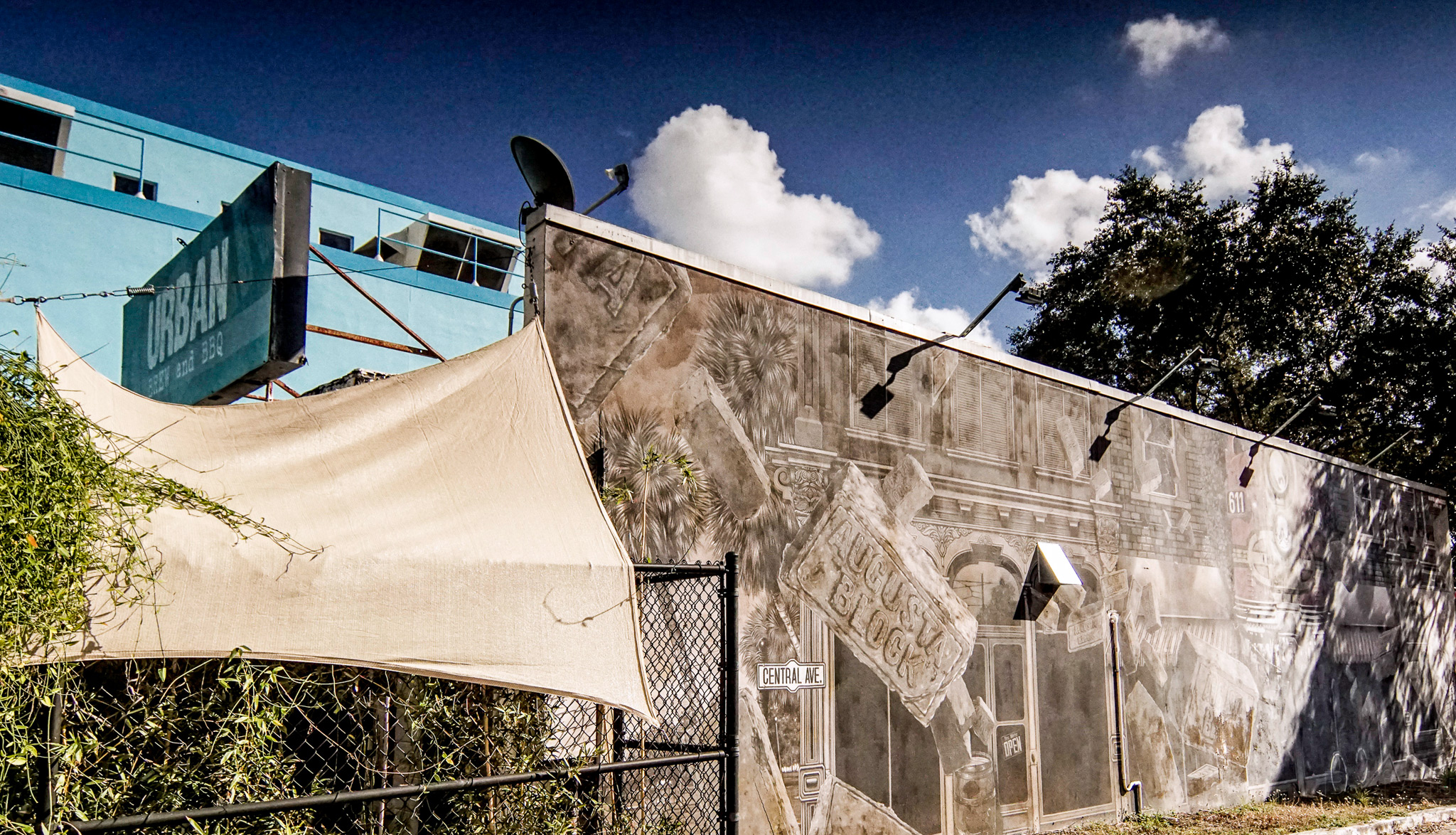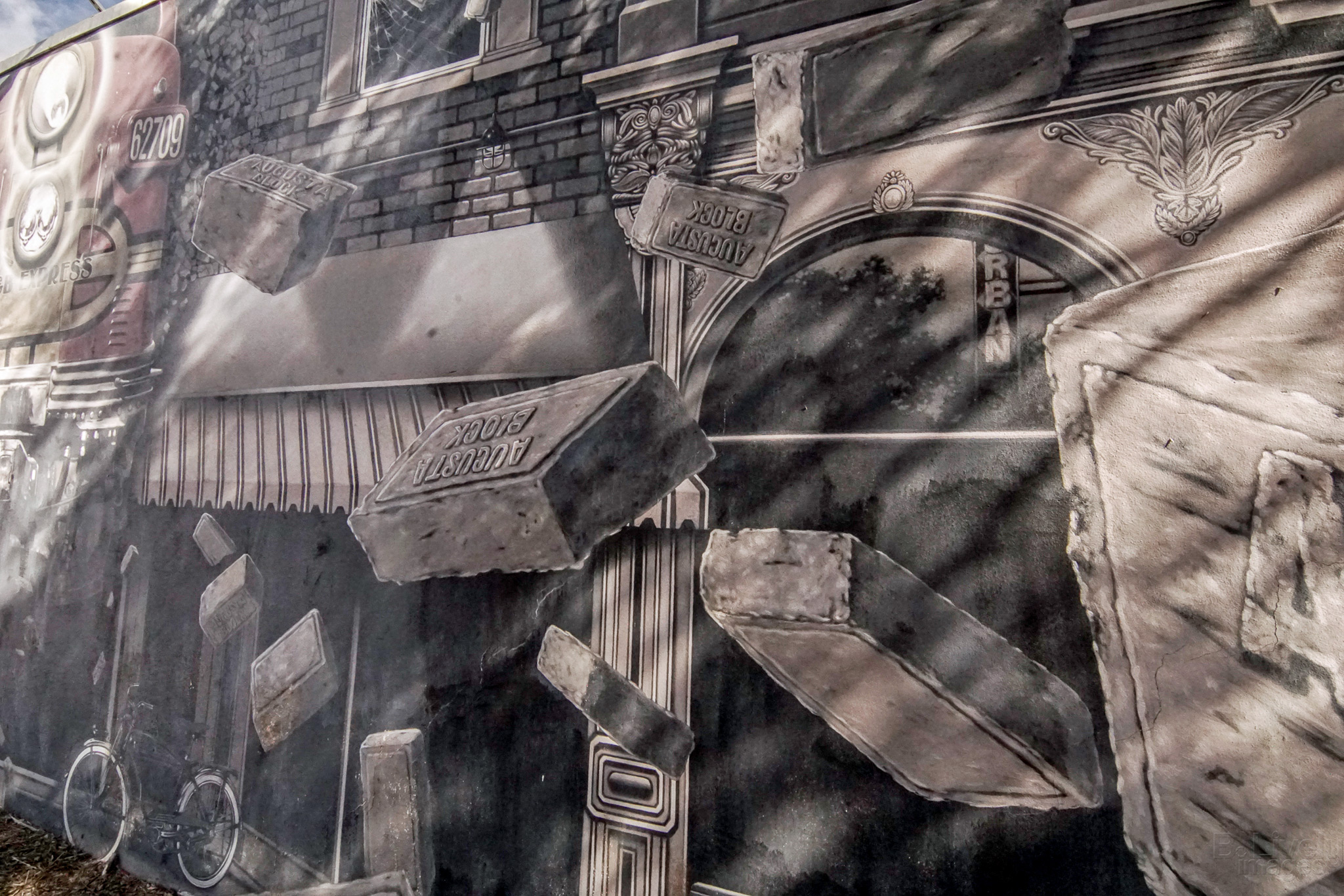 The Bar
Andy built the entire bar by himself.  He used original Augusta Block Bricks that he obtained from a junk yard and cut in half long ways to install. They use no taps that advertise particular breweries in the restaurant, just generic Urban taps. This is so that people will order based on beer style and not shy away from a beer by a brewery that they may have a prejudice against. No brand name influences means that people tend to try beers that they normally wouldn't and most of the time they find that they really like them.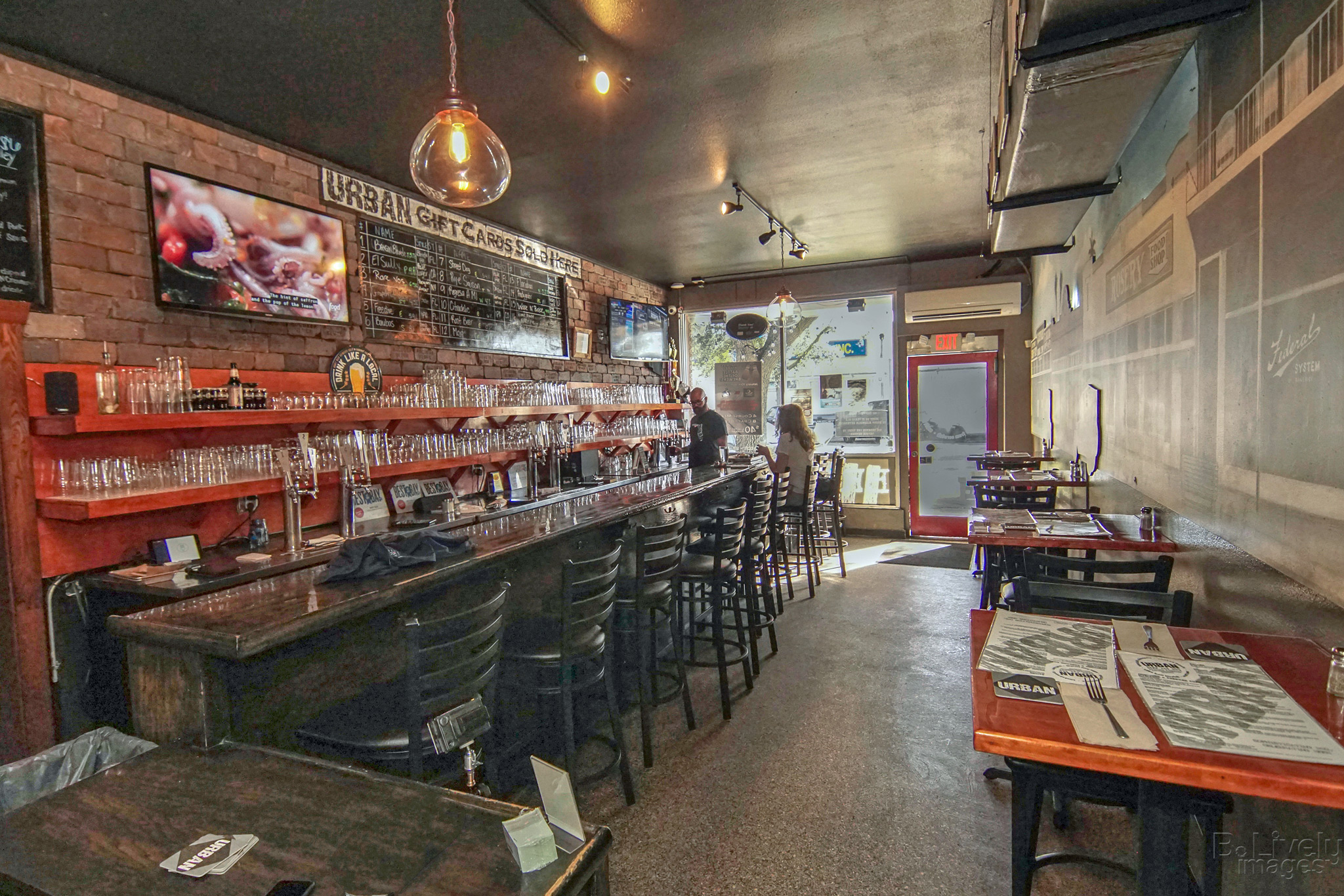 The interior mural represents a business that used to be on that block many years ago.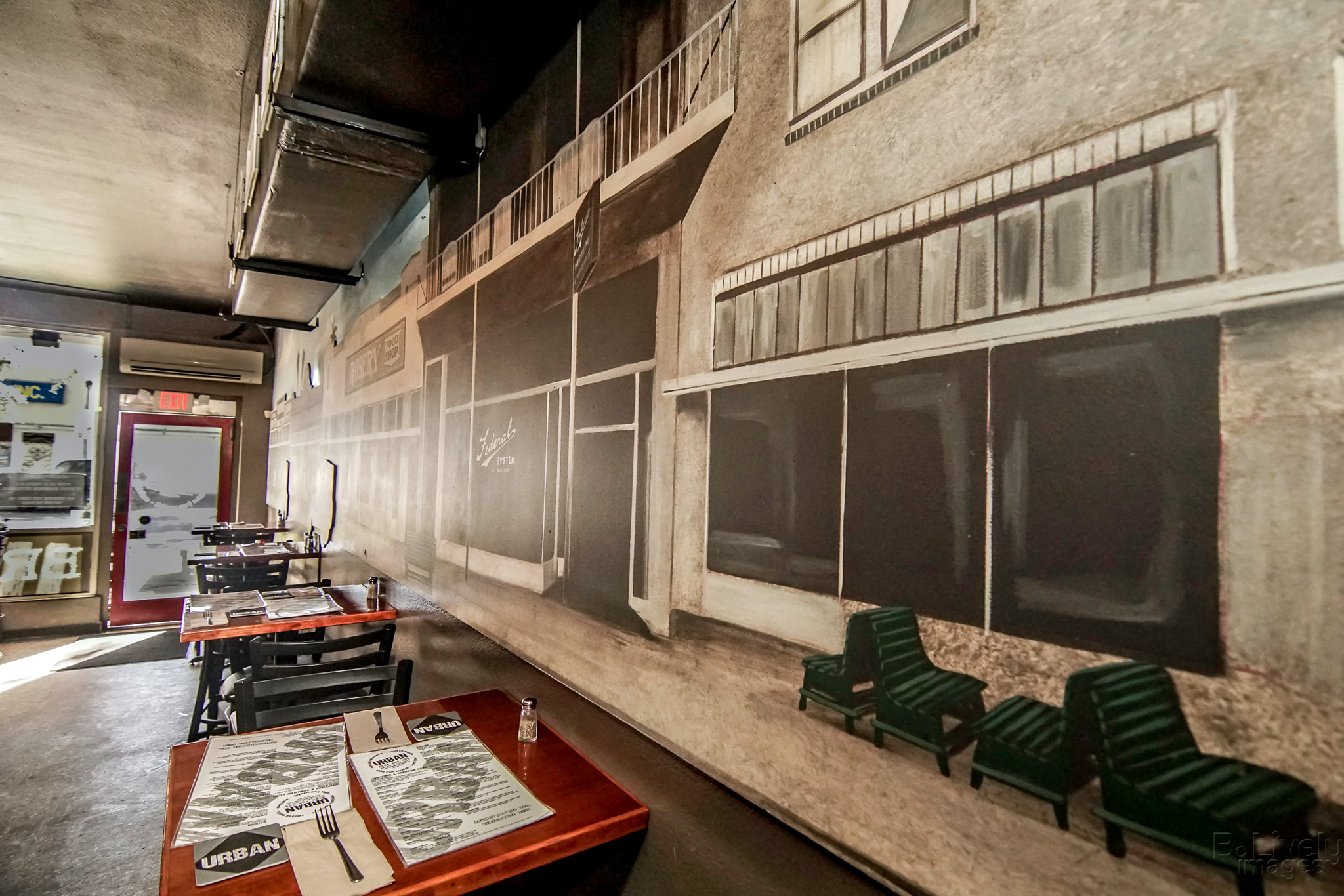 The Food
And now onto the food…We got to try "The Thing", "The Night Shift", their famous collard greens and their award winning Mac & Cheese.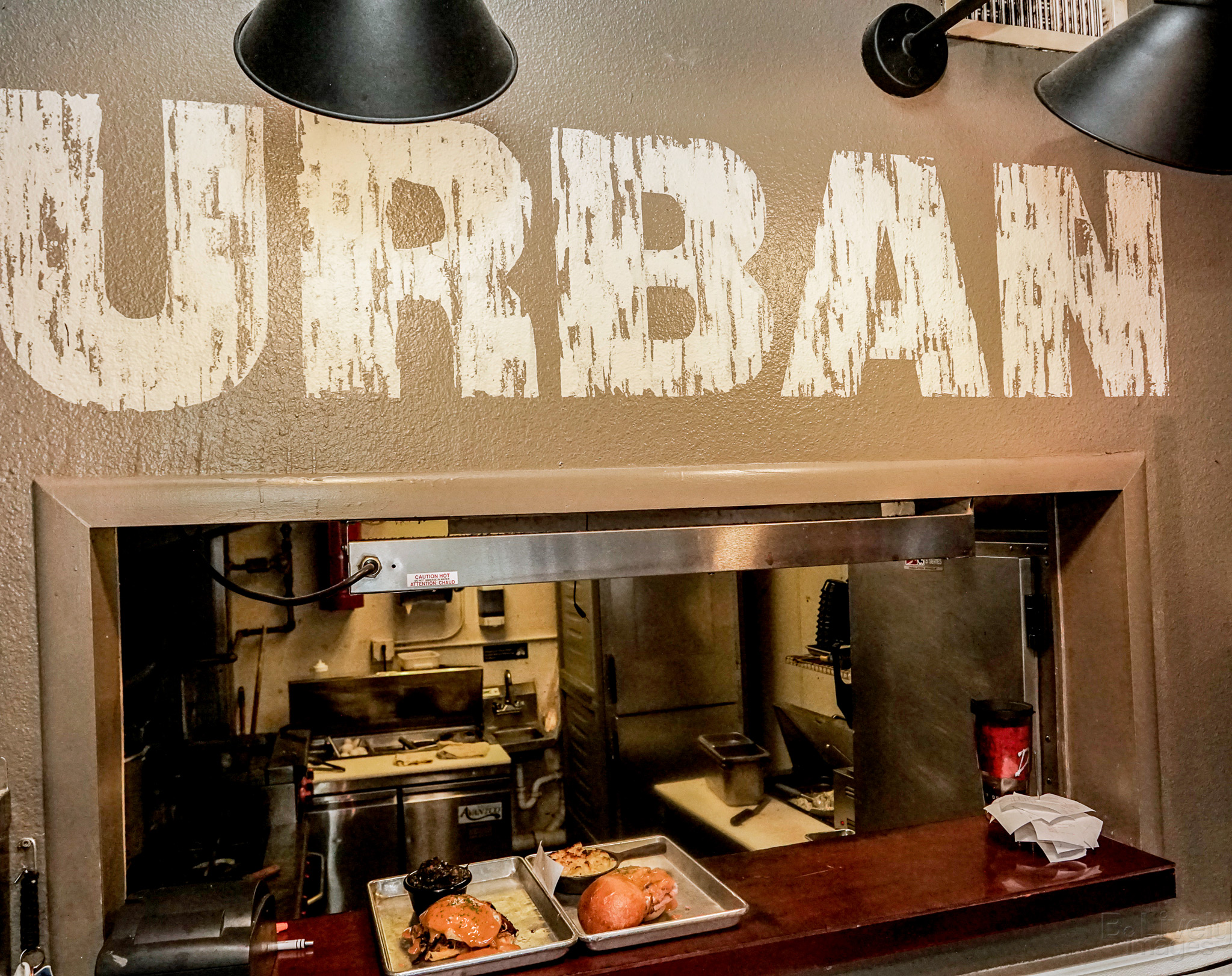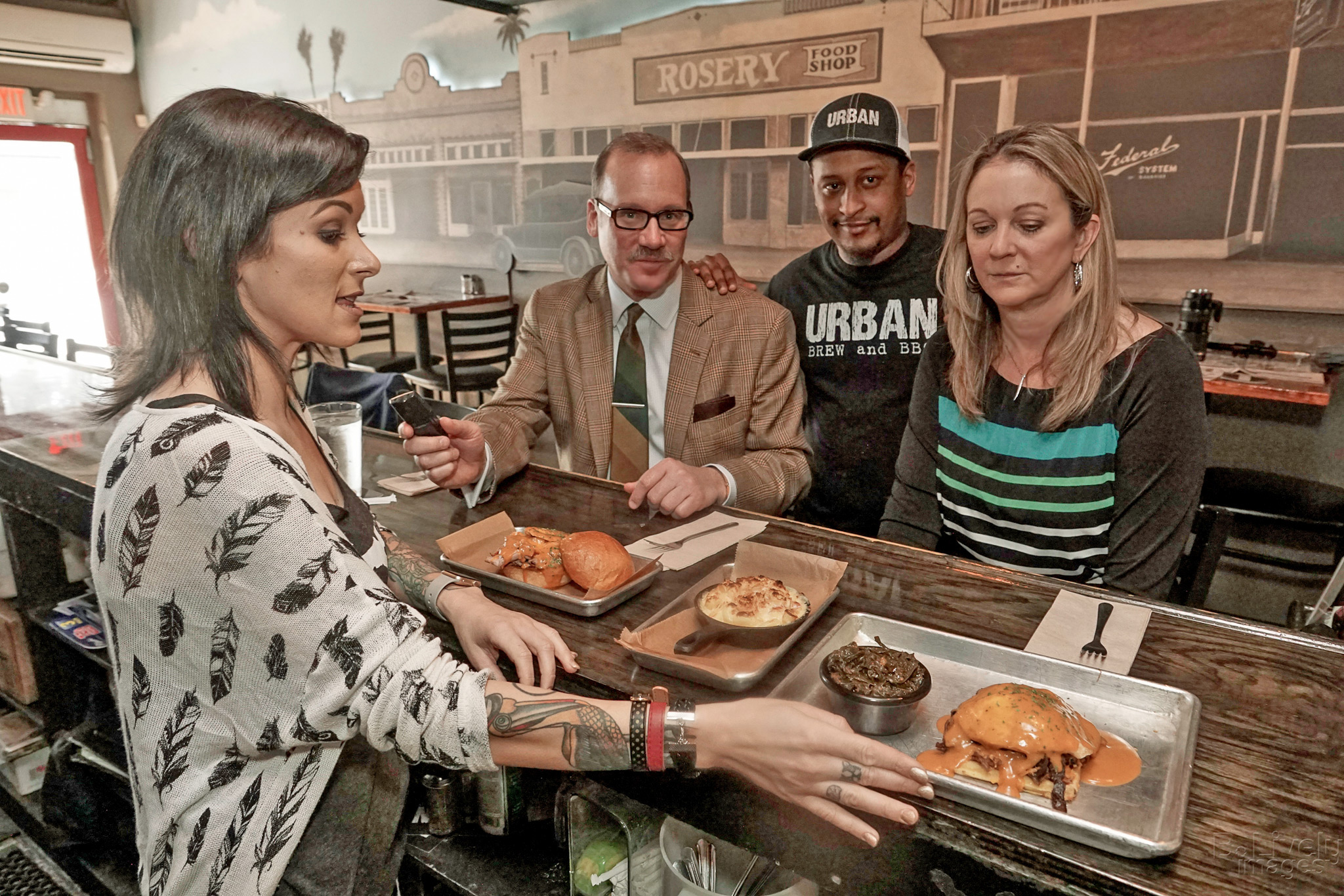 I am going to start with the collard greens because I have to say that they are some of the best collard greens that I have ever had. They were originally the inception of Urban Comfort and then one day, Urban Brew and BBQ told Andy that they had tweaked them and that they were even better. Skeptically he tried them and everyone agreed and I am with them on this. Not that I ever tried the first. Now Urban Brew and BBQ makes the greens for both restaurants.
First they strip the leaves, instead of chopping them. They then use the smoke drippings from the side of the smoker – OMG!!!!  This makes them so amazing!.  They also add the scraps from the meat that they cut up on the cutting board, so some of the pork rub seasoning also gets in there. These are a must try!!!!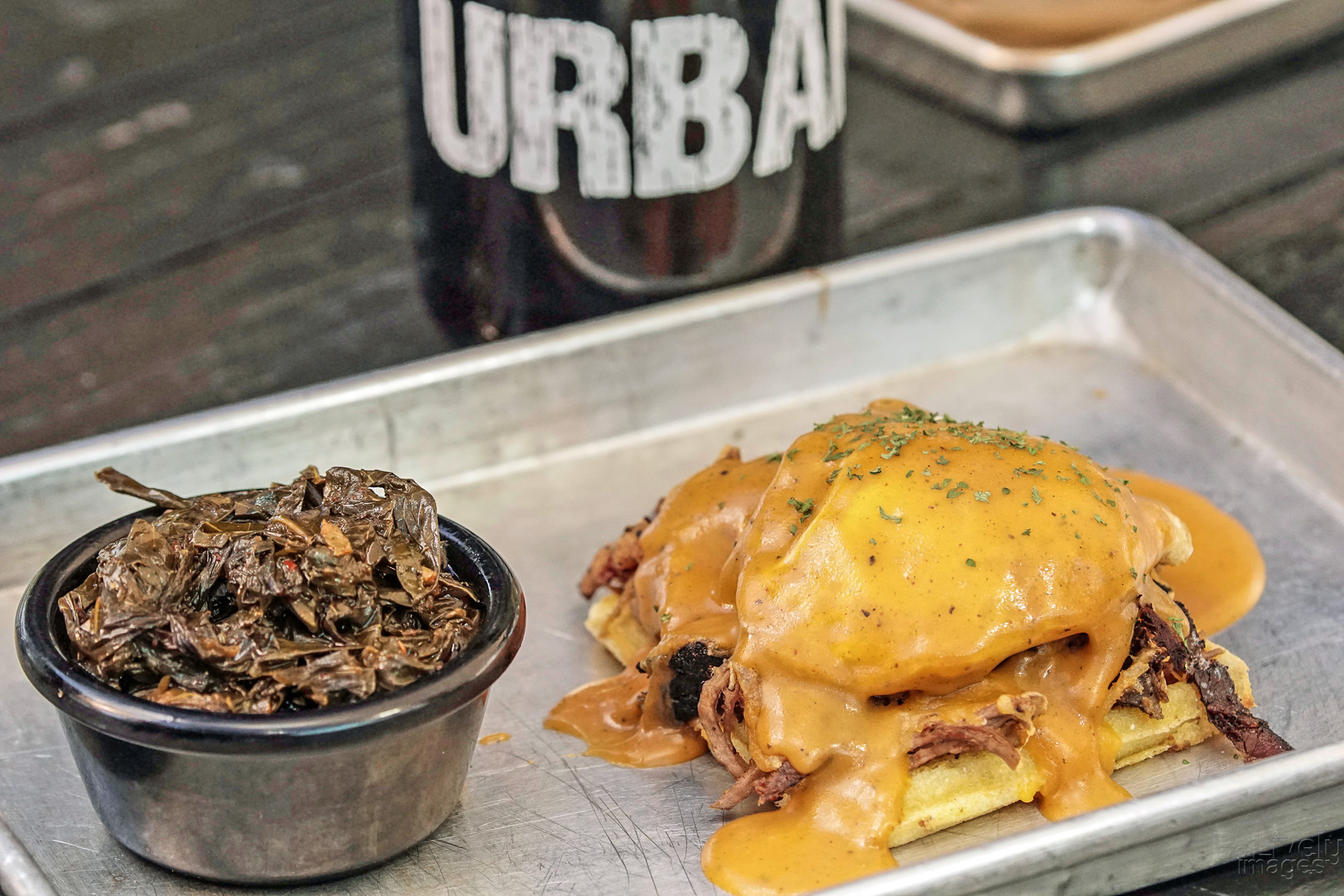 Served with the collards was a dish called "The Thing". It is a cornbread waffle, topped with pulled pork, cheddar cheese, and an egg over easy that is then SMOTHERED in pork gravy. It is very different and the flavors were delicious, but it was not my favorite. There was just a bit too much going on for me, but would I suggest trying it?…ABSOLUTELY!  I want to try everything on the menu.
Next up is their award winning Mac & Cheese…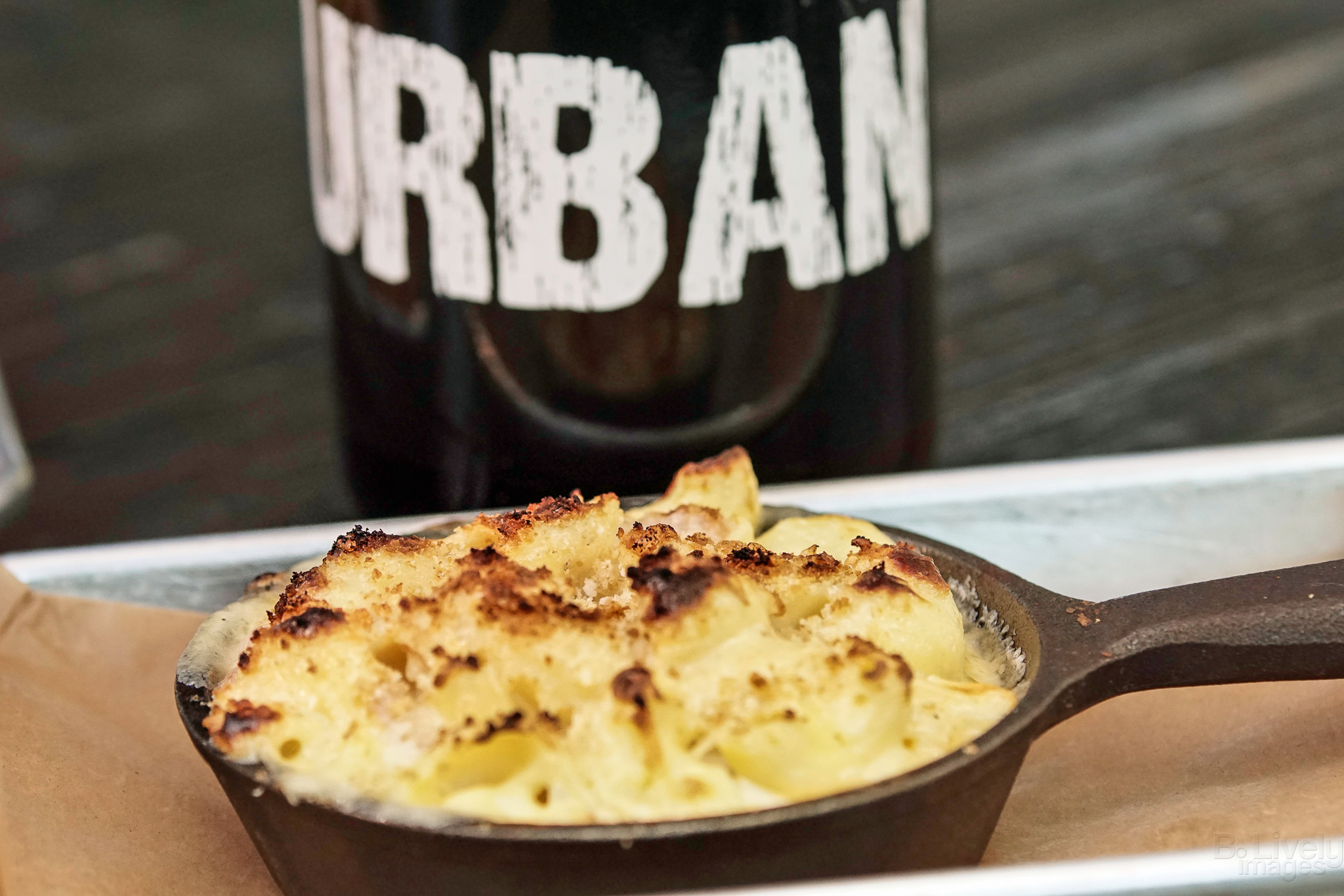 It is a three Cheese Mac & Cheese with Smoked Gouda, Parmesan, Cheddar and Prosciutto topped with a crispy bread crumb topping. It has won Best of the Bay many times. Absolutely delicious and served in the cast iron skillet it is baked in.  Each one is made to order. Scrumptious!
And next there's "The Night Shift". Which got its name when Andy was working the bar by himself, in the early days, and many of the nurses and doctors from the hospital would come in right after their shift. They all helped to create the sandwich with the egg on top. This one was my favorite sandwich by far. The flavor of the house cured pork loin and pork gravy with the over easy egg is delectable and simple. Not too much going on so that you can taste all of the individual flavors and yet they meld together perfectly!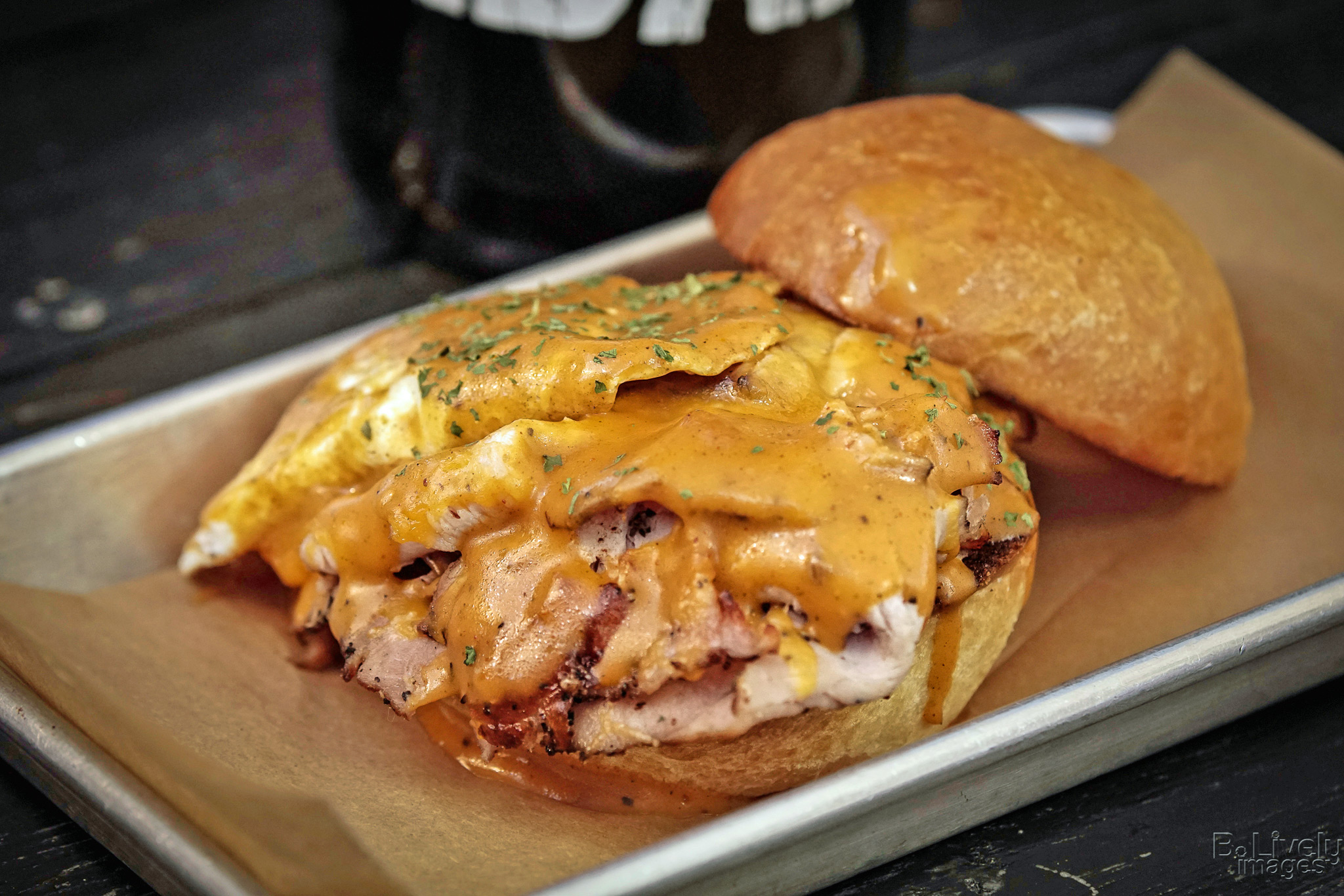 Next, they just had to do us in with a their newest seasonal dessert called the "Buckeyes" which consists of peanut butter and chocolate ice cream topped with peanut butter balls dipped in Ghirardelli chocolate. Absolutely decadent, but I could only eat one bite because we had not even made it to Urban Creamery yet.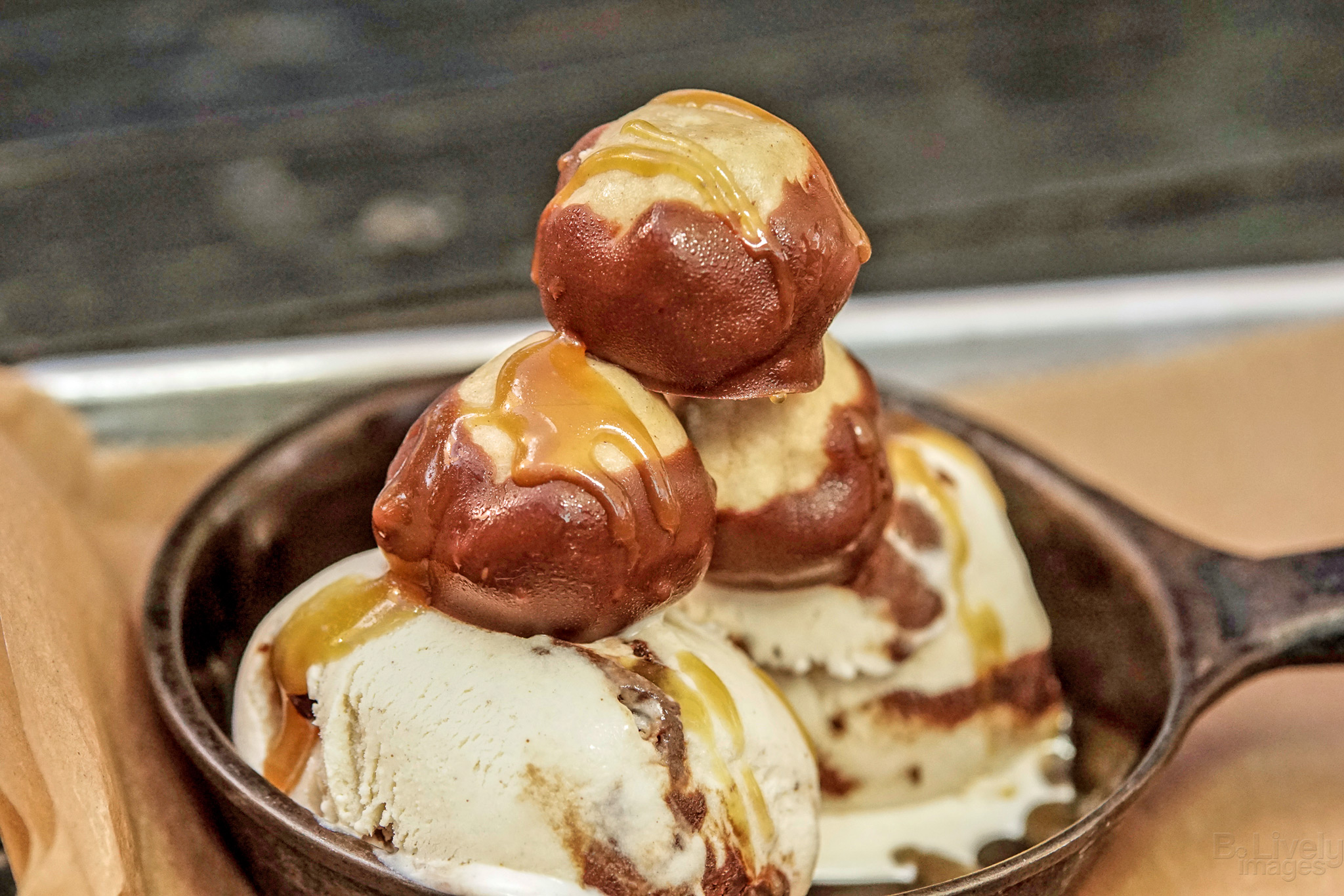 Catering
Another facet of the business that they are focusing on growing this year is the catering side.  They are doing a lot of catering already, but are committed to growing even more this year. Said Andy, "We have the Urban Catering arm so if folks want to order fried chicken, pulled pork, mustard, pickles and ice cream they can do it." For parties or events, of course. I am thinking Super Bowl sounds like a good time this year!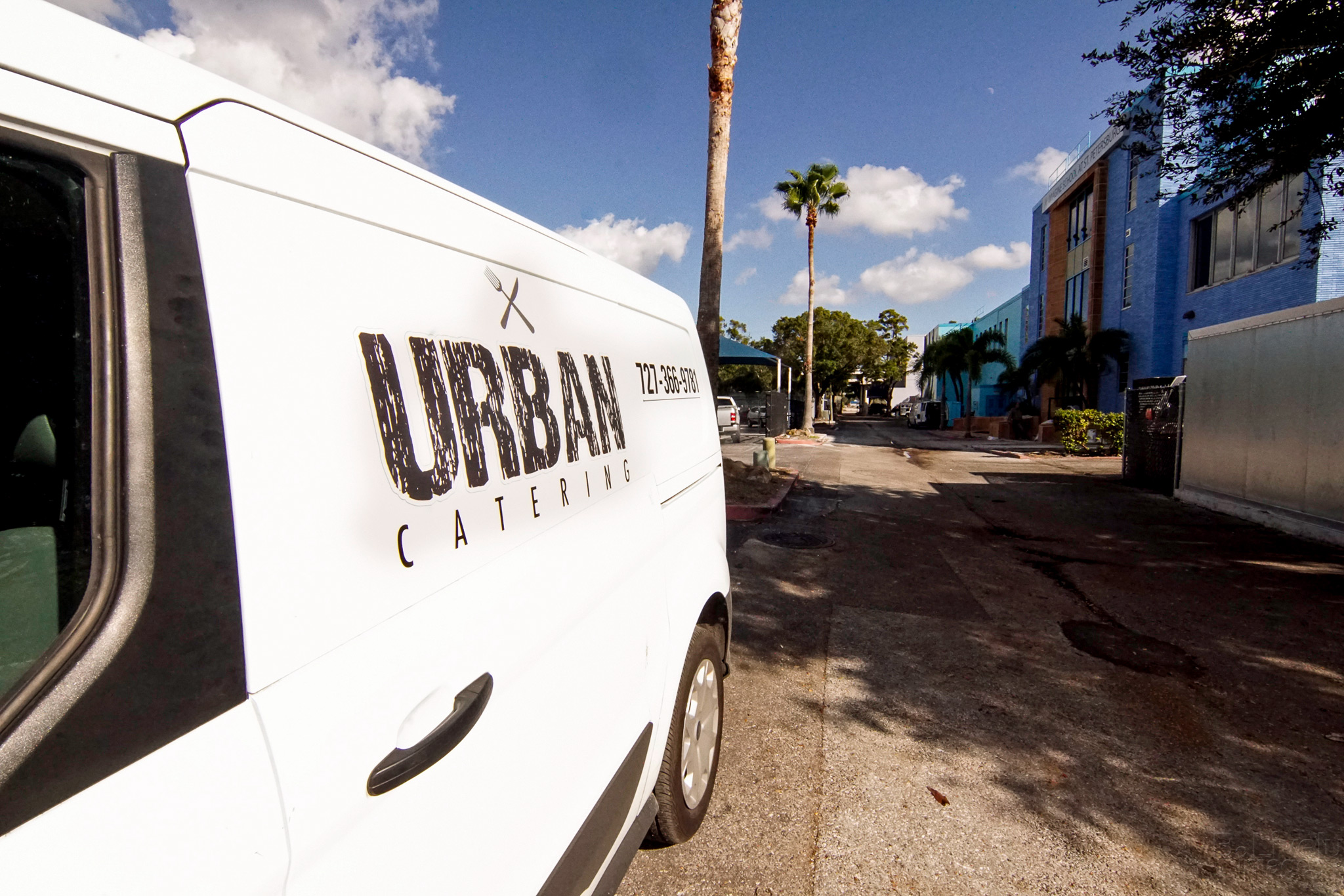 There is so much more to come from Urban Comfort, Urban Deli and Drafts and Urban Creamery. If you have not checked them out yet, I highly encourage it.
(Photos by Barry Lively)
READ PART 2 HERE: Urban Assault Part 2 – The Story of Urban Comfort
URBAN is a casual restaurant that serves a variety of homemade BBQ dishes, big and small, that are made from scratch and made fresh.
DISCLAIMER: Kevin, Lori, Abby, Haley, & Lindsey do not dine anonymously (this would be impossible) and we sometimes get free food (though never expected). However, we dine with the locals and we support our own. You will always get honesty in a respectful manner. We do not include any large national or regional chains in our ratings and reviews. We focus on independent locally owned eateries exclusively.

PLEASE NOTE: Reviews reflect a certain moment in time. Some restaurants stay extremely consistent over many years, and some change for the better or worse. Some things that may change are: chefs, recipes, food suppliers, ingredients, philosophies, ownership, etc. We always hope that you have the same good, or great experience we had.
More Foodies News, Reviews & Recipes