Stillwaters Tavern – Tastes As Good As it Looks
Stillwaters Tavern – Tastes As Good As it Looks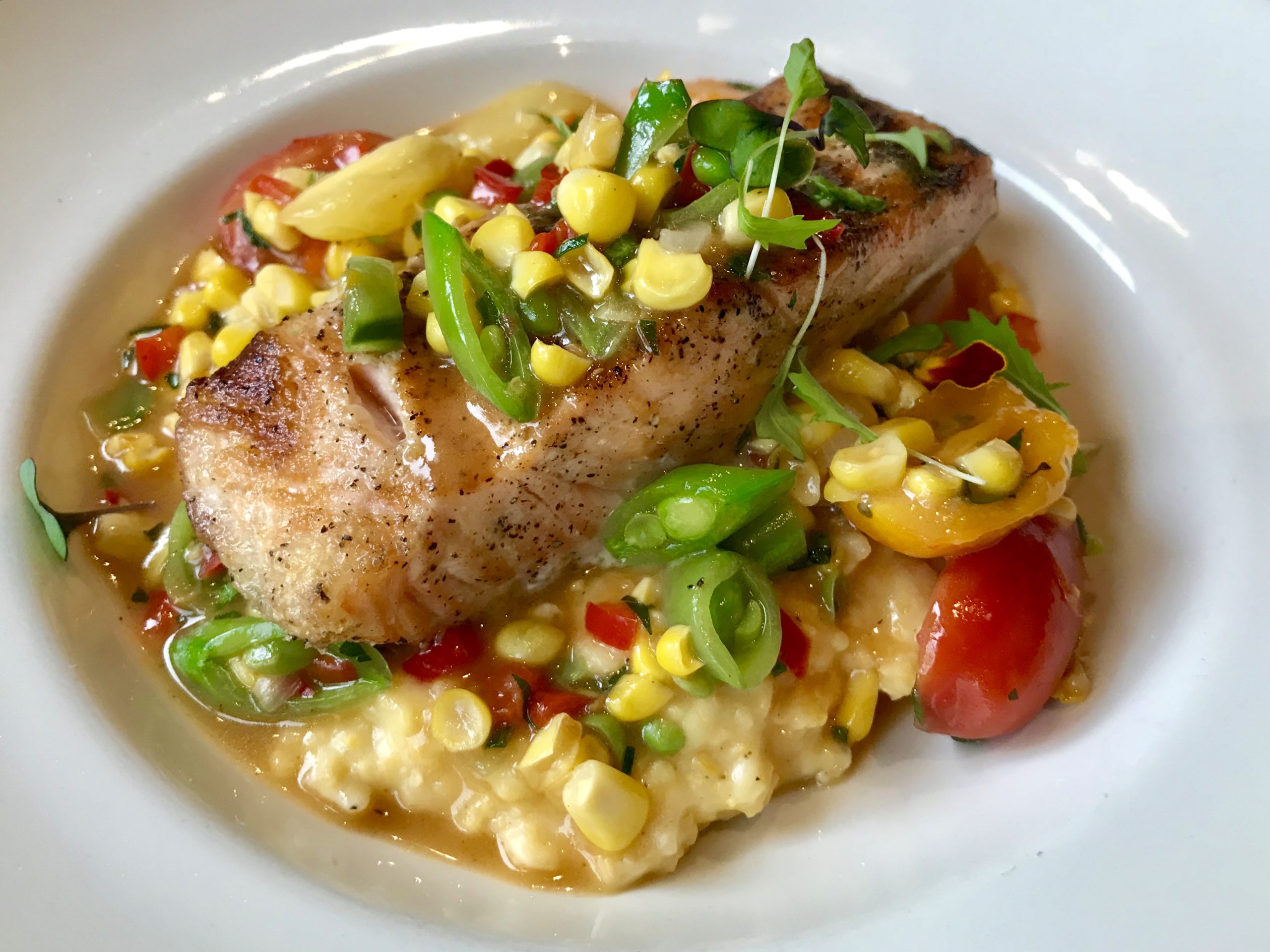 Stillwaters Tavern is, in their own words, "A Modern American Tavern, where classic American dishes blend harmoniously with old world flavors. The menu highlights items from both land and sea, with a focus on bringing unique flavors from our kitchen to your table." They work with local artisans and farmers to serve the best available seasonal foods. The restaurant and its menu is a collaboration between Chef Jeffrey Jew and Director of Operations, Thomas Sanborn. We know that they personally travel both nationally and internationally to seek inspiration for new dishes.
Read More Background Information here in our other piece, Stillwaters Tavern Revisited
Kevin and I have been going to Stillwaters Tavern on a fairly regular basis over this past year, however, my parents had never had dinner there. My son and I have dinner every other Tuesday with my parents and this past Tuesday Kevin joined us.
We have learned in our recent visits that Chef Jeffrey makes some of the best fresh soups around. Regularly on the menu is their amazing New England Clam Chowder, but we always ask about the soup of the day because it is typically fantastic. Tonight's was a homemade vegetable soup. And as expected, it was bursting with flavors from the nice mix of spices and vegetables. We all had some of the soup, my mother especially loved it.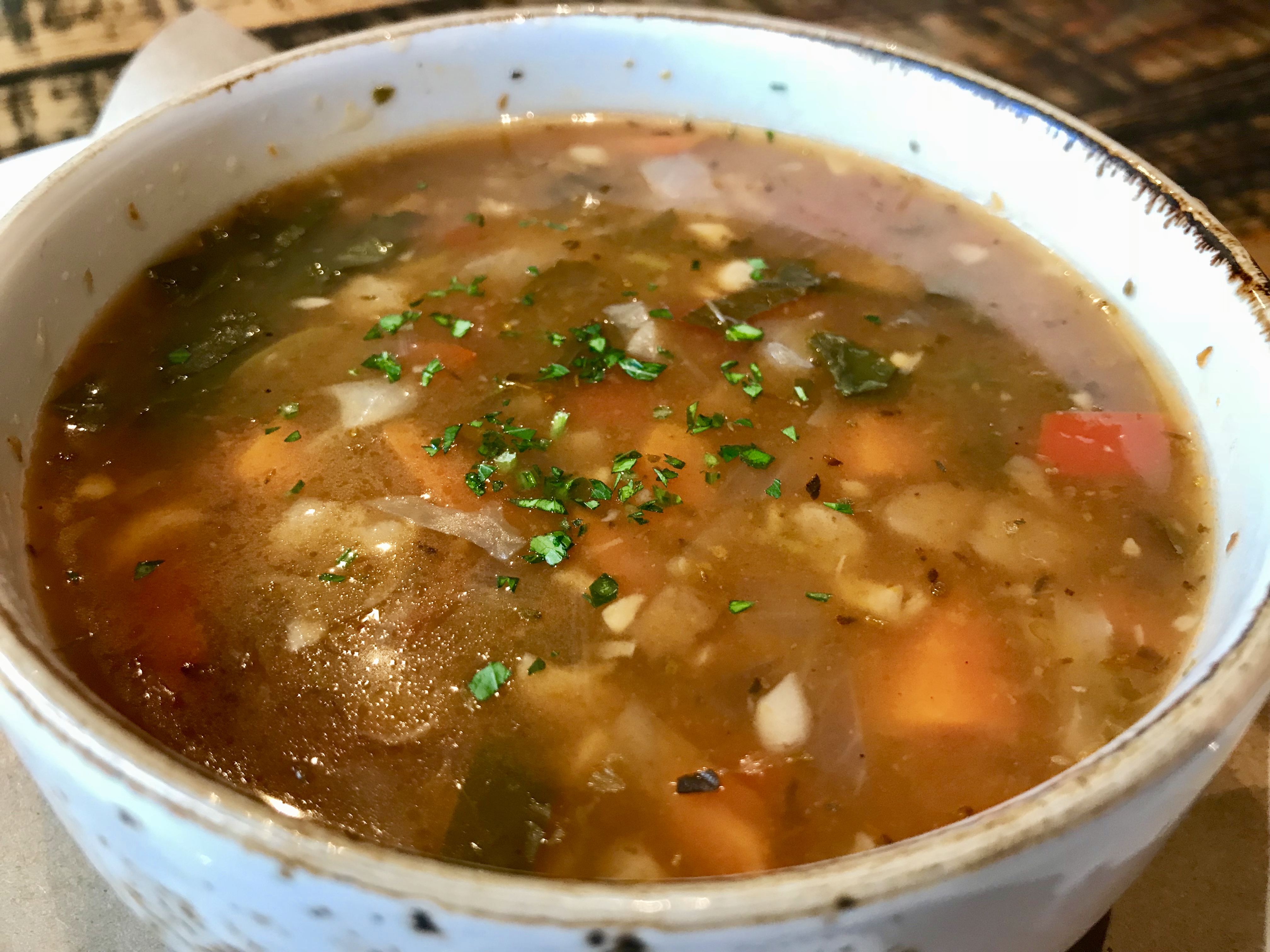 Typically my father orders the Salmon, almost everywhere we go. I even made a bet with Kevin before they arrived. And, I lost. My mother ordered the salmon. It is Grilled Norwegian Salmon with cheddar grits, braised greens, succotash and Virginia ham pan jus. It was definitely the winner visually, though all of the presentations were stunning, but beyond that my mother kept talking about how good the corn was and that she could tell it was freshly shucked corn. She said the salmon was cooked perfectly and was overall thrilled with her selection.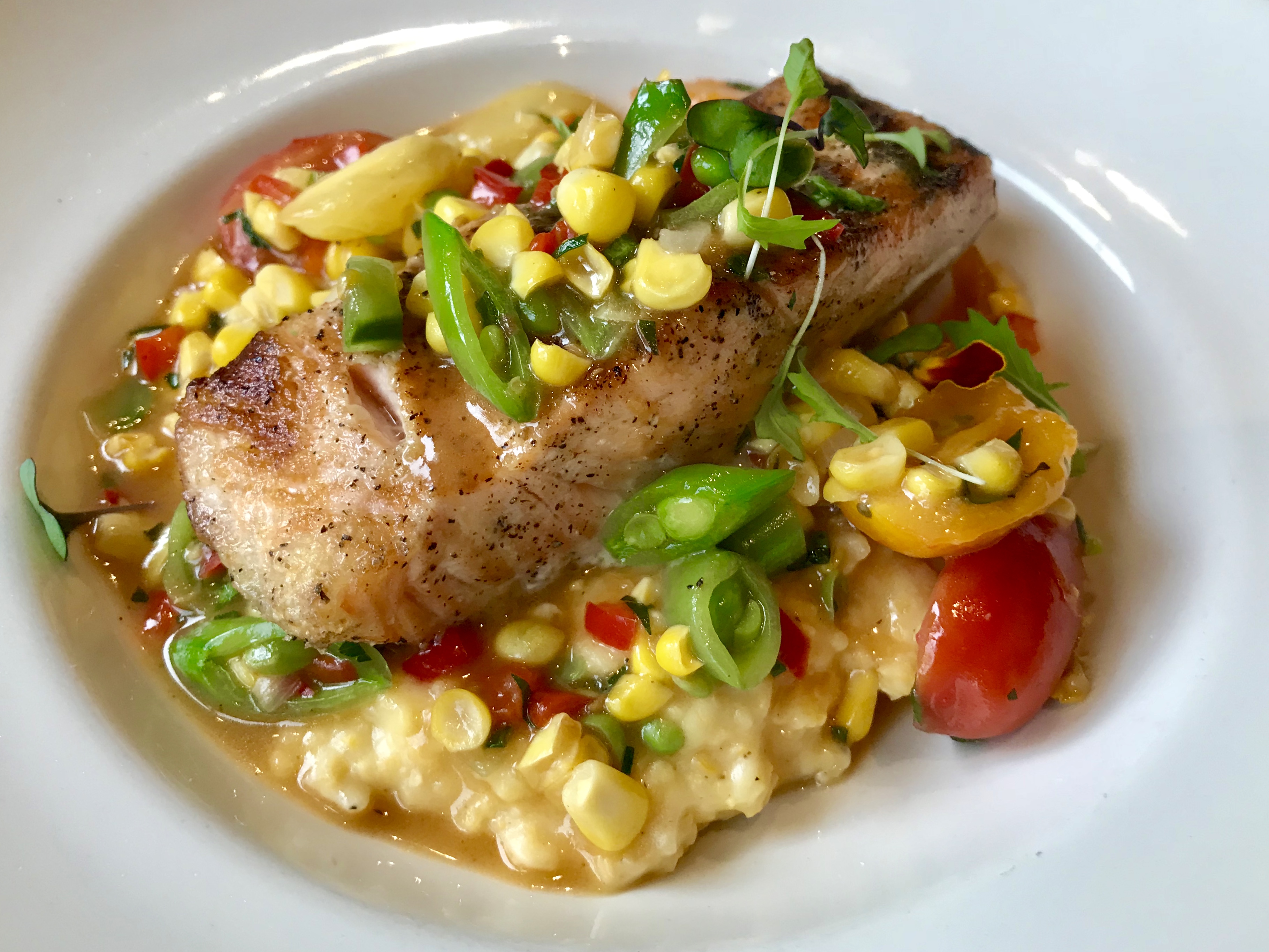 My father ordered the Blue Crab spaghetti made with Maryland style blue crab, fresh spaghetti, heirloom tomatoes, fresh herbs and Old Bay bread crumbs. He didn't leave a bite on his plate but I am not sure how much he really loved it. Though he was very excited he was getting mom's leftover Salmon for lunch the next day.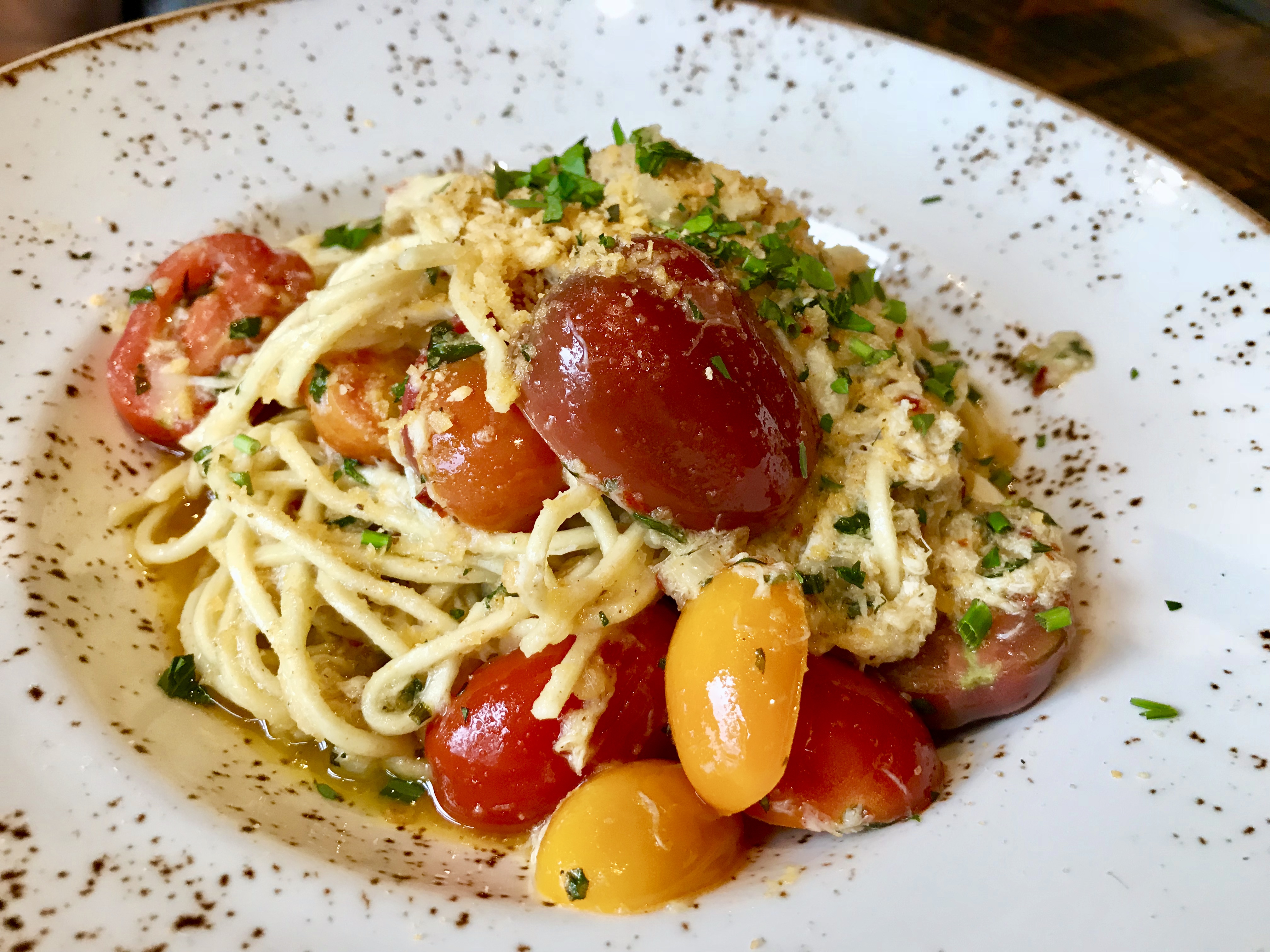 Kevin should have been born in Asia or Mexico. He could eat from either of those cuisines everyday and be happy. He ordered the Pan Fried Ramen with smoked pork, Chinese sausage, market veggies, a marinated soft boiled egg, toasted peanuts, bean sprouts and thai basil. Basically, this is a brothless ramen dish that he describes as "succulent and savory, like an elevated Asian comfort food."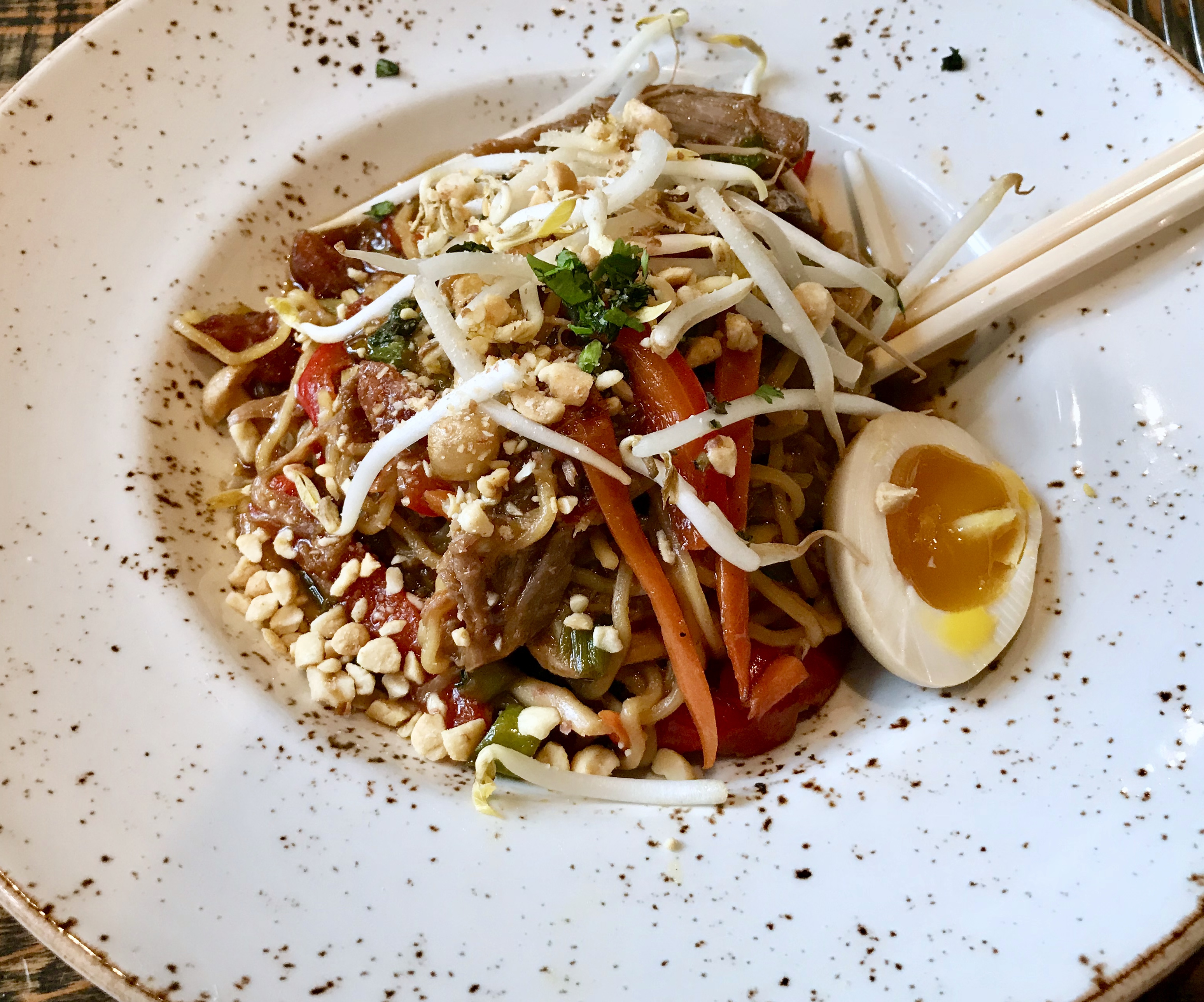 I love steak and next time we are definitely trying the Ribeye, but I chose to order the Hanger Steak this time and I am thrilled I did. It is wood grilled and made with roasted seasonal vegetables, buttermilk mashed potatoes and house steak sauce. I chose to have my sauce on the side because I like the meat to speak for itself. I did taste the sauce however with the meat and it was of a subtle beef flavor that didn't overwhelm the meat at all. I was very impressed by that. The steak was cooked a perfect mid rare and the carrots and trumpet mushrooms a perfect mix with the craveable mashed potatoes. Mashed potatoes, especially well made ones, are not easy to find on menus these days. This dish was a complete overall success. Don't be afraid, like me, to order it with the sauce.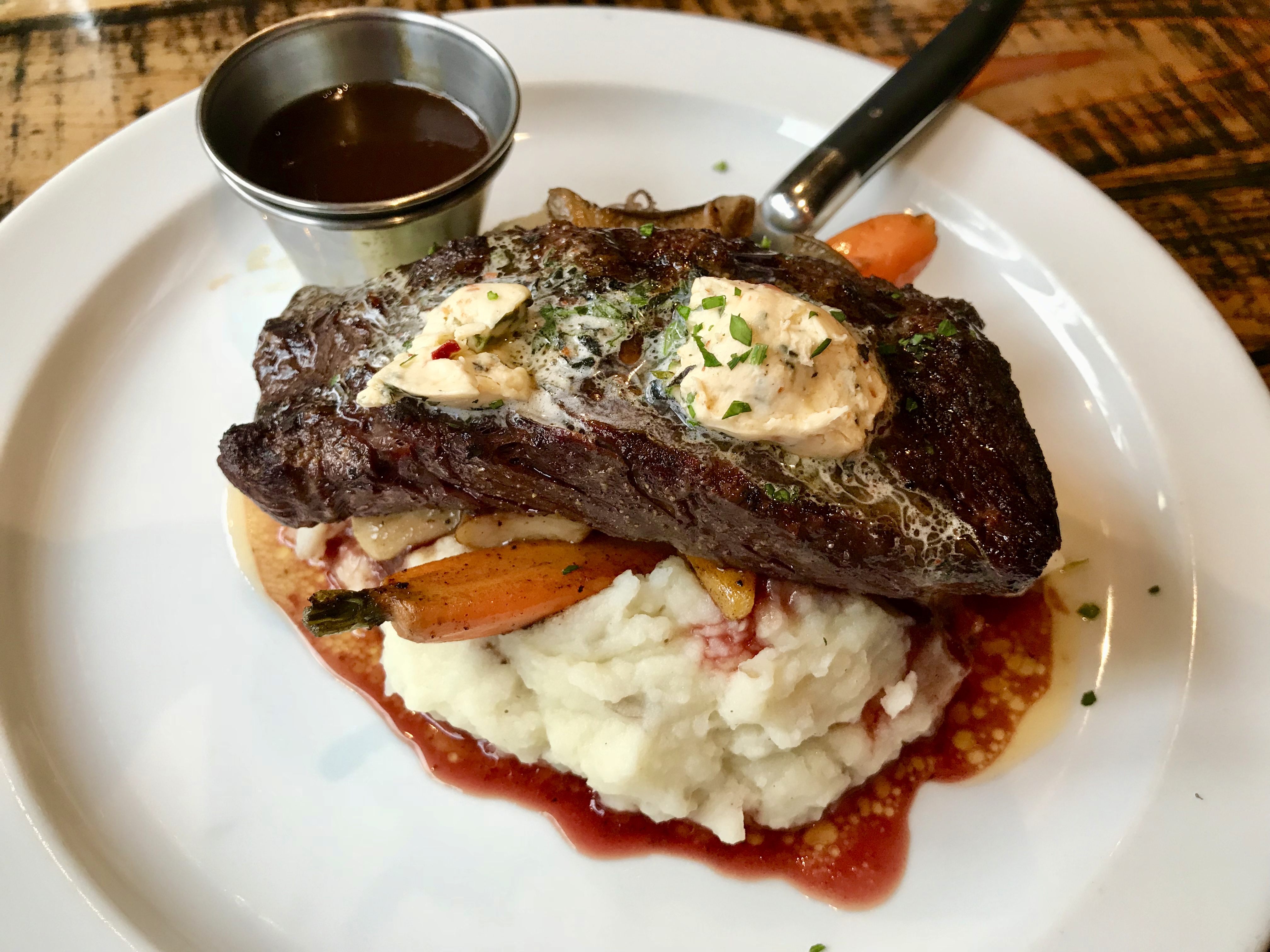 Hardly ever do we order dessert, but mom was looking like she wanted to. So I suggested that we share the Dark Chocolate Cremeaux. It is made with peanut butter pretzel and finished with chocolate caviar pearls. The ooohs and aaaahs all around the table were all warranted for this creamy delicious perfection of yumminess. It was the perfect size for all of us to share and have a few bites without feeling too full.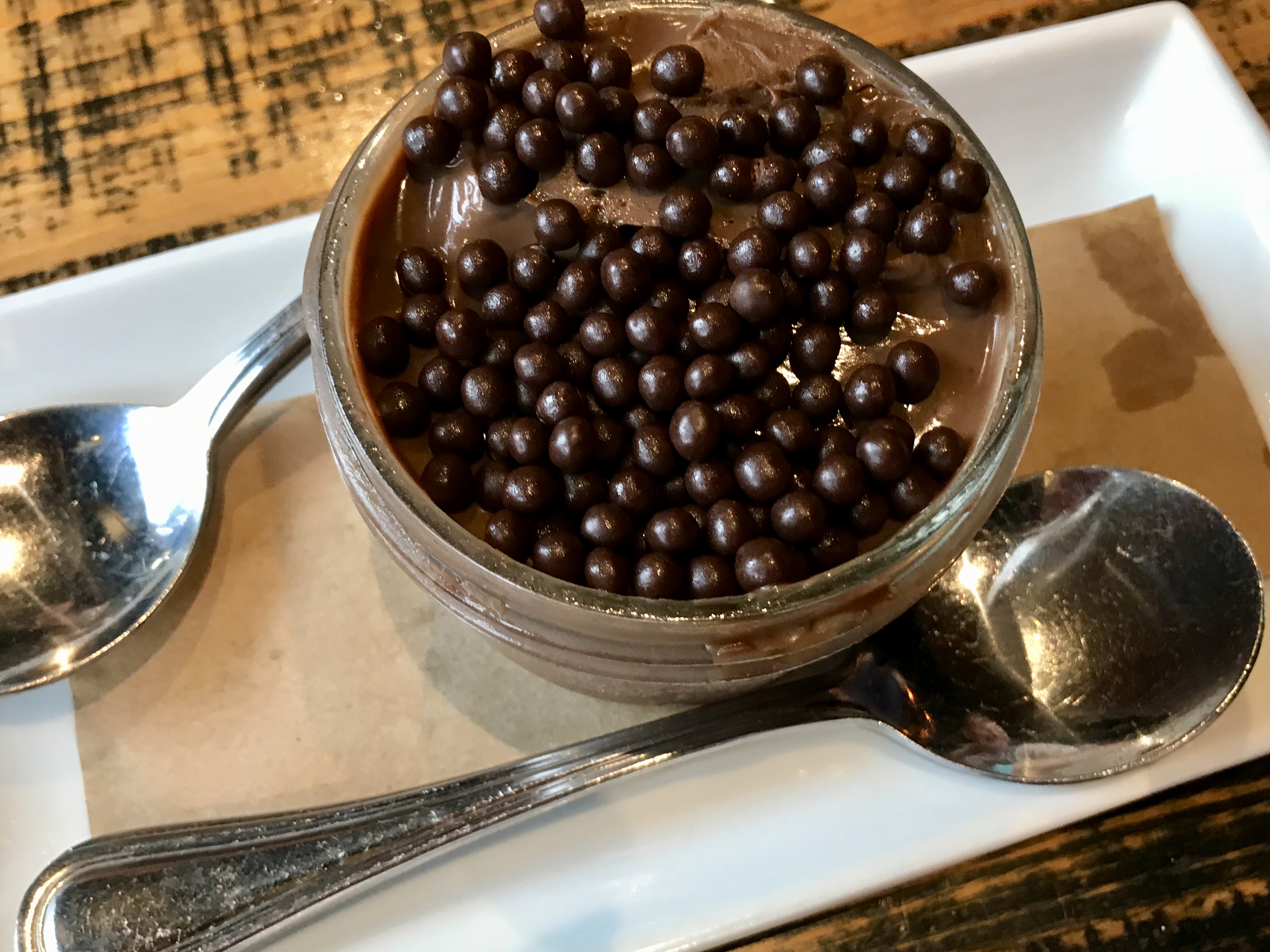 If you've never been or it has been a while since you last visited Stillwaters Tavern, you are in for a real treat!
They are also running a lunch special deal From August 6th, 2018 through October 31st, 2018, called the 4 for 3 Deal: bring 4 guests to lunch and one person eats free! *(least expensive lunch comp'd – not including beverage, tax or gratuity) weekdays only (M – F) lunch only (ends at 4 pm each day) valid for dine-in only (no take-out or delivery) valid August 6 through October 31.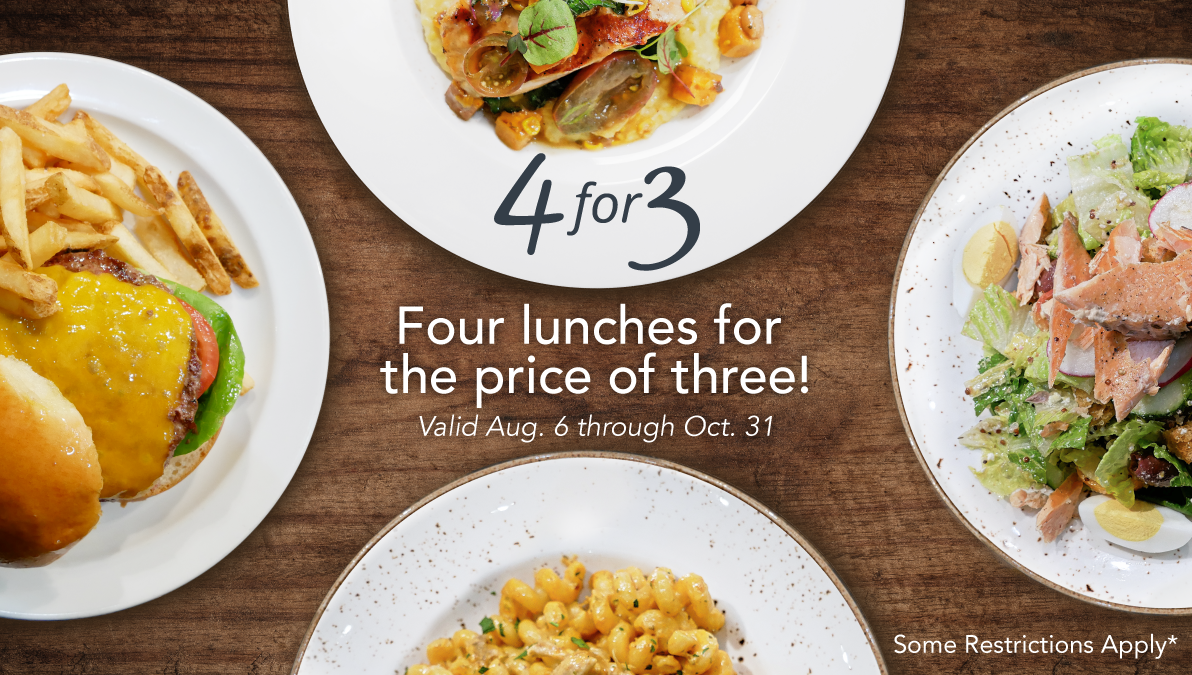 A Modern American Tavern, where classic American dishes blend harmoniously with old world flavors. The menu highlights items from both land and sea, with a focus on bringing unique flavors from the kitchen to your table. The restaurant collaborates with local artisans, farmers and foragers to serve the best seasonal and locally produced dairy, vegetables, grains, seafood and shellfish.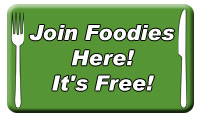 More Foodies News, Reviews & Recipes