I LOVE salad! My mom made a salad every single night to start off dinner, and dinner was always at six. Those were the two constants. Now, the best salads I have at home are made by Lori. She just has a knack. I could make the same salad as her, and it won't taste as good. It's not because she has a salad spinner, and I don't.
Below is a completely biased and opinionated list of my personal favorite salads in St. Pete.
Before we get into the list, an important thing you should be aware of is that there are other publishers of "best of lists" that do not actually go to the establishments, or actually eat the food. (Sounds ridiculous, right?) They just download photos from the internet, or embed Instagram posts from someone else. Instant top 10 list produced without having to leave the house.
That's NOT how we do it.
We absolutely DO eat all of the food on all of our lists. (How can anyone recommend something they never experienced?)
Unfortunately, we've seen these junk lists a lot—from national and local publishers. We are also aware of a local publisher that offers paid placement in best-of-lists. There is no paid placement here.
WE PERSONALLY ATE ALL OF THESE SALADS, AND WENT TO ALL OF THESE PLACES, AND THESE ARE ALL ST. PETE FOODIES PHOTOS. (All photos by St. Petersburg Foodies and as credited.)
Best Salads Near Me …(and you, if you're in St. Pete)
These are listed in alphabetical order. <—— Look
1. Baba Restaurant, Bakery & Café
2701 Central Ave
St. Petersburg, FL 33713
(727) 954-3406
Baba Website
From Lori: "Kevin humored me because I wanted the Village Salad with just tomato, kalamatas, capers, feta and cucumber. He couldn't stop raving at how good it was. It's my favorite type of salad…simple, light and great flavor!"
This one is a simpler version than The Burg's, but the addition of the capers makes a huge difference. The bright saltiness makes you just keep going back for more until it's all gone.
2. Bacchus St. Pete
124 2nd Ave NE
St. Petersburg, FL 33701
(727) 258-8566
Bacchus Website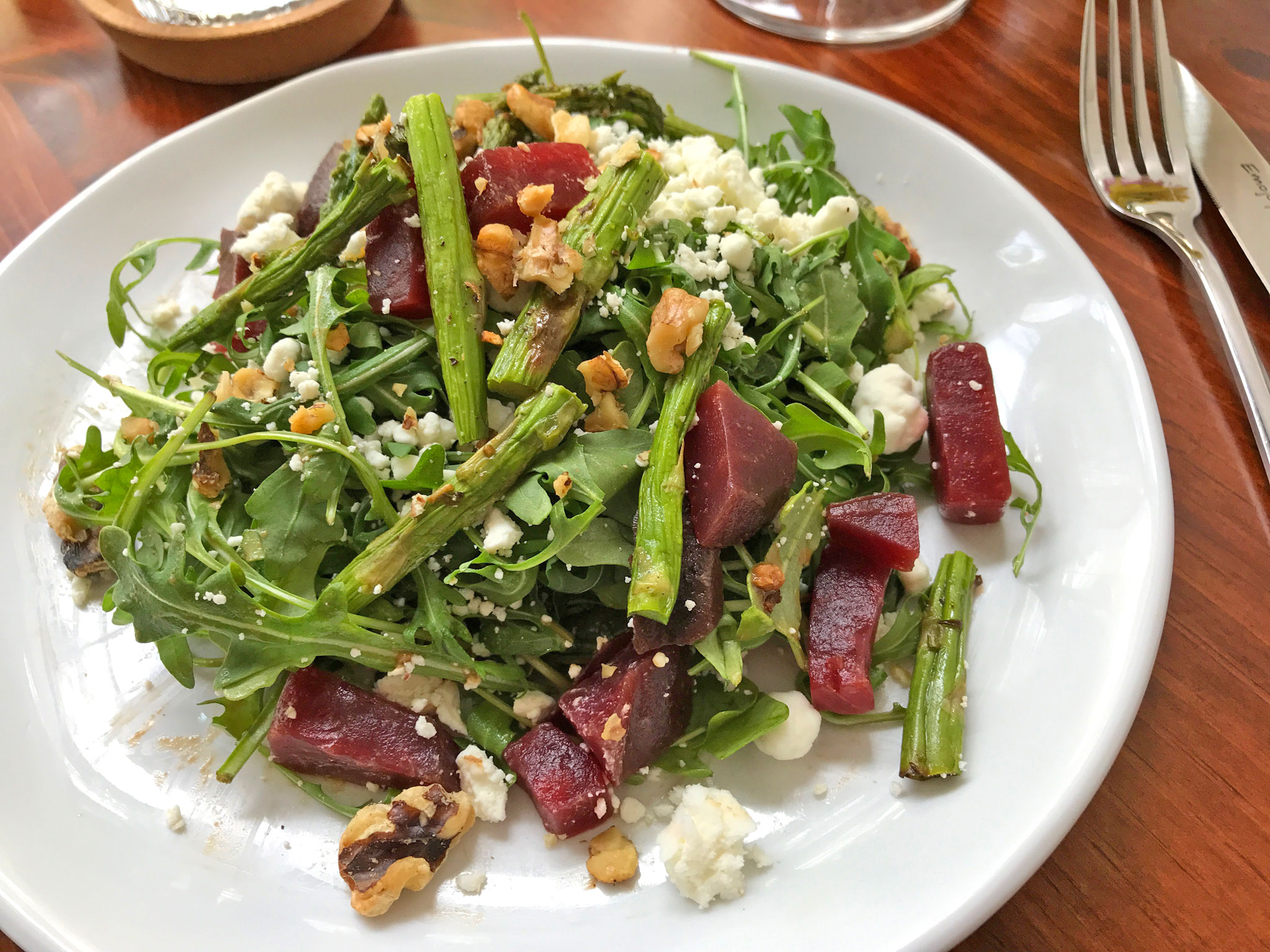 French Country Salad – roasted asparagus, beets, arugula, goat cheese, toasted walnuts, lemon-dijon vinaigrette. It was super delicious, and huge. The photo is half of a split portion.
Fresh, bursting with bright flavors, and a large portion.
3. The Bier Boutique
465 7th Ave N.
St. Petersburg, FL 33701
(727) 827-2691
The Bier Boutique Website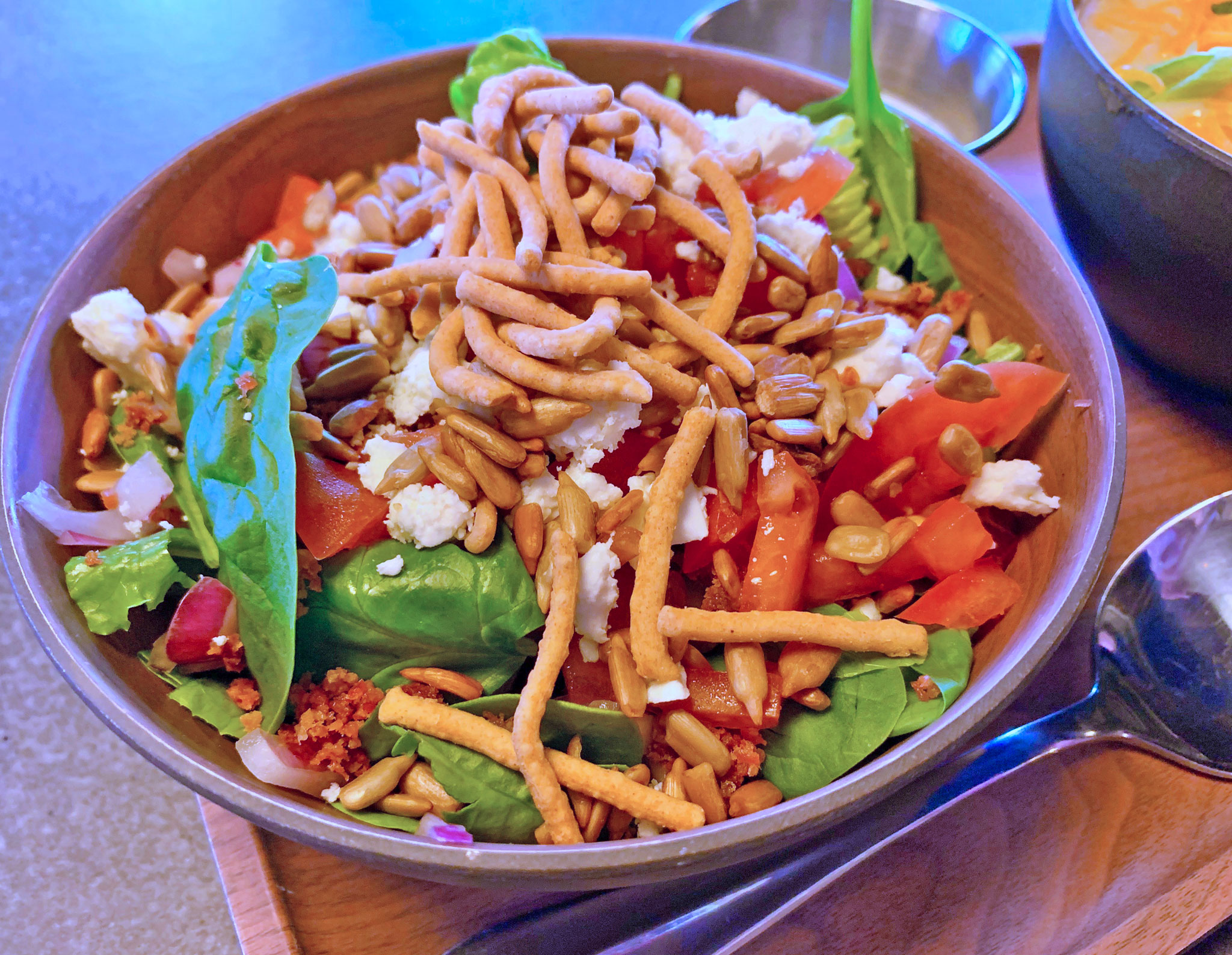 House Salad – mixed greens, onion, tomato, bacon, feta cheese, sunflower seeds & chow mein noodles – choose from ranch, blue cheese or honey peppercorn vinaigrette. Fresh, full of texture and the honey peppercorn vinaigrette is smooth, creamy, bright and light.
4. The Burg Bar & Grill
1752 Central Ave
St. Petersburg, FL 33712
(727) 894-2874
The Burg Website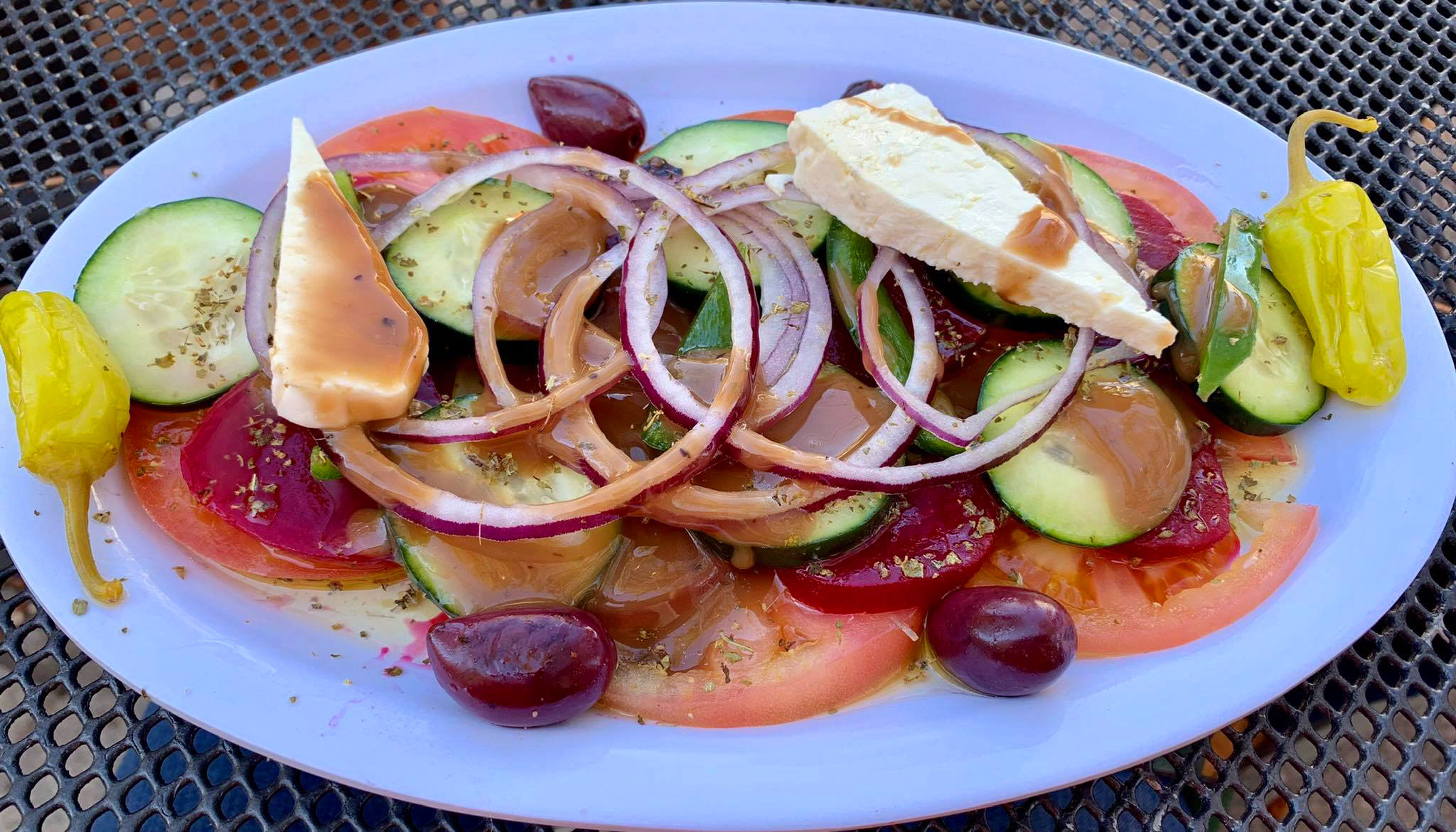 Horiatiki (Village Salad) – tomatoes, cucumbers, greek olives, feta cheese, pepperoncini, onions, beets, green peppers, oregano, olive oil, balsamic dressing.
This is one of our favorites that we always order. It's the perfect combination of bright, light, crispy, salty, sweet, and spicy.
5. Copa
1047 Central Ave
St. Petersburg, FL 33705
(727) 623-9199
Copa Website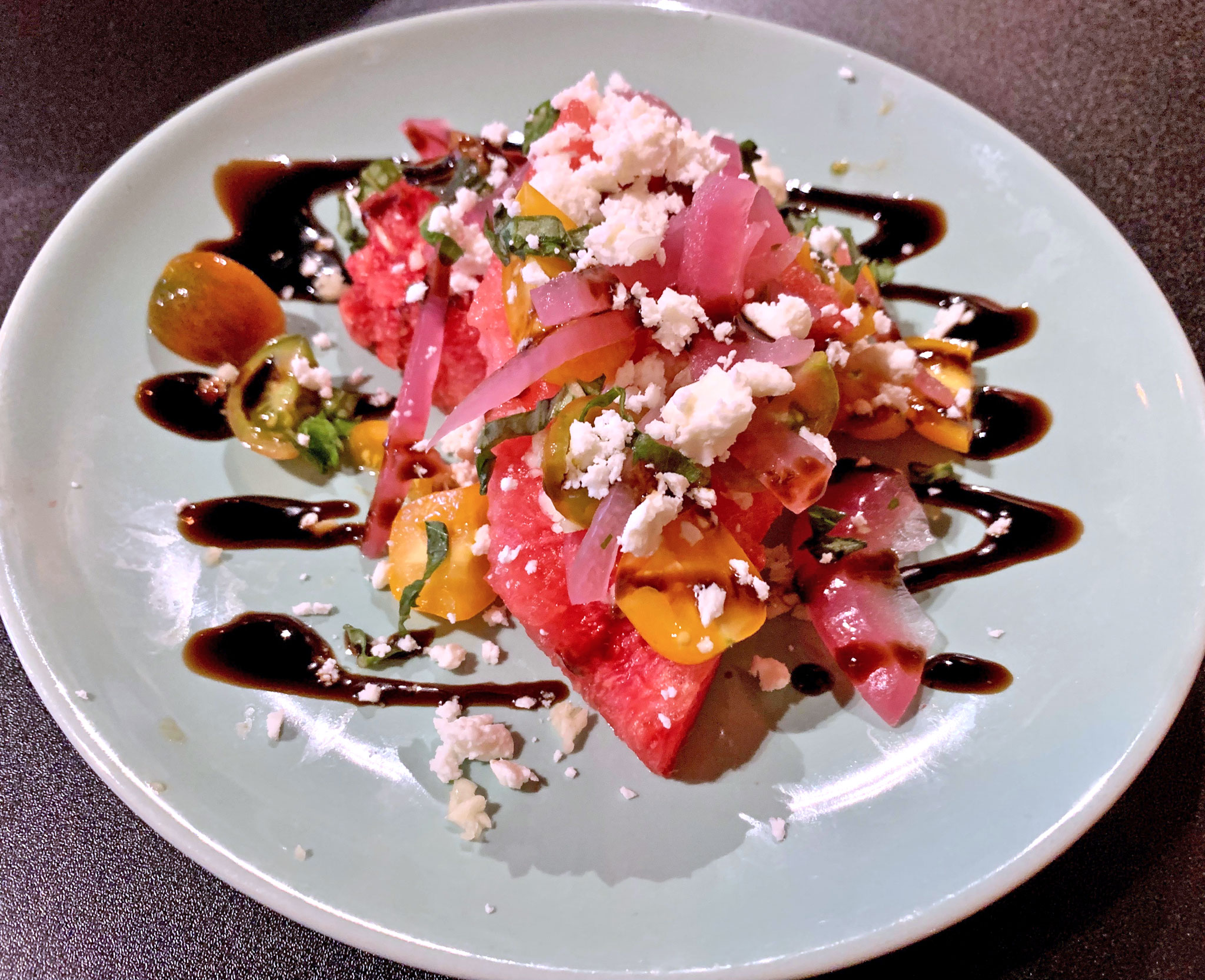 Copa's watermelon salad is bursting with flavor. It's bright, yet balanced with sweetness, and saltiness. It's composed of fresh watermelon, (of course), and tossed with heirloom tomatoes, onions, garlic, feta cheese, and balsamic dressing.
6. Gratzzi Italian Grille
211 2nd St South
St. Petersburg, FL 33701
(727) 623-9037
Gratzzi Website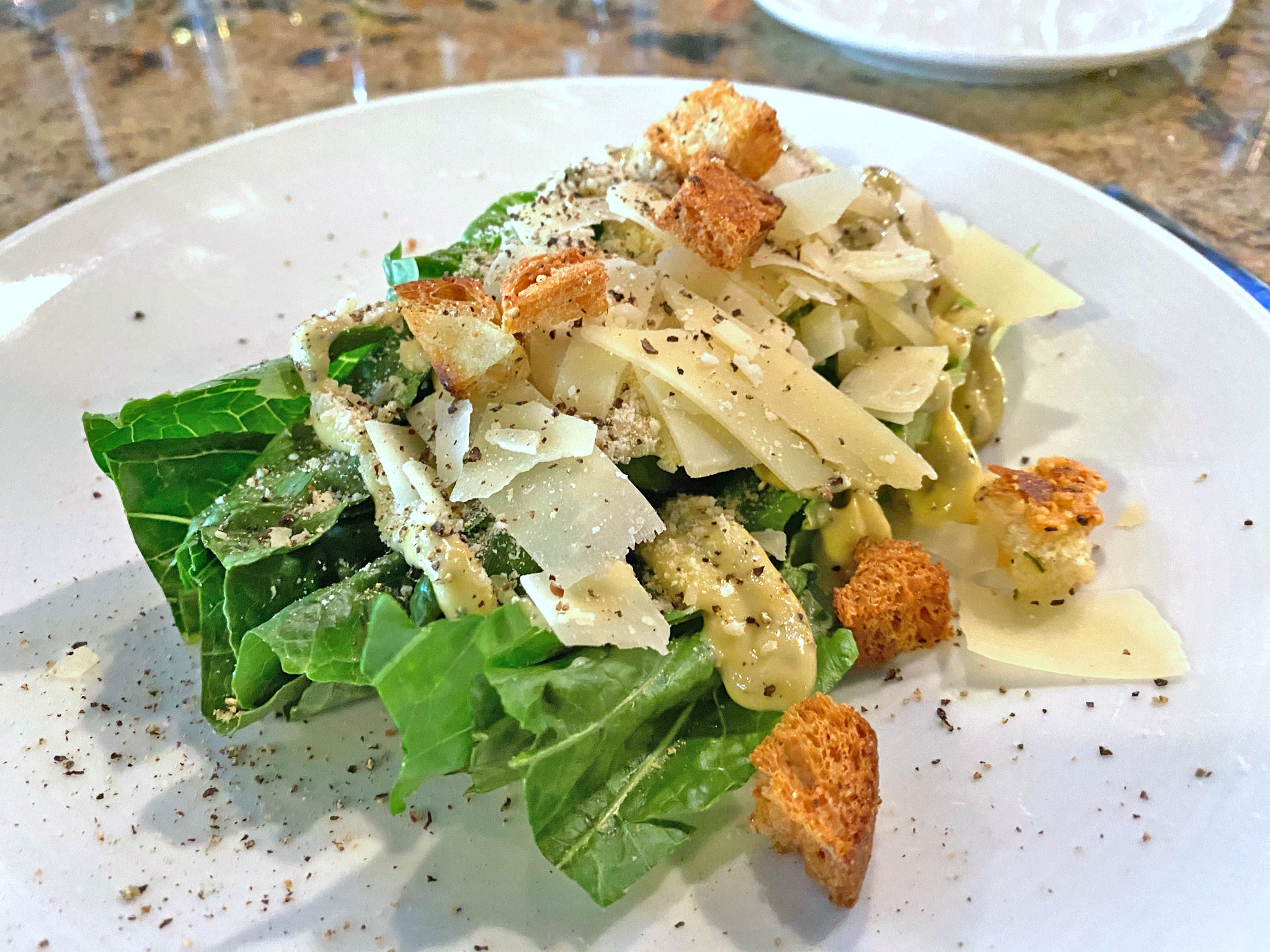 Insalata Caesar – Hearts of romaine, house made Caesar dressing, shaved parmesan and rustic croutons. (The photo is the side salad portion. There is one twice this size as well.)
It may seem simple compared to some of the others on this list, but it is definitely one of my favorites. I like that they give you the full length, stalk-like leaves. The romaine is fresh and bursting with flavor. The crunch of the croutons, and the softer bite of the shaved parmesan, along with the dressing make for perfection in your mouth.
7. The Mill Restaurant
200 Central Ave #100
St. Petersburg, FL 33701
(727) 317-3930
The Mill Website
We have two favorites here as well.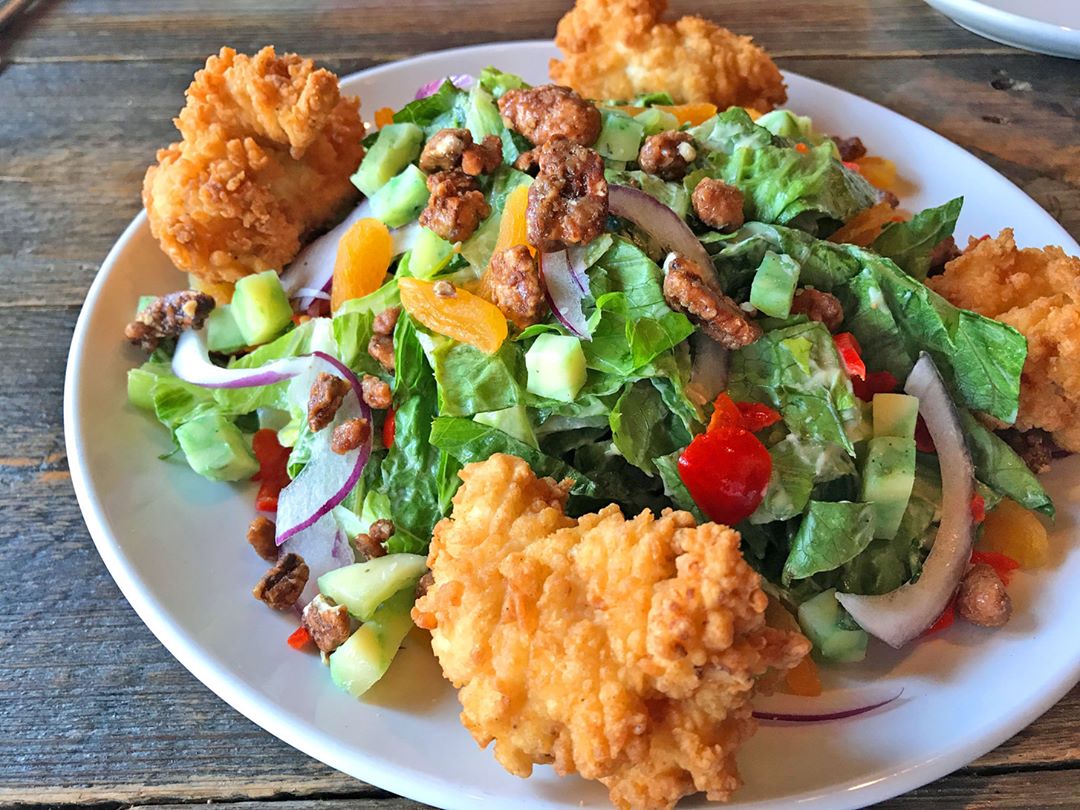 Southern Belle Salad – romaine, red onion, candied pecans, sage derby, peppadews, dried apricots, honeycup vinaigrette, southern fried chicken.
The fried chicken makes this one decadent, and a good one to share, or could be a complete meal for one person. It has such a great mix of ingredients that cover the complete flavor spectrum, and it's nice and crunchy.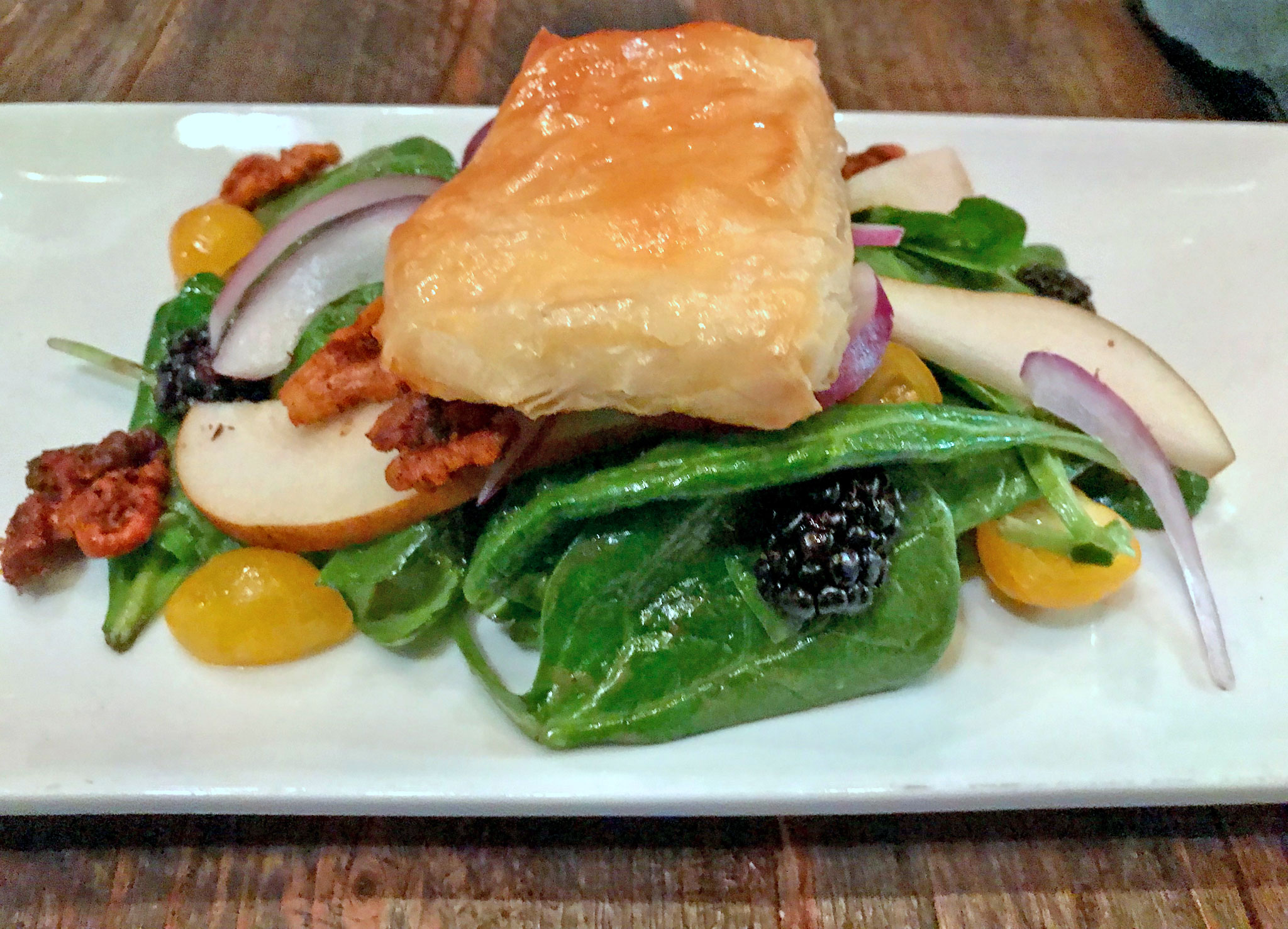 Phyllo Feta – baby spinach, blackberries, red onion, yellow grape tomatoes, bosc pear, spiced walnuts, blackberry vinaigrette.
That Phyllo Feta is so craveable. The feta is wrapped in phyllo and baked to a golden brown. It is a terrific accompaniment to the spinach salad with blackberries, red onions, yellow grape tomatoes and highlighted with spiced walnuts which hold up well against the sweetness of the Bosc pear and the blackberry vinaigrette dressing.
8. Noble Crust
8300 4th St N.
St. Petersburg, FL 33702
(727) 329-6041
Noble Crust Website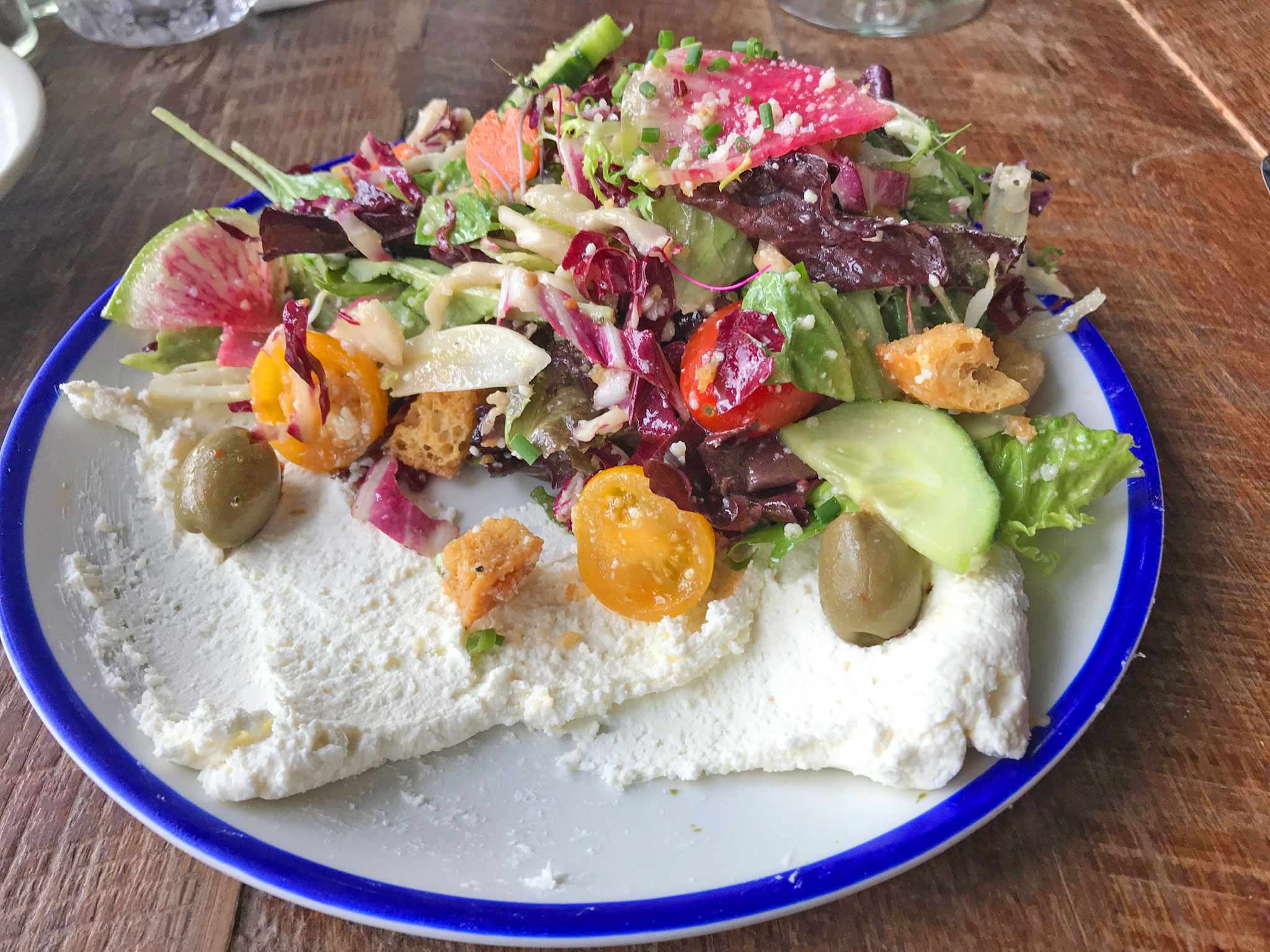 House Salad – mixed greens, tomatoes, cucumber, radish, shaved fennel, carrots, croutons, parm, whipped feta, zesty vinaigrette.
The Noble crust house salad is delicious. It's a light and bright and then the ricotta cheese adds some depth, and the olives give it some saltiness. These are also my favorite croutons of all.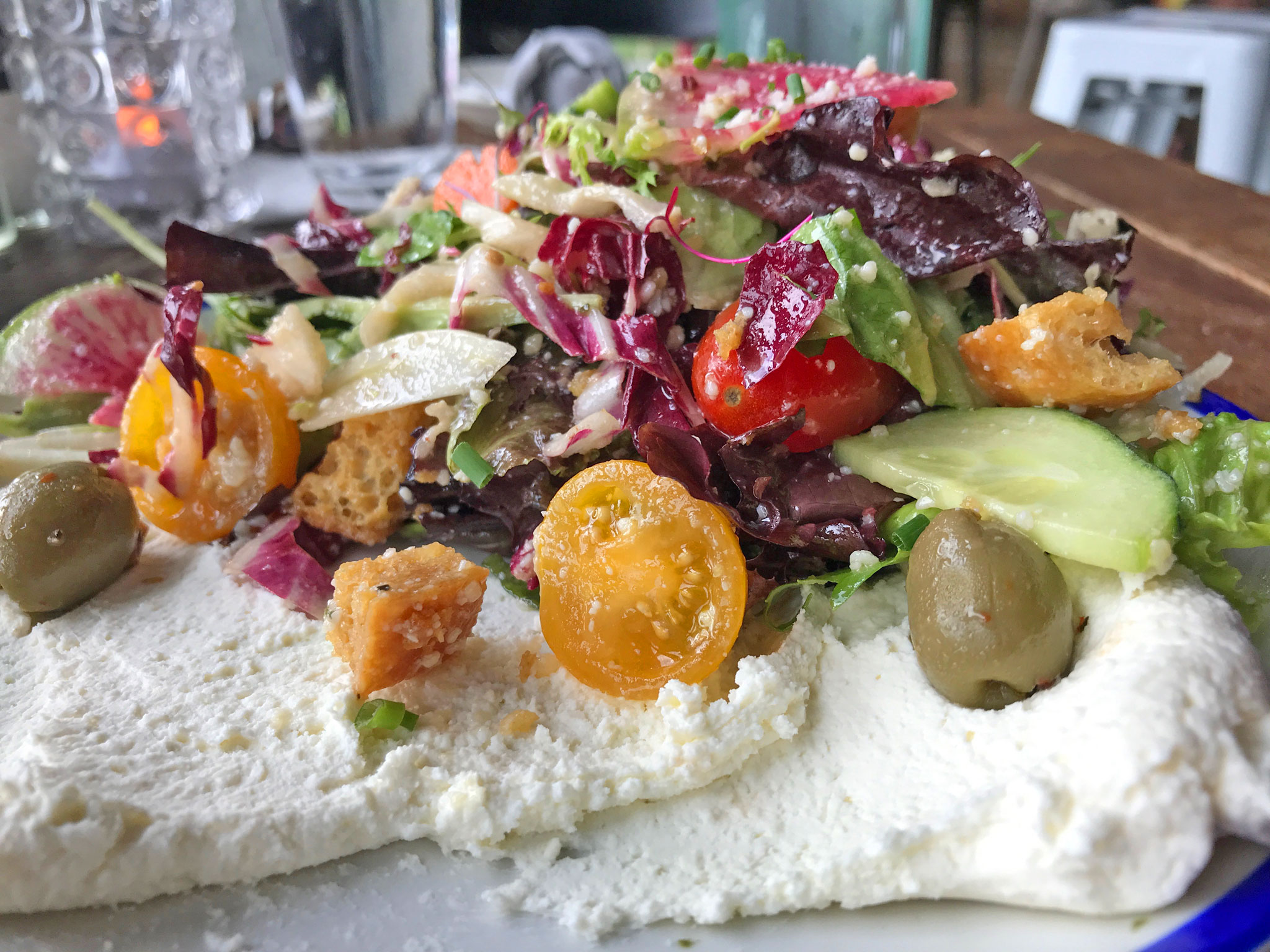 9. Stillwaters Tavern
224 Beach Dr NE
St. Petersburg, FL 33701
(727) 350-1019
Stillwaters Website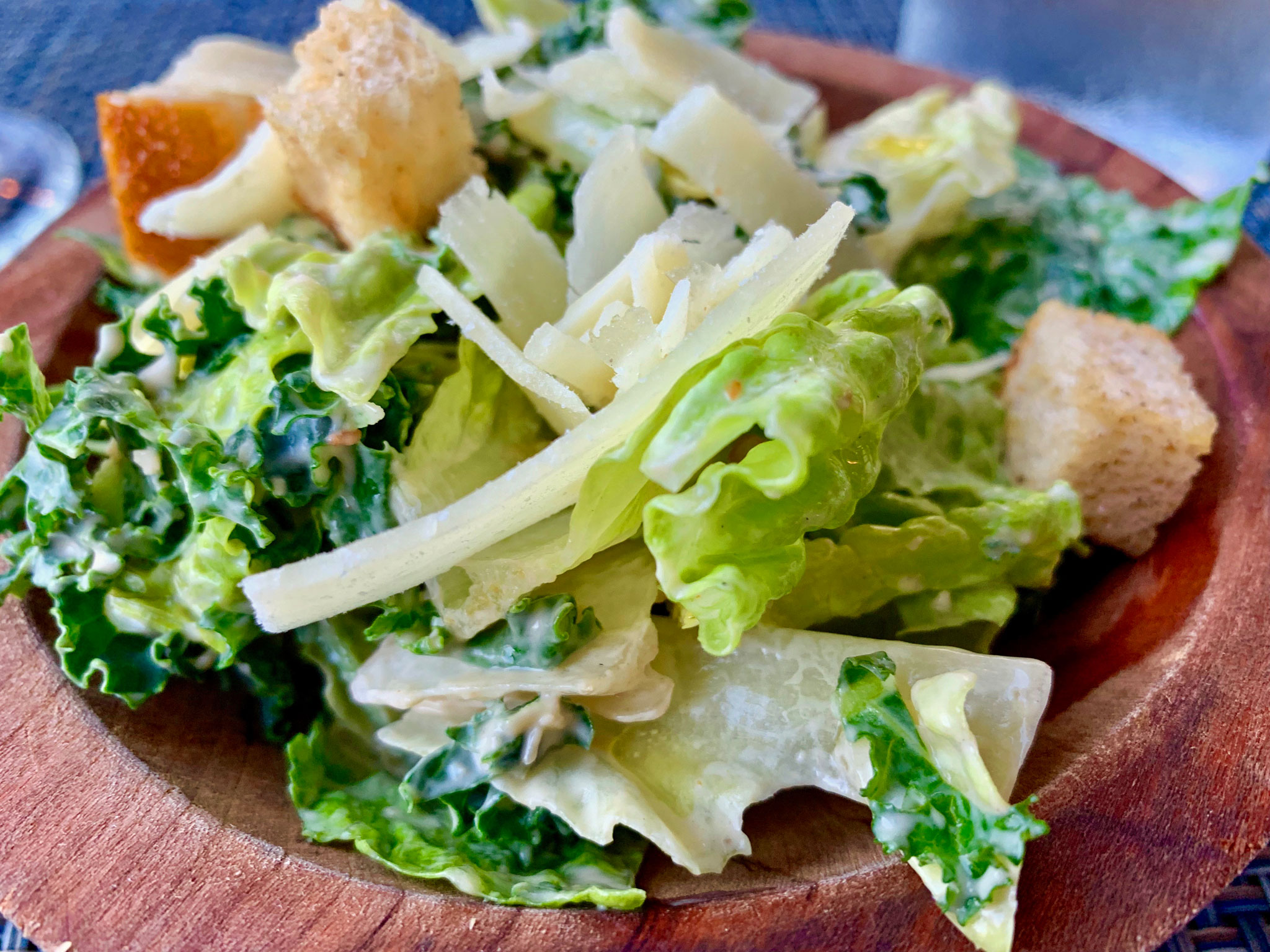 Caesar Salad – chopped romaine & kale, parmesan, harrisa caesar dressing, sourdough croutons.
Stillwater's Caesar adds kale with the romaine, and it is actually quite delicious, and a nice little twist on the traditional version. I love it.
10. Teak
800 2nd Ave NE
4th Floor
St. Petersburg, FL 33701
(727) 513-8325
Teak Website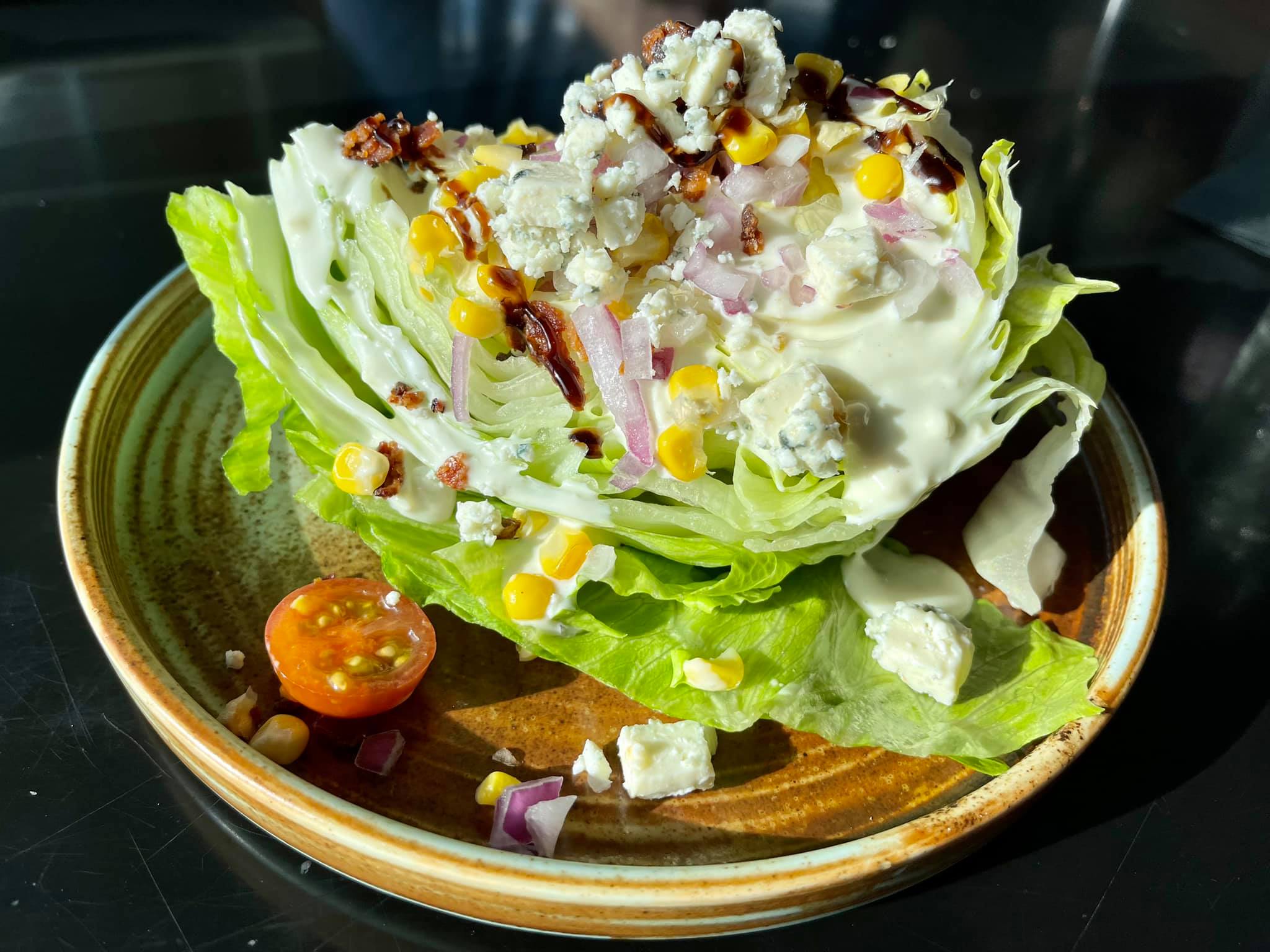 Ultimate Wedge BLT – iceberg, applewood smoked bacon, red onion, tomato, grilled corn, buttermilk-bleu cheese dressing, balsamic reduction.
This one really lives up to its name. This combination of ingredients is pure perfection. There is a small and a large version. Pictured above is the small portion.
Please tell us your favorite salads in the comments below.
Love this post? Save it to your foodie Pinterest board!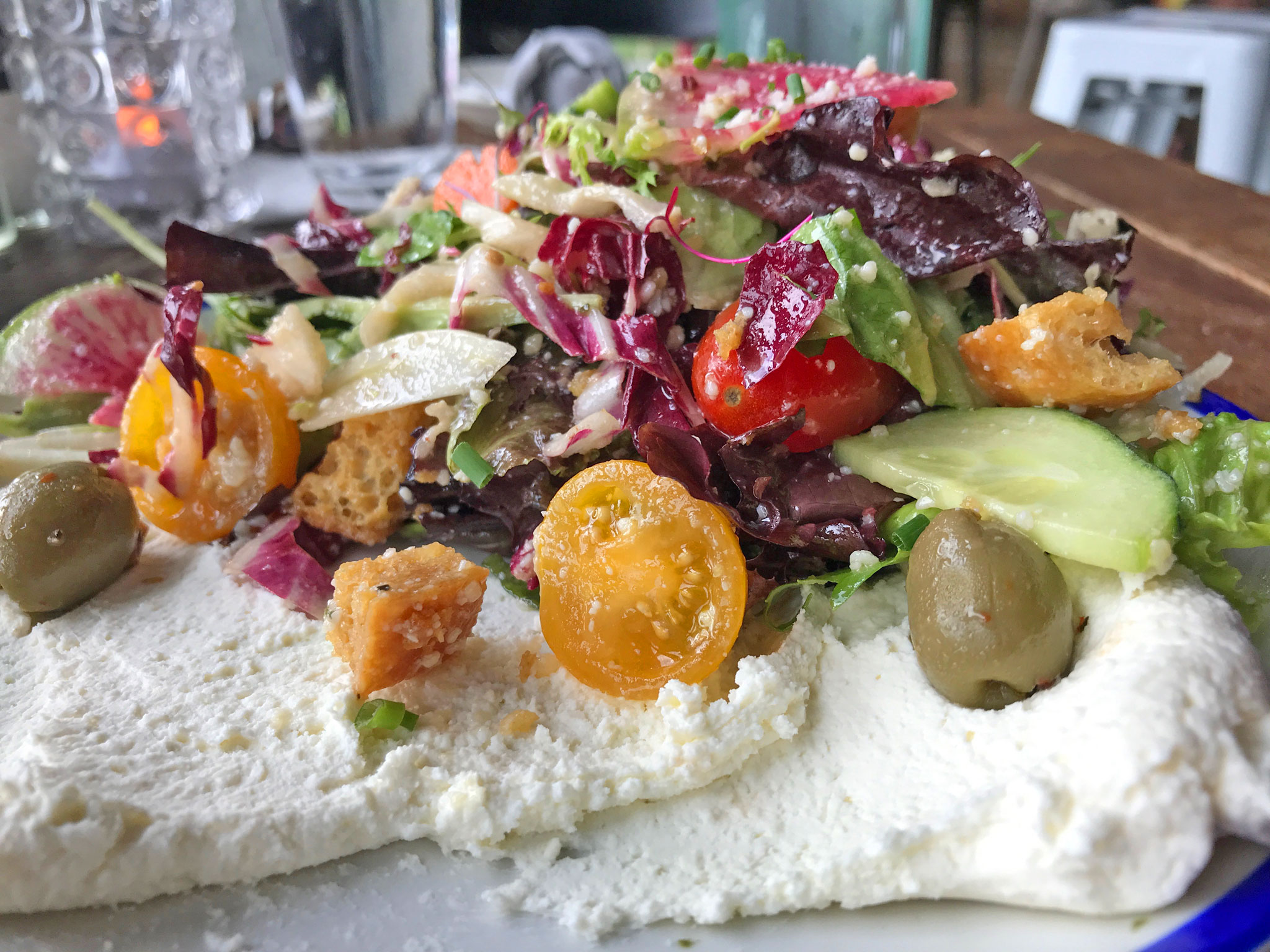 Readers Rating

Rated 5 stars




5

/ 5 (

Reviewers

)

Spectacular
---
The different types of salads you can get are endless, some lighter, and some more robust. Here are some of the best local salads in St. Petersburg, Florida.