15 Best Hamburgers / Cheeseburgers in St. Petersburg FL 2021
Hamburgers! Who doesn't get excited by hamburgers? I used to wonder why they were named this when there was no ham involved. It's because they get they their name from Hamburg, Germany, home of a cut of beef called the Hamburg steak that eventually evolved into what we now consider hamburgers.
It is actually disputed whether the hamburger was invented in Germany or the U.S.A. One thing that is not disputed is that they are definitely thought of as the quintessential "American food".
They almost always have cheese on them, so it's safe to say that a hamburger / cheeseburger is the epitome of almost everyone's favorite American food.
As with all of our lists, and unlike most other publishers, we personally went to all of these places, and ate all of these burgers, and took all of these photos.
For ALL of these – the burgers were moist, juicy, fresh and flavorful… so I don't have to repeat it 15 times.
"It's really a lot like writing porn. After you've used the same adjectives over and over again, it's like the Penthouse Letters…"
– Anthony Bourdain, Parts Unknown, Budapest – Aired June 14, 2015
Here are some of the best burgers at local independent eateries in St. Petersburg, with one on Pass-a-Grille beach, and another on Treasure Island.
Here are the 15 Best Burgers in St. Petersburg Florida for 2021.
These are listed in alphabetical order. <—— Look
1. 2nd & Second
201 2nd Ave North
St. Petersburg, FL 33701
(727) 440-4700
2nd & Second Website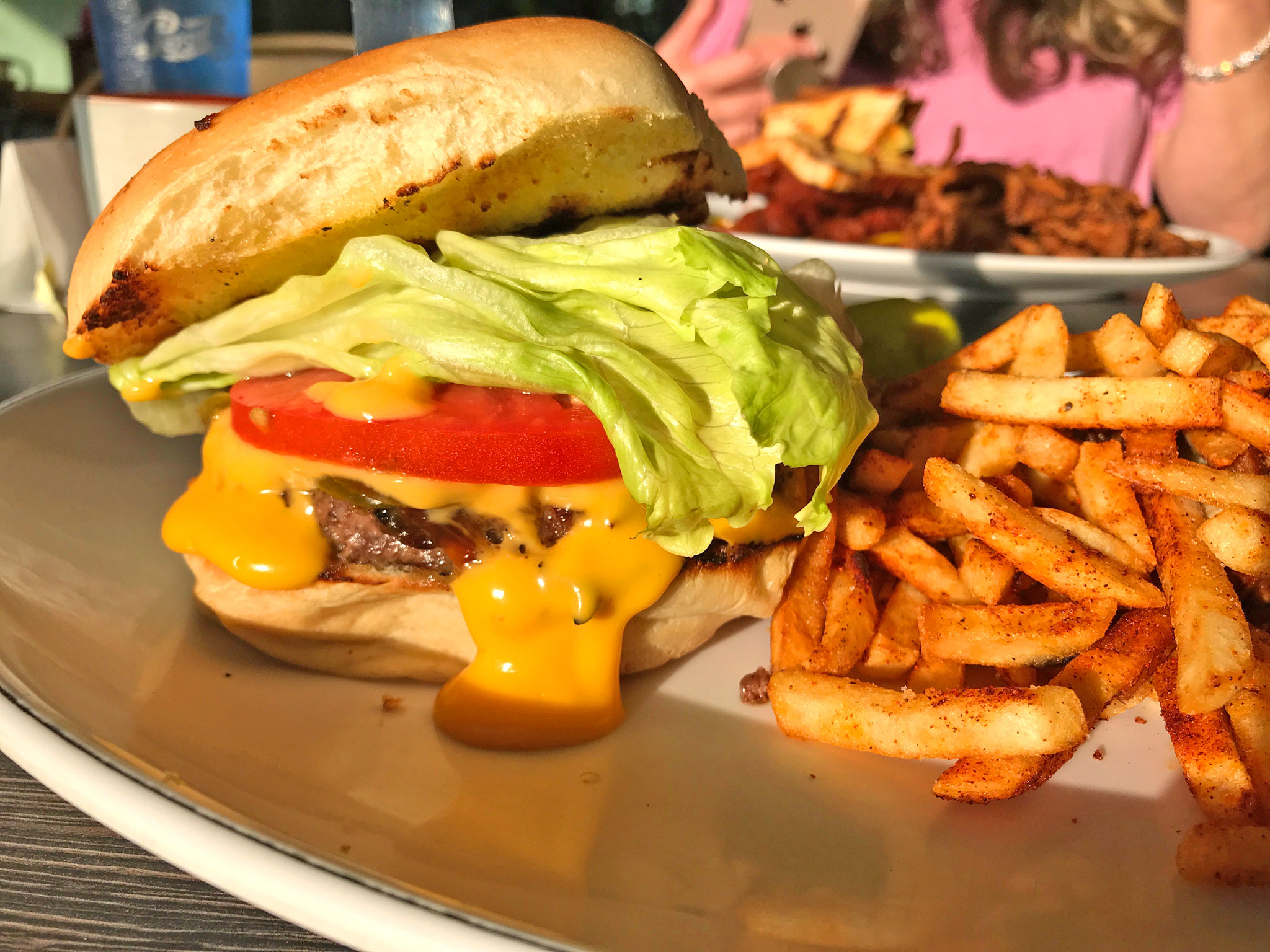 The 2nd & Second House Burger – lettuce, tomato, grilled onions, jalapeños, and cheddar cheese sauce is just pure comfort food. It's hard to see the grilled onions and jalapeños in the photo, but they're there under the cheese sauce. And that cheese sauce! It's just a damn good burger.
2. The Avenue Eat + Drink
330 1st Ave S
St. Petersburg, FL 33701
(727) 851-9531
The Avenue Website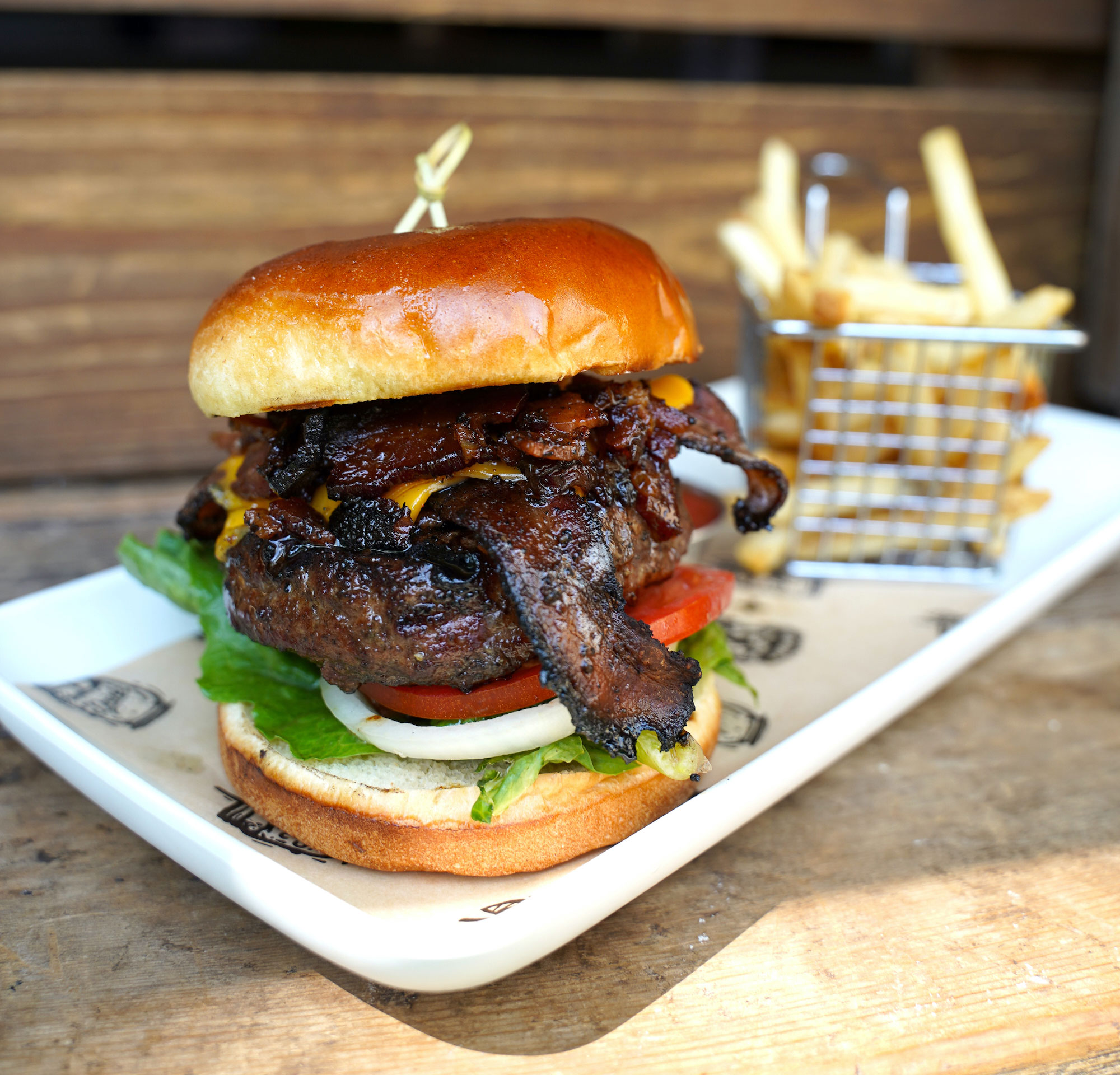 The DTSP Burger at The Avenue – yellow American, bourbon bacon onion jam, peppered bacon, lettuce, tomato, onion, pickles. Huge, delicious, and perfectly cooked.
3. The Bier Boutique
465 7th Ave North
St. Petersburg, FL 33701
(727) 827-2691
The Bier Boutique Website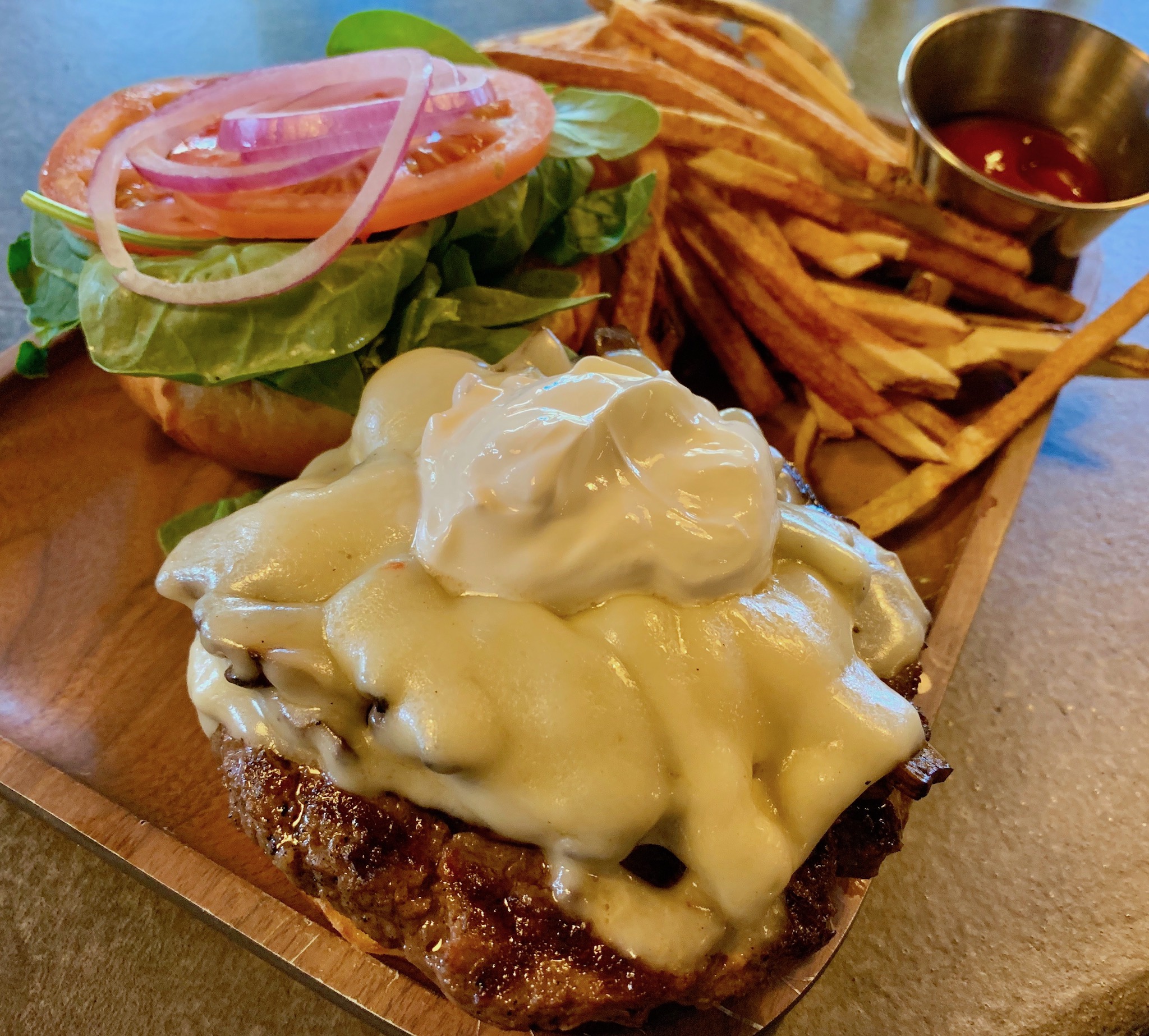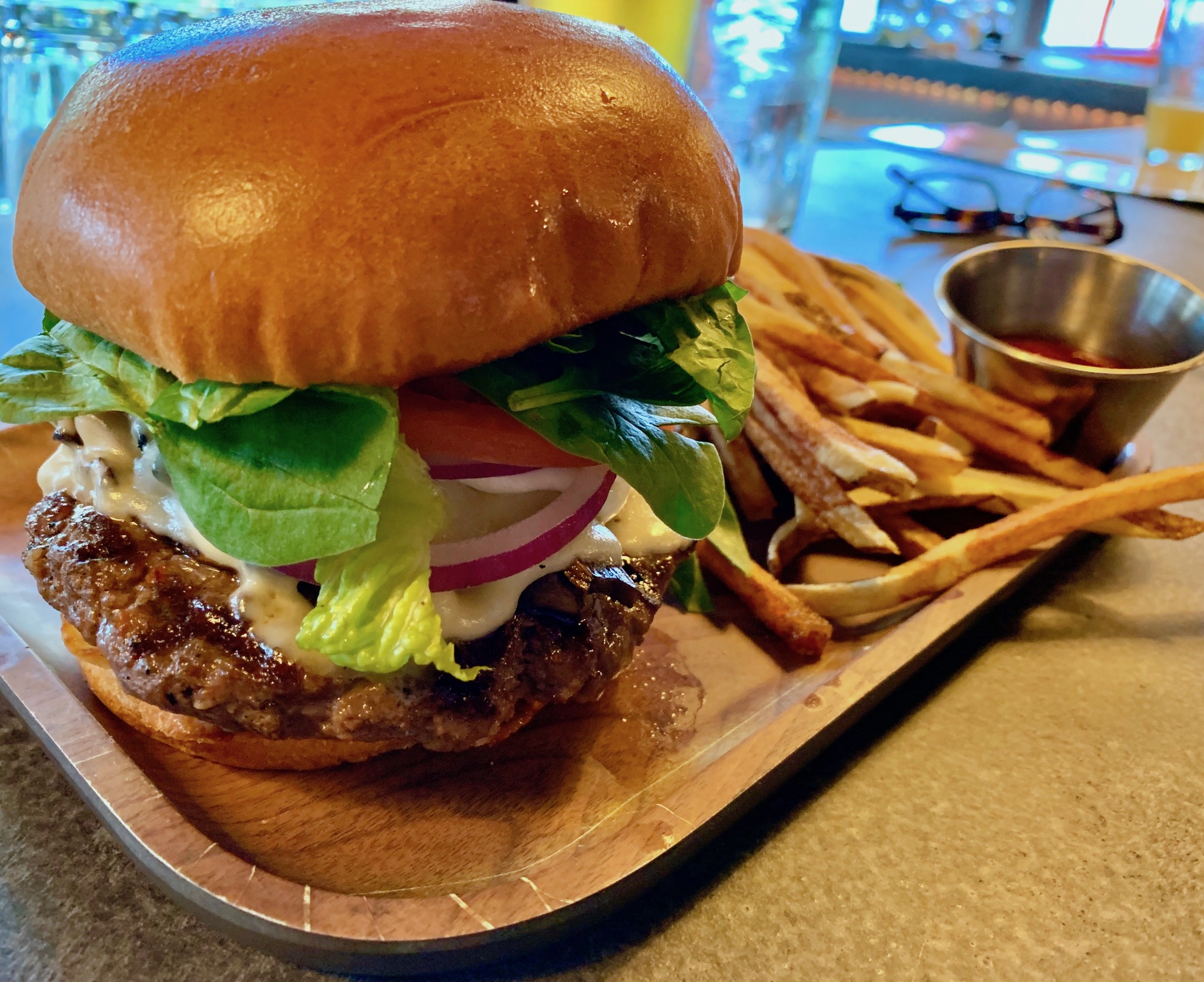 The Heather Bison Bacon Burger – baby swiss, sautéed mushrooms & sour cream with mixed greens, tomato & onion. All of the burgers at The Bier Boutique are made with bison meat, and have the bacon mixed in and cooked with the burger. They are delicious, unique burgers. I was a bit unsure of the sour cream dollop at first, but found it to add a bit of tang and thought it a very nice change up.
4. Brick & Mortar Kitchen & Wine Bar
539 Central Ave
St. Petersburg, FL 33701
(727) 822-6540
Brick & Mortar Facebook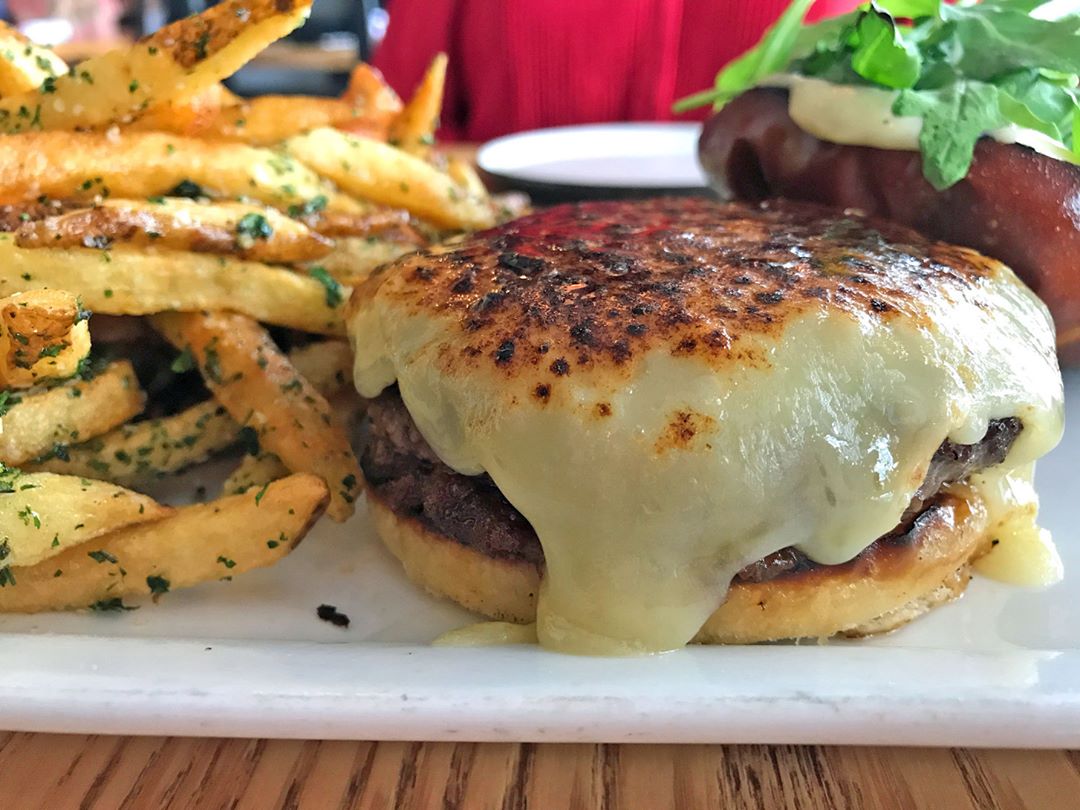 Brick & Mortar Burger – house ground tenderloin filet & short rib, bacon onion jam, aged white cheddar, arugula, roasted garlic aioli.
There is nothing like this burger anywhere. It's magical. They grind their meat fresh in house every day. Everyone raves about this one.
5. The Burg Bar & Grill
1752 Central Ave
St. Petersburg, FL 33712
(727) 894-2874
The Burg Bar & Grill Website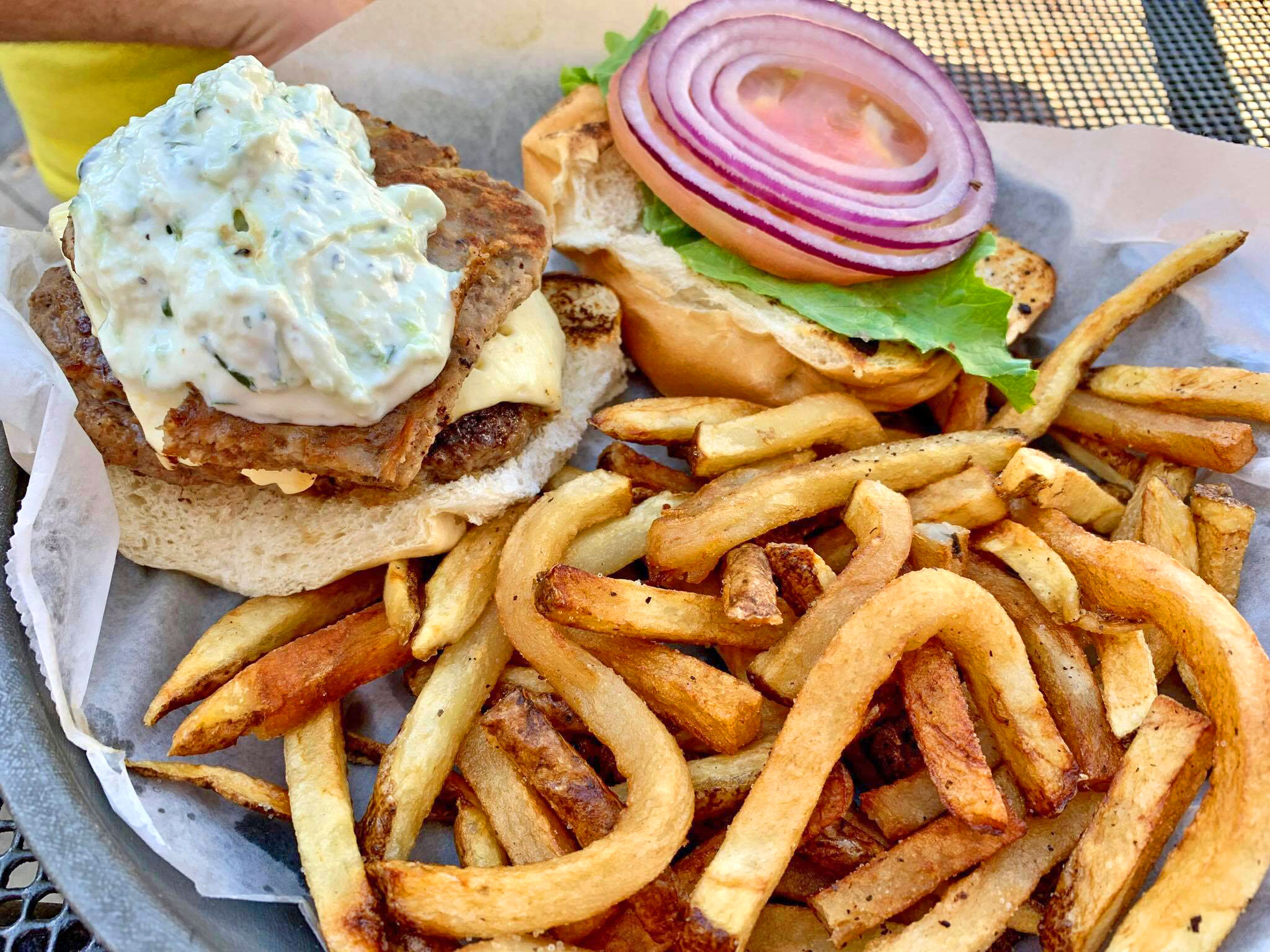 The Burg Gyro Feta Burger – topped with gyro meat, house-made tzatziki & grilled feta, along with lettuce, tomato, onion, and pickles. Who doesn't love gyro meat?!? Right? That along with the other ingredients on a burger are genius. This is a real palate pleaser.
6. El Cap Restaurant
3500 4th St. N
St Petersburg, Florida 33704
(727) 521-1314
El Cap Restaurant Facebook Page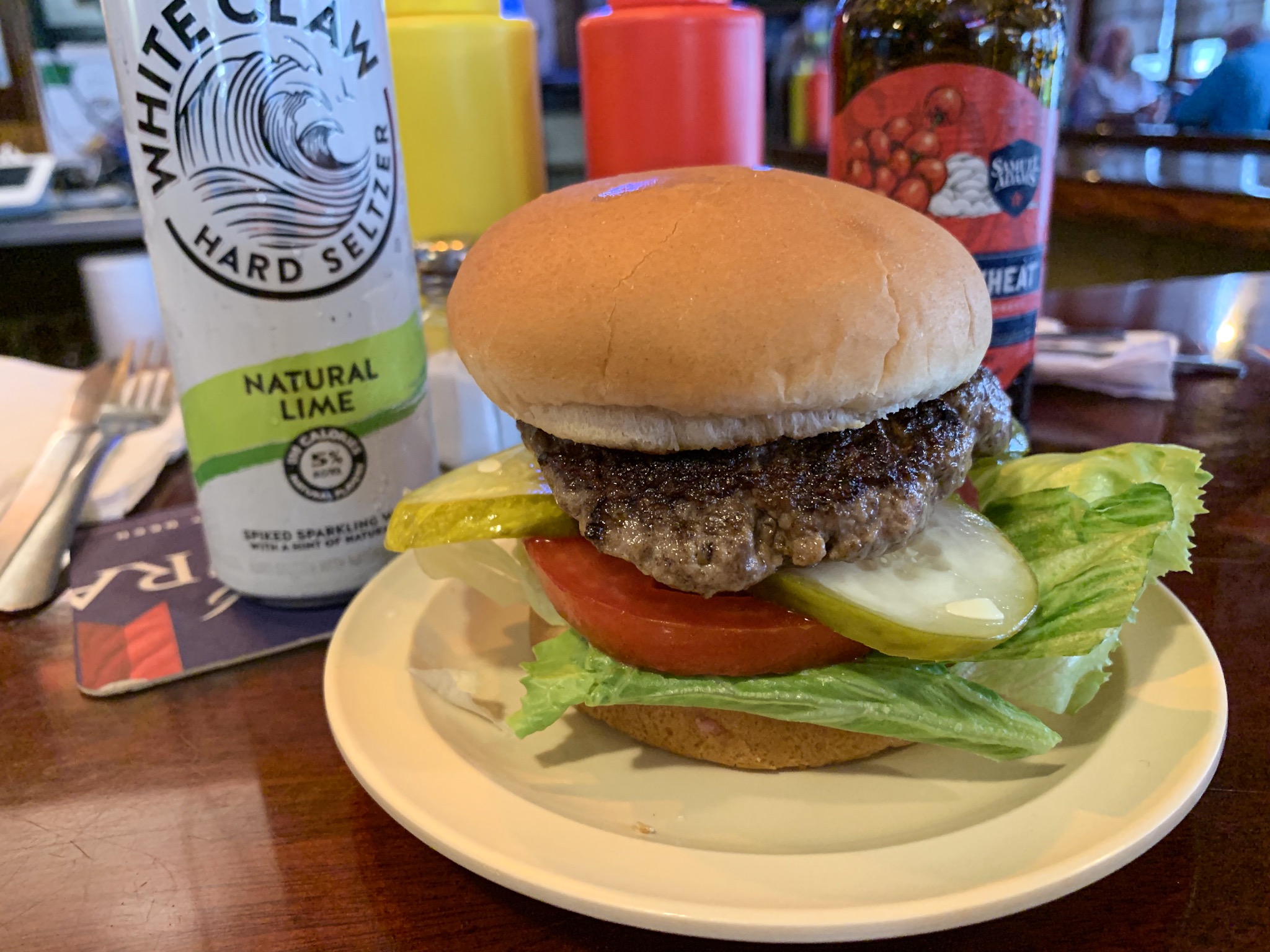 If you mention El Cap to most anyone who is familiar with it, odds are, you'll receive a rave review about everything, from the service and overall vibe of the restaurant, to the food- specifically, their burger. El Cap's burgers are a favorite among both frequent flyers and newbies, alike. Their World Champ Burger, which has been named by some as the best burger in town, is comprised of just the simple things- Lettuce, Tomato, Pickle and Onion (add cheese and bacon for an extra delicious rendition), which proves that in some cases, less is more.
7. Engine No. 9
56 Dr M.L.K. Jr St N
St. Petersburg, FL 33705
(727) 623-0938
Engine No.9 Website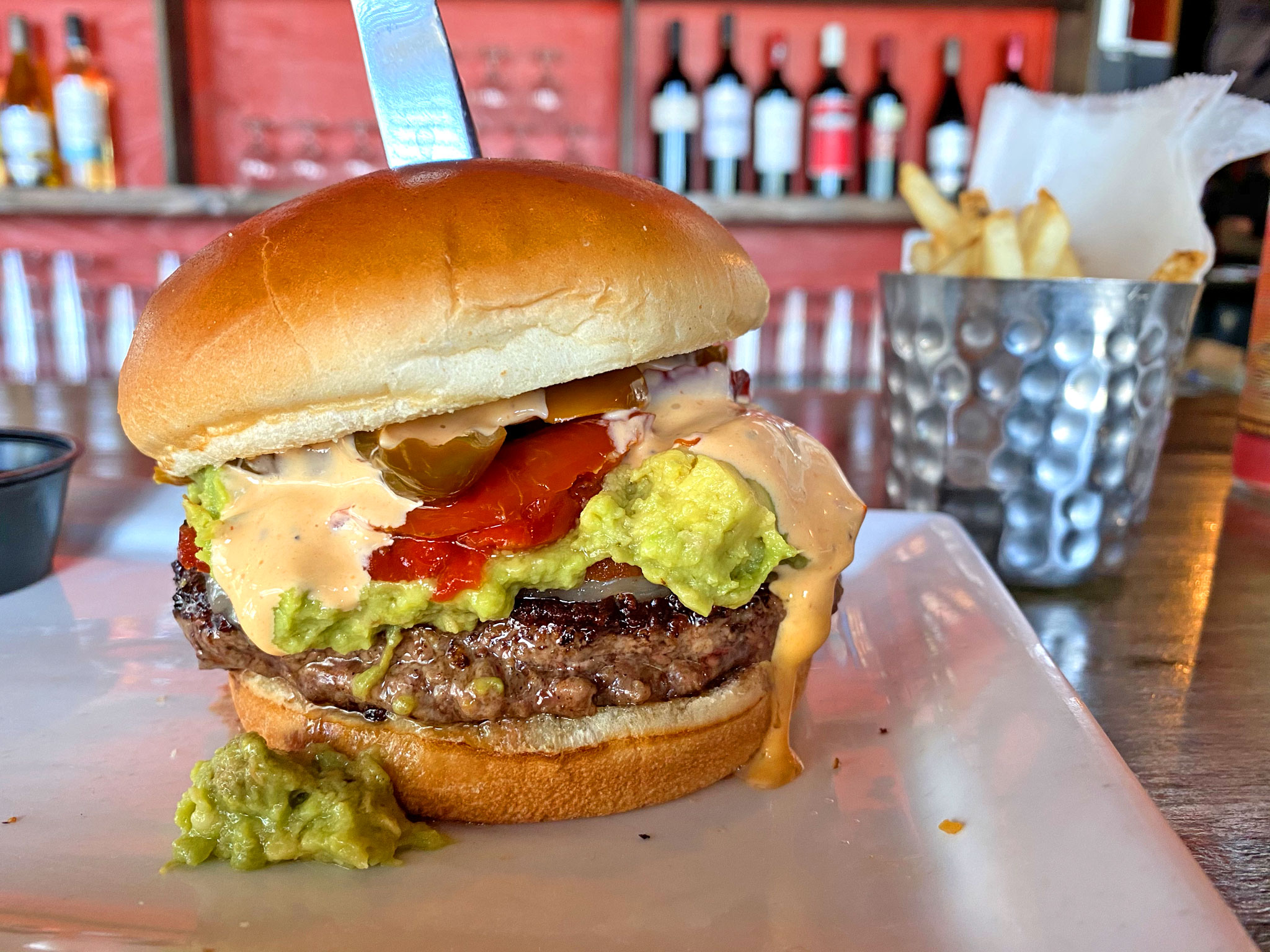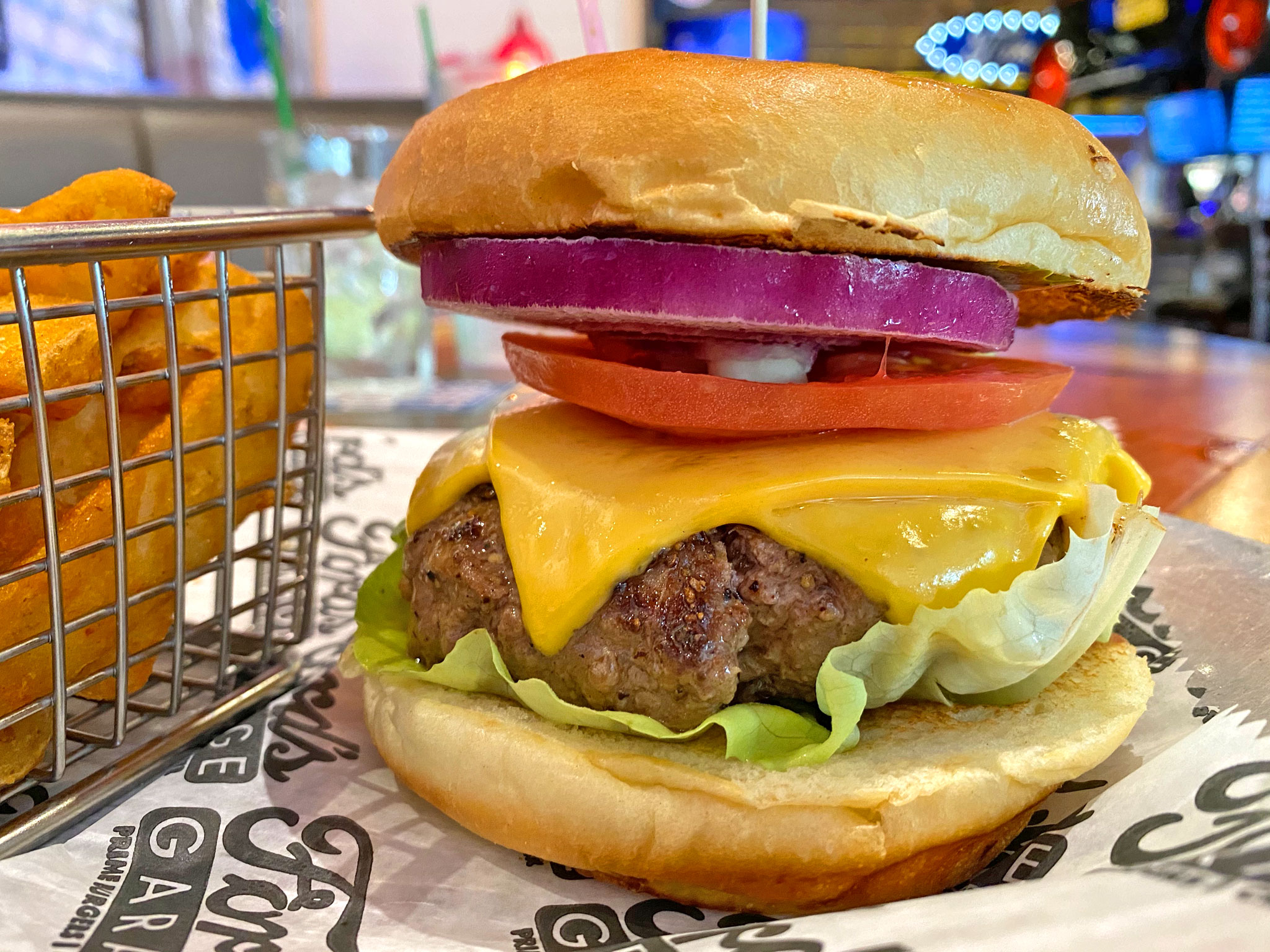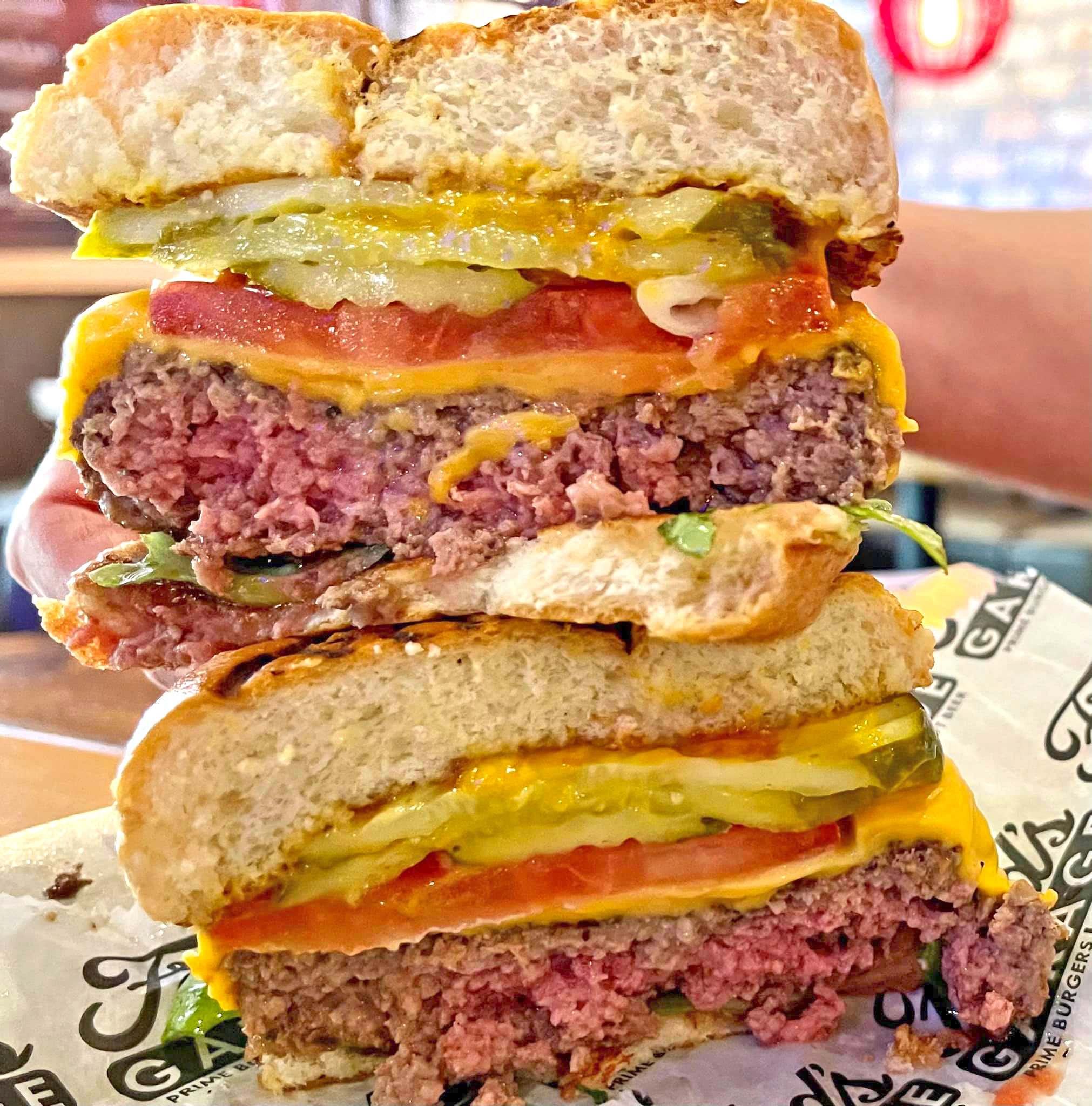 American Standard Burger at Ford's Garage – black angus with American cheese, lettuce, tomato, red onion, and dill pickle planks on a brioche bun. So delicious and satisfying! My other favorite burger here is the Mushroom Swiss Burger.
9. Grace Restaurant
120 8th Ave
Pass-a-Grille Beach, FL 33706
(727) 317-4770
Grace Website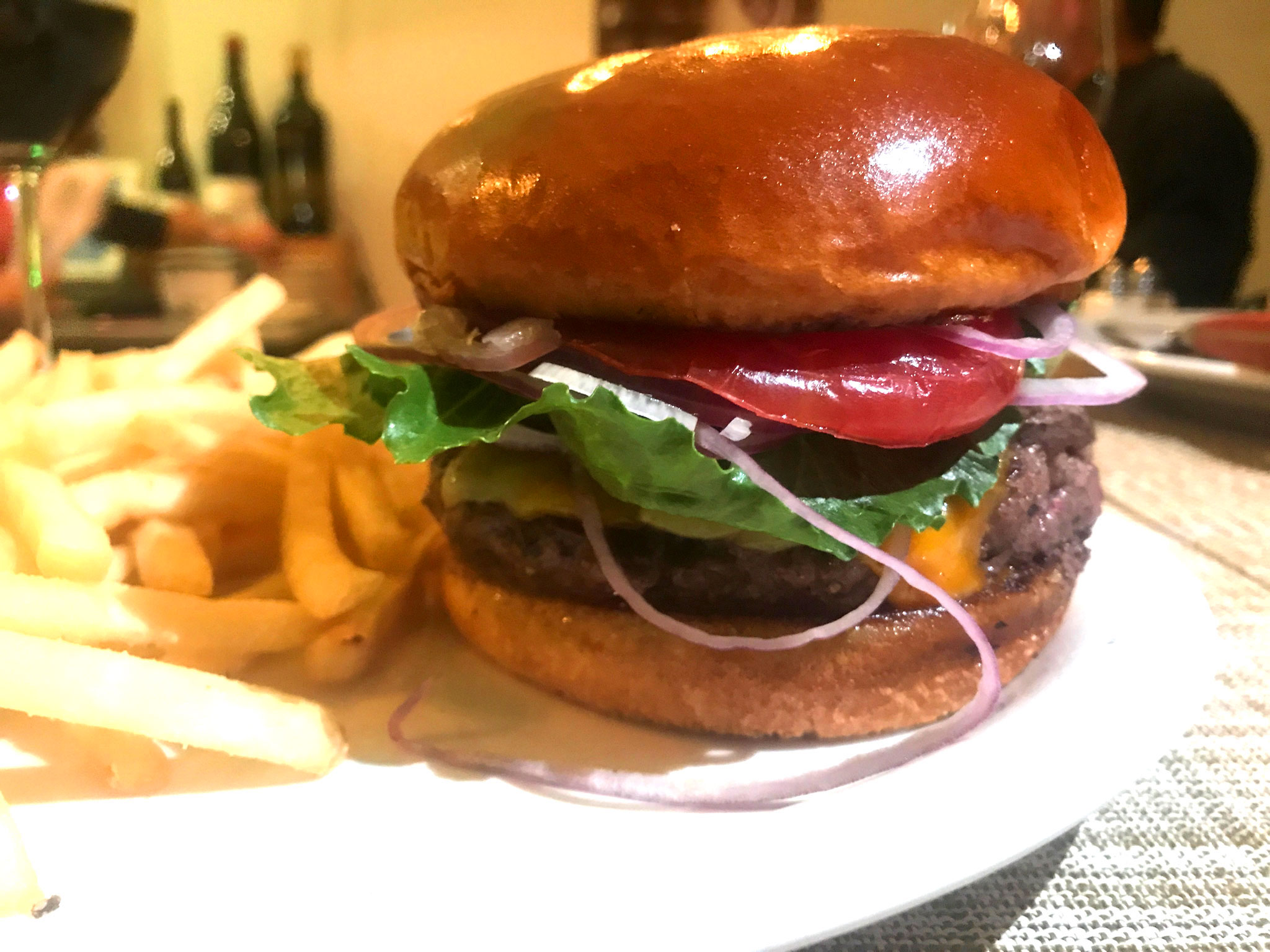 Black Angus Beef Burger – blend of brisket, short ribs, and chuck, lettuce, tomato, and pickle served with french fries. I added the optional artisanal cheese as well.
Wondering what the best burger at the beach is? You're looking at it. Sometimes you just need a "normal burger", meaning one without 25 ingredients stacked eight inches high. However, that's the only thing that's "normal" about Grace's Black Angus Burger. The flavor, texture, and juiciness are extraordinary.
10. The Library
600 5th St S
St. Petersburg, FL 33701
(727) 369-9969
The Library Website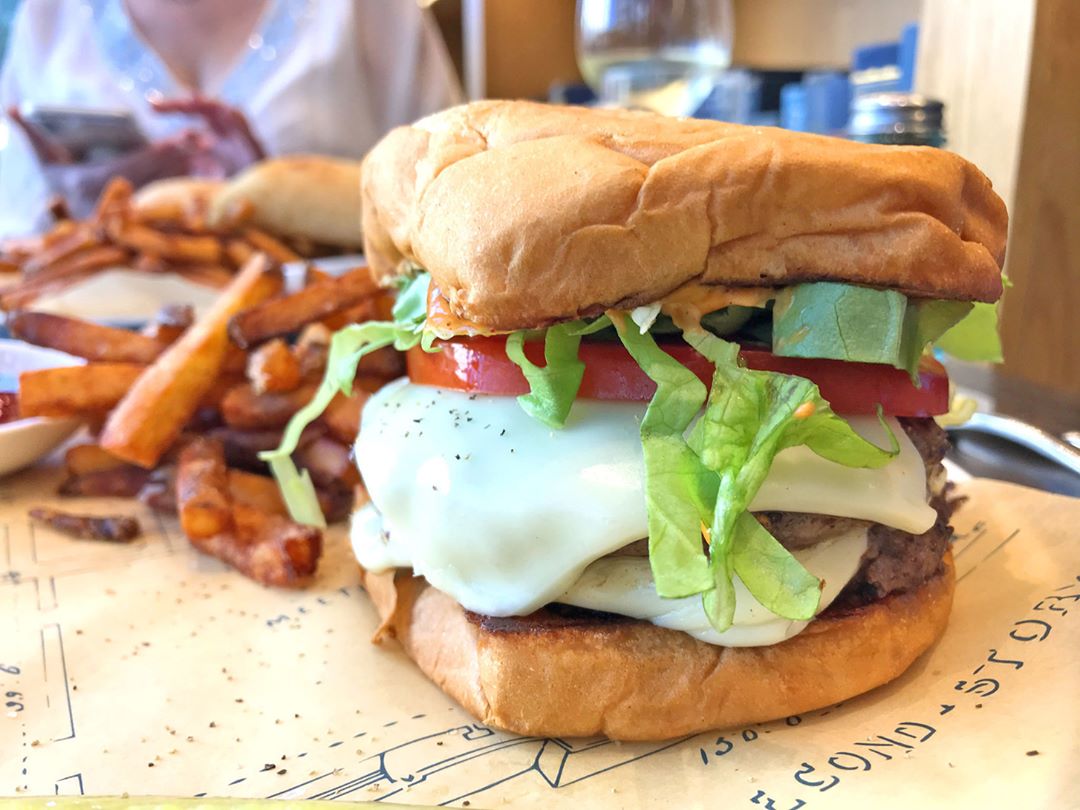 Burger – double patty, sliced white American cheese, lettuce, tomato, library sauce.
It's not the style that most places are putting out these days, but it is just damn good, old school comfort food. It actually reminded me of a Burger King Double Cheeseburger—in a very good way.
11. Mary Margaret's Olde Irish Tavern
29 3rd St North
St. Petersburg, FL 33701
(727) 873-6764
Mary Margaret's Website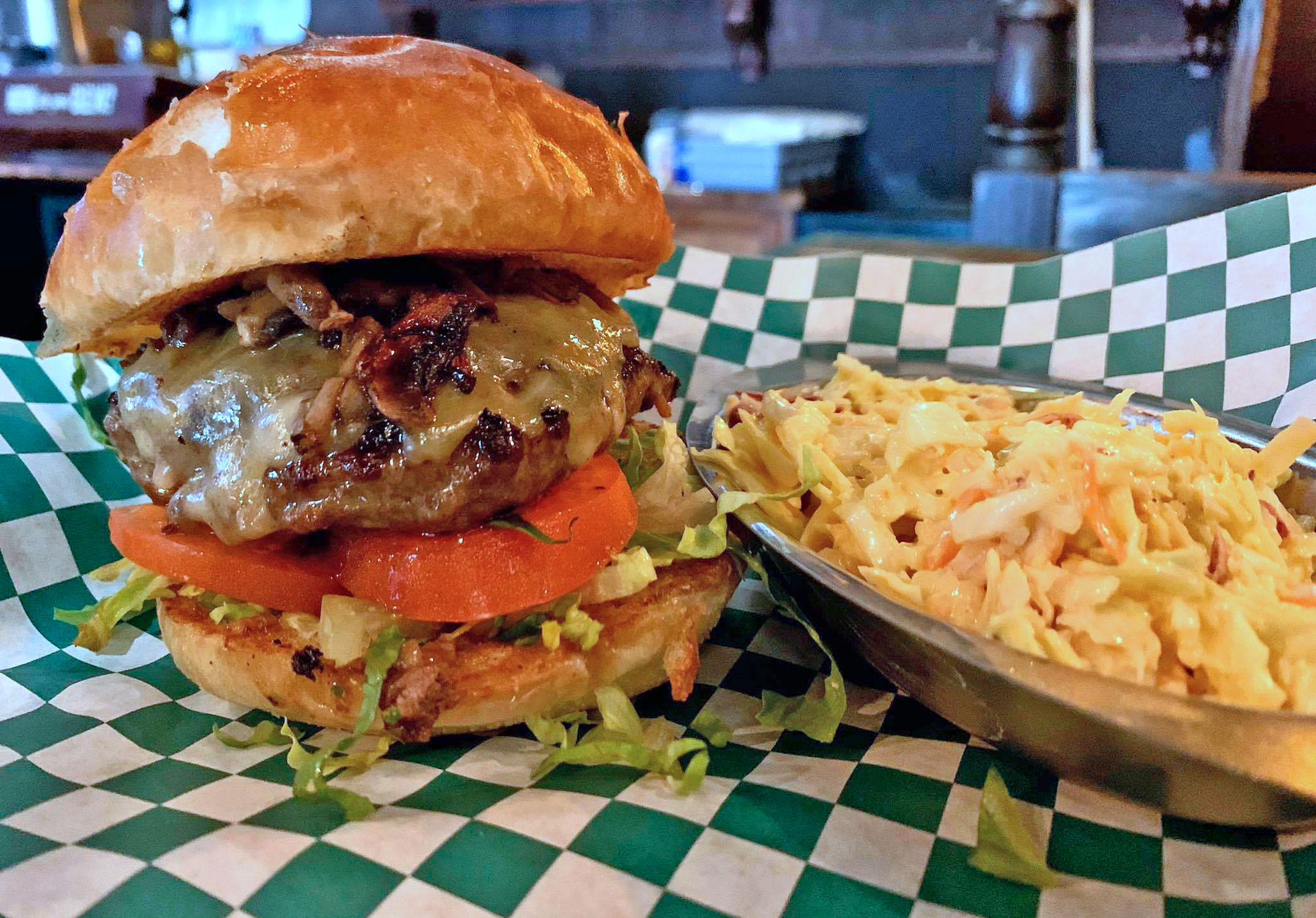 Arthur's Guinness Burger – Guinness infused black angus beef, with grilled shrooms, Irish cheddar, romaine lettuce & tomato on a flaky roll.
Mary Margaret's Guinness Burger has a unique richness and depth of flavor that interestingly reminds me of French Onion Soup, even though there are no onions here. I'll give this one the Umami Bomb Award.
12. The Mill Restaurant
200 Central Ave #100
St. Petersburg, FL 33701
(727) 317-3930
The Mill Website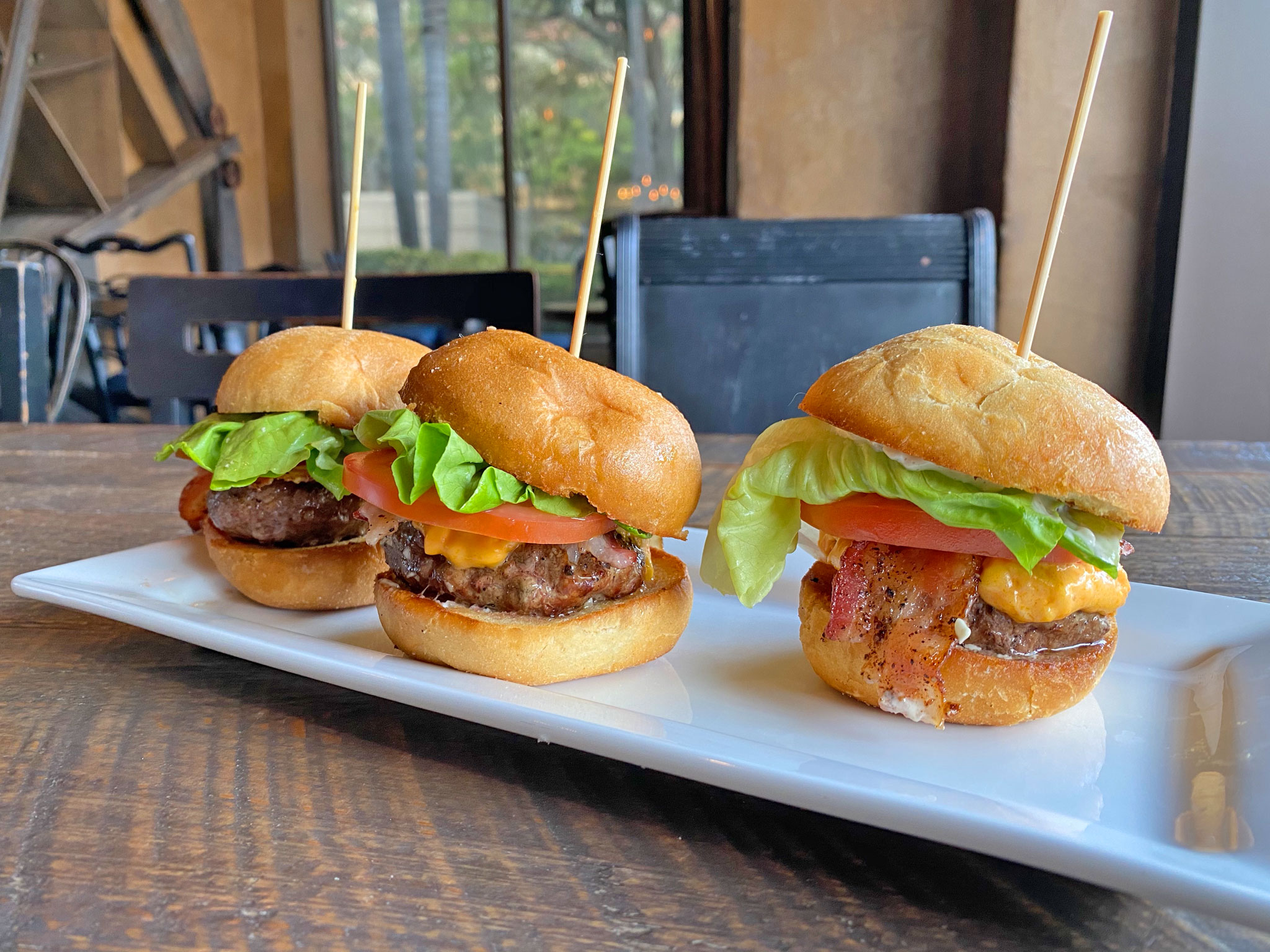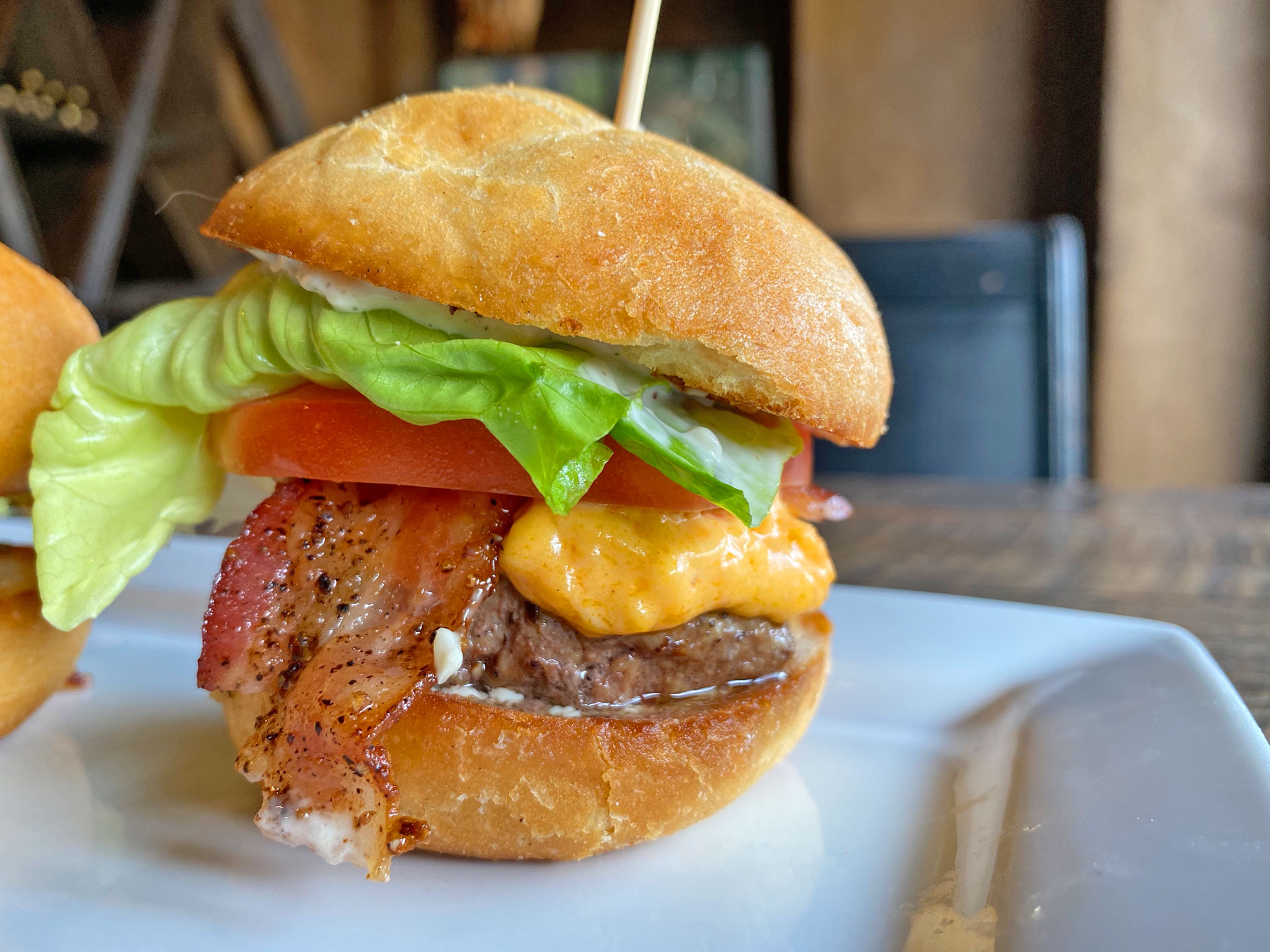 The Mill Burger Sliders – prime beef, pimento cheese, bacon, bibb lettuce, tomato, smoked caramelized onion aioli.
The Mill (as well as Engine No.9) utilizes U.S. Prime, the highest in quality and intramuscular fat with a limited supply. [Currently, about 2.9% of carcasses grade as Prime. – Beef2Live.com (July 17, 2020)]
Prime beef is part of the magic of these burger sliders. Just look at the juices in the close-up shot. The Caramelized Onion Aioli is a nice touch as well. And of course, one of Chef Ted Dorsey's signature ingredients—Pimento Cheese makes for super delectable perfect bites.
Look for these in the Sliders section of the menu, and see more of the menu in our review here.
13. Red Mesa Cantina
128 3rd St South
St. Petersburg, FL 33701
(727) 896-8226
Red Mesa Cantina Website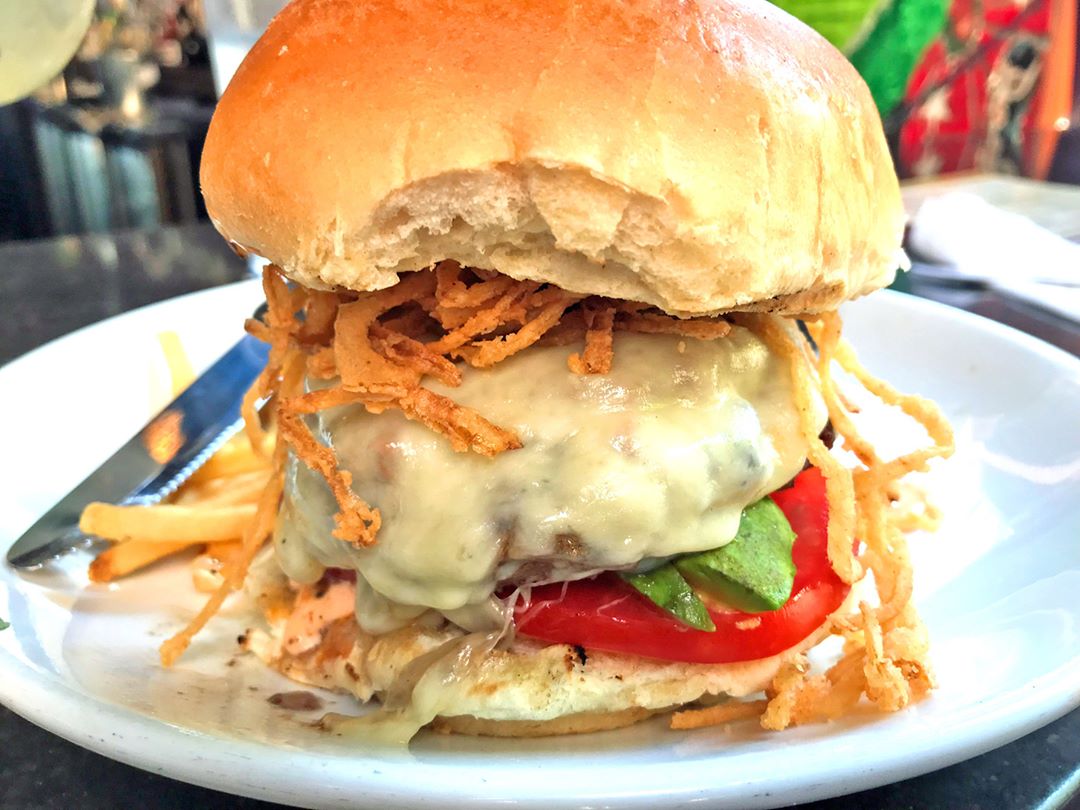 Sirloin Chorizo Burger – fried onions, chorizo, avocado, jack cheese, tomato and chipotle aioli on a brioche bun. My original "best burger in St. Pete" from back in 2010, and still one of the best. The chorizo gives it a wonderful richness.
14. Sea Dog Brewing Co.
9610 Gulf Blvd
Treasure Island, FL 33706
(727) 954-7805
Sea Dog TI Website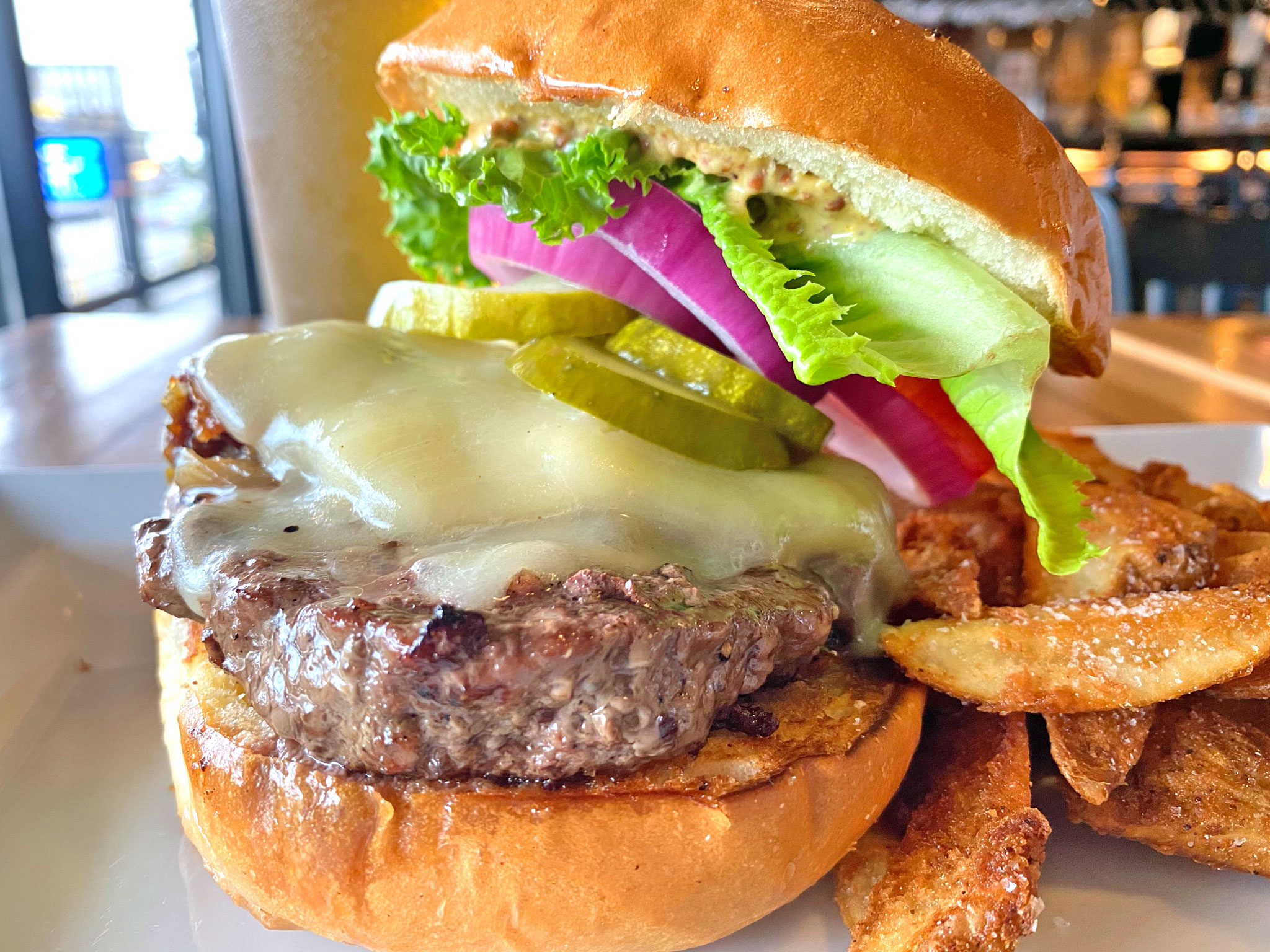 The Drunken Burger – certified angus beef with bourbon bacon jam, Export Ale onions, Sea Dog beer mustard, and Dakin white cheddar on a brioche bun. Lettuce, tomato, onion, and pickle served upon request, which I did.
Sea Dog TI also offers the Pub Burger (cheeseburger with different cheese choices), and a BBQ Burger as well. The Drunken Burger was outstanding. It delivered such a fulfilling, satisfied feeling for all of the senses—the crunch of the lettuce, onions, and pickles, which are thick and hearty just like the burger itself, the juiciness of the meat, and gooeyness of the cheese… you can tell they don't skimp on anything at Sea Dog. Even the brioche bun held together with all the extra stuff I piled on top. The fries are unique and delicious too.
I accompanied this with Sea Dog Sunfish – a light bodied wheat beer with fragrant peach essence, and a clean refreshing grapefruit.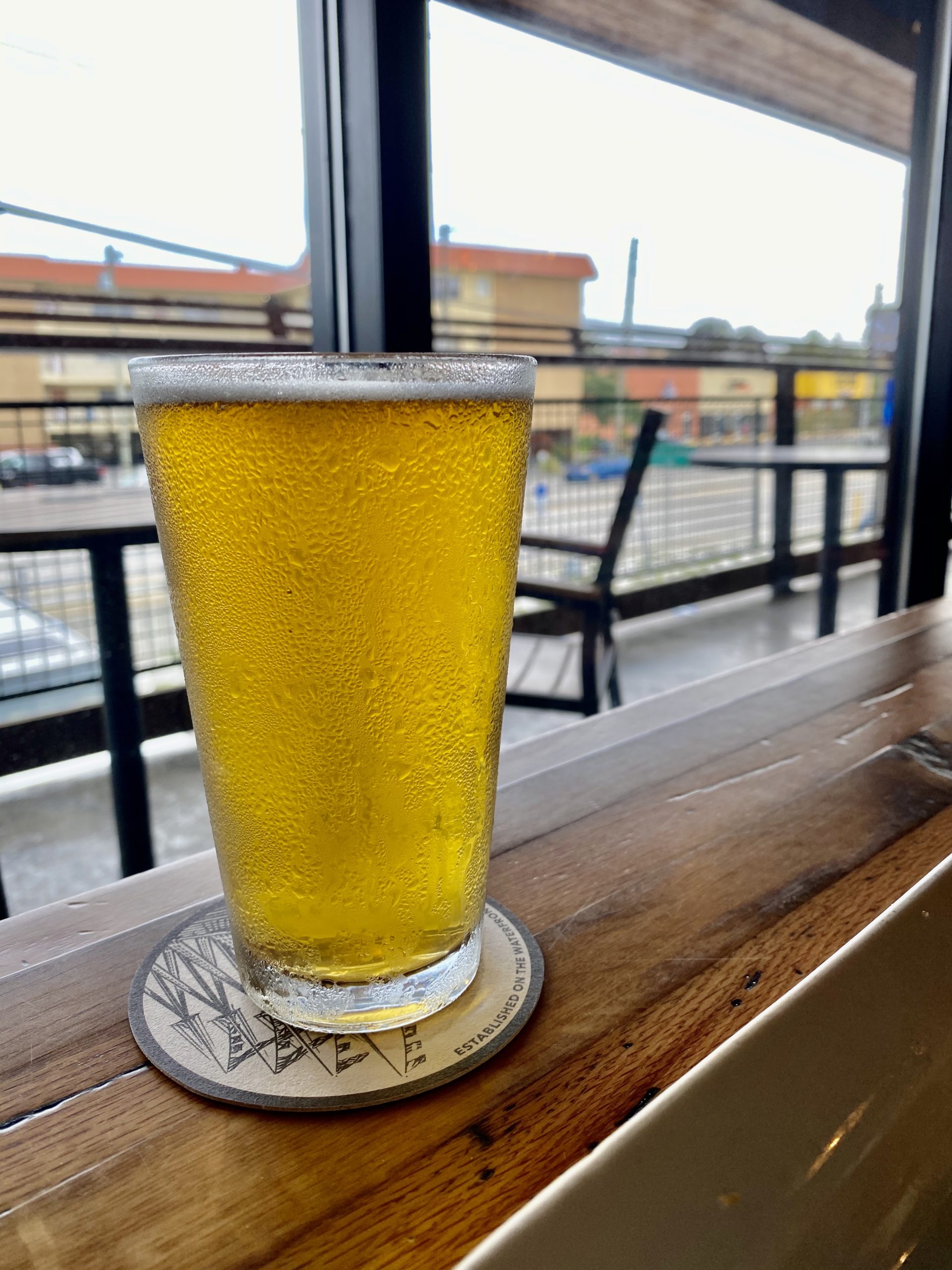 15. Stillwaters Tavern
224 Beach Dr NE
St. Petersburg, FL 33701
(727) 350-1019
Stillwaters Tavern Website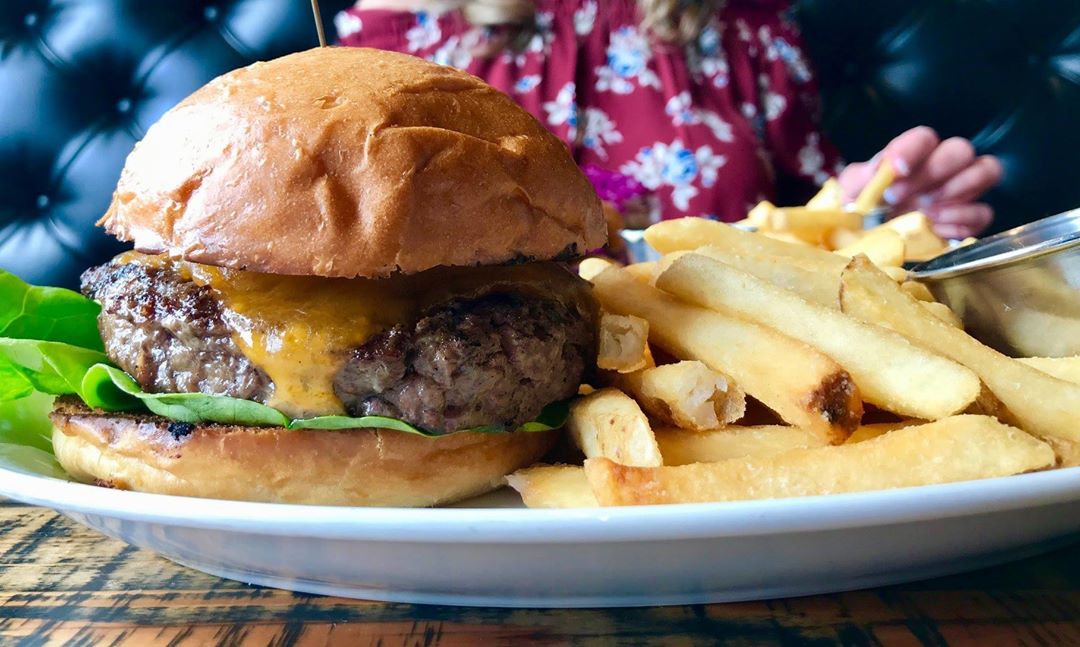 Tavern Burger – hand formed short rib, chuck, and brisket with sharp cheddar, thousand island, lettuce, caramelized onions, tomato, brioche bun.
This is another really good down-home burger that tastes great, has just the right amount of complexity, and easily fits in your mouth. It's a quite flavorful blend of beef, and seasonings.
St. Pete Foodies Content Creator Abby Allen contributed the El Cap photo and text to this article.
I'm sure there are some readers favorite burgers that are not on the list. Please comment with them below so other readers can see them and check them out too.
Just for fun, check out my article on Burger Stacking too!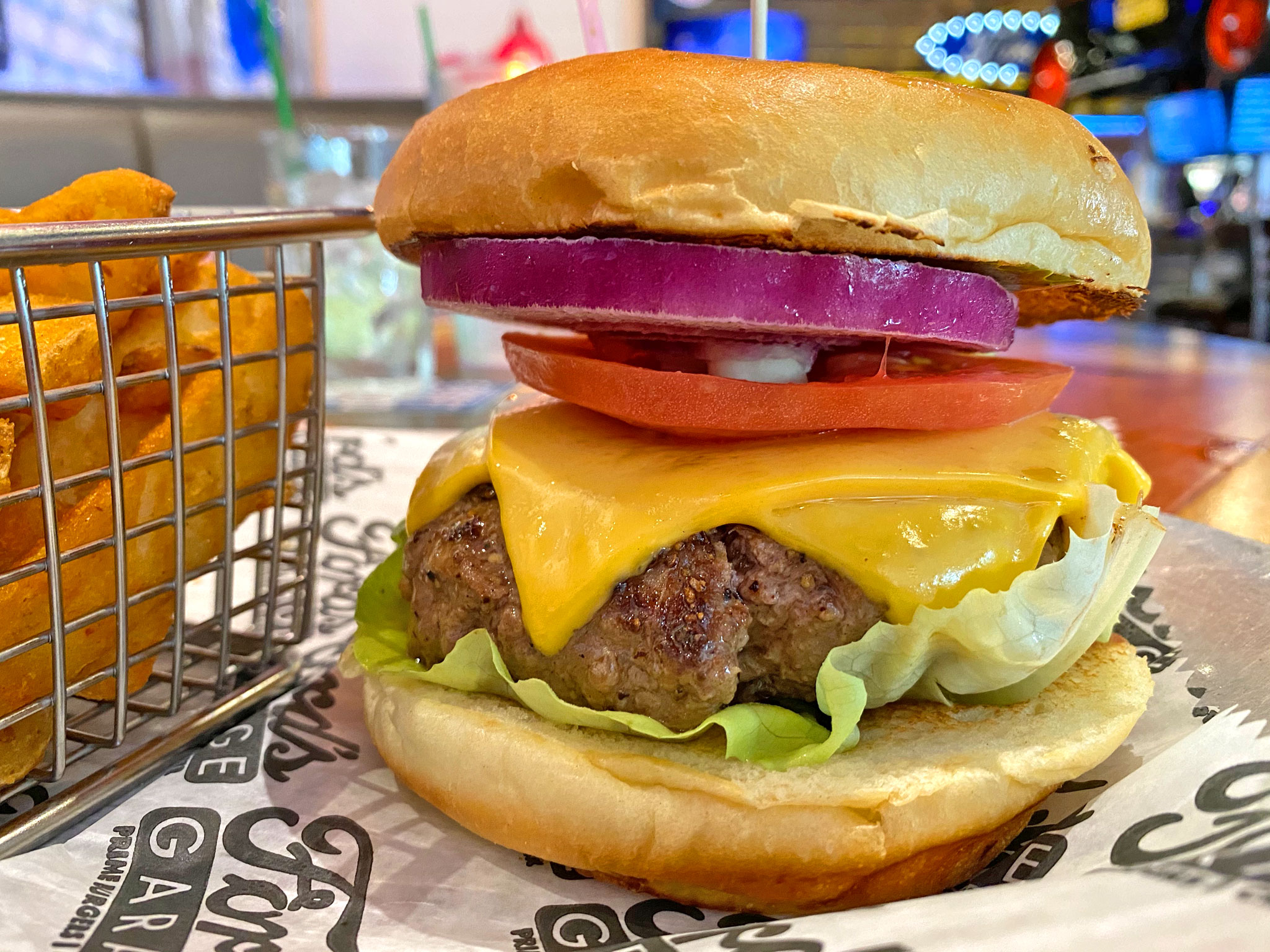 Readers Rating

Rated 4.6 stars




4.6

/ 5 (

Reviewers

)

Outstanding
---
Everyone loves hamburgers! A cheese burger is the epitome of American food, and here are some of the best local eateries with great burgers.