A Mano Italian Ristorante Brings the 315 to the 727
A Mano Italian Ristorante Brings the 315 to the 727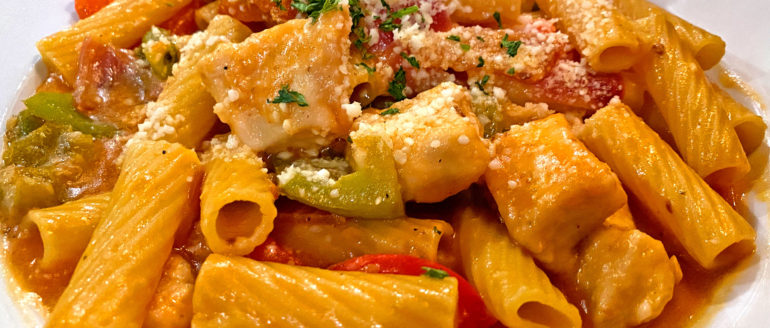 Upstate NY Italian Food Arrives in St. Pete – Mangia! Mangia!
There's lots of Italian restaurants in St. Petersburg, Florida. LOTS. The last two restaurant reviews we've published here have been Italian restaurants. (Make that three now.) People that know me have heard me painfully bemoan, "Do we really need another Italian restaurant in St. Pete?"
A Mano Italian Ristorante on the corner of 59th Ave & 4th Street North is offering something different, so in their case the answer is Yes, we do need another Italian restaurant in St. Pete.
Chef Daniel Rabice used to serve up his special Utica NY Italian recipes at Lamantini Trattoria in Bradenton, FL, (amongst many other places in NY), but the owner retired, and closed the place in 2021.
He's worked in and around St. Pete for many years, and in mid-2021 found out that Josh Cameron, Principal of Crafty Hospitality an organization that owns & operates 'The Oyster Bar' – one of the longest-serving restaurants in downtown St. Petersburg, the 'Crafty Squirrel' a high volume sports bar, 'Our Bar' a local pub, and 'Where's Jubes', an Australian Brewpub opening this Spring, was buying the Gigi's 4th St N. location. (We broke that news in July 2021 – Gigi's St. Pete Spot Sold to Josh Cameron's Crafty Hospitality).
"A Mano" means "by hand", and in this case it means a scratch-made kitchen, where they make everything homemade from their dressings, sauces to meatballs and more. It also translates to some of the pastas as well.
The menu is Italian and 315/Utica NY inspired, including items like Utica Greens, Chicken Riggies, Everything Wings, Upstate New York Style Pizza, and more.
Our faithful foodie friends, Abby and Mike came along to help us eat a generous amount of food. (Abby creates recipes and writes reviews for St. Petersburg Foodies, by the way.)
Going in order, here's what we had. First up – drinks!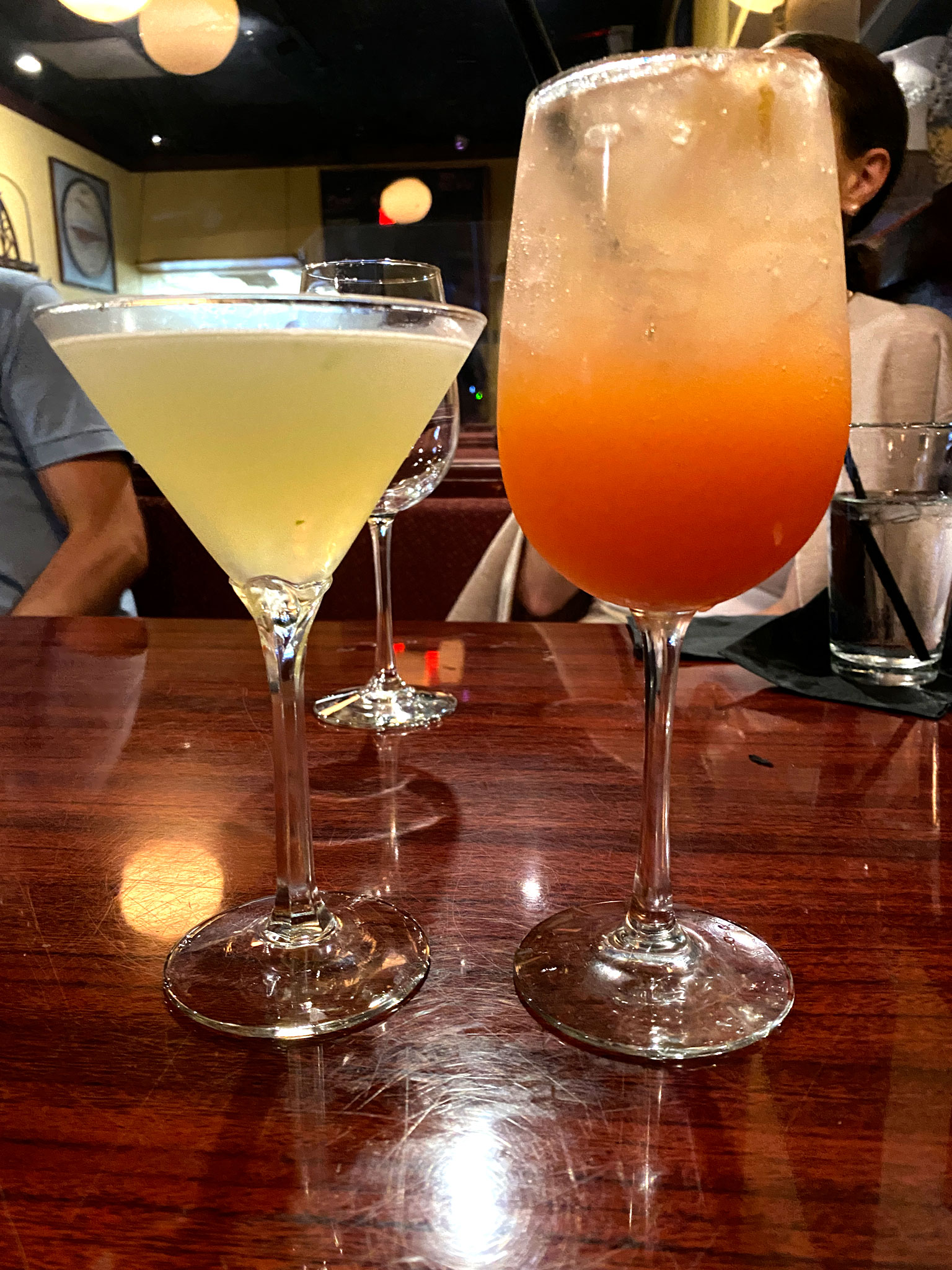 I had the Genovese Spritz (R) – Wheatly vodka, Campari, lemon, peach, prosecco, and Lori enjoyed the Gotti Gimlet (L) – Absolut watermelon, lime, cucumber, basil.
All of the drinks are named after Mafia bosses of old, except the last one, which is a famous line from "The Godfather". Leave the Gun, Take the Cannoli – Myers Dark Rum, Café Borghetti, Dark Crème De Cocoa, crème, Mascarpone cheese.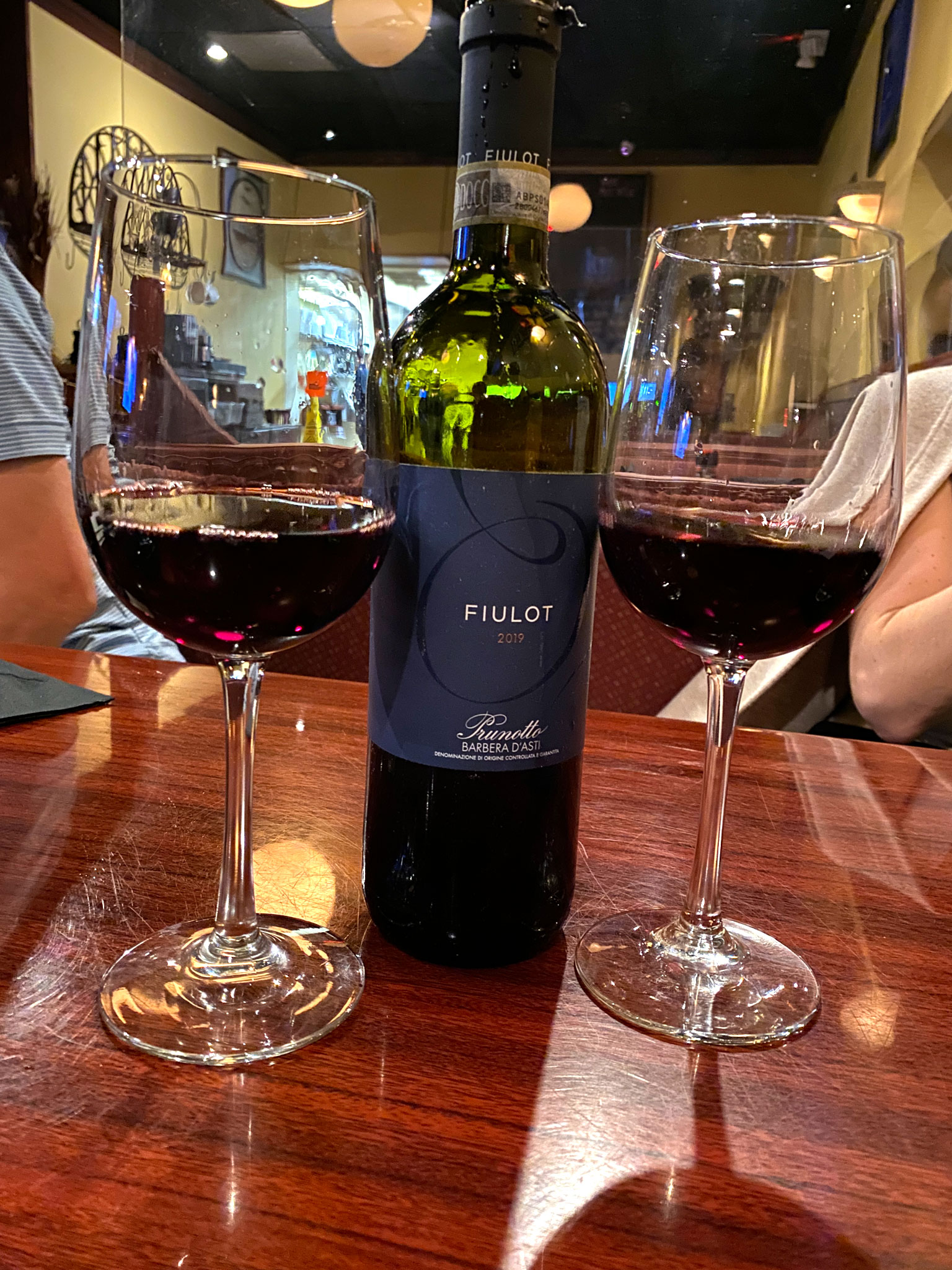 Abby and Mike always know the right wine to order, and this time the Prunotto Barbera d'Asti Fiulot 2019 perfectly fit the bill. It has a clear deep ruby color with clean medium-intense nose with notes of red cherry, strawberries, vanilla, and baking spice. There is a medium acidity with a dry, full body and medium tannins – perfect for Italian food.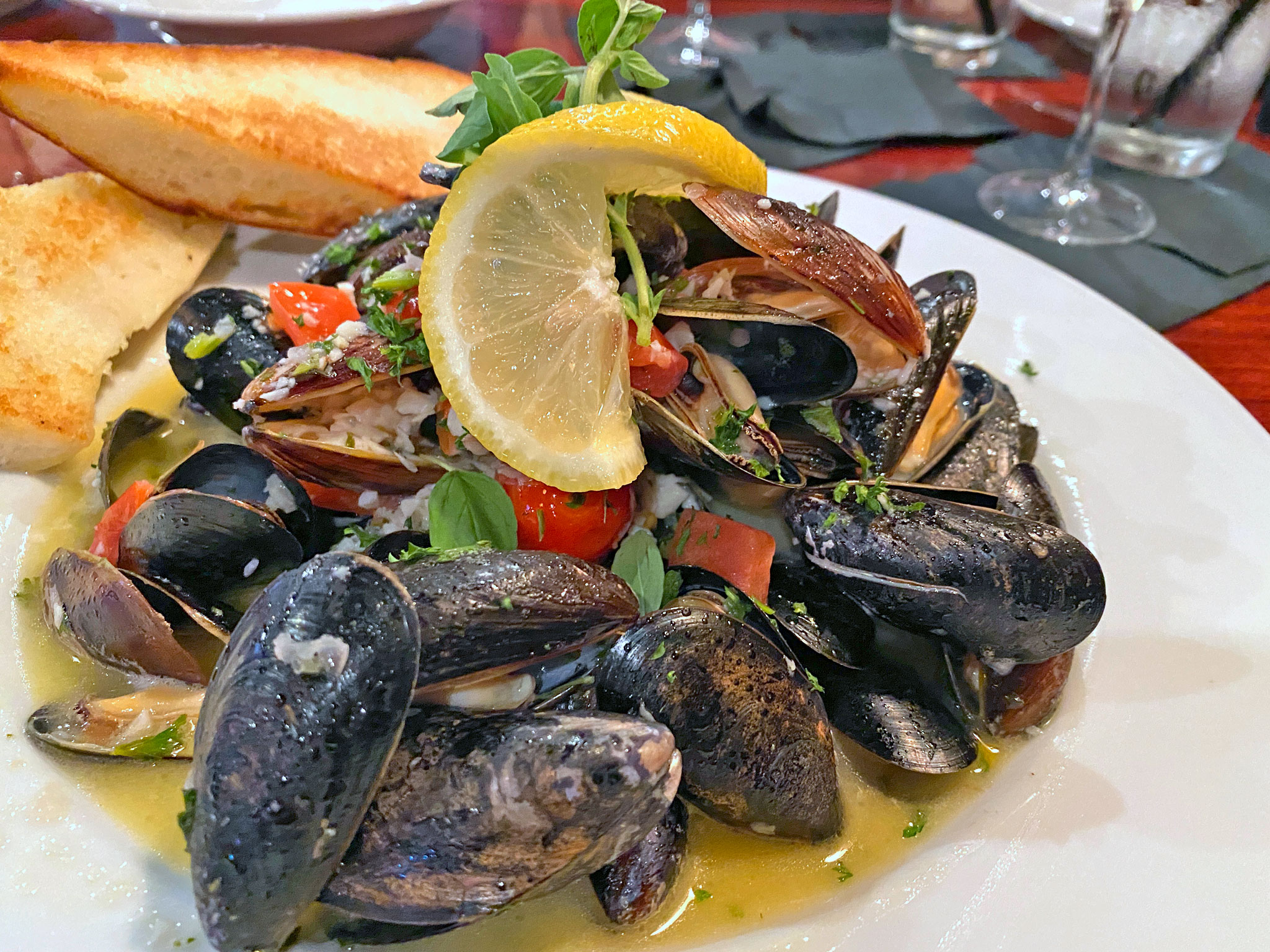 Mussels Bianco – white wine, garlic, tomatoes, lemon butter broth.
The mussels were loved by all of us. They were as fresh as it gets, not chewy at all, packed with flavor, and the broth deliciously soaked into the bread for a great reward after the tasty bivalves were gone.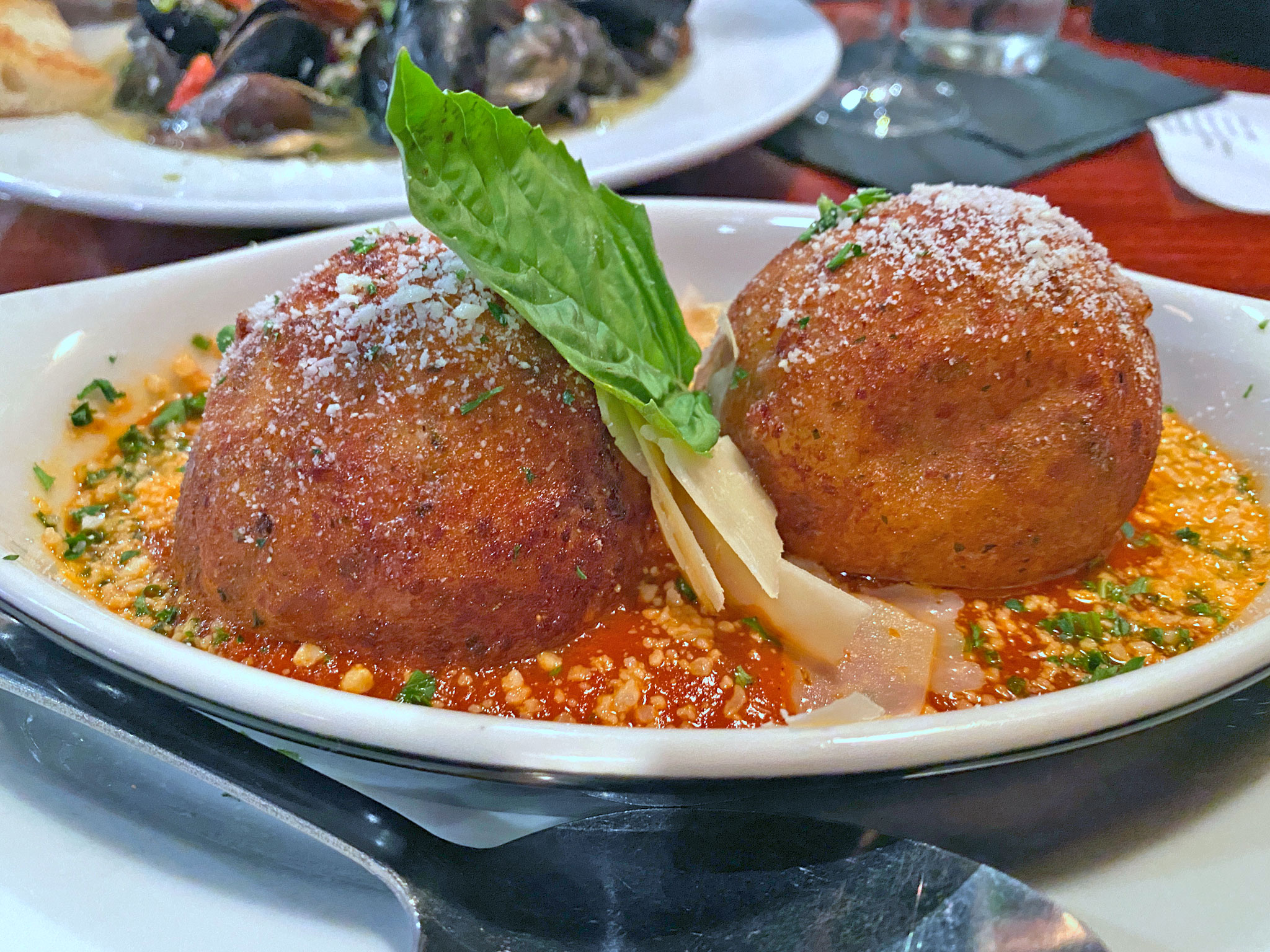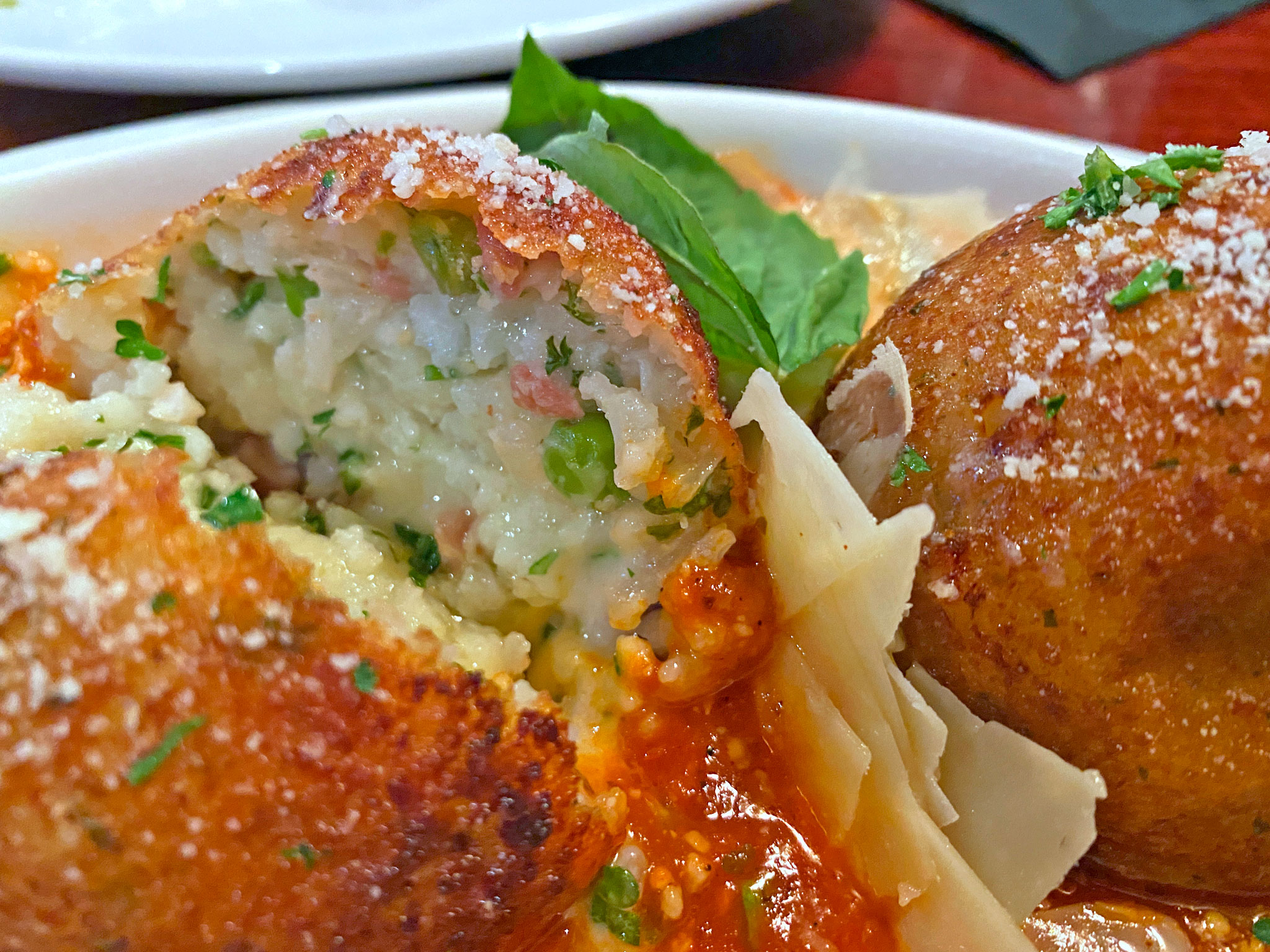 Arancini – Prosciutto di Parma, peas, mozzarella, Pecorino Romano, marinara.
The arancini had that perfect contrast between the crunchy, crispy outside, and the chewy-gooey comfort of the rice, cheese and peas on the inside. I felt like I was being rewarded for being a "good boy".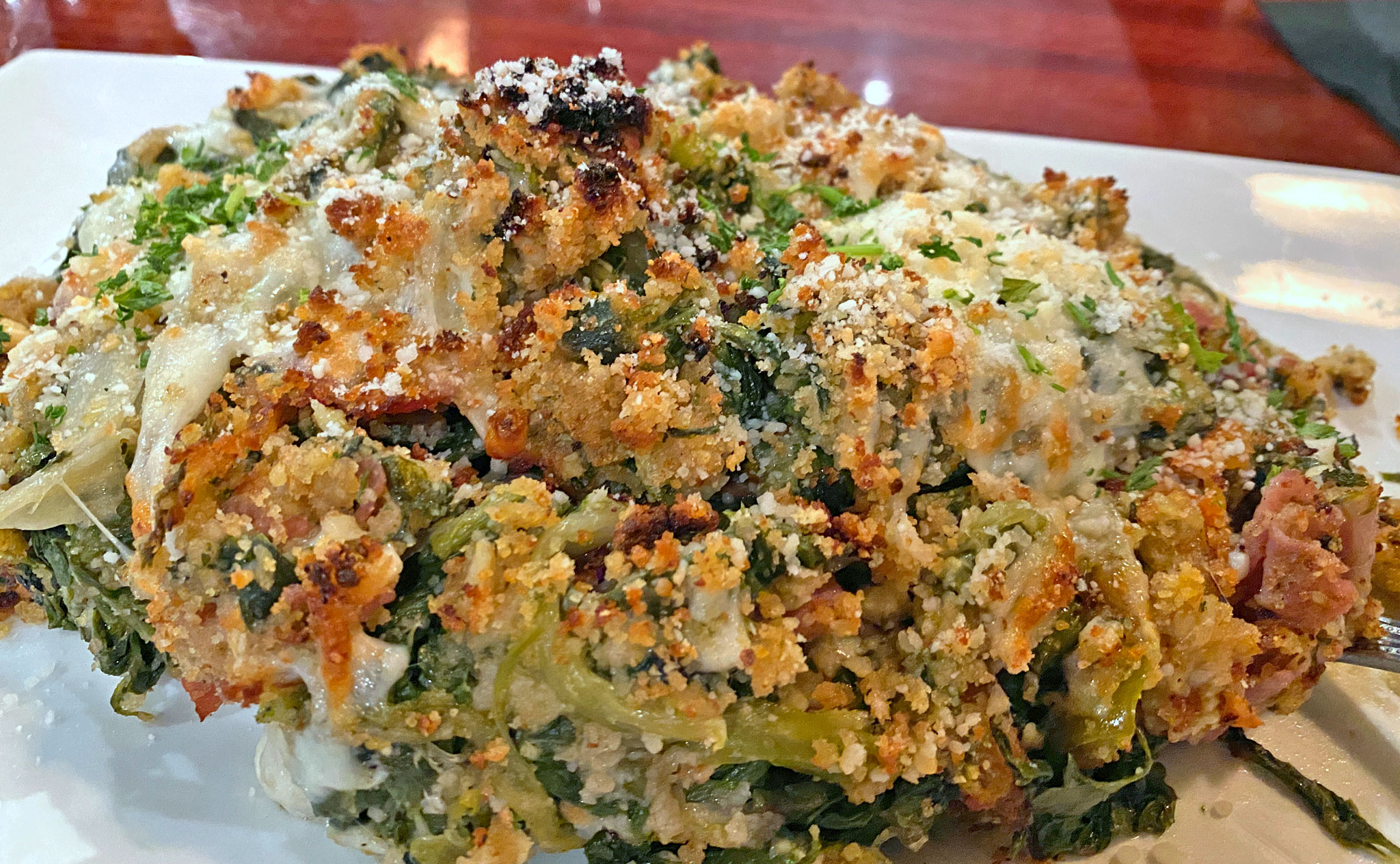 Greens Morelle (aka Utica Greens) – Italian greens, sweet & hot peppers, Proscuitto di Parma, mozzarella, oregenata bread crumbs.
These ain't Jenny Craig's greens. These are Utica NY's greens, and it's not what your momma was talking about when she said, "Eat your greens". This one is bright green and hearty in taste at the same time. We liked them, but probably not as much as a Utican would. It is also gigantic! I'd recommend the restaurant offering a half portion.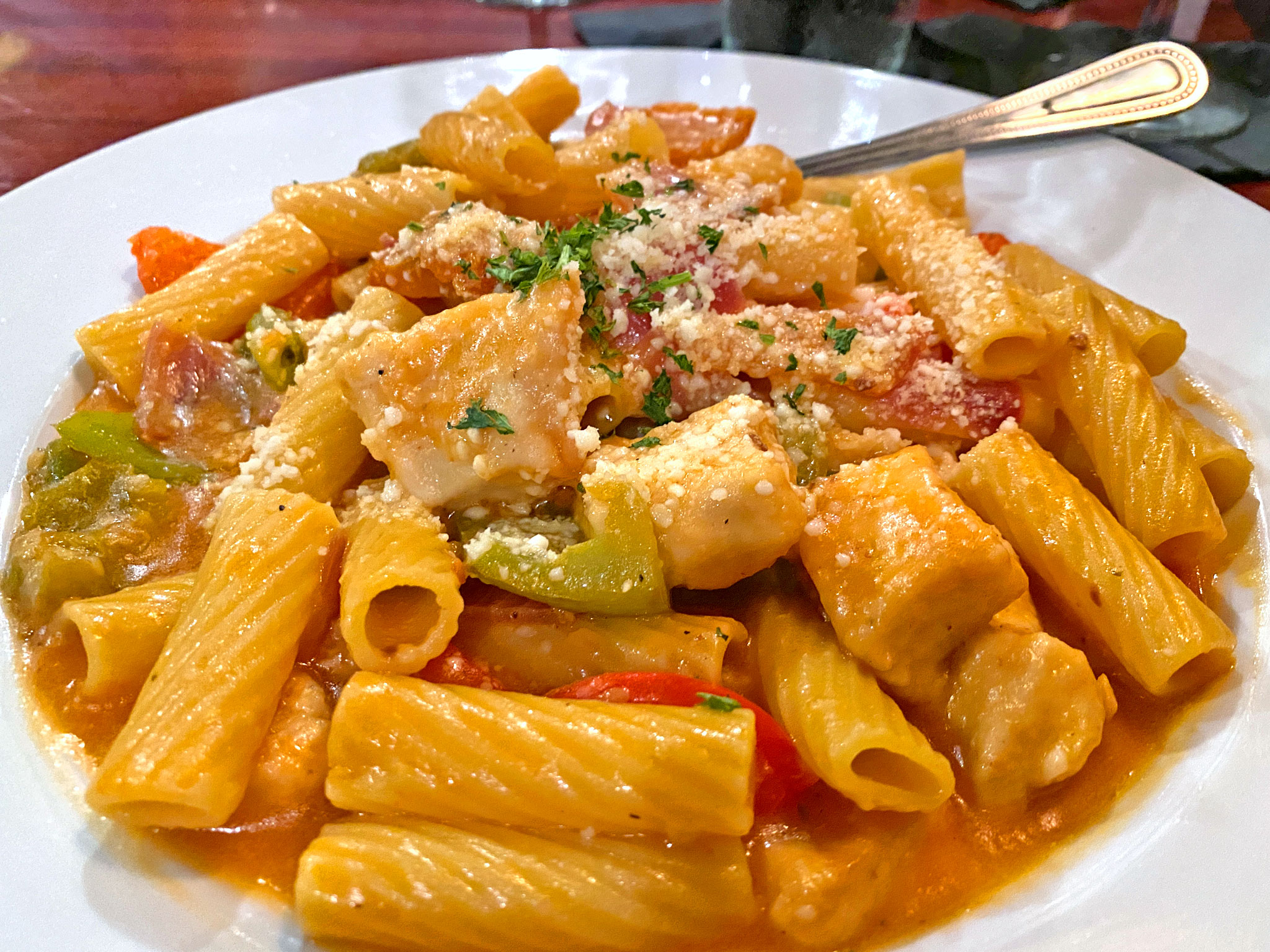 Chicken Riggies – chicken, Pecorino Romano, red onions, sweet & hot peppers, marinara, rigatoni.
This is one of the crown jewels in the Utica-Italian repertoire that you must try. First of all, who doesn't love rigatoni? The chicken was moist and delicious, and the sweet and hot peppers only make it better. I really liked this entree.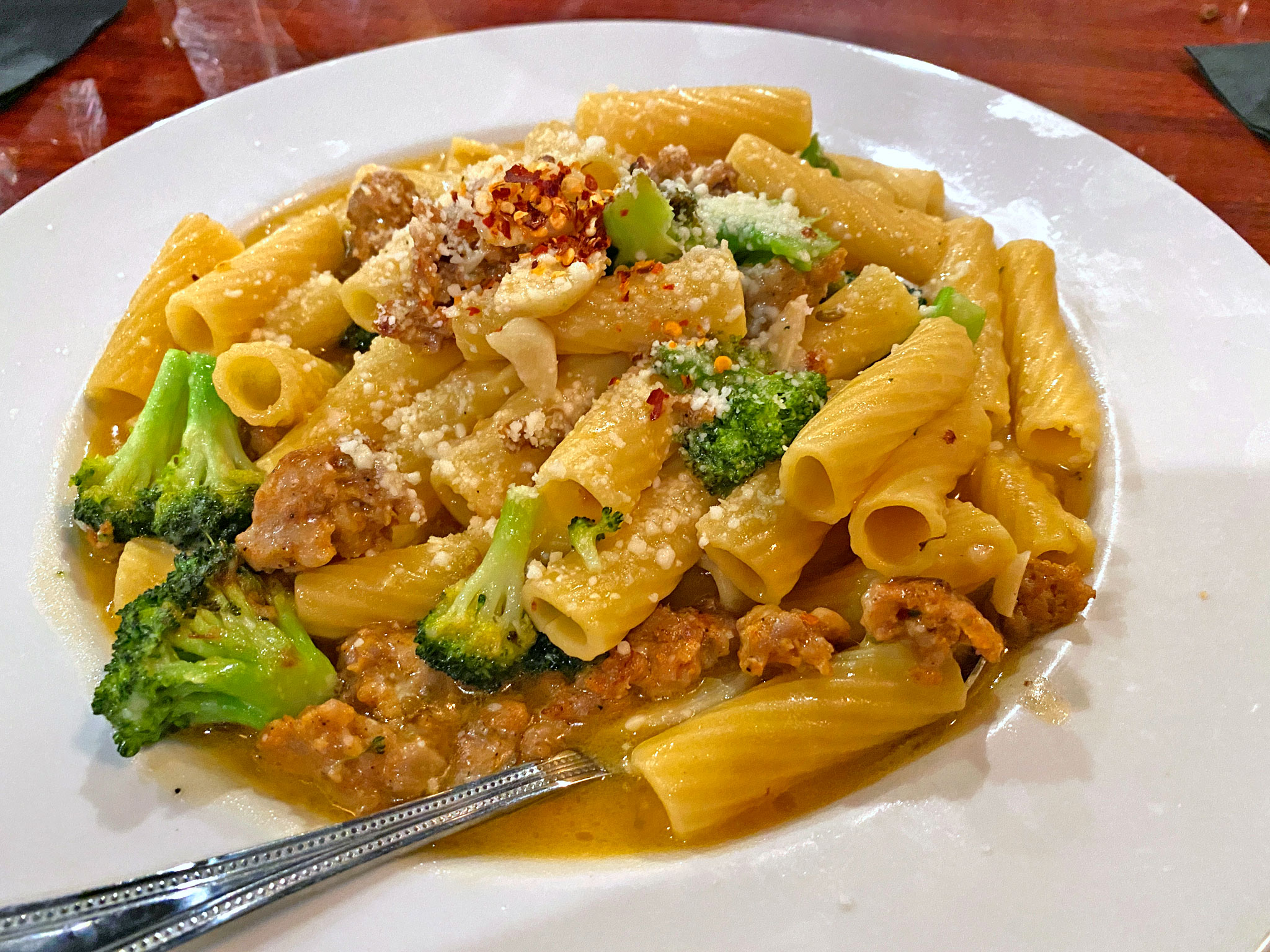 Rigatoni Carmine Rabice – broccoli, garlic, EVOO, Italian sausage, Pecorino Romano, rigatoni.
Another Utican dish, I liked this one even better than the Chicken Riggies. The Italian sausage just makes it. The "Carmine" in the name is a nod to Carmine's in NYC as it is Chef Daniel's twist on one of their offerings.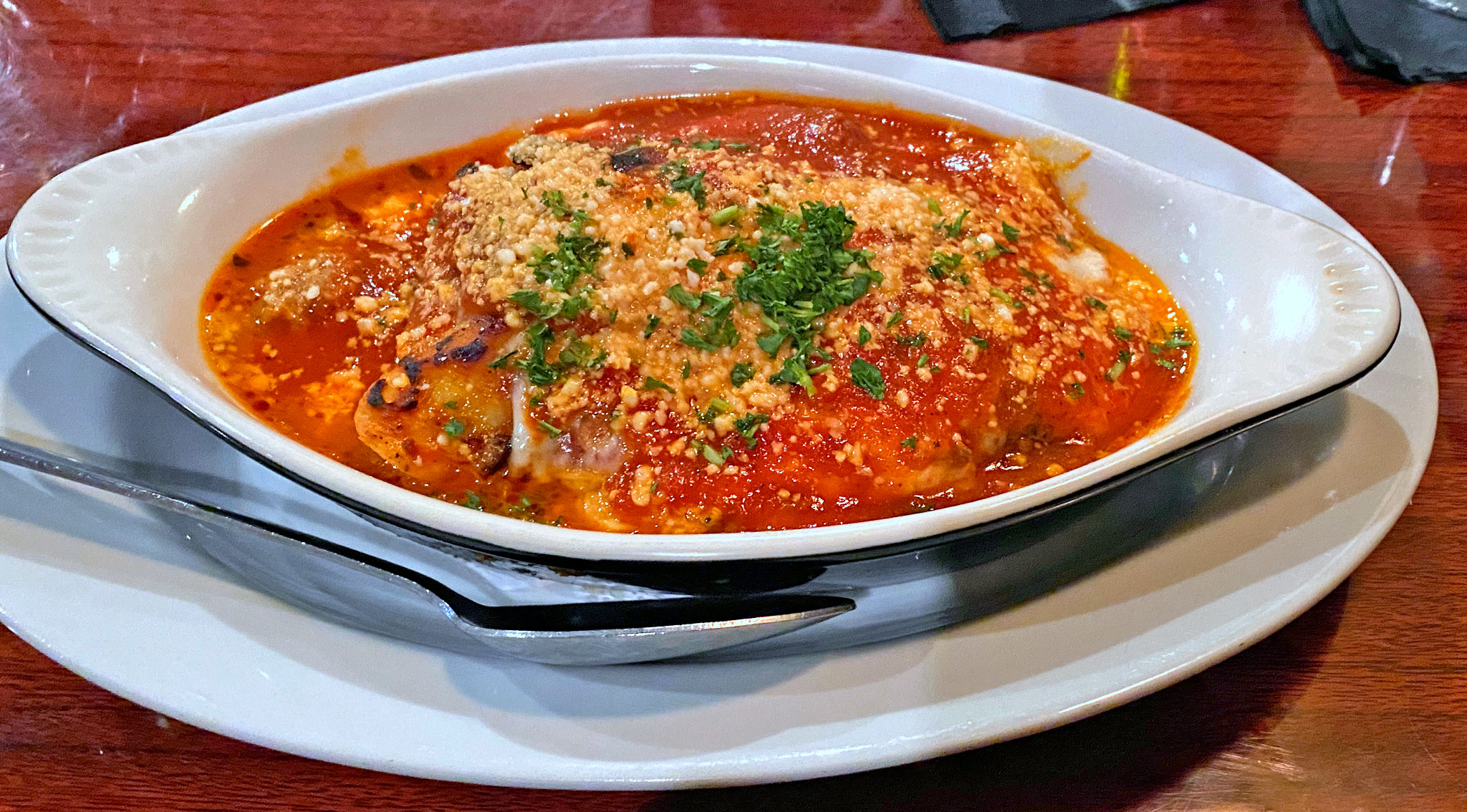 Lasagna Bolognese – pork, beef, veal, mozzarella, ricotta, marinara.
This is one of Lori's go-tos for testing an Italian restaurant, and it definitely passed the test. It was the perfect contrast between fine, silky smooth noodles with the heartiness of the bolognese and brightness of the tomatoes.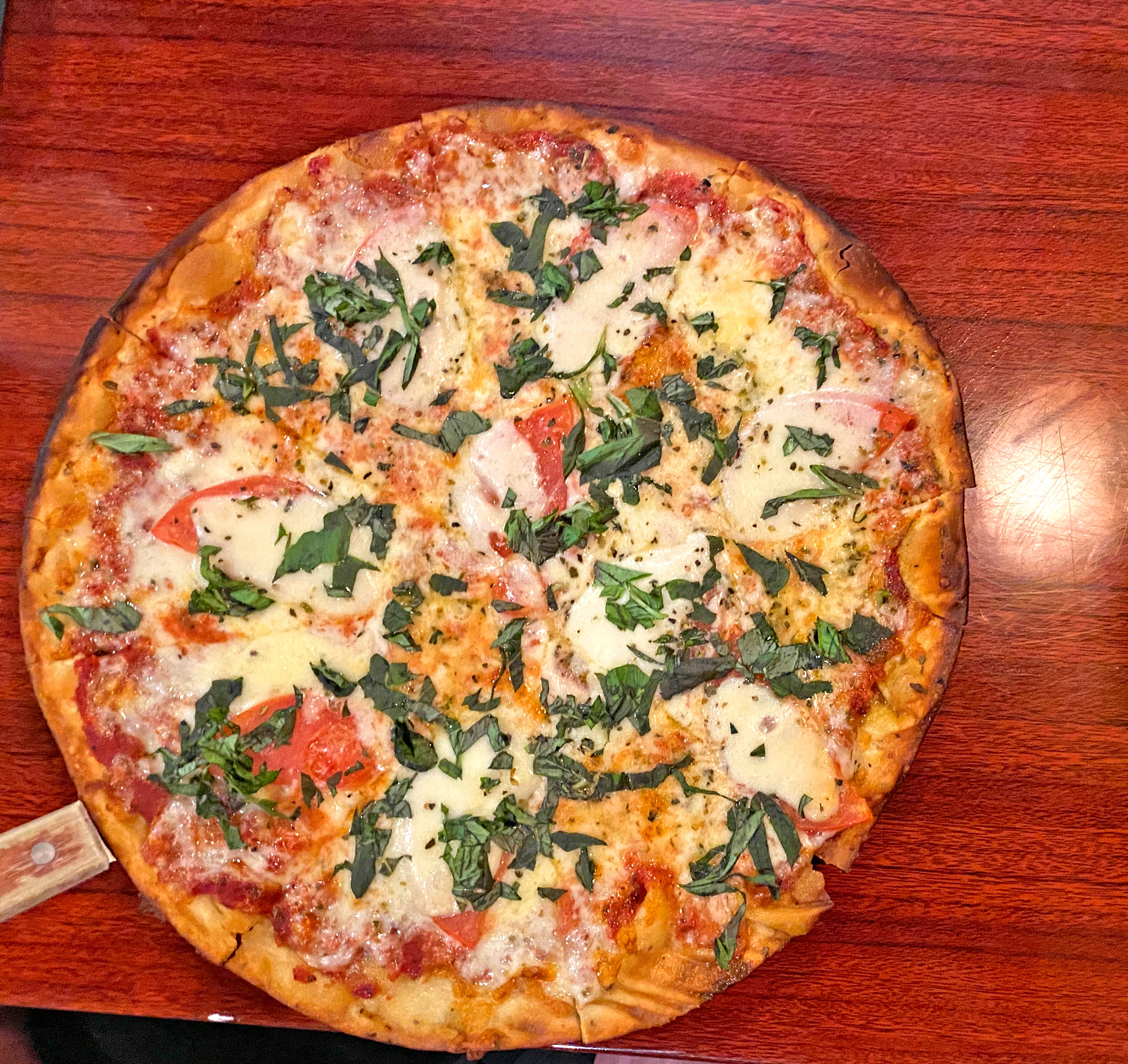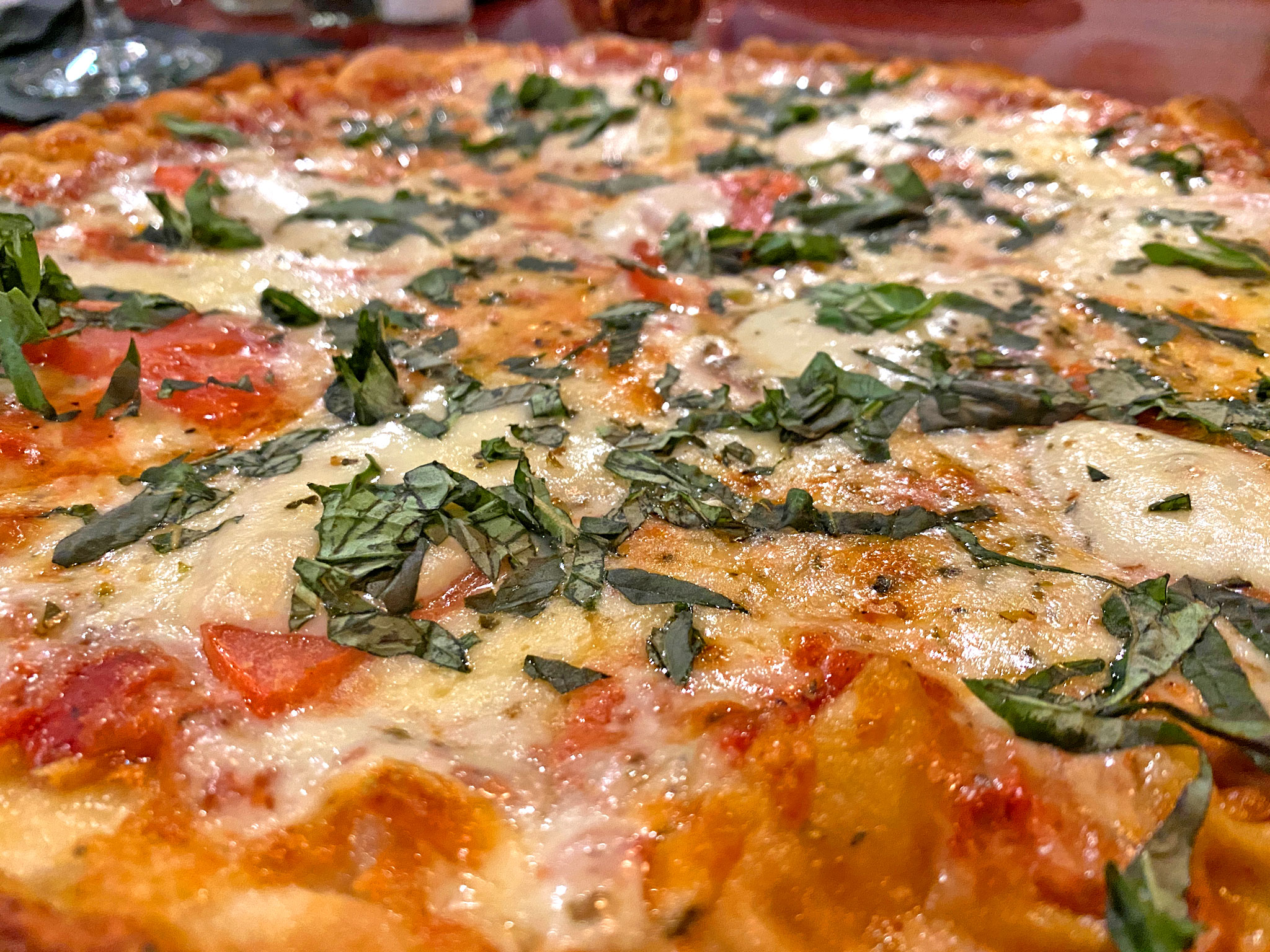 Margherita Pizza – fresh mozzarella, tomatoes, basil, tomato sauce.
The pizza was quite satisfying. Utica NY pizza has a thin, crunchy cracker-like crust, somewhat similar to Chicago thin, and Ohio pizza, while still being it's own unique eats.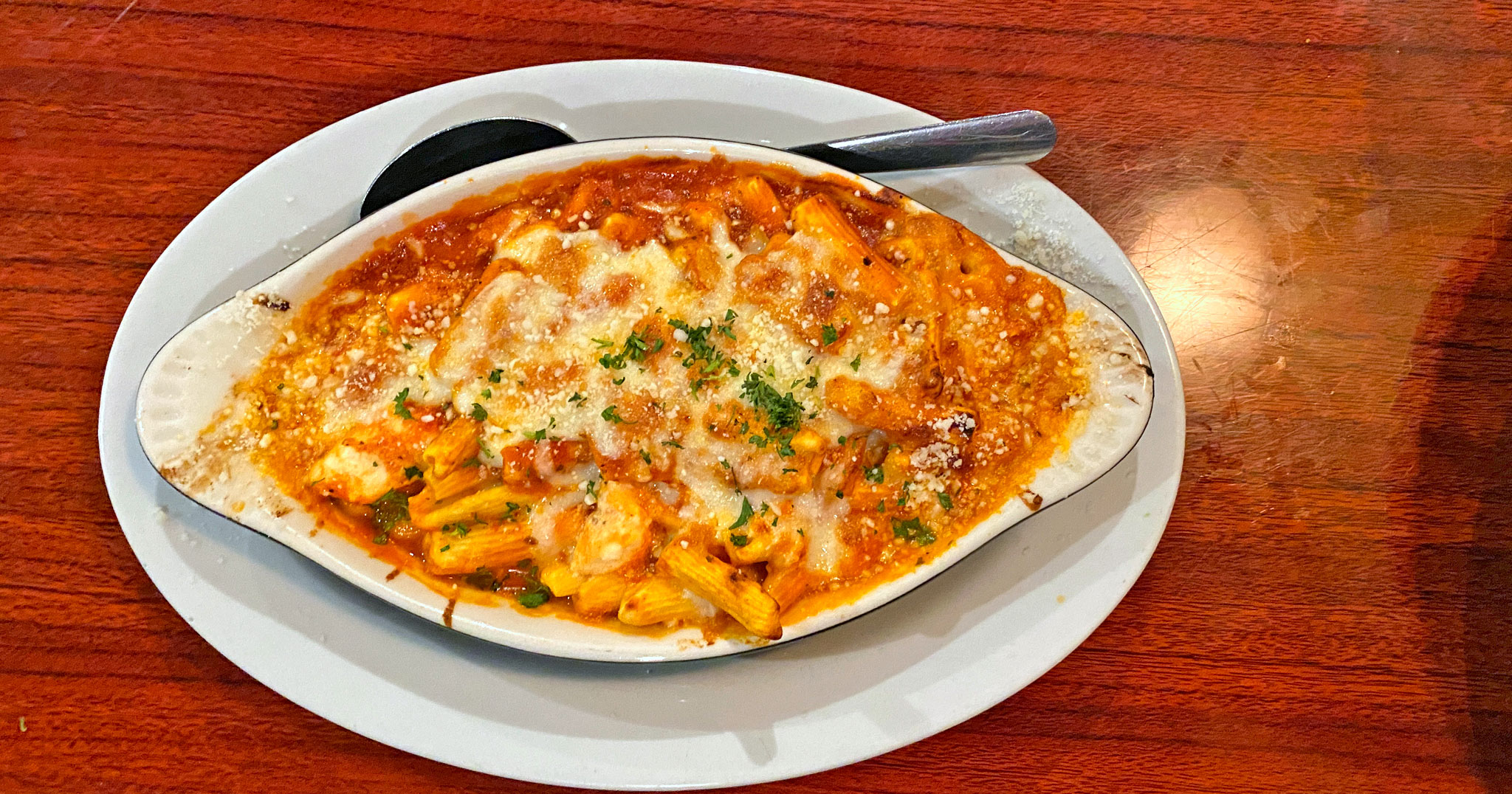 Baked Cavatelli – cavatelli pasta baked with marinara, ricotta and mozzarella.
This was one of the off-the-menu specials, and we all loved it.
At this point we were so full that we had to skip dessert, but here is a shot from the restaurant of their Triple Chocolate Cake.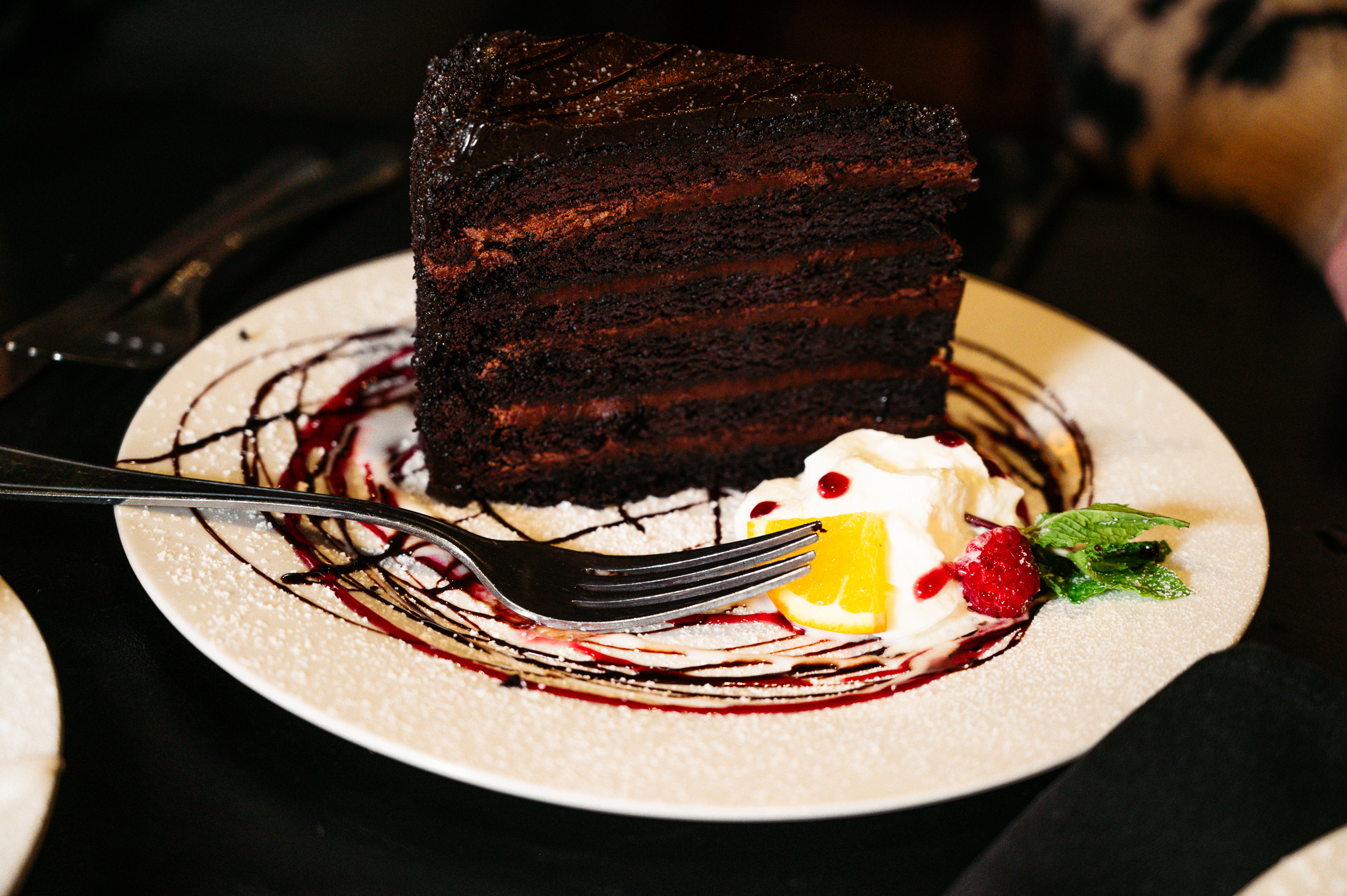 Shoutout to our server Keri. She was just wonderful.
The restaurant offers weekly programming:
Every Day Happy Hour | 3PM – 6PM | 50% off drafts, wells, and house wines.
Flight Night Tuesday | Four three oz flights of wine for $10.
Twisted Thursday | 50% off pasta dishes all day.
First Responder Friday | 25% off for first responders and healthcare workers with proof of employment.
Old-World style Italian cuisine with a modern flare & a Utica NY twist
DISCLAIMER: Kevin, Lori, Abby, Haley, & Lindsey do not dine anonymously (this would be impossible) and we sometimes get free food (though never expected). However, we dine with the locals and we support our own. You will always get honesty in a respectful manner.

PLEASE NOTE: Reviews reflect a certain moment in time. Some restaurants stay extremely consistent over many years, and some change for the better or worse. Some things that may change are: chefs, recipes, food suppliers, ingredients, philosophies, ownership, etc. We always hope that you have the same good, or great experience we had.
More Foodies News, Reviews & Recipes