McArthur's Irish Pub: North St. Pete's Favorite Irish-Style Watering Hole
McArthur's Irish Pub: North St. Pete's Favorite Irish-Style Watering Hole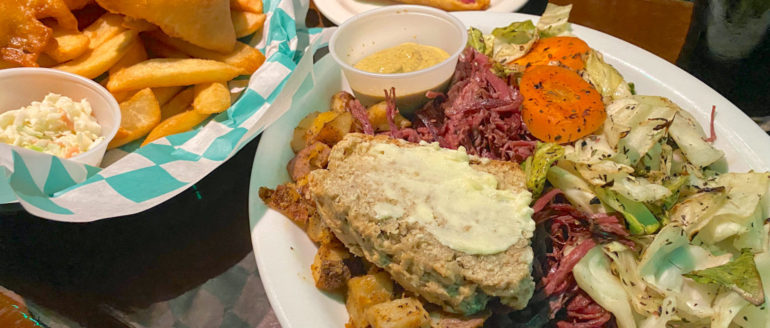 A few years ago, we walked through the doors at 9246 4th St. N. to a completely different establishment than the one we walked into last week. This space, which was Babalu for over 70 years, is now McArthur's Irish Pub – a traditional Irish pub serving Irish fare and pub favorites. The building made its transition from dive bar into Irish pub in early 2020 by way of Arthur Paula, who is a professional in the restaurant industry. Arthur has always had his sights set on opening his own authentic Irish pub. When he turned 50, he put a plan in motion to turn his dream into a reality. He thought that the old Babalu location was the perfect neighborhood spot for a pub and jumped at the opportunity. It took them only six weeks to remodel, as it was their goal to open their doors before St. Patricks Day of that year. On March 6th, 2020, McArthur's Irish Pub had their grand opening.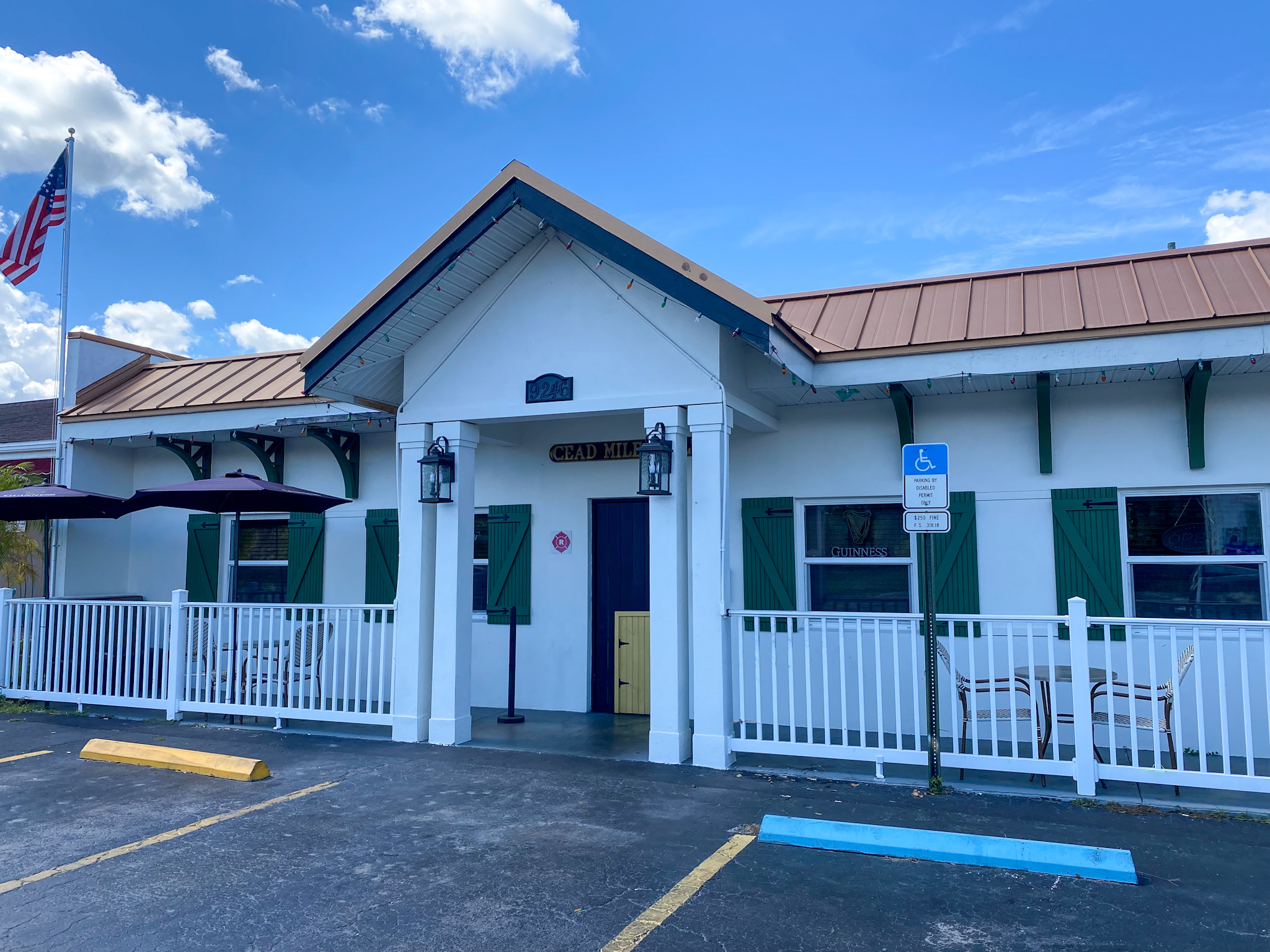 The updates and changes made to the building improved the overall feel of the bar and restaurant. A small stage has been added in the front which is used for live music every Friday and Saturday from 7:00PM – 11:00PM. Tons of Irish archives and collectables line the walls and shelves of the entire building. A majority of the memorabilia belongs to Arthur as he has been collecting for years. The rest of it was either purchased from Ireland or gifted to Arthur from none other than his incredible customers. When the pub doesn't have a live music act, you can still hear Irish music playing through their speakers overhead at all times. The vast number of people there enjoying a meal or a drink and some conversation during both of our visits to McArthur's Irish Pub was fantastic to see. Luckily they have the capacity to handle plenty of guests. In fact, you can host your next private party or corporate event at the pub.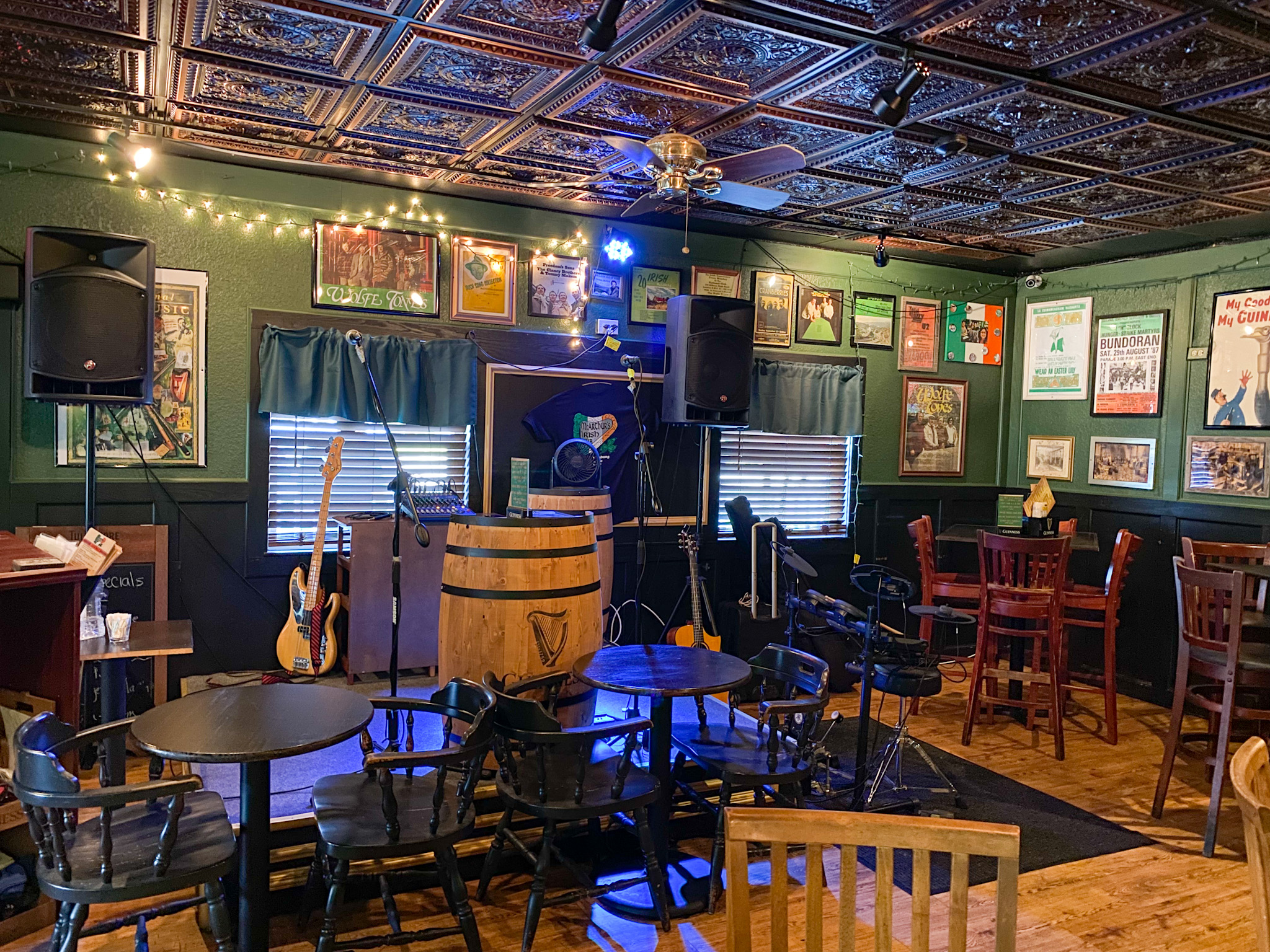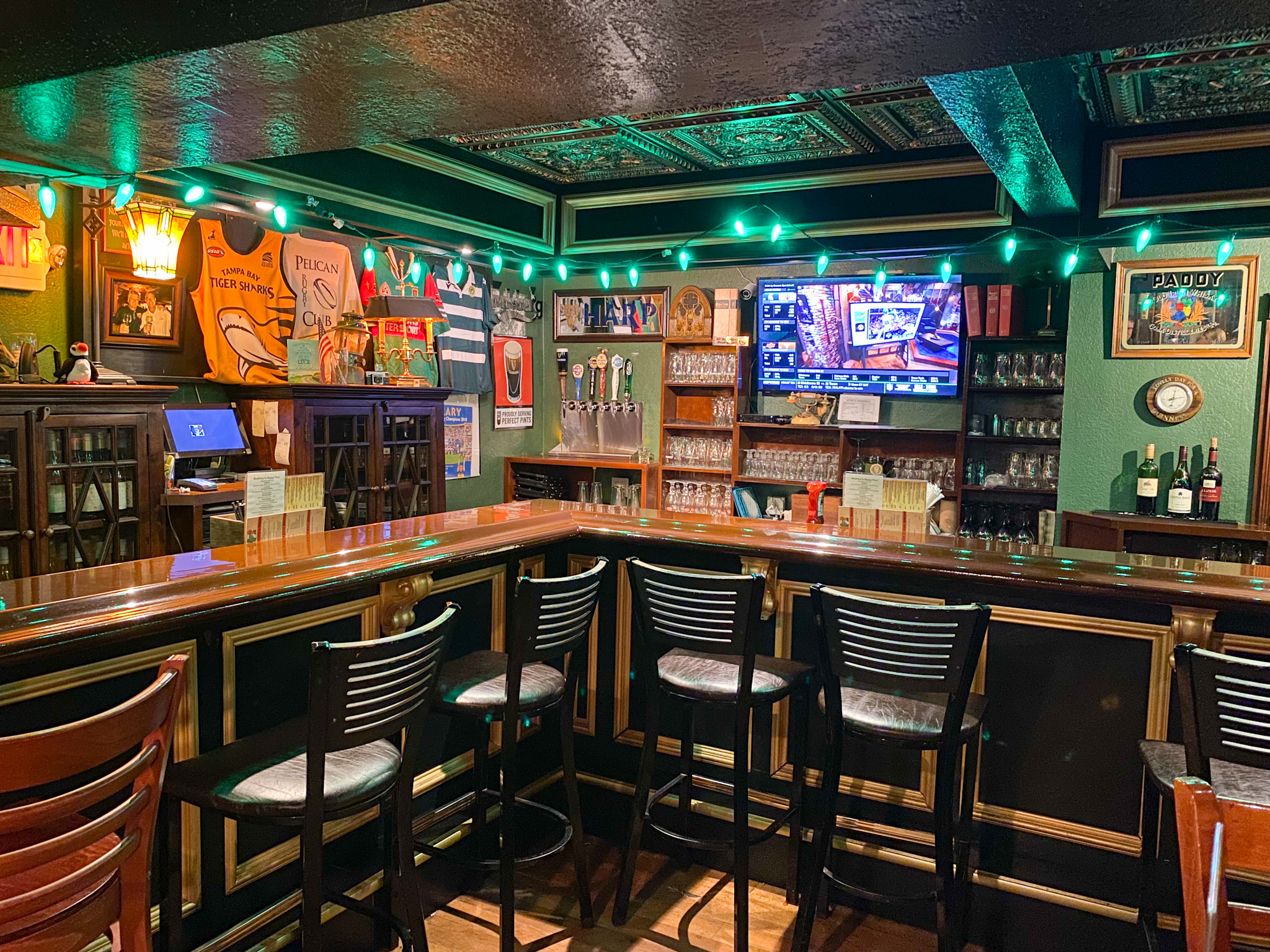 Tables and high tops are arranged throughout – mostly towards the front near the stage. Bar seating is quite ample, for a space their size, with room for approximately 20 stools or so. Speaking of bars, McArthur's has quite the impressive happy hour, which is Monday – Friday from 11AM – 7PM and includes discounted beer, wine, liquors and bar bite specials. I don't know about you but I've never been upset about an all day happy hour! On Thursday nights make sure to catch Irish pint night with $4 Guinness, Harp, Smithwick's & Kilkenny from 4:00PM – Close.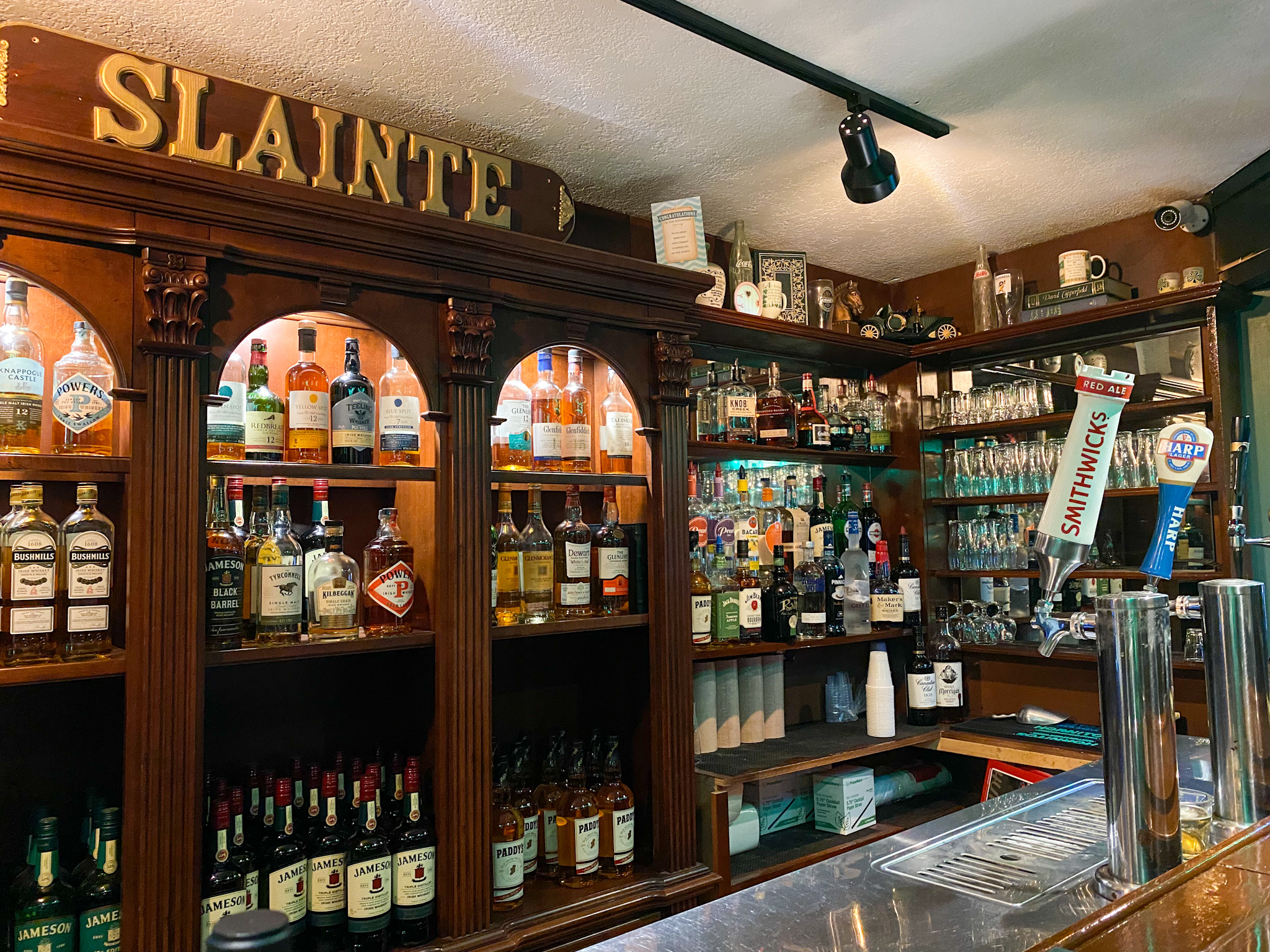 There are also two specialty cocktails on their happy hour menu: the Irish Wolf Hound and the Irish Auld Fashion. The Irish Wolf Hound is for those who prefer something a bit more on the sweet side. In it is Jameson Whiskey, blackberry cassis, ruby red grapefruit and ginger beer. The Irish Auld Fashioned is more my style which is their take on the traditional Old Fashioned.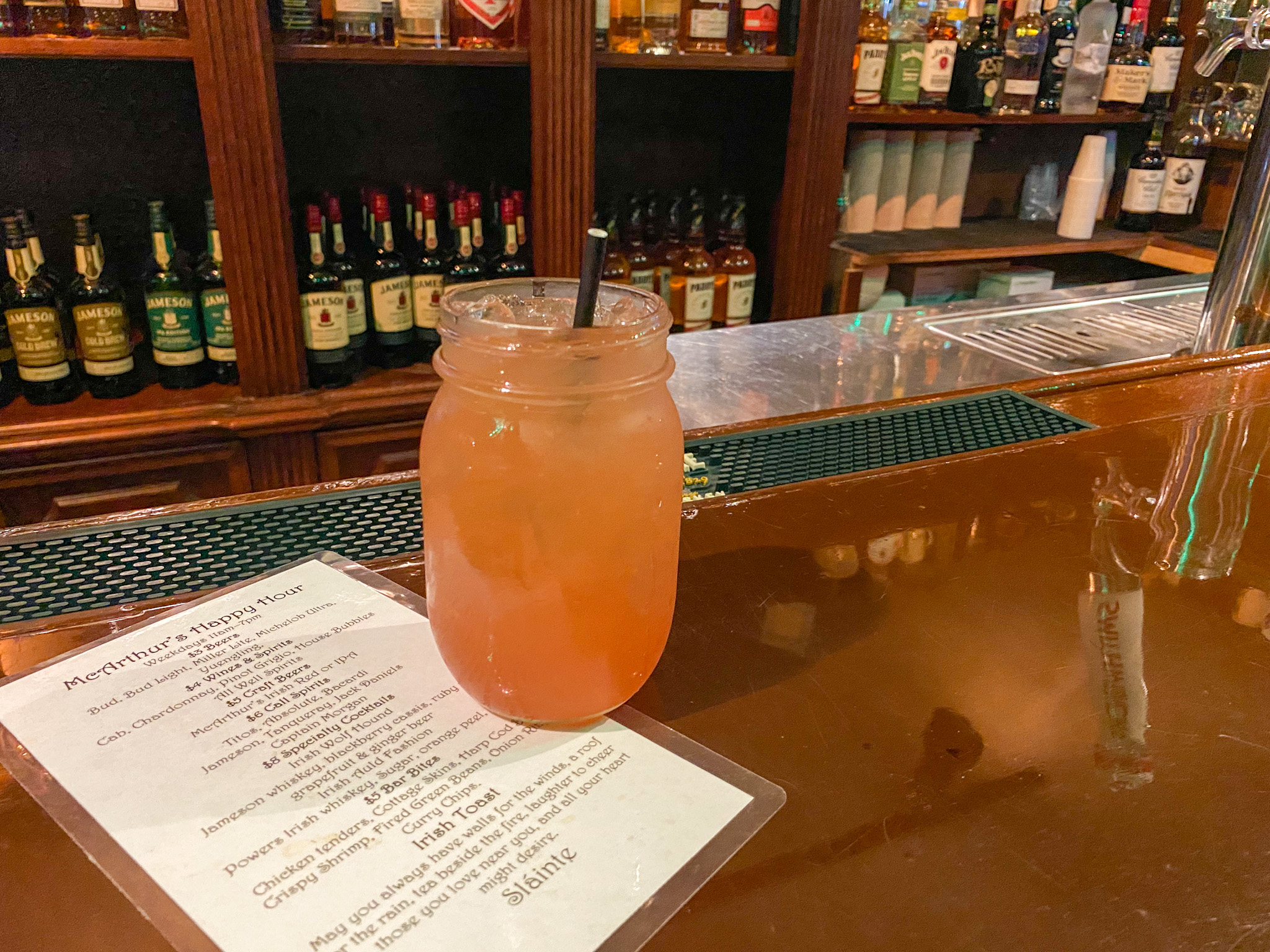 Avid St. Petersburg Foodies readers probably remember that last month we reviewed a different pub in town, Mary Margaret's. The two establishments are very different and have their own identities; however, they do share a few menu items which is totally to be expected. One of the items on both menus – Reuben Rolls. McArthur's variation contains sliced corned beef, sauerkraut, cabbage and Swiss cheese and is served with their house Reuben sauce. The differences between the two are quite minimal from an overall flavor standpoint. Though, I preferred McArthur's rolls better simply because they weren't stuffed as full which yielded an experience with less mess. On the other hand, my husband Mike appreciated the heftier rolls more, so it's all about preference.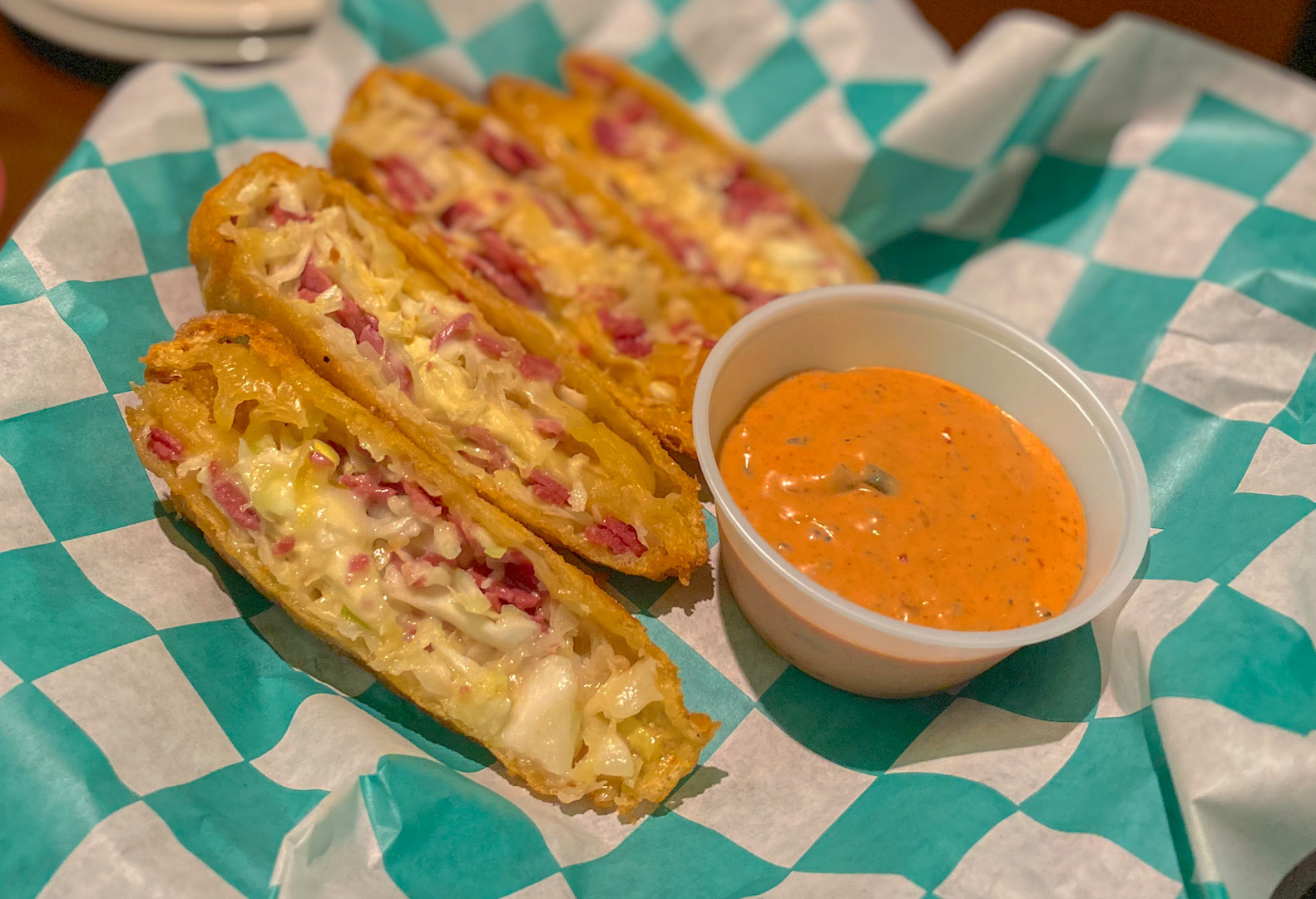 One very, very important thing worth noting about the menu at McArthur's is that there is an entire section dedicated to chips (fries) on the menu. If you enjoy these little cuts of fried potato perfection as much as I do, this is not a menu category that you're going to want to skip. McArthur's Chip's are golden, thick cut fries that are topped with an enticing variety of combinations. Combos include Curry, Guinness Gravy, Beer Cheese & Bacon and more. If you happen to be at McArthur's during happy hour, you'll find the Curry Chips listed on the happy hour menu under the $5 bar bites section. And no, even though the chips are on the bar bites menu, they're anything but just a bite (no one's mad about that). The basket of chips honestly could've been enough to fill me up. That being said, they're a great item to share with a group.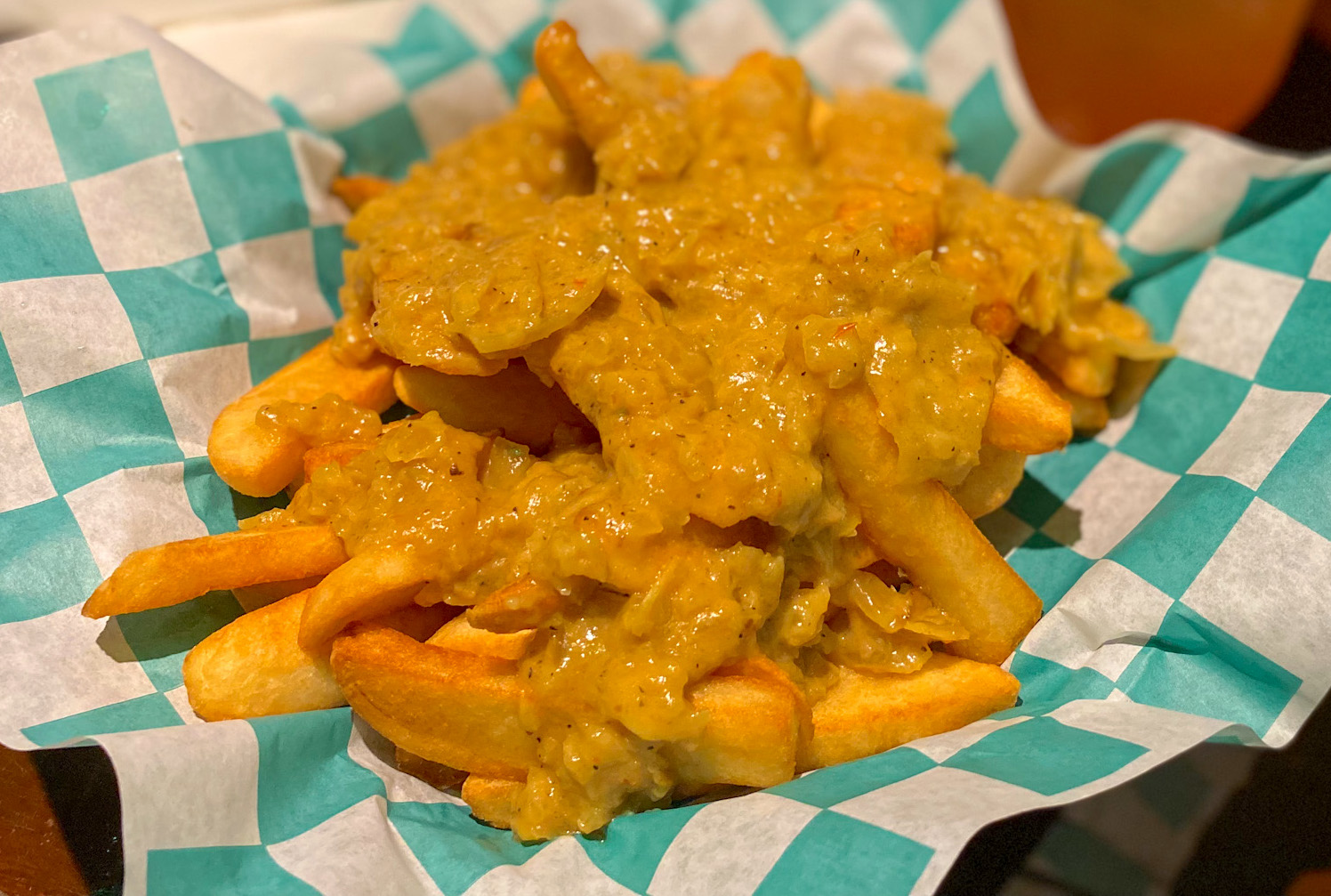 When we ordered McArthur's Dublin Fish & Chips, we were immediately praised by the women at the bar two seats down. "I never even cared for fish and chips until I had theirs," exclaimed the one woman. Their plate of fish & chips is comprised of Harp beer-battered cod that is ultra crisp and fried to perfection as well as fries and coleslaw. What I loved most about this particular fish is that it still maintained throughout the meal and did not become soggy as some have the tendency to do.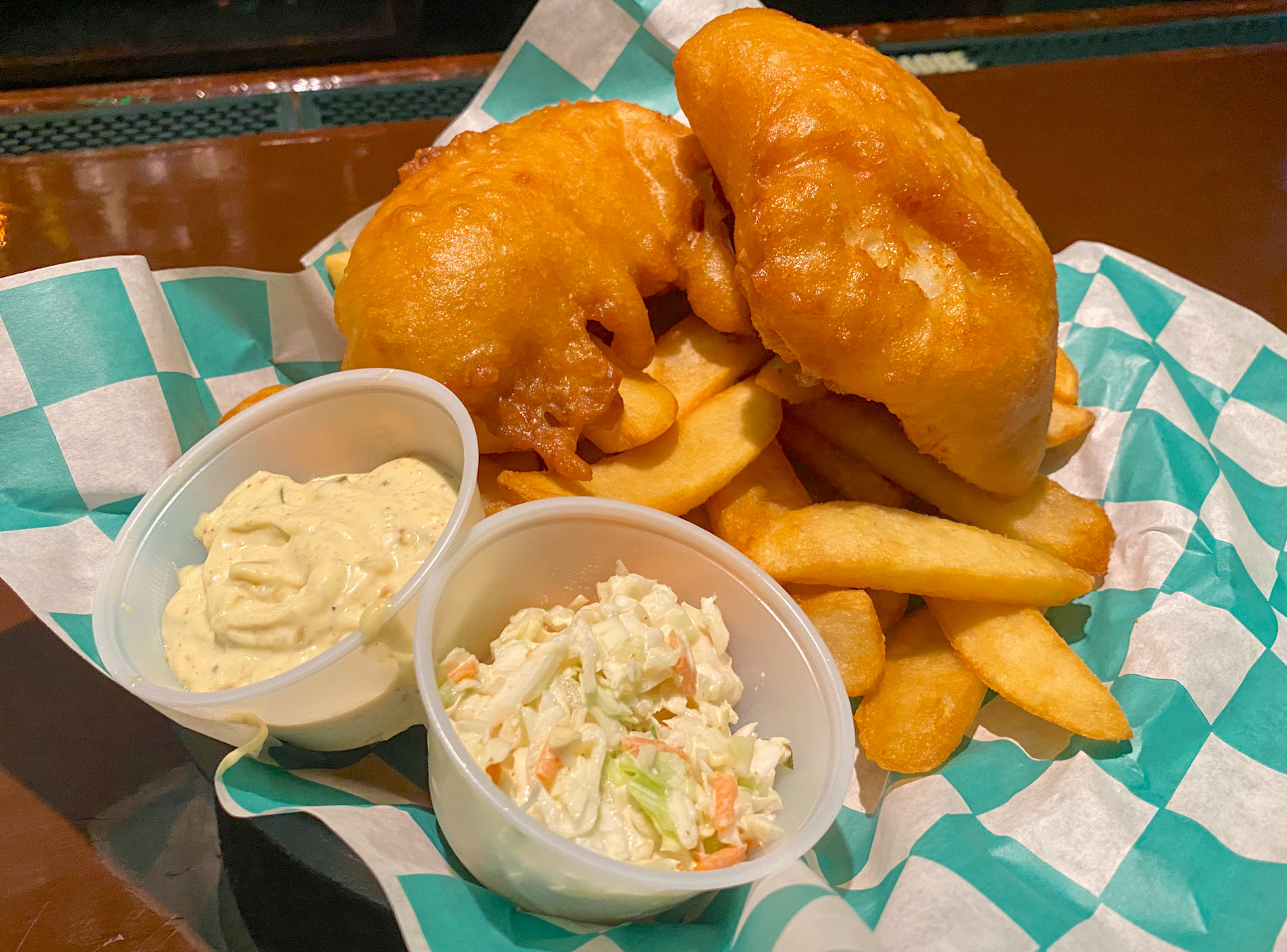 Four words – Parmesan Crusted Grilled Cheese. It's marked as a favorite on the menu for a reason, folks! Pro tip: sub out the fries for a cup of tomato soup. It's the grown up version of the comforting combination from your childhood, if you will. The sandwich has a blend of cheeses inside and is coated in a layer of Parmesan on the exterior.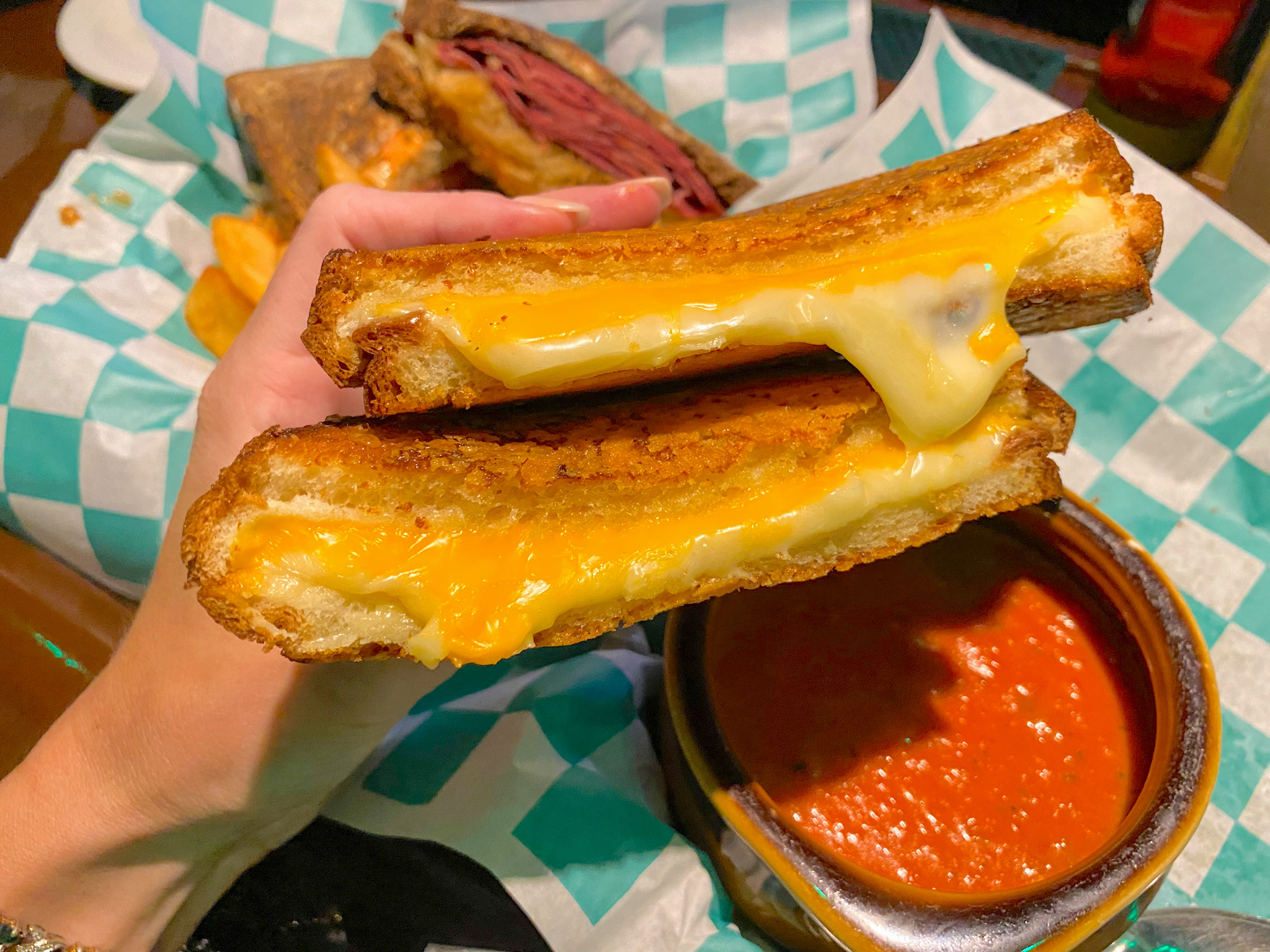 Prior to visiting McArthur's Pub, someone in the St. Pete Foodies group gave compliments to McArthur's Corned Beef and Cabbage so we made it a point to order it during one of our visits. On this traditional Irish plate, you'll find slow cooked corned beef brisket piled on a bed of sautéed cabbage, carrots and potatoes. It actually reminds of old-fashioned beef stew but much less like a stew (if that makes sense). We did like it but thought that it was good, not great. The corned beef brisket was a bit too dry, in our opinion, and we wanted a bit more oomph in the flavor department.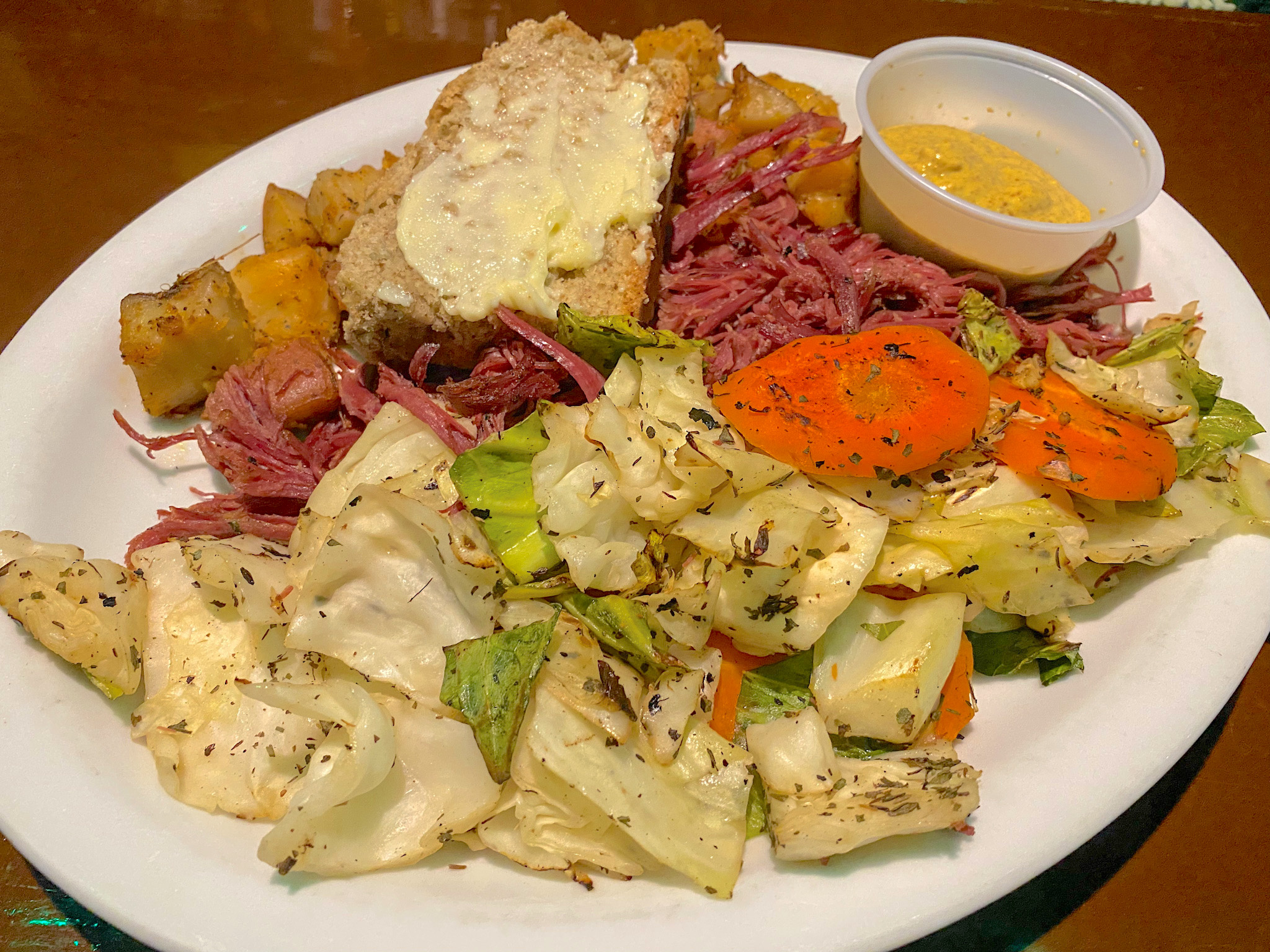 I feel like you just can't go to a pub and not order a reuben, especially when it's titled the Famous Reuben. So, that's exactly what we did and we enjoyed every single bite of corned beef, melted Swiss cheese, sauerkraut, 1000 island dressing and toasted marble rye bread.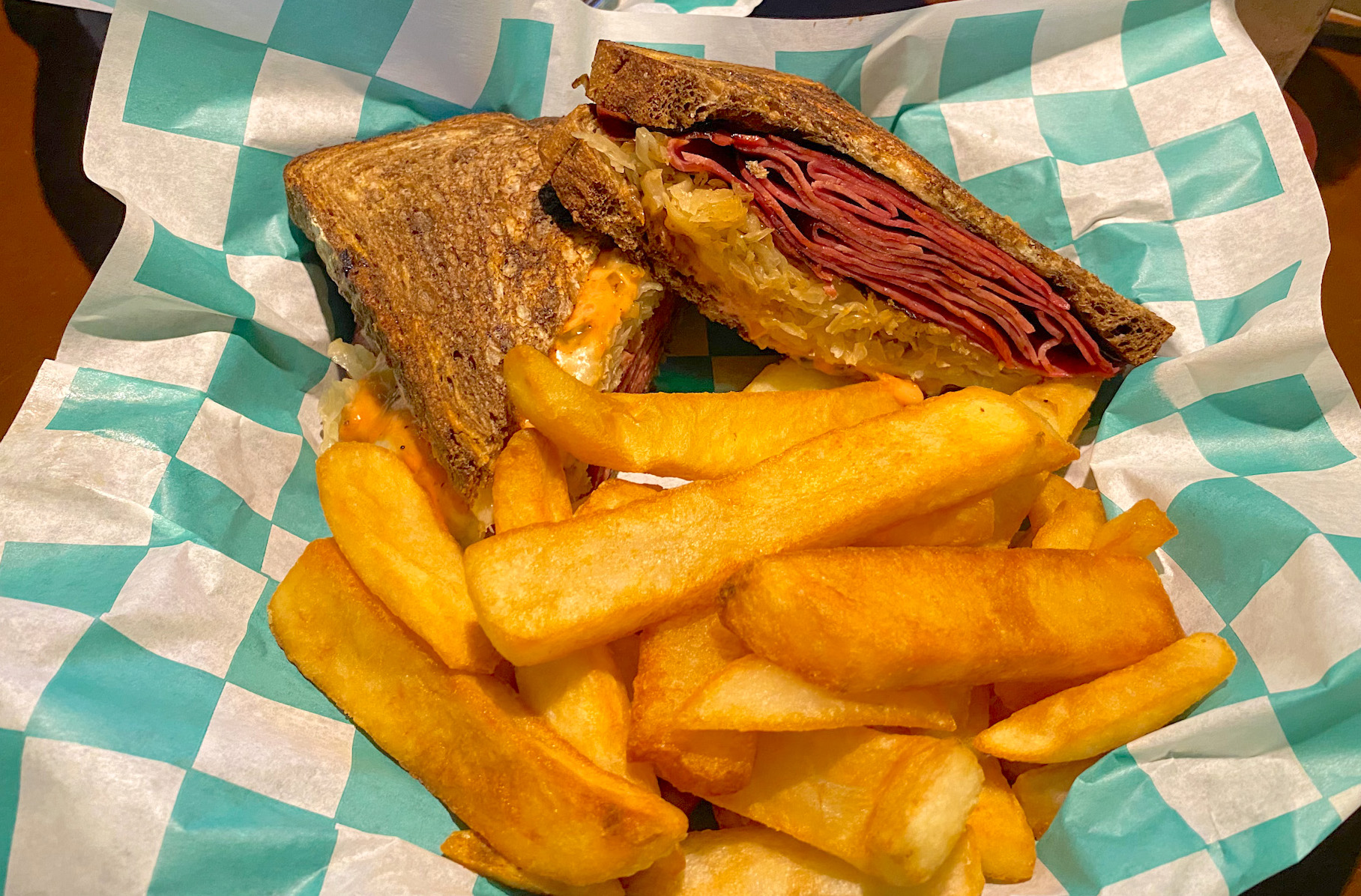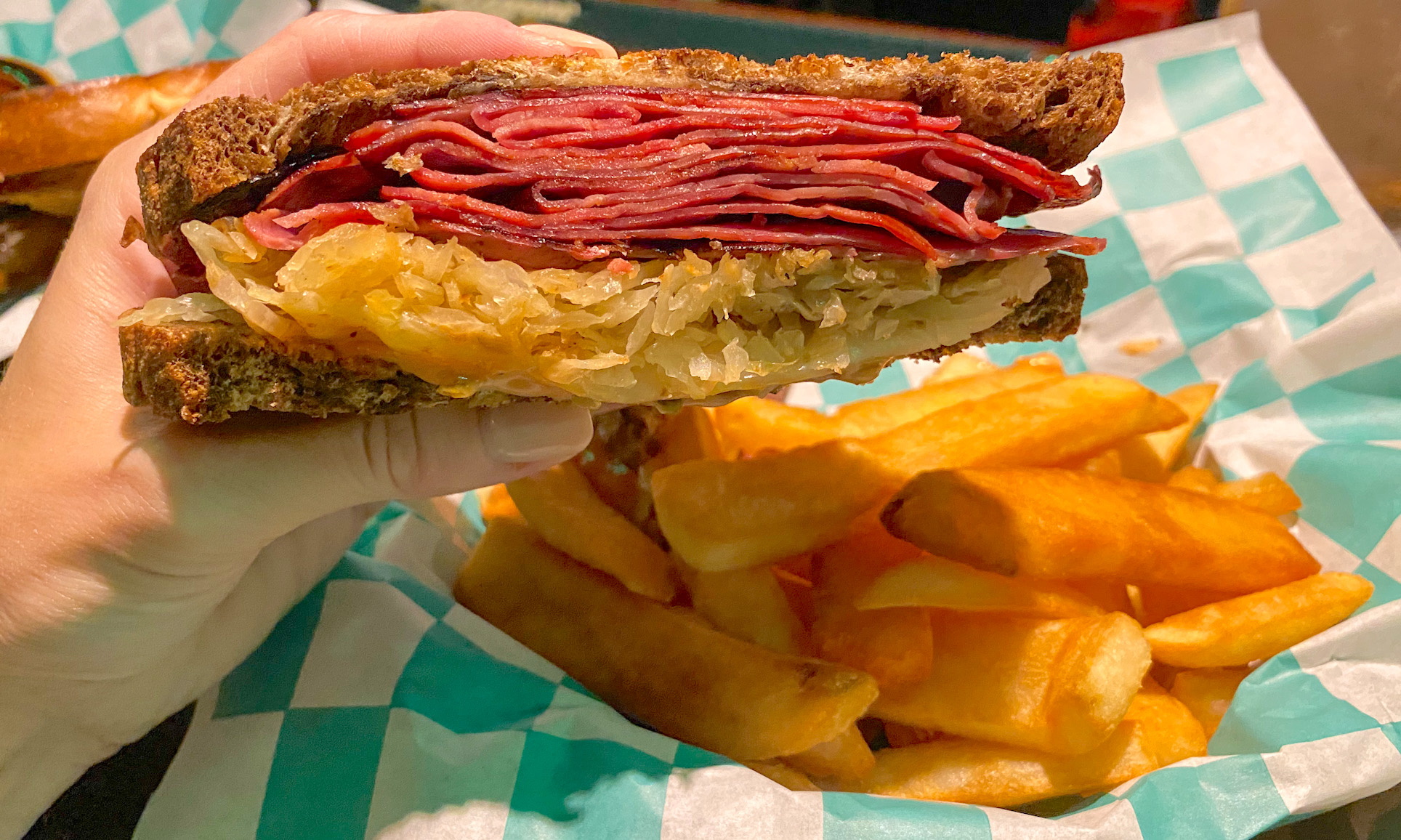 Ahhh, and we couldn't not order at least one big, beautiful Guinness. Be sure to grab one of those and more and checkout one of the newest traditional Irish pubs to land in St. Pete.
Traditional Irish Pub featuring Irish Fare along with pub favorites, live Irish music every weekend 7-11.
DISCLAIMER: Kevin, Lori, Abby, Haley, & Lindsey do not dine anonymously (this would be impossible) and we sometimes get free food (though never expected). However, we dine with the locals and we support our own. You will always get honesty in a respectful manner. We do not include any large national or regional chains in our ratings and reviews. We focus on independent locally owned eateries exclusively.

PLEASE NOTE: Reviews reflect a certain moment in time. Some restaurants stay extremely consistent over many years, and some change for the better or worse. Some things that may change are: chefs, recipes, food suppliers, ingredients, philosophies, ownership, etc. We always hope that you have the same good, or great experience we had.
More Foodies News, Reviews & Recipes