Flûte & Dram Opens to Packed Crowds on Beach Drive
Flûte & Dram Opens to Packed Crowds on Beach Drive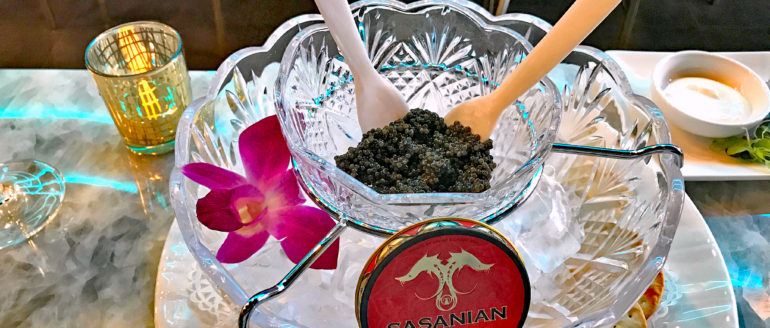 Check out our new Updated Flûte & Dram Review from January 2020.
It's been a year and two months since the original announcement of Flûte & Dram opening on Beach Drive. Now they are finally open with packed crowds spilling out onto the sidewalk. There's no other place in St. Pete that has a selection of caviar like Flûte & Dram. The only place in the Tampa Bay area that comes close would be Bern's Steak House. Flûte & Dram is also the only place we know of that offers high-end Champagne, such as; Dom Pérignon, by the glass. Not everybody wants to spring for a bottle, but a glass would be nice.
Don't write them off because caviar is "fancy and expensive". Flûte has something for everyone.
If you're curious about caviar, but concerned about your budget, or that you don't have a tux in the closet—no worries.
If you're on a budget, start with the domestic caviar, which anyone can afford, and the experience is pretty much the same, especially if you're not a caviar aficionado.
Dress code: There's no official dress code, but just because it's caviar and champagne doesn't mean you have to dress like James Bond or Olivia Pope.
We went last Sunday afternoon from 2:00-4:30 and there were people in shorts, sandals, sun dresses, and jeans—all dining on caviar and imbibing in Champagne. (I went in jeans and a nice casual button-down shirt. Although I might show up one Saturday night in my tux just for fun.)
I have to admit that I was pleasantly surprised with the décor. Some of the photos I've seen online don't do it justice. It looks much nicer in person. (Ironically, here's a picture online.)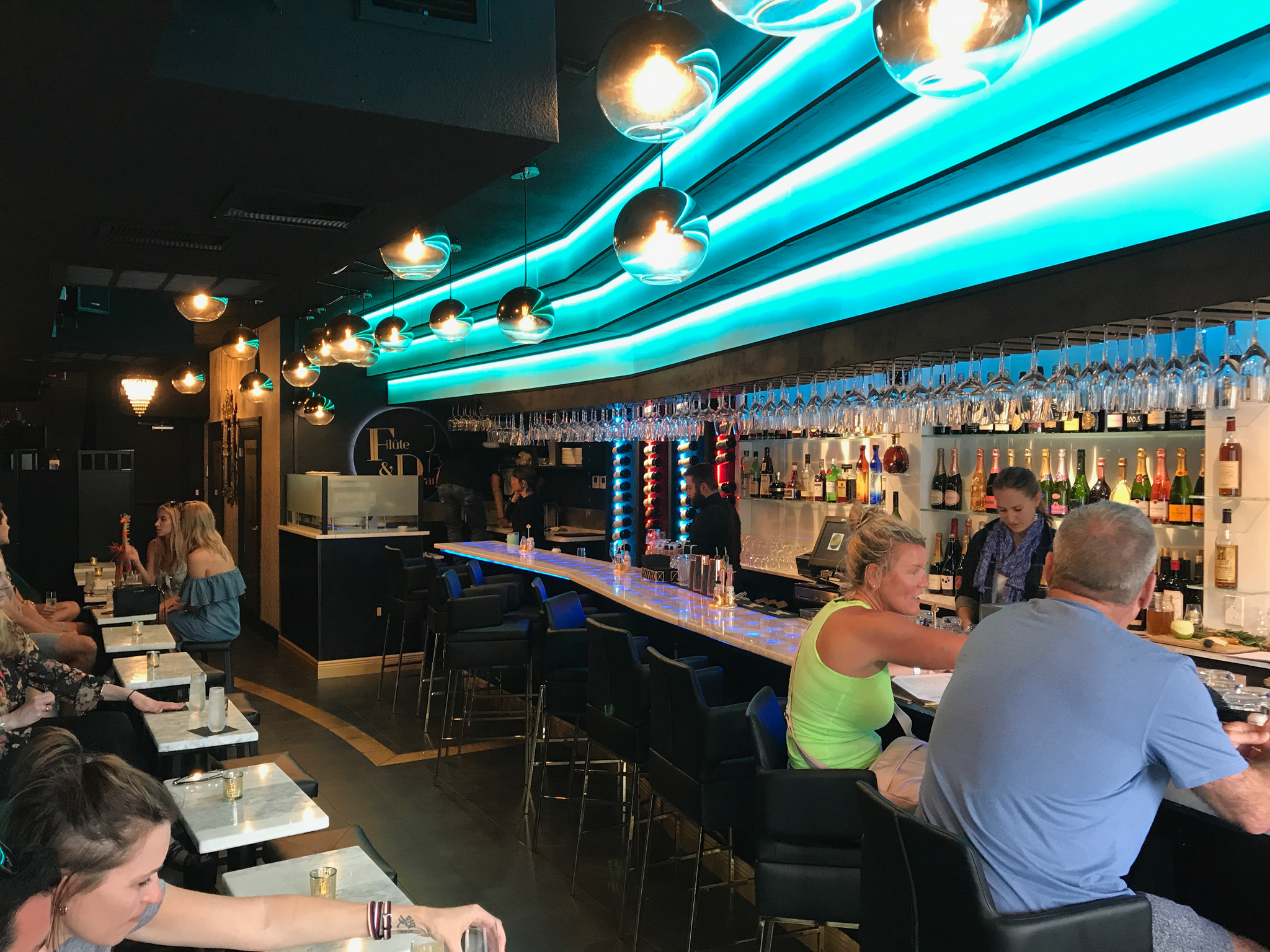 Since they're only a week old (almost two weeks from date of this publication), they are still evolving as they find out what works, and what doesn't, so some of the items in the below review may change.
Things are changing already as there was one Champagne crossed off the menu when we were there because the supplier didn't deliver in time. That last item is now in-stock and no longer crossed off the menu.
Many people casually refer to any sparkling wines as "Champagne", but technically to be called that it has to come from the region of France with the same name. Flûte & Dram offers champagnes, cavas, proseccos and other sparkling wines.
An interesting thing I noticed on the menu is that all of the fish eggs are called "caviar", when technically not all of them are. In order to be caviar, the eggs must come from sturgeon.
Caviar is processed and salt cured fish roe. While caviar is often used as an umbrella term to describe any fish egg, true caviar comes from sturgeon, native to the Caspian and Black Seas. Varieties of sturgeon include beluga, sevruga and osstreta (sic) and each species produces a slightly different flavored caviar. – Caviar 101: Everything you need to know to start enjoying fish eggs
When I asked Chef Tony (Mangiafico) about this, he told me that most people think of all fish eggs as caviar and since Flûte & Dram is new, they want it to be approachable to everyone, not just caviar connoisseurs.
For this review I'm going to refer to them as to what type of fish eggs they actually are.
The left side of the menu has the less pricey domestic "caviar", which are different types of fish eggs, like Salmon Roe for example. The right side of the menu has all of the imports, which are all actual caviar from sturgeon from the Caspian and Black Seas, and much different in price. Caviars are graded with zeros, and the entire imported selection at Flûte & Dram is triple zero (000), which is the highest grade.
We started with a flight of "caviar cups"—three flutes of different bubbles with domestic caviar / roe accompaniments cleverly placed on top of the glasses on a small blini with the traditional accompaniments of crème fraîche, onions, and eggs.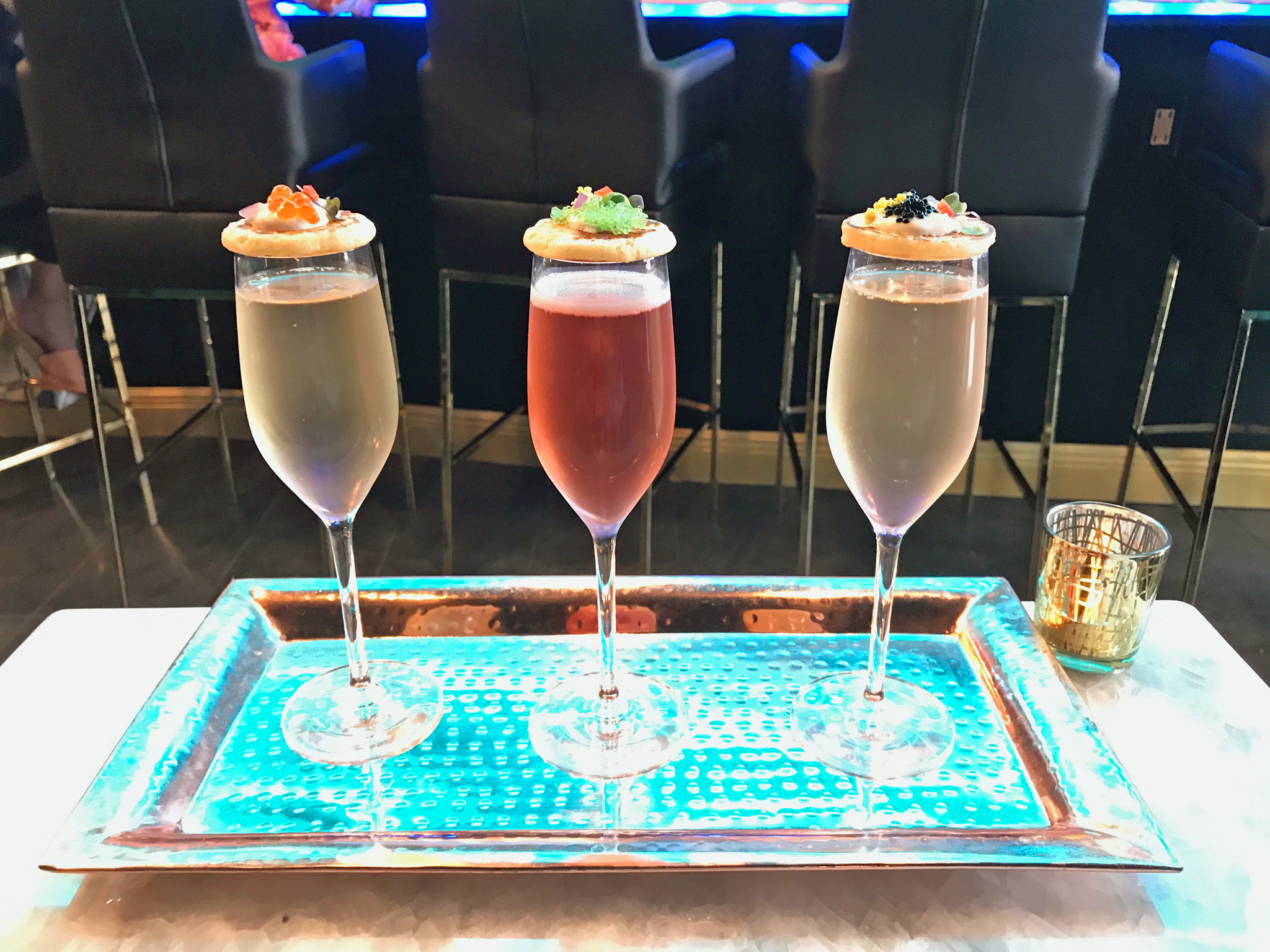 From left-to-right:
Moët & Chandon Grand Vintage 2008 (Flûte & Dram got the last eight cases.) – flavor nuances of lemon, apple and pear. Accompanied with Alaskan Salmon Roe.
Ruinart Rosé Brut NV – fresh, fruity, and aromatic. Accompanied with Tobiko Wasabi Flying Fish Roe.
Nicolas Feuillatte Brut Réserve NV – sweet, fruity with vanilla and anise. Accompanied with American Bowfin Roe.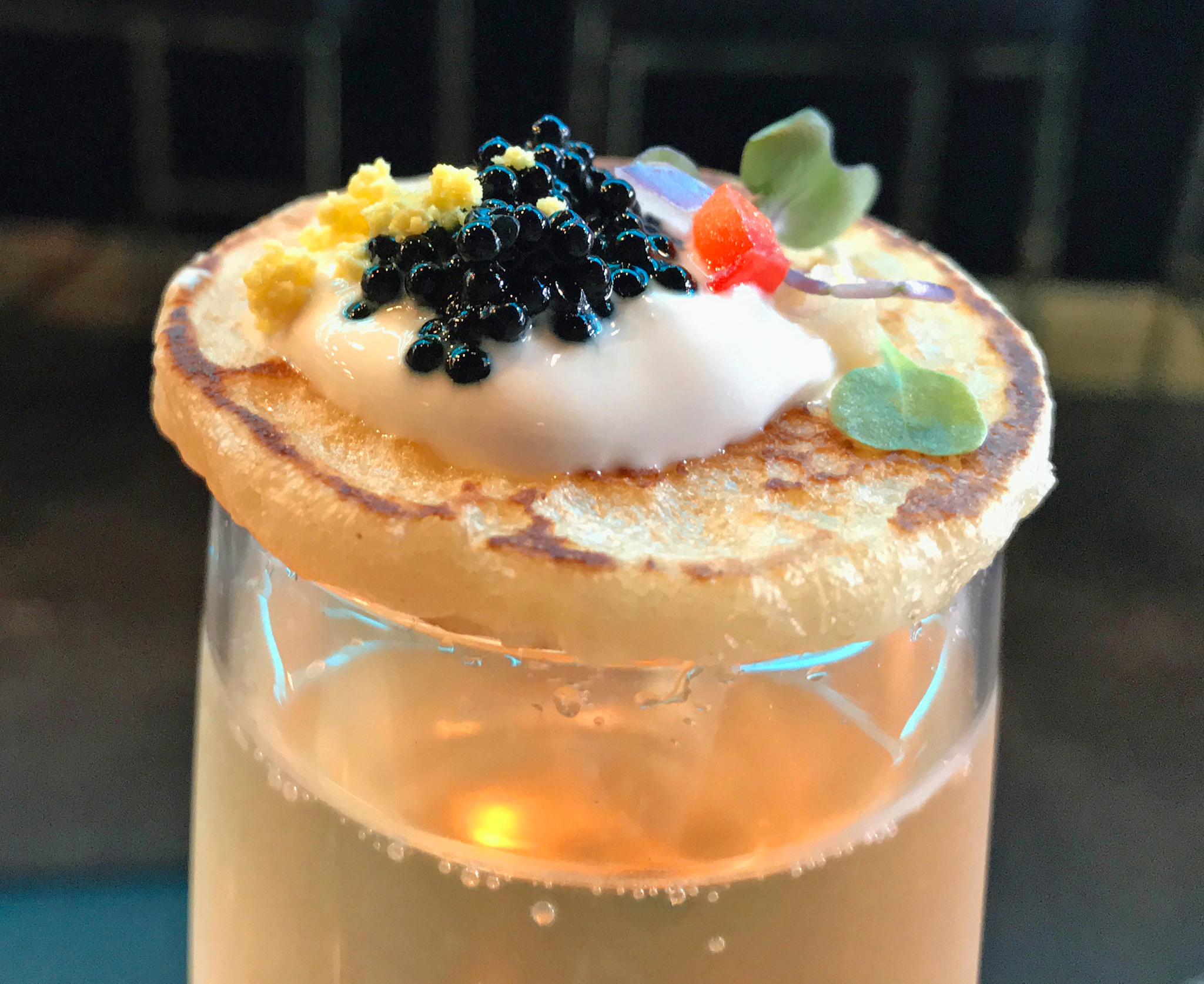 These were fun and tasty, mild and flavorful, and approachable for anyone.
Next, we kicked it up to a sexy import of Sasanian Siberian Baerii.
It comes from pure bred Siberian osetra. Medium dark pearls that are creamy in texture with a crisp, nutty taste. This had a beautiful classic presentation in a crystal bowl nested inside a larger crystal bowl filled with ice.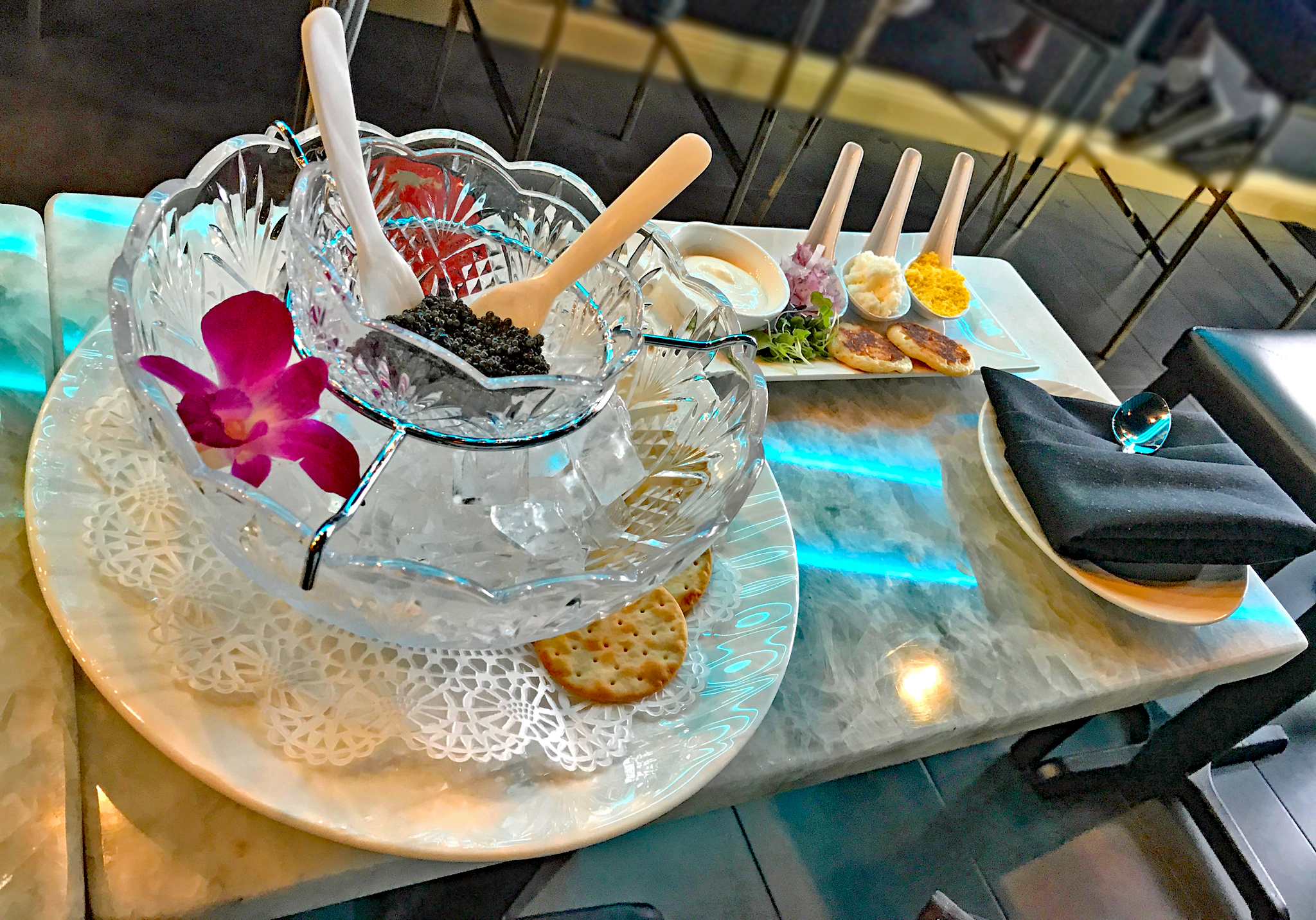 There were traditional accompaniments of crème fraîche, chopped red onion, chopped egg whites, and chopped egg yolks. To hold them, there were the customary blinis and plain water crackers.
This is how I learned to eat caviar a long time ago, so I had a few on blinis and crackers with all of the toppings.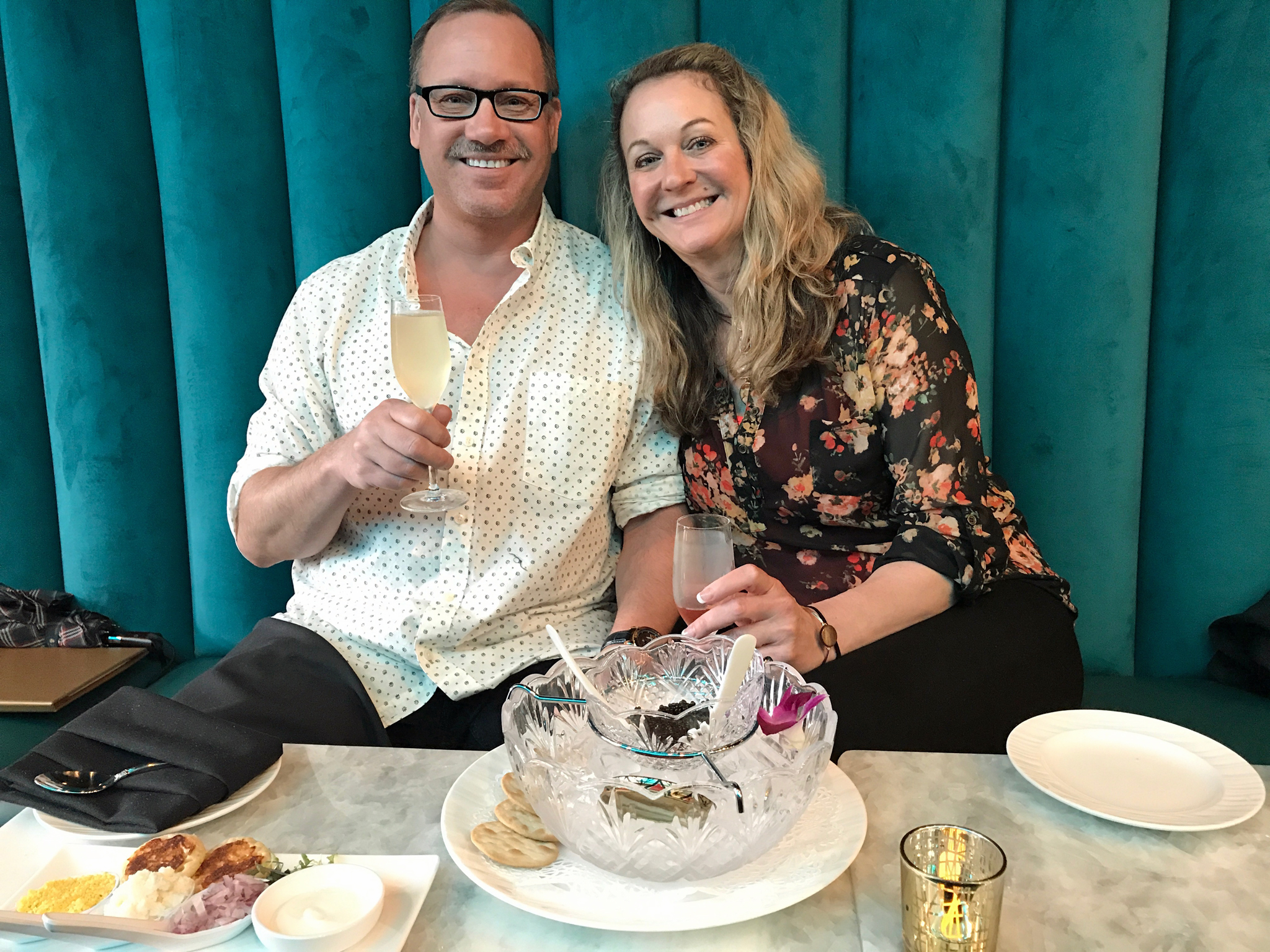 However, some caviar fans say you should just eat the caviar alone with a spoon. Halfway through the ounce, we switched to just eating the caviar with the mother-of-pearl spoons. It was so good that I couldn't switch back, and couldn't stop devouring it until it was gone. This Siberian caviar has a great complexity and depth.
The reason for the mother-of-pearl spoons is to keep the taste of the caviar pure. Never use a metal spoon. In the future, Flûte & Dram will conduct a "Champagne School" and a "Caviar School" where you can learn more things like this.
Since we like to imbibe, we tried a few of the cocktails as well, starting with the Pineapple Time … as in, it's time to have a pineapple drink with thyme in it!
The base is Old Forester Bourbon with pineapple juice, thyme, and lemon juice topped with Prosecco.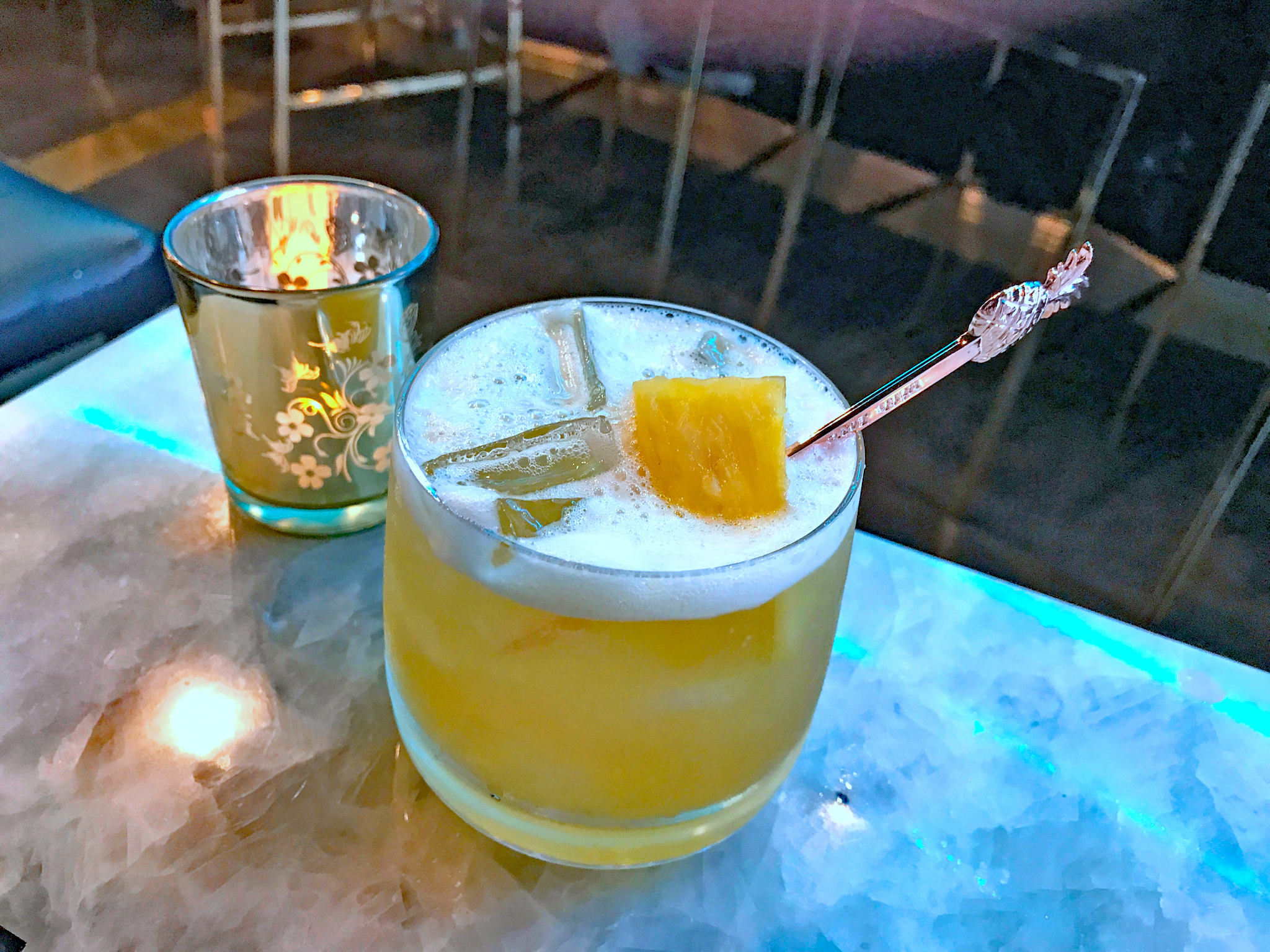 The Pineapple Time was crisp and refreshing.
Next up was the Rassé – Bulleit Rye, rasberries, rosemary, lime juice, and house-made honey syrup topped with a Rosé. This one was also crisp and refreshing, and a little sweeter. The rosemary leaves are singed with a flame so they give off an aroma which adds an air of intrigue to the room.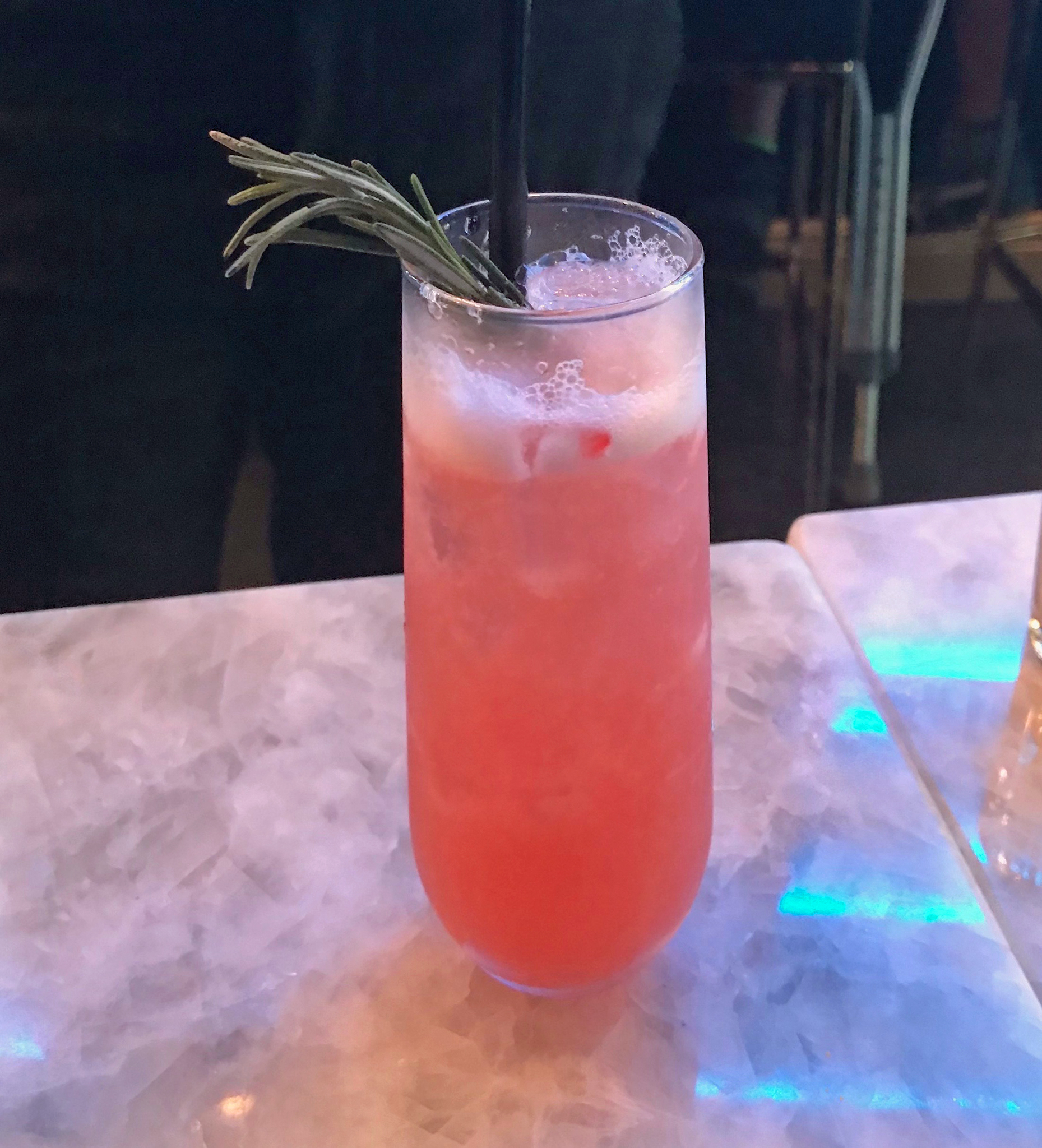 There are a few starters on the menu outside of fish eggs. These include Chilled Gulf Shrimp Cocktail, Norwegian Smoked Salmon, and Duck Foie Gras Pâté.
We went with the Duck Foie Gras Pâté, which comes with cornichons, red onion, tomato, Dijon sauce, capers and egg whites. For a starter, this is a huge portion.
The pâté was smooth and creamy, and the cornichons and dijon really made the plate. These were served with a semi-soft wheat cracker that worked well with these textures and flavors.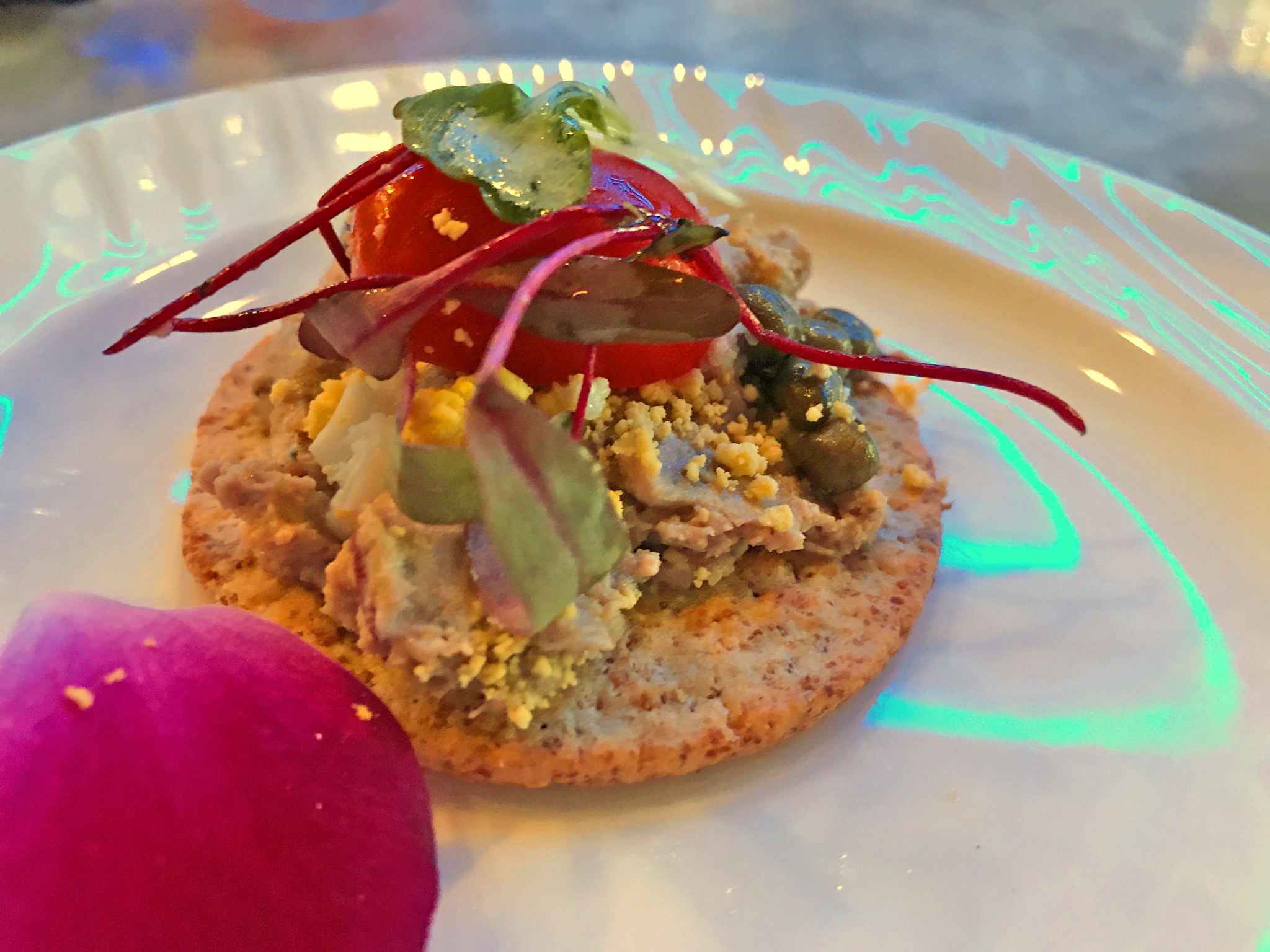 One of my favorite items was the Caviar Shooter. I want to go back and just order six of these—to share, of course.
On the bottom we have a chilled Absolute Elyx Vodka shot, topped with a half lime with Smoked Trout Roe and American Bowfin on top. On the tray is the Wasabi Tobiko.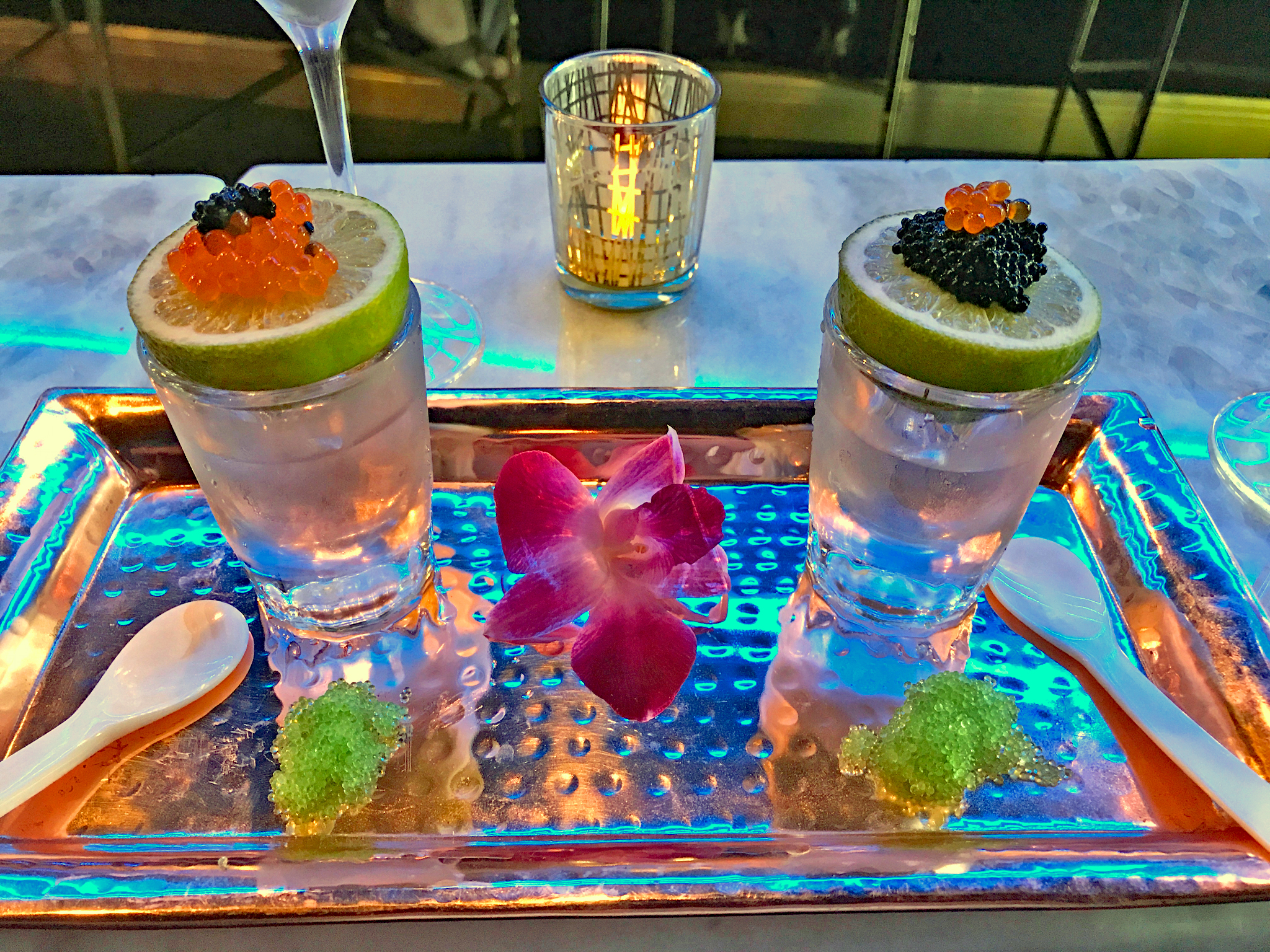 You pick up the lime, eat the caviar while pushing the lime into your teeth a little bit to get some juice, and then shoot the vodka. Then, eat the Wasabi Tobiko.
Now, it's time for one more specialty drink—the Floral Royale. (The name is tentative, but I hope they stick with it.)
There's a peeled apple on top, curled into a rose shape, which was soaked in rose water. They use the Nicolas Feuillatte Brut Réserve NV and add some hibiscus extract. It was crisp and refreshing while the apple adds a slight hint of sweet and tartness to round it out.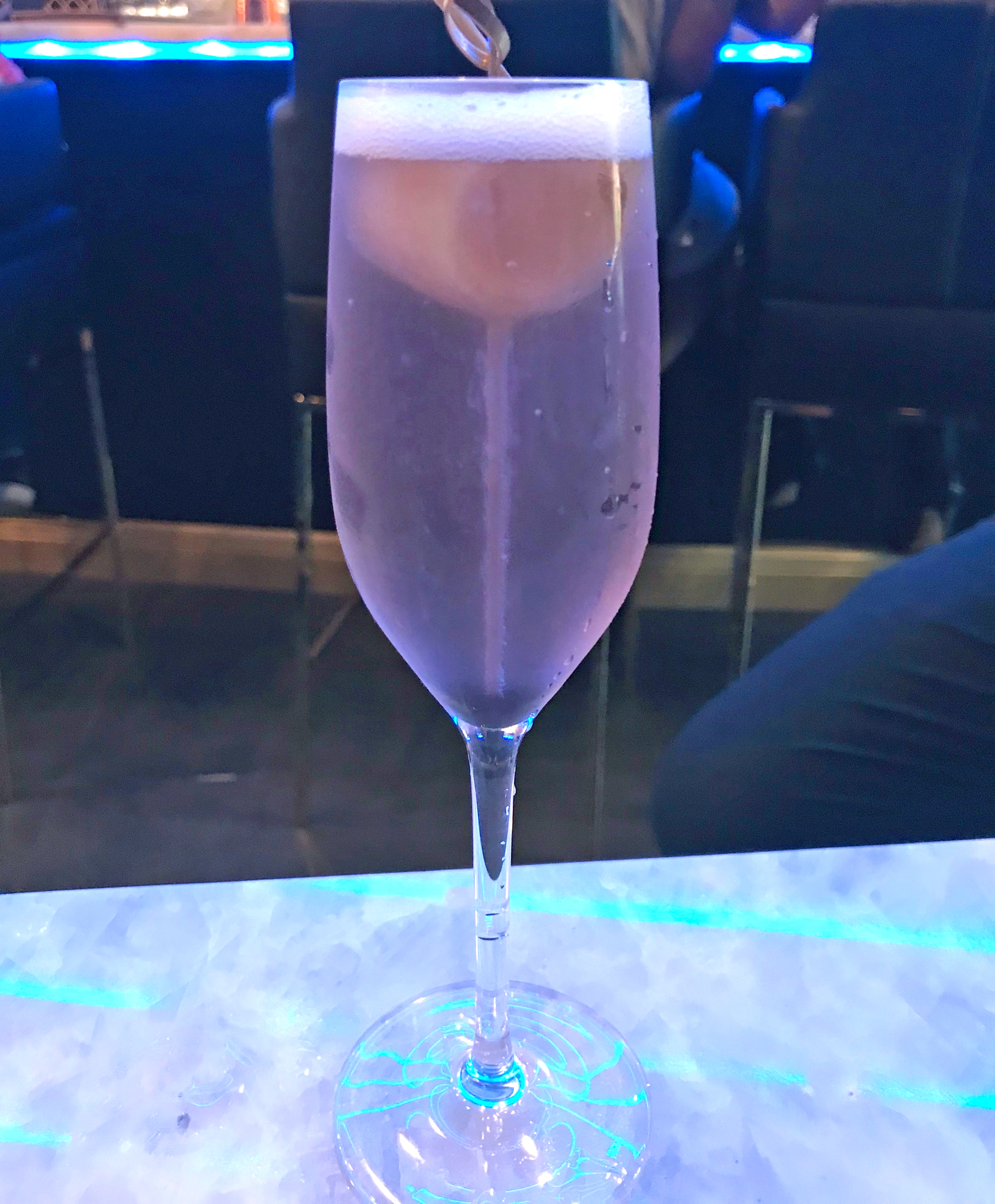 We ended our visit with 1 oz. pours of Lagavulin Scotch and Glenfiddich 14.
Scotch aficionados know that adding a drop or two of water helps to open up the flavors and release the aromas for a more fulfilling experience. Flûte & Dram has elegant glass and copper water dropper sets all along the bar.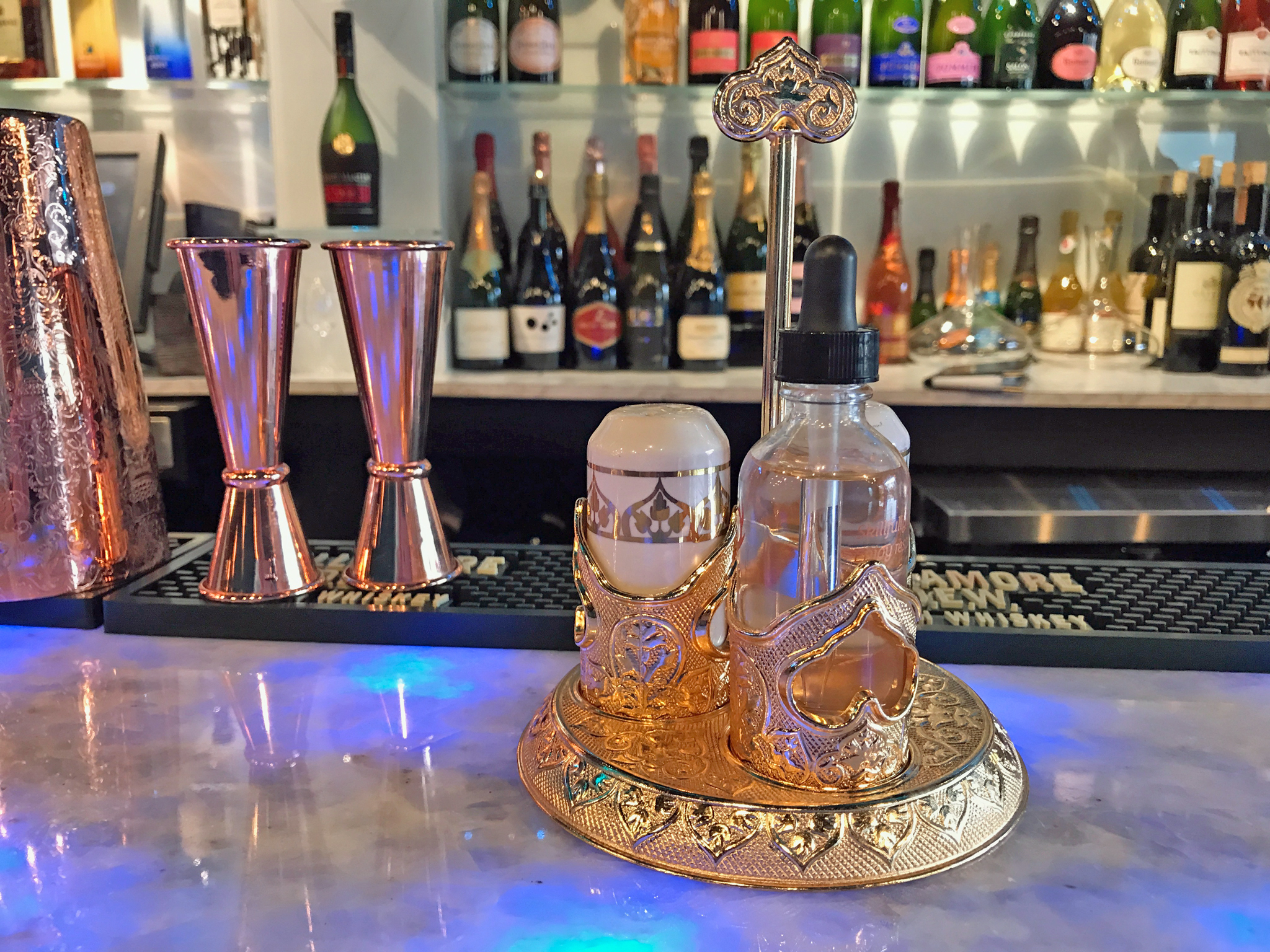 For table service there is a wooden tray whisky server with two Glencairn Whisky Glasses and water dropper. The glasses are also referred to as Dram glasses.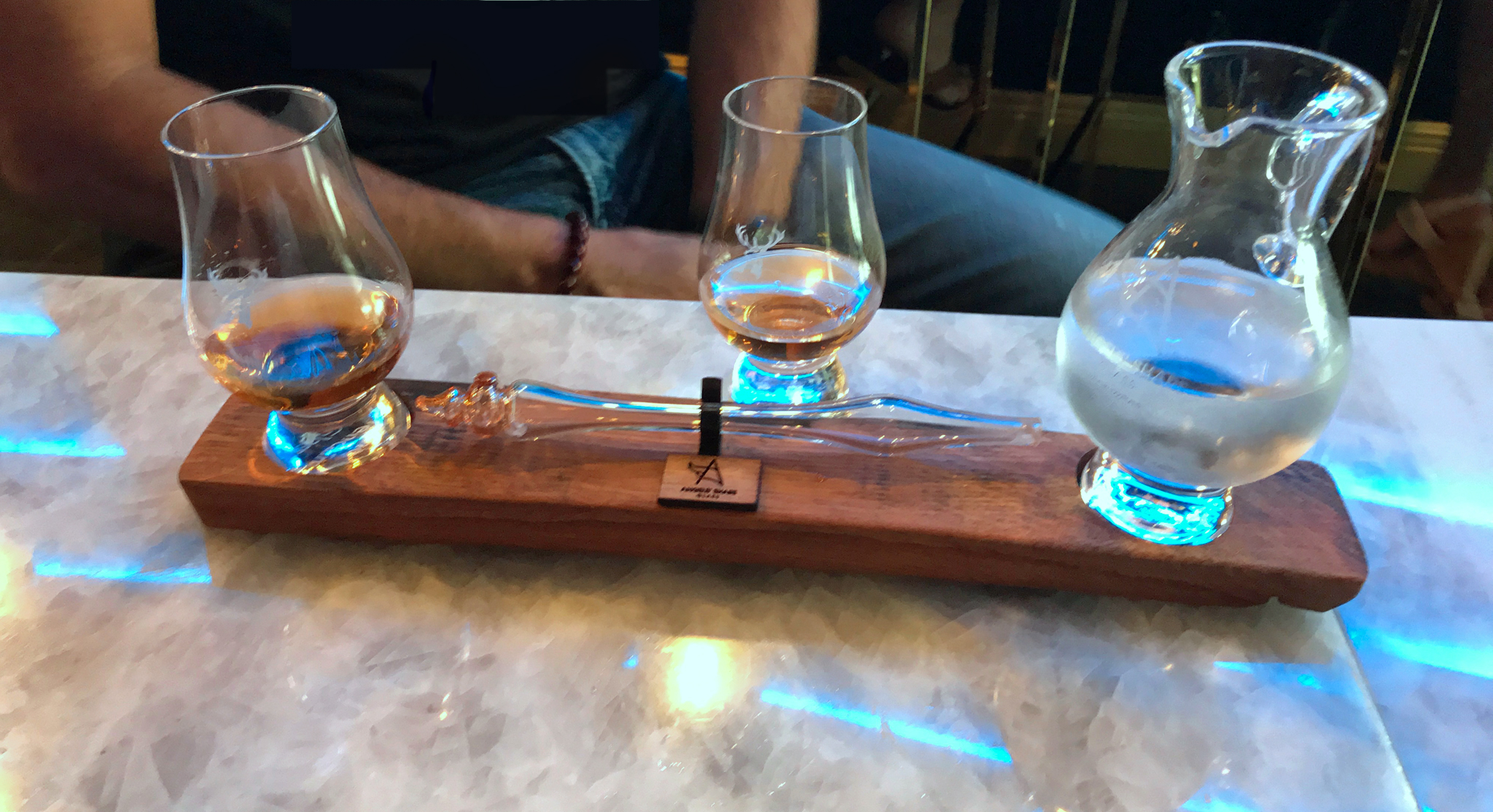 The Lagavulin smelled like a Bandaid, but the good kind brand name, not the crappy store brand knock-offs. (We were a little drunk at this point, but never fear, we were walking.) It was quite peaty, and somewhat sharp, but would go great with the right cigar. There is a selection of cigars available. We both liked the Glenfiddich more as it was smoother and pretty much the opposite end of the spectrum of the Lagavulin.
Overall, we were quite impressed at the comestibles, imbibes, service, and that the place was half full in the middle of the day on a Sunday when there were supposed to be torrential downpours.
At first, we weren't sure how this concept would do in St. Pete, but now we have no doubt that it will do quite well.
Give Flûte & Dram a visit, and tell them that St. Pete Foodies sent you.
Champagne, Caviar, & Whiskey on bustling Beach Drive in Downtown St. Pete. Serving the area's largest selection of domestic and imported caviar.
DISCLAIMER: Kevin, Lori, Abby, Haley, & Lindsey do not dine anonymously (this would be impossible) and we sometimes get free food (though never expected). However, we dine with the locals and we support our own. You will always get honesty in a respectful manner.

PLEASE NOTE: Reviews reflect a certain moment in time. Some restaurants stay extremely consistent over many years, and some change for the better or worse. Some things that may change are: chefs, recipes, food suppliers, ingredients, philosophies, ownership, etc. We always hope that you have the same good, or great experience we had.
More Foodies News, Reviews & Recipes