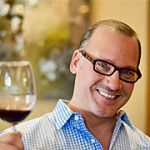 Kevin Godbee · Jul 14, 2016 · 2 min read
Lori and I finally made it back to Brick & Mortar, and WOW! It's obvious that just about anybody enjoys food that tastes amazing. What really makes the party-in-your-mouth experience over the top is when unique combinations of rare, fresh ingredients are creatively matched to create new inventions in gourmet cuisine. That's what Chef Jason Ruhe does. For example, check out the first item we shared.
- Carpaccio of Beef Tenderloin with House Made Ravioli. Who'da thunk to stick a soft-poached egg inside of a ravioli so the creamy warm yolk could run out over the cool beef tenderloin? Amazing! Add to that Leek & Goat Cheese Mousse, white truffle oil and shaved parmesan, and Damn! And here's one of those neat little unique additions (which is not in the menu description by the way) that make this even more special - Budded Capers. How cool. I never knew they existed like this. Look for them in the photo.
- "Gambas Ajillo" Featuring Gulf Shrimp with white beans, garlic, crushed red pepper, lightly charred lemon, white wine, and a grilled baguette. ¡Que comida sabrosa - deliciosa!
- B&M Veal Meatballs with Creamy Parmesan Polenta, crushed tomato sauce and fresh herbs. I love meatballs and these are great. It's a nice change-up to have them with polenta too. If you're a meatball aficionado like me, then you have to try these. Lori skipped this dish as she is not a fan of fennel.
The last item we had was the Fat Noodles, and they are not kidding. They are wider than my belt. They were fat and phat! They were really delicious with Herbed Chevre, Fresh peas (which were also al dente, just like the pasta, which I loved!), Mint, Citrus and toasted pine nuts.
The Campo Viejo Sparkling Rosé was a great accompaniment recommended by April.
I highly recommend Brick & Mortar. They have amazing seasonal cuisine made with fresh and locally sourced products. (They are in the location that used to be St. Pete Brasserie.)
Brick & Mortar
539 Central Avenue
St. Petersburg, FL 33701
(727) 822-6540
https://www.facebook.com/brickandmortarkitchen/