Coconut Charlie's Grill Delivers an Elevated Beach Dining Experience
Coconut Charlie's Grill Delivers an Elevated Beach Dining Experience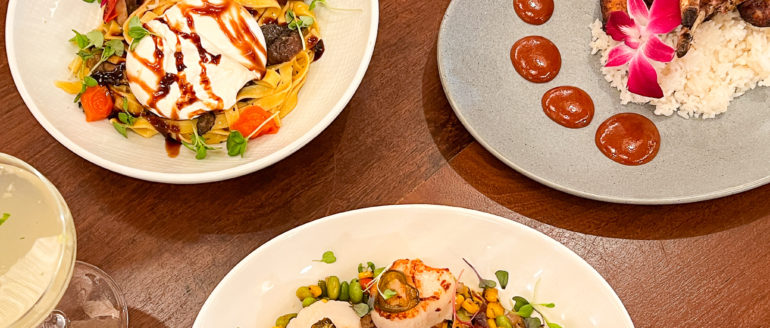 Coconut Charlie's Grill is a coastal dining spot on St. Pete Beach with an approachable menu of amazing dishes and cocktails. It hits a magical sweet spot if you love a come as you are beach restaurant. If you know me, you know I'm big on recommendations and love sending my friends, family and even strangers in my DM's to the right places in St. Pete. Both the bar and grill at Coconut Charlie's are high on my rec list. Actually, they have become my first recommendation to people when they ask where to eat on the beach. If that doesn't say something, well, I don't know what will.
The bar is beach casual and you'll catch an amazing sunset while listening to live music and slurping boozy cocktails whereas the grill is a level above that for a relaxed indoor dining spot with trendy coastal decor, a marvelous menu of more sophisticated options and artisan craft cocktails. You might remember my review on Coconut Charlie's Beach Bar earlier this year and if you haven't read that one yet, you can find it here and then immediately plan your next beach day. The Grill is located inside the new Hilton Garden Inn right as you walk in the lobby. You'll actually notice the open window bar at first and be drawn in by the trendy and vibrant decor. I think it's really unique that there are two completely different menus at the bar and grill because it gives you more options and you don't have to travel far for a good meal.
The entire Coconut Charlie's team is a charming bunch who not only make your experience one to remember but also make you want to come back just to see them. Everyone I met was so friendly, helpful and genuinely seemed so happy to be there.
Chef James is a mastermind as I quickly recognized after visiting Coconut Charlie's Beach Bar so I was really excited to see what else he could whip up in the kitchen for the Grill. His attention to flavor and detail is a stunner. If I held the power to give out an award to the best chef in St. Pete Beach, he would receive the gold trophy.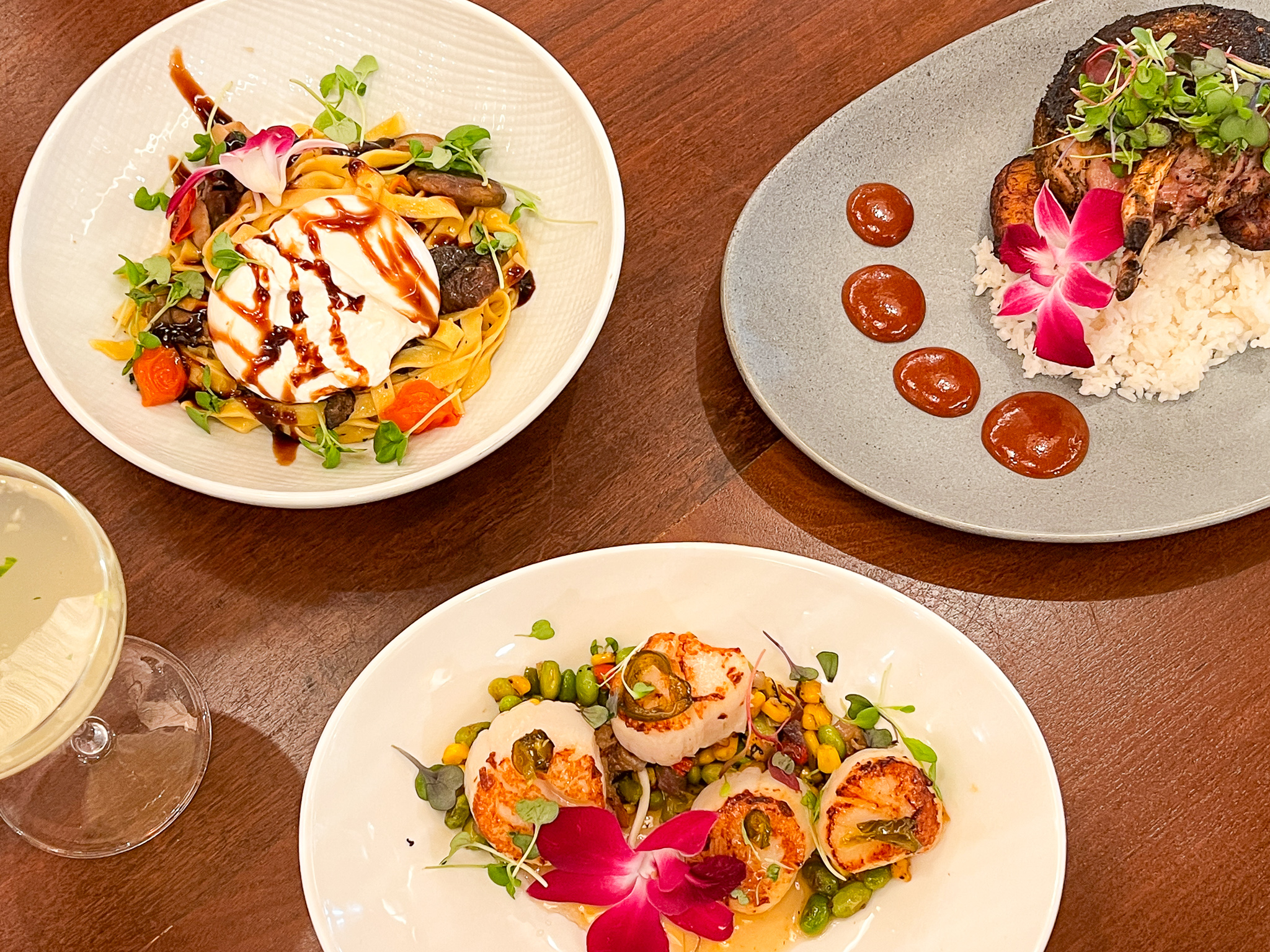 The entrees play a starring role at Coconut Charlie's Grill, giving our tastebuds exactly what we want with fresh ingredients and impeccable flavors. Starting with one of my favorites, the Seared Diver Scallops were prepared perfectly and served over a roasted corn and edameme succotash with some crispy pork belly and even a little heat from the honey jalapeño glaze. This dish was divine and though it's simple, sometimes less is more and the pairings of all of the flavorings were well balanced.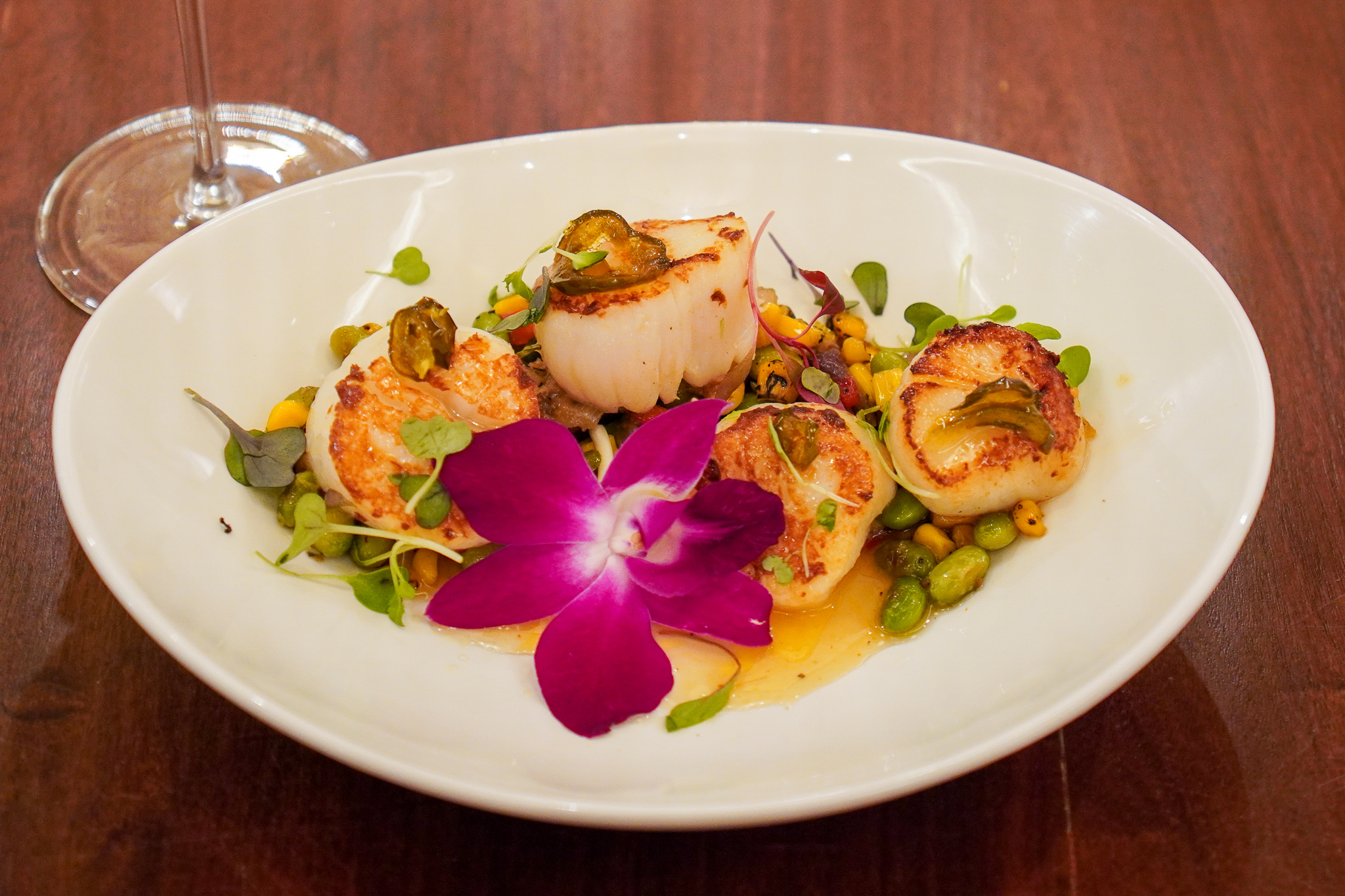 Hungry? Like really, really hungry? Order the 12oz Jerk Rubbed Double Cut Pork Chop. This meaty pork chop is well seasoned and incredible. The runner up for this dish were the sweet plaintains and fluffy coconut rice. I mean really, even the sides were given the same love and attention as the meat. The guava bbq was a great addition if you love condiments, but this dish is also great on its own.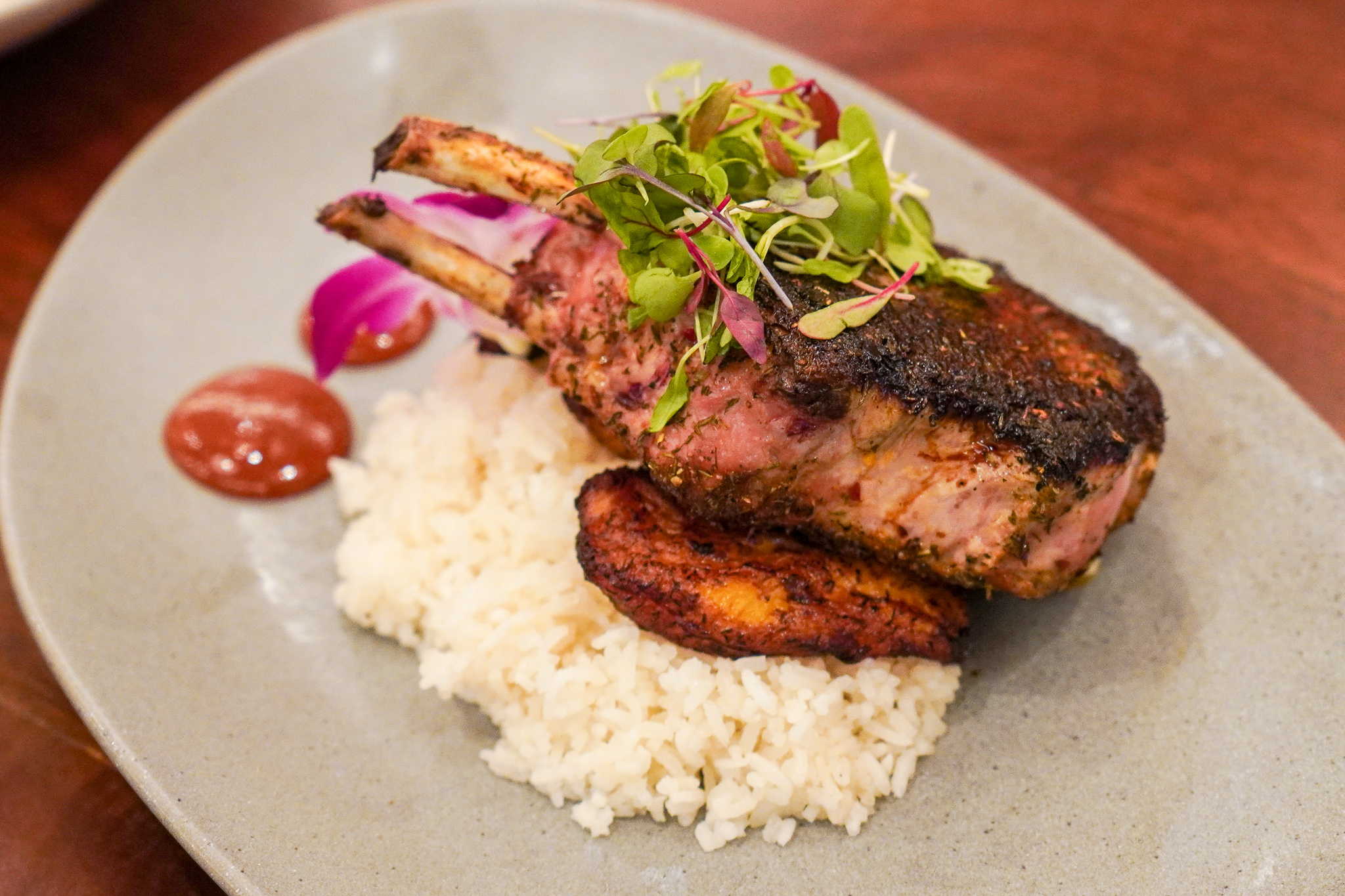 Pasta on a hot beach day doesn't usually sound too appetizing for me personally but let me tell you, I would order this because of how melt in your mouth good it was. The Roasted Wild Mushroom Fettuccine comes with vibrant heirloom tomatos, onion, fresh burrata, basil and drizzled with baslamic. If you're into crowd pleasing Italian dishes, be sure to give this a try.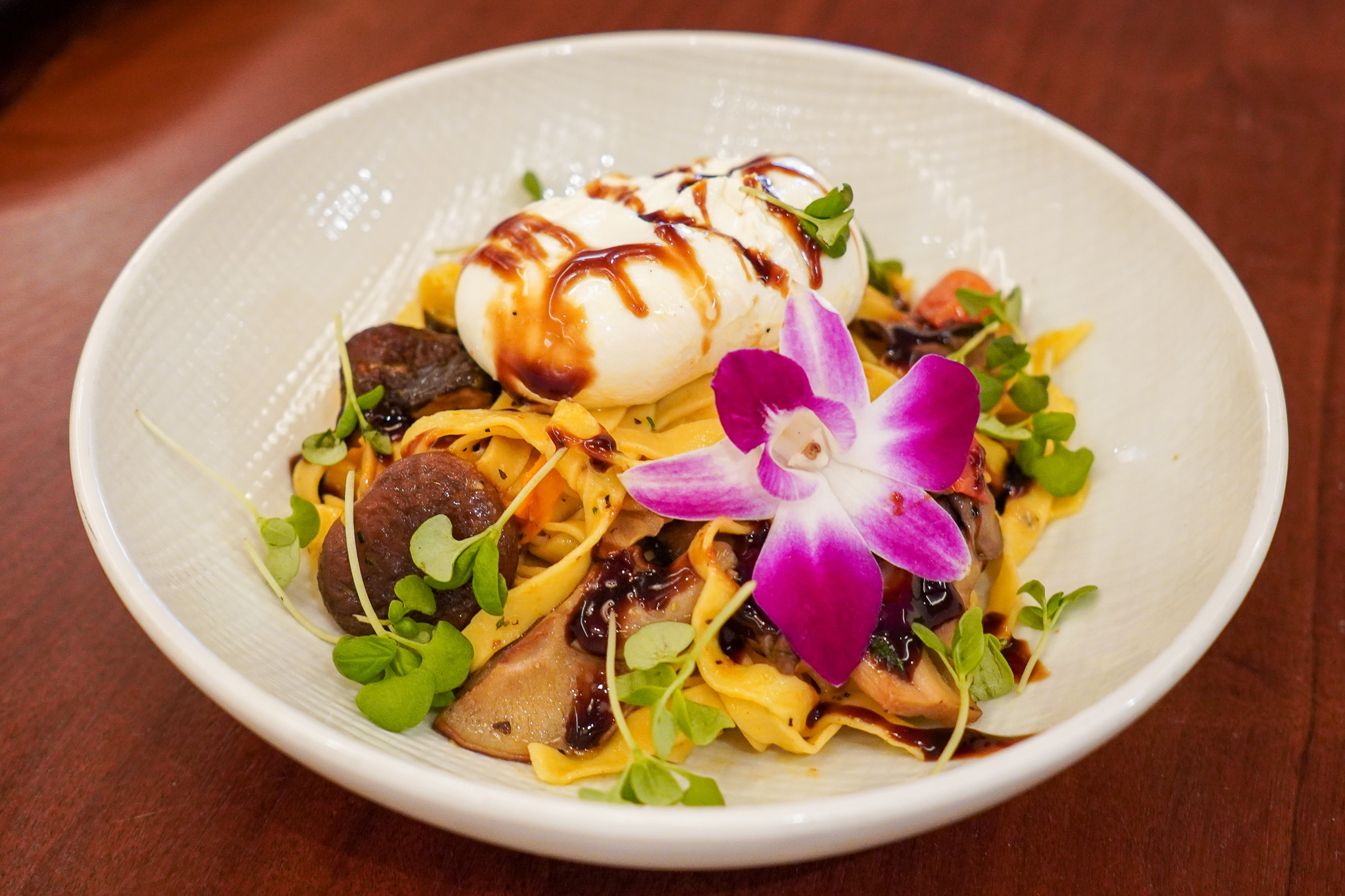 More burrata please! The Burrata Panzanella is a wonderful starter with those same bursting heriloom tomatoes, crispy focaccia croutons, basil and balsamic glaze. I think this appetizer speaks for itself. It's simply delicious and fresh. Who doesn't love a good cheesy burrata appetizer?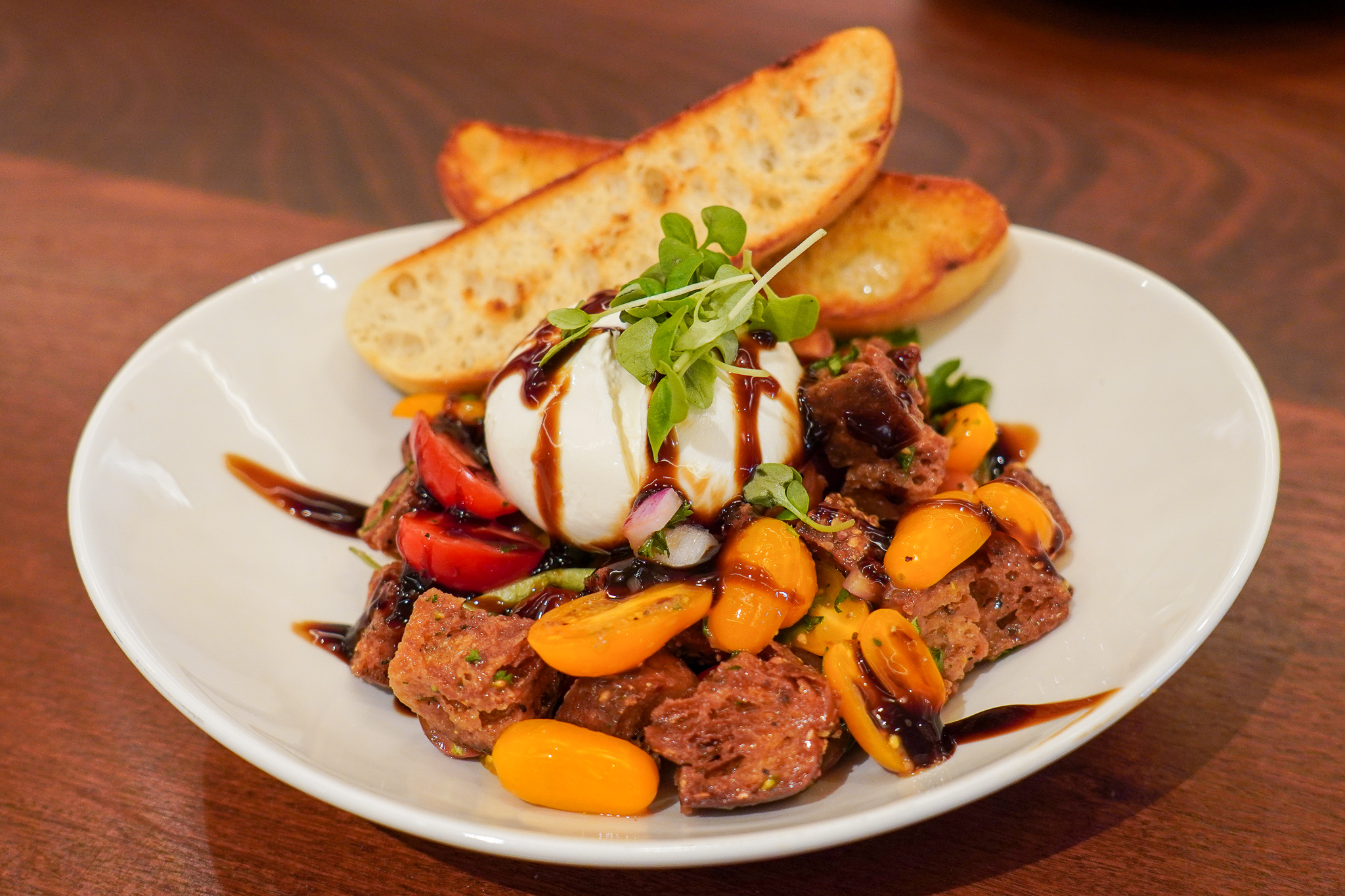 There are a few things on this planet that are more satisfying than pristine tuna. I'm talking about the kind that nearly melts in your mouth and is of the highest qualtity. The Tuna Tartare here blew me away. It was undoubtedly the freshest fish appetizer I've ever had. Yellowfin tuna sits on the perfect melange of cucumber, avocado, seaweed salad, sesame ponzu served with light wonton chips. You must order this.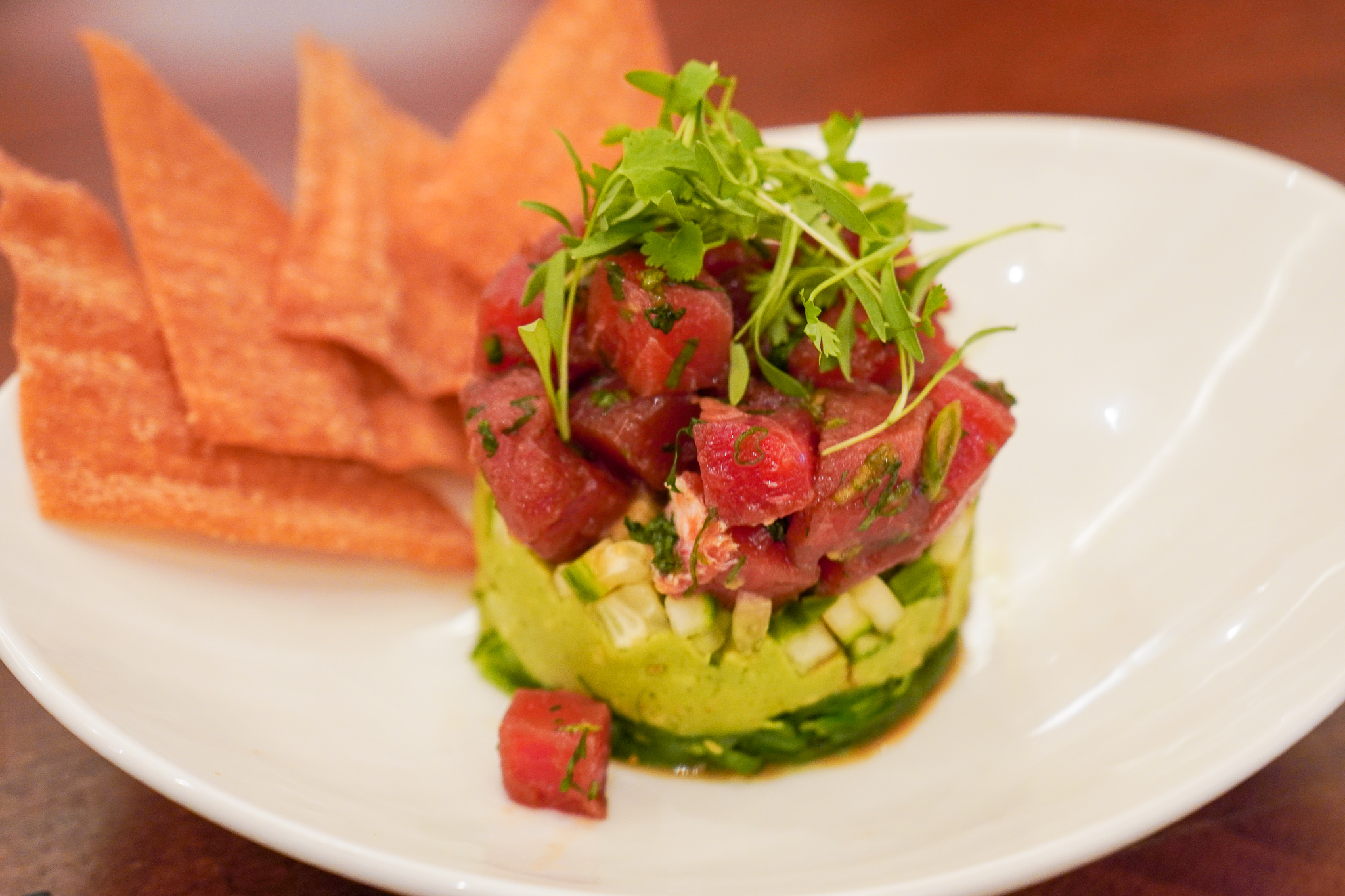 Another great appetizer was the Hoisin Glazed Pork Belly Sliders served with cucmber, delicious kimchi and cilantro all in between a brioche bun. I especially loved the hoisin glaze and the meat. Pork belly is hit or miss for me and these were a major hit, not too fatty and extremely flavorful.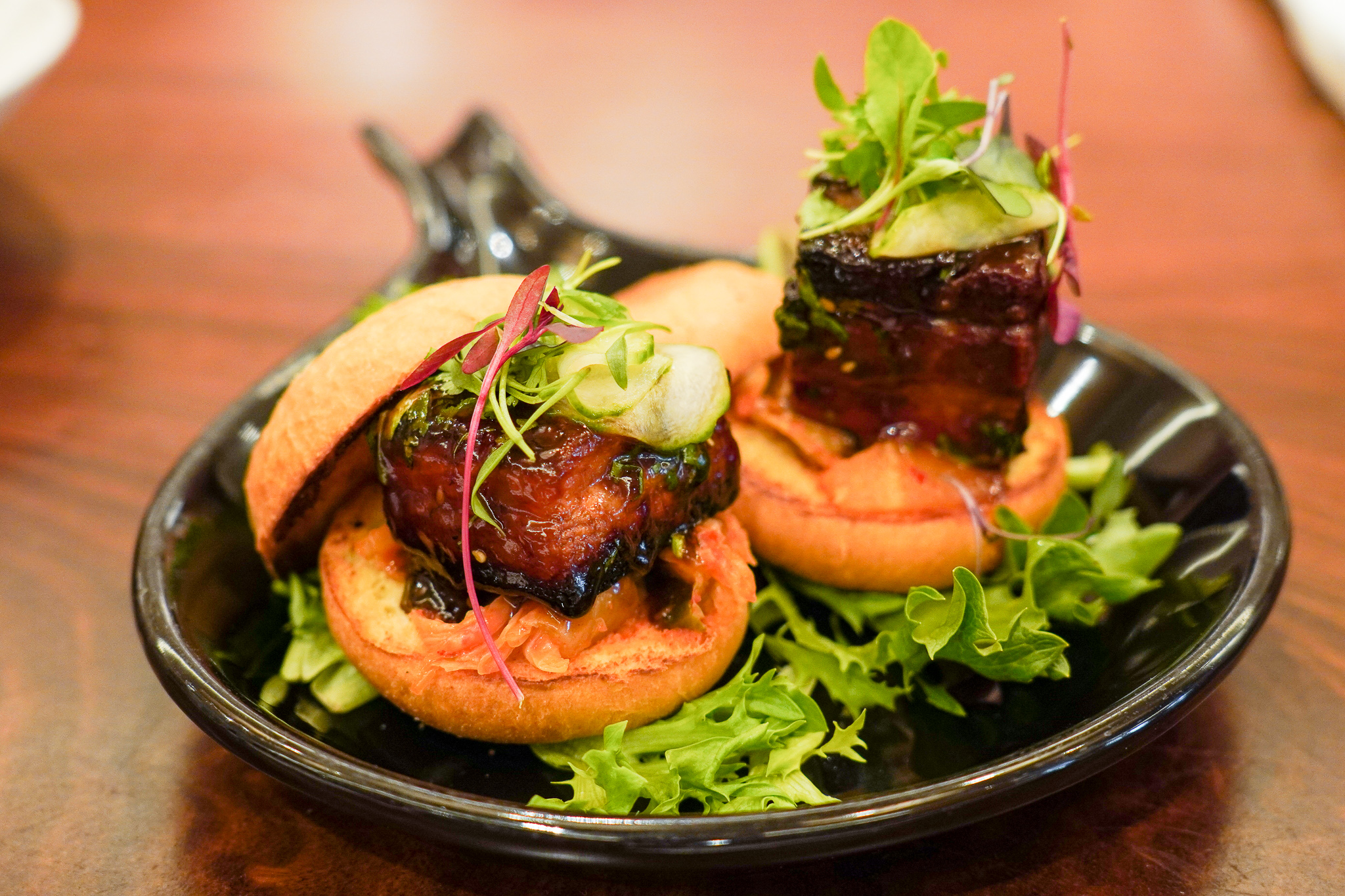 When the dessert cravings hit, satisfy them with the Coconut Chantilly Cake. I believe the drizzle was either raspberry or a mixed berry blend, but either way the sweetness paired with the fluffy and moist vanilla cake and Chantilly cream was a luscious dream.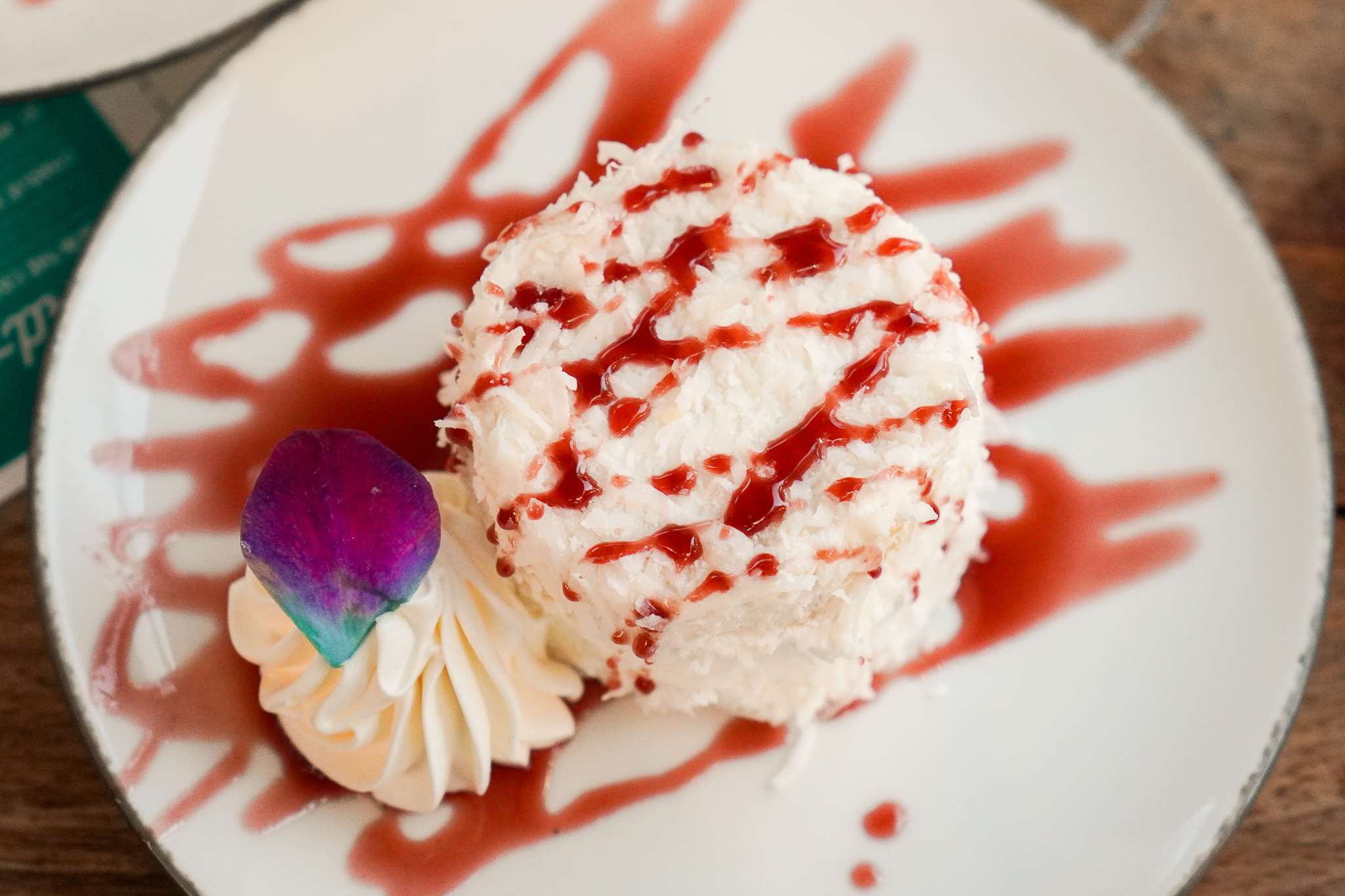 Like any good beach restaurant, Coconut Charlie's Grill boasts an artisan cocktail menu for those who need something strong and boozy. The menu has all of the essentials from craft cocktails, dessert martinis, wine, beer, seltzers, mocktails, and non alcoholic drinks.
For a sweet fix, order the Strawberry Smash with Stoli Strasberi, fresh muddled strawberries, fresh squeezed lemons, and simple syrup.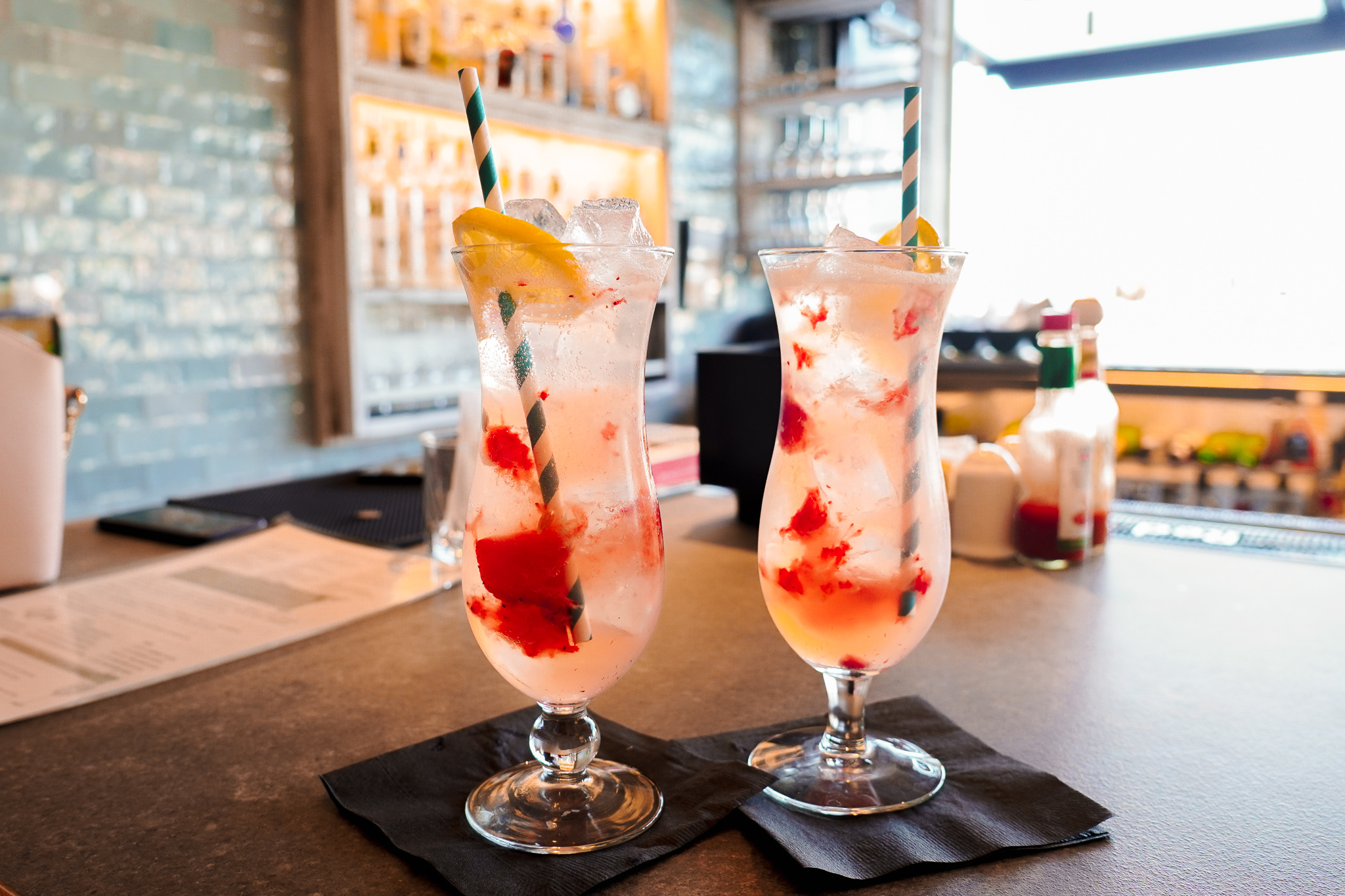 For a smooth and refreshing kick, the Cucumber Quencher has your name on it. It's made with Stoli Cucumber Vodka, lime juice, agave, fresh mint leaves and cucumber.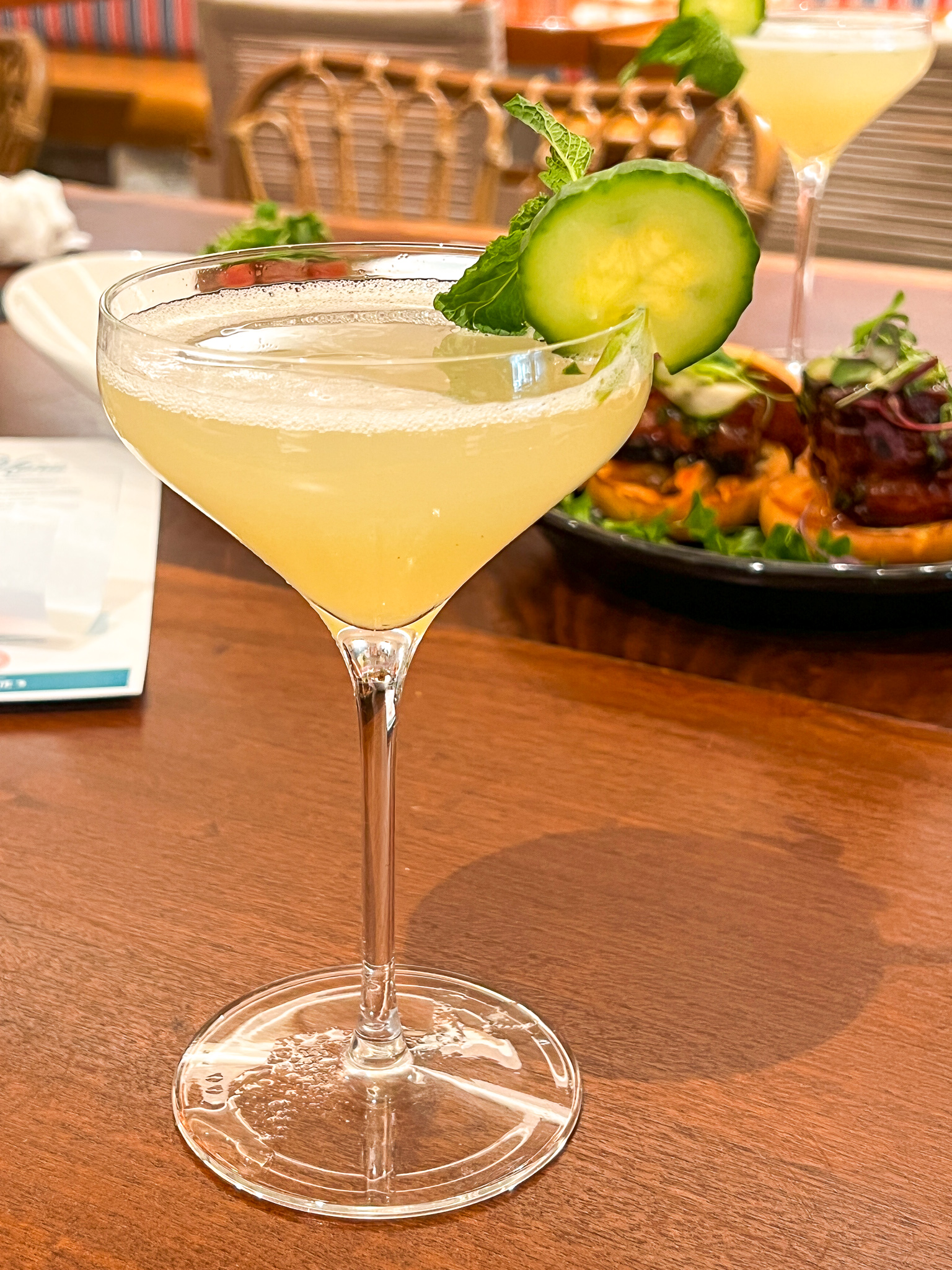 And for dessert, how can you say no to a Campfire Martini? Not only is it super Instagram worthy, but it tastes like a smore with Stoli vodka, Godiva milk chocolate, toasted marshmallow syrup and cream, finished with a graham craker rim.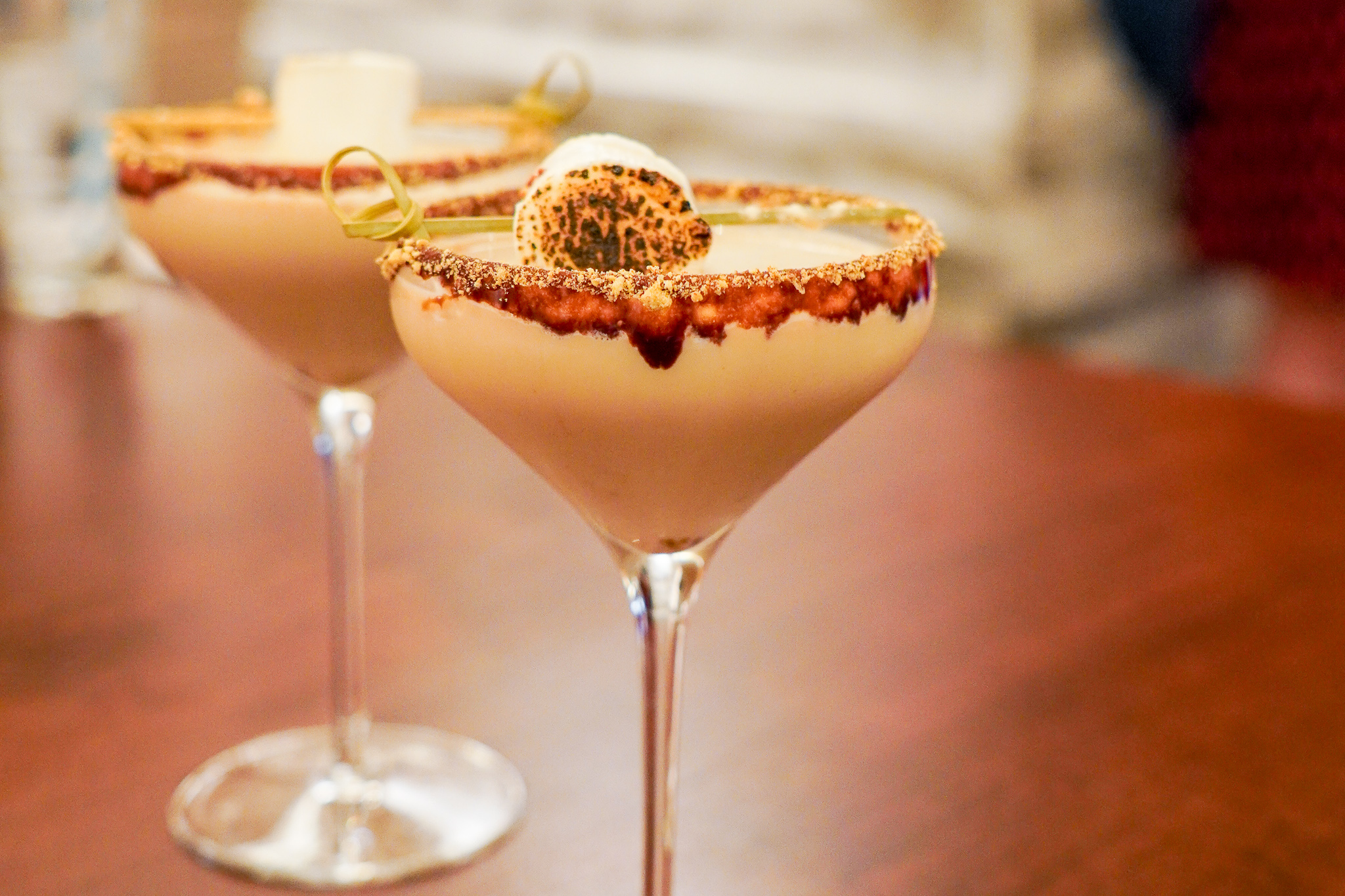 Where there's a list of perfect cocktails there's likely to be an epic menu that follows, and you can expect that and more at Coconut Charlie's Grill at the Hilton Garden Inn on St. Pete Beach. They also have a breakfast menu and brunch on the weekends and I cannot wait to grab a bite to eat before my next beach trip.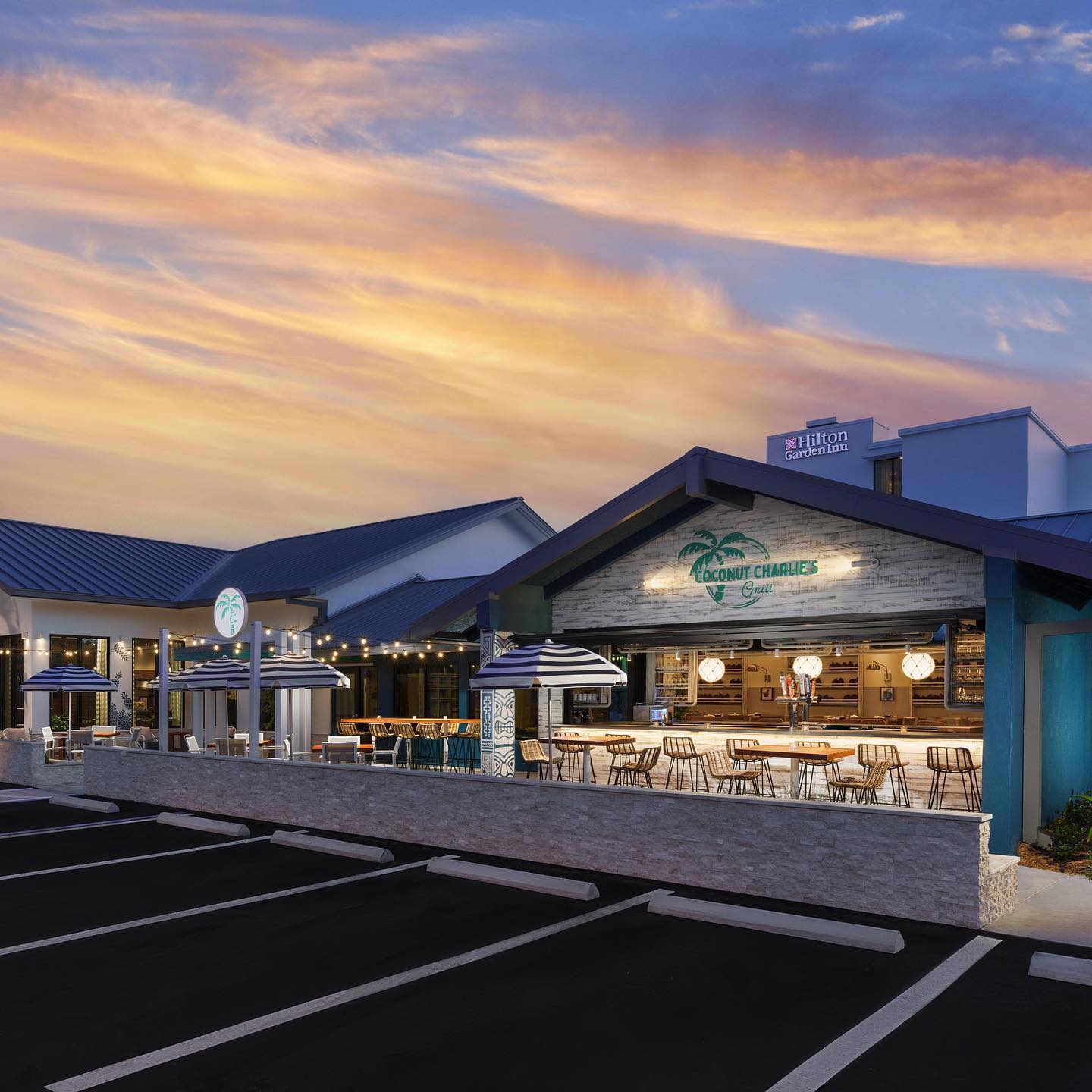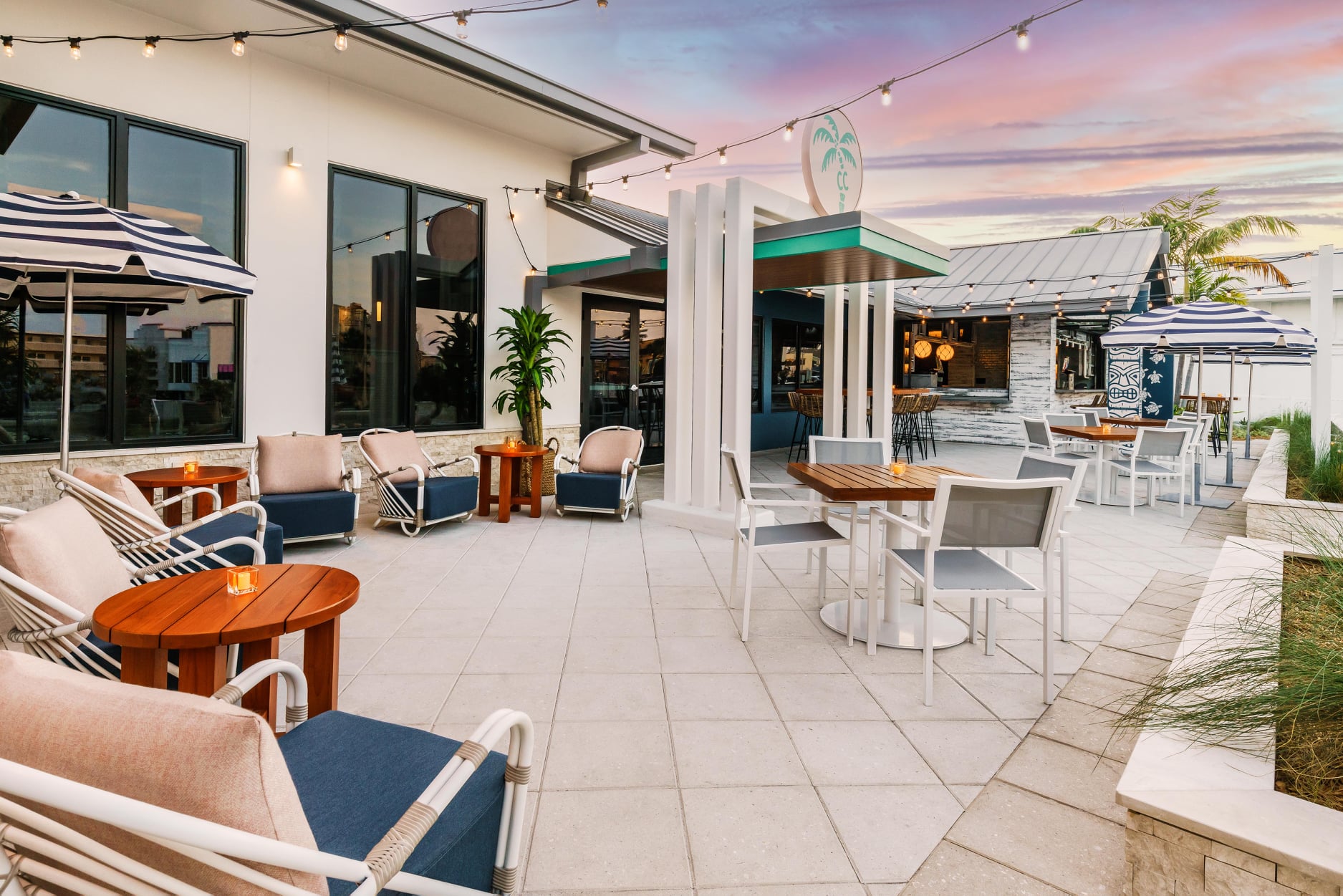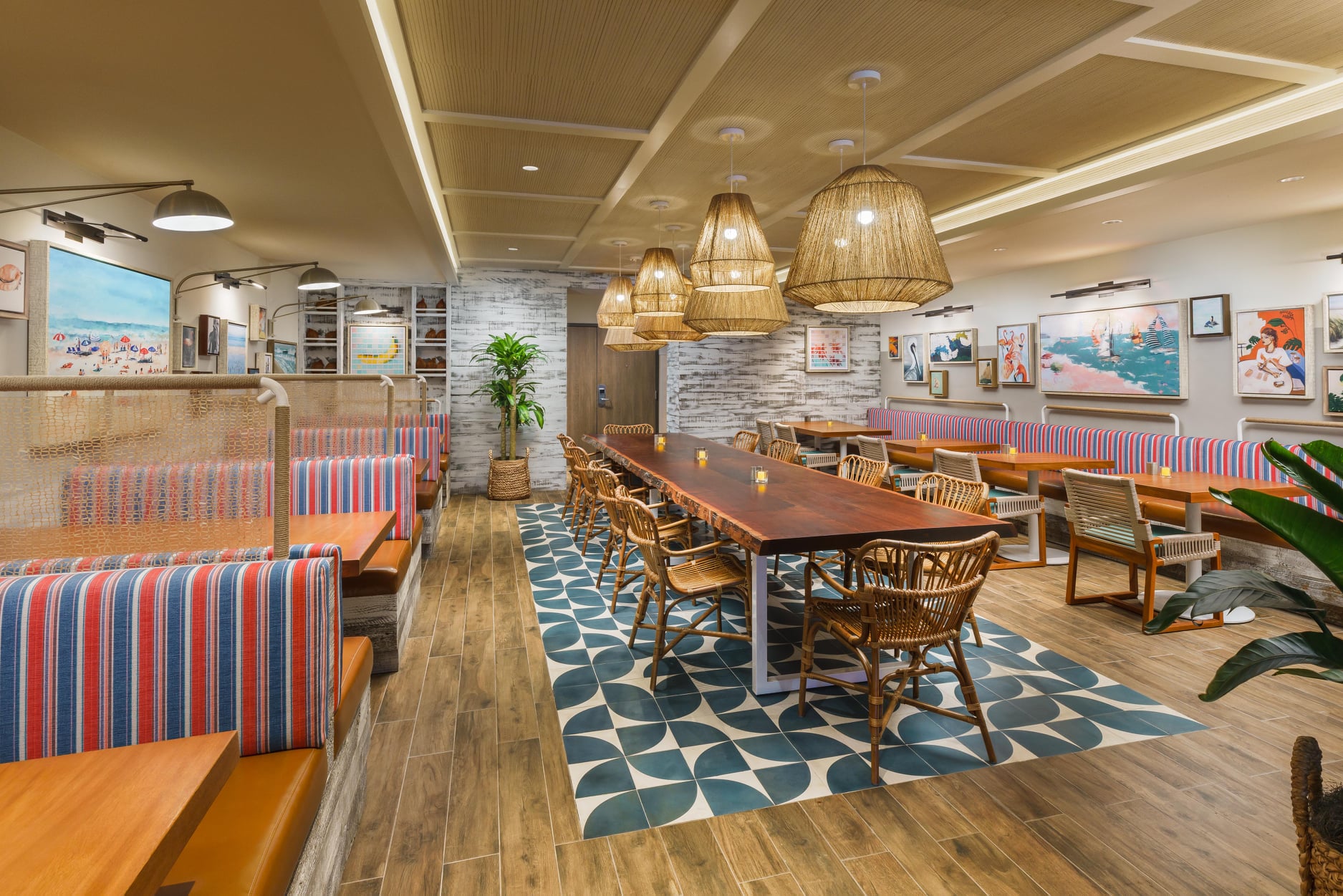 A coastal-American menu with fresh seafood and hand-crafted cocktails.
DISCLAIMER: Kevin, Lori, Abby, Haley, & Lindsey do not dine anonymously (this would be impossible) and we sometimes get free food (though never expected). However, we dine with the locals and we support our own. You will always get honesty in a respectful manner. We do not include any large national or regional chains in our ratings and reviews. We focus on independent locally owned eateries exclusively.

PLEASE NOTE: Reviews reflect a certain moment in time. Some restaurants stay extremely consistent over many years, and some change for the better or worse. Some things that may change are: chefs, recipes, food suppliers, ingredients, philosophies, ownership, etc. We always hope that you have the same good, or great experience we had.
More Foodies News, Reviews & Recipes