Eat, Sip and Splash at 82 Degrees in St. Pete Beach, FL
Eat, Sip and Splash at 82 Degrees in St. Pete Beach, FL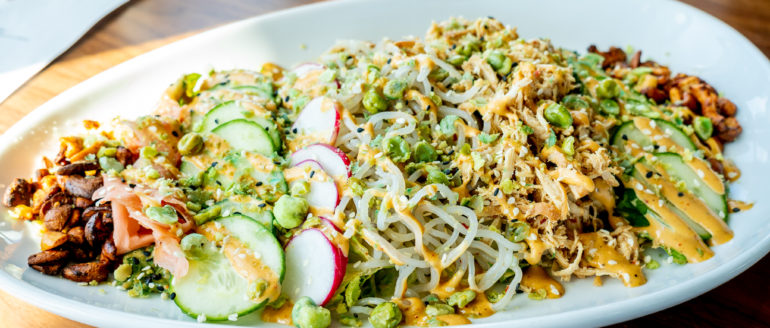 Forget laid back beach bars, 82 Degrees in St. Pete Beach is the new flashy restaurant and bar that you need to visit as soon as you can. Period. Located at The Saint Hotel, this is a fully renovated, boutique hotel with a trendy and vibrant atmosphere. Plus, it's only a brief walk to the beach. The pool though, is where the party's at. Picture hot pink umbrellas, flamingo pool floats, and live music. Everything about 82 Degrees is gram-worthy and overall incredible.
82 Degrees is whipping up refreshing signature cocktails alongside a divine coastal-inspired menu. They have a Light Bites and Late Nights menu and a regular Dinner Menu. They'll be launching their lunch menu soon. Stay tuned for that.
They have live music a few days a week with a variety of genres from classic rock and blues, acoustic guitar and vocals, jazz, DJ party music and more. Give their Facebook or Instagram a follow to stay up to date with who's playing and when. 
Starting off with signature cocktails is the move. If you like light and playful drinks, you'll be in good hands.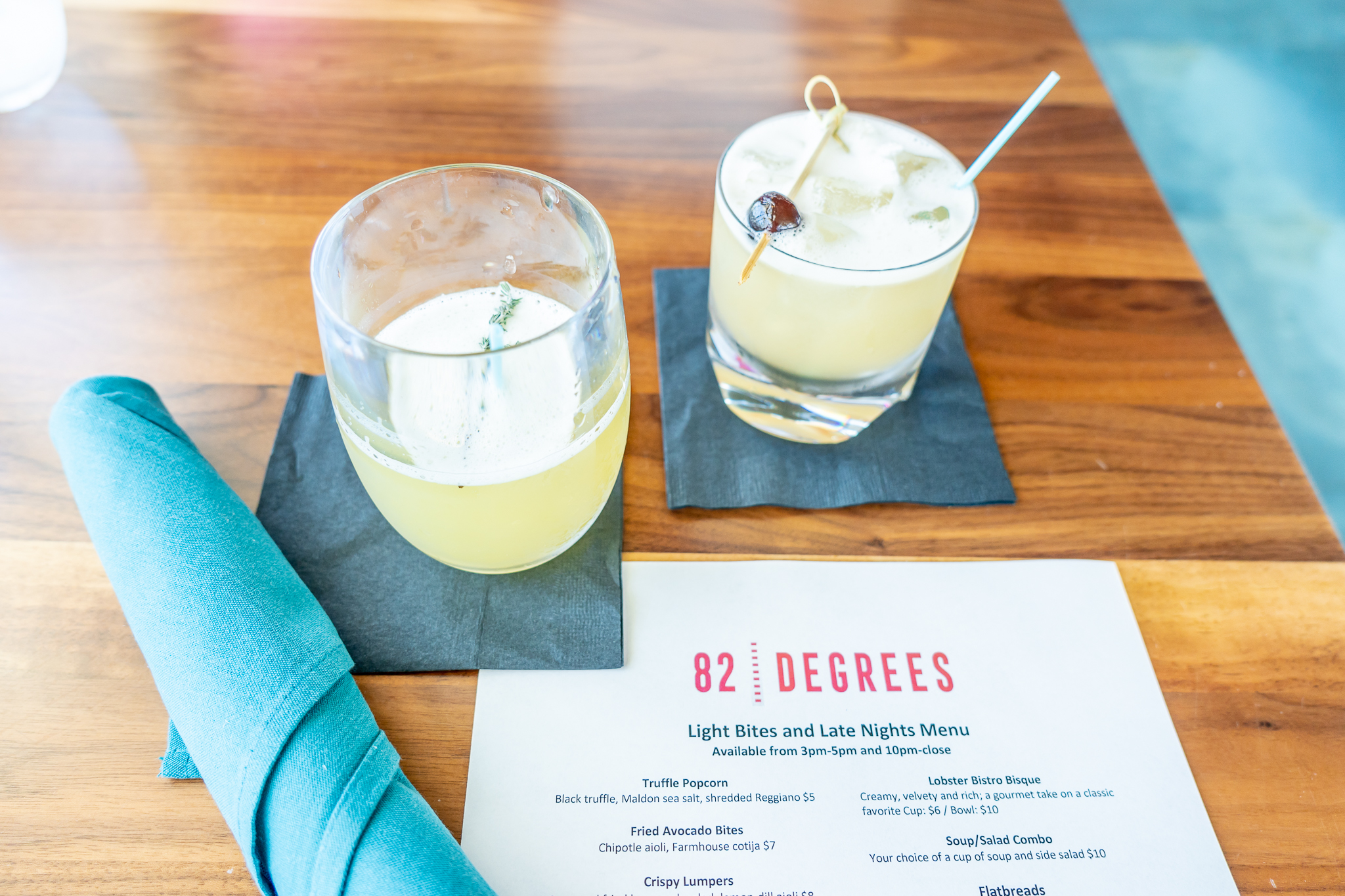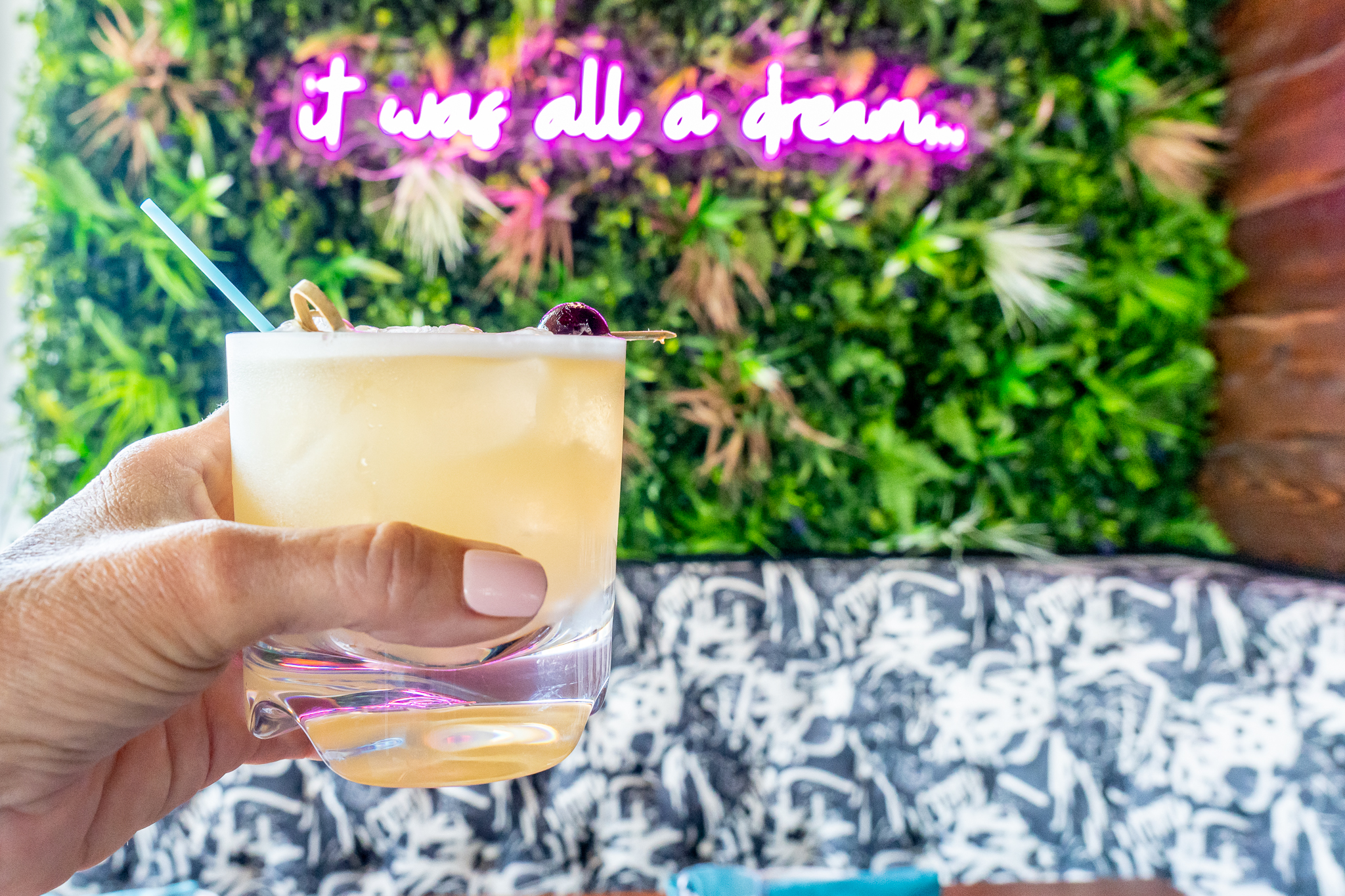 A boozy drink that might make you dance, the Liquid Gold signature cocktail is a zingy mix of bourbon, mezcal, agave, lemon and egg white. If you're looking for a party in your mouth, this one is for you. 
I told you this place is photo-worthy. The "it was all a dream…" neon sign and grass wall is an ideal backdrop to elevate your Instagram feed, just saying.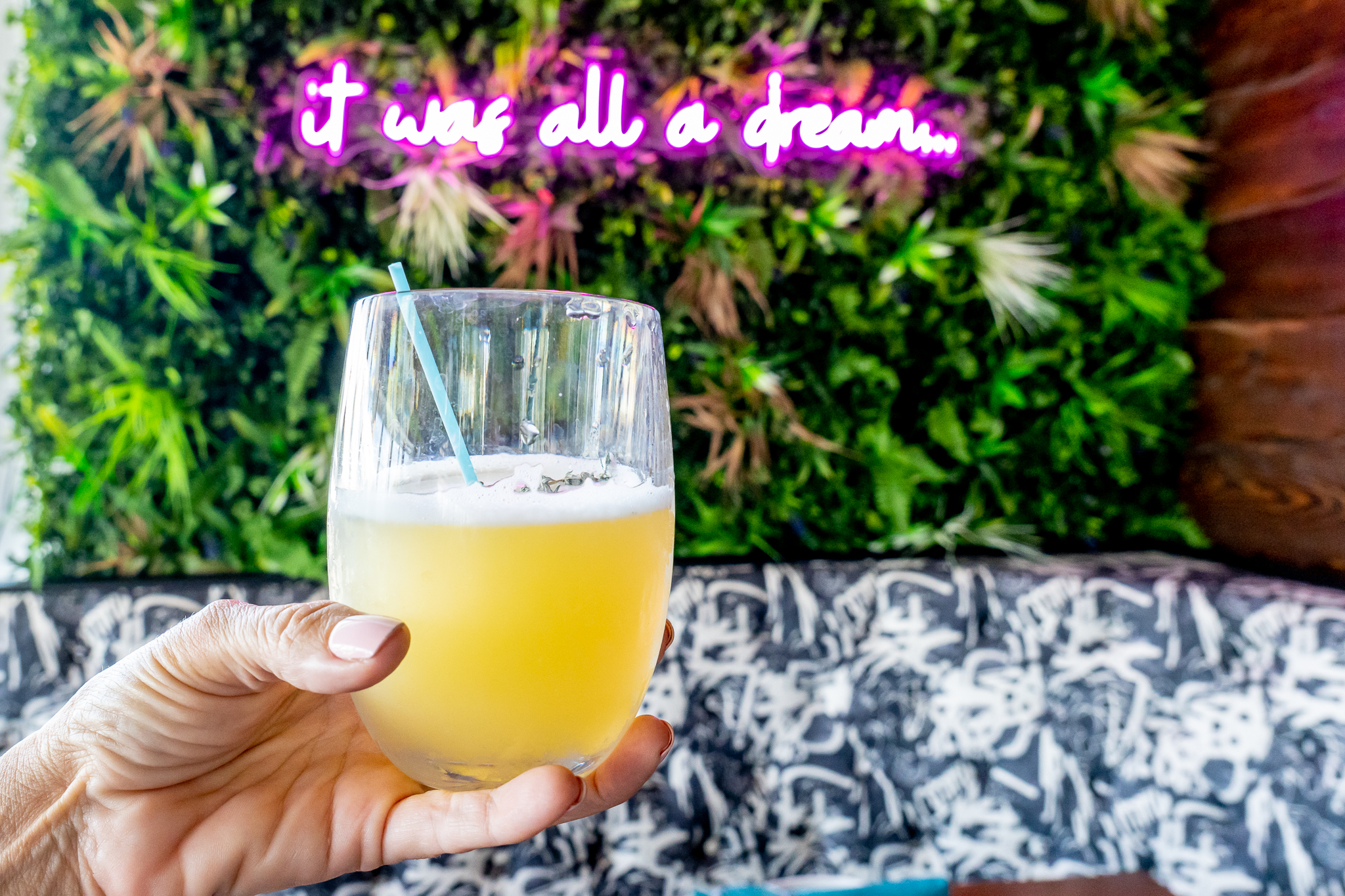 My all time favorite cocktail here is the Hot Summer Nights. It's a smooth blend of vodka, elderflower liqueur, passion fruit, lime and thyme. You should cool off on a hot summer day and night with this one. Sipping on this cocktail is a full experience of sweetness, zest, booze and fun. Hot Summer Nights. Write that down.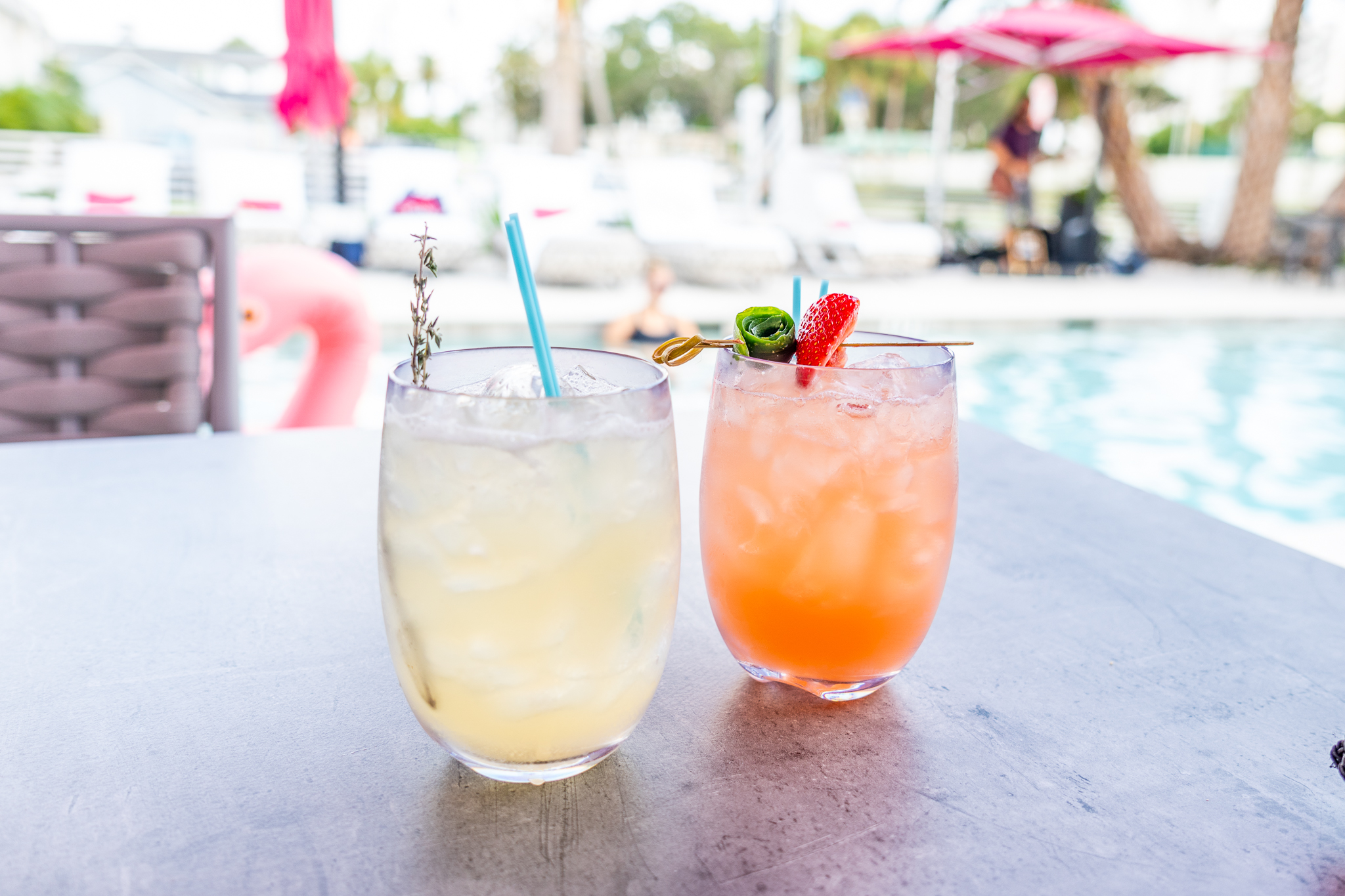 We took it outside for one of our visits and of course needed to cool off with more refreshing cocktails. I can't remember the name of the drink on the left but the one I drank on the right is the Farmer's Daughter with gin, limoncello, lemon, strawberry, cucumber and basil. Any time I see limoncello, I'm automatically ordering it and I stop reading the menu. This is such a lively drink.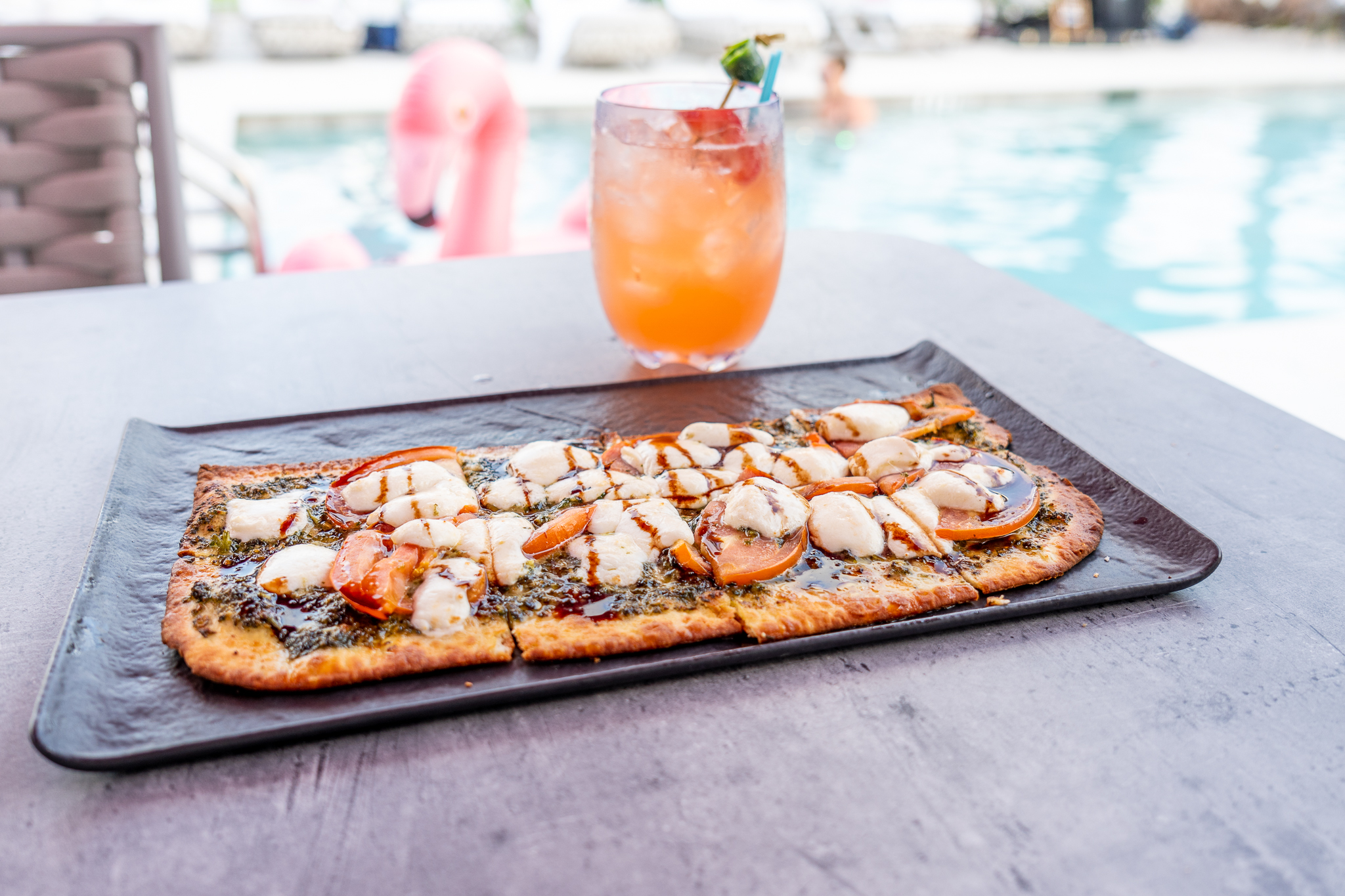 We ordered a Margherita Flatbread to start and we couldn't be happier. The crispy crust is topped with the basics – basil pesto, fresh mozzarella, juicy tomatoes and fresh basil. This simple flatbread was the perfect starter to split.
They have an entire flatbread section on the menu with options like an Ahi Tuna Flatbread, Chicken Feta Flatbread, Pine Isle Flatbread and Fig & Prosciutto Flatbread. I can't wait to try another on my next visit.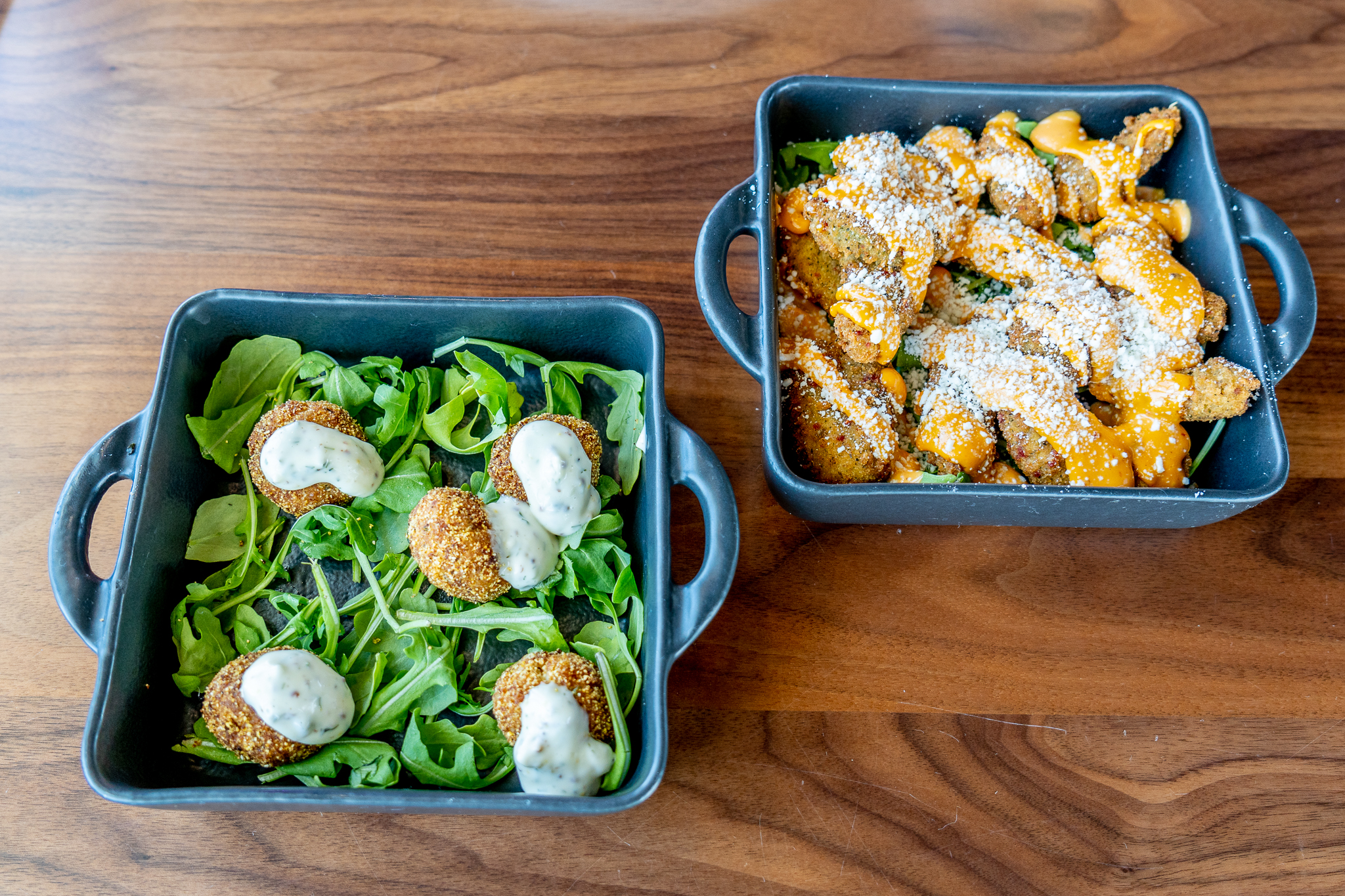 To continue with starters, their Light Bites and Late Nights menu has a good variety of options. It's available from 3-5pm and 10pm-close.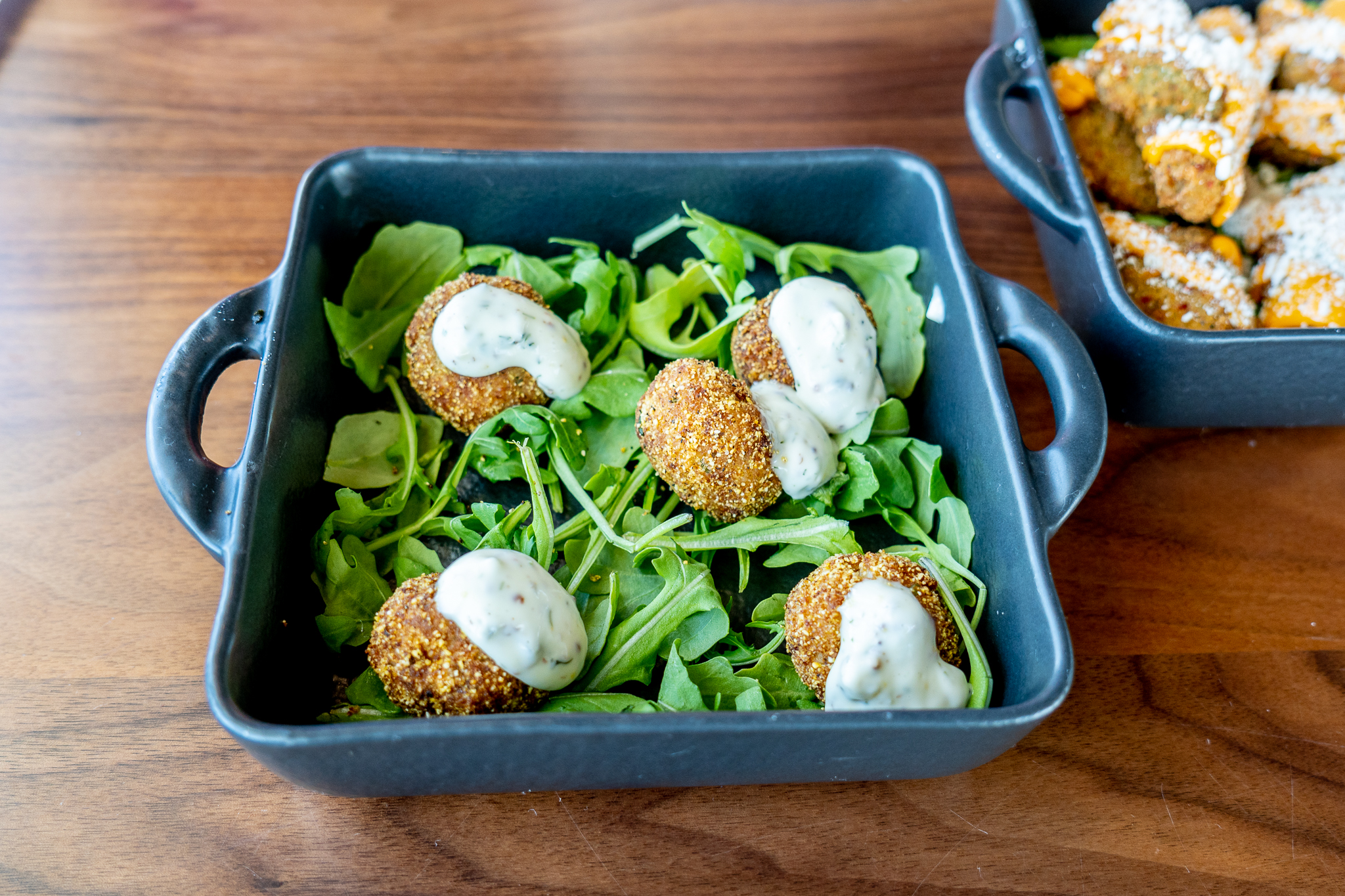 If you're thinking, what the heck are crispy lumpers, I thought that too but I'm here to tell you that they are wonderful and that you should order them. These bite sized cornmeal fried lump crab salad with lemon-dill aioli are a delight. The crispy outside and warm, crab salad inside is the perfect duo. The lemon-dill aioli gives a kick to this already perfect snack.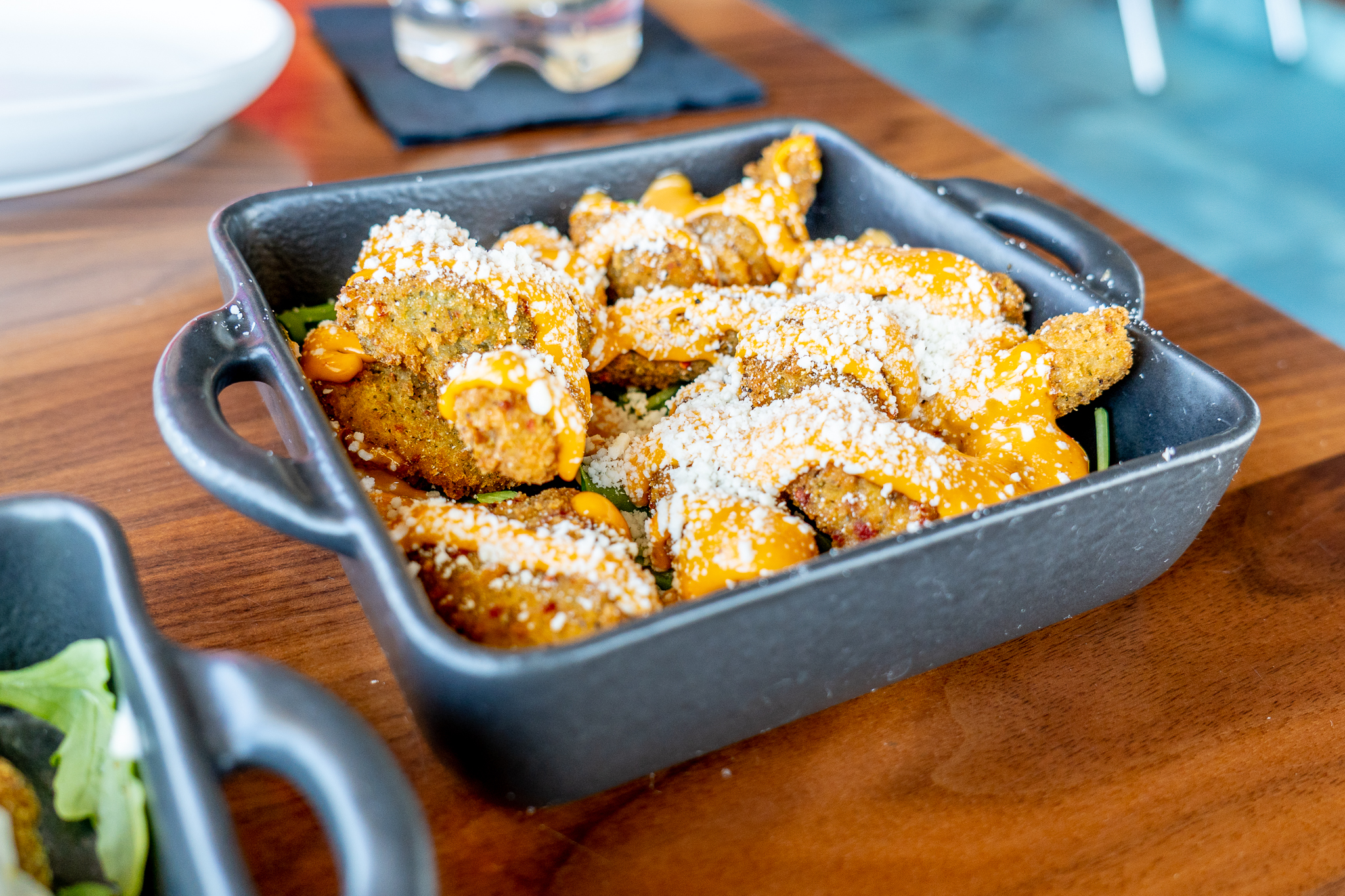 Avocado in all forms is a beautiful thing. I'm obsessed with them but surprisingly I've never had a fried avocado. After a few bites, I knew I was hooked and that my expectations from here on out are sky high. I enjoyed the crispy coating and soft avocado, but it might be a weird texture thing to some. Topped with chipotle aioli and farmhouse cotija, this lite bite is simply delicious.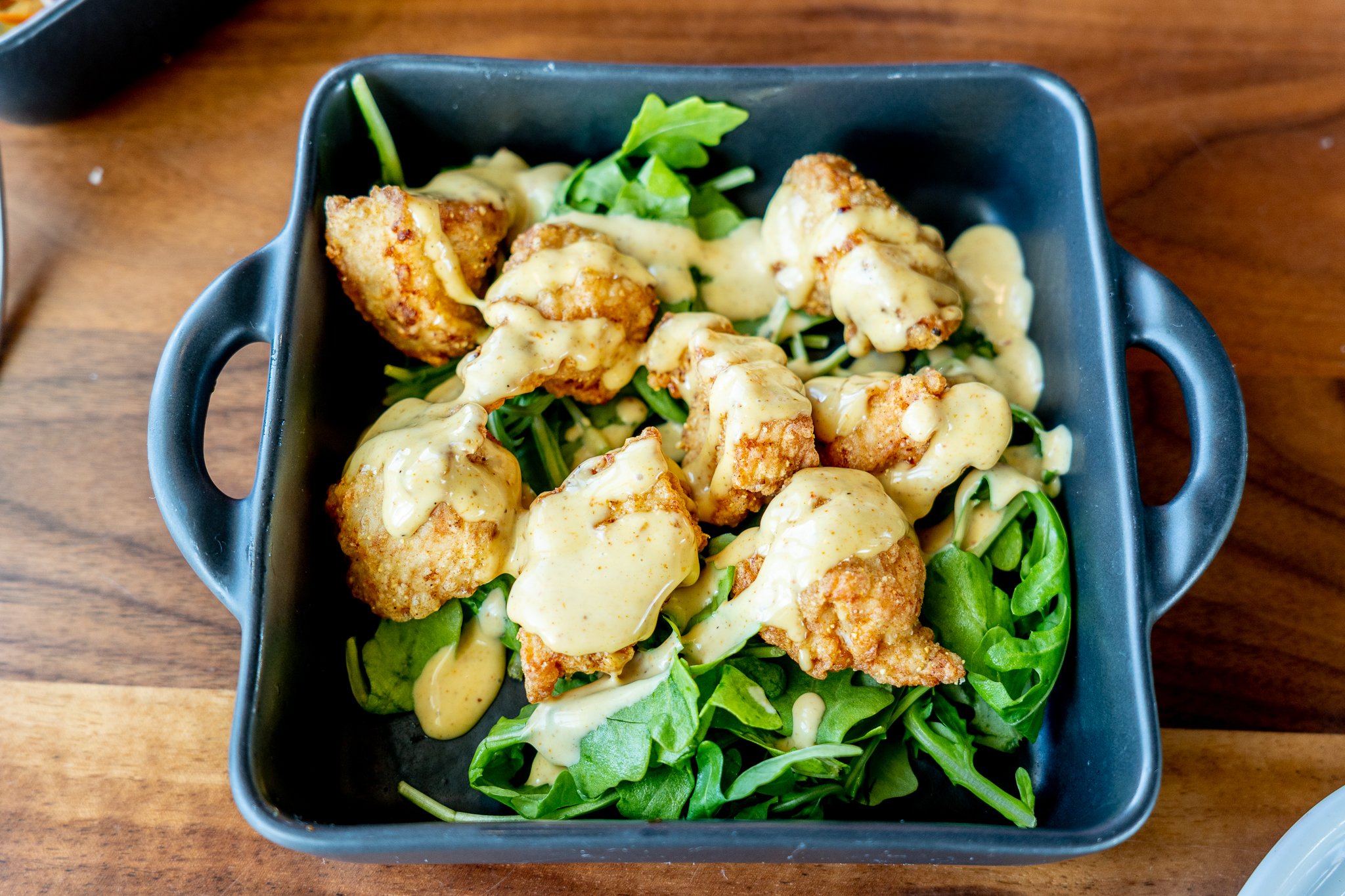 The Coconut Curry Chicken Nuggies are exactly what you'd expect from the name. The drizzle of coconut curry come back sauce was the highlight here. The chicken itself was good but nothing too out of the ordinary, in my opinion.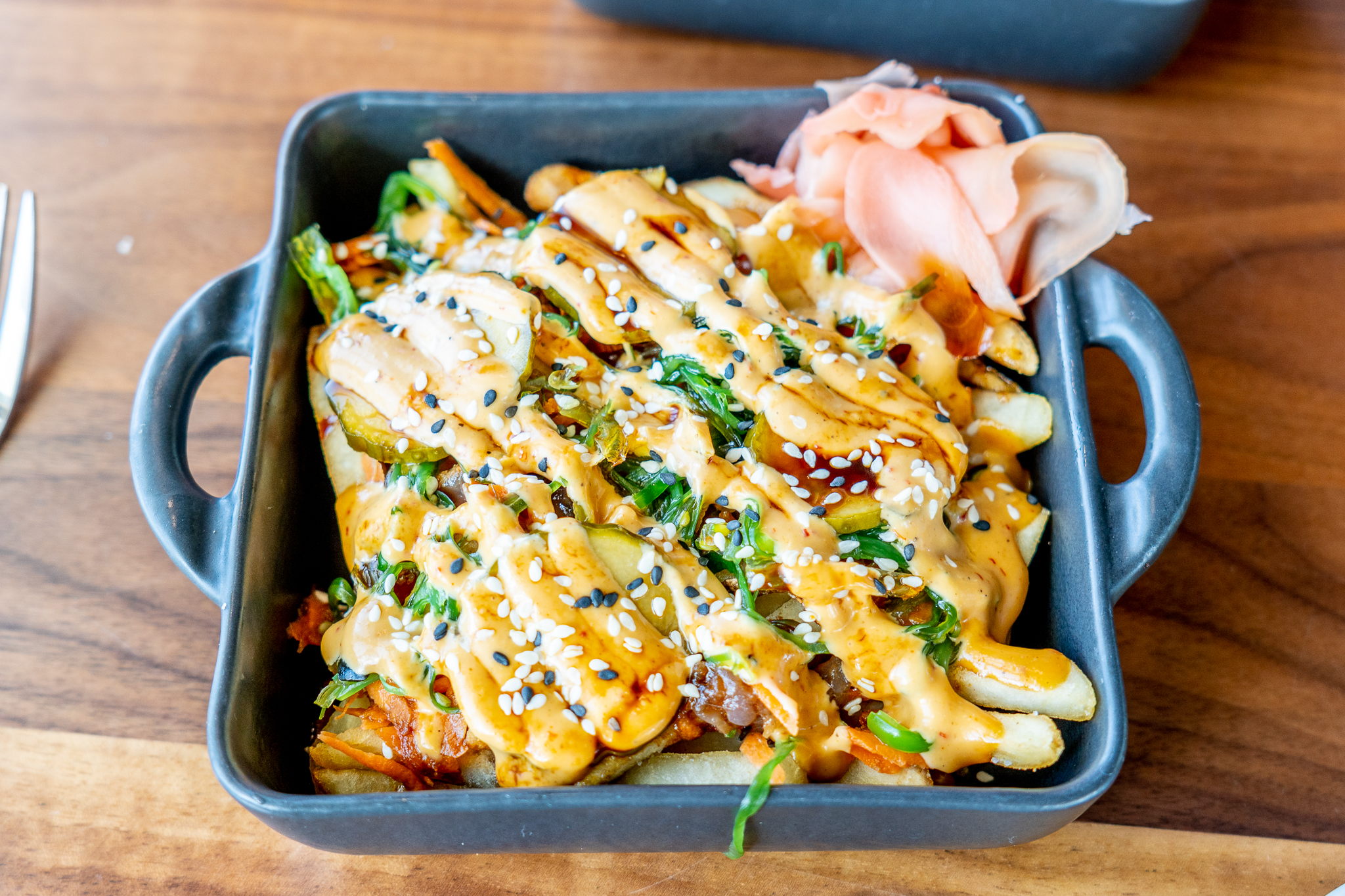 The Poke Fries are a more adventurous bite with spicy tuna, ginger honey miso, togarashi, wakame, fried wontons, eel sauce, shredded carrot and pickled cucumbers. The flavors were on point but the texture was a little off. I would have loved this served over rice and minus the fries.
Chef de Cuisine, Peter Atanasov, was so kind to have brought out a few dishes for us and we chatted for a while too. He's a very experienced, international chef, bringing his talent and worldly flavors into each dish here. We didn't get to meet Executive Chef Andrew Silas, but we learned that he's been on the St. Pete food scene for a while and it shows. He's worked alongside a lot of our favorite chefs in the area, and we're excited to continue eating his vibrant and scrumptious dishes here.
We were overjoyed with the surprise of The Saint Smoked Fish Dip and 82 Salad.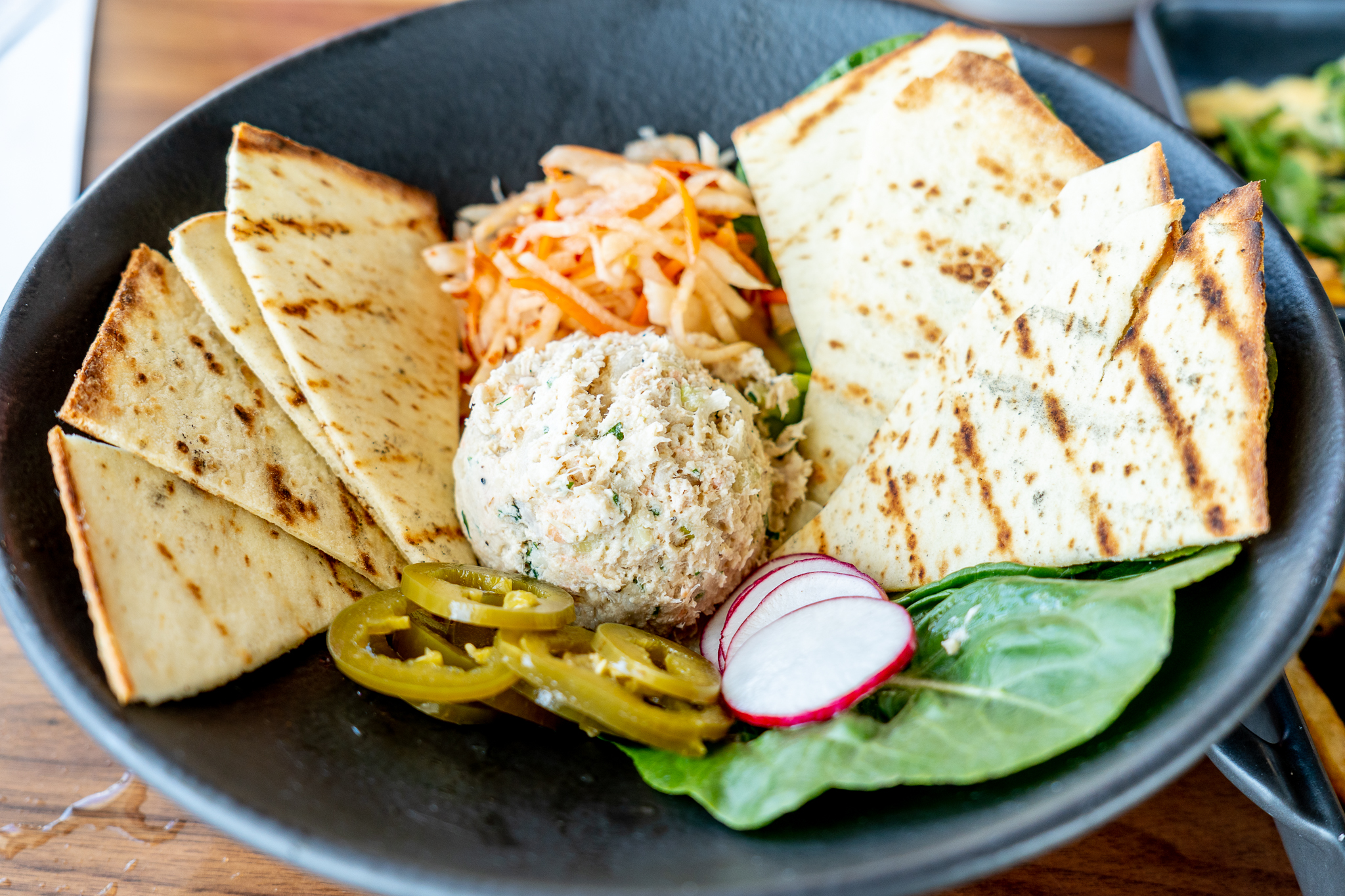 The Saint Smoked Fish Dip was amazing. What to expect from this dish: Smoked local gulf white fish mixed with cream cheese and crunchy celery and onion, served with pickled jalapeño, house slaw and grilled flatbread with fresh herbs and olive oil. The smoked fish dip is soft with a crunch and very fresh.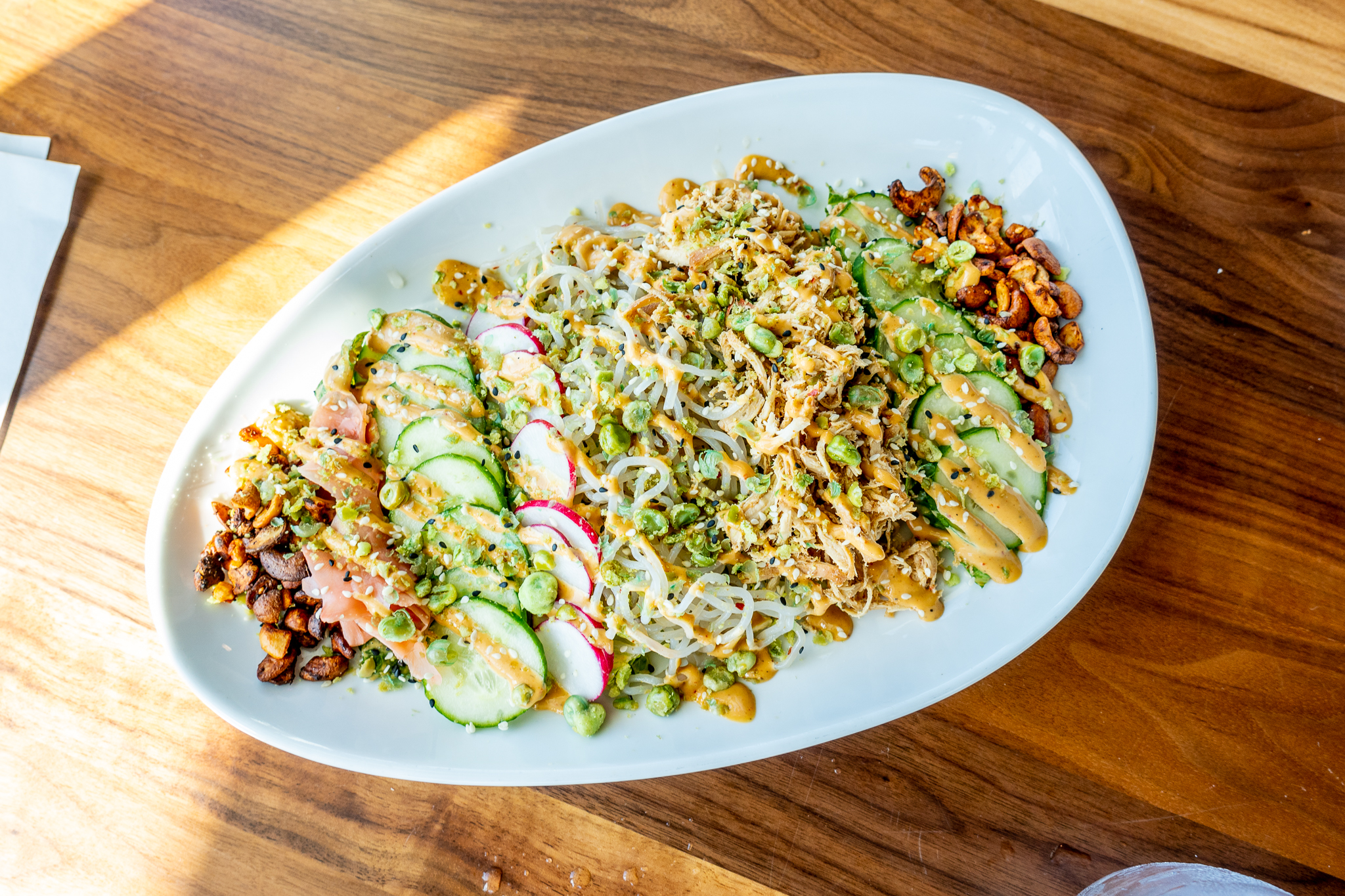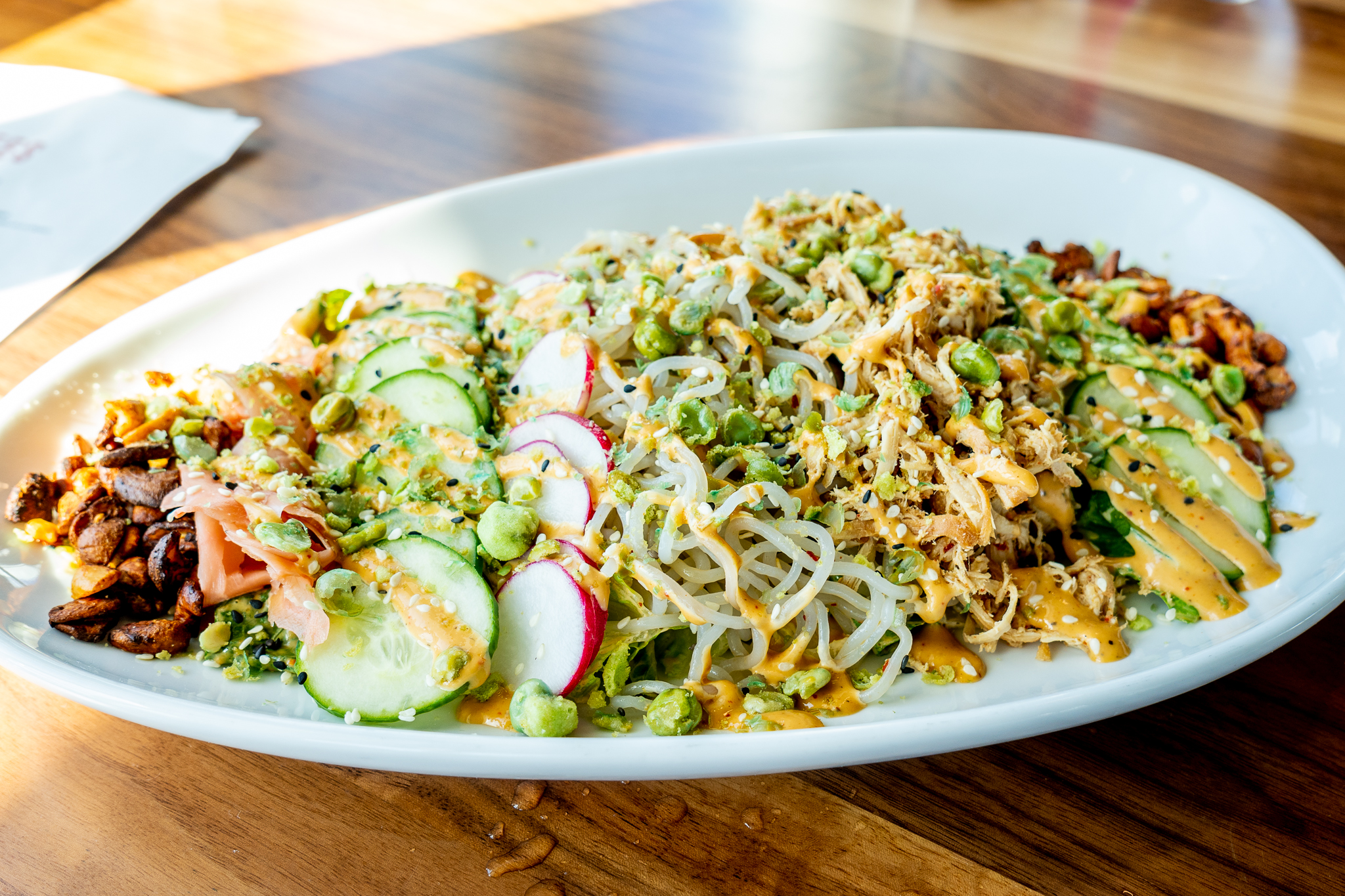 Salad 82 was my most-loved dish at 82 Degrees. This huge plate of deliciousness can be shared and will still leave you satisfied without being overly full. I'm pretty sure I said mmmm after every single bite. It's that good.
Here's the rundown of everything going on: hot pot slow braised chicken, marinated glass noodles, daikon & jicama slaw, shaved cucumbers, shredded radishes, pickled ginger, spiced cashews, all layered over fresh and crisp romaine tossed in a spicy ginger vinaigrette, and garnished with crushed wasabi peas.
The bold Asain flavors married with a little spice, crunch and zest is an unmatched combination. I promise this salad tastes as good as it looks. I've already told all of my friends about it and will order this probably every single time I go.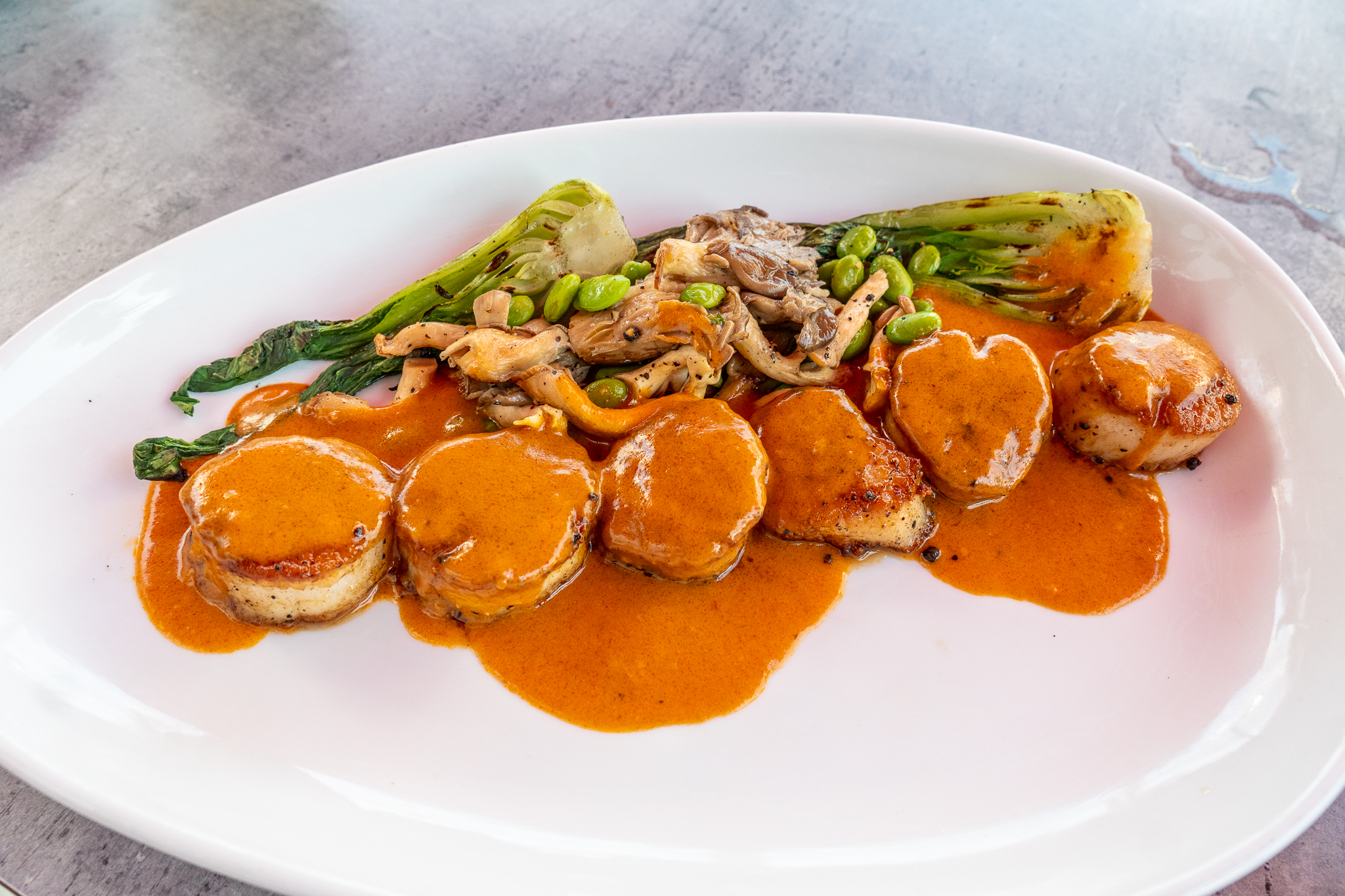 Another showstopping dish, the Red Curry Scallops are heavenly pan-seared U-10 Diver scallops with grilled bok choy, roasted oyster mushrooms and edamame in a red curry and lemongrass broth. The flavors were vivid in every bite. I loved how delicate the scallops were yet how striking the red curry sauce was.
I have some cool info for you on scallops. If you didn't know, U-10 Diver scallops are referring to the size of the scallops and how they were sourced. Let's break it down. The "U" stands for "under" meaning that it would take fewer than 10, 20, 30, 40, etc, scallops to make up a pound. The smaller number is, the larger (by weight) the scallops are. So, U-10 are the biggest scallops available. "Diver scallops", simply put, are harvested by divers who collect the scallops by hand. This is typically more ecological because the diver will only pick the bigger scallops, which leave the smaller and younger ones to continue populating and growing. Now you have a new foodie fun fact.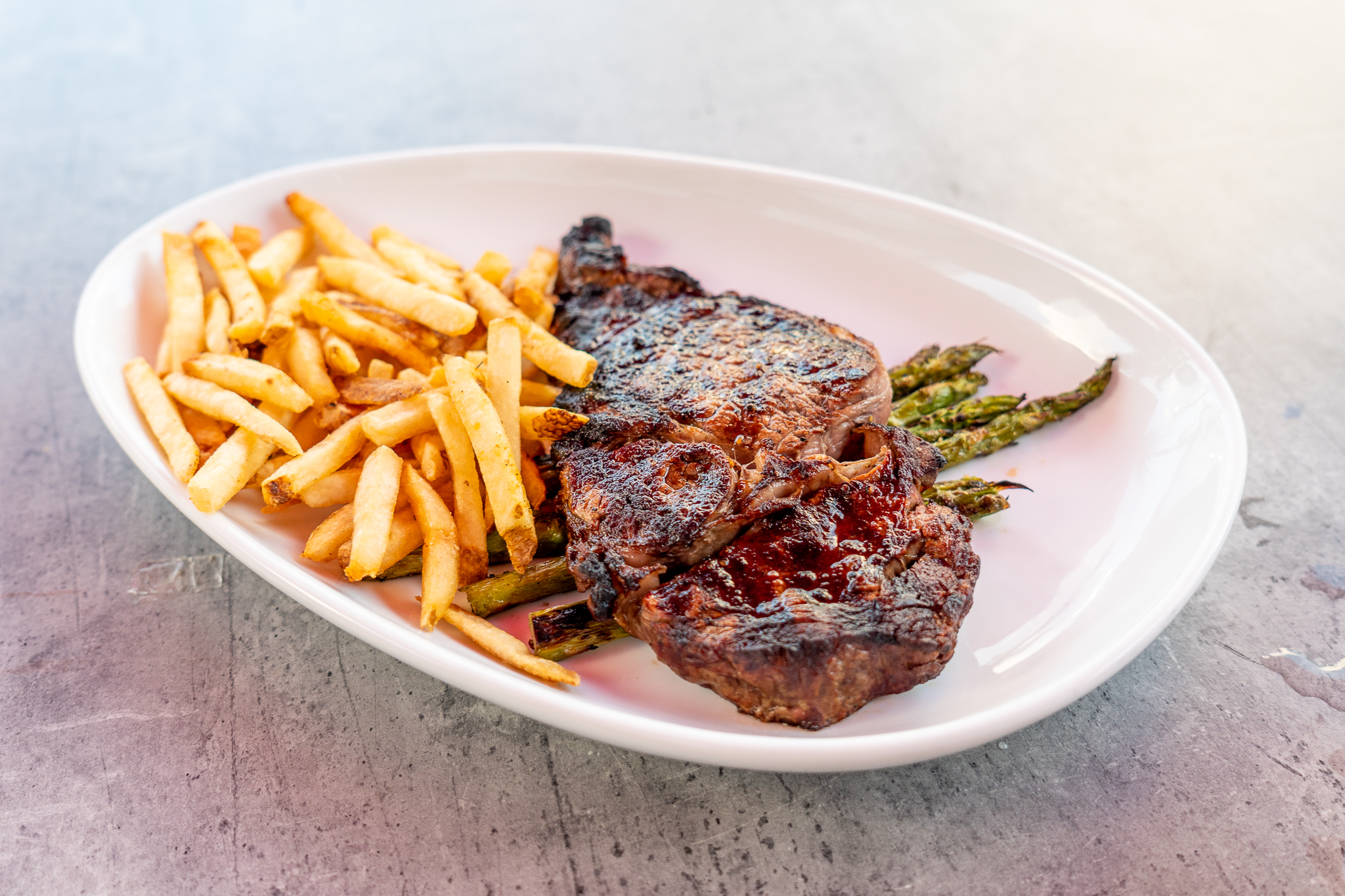 Who doesn't love a good ribeye? It's a classic that will always hit the spot. When you bring a slightly non-adventurous eater (no offense Angelo) to a restaurant, this is the best option for them. Enjoyed while bopping his head to the live music and sitting poolside, my friend Angelo was totally content after eating this 16 oz. Creekstone Farms ribeye. I had a few bites and quickly realized how perfectly cooked, charred and seasoned it was.
The ribeye and tenderloin both come with a choice of two sides and a sauce.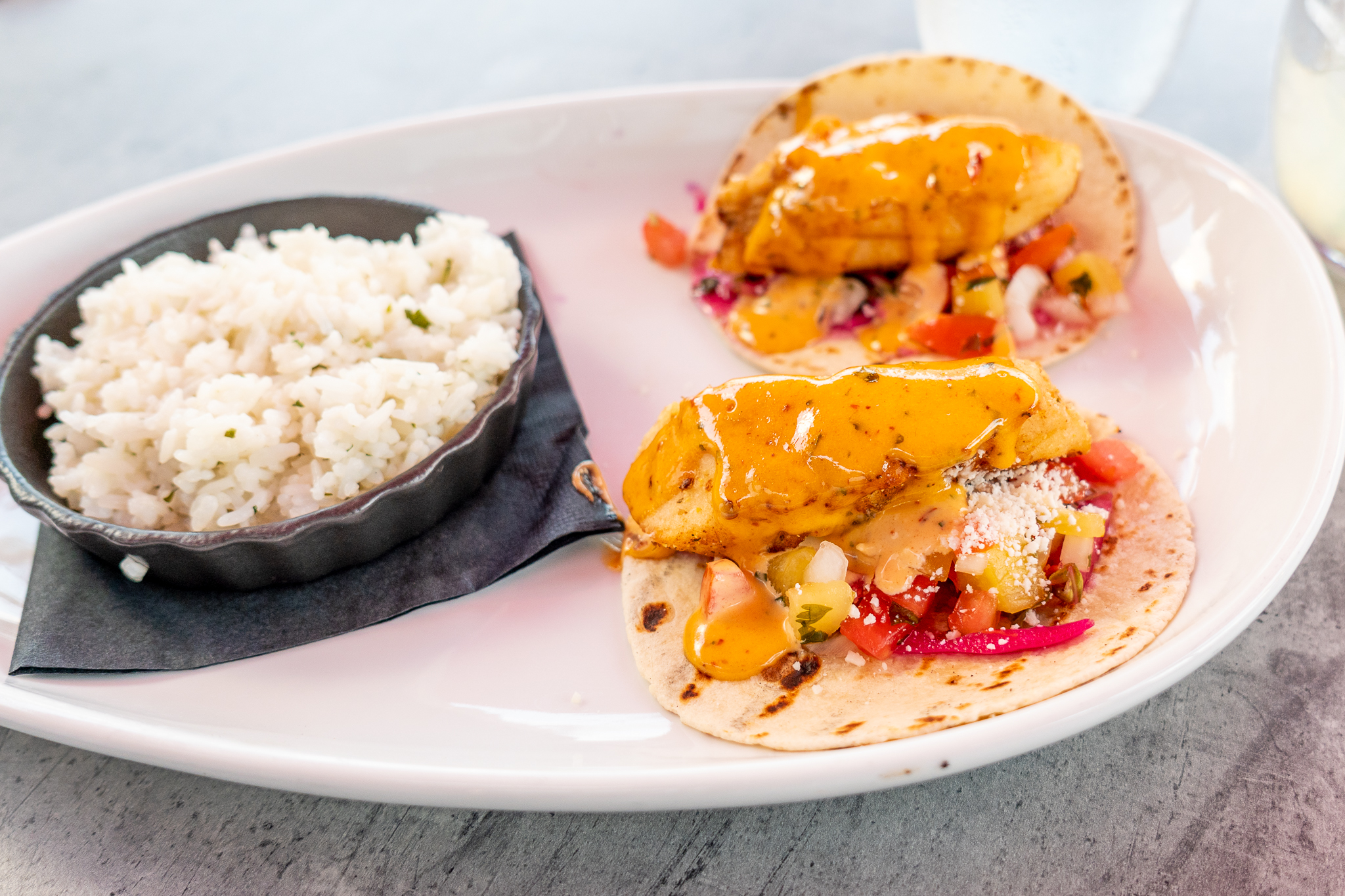 Last but certainly not least, the Taco La Playa will satisfy all tastebuds. Start here: white fish or shrimp, fried or blackened. They come in a grilled flour tortilla, with Baja slaw, fresh pineapple salsa, and grated farmhouse cotija. All tacos come with a choice of a side of their fresh house, coconut and cilantro rice or fresh house fries. The coconut rice was soft and tasty, but the real star of the show here are the tacos. Between the refreshing Baja slaw and fresh pineapple salsa, the flavors are incredible.
Oh wait, I almost forgot about dessert. It should be illegal to go to a beach restaurant and not order key lime pie. Florida's famed pie, as the majority of you know, it is a sweet and sour treat and it's waiting for you. If you can, be sure to save room for it.
Between the spectacular drinks, tasty food and cute atmosphere, you'll never want to leave. So just stay and book a room at The Saint Hotel and then keep doing it all over again and again and again. Just kidding. Or am I?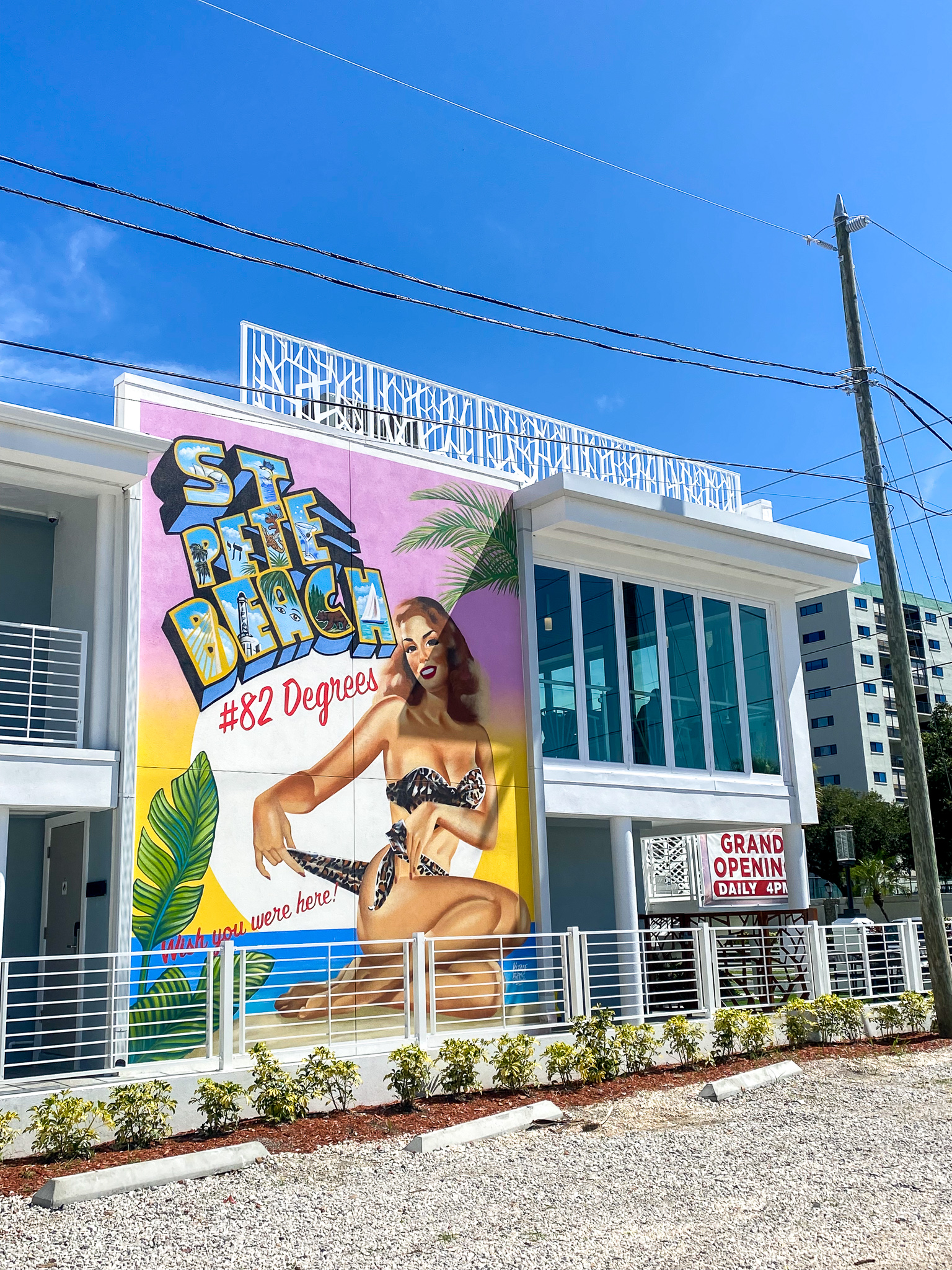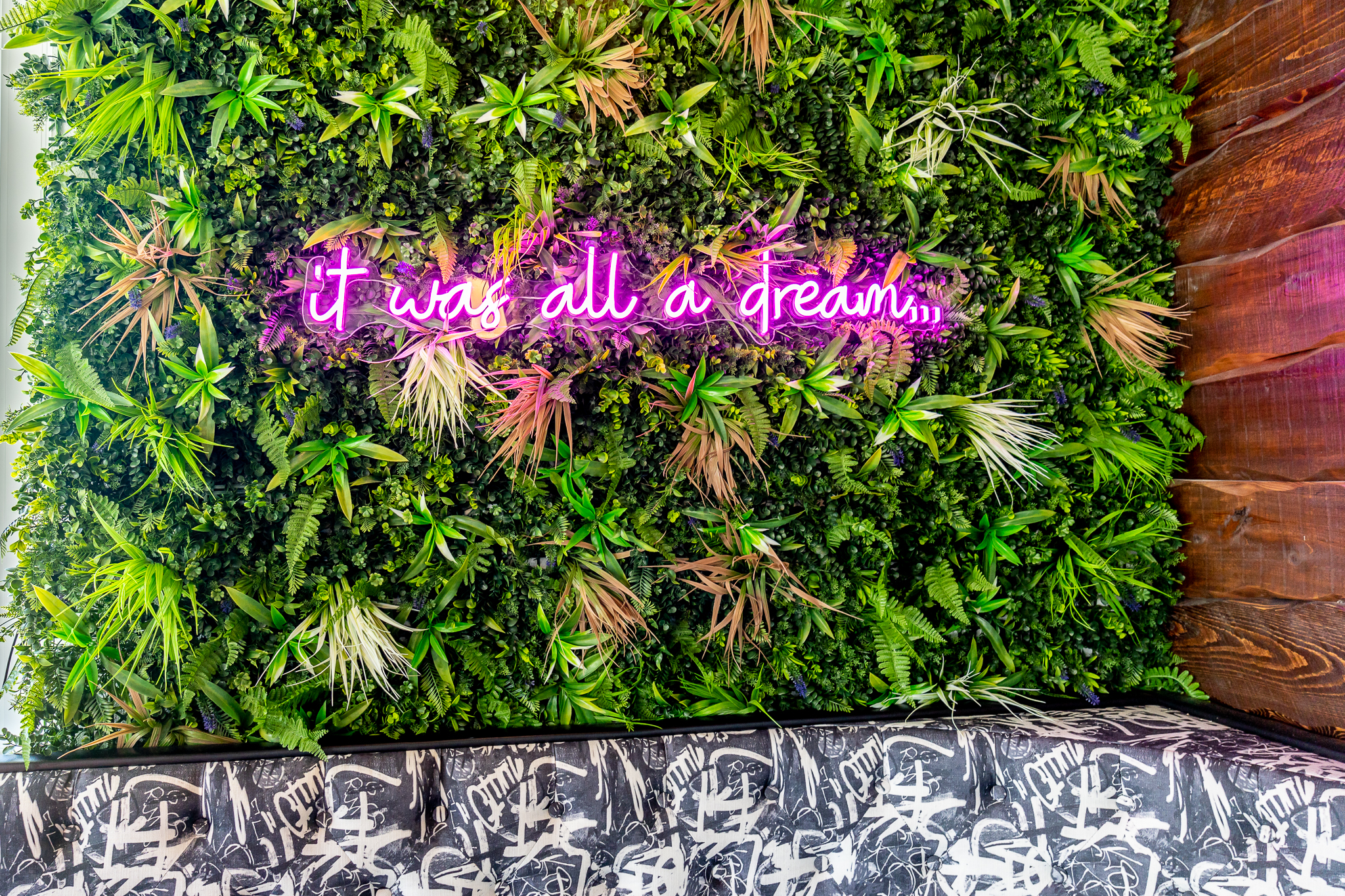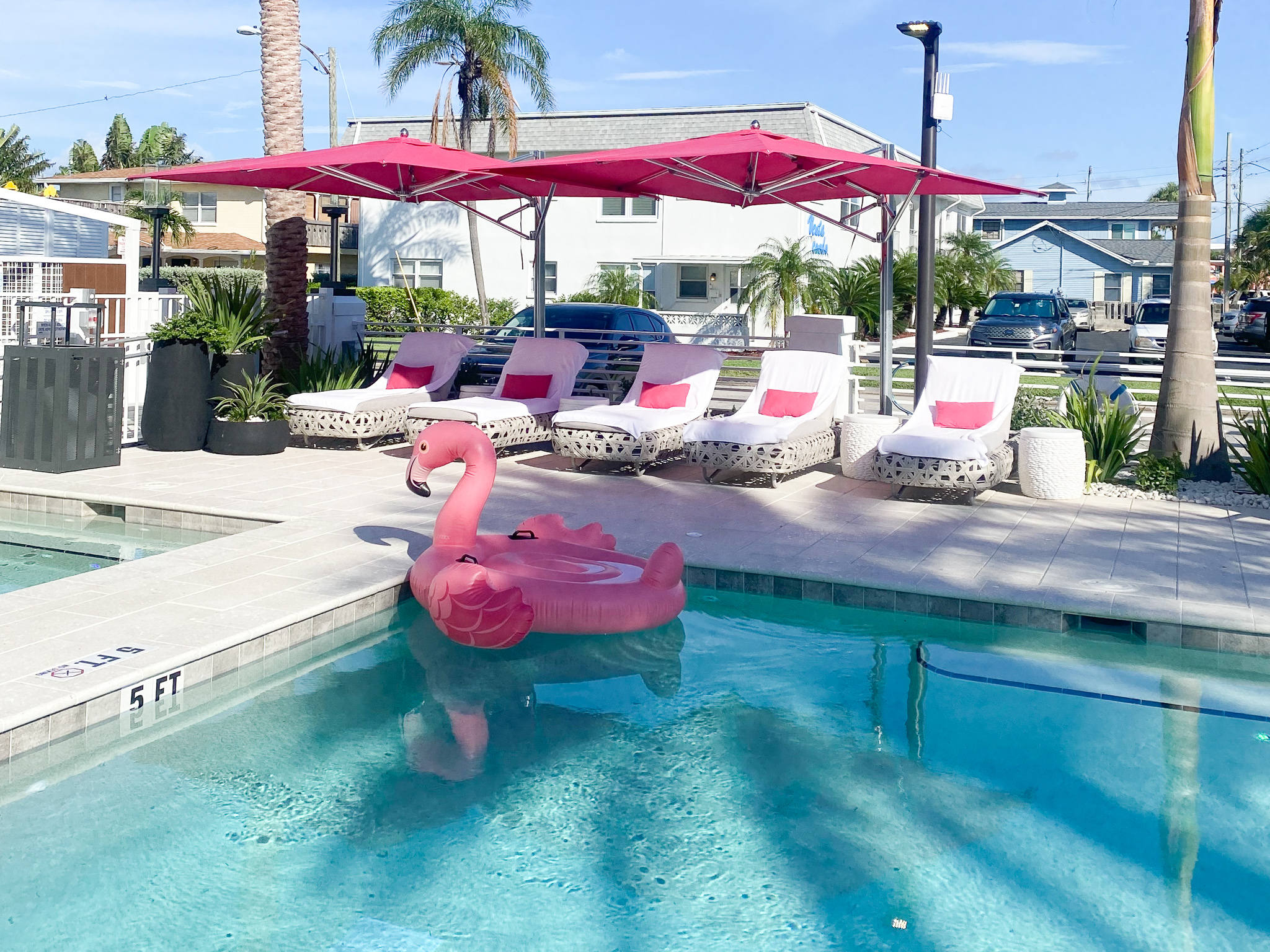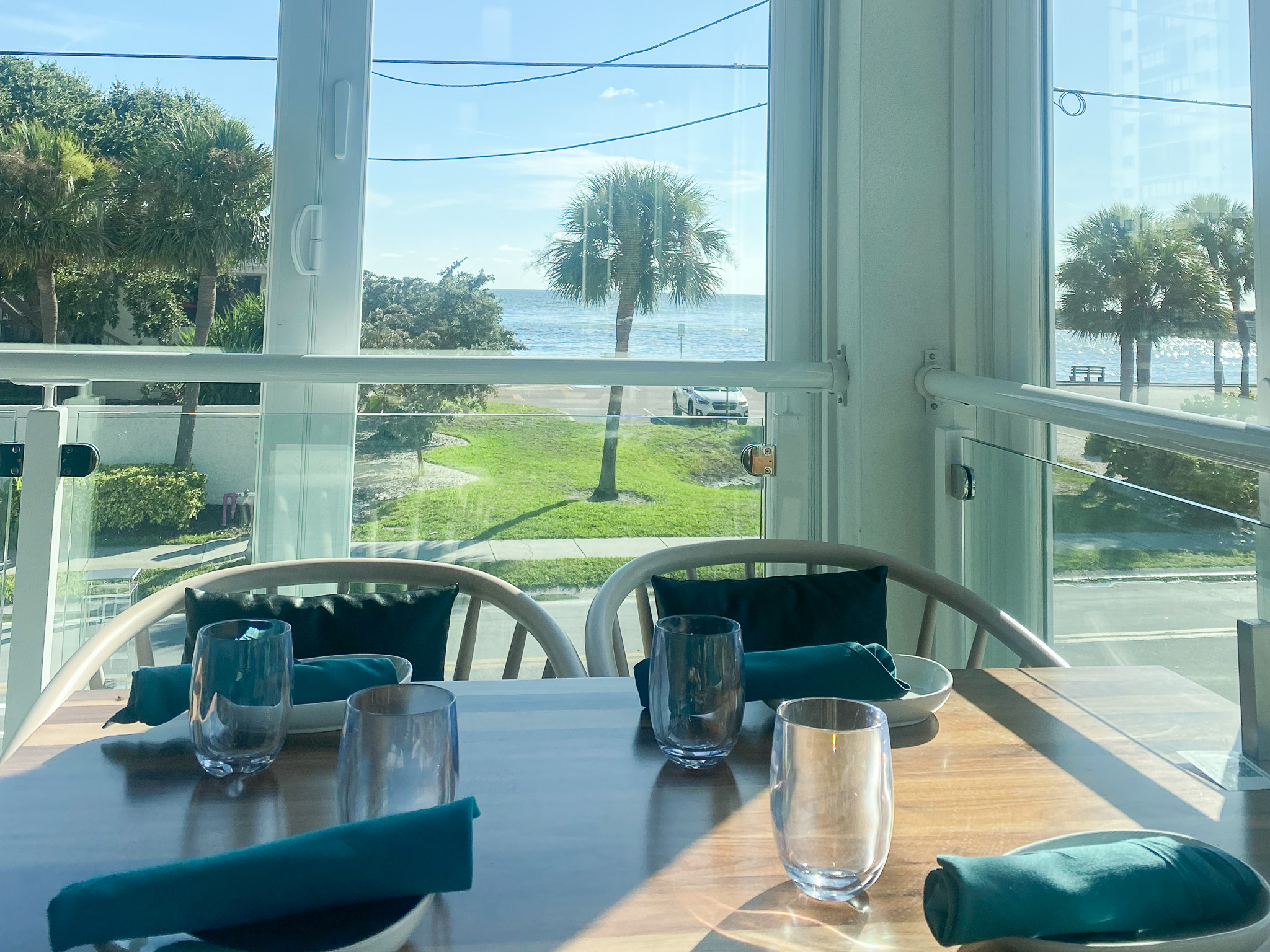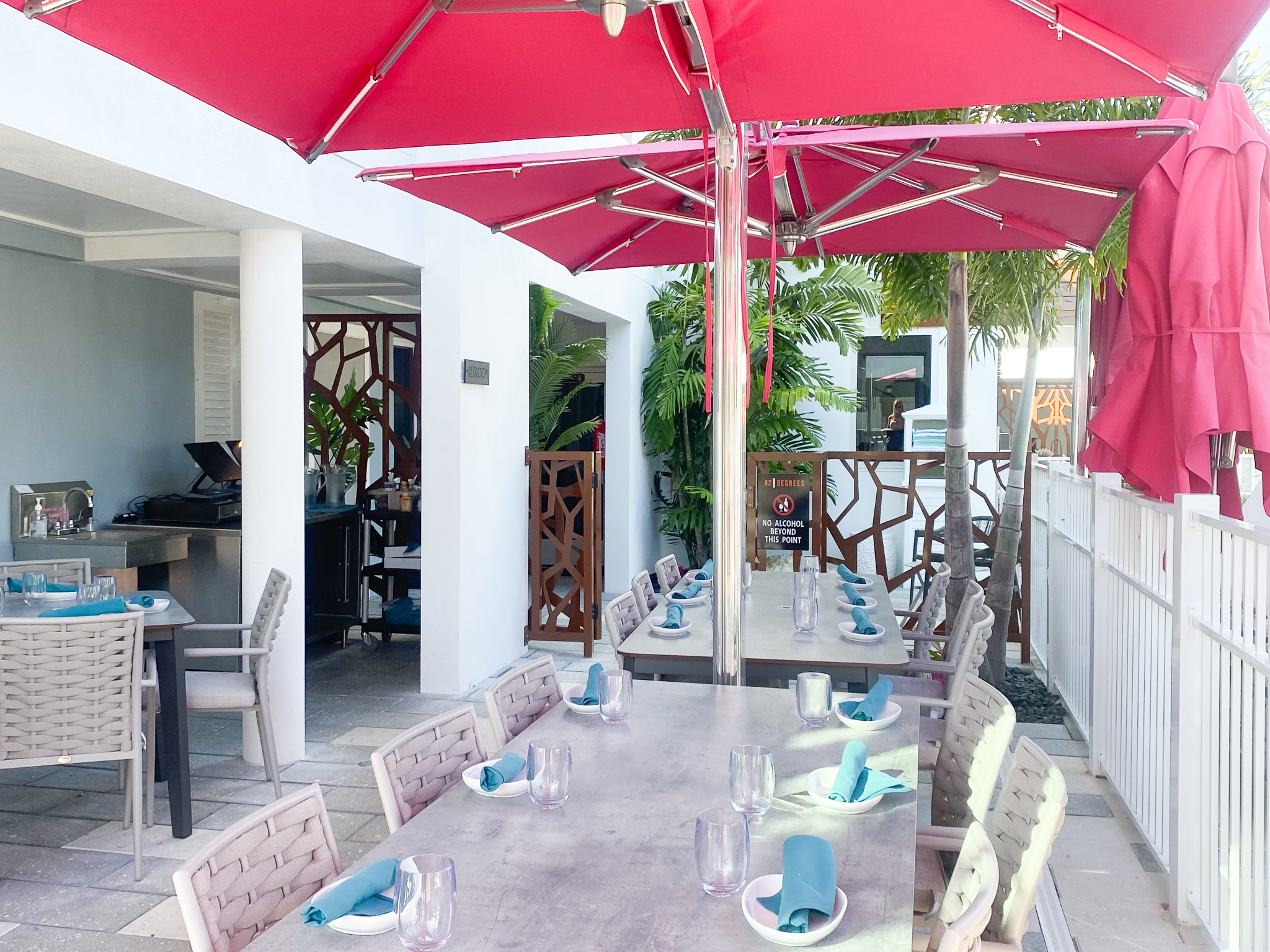 Waterfront Bar and Grill with a coastal fare & craft cocktails at The Saint Hotel in St. Pete Beach
DISCLAIMER: Kevin, Lori, Abby, Haley, & Lindsey do not dine anonymously (this would be impossible) and we sometimes get free food (though never expected). However, we dine with the locals and we support our own. You will always get honesty in a respectful manner. We do not include any large national or regional chains in our ratings and reviews. We focus on independent locally owned eateries exclusively.

PLEASE NOTE: Reviews reflect a certain moment in time. Some restaurants stay extremely consistent over many years, and some change for the better or worse. Some things that may change are: chefs, recipes, food suppliers, ingredients, philosophies, ownership, etc. We always hope that you have the same good, or great experience we had.
More Foodies News, Reviews & Recipes