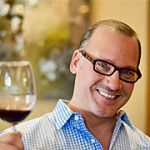 Kevin Godbee · Aug 11, 2016 · 2 min read
We made our 2nd visit to The Lure, this time for Sunday Brunch. I decided that I needed sushi and grits for brunch. The grits were excellent, real, fresh, cooked grits. You may have heard me previously assert that I think it should be illegal to serve instant grits at a restaurant, and I will not eat at one that does. Perhaps I'm a "Grits Snob", although that does sound like quite the oxymoron ... emphasis on moron. 😉
Checkout The Lure's Brunch Menu Here
In addition to the grits, which did need to have some butter added that I got on request, Lori and I shared three items. I couldn't resist ordering "The Bacon-8-Her" - described as "an obscene amount of bacon, asparagus, and avocado wrapped in soy paper topped with eel sauce and tempura chips." It was quite tasty, and I would order it again, but I think the description is a little misleading, or perhaps creates a different expectation. It didn't really seem like "an obscene amount of bacon", although bacon made up probably 50% of the ingredients. It was light, tasty, crunchy and chewy at the same time.
Next, we had the "Sweet Melissa", which I liked the best of the two rolls. I thought The Bacon-8-Her would be the heaviest of the two, but I was wrong. The Sweet Melissa has marinated lobster meat and cucumber roll, tempura style, topped with eel sauce and spicy mayo. Yum!
Later on, we got the salmon sashimi which was like butter - sweet and creamy, and super fresh.
Our friend Sara got the actual brunch item, which is a $14 endless breakfast that has scrambled eggs, sausage, bacon, potatoes, grits and Cuban bread. It was so huge that we ate her leftovers from her first and only go-round. There are also $11 endless mimosas and $15 endless Bloody Marys, which were delicious. The funny thing is that we stayed there for 5-hours and our server, Allison, unbeknownst to us at the time, stayed an extra 2-hours past her quitting time so she could keep taking care of us.
Lisa ordered the Bomb "Chel", which is also one of our favorites.
We sat at a booth near the front door, and the people watching was excellent. We were there from 12-5. I saw 1,000 hipsters between the hours of 1-3. Then from 3-5, it was the senior citizens that were everywhere. One other interesting observation was that about 10 couples came in - 5 turned around and walked out while the the other half stayed. I like people-watching, and great food, and you get both at The Lure ... plus billiards!
Here's a cool video on Fox 13 News
The Lure
661 Central Ave.
St. Petersburg, FL 33701
(727) 914-8000
The Lure Website
OpenTable Reservation
Make a reservation right now, and tell them that St. Petersburg Foodies sent you!