I've always been an adventurous eater ever since I was a kid. If I saw something on a menu that I never had—that's what I would order. Oddly, I never came across any octopus until IL Ritorno opened in early 2014.
According to Gordon Food Service Corporate Consulting Chef Gerry Ludwig, 2014 was about the time their research showed that octopus was trending in the big cities. It was around 2016 that I noticed it trending in St. Pete, and now in 2021, it seems like it's everywhere. When octopus first started popping up at several places, I felt like, "Really? Octopus again at another place?"
However, after doing the updated research for this article, I'm happy about octopus being all over St. Pete as everybody is doing it totally different. No two even come close to any others.
Interesting note: Technically speaking, Octopuses don't actually have tentacles. They have arms. Check the first paragraph here on Wikipedia.
The list is in alphabetical order, but I do have some shoutouts.
My four favorites were Alto Mare, Brick & Mortar, Grace, and IL Ritorno.
Interestingly, my top two—Grace and Brick & Mortar—both approached octopus from completely opposite ends of the spectrum. Chef Kaplan's of Grace is the epitome of simpler is better, and the octopus itself just really shines. Chef Ruhe of Brick & Mortar shows how you can use a lot of ingredients and make magic.
That said, these are all really spectacular, and I encourage you to try each of them.
As with all of our lists, and unlike most other publishers, I personally went to all of these places, and ate all of these octopus dishes, and took all of these photos. One week, I ate octopus every day, and twice on Monday and Tuesday.
THE LIST IS IN ALPHABETICAL ORDER

<— LOOK
The Best Octopus in St. Pete Chosen by Locals for 2021
The first two on the list, Alto Mare and Annata, are next door to each other, and have the same ownership and chef. So, we had these two together for a side by side comparison. I liked Alto Mare's better, and Lori liked Annata's better. They are both great though.
1. Alto Mare Fish Bar – (Permanently closed. Is now Allelo.)
300 Beach Dr NE #124
St. Petersburg, FL 33701
(727) 873-3427
Alto Mare Website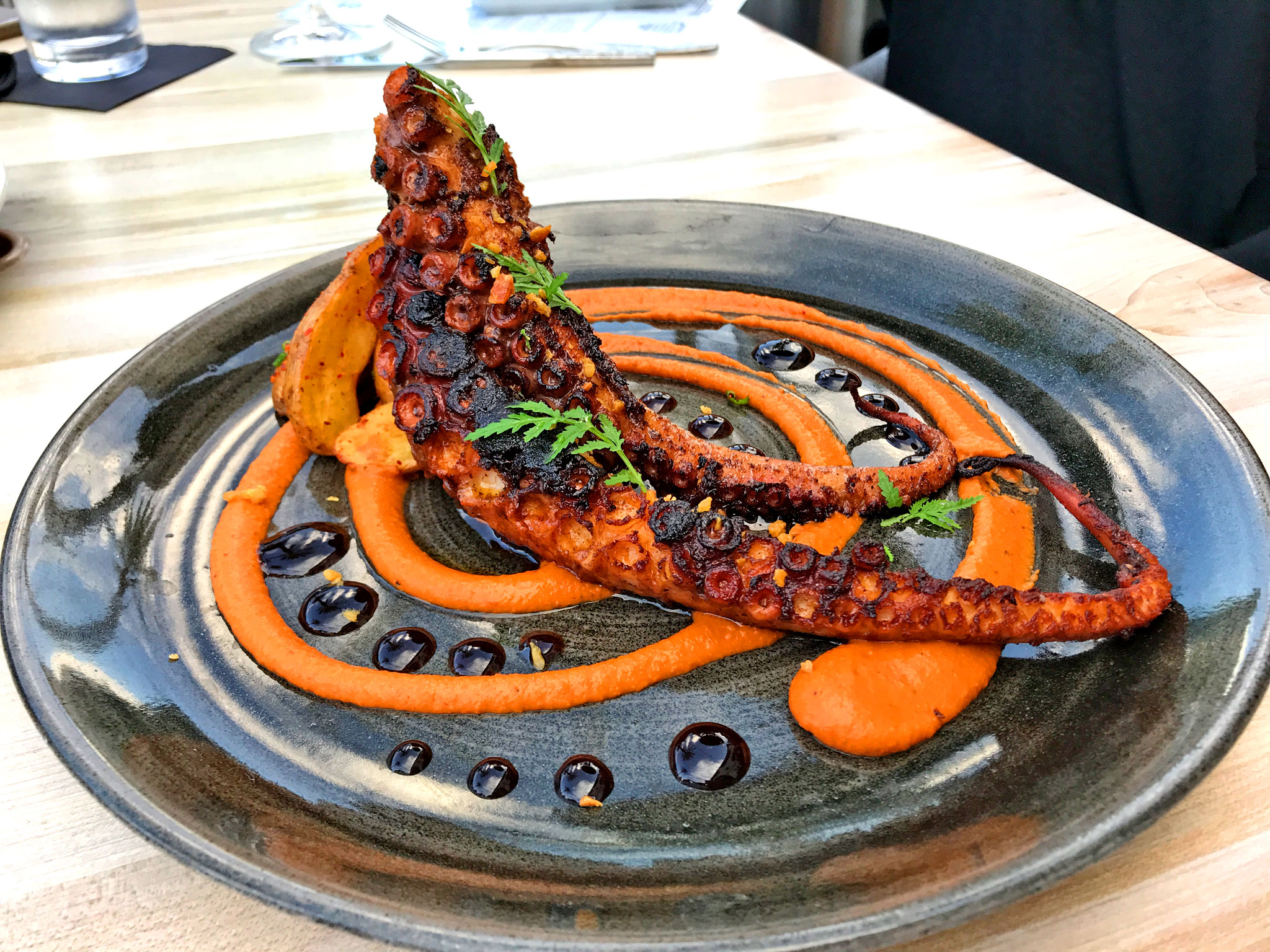 Charred Octopus – Romesco Sauce, Crispy Garlic, Potato, Black Garlic Soy Sauce.
For the Alto Mare Octopus, the char is amazing, it's extremely tender, and there's a little bit of spice. You must mix together the romesco, black garlic soy glaze, and the potato to get it all in one bite. You get two arms on this one.
2. Annata Restaurant & Wine Bar (Permanently closed. Is now Allelo.)
300 Beach Dr NE #128
St. Petersburg, FL 33701
(727) 851-9582
Annata Website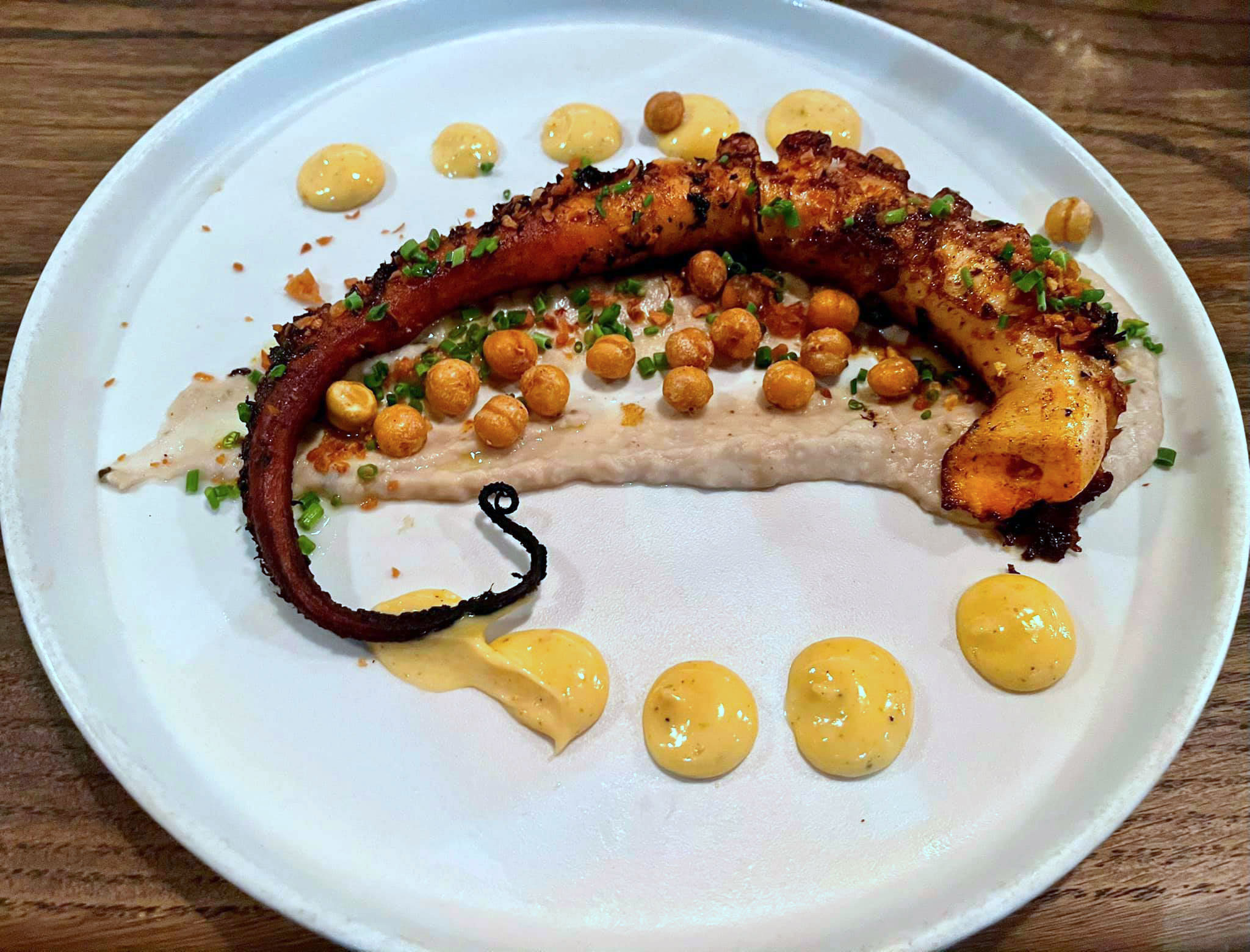 Charred Octopus – Harissa Amarillo, Fried Chic Peas, White Bean Purre, Crispy Garlic.
Annata's is bright, with more of a Mediterranean-style. It's bursting with flavor. The yellow harissa and fried chic peas really make. The octopus is moist and tender. You get one arm on this one, but more accompaniments.
3. Baba on Central
2701 Central Ave
St. Petersburg, FL 33713
(727) 954-3406
Baba on Central Website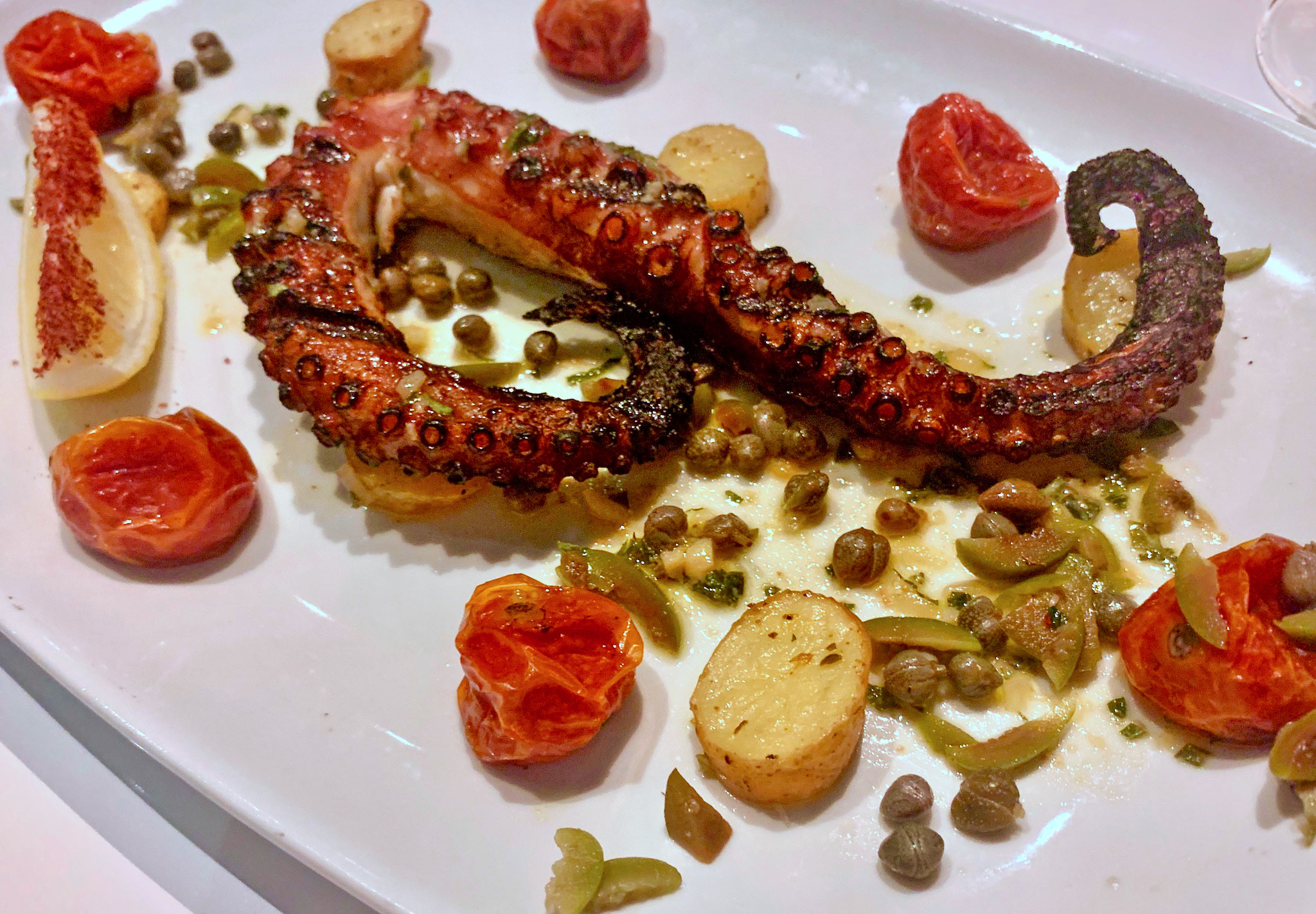 Grilled Octopus – Potatoes, Tomatoes, Olives, Capers
From Lori's contribution on Haley's Baba review:
"Kevin and I started with the Octopus appetizer, which to be honest I just agreed to and wasn't all that excited about. It exceeded my expectations! With grilled potatoes, tomatoes, lemons and capers, it was absolutely bright, scrumptious and perfectly cooked. Loved it!"
4. Brick & Mortar – Kitchen & Wine Bar
539 Central Ave
St. Petersburg, FL 33701
(727) 822-6540
Brick & Mortar Facebook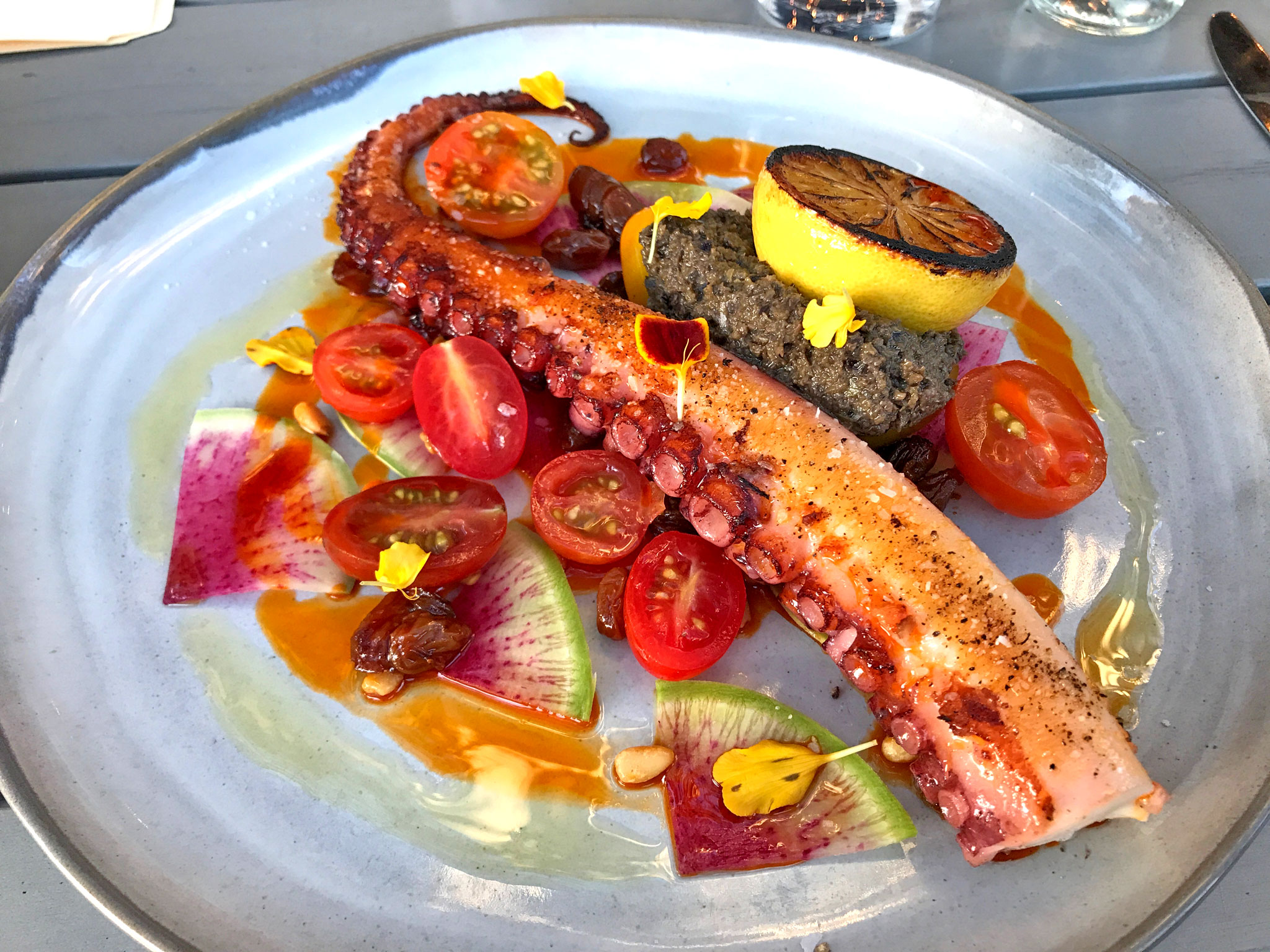 Charred Slow Braised Octopus – featuring toasted pine Nuts, Heirloom Grape Tomatoes, Wine Macerated Gold Raisins, Castelvetrano Olives, Olive & Caper Tapenade.
This one packs in sweet, salty, spicy, and nutty. There's a great crunch from the pine nuts and watermelon radish. B&M's has spectacular seasonings and textures with great umami and a satiating blast from the combination of flavors.
5. Cassis
170 Beach Dr NE
St. Petersburg, FL 33701
(727) 827-2927
Cassis Website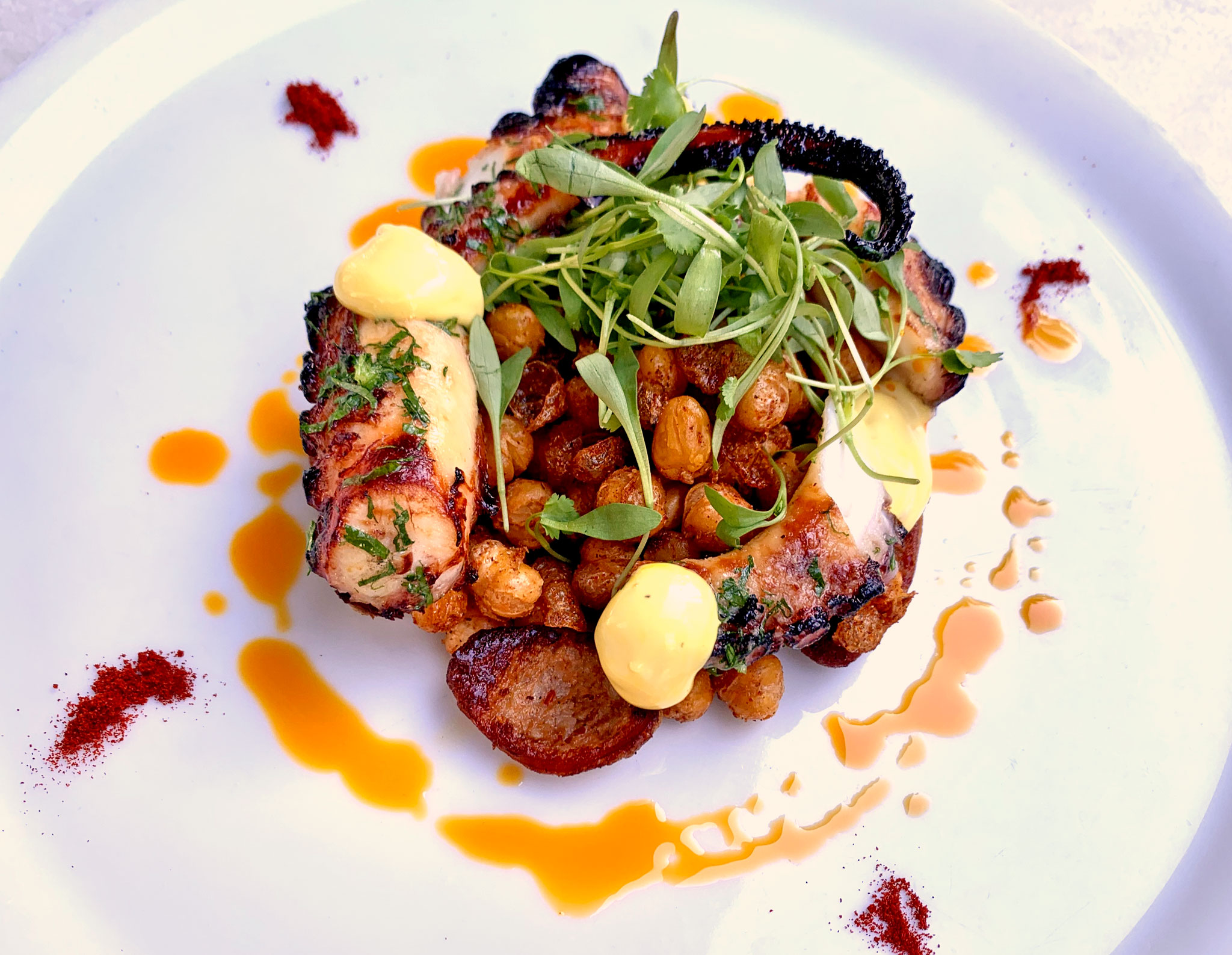 Grilled Octopus – Crispy Chickpeas, Chorizo, Cilantro, Citrus Aioli.
There's great saltiness and brightness from the citrus. The octopus is tender. There's also good salt and crunch from the chickpeas. The Citrus Aioli not only has good flavor, but adds a nice mouthfeel.
6. Grace Restaurant
120 8th Ave
Pass-a-Grille Beach, FL 33706
(727) 317-4770
Grace Website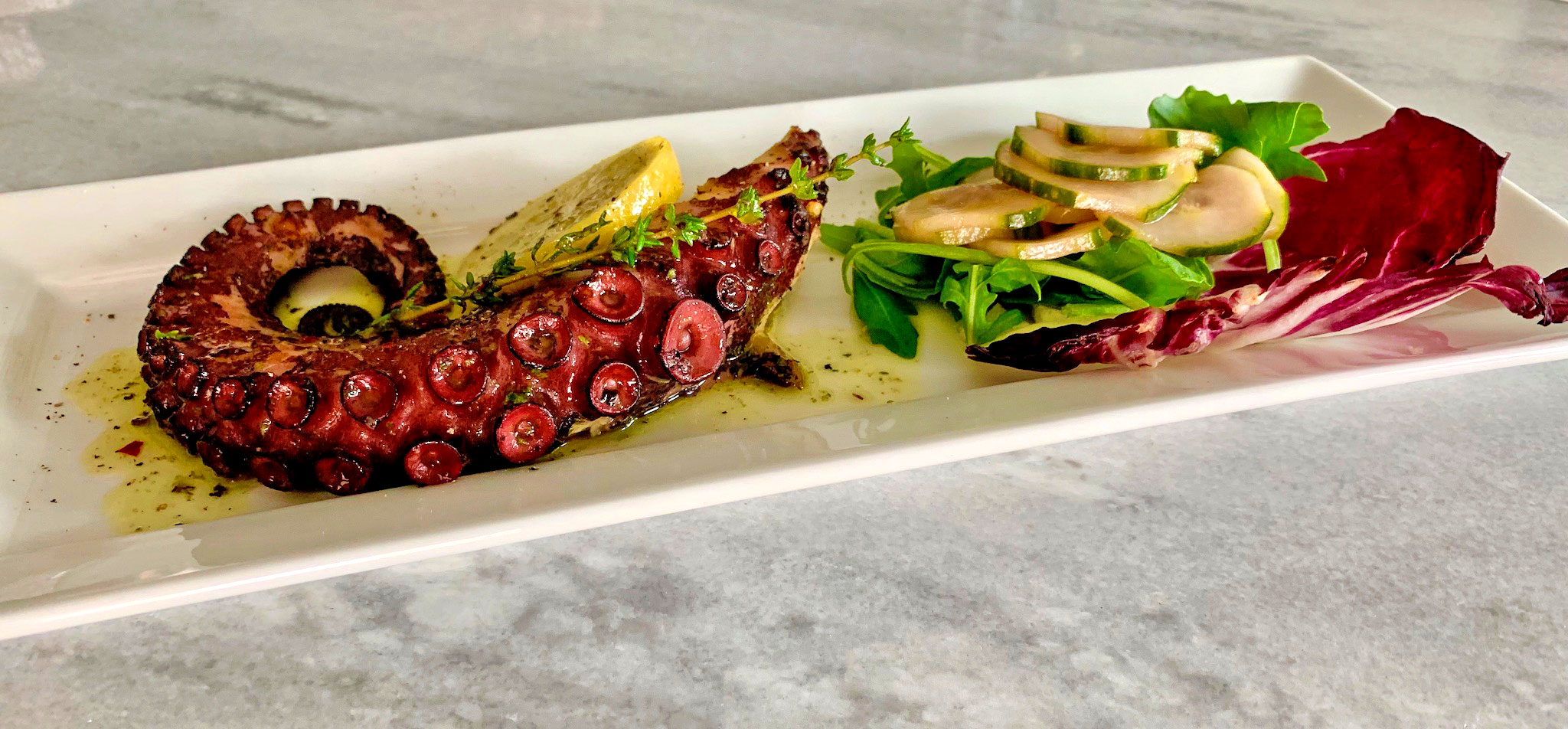 Charred Octopus – Shaved Cucumber Salad
"Octopus is definitely a staple on most menus these days, but rarely served like this…with a simple cucumber, vinegar salad. The octopus is marinated, poached, grilled and then warmed gently. It was fork tender and had just a soft almost creamy texture and flavor. One of my favorites. It's just simple and sometimes simple is better. To quote Kevin, "This is the best octopus that I have had in all of St Pete, including downtown and that is saying a lot!" He couldn't stop eating it. I only got two bites, but they were amazing bites."
7. Gratzzi Italian Grille
211 2nd St South
St. Petersburg, FL 33701
(727) 623-9037
Gratzzi Website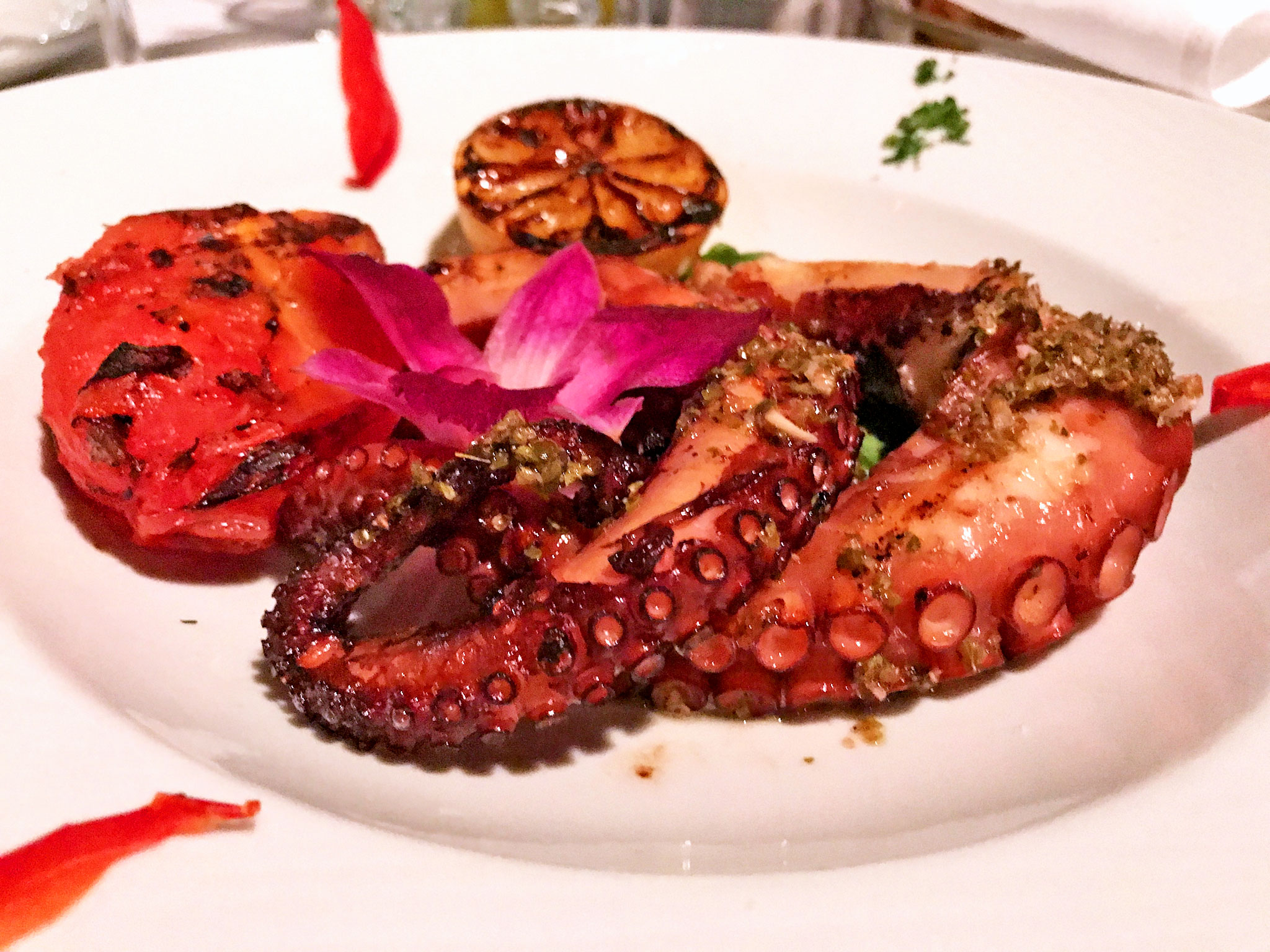 Grilled Octopus/ Lemon vinaigrette – grilled with olive oil and lemon.
The the olive oil, oregano, lemon, and char roasted tomato definitely identify this one as the Italian version for sure. There are lots of great flavors with a nice char. This was a special for the holidays that did so well, it earned it's way onto the new menu coming out shortly.
8. IL Ritorno
449 Central Ave
St. Petersburg, FL 33701
(727) 897-5900
IL Ritorno Website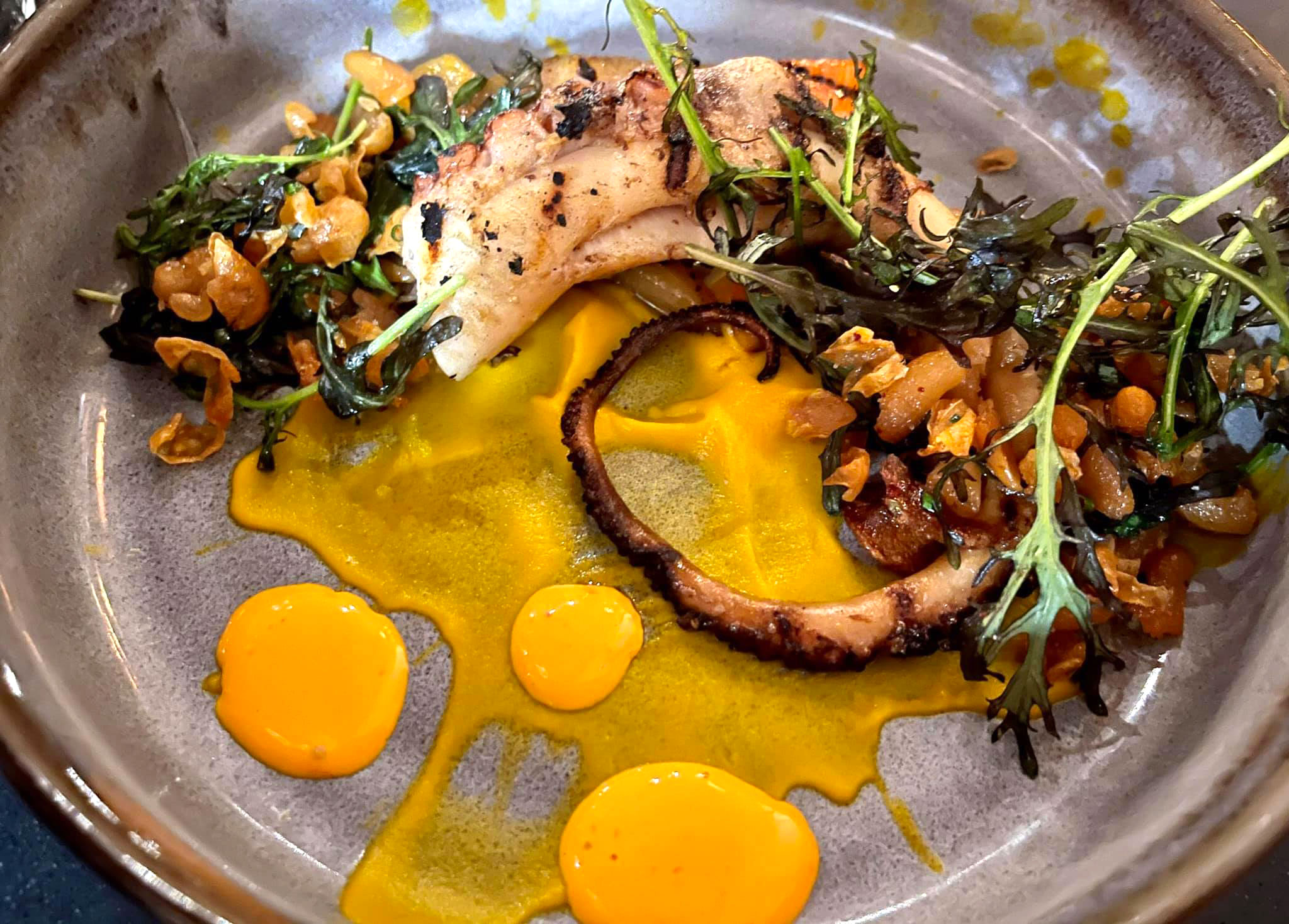 Lardo Wrapped Octopus – Brown Butter Poached Carrot, Yuzu Fresno Aioli, Smoked Cannellini Beans, Mustard Cress.
There are so many great flavors and textures. It's like the food is seducing your mouth!
9. The Mill
200 Central Ave #100
St. Petersburg, FL 33701
(727) 317-3930
The Mill Website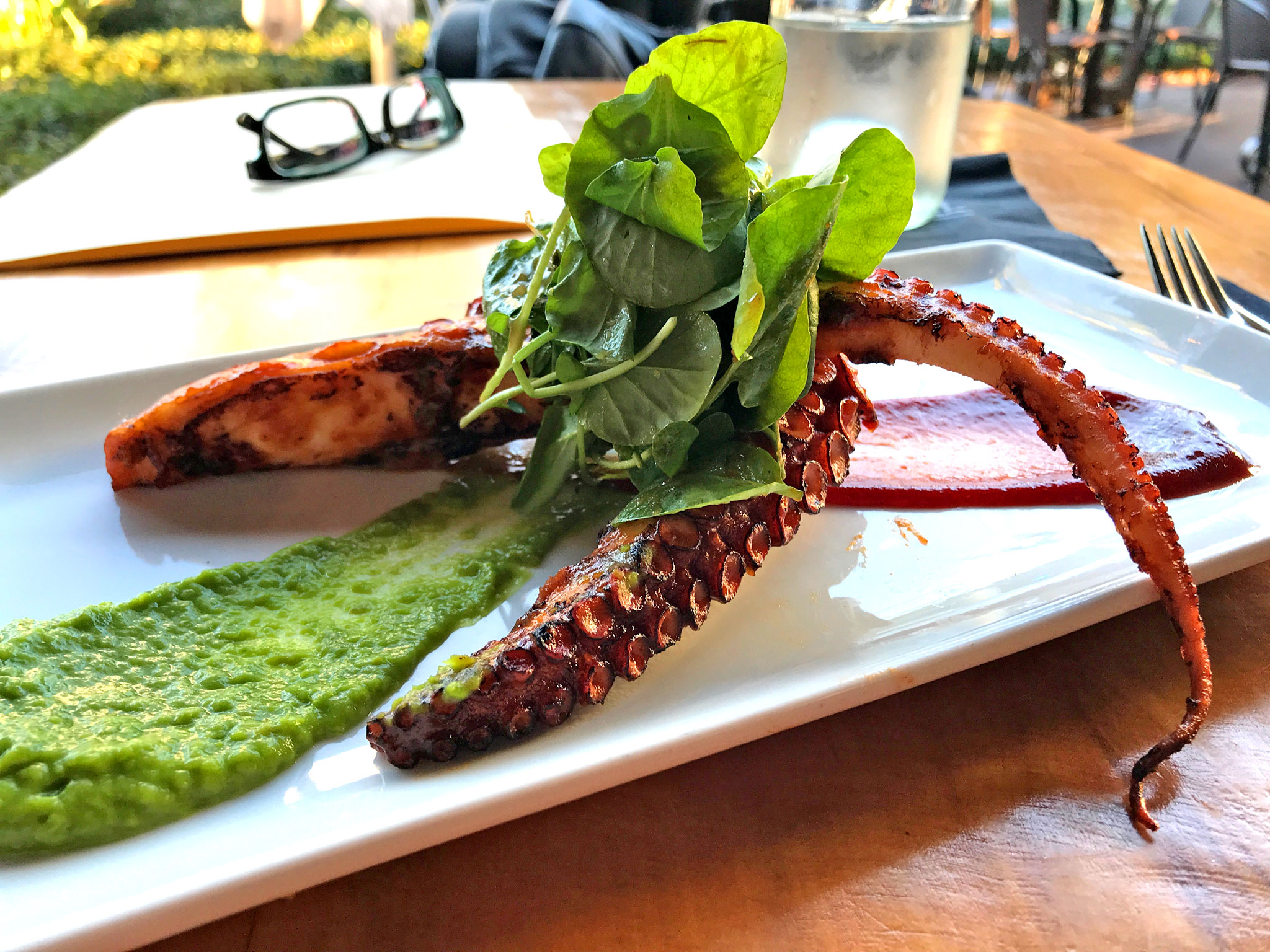 Grilled Octopus – Pickled Peach BBQ, Smoked Sweet Pea Purée, Sous Vide Beet Jam, Watercress Salad, Fig Vinaigrette.
This one has a sweet side and a salty umami side. The salty side is brought to you by the Smoked Sweet Pea Purée. The Peach BBQ and Beet Jam bring the sweet. Interestingly, I usually favor savory, and lean apathetically towards sweet. However, I loved the sweetness here. This was sweet, slightly smoky, and tender. It's lightly charred with the thinner bits having a nice crunchiness.
10. Rococo Steak
655 2nd Ave South
St. Petersburg, FL 33701
(727) 822-0999
Rococo Website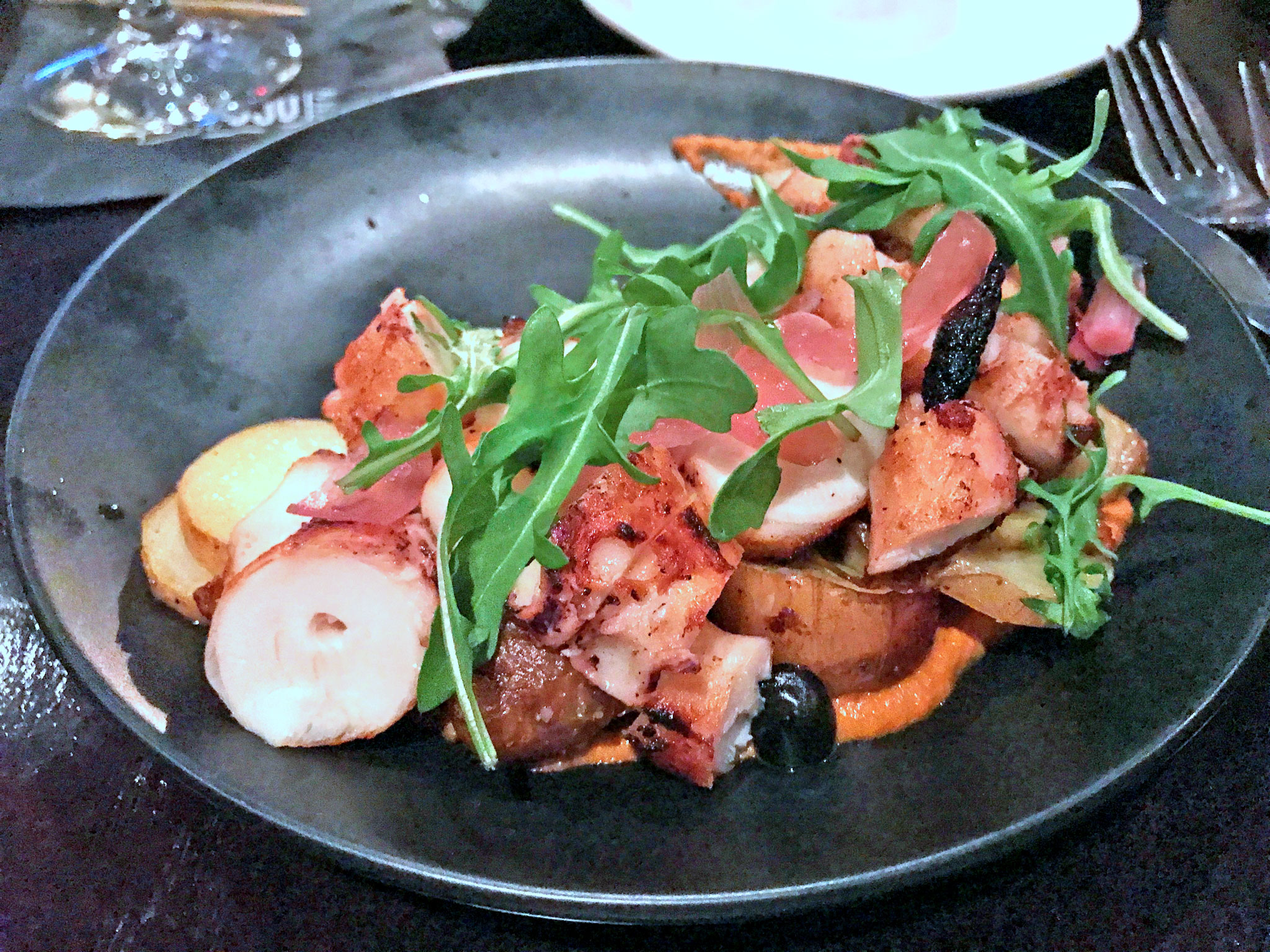 Grilled Octopus – Pickled Pearl Onions, Duck Fat Potatoes, Romesco, Olives
Great seasonings bring saltiness, smokiness, and tangy flavors. It's rich and refreshing at the same time. I thought there might be paprika, and Lori thought she tasted dijon, but we were both wrong on those counts.
Please tell us your favorite octopus dishes in the comments below.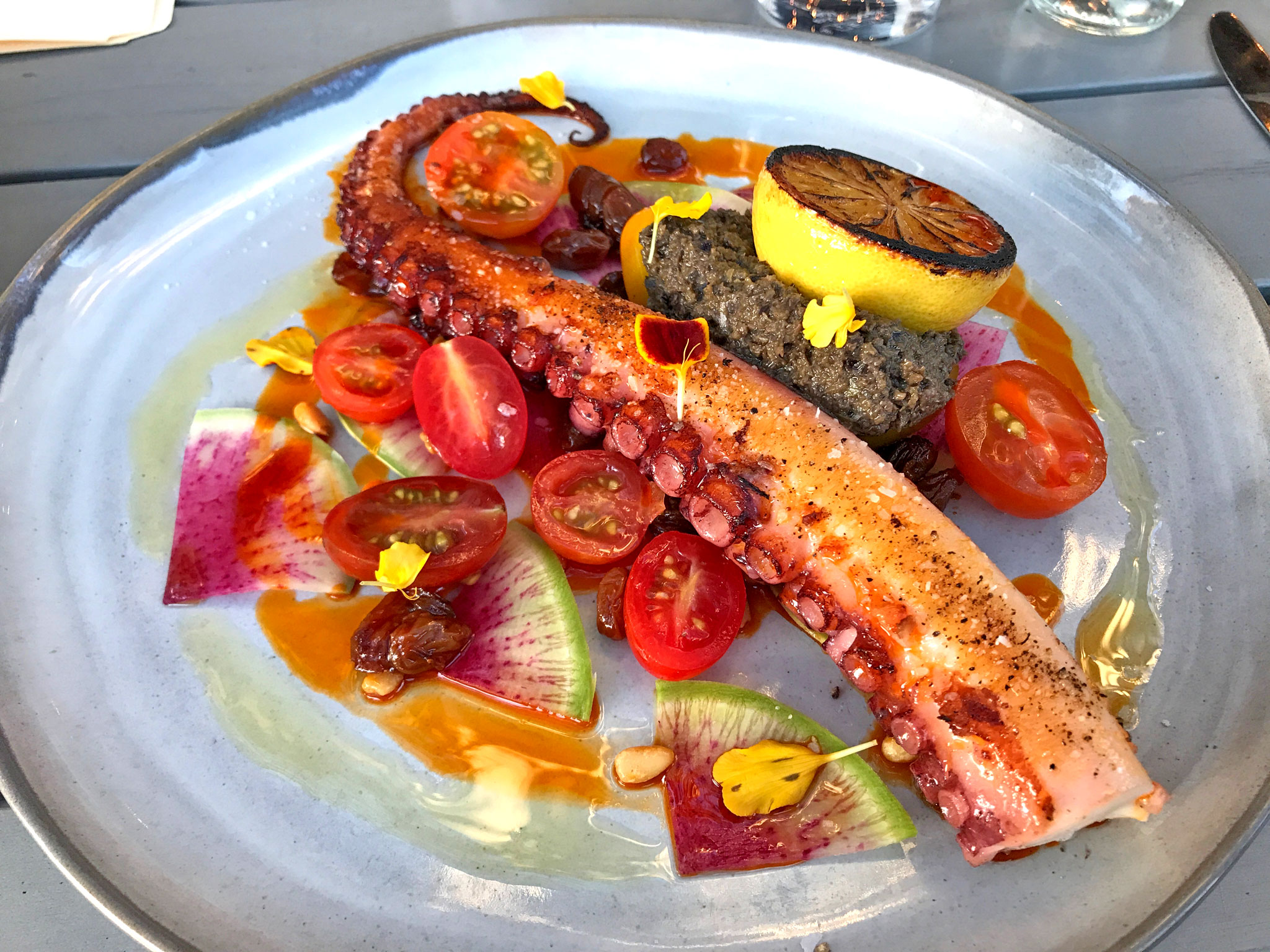 Readers Rating

Rated 4.9 stars




4.9

/ 5 (

Reviewers

)

Spectacular
---
Here's where to find the best octopus dishes in St. Pete for 2021.