It's Sooo Sweet on Maple Street … and Savory Too!
It's Sooo Sweet on Maple Street … and Savory Too!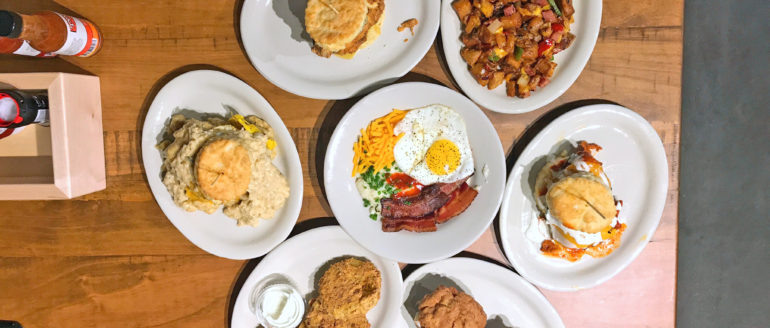 Maple Street Biscuit Co.
– Act Local – Cook Fresh & Homemade
Here's my one word review of Maple Street Biscuit Co.
DAMN!
This is the celebrity rock star of fried chicken and biscuits, plus other hug-your-belly-and-kiss-it comfort food.
As we reported earlier, Maple Street Biscuit Co. opened yesterday on the 600 block of Central Ave. in downtown St. Pete. There were prizes for some of the first visitors, like free biscuits for a year, free coffee, t-shirts and mugs—some people showed up as early as 10 pm the night before and slept by the door waiting for the 7 am opening. I walked by at 6 am, and the lights were on, prep was happening, and prizes were already being handed out.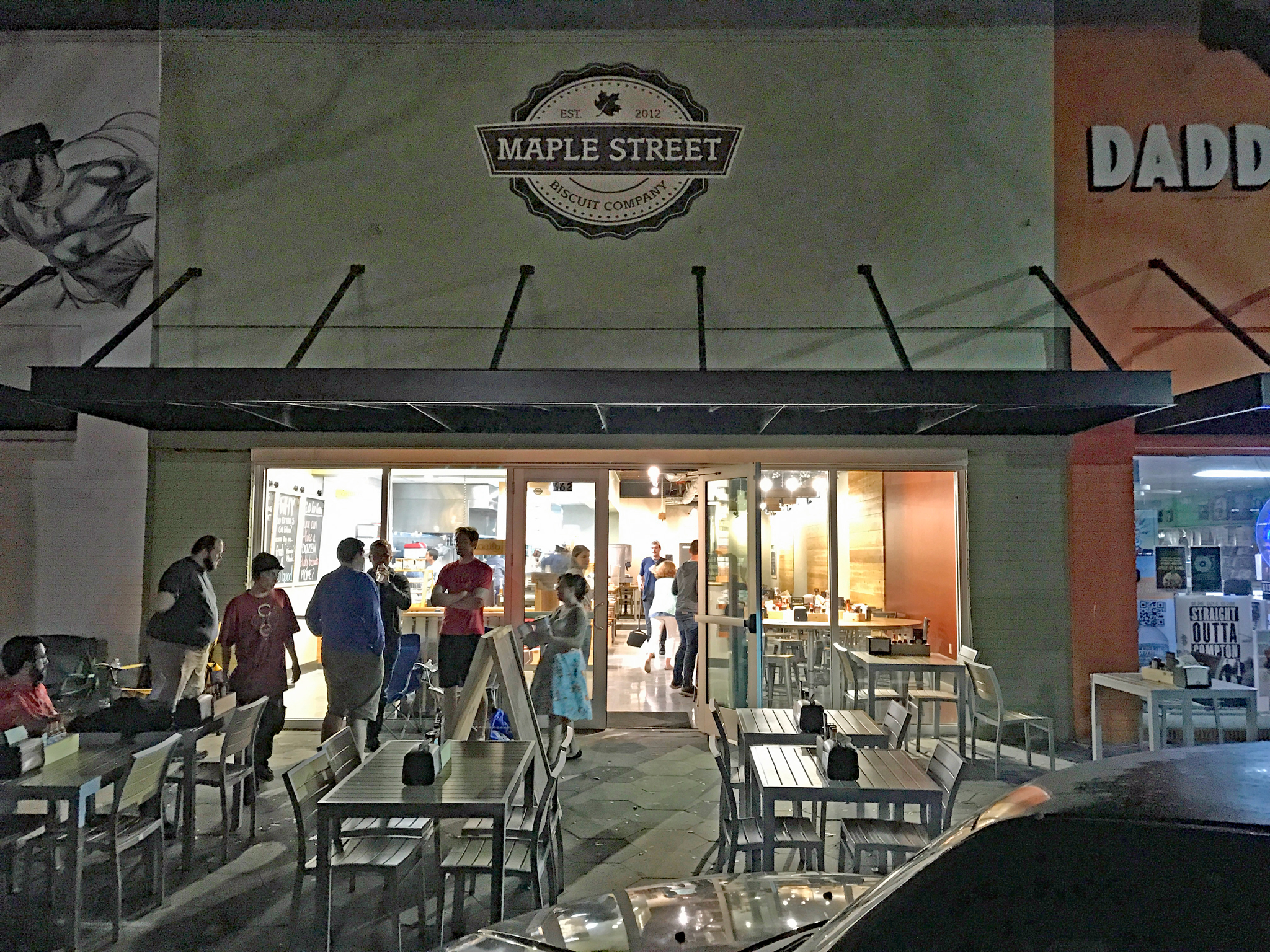 What you don't see in the above photo, to the left, out of frame, is about another 20 – 30 people waiting in line.
Technically, Maple Street is a chain as they have several locations, coming up on 23 stores, most of them in Florida.
Some locals took issue with that. For a lot of people in St. Pete, "chain" is a bad word. We always say, "eat local".
Maple Street prefers to think of themselves as "a group of community stores." Their website "About" page also says:
"We want to be a place that says people are the most important and have our actions match our words. We want to get to know our guests and have our guests get to know each other. We want to meet people we wouldn't normally come into contact with. We want to be in a community for years to come, to help define that neighborhood."
All of the staff is extremely friendly and courteous, and the place does actually feel like a local mom & pop shop.
They employ locals, have high quality, elevated comfort food, and make it fresh on premise. Sounds like a St. Pete Foodies kind of place to us.
They do not have a General Manager at Maple St. They have a "Community Leader". For downtown St. Pete, that is Angelica-Marie Cruz.
She took time out of her busy 12-hour day to sit and eat with us for an hour.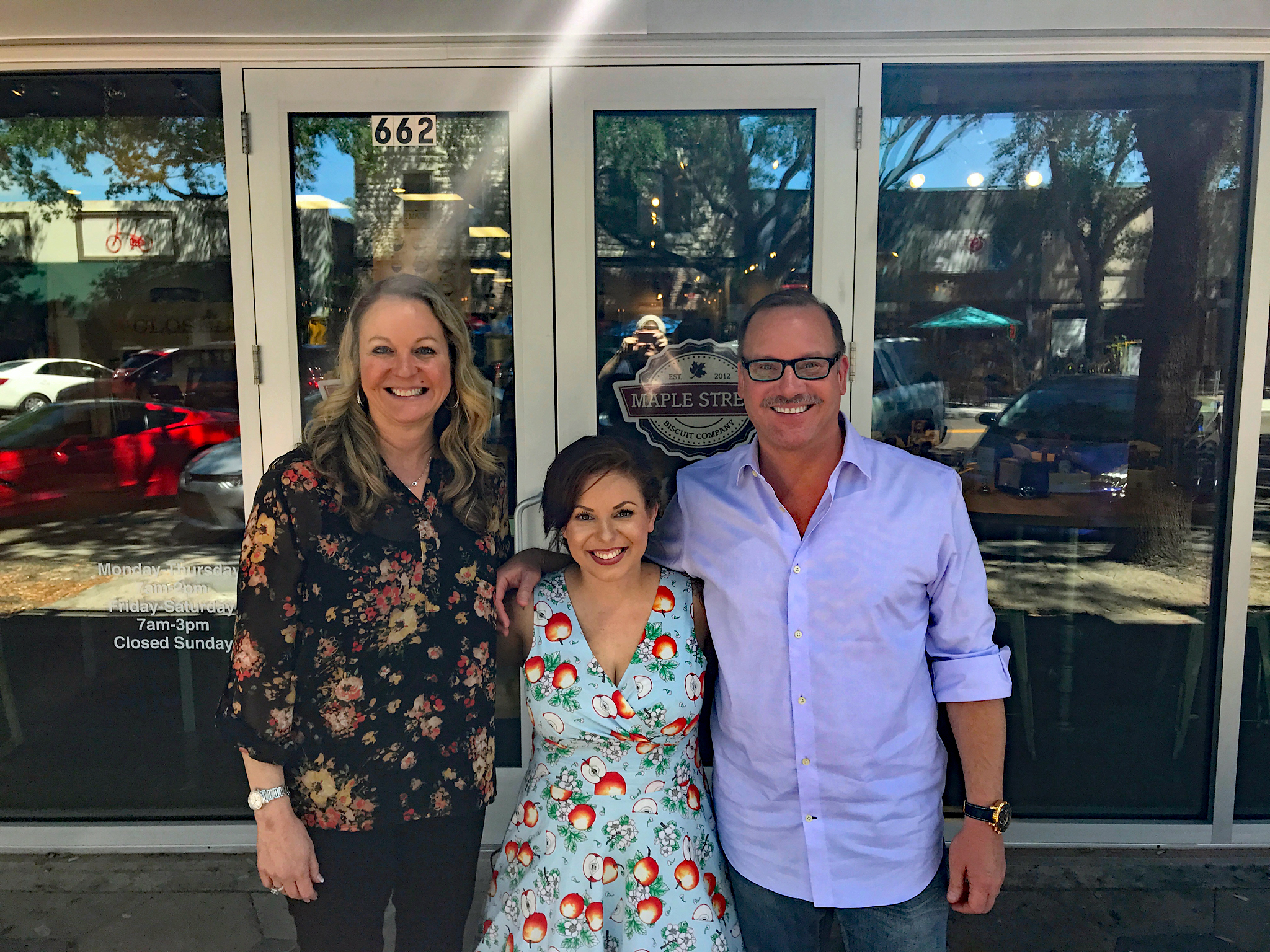 Ninety-five percent of the food here is fresh, (not frozen) and house made.
The hormone-free chicken comes in fresh every day. Each piece is inspected, hand cut, tendon removed, and individually hand-breaded. They use a "young bird" for extreme tenderness.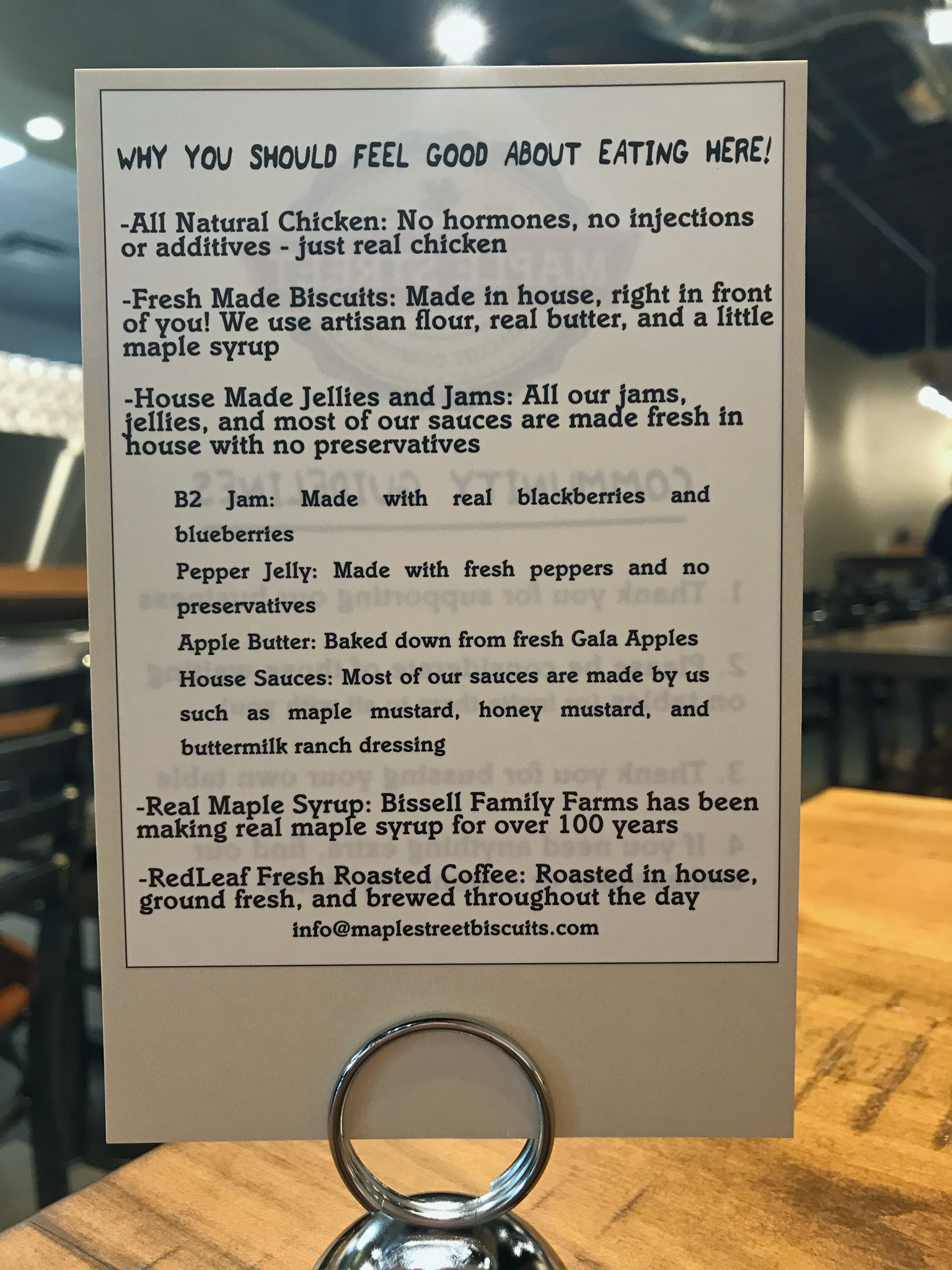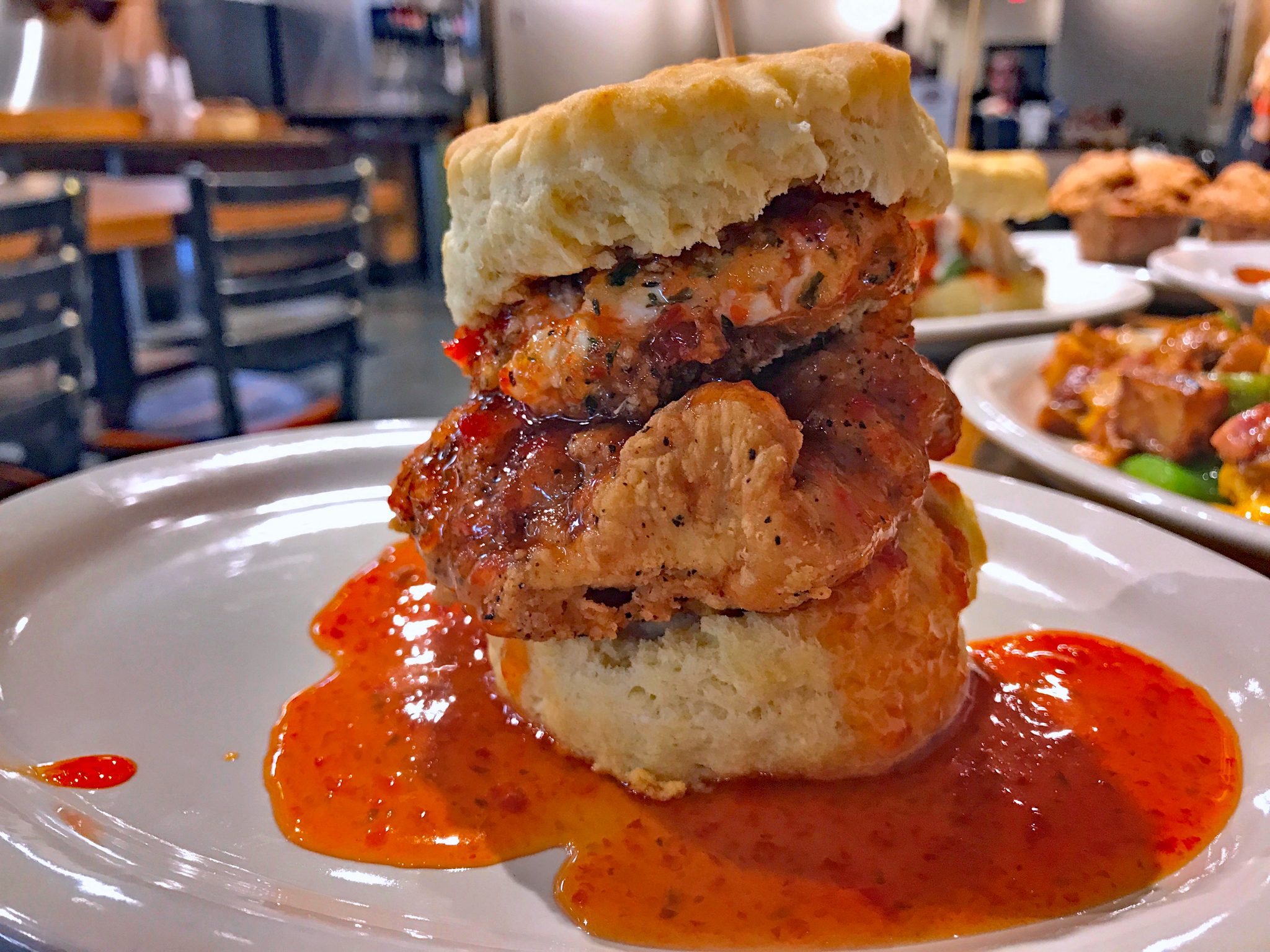 The food here is totally amazing. All menu items added up, the fried chicken biscuits are half of the menu, but really the main focus and what they are famous for.
Take fresh fried chicken with homemade breading, and large, hearty biscuits, also fresh made in-house with lots of butter, and then add different combinations of other ingredients and give them clever names.
That's a fun and delectable formula.
These sandwiches are so huge that you will need to eat them with a fork and knife, except for maybe the BLT.
We started with The Squawking Goat – Flaky biscuit, all natural fried chicken breast, fried goat cheese medallion and house made pepper jelly.
The fried goat cheese medallion was what caught my eye. The fresh made in-house pepper jelly is yummy, and more on the sweet side, but not cloying, with just a tiny bit of heat.
This one was featured on The Food Network's "Guilty Pleasures", and The Travel Channel's "Food Paradise". Watch to see Angelica in the Food Paradise episode when it airs soon.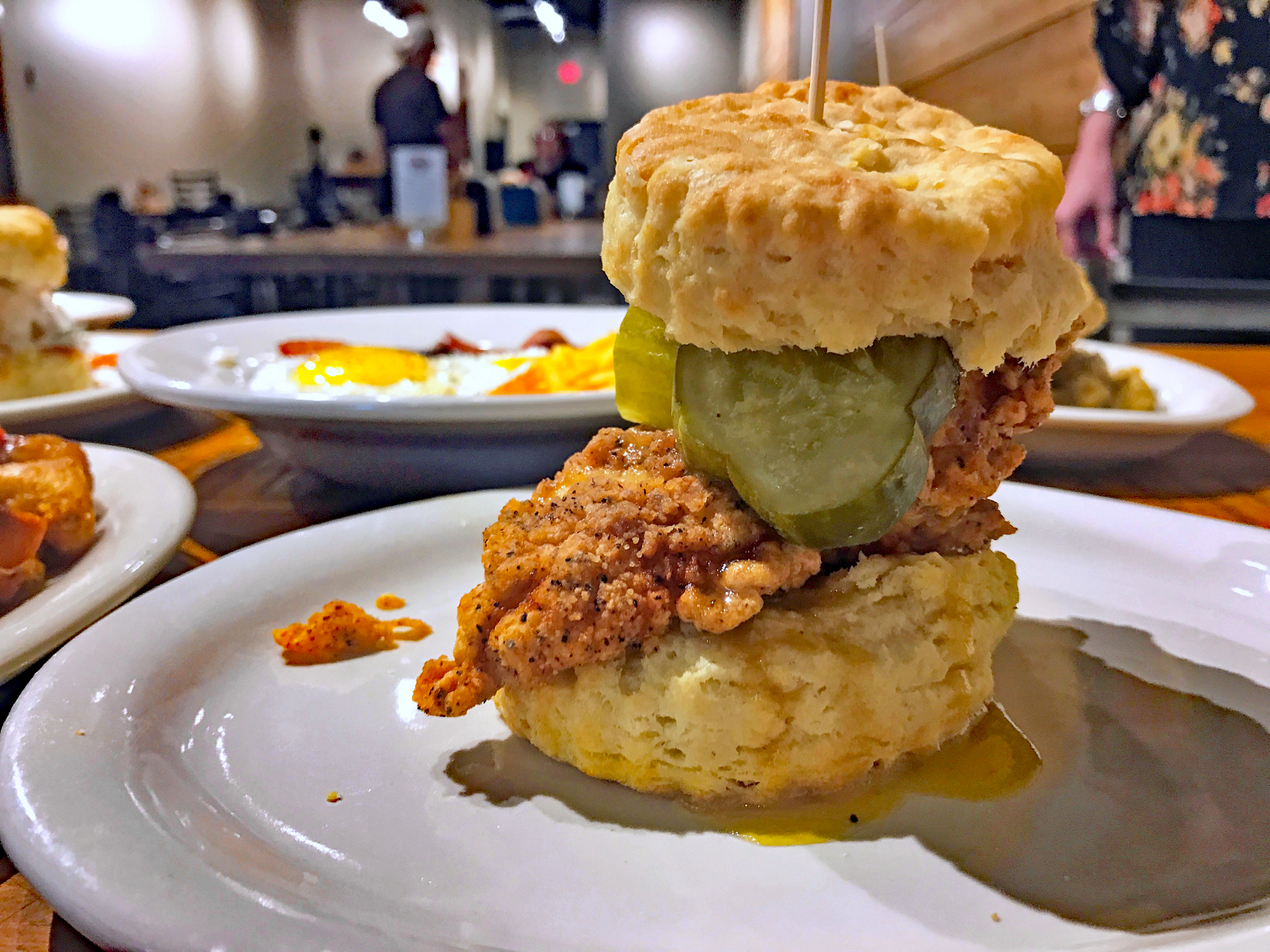 The Reinhold – Flaky biscuit, all natural fried chicken breast, crunchy dill pickles, house made honey mustard. The nice thick pickle slices are hand cut on site, and nice and crunchy and sour. Yum!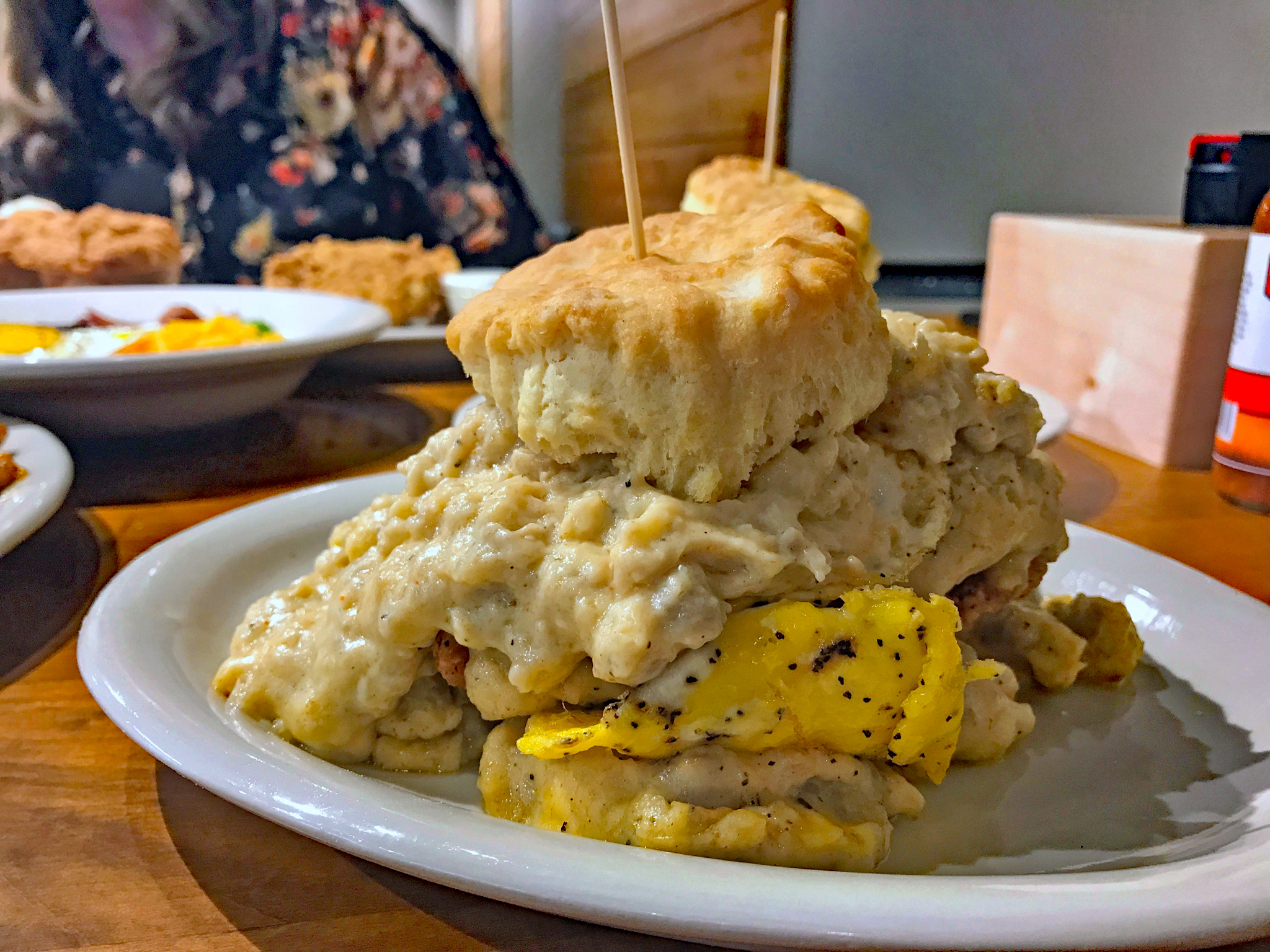 The Five and Dime – Flaky biscuit, all natural fried chicken breast, pecan wood smoked bacon, cheddar cheese topped with sausage gravy with a little kick – topped with fried egg.
This one should cover breakfast and lunch for most people. The sausage gravy is delicious, and has a hint of spice from a little bit of cayenne. Nice!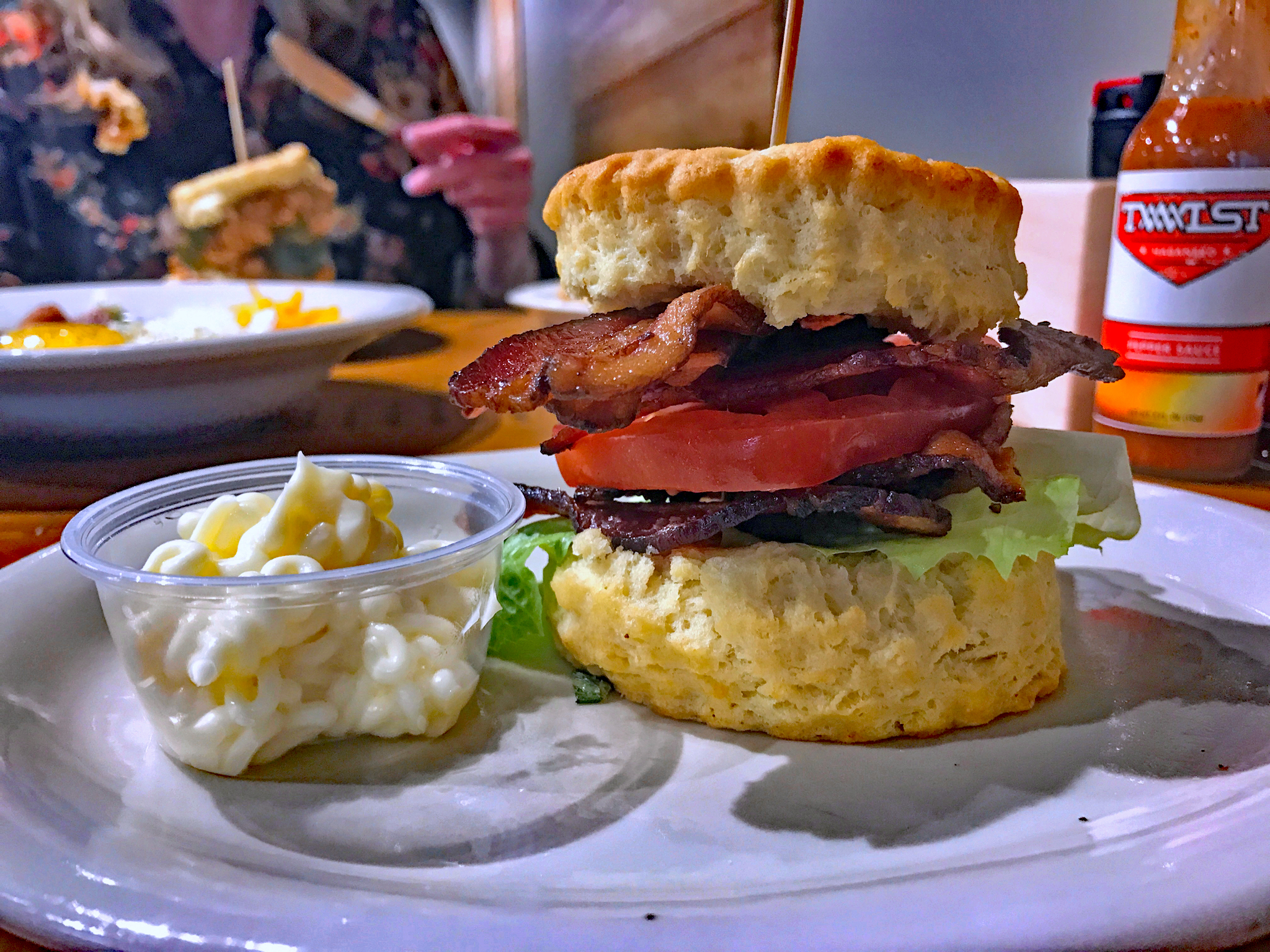 The BLT – Flaky biscuit, pecan wood smoked bacon, lettuce, tomato & mayo.
Whoever invented the BLT should be given a medal.
Now, Maple Street answers the question, "How can you make a BLT better?"
Answer: Put it in a biscuit. Wow!
The Firebird – Buffalo Chicken Breast with house made buffalo sauce, lettuce & tomato.
This one is so new, that as of this writing, it is not yet shown on the online menu.
The house made Buffalo sauce is spicy, but also has a great flavor–so it's not just a punch of fire, but flavorful too. I love super spicy stuff, and enjoyed how this one was a little different. It sneaks up on you.
On a 1-5 spiciness scale, it first seems like a 3.5. A couple of minutes later though, my head was sweating like it was a 5. All of this is good, by the way.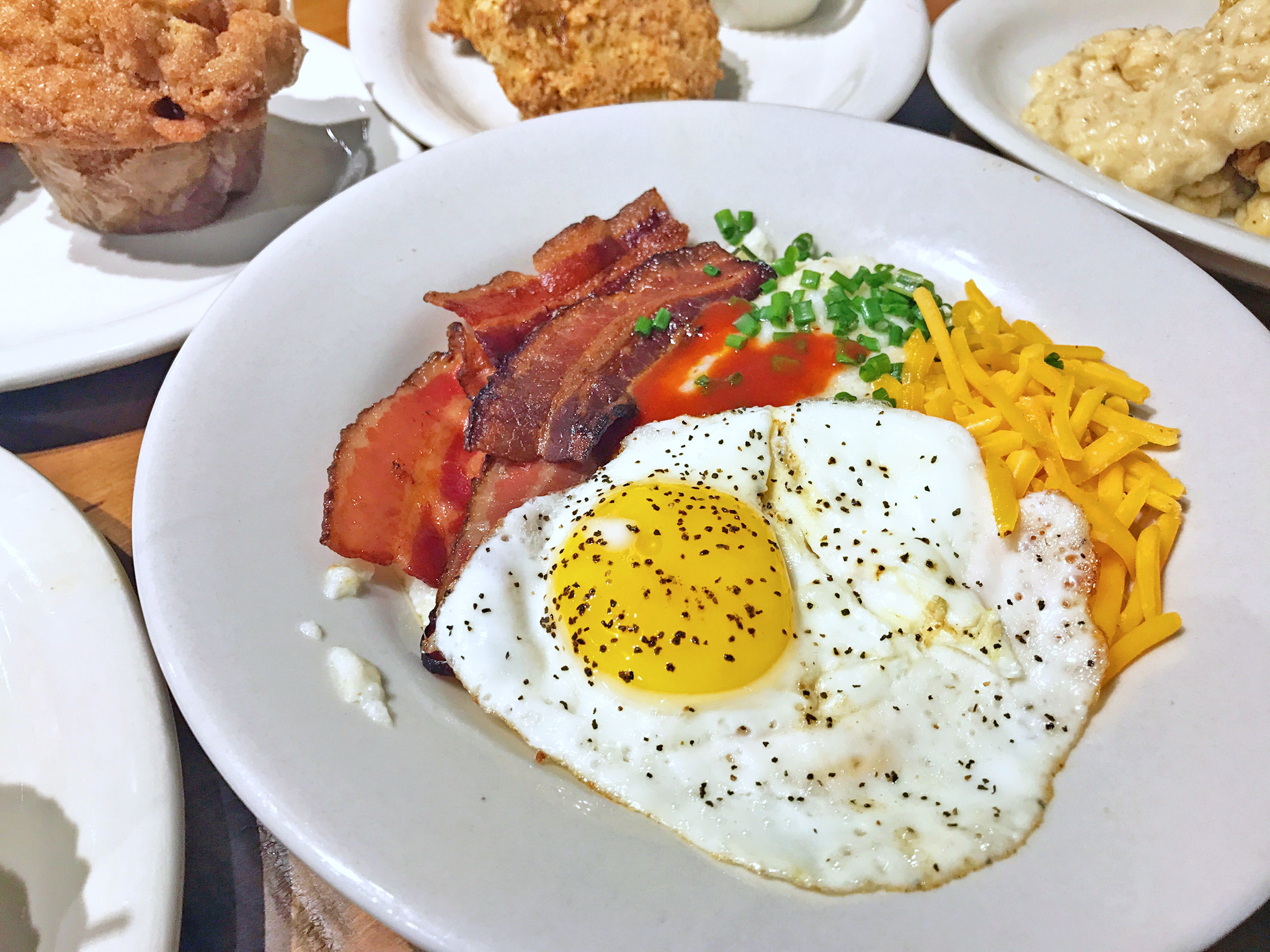 Bluegrass grits cut with cream cheese and butter, topped with pecanwood smoked bacon, cheddar cheese, chives, a sunny side up egg, and a splash of hot sauce.
The competition for best grits in St. Pete is really heating up now. I really love this dish! What a great combination–mixing up egg yolk with grits, melted cheese, hot sauce and smoked bacon. Soooo good!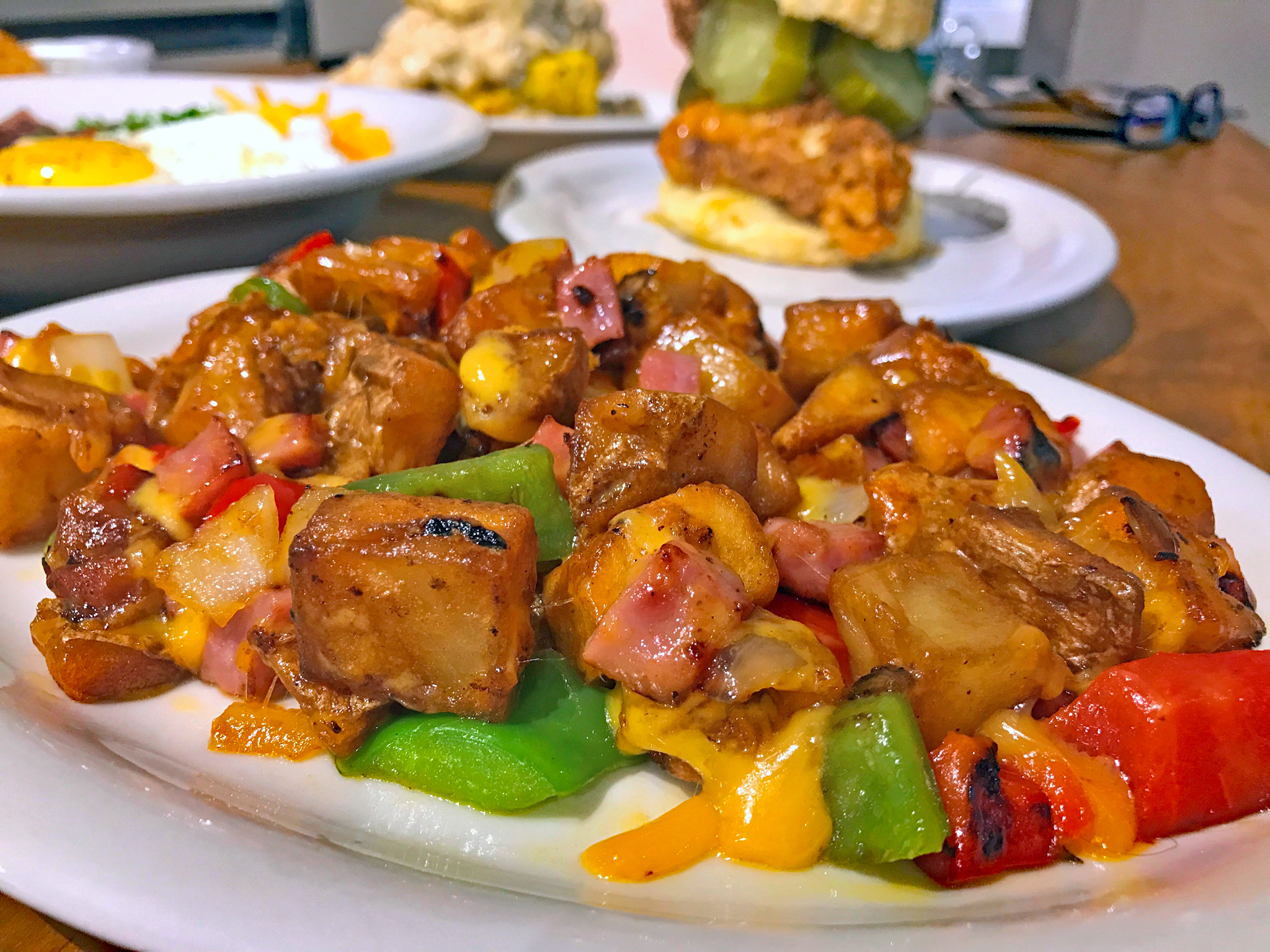 Hashups – Home fries with chopped smoked ham, red and green peppers, grilled onions, and melted cheese.
There is so much buttery, salty, chewy, and crunchy flavor in the Hashups. They are delectable!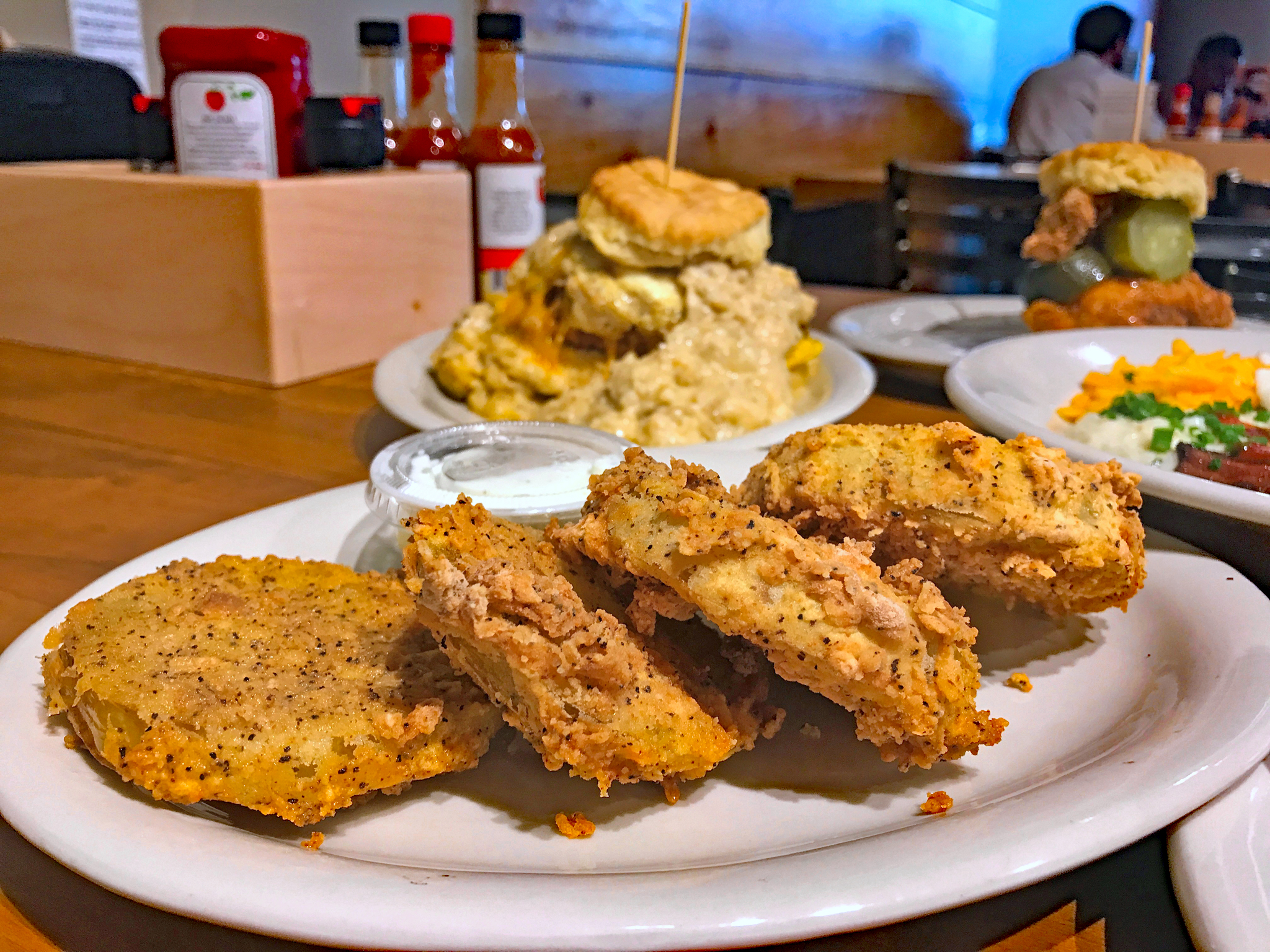 The Fried Green Tomatoes are cut thicker and have a more substantial breading—made fresh in house—than the typical version of this southern dish. If you think that's not right, just wait until you try them. You want to let them sit for a few minutes for the inside to cool, and then dip a piece in the house made ranch dressing. Deeeelicious!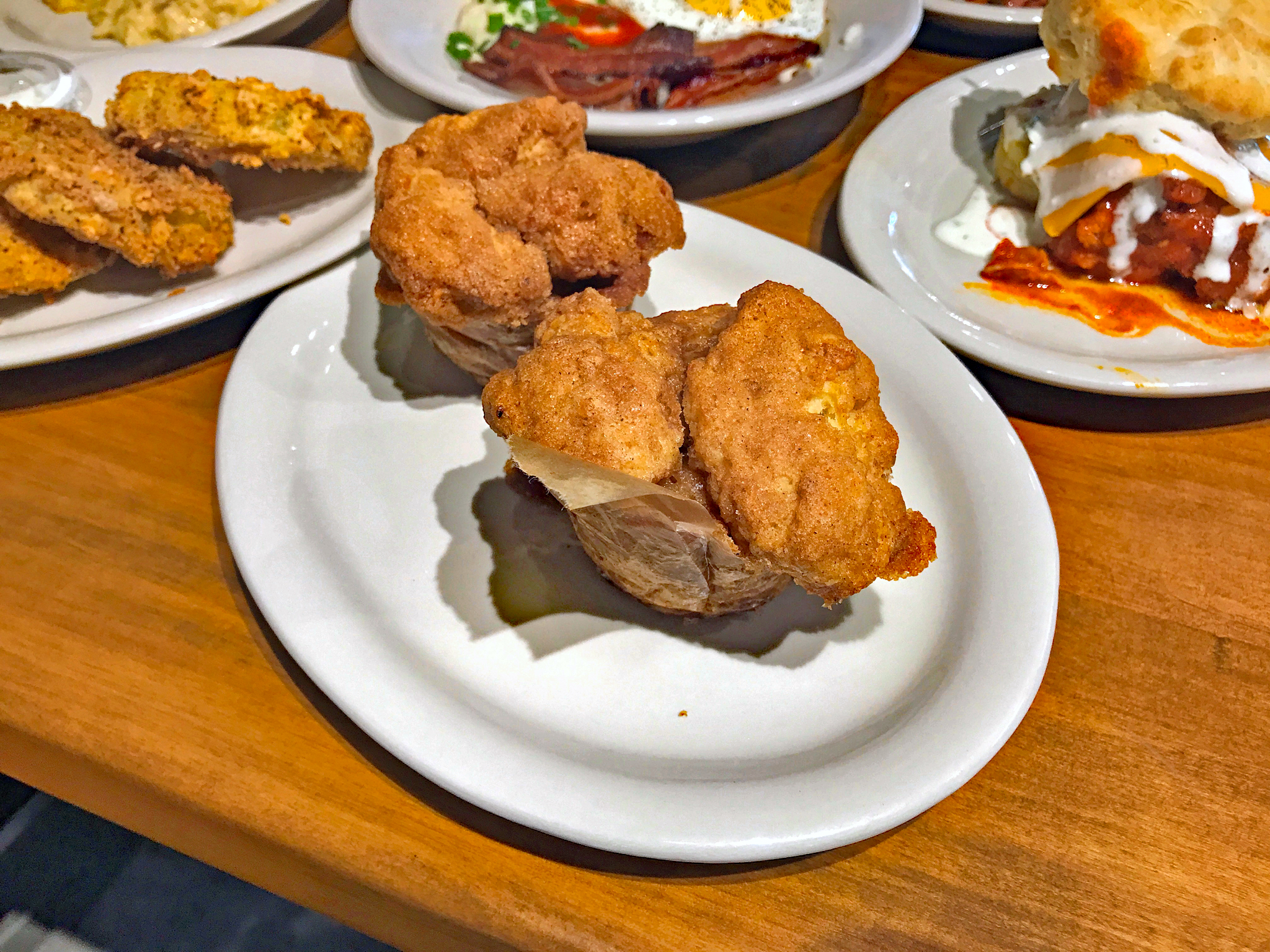 The Cinnamon Pull-Aparts are so new that St. Pete is the first store to have them.
They're fluffy, flakey, and airy with just the right amount of sweetness.
St. Pete Foodies recommendation on Maple Street Biscuit Co. – Go early and often!
Fresh homemade fried chicken & biscuits, comfort food with a modern twist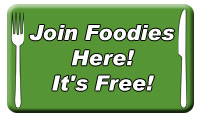 More Foodies News, Reviews & Recipes