Thai Am's Dining Room Re-Open's with a Bang
Thai Am's Dining Room Re-Open's with a Bang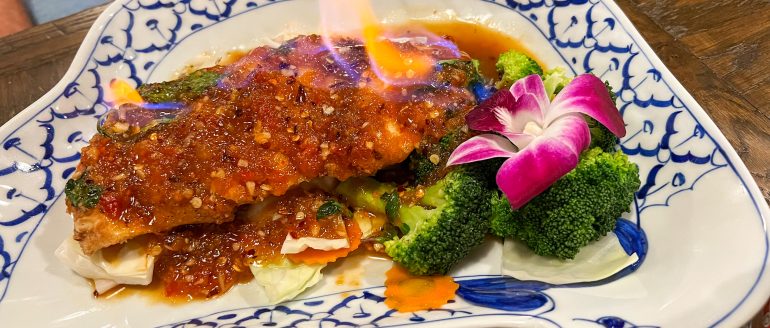 On Saturday October 29th, Thai Am, which is located on 4th Street in north St. Petersburg, celebrated the grand re-opening of their dining room. Thai Am has been open for over 20 years, but they were forced to cease in-person dining back in 2020 in the midst of the pandemic. They continued their take-out and delivery services over the course of the two long years and never missed a beat. This Thai-favorite was beyond thrilled to welcome patrons back to dine on-premise over the weekend and what a bustling and exciting evening it was.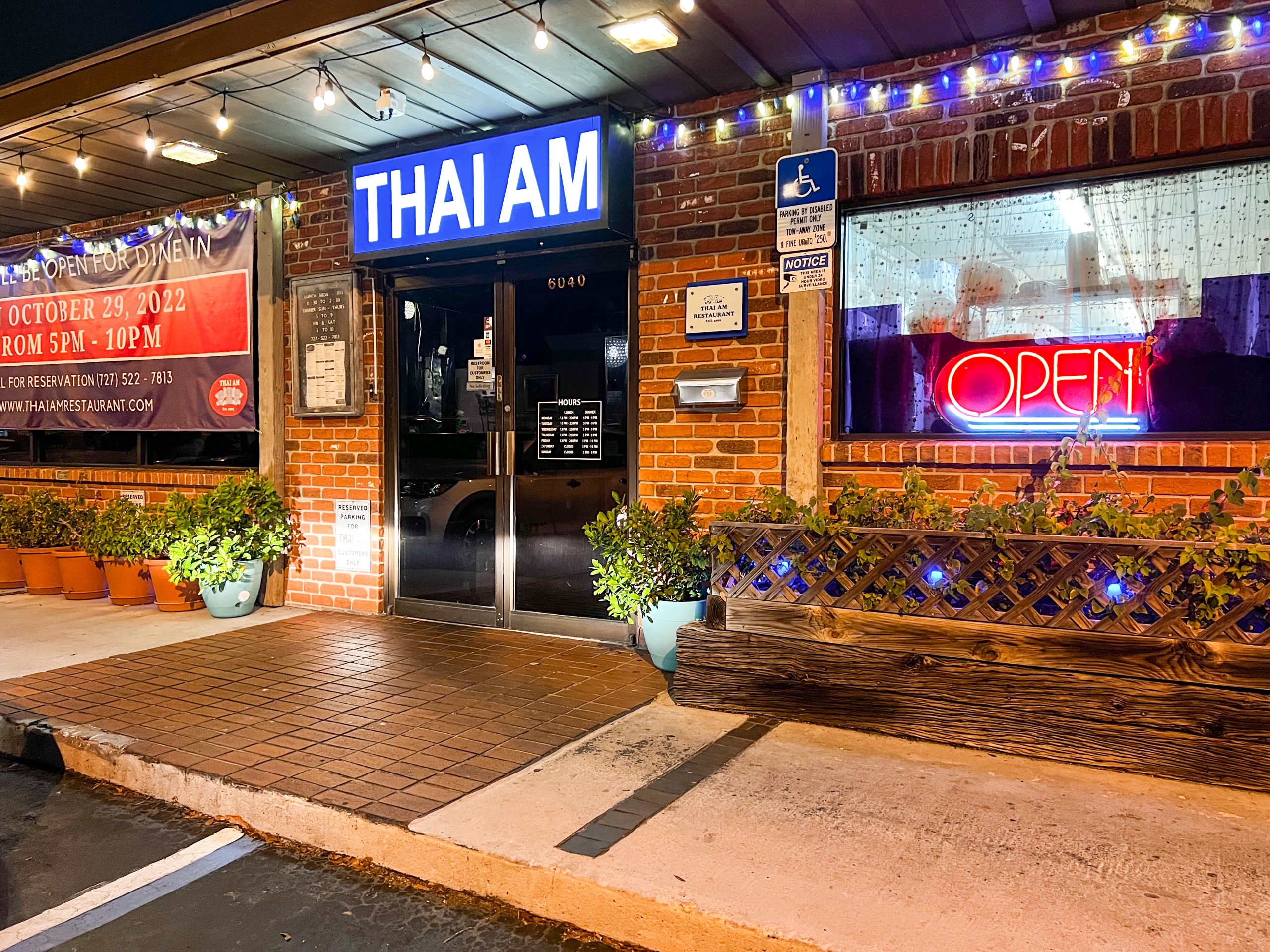 We arrived for dinner at prime-time on Saturday evening around 7:00PM and we lucked out as there were just a couple of open tables still available. The small but mighty north St. Pete establishment was packed full of eager, hungry diners. The entire time we were there, there was a constant flow of people in and out – the amount of takeout orders that they were filling was truly impressive. The phone never stopped ringing, food was hitting tables left and right and the staff handled all of the buzz with grace and efficiency. Below is a photo of the calm after the storm – a quiet dining room after a successful re-opening.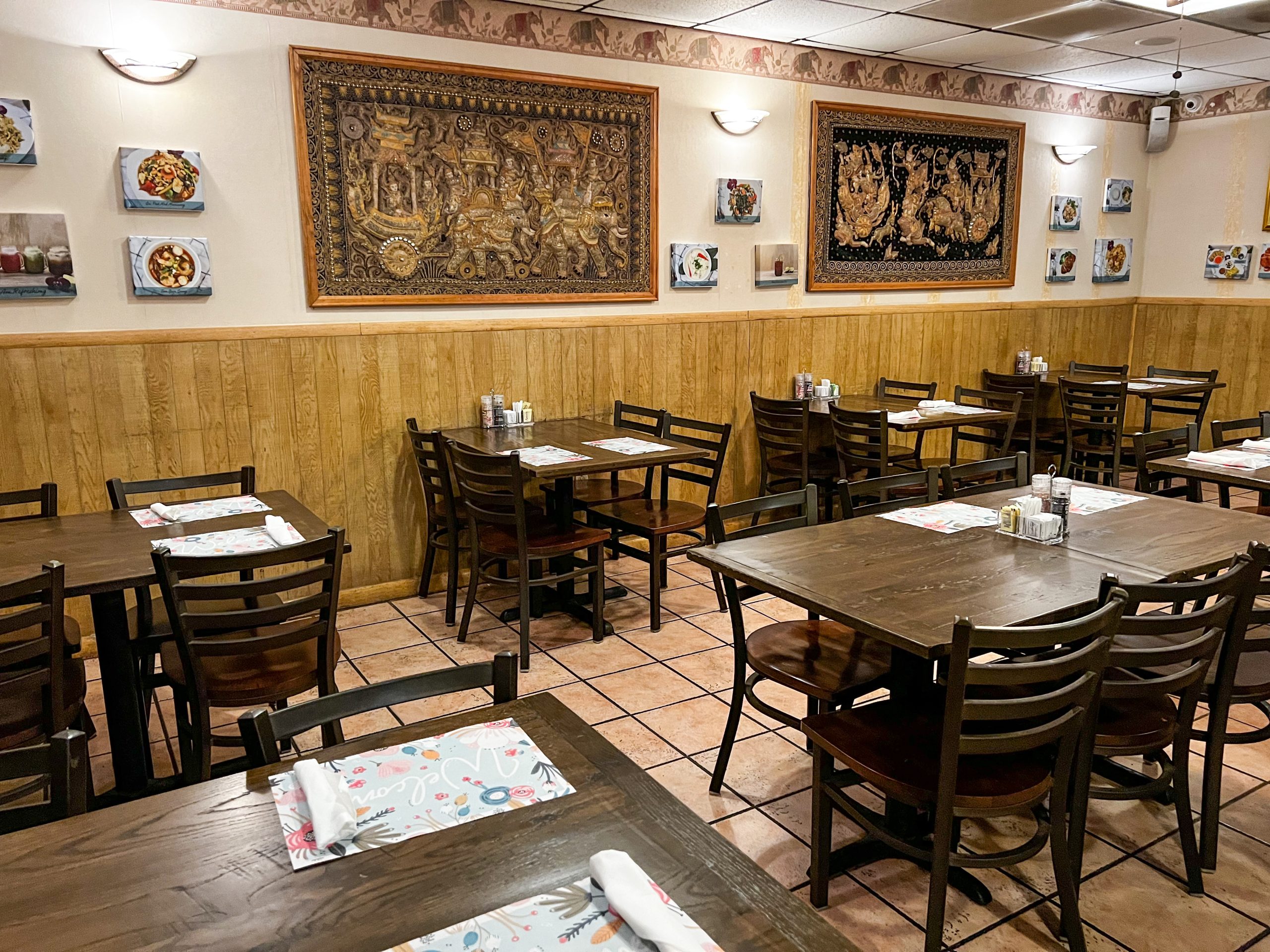 In celebration of the grand re-opening, Thai Am incentivized guests to dine-in by offering a $20.00 gift card voucher to put towards a future dine-in experience at the restaurant (which we did in fact receive and are thrilled to use in the future). In addition to the $20 voucher, Thai Am is also offering 20% off of your online order of $40.00 or more for a limited time. You can place your order on their website here.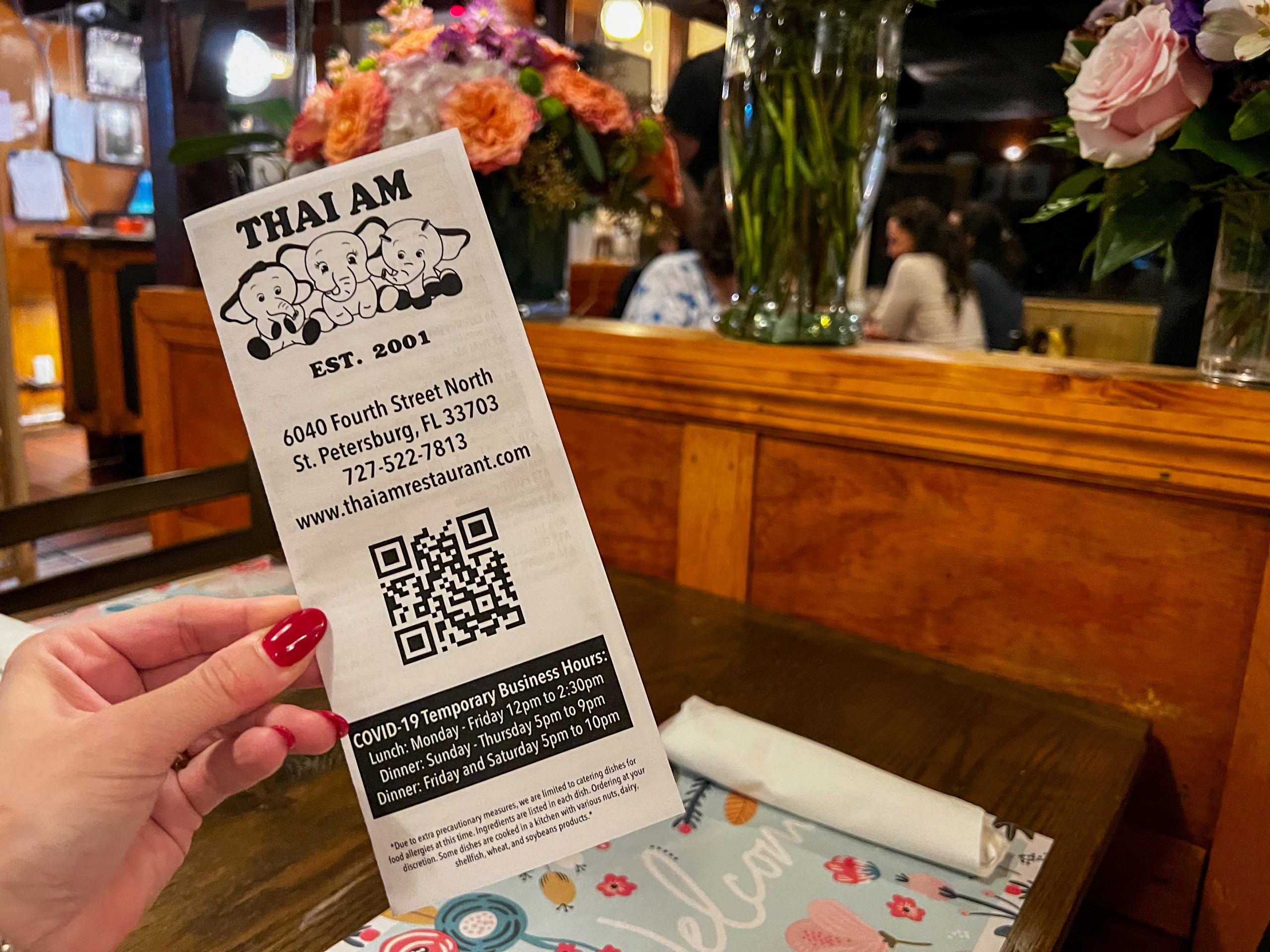 For an exceptionally busy Saturday evening and considering the occasion, the hard-working staff at Thai Am were impeccable. Linda was our server and she went above and beyond to ensure that our meal and overall experience were both top-notch. The rest of the staff at Thai Am was also ultra generous and accommodating. All hands were on deck and many of the staff members wore more than just a few hats to ensure that the re-opening went off without a hitch.
I had enjoyed Thai Am's food one other time prior to my experience this past weekend but that was years ago and it was a takeout order. I remembered that the menu was quite extensive so I wanted to make sure I did my research prior to our dinner. I'm ultimately glad that I did this because my odds of over-ordering would've been extremely high as everything sounded delicious. A game plan was carefully devised so we could try as many different things as we could without having an abundance of leftovers; however, that still was the case (but let's be honest, leftover Thai is never a bad thing).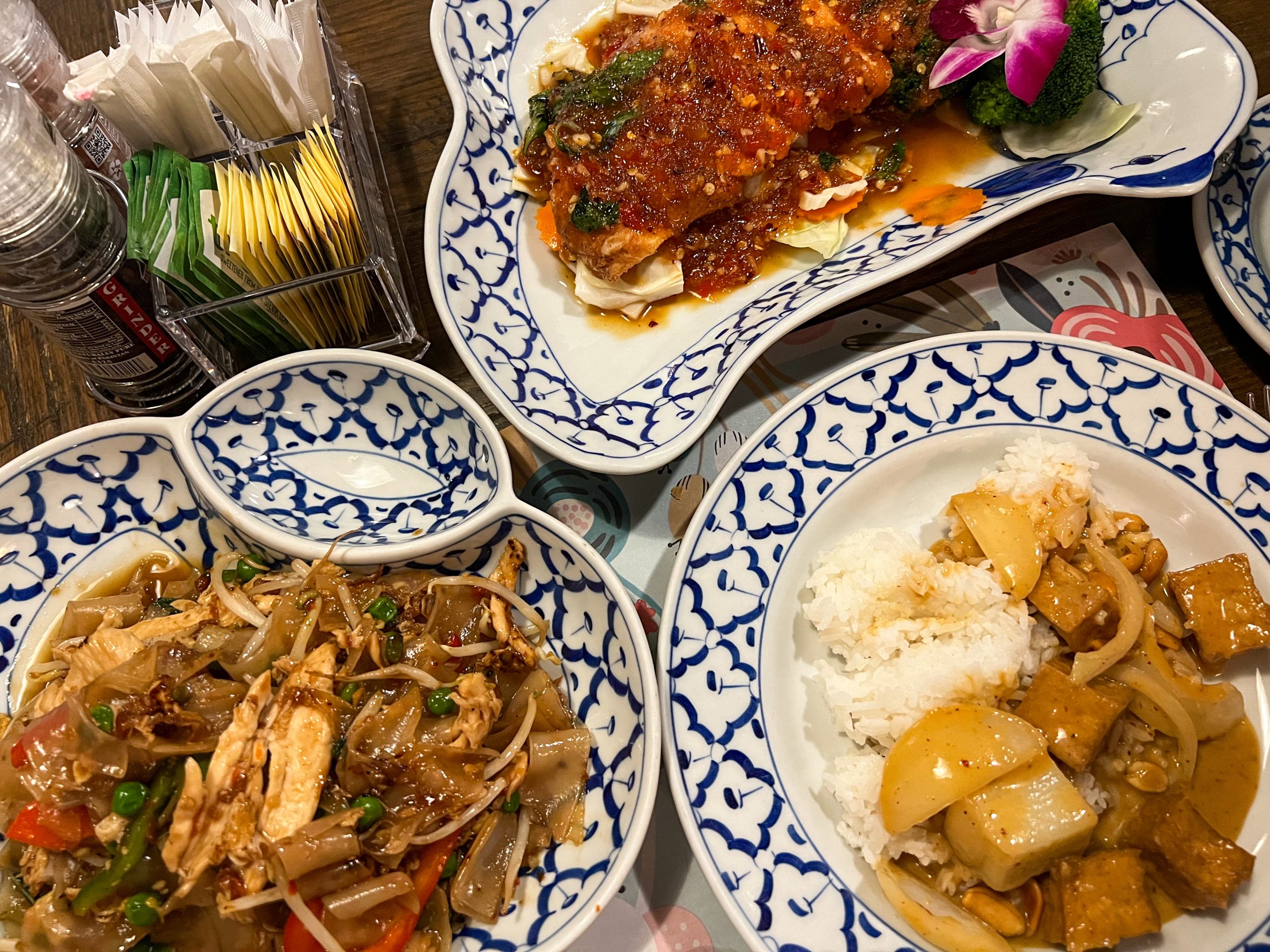 Thai Am does not sell alcohol, but they do have a beverage menu with refreshments like Thai iced coffee, various Thai teas and soft drinks. Pictured below is the Thai Iced Coffee. This was the first time that we had ever had Thai iced coffee, so I wasn't quite sure what it was or what to expect. Thai coffee is made this way using sweetened condensed milk which makes for an ice-cold creamy and sweet beverage that is frequently enjoyed in Thailand. I usually enjoy my iced coffee alone or with a splash of unsweetened non-dairy milk, so this drink was a touch sweet for my pallet, but it would be perfect for, say, the vanilla-latte lover.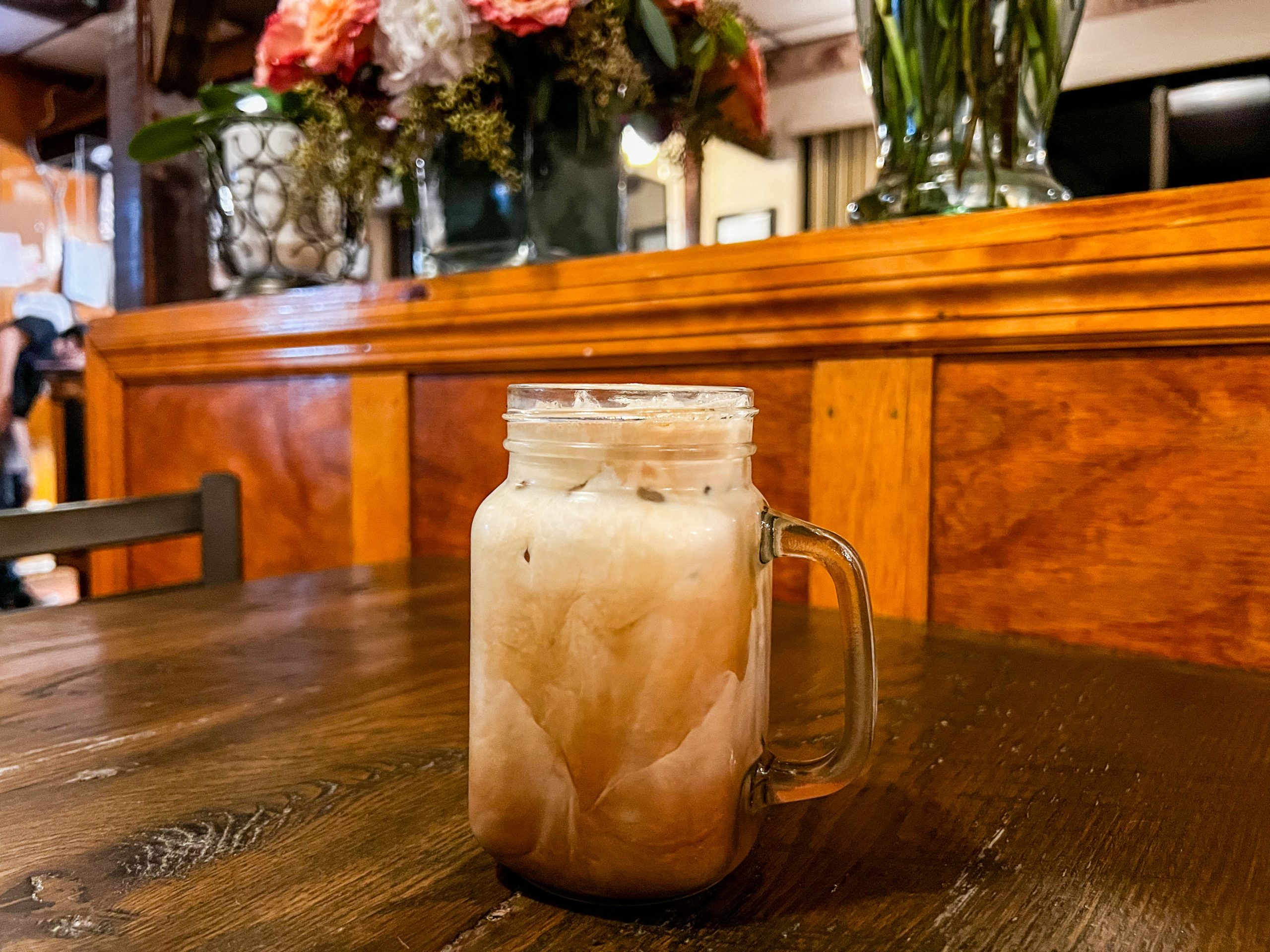 Because we wanted to try as much food as we could, we made the wise decision of starting off our meal with the Thai Am trio which comes with three Spring Rolls, three chicken drummettes and three Krab Rangoon. All are fried until crispy and served with sweet and sour dipping sauce on the side. It's an idyllic spread to share with the table and a great way to try a few appetizers in one. My husband and my mother also dined at Thai Am with me on this night and we each had a different favorite of the trio. I favored the rolls, my mom hummed about the Rangoon and my husband Mike couldn't get enough of the chicken.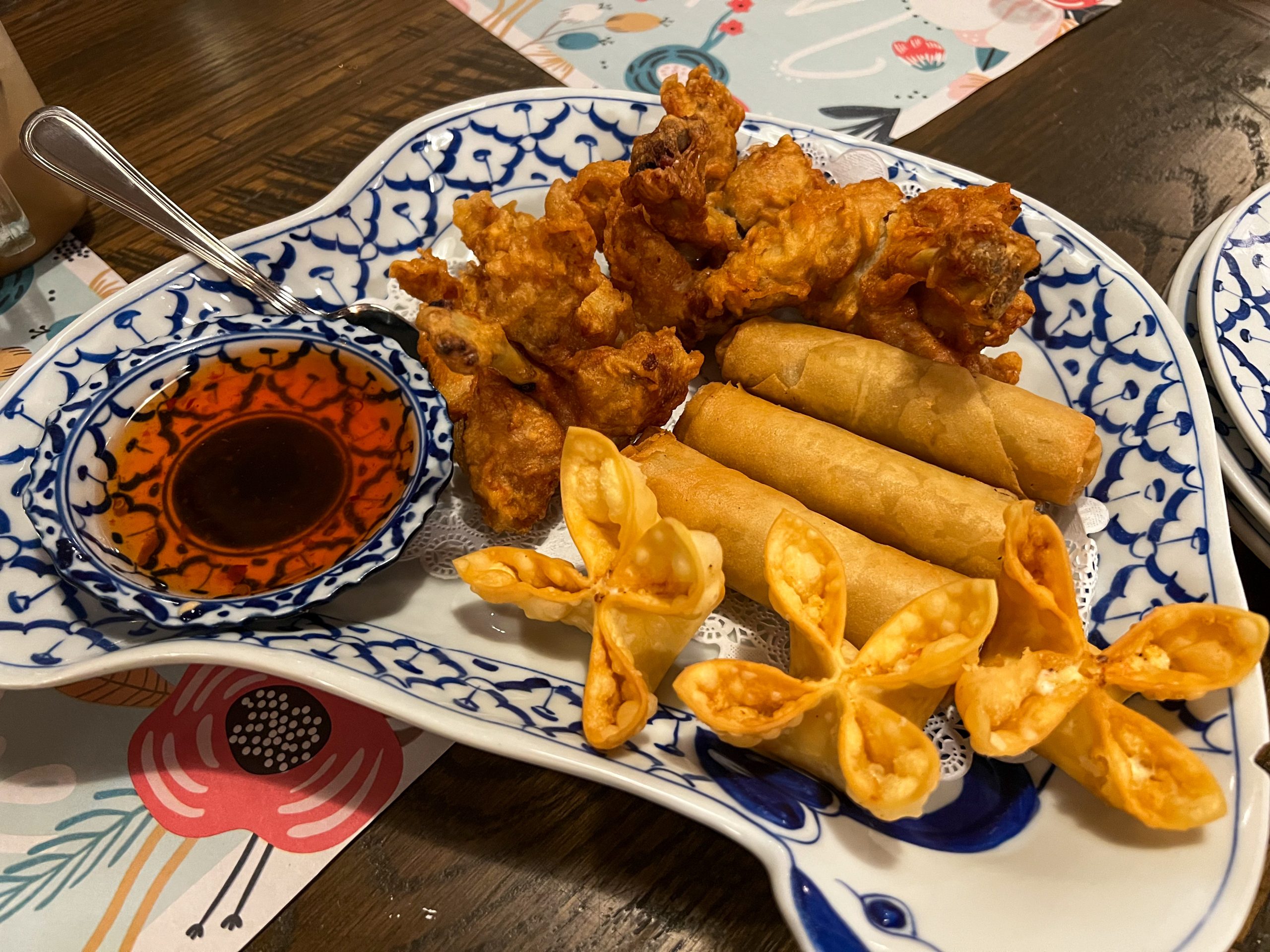 A short time later, entrees began to arrive at the table we ordered four: Kao Pad Sapparod (Pineapple Fried Rice), Gai Fai (Chicken on Fire), Pad Thai and the Gaeng Masaman (Yellow Masaman Curry). The curry was the first of the group to arrive and was also my entree of choice for the evening. This yellow curry dish is served with potatoes, onions and, whole peanuts and choice of protein (most all of the entrees come with choice of tofu, shrimp, pork, beef or chicken unless stated otherwise). Historically speaking, Masaman style curry is a main course that I both order and cook with some regularity, because it is probably my favorite curry dish. Thai Am's Masaman curry reminded me why in fact this is one of my favorites – sweet and savory flavors, silky smooth sauce, ultra-tender potatoes and perfectly-cooked fried tofu. I will continue to order this again and again, but I will probably opt for more spice next time.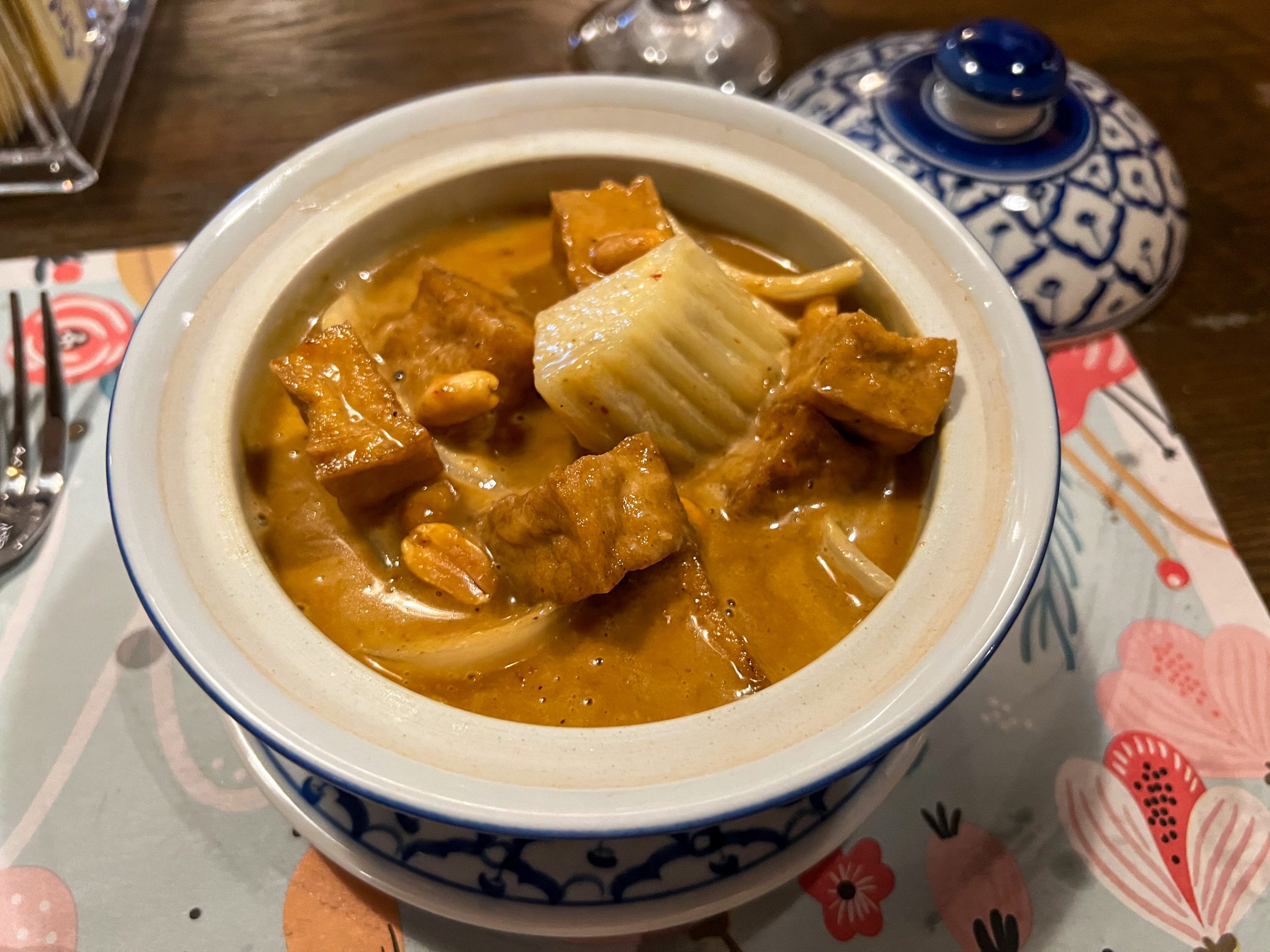 My husband's entree was undoubtedly the most fun of the group, the Chicken on Fire. He welcomes as much as possible at all times so he requested to have his dish prepared "Thai Hot," which brings the most heat on Thai Am's spice thermometer. Other levels of heat include mild, medium and hot. We didn't realize that the chicken would quite literally be on fire. This marinated and fried chicken breast filet is served with Thai Chili sauce, broccoli, cabbage, carrots and is then topped with flaming whiskey – yes, they light the chicken on fire. Then, you blow it out when you're ready to dive-in. This is a dish I definitely recommend ordering whilst dining-in. The chicken had spice, but it wasn't overwhelming at all, even with the requested heat level. We ate every bite and unanimously voted this as our favorite dish of the night.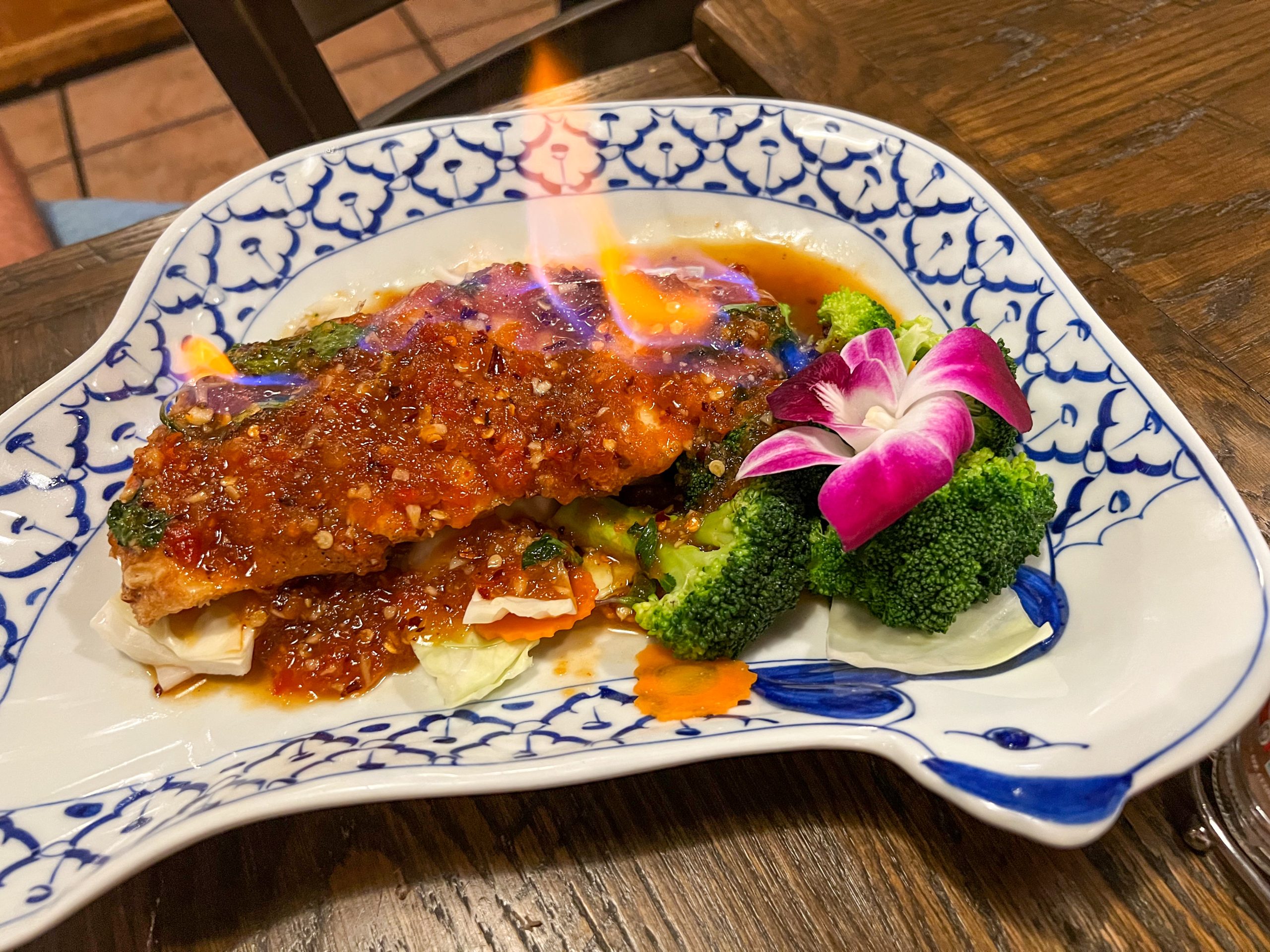 The Pad Thai and the Fried Rice were brought out to us last. Pad Thai to us is always just one of those default dishes that we order when we can't quite make up our minds. Also, it's a menu item that you're likely to see at most Thai restaurants and I always enjoy each establishments rendition of the classic dish. Thai Am's version is solid – we ordered it with chicken as we usually do. The homemade sweet and tangy sauce is perhaps the highlight of this dish for me – the perfect coating for the thin noodles, scallions, sprouts and peanuts to swim around in.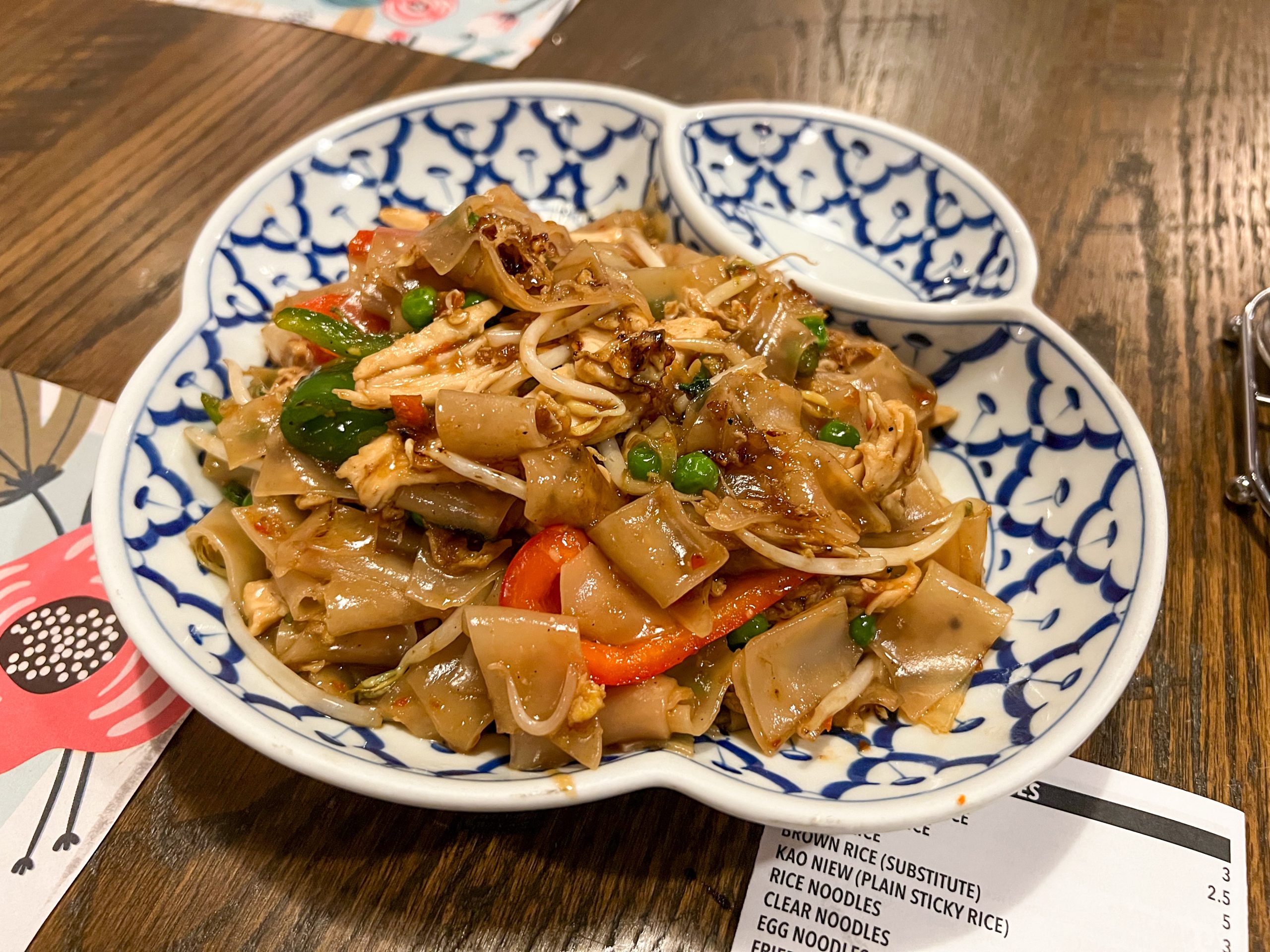 When we finally tried a bite of the Pineapple fried rice we all agreed that it was not what we were expecting; however, it was quite unique and tasty with ultra-warm flavors. In this dish you'll find stir-fried rice, egg, pineapple, raisins, cashews, peas, beef, chicken, shrimp and a touch of yellow curry powder. Because of all of the protein, it is quite a filling entree – it could easily be shared as a meal between two people.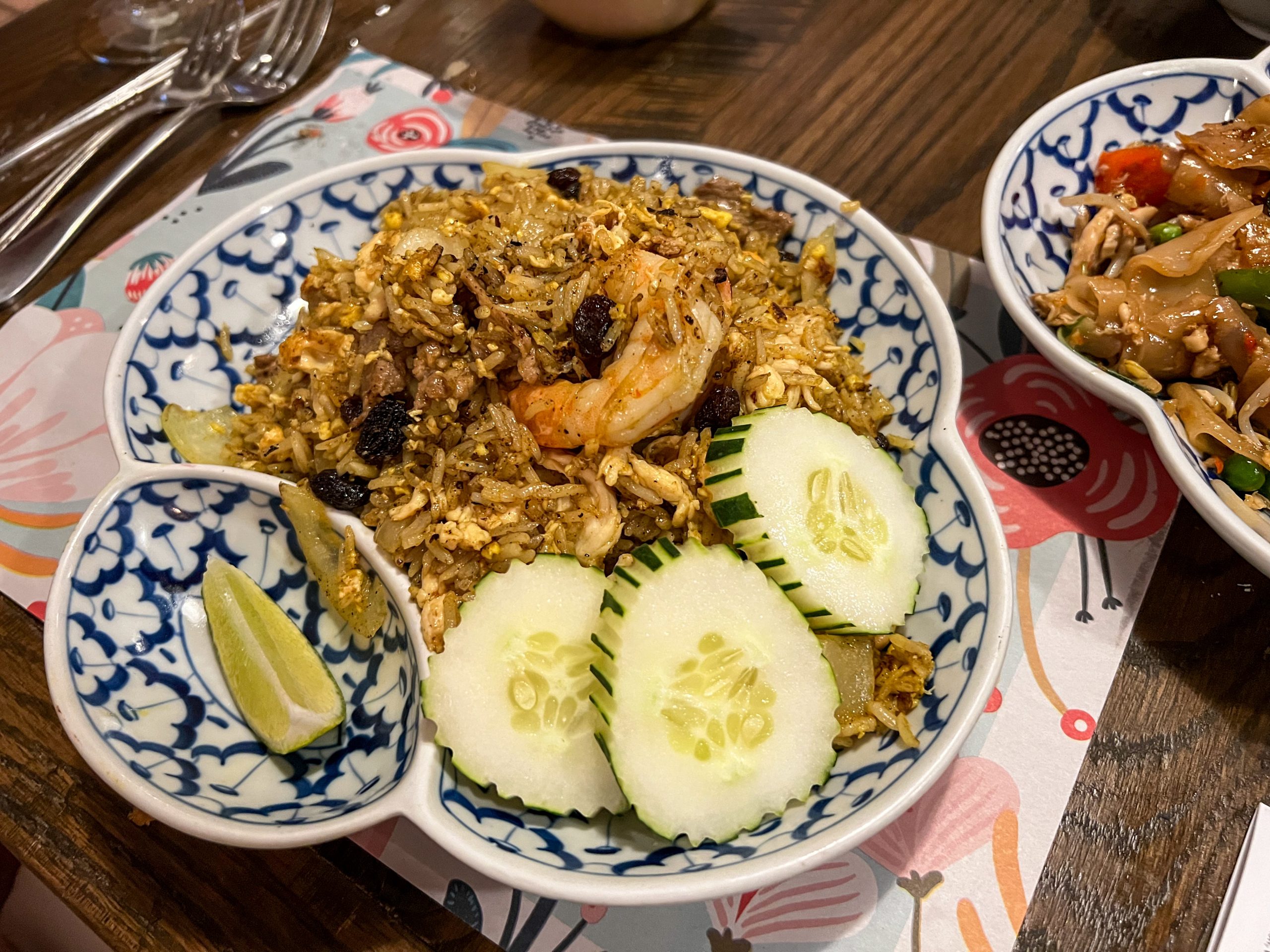 At the beginning of the meal we had our eyes and our hearts set on the sweet sticky rice with mango, but by the end of our dinner, our stomachs were bursting. In addition to the sticky rice they also have a small section of dessert items like Thai donuts, ice cream and fried bananas. Don't make the same mistake we did – save room for one of these indulgences.
As I mentioned earlier, we did have leftovers. As we were boxing our meals up Linda brought out a to-go container with more jasmine rice which was an extra special touch that we totally appreciated. It's the little things – small gestures like that make such a positive impact on the experience. Sooner rather than later, treat yourself to a laid back experience at Thai Am and let Linda and the rest of the wonderful staff serve you their take on traditional Thai Food. It's bound to turn into a new Thai favorite.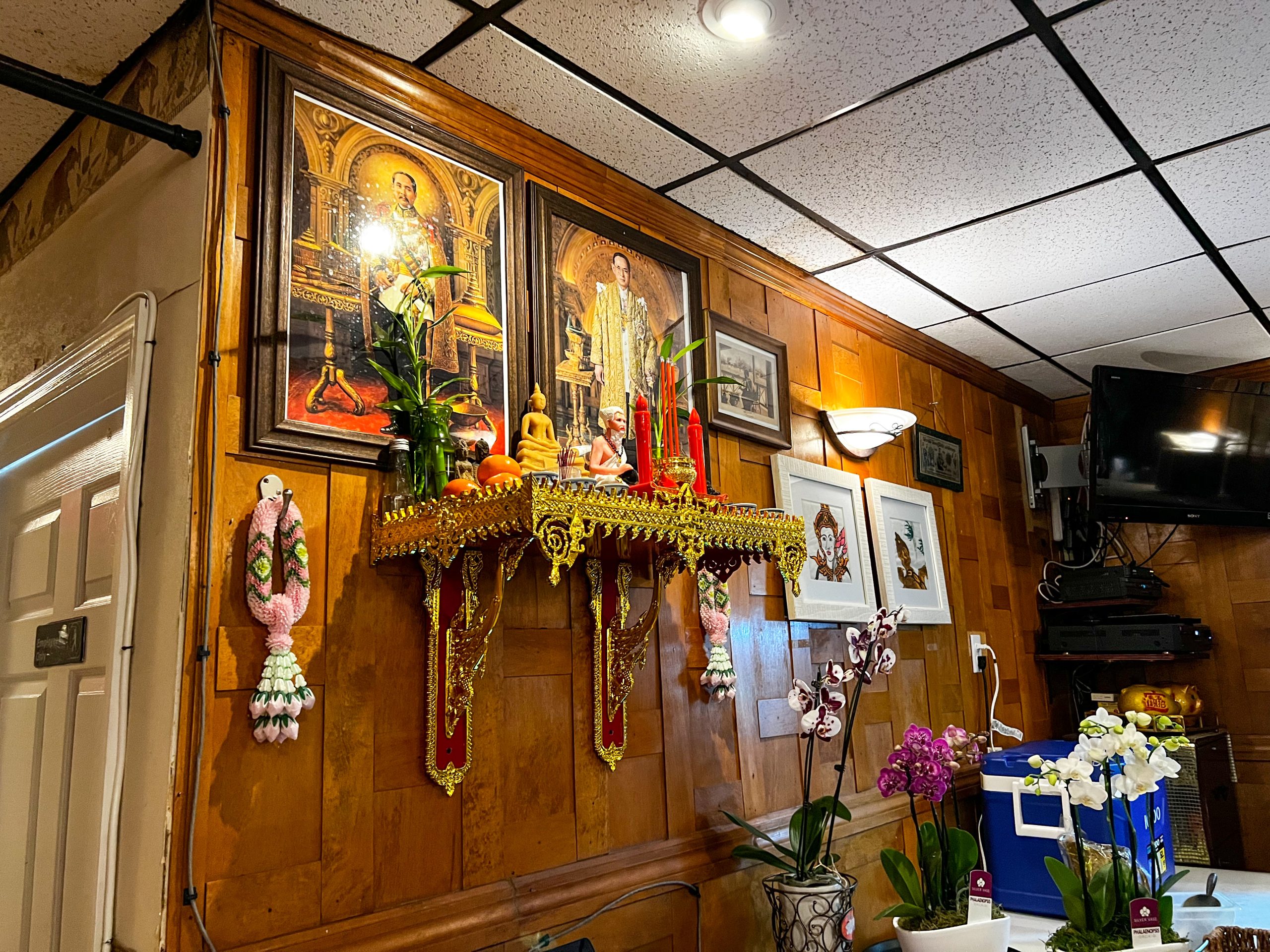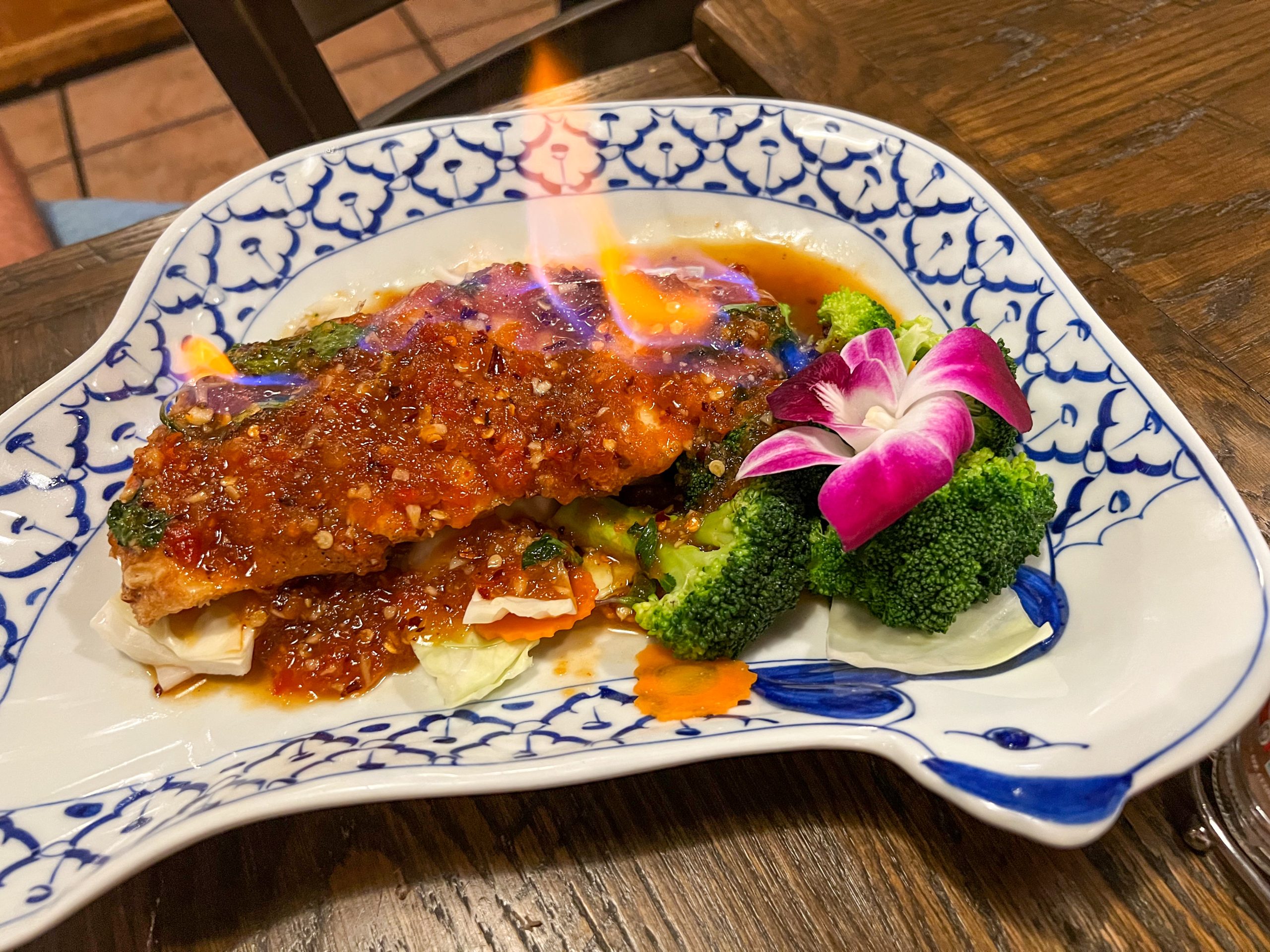 Readers Rating

Rated 4.9 stars




4.9

/ 5 (

Reviewers

)

Spectacular
---
Thai Am

727-522-7813

Traditional Thai

,

Thai Curry

,

Authentic Thai

Mon - Fri

11:30am - 2:30pm

Mon - Thu

5:00pm - 9:00pm

Fri - Sat

5:00pm - 10:00pm

Sun -

5:00pm - 9:00pm
6040 4th St. N

,

St. Petersburg

,

Florida

33703

,

United States
---
Informal restaurant serving traditional Thai menus for lunch & dinner, with takeout available.
DISCLAIMER: Kevin, Lori, Abby, Haley, & Lindsey do not dine anonymously (this would be impossible) and we sometimes get free food (though never expected). However, we dine with the locals and we support our own. You will always get honesty in a respectful manner. We do not include any large national or regional chains in our ratings and reviews. We focus on independent locally owned eateries exclusively.

PLEASE NOTE: Reviews reflect a certain moment in time. Some restaurants stay extremely consistent over many years, and some change for the better or worse. Some things that may change are: chefs, recipes, food suppliers, ingredients, philosophies, ownership, etc. We always hope that you have the same good, or great experience we had.
More Foodies News, Reviews & Recipes