La V – Vietnamese Fusion That Keeps You Wanting More
La V – Vietnamese Fusion That Keeps You Wanting More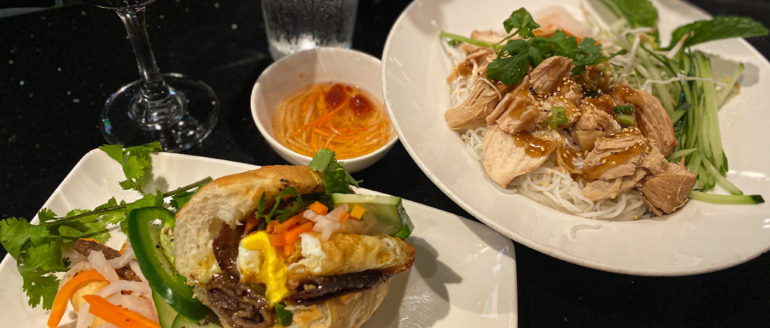 For the most part, comfort food is a rather ambiguous term that refers to food that makes us feel good. To some, that means a glutenous helping of sinfully delicious Thanksgiving staples, while others may attribute "feeling good" and "feel good" food to health-conscious meals that nourish and fuel the body. Comfort food, to me, isn't limited to just one meal or one ingredient, or even one genre of food – oh, no. My interpretation of comfort food ranges from my daily Chocolate Chip Cookie Dough Perfect Bar, to a heaping bowl of homemade spaghetti and meatballs. It is anything that awakens my soul, makes me hum with joy, and keeps me coming back for more. Vietnamese cuisine checks all of those boxes in my book, which is precisely why I can't get enough of La V Vietnamese Fusion.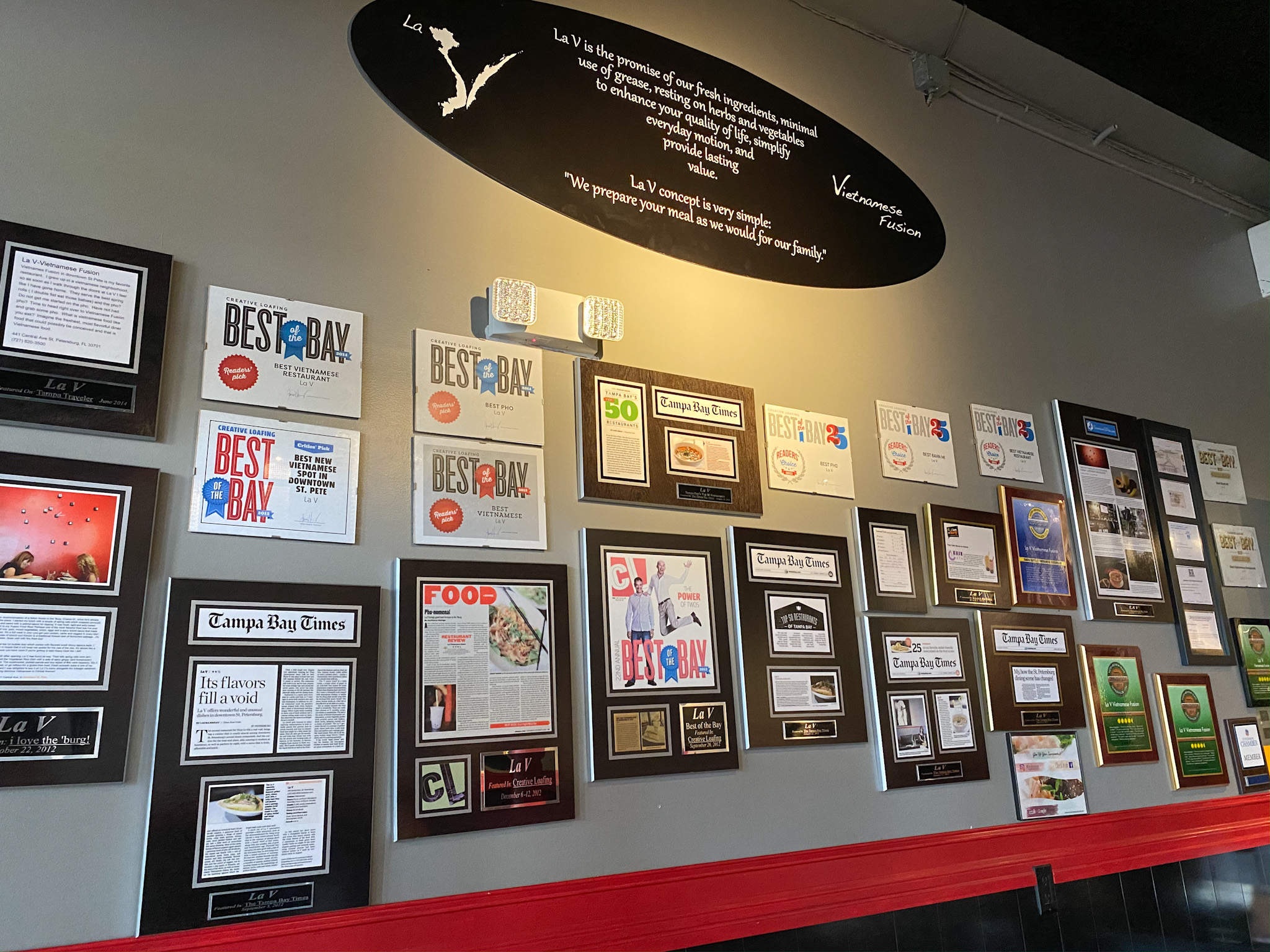 La V, which is situated in the midst of bustling Central Ave, is your go-to destination for pho, bánh mì, Vietnamese street-inspired food, ever-popular boba tea and so much more. At La V, it is their promise to provide nothing but fresh ingredients in order to promote and enhance the quality of life for their patrons. Additionally, their concept is quite simple: "We prepare your meal as we would for our family."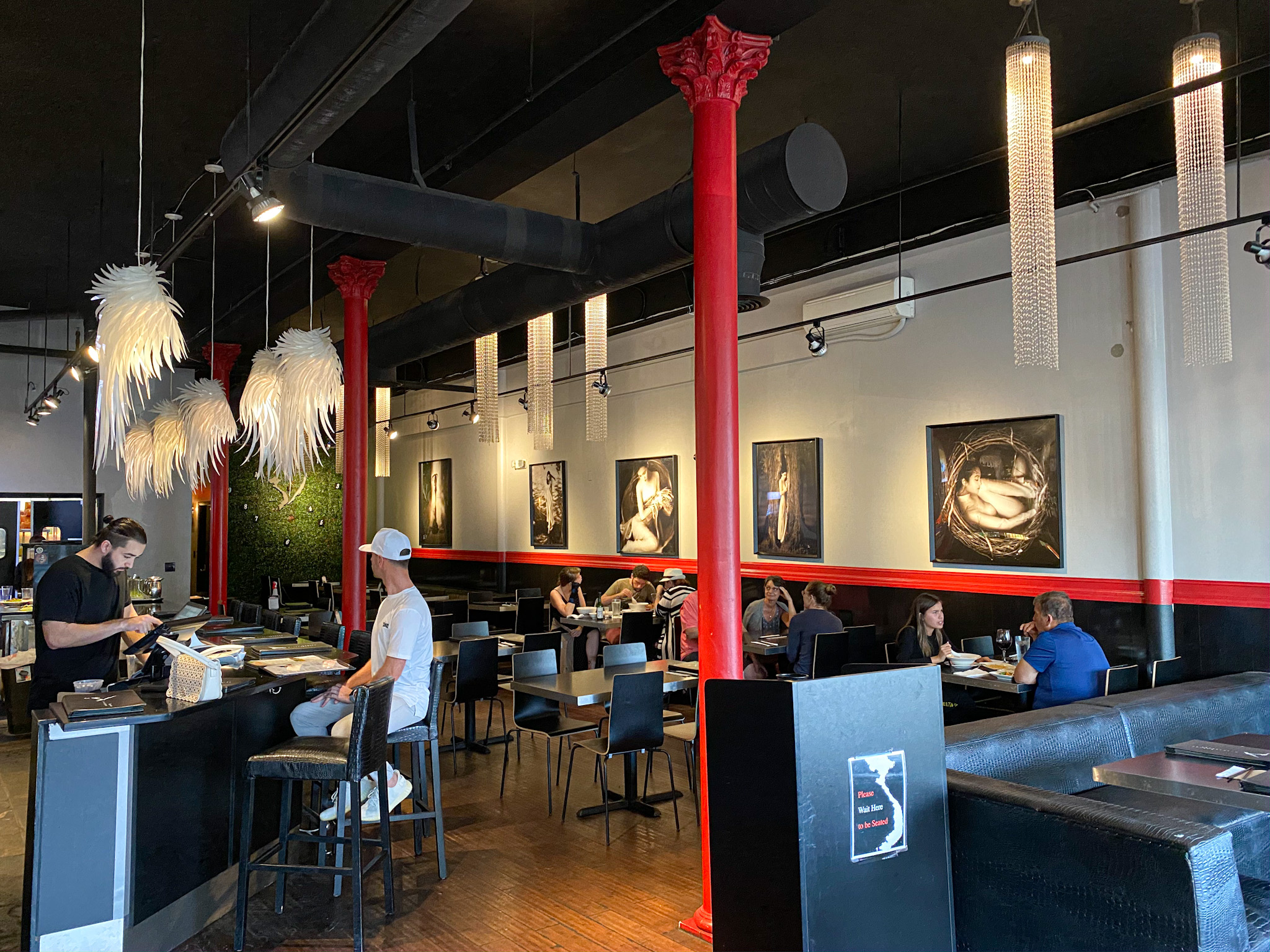 The restaurant's location couldn't be more optimal, as it sits directly in the heart of the 400 block of Central Ave, which receives tons of vehicle and foot traffic. Before entering La V, you'll notice a handful of tables situated outside on the sidewalk – ideal for outdoor dining whilst basking in the surrounding action. As soon as you walk inside La V, your attention will immediately be drawn to the large open space which boasts a sleek, modernized feel. The walls are adorned with a scheme of white, black and red tones, which perfectly complements the swanky decor throughout.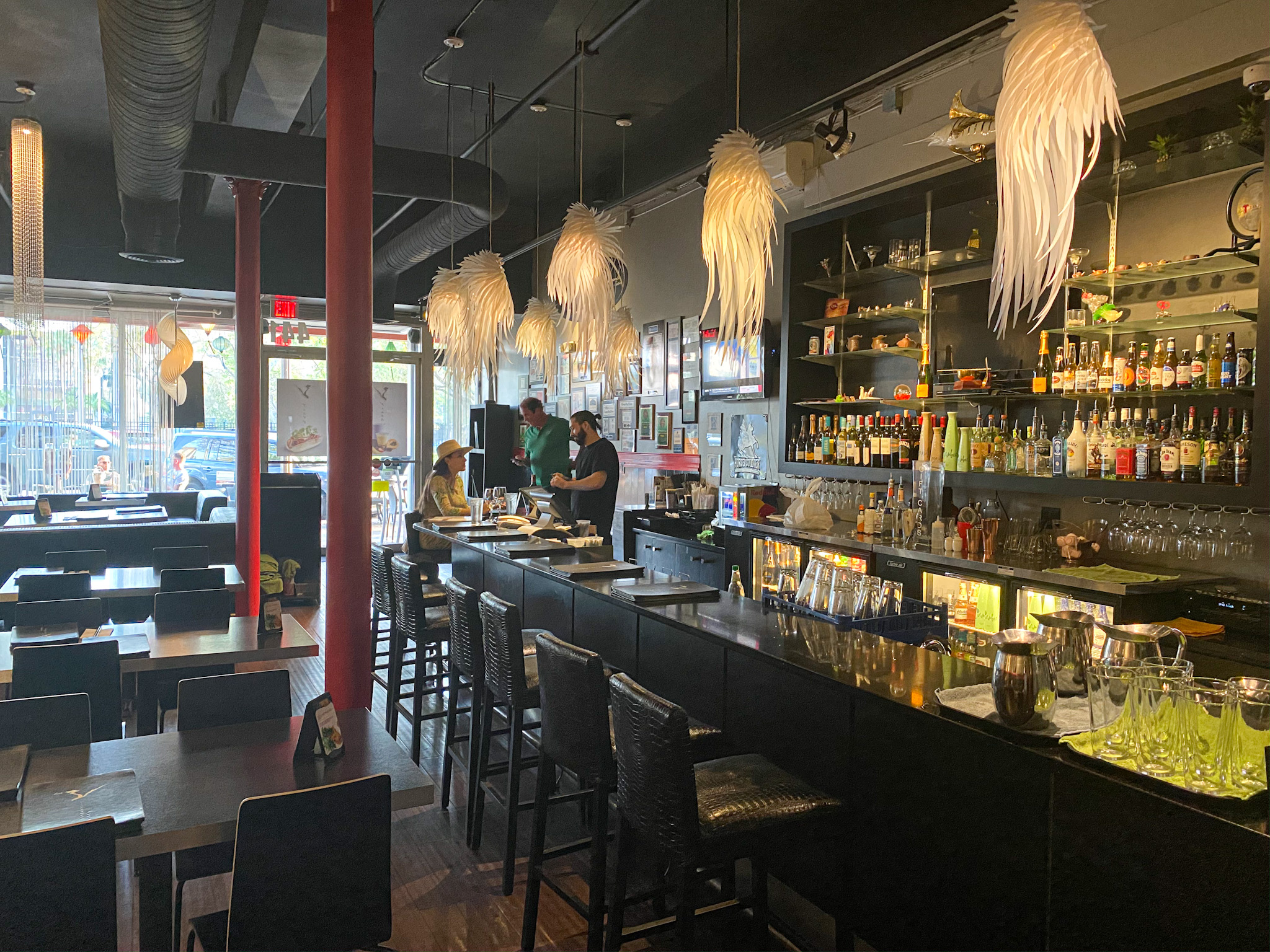 As far as seating is concerned, La V has a large number tables, as well as an ample amount of bar seats, which line the elongated bar. On a Friday or Saturday evening, you'll often find every single seat filled in the restaurant, with a number of folks patiently waiting – that undoubtedly speaks volumes regarding the food and dining experience, as a whole, at La V. We experienced this first hand recently when we dined there on a Saturday night during prime time. Though it was extremely busy, the restaurant moved as a well oiled machine. Servers were attentive, our wait was only five minutes (even with four parties ahead of us) and not only did the food arrive quickly, but it was all incredibly delicious.
Speaking of the food, let's go ahead and dive right into that. In order to get  a feel for the full La V experience, we tried a number of items from their rather extensive menu, which is broken down into sections. We devoured everything from Crispy Wonton and Eggrolls, to Pho and a Vermicelli Bowl…and that isn't even all of it.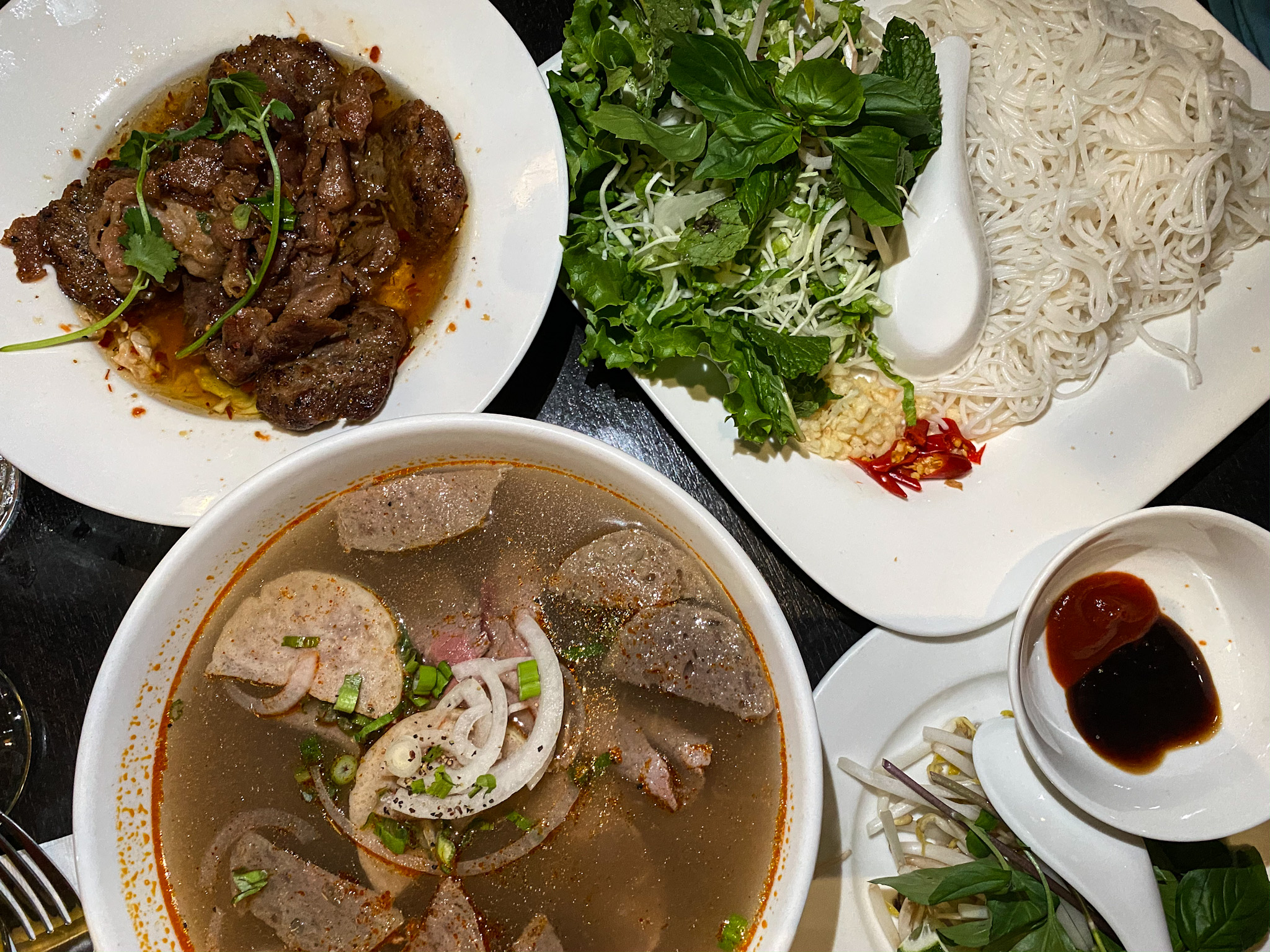 I'll make my way through everything that we had the pleasure of eating, in order, starting from the front of the menu to the back. Admittedly, in order to have enough stomach room for everything, we visited on two separate occasions – during a busy Saturday night and also on a much quieter Tuesday evening. On Saturday, we kicked our meal off with classic Egg Rolls: fried wonton wrapping with mixed in pork, shrimp, vermicelli, taro, carrot and sweet fish sauce. They're the perfect pre-dinner bite, as the dish contains two rolls that are cut in half, giving you four halves.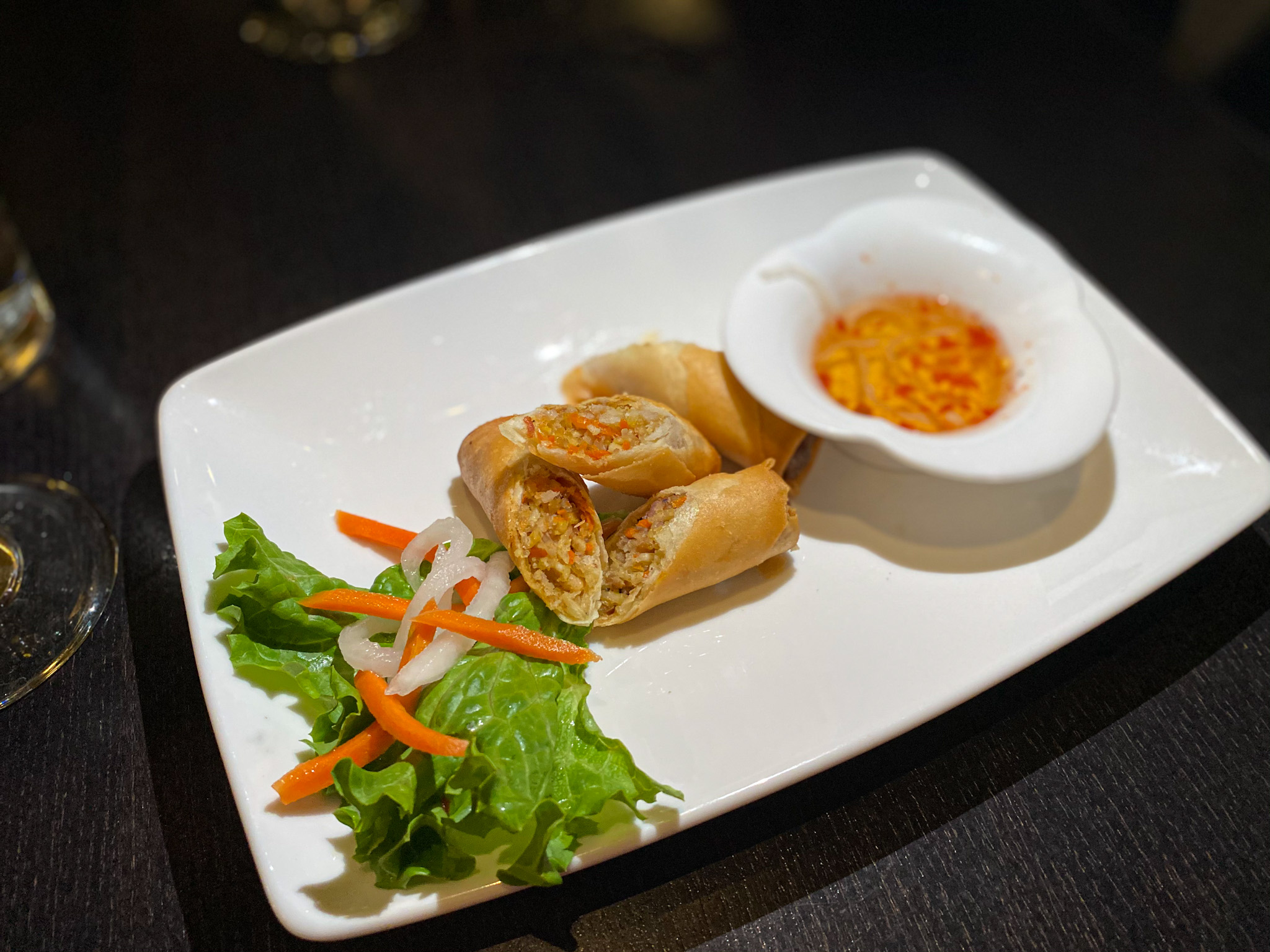 During our visit on Tuesday, we were happy to learn that we had arrived during happy hour. La V's happy hour deals are simply fabulous! They have a menu with $4.00 bites, and their beer, wine and spirits are 40% off, including bottles of wine! From the $4.00 bites menu, we opted for the Cripy Wonton and the Chicken Pho – yes, you read that correctly, $4.00 for a bowl of Pho and it isn't a skimpy portion! Additionally, we took advantage of happy hour pricing and ordered up a bottle of Bonanza Cabernet. You could easily make a meal out of the $4.00 menu. In fact, after the Pho and Wontons, I was already beginning to fill up! The Wontons were crisp and delectable with notes of spice. While the Pho may appear simple, the flavors were everything but.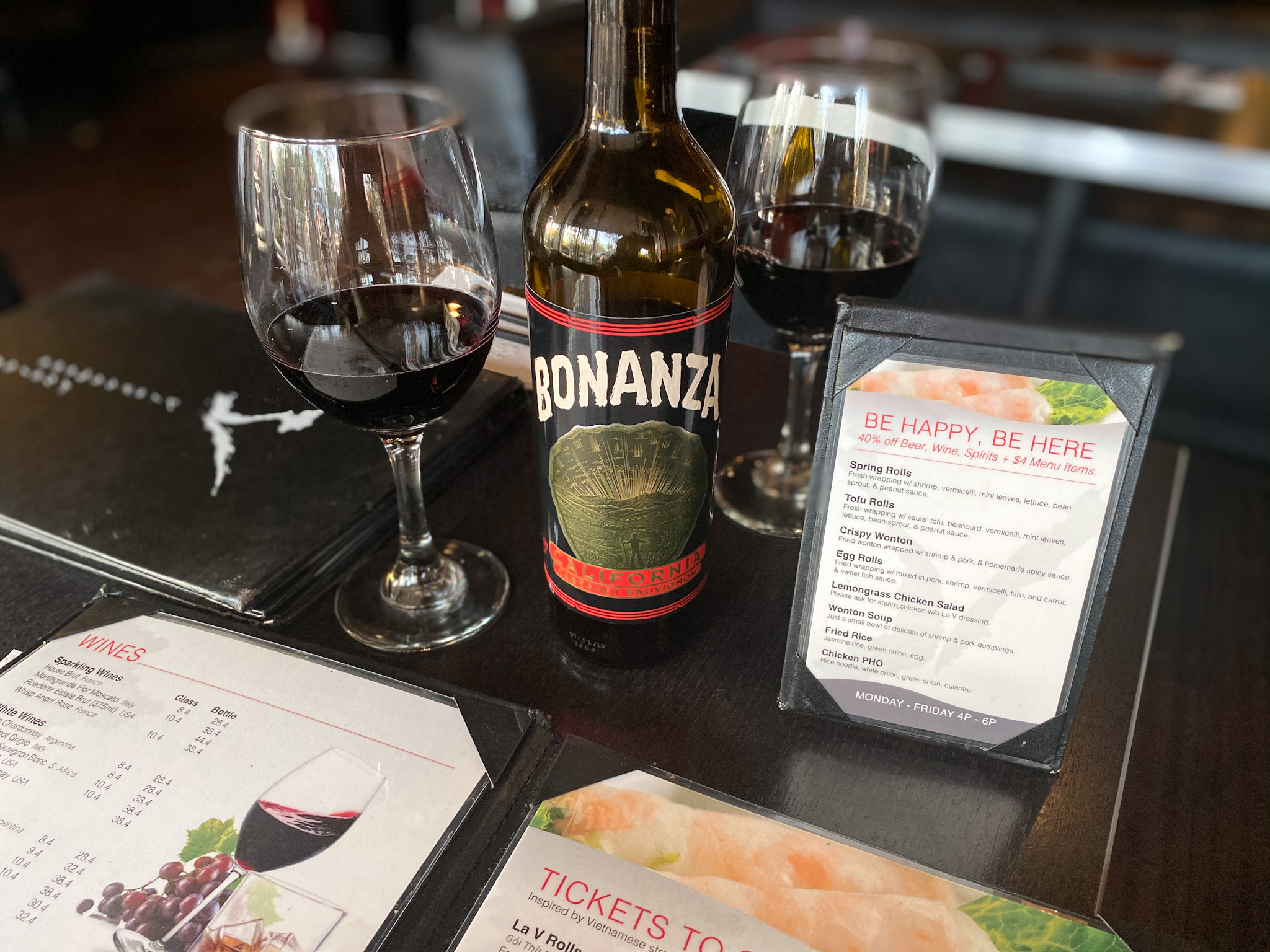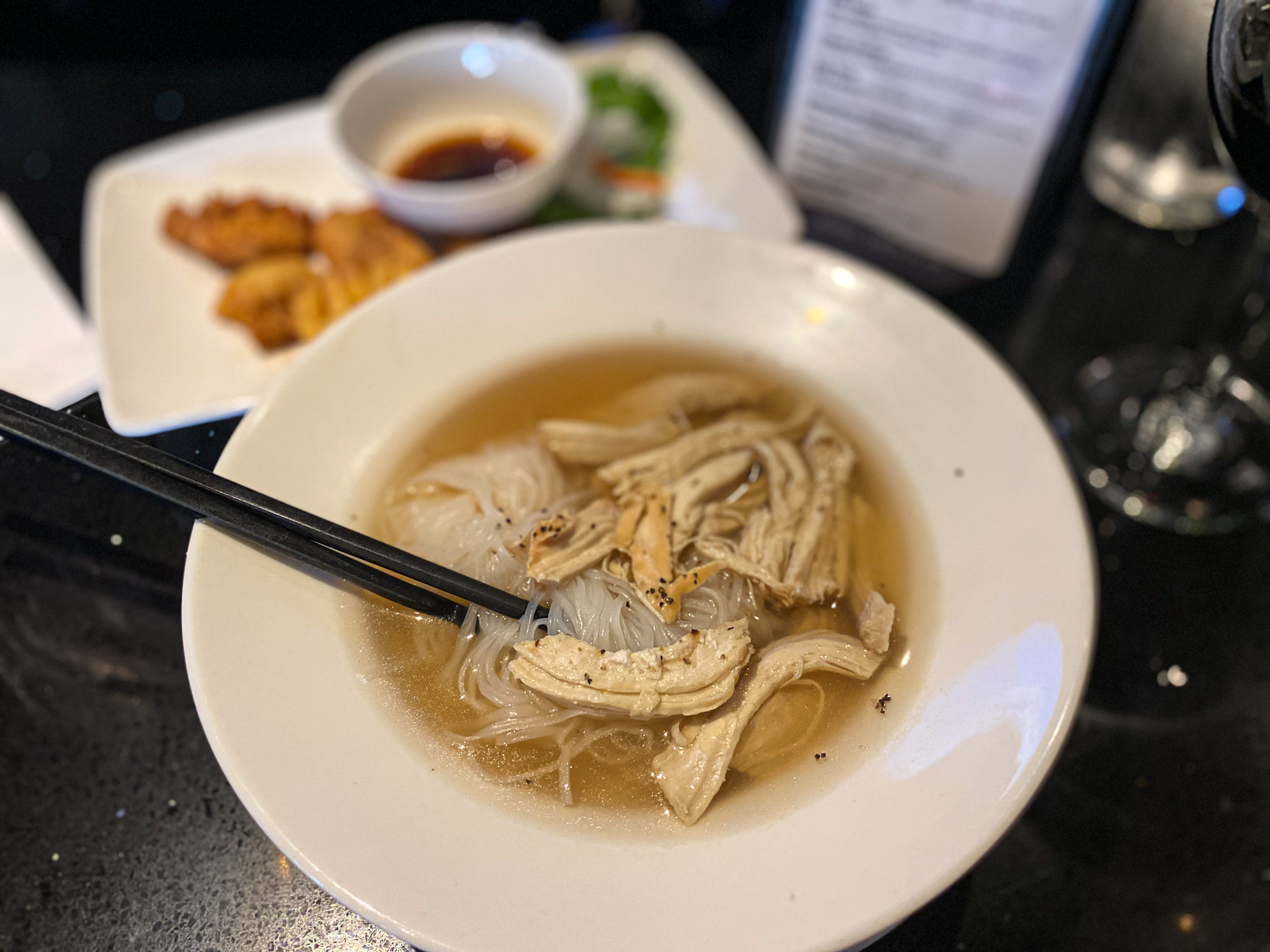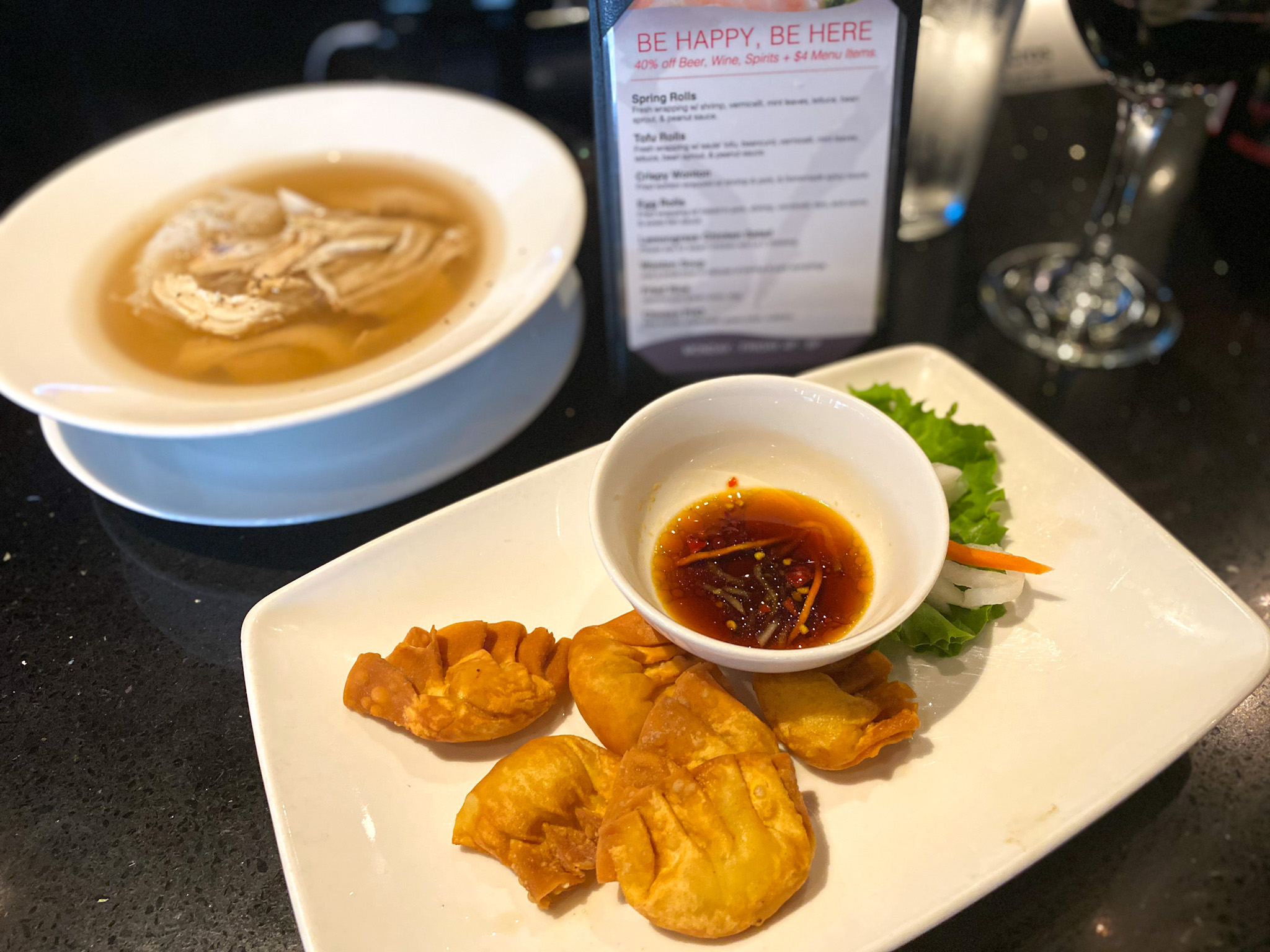 Moving on down the menu to the sandwich section. When I asked General Manager, Jason Saal, what we absolutely had to have from the menu, without hesitation, he said that the Lemongrass Beef sandwich with a fried egg was a must. He stated that that dish is easily a favorite, even amongst the staff at La V too. This delightful bánh mì is comprised of lemongrass beef, pickled carrots and daikon, cucumber, fresh jalapeño, cilantro and a secret smear, all packed in a French baguette. For an additional fee, you can add avocado, egg, double protein and steamed veggies. This sandwich, to be blunt, is extraordinarily delicious and one of our favorites from the menu. It contains all of the characteristics of a sandwich, with added fresh, vibrant flavors (presumably from the lemongrass) that propel it to the next level. This is a must-order, and I can't recommend the fried egg addition enough!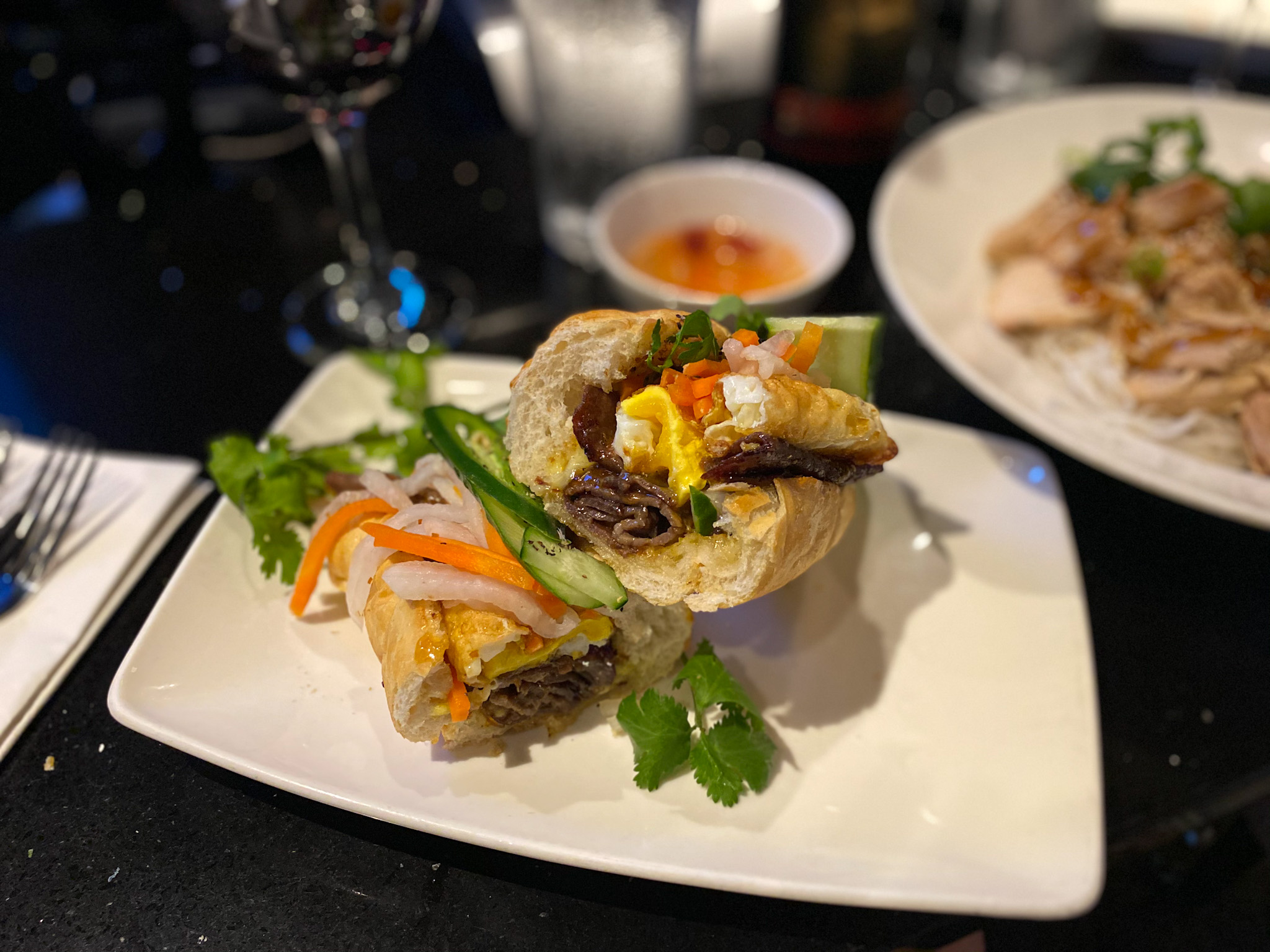 Another recommendation from the staff at La V was one of their vermicelli bowls. These rice noodle bowls are served with fresh mint leaves, bean sprouts, spring mix lettuce, cucumber, pickled carrots, daikon and sweet fish sauce. There are ten different bowls to choose from and two of them can be made gluten-free, by request. We agreed on the Sesame Chicken (which is one of the two bowls that can be made GF). The bowl was piled high with toppings and the portion was plenty to share between two people. This dish was bursting with bright flavors from the fresh ingredients and easily satisfied our hunger and cravings, minus the guilt.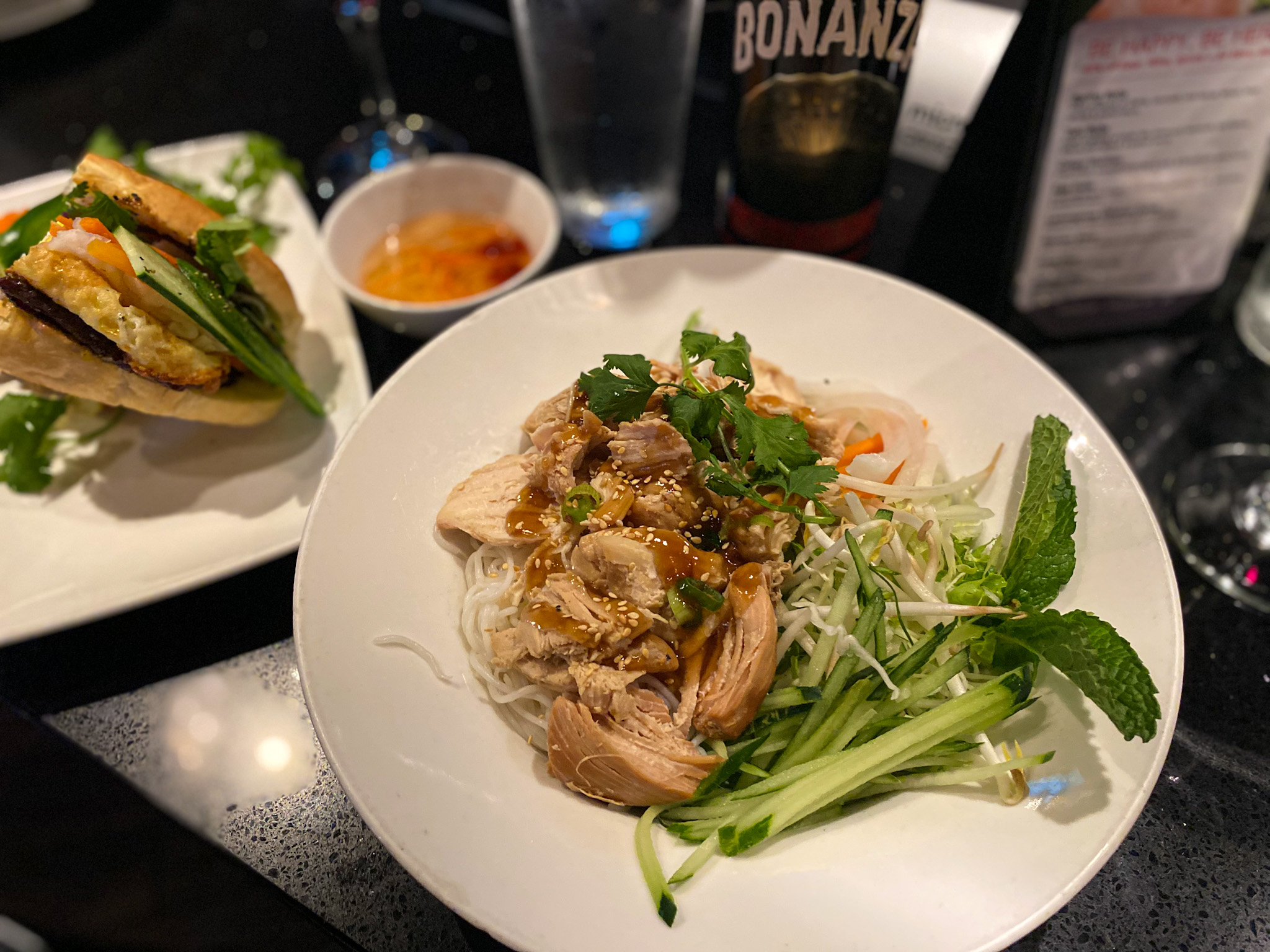 When I first peered at La V's menu a while back, the first thing that jumped out at me was the Bun Cha under the La V Vietnamese Fusion section, solely because I saw Anthony Bourdain listed beside it. I'm a major Anthony Bourdain fan and we simply couldn't leave La V without ordering it. For those of you familiar with Anthony's show, Parts Unknown, this is the dish that he and Barack Obama enjoy together. This heavenly, traditional Vietnamese dish consists of pork belly and pork patty, served in a broth dipping sauce along with vermicelli noodles and fresh herbs. This luscious bowl of savory goodness is a cure-all for everything and I'd look for any excuse to ingest it.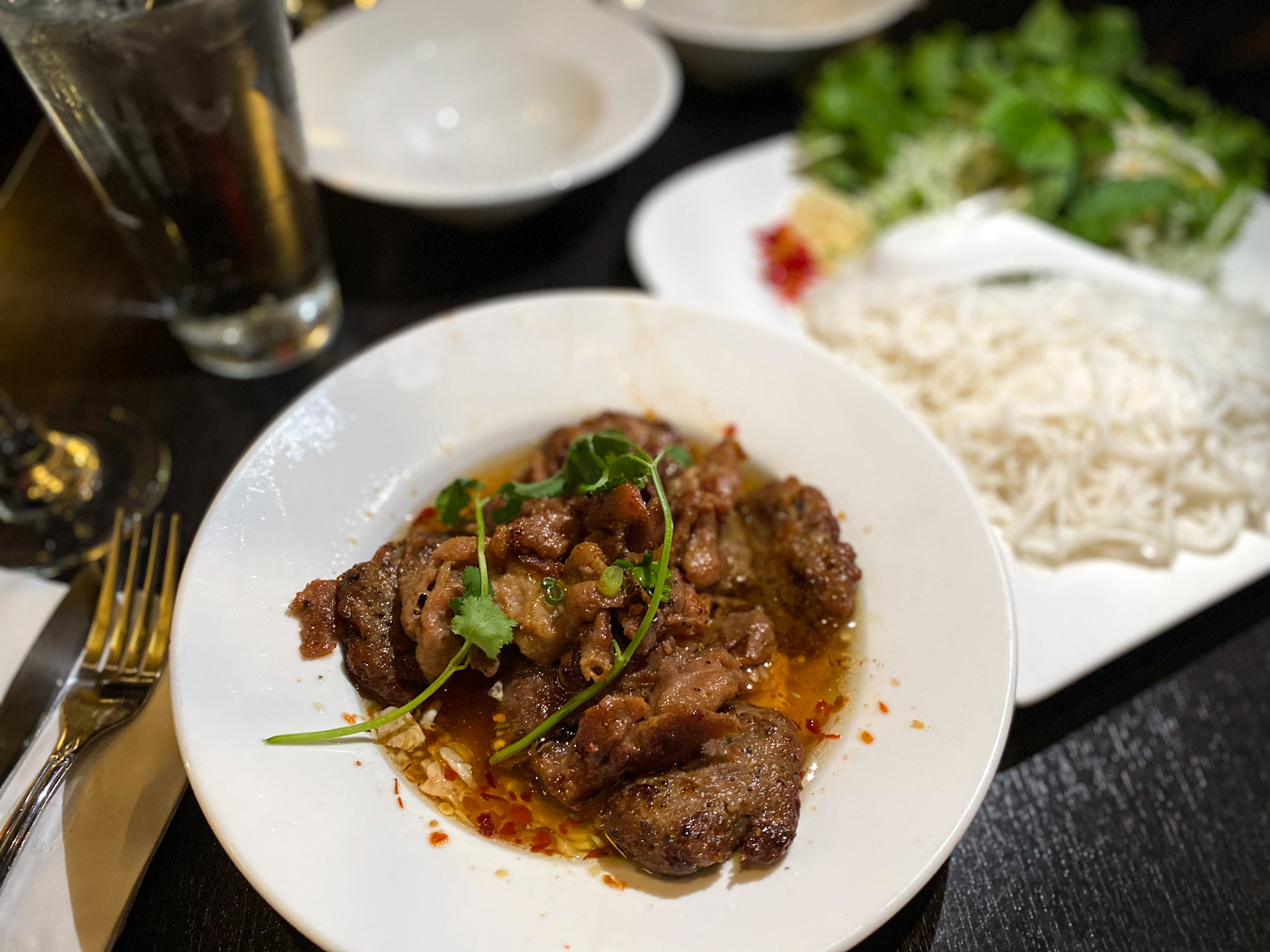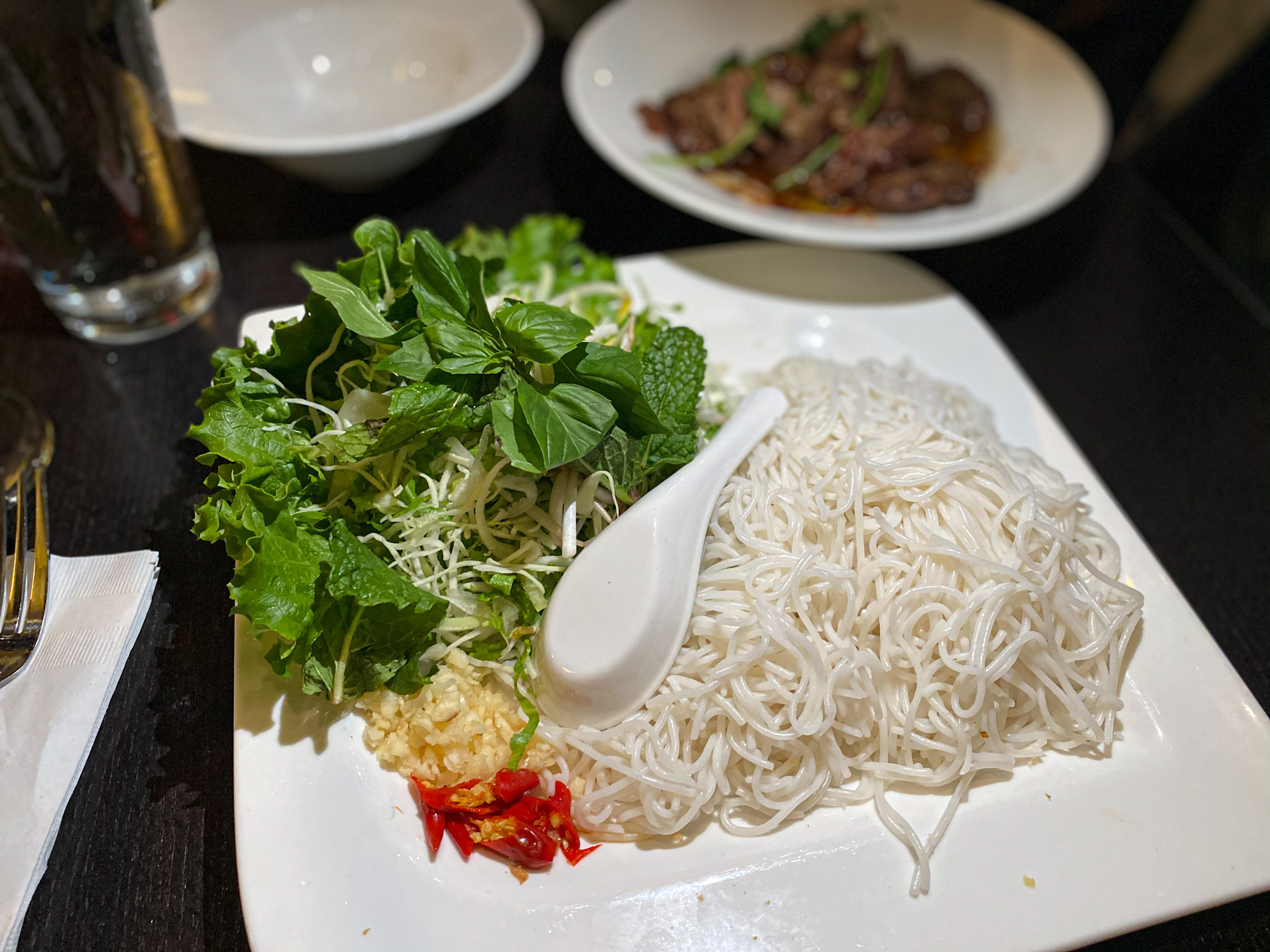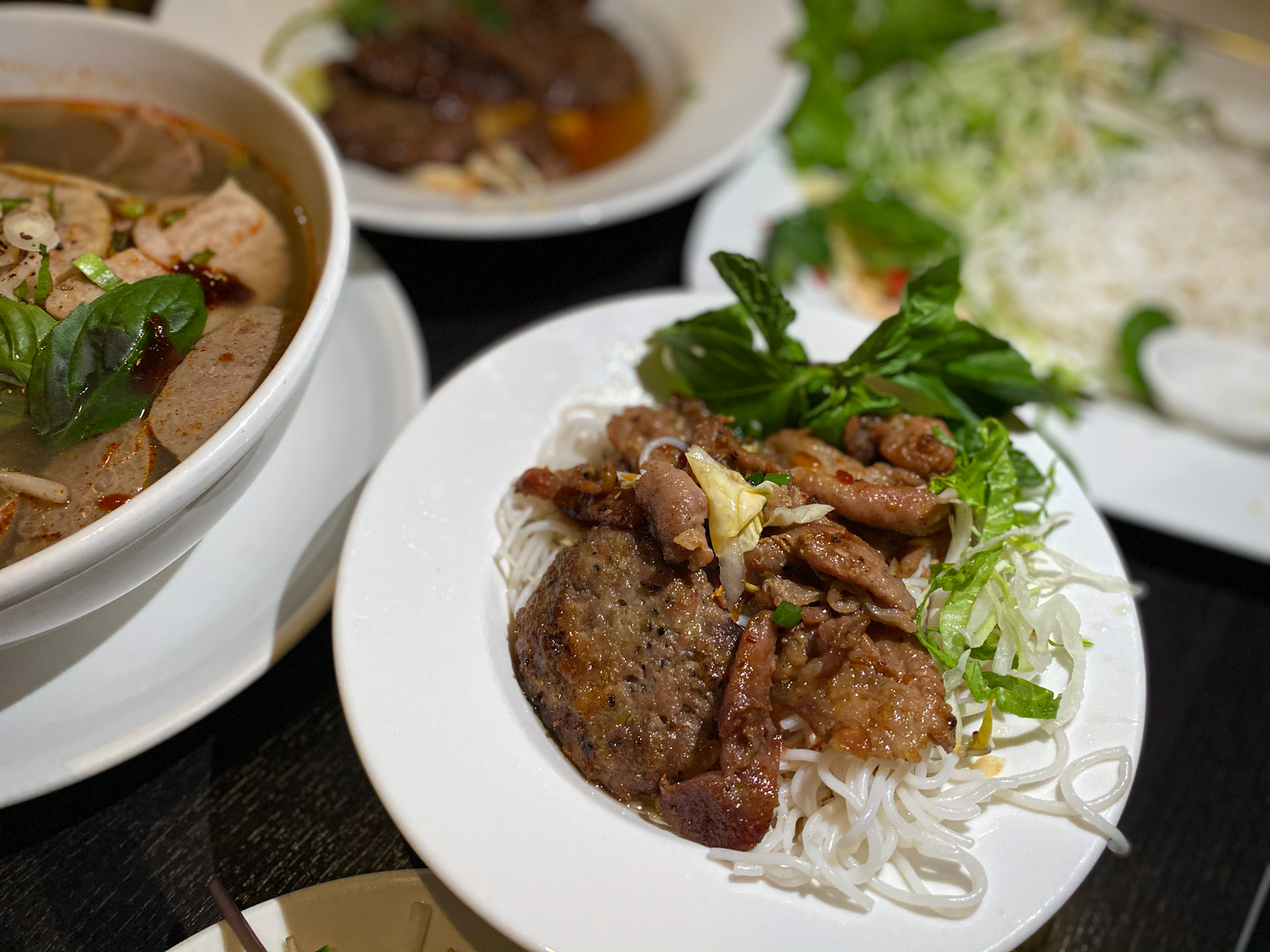 One of the last stops on our La V menu tour took us to the Beef Noodle Soup (Pho) section, aka the Hangover Cure, 12 hour stewed beef broth served with rice noodles and topped with white onion, green onion and culantro leaves. Basil, bean sprouts, jalapeño and lime are also served with each bowl. We elected for the "Hai Noi" Spicy, Sweet and Sour Sate' with thin slices of steak, meatballs and pork patty. This soup made my taste buds sing and warmed every inch of my soul. It's composed of a flavorful fusion of hearty meats, crisp herbs and vegetables and a broth that was to die for. It was marvelous until the last drop.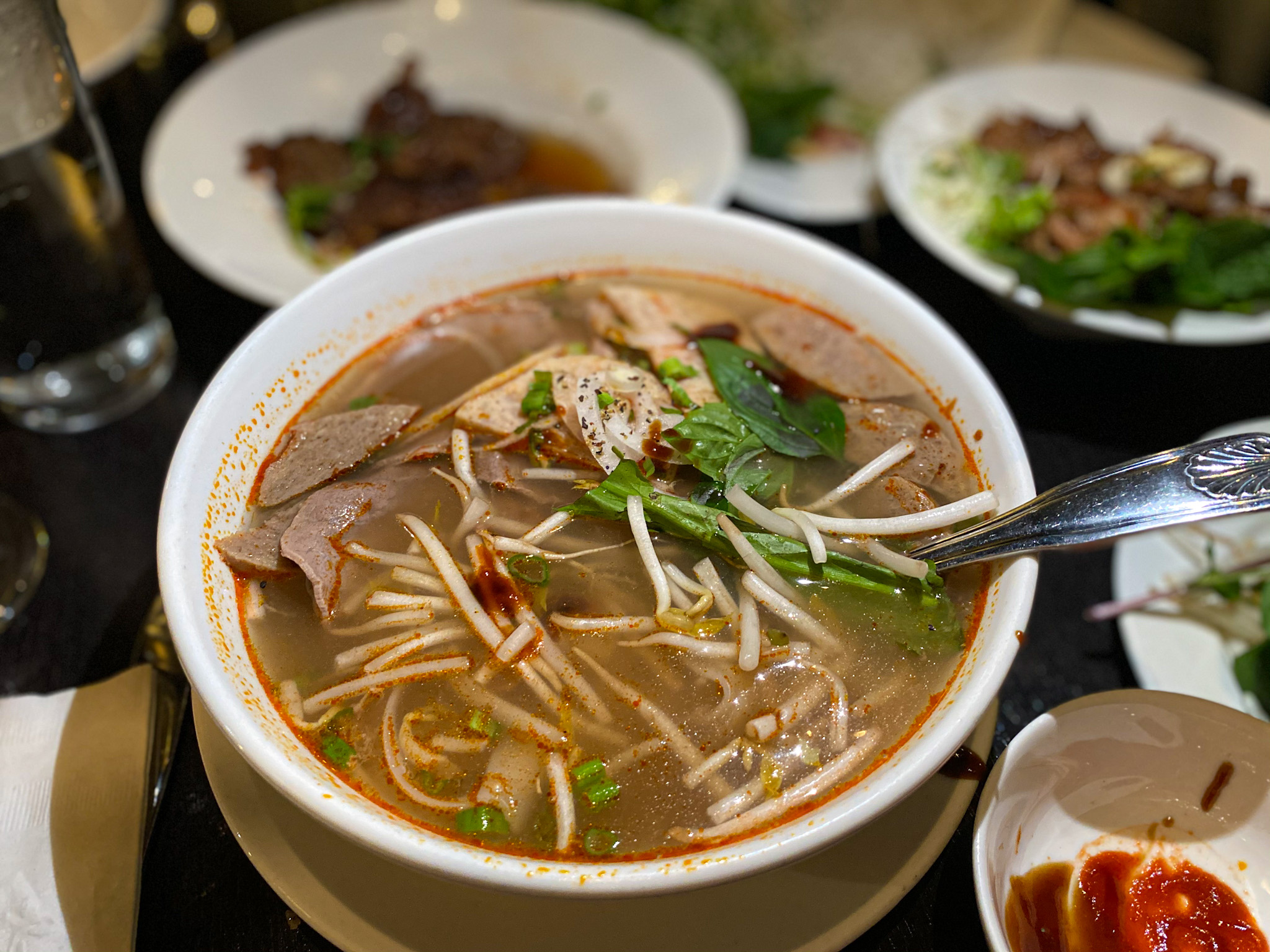 It wouldn't have been acceptable for us to leave La V without trying one of their famed boba teas. Boba tea is a smoothie with tapioca pearls that are made mostly from tapioca starch that come from the potato cassava plant. La V has numerous flavor options (approximately 40) for their boba teas, which serve as an alluring dessert alternative. When we saw Cookies and Cream on the list of flavors, we didn't think twice, and we obviously ordered it. Holy YUM. It's almost like a milkshake…without the guilt.
We saw one of these teas head out the door with almost every to-go order while we dined at La V (at least 6-8 orders).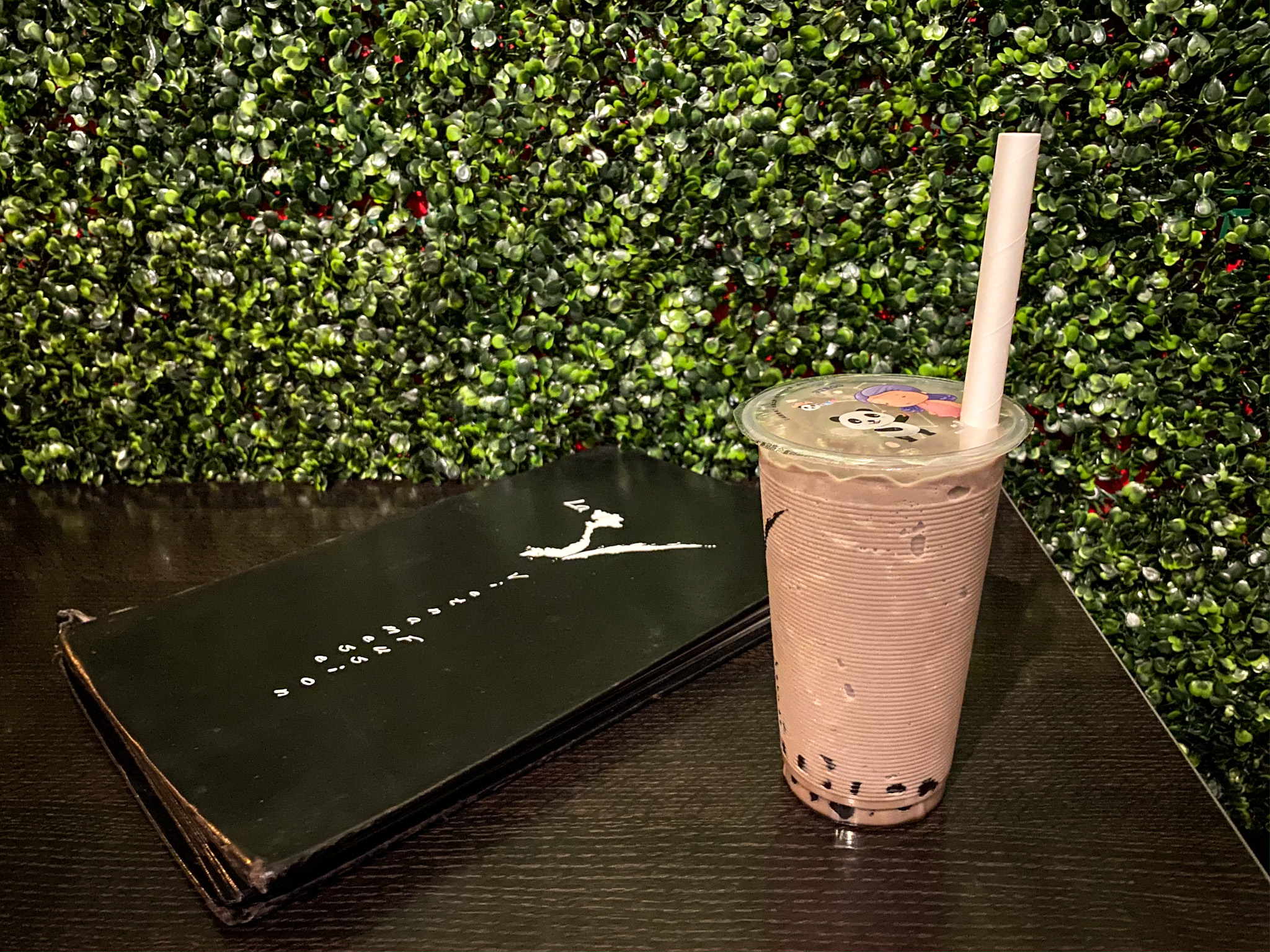 Bottom line, if you're looking for exquisite, diversified, health-conscious Vietnamese eats to be enjoyed in a chic, laid-back setting – look no further than La V. Their expansive menu is certain to have something for everyone in your party, and their happy hour is enough to put a smile on anyone's face.
Vietnamese-fusion fare & numerous bubble teas are served in a modern space with sidewalk seats.
DISCLAIMER: Kevin, Lori, Abby, Haley, & Lindsey do not dine anonymously (this would be impossible) and we sometimes get free food (though never expected). However, we dine with the locals and we support our own. You will always get honesty in a respectful manner. We do not include any large national or regional chains in our ratings and reviews. We focus on independent locally owned eateries exclusively.

PLEASE NOTE: Reviews reflect a certain moment in time. Some restaurants stay extremely consistent over many years, and some change for the better or worse. Some things that may change are: chefs, recipes, food suppliers, ingredients, philosophies, ownership, etc. We always hope that you have the same good, or great experience we had.
More Foodies News, Reviews & Recipes