St. Pete's Downtown Diner 2nd & Second Revisited
St. Pete's Downtown Diner 2nd & Second Revisited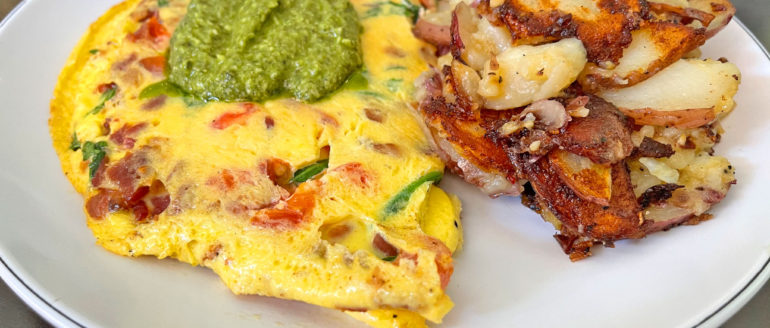 A Restaurant Review from a Native of the Diner Capital of the World
Bon Appétit Magazine declared New Jersey "The Diner Capital of the World". Well, that's where I'm from. Exit 9 on the Turnpike, or exit 129 on the Parkway. (Yeah, I lived where the two opposite direction tollways intersected.)
Step aside. I'll handle this review.
2nd & Second opened at midnight on December 11, 2017 as downtown St. Pete's only diner, and only 24/7 eatery, and with a full liquor bar. Nice!
Well, the damn pandemic that we're still dealing with changed the 24 hour part of it, but there is a silver lining. Being able to close for the slowest part of the day allowed 2nd & Second to regroup, and make some changes. They were always good, but now they are better than ever, and they are still doing early morning, and on Friday and Saturday, late night to early morning. (The current hours are in the meta data at the end of this review.)
On the menu, our favorites are still there—The Beach Drive Cheesesteak, the BLT+AE, and the Bloody Mary flight, along with some great new and old items I'll get to in a moment.
On the inside, they ditched the long communal table, and added some more booths. Who doesn't love eating in a booth, right? We've done previous write-ups on 2nd & Second, but we hadn't been in awhile, and what usually happens is that I feel like having some delicious comfort food, and Bloody Marys, and it's a convenient walk from my location at 2nd & 2nd South to 2nd & 2nd North.
We went for a delicious breakfast recently, and Lori decided to text Raphael Perrier just to tell him we were there enjoying ourselves. (2nd & Second is owned by the power-trio of Kahwa Coffee owner Raphael Perrier, Chef Jeremy Duclut (Chef at Cassis/ Owner of Wooden Rooster), and Tropez co-owner Renaud Cowez. Cowez jokes about the irony of "three French guys owning an American diner".
Raphael then offered to host us the next week so we could get a fresh taste of the place.
Here's what we had for our recent breakfast.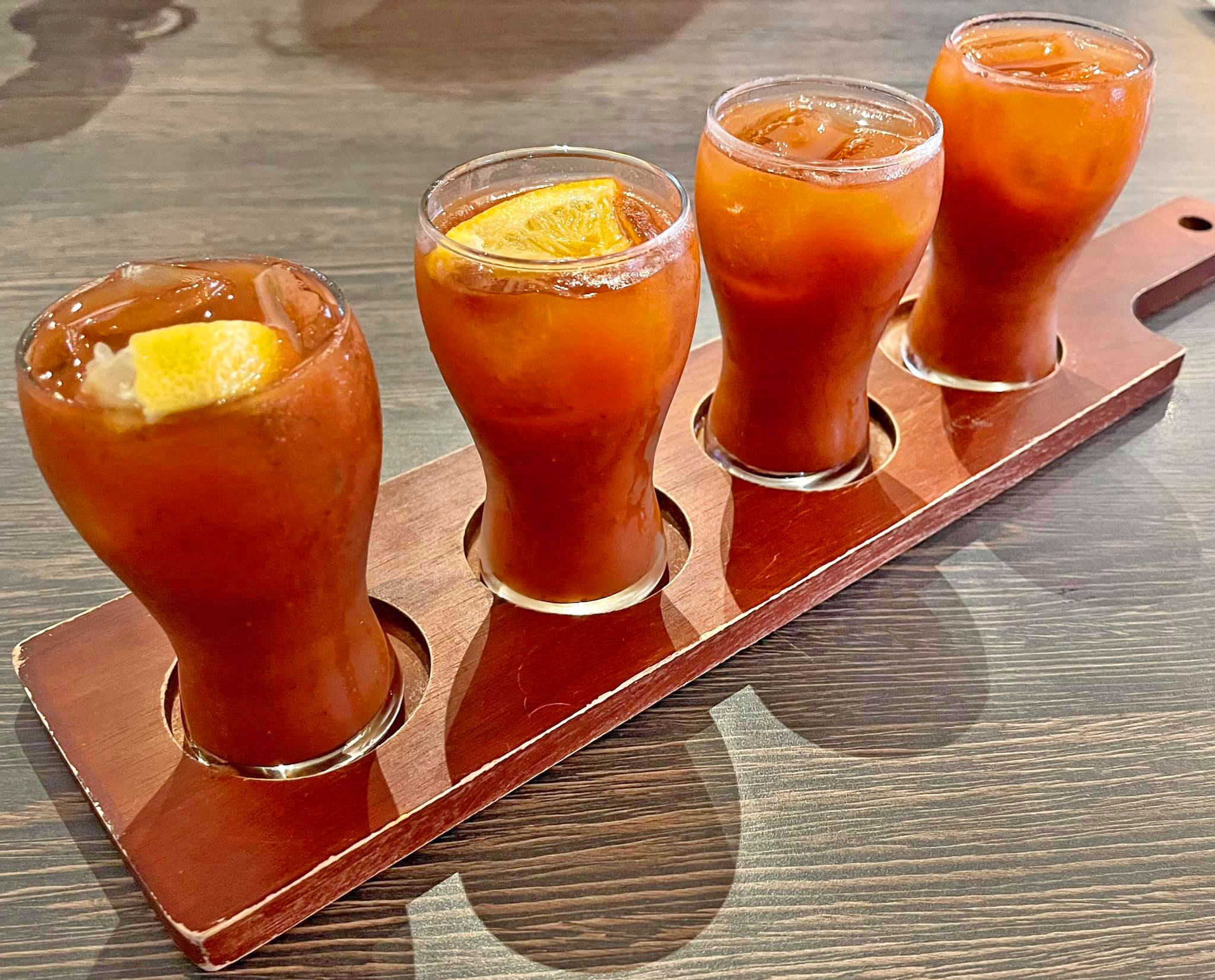 These were all great, and I was surprised at how much I enjoyed the gin bloody.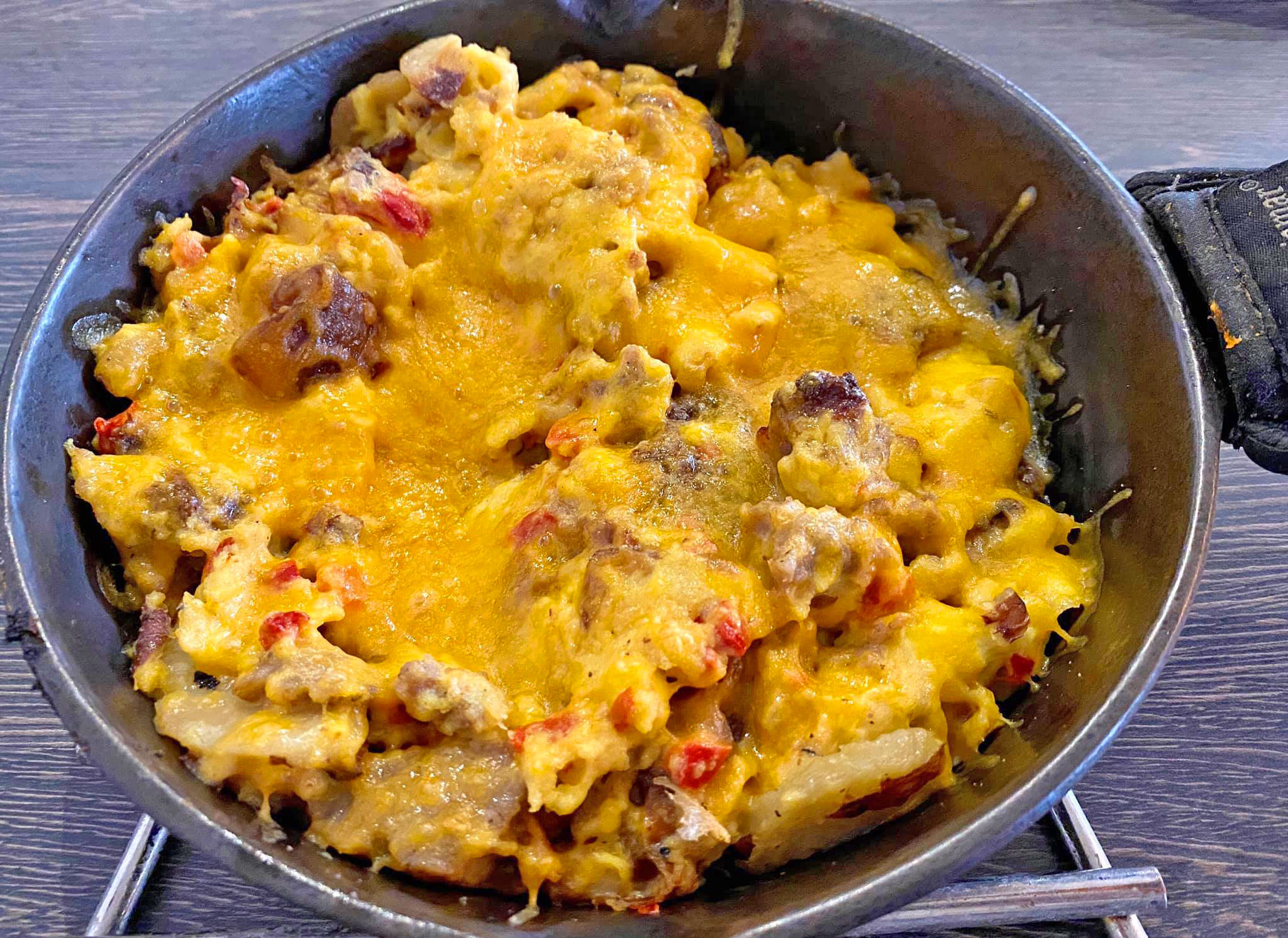 Lori had the Scrambled Egg Skillet with sausage and could only finish half of it. This thing is so huge that when I ate the leftover half – just half – I was stuffed.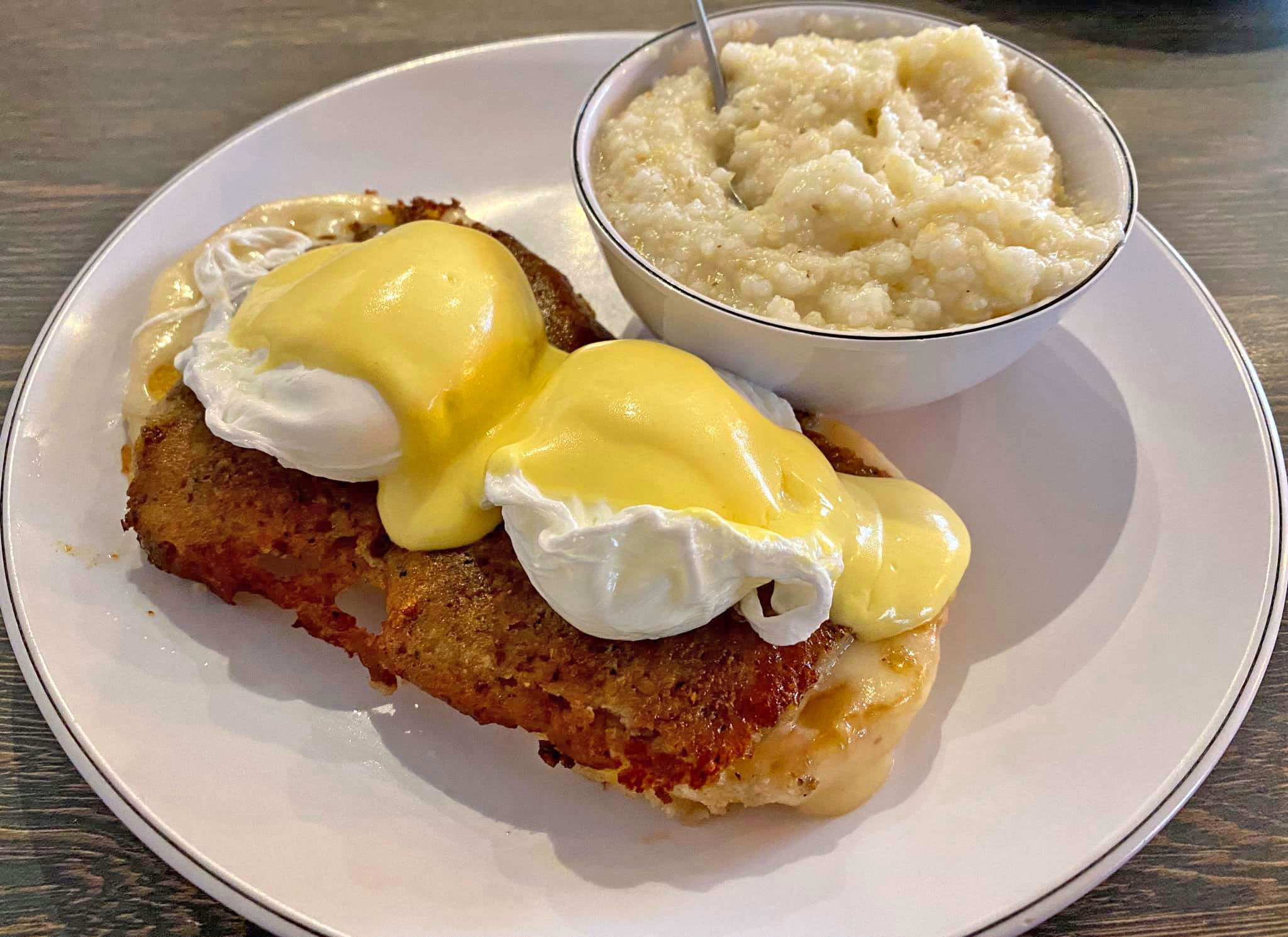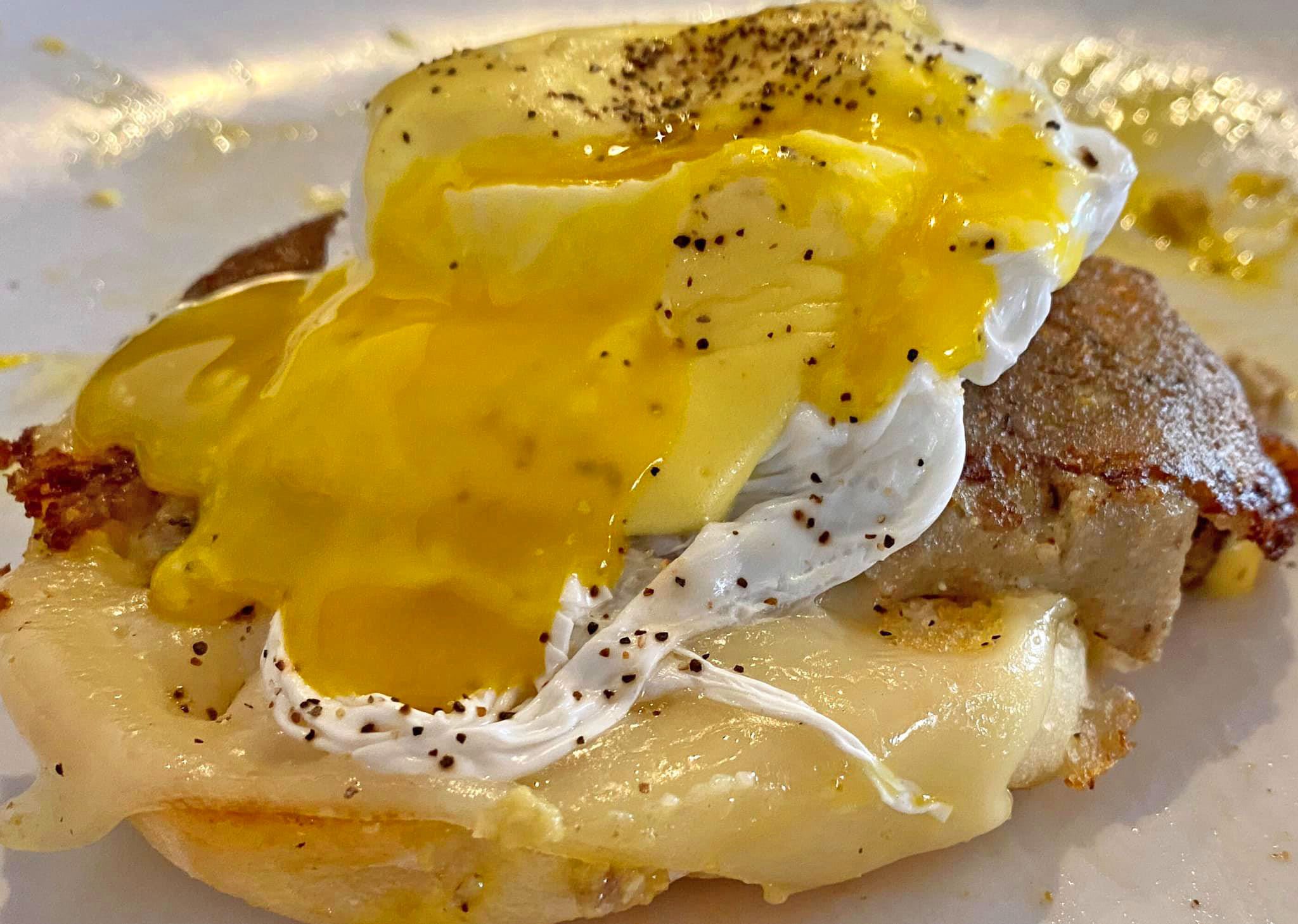 I enjoyed the Dutch Benedict – scrapple, Swiss, hollandaise on an english muffin. This was super delicious and satisfying.
The grits were perfect. Creamy, buttery, perfect consistency (not too watery)… and … drum roll please – you get a spoon … as you should. Many places around here have watery grits that seem like instant, and nobody gives you a spoon. You get a fork only.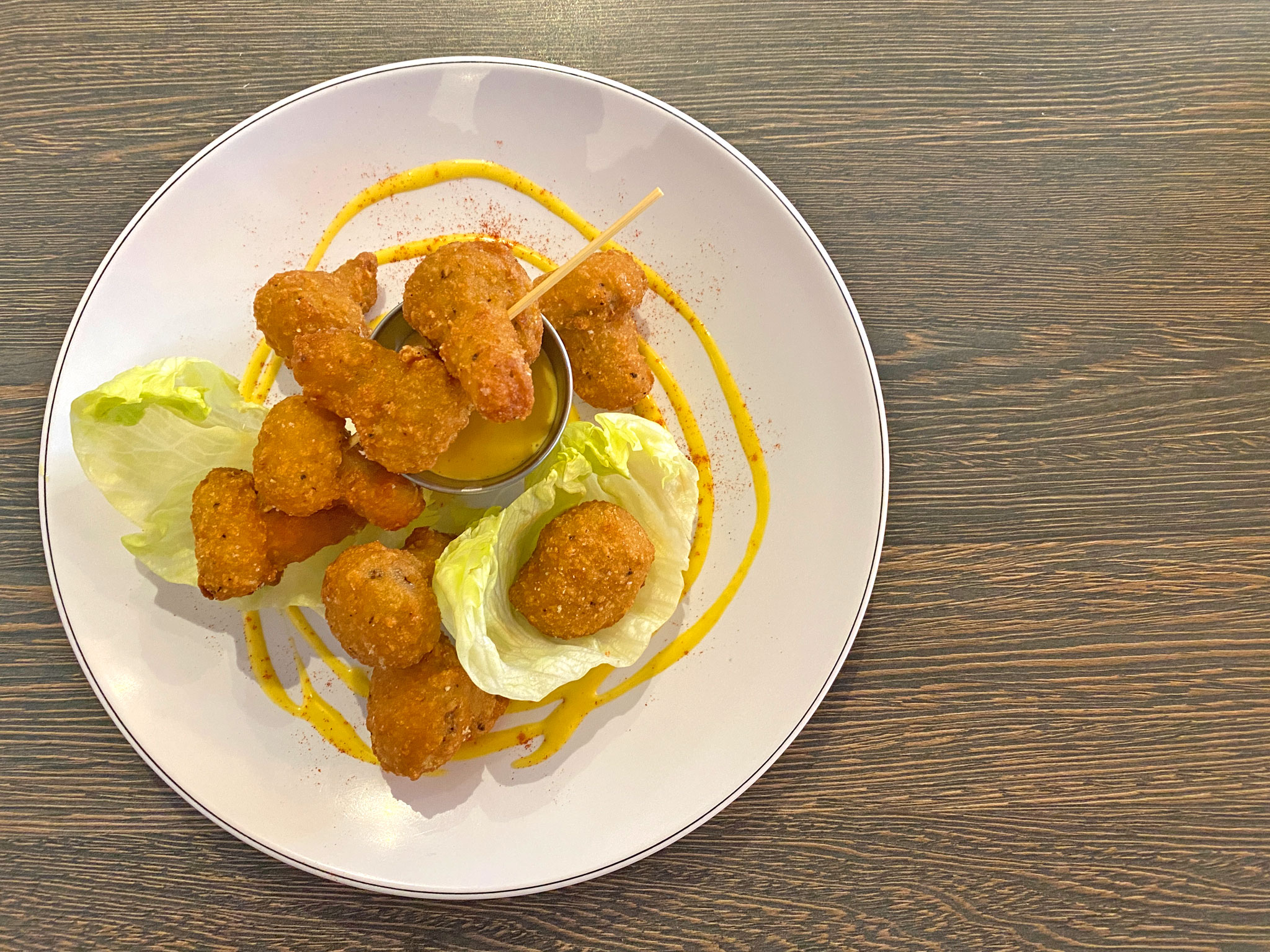 Raphael sent out some fried mushrooms which we enjoyed as well. I actually liked them better without the dipping sauce.
We came back another day and were hosted for the following items.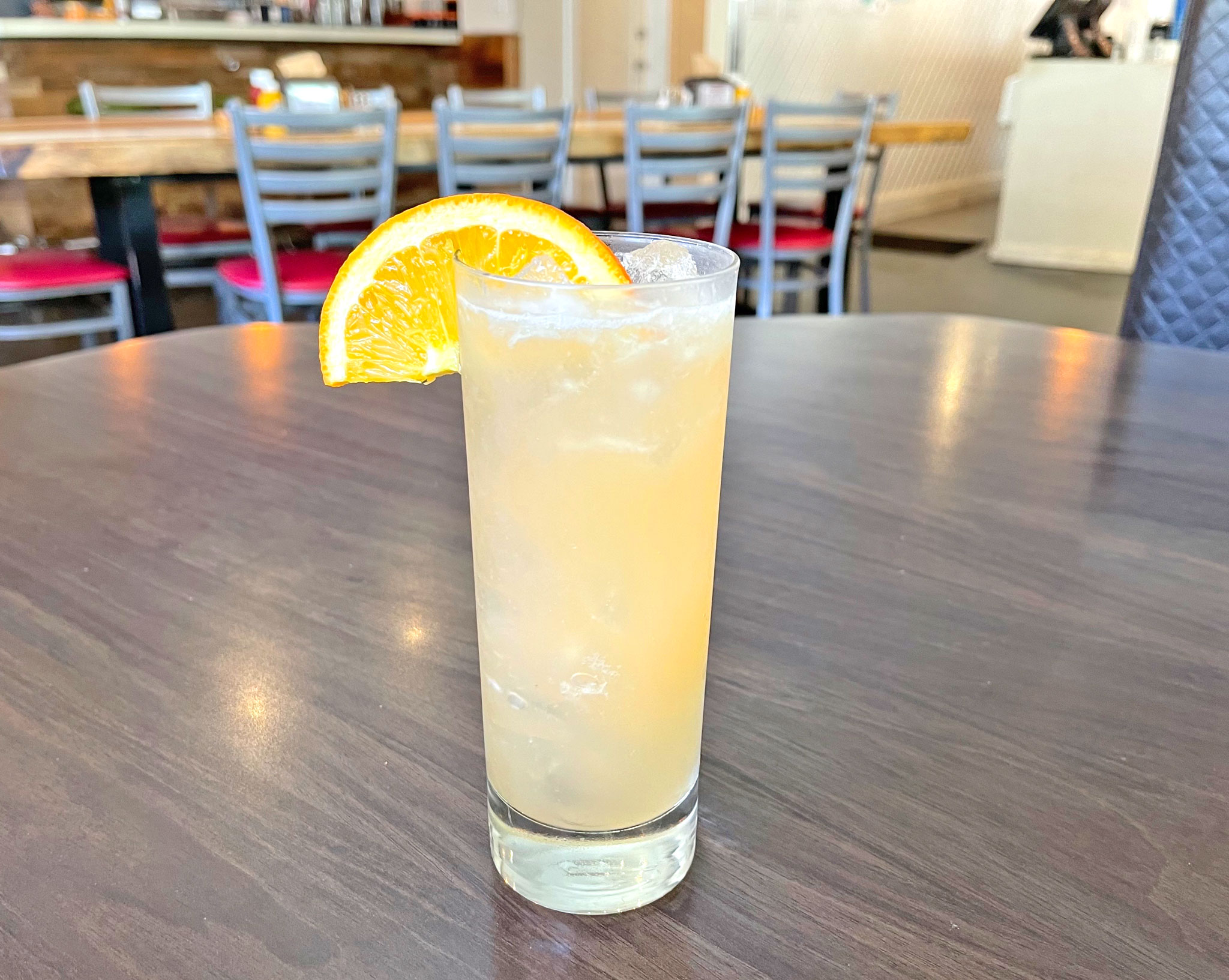 We started with a refreshing drink, Sunshine City Summer – Deep Eddy orange vodka, Deep Eddy lemon vodka, grapefruit juice, pineapple juice, lemon + lime. You would think this would be too sweet, but it was a perfect, refreshingly simple drink.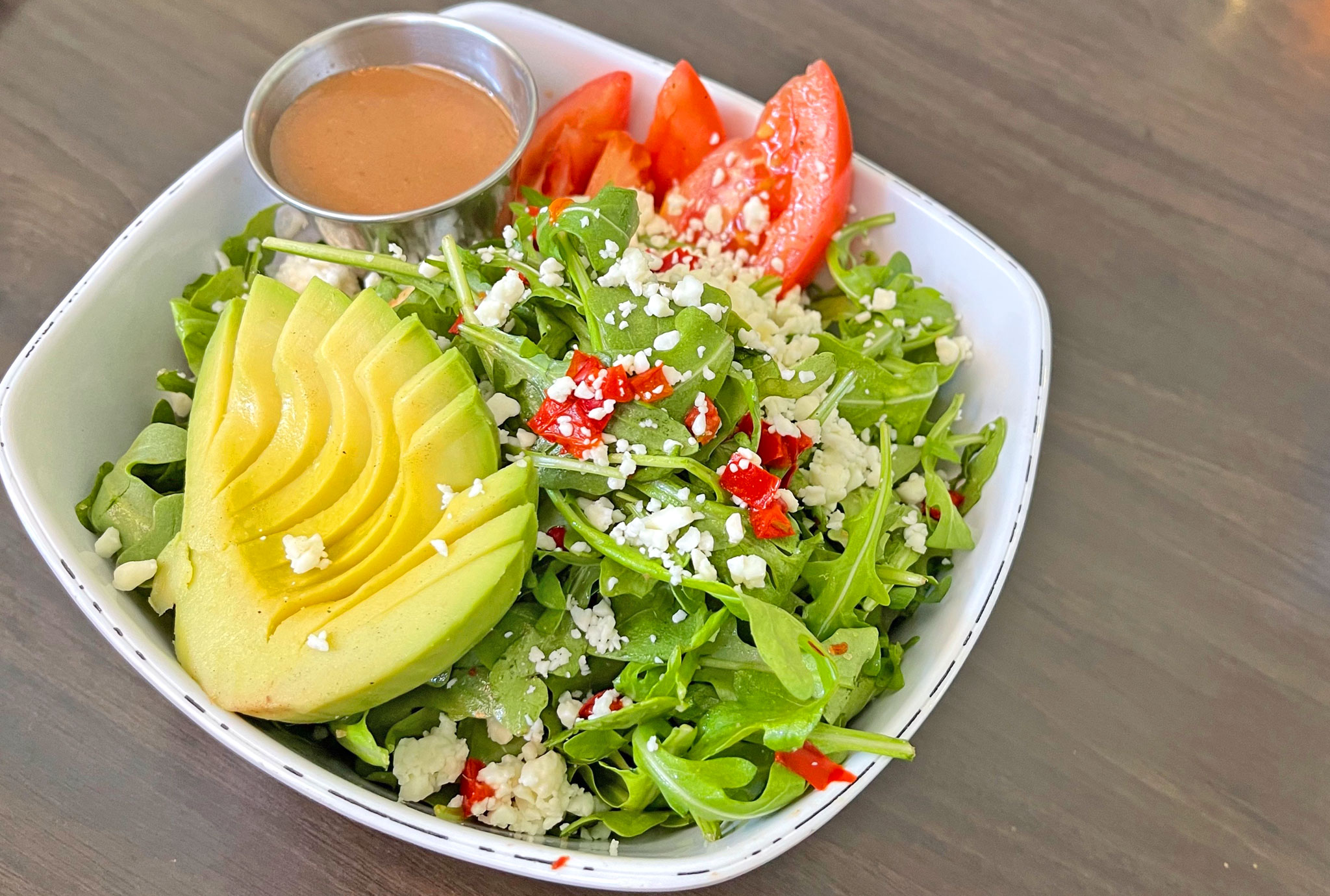 Avocado Panzanella Salad – arugula, diced tomato, roasted rep pepper, herbed croutons, queso fresco, avocado. It was light, bright, and delicious.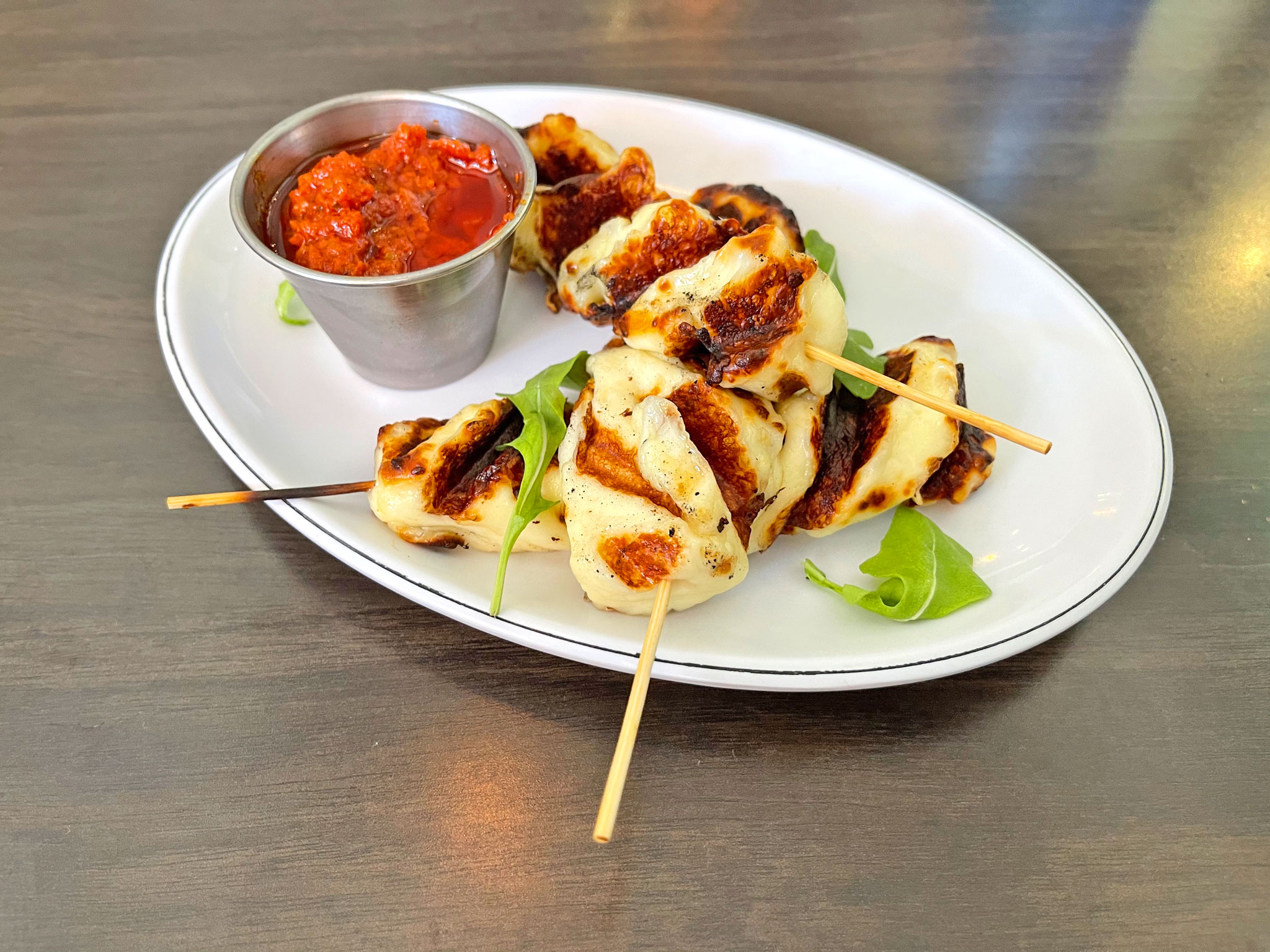 Cheese Sticks – grilled, NOT fried with roasted tomato vinaigrette. These were a delight. The tomato vinaigrette seemed like a really good tomato sauce, though I would have enjoyed it more if it was heated.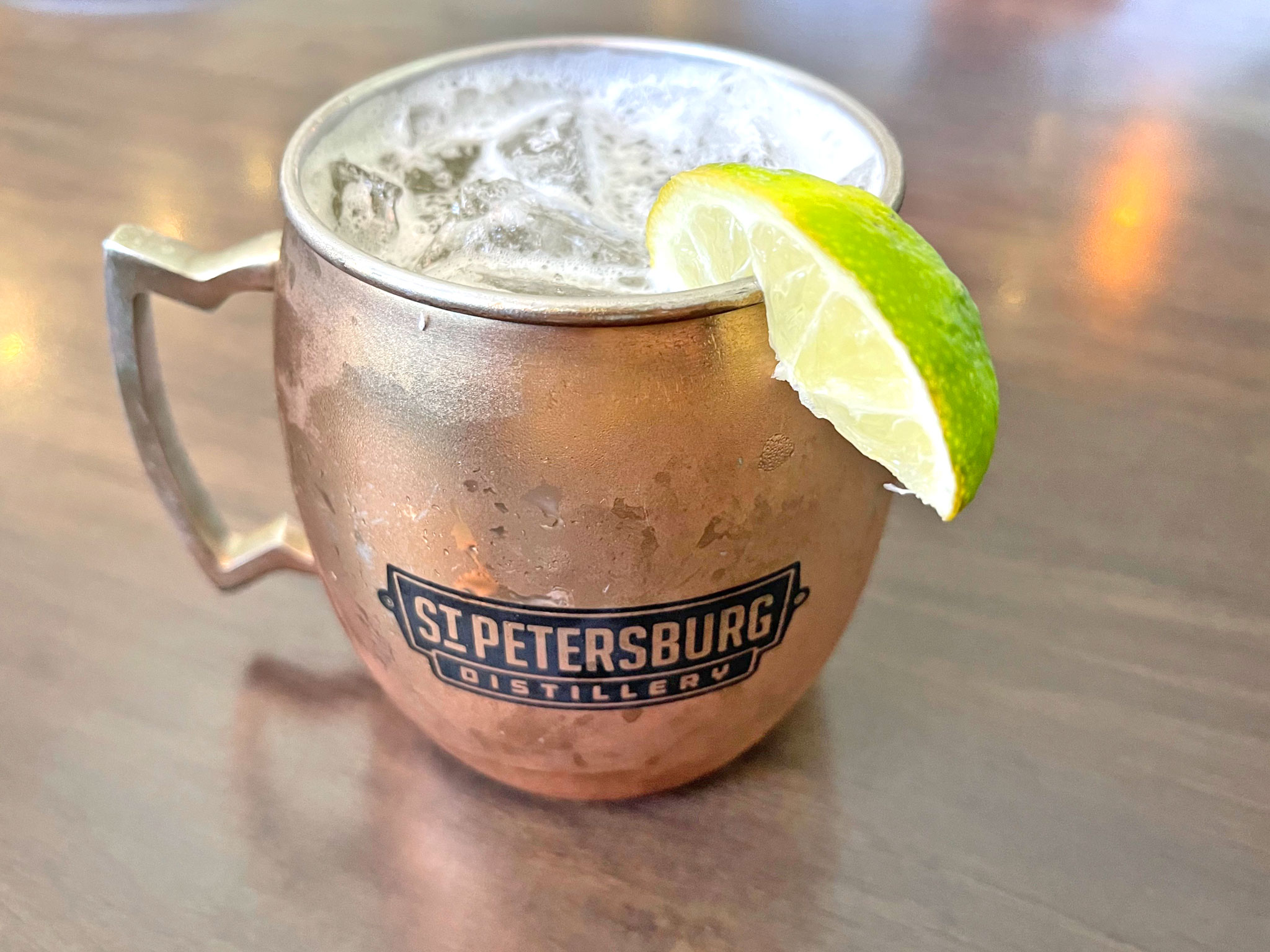 The Mule in Paradise was great – oak + palm spiced rum, oak + palm coconut rum, pineapple juice, lime juice+ ginger beer.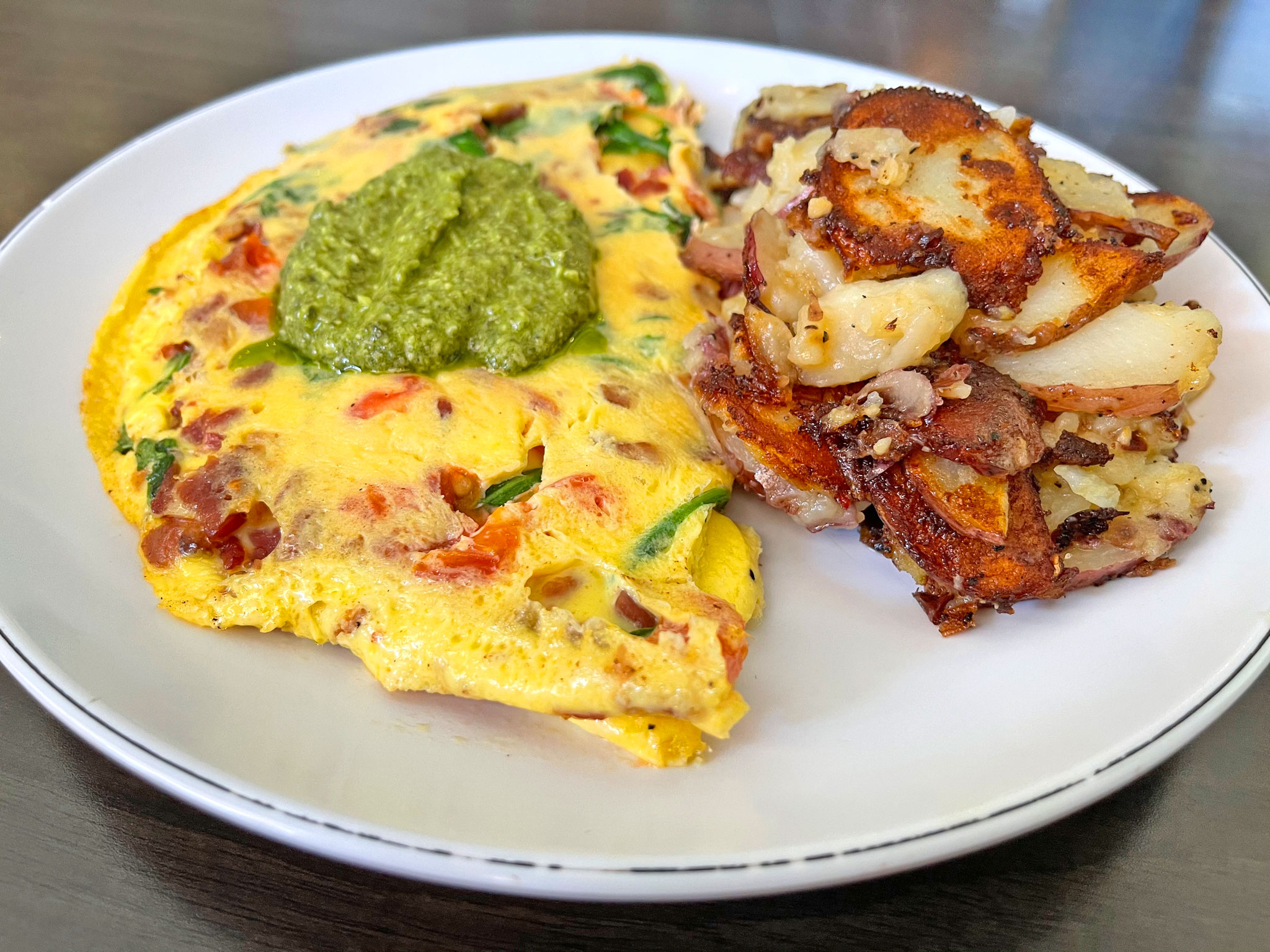 BLT Omelet – bacon, arugula, tomato, basil pistou. This was to die for! And the potatoes were the best ever.
I thought, "Wow! What a great idea to top it with pesto, it's delicious."
It's actually, pistou, or pistou sauce – a Provençal cold sauce made from cloves of garlic, fresh basil, and olive oil. It is somewhat similar to Ligurian pesto sauce, although it lacks pine nuts. Some modern versions of the recipe include grated parmesan, pecorino, or similar hard cheeses – Wikipedia
Another interesting side note: I always spell it omelette, which is the French spelling of the word. It is also the preferred spelling in British English, while omelet is the usual American spelling. The French guys used the American spelling on their American diner menu.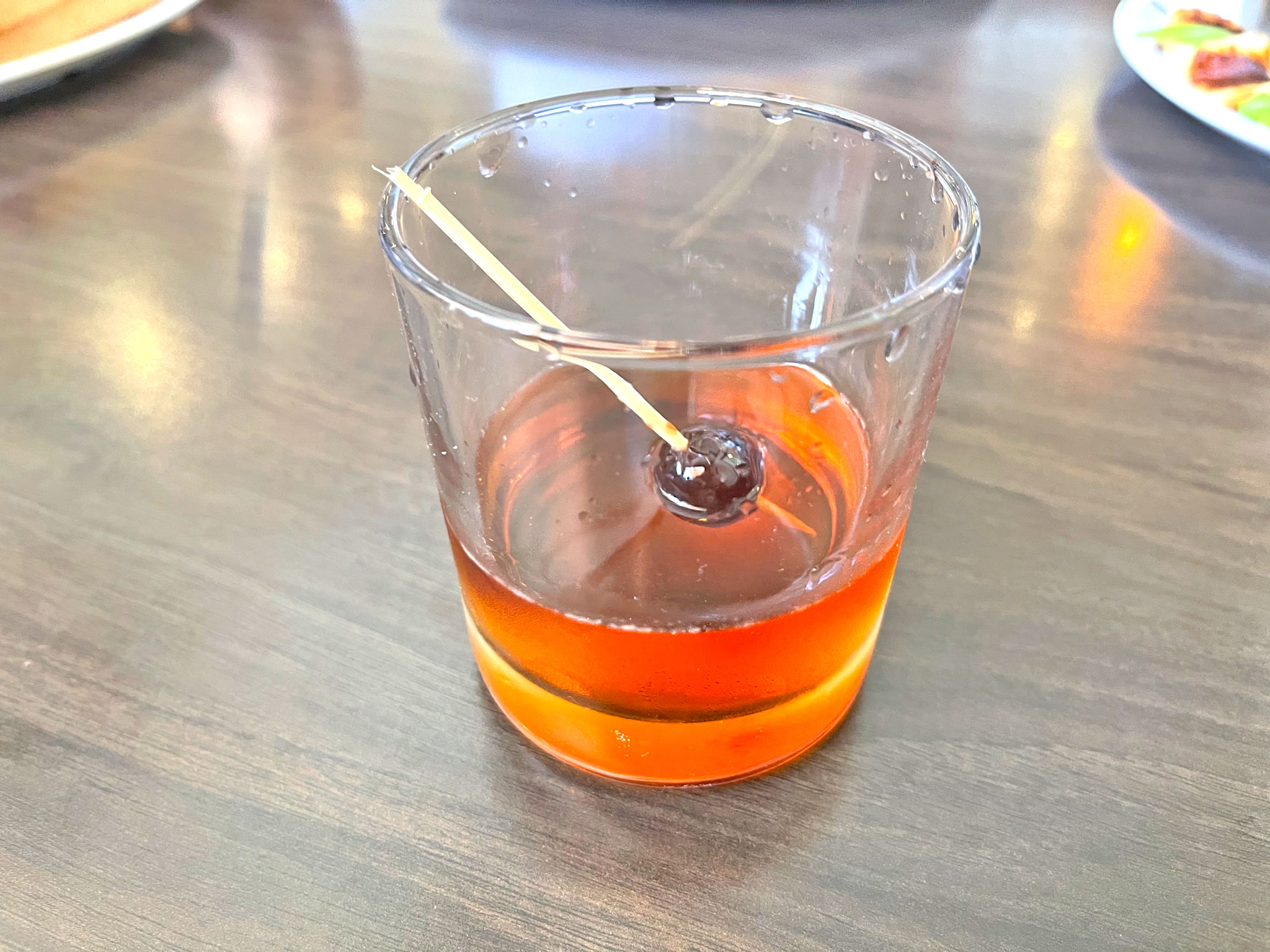 The Manhattan Project. Yes, please! Maker's Mark Bourbon, sweet vermouth, blackberry brandy, Aztec chocolate bitters + a Filthy black cherry.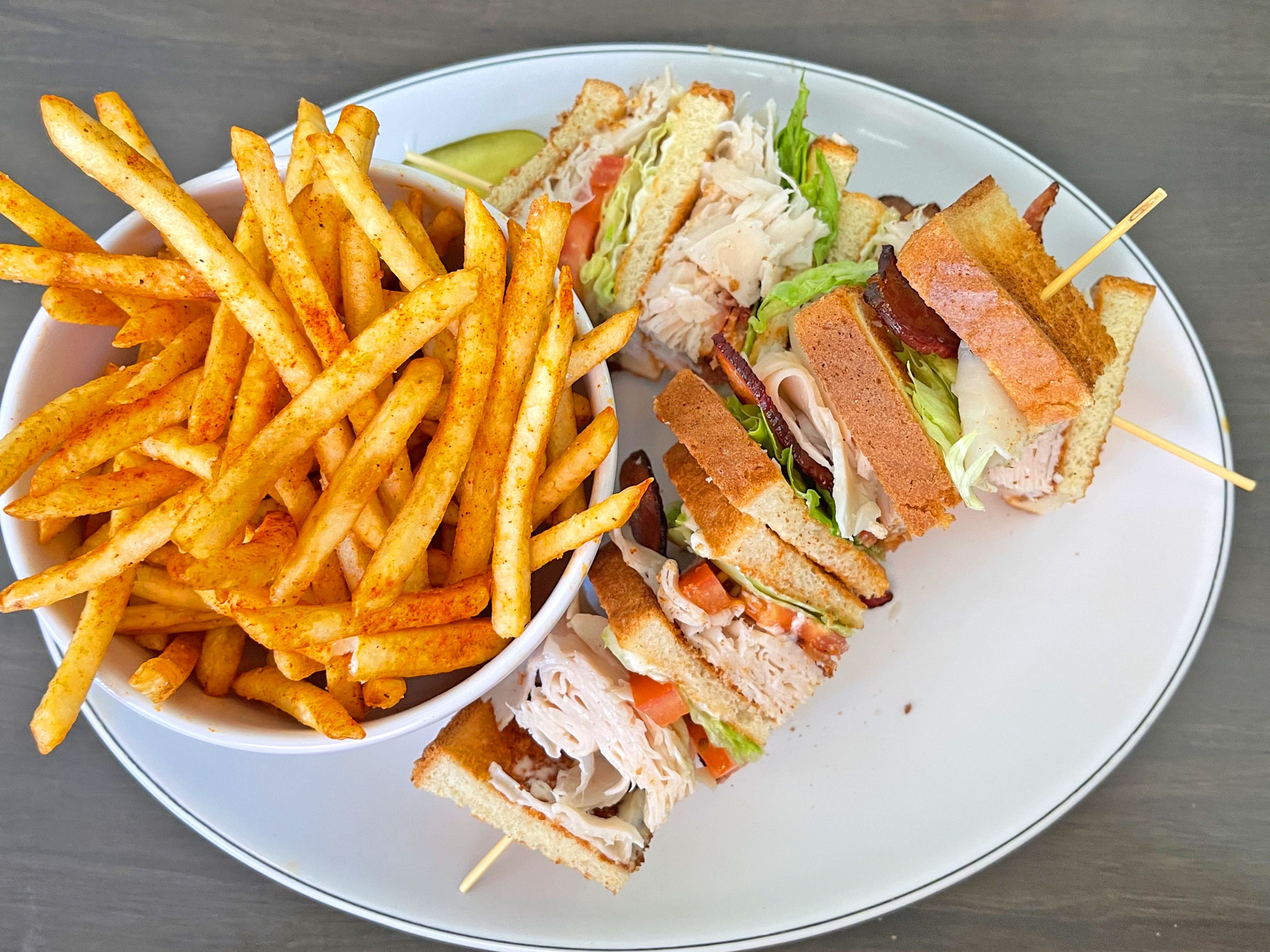 The Turkey Club was so good and authentic that it transported me back to New Jersey – turkey, bacon, iceberg lettuce, tomato, mayo between three slices of toasted white bread. The fries were great – just the way we like them – not too fat, not too thin, crispy and spiced nicely.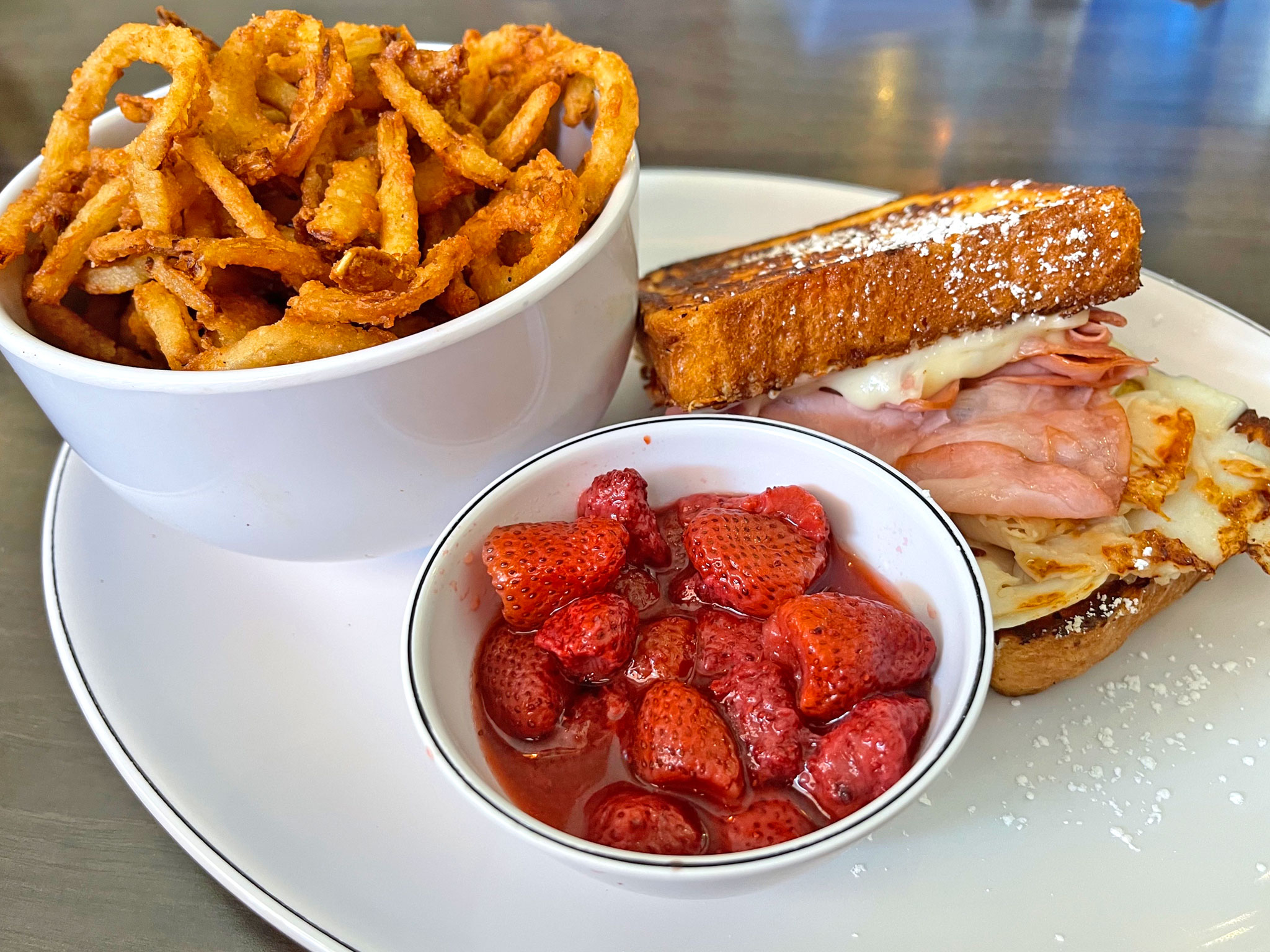 The Montecristo was also a crowd pleaser, and the onion rings were some of the best we have ever had. The sandwich is deli sliced turkey, deli sliced ham, Swiss cheese on two slices of French toast, with strawberry sauce for dipping.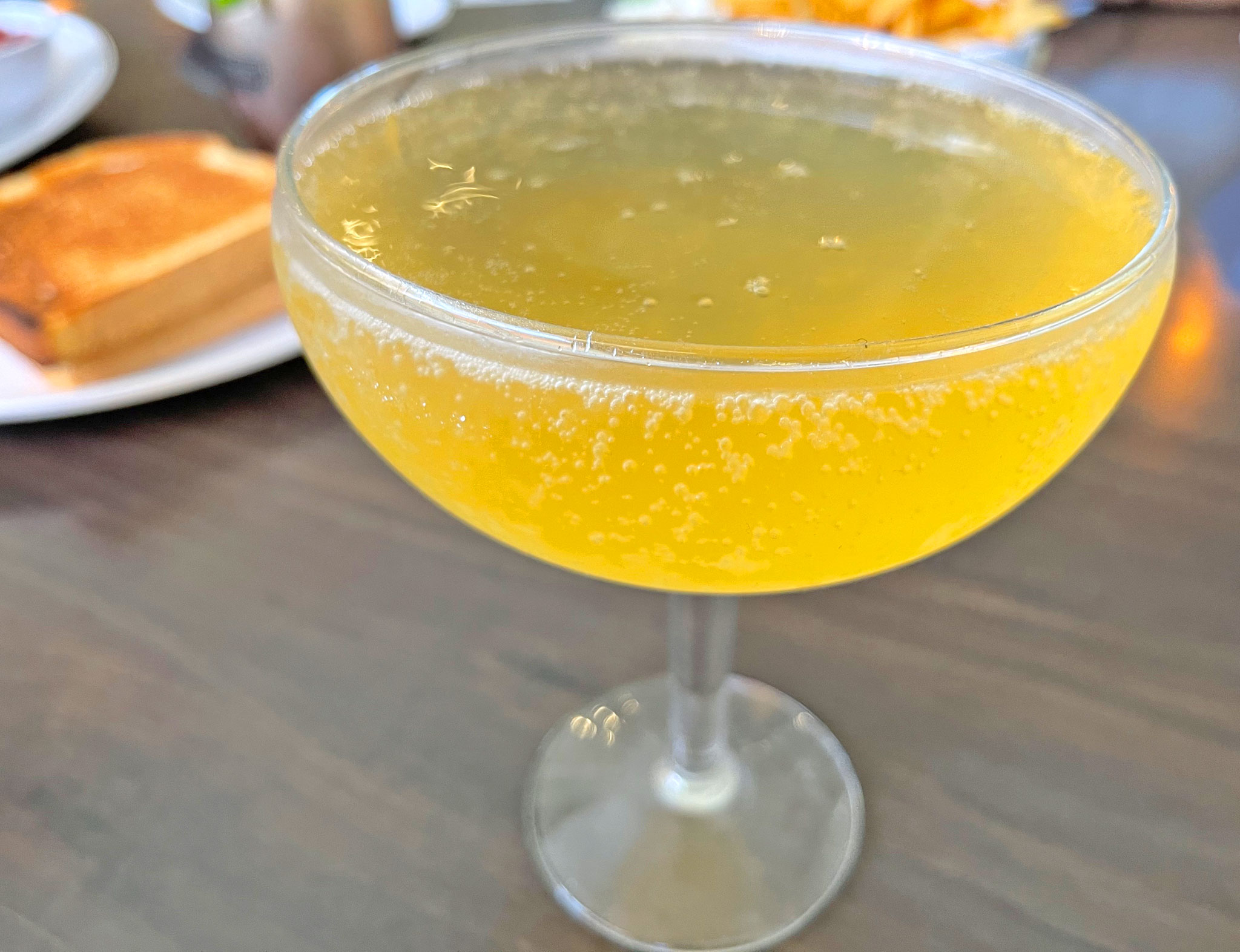 Keep it Kaua'i – Espolon reposado tequila, Blue Chair Bay banana rum, rosemary hibiscus syrup + lime. This one transports you to the beach, or onto a boat. All of the drinks we had were really spectacular.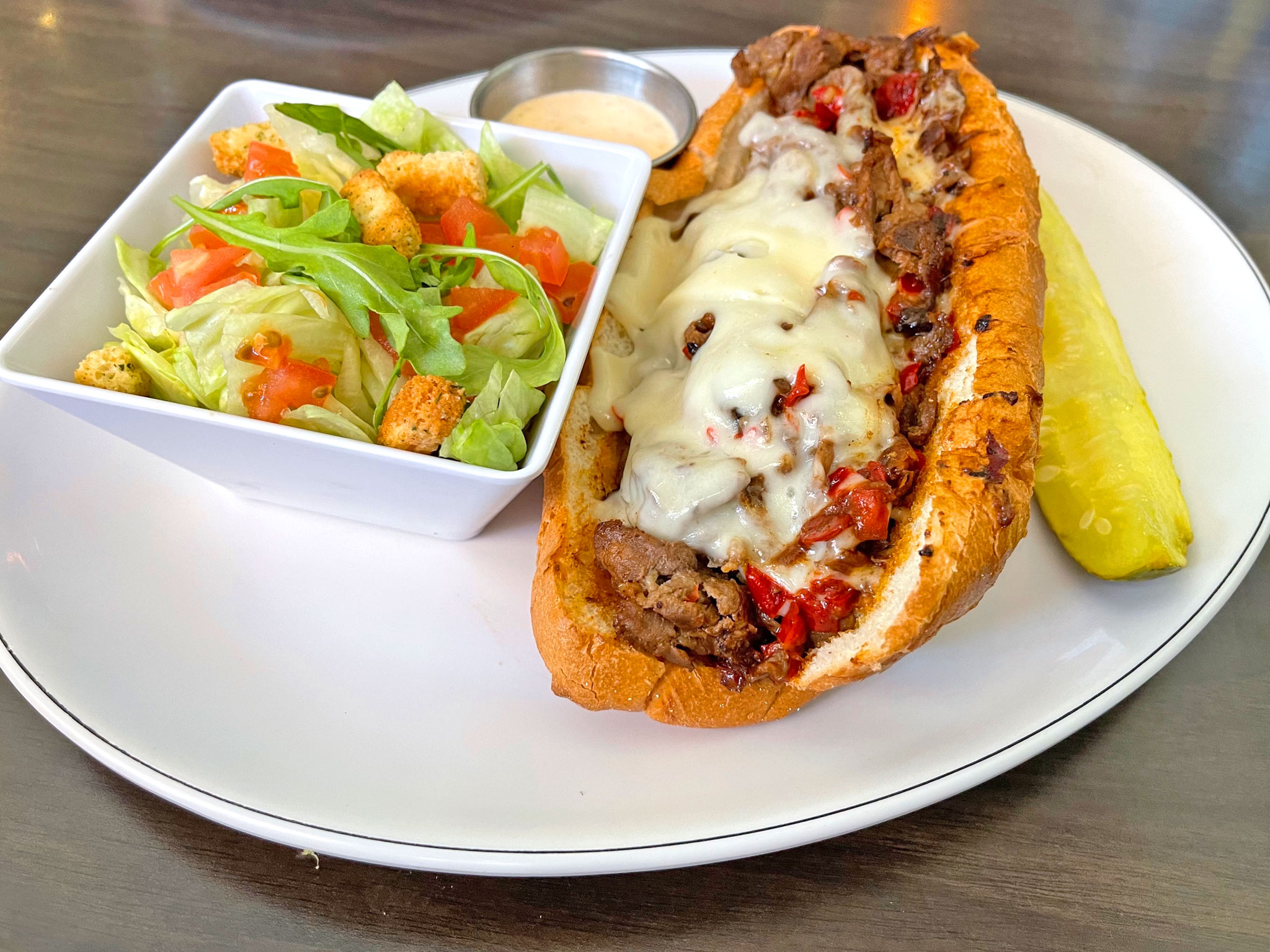 We've always loved the Beach Drive Cheesesteak. It's been on the menu since day one, and is the best it's ever been. Lori was quite displeased that I took home the leftovers on this one and proceeded to gobble down the rest before she could get any more. Sorry, Hon.
We were flattered and humbled that Chef Jeremy, Raphael, and Chef / GM Matt Galiano sat and chatted with us the entire time.
Two more great items that we had on a 2019 visit, which are still strong plates are the Nashville Style Hot Chicken – fried chicken coated in sweet garlic hot paste, pickles, American on grilled white bread, and the House Burger – cheddar cheese sauce, lettuce, tomato, caramelized onion, jalapeño on a toasted hard roll. The burger made our best burgers list last year.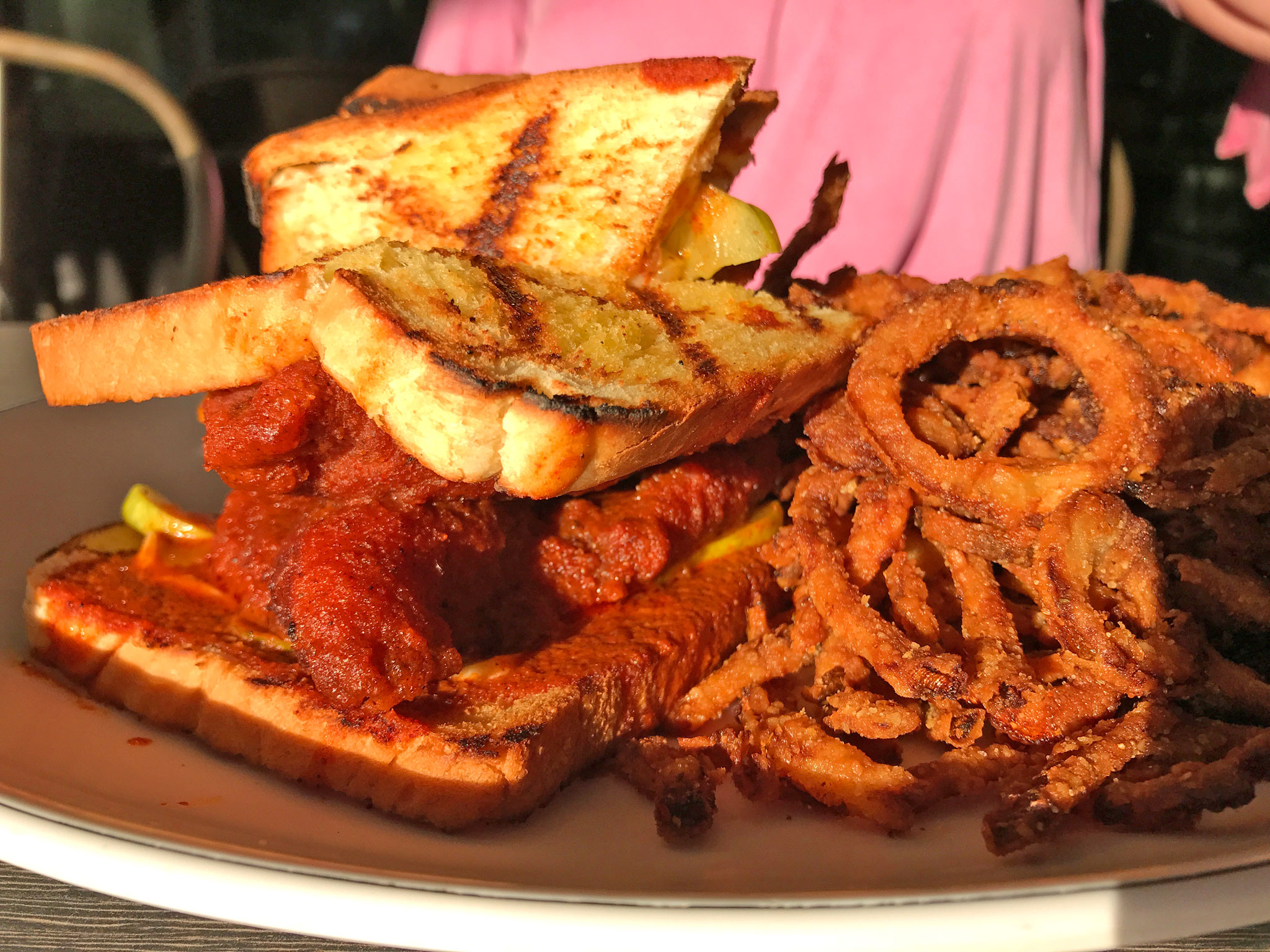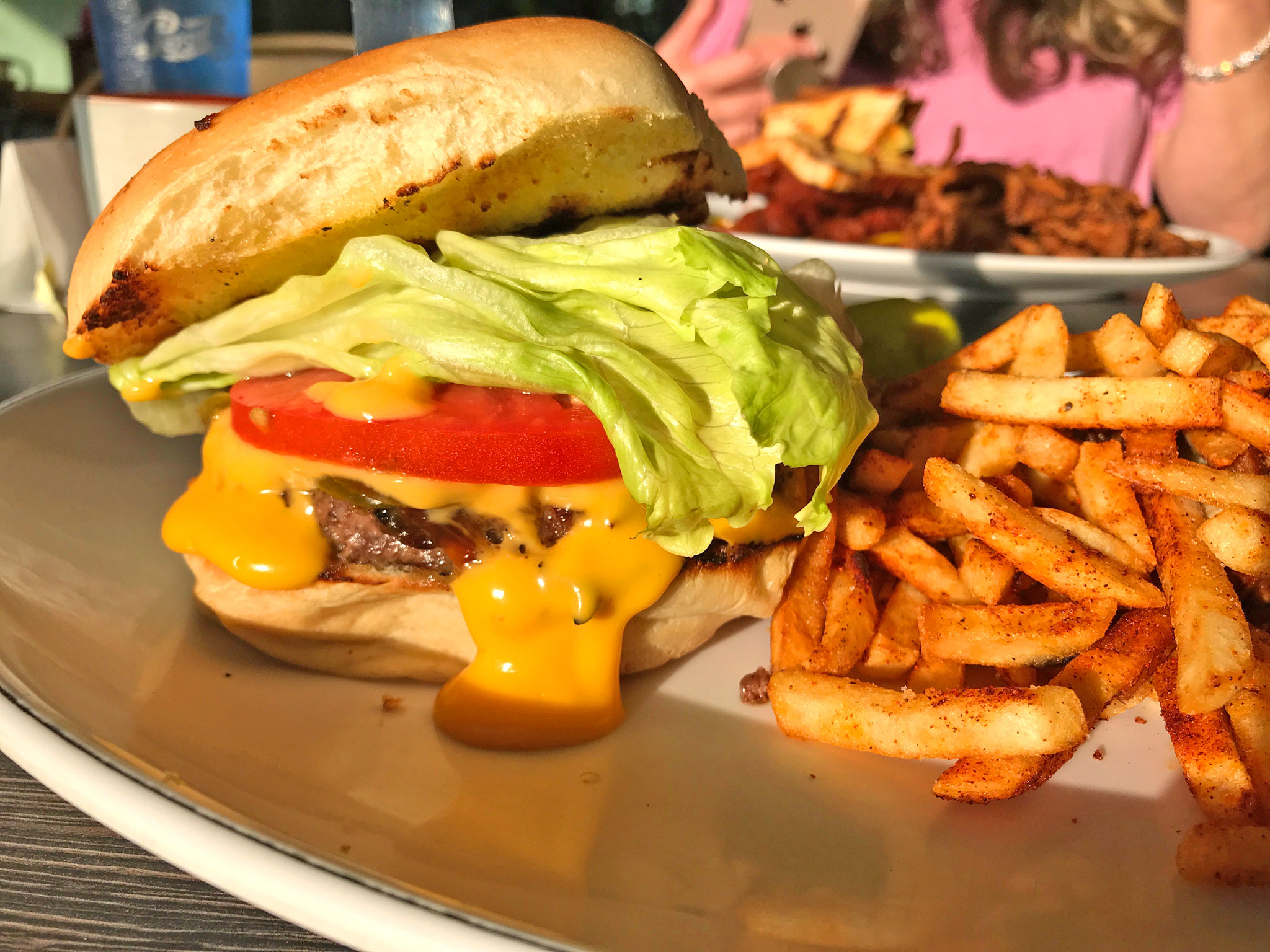 Downtown St. Petersburg Diner with elevated diner comfort food and full liquor bar.
DISCLAIMER: Kevin, Lori, Abby, Haley, & Lindsey do not dine anonymously (this would be impossible) and we sometimes get free food (though never expected). However, we dine with the locals and we support our own. You will always get honesty in a respectful manner. We do not include any large national or regional chains in our ratings and reviews. We focus on independent locally owned eateries exclusively.

PLEASE NOTE: Reviews reflect a certain moment in time. Some restaurants stay extremely consistent over many years, and some change for the better or worse. Some things that may change are: chefs, recipes, food suppliers, ingredients, philosophies, ownership, etc. We always hope that you have the same good, or great experience we had.
More Foodies News, Reviews & Recipes
1 Response