No Vacancy: Where You Can Eat, Drink, St Pete and Vacay Everyday
No Vacancy: Where You Can Eat, Drink, St Pete and Vacay Everyday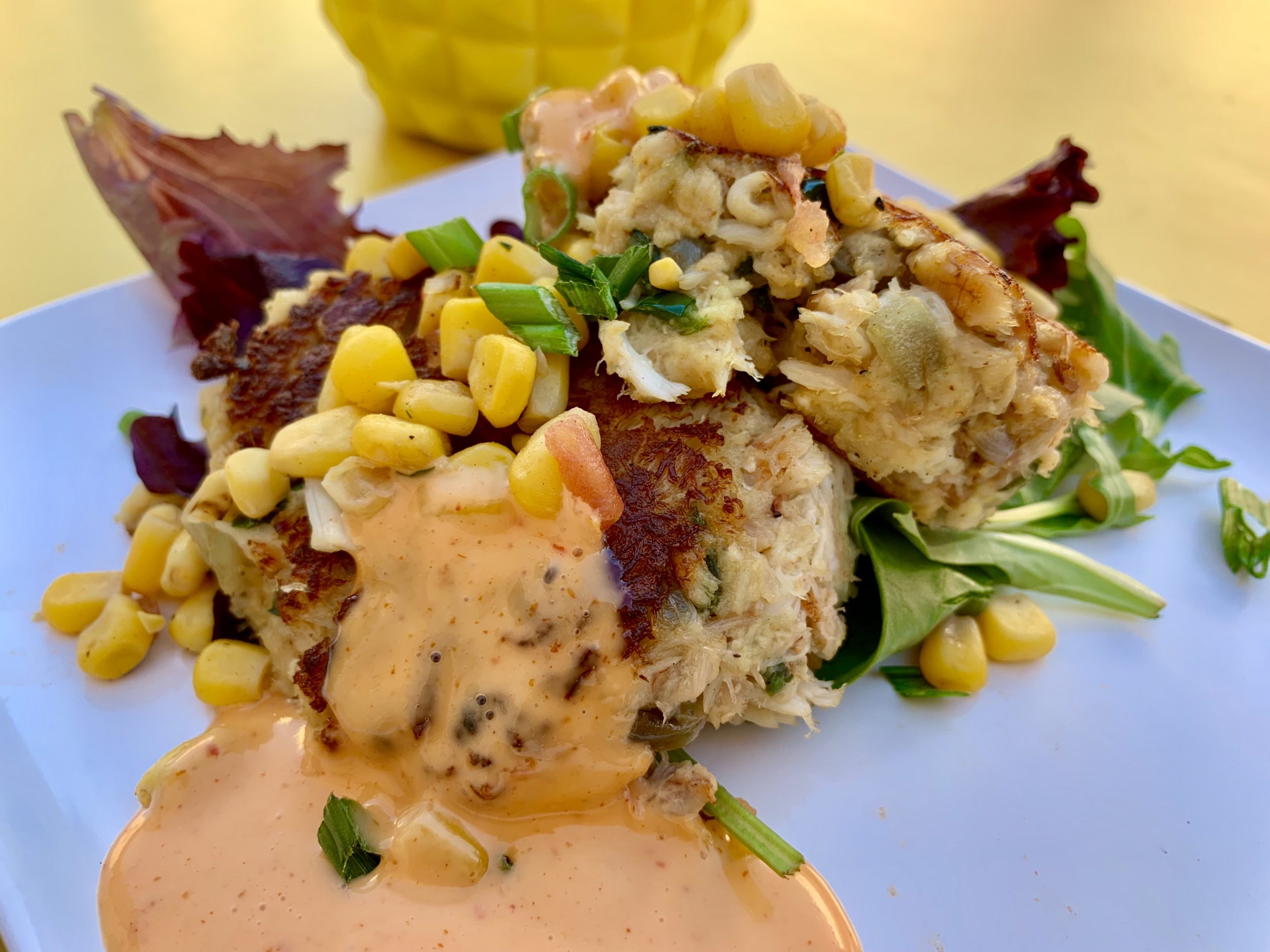 On Thursday night, we were invited to a pre-opening party for No Vacancy. Quite honestly we weren't sure what to expect. No Vacancy currently occupies the former King's Street space and is the brainchild of Stephen Schrutt of The Hunger + Thirst Group which also includes The Avenue and Park & Rec.
Schrutt said that this concept has been brewing in his mind for quite sometime and he was just waiting for the right time to transform King's into this laid back old school Florida vibe which makes you feel as if you are always on vacation. The slogan for No Vacancy is Everyday Vacay.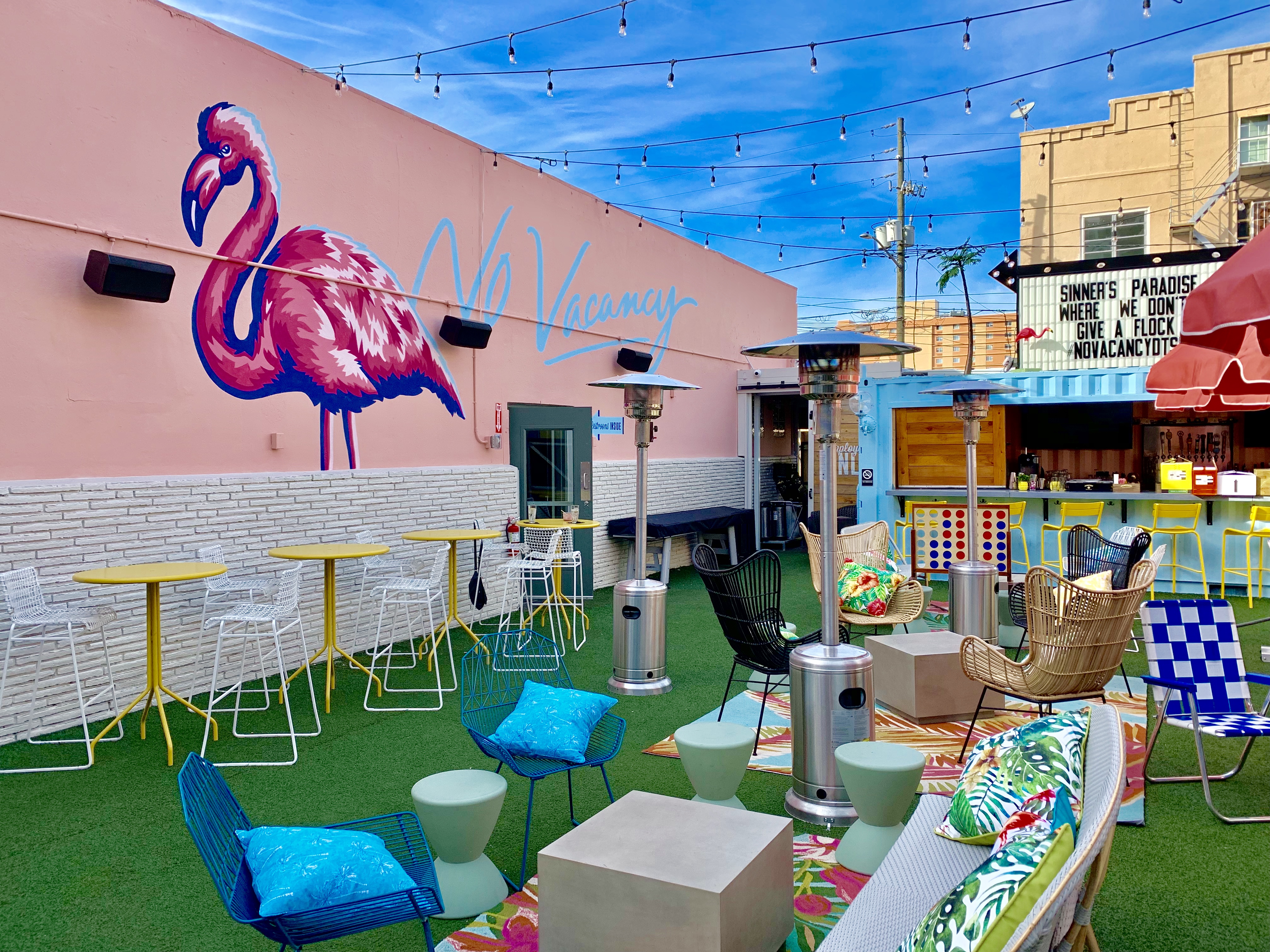 Not knowing what to expect, I was very pleasantly surprised. I must say that the fun and brightly colored decor theme lends to a relaxed and inviting outdoor space, which is where we spent most of our time. It does feel like you are at an old school motel, by the pool, just enjoying the day with friends.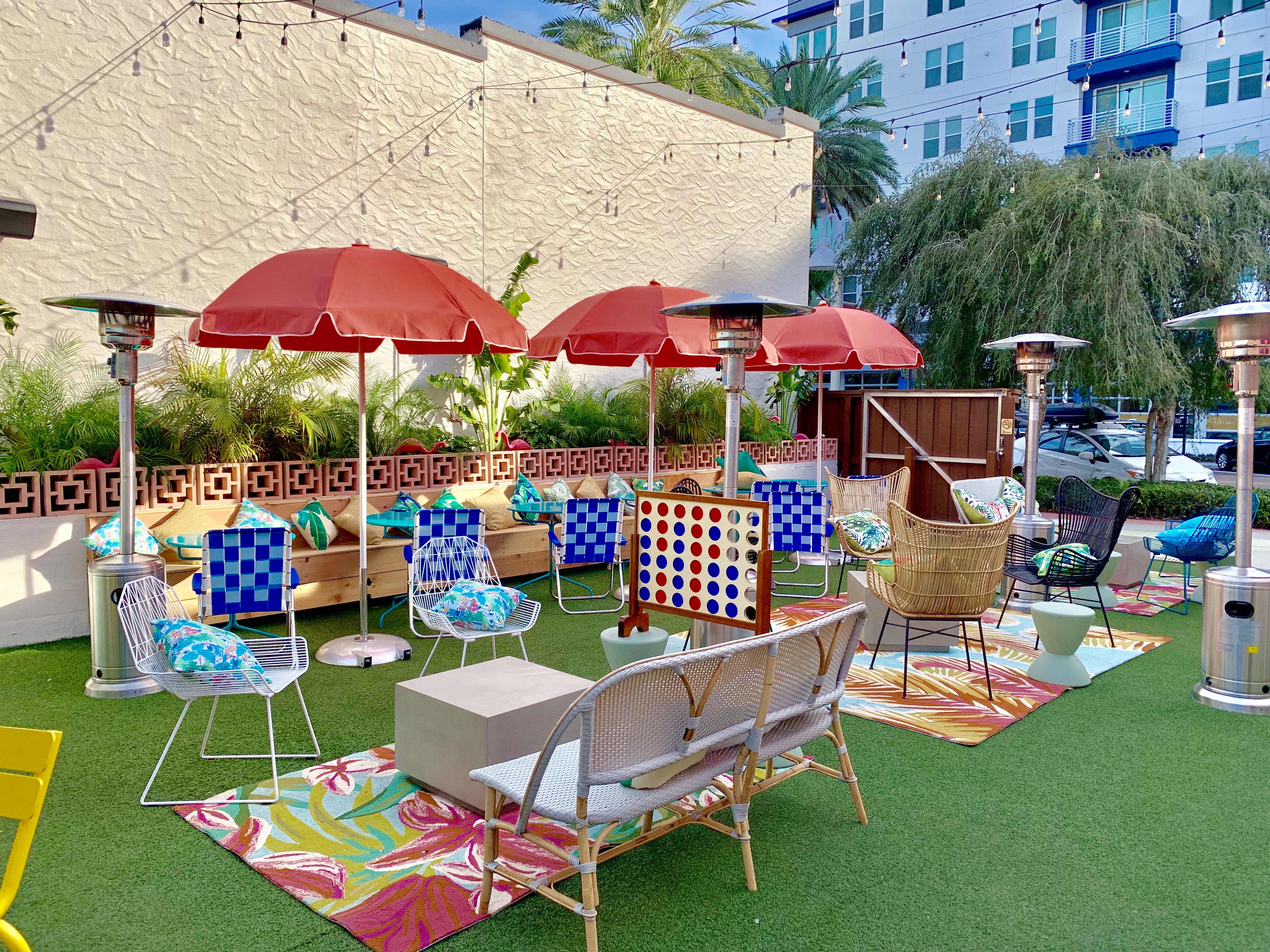 No Vacancy is a place where you want to leave your watch at home and your cares at the door, order drinks from the imaginative and playful cocktail menu and nosh on delicious creations from the kitchen. Yesterday and tomorrow are not thoughts as nothing matters but the paradise and fun you are having in that moment.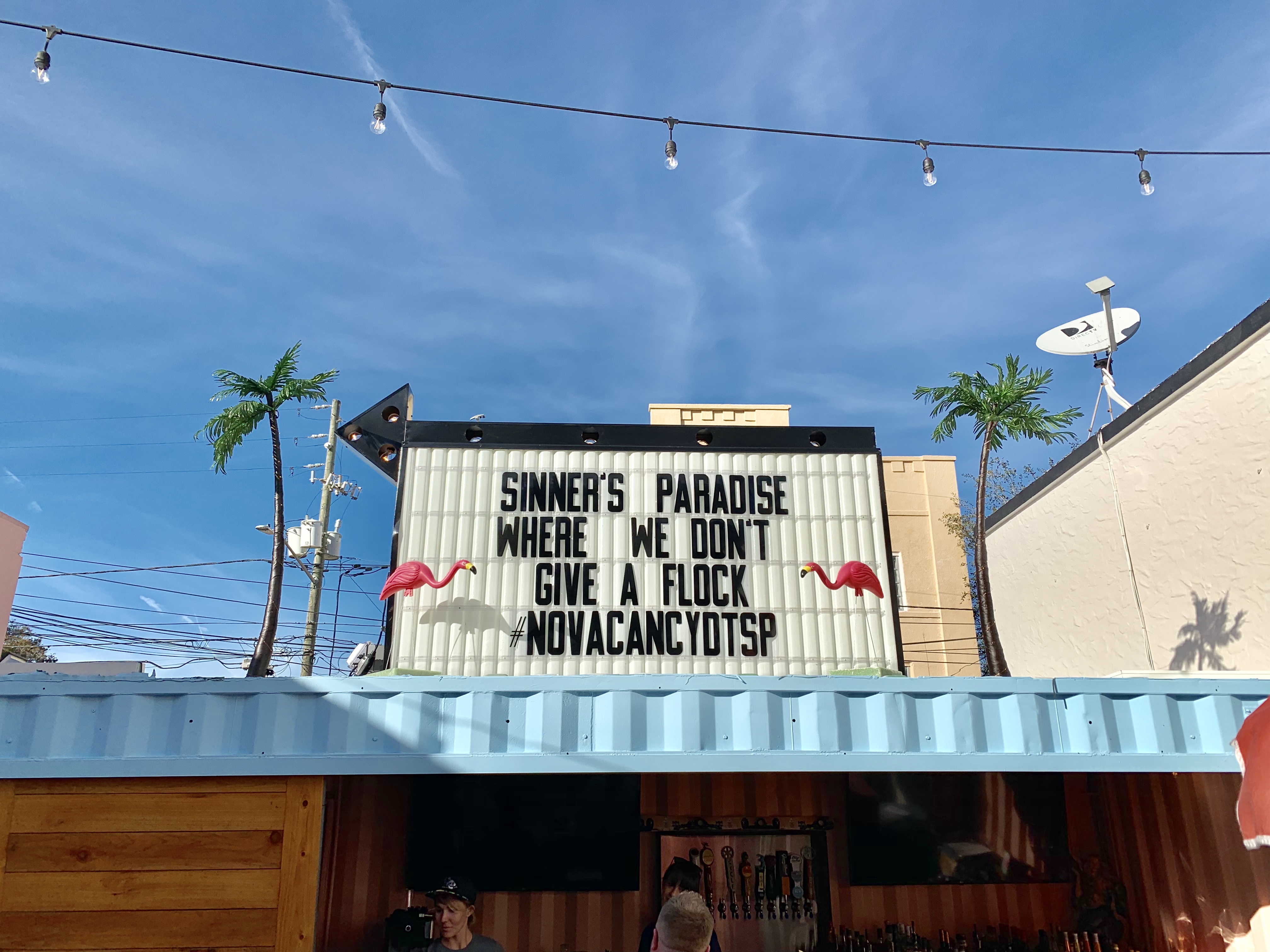 Stephen invited us back in for a sneak preview of the food and drink menu a couple of hours before they opened to the public on Friday. The weather was perfect and the food and drink that we tried were winners. Having tasted just a few samples of passed food the night before, we were quite excited. I tasted a crab cake on Thursday night that is one of the best that I have tasted in St Petersburg. So, I couldn't wait to try it again to make sure it was really that good.
We started with a couple of cocktails on the patio. Kevin ordered the Swimming Pools (Hendricks Gin | Falernum | Passion Fruit | Orgeat | Lemon), which is served in a ceramic pineapple. Kevin described it as smooth, refreshing but slightly sweet. Somewhat outdoorsy and breezy, as if you are on the beach. My drink, the Peach Don't Kill My Vibe (Tito's Vodka | Lavender | Peach | Lemon), I had had the night before and loved the fact that it is so well balanced. I am not a fan of cloyingly sweet drinks and this one was tart with just the right amount of sweet. Very refreshing. It will be my go to drink at No Vacancy.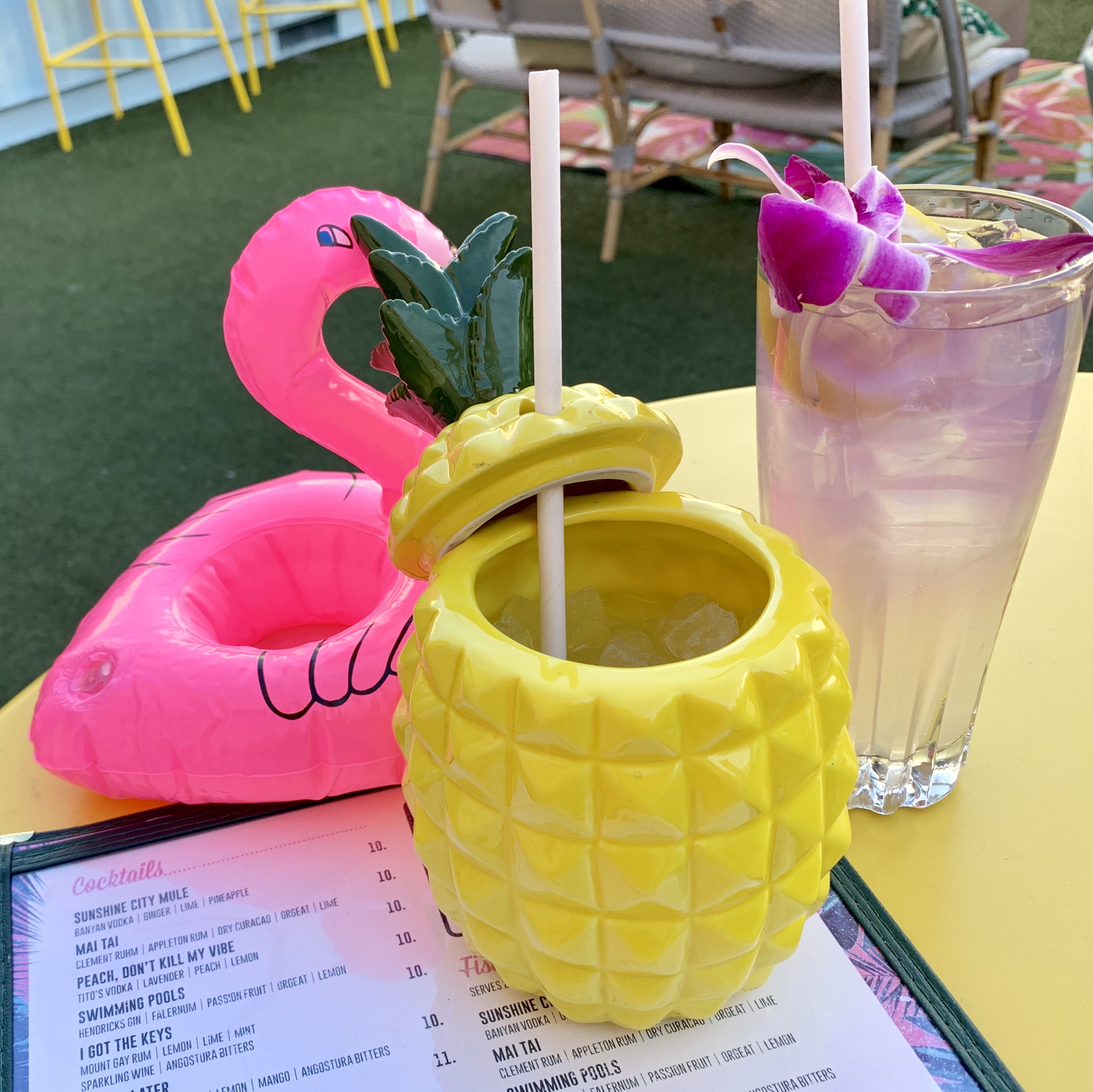 Now for those crab cakes, which on the menu are actually called Crabby Patties (House Made Lump Crab Cakes | Roasted Corn Salsa | Sweet Chili Aioli), they really are as good as I remembered from the night before.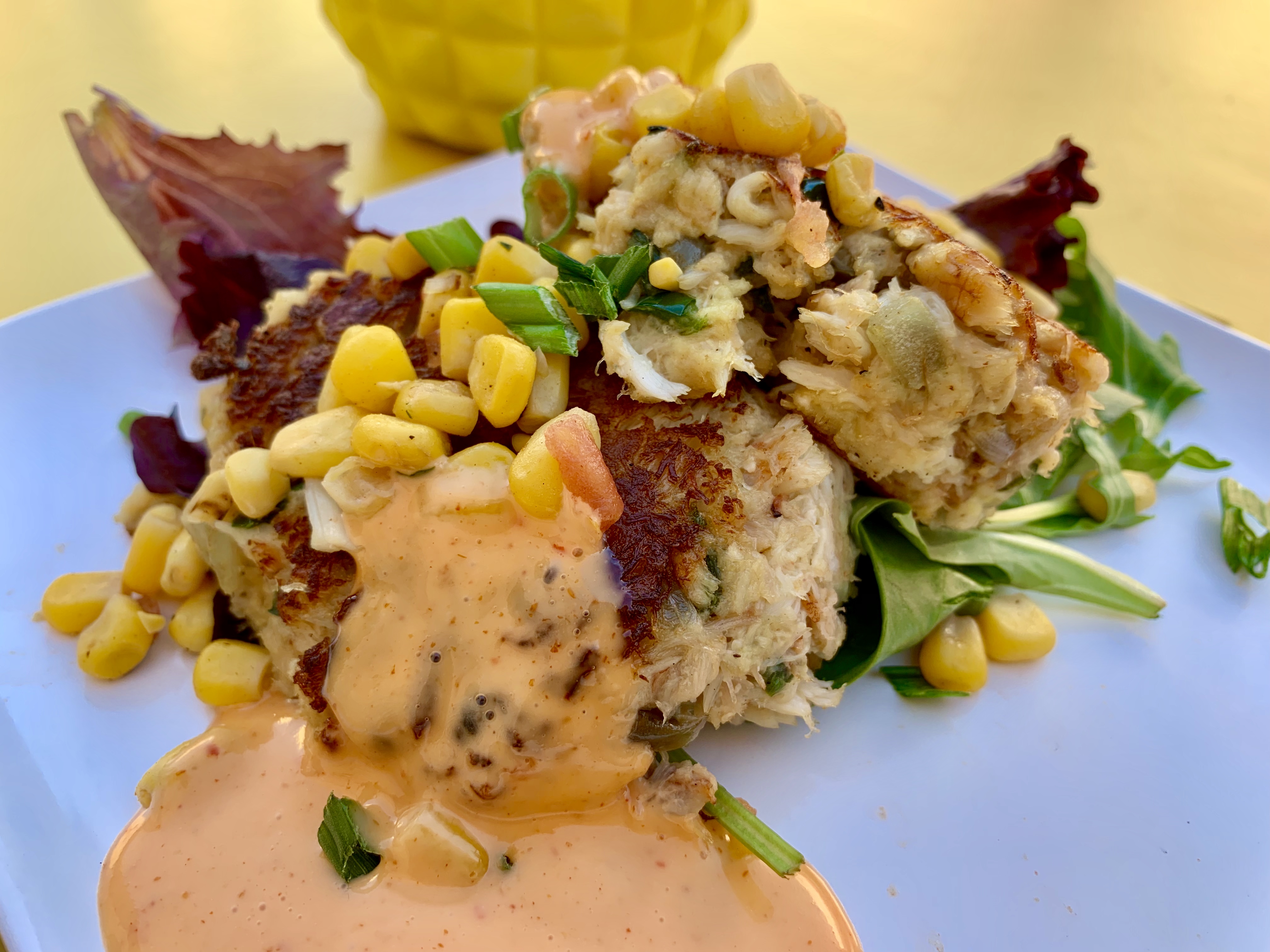 I just recently became a fan of crab cakes, when I discovered that they aren't all made with a bunch of breading and they aren't all mushy. These, I would venture to say, are the best that I have tasted in St Petersburg. I think they are outstanding. The corn and the aioli add to the generous amount of crab in the patty.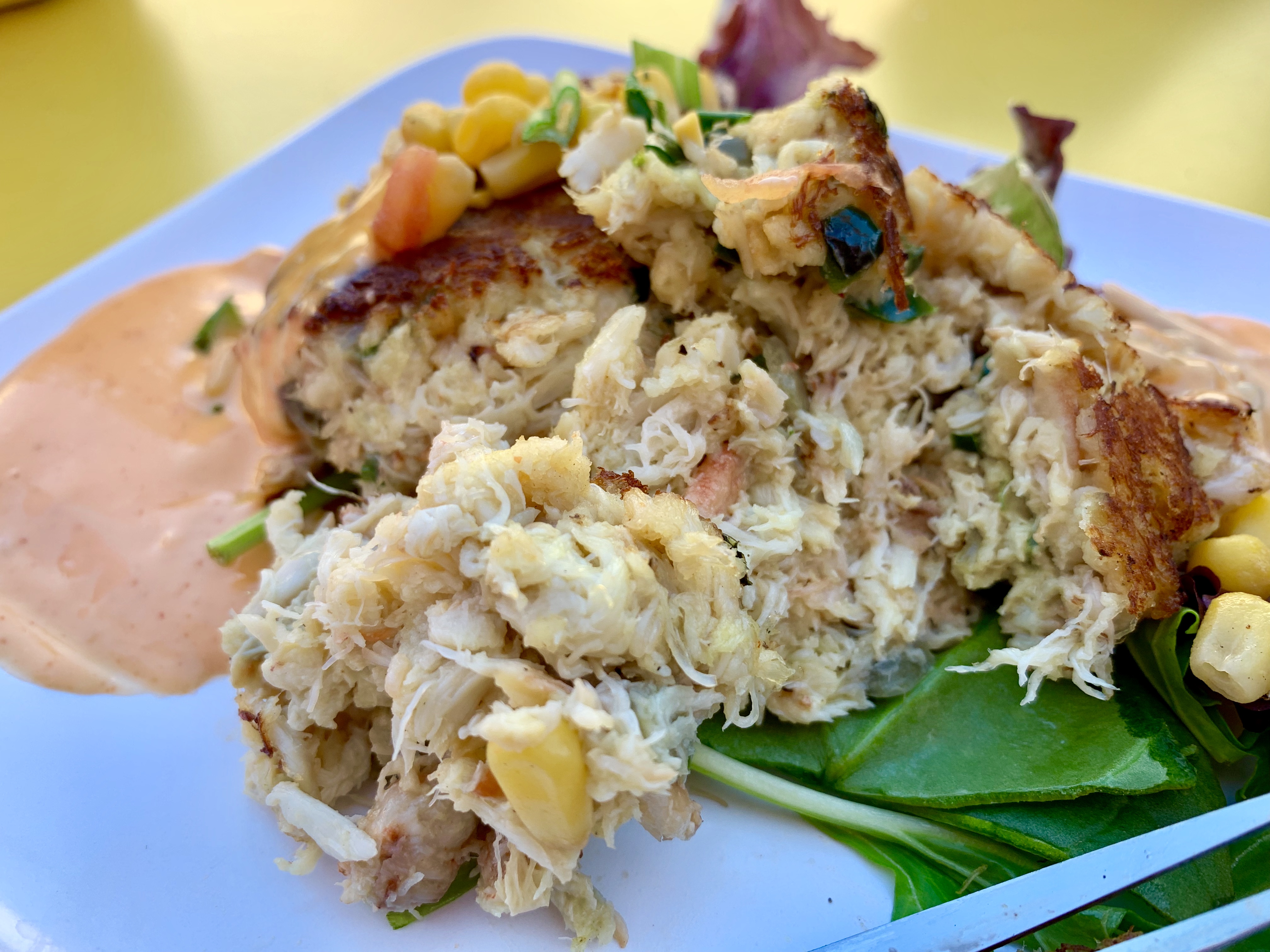 You can order the Up In Smoke Wings either buffalo style, blackened or with mango habanero and they come with celery and ranch dressing. We went back and forth on how to get them and decided on blackened. Just look at those wings. As the name suggests, they really are smoked and tasted like a smoked bbq wing. We were so glad that we chose blackened. But look forward to trying the buffalo too. If you are a big fan of wings, you are going to love these!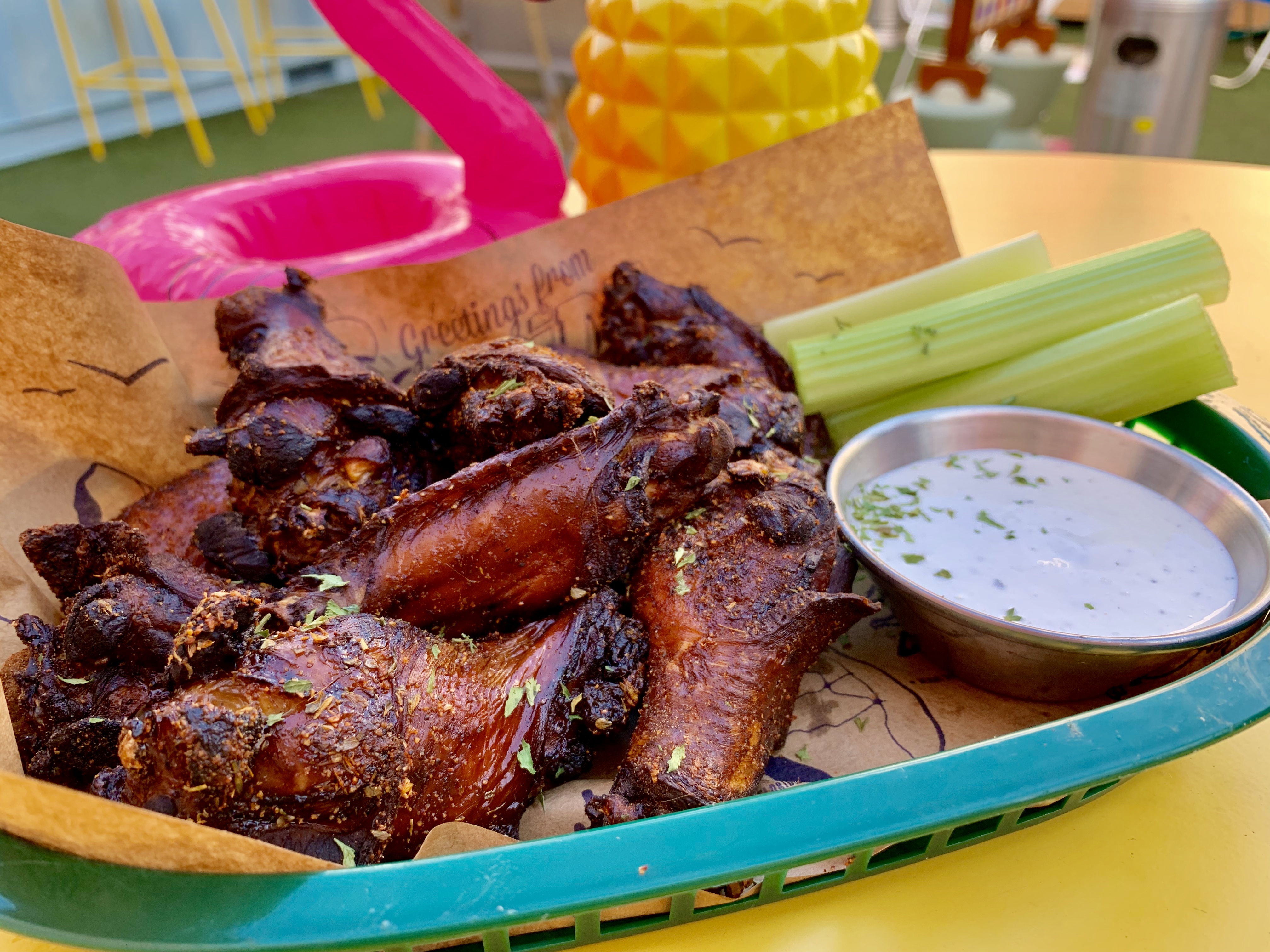 The Skinny Dip (Lobster Dip | Cheddar | Old Bay Bread Crumbs | House Made Tortilla Chips) we had also sampled the night before and found it quite tasty. So we wanted to try it again too. It contains a generous amount of lobster and is just delicious. The house made tortilla chips work perfectly with the dip and they are delightfully crunchy.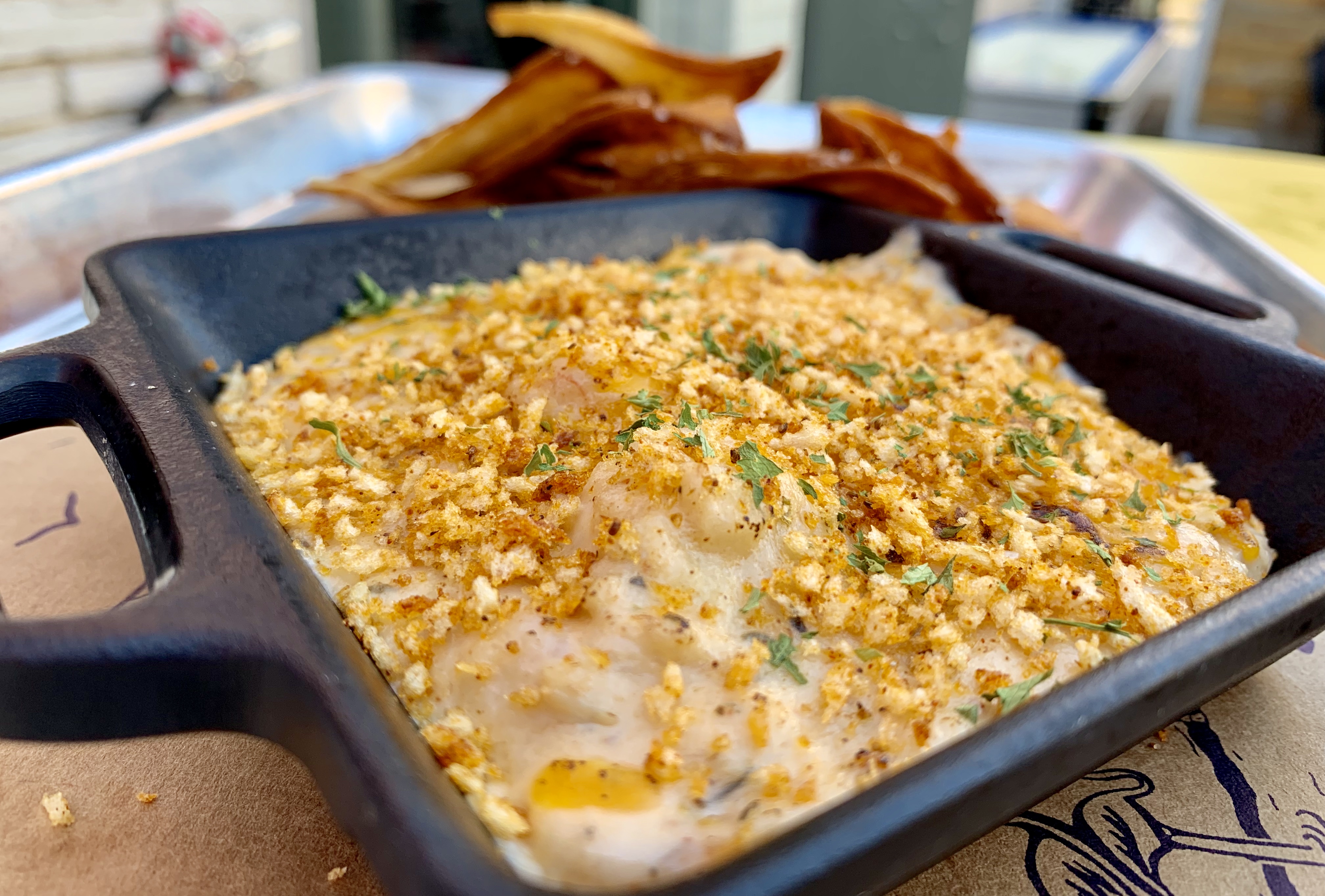 Next Stephen wanted us to try a Poke bowl, which I think is a bit overdone these days, but we did try it. It was fresh and had great flavors. It was made with the coconut rice as a base, but you can also get it with mixed greens. The crunch and texture was great and it was the same aioli that I loved with the Crabby Patties. Definitely a delicious, healthy, light option on this menu.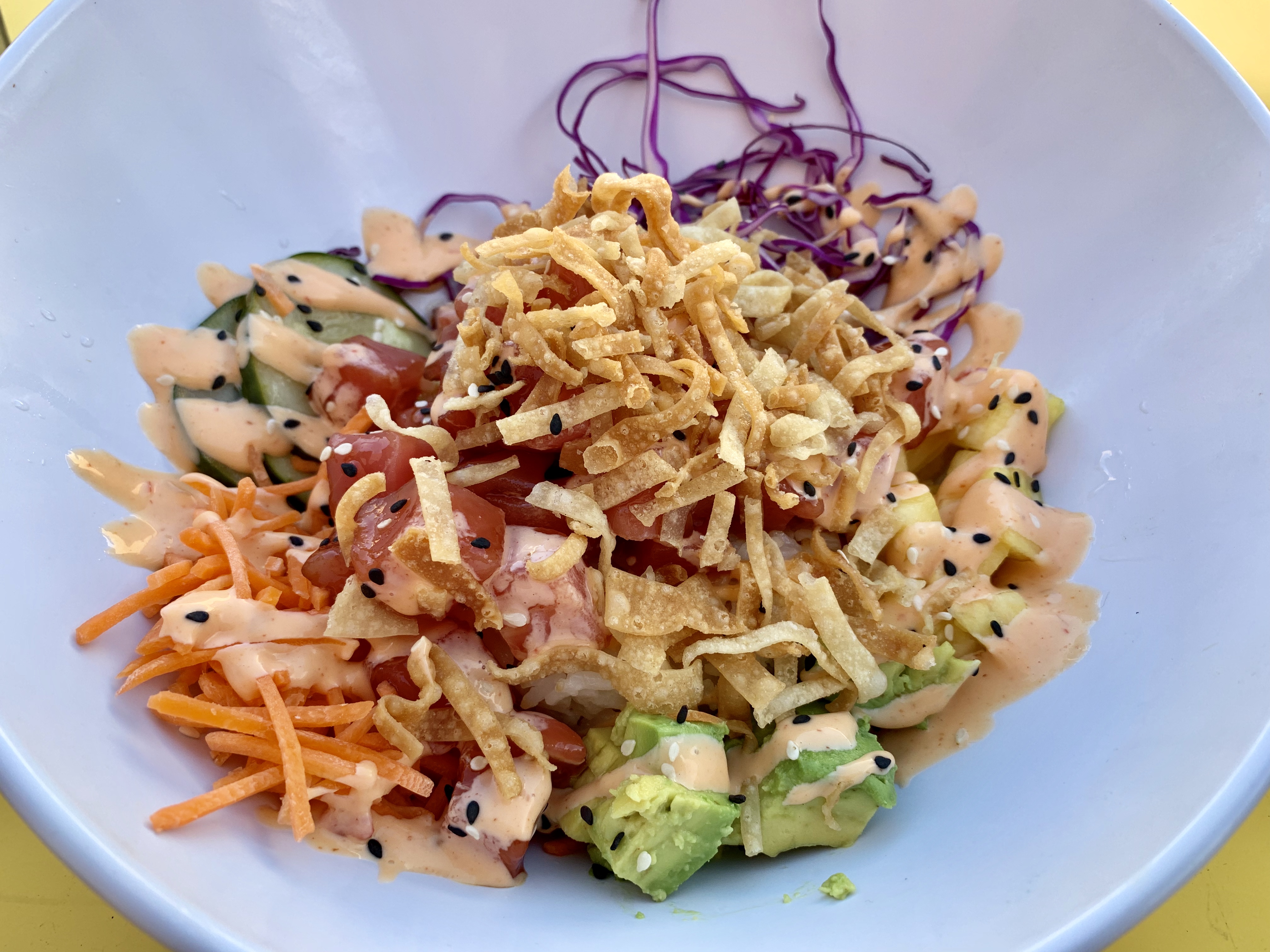 The Ladies Man (Fish Of The Day: Grilled | Blackened | Fried Mixed Greens | Tomato | House Made Tartar), which I would normally have ordered blackened, came out fried and I am really glad it did. The fish of the day was grouper.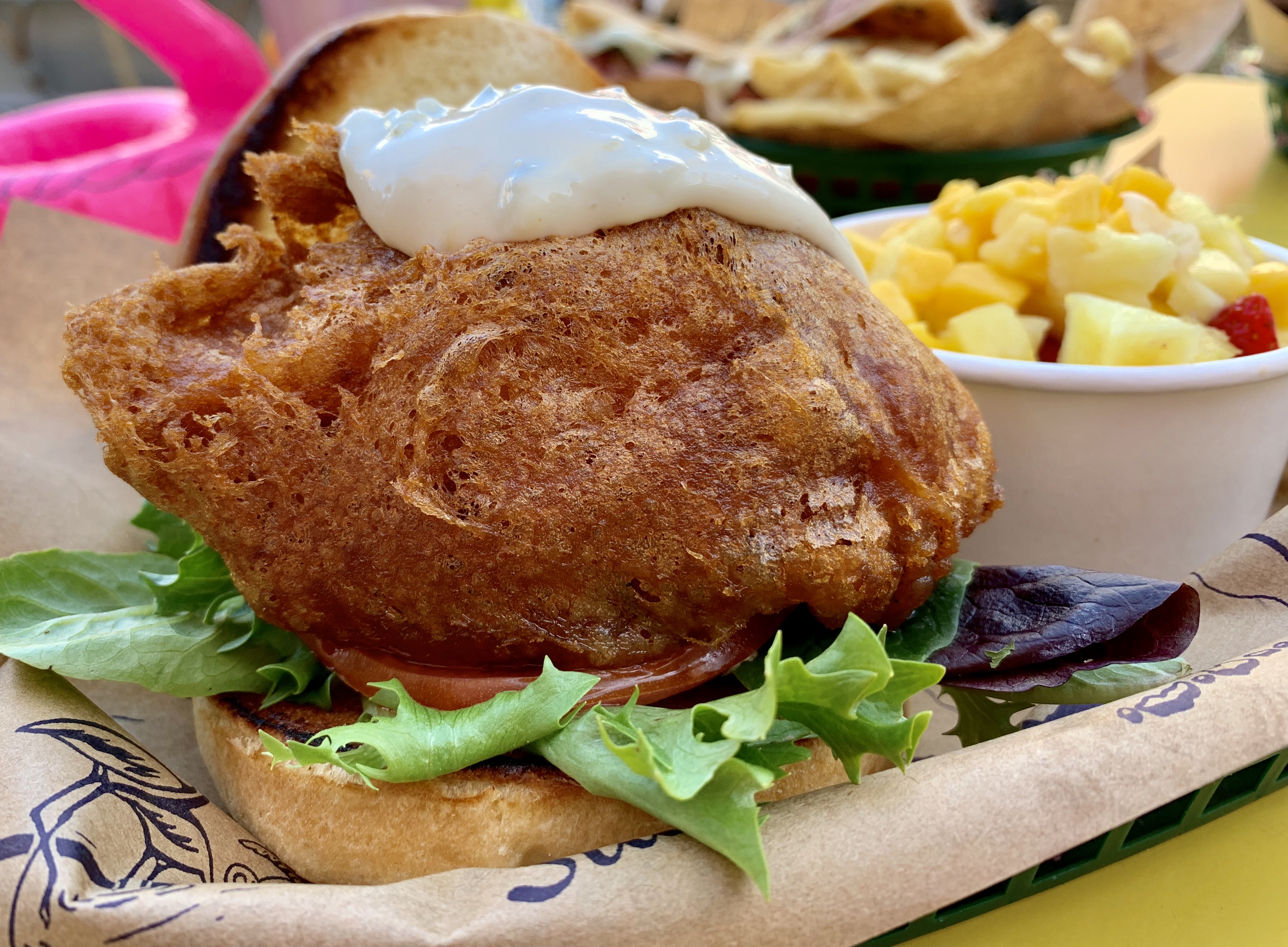 You can see from the inside how light, crispy and airy the breading is and the generous amount of juicy grouper that comes in a piece. It was so large, it was hard to eat as a sandwich, so we mainly just ate the grouper with a fork. Sure to please the fish sandwich lovers out there. It was served with a mango fruit salad that was just delightful and balanced out the heaviness of the total dish, due to the fish being fried.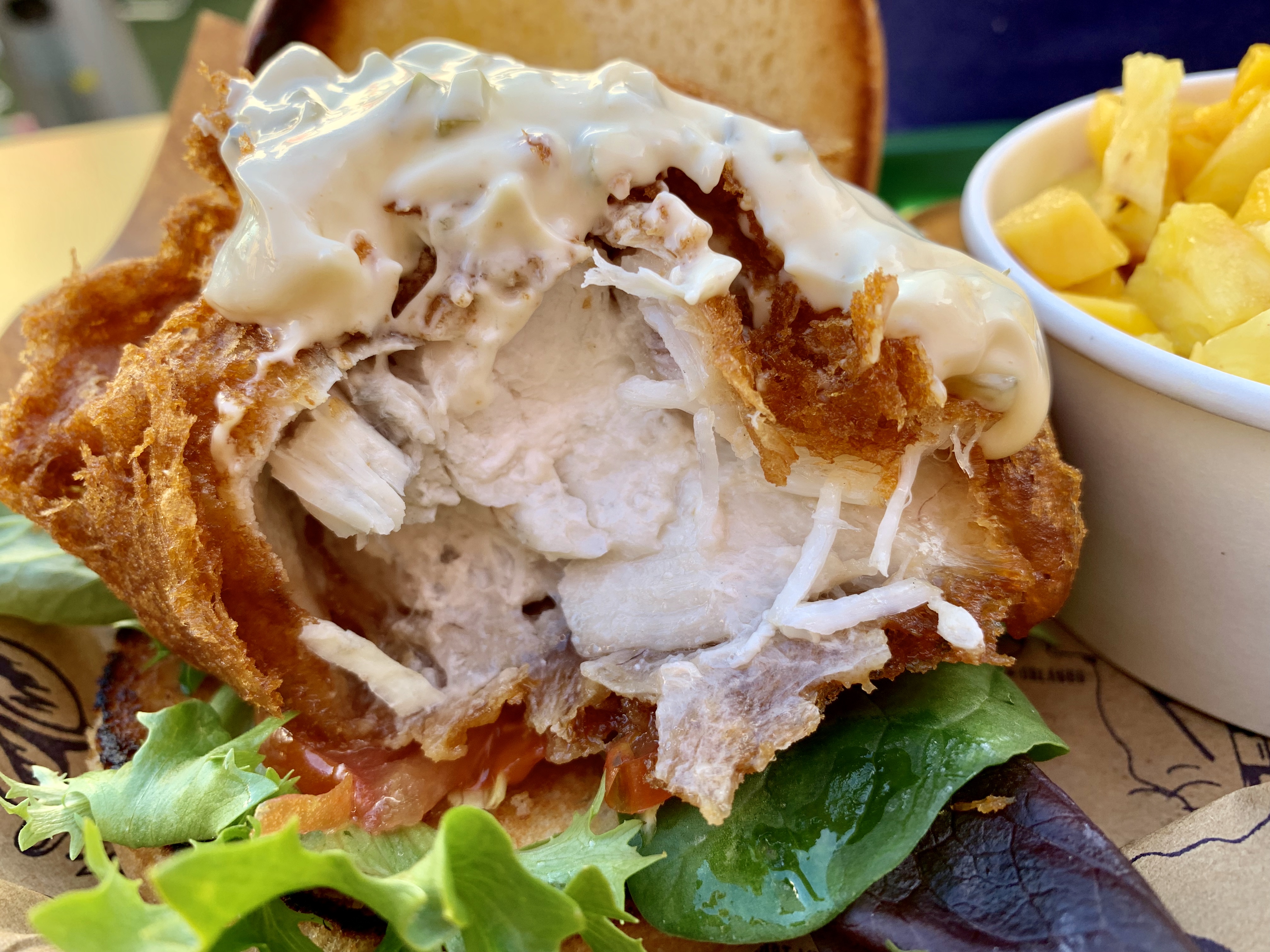 Next up was the Cubano (Ham | Mojo Pork | Salami | Swiss | Pickles Mustard Aioli | Cuban Bread). Cuban sandwiches are hotly debated around here and there are quite a few to choose from in the area. Schrutt said, "with Bodega being practically across the street, we better get this one right." And they did, pressed perfectly and they make it the Tampa way with salami. This definitely gets a thumbs up.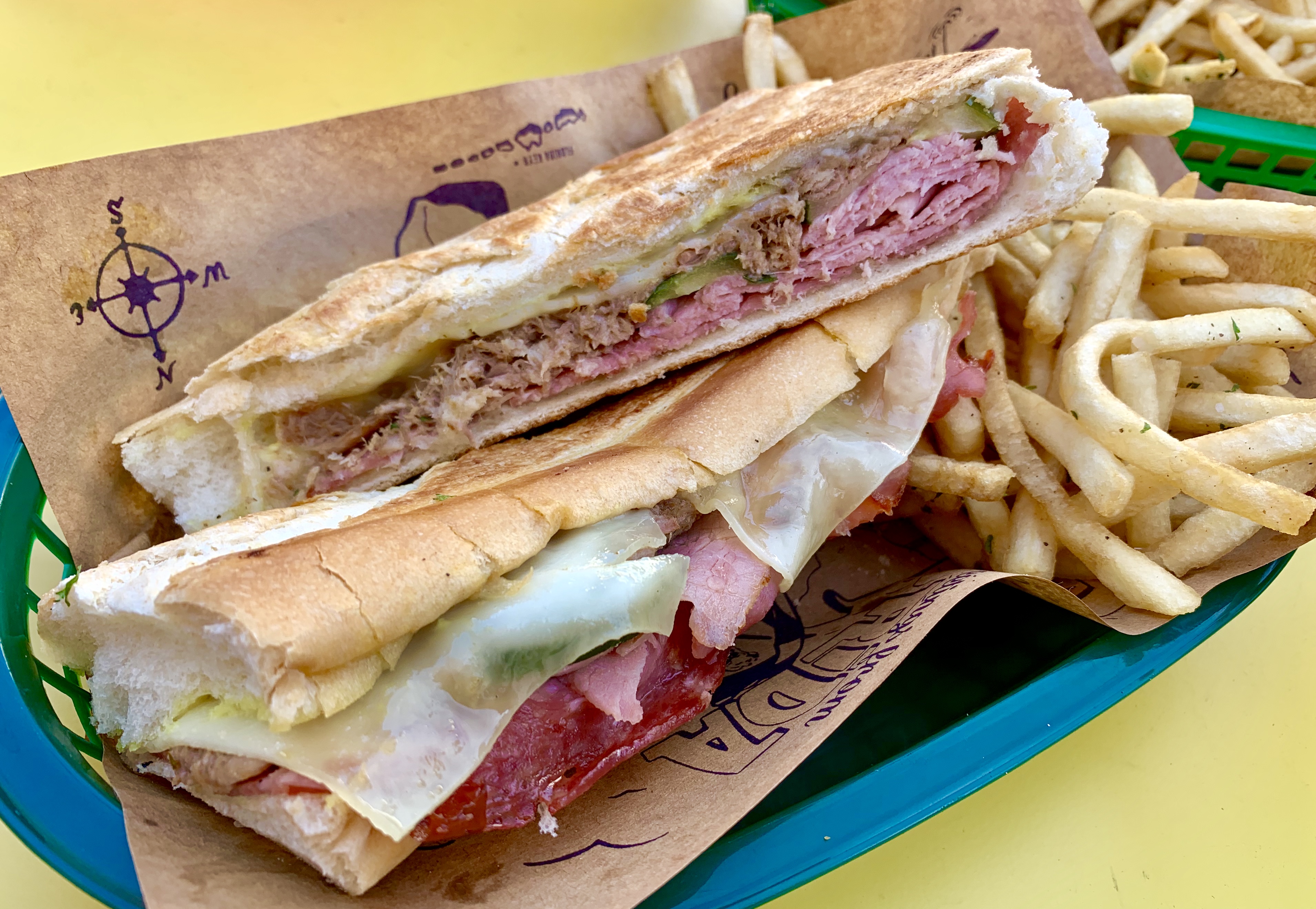 Oh the sheer gluttony of the next sandwich which Schrutt describes as, "an homage to King's", as many loved King's for its mac & cheese options. The Lobster Melt (Lobster Mac + Cheese | Yellow American | Pepper Jack Sourdough) does not disappoint in flavor and inventiveness. How can you go wrong with a grilled lobster mac & cheese sandwich?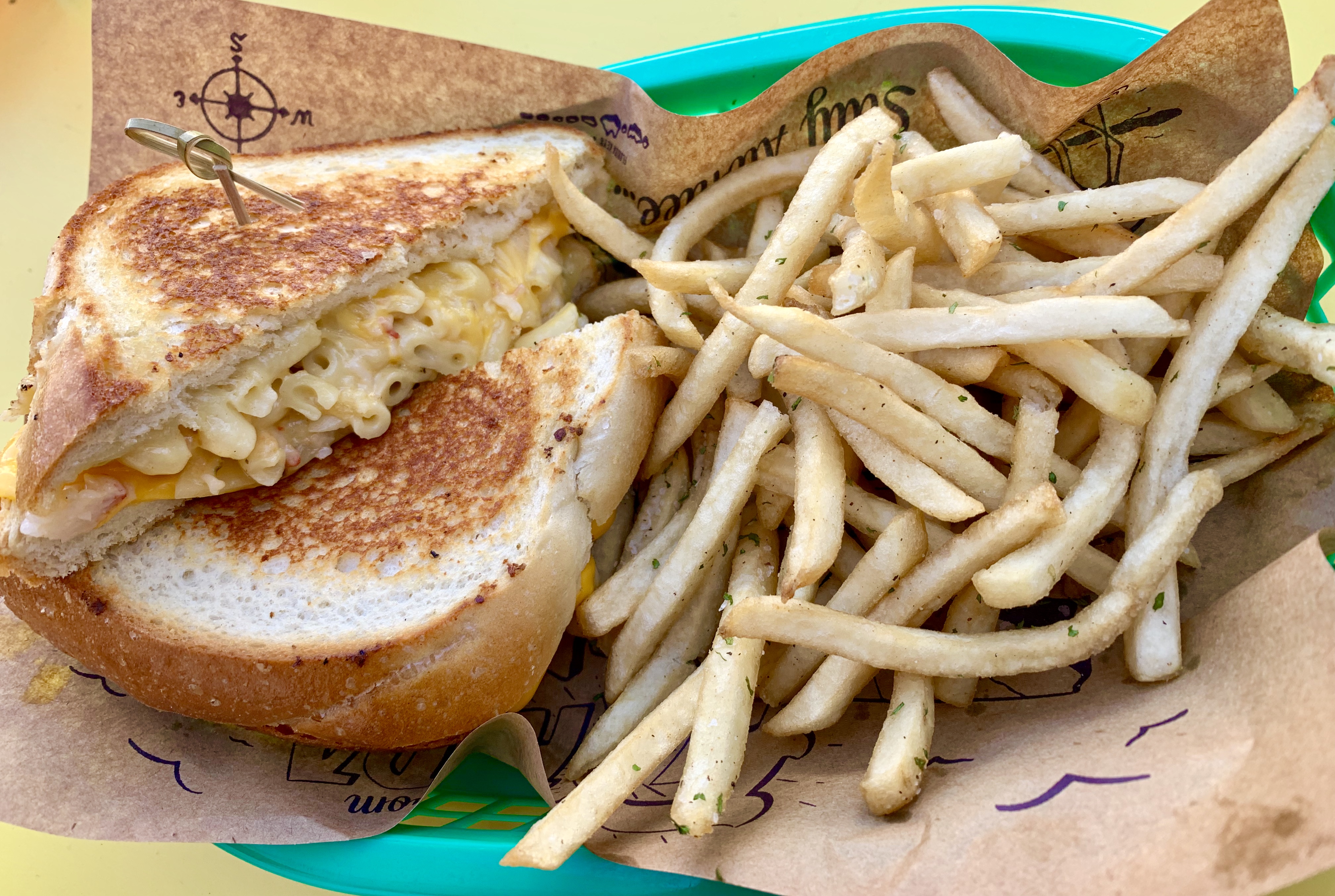 The last dish we tried was the Jerk Chicken sandwich (Jerk Marinated Chicken Breast Pineapple Mango Slaw | Pepper Jack Cheese). I am not a fan of any type of slaw on a sandwich so this was my least favorite of the items we tried, but many people are. And this slaw's sweetness is there to balance the jerk chicken. Kevin praised the nice size of the chicken patty and said it was very juicy. It is served with sweet potato tots. Again, I am not a big sweet potato fan, but they were cooked nicely.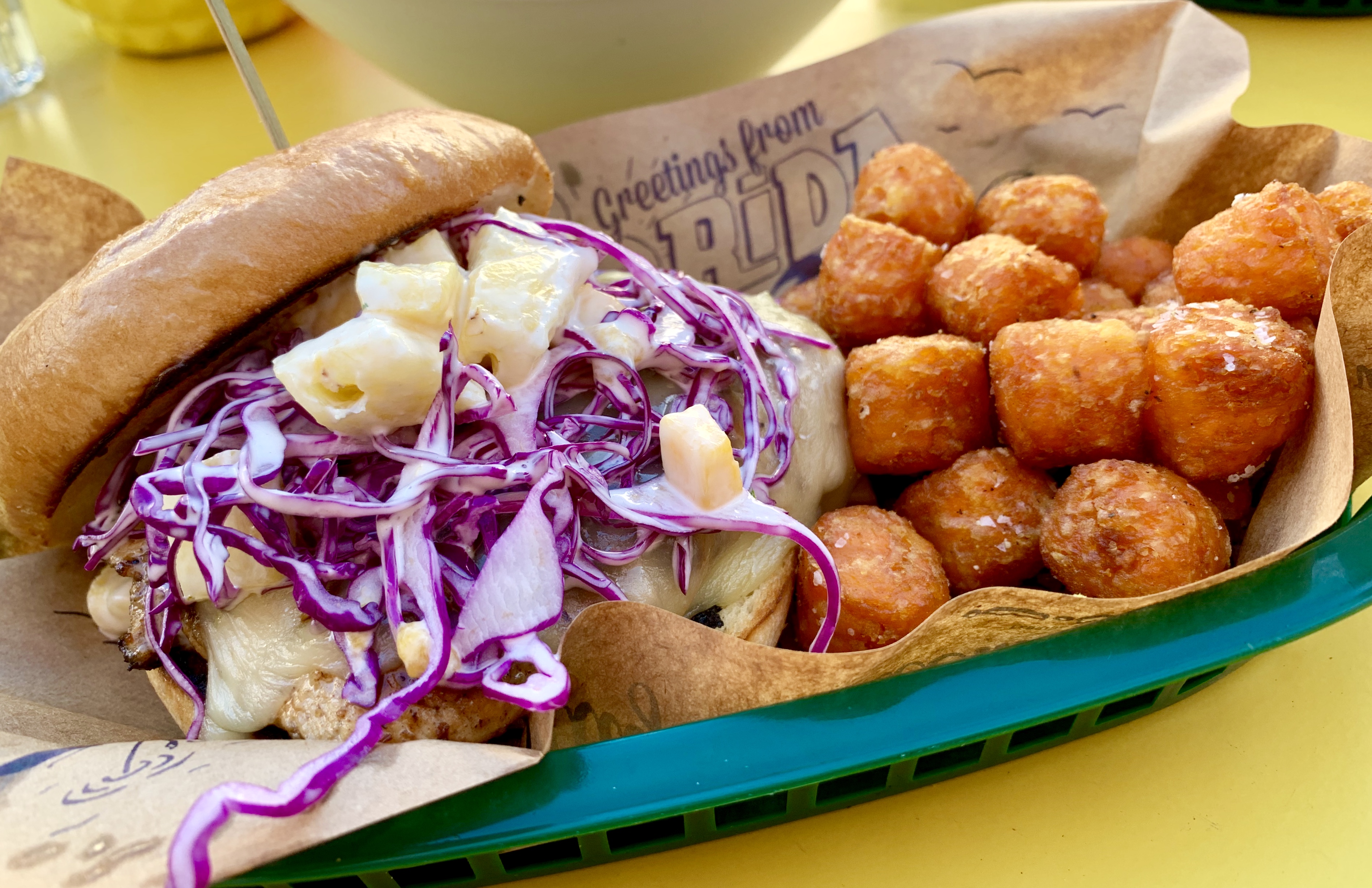 We tried a few more drinks and just enjoyed soaking up the atmosphere. Next up for Kevin was the Tropic Like It's Hot (Dobel Tequila | Yellow Chartreuse | Lime | Cucumber | Jalapenos | Hellfire Bitters). This one was right up his alley as he loves drinks with jalapeño. He describes it as extremely flavorful and said that all of the ingredients worked in perfect harmony. Several of these ingredients can bite on their own but together they balanced well. I have to agree, as I am not a chartreuse fan, I did taste this and did not get that normal chartreuse bite that I so dislike.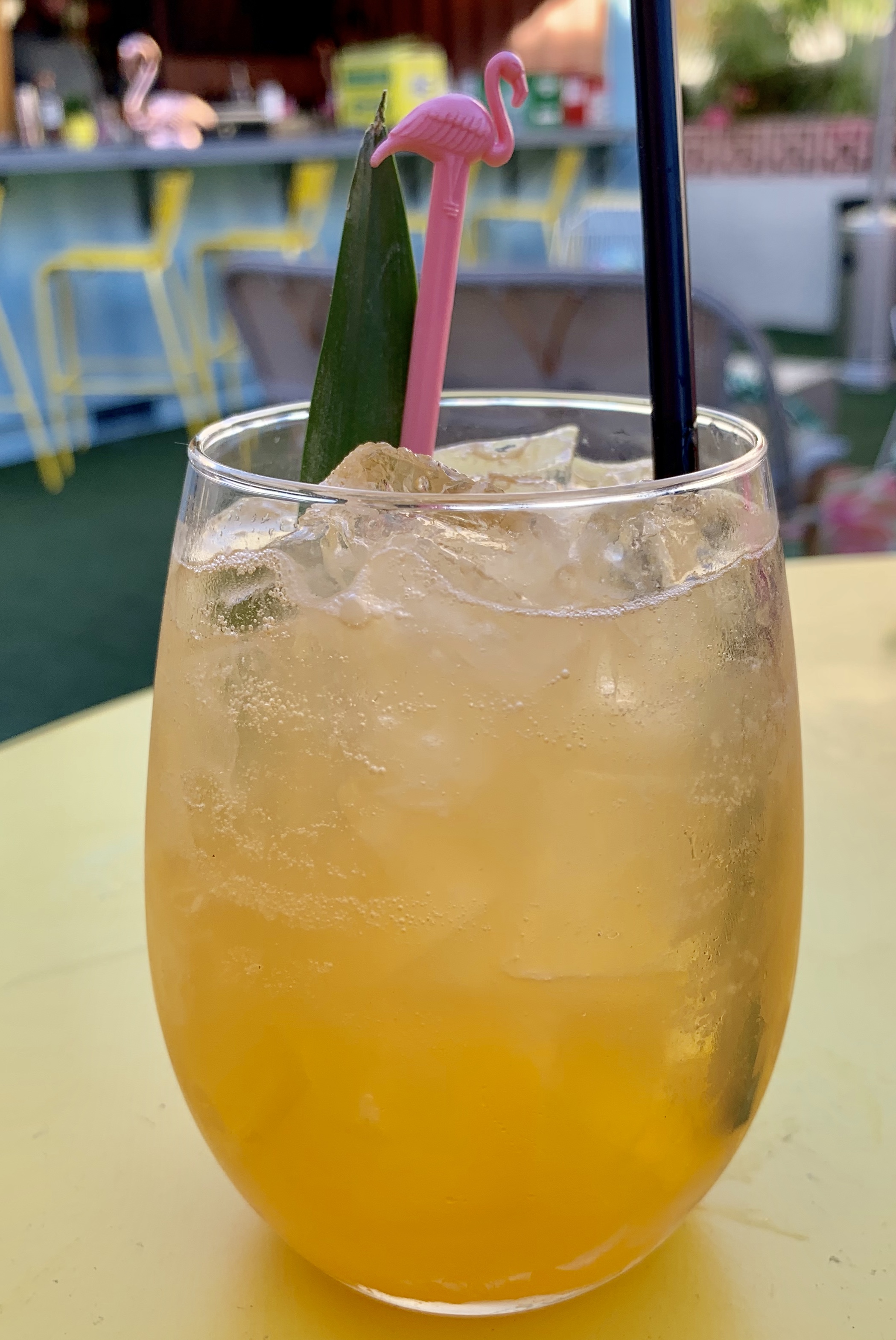 My next concoction was A Shore Thing (Absolut Elyx Vodka | Tangerine | Passion Fruit | Bitters). Again, refreshing, well done and not too sweet at all. A perfect Florida afternoon cocktail.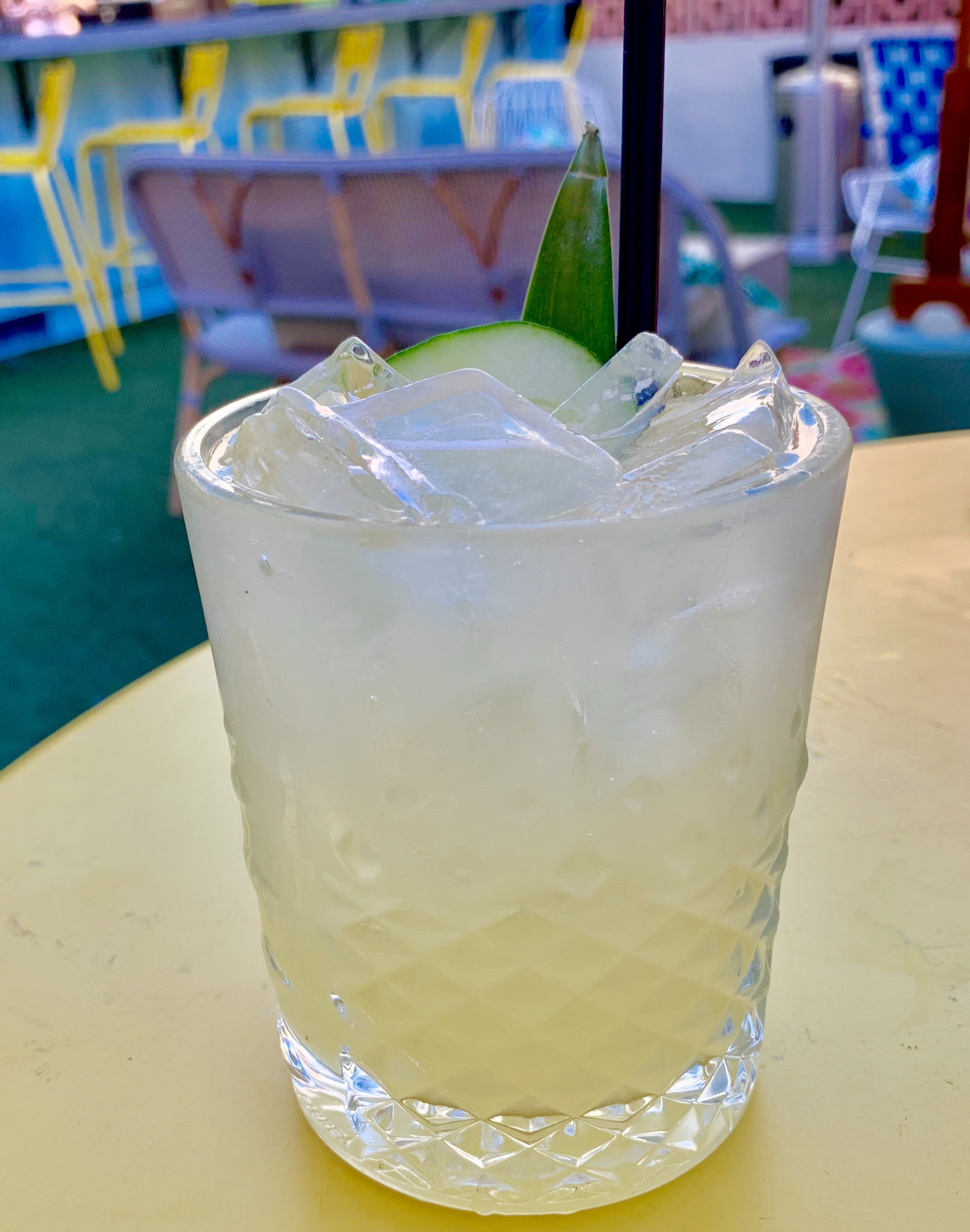 And then there was the Punch Bowl. We had the Keep Palm and Carry On (Santa Teresa Rum | Bacardi Superior | Cruzan Black Strap Rum Amaro | Orgeat | Lemon | Orange | Passion Fruit) which is served in a copper Flamingo Bowl with copper mugs. It serves about 4 – 6 drinks and is just really cool! The drink itself was yummy and a bit more sweet than the other cocktails that we had but not cloyingly. We finished the bowl.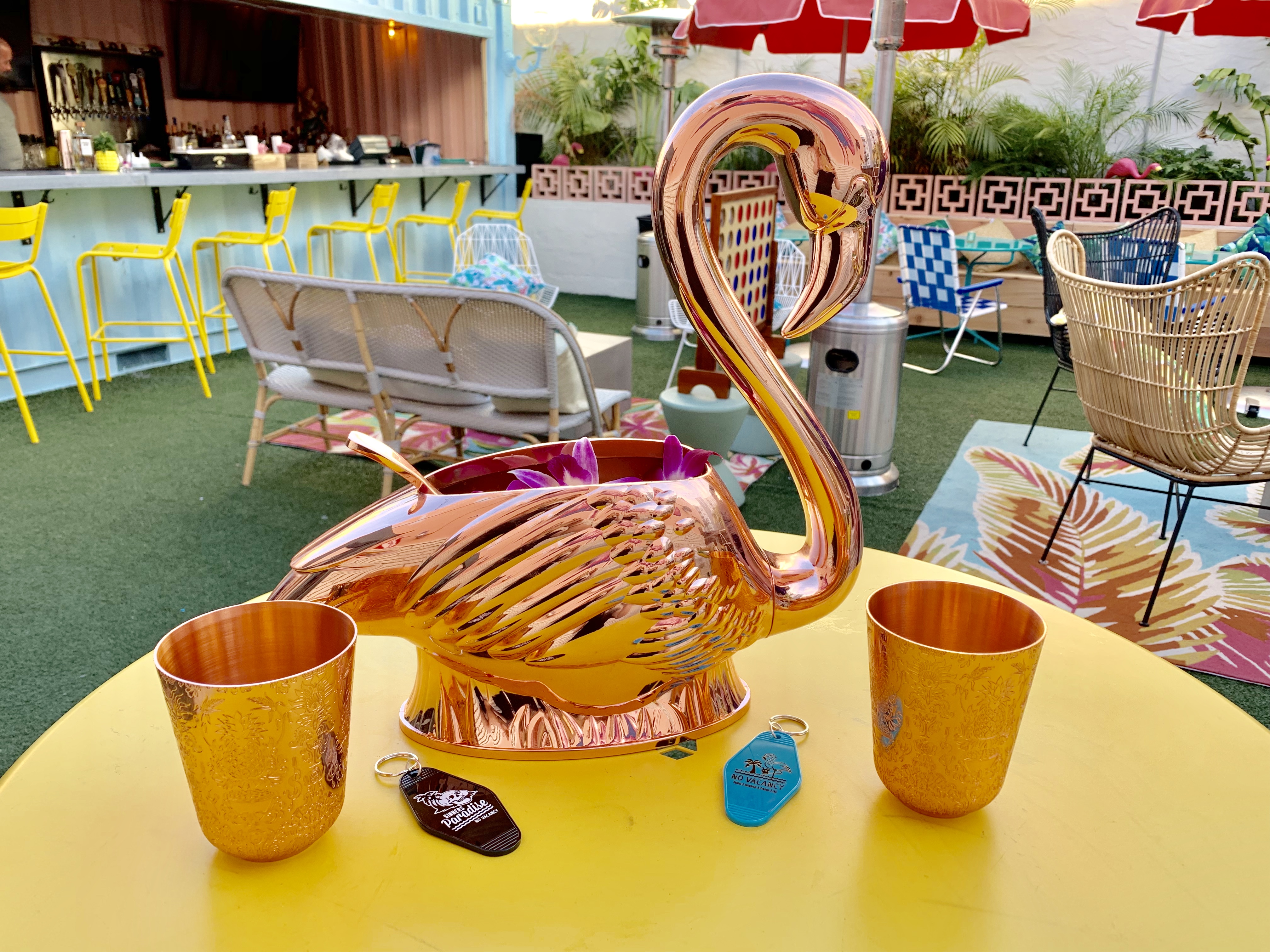 We had a great time with fantastic food and drink! Just chillin like villains in the No Vacancy courtyard. You should check it out right away. Especially with this great weather we are having!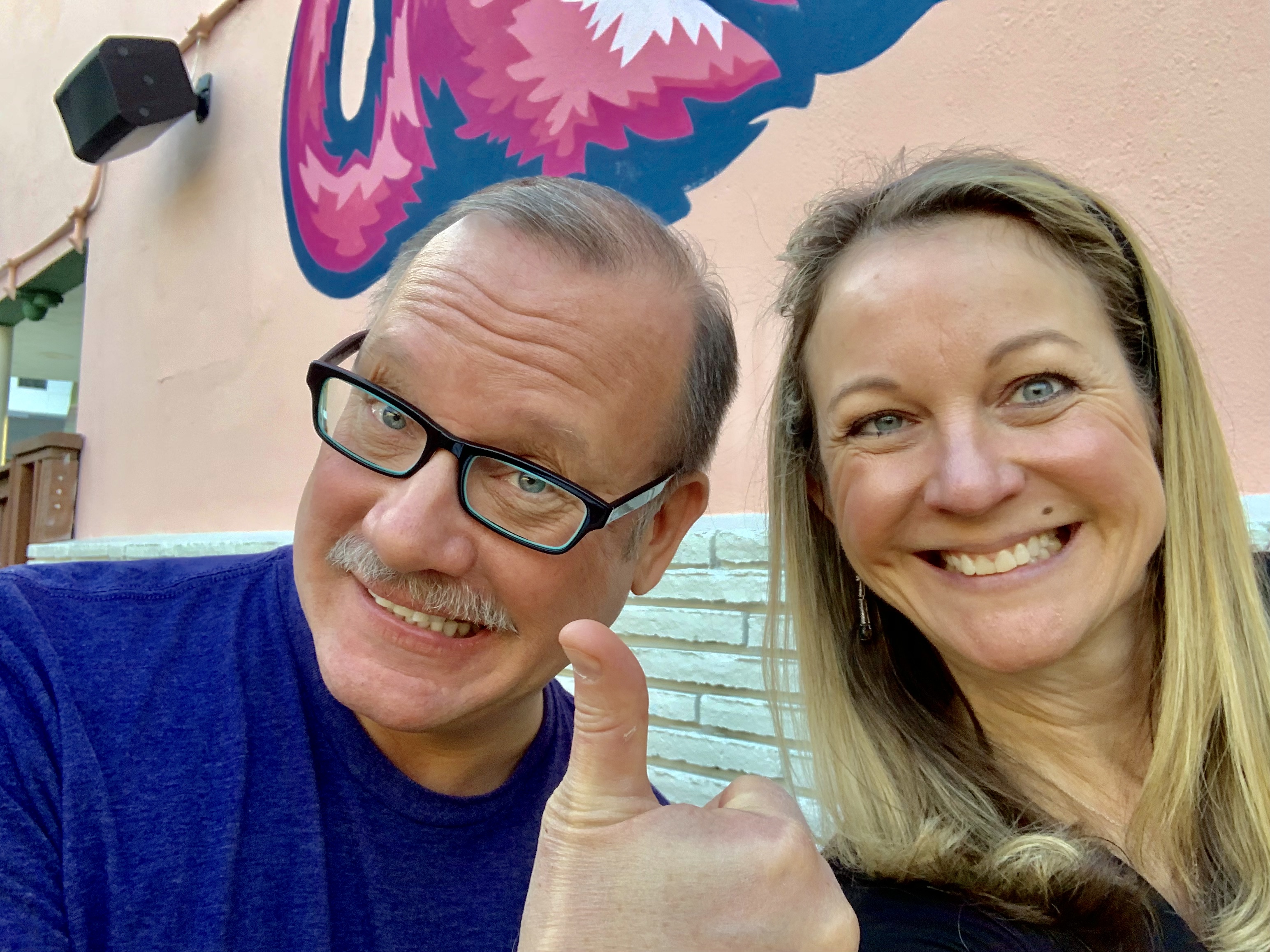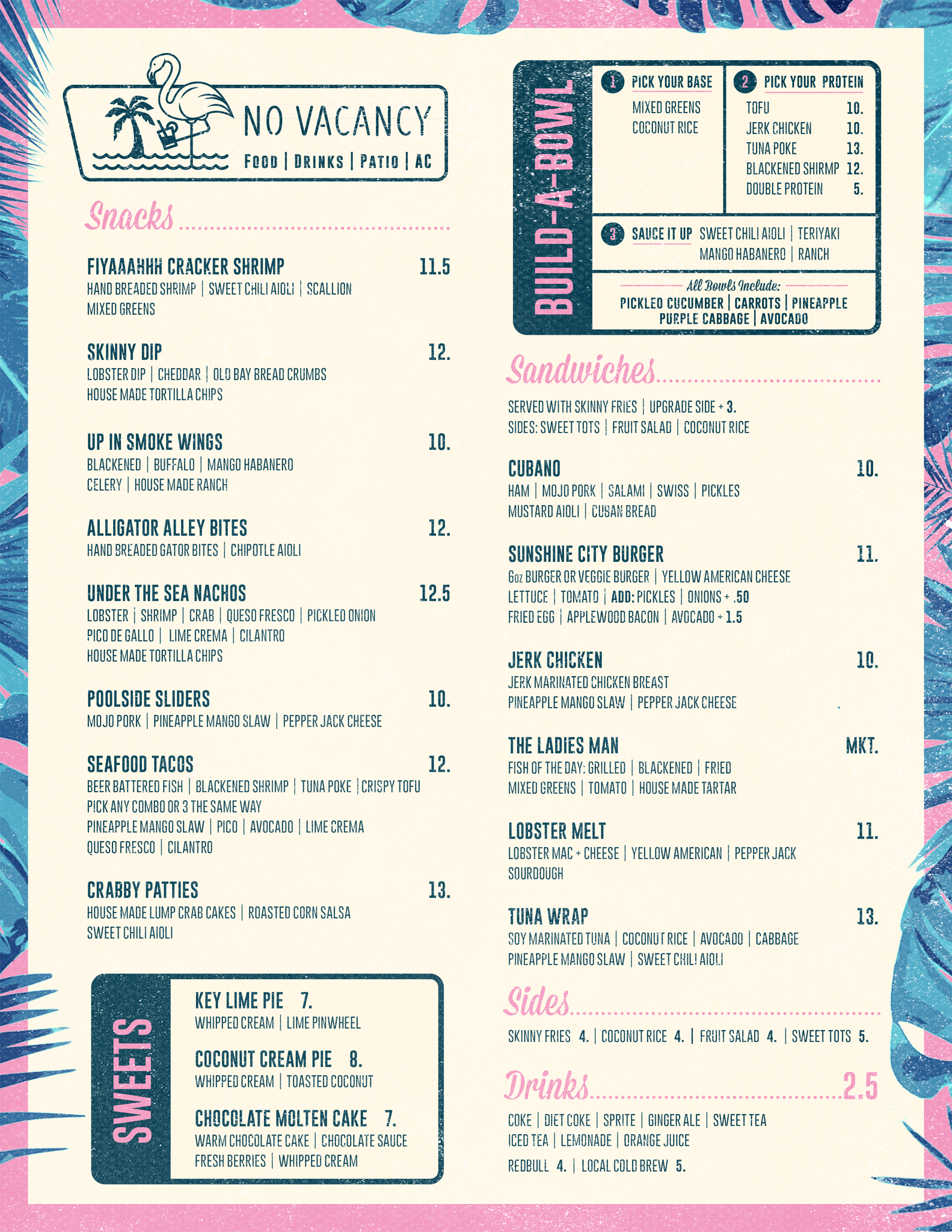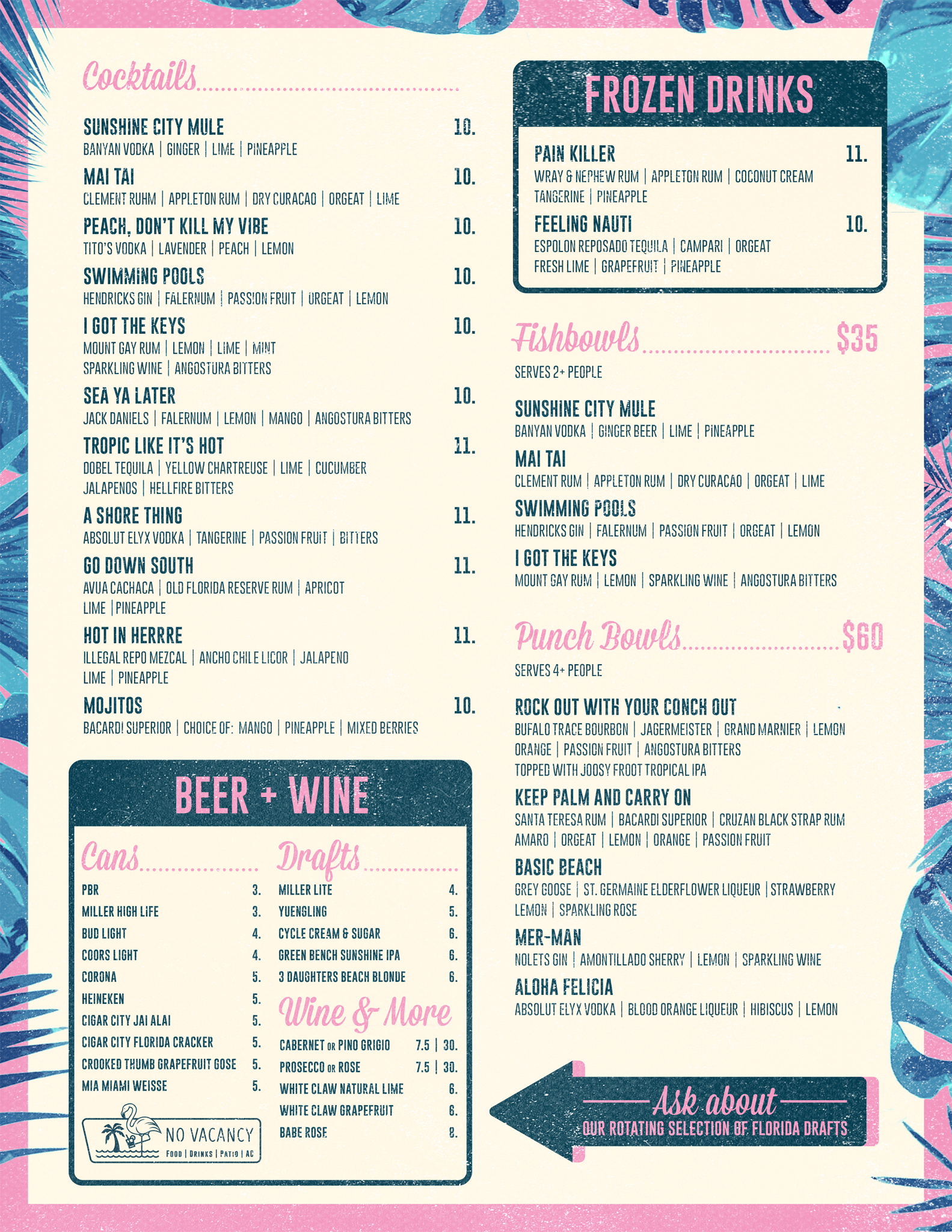 A laid back old school Florida restaurant offering excellent Florida comfort food in a relaxed atmosphere. Both indoor and outdoor seating with a full liquor bar and craft cocktails.
DISCLAIMER: Kevin, Lori, Abby, Haley, & Lindsey do not dine anonymously (this would be impossible) and we sometimes get free food (though never expected). However, we dine with the locals and we support our own. You will always get honesty in a respectful manner. We do not include any large national or regional chains in our ratings and reviews. We focus on independent locally owned eateries exclusively.

PLEASE NOTE: Reviews reflect a certain moment in time. Some restaurants stay extremely consistent over many years, and some change for the better or worse. Some things that may change are: chefs, recipes, food suppliers, ingredients, philosophies, ownership, etc. We always hope that you have the same good, or great experience we had.
More Foodies News, Reviews & Recipes