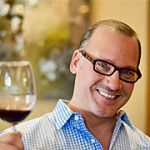 Kevin Godbee · Feb 10, 2020 · 4 min read
Remember Chef Jeffery Hileman? He ran the kitchen at FarmTable Cucina for most of their time open. Put him together with Nueva Cantina co-owner, Louie Spetrini, and you have the Mexican restaurant dream team.
This "new" menu has actually been out for two months now, but we just got to it last week.
Nueva Cantina has really upped their game this time around.
(Chef Hileman did a brief stint in between gigs to help update the menu, and longtime Nueva Cantina Chef Kent Stubbs remains in charge.)
Many of the most popular items remain on the menu, so don't worry about that.
We were invited in for a tasting of some of the new items. Lori and I were hosted along with our friend, Jennifer, to help with some of the eating and imbibing. Suffice it to say, everything was absolutely exquisite.
Technically, we were working, as you can see by my notes.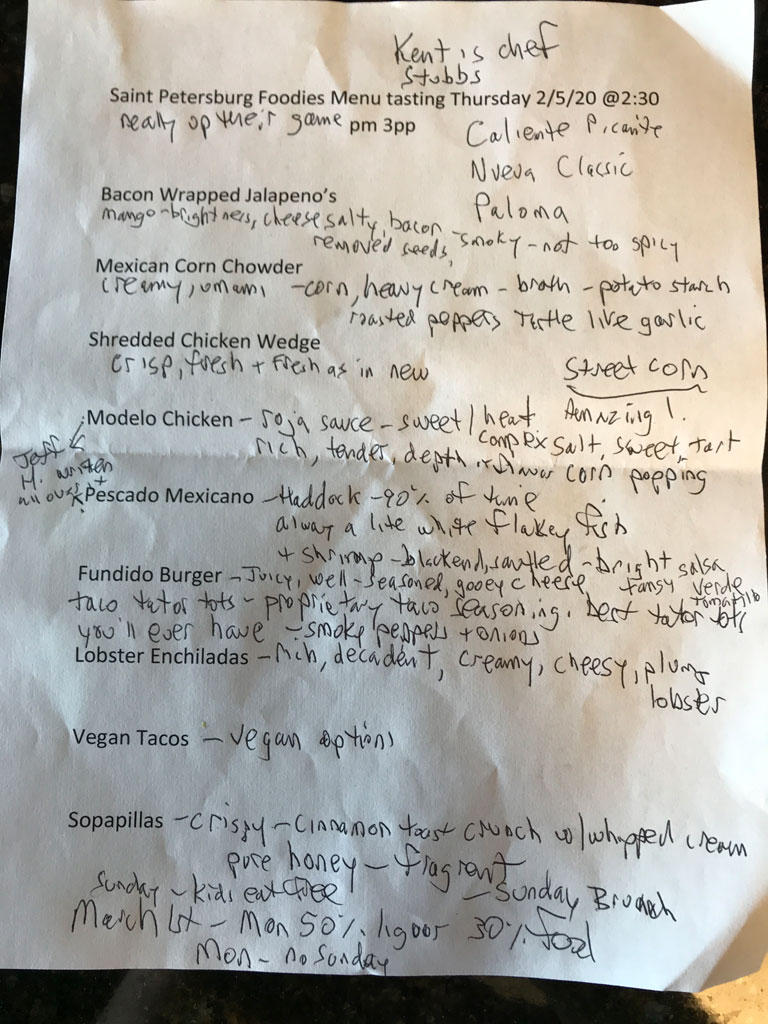 We started with drinks that were all excellent. At 9 o'clock, you have the Paloma, followed by the Nueva Classic Margarita, and then the Caliente Picante, a spicy margarita. I liked them all!
Our first food item was the Bacon Wrapped Jalapeños - Jalapeños stuffed with chicken, onions and cream cheese, wrapped in Applewood smoked bacon and served with mango chutney. The mango contributed a nice brightness, the cheese added a salty element, and the bacon - salty and smokey. It wasn't too spicy as the seeds are removed from the jalapeños.
Next up - Mexican Chili & Corn Chowder - It is made with heavy cream and potatoes. The addition of the corn makes this chowder burst with umami. Interestingly, we thought there was garlic, but that flavor actually came from the roasted peppers.
Mexican Street Corn - Sweet corn dusted with queso fresco, fresh cilantro (not on the pictured ear), and chili powder, served with grilled lime. This is like crack! It has salt, sweet, and tart all at the same time. The corn pops nicely in your mouth. Lori took her leftover street corn and added it to her leftover corn chowder and said it was like a dream. (Thanks to Louie for the great idea.)
Shredded Chicken Wedge - Romaine lettuce, crushed avocado, sweet corn, queso fresco, pico de gallo, and crispy tortilla strips served with house chipotle ranch dressing. Crisp and fresh! This is fresh in two ways - crispy, just picked kind of fresh, and fresh as in new, never seen before. Loved it!
Modelo Marinated Chicken - Honey-lime Modelo marinated chicken served with Mexican rice, black bean corn salsa, salsa rojas, and fresh cilantro.
This one has Hileman written all over it. The chicken is nice and juicy and the roja sauce gives a nice, sweet heat. It's complex, rich, tender, and has a great depth of flavor.
Pescado Mexicano - Seared fish of the day (90% of the time, Haddock) served with blackened shrimp, pico de gallo, Mexican rice, and salsa verde. It's bright and tangy, most likely due to the tomatillos as part of the delicious salsa verde. The fish is moist and flakey. Both the chicken and fish dishes are excellent entrées.
Fundido Burger - Black Angus beef patty, guacamole, sautéed peppers, onions, melted queso sauce, and served on a bed of 'taco' tots (tater tots with house-made taco seasoning).
Many times I go to Mexican restaurants, and see burgers on the menu. Most of the time, I think "why the heck would I get a burger at a Mexican joint?" Well, don't think twice about this one! It's great!
The burger is juicy, well-seasoned, there's delightfully gooey cheese, smokey peppers and onions—Mmmm! And it comes with the best Tator Tots you'll ever have in your life. They are seasoned with the proprietary housemade taco seasonings.
Lobster Enchiladas - Two soft flour enchiladas stuffed with Maine lobster and shrimp, sautéed mushrooms, fresh tomatoes, baked with a sherry cream sauce and served with rice and beans.
These were rich, decadent, creamy, and cheesy with plump big chunks of lobster.
Vegan Tacos - House-spiced tofu, guacamole, shredded red cabbage, salsa roja, pico de gallo, and a grilled lime. Served with white rice and black beans.
They had great flavor, and it's nice to know you can bring your beloved vegan friends along with you.
Cinnamon Toast Sopapillas - Crispy cinnamon-sugar dusted flour tortillas, whipped cream, vanilla ice cream, drizzled with honey. A pure delight! It reminded us of crispy cinnamon-toast crunch with whipped cream. The honey added not only sweetness, but a nice fragrance as well.
Nueva Cantina ups their game with fantastic new menu items.