Nueva Cantina – That Mexican Place is Muy ¡Delicioso!
Nueva Cantina – That Mexican Place is Muy ¡Delicioso!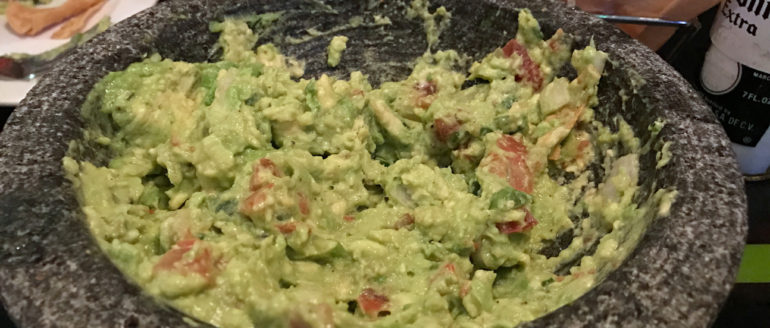 Nueva Cantina Makes Their Guacamole
Fresh To Order Tableside
I love Nueva Cantina! The food is great, the atmosphere is fun, and the service is excellent. I wouldn't expect anything different with the team of Louie Spetrini as GM / Co-Owner, and Chef Paul Daubert. They did an amazing job on their last venture together with the best Southwestern cuisine I ever tasted. (That restaurant was sold and is no longer around.) Thanks also to Rocco Rinaldi for helping make this location finally have great Mexican food. It struggled in the past as El Gallo Grande. It was a roller coaster ride with good food, then bad, then good, then bad again. Now, it's a ride straight to Mexico and Latin-America.
Nueva Cantina touts their fare as "Traditional Mexican", and many of their dishes are, but they also add their own creative little flair. In addition, I don't think they give themselves enough credit for being the only place that I know of (except Nitally's) that has what I would call "Mexican-Fusion Cuisine". That's a nice little differentiator and a tasty one at that.
Take for example, the Picadillo Taco. What a great idea! Cuban and Mexican combined. They mix these two Latin regions again with the Ybor City Chimichanga – it's kind of like a Cuban sandwich, but with Oaxacan cheese – rolled into a chimichanga. What will they think of next? Maybe they will start a Mexican-Fusion off-the-menu special of the month. (That's a suggestion, guys. 😀  )
Nueva also has their own take on mole sauce, and I love it. Theirs is just a tad bit sweeter, and I like it better this way. Just know that going in so you are prepared for it. I highly recommend anything on the menu that comes with the mole sauce. In our first review (link at the end), I had the Pollo Mole – Marinated shredded chicken topped w/ a savory Mole sauce. Served w/tortillas, rice and beans or vegetables – and loved it. This time I decided on the Carnitas Poblano – Roasted poblano pepper stuffed w/ slow cooked pork shoulder, apples, walnuts, raisins, poblano crema,topped w/ rojo Mole.
¡Ay, caramba! I could eat this all day, every day.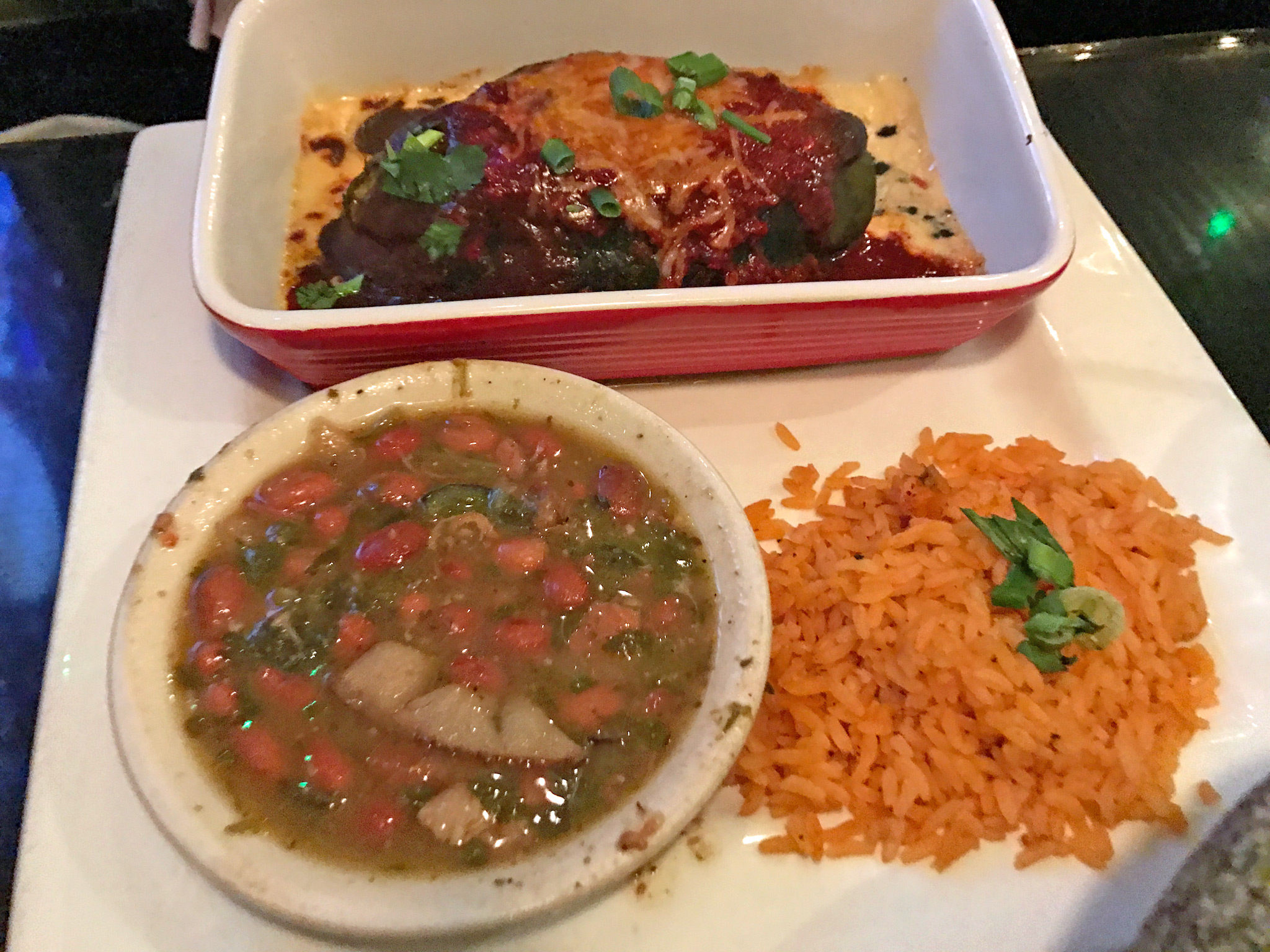 Lori had the Carnitas Fajitas. She said they were good, but not completely to her taste. In this case, Nueva's own little twist on Fajita seasoning wasn't working for her. She prefers it exactly old-school style.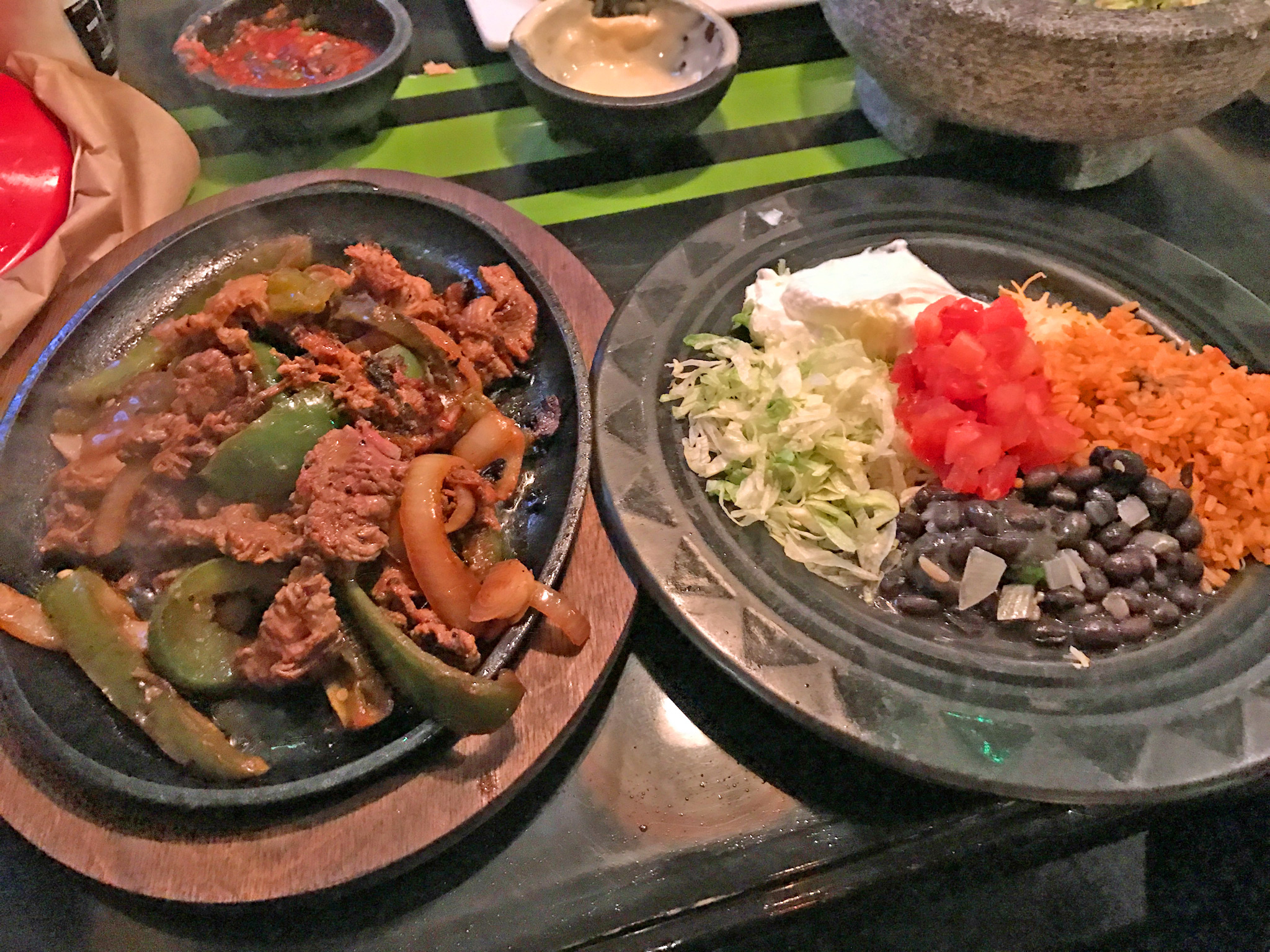 We started with the tableside made-to-order guacamole, which is spectacular. You can see the video of it being made at the top of the article.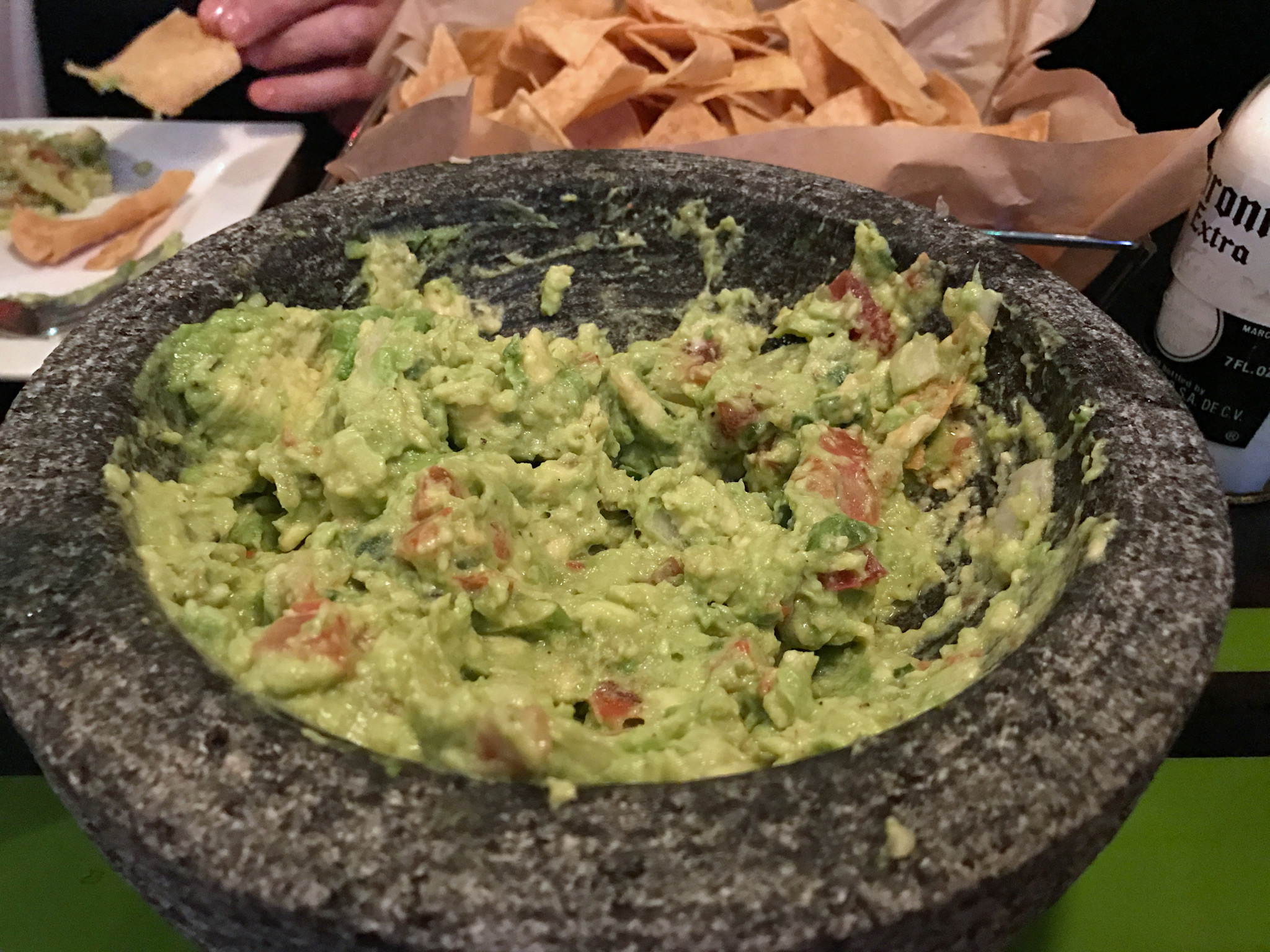 Another starter that is a must try is the Nueva Sampler where you get salsa, queso dip, and guacamole. Since we already had guac, we order the salsa and queso à la carte. It's some of the best salsa and queso I've ever had.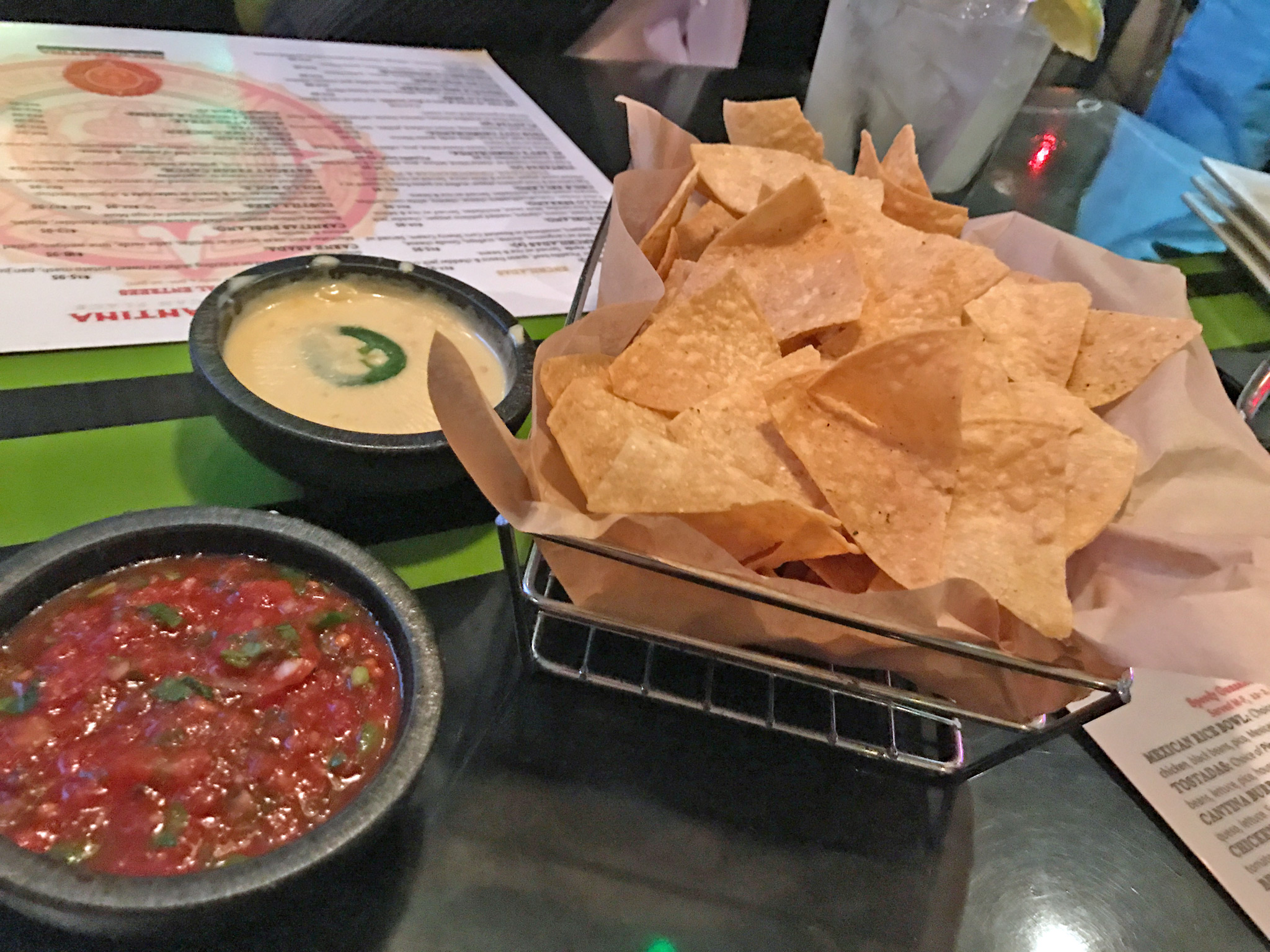 We had several house margaritas, which are quite good. You can see them and read about three different ones in our first review (link at the end).
For dessert we had the Tres Leches – Rich cake soaked in tres leches, cinnamon, vanilla – and the Guava & Cream Cheese Flan, both of which were delectable.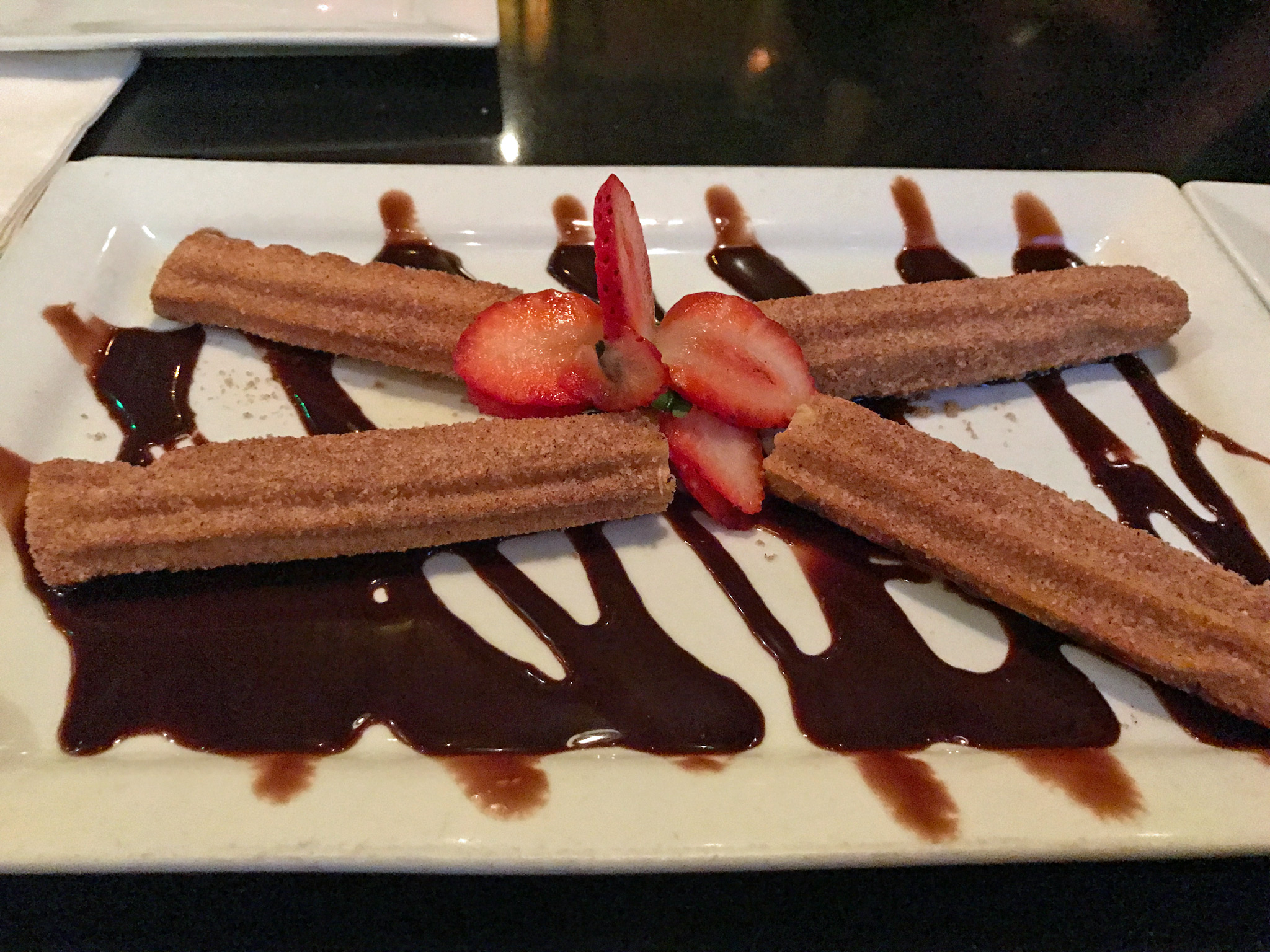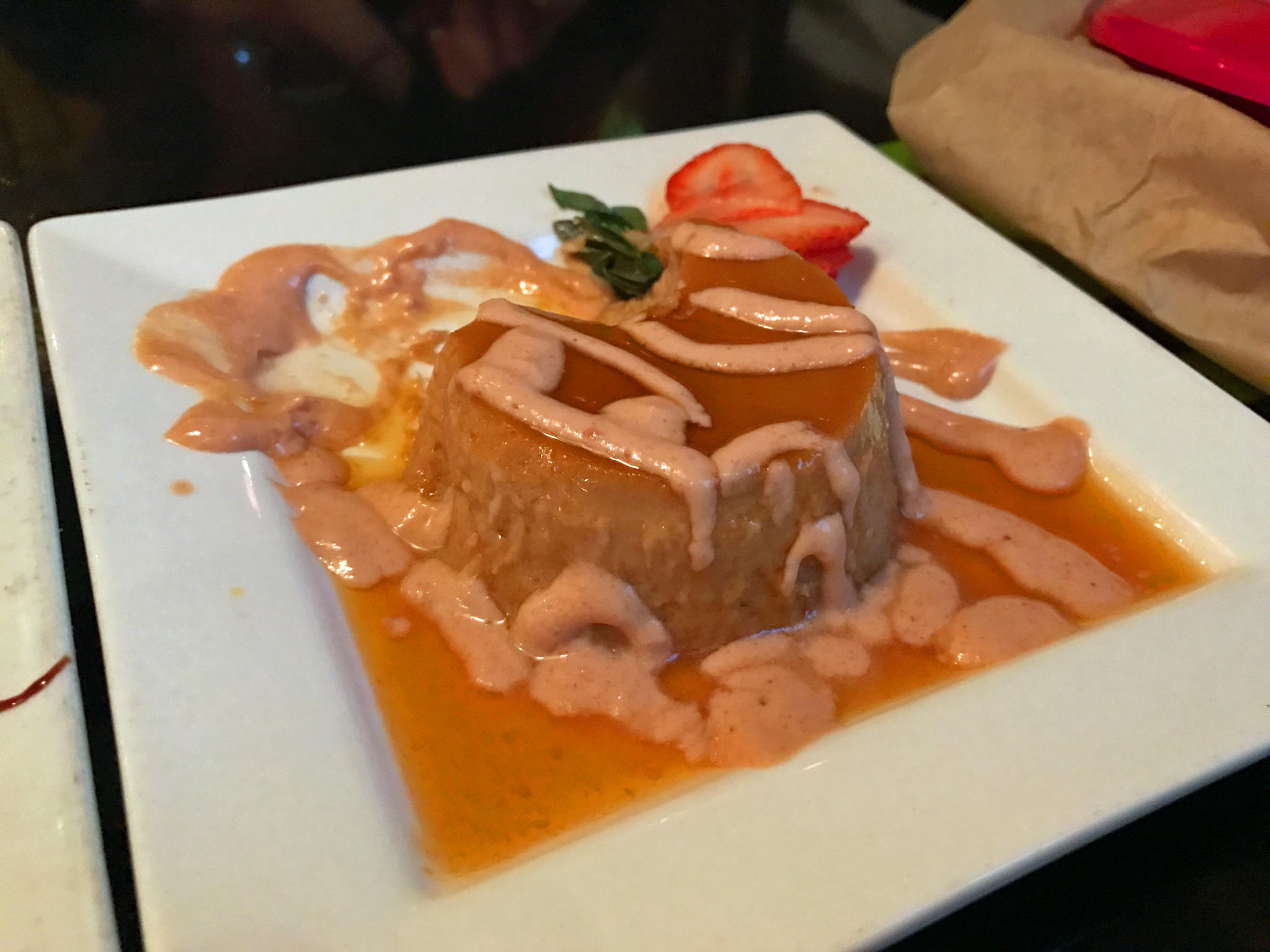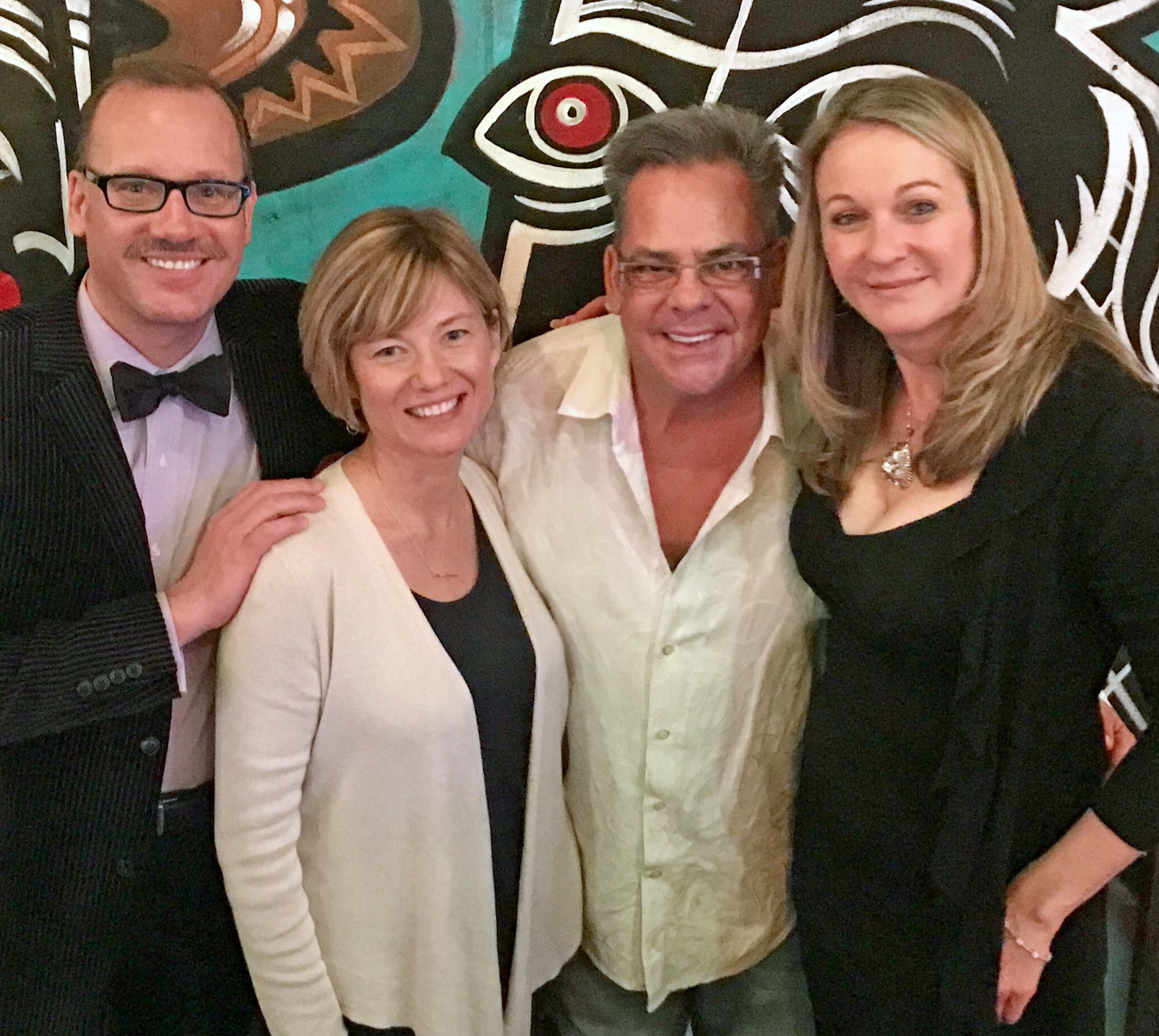 Check out Nueva Cantina and tell them St. Petersburg Foodies sent you. ¡Buen Provecho!
Here's our first review from their soft opening
Here's the write-up on the Grand Opening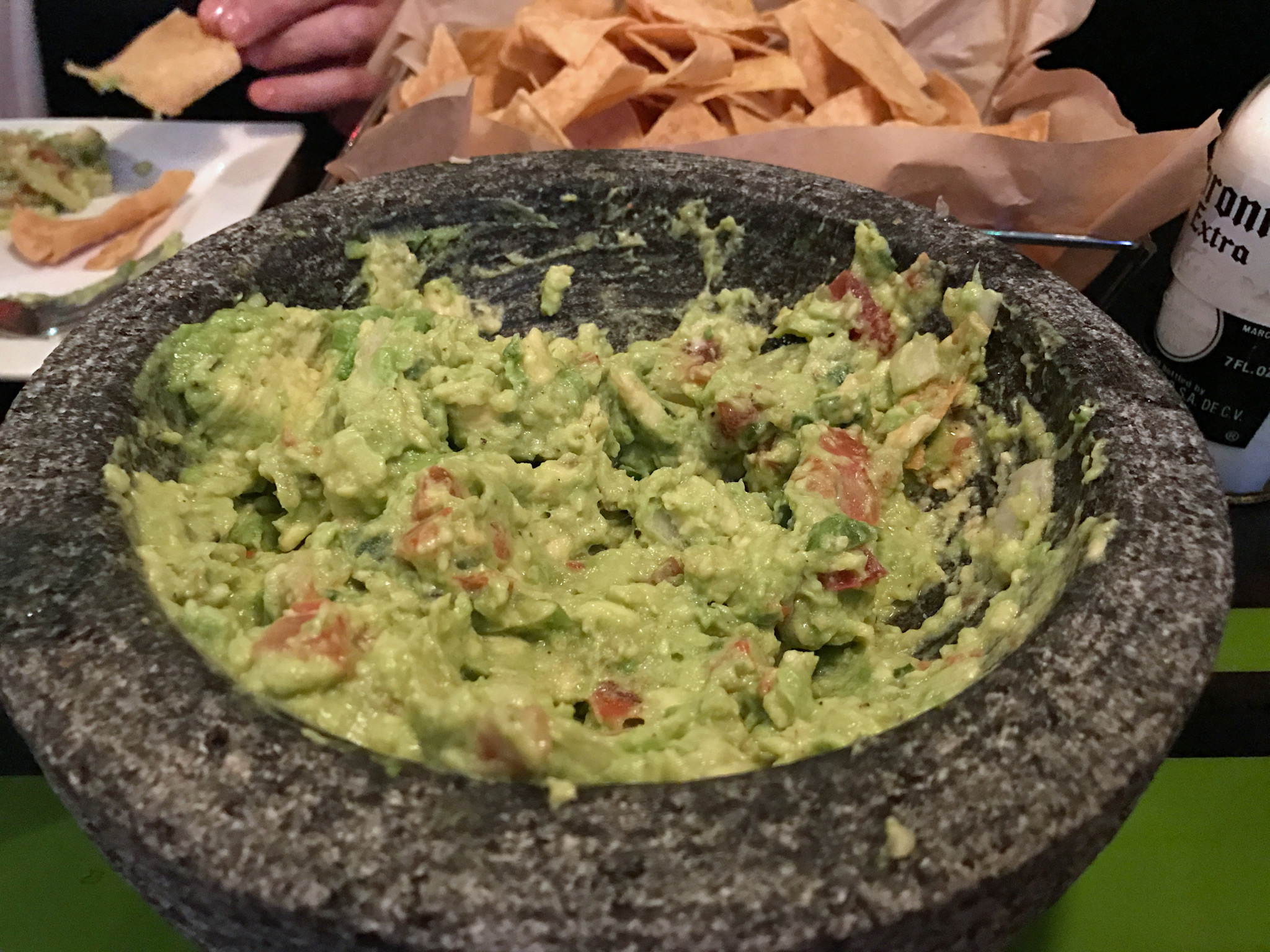 Readers Rating

Rated 5 stars




5

/ 5 (

1

Reviewers

)

Spectacular
---
Nueva Cantina

(727) 851-9579

Mexican

,

Mexican Fusion

,

Latin

Sun - Thu

11:00am - 10:00pm

Fri - Sat

11:00am - 11:00pm
1625 4th St South

,

St. Petersburg

,

FL

33701

,

US
---
Nueva Cantina serves up both traditional Mexican and Mexican-Fusion fare that is fresh, housemade and delicious.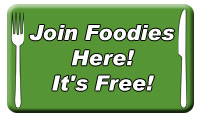 Written by Kevin Godbee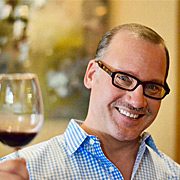 Publisher & Co-Founder of St. Petersburg Foodies
World Food Championships Certified Food Judge #1541
Certified Chili Judge #62 by the International Chili Society
Certified Steak Judge #1562 by the Steak Cookoff Association
Certified Pizza Judge #14 by the Pizza Cookoff Association
Rouxbe Culinary School Enrollee
Culinary Institute of America "DISH" Member
I've always loved cooking. When I was 6-years old I wanted to cook. When my mom said that she was just running to the neighbor's and would be right back, I climbed onto the kitchen counter and found Lipton Instant French Onion Soup Mix. By the time my mom returned, I was stirring the pot on the stove, and proclaimed; "Look Mom! I'm cooking!"
In High School, I took three different cooking classes and got an A in each. After getting my first apartment, I used to cook 5-nights a week, and go out two nights. An old girlfriend from decades ago had a brother-in-law that was a CEO of a trucking company, and he used to entertain in Manhattan quite a bit ... and he started taking us along.
This was when I learned about gourmet food and fine wine. For a couple of years, Lori and I went out about 4-5 nights a week, but now we have a better balance of 50/50 between cooking at home, and going out to the amazing restaurants we are so lucky to have in our beloved St. Petersburg.
View all posts by: Kevin Godbee
More Foodies News, Reviews & Recipes
Comments are closed
#stpetersburgfoodies #stpetefoodies
Recent Posts
September 22, 2022

Delectable Down Home Mexican Eats at Martha's

There's many times in our Facebook Restaurant Reviews Group when I see people requesting "Just regular Mexican food, and none of that darn fancy stuff!" Martha's is your ticket. There's nothing elegant, no fusion, or frilly plating. (We'll talk about the décor later.) It's just darn good Mexican food made and served by Mexicans. There's Tex-Mex too as most diners expect this when they go to a "Mexican" restaurant. They are open seven days a week for breakfast, lunch, and dinner from 10 am to 8:30 pm. Breakfast items are available all day. I went three times for lunch, once with a friend, and the other times solo. Everything is made in-house including the chips and salsa, which is where we started. The salsa is mild-to-medium, flavorful and light. It's nice and tomato-y and seasoned nicely. The chips were hot and fresh out of the fryer and lightly salted. For my first go-round I went with two traditional Mexican street tacos and a Tinga empanada. The traditional style tacos have a soft corn tortilla, meat, cilantro and onions. They do also offer American-style with a soft flour tortilla topped with lettuce, cheese and tomato. There are no hard shell corn tortillas here, but ironically, Martha's is located behind a Taco Bell, which is the inventor of the pre-formed hard taco shell. (I betcha didn't know that.) Since I was going classic, I decided to go all the way and start with a Suadero, which in Mexican cuisine in this case was a thin cut of pork between the belly and the leg. (It can also be beef cut from the intermediate part of the cow.) My other taco was Al Pastor, which is another popular Mexican pork street food brought to the region by Lebanese immigrants based on their lamb shawarma. The Tinga empanada is shredded chicken in a tomato and chile sauce, and other ingredients. It was good, but instead of a wheat-flour based pastry shell it had a corn-based dough, which is a texture like a tamale, but fried. It's not bad. I'm just used to the other style. My friend went with the ever-so-popular Quesabirria Tacos. They come in threes or singles, so he got two. Most items on the menu are like this – you can get a plate of three, or order in singles. He also got the Tinga empanada. He said the tacos were great, and overall loved the place so much that he's been back twice as well. The sauces were quite good too, which brings me to the special "Spicy Red Sauce" that is served only by request. I read a Google review that said to be sure to request it, so I did. Warning: Only request this if you enjoy super spicy like I do. I had sweat on the top of my head, and dripping down my neck. For me, this is a good thing. It may not be for you. Even thought it's "rojo", the color is more orange, so I thought it might be habanero-based, but I was told it's made with arbol chiles, and those suckers are hot too. On my second visit I was in the mood for a big fat burrito packed with flavor, so I went with the "Mexican Sausage", which is what they call Chorizo on the menu. It was a fiesta in my mouth. The flour tortilla was perfectly browned on the outside, and packed with sausage, cheese, lettuce and tomato on the inside. This burrito cures all hunger ills. As if that wasn't already enough food, and it was – I needed to get another item for a more complete review. Corn is such a major component of Mexican cuisine that I ordered the Esquites, which is Mexican street corn off the cob. Elote is the Mexican street corn on the cob, and they have this too. The Esquites comes in a cup and is prepared with mayonnaise, cheese, chile powder, and lime for a fun flavorful side dish. On my third visit I dined on ground beef enchiladas with red sauce that's also topped with cheese and lettuce, and comes with rice and beans.  The enchiladas were savory and tangy, and spiced ground beef is just so good. The sauce was mild and tasty. I found it interesting that they fold the tortillas instead of rolling them. I like that the beans had both puréed and whole beans. They were nothing fancy, but tasted good enough that I ate them all. The rice was your basic stuff, which I didn't finish. I started this lunch with some chips and queso that was pretty good. The interior has a tiki theme as that used to be what the space held. One of the signs at one entrance to the plaza still reads "Tiki", so when you see that, you're in the right place. The service is fast and friendly, the food is really good, and it's worth the drive to Kenneth City. Alcohol is limited to beer.
Recipes
September 2, 2022

Chicken Piccata with Grapefruit Recipe

Traditionally, lemon is the citrus utilized when making chicken piccata. However, we're shaking things up with this recipe where grapefruit is implemented instead. In September in Florida, a great deal of citrus is in season and that includes grapefruit. I don't find grapefruit frequently used in savory recipes, but do see it quite a bit in desserts and salads. So when Lori mentioned that she made a chicken piccata with grapefruit years ago that was outstanding, I had to have a stab at it. This recipe is very similar to any other piccata recipe. The main (and only) difference in this instance is that we are using fresh grapefruit juice instead of fresh lemon juice. I find that the grapefruit makes the end result just a touch more sweet than the original recipe – it's very subtle. When sourcing your grapefruit from somewhere like Rollin' Oats where the organic produce is plentiful, seek out fruits that are very ripe and juicy. Avoid under ripe grapefruit that will feel more firm in texture. If the idea of grapefruit in place of lemon is too farfetched for you, perhaps ease into things by only using 1/2 lemon and 1/2 grapefruit. Chicken breasts are what I typically use for this recipe as I find them to be more convenient and easier to work with. If you're looking to up the flavor ante, give chicken thighs a try instead. Chicken Piccata with Grapefruit Swap in a juicy grapefruit for the traditional lemon in this easy Chicken Piccata dish that is certain to satisfy all. 2 chicken breasts (Halved so that you have four pieces)1 cup flour2 grapefruits (Juice of 1 and the other cut into wedges.)6 tbsp butter4 tsp olive oil1/2 cup vegetable stock1/4 cup parsley (Fresh, roughly chopped)1 tsp salt (Plus more to taste)pepper (to taste) One at a time, place halved chicken breasts under plastic wrap and pound or roll until thin. Place on a plate and season with salt and pepperDredge each chicken piece in flour and shake off the excess. Heat a skillet or dutch oven (I like to use a dutch oven for the high walls in case of splatter) over medium high heat and add 2 tbsp of butter and 2 tsp oil. Add two chicken pieces at a time and cook for four minutes on each side until browned and coked through (about 8 minutes).Add 2 more tbsp of butter and remaining oil and cook last two pieces of chicken just as we did the first two. Remove from heat and turn down skillet to medium. Pour in stock, capers, juice of one grapefruit and grapefruit slices. Allow to simmer and then add chicken pieces back in and cook for another five minutes. Taste and season as needed.Remove chicken, add remaining two tbsp of butter to the pan and bring to a gentle simmer. Spoon reduced sauce and capers over chicken, garnish with parsley and serve. Dinner, Main CourseItalianAbby Allen Recipes, Chicken Piccata

August 1, 2022

Beer-Battered Fish Tacos with Mango-Avocado Salsa Recipe

Tacos are a love language for a lot of folks. I can't quite put my finger on exactly why the handheld treat appeals to the masses, but I have a few guesses. There are so many taco renditions out there that you're bound to fall in love with at least one. One of my personal favorites is Baja style which originated in none other than Baja California, Mexico. This type of taco is usually comprised of a white and flakey fish, often fried, a cabbage slaw of sorts and usually some kind of crema/sauce. This taco recipe was of course inspired by the refreshing Baja style taco, but I've added even more excitement with a bright mango-avocado salsa. Both fruits are in season in Florida during the month of August and Rollin' Oats has plenty of them waiting for you – organic, ripe, juicy and delicious. Don't limit the use of this salsa to just these tacos – have it as an appetizer with chips, spoon it on a salad, etc. I have found that we humans are quite particular when it comes to our tortilla shell preference. Flour or corn? Soft shell or do we want crunch? Street style or perhaps a bit larger? There are so many questions. Because of this, I've left the tortilla preference totally up to you and Rollin' Oats has a variety of shells all over the board for you to pick from. Flour, corn, hard shell or even grain-free (made by Siete and they're fantastic). As for the Cod, you'll find a ten ounce bag of wild-caught in the frozen section at the back of Rollin' Oats which proved to be incredible-tasting. If you aren't a fan of cod or can't find it, any flaky fish will suffice. Beer-Battered Fish Tacos with Mango-Avocado Salsa These are going to be your summer go-to taco for any occasion. Don't limit the use of the salsa to just this dish – it's great on salads and as an appetizer on its own too. Mango-Avocado Salsa1 avocado (diced in small cubes)1 mango (diced in small cubes)1/2 medium onion (diced)1 lime1 jalapeno (seeds and stem discarded, minced)2 tbsp cilantro (fresh, roughly chopped)salt (as needed)Chipotle Mayo1/4 cup mayo2 tsp liquid from can of chipotle chiles1/2 lime (juice of only)1/2 tsp salt (more as needed)Cabbage Slaw1 cup red cabbage (finely chopped/shredded)1 cup green cabbage (finely chopped/shredded)1/2 lime (juice of only)1/2 tsp salt (plus more as needed)pepper (to taste)Beer-Battered Cod & Taco Assembly10 oz Cod (preferably wild caught and cut into 2-3" pieces)2 cups vegetable oil2 cups flour (all purpose will do, divided)12 oz light beer (I used Cigar City Jai Low)1 tsp baking powder1 tsp cayenne2 tbsp salttortilla shells (flour, corn, grain-free – whichever you prefer…)cilantro (chopped)lime wedgestortilla shells of choice Mango-Avocado SalsaCombine all ingredients in a medium bowl. Taste and salt as needed and then refrigerate until ready for taco assembly.Chipotle MayoWhisk all ingredients together in a small bowl and season as needed. Refrigerate.Cabbage SlawStir all ingredients together in a medium sized bowl. Taste and season as needed and also pop into the fridge until later.Beer-Battered Cod & Taco AssemblyIn a medium bowl combine 1 1/4 cup flour, beer, baking powder and one tbsp salt. Whisk until smooth without chunks. Add remaining flour, salt and cayenne to another medium bowl and combine. Pat cod pieces with a paper towel and season with a pinch or two of salt.Toss cod pieces in dry flour and cayenne mix and then dredge in batter. Set dredged pieces on a cooling rack set over parchment to catch the drippings.Heat oil (it should be 2-3 inches thick – if not, add more) over medium high heat until 350-375 degrees (you can use a deep fat thermometer for precise temps). Add fish pieces (you can do this in two batches) and allow to fry for 3-4 minutes.Flip and fry for another three minutes until cod is cooked through and golden brown in color. Remove and allow to cool on a parchment-lined plate.To assemble the tacos, add a spoonful of the cabbage slaw, 1-2 pieces of fish, salsa, drizzle of chipotle mayo and cilantro and lime wedges as needed. Main Course, Main DishAmerican, MexicanBeer-Battered Fish Tacos, Best Taco Recipe, Fish Taco Recipe

Liven up a beautiful seared and sliced piece of steak with a zingy tomato and charred corn salsa. Steak, tomatoes and corn are of course the stars of this show. Tomatoes and corn are in season in Florida currently so you're likely to find an abundance most everywhere. There are no strict guidelines with this recipe – just think of it as your guide. Utilize any kind of tomato (just as long as it's ripe) and cut of steak that you'd like and feel free to go wild with additional veggies and herbs in the salsa. The only ingredient that I suggest sticking strictly too is the corn on the cob because we are grilling it prior to cutting it off of the cob and mixing into the salsa. As far as steak is concerned though, I personally recommend a NY Strip or a Ribeye for this recipe. Filets are great of course, but you'll probably need a couple to feed more than two people. Rollin' Oats always has a fantastic selection of organic and pasture-raised steaks available. The quality is premium of course. If you have the equipment, I recommend a sous vide bath for your steak prior to quickly hitting the hot grill for a nice sear. For a medium rare finish, we usually cook our steak (typically a NY Strip or Tenderloin) at 129/130 for at least one hour. The result is a perfectly tender cut of steak that nearly melts in your mouth. Grilled Steak with Tomato & Charred Corn Salsa This simple summer steak situation is your answer to an evening of stress free outside dinner party hosting. Gilled Corn4 ears of corn1 tbsp olive oilSteak 1 1lb steak (Like NY Strip or Ribeye)2 tomatoes (Medium in size and ripe, like Roma's – diced.)1 red onion (Smaller in size, or 1/2 of one medium in size. Diced.)1 jalapeno (Minced)1 lime2 tsp olive oil2 cups arugula1 lemon4 garlic cloves (Smashed, outer skin removed and discarded.)2 tsp salt (Plus more to taste) Charred CornPreheat your oven to 400F. Line a baking sheet with parchment and evenly bush oil onto corn and season well with a few pinches of salt.Roast corn for 40-50 minutes, or until corn begins to char. Turn corn carefully every 10-15 minutes. Allow corn to cool completely. Then cut kernels off of the cob and reserve in a bowl until ready to make your salsa.Steak & AssemblyIn a medium bowl combine charred corn kernels, tomato, onion, jalapeno, 1 tablespoon of olive oil, juice of one lime and 1 teaspoon of salt. Gently stir to combine, taste and season as needed. Set aside until steak is ready. In another medium bowl, toss arugula with juice of one lemon and a pinch of salt. Set aside.If you're going to sous vide your steak, do that first (even before the corn). I suggest a temperature of 129-130F for 1-2 hours for medium rare (skip this step if only grilling your steak).Preheat grill to 500F. Set a medium cast iron skillet on the grill and add remaining 1 teaspoon of olive oil and add in smashed garlic cloves. Pat steak dry and season top side liberally with salt. Grill seasoned side-down 4-5 minutes. Season other side of steak with salt, flip and cook for another 3-4 minutes for a nice medium rare.Allow steak to rest, slice and serve topped with lemon-dressed arugula and salsa. Dinner, Main Course, Main DishAmericanAbby Allen Recipes, Grass Fed Steak Recipes

June 2, 2022

Smash Burgers with Kimchi Mayo Recipe

Burgers – they come in all different sizes, dressed will all sorts of accessories stacked in many different ways. My favorite one of all though? A smash burger. In essence, it's a burger in its most simplistic form with everything it needs to be a winner without going over the top. Ultra thin beef patties smashed and cooked on a ripping hot surface with crispy edges…it's exactly as good as it sounds. Smash burgers (or often Smashburgers) were introduced to me by way of a podcast with George Motz. George has been referred to as "the foremost authority on hamburgers." He says that all you need is a patty with American cheese and onions smashed on a hot griddle and served on a bun – simple and perfect, just as it should be. With this recipe though we are spicing things up a touch with help from kimchi and gochujang. There's a lot of really great kimchi out there. Mother In Law's is usually what I'm grabbing at the grocery store more times than not. Quality is superb and I have found that it's available at a number of grocers, including Rollin' Oats which is where I pick up mine. They also have Mother In Law's gochugang available to make shopping for this recipe a breeze. Because the three ounce patties are small (which I prefer – much more manageable), a double smash burger is encouraged, but not necessary. Regardless of the number of patties though, a good bun is recommended. I'm a sucker for Brioche buns but if those aren't available, Dave's Killer Bread Burger Buns to the rescue. Smash Burgers with Kimchi Mayo Smash Burgers – I just can't get enough. This rendition uses kimchi in place of onion and a gochujang-mayo for a nice punch. Burgers and Assembly12 oz ground beef (Preferably grass-fed/organic like Simply Balanced at Rollin' Oats.)1/4 cup kimchi (Roughly chopped)4 slices cheese (Use any you like or totally omit all together. I use any organic American.)4 burger Buns (I recommend Waverly Brioche and Dave's Killer Bread – both at Rollin' Oats.)1/4 white onion (Sliced into thin half-moons.)1/4 cup Fresh Herbs (Roughly chopped. Use any you have on hand like cilantro, basil or mint.)2 tbsp oil (Like avocado, vegetable or something with a higher smoke point. You can use butter here too.)saltKimchi Mayo1/2 cup mayonaise1/4 cup kimchi (Chopped well. I use Mother In Law's brand.)1/2 lime (Juice only)1/4 cup gochujang (Add more if you're into spice.) Kimchi MayoCombine all ingedients in a small bowl until mixed well. Taste for seasoning and adjust as needed with more gochujang, lime, salt, etc.Burgers and AssemblyPreheat oven to 350F and line a baking sheet with parchment paper. Tear off another sheet of parchment and cut it into four even squares. Divide ground beef into four equal sized balls. If you have a kitchen scale definitely use it – each ball should be about 3oz and rolled together loosely.Heat a well-seasoned skillet of your choice over medium high heat and oil. When skillet is hot add one burger ball to hot skillet, season with a pinch of salt and lay one of the parchment squares on top. Using a spatula, smash and flatten the burger as best as you can. Remove and discard parchment and cook burger for 2 minutes – edges should be browning. Flip and repeat on second side.Cover skillet and melt cheese on top of the patty, remove from heat and set aside on parchment lined baking sheet. Repeat with remaining burger patties. When all are finished, warm in the oven for a few minutes.To assemble the burgers toast your buns while the patties cook (if toasting). Spread a spoonful of the kimchi mayo on each inside part of the bun. Assemble starting with the burger patty (or patties, if opting for a double), then top with onion, more kimchi and chopped fresh herbs. Dinner, Main Course, SandwichAmerican, KoreanAbby Allen Recipes, Grass Fed Burgers

May 2, 2022

Spiced Melon Panzanella Salad Recipe

Panzanella is a Tuscan chopped salad typically made with stale bread, tomatoes and onion and is served mostly during the summer months. The toasted bread cubes sop up the beautiful tomato juices, olive oil and lemon which makes for one incredibly satisfying bite. Feel free to use any bread of your liking -Focaccia, Brioche and Dave's Killer Bread (as you know, this is one of my favorite brands at Rollin' Oats) are all wonderful options for your bread cubes. One of the things I love most about this salad is that it has heft, while also remaining vibrant and fresh. Because of those characteristics, it's a great salad for both a satisfying lunch/brunch entree or a bright pre-dinner appetizer. The combination of ingredients meshes extremely well together. Sweet and spicy Cantaloupe, fresh basil and mozzarella, crispy bread, savory prosciutto and a punch of citrus and olive oil – it's extremely tough to go wrong. The crispy prosciutto is optional; however, it does add lovely salty and crunchy notes. At Rollin' Oats you'll find a three ounce package of Niman Ranch All Natural Prosciutto (currently on sale for $4.99). In Florida, Cantaloupe is in season April – June, so it's usually quite easy to find during that time frame. Though if you're looking to make the recipe at a time when cantaloupe is not available just simply use any ripe and juicy tomatoes that you can get your hands on. Spiced Melon Panzanella This salad has a split personality: it can pose as either a satisfying lunch or pre-dinner bite when served in smaller portions. 1 cantaloupe (Cut into 1-2" cubes)1/2 red onion (Sliced into thin half moons)8 oz mozzarella ball (Torn into irregular 1" pieces)2 cups bread (Any will do, like Italian loaf, foccacia, Dave's Killer Bread, etc. – torn into 1" irregular cubes)1/2 cup olive oil3 oz prosciutto (Optional)1 avocado (Sliced into small wedges)1/4 cup basil (Roughly chopped, plus more for garnish)1 lemon (Juiced)2 tsp salt2 tsp black pepper1 tsp crushed red pepper Preheat oven to 400F. Toss bread cubes in a large bowl with 1 tsp salt. Arrange in an even layer on a parchment-lined baking sheet and bake for 12-15 minutes (you want bread cubes to be golden & crouton-like in texture). Remove from baking sheet and set aside.In a large bowl toss melon cubes with 2 tbsp olive oil, crushed red pepper, 1 tsp black pepper and 1/2 tsp salt. Refrigerate until ready to use. If using prosciutto, one slice at a time, place prosciutto slice between two paper towels and microwave for 45 seconds (or until crisp). Allow to cool and crumble in a small bowl. Repeat with remaining prosciutto slices.In a small bowl combine juice of one lemon and remaining oil, salt and pepper. Whisk until well combined.When you're ready to serve your Panzanella salad, add all ingredients except sliced avocado to a large bowl. Gently combine. Serve salad topped with avocado slices and more basil. Appetizer, Dinner, Main CourseItalianAbby Allen Recipes, Panzanella Salad Recipes, Spiced Melon Panzanella