Bravo to Bavaro's on Brunch Italiano!
Bravo to Bavaro's on Brunch Italiano!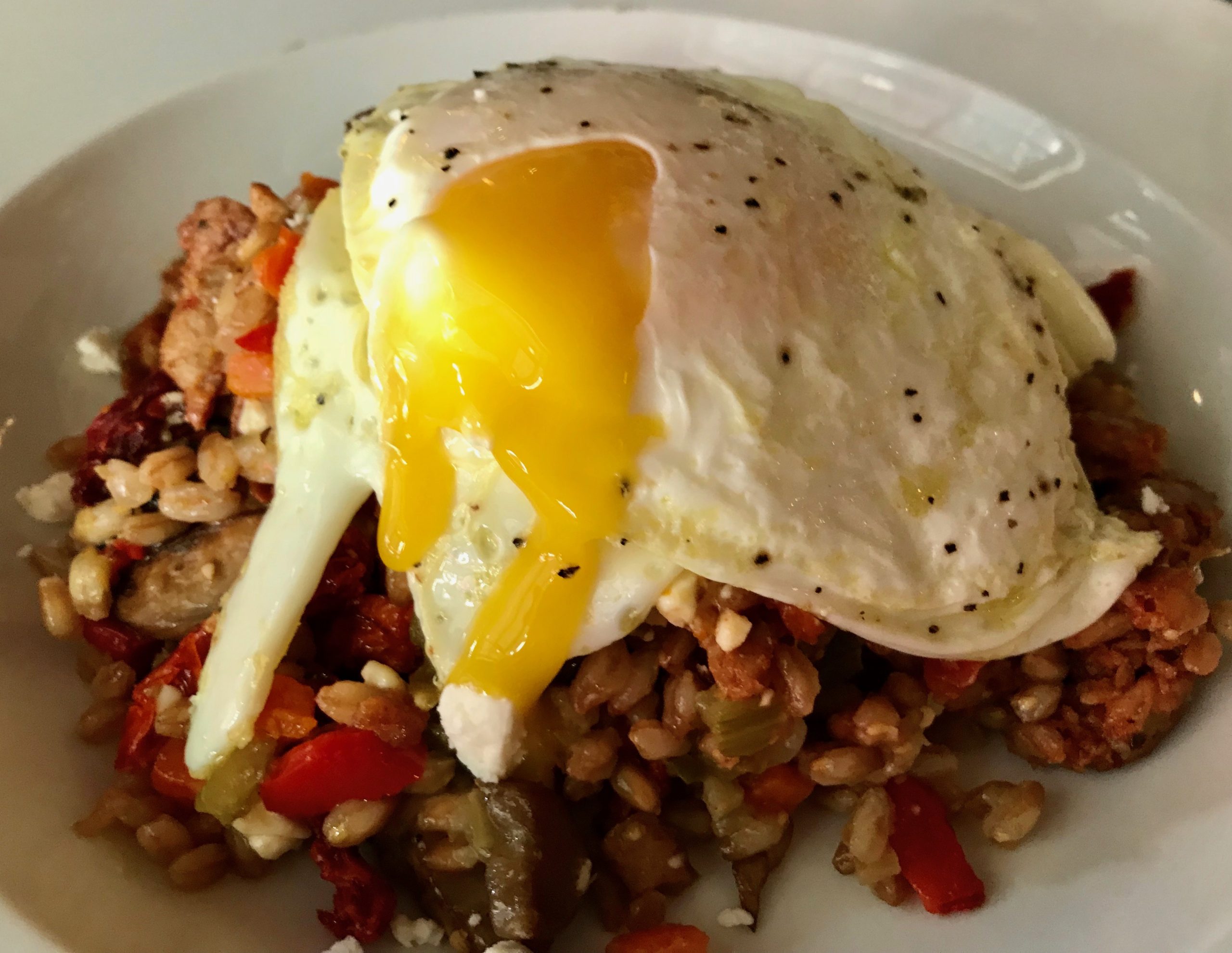 Bavaro's Begins Weekend Brunch (Sat & Sun 11am – 2pm)
this Saturday, April 7th
When we heard that Bavaro's was going to begin serving brunch I thought how will a pizza and pastaria restaurant create a brunch menu?  Will it be creative and innovative or will it just have the same offerings we can find elsewhere? Dan Bavaro asked us to come and sample the menu yesterday, Thursday April 5th, to give them feedback before they start serving it on Saturday. To be honest I did not know what to expect and was a little nervous. I cannot tell you how thrilled I am to report that this menu is so different from anything you can find anywhere else and, beyond that, the food is so mouthwateringingly divine that I could literally still taste those pancakes for hours after. (Full menu at the bottom of this article)
I was so excited after we left that I didn't just text Dan with our feedback, I called him, because written text could not convey how thrilled we were and how happy I feel to write this article today. The first thing Dan said is, "I have never even had brunch. Italians don't do brunch." Well in St Petersburg, FL at Bavaro's Napoletana Pizza and Pastaria, they do now.
We arrived to meet Aimee Daley, Bavaro's Events Coordinator, who walked us through the new menu which was created by Executive Chef, Logan Canavan. They will be offering fresh made, not pre-made, $14 bottomless Mimosas, Bellinis and Lover's Quarrels (a Bavaro's exclusive made with cappelletti, grapefruit cordial and prosecco served with a lemon that you must squeeze into it –  it makes the drink).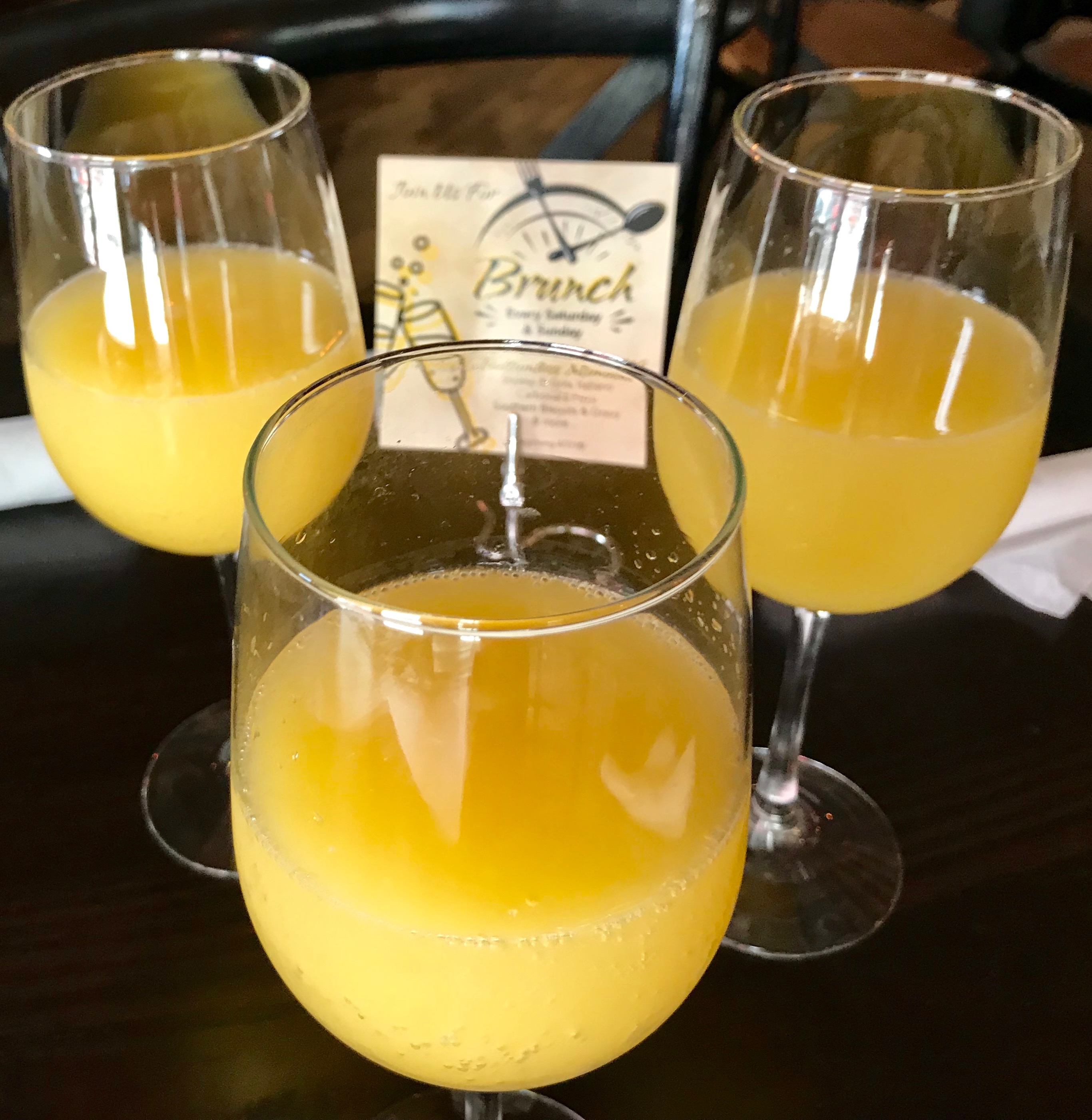 First out was the Southern Biscuits and Gravy. The biscuits are homemade and you can tell. They were crispy on the outside and pillowy and buttery on the inside – as they should be. Then they are smothered with homemade spicy sausage gravy. Chef Logan describes the gravy as a "classic white gravy with sausage, heavy cream, a little bit of pancetta fat and some roux to thicken it up." It is quite savory with Italian homemade sausage that gives it that fennel flavor and makes it different. I am not a fan of fennel, but many are. Kevin thought it was excellent. This is a very hearty dish. Definitely enough to share.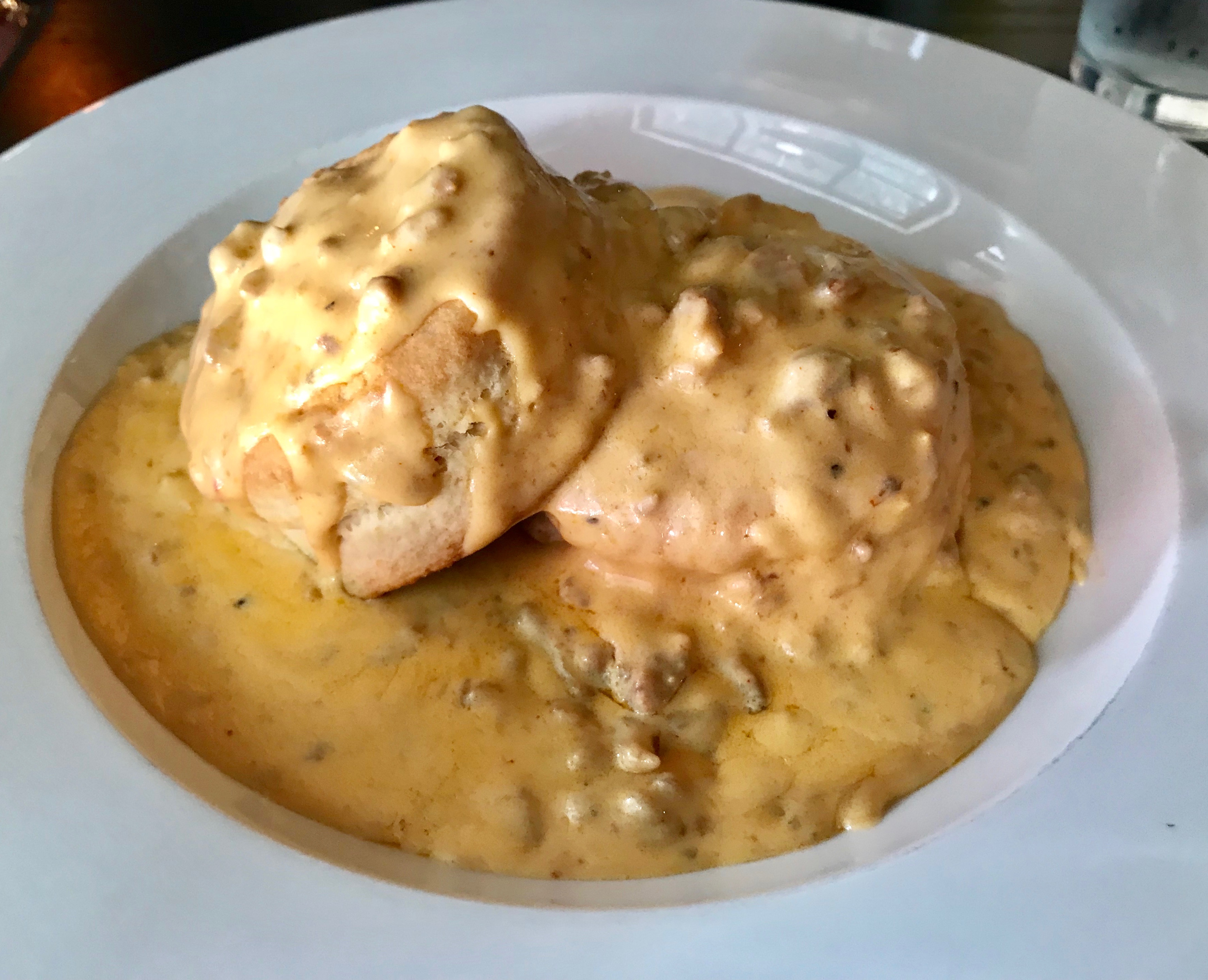 Next out was a dish I would have never considered ordering until I tasted it. The Farro Power Bowl totally surprised both Kevin and me. It is (2) Eggs Any Style served atop sautéed Farro, homemade spicy sausage, sundried tomato, feta, fire roasted peppers and mushrooms. These ingredients together are quite zesty. If you aren't familiar with farro it is, like barley, still a bit chewy when cooked, rather than soft and mushy. It adds a great texture and mixes very well with the flavor pops you get from the sundried tomatoes, roasted peppers, and feta. Each bite is a different treat. I would definitely order this again.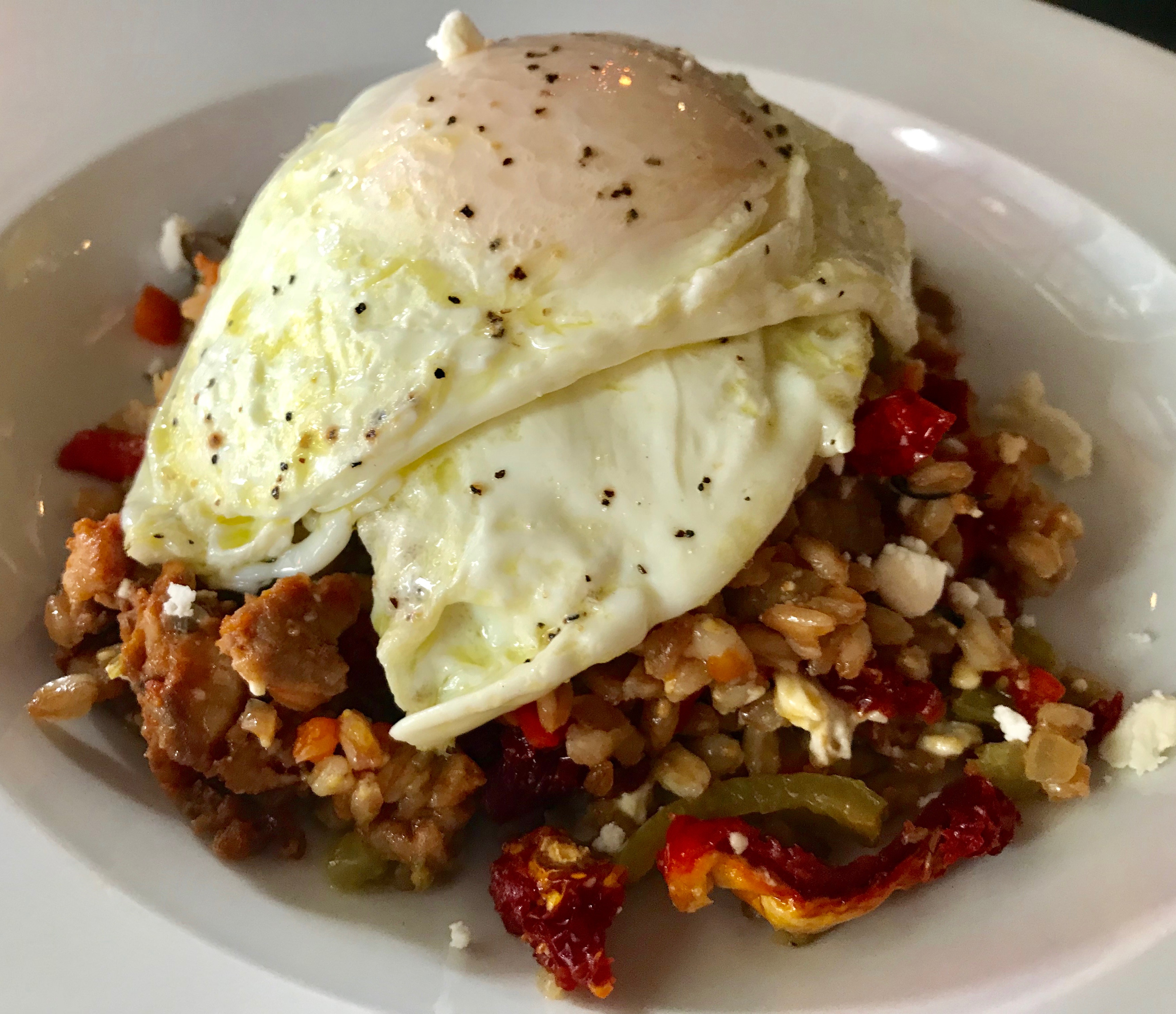 Now the dish Kevin was anxiously awaiting – The Italian Eggs. This dish is Bavaro's Italian take on a French classic – Eggs Benedict. It consists of eggs poached in pomodoro sauce, homemade spicy sausage and feta served on a toasted english muffin. Bavaro's already has amazing sauce and then poaching the eggs in the pomodoro sauce? What? Who does that? We both really enjoyed the tangy and savory combination of flavors. The only issue was that the eggs were over cooked. An easy fix.
We returned for brunch at a later date, and the poached eggs were perfectly runny.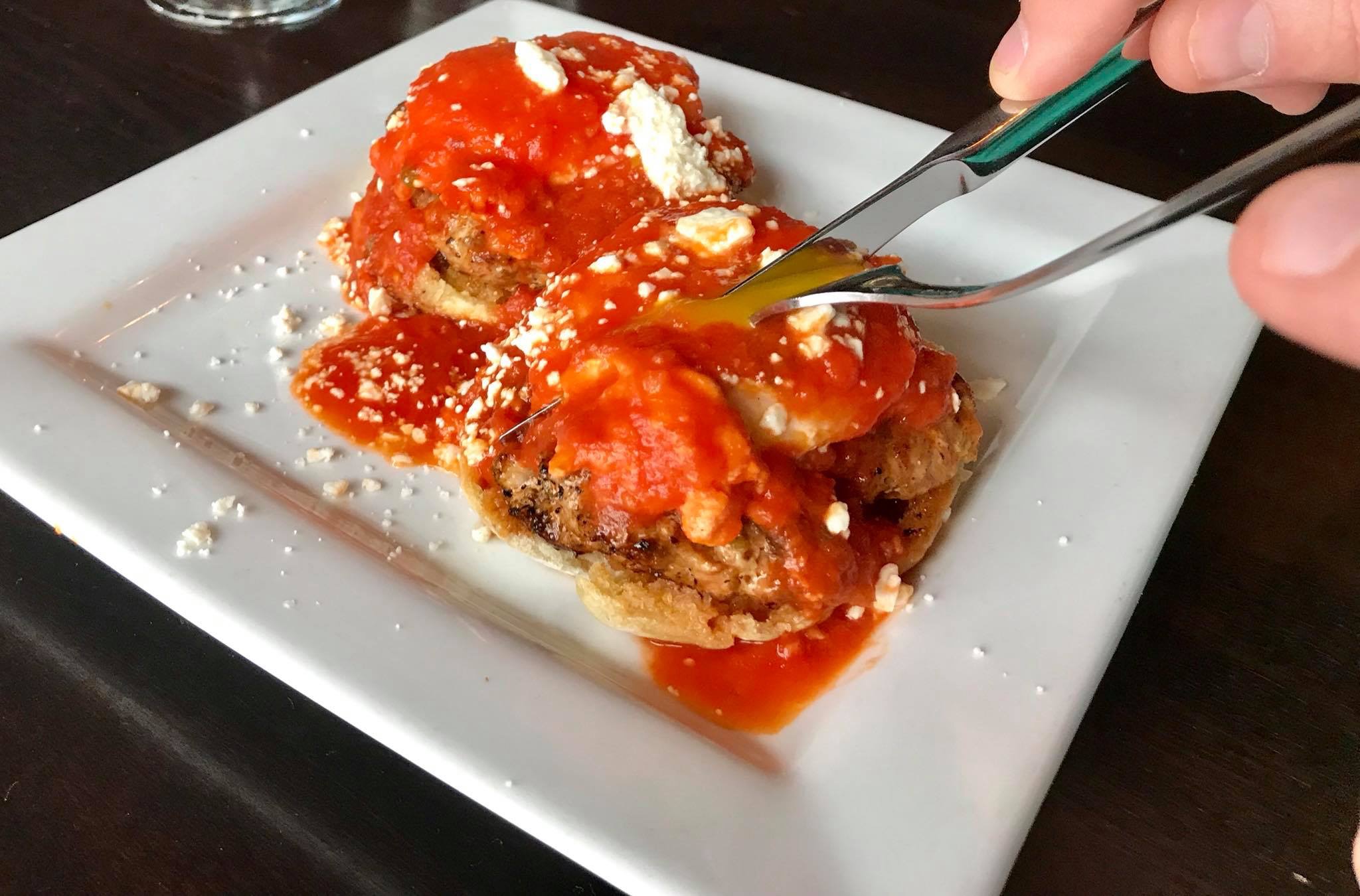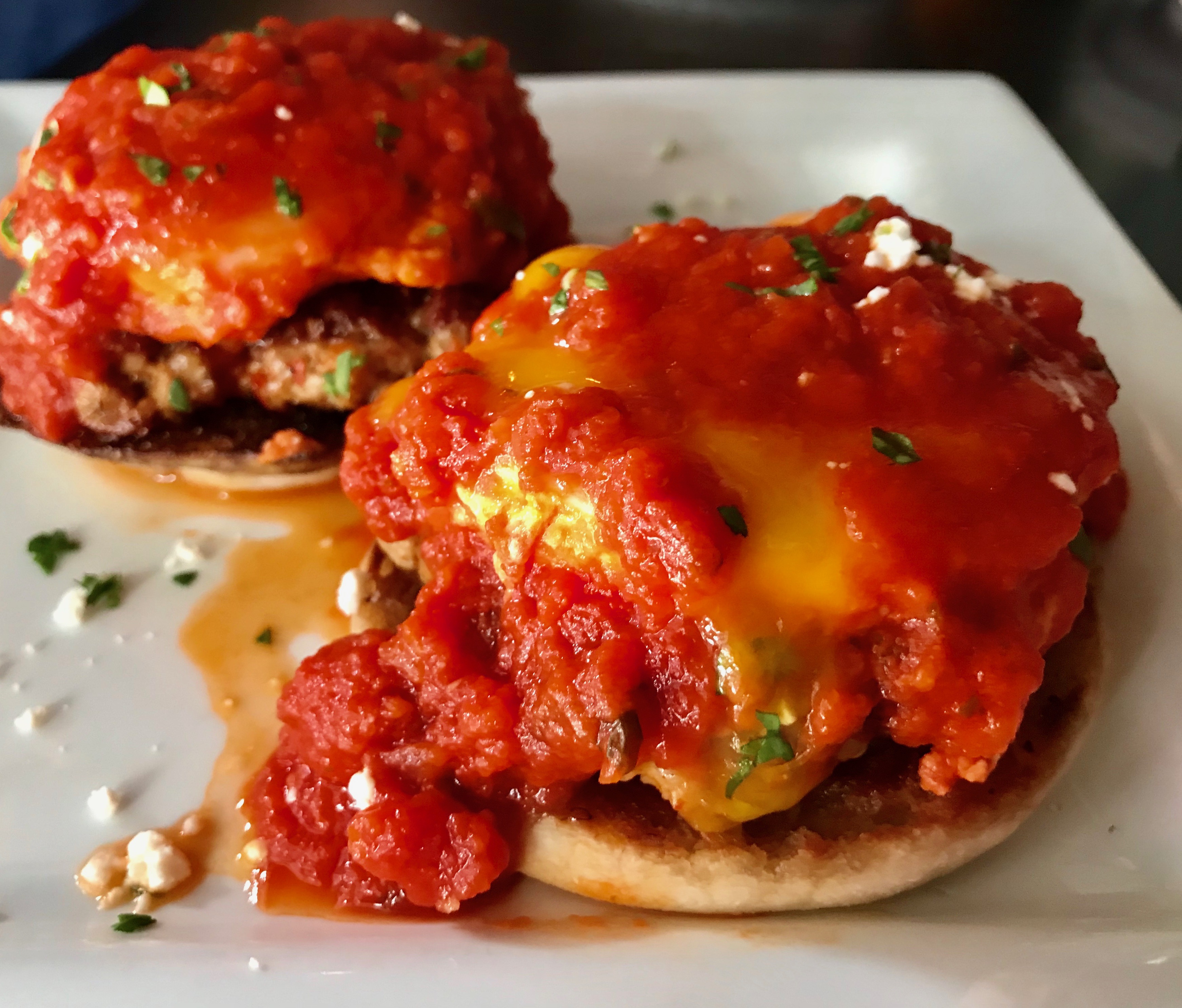 Bavaro's Frittata is made with eggs, roasted potatoes sautéed with rosemary and thyme, tomato, feta, roasted peppers, arugula, EVOO and sea salt. We really enjoyed the potatoes in this mixture which added a comfort food, homeyness to the flavors. This dish is done really well. For me it needed just a tad more salt, but then again I am a salt-a-holic.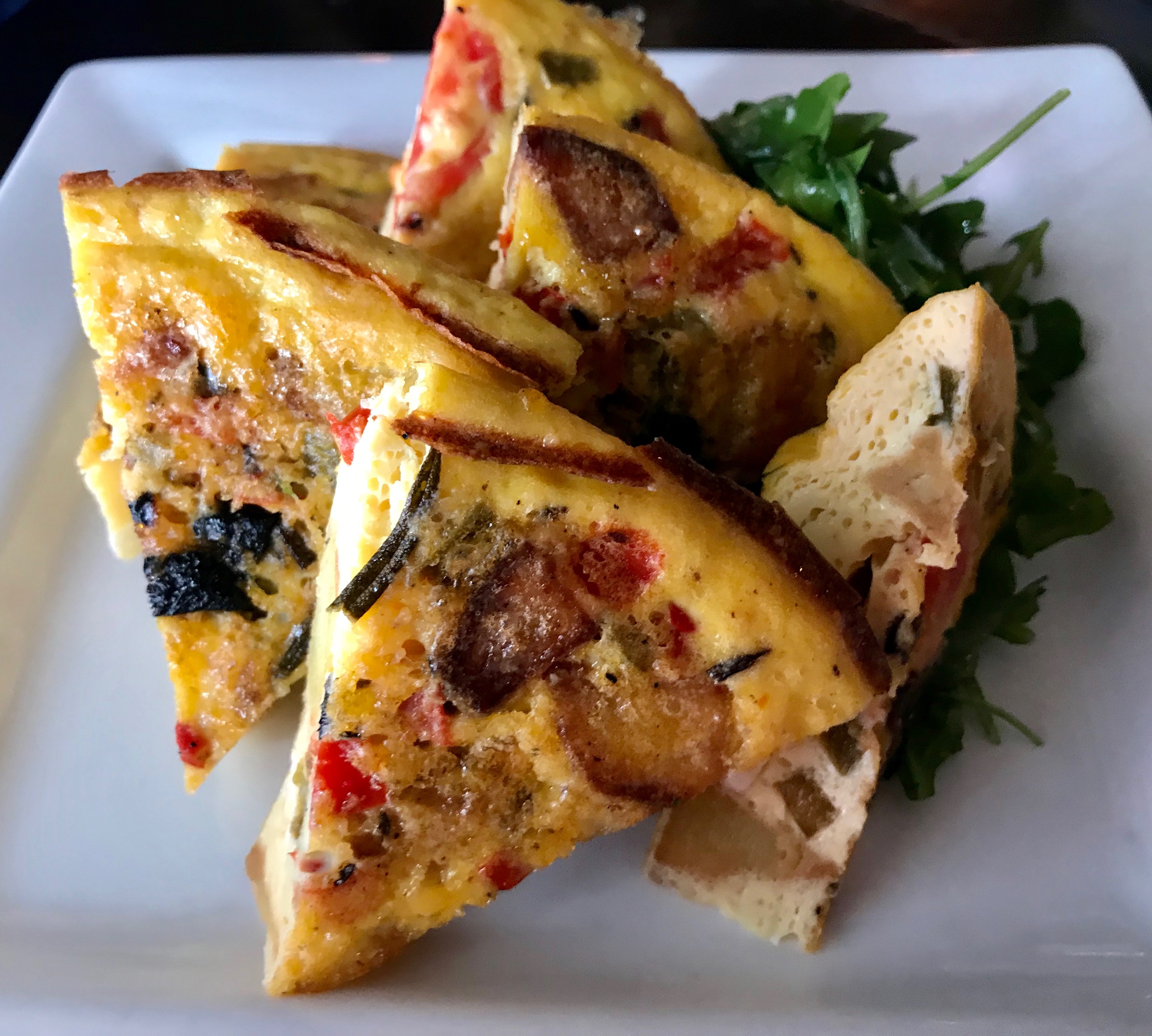 Before we saw the menu, I wondered if they would offer some type of breakfast pizza and if so, how they would do it…the answer to that is yes and they did it very well! The Carbonara pizza is so savory that my tastebuds are watering right now just thinking about it. It is made with whipped Eggs, mozzarella, Prosciutto Cotto, black pepper, EVOO and sea salt. This pizza is the definition of piquant flavor.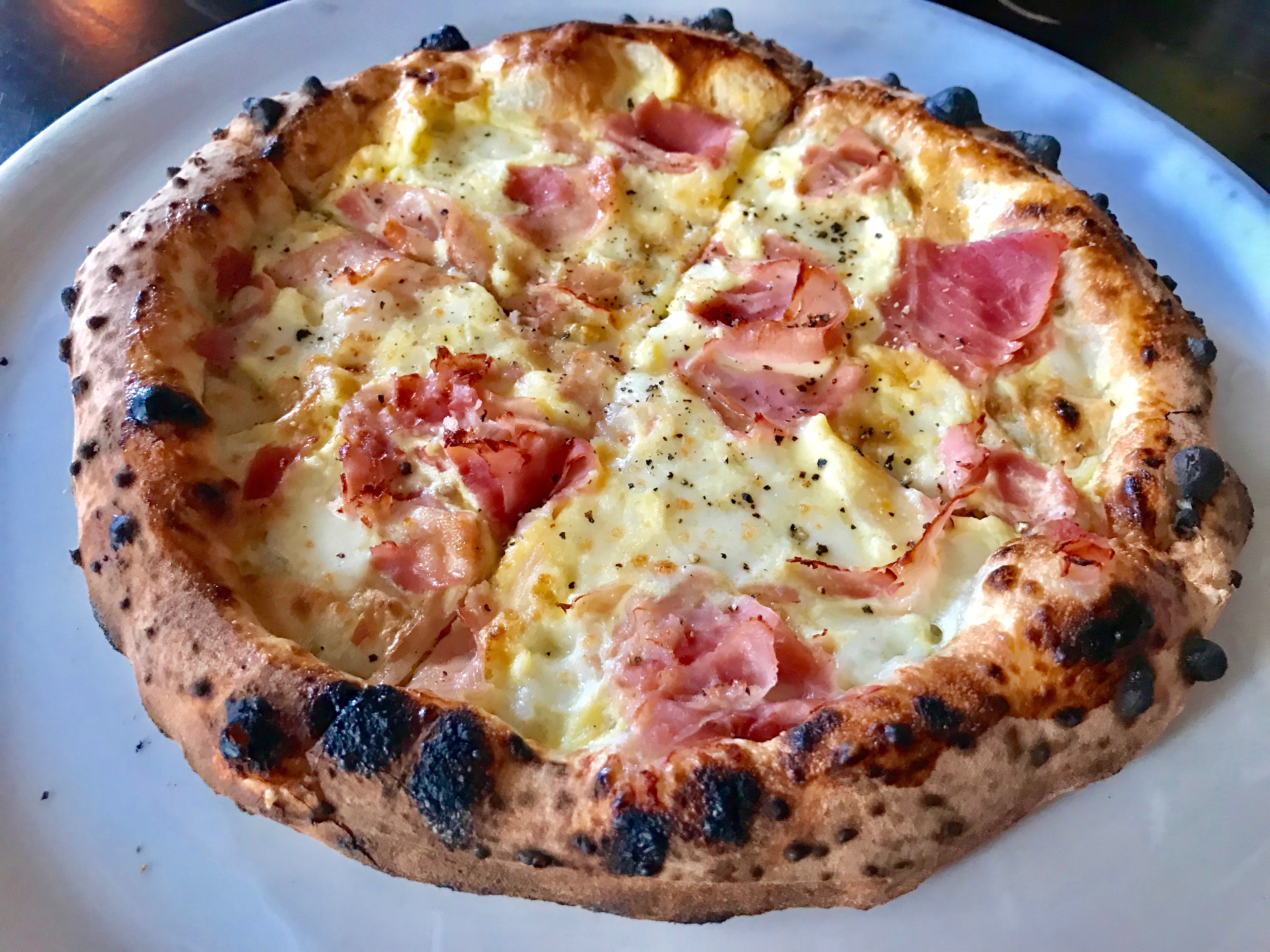 The second brunch pizza offering is the Mattina Pizza. This one is topped with fresh Mozzarella, potatoes, leeks, EVOO, sea salt and a Pomodoro sauce poached egg. It is not only pleasing to the eye it has an earthy, homey and rich flavoring punctuated by the leeks and potatoes. The poached egg was again a bit too done. But it did not take away from anything except for a runny yolk. It was really hard to decide which one of these we enjoyed more. We would definitely order both of these again.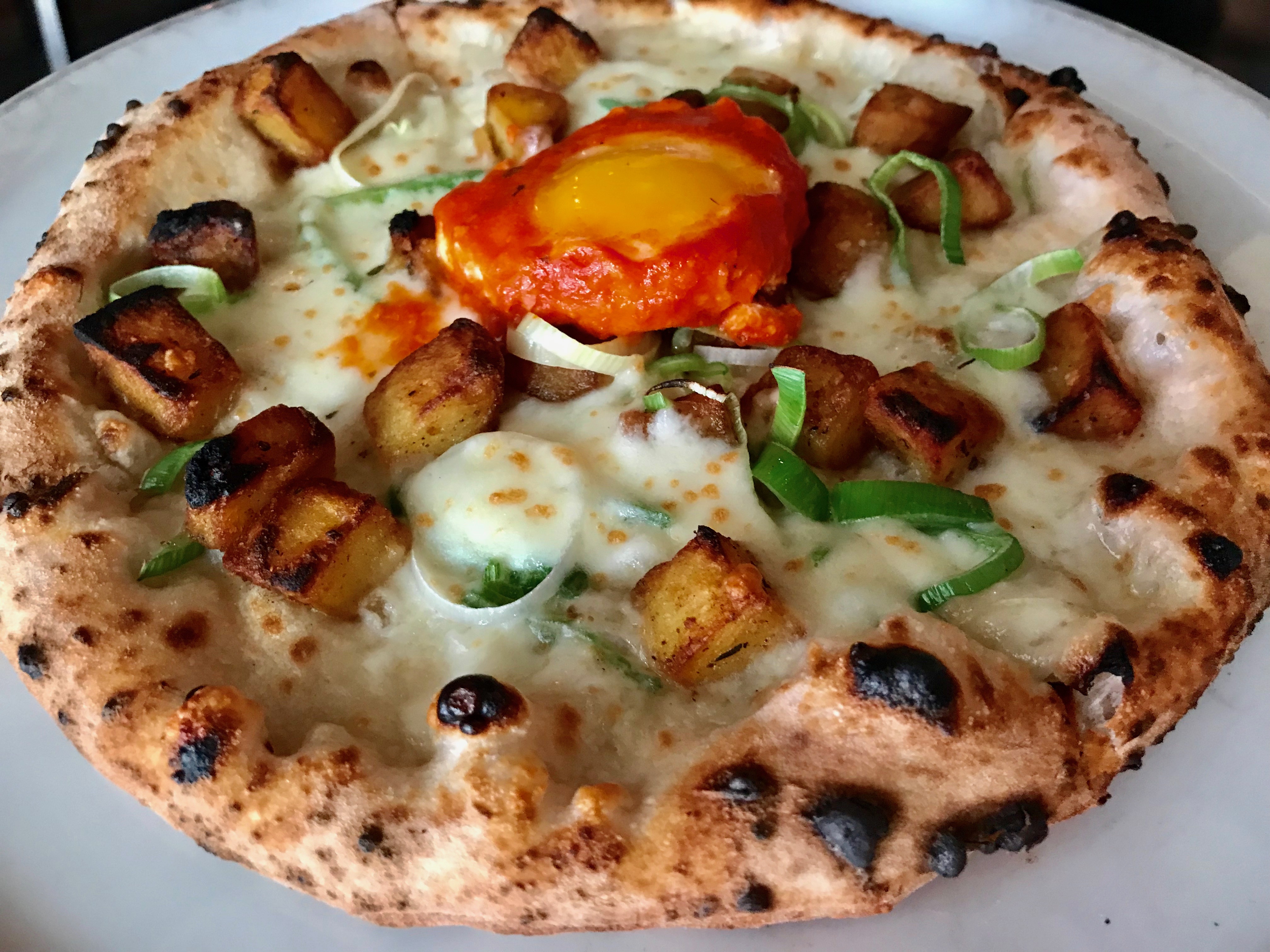 Kevin also loves shrimp and grits. Bavaro's Shrimp & Grits Italiano is very different from any we've ever had. It is made with jumbo shrimp, lobster polenta with fire roasted bell peppers and a spicy tomato cream sauce with a bit of crab stock in the mix. The major difference, obviously, is that it is made with polenta (the Italian version of grits). It tastes a bit smoky. The shrimp were plump, fresh and juicy. This is a hearty dish and in our opinion could have used a little less polenta, but that really takes away from nothing.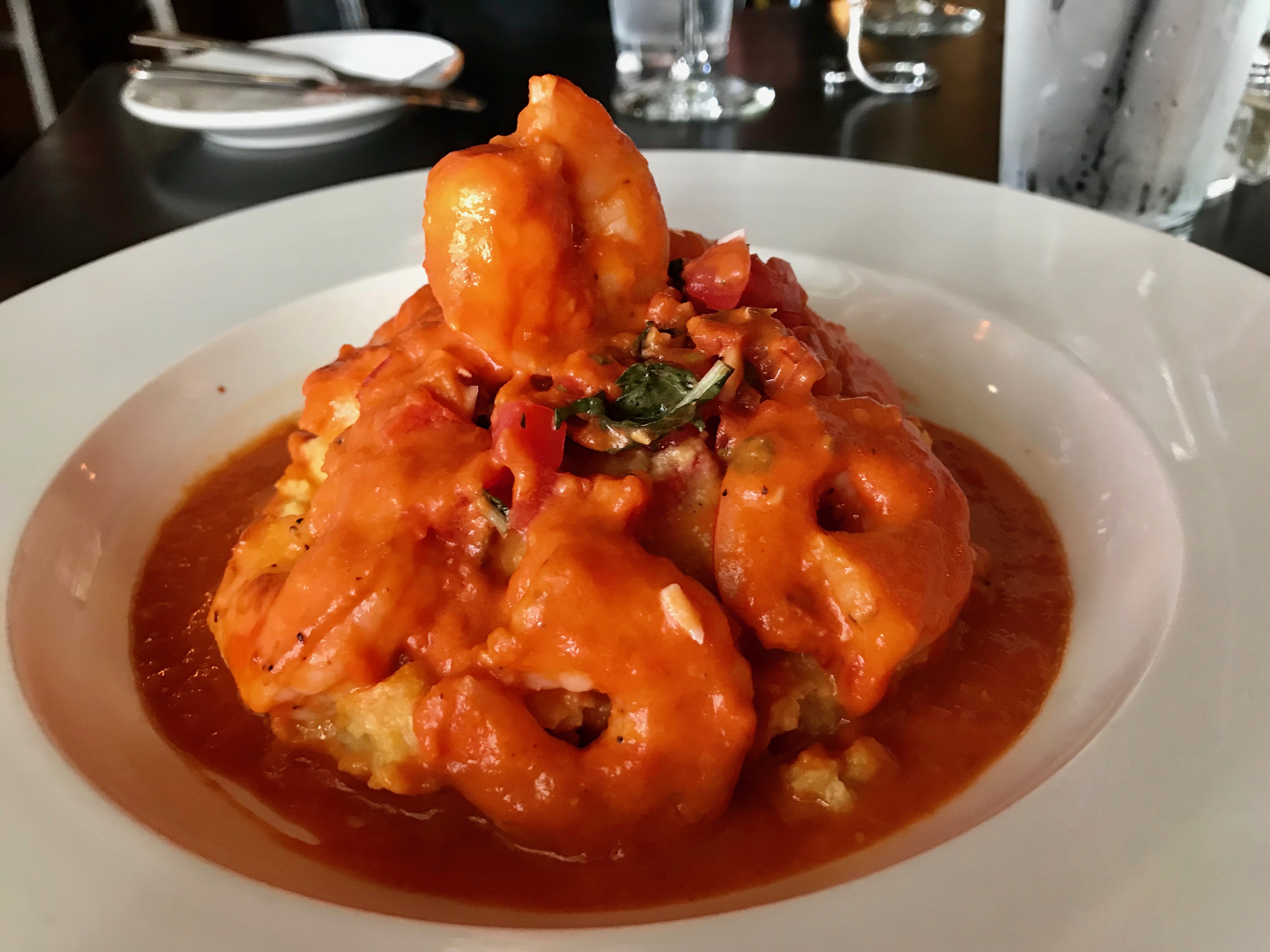 As you can imagine, we were quite full at this point and to be quite honest because we are not sweets eaters we were looking forward to these last two dishes the least. Boy were we surprised. The Bavaro's French Toast is quite deceiving.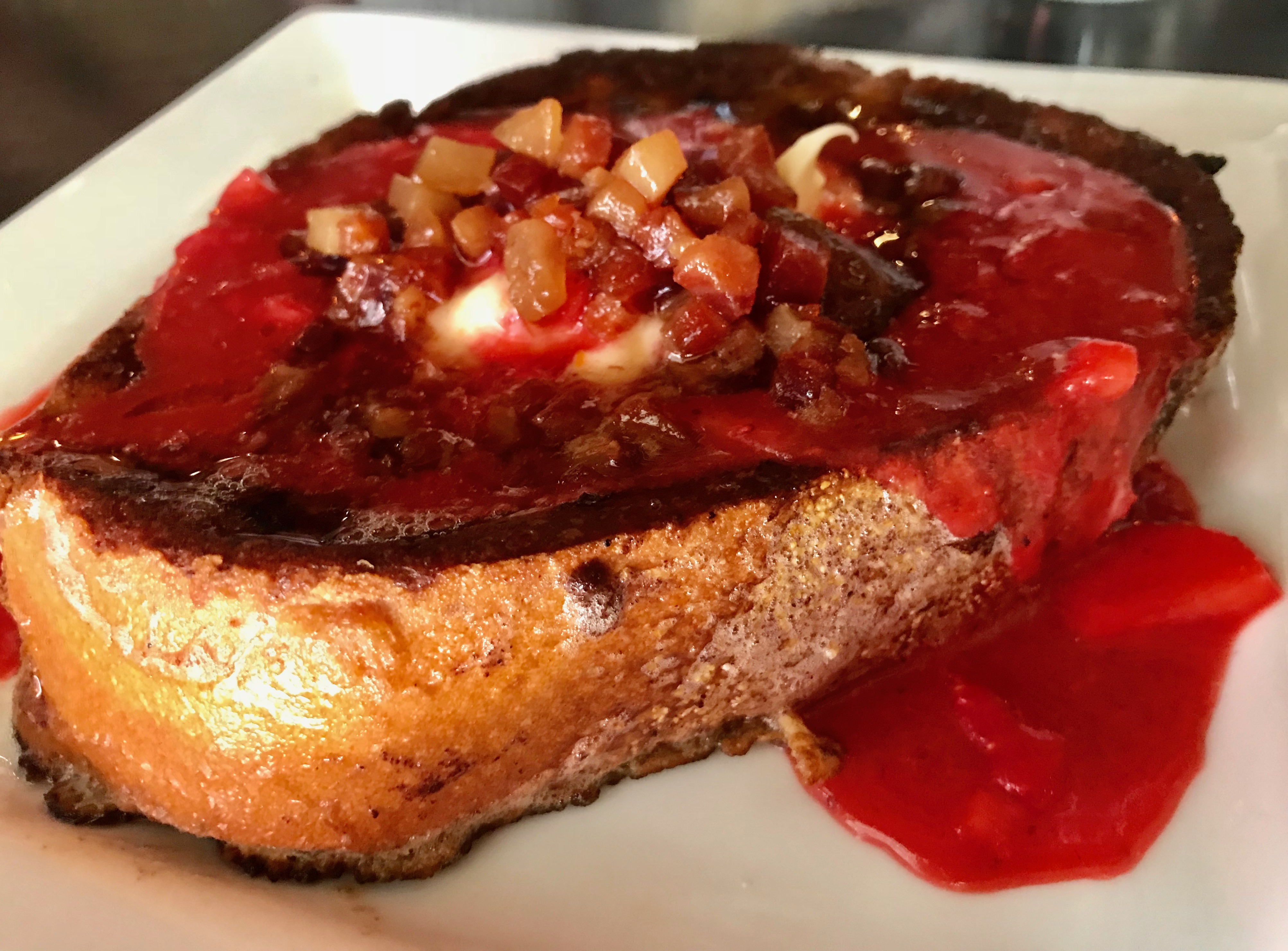 As you can see from the picture below, the toast is stuffed with Orange Mascarpone (oh so dulcet) and then topped with Strawberry and Fig-Pancetta Jam. The toast is cooked to perfection and these flavors all together make for one heavenly bite after another. If you are a french toast lover, this one is the Mack Daddy of them all. All I can say is wow!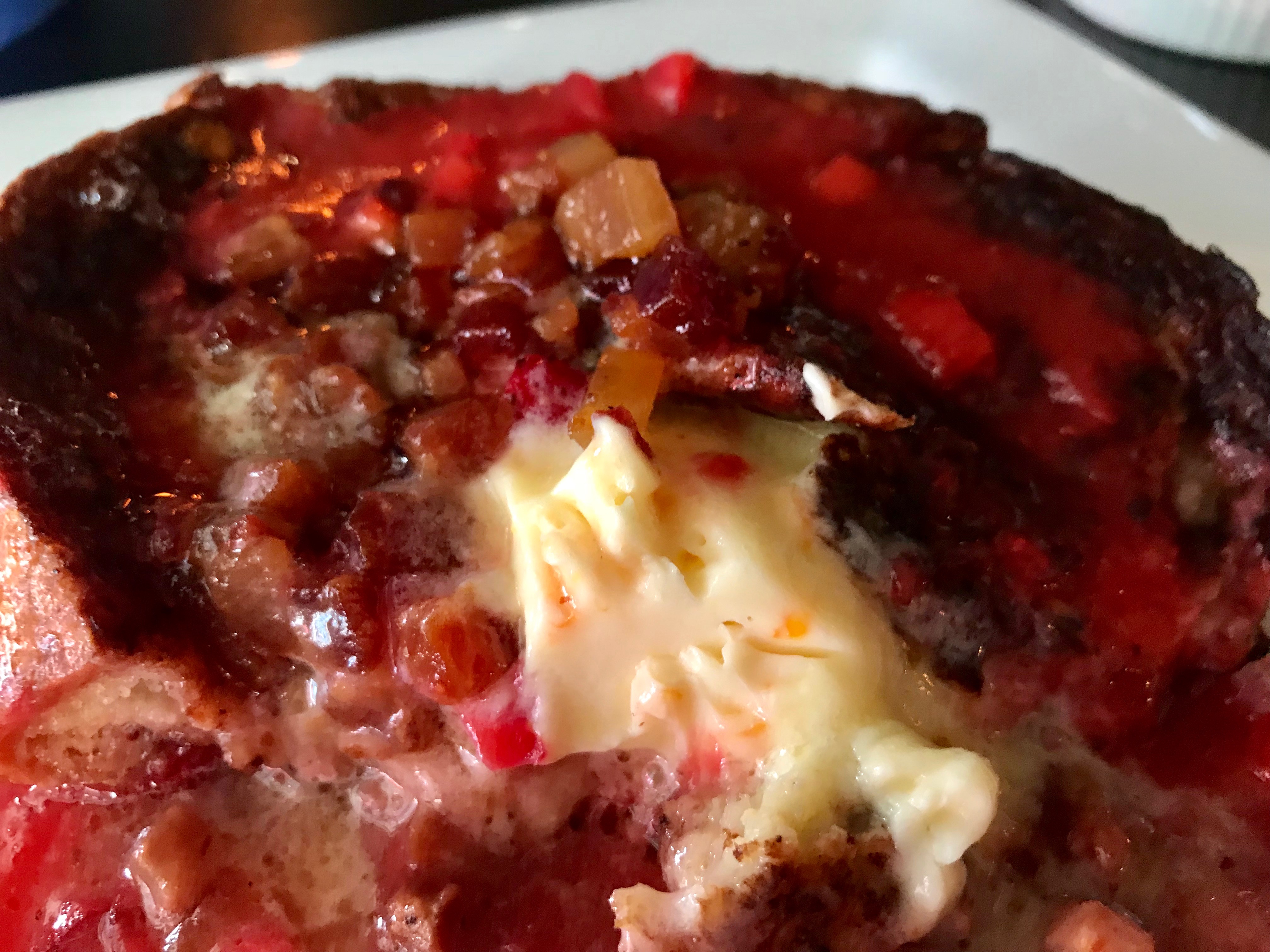 I really did not think that the french toast could be topped. But then came the Amaretto Pancakes. We really don't eat pancakes often either. They are usually just the plain old thin pancakes that you can get anywhere. Not at Bavaro's. Holy pancakes – thick, crispy on the outside and beautifully light and airy on the inside. They are topped with the same Fig-Pancetta Jam and then the most heavenly house-made whipped cream. I can still taste the savory flavor of these pancakes. Who would have ever thought to make a fig-pancetta jam. The pancakes are my favorite dish of this brunch. I would never have guessed that. They are absolutely scrumptious!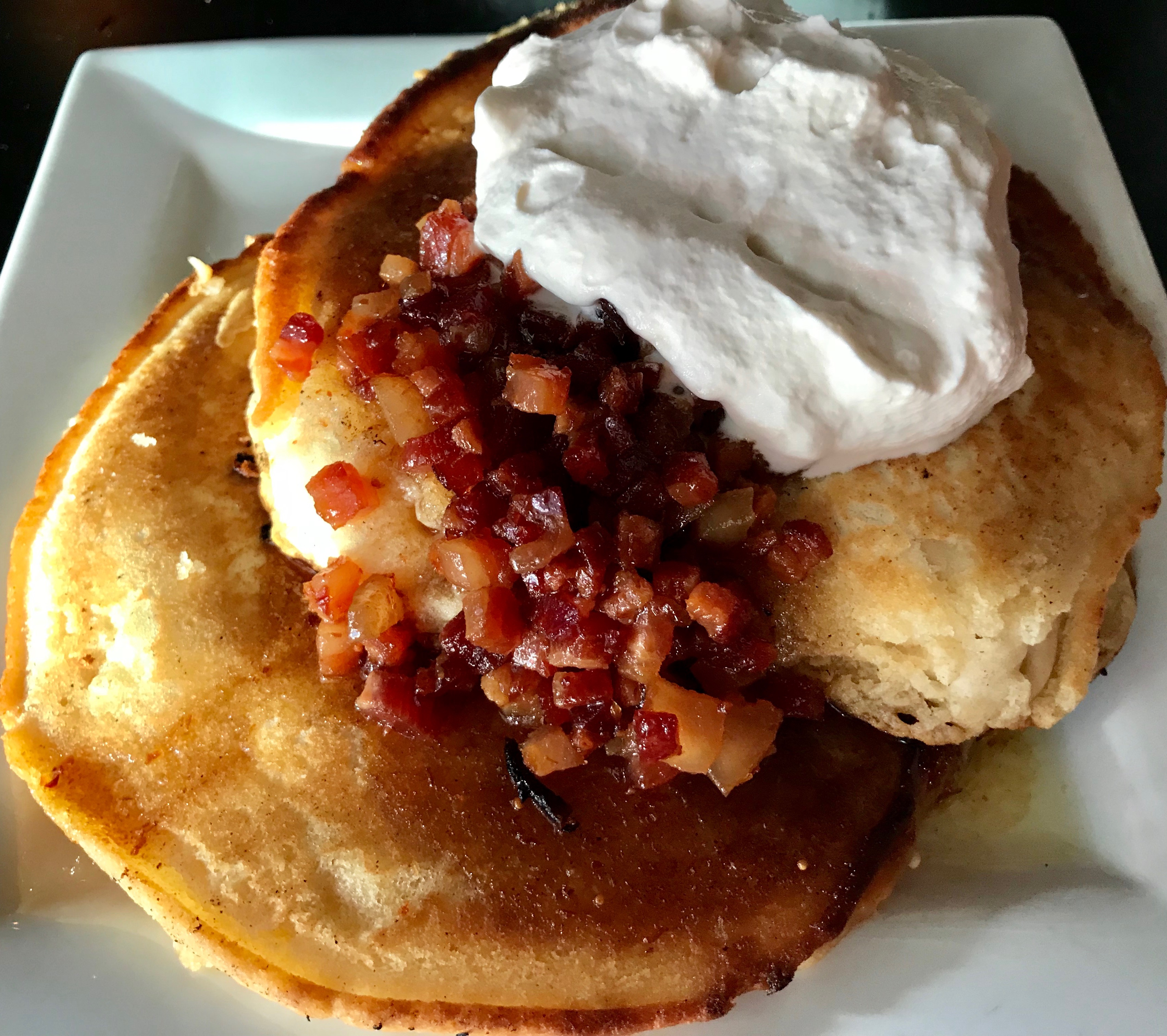 We are all very lucky to have such inventive and creative chefs in St Pete. Thank you to Chef Logan for this incredible Brunch Italiano menu. Run, don't walk to Bavaro's for brunch tomorrow. You will not be sorry!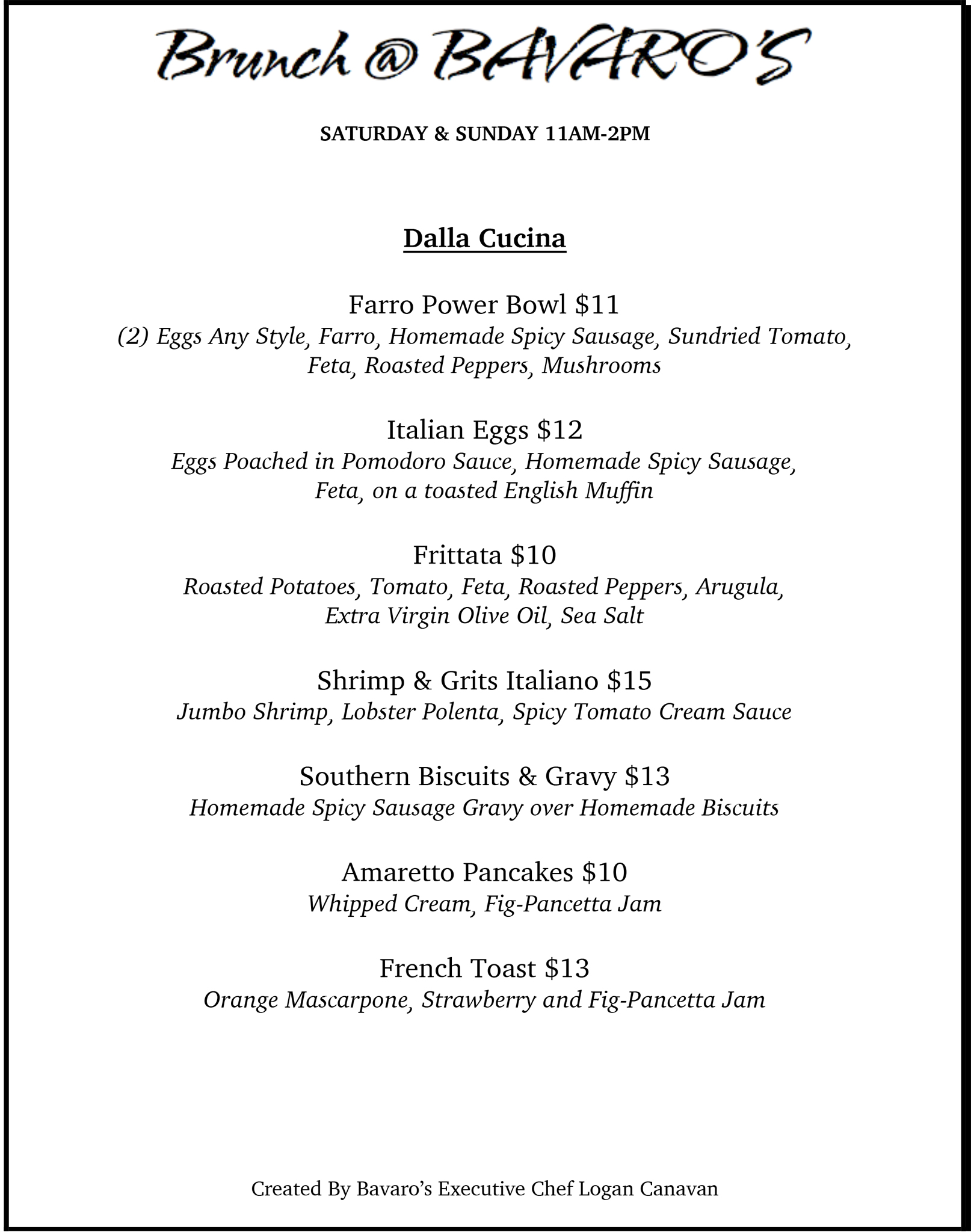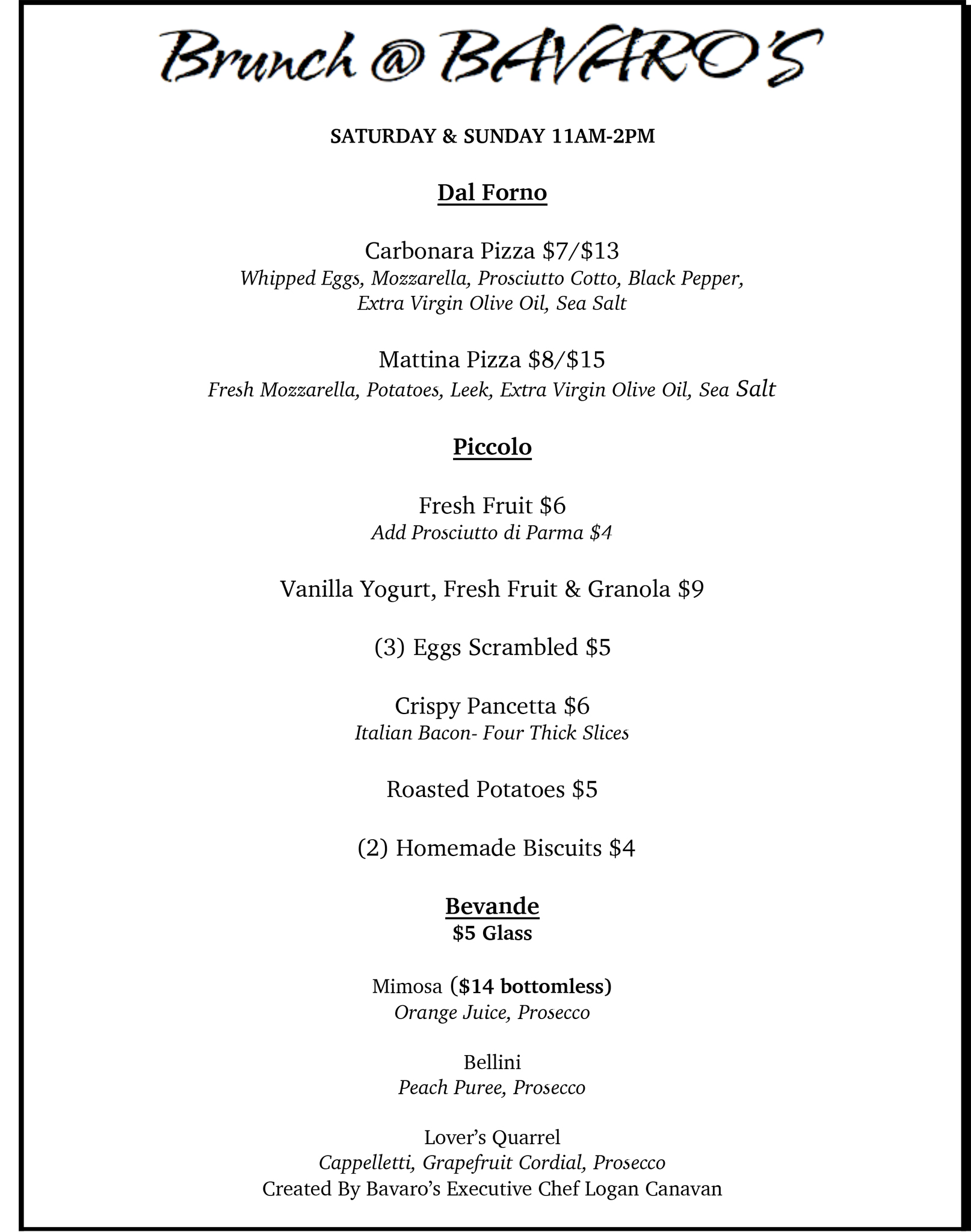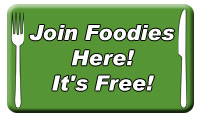 More Foodies News, Reviews & Recipes