Rain Japanese Sushi Bar & Thai: Classic Cuisine With Twists on the Traditional
Rain Japanese Sushi Bar & Thai: Classic Cuisine With Twists on the Traditional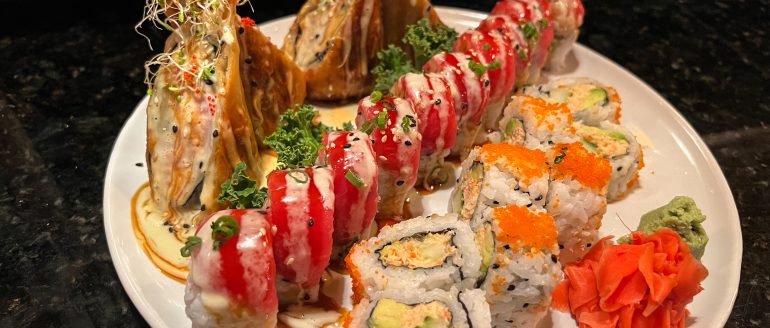 We moved to St. Petersburg, FL almost 6 years ago. Sadly, it took us nearly that long to uncover all of the incredible gems sprinkled throughout town serving up Thai Cuisine. Thai was always a go-to of ours when we resided in Ohio and being introduced to some Thai hidden treasures as of late has been quite exciting. Our most recent introduction was to Rain Japanese Sushi Bar & Thai. It's located in a strip mall off of Park St. N. It's one of those spots where when you pull in, you just know that you're in for something good. And our dinner experience over the course of the next hour proved this to be true, and then some.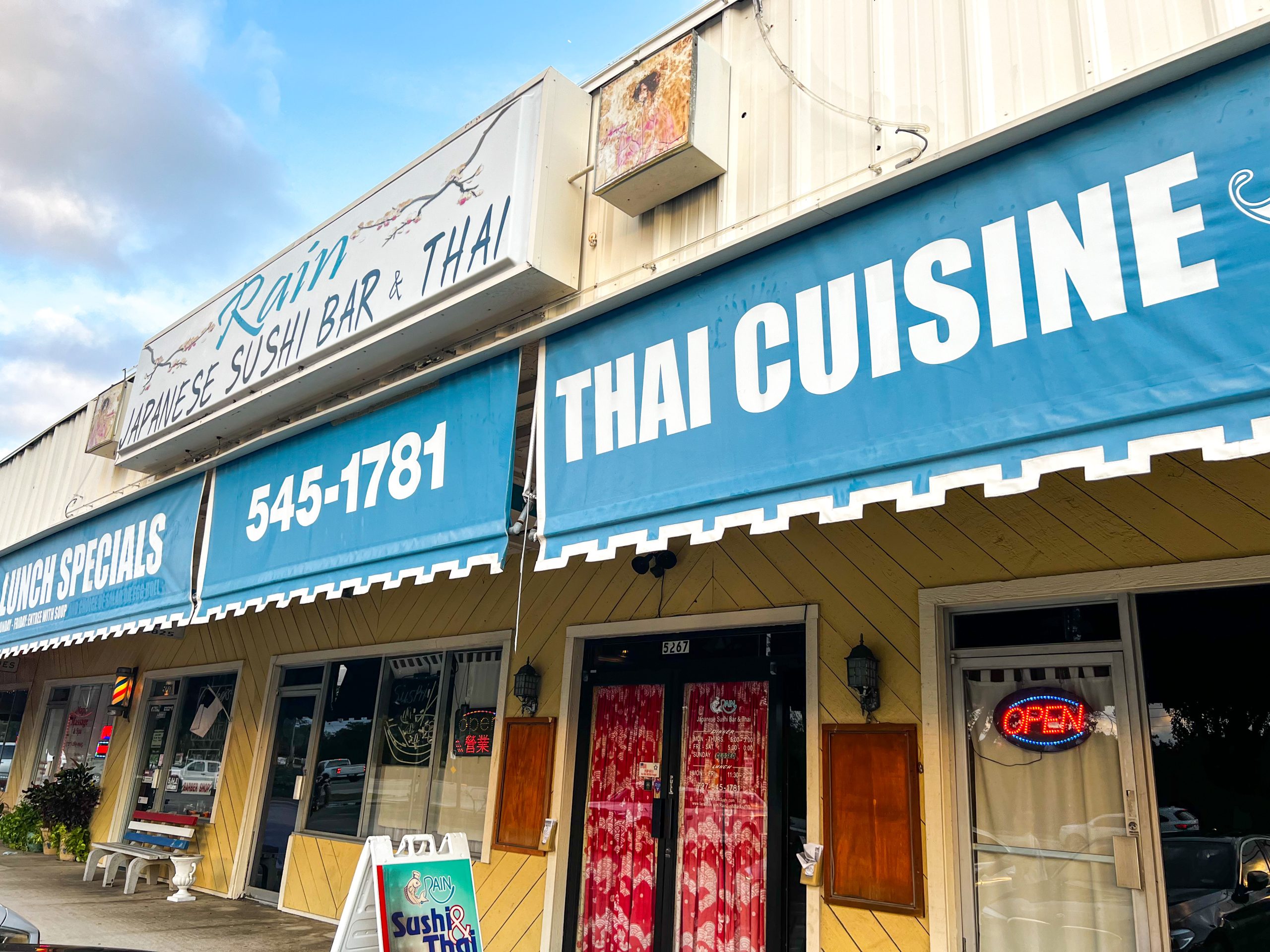 The restaurant is open every day, except Sunday, for dinner from 5:00PM until 8:00PM and through the week, they're cooking up lunch from 11:00AM until 2:30PM. We stopped into Rain for an early dinner and arrived around 5:00PM. As soon as we stepped foot through the door, we were greeted by a friendly voice saying, "I just knew you guys were going to come in and eat with us!" (perhaps my photography in the parking lot was a giveaway? Ha!). We were greeted with this same enthusiasm throughout our entire meal. The service was genuine, prompt, efficient and the entire staff was so kind. We made a wonderful choice of sitting at the sushi bar where we were able to have a firsthand look at all of the sushi chef's impressive creations. Though, those aren't the only great seats in the house – Rain boasts a large dining room with a number of tables.
When we arrived at Rain, we were the first to step in for dinner service. However, it didn't take long for the tables to become occupied. By 5:45PM, the restaurant was bustling and nearly half-full. I love to watch that unfold.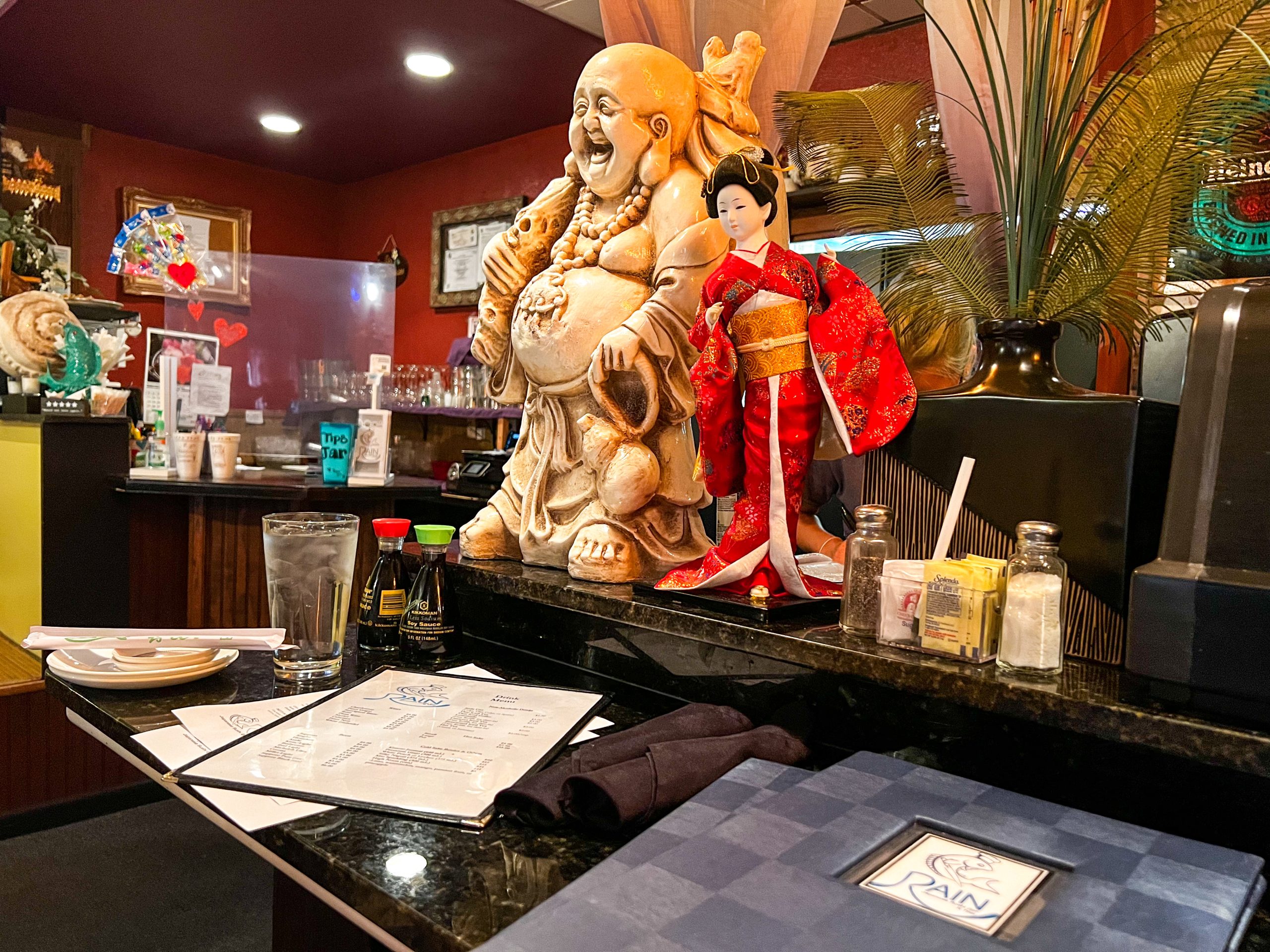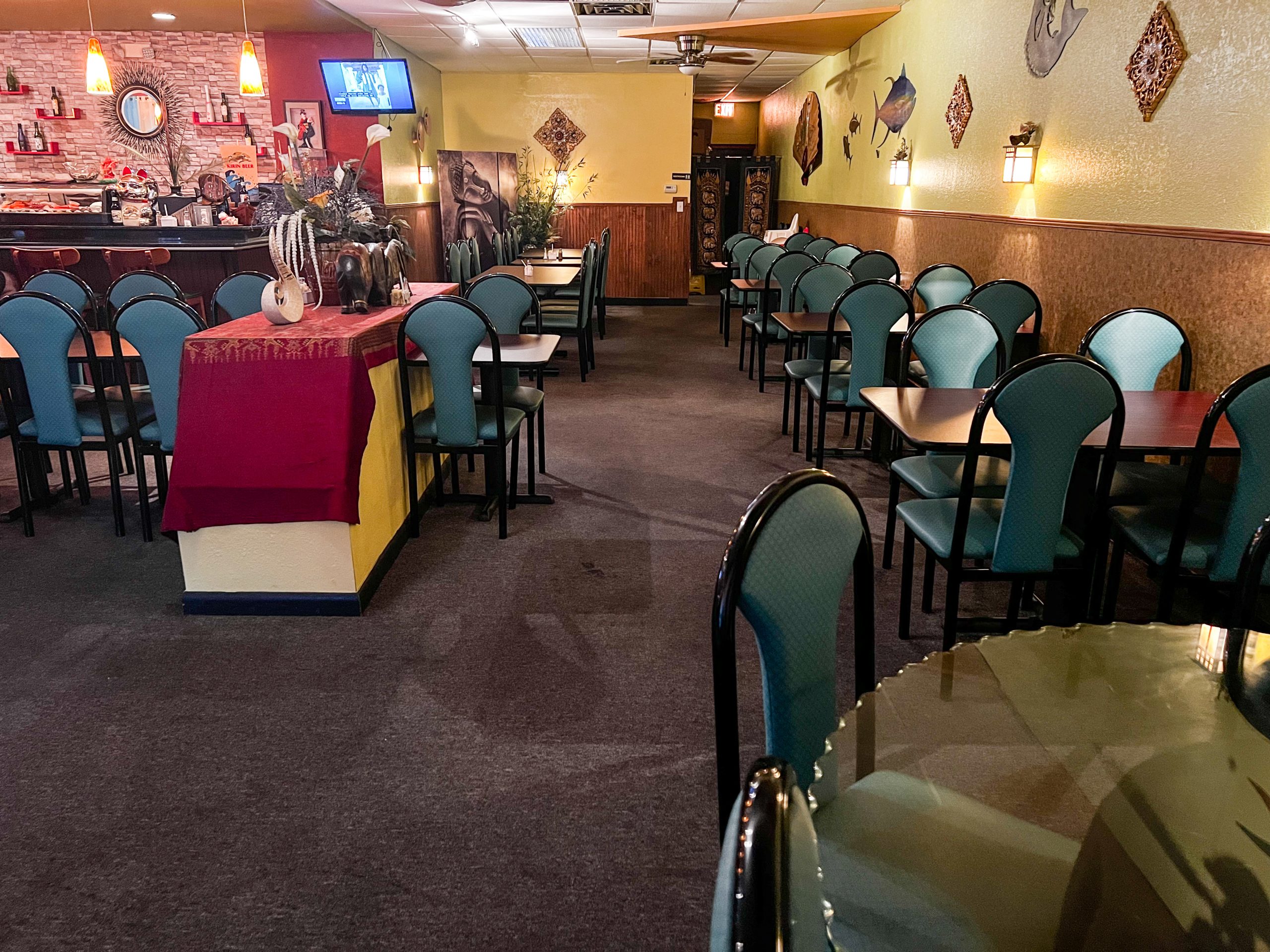 To begin our meal, we started off with a small bottle of chilled sake. They offer a handful of sakes on their drink menu that are most all around the $15.00 price point for the 300ml size which I find to be the perfect amount for a casual dinner for two such as this. Crisp, light and refreshing after a long day and exactly what I want with this type of meal.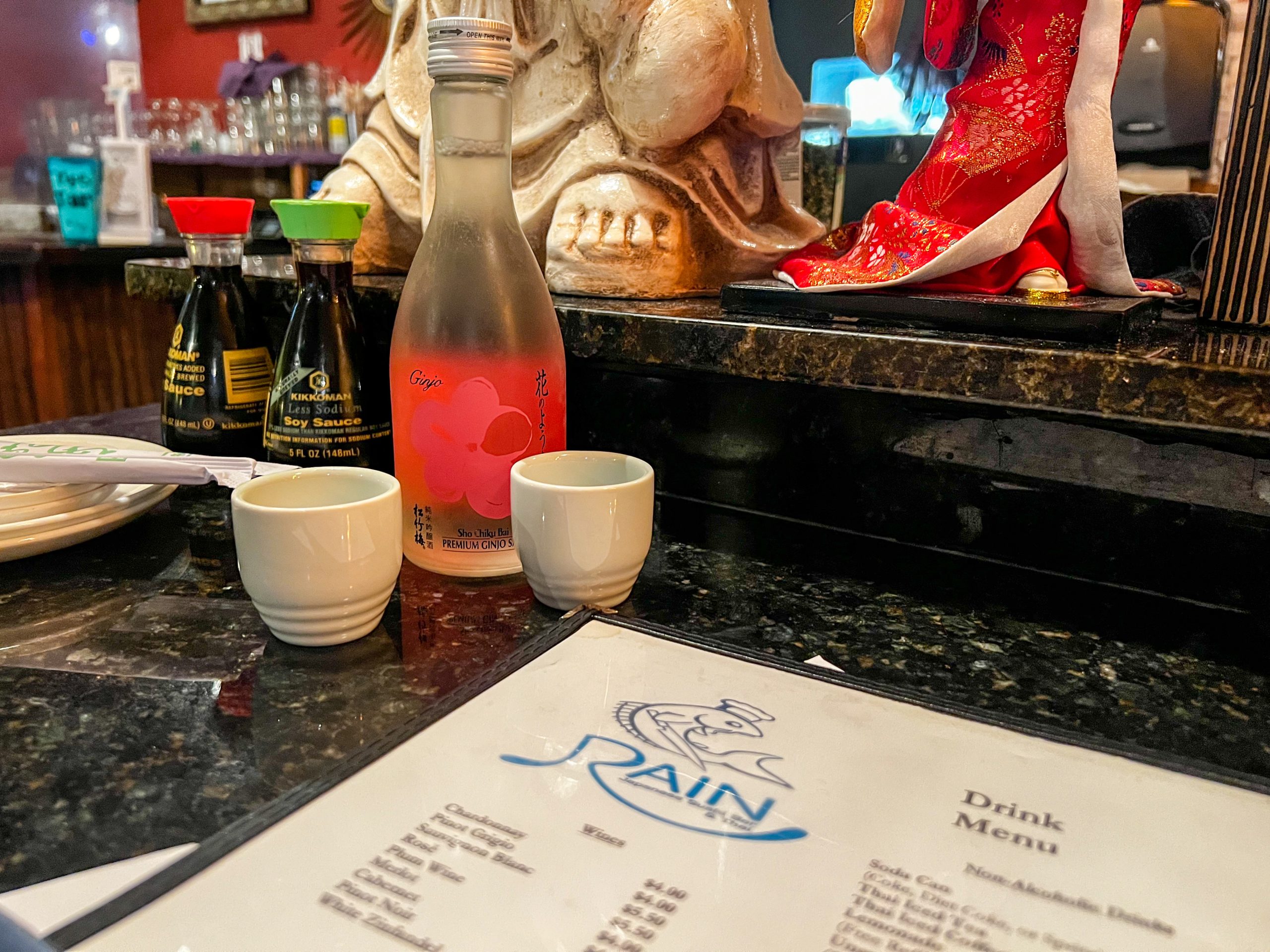 I find edamame to be one of those consistent and simple staples to enjoy throughout a meal with these genres of food. It almost acts like a palette cleanser between bites of sushi and fried rice, etc. and perhaps the best part is that it's not filling whilst still delicious. Truly, a perfect snack.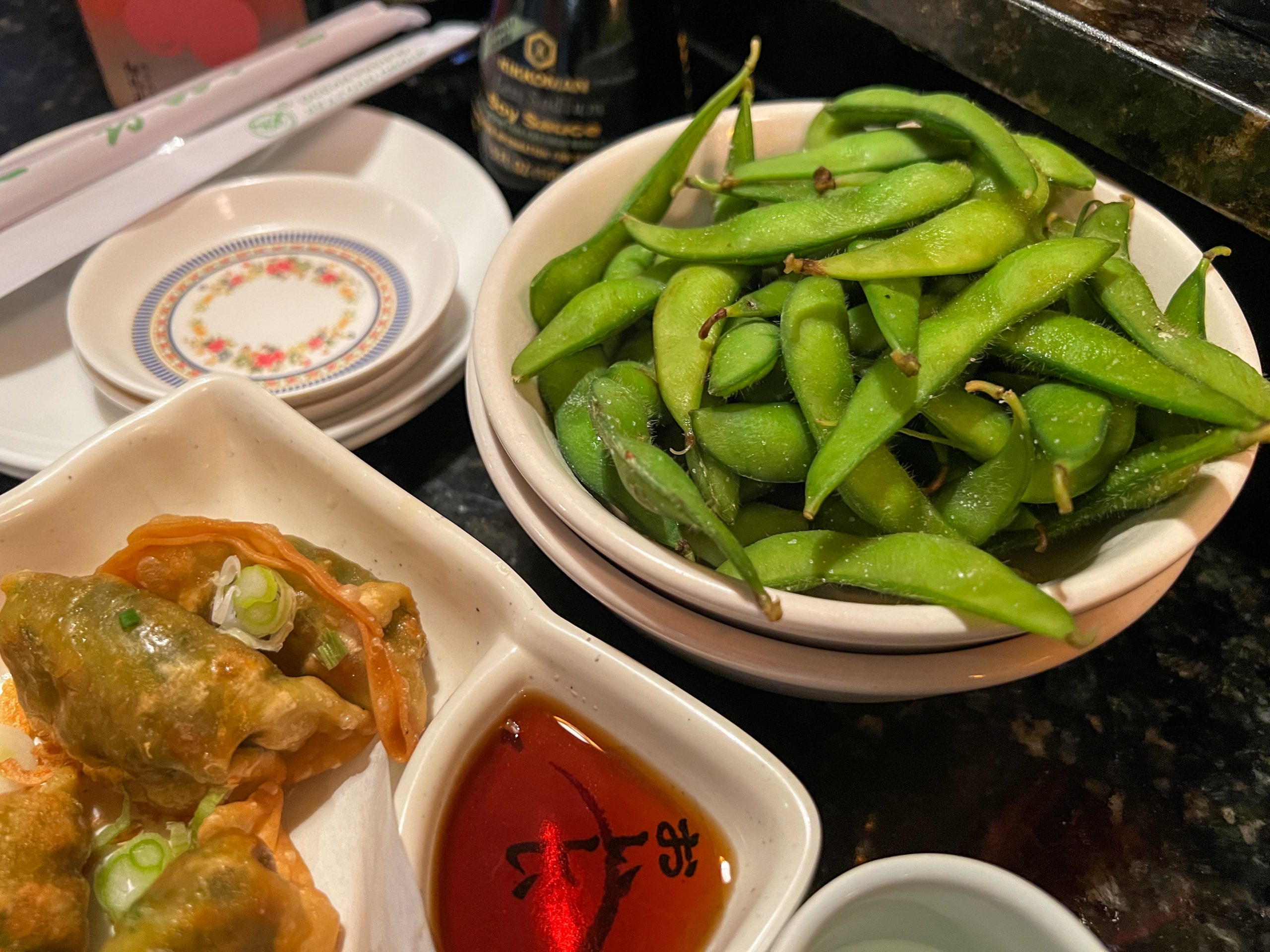 At Rain, the Gyoza are offered two ways – with vegetables and with pork. We went vegetable and let me tell you what an unexpected hit these were. Texture-rich, savory and explosive in flavors, we enjoyed these so much that we had a hard time not filling up on them alone. I definitely recommend one order to share between two, or two orders to share between four, and so on.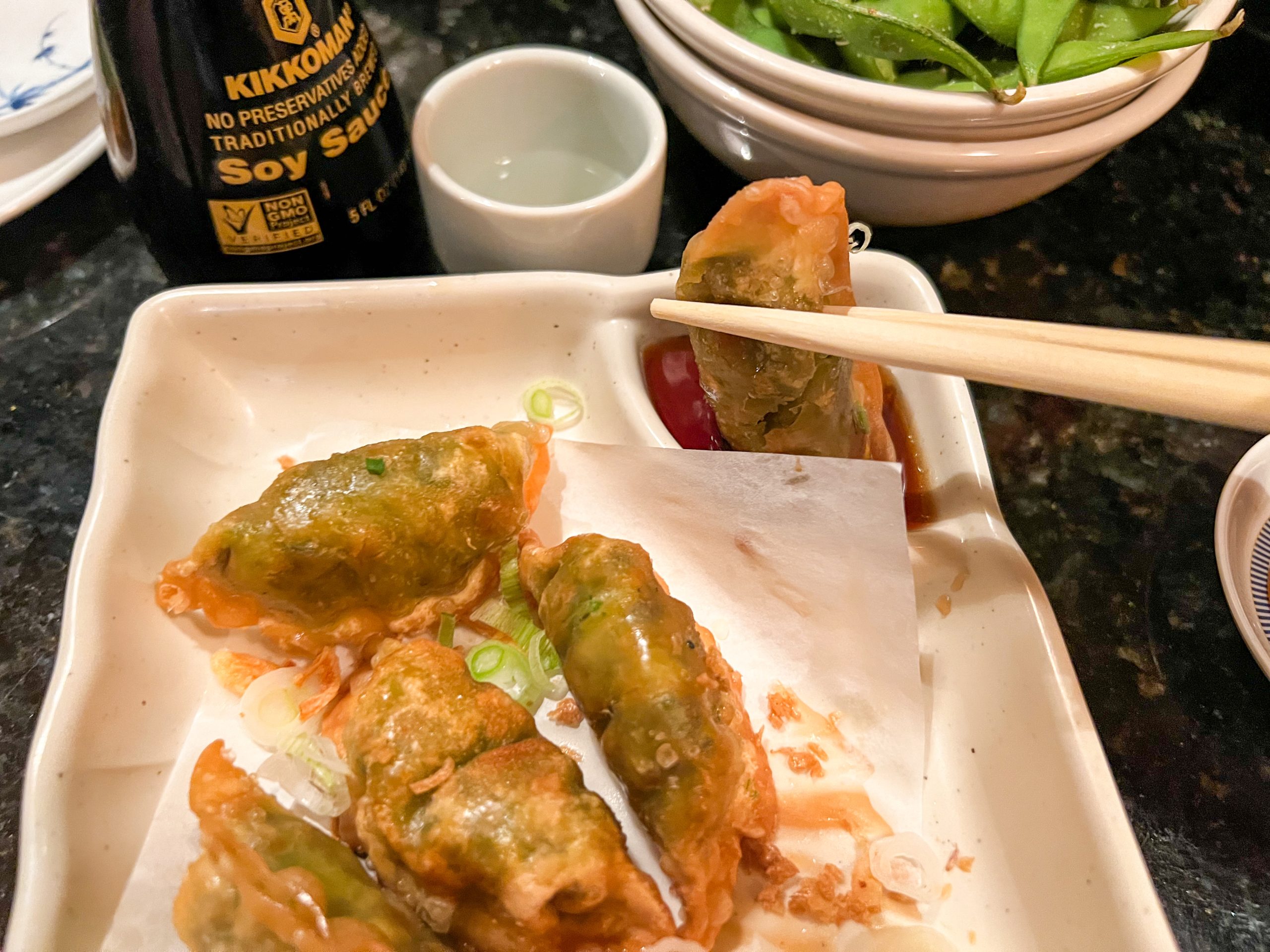 Not only does Rain specialize in Thai, but they also create delicious Japanese food and sushi expressions – both classic rolls and renditions with their own intriguing twists. During our dinner, the sushi rolls were probably what we saw the most of…and trust me, they were making rolls by the handful. What started as one chef behind the sushi counter soon lead to two as the tables inside filled up. The sushi plates and arrangements from these talented chefs is artistic expression and pictured below is only the tip of the iceberg. We witnessed large platters of rolls by the handful land on tables as eager diners looked on with mouth-watering anticipation.
We ordered three rolls (but could've easily ordered many more if our stomachs would've allowed) – the Snow Crab roll and two specialty rolls – the Hangover and the Sassy Amiga. The Snow Crab, pictured in front below, is a basic roll with snow crab, cucumber, mayo, avocado and smelt roe. The crab is very good and definitely stands out to make a statement. So if you're a lover of crab, this one is undoubtedly for you if you want a roll without the fuss.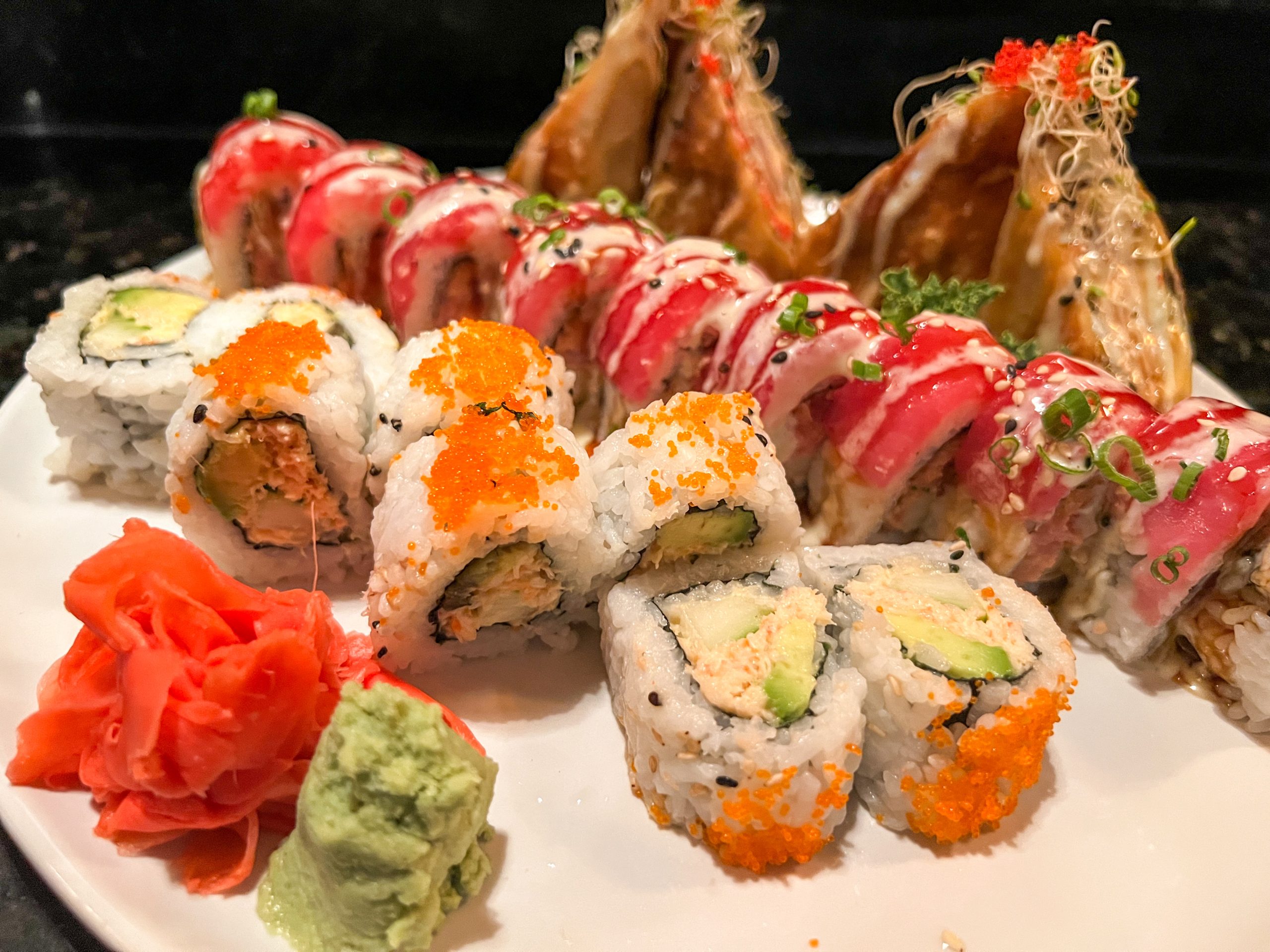 The Sassy Amiga roll (pictured below on the left) was listed second on the menu and immediately grabbed our attention with components of spicy tuna, krab stick, avocado, cheese and a tortilla wrapping. I typically don't gravitate towards specialty rolls like this, but it was a unique choice that I'm glad we made. The roll, of course, had heavy savory notations, but it also carried a nice sweetness due to the marriage of ingredients. The presentation was also quite beautiful; however, it was somewhat hard to eat. Smaller pieces would be ideal, but the roll is still ultra delicious.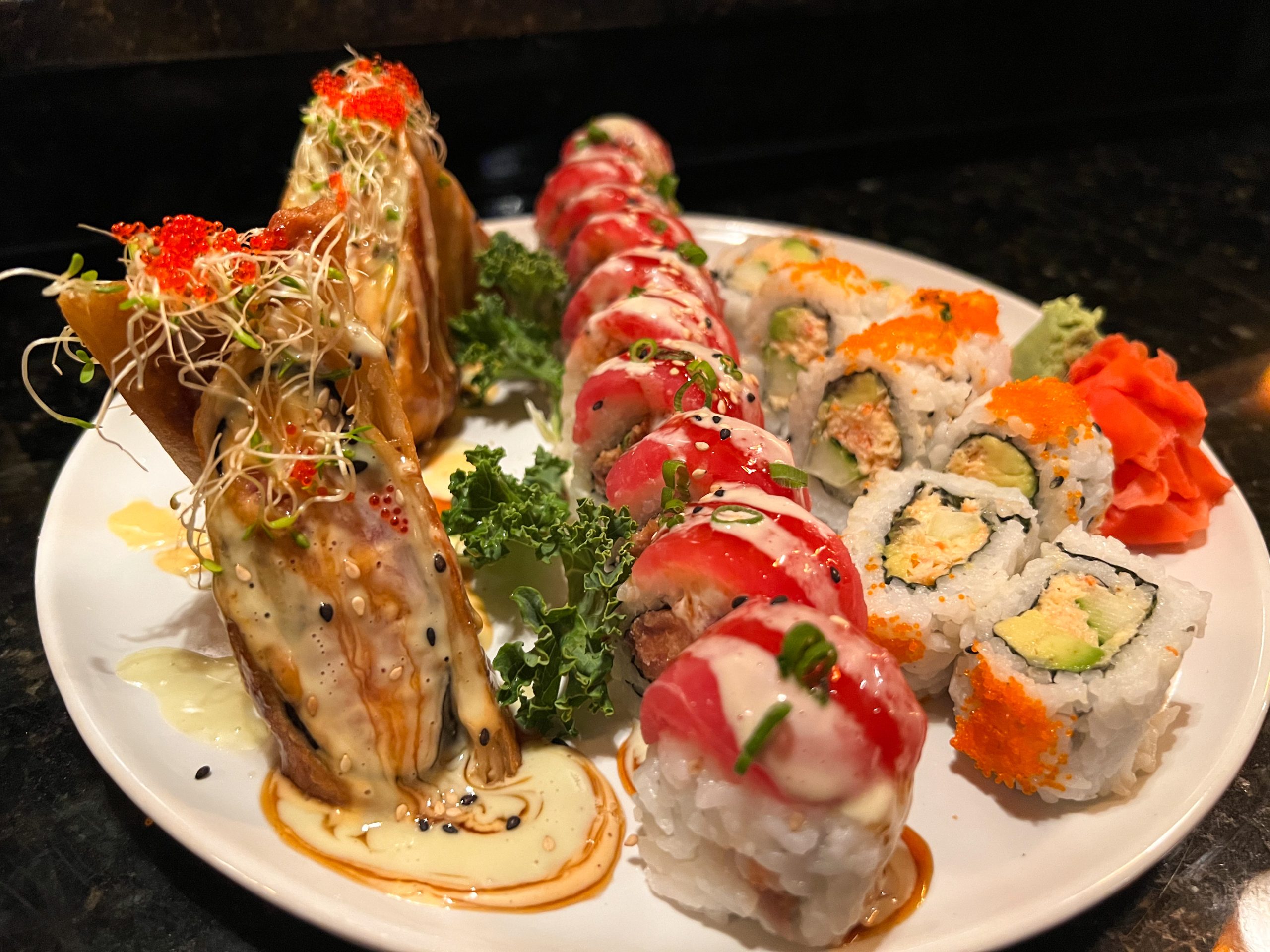 Pictured below in the middle is the Hangover roll. This specialty roll has that whole less is more thing going for it as it is only comprised of spicy tuna, cucumber, scallions, lime and a yummy little special hangover sauce. It's incredibly fresh tasting with just the right amount of spicy subtle tuna flavor. This is one of those rolls that I would order time and time again.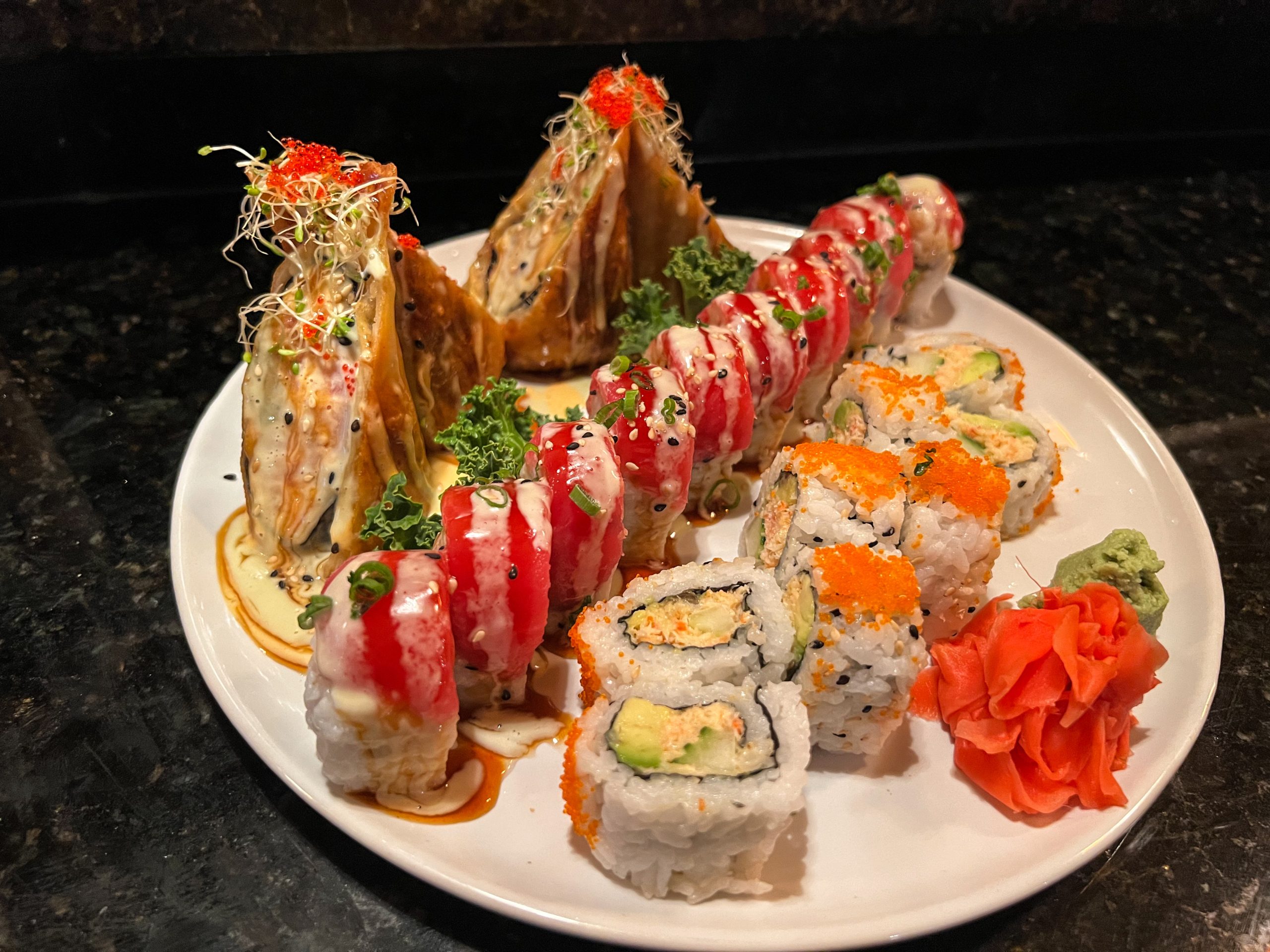 The menu at Rain is large enough without being too overwhelming. Plenty of rice and noodle dishes are available, most with your option of vegetables, tofu, chicken, pork, beef, shrimp or a seafood combination.
Below is the Basil Fried Rice with vegetables. In this dish, which is listed under the Thai Dinner Section of the menu, you'll find egg, bell peppers, carrots, onions, scallions and basil leaves of course. Basil is my favorite all around herb and this dish screams of it, which ultimately satisfied my senses.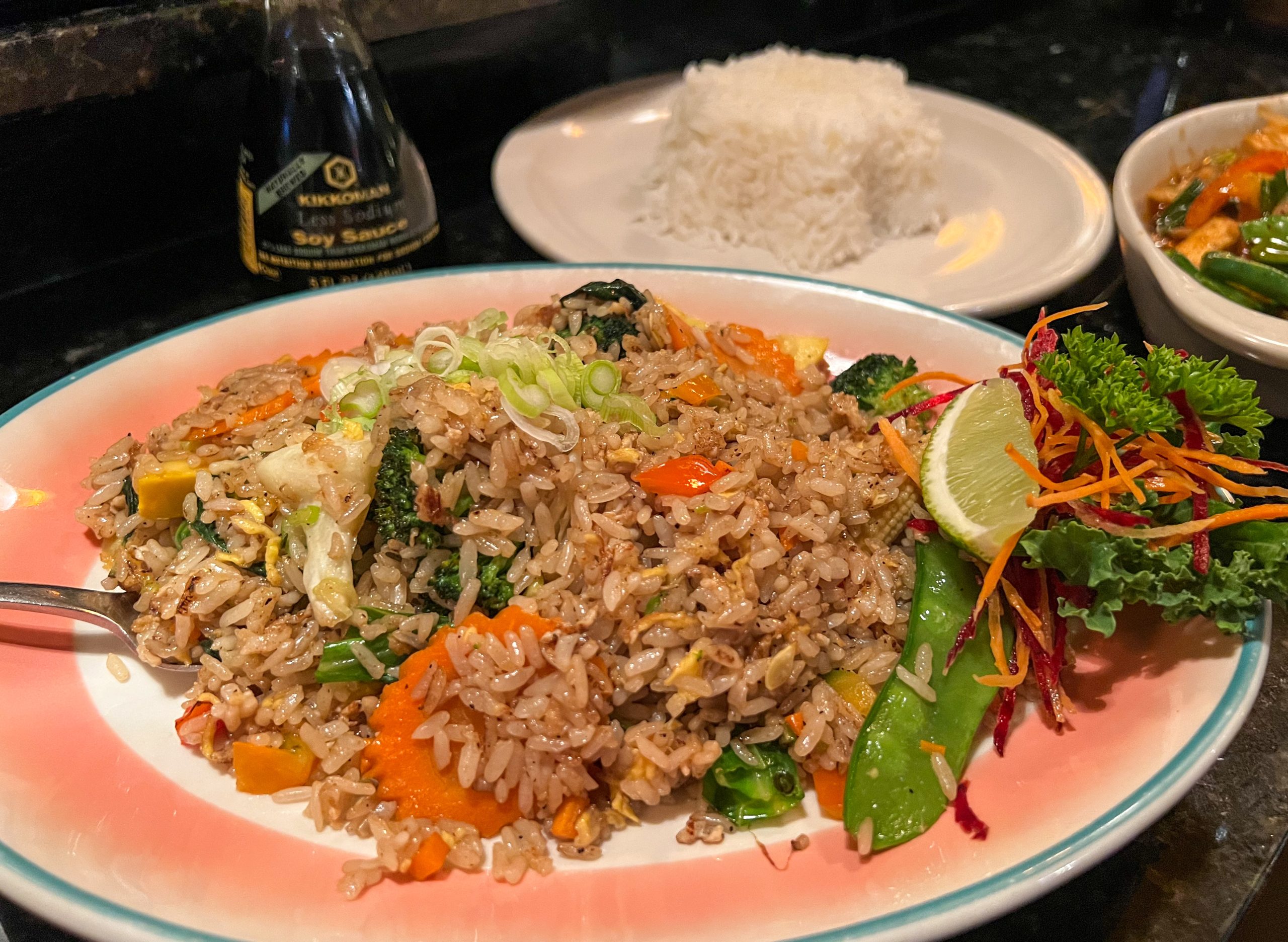 Somehow, I managed to not order the Masaman curry for a change. Instead, I landed on the Prik Khing with tofu. The Prik Khing is a dish of bell peppers, green beans, bamboo, onions and scallions all stir-fried together in a spicy brown sauce with a hefty side of rice. I loved the composition of the dish and the flavors together translated quite well. For my fellow spice babies (as my husband calls me, because I tend to be a bit of a "baby" with spice sometimes), fret not – you can handle this one. In fact, a little more spice would've even been quite lovely I think.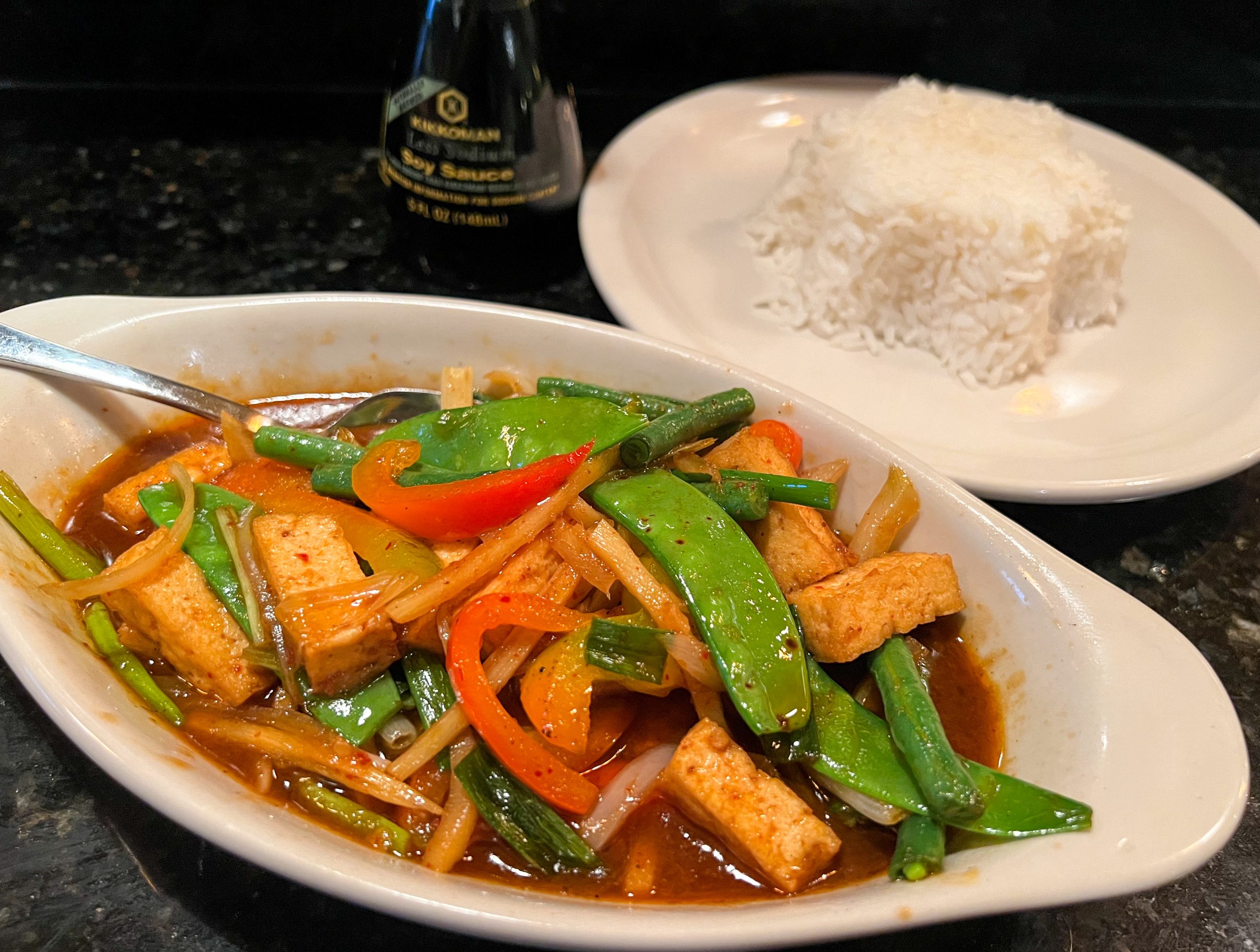 As I mentioned above, the Prik Khing comes with a side of rice – a large and beautiful one, at that. I love the thoughtfulness of the little things. This rice, along with my leftover Prik Khing, made for impeccable next-day leftovers.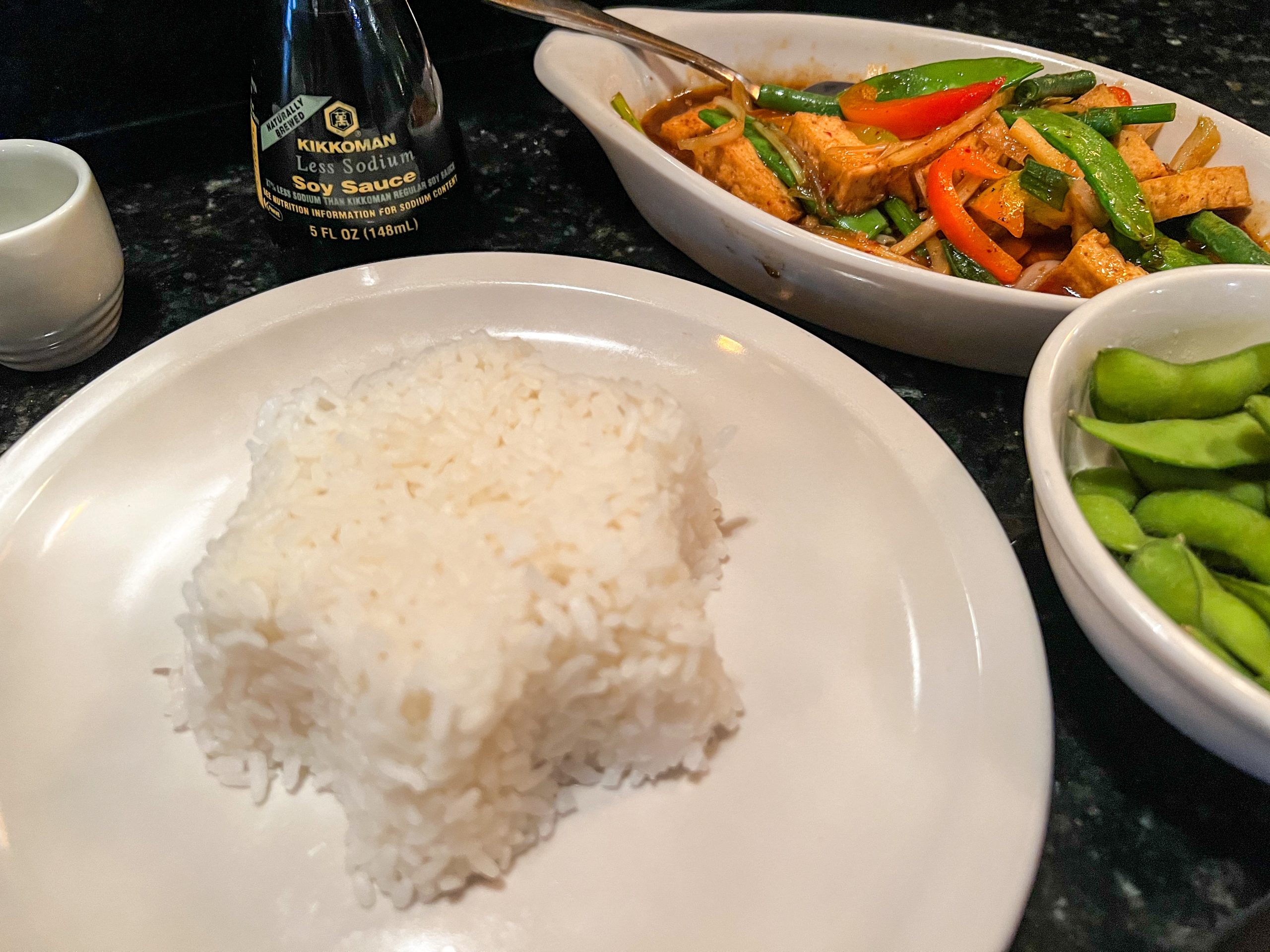 In addition to lunch and dinner service, Rain Japanese Sushi Bar & Thai also offers exceptional catering services with a large number of their menu offerings, including over-the-top sushi trays.
It's going to take us a few visits at least, but we plan to eat our way through Rain's enticing menu as best we can. For incredible Thai and sushi in a laid-back environment with delightful service, make Rain your next meal.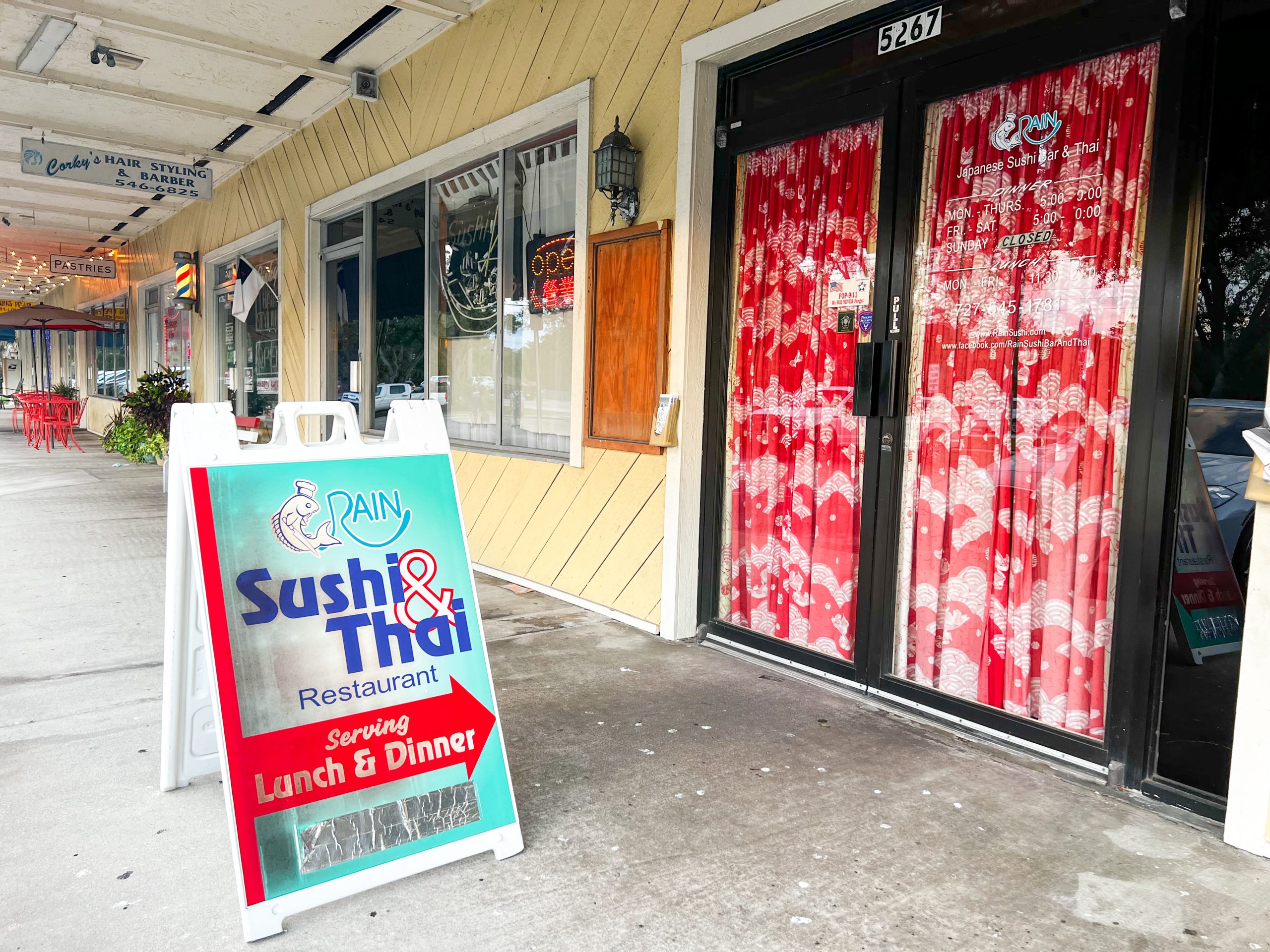 Colorful, relaxed eatery for Thai noodles, traditional Japanese food & sushi rolls with a twist.
DISCLAIMER: Kevin, Lori, Abby, Haley, & Lindsey do not dine anonymously (this would be impossible) and we sometimes get free food (though never expected). However, we dine with the locals and we support our own. You will always get honesty in a respectful manner. We do not include any large national or regional chains in our ratings and reviews. We focus on independent locally owned eateries exclusively.

PLEASE NOTE: Reviews reflect a certain moment in time. Some restaurants stay extremely consistent over many years, and some change for the better or worse. Some things that may change are: chefs, recipes, food suppliers, ingredients, philosophies, ownership, etc. We always hope that you have the same good, or great experience we had.
More Foodies News, Reviews & Recipes