Sola Bistro & Wine Bar: A Foodies Utopia
Sola Bistro & Wine Bar: A Foodies Utopia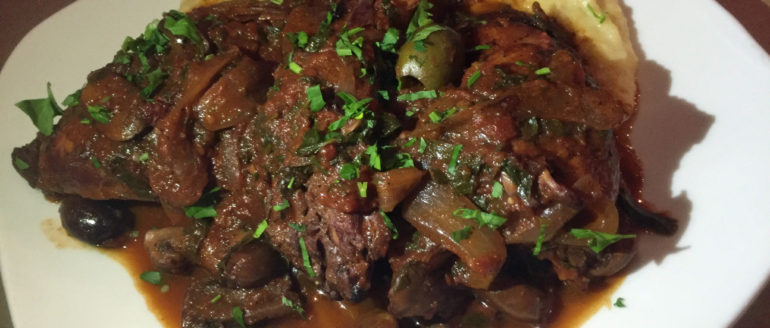 Sola Bistro is a foodies utopia! Lori and I went for the first time last weekend. We've been dying to go for a while now, but if you know us, you know that we don't often leave the 33701—especially me. You have to drag me kicking and screaming. However, the menu items and photos I saw people posting had me saying; "Why can't these guys be Downtown!?!?!"
Besides going to restaurants, we also enjoy the arts, especially live plays, comedy and musical acts, (my favorite being Gloria West). We've gone to a few plays in the past at freeFall Theater and just became season subscribers.  (I highly recommend checking out their wonderful productions). They are on the 6000 block of Central Ave. That will get us out of the 33701 on a semi-regular basis, and expand our horizons to eateries further out. We decided to do the 2:00 matinee, and then head out to St. Pete Beach for an early dinner at Sola. They open at 4. We arrived at 5. Since it was pretty early, that's why you'll see the place mostly empty in the photos at the end of the review.
The proprietor of Sola Bistro and Wine Bar is a very nice, warm and friendly Armenian guy named Tigran Khachaturyan. He goes by "Tig" (hard "G" like Tigger in Winnie the Pooh). Tig and his chef, Artem Kucherenko, (who is also quite hospitable) have created epicurean ecstasies for their medium size, but eclectic menu. When you're making your own housemade cured meats and everything else with no preservatives or artificial ingredients, you can't have a huge menu. It's two pages with around 20-ish items including starters, desserts and sides. Not everything on the menu is "out there". They have "normal food" like Shrimp & Polenta, Mussels, Burata Caprese, Rib Eye Steak, and Cast Iron Chicken … we didn't have any of those, although I'm sure they're wonderful.We did have a couple of mainstream items though.
You can see the menu here: Sola Menu.
On to the food!
We started with the Lamb Heart … yes we did … and I ♥ the Lamb Heart! It can be prepared two ways. We opted for both.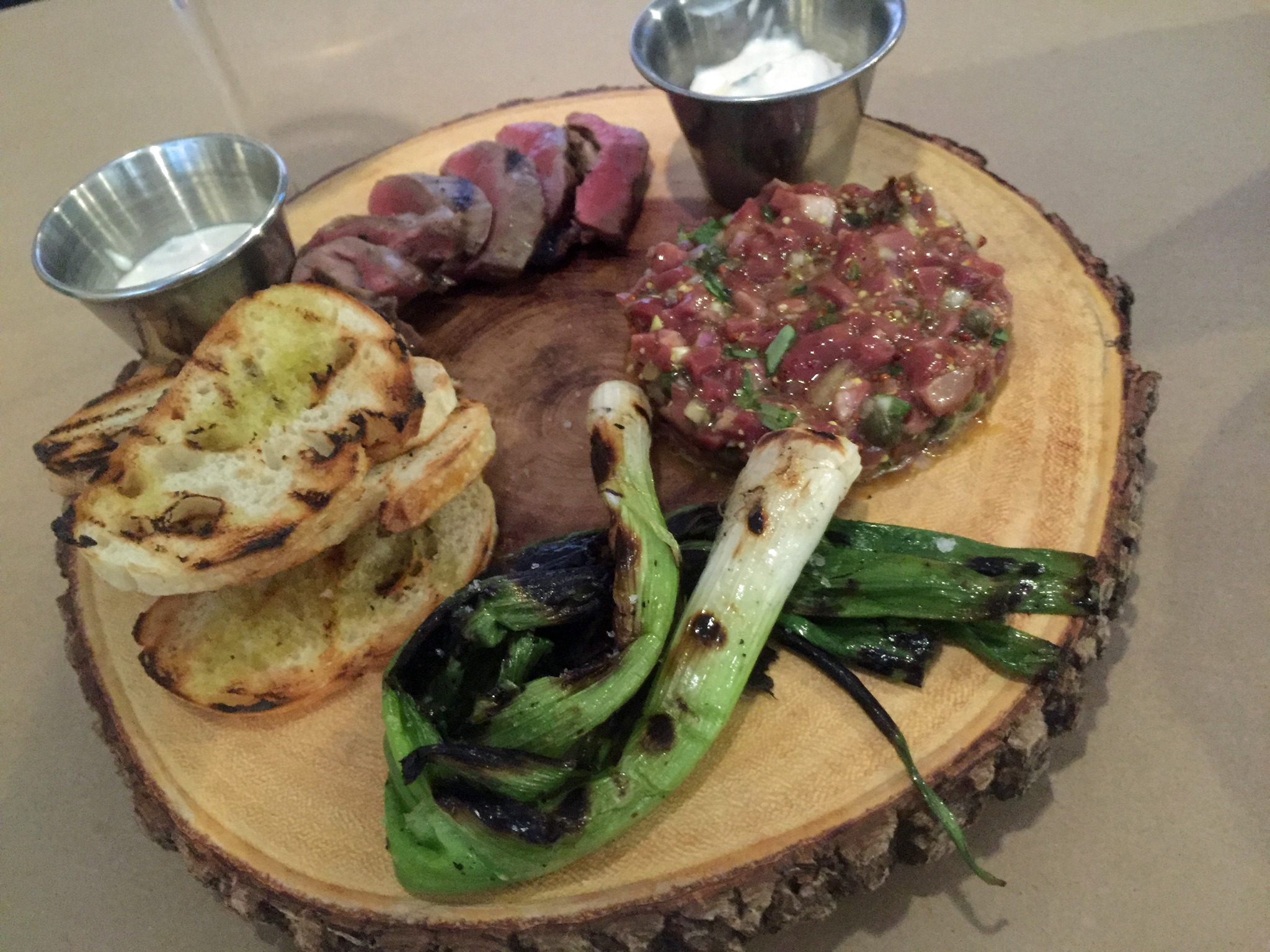 The Lamb Heart is marinated with buttermilk and spices and seared on the grill to medium-rare. It is served with cilantro garlic crème fraîche, and charred scallions. There is also a slightly seared lamb heart tartare with tarragon, mustard, and egg yolk. Both tasted like one of the finest steaks in the world.
At the same time, we were enjoying some fresh bread and EVOO with herbs and spices. The olive oil is 100% Picual from Spain. You never really get told which olive varietal they use for the olive oil at other restaurants. As you can imagine, it's one of the best having high levels of polyphenols (an organic compound which is known to have antioxidant effects) and it has one of the highest amounts of oil. (Citation: Wikipedia)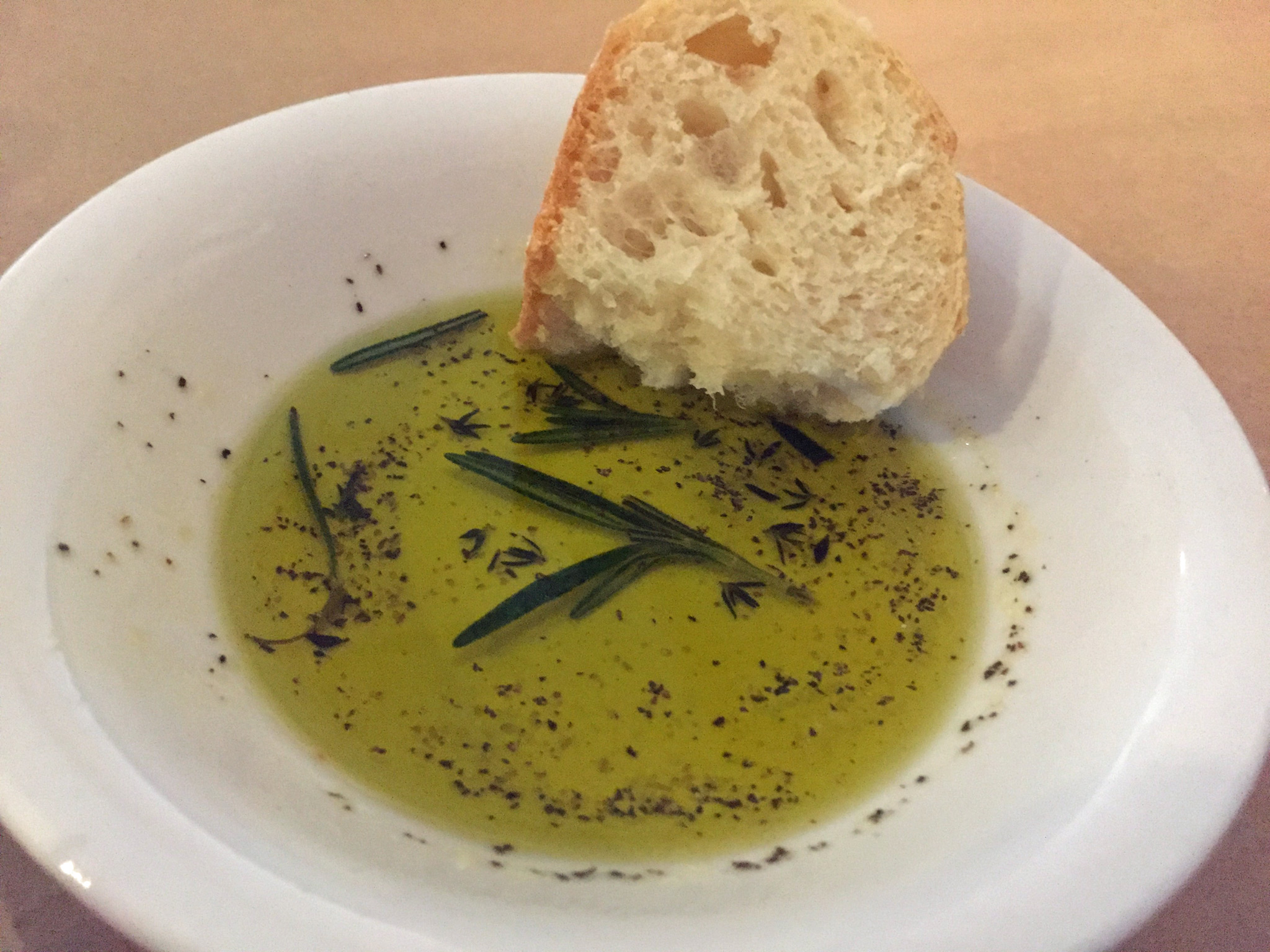 Our next super-scrumptious item was the Figs & Chorizo – Caramelized onions, toasted pine nuts, balsamic drizzle, and cilantro. The chorizo is housemade (with no excessive salt or preservatives, so it gets made fresh every 2-3 days). The Figs & Chorizo appetizer was like candy to me. I loved the combination of sweet and salty.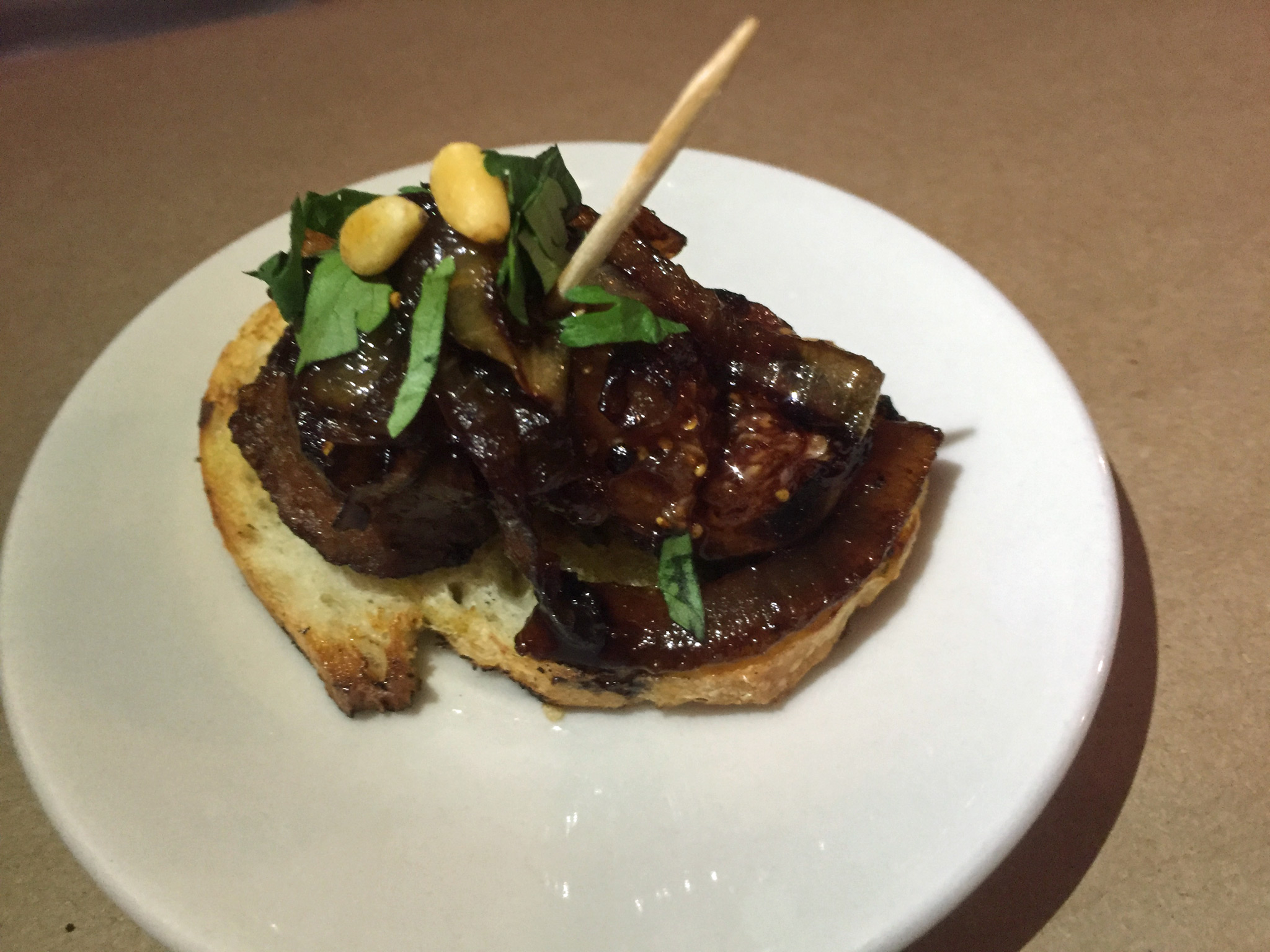 For entrées we decided to share two items: Rabbit Cacciatore and Bucatini alla Carbonara.
The rabbit was the best rabbit I've ever had! I've had rabbit at three different places downtown done by some great chefs, but if there was a contest, Sola's wins.
Rabbit Cacciatore – Roma tomatoes, garlic, onion, mushrooms, olives, red wine, herbs and polenta. Aside from the amazing flavors and textures, what really impressed me was how large and meaty it was. Usually, when I get rabbit it is kind of like eating quail. It's small and boney, and you have to work at it. Not here. This was large with big chunks of meat that fell off the bone with just a slight tug of the fork. Tig told us that they sell the same amount of rabbit as they do chicken.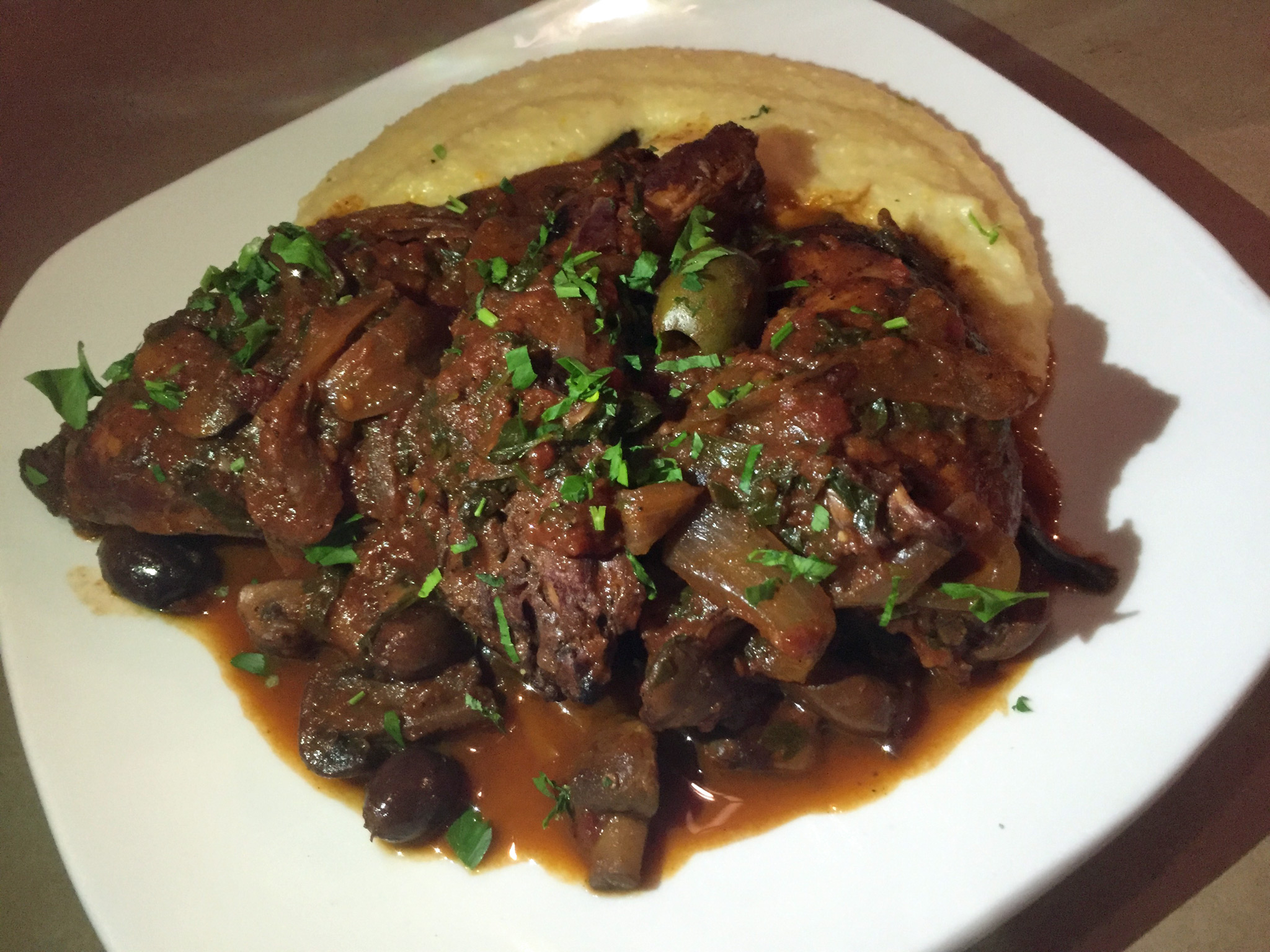 I mentioned earlier that we also ordered "normal food", and the next item up didn't disappoint. The pasta was super fresh and the pancetta is house-cured.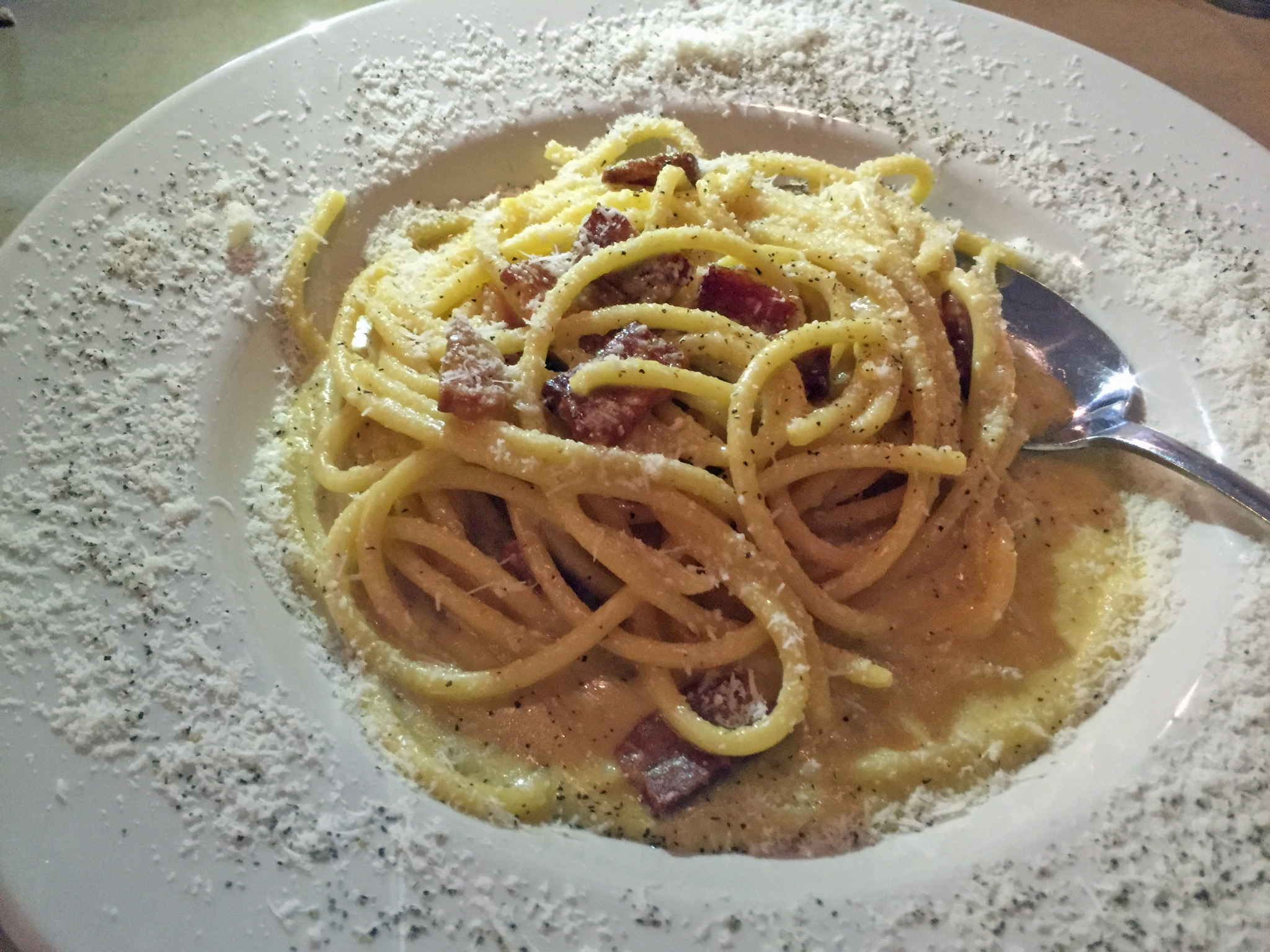 Bucatini alla Carbonara -House-cured pancetta, egg yolk, Pecorino Romano, and black pepper done the traditional Italian way without cream.
Tig suggested a perfect wine accompaniment: La Gitana White (Sauvignon blanc, palomino and muscat).
We only finished half of our main courses, but it was great to bring them home and experience them again. The rabbit passed the "Lisa T Test". (That's Lori's Foodie BFF that makes her own rabbit.)
Although we were stuffed, and don't usually have dessert, Tig insisted.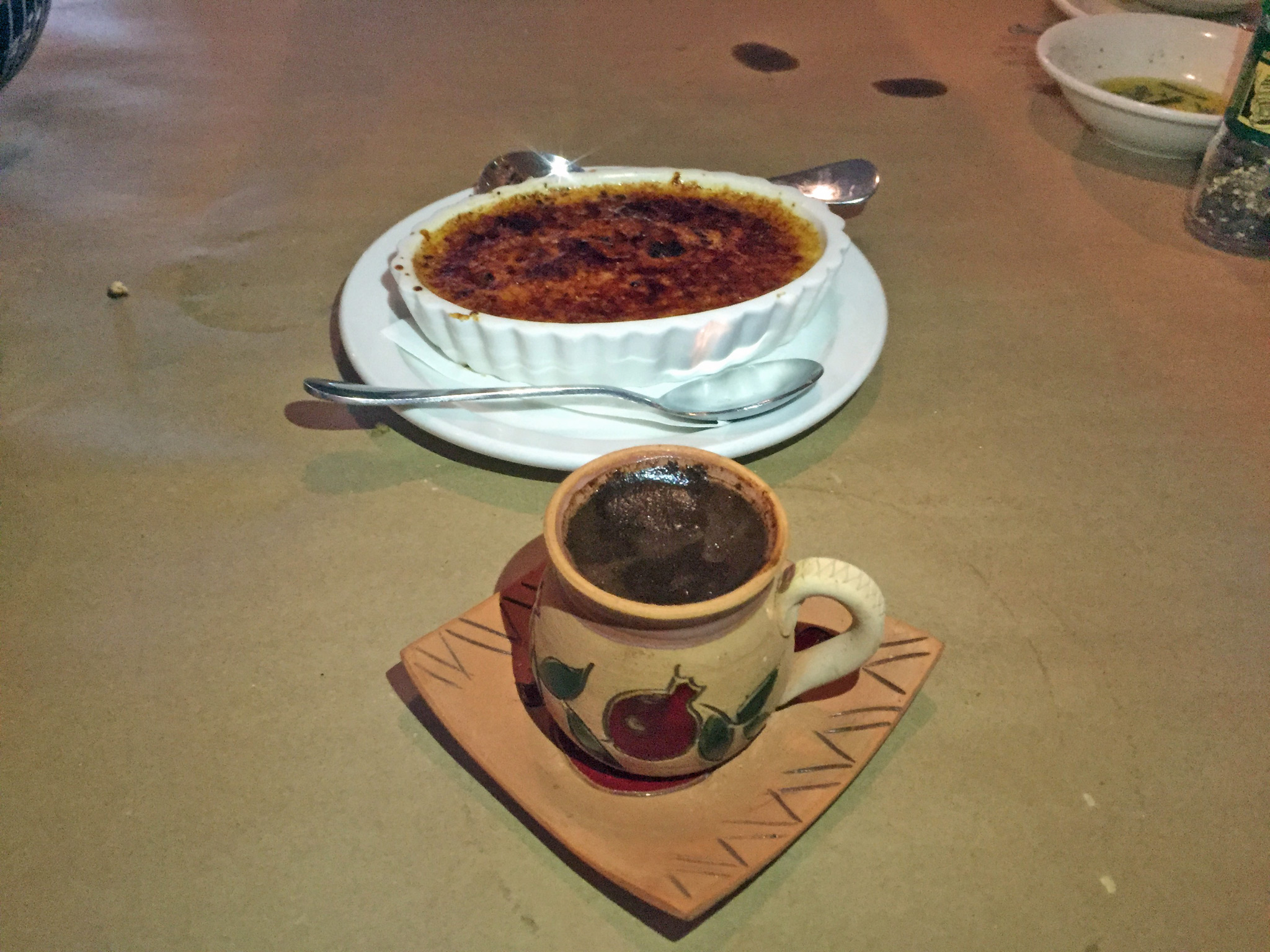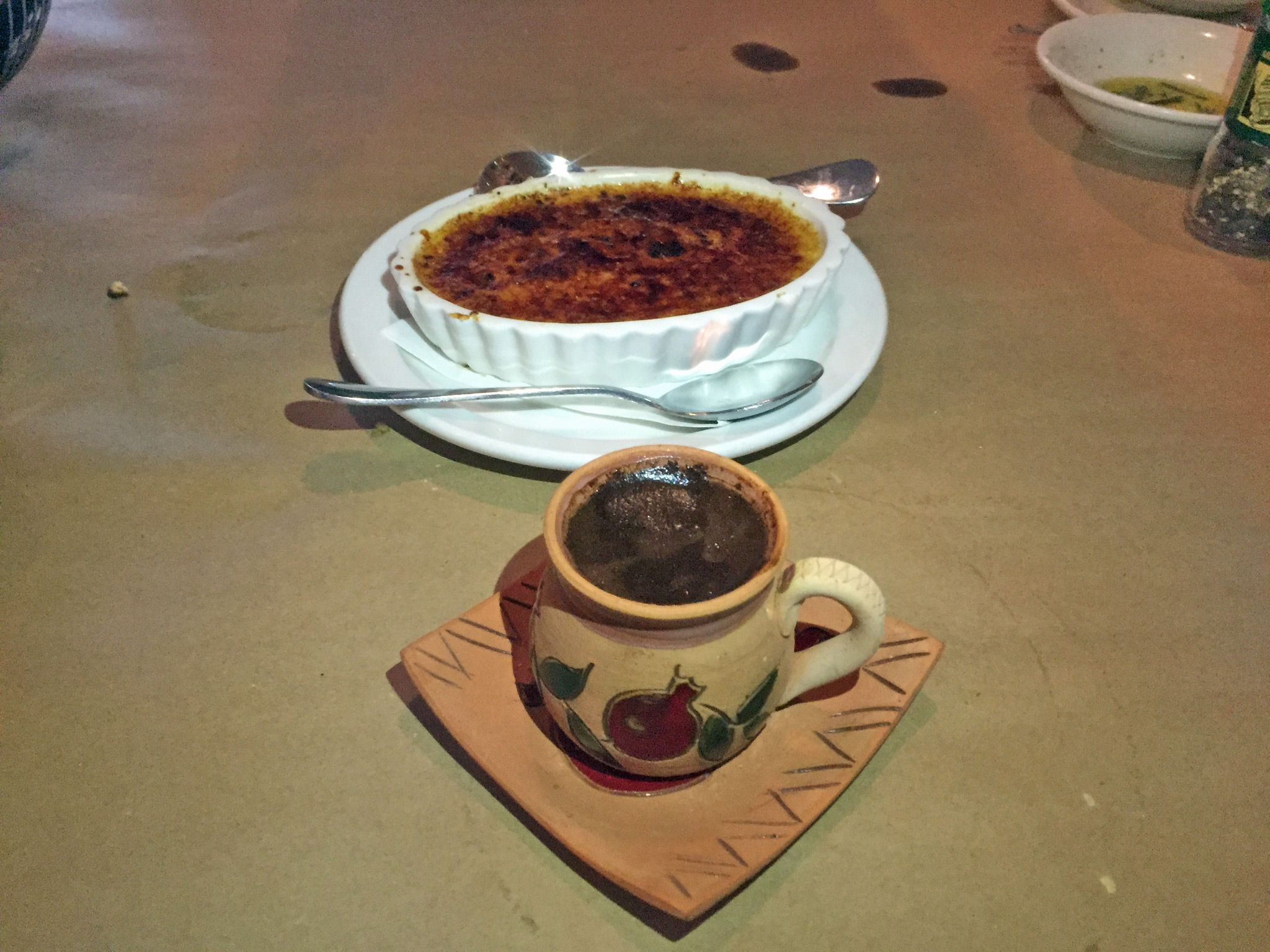 The Créme Brûlée was exquisite, and the Armenian espresso did deliver that nice bitterness to balance out the Créme Brûlée, but I find it interesting how they do it in Armenia. Artem warned me that there would be coffee grinds at "the bottom". There were actually coffee grinds throughout. It was tasty, but gritty. Hey, that's the way they do it in Armenia!
Sola Bistro & Wine Bar on St. Pete Beach is excellent! You have to go!
Here are some photos of the restaurant itself.
Have you been there? If not, I highly recommend it. If you have, what are your favorite dishes there?
Tell us what you think in the comments below, or follow the link to the listing in the restaurant guide to make your own review.
Sola has a 5-star rating on Yelp
Sola Bistro and Wine Bar
6700 Gulf Blvd.
St Pete Beach, FL 33706
(727) 360-7500
http://www.solabistrostpete.com/
[mappress mapid="42″]
Pros
Excellent Quality Food, Extremely Friendly Service, Ample Parking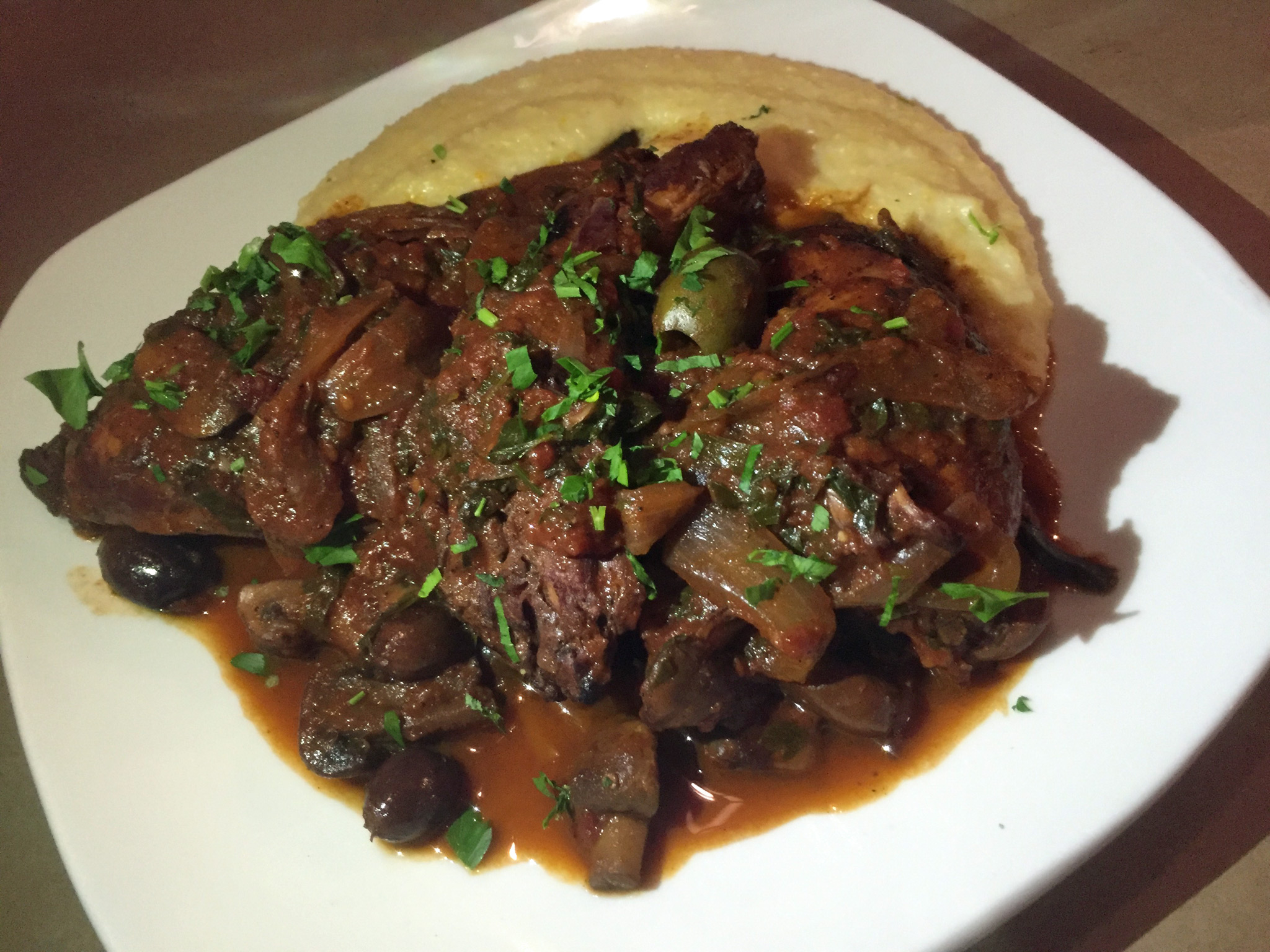 Readers Rating

Rated 4.9 stars




4.9

/ 5 (

Reviewers

)

Spectacular
---
Sola Bistro and Wine Bar

727-360-7500

Mon - Sat

4:00pm - 10:00pm
6700 Gulf Blvd.

,

St. Pete Beach

,

FL

33706

,

USA
---
Eclectic Gourmet European Menu and Unique Wines
DISCLAIMER: Kevin, Lori, Abby, Haley, & Lindsey do not dine anonymously (this would be impossible) and we sometimes get free food (though never expected). However, we dine with the locals and we support our own. You will always get honesty in a respectful manner.

PLEASE NOTE: Reviews reflect a certain moment in time. Some restaurants stay extremely consistent over many years, and some change for the better or worse. Some things that may change are: chefs, recipes, food suppliers, ingredients, philosophies, ownership, etc. We always hope that you have the same good, or great experience we had.
More Foodies News, Reviews & Recipes
2 Responses