The Island Grille & Raw Bar: Tierra Verde's Ultimate Waterside Restaurant
The Island Grille & Raw Bar: Tierra Verde's Ultimate Waterside Restaurant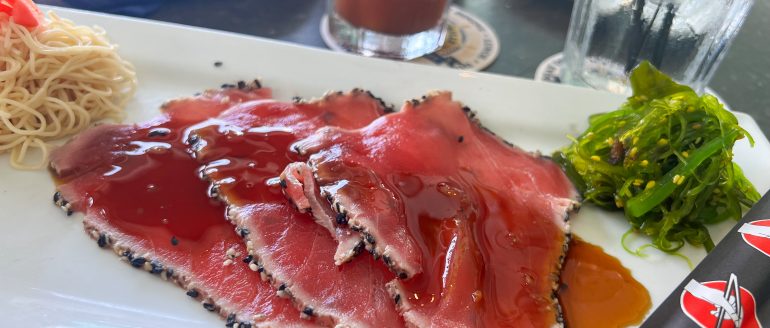 The Island Grille & Raw Bar is to Tierra Verde what salt is to pepper, meatballs to spaghetti, and so on. It's a staple restaurant for many island residents and locals and I'm certain that it gets its fair share of beach traffic, especially from those who have spent the day at Fort De Soto. It's actually the perfect spot to grab a bite after a morning on the beach – which is precisely what I did. When getting to and from Fort De Soto, you drive directly past the restaurant which makes it ultra convenient. The restaurant is situated right off the main drag close to the causeway and neighbors the Residence Inn hotel.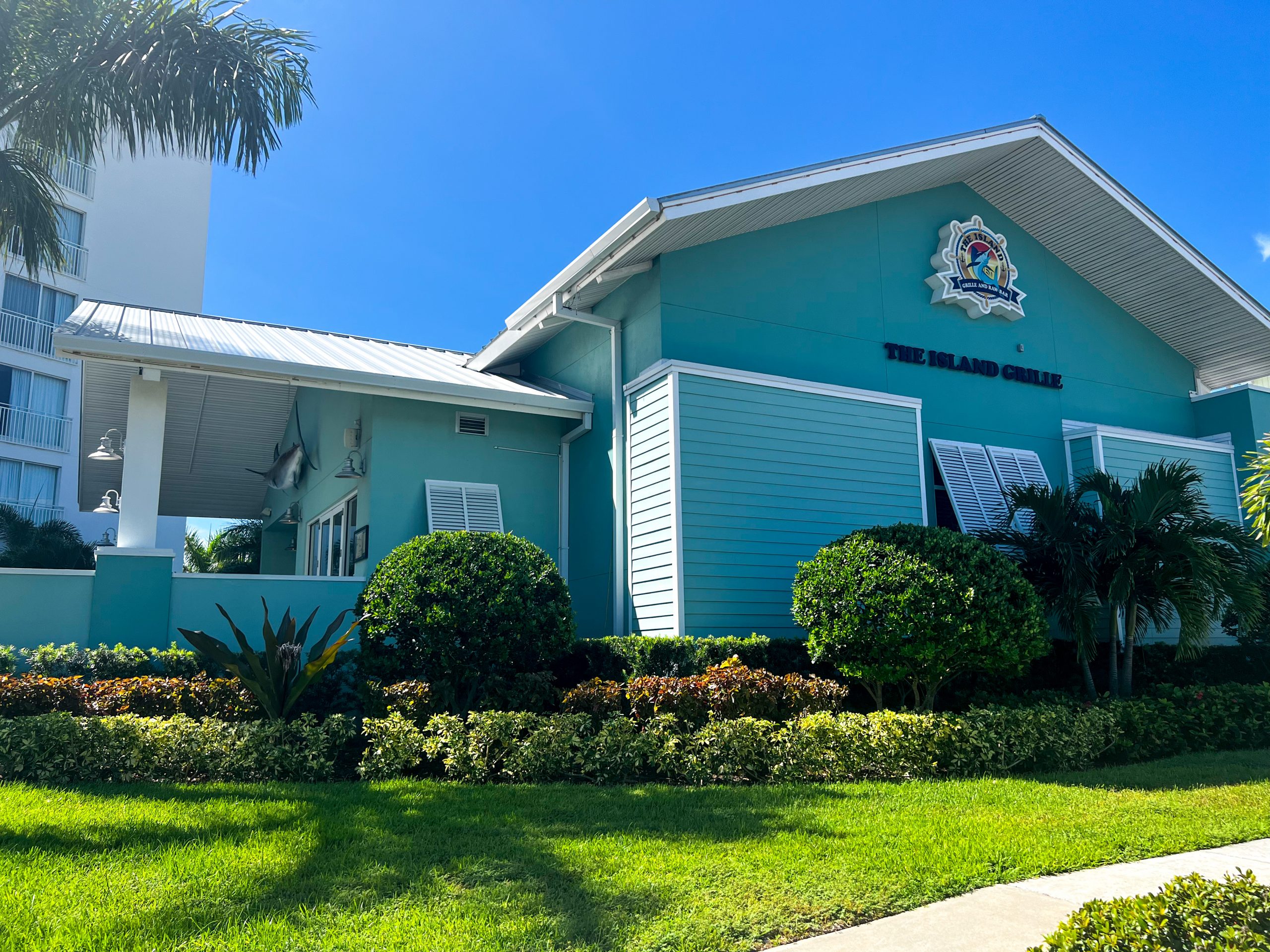 The vibes are laid back and casual throughout the whole restaurant. If you really want to slip into island time, request a table outside or belly up to the covered bar which is situated by the water-side pool and tiki bar. The atmosphere out in this area is lively with the sounds of splashing and what sounds like the ultimate Margaritaville playlist in the background. It's quite upbeat and mood-enhancing in my opinion. However, it is hot during these warm summer days so until we get through September, I recommend sitting out there near a fan during the day or perhaps waiting until the evening to enjoy a patio beverage and meal. Though inside dining is always a sure bet. In addition to the large bar that extends outside, their roomy restaurant also possesses plenty of tables and high-tops as well as seating at a raw bar.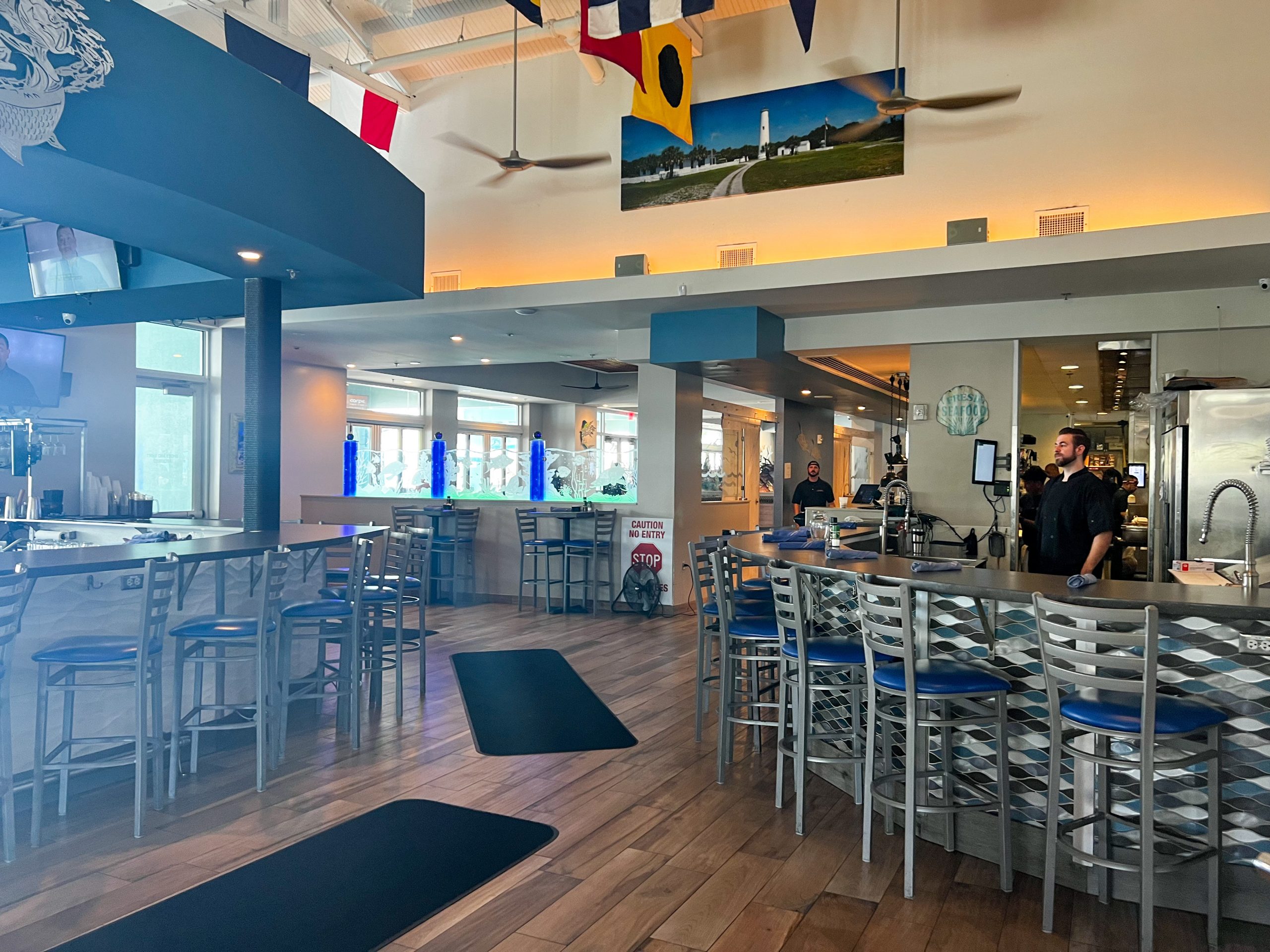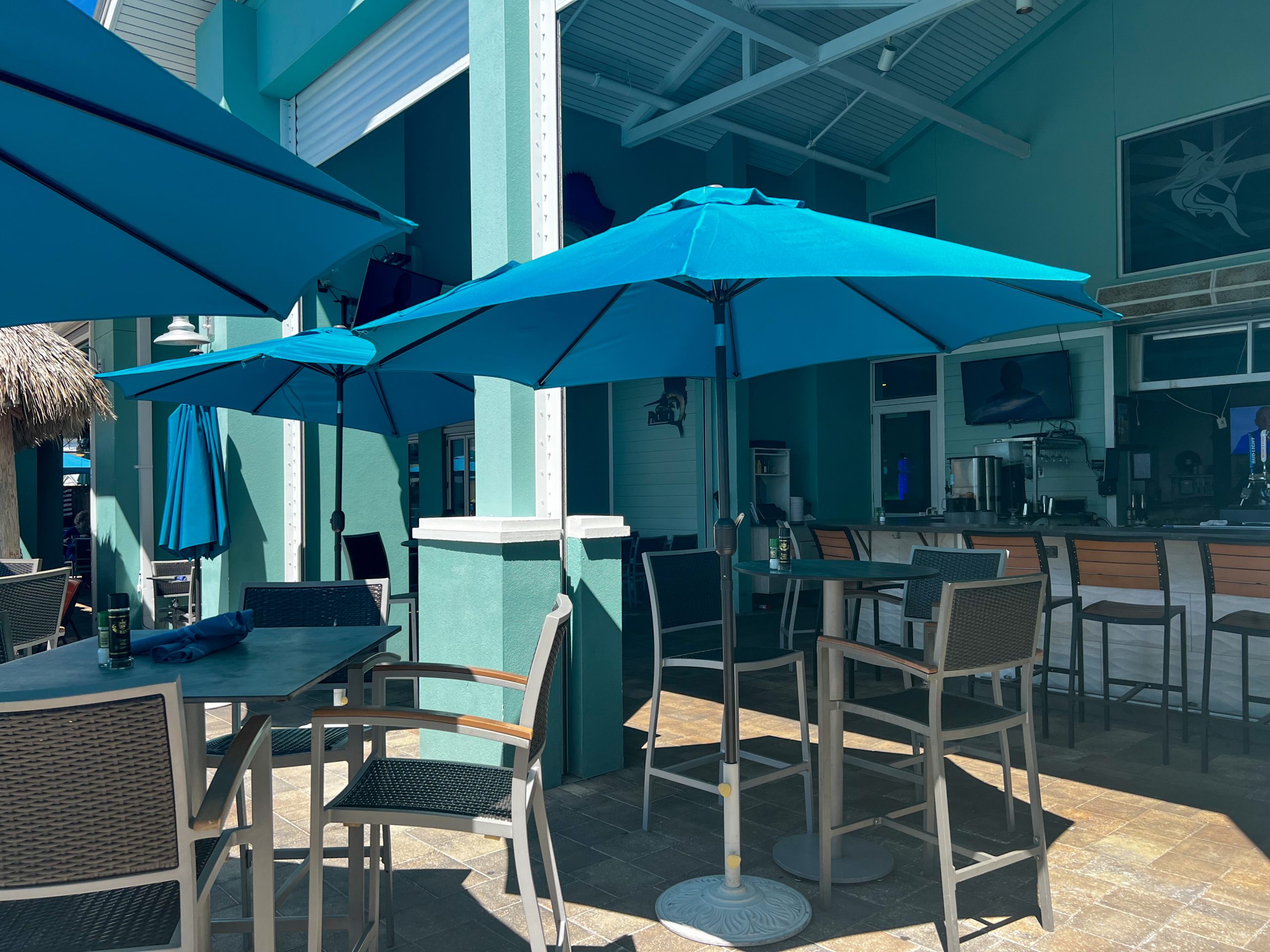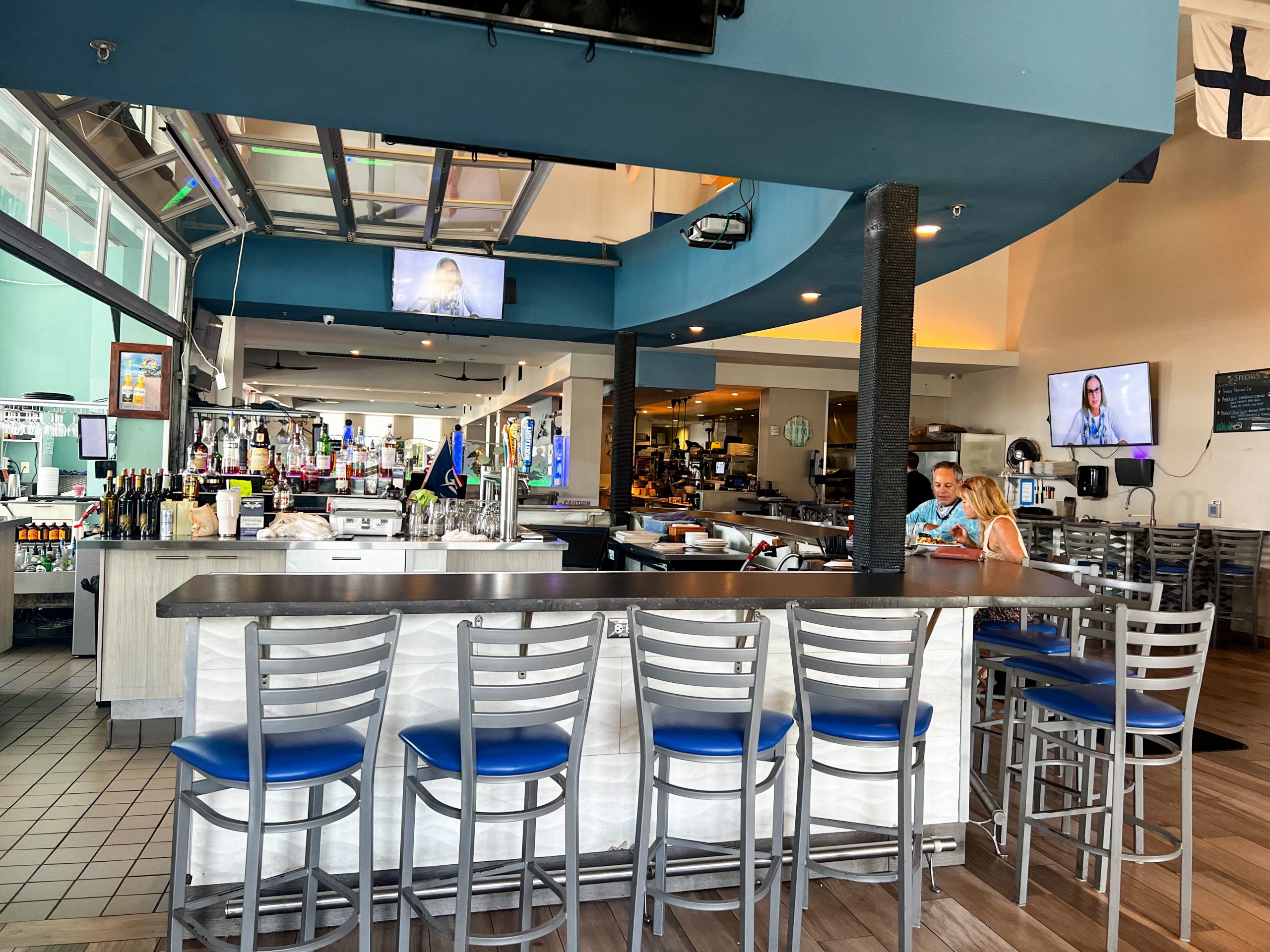 The entire staff at The Island Grille is very hospitable. During my visit I opted to sit at the outside bar and Jordan took fantastic care of me. Because I was there as soon as they opened at 11:00AM, it was not too busy yet and I had the opportunity to chat with Jordan a bit about the menu, recommendations and favorites, etc. She guided me through the whole menu and ultimately helped me decide what to order. Spoiler alert, she didn't lead me wrong, that's for sure.
One of the focal items on the menu at the Island Grille is of course oysters, especially being as they have a raw bar. I've had a number of the oysters in the recent past there and they are always a home-run. Jordan pointed out that the char-grilled oysters are especially popular with patrons – which was no surprise to me as I can attest to the fact that they are delightful. In fact, during my recent lunch the woman sitting next to me at the bar had some of the garlic butter and parmesan char-grilled oysters and I heard her rave about them on several occasions.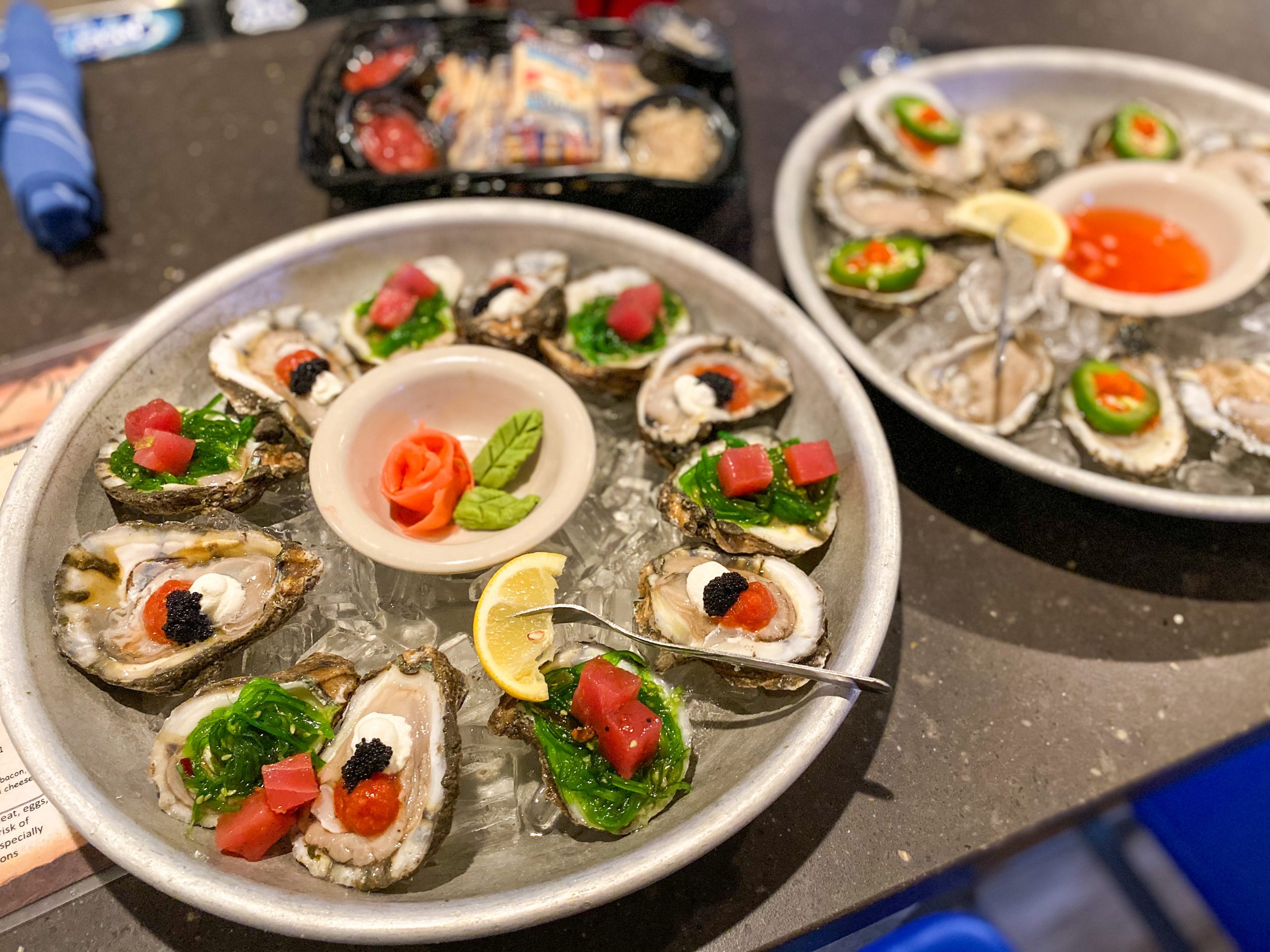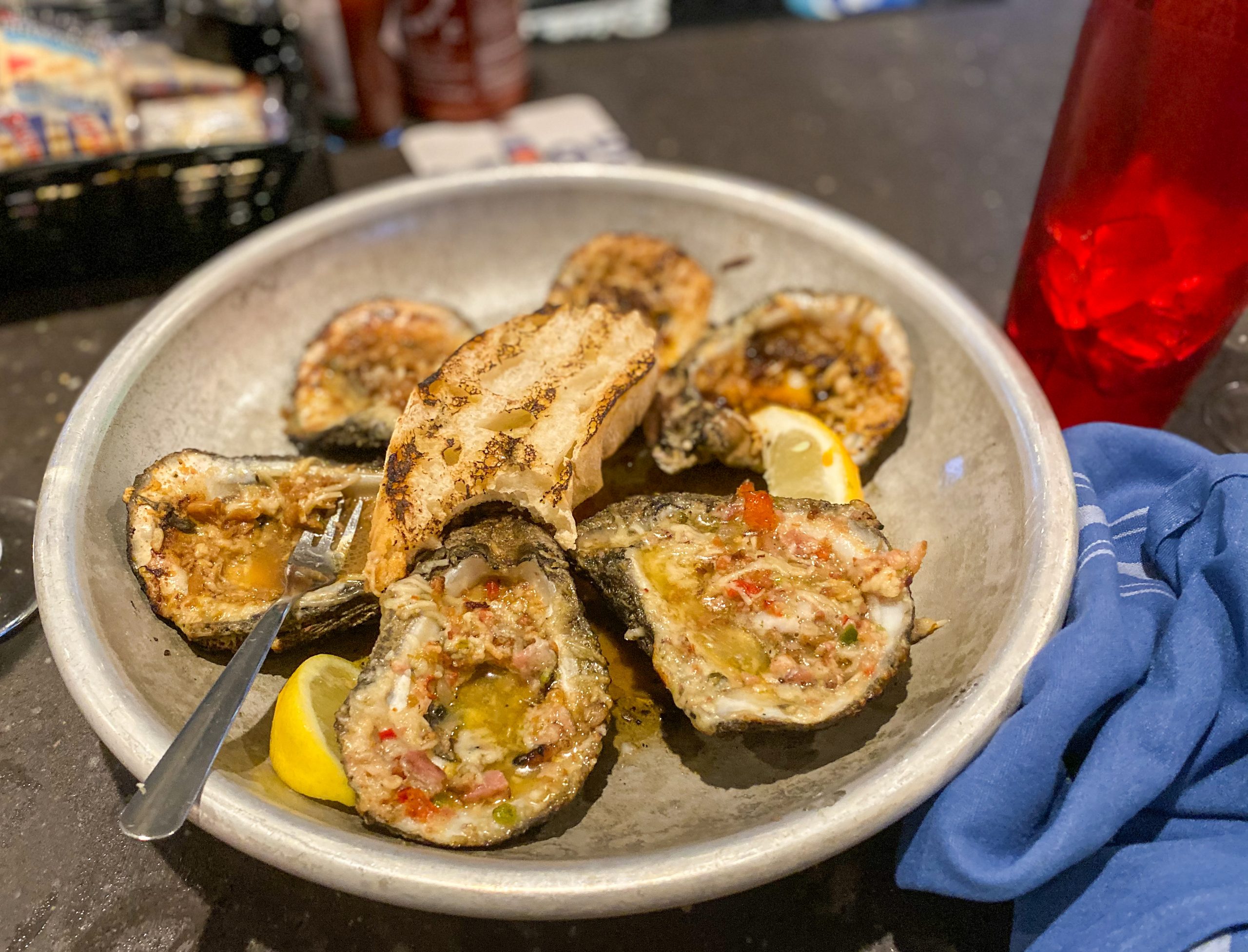 Because I have enjoyed the oysters myself on more than a few occasions, I opted for a different menu journey this visit, that was heavily influenced by Jordan, since I had her expertise during my lunch. She shared that in addition to the char-grilled oysters, the Ahi tuna, Grouper reuben, Old Bay shrimp, lobster mac 'n' cheese and the chicken wings are also quite popular with guests and all happen to be favorites of hers. I could not, of course, eat all of that but I did attempt to put a dent in her list of suggestions.
I kicked things off with a Bloody Mary, which is practically a weekend requirement in my opinion. In this heat though, one is my limit when it comes to this cocktail, just because I'm usually looking for something a little more refreshing first.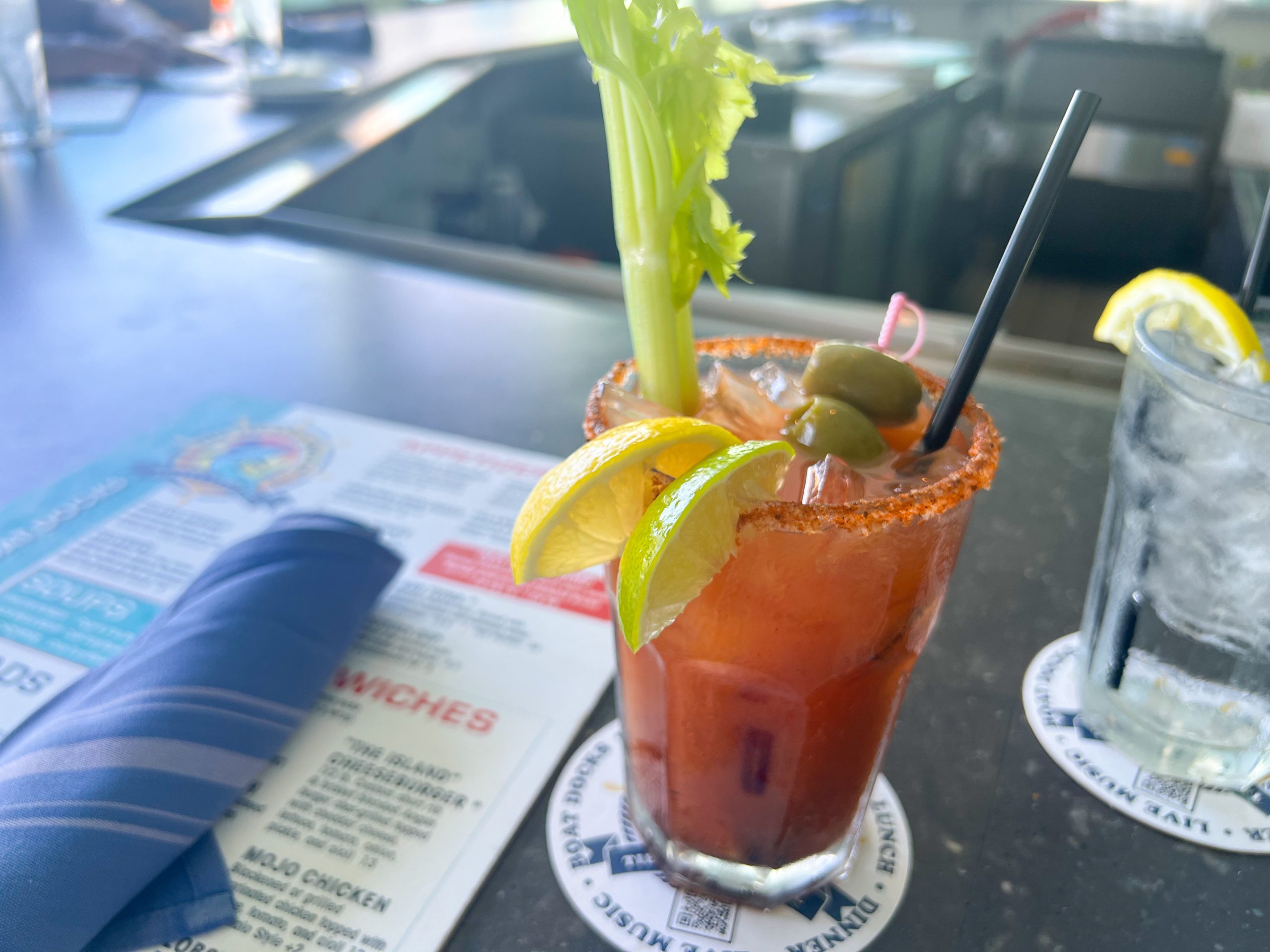 The first item of food to land in front of me was the Ahi Tuna. This appetizer is available in a 1/2 or full portion which I absolutely loved because I, like many, am not a fan of food waste. The beautiful tuna was sliced nearly paper-thin and was very fresh and light while also providing plenty of umami with the help of seaweed salad and sesame noodles. The full order of this tuna would also be great as an entree for one.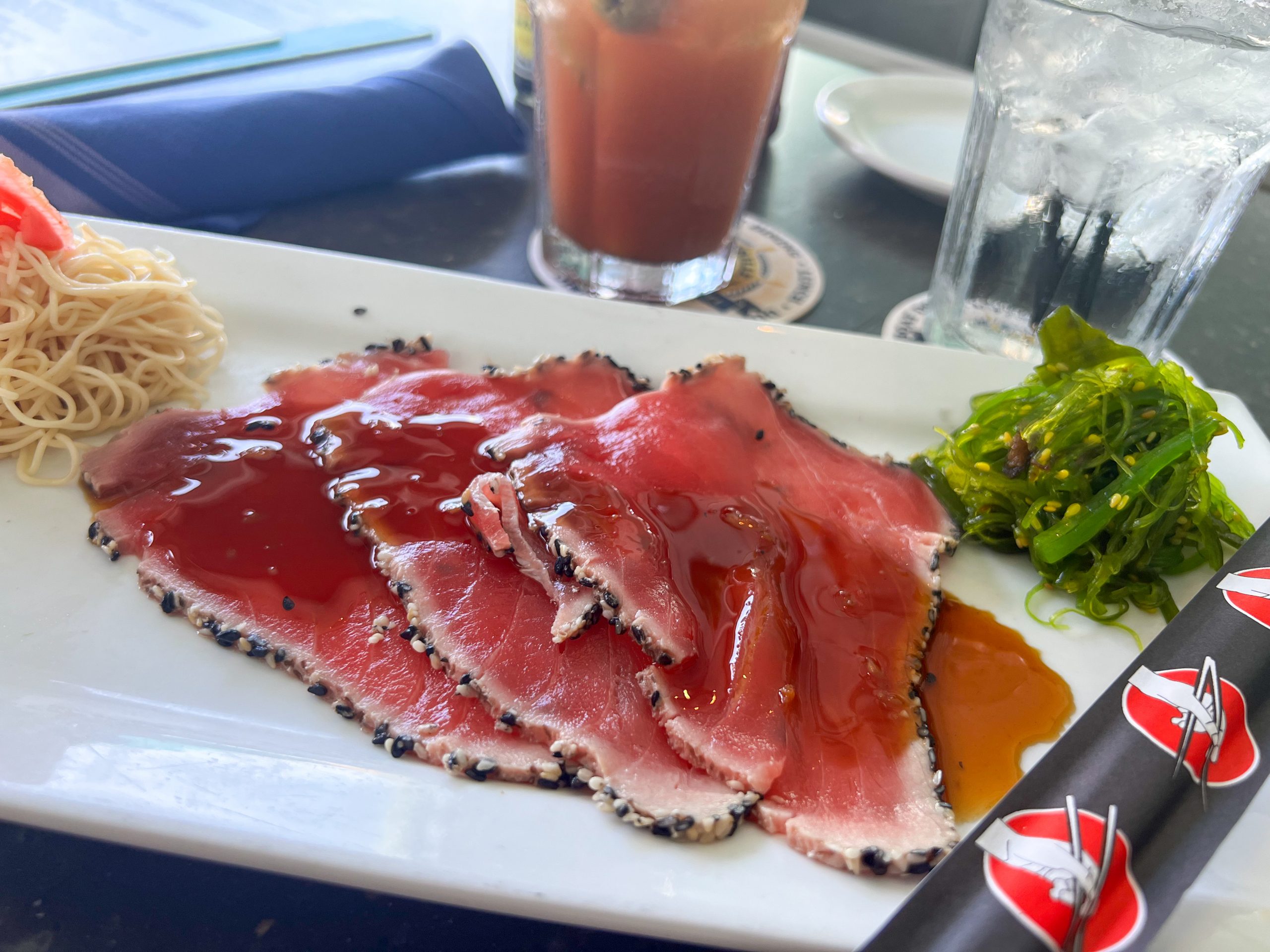 Next up out of the kitchen was the Old Bay Shrimp which is also available in two sizes – 1/2 or a full pound. Once again, the half pound option was completely suitable for me. Perhaps my favorite thing about these steamed shrimp is that there is no mess – the shrimp is already peeled. No mess, no fuss which I sincerely appreciate. In addition to the no-peel factor, the spicy beer broth that the shrimp are cooked in is finger-licking good. So much savory goodness that you must sop it up with the piece of grilled Ciabatta bread served along side of it.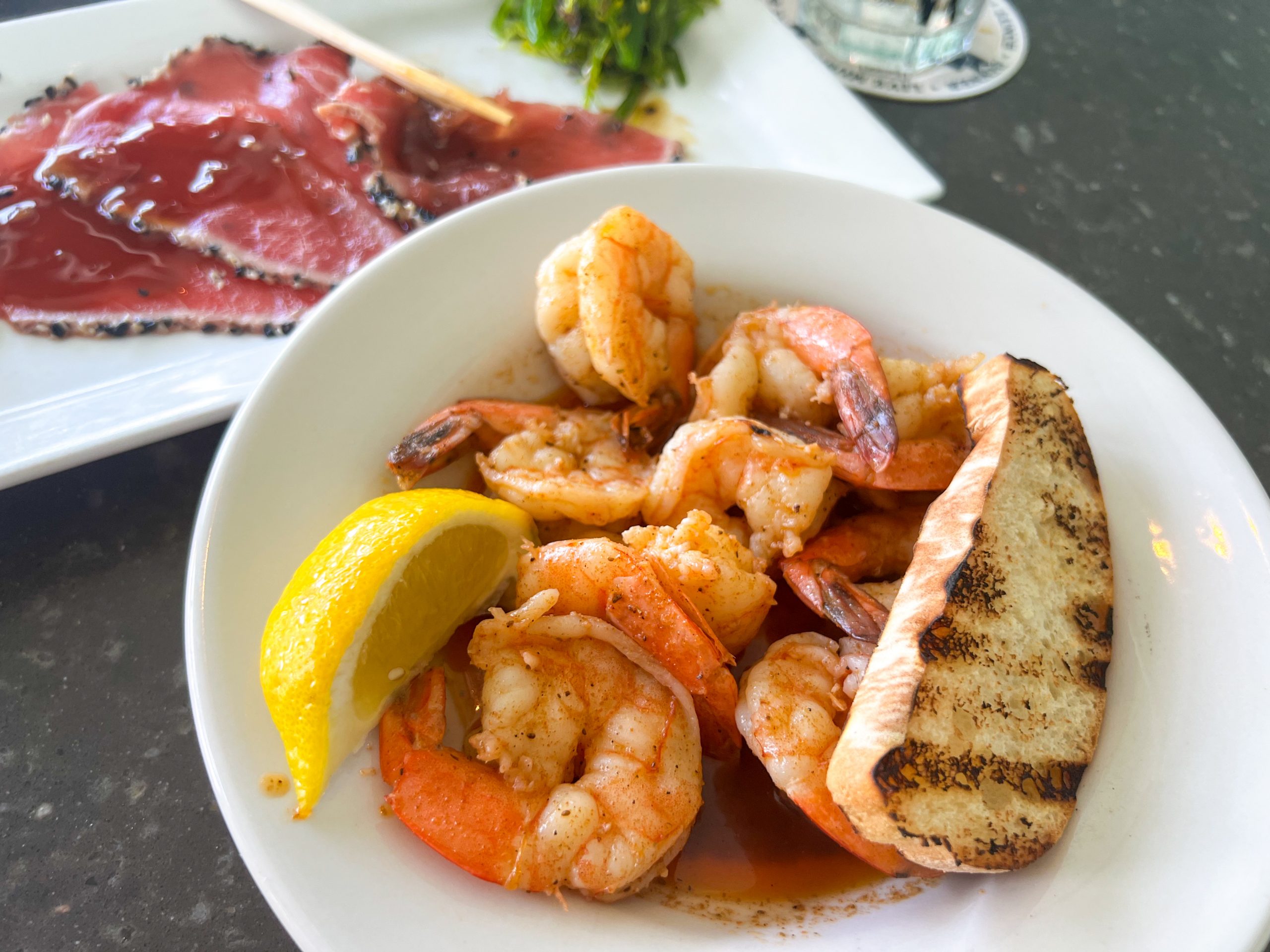 The grouper reuben is something that I probably never would have ordered if Jordan would not have pointed it out to me as a favorite and popular sandwich. So, I totally went for it and wow, I'm glad that I did. Picture your usual reuben but instead swap corned beef with a piece of flaky grilled fish. I will admit, with the other ingredients like Swiss cheese and sauerkraut, I wasn't exactly sure how I would like it. But, I was very pleasantly surprised – it was so tasty and satisfying. This sandwich, along with the other sandwiches, are served with one of the many side options and obviously the French Fries won me over. Other side options include: roasted herb potatoes, beans and rice, cole slaw, broccoli and more.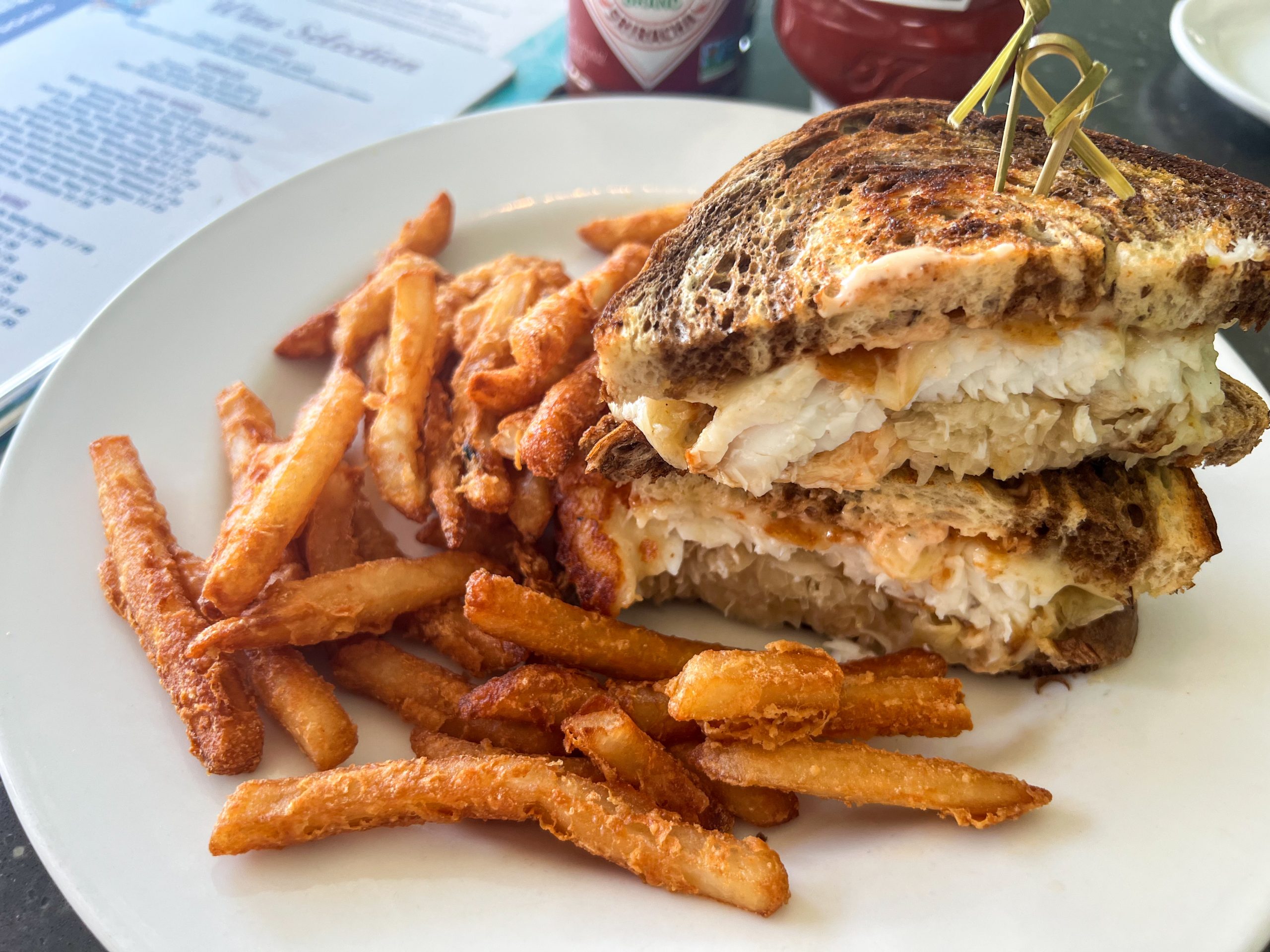 As if the Island Grille & Raw Bar wasn't already appealing enough, they offer an early bird menu from 3-5:30PM on Monday-Friday for all dine-in orders where all items are only $16 and must be submitted to the kitchen by 5:45PM.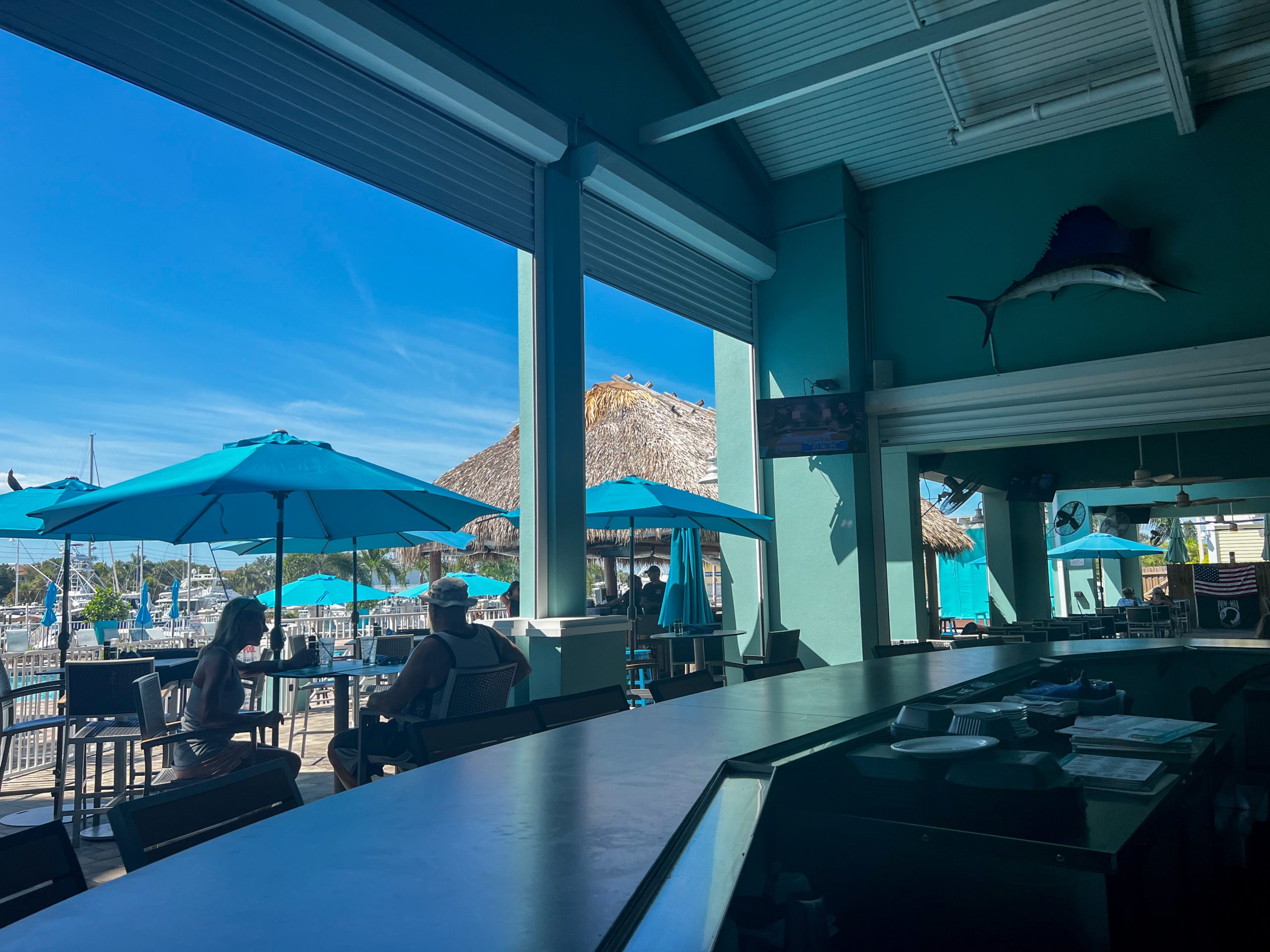 There are boat docks available for your visit so you can arrive by boat, car, bike or foot, for your convenience. If I still haven't convinced you that you need to visit the Island Grille & Raw Bar, surely the regular live music, swimming pool and 20 televisions will do the trick. There's something for everyone at this lively waterside restaurant and bar.
Relaxed venue with water views, offering American surf 'n' turf fare, raw oysters and tropical drinks.
DISCLAIMER: Kevin, Lori, Abby, Haley, & Lindsey do not dine anonymously (this would be impossible) and we sometimes get free food (though never expected). However, we dine with the locals and we support our own. You will always get honesty in a respectful manner.

PLEASE NOTE: Reviews reflect a certain moment in time. Some restaurants stay extremely consistent over many years, and some change for the better or worse. Some things that may change are: chefs, recipes, food suppliers, ingredients, philosophies, ownership, etc. We always hope that you have the same good, or great experience we had.
More Foodies News, Reviews & Recipes