Modern Brine: A Flavor Journey
Modern Brine: A Flavor Journey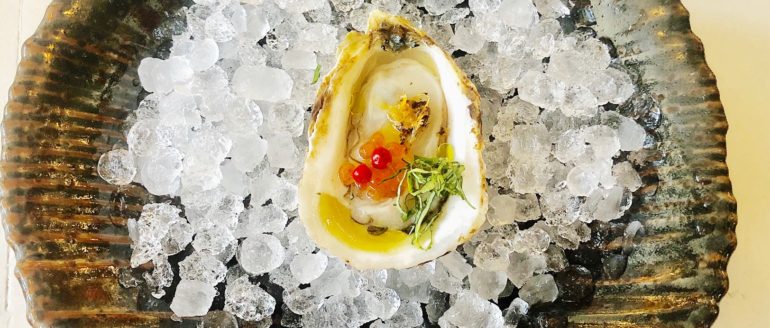 "Life is a journey of discovery and food should be no different." – David Morris, owner and executive chef, Modern Brine
Upon arriving to Baum Avenue Market, one's eyes are immediately led to the lush plants and twinkling lights outlining Modern Brine. Hanging wooden light fixtures dangle above a small bar area with six high top bar stools and an impeccable bar set-up lining the walls – housing everything from Japanese Whiskey to rare-to-find bitters and coveted gins and mezcals. The vibe feels incredibly cool and almost familiar, as if you were always supposed to be there hanging out with a cocktail in hand.
Modern Brine stands out like a sparkly pearl and almost beckons curiosity. Along with an array of artfully crafted libations, Modern Brine offers a delicious quick lunch service in the afternoons, later switching over to a specialty raw bar in the evenings, with a focus on its namesake brine – oysters.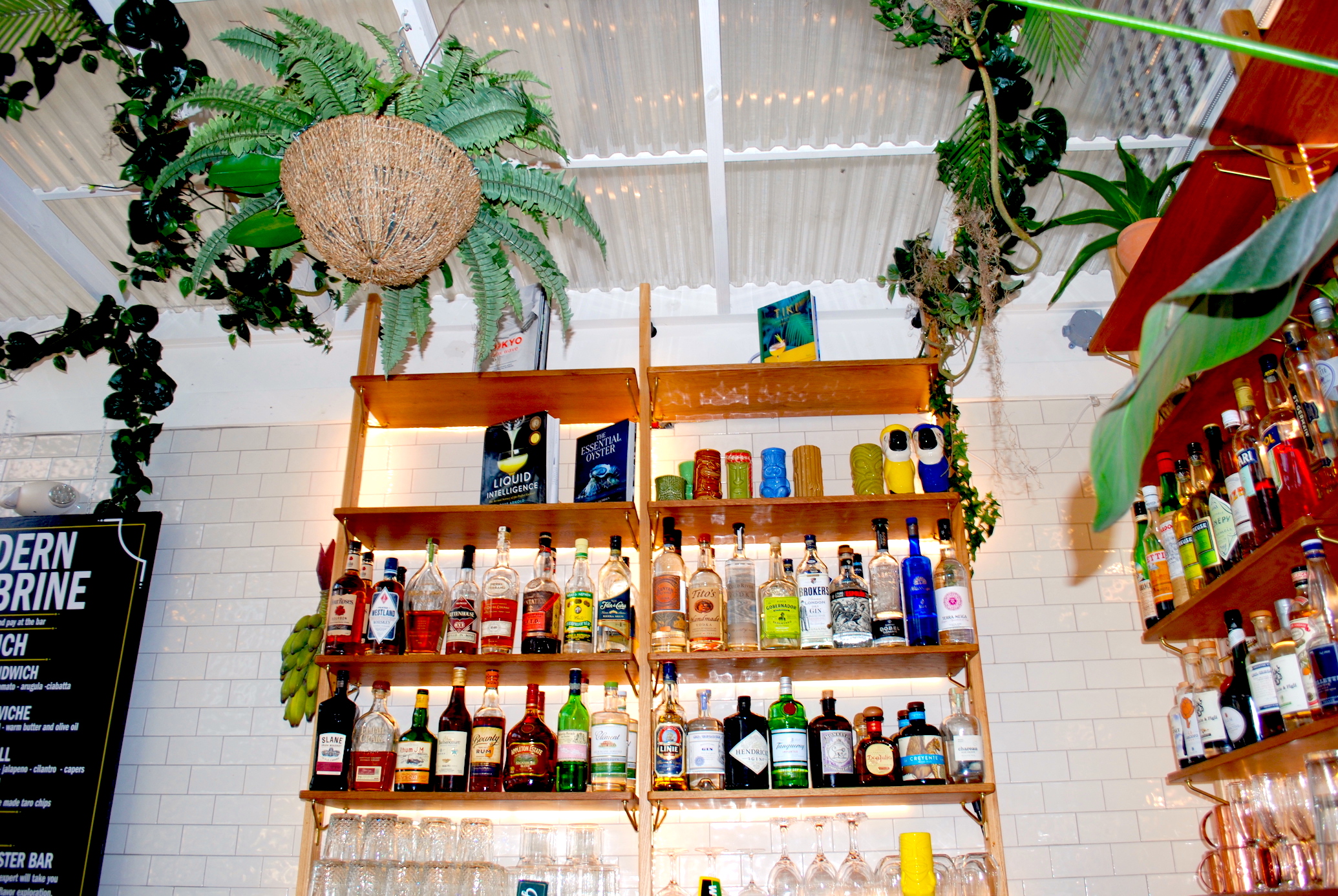 "What's your favorite aspect about oysters?" I asked David Morris, owner, mixologist and executive chef at Modern Brine. "I'd have to say new perspective and change," he responded from behind the bar as he poured me a glass of Italian white wine. "The goal of our omakase raw bar is to provide people with a different perspective on oysters. Each oyster highlights a different style of flavor, taking you on an unexpected taste tour via a familiar vessel."
David uses the traditional style omakase, a form of Japanese dining where guests surrender themselves to the chef, to craft a seasonally curated, elegant, artistic meal, utilizing high-quality ingredients and specialty items. The intimate omakase style allows for more focus on the dish at hand, in this case the oyster, so that each bite is truly savored and analyzed. Priced per oyster, diners can consume fresh grade A oysters to their heart's content, with David showcasing a rotating menu of flavors and preparations, paired perfectly with delicious cocktails or wines. David began to inform that the oyster is pure protein, about 10 calories per oyster and 2-3 grams of protein. A healthy and delicious texture-trove of candy from the sea and the ideal vehicle to play with new and unexpected flavor combinations.
Modern Brine, which originally began as a pop-up in the back of Intermezzo, has claimed its own space inside of Baum Avenue Market for a little over a year, now serving as the anchoring eatery of the market. David's love for oysters incited during his time working as a bar back some years ago, when he was unexpectedly placed on oyster shucking duty and became enamored with the bivalve right then and there.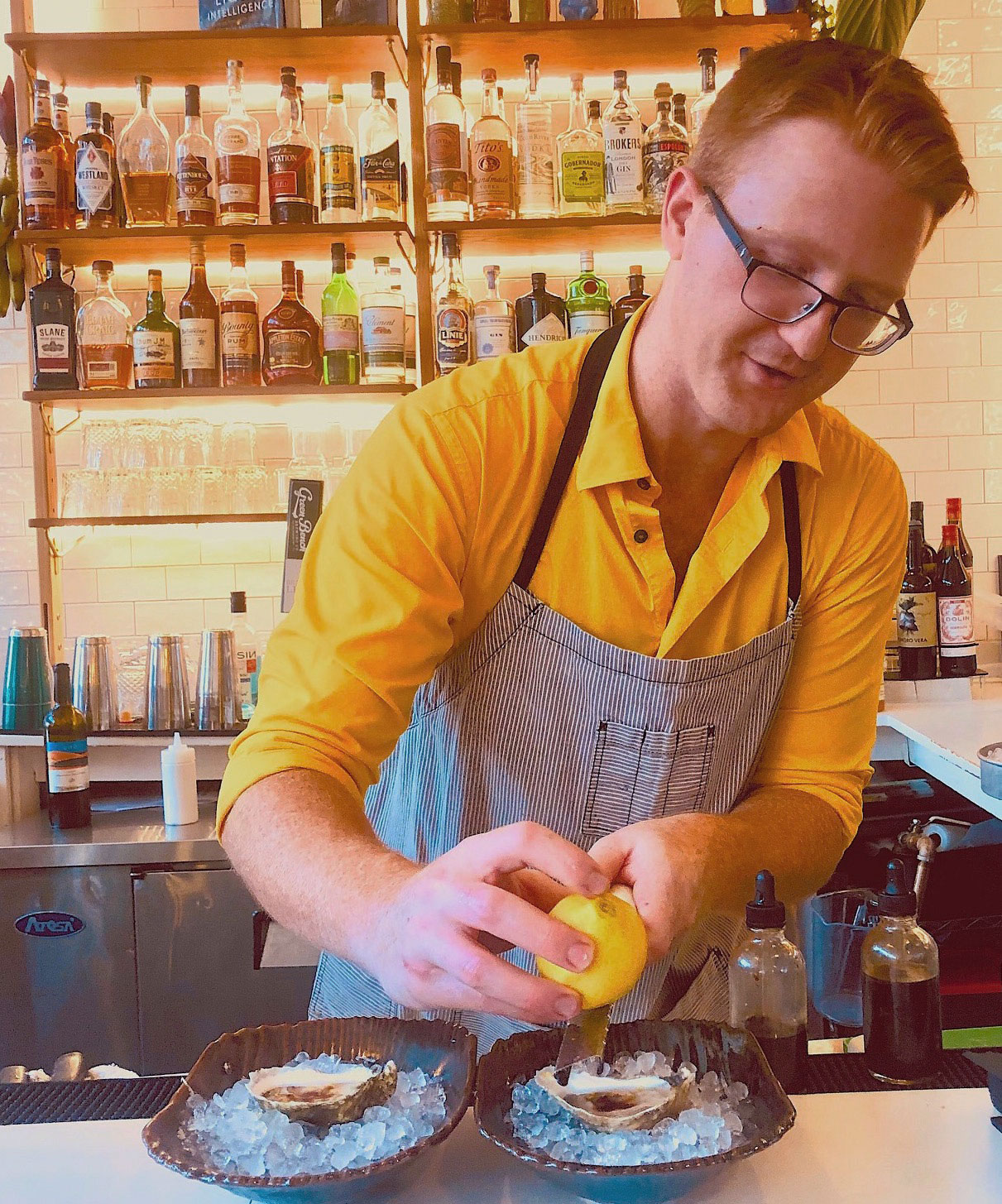 "I'm attracted to the ideology of change that the oyster represents," shared David while shucking our first course. "The oyster represents change through its naked flavor, which is subtly affected by external factors, such as the seasons and change in water temperature." They almost add an analytical layer to dining as every bite uncovers a new facet of the oyster's environment.
We began with a bare and freshly shucked "Naked Oyster," straight from Deer Creek, Washington. Salty, briny and almost a little sweet, the organic flavor of the oyster, without any additives, serves as a bit of a palate balancer, before we embarked on a journey of complex flavor profiles.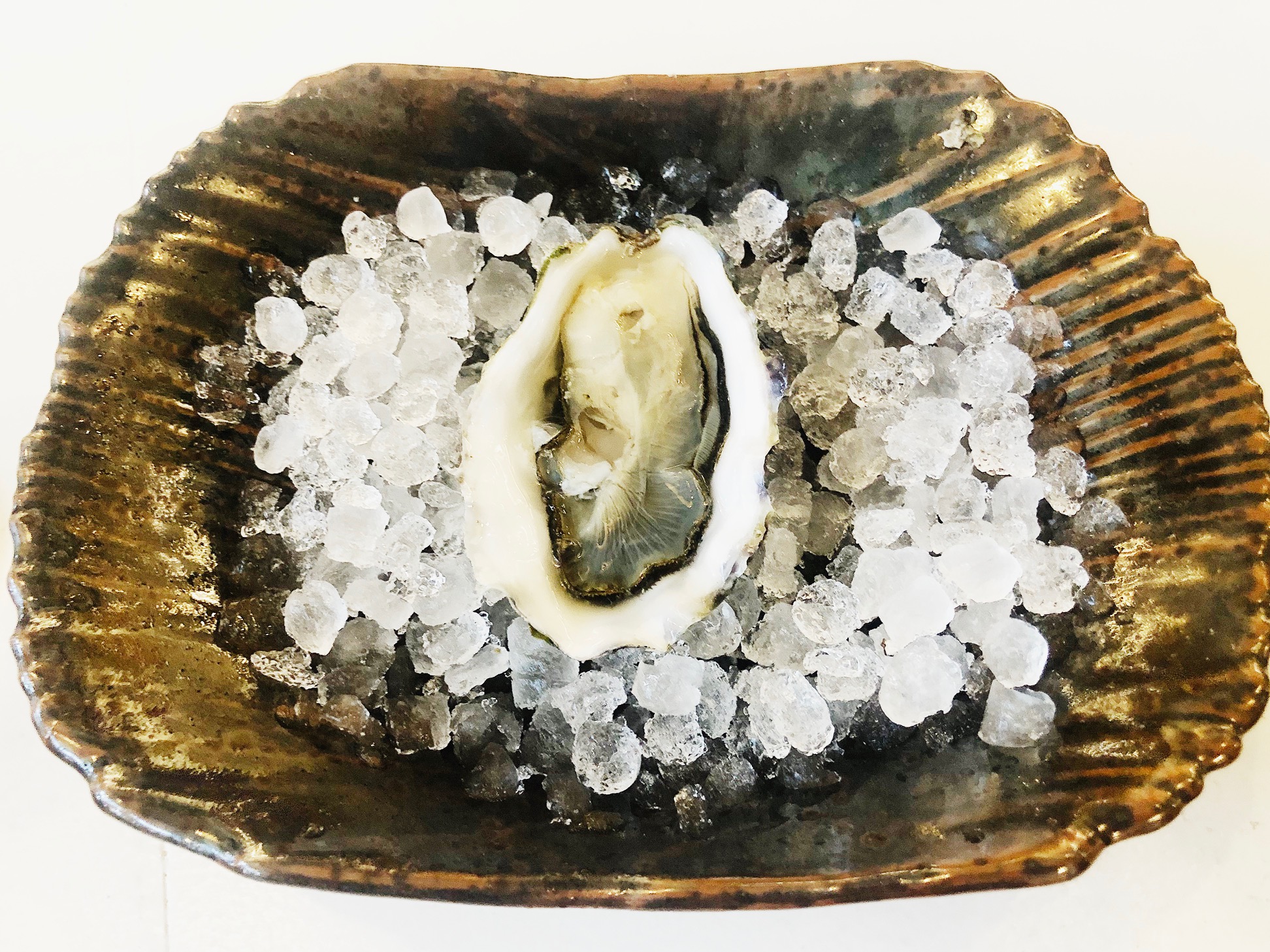 "This naked oyster showcases how the species, location and growing method of the oyster has a unique impact and influence on the finished product," shared David. I asked if he often gets the request for tabasco, cocktail sauce and saltines to complement his oysters, as these seem to be the most conventional pairings when guzzling back the bivalve.
"Yes, I definitely get this request, but one of the things that excites me most is to show folks how to eat something well-known in a new and unique way." David continued, "The best thing about oysters is the worst thing about them…people want to eat the oyster in the same way that they have for years, but also want something different. To me, it's a bit of a cross between tradition versus progress."
Now this is where the fun really begins. Rather than pushing away the cocktail sauce, we're deconstructing it. David explained, we're substituting the bad ingredients in cocktail sauce for good ones, using fresh horseradish and lemon juice." He continued to place perfectly round jelly balls on each of the Patriot oysters sourced from Massachusetts. "…And here is your red tomato and Worcestershire sauce, in the form of reverse spherification."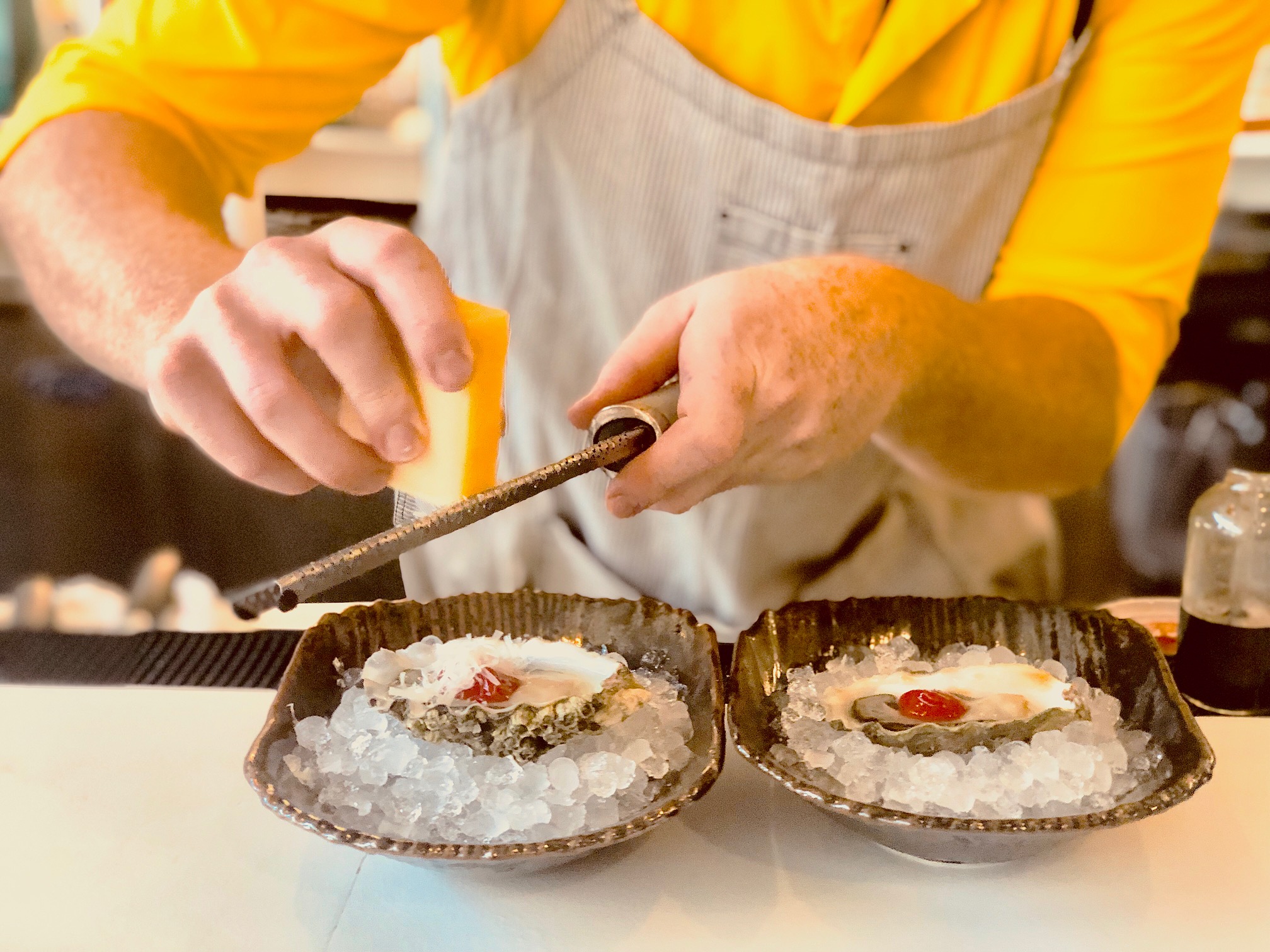 Reverse spherification is a method of molecular gastronomy where a reaction between calcium and sodium forms a gel spherification of ingredients, where calcium ions at its surface cause a gel membrane to form, encapsulating the sphere of flavorful liquid. This allows you to taste a bubble burst of flavor with each bite of the individual spheres.
David identified the red jelly sphere as clarified tomatoes and the black as Worcestershire sauce, topped with pink peppercorns. Along with a delicious tangy kick, the spheres allowed for a delicate progression of flavors, which each bite steering closer to towards the nostalgic flavor of cocktail sauce. Truly an oyster with cocktail sauce unlike I've ever tasted or seen.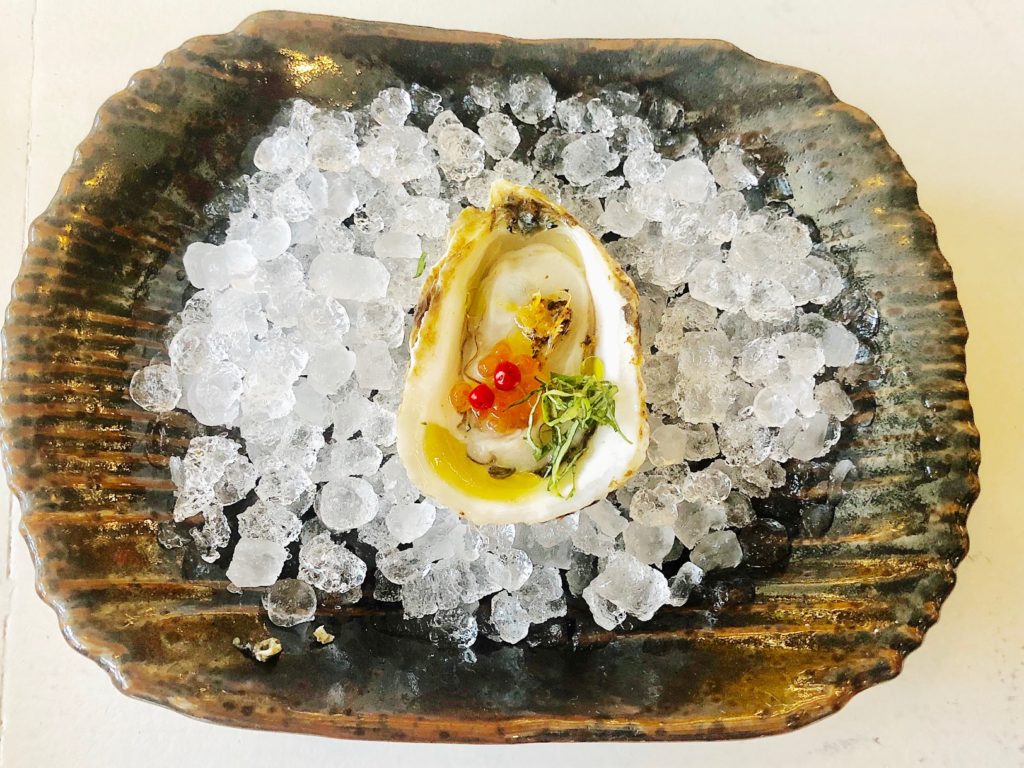 Our third oyster, also a Deer Creek from Washington State, is perfectly balanced with an unexpected ingredient – anise. Specifically, Arak, which is a distilled liquor originating from the Middle East. The drink is known for its potency and for the milky-white color it turns when water is added to it.
"Arak is distilled from grapes and anise, so it produces a really clean and crisp flavor that we are introducing to the saltiness of the oyster and pairing with cucumber, lemon and some fresh basil." As David described this unique combination, I tossed the oyster back and immediately was transported to a land far away. I was somewhere in Lebanon, sipping arak by the beach and crunching on cucumbers in pure bivalve bliss.
I like to think myself an adventurous eater, but no one has ever given me the opportunity to experience oysters in such an out-of-the-box manner. I was taken aback by the complex layering of flavors and textures that all perfectly mingled atop a salty vessel of goodness. The crisp and semi-metallic flavor of the arak danced perfectly with the salty notes, while the brightness of the basil finished off clean and strong. This was next level and I was ready for more.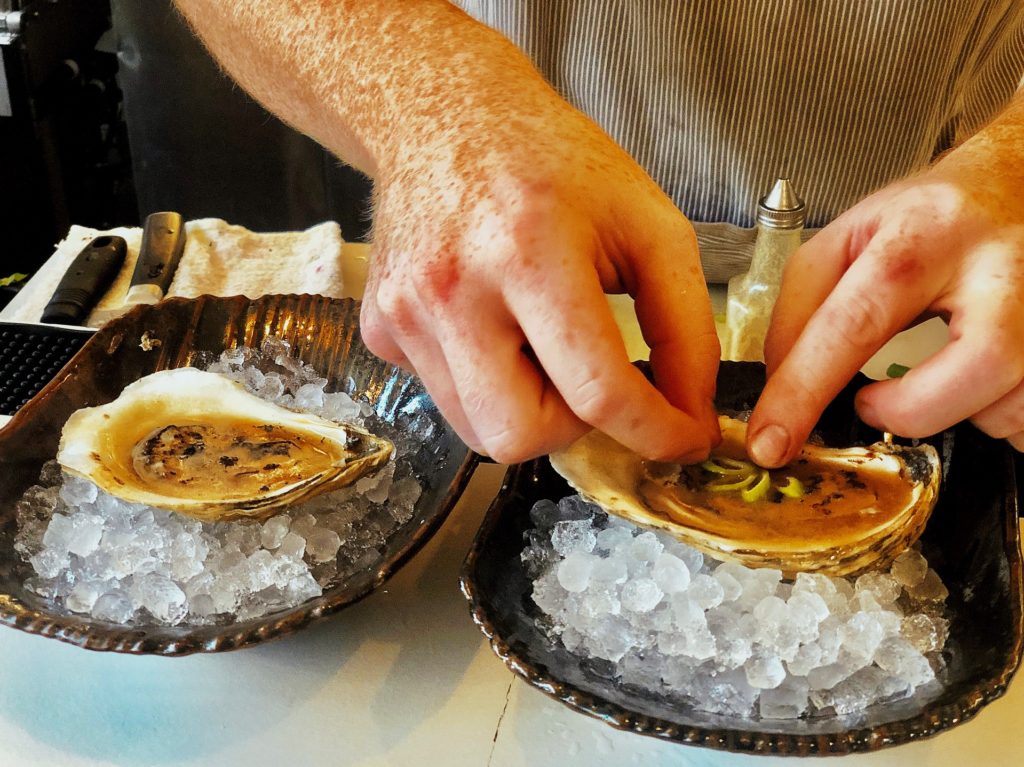 David could sense my amazement as he shucked oyster number four, "Something I love is the play on texture and the saltiness – it's truly all about how you play with different flavors and how these flavors change and shift with the oyster." I learned that not only can one perceive the seasons by the taste of the oyster, but a saltier oyster indicates a colder environment and that the oyster is filtering more water. Our next oyster originated from Prince Edward Island, where the waters are very, very cold.
He explained, "colder water means less nutrients, forcing the oyster to go into a semi-hibernated state kind of just filtering water, about 50 gallons of water per day." These factors affect the oyster in a positive way for a diner, "Ultimately, this all leads to slower growth and a lighter texture, as there's a direct correlation between growing time and meatiness of the oyster. These oysters take about 4-5 years to get to this size, meaning better quality, lighter texture and more flavor."
Because of their delicate texture, these oysters are perfect for playing around with different ingredients. David topped off the Canadian oysters with some lemon juice, olive oil, basil, burnt grapefruit rind and a little bit of pink peppercorn. I swallowed and closed my eyes for an unexpected taste blast, starting at tart and driving straight towards the smokey citrus of the charred fruit and an almost floral bite from the balls of pink peppercorn, as the salinity of the oyster juxtaposes and almost highlights the sweet hints of the peppercorn. It was truly an unexpectedly exquisite bite, that forced me to reevaluate every oyster that I've consumed.
I thought about every time I had slathered sauce on an oyster and masked the organic flavor, rather than spotlighting the star of the show, as David does with his flavor pairings. This led me to ask about his philosophy on cooking oysters.
"To be honest, I'm not a huge fan of fully cooking, although I'm not opposed to searing or lightly poaching an oyster. The thing I love about oysters is that you can play off the texture of the oyster to create evolving flavor profiles and you lose a lot of that when you cook it. You don't ever want to do that with a high-quality oyster," he responded. In order to showcase proper oyster cooking treatment, David pulled out his blow torch and began to sear oyster number five.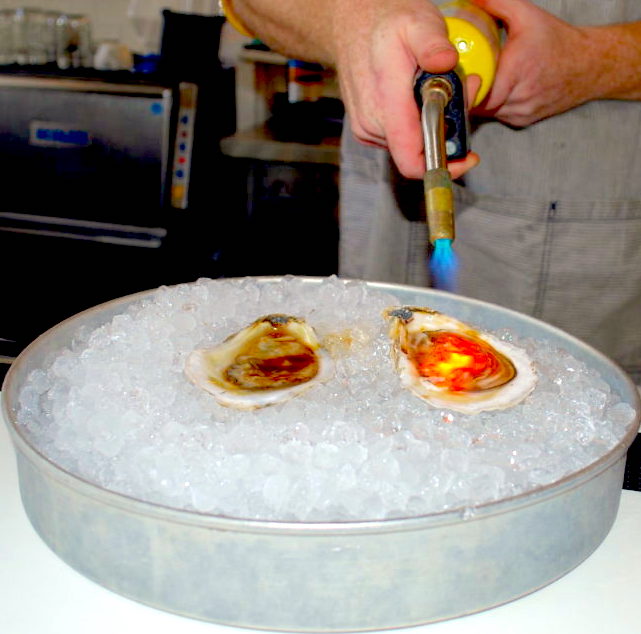 As the oyster was sourced from Maine, the colder waters of the area lead to another variation of light textured oyster, seemingly larger and a bit flatter – the perfect candidate for searing. David introduced us to his incredibly delicious "Asian Brûlée," where he tops the oyster with a homemade soy and mirin reduction and then sears the top with a flambée torch, leaving the bottom half of the oyster raw and submerged in ice.
Although I couldn't pick a favorite, this was definitely close to being the one. As a lover of Asian cuisine, the salty flavors of the soy and oyster, blended with the sweetness of the charred mirin, providing a savory caramelization that blew any notion of pan-Asian flavors out of the water. For some reason, I didn't anticipate any Asian flavor pairings, but I was beyond pleasantly surprised and yet even more intrigued.
"Life is a journey of discovery and food should be no different," said David Morris, "There aren't many ways that we can experience an array of international cuisines in one sitting. But oysters allow you to do that without feeling strange or out-of-place – I like to take people on a journey around the world through the oyster."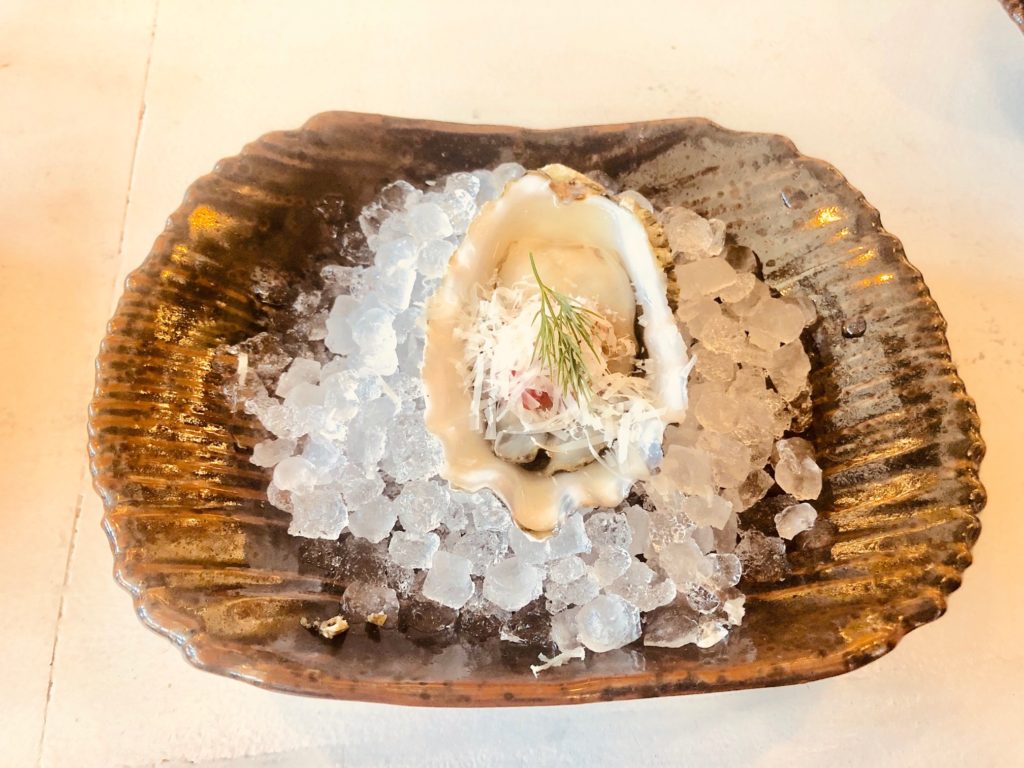 This journey further progressed into uncharted seafood territory or as David likes to call it, "sacrilege." Whoever said dairy and raw seafood don't mix was sadly mistaken. Oster number six was adorned with a combination of fresh dill, strawberry pink peppercorn puree and some gruyere cheese. Playing off texture, you'd be surprised at how the light texture of the oyster mingles with the soft cheese, much more subtle and evolved than one would think. Oysters can take on a lot of flavor profiles and the saltiness of the oyster really made the tart sweetness of the strawberry pink peppercorn puree shine.
We ended things on a personal note, as David introduced us to the Spicy grandma, an homage to his grandma and home state of Missouri. "My grandma would always grow cucumbers in her garden, and I remember that my favorite way to eat them was to add a dollop of butter." This tribute has a bit of a twist, featuring a West Coast oyster topped with a cucumber schmeared with butter and some 16-month fermented Thai chilis. Fermenting the chilis forces the molecule chains to break down, in turn bringing out the inherit heat and flavor in the chilis.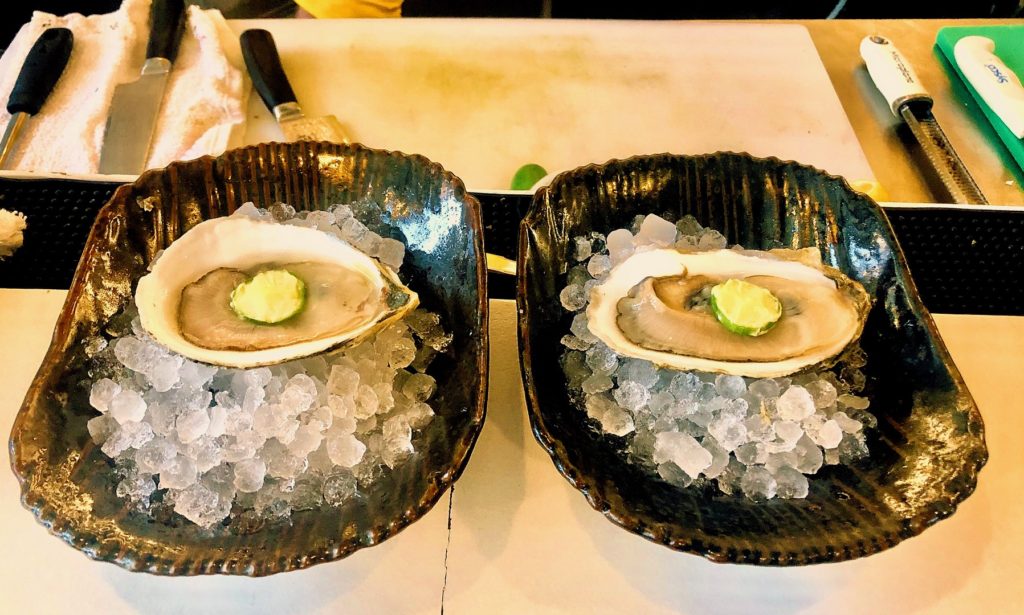 As we bit into David's nostalgic oyster, I realized that Modern Brine's approach to oysters is an incredible metaphor for the way that we should all look at life. Subtly changing and full of new perspectives, resulting from a journey full of change and unexpected pairings.
An oyster focused raw bar specializing in Omakase style dining. Also offering a fruit and herb focused cocktail bar and a small lunch menu. Located inside Baum Avenue Market, a multi-concept hood hall.
DISCLAIMER: Kevin, Lori, Abby, Haley, & Lindsey do not dine anonymously (this would be impossible) and we sometimes get free food (though never expected). However, we dine with the locals and we support our own. You will always get honesty in a respectful manner.

PLEASE NOTE: Reviews reflect a certain moment in time. Some restaurants stay extremely consistent over many years, and some change for the better or worse. Some things that may change are: chefs, recipes, food suppliers, ingredients, philosophies, ownership, etc. We always hope that you have the same good, or great experience we had.
More Foodies News, Reviews & Recipes