Tantalize All of Your Dining Senses at the Reading Room! Exceptional!
Tantalize All of Your Dining Senses at the Reading Room! Exceptional!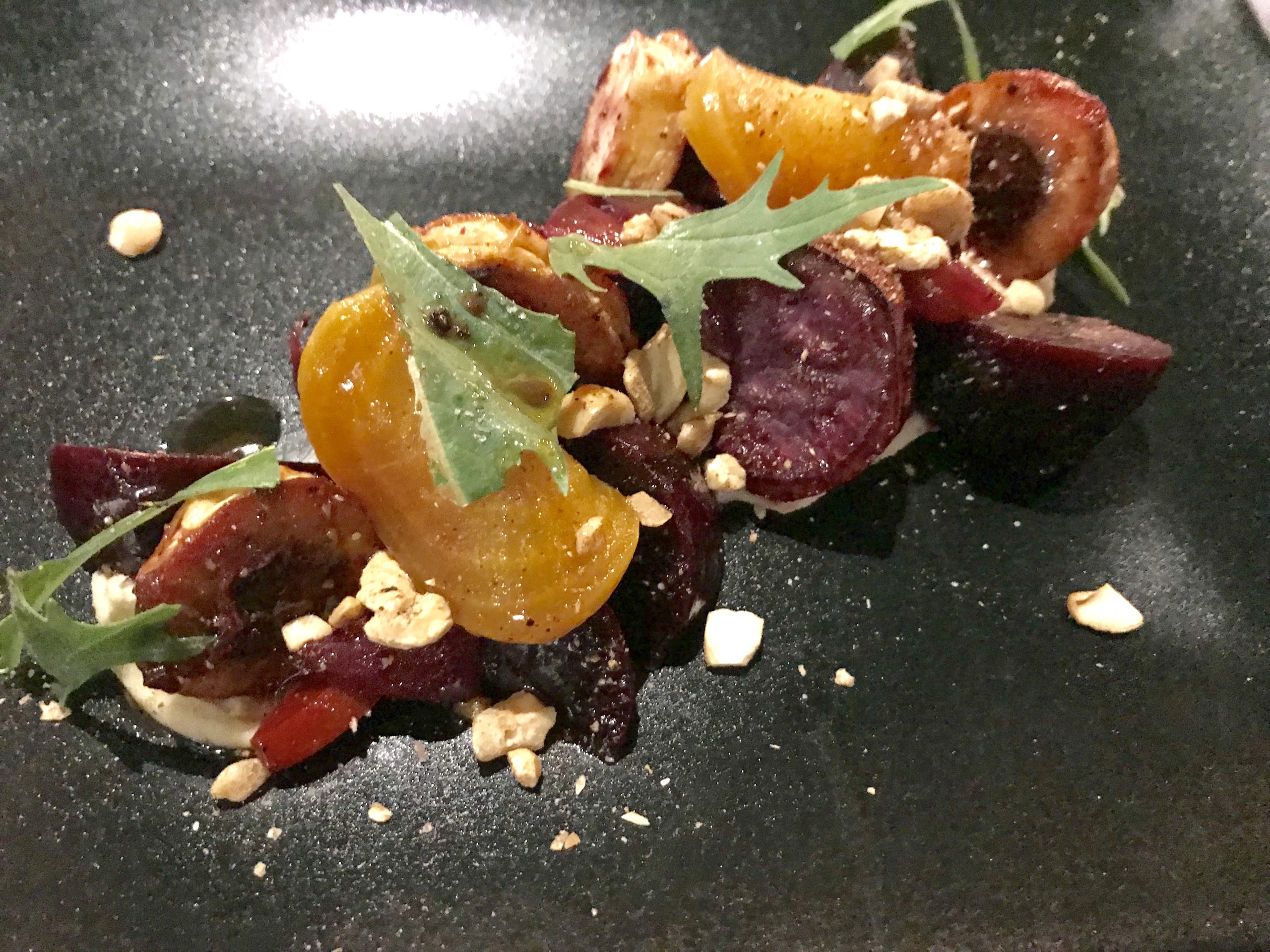 The Reading Room is the best and most unique overlooked restaurant in St Petersburg. Located just a short 3.5 miles from downtown in the same parking lot as freeFall Theatre, it is well worth the drive! They have been open nine months now and opened to high praise and acclaim on social media. But when the hype died down so did the business because the location is a bit remote, according to Beverage & Hospitality Manager and co-owner, Jessika Palombo – aka JP. But really? 3.5 miles or a $9 Uber ride from downtown is nothing to dine in such a fabulous establishment. I hope this review will help to keep Reading Room top of mind for a visit soon. It is absolutely outstanding and completely elevates the level of dining in St Pete! SEE FULL CURRENT MENU BELOW AS WELL.
Read our original review here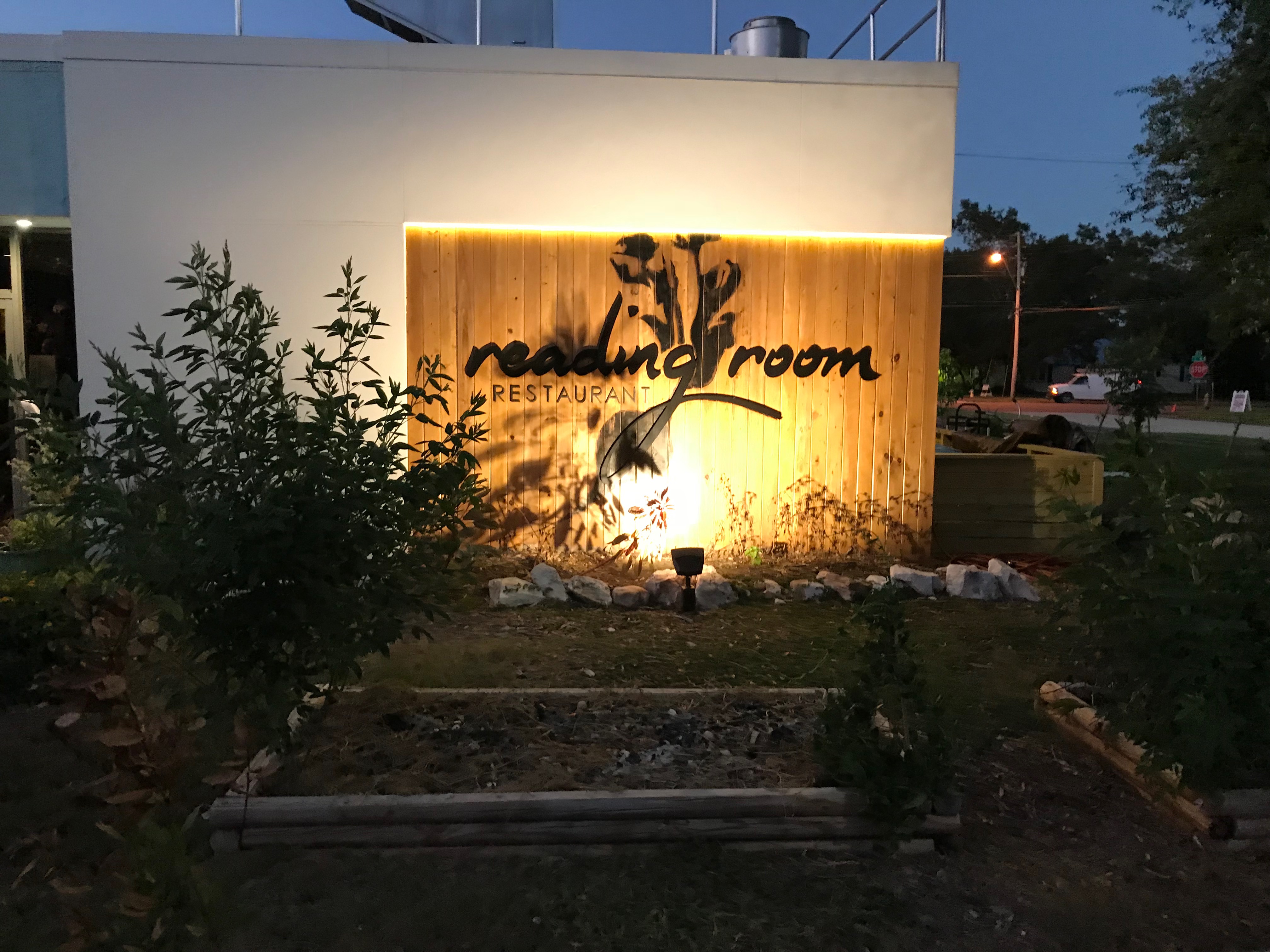 As you walk up to the entrance to the Reading Room one is immediately struck by the beauty of the lush gardens. The pictures I took do not do it justice!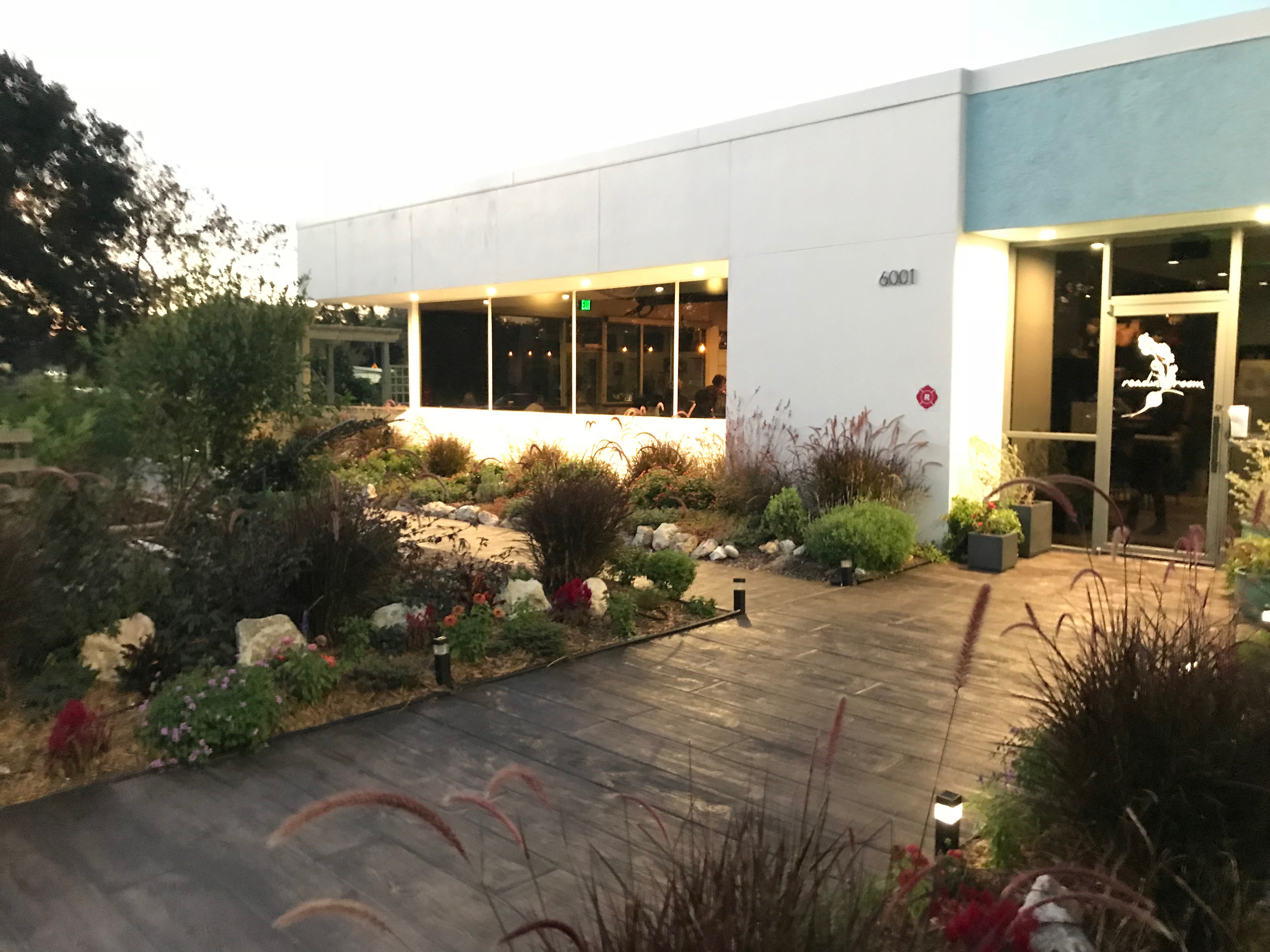 As you enter the restaurant, you are immediately greeted by a friendly and gracious hostess. The room has an open feel but cozy at the same time.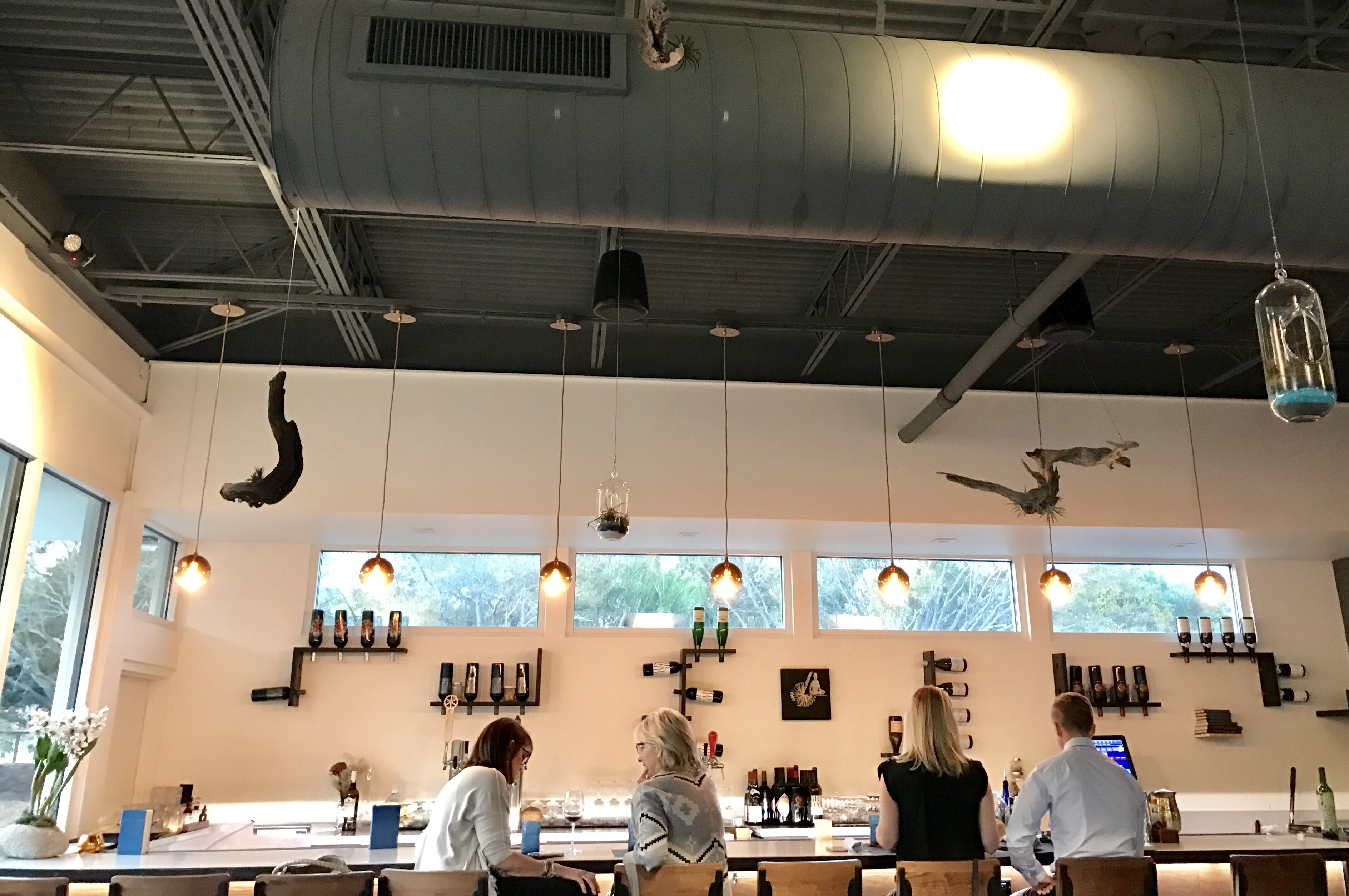 Tying in to the name of the restaurant there is a book on the table that just looks like a decor item. But when you open it to the first page, there is your wine and drink list. How clever is that for creating an entire experience?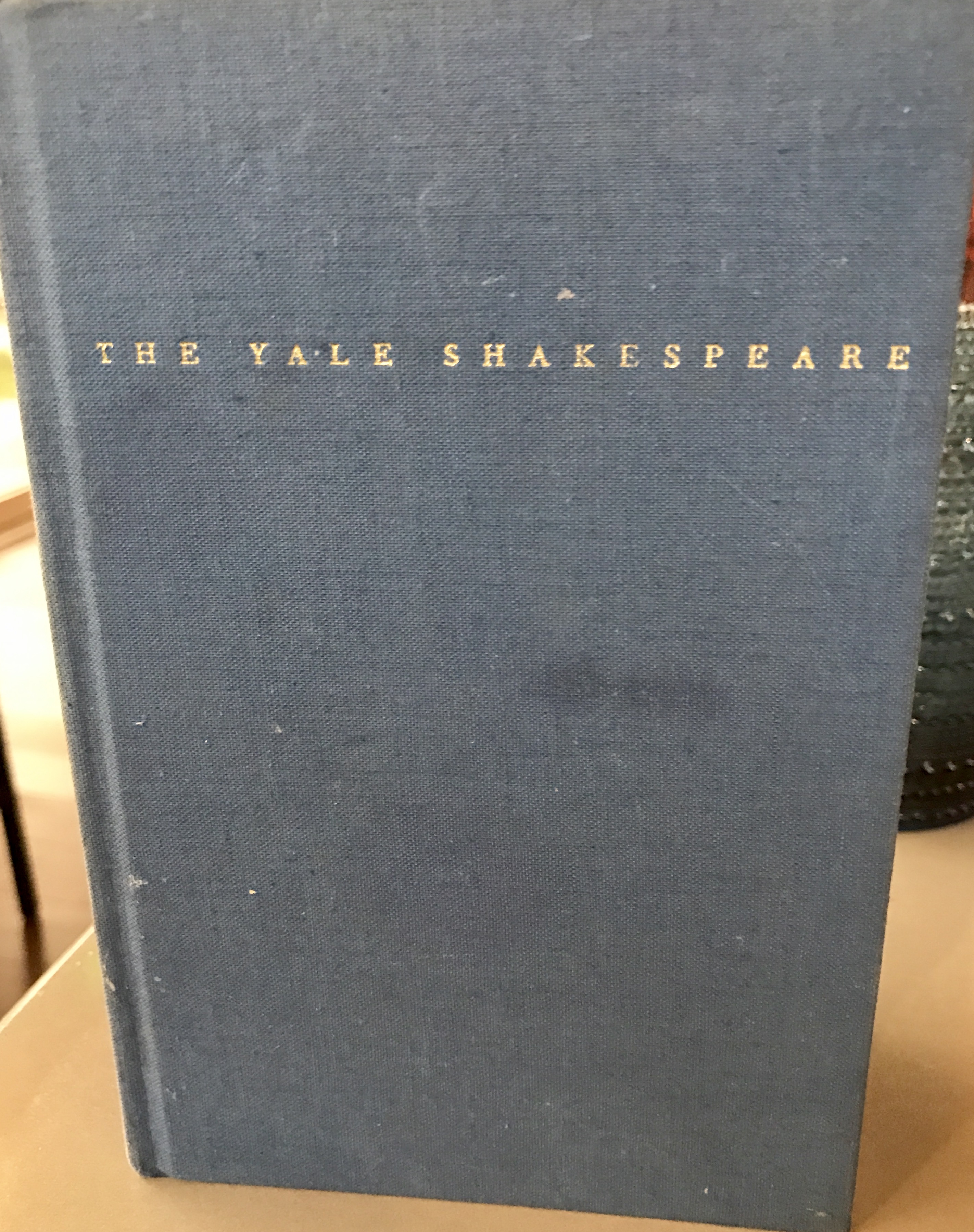 We ordered our favorite wine, the lois Grüner,which is soft and elegant with a rounded, velvety finish and a very slight effervescense.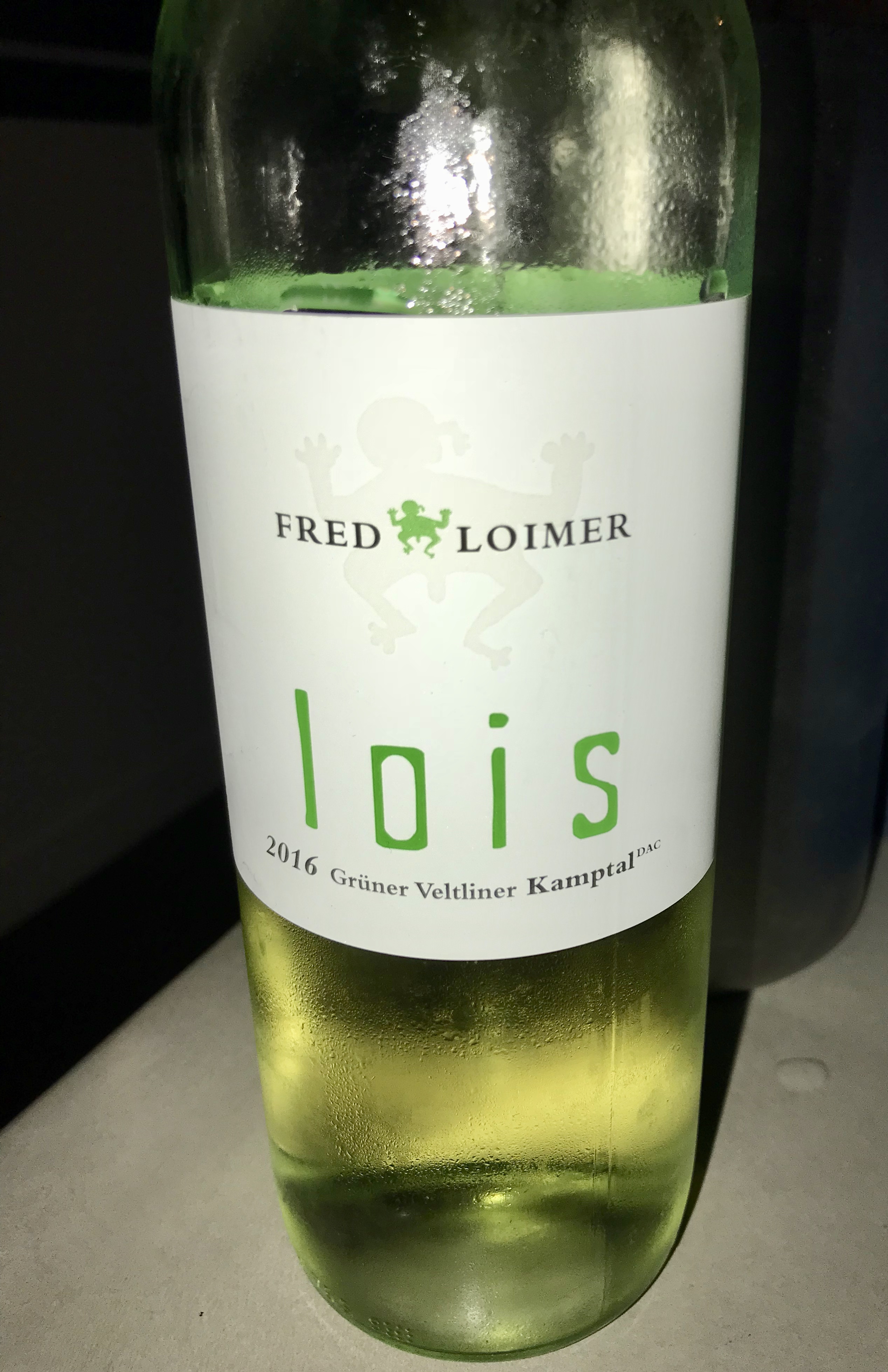 We had such a tough time deciding on what to order because everything sounded fantastic! We started with the Our Daily Bread (this homemade bread changes daily) made of oatmeal, beets and wheat and served with homemade cultured butter with a little flaky sea salt and fresh radish bought that morning from Warden Farms at the Saturday morning market.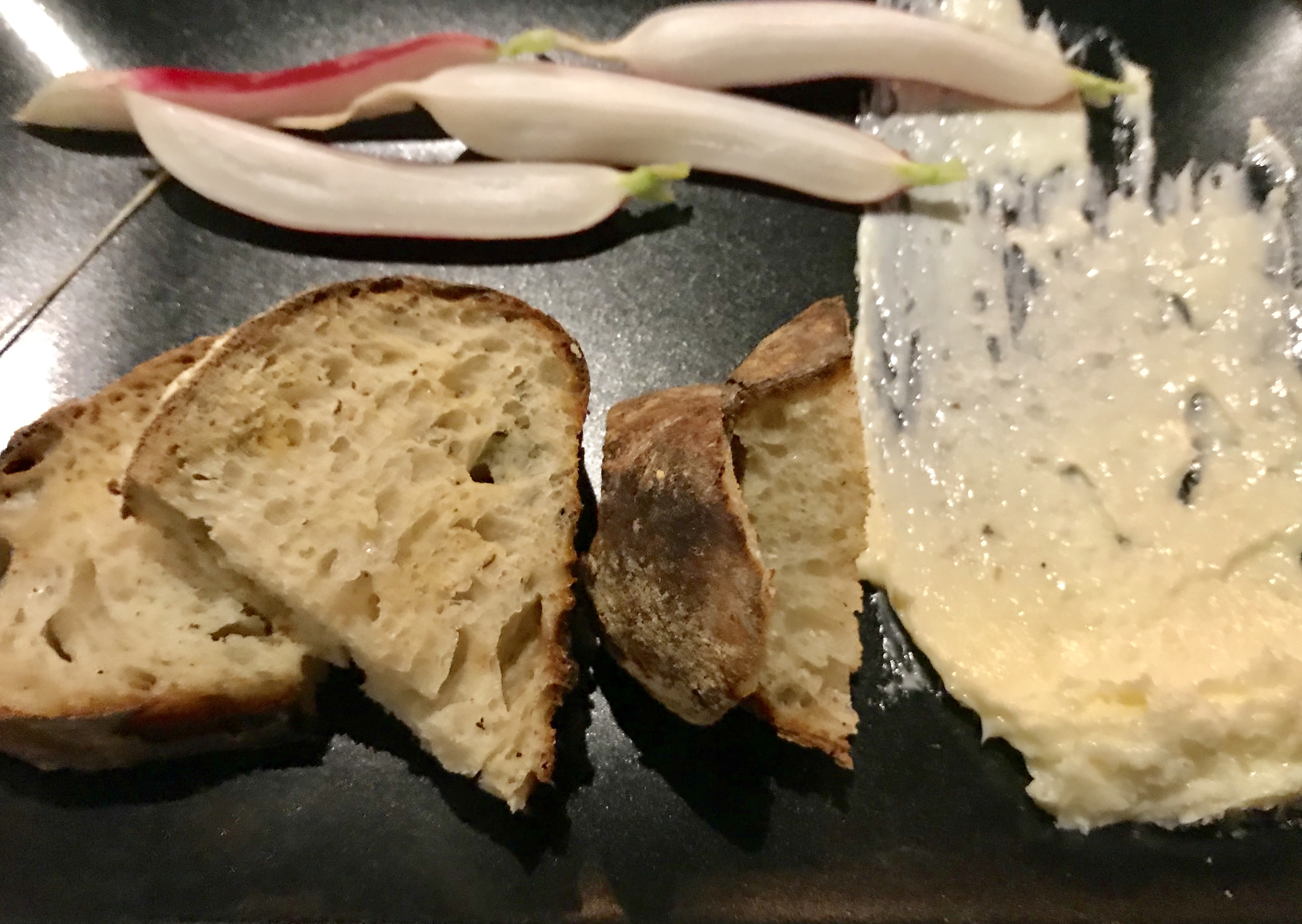 Next up was the scrumptious Winter's Roasted Roots made with beets, parsnips, spicy nuts and pumpernickel vinaigrette. I cannot rave about this more. I ate my half of the plate faster than Kevin could get a bite into his mouth. It was a flavor explosion of epic proportions. The overall mouth feel with the soft textures of the roasted root vegetables mixed with the crunchiness of the nuts leaves one just wanting more. This was all served on top of a sweet potato puree that added just a touch of creaminess to the textures. It is so good that I want it right now as I am typing about it. I would recommend getting there and trying this before the menu changes with the season! Just look at that food porn!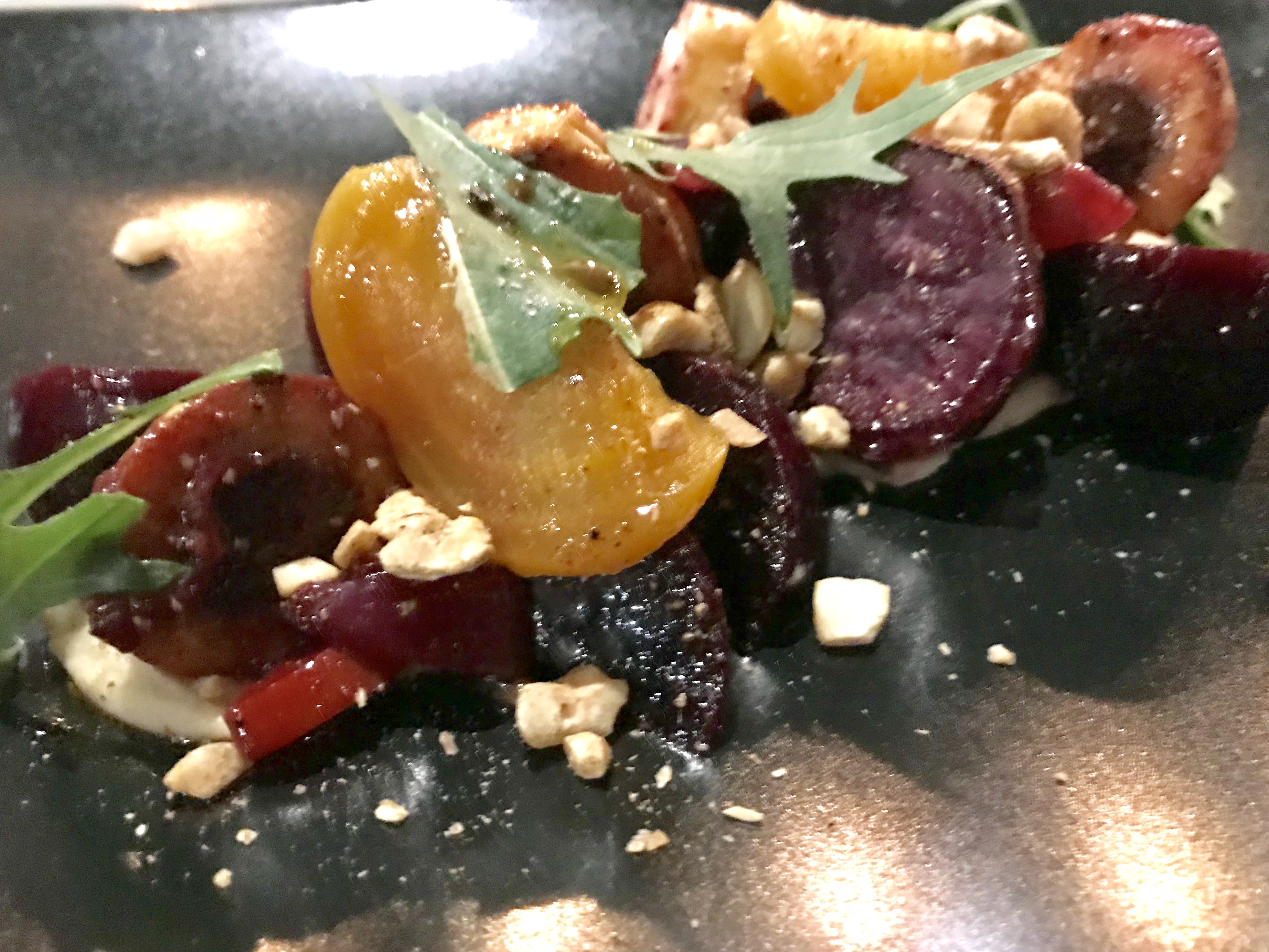 Did someone say Kimchi? Kimchi is definitely the new black and finally, unlike fennel which I can't stand, I am thrilled with the new black! I could eat it everyday. We could not resist trying the Jjigae which is Kimchi soup with mushrooms, tofu and pickled greens. When they serve it, they bring the broth separately and pour it in the bowl at your table. Now I am not a tofu person, in fact, I am not even sure I have ever eaten it before. Not for any particular reason. I found it to be quite fine. The soup broth was tangy because of the kimchi, earthy from the wild mushrooms and the pickled greens just added that extra dimension. The tofu takes on the flavors in the broth and provides a different mouth feel. Executive Chef and co-owner, Lauren Macellaro does an exceptional job at making every dish balance in every way, not just with flavor but also with texture and appeal to the eyes.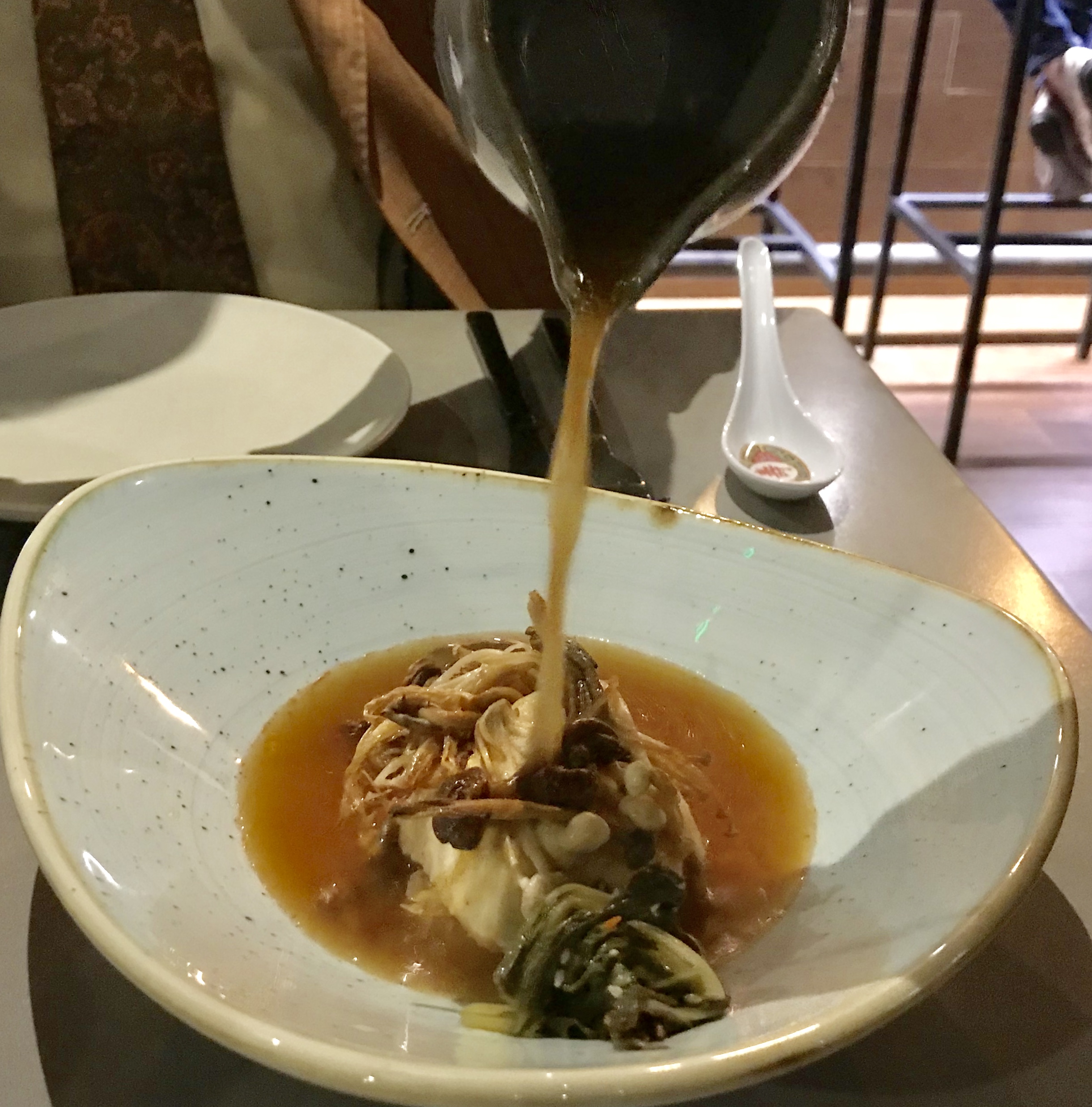 Our entrees arrived at a nice pace. We shared them both. First, I tried the Fish en Pappillote (cooked in parchment paper) – Pumpkin Swordfish with curried vegetables, black rice and saffron. The fish can change daily depending on what's fresh. The swordfish is called pumpkin because of it having a slight pumpkin coloring, it has nothing to do with flavor. I am not sure exactly what is on top of the swordfish but it was delectable. Swordfish is a hearty fish and can be somewhat tricky to prepare properly. Being cooked in the parchment paper it came out perfectly and cut with just a fork. I enjoyed the black rice and the curried vegetables, again creating the perfect mouth texture feel, but the star of the show here was definitely the Swordfish!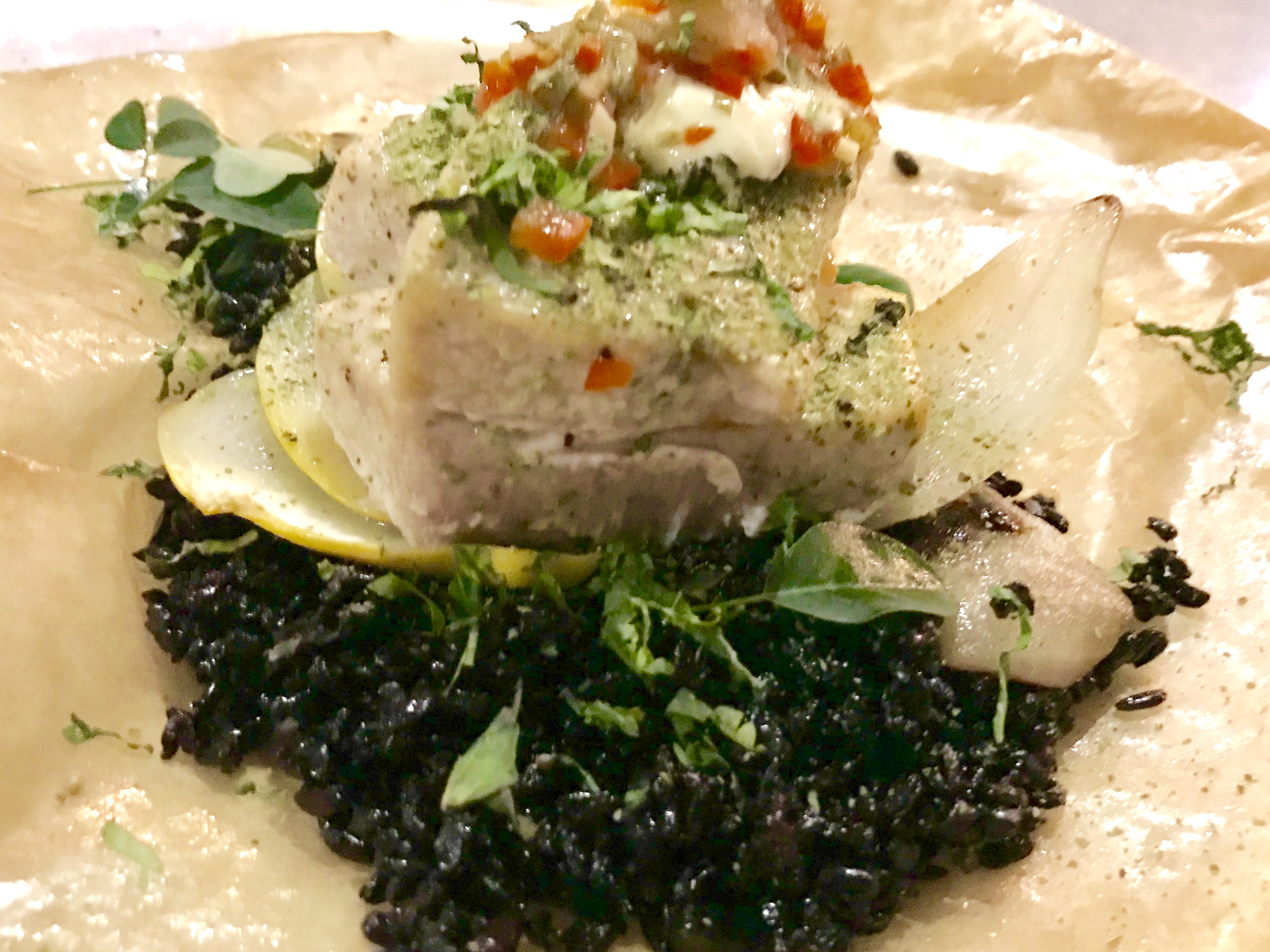 I just told Kevin that I was about to write about our next dish, the Steak (a house dry aged hanger steak cooked mid rare served with wheat berries, mushrooms, shallots & wine and blue cheese) and he said, "Damn! That was so good! I would eat that whole thing again right now!" Cooking hanger steak again is very difficult to get right. As you can see here, it is cooked a perfect mid rare and is glistening with tenderness. Besides it's obvious eye appeal it was also bursting with flavor. I love that in this dish the meat speaks for itself because it is not doused in sauce. That may be my fault because I am not a blue cheese fan so that was on the side for Kevin. Having no idea what a wheat berry was, this was a total surprise. They had an interesting nutty texture and more flavor than I expected when paired with the mushrooms, shallots & white wine. This whole meal was phenomenal!!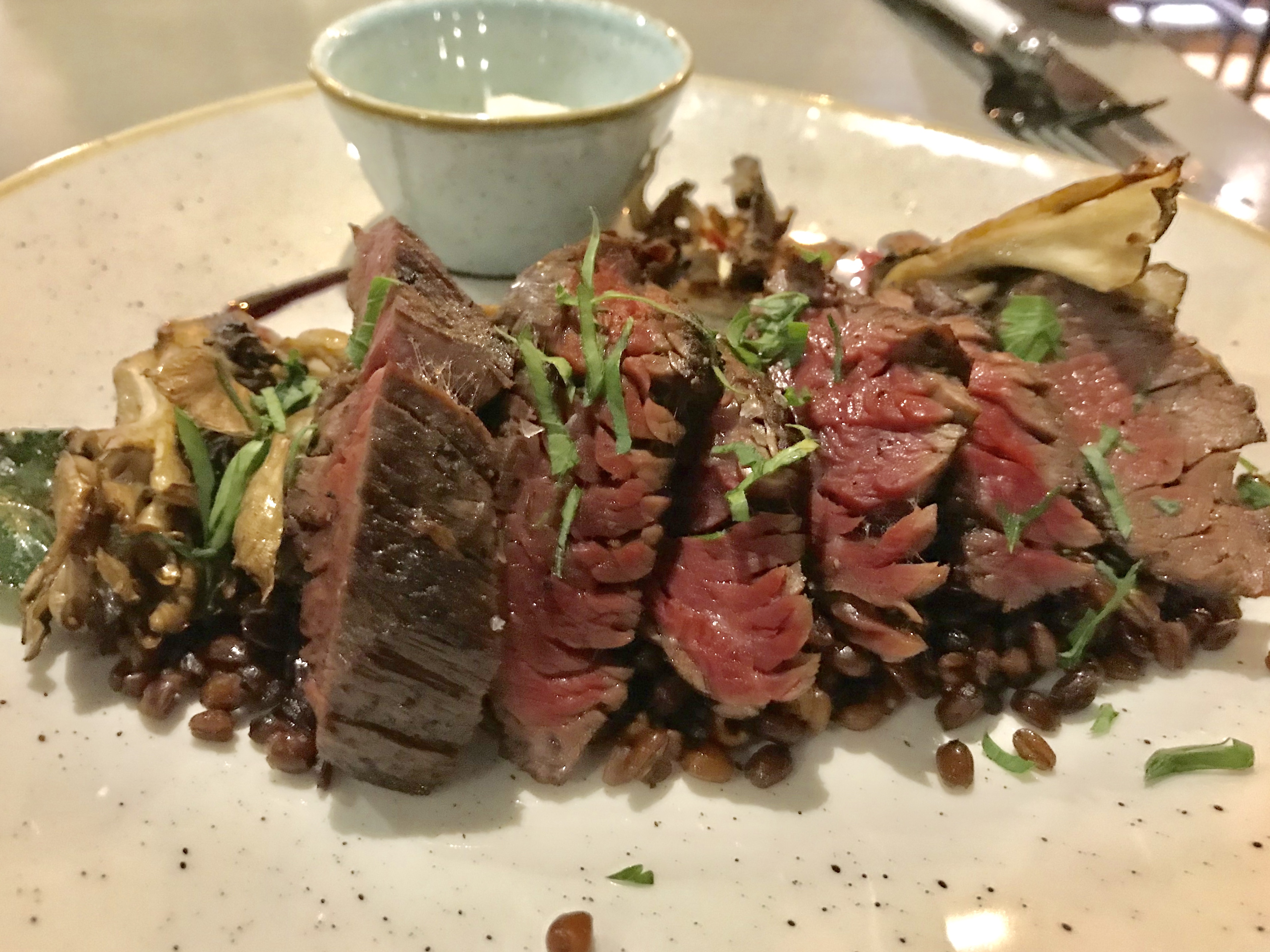 As we waited for our dessert, the Brown Butter Cake, Kevin exclaimed, "I think this is our best experience here yet and that's hard to say because they have all been exceptional!" We vowed to come much more often because there is just nothing like the Reading Room anywhere in Pinellas County and it is only 3.5 miles from downtown.
We rarely order dessert but when I had the Brown Butter Cake the last time we were there it was so good that I had to order it again! We were told that the way it was served had changed since the last time. The last time it was topped with ice cream and was served over a scrumptious cream concoction.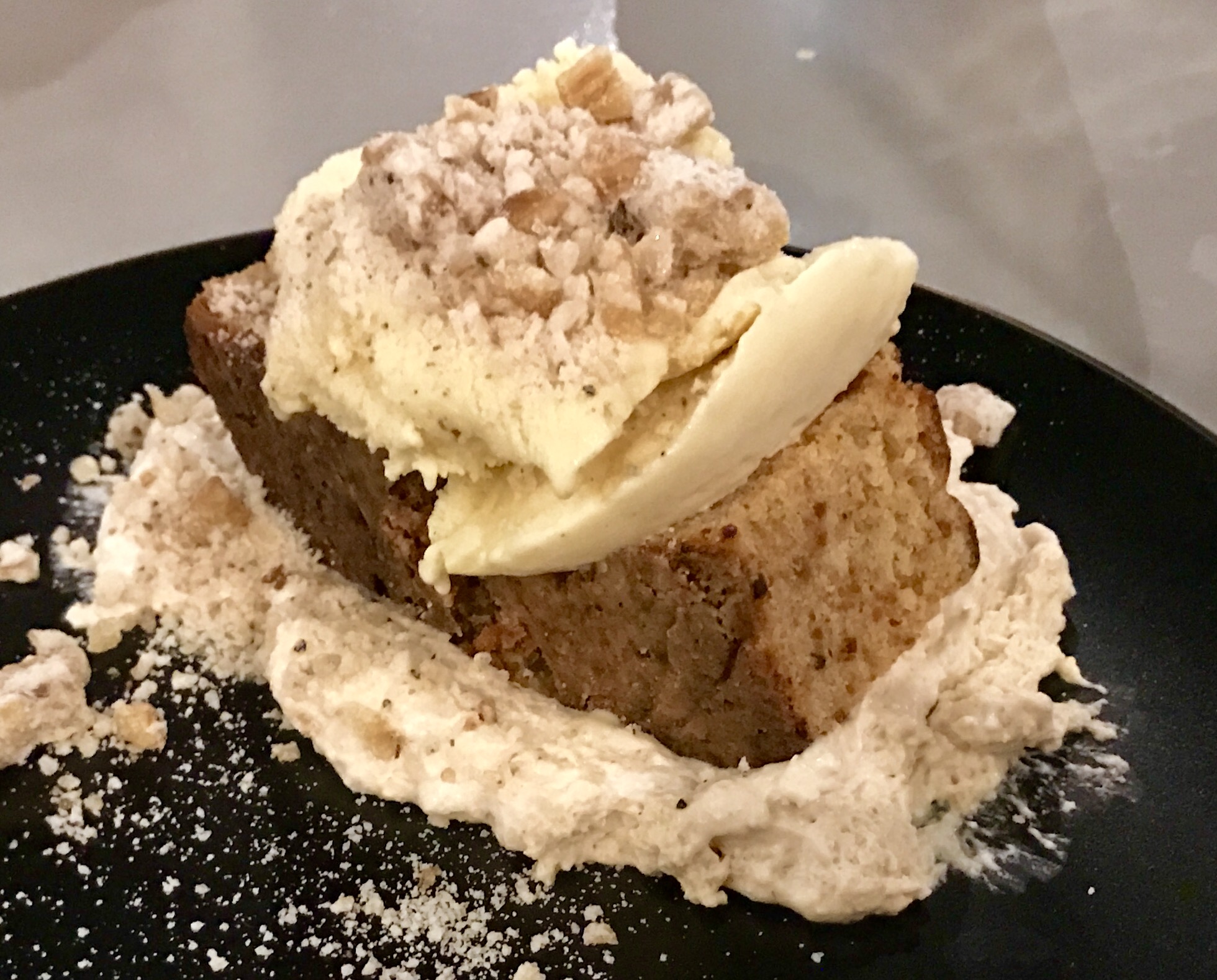 The new way it is served is with smoked cream cheese, sweet potato puree and candied cranberry hibiscus leaves. The cake itself was still good but it was missing the wetness of the ice cream. I definitely prefer the original. I probably would not order the new one again since dessert is such a rarity for me.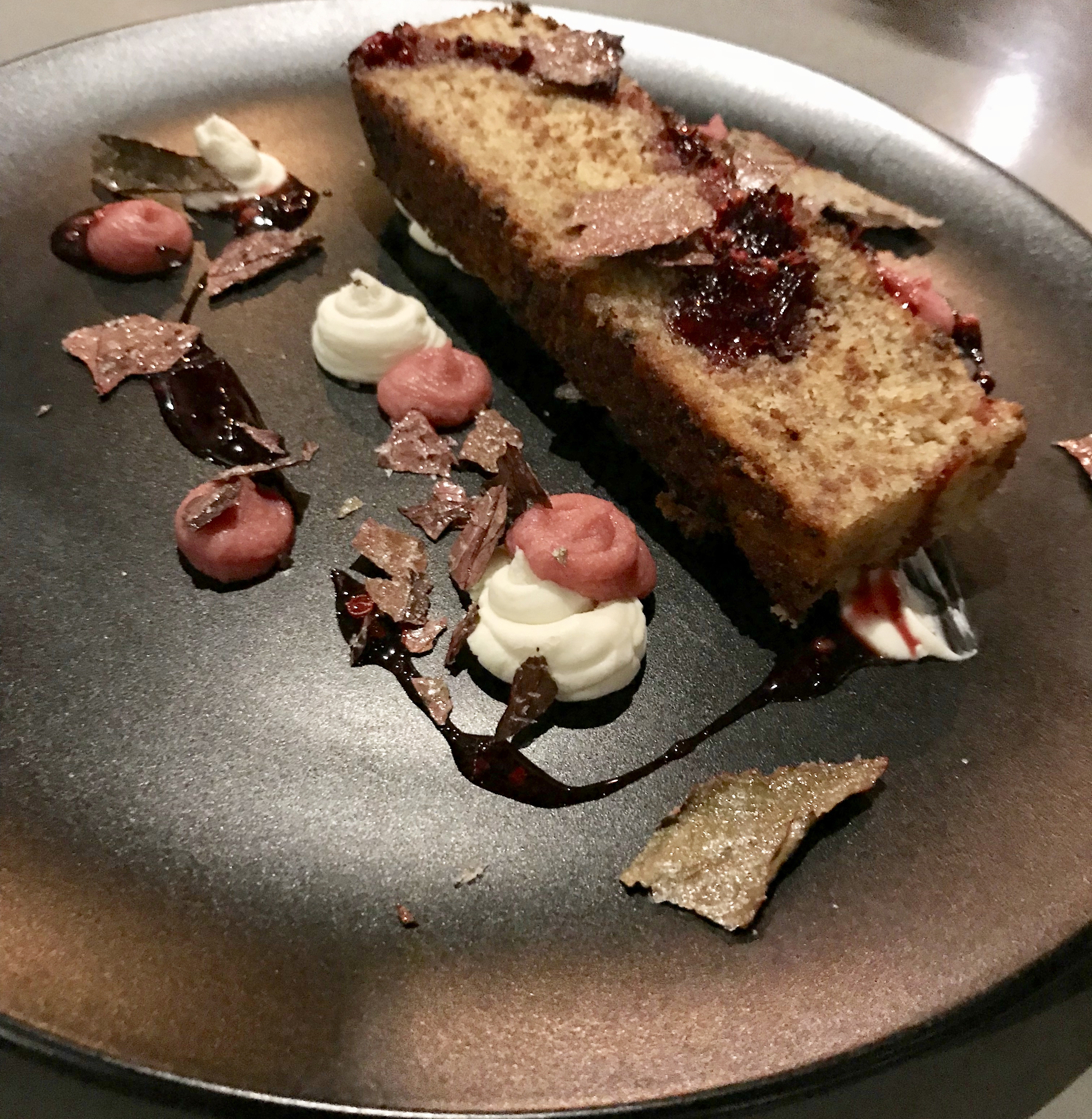 They have a lovely outdoor side patio that looked so inviting that we decided to sit out there for a bit to enjoy the beautiful night before our play at freeFall. Bottom line our dinner was one of the best meals I have had this year! I want those roasted roots now! Run don't walk to the Reading Room or you will miss them! SEE FULL CURRENT MENU BELOW.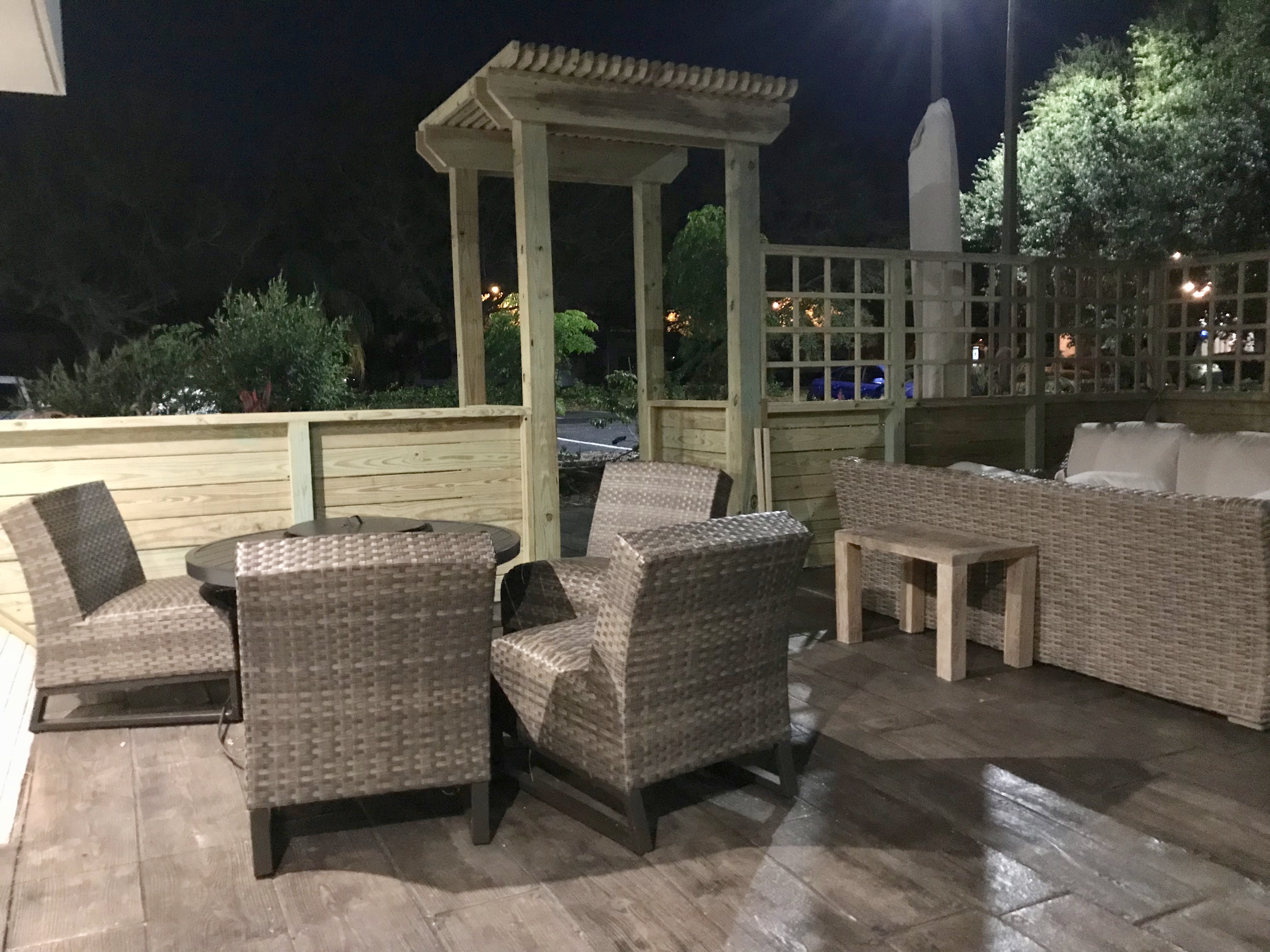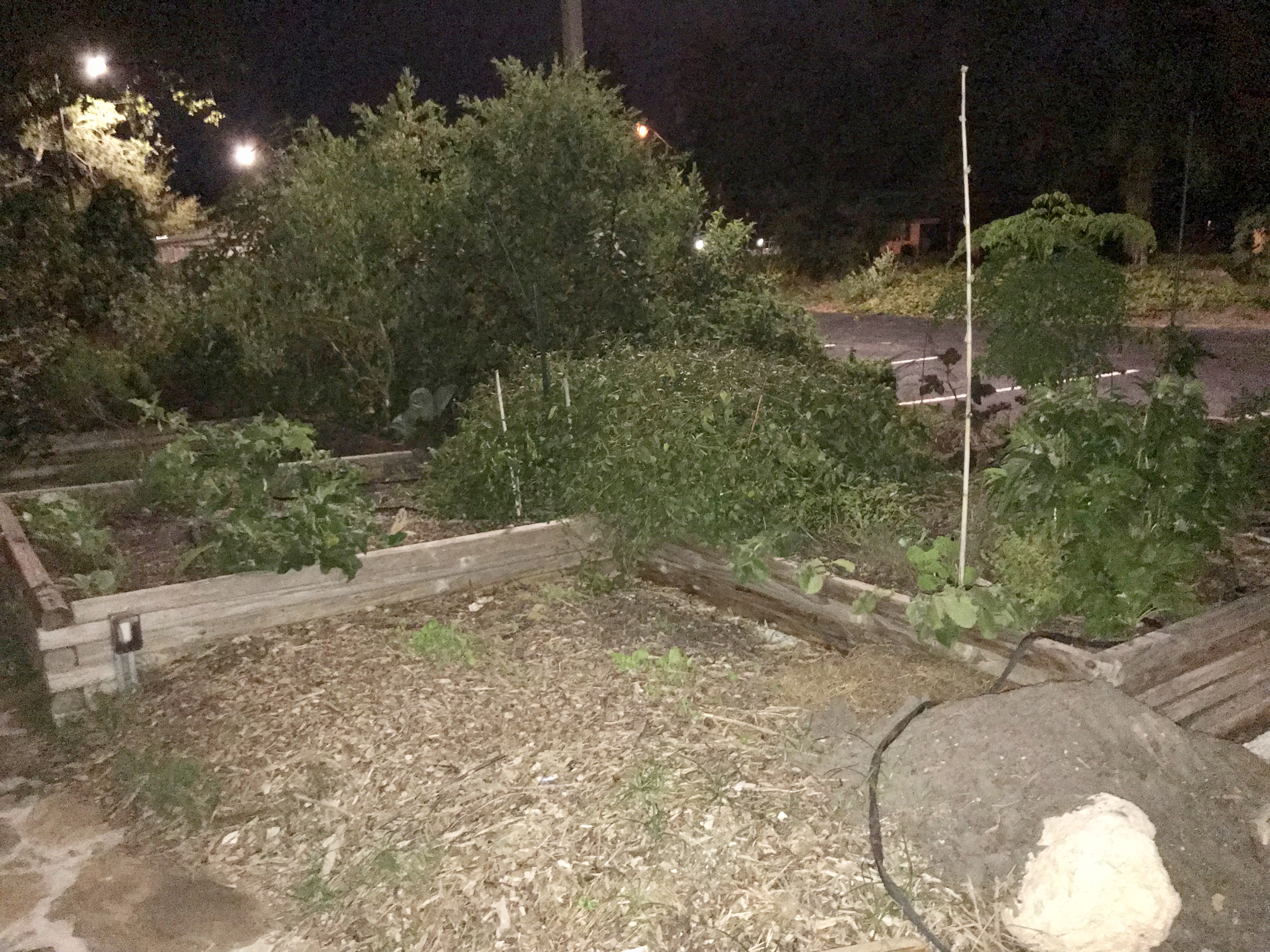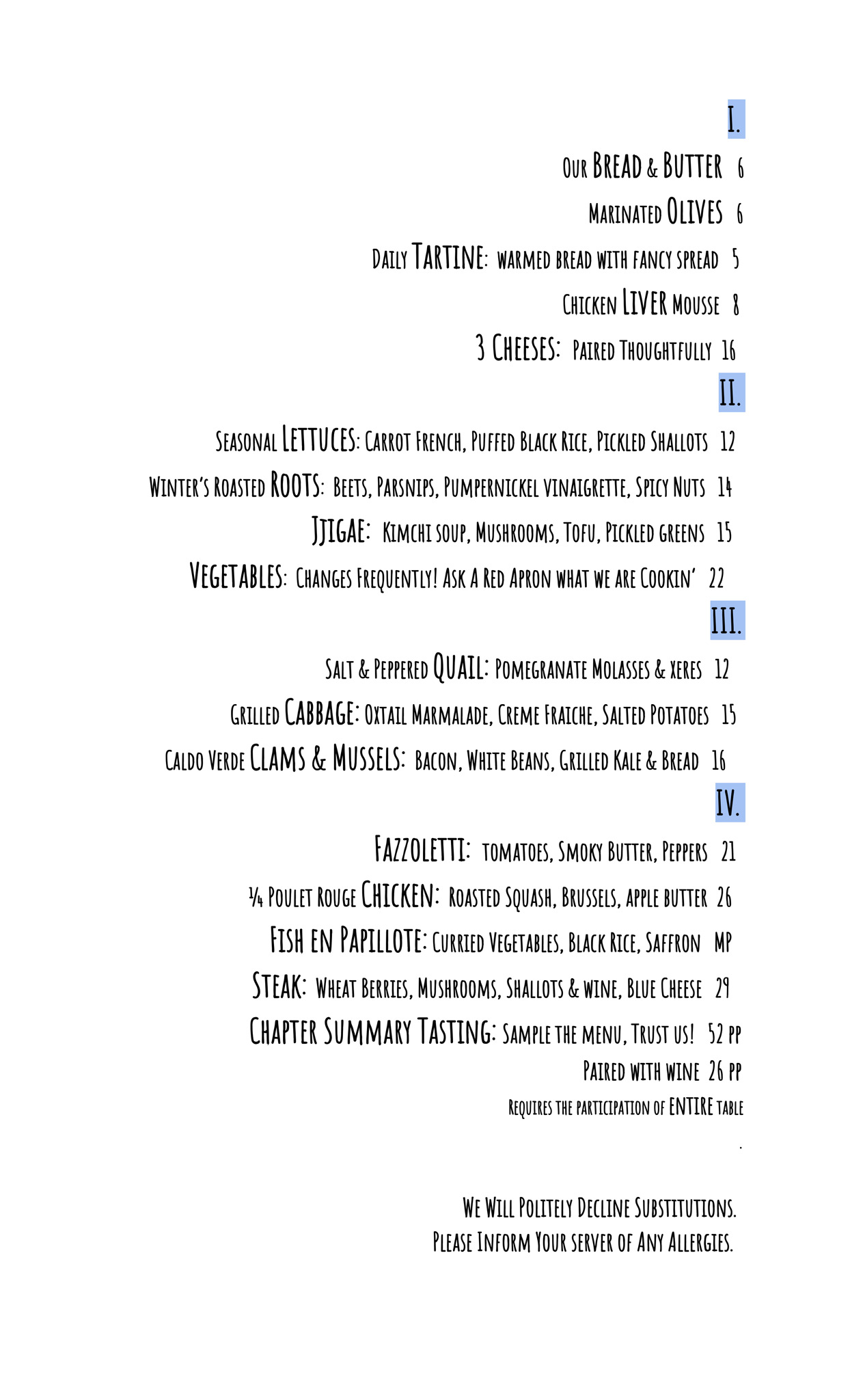 A modern approach to nostalgic tastes. They often create dishes around food from their own garden.
DISCLAIMER: Kevin, Lori, Abby, Haley, & Lindsey do not dine anonymously (this would be impossible) and we sometimes get free food (though never expected). However, we dine with the locals and we support our own. You will always get honesty in a respectful manner. We do not include any large national or regional chains in our ratings and reviews. We focus on independent locally owned eateries exclusively.

PLEASE NOTE: Reviews reflect a certain moment in time. Some restaurants stay extremely consistent over many years, and some change for the better or worse. Some things that may change are: chefs, recipes, food suppliers, ingredients, philosophies, ownership, etc. We always hope that you have the same good, or great experience we had.
More Foodies News, Reviews & Recipes