Shiso Crispy is Making Big Waves in St. Pete
Shiso Crispy is Making Big Waves in St. Pete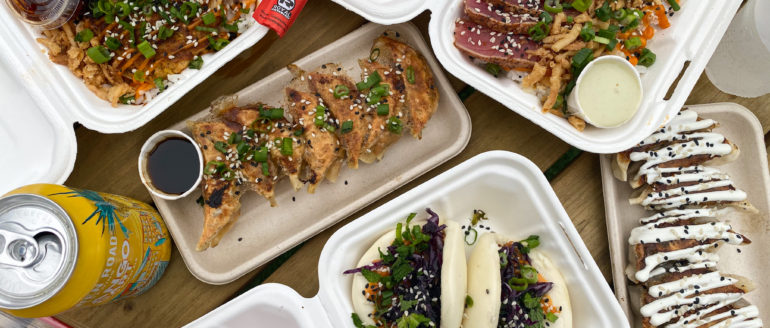 Ronicca Whaley – if you remember anything at all after reading this review, remember that name. Who is Ronicca Whaley? Well, she's the owner of Shiso Crispy, which was recently named the number one food truck in Tampa Bay by the Tampa Bay Times. Oh, and did I mention that she earned that title prior to Shiso even turning one (presently, Shiso is about a year and a half old)? That's right, Ronicca hit the ground running from the moment she stepped foot on the local food scene.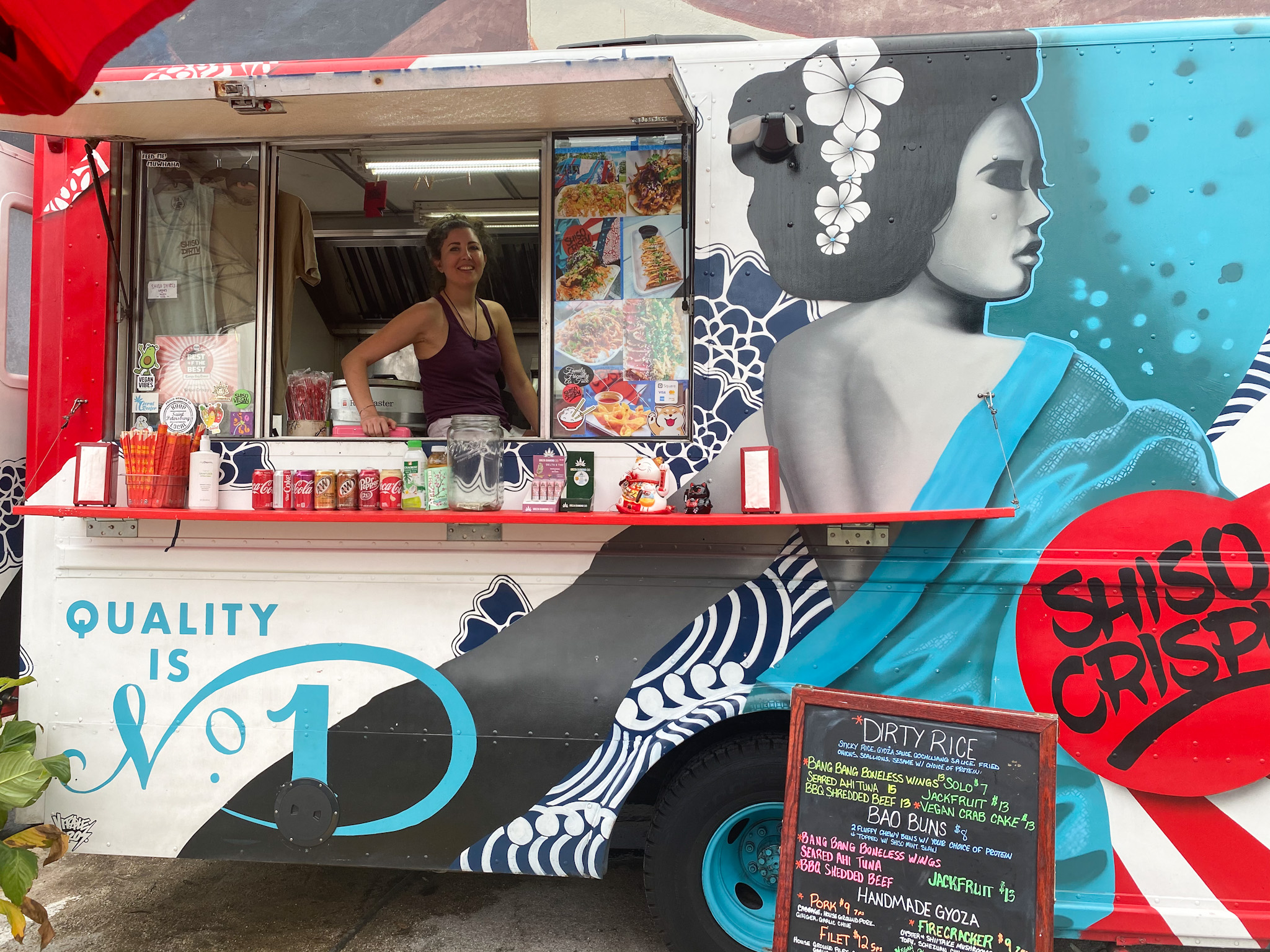 Ronicca has been in Florida now for a few years. She grew up near Omaha, Nebraska. There, she earned not one, not two, but three culinary degrees. Ultimately, Ronicca grew tired of the brutal cold weather which heavily weighted her decision to head south.
For most of her life, Ronicca was an Executive Chef. She also put her food knowledge and talent into a couple of other impressive endeavors, professionally. After a trip to Asia, where Ronicca tended to frequent dumpling houses, she realized that there aren't many dumpling options in the Tampa Bay area, nor a dumpling wholesaler. The gears were turning and Ronicca was able to connect with the owners of Buya Ramen (2021 Buya Ramen review here) and they let her make all of their Gyoza. Sales of the Gyoza increased heavily and she was able to make thousands, upon thousands of them for Buya while simultaneously starting her food truck – Shiso Crispy.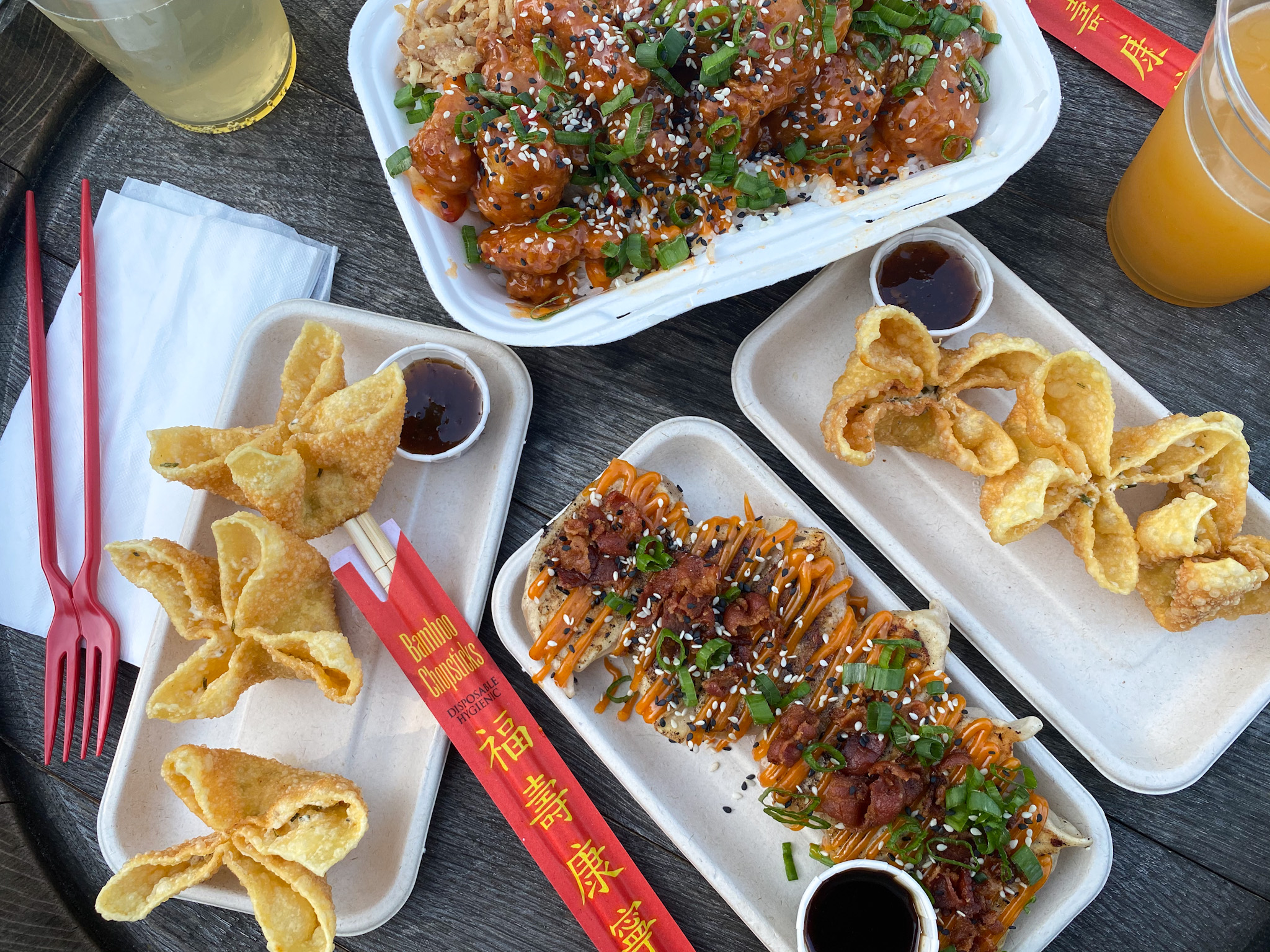 Ronicca describes the cuisine of Shiso Crispy as "Japanese food with a fusion." She's always incorporating ingredients that are fresh and available. On the menu, you'll find an array of Dirty Rice options, Gyoza, various Bao Buns, and more. Best of all, Shiso has an insane amount of vegan concoctions that are all simply irresistible. No, seriously, Ronicca is cooking up some of the best vegan food around, in my humble opinion.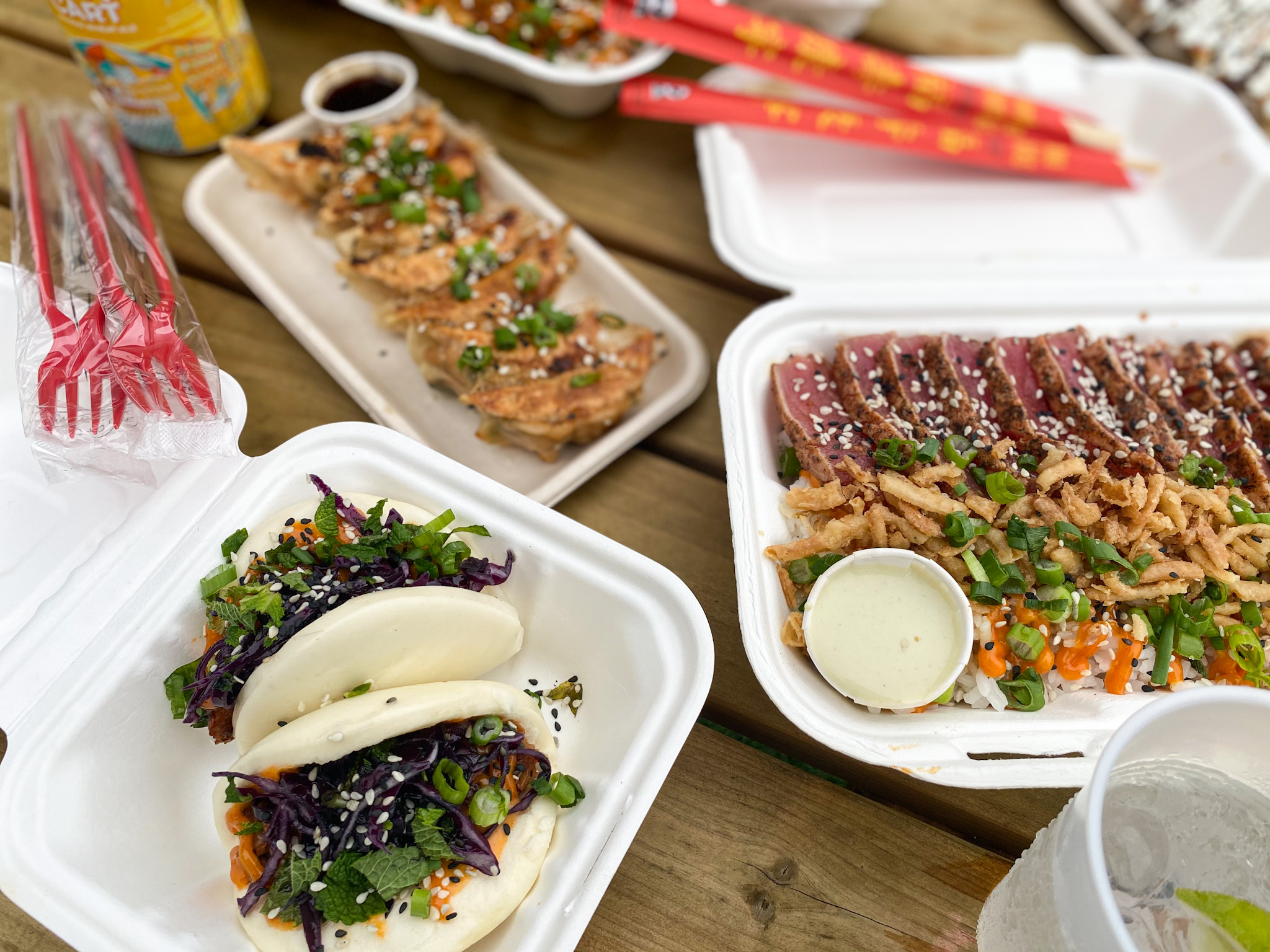 You can find Shiso Crispy regularly at not one, but at two locations in St. Pete. Tuesday – Sunday at Flying Boat Brewing for the majority of the day and then at the Edge Collective Urban Marketplace Thursday – Sunday evenings (that schedule begins in May). At Flying Boat Brewing, Ronicca and Shiso have a wonderful setup in the back by the bier garden. You can find them there every day except Monday.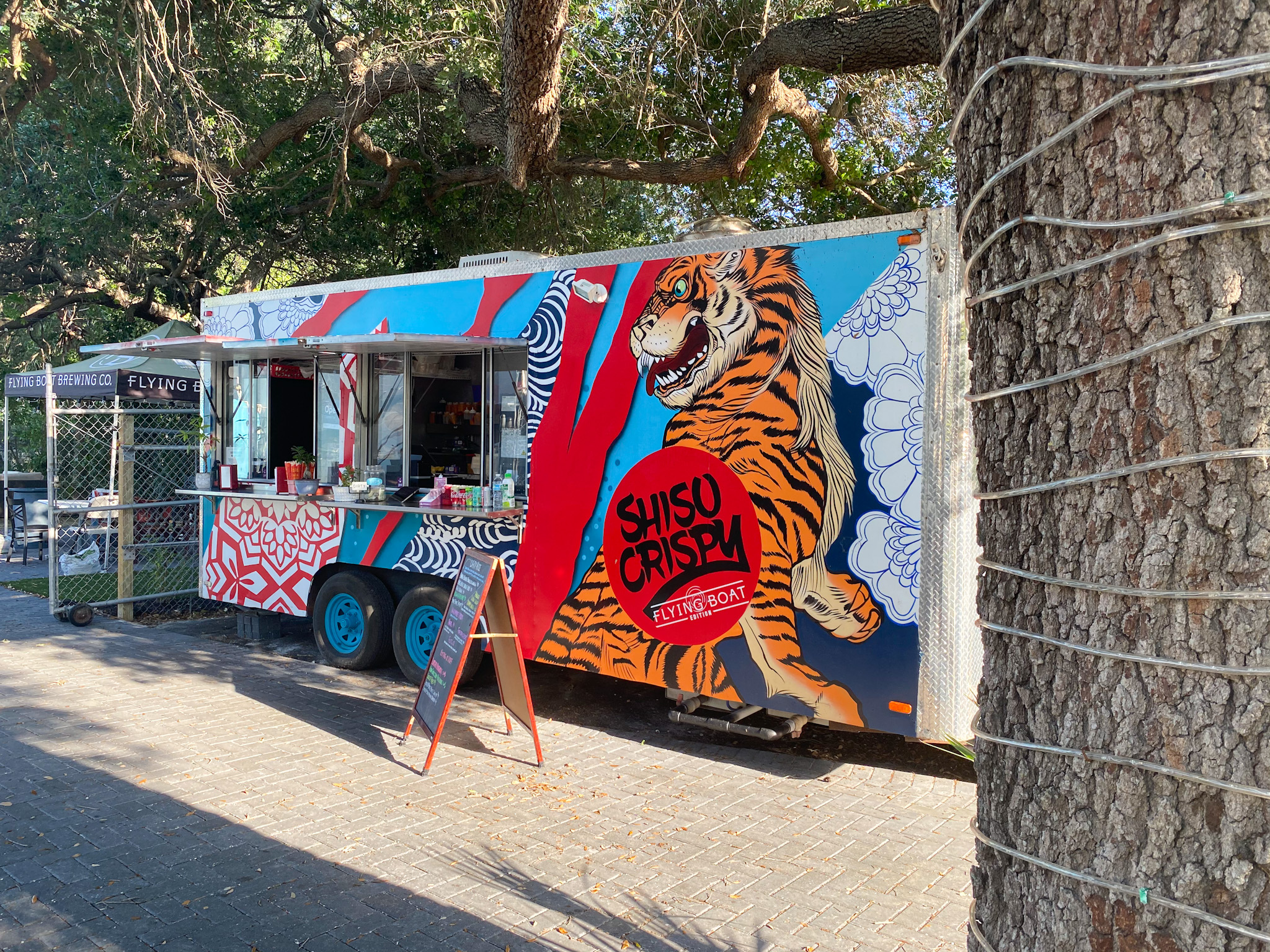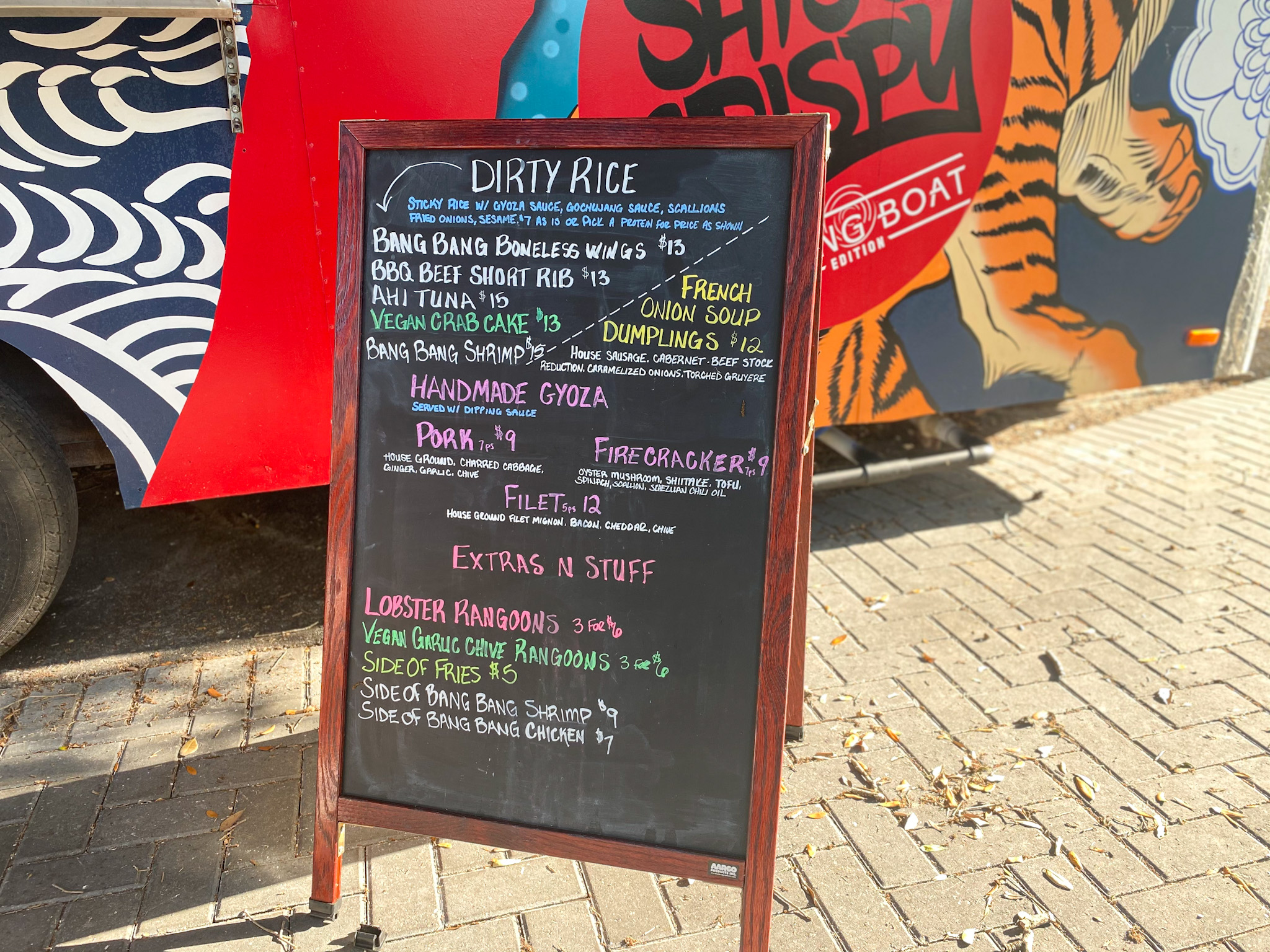 The space that the Shiso truck landed at the new Edge Collective Urban Marketplace is the utmost prime, as it is steps away from the main drag on Central Ave. Shiso has been here, thus far, for the past two weekends and Ronicca says that it has drawn quite the crowd, and it's easy to see why.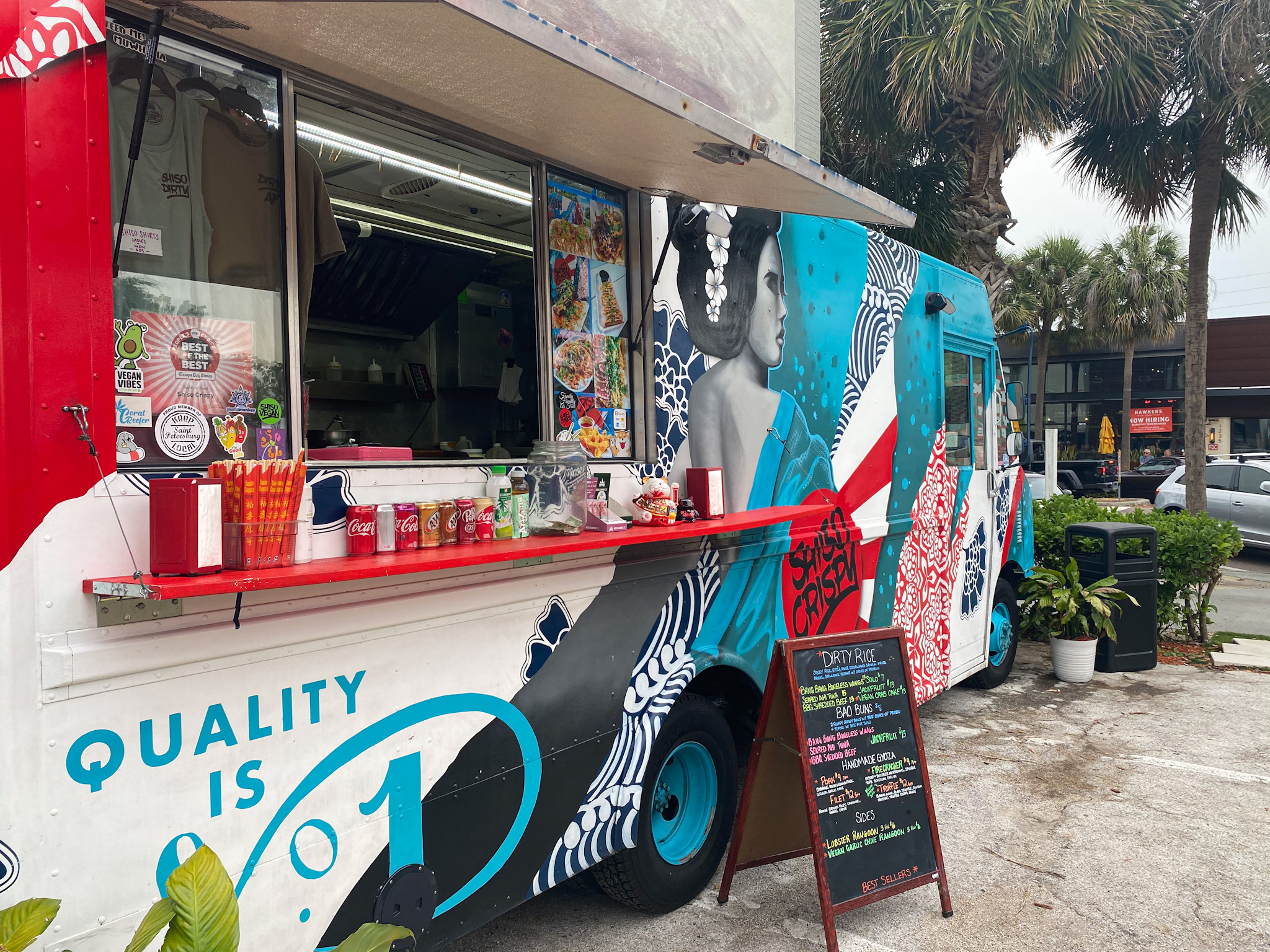 My husband and I ate our way through the menus at both locations. First up, Lobster Rangoon and Vegan Lobster Rangoon. Both luscious and creamy on the inside, yet perfectly crisp on the outside. Your head might explode, but, the vegan rangoon were our favorite! I mean, both were obviously irresistible, but if I could only have one type of them for the rest of my life, I'm choosing the Vegan Lobster Rangoon twelve times out of ten.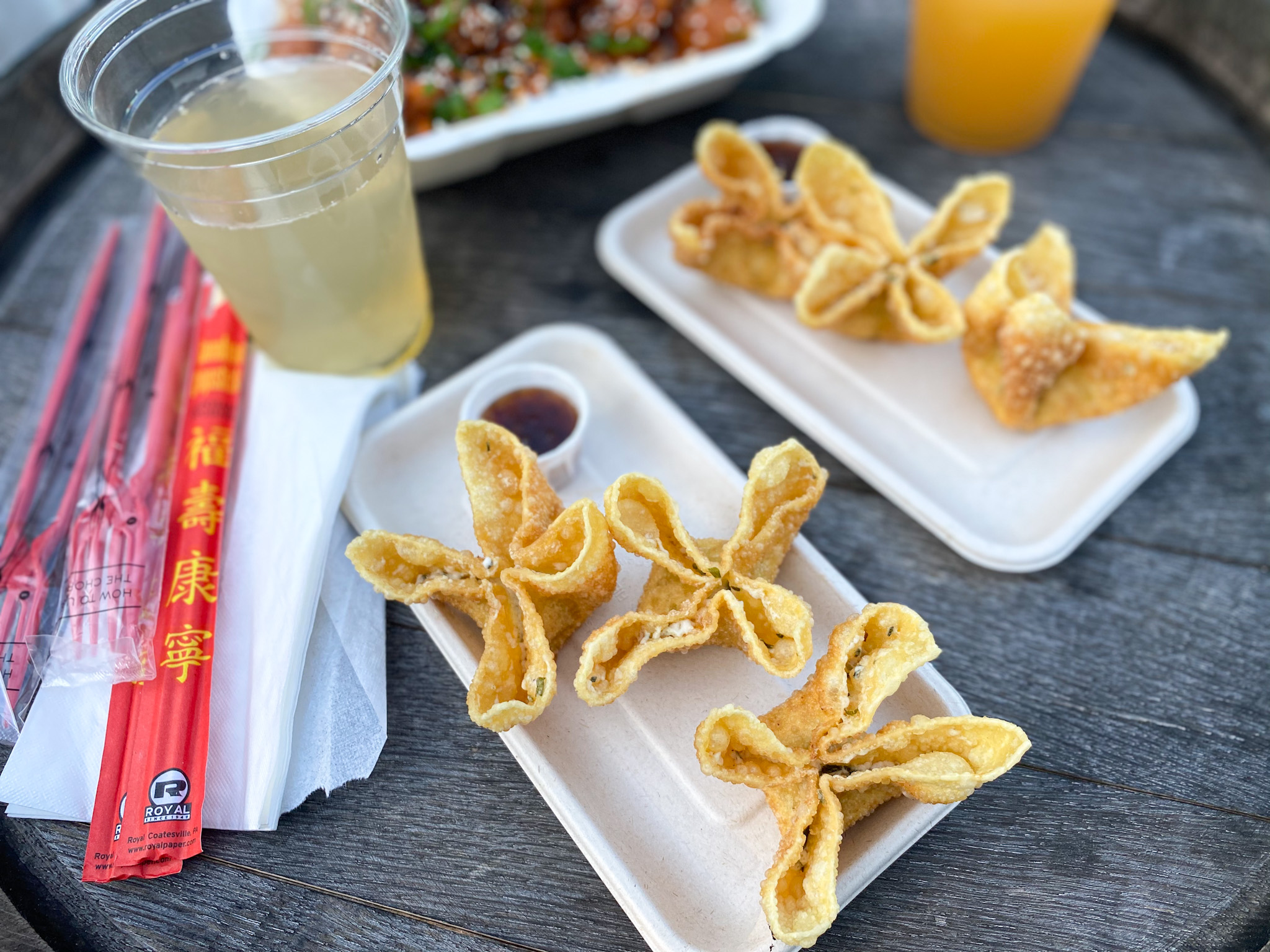 Now for the Gyoza, but, this isn't just any Gyoza. We had the pleasure of enjoying four: Firecraker, Truffle (vegan and regular) and the Filet. I don't think that you could make me choose a favorite if you tried. Each one has a unique flavor profile that is completely different from the next one. We found the Truffle Gyoza to be especially beautiful, as the execution of both, namely in terms of flavor, was simply exquisite. The truffle flavor was not overpowering in the slightest, which I quite enjoyed. It was mind blowing how similar the vegan ones tasted to the real deal. In them, you'll find a garlic mash, black truffle, fontina, shiitake and truffle cream sauce.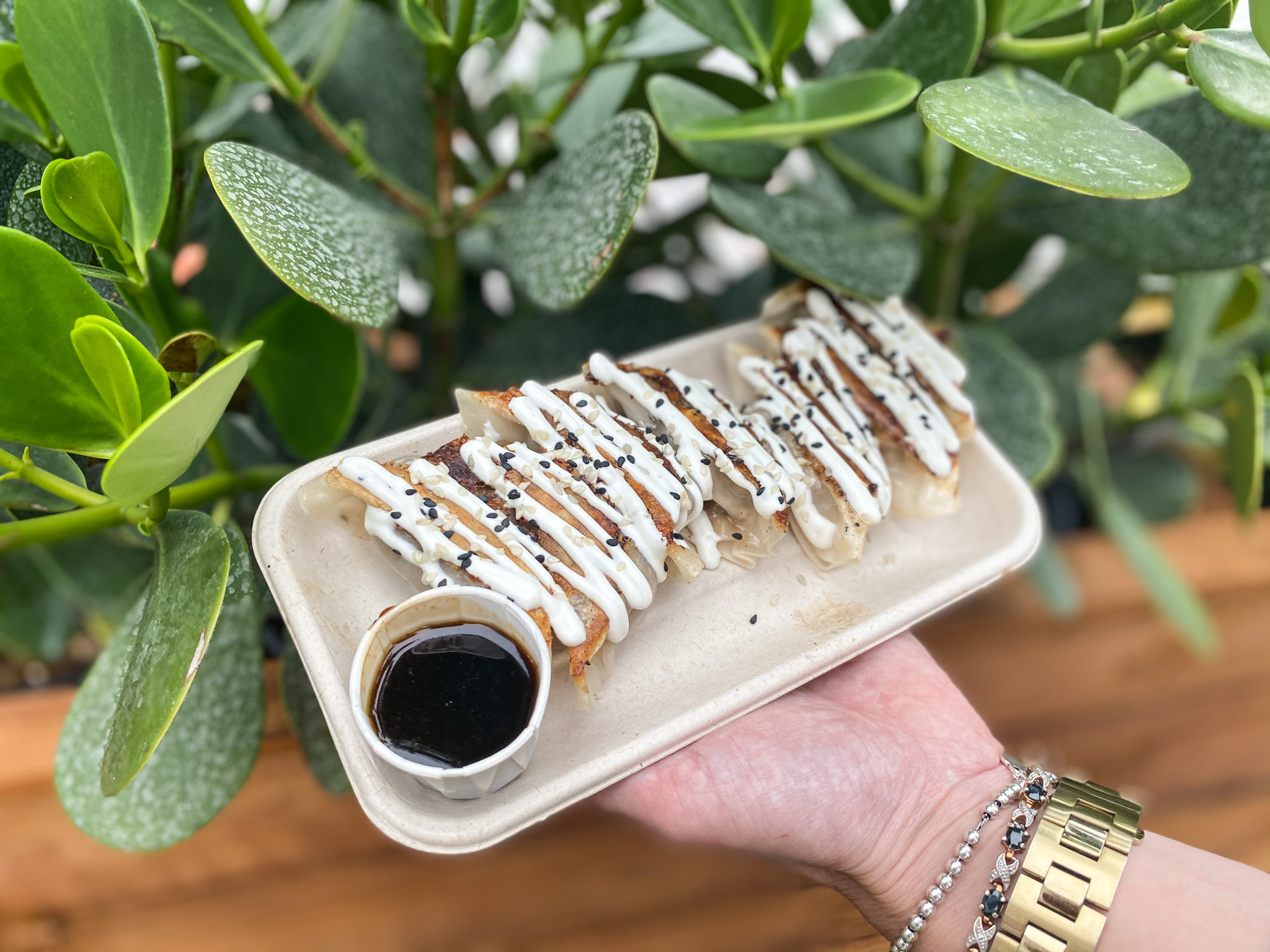 For being a vegan dish, the Firecracker Gyoza absolutely 100% brings it. I'm talking loads of flavors hitting your mouth. Oyster and Shiitake mushrooms, tofu, spinach, scallion and Szechuan chili oil – one order of these truly is never enough.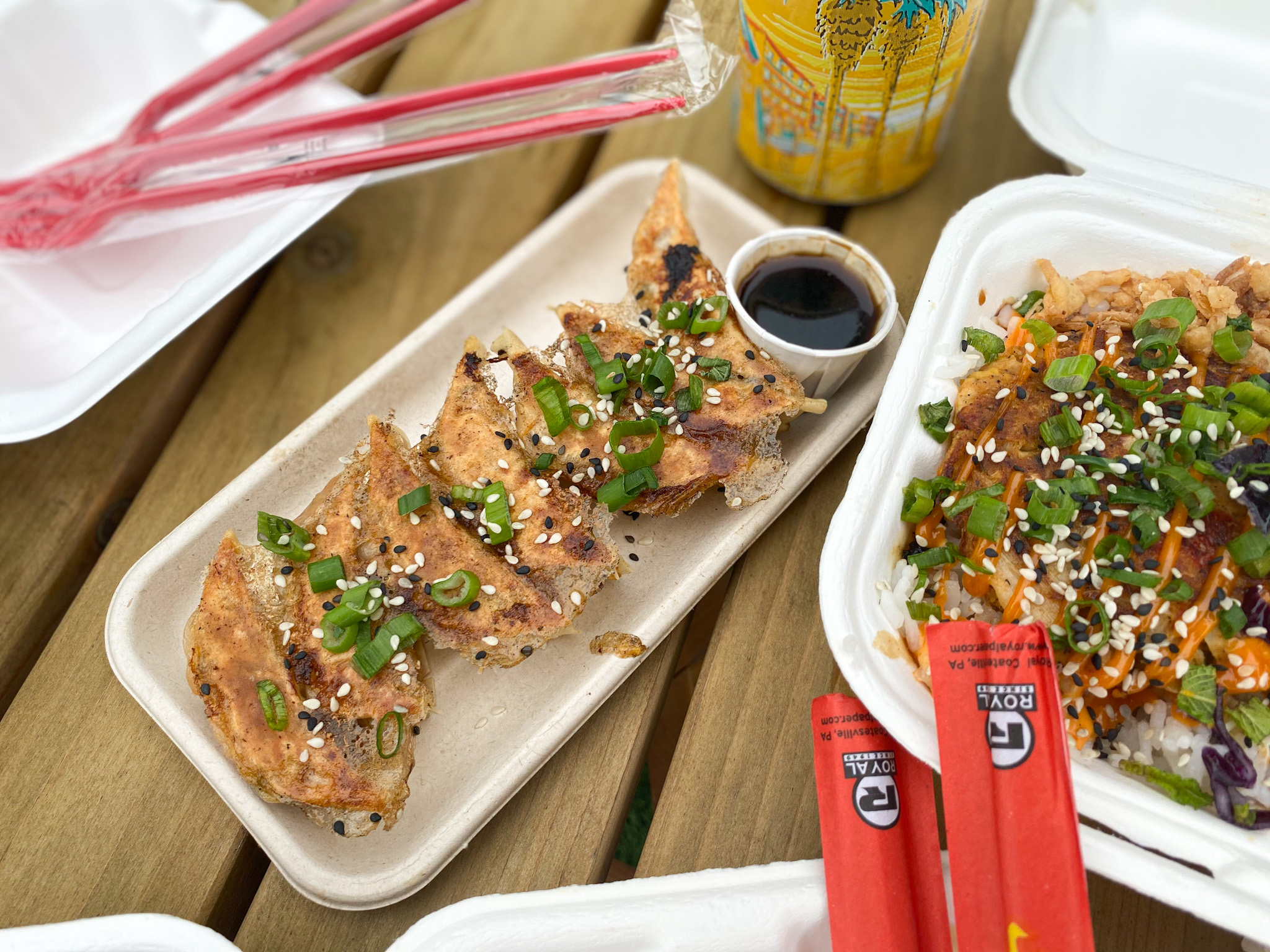 The Filet Gyoza were the first that we tried. This was when we first experienced the magic that Ronicca is cooking up in the Shiso truck. Sure, it's tough to go wrong with a combination of house ground Filet Mignon, bacon, Cheddar and chives, but when it's all tucked away into a flawless Gyoza, it's truly next-level.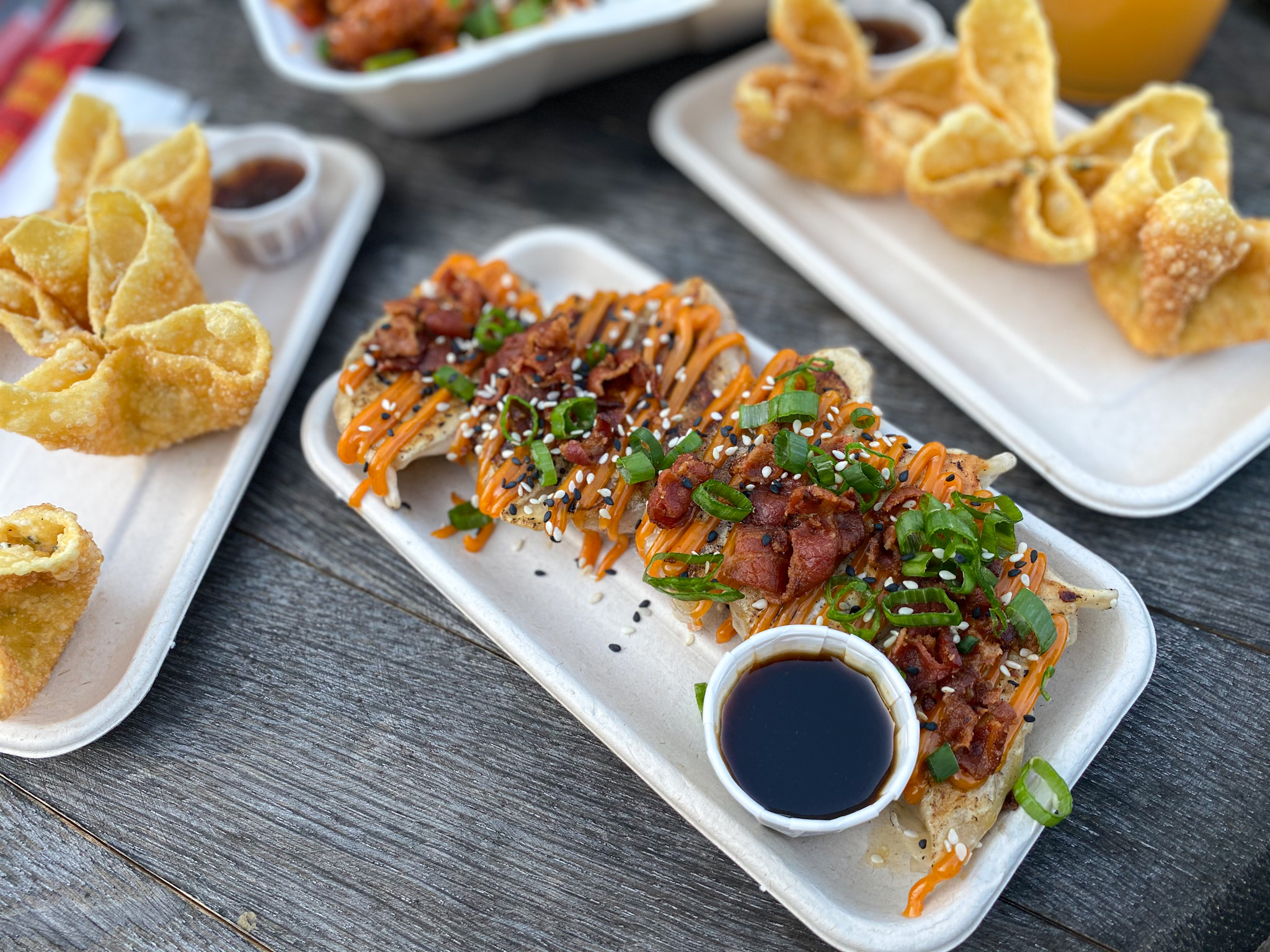 The Dirty Rice gang on the menu should not be overlooked. Trust me on this one. Dirty Rice, in essence, is a sticky rice with Gyoza sauce, Gochujang Sauce, scallions, fried onions, and sesame and it's served with your choice of protein. Of course, we couldn't say no to the Bang Bang Boneless Wings, so, that's where our Dirty Rice journey began. To be frank, I want to eat this dish on a regular basis. The Dirty Rice, itself, without the protein, is already a home run. Add those perfectly crisp bits of bang bang chicken and you're in for a TREAT.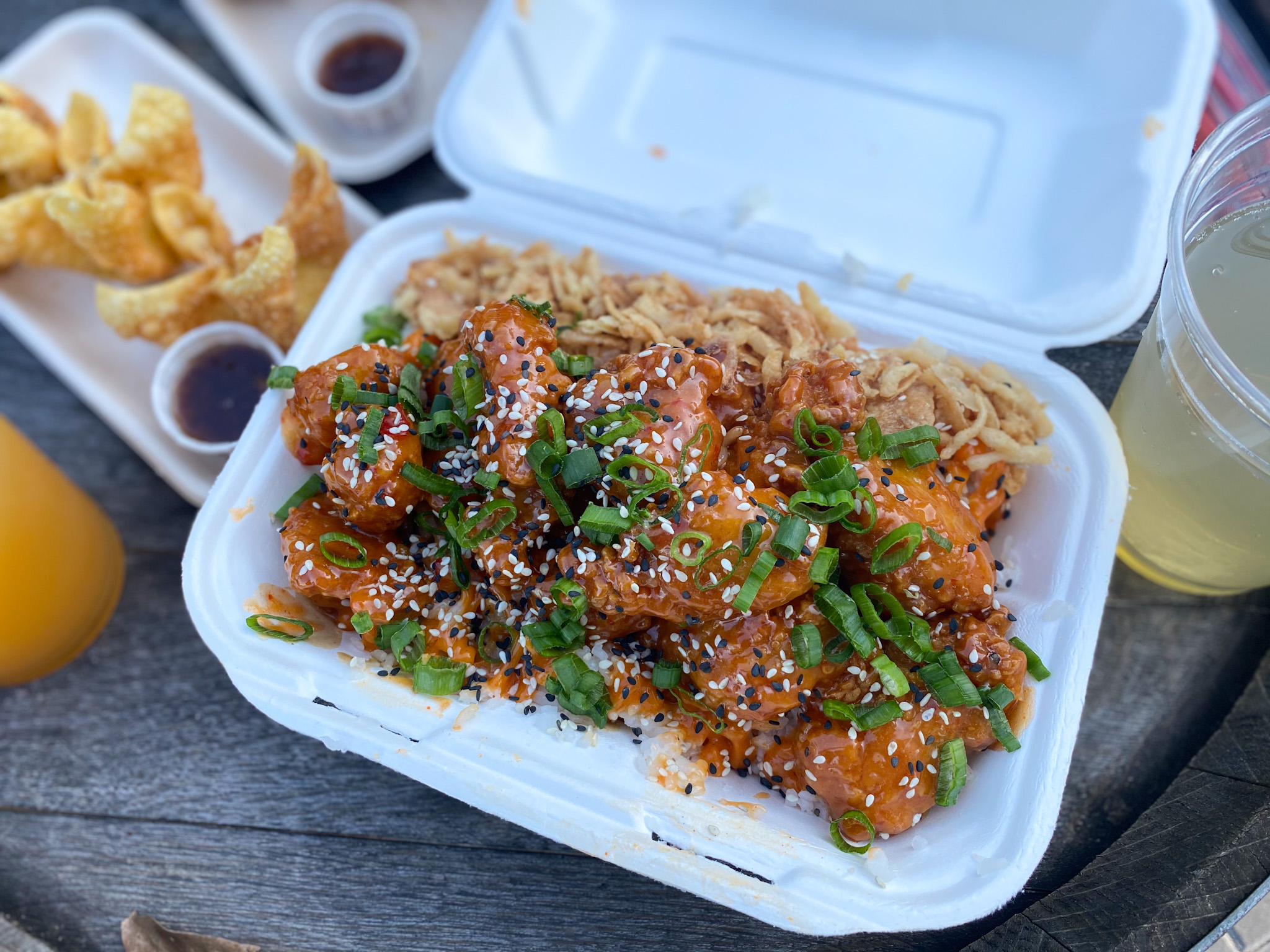 Ronicca insisted that we have the Vegan "Crab" Cake and boy am I happy that she did. I couldn't believe that it was vegan. Ronicca said that that's the popular reaction, which isn't a surprise.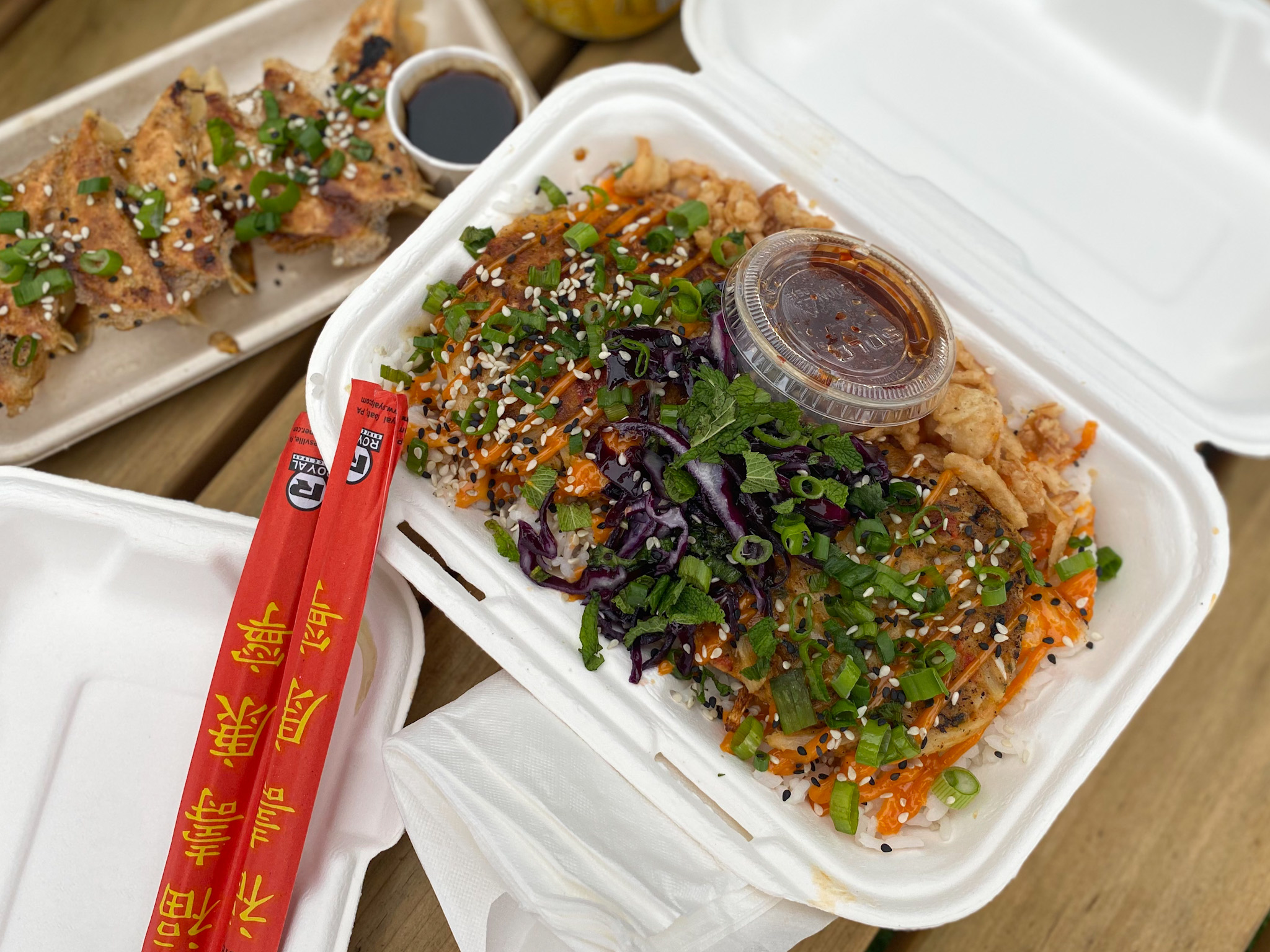 Last, but certainly not least, the Ahi Tuna topped Dirty Rice. She is all things beauty and grace. The tuna is so incredibly fresh and is an idyllic, uncomplicated counterpart to the pre-existing flavors and textures in the Dirty Rice.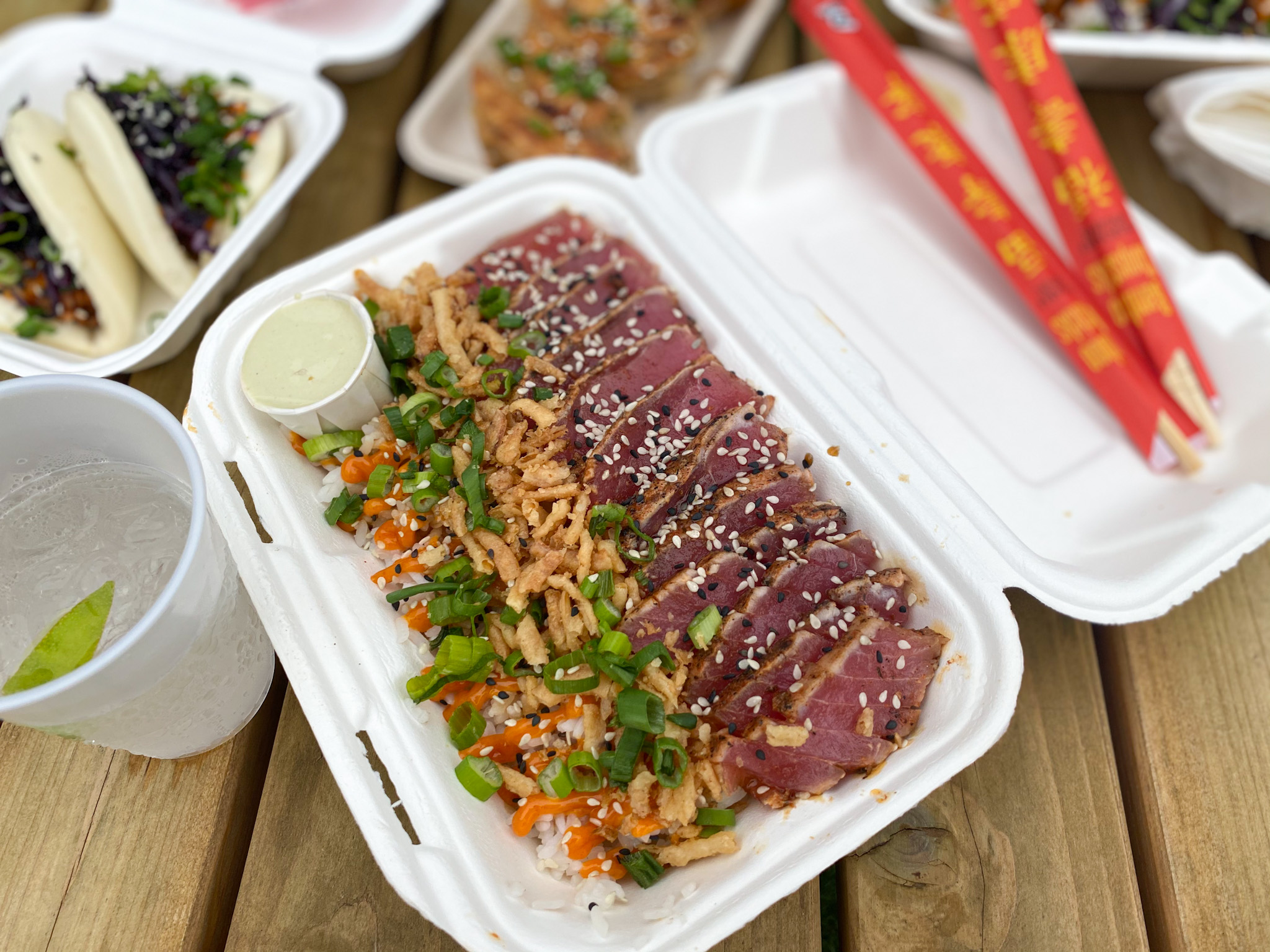 Whilst discussing the Bao Buns, it was strongly encouraged that we try the Jackfruit, so, we listened. OH MY! For whatever reason, we don't normally gravitate towards Bao Buns, but we are so happy that we gave these babies a try. Just spectacular!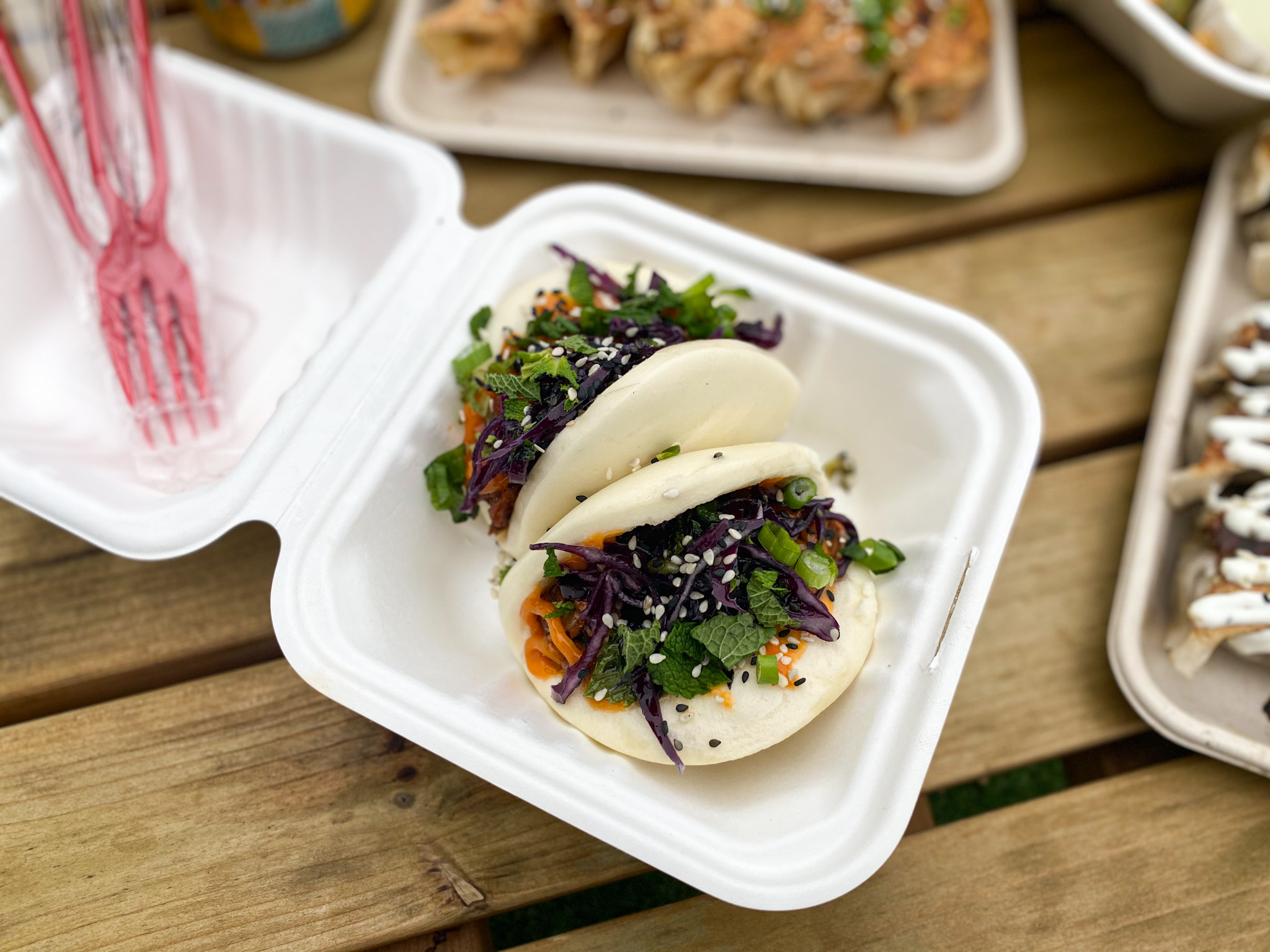 The food isn't the only star of the Shiso operation – Ronicca and her team are magnificently badass. This is still just the start of what I know will be an extremely bright future for the Shiso Crispy team. I can say with confidence that Ronicca is preparing some of the best food in Saint Petersburg, Florida.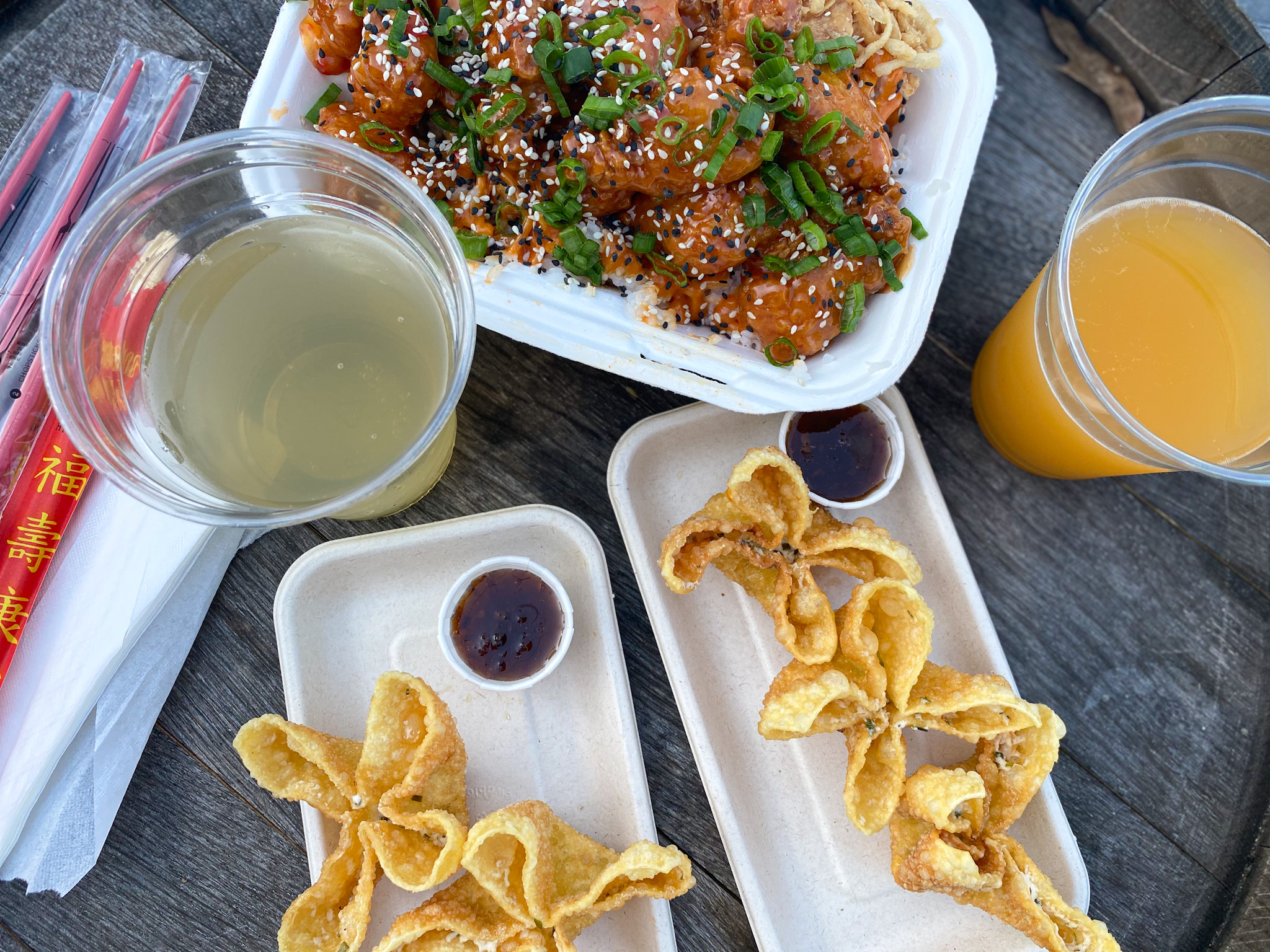 Voted the #1 food truck in Tampa Bay. Shiso Crispy proudly serves delicious food to the Greater Saint Petersburg community. We have handmade Gyoza, Bao Buns, Soup Dumplings and Dirty Rice. Vegan options available!
DISCLAIMER: Kevin, Lori, Abby, Haley, & Lindsey do not dine anonymously (this would be impossible) and we sometimes get free food (though never expected). However, we dine with the locals and we support our own. You will always get honesty in a respectful manner. We do not include any large national or regional chains in our ratings and reviews. We focus on independent locally owned eateries exclusively.

PLEASE NOTE: Reviews reflect a certain moment in time. Some restaurants stay extremely consistent over many years, and some change for the better or worse. Some things that may change are: chefs, recipes, food suppliers, ingredients, philosophies, ownership, etc. We always hope that you have the same good, or great experience we had.
More Foodies News, Reviews & Recipes