The Ultimate Lunch Spot: Salty's Sandwich Bar in Gulfport, Florida
The Ultimate Lunch Spot: Salty's Sandwich Bar in Gulfport, Florida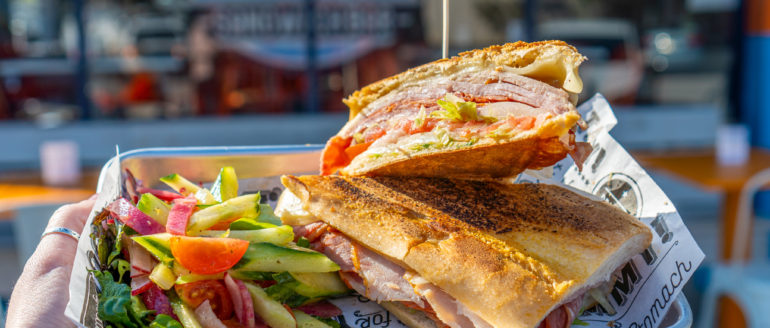 UPDATE: November 4, 2021 – Salty's Sandwich Bar is permanently closed.
So the artsy, beach town aesthetic and a menu of fresh sandwiches walk into a bar. Only it's a bar that focuses only on sandwiches and good vibes. This is pretty much the setup of Salty's Sandwich Bar, a new concept from the folks behind Salty's, which combines an impressive food menu and an outdoor patio into the quaint row of shops and restaurants on Beach Blvd in Gulfport.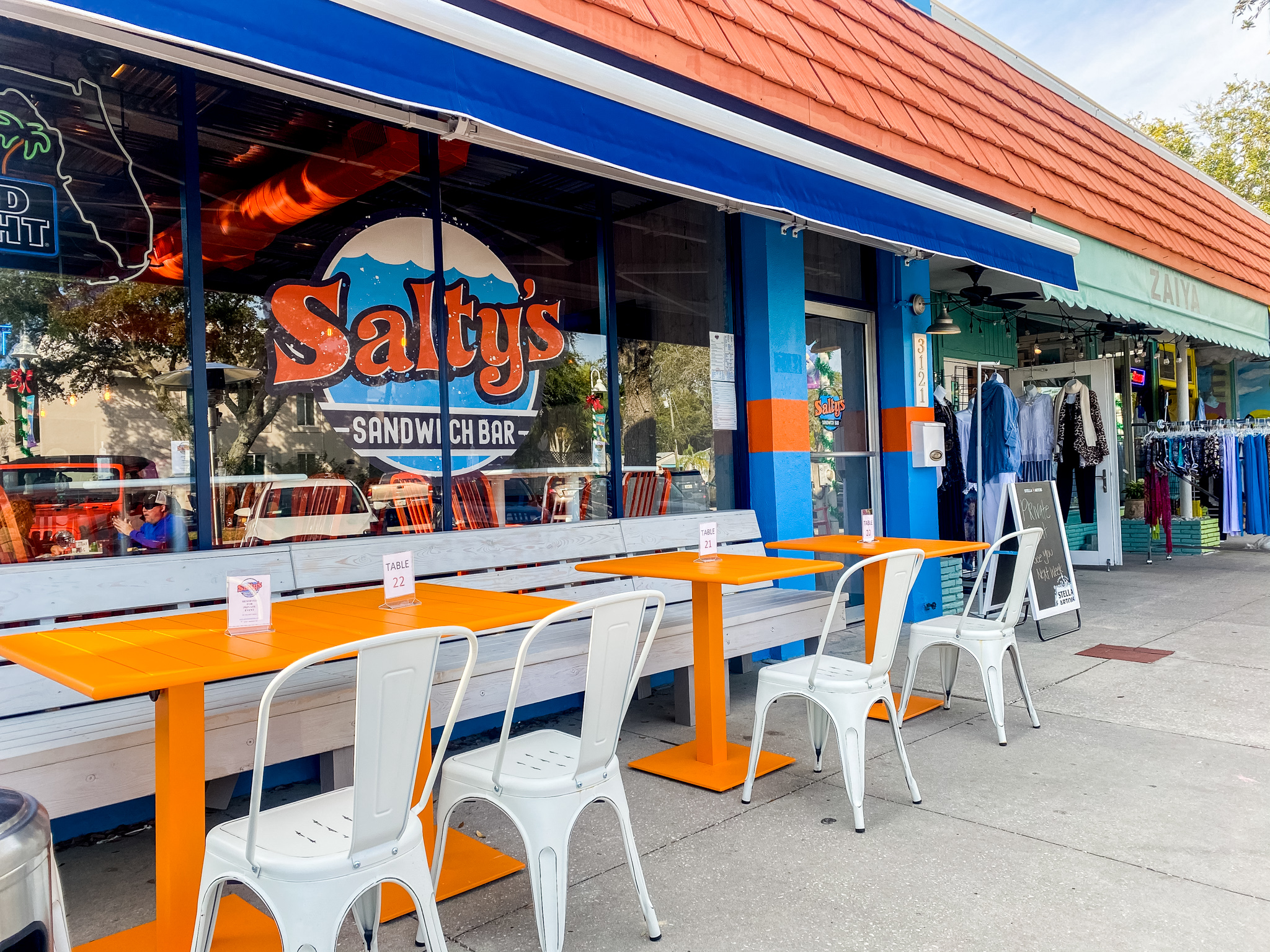 Salty's, the bar on Shore Blvd, is a fun time with a Key West vibe, games, music, and lovely views of Boca Ciega Bay. If you haven't been, you should add them to your list as well, but keep in mind that they are two separate concepts and locations.
Gulfport is so charming and unique. The people, art, and restaurants make up this beautiful beach town. Taking a day trip to Gulfport is always a brilliant idea to dive into a neighborhood feel that we all know and love.
Salty's Sandwich Bar specializes in high quality sandwiches, fresh starters and salads. Stop in for lunch and you'll leave happy and very full. If you spend some time at their outdoor patio for some Saturday fun, then you'll leave with a buzz and leftovers. In my opinion, the perfect patio weather in Florida is when it's between 60-70 degrees and you have to drink up to stay warm. This sums up my day at Salty's over the weekend and I wouldn't trade it for a thing. The vibe out on the side patio is very fun and laid back with great music, friendly staff, and plus the bar is right at your fingertips.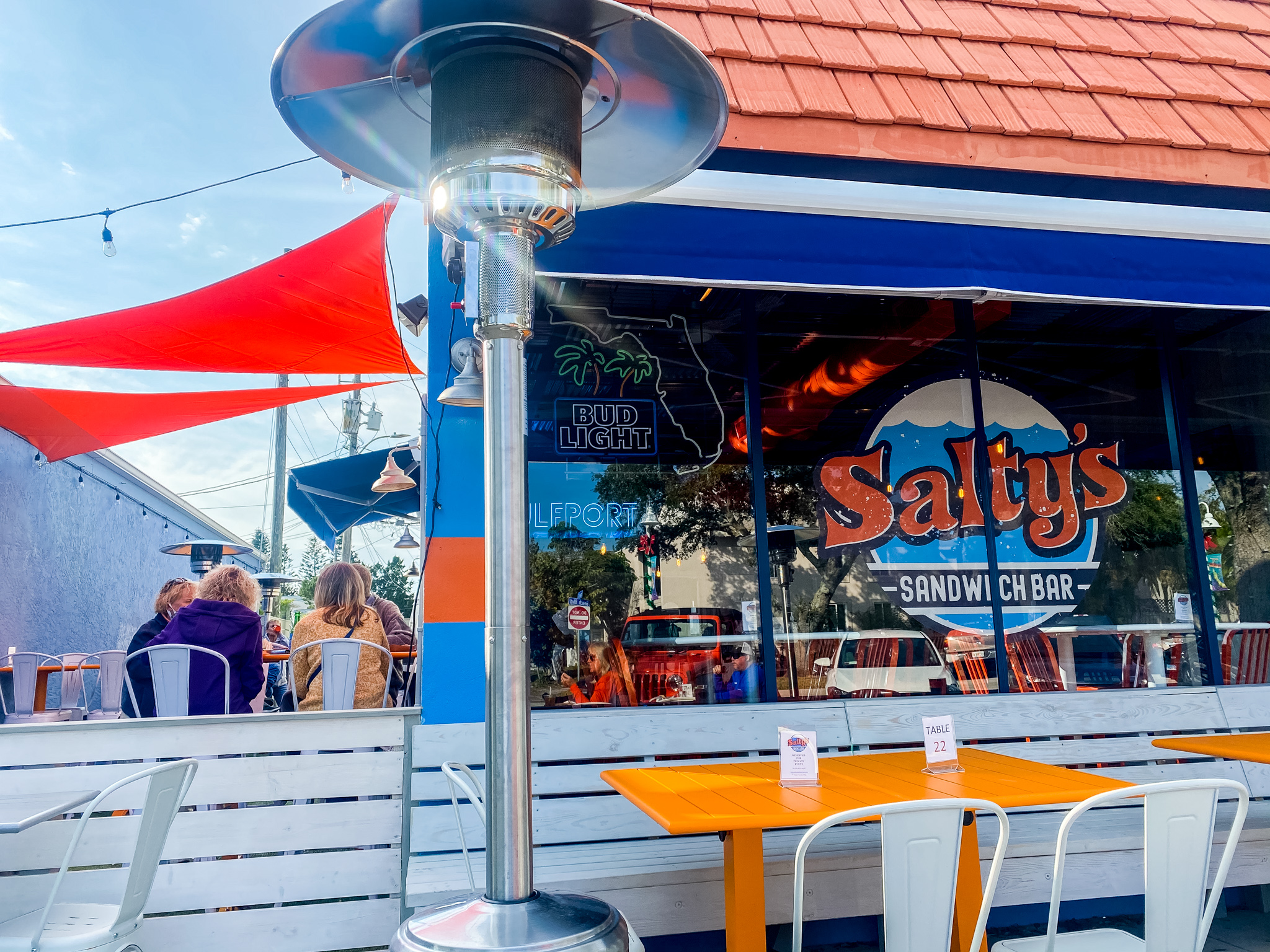 At the bar, they currently offer beer, wine, seltzers, sodas and a few more sips.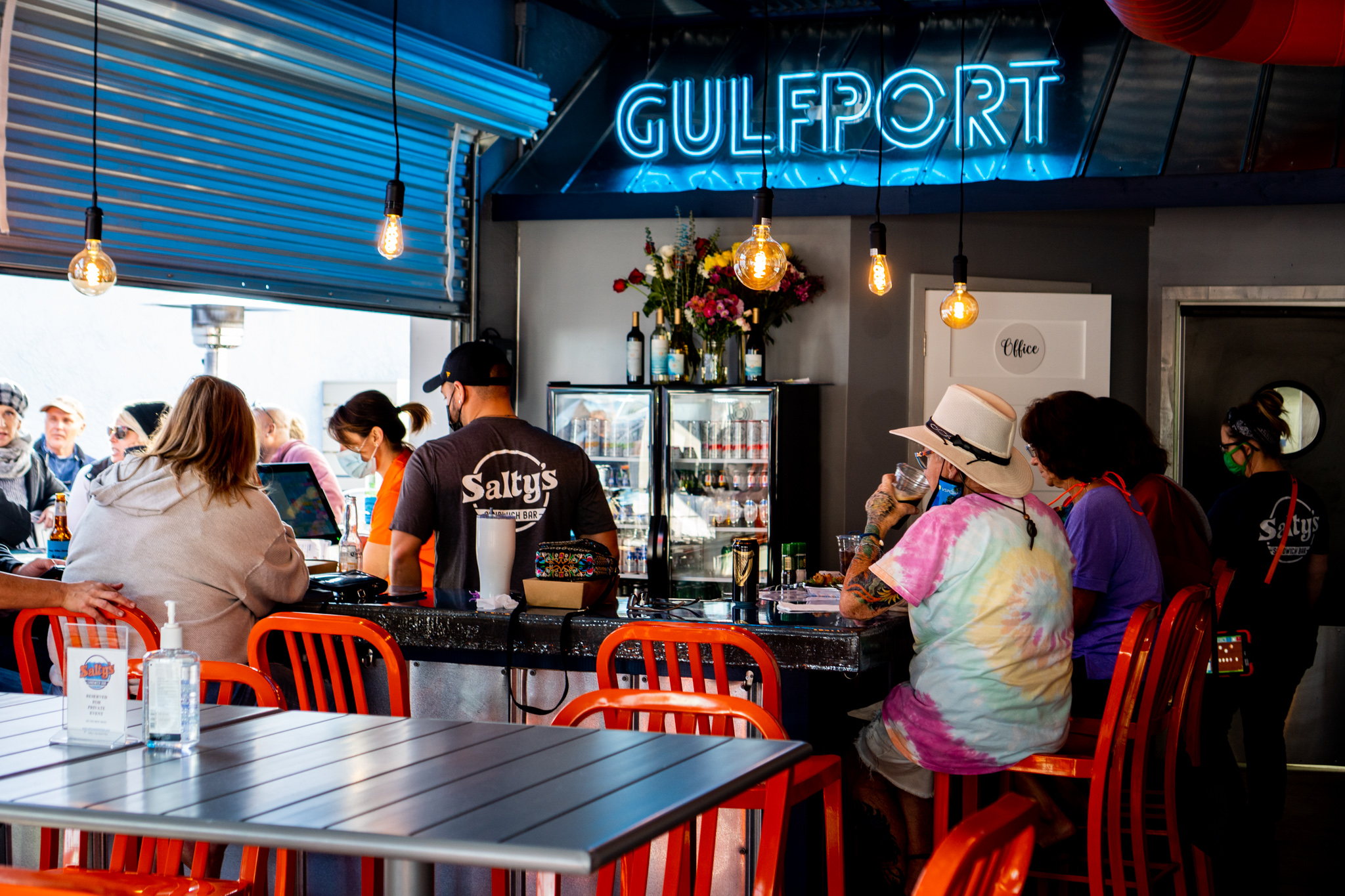 The starters are a great place to begin with a variety of tasty options. Then make your way to the sandwich side of the menu for a generously sized meal and chips. You can make your own Sammy, too. Plus, they have refreshing salads if you're still rocking the 2021 low carb diet.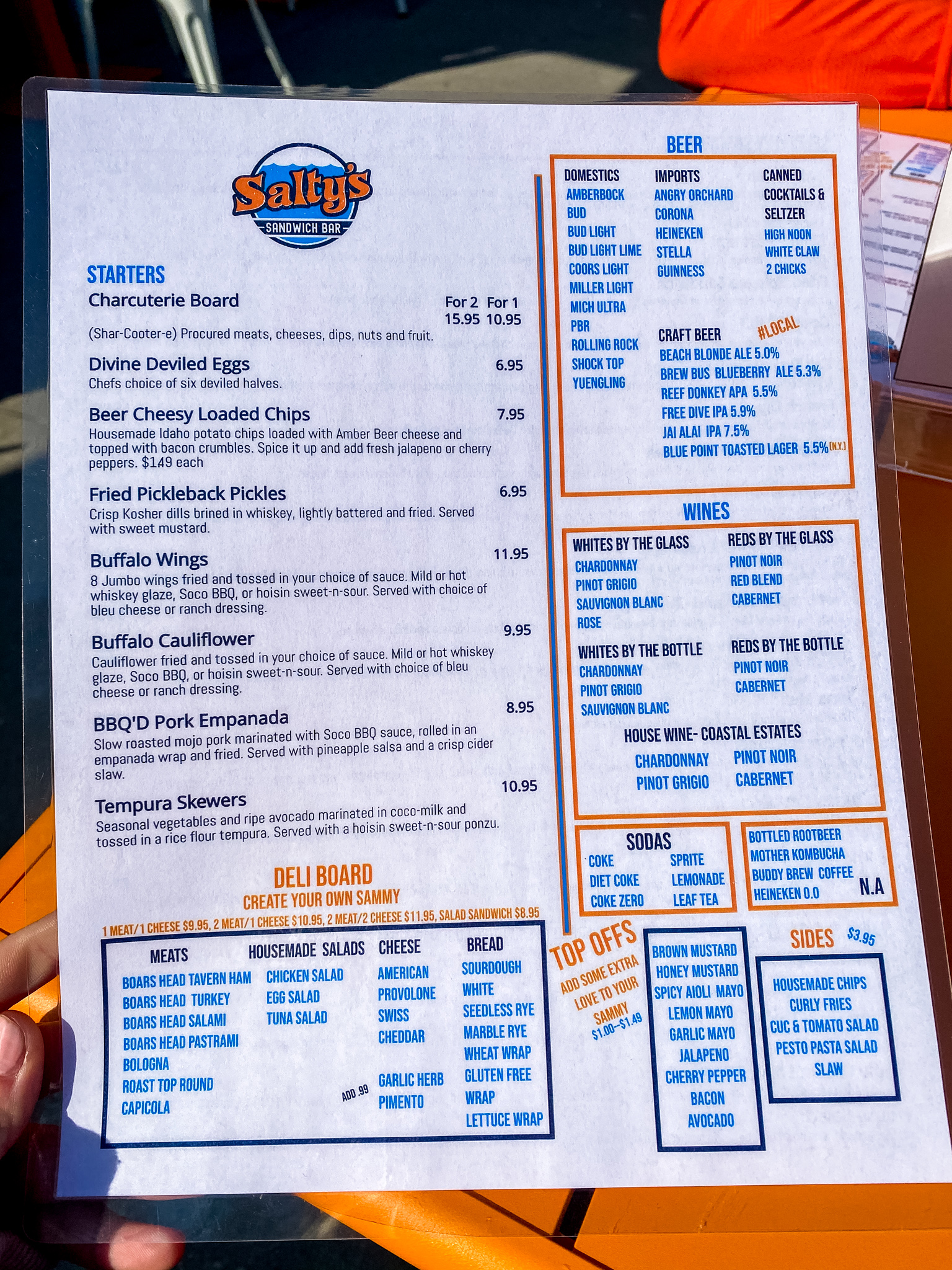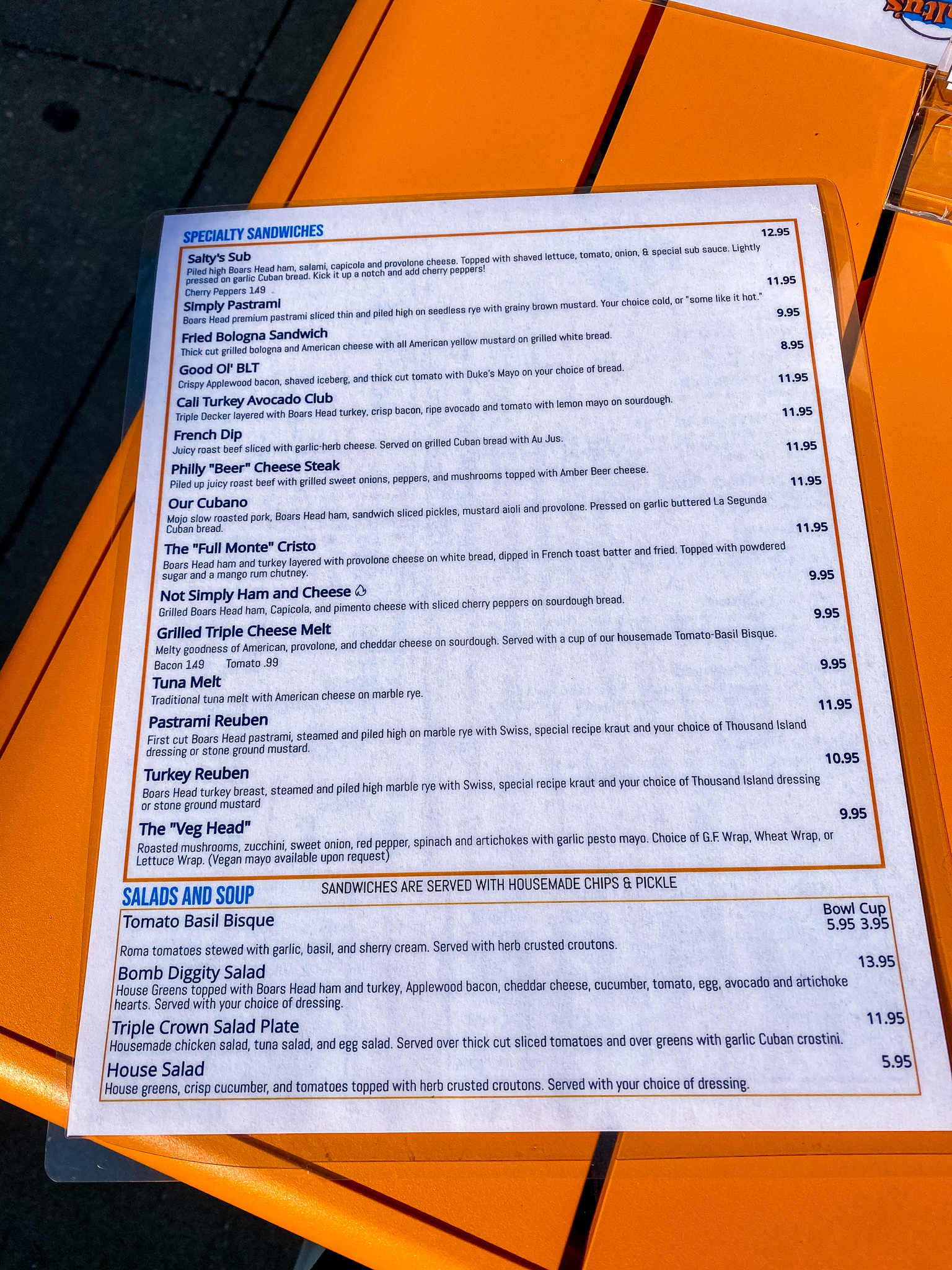 We actually stumbled in on one of their soft opening days and were lucky enough to try a special starter sampler.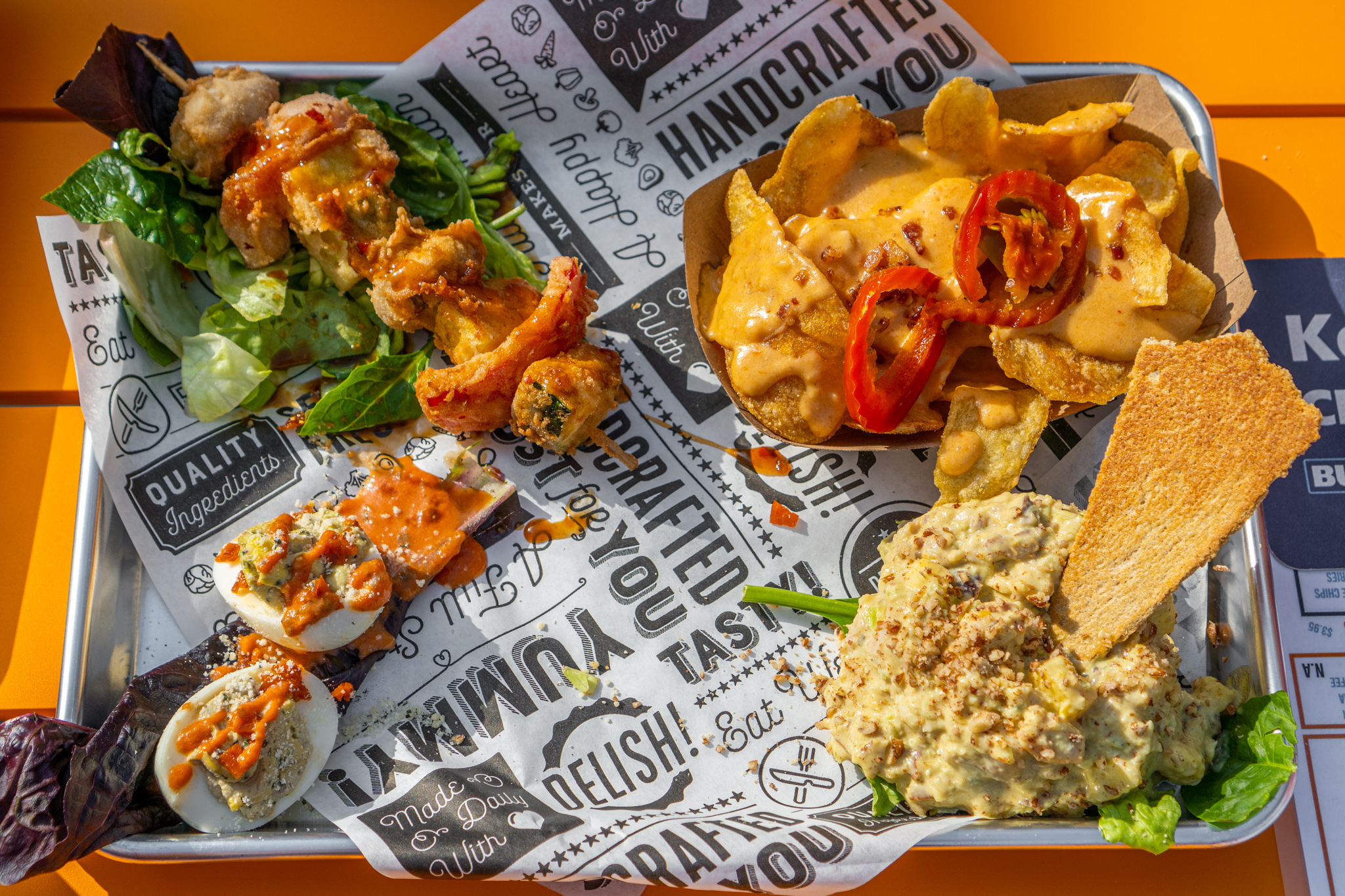 The starter sampler had everything that Aunt Karen and I were eyeing on the menu anyway, so this was ideal to get a quick taste of it all.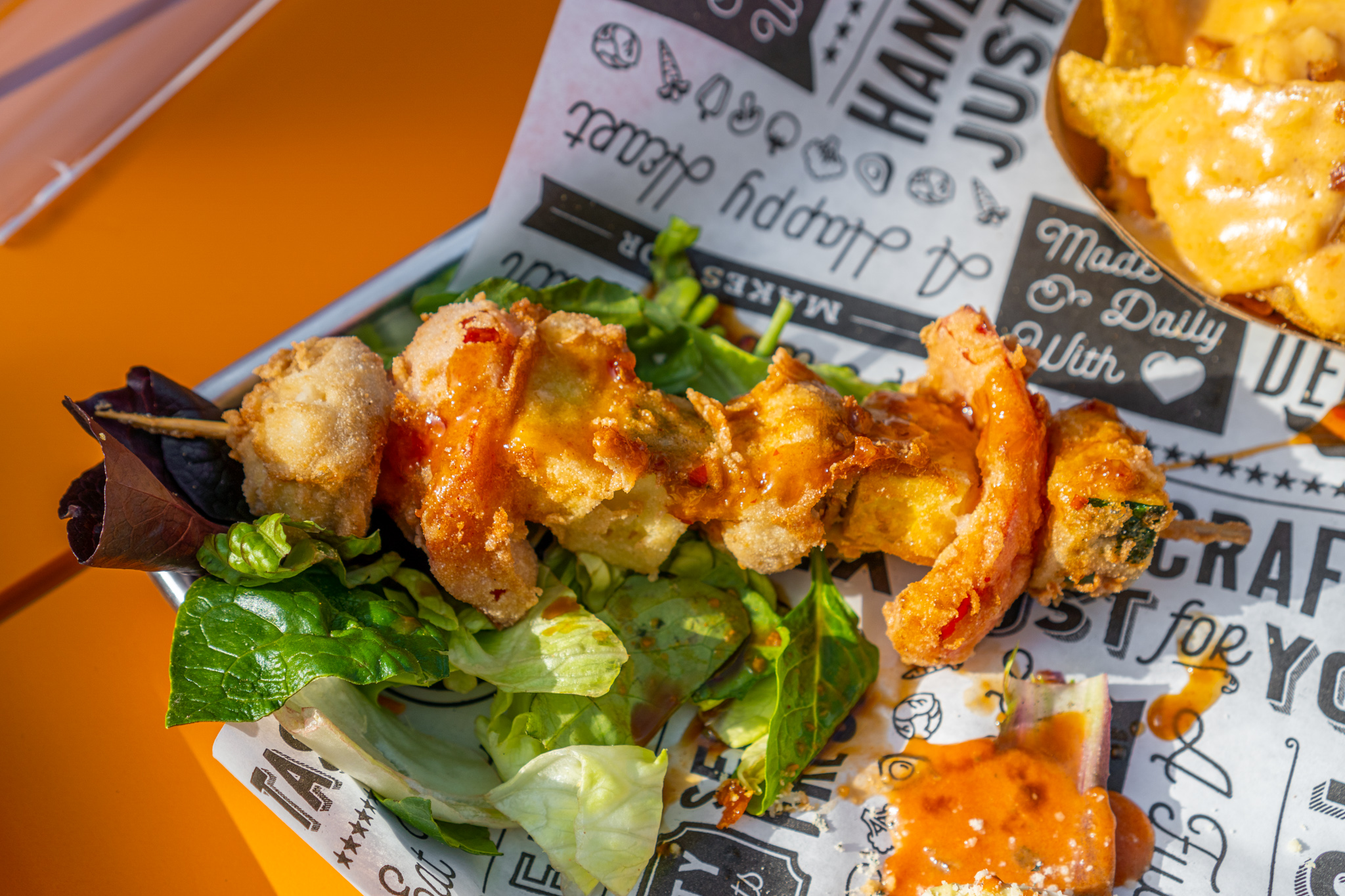 The Tempura Skewers come with seasonal vegetables and ripe avocado marinated in coconut milk tossed in a rice flour tempura. Salty's perfects tempura skewers with its light and crispy coating and variety of veggies from squash to mushrooms to zucchini and more.  These are gluten free and vegan friendly.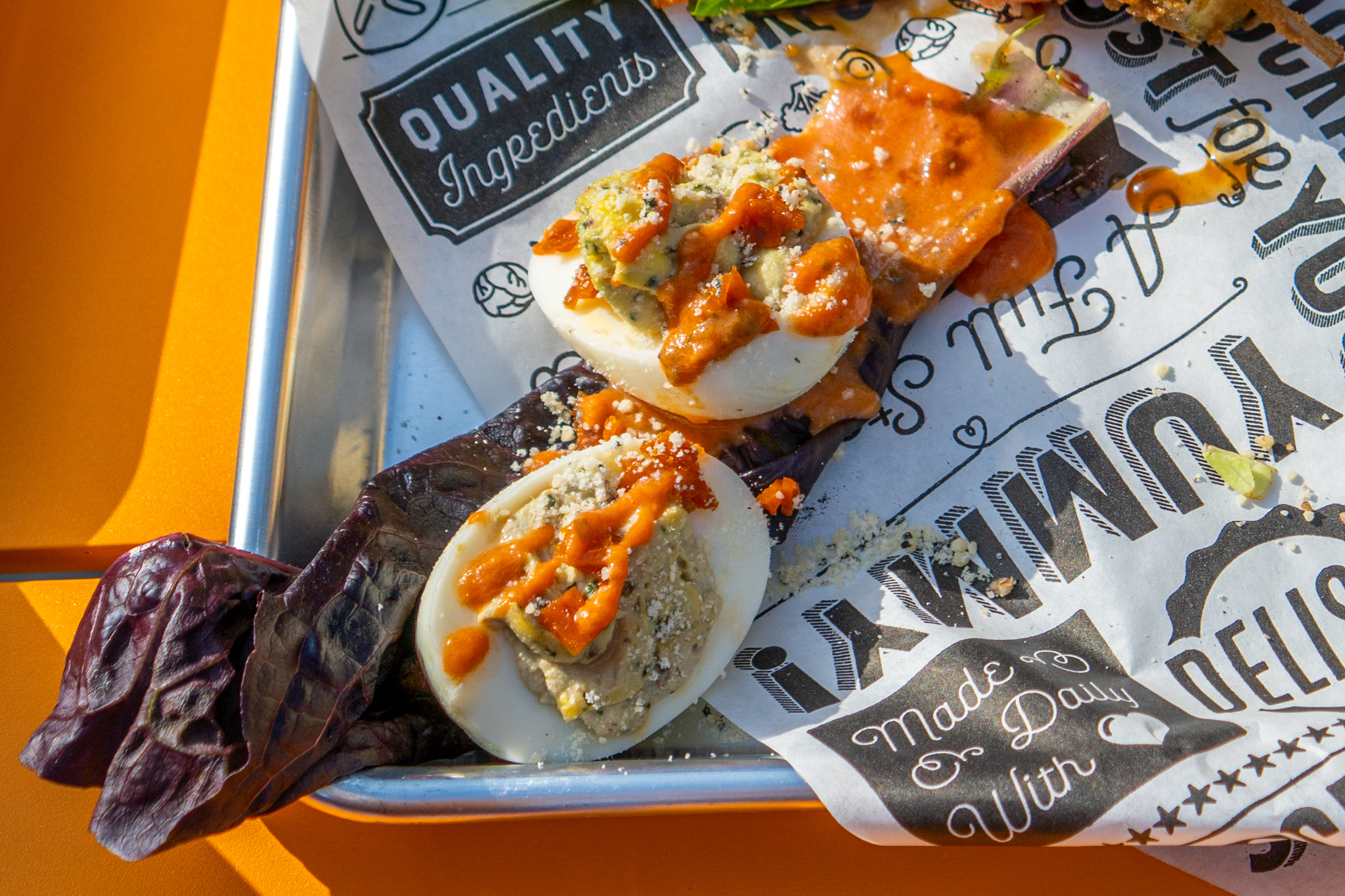 Lately I've been on a deviled egg kick, which I know is very random. Whenever I see them on the menu, I instantly crave them and must order them.
The Divine Deviled Eggs at Salty's are very unique because they are flavored differently each week. This week, they were Italian style with a pesto base, pepperoni and parmesan. These were unlike any deviled eggs I've ever had. The seasoning was delicious and expanded my tastebuds with something different.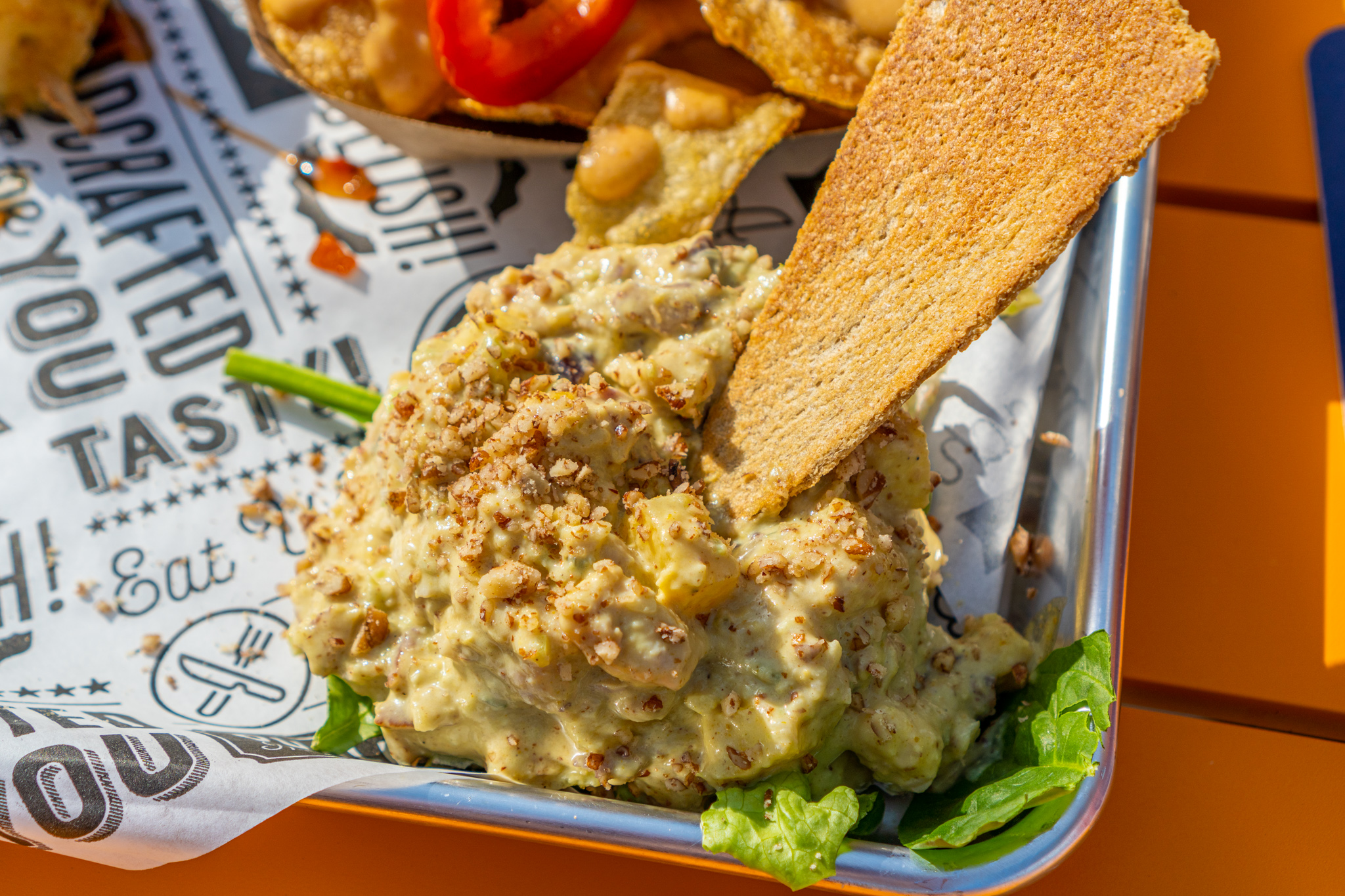 There are three house made salads on the menu, a chicken salad, egg salad, and tuna salad. The starter sampler came with a chicken salad sample, but with a curry based twist. This pile of deliciousness was so fresh and comforting with hints of curry and tender chicken bites.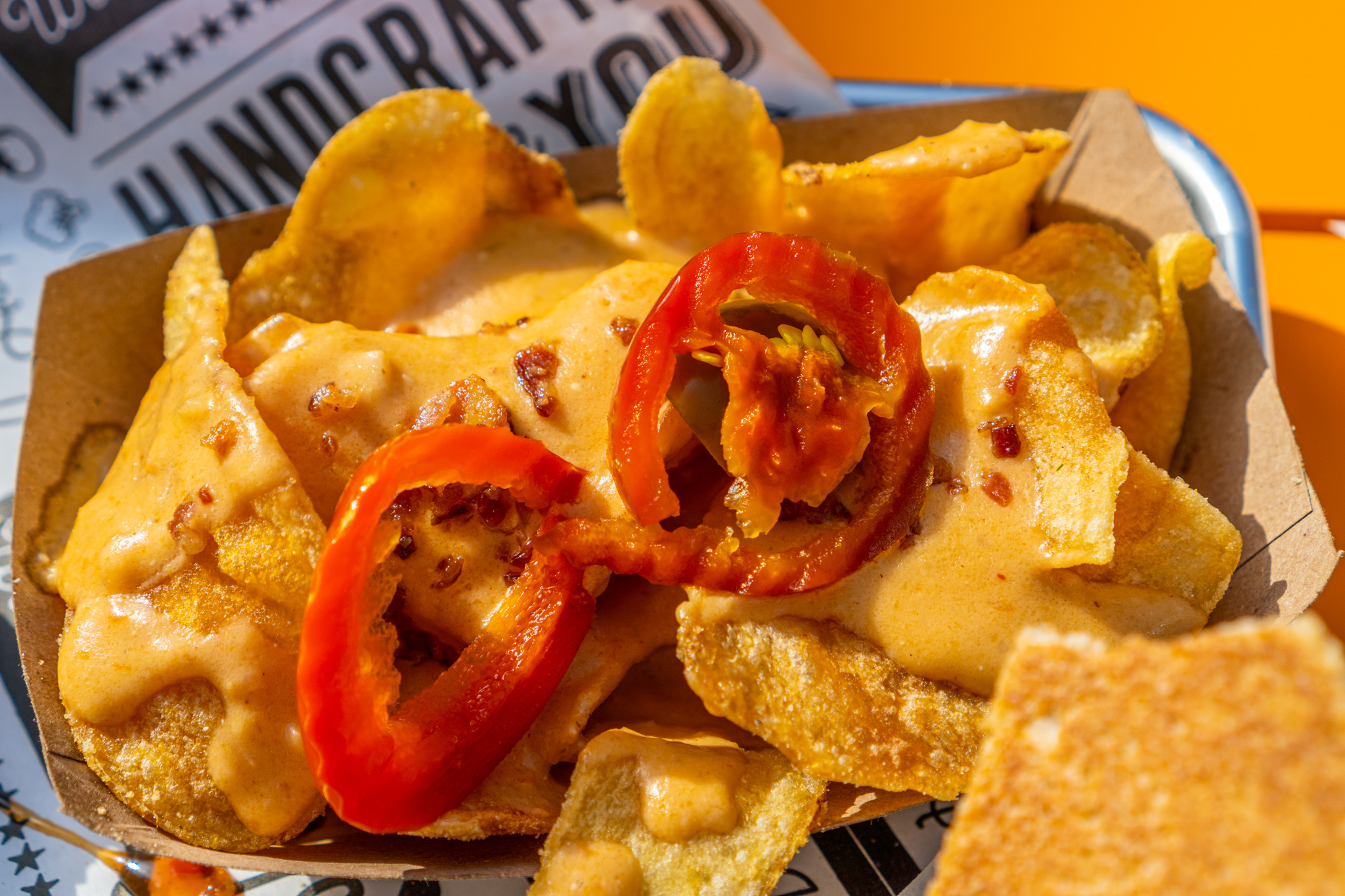 The Beer Cheesy Loaded Chips were the crunch I needed in my life with house made Idaho potato chips, loaded with Amber Beer cheese, bacon crumbles, spicy jalapeño and cherry peppers. What I enjoyed the most here was that every bite had a generous amount of beer cheese smothered all over it. The cherry peppers added some heat to this already sizzling snack.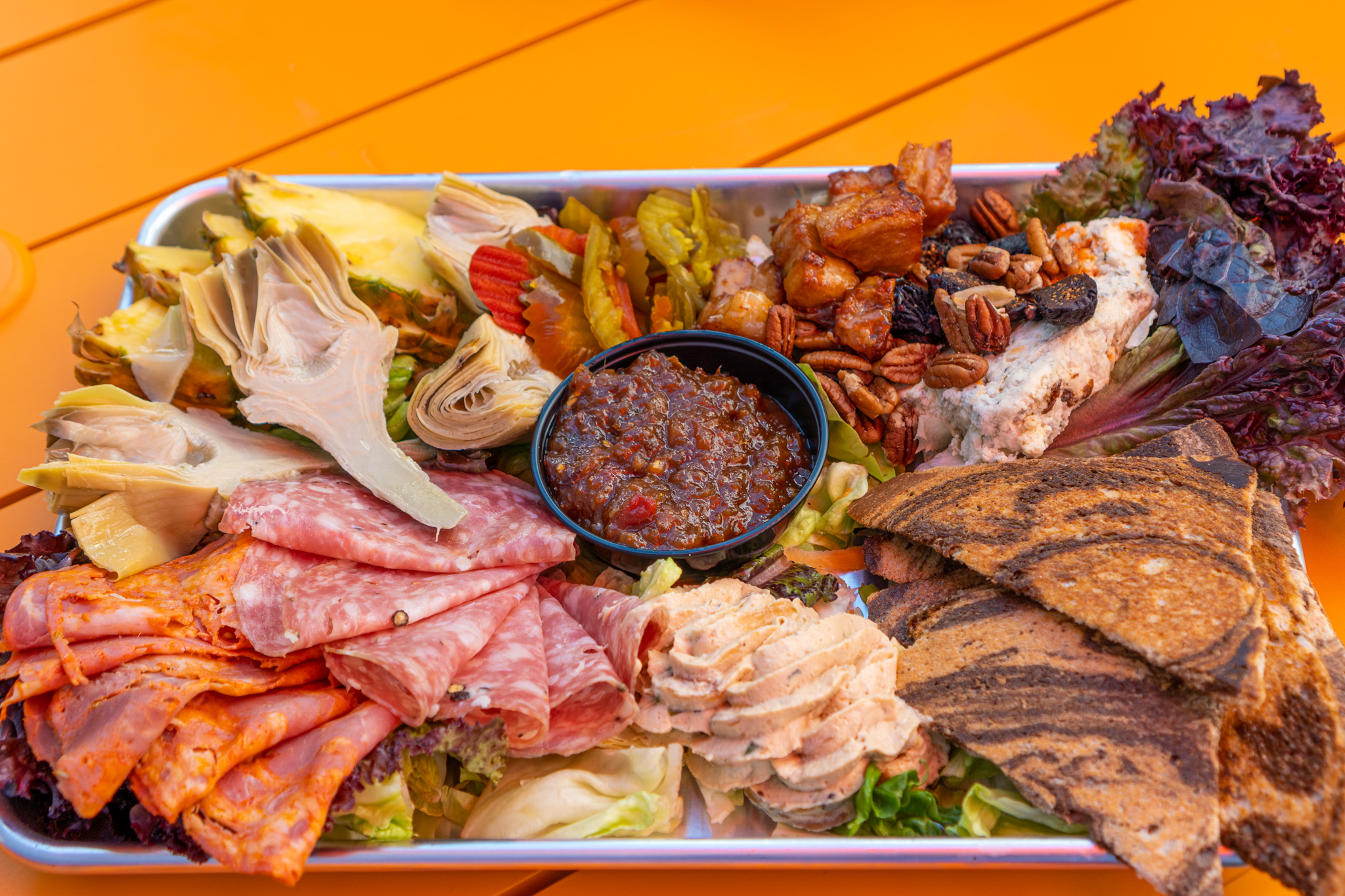 The Shar-Cooter-e board exceeded my expectations with procured meats, cheeses, dips, nuts and fruit. The Boars Head Salami and Pastrami were my favorites especially on the Marble Rye crackers with the smeared cheese dip. I was happy to see pineapple and artichoke too since I haven't had either of those in a while and they were super fresh. Pork Belly was a special that week and they included a few pieces on our board, which held a ton of flavor and a crispy glaze.
I thought that this was an exceptional charcuterie board with a variety of options. We shared it amongst three people, it was great and very affordable.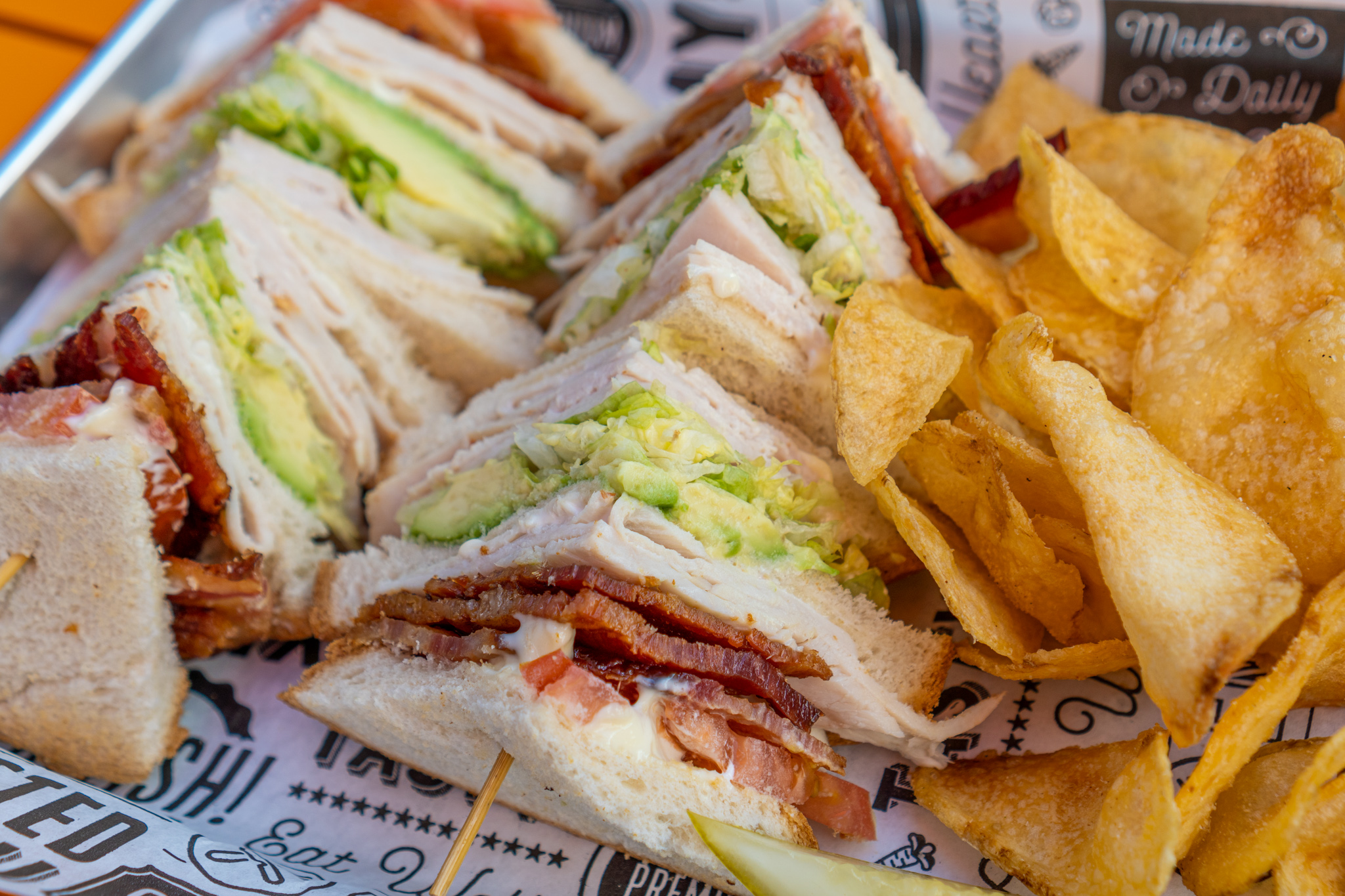 Order up a basic but tasty club, the Cali Turkey Avocado Club, for stacks of garden-fresh ingredients and guaranteed leftovers. The Cali Turkey Avocado Club is a triple decker, layered with Boars Head turkey, crisp bacon, ripe avocado and tomato, with lemon mayo on sourdough. You can see from the photo how tasty it looks, and it was exactly that.
Every sandwich comes with the house made chips and a pickle. The chips are crunchy and flawlessly salted, I'm still dreaming about them.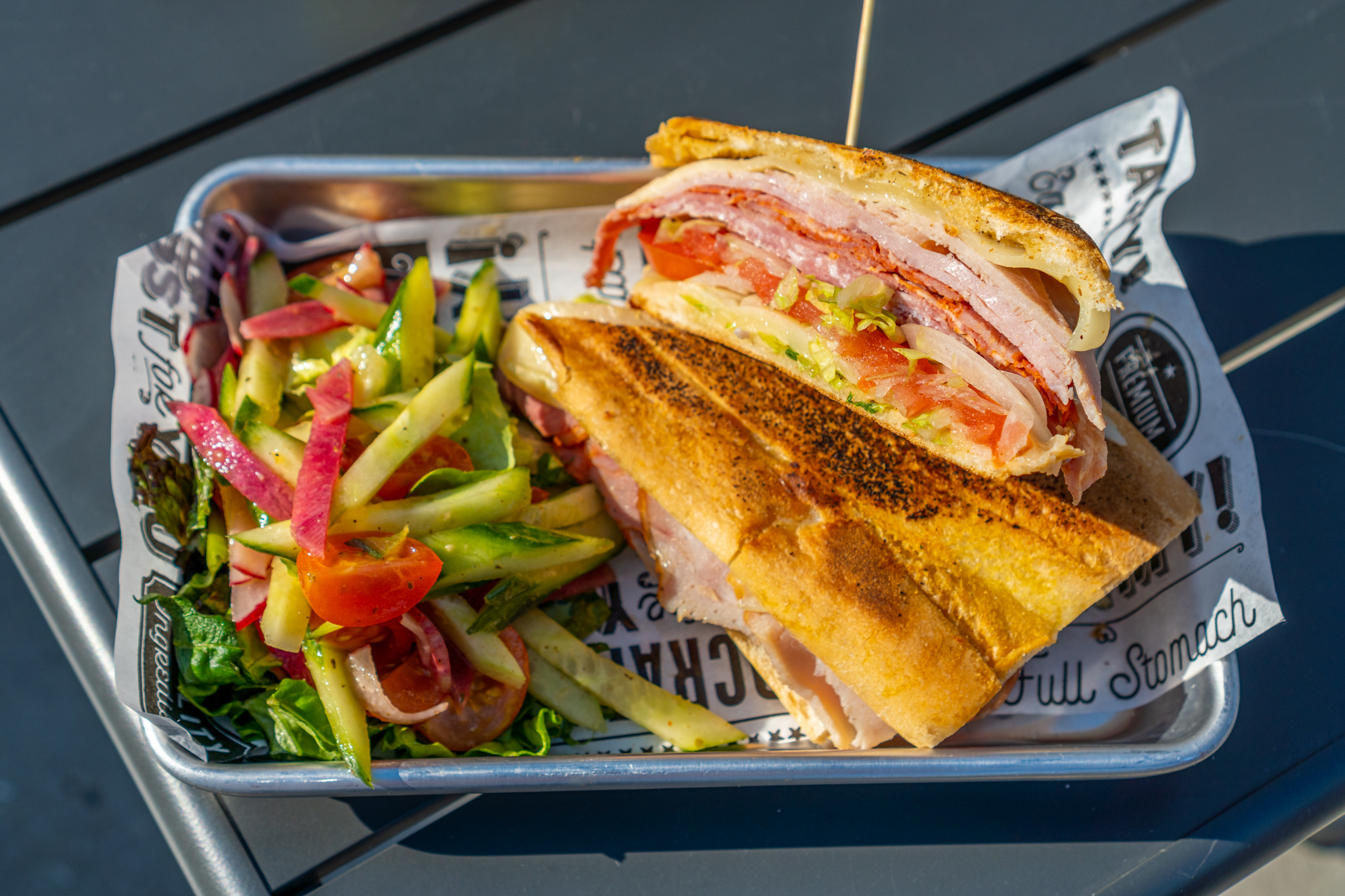 Salty's Sub features a range of meats tucked into garlic Cuban bread. Piled high, the Boars Head ham, salami, capicola and provolone cheese makes up most of the sandwich which is then topped with shaved lettuce, tomato, onion and a special sub sauce and then it is lightly pressed on the garlic Cuban bread. I swapped out the beloved chips for a cucumber and tomato salad, which was refreshing and even better as leftovers the next day.
If you're a big sandwich enthusiast, Salty's Sub is the one for you. You'll leave happy and very, very full.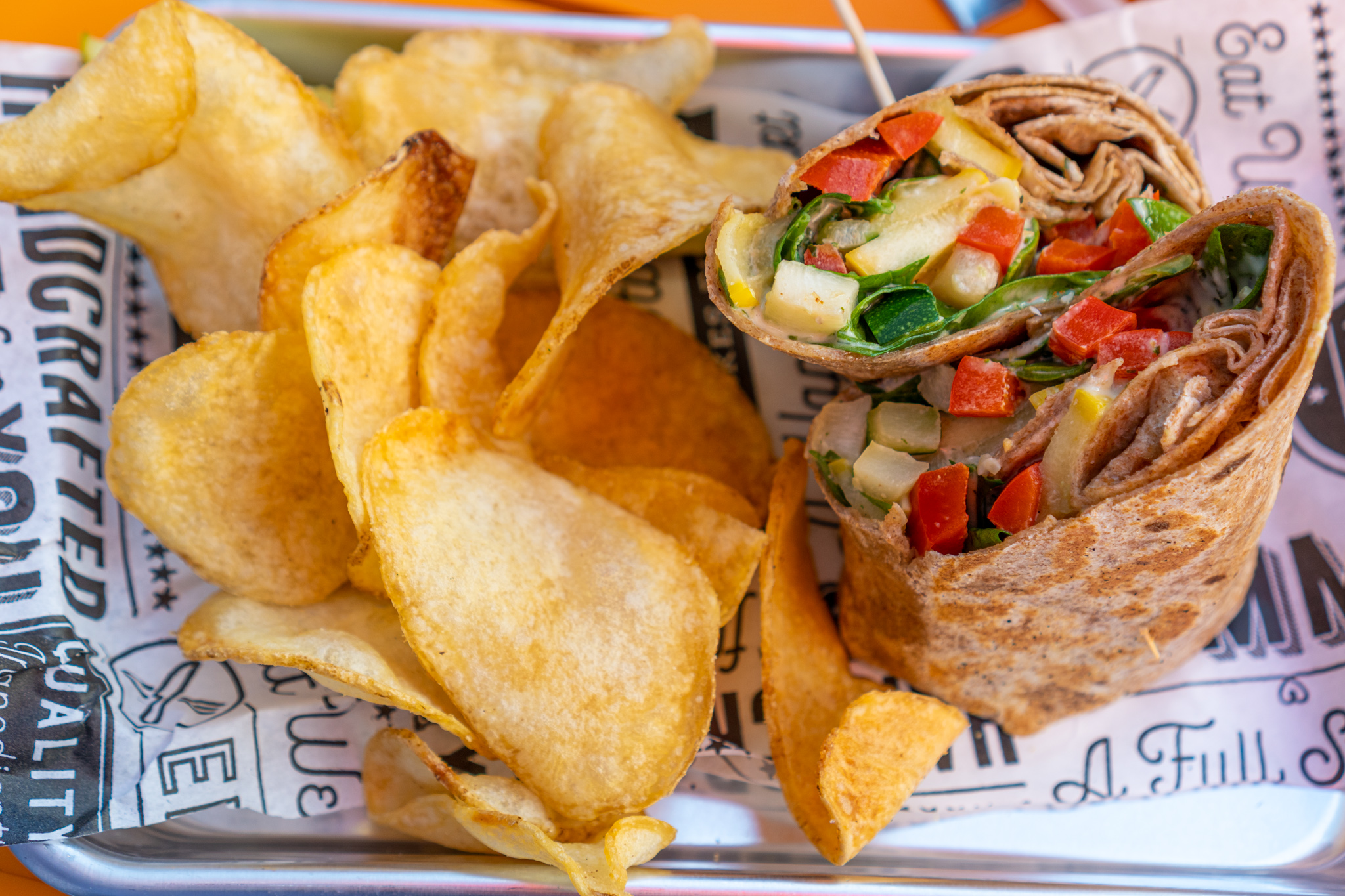 After indulging with the Salty's Sub, on my second visit I decided to cool off with the meat and go for something more earthy and The "Veg Head" was calling my name. Where are my veggie friends at? This one is for you.
The "Veg Head" comes with roasted mushrooms, zucchini, sweet onion, red pepper, spinach and artichokes with garlic pesto mayo. You have a choice between a wheat wrap, gluten-free wrap or a lettuce wrap. I went with the wheat wrap. This wrap reminded me of being back in my vegetarian days. The selected vegetables were tasty and served warm in the wrap, plus the garlic pesto mayo was the ideal sauce to pair here. I proudly ate the whole thing and was very full after, but in a good way.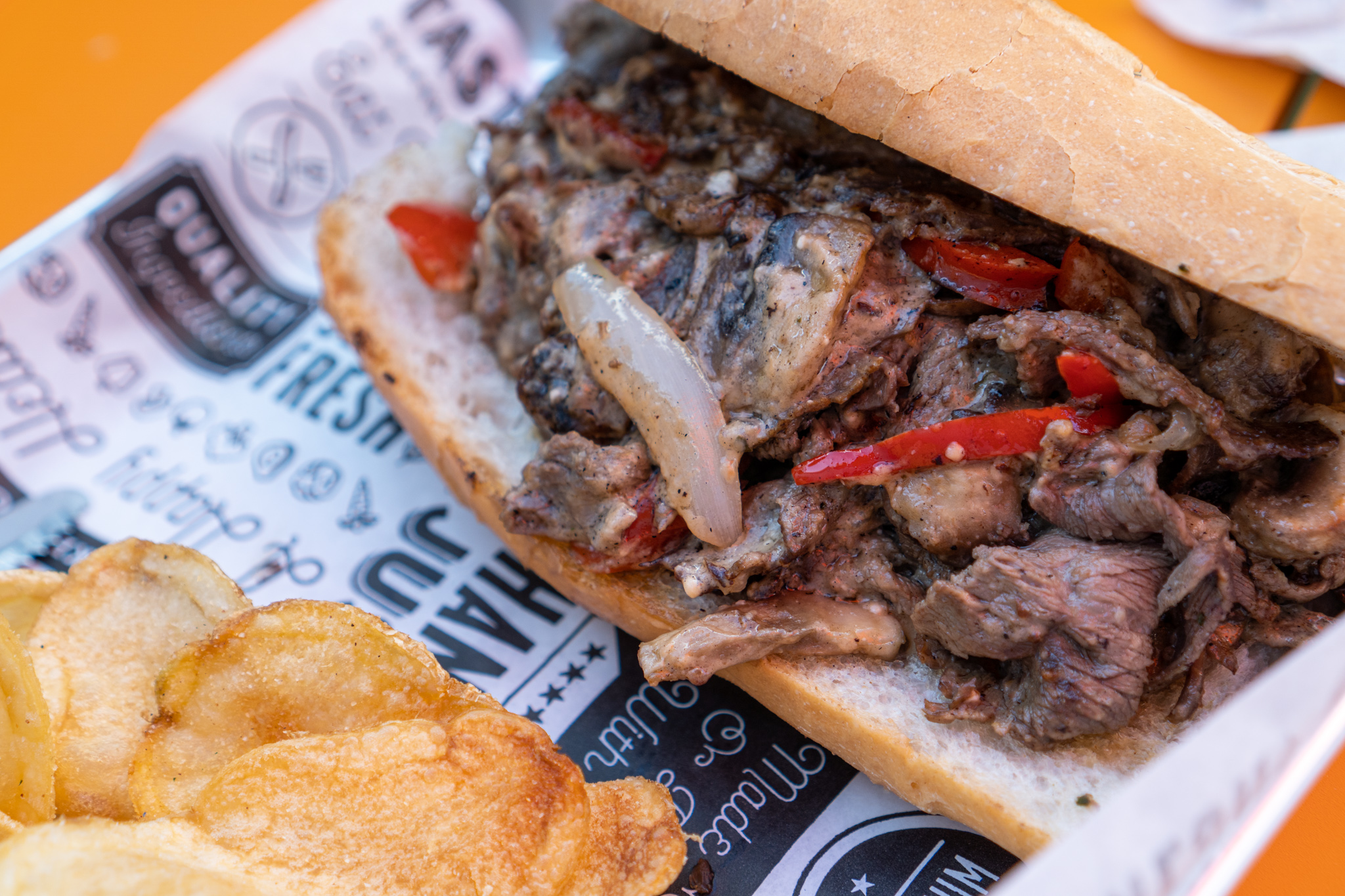 If you're a big Philly cheese steak fan, then you'll love the Philly "Beer" Cheese Steak sandwich with piled high roast beef, grilled sweet onions, peppers and mushrooms topped with Amber beer cheese. The roast beef was juicy and tender, tossed in with the vegetables for a good combo of flavors.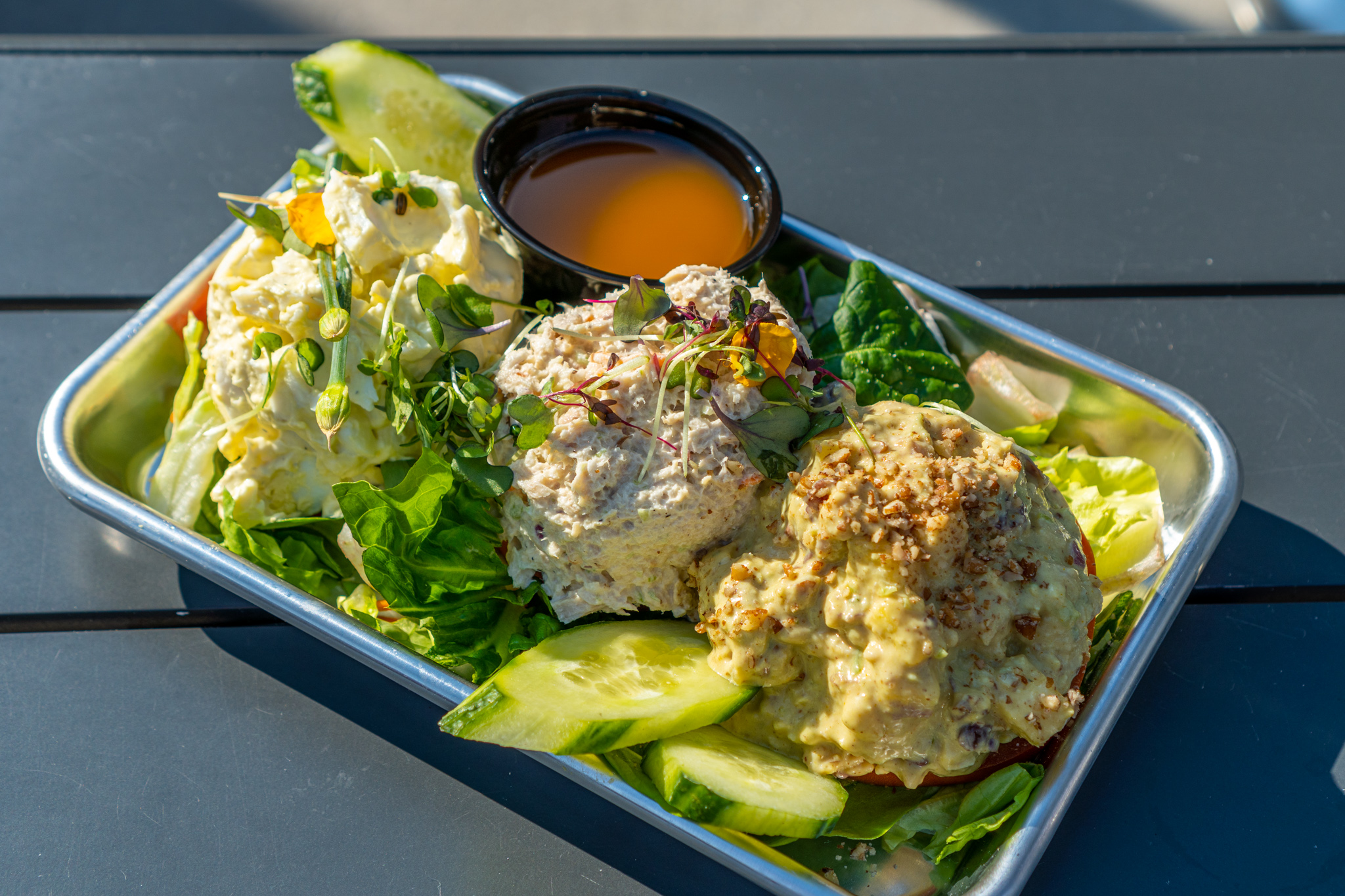 The Triple Crown Salad Plate was making Aunt Karen drool before it even arrived to the table. She loves, and I mean loves, all of these salads. The Triple Crown Salad Plate comes with their house made egg salad, tuna salad and chicken salad, served over greens and tomato slices. It usually comes with garlic Cuban crostini, but she swapped them out for cucumbers instead. She appreciated each bite and praised the flavors and textures of each. The chicken salad was the curry based one that I mentioned before, and it was so dreamy and fluffy. I can't wait to go back to try their other specialities.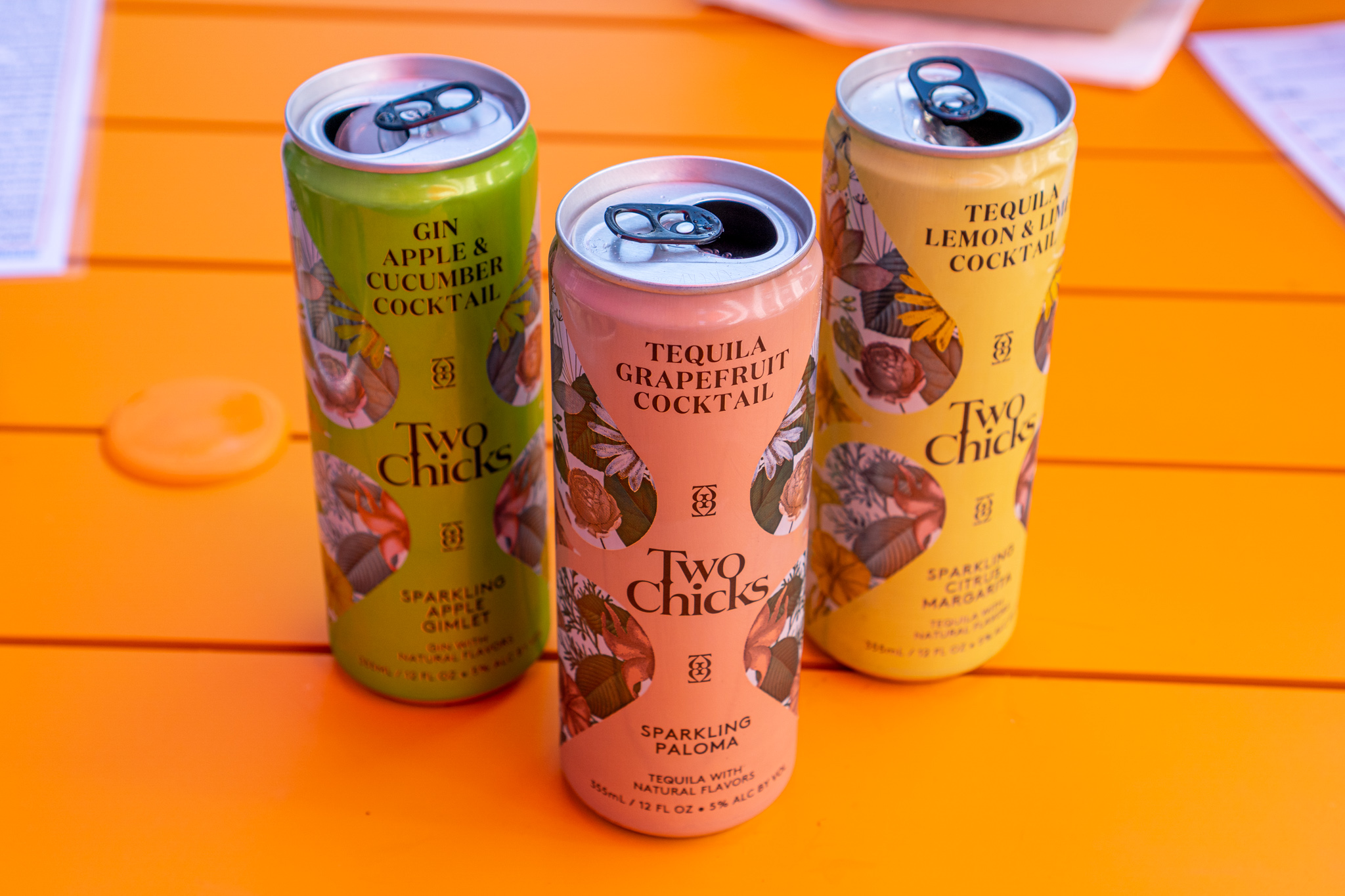 Am I late t0 the Two Chicks game, because these are life changing for day drinking? Two Chicks are sparkling canned cocktails, made with tequila, vodka, whiskey or gin. They're 5% alcohol, fruity and amazing. I'm in love with them, especially the Sparkling Paloma. Try one, or all, and thank me later.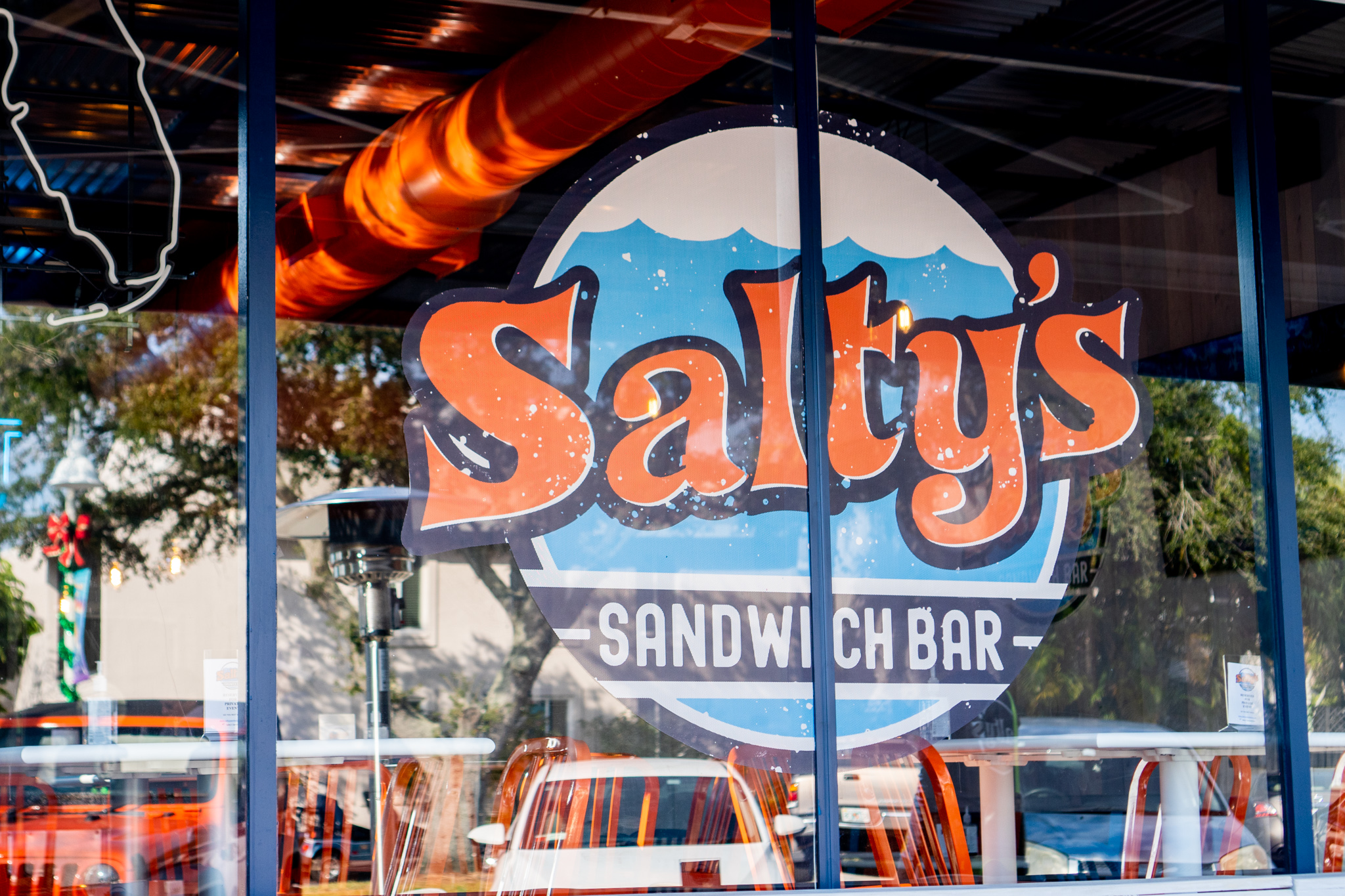 Salty's Sandwich Bar brings elevated sandwiches to Gulfport to fulfill our need for the perfect lunch spot. You really can't go wrong with anything on their menu as I was very excited to try something new each time. The overall quality of every dish was beyond my expectations. They definitely are not your average sandwich shop.
Gulfport's newest restaurant serving up awesome, fresh deli and specialty sandwiches, along many other house made items.
DISCLAIMER: Kevin, Lori, Abby, Haley, & Lindsey do not dine anonymously (this would be impossible) and we sometimes get free food (though never expected). However, we dine with the locals and we support our own. You will always get honesty in a respectful manner.

PLEASE NOTE: Reviews reflect a certain moment in time. Some restaurants stay extremely consistent over many years, and some change for the better or worse. Some things that may change are: chefs, recipes, food suppliers, ingredients, philosophies, ownership, etc. We always hope that you have the same good, or great experience we had.
More Foodies News, Reviews & Recipes
2 Responses