The Best Chef Who Never Wanted to Be a Chef: Part 2
The Best Chef Who Never Wanted to Be a Chef: Part 2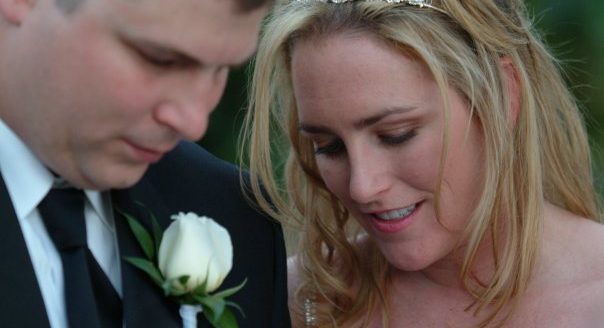 Part 2: Chef Ted Dorsey talks about his staff that is like his family, his actual family and the formation of The Mill.
We sat down with Chef Ted Dorsey of the award winning The Mill Restaurant to ask him some standard interview questions. What we got was so much more and it is all so interesting that I am going to divide this into two sections: The early years and Up to now.  The first thing he said to us was, "You know, I never really wanted to be a chef." This Part 2 piece goes into details about his career and family and what led to the opening of The Mill.
Anyone who has ever met Chef Ted, knows what a genuinely humble and kind person lies behind that Executive Chef's coat. Eating his food is like eating his heart (not literally) on a plate.  He and his kitchen staff, which he refers to as his second family, put their heart and soul into every item that comes out of that kitchen. Does that mean it's always perfect? Of course not. But they certainly strive for that.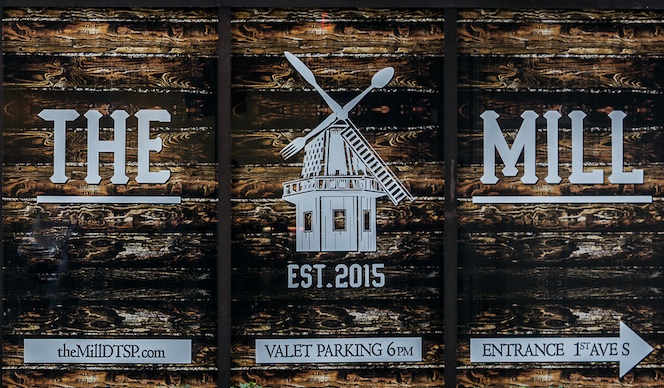 His Restaurant Family
Chef Ted has a very dedicated and loyal staff. It is almost unheard of to have seven guys that stay with and follow the same chef for over five years. Chef Ted does.  His Sous Chef, Zach West aka Wookie, helped him to open Boca, Samba Room, Copperfish, Castile and The Mill. They first met when Wookie was at Datz in Tampa and Chef Ted was hiring for Boca. Chef Ted gave him the nickname Wookie back then and it just stuck. He said, "He has always had long hair and a beard for as long as I have known him. I think he started growing it after he left the NFL. He used to play for the Patriots and the Browns. It's funny how a nickname can stick the way Wookie has!"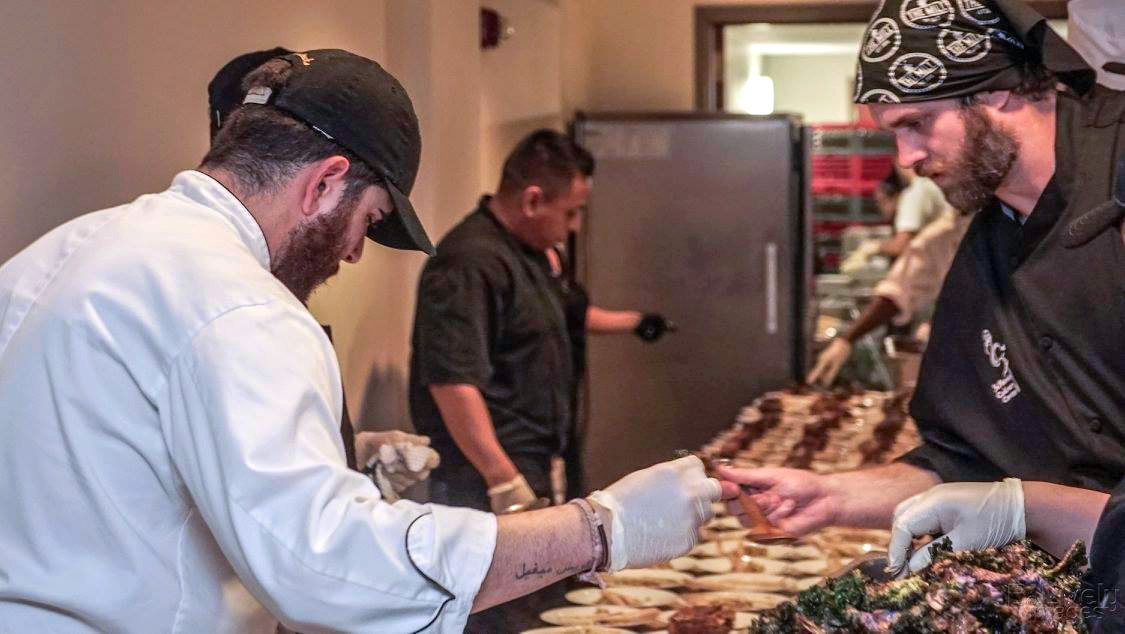 Also still with him are Richie, Tom, Murray, Mickey, and his two prep guys Roger and Fernando.
As Chef Ted says, "We take care of them. They make great salaries. They own equity in the business and, and that's why we have great product and we have a great time.  You know, they've all been…we've all been together a long time and we have the ability to rely on each other. I'm always a firm believer in the more minds you put on something the greater the outcome will be. And that's why all of my Sous-Chefs have a say on the menus and that gives them great pride and I want that for them."
I asked Chef Ted if he and the kitchen staff have a ritual that they do to break things up when stressful times occur or things break, etc. He said, "There's a bunch of them. But when people break glasses or stuff like that, we either yell "job opening" or "drug test". You know, one of my favorite things is our hashtag (#handsplease). That's my thing because throughout the course of an entire shift when I'm expediting I probably say "hands please" a couple of hundred times. Every time food comes up "hands please". So honestly there are a lot of interesting things said back there that I can't repeat."
He continues, "You ought to come back on a Saturday night and just watch.  It's a bit vulgar, a little racy, you know. I am a very, very serious Chef. I run a classical gate system.  It's like being in the military.  I expect my crew to call back.  So I call a "check", yell out an order fire: Meatloaf Wellington, Ribeye Pittsburgh Style, Pork Tomahawk medium, Diver Scallops, Fish and Grits.  Heard….  They all yell "heard chef" back to me."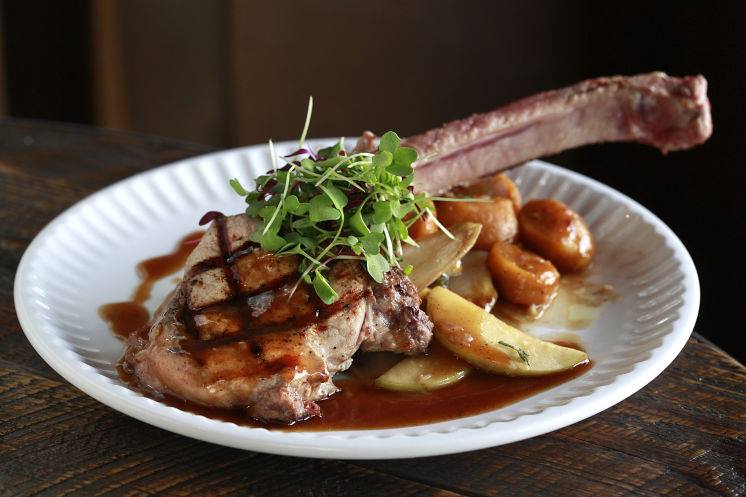 (Photo by Barry Lively)
Chef Ted says, "I make them work on verbals.  They have to communicate with me and they have to communicate with each other…"hot behind you", "knife on your left", you know what I mean…When you see cooks get bogged down, we call it "traveling with a death spin", because when a cook gets buried on their station, you know it holds everything up and it is hard to regain control. That's when I look at a sous-chef and tell him to get offline and help with that station.  We'll get him out of it and then you get back online."
He recognizes that he runs a very tough kitchen and says, " I'm very, very hard on my guys and I demand a lot out of them. But at the end of the day they know that after working for me for a couple of years that they can go anywhere and I'm also kind of like that big brother. We're a family. If you have a problem, as much as it drives me nuts, because I tell them all the time like dude I'm not Amscot, but like if you're in a jam I'm going to help you out. If you get arrested, call me. I'll come get you out. That kind of stuff. I'm always there for them. I mean I spend more time with these guys than I do my own family."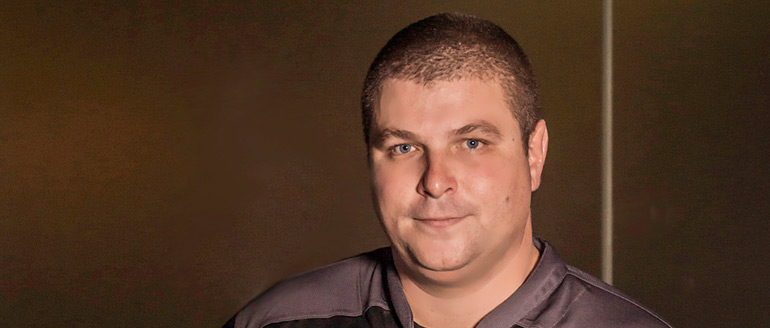 He continues, "And it's important to me to take care of them. I mean I'm not going to get into it, but I've had several restaurateurs and owners that have taken advantage of me over the years and I'm never going to put myself in a position to take advantage of one of my employees. It's not fair to them.  It's been done to me and I don't want to do that to other people. I just, I'm a nice guy.  I'm just trying to make a good living for my family and that's it."
Chef Ted's Family at Home
Chef Ted Dorsey and Lauren O'Donnell were married on November 29th, 2008. They just celebrated eight years of marriage and they have two beautiful children, Jackson who is three years old and Samantha who just turned eight weeks old.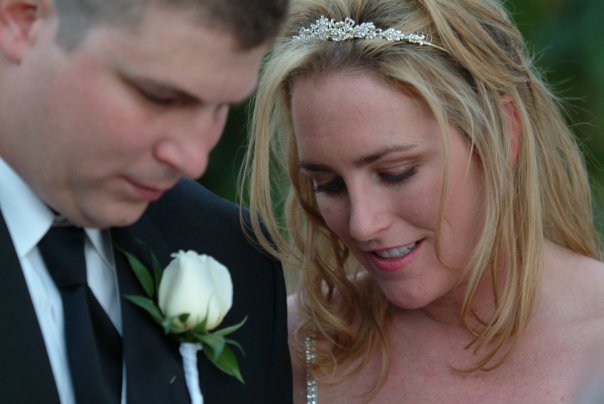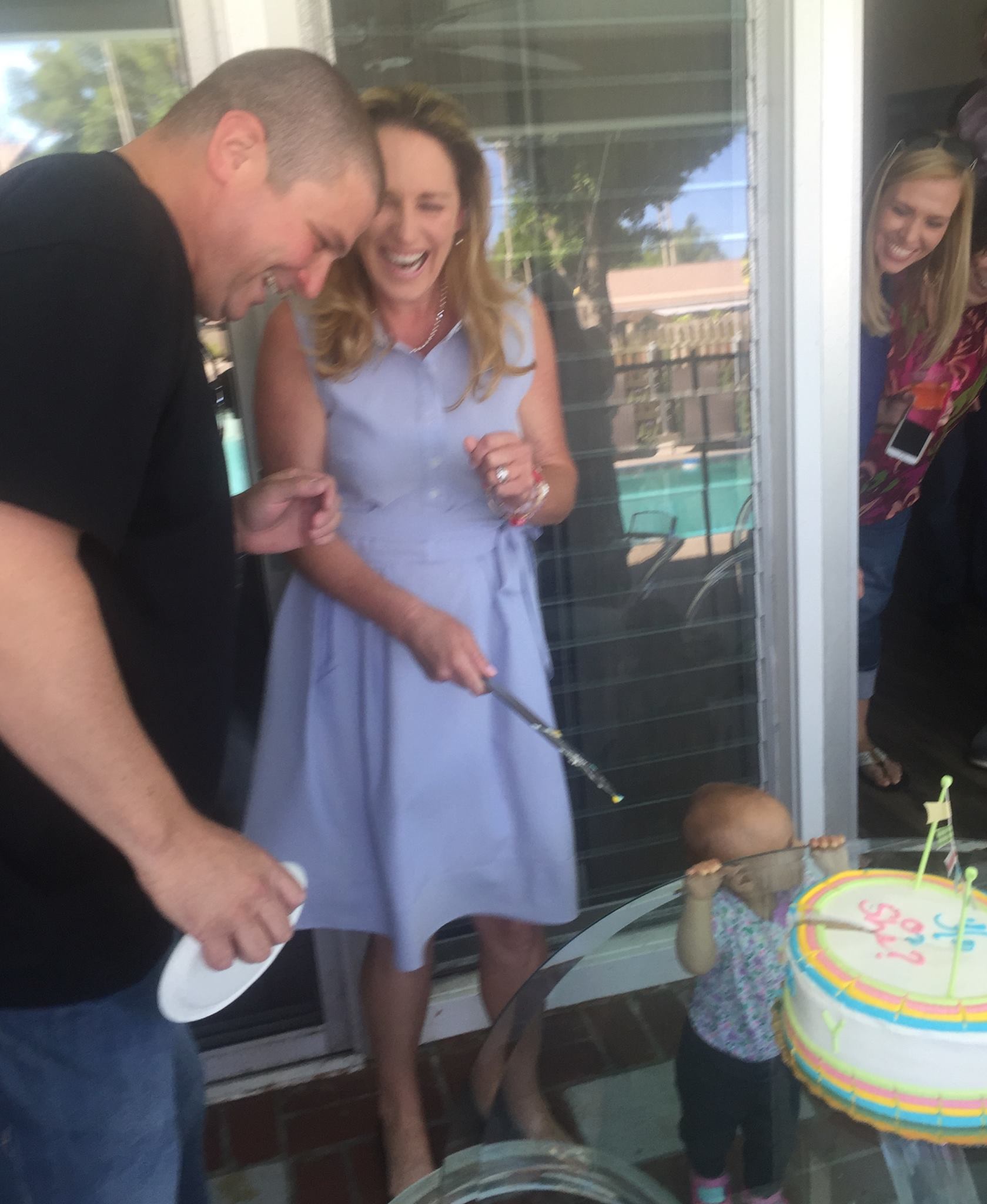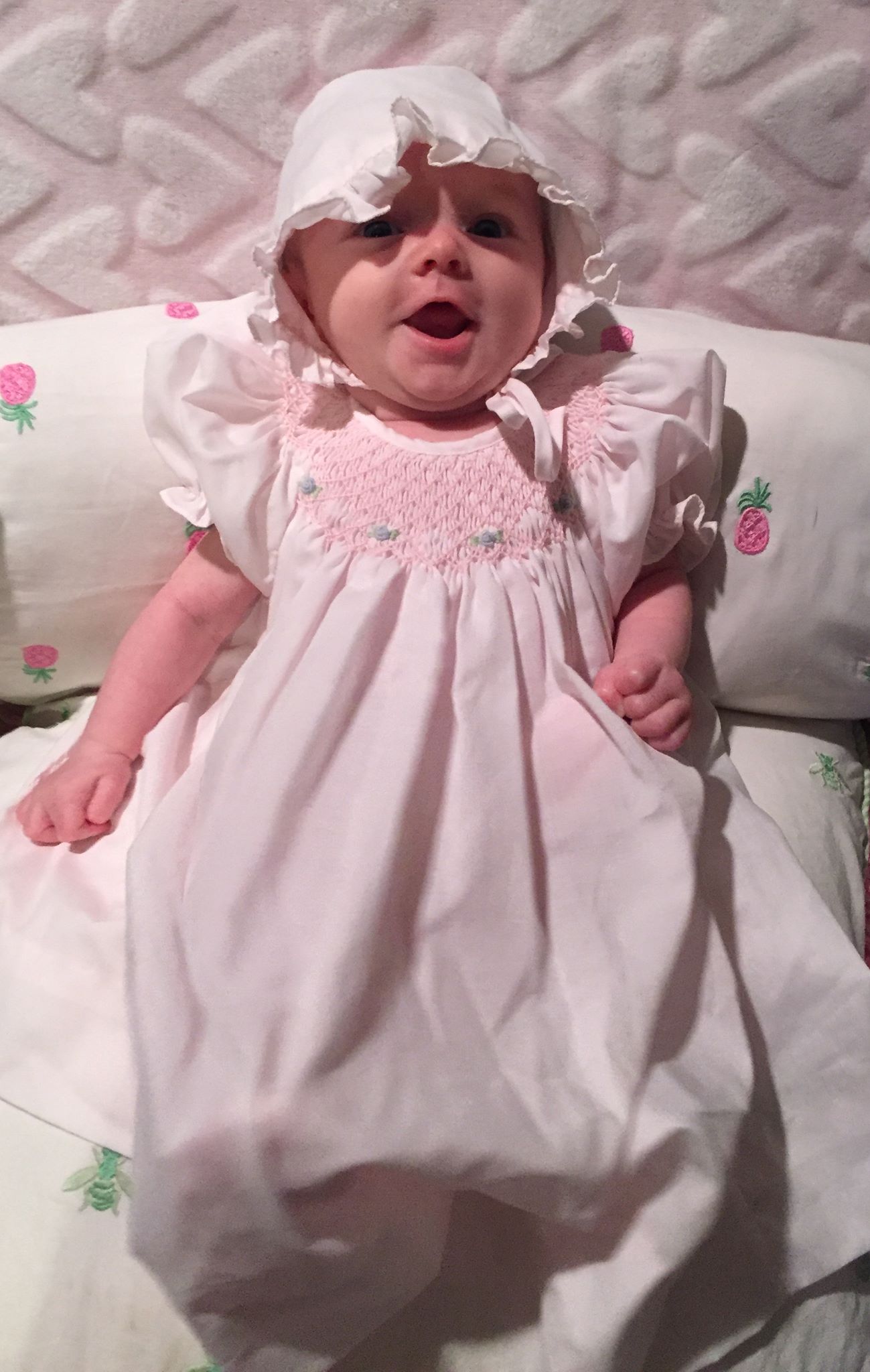 They met while Lauren was bartending at Mise en Place to pay her way through culinary school and Chef Ted was interning. I asked Chef what Lauren would say is her favorite meal that he cooks at home and he responded that she does all of the cooking and cleaning, "My wife is a chef. She didn't go to school to be a pastry chef.  She just is one. She went to culinary school and is a classically trained chef. It just kind of worked out that she's now our pastry chef."
On how happy he is to have his wife as their pastry chef, he continues, "Great pastry chefs are hard to find.  I've had some over the years that…well I had one guy who just had throat problems.  I had another one who was so emotional, no lie, you can't even make this stuff up.  I swear to God.  I wanted to do a reality TV show.  But then you could only sell it to like HBO or cable outlet because the shit that's said in the scene back there is unheard of."
He then tells this story, "One time my Executive Sous-Chef walked into the walk in, turned around and walked right back out. He looked at me and Wookie and said "you have go in the walk in."  I'm like, "why?"  And he said, "because you can't make this shit up."  I'm like, "what's up, Murray?"  And he goes, "Rebecca is in there literally crying over spilled milk.  She spilled the milk when she was pulling it and she's just standing there."  It's just like oh, my God.  I was wondering where that saying came from…Don't cry over spilled milk. But now I see somebody crying over spilled milk."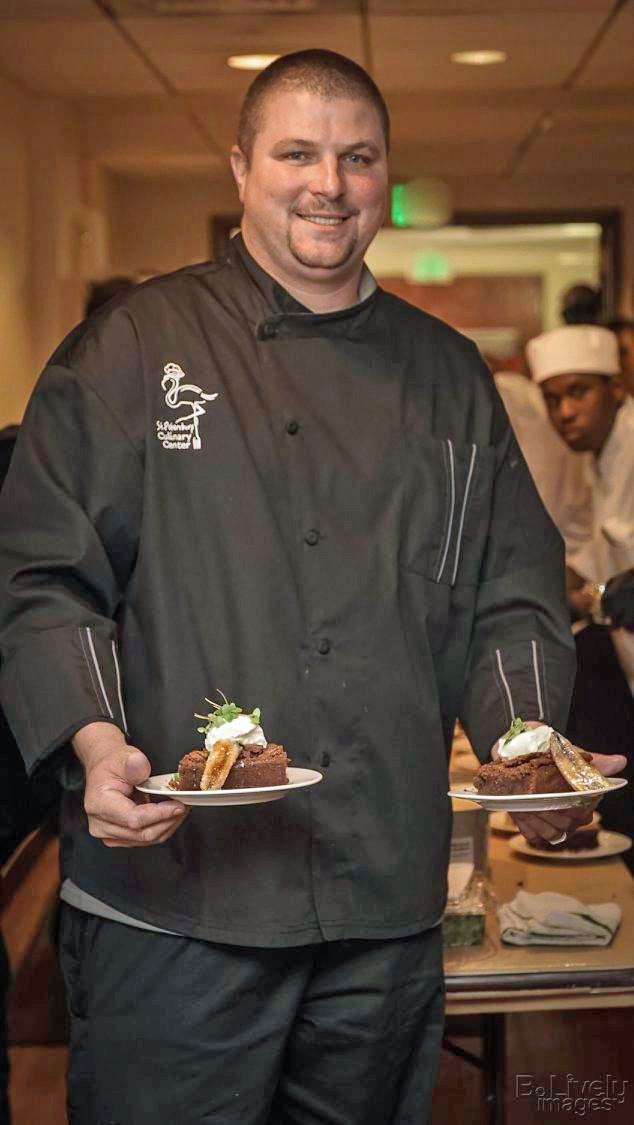 The Dorseys are animal lovers and have two cats and a Great Dane at home. In speaking about his dog he said, "When Lauren and I eat steak, the dog gets a steak.  If we eat burgers, he gets a burger. You know, he's 120 pounds. We adopted him. I don't think my wife's his biggest fan right now. There's a lot going on in the house with the newborn and all that stuff. But my son loves him to death and he's good with my kids. So that's all that matters."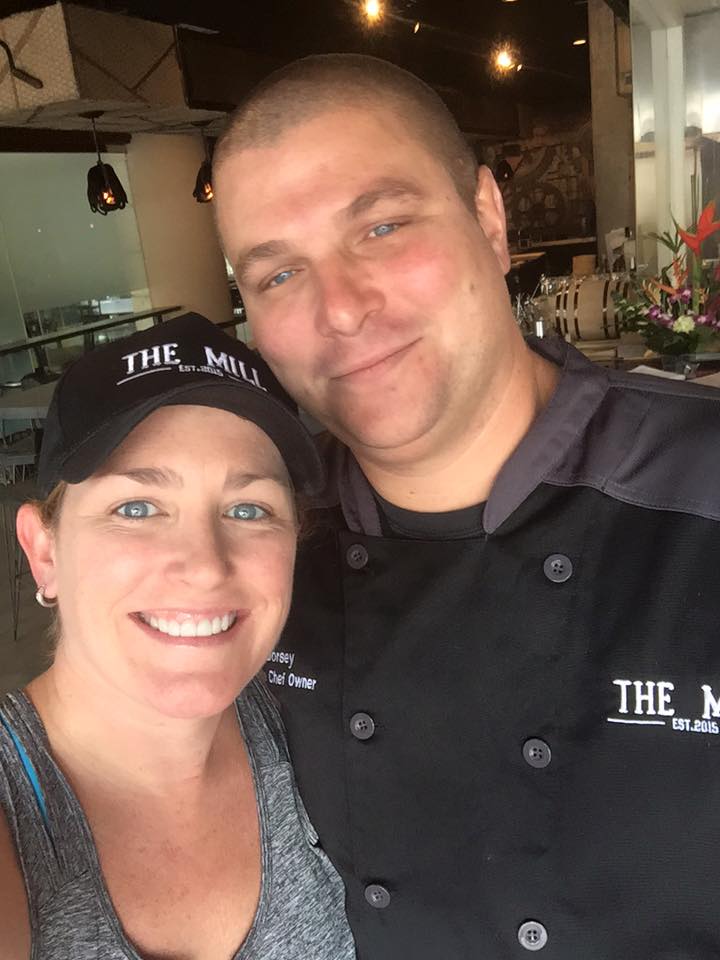 Chef Ted's thoughts on work and family: "I'm just trying to put out a great product and please my customers and provide for my family.  That's all. I think having kids makes you change your mind inside a little bit.  What was important before, may be not be so important now."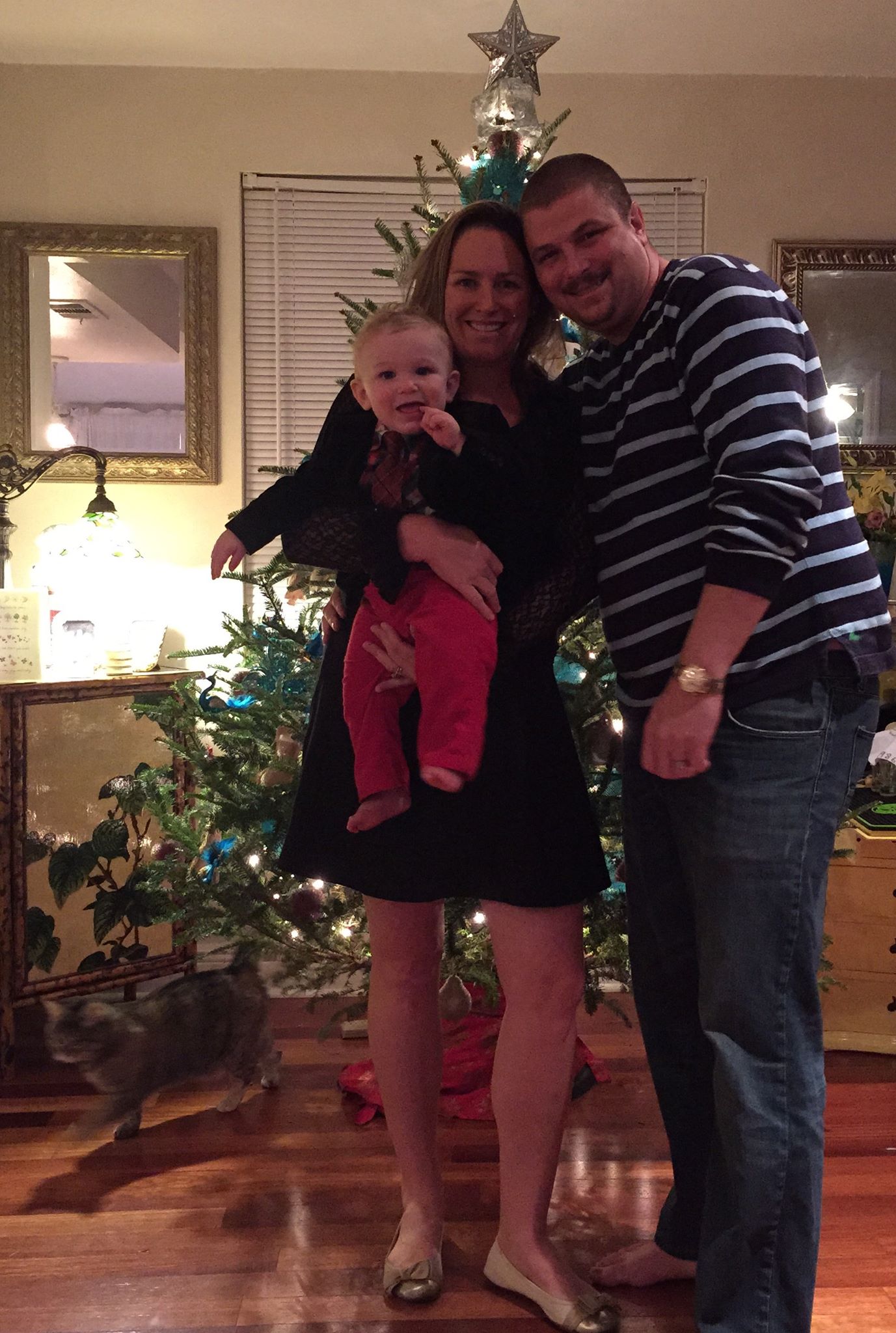 The Partnership Formation of D&G
Kevin and I knew Jason Griffin, Chef Ted's business partner at The Mill and D&G Holdings, for a year or so before the opening of the restaurant. At the time, he was bartender extraordinaire at The Cask and Ale. He always expressed to us his desire to open his own place and we watched him make that happen.
Not knowing how they met, I asked Ted. "I'd been looking for the "me" who could run the front of the house for a long time. And Jason had been looking for the "him" in the back. One of our servers, who currently still works for us, was working for me at Castile at the time. His dad asked me to meet him to look at a restaurant space on Central and give him my opinion of what I thought and if it would be a viable thing.  Thinking about it now, I think they were going to try to hire me and steal me from Castile and so I showed up and it was the old St Pete. Brasserie space."
He continues, "If you guys remember the old space, when you would go through the kitchen, it's a giant U because it goes around those offices. I was walking through one way and Jason's coming through the other way. I guess they asked him to come down and give them his opinion too. And I'm looking around thinking this is not going to work out. You'd have to chop it in half and split the two spaces (which is what ended up happening to form Brick & Mortar and Tony's Pizza).  This is just logistically a nightmare.  If I'm yelling for hands and there's a table out there, it's just…  And then Jason's coming the other direction saying "this is just not going to work.  This is ridiculous".  And so I said, "hey man how's it going?  What's your name?"  "Jason Griffin." "I'm Ted Dorsey."  So we exchanged cards.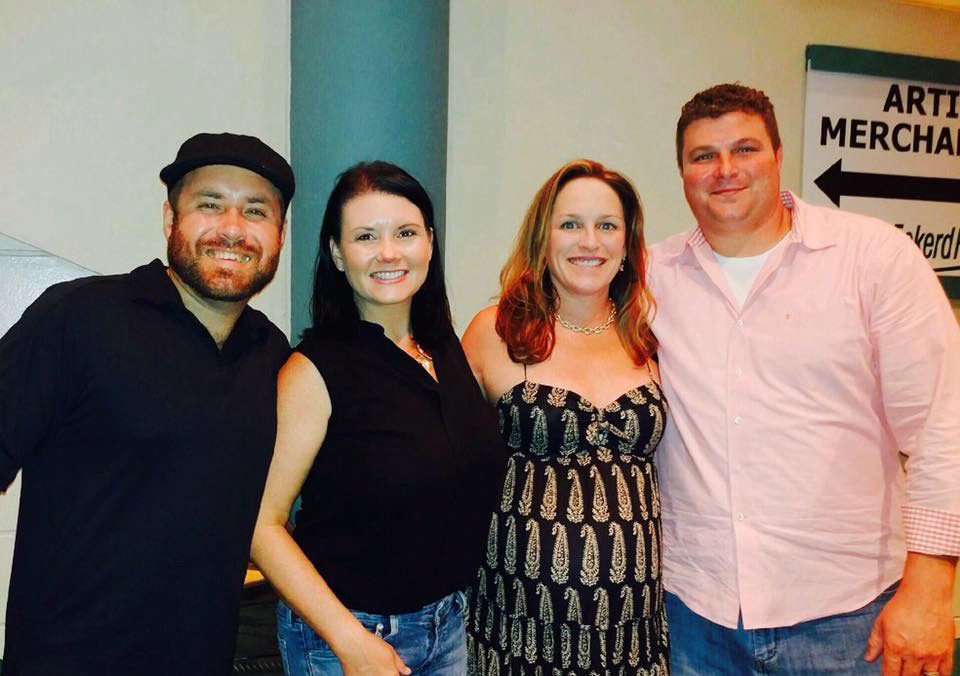 This all happened two and a half years ago. After that first meeting they talked a few times. Jason went to Castile for dinner a few times and Chef Ted went to see Jason at Cask & Ale a couple of times. He said, "I'd never even been to Cask & Ale until I met him. I moved over here having a young child so I don't go out. My bar scene around here is pretty limited.  I know a lot of chefs are famous or infamous with the bars around here. I, unfortunately, don't indulge in the bars as much as I'd like to probably."
He continues, "So Jason and I started talking about opening a restaurant and so we finally just decided to go for it and we formed our holding company D&G. I know it's really creative…Dorsey and Griffin Holdings."
The Making of The Mill
Once they formed their partnership they went full steam ahead. Says Chef Ted, "So we started looking for property and we came upon JoJo's and started peeking in the windows. "What, what is this?" Next, we went to the Contreras, the former owner's of JoJo's, and met with them and they showed us the property. Albeit, it was setup completely wrong but we came in and toured it anyway. I looked at Jason and said "this is the place!" And that was that."
He continues, "There was just something about the space with the energy that was across the street and knowing that all the people across the street thought this side will never work. It will never work on that side of Central and we really just wanted to prove everybody wrong. It was just such a unique space and it was the exact amount of square footage that we wanted. We wanted around 4,000 square feet…so we brazenly and brashly as possible secured $50,000 for the deposit."
And so the stressful time began, "It was the most stressful probably four months of my life.  And I've opened a lot of restaurants…So Jason and I went on the hunt. Between the two of us we know a lot of influential, big money people, so to speak. Fortunately enough, we found a group of guys that worked out to be great silent partners and let us do our thing and The Mill was born."
With the money raised, the concept is now born, "The Mill is just kind of the concept I always wanted to do. My favorite concept that I ever opened was Boca because I'm a southerner and I enjoy infusing my southern heritage and what I learned from my grandmother, and all that stuff with growing up in the South, with my classical training. So that's why you do see some French undertones and because of my classical training, I'm a firm believer in every dish for an entrée has to have a starch, a vegetable, a protein and a sauce…otherwise it's an incomplete dish."

He continues, "For the concept we knew what we wanted. We knew we wanted very rustic, chic, industrial. The name, the name kind of came later. I've got about 120 or so restaurant concept names in my phone. Just things that I'd like to see or I'd like to do and we were just rattling…well, I was just rattling off names and out it came…The Mill, that's the one.  The biggest thing for Jason and I was that we wanted to create a restaurant that was for locals by locals. So we hired local artists, we allowed them to do really what they wanted based on our concept. We wanted…well we're Tampa Bay guys.  Both of us were born in Tampa or raised in Tampa so we just wanted to do something unique and really kind of push the boundaries for St. Pete."
The Evolution of the Menu
The Mill changes their menu with the seasons and they have learned along the way that there are some things your clients never want you to change, "The Mill was just, I think the reason I love it is because it allows us to do really whatever we want with food and if it works, it works and if it doesn't, you don't have to run it. But it allows us to test. And you know when we first opened I had the Naughty Bits on the menu which is a dish I would eat any day of the week…but Sweet Breads just didn't move in this market.
He continues, "And the Watermelon Bruschetta. The Watermelon Bruschetta is an anomaly. It's toast. And it's our best selling dish. It's probably our most notorious dish. We took it off the menu last fall and we put on a Squash Bruschetta and the city revolted. The reason that I changed it was because I heard another restaurant was running a Watermelon Bruschetta and I thought, "well look it's fall. It doesn't have to stay on the menu. We'll bring it back in the spring." I'll never take it off the menu again. It's just going to stay on there. I mean everybody was so mad. I mean, so mad. That and the Walnut Pie. I've never seen anything like that." Other menu staples that will remain are the Sweet Pea Hummus, the Meatloaf Wellington and The Mill Burger…one of my favorites!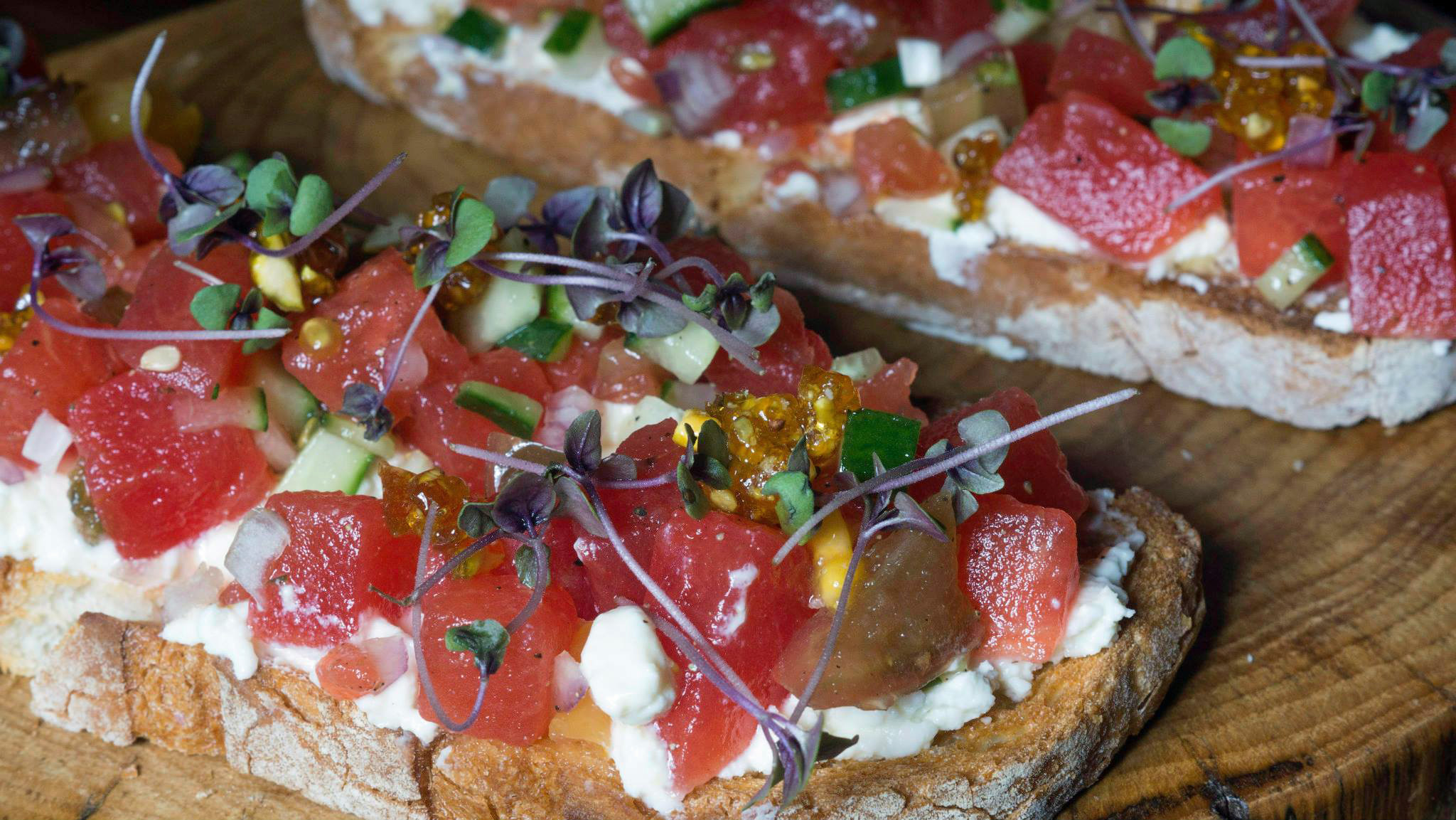 (Photo by Barry Lively)
As we were sitting there, Chef Ted pointed at the bar and said, "The guy sitting right here at the bar with the red shirt is my new beverage director. Bob was my beverage director in Tampa. He opened Samba Room, Boca and Copperfish with me before he moved out to go to New York to open a couple of spots up there and now he's back…Bob is a guy who believes in training and building teams, so we had to bring somebody in like Bob to help guide the bar team and train them properly. Ryan Pinés, when he was here had a passion that Bob has. We have got to get that passion back. That was one of the things that Pinés was great at. He was very passionate. "Hey, chef try this. What do you think about this?  What do you think about this?  What do you think?"  You know, we have got to get a little bit more of that back now. So you're going to see a resurgence in our cocktail program that I'm excited about."
Fun Interview Questions – The Extras
Lori Brown: "Most restaurant owners tend to hate Yelp, Trip Advisor, etc. What would you change about the process if you could and what are your thoughts?"
Chef Ted: "I would like the ability to contact them directly or to reply directly to them and have an open forum.  Because I'm not an egotistical chef and I'm not a…. I don't have a lot of time in my life for all the crap of social media, the hatred, the anger all the BS that goes on online. For me I read them every morning and I believe there's some good and there's some bad. You have to listen especially if there are some things that maybe we messed up on, maybe the service was off, maybe the food was undercooked or overcooked. That's stuff that we need to know because if we don't know we can't fix it. But the fact that people will go on and just rudely bash a place because they felt this was done and that and it wasn't comped. Well, you didn't say anything either…So for me I don't really care for Yelp or Trip Advisor. But I believe that there are some good and bad and you have to at least look and try to make adjustments when and where you can."
Lori: "So what is your guilty food pleasure?"
Chef: "It's amazing because I am currently In the process of losing weight.  I am overweight still. I haven't had fast food or any of that kind of stuff. I haven't eat any of that stuff for 10 years. So my guilty food pleasure is like cheese boards and that kind of stuff. However, I love Reese's Peanut Butter Cups out of the freezer. I can crush those. They are the best coming out of the freezer. Just ice cold. Oh, my God! I always put my chocolate and stuff in the freezer. Now I'm going to have to go buy Reese's peanut butter cups."
Lori: "Oh, no, I'm sorry.  So if you can tell me…You named a lot of chefs that were a big inspiration to you. Who do you think was the biggest inspiration?
Chef: "It's Marty Blitz – owner of Mise en Place – where I started my career. Marty is the father of cuisine in Tampa Bay. Marty has had more executive chefs come out from under him…Ferrell Alvarez of The Rooster and The Till, himself. It's a long list of executive chefs. I've had a few come out from underneath me and I'm extremely proud about that, but if it wasn't for Marty…If Marty believes in you and takes a chance on you then…you're in. You can learn a lot from that guy.  He's talented."
Lori: "How would you compare your home kitchen to your kitchen here?"
Chef:"The biggest thing is that here I have people who do my dishes."
Lori: "Are there any foods/spices that you dislike?"
Chef: "I can cook the hell out of them but I do not care for avocado and lobster."
Lori: "Do you have a gourmet take on a PB&J, Tuna Fish or Bologna sandwich?"
Chef: "I do. But you don't have to look far to get a good PB&J in this town. Pom Pom's Colossal PB&J is the bomb and tell them to add bacon. But yeah, I do have plays on some stuff like that. Like our newest dessert here is a pound cake grilled cheese. And this was Richey's idea and I did a ton of research. Nobody's ever done a dessert grilled cheese before. So we make the pound cake, cut it in half, cut it into squares so that it looks like bread, flipped it over and added white chocolate ganache on one side, cranberries filled with cheese on the other, melt it and then put it together. Mixed with the sauces…it's mind-blowingly good. Mind-blowingly! I know that's insane but…"
Lori: "What's the worst meal that you remember ever having?"
Chef: "Let me pick a place that's not around here.  I was in culinary school in Orlando and I wanted to try one of Emeril's restaurants but I knew I didn't want to go to one on City Walk because it's just….I decided I was going to try Tchoup Chop. When you make your reservation they take your credit card number and if you don't show up it's a $250 charge and so I knew I was going go. I grabbed a date and we went and it was so bad. My bill was $500, and I was in culinary school at the time, but I knew I could have cooked a better meal than that myself. It was a veal osso bucco and it just wasn't done right – tough and not glazed properly. It should have been rich and succulent. It was just awful. I'll pay top dollar for an amazing meal."
Lori: "So what was your most memorable meal?"
Chef: "You know, I wouldn't say that it's a meal. I would say that it was a dish that I can't get out of my head. There's a bar in Manhattan called Employees Only. I'm sure you've heard of it. They have these bone marrow poppers. They are just so damn rich and succulent. It is amazing! You know, I haven't had a lot of great meals though."
Lori: "That's the one that sticks out in your head?"
Chef: "Just that taste or there's just something about it. Casa De Angelo in South Florida.  Probably one of the most memorable dining experiences. I mean just a great all around experience from the service to the wine to the meal itself."
THANK YOU, CHEF TED FOR THIS AMAZING INSIGHT INTO YOUR WORLD!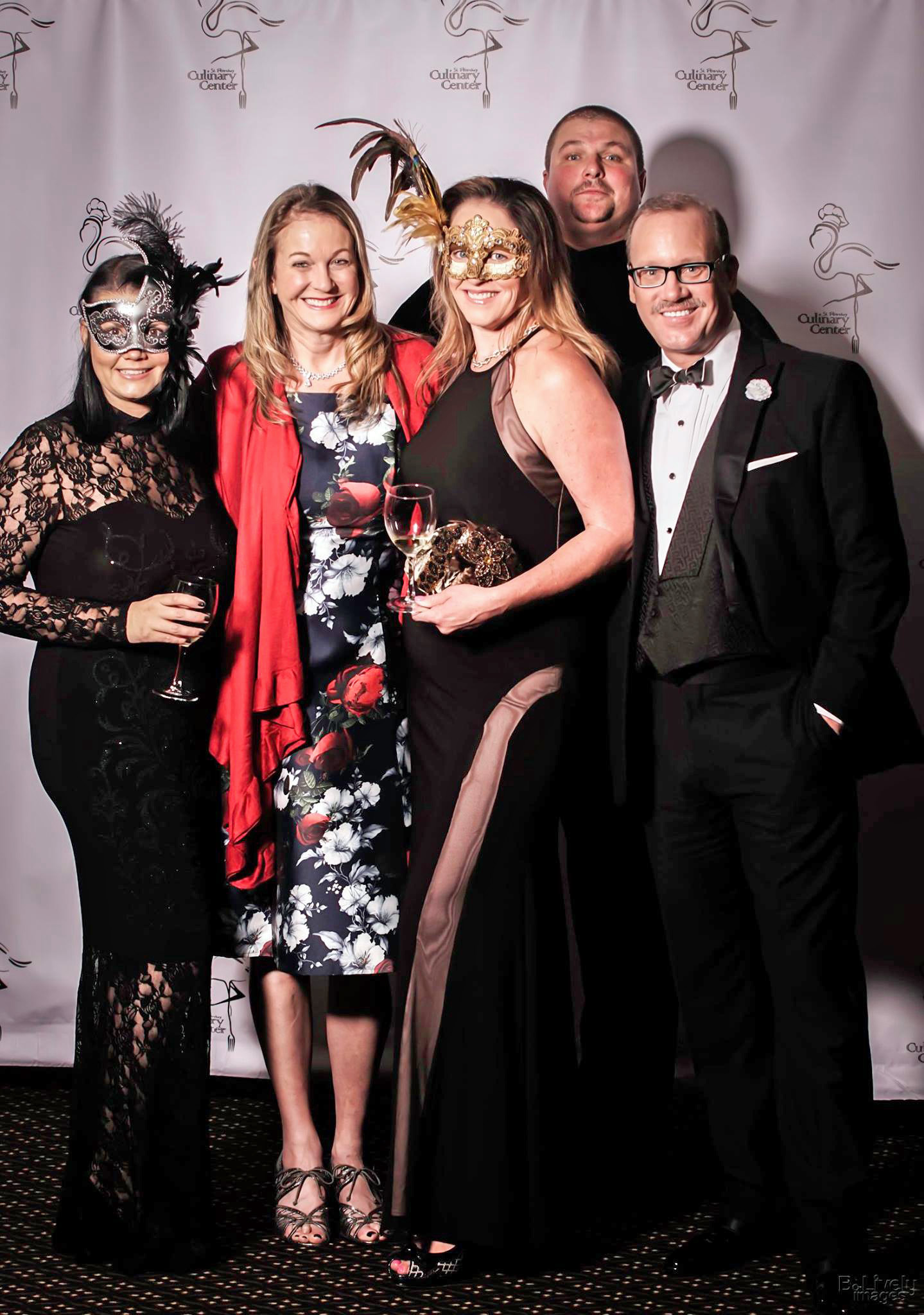 (Photo by Barry Lively)
The Mill Restaurant in Downtown St. Pete - Rustic American with a Southern touch and a French Creole twist.
DISCLAIMER: Kevin, Lori, Abby, Haley, & Lindsey do not dine anonymously (this would be impossible) and we sometimes get free food (though never expected). However, we dine with the locals and we support our own. You will always get honesty in a respectful manner. We do not include any large national or regional chains in our ratings and reviews. We focus on independent locally owned eateries exclusively.

PLEASE NOTE: Reviews reflect a certain moment in time. Some restaurants stay extremely consistent over many years, and some change for the better or worse. Some things that may change are: chefs, recipes, food suppliers, ingredients, philosophies, ownership, etc. We always hope that you have the same good, or great experience we had.
More Foodies News, Reviews & Recipes
2 Responses