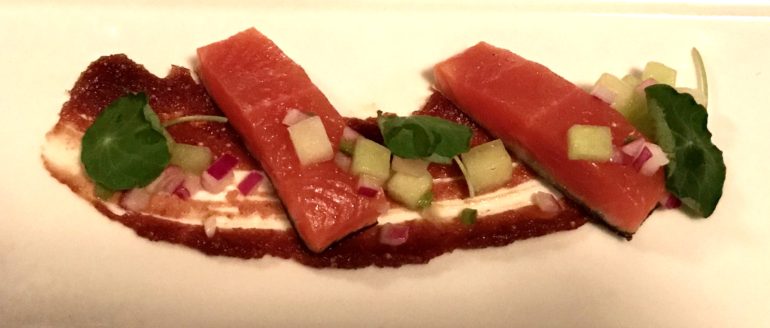 What an amazing dinner we attended on October 28th at Parkshore Grill prepared by Chef Tyson Grant and his staff. In September we wrote an article about the process that Chef Tyson calls the breakdown. This is the process of tasting the wines and then coming up with the food that will pair just right with each glass for each course. We were honored to be invited to be a part of the breakdown and then to be able to taste the culmination of our efforts at this dinner was truly awesome!
Read the original article here.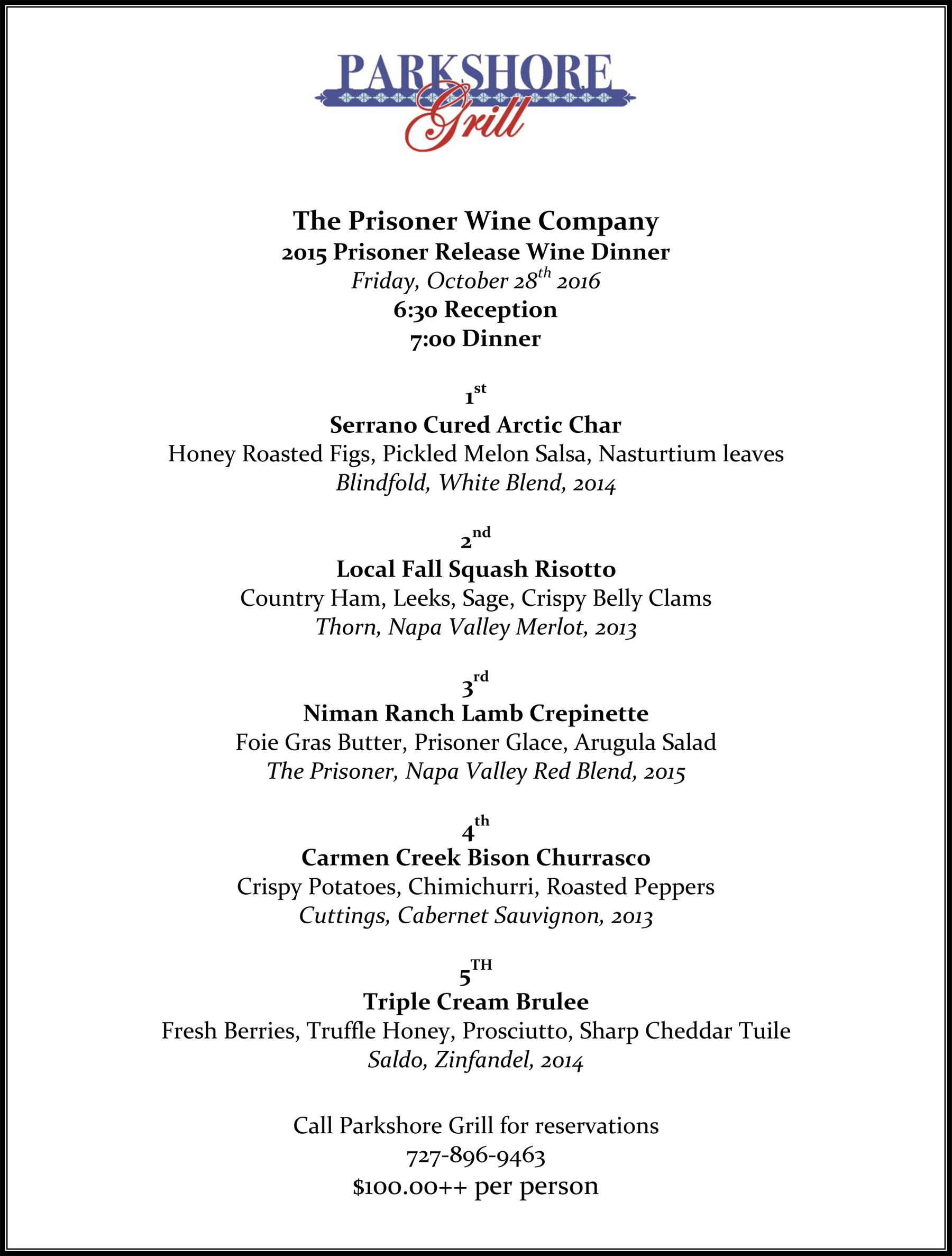 The evening started with a reception outside with a sampling of Blindfold, White Blend, 2014 which was to accompany our first course. Once inside we were seated and served our first course of Serrano Cured Arctic Char, the figs and melon salsa mixed with the saltiness of the Serrano and highlighted the bright, clean and crisp flavors of this fantastic white wine blend. The textures all went together perfectly as well.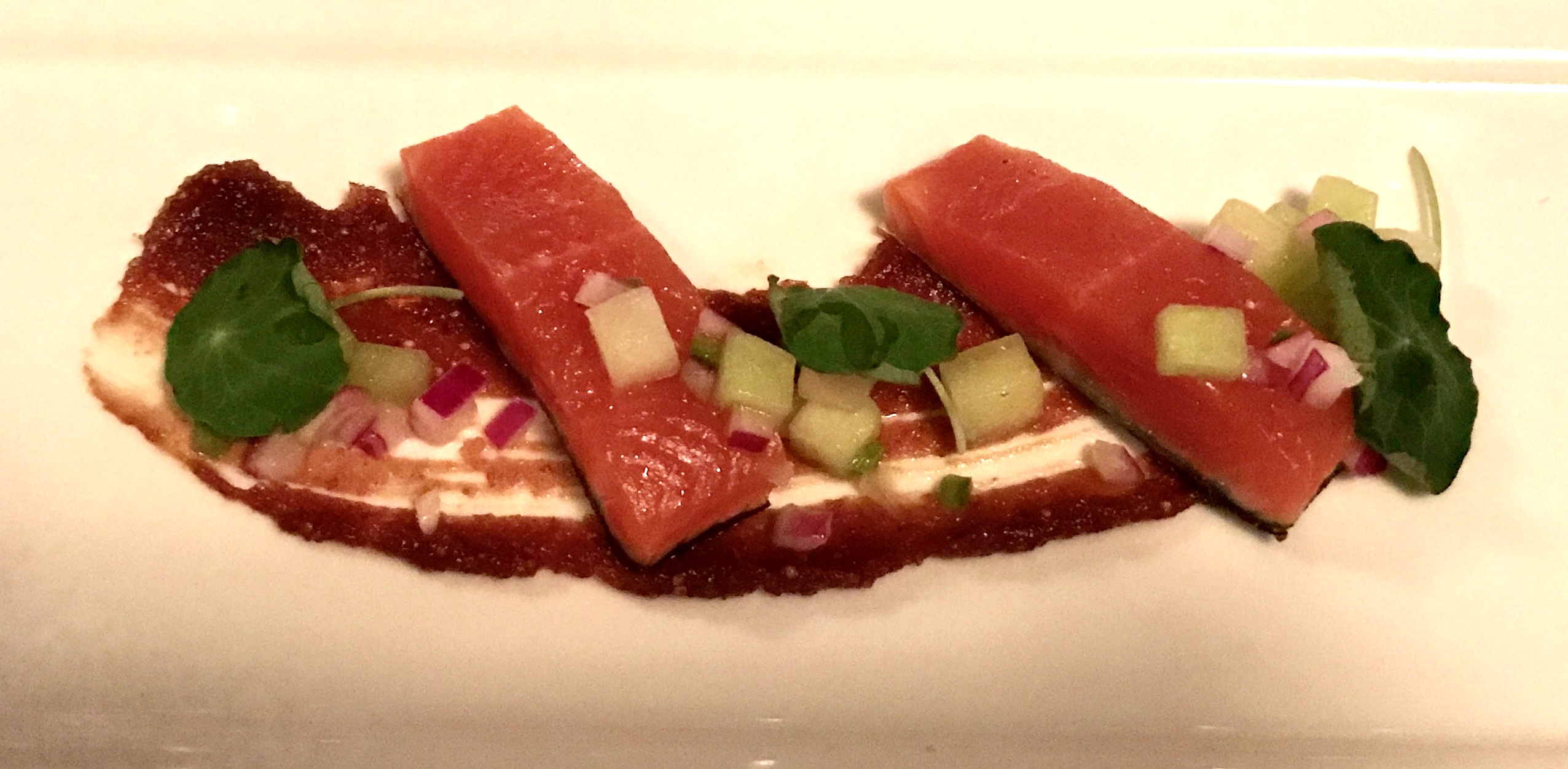 Our second course, the Local Fall Squash Risotto, was savory, creamy and oh so tasty. Perfectly paired with one of the best Merlot's I have had Thorn, Napa Valley Merlot, 2013.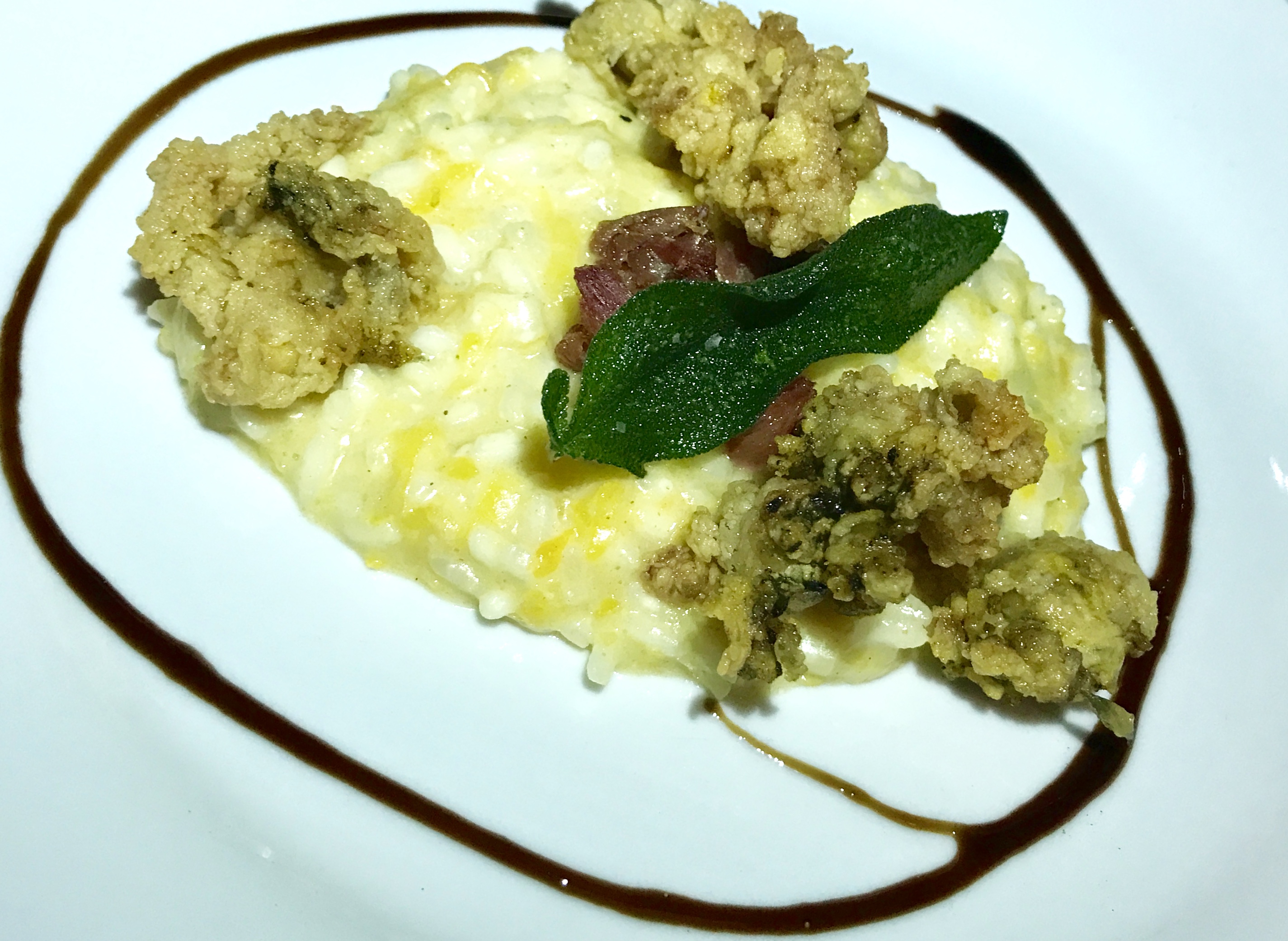 Next came my favorite of the night, the Niman Ranch Lamb Crepinette. Seasoned and cooked to perfection and served with a Foie Gras butter and Prisoner Glace…and of course paired with the incomparable The Prisoner, Napa Valley Red Blend, 2015. Just heavenly!!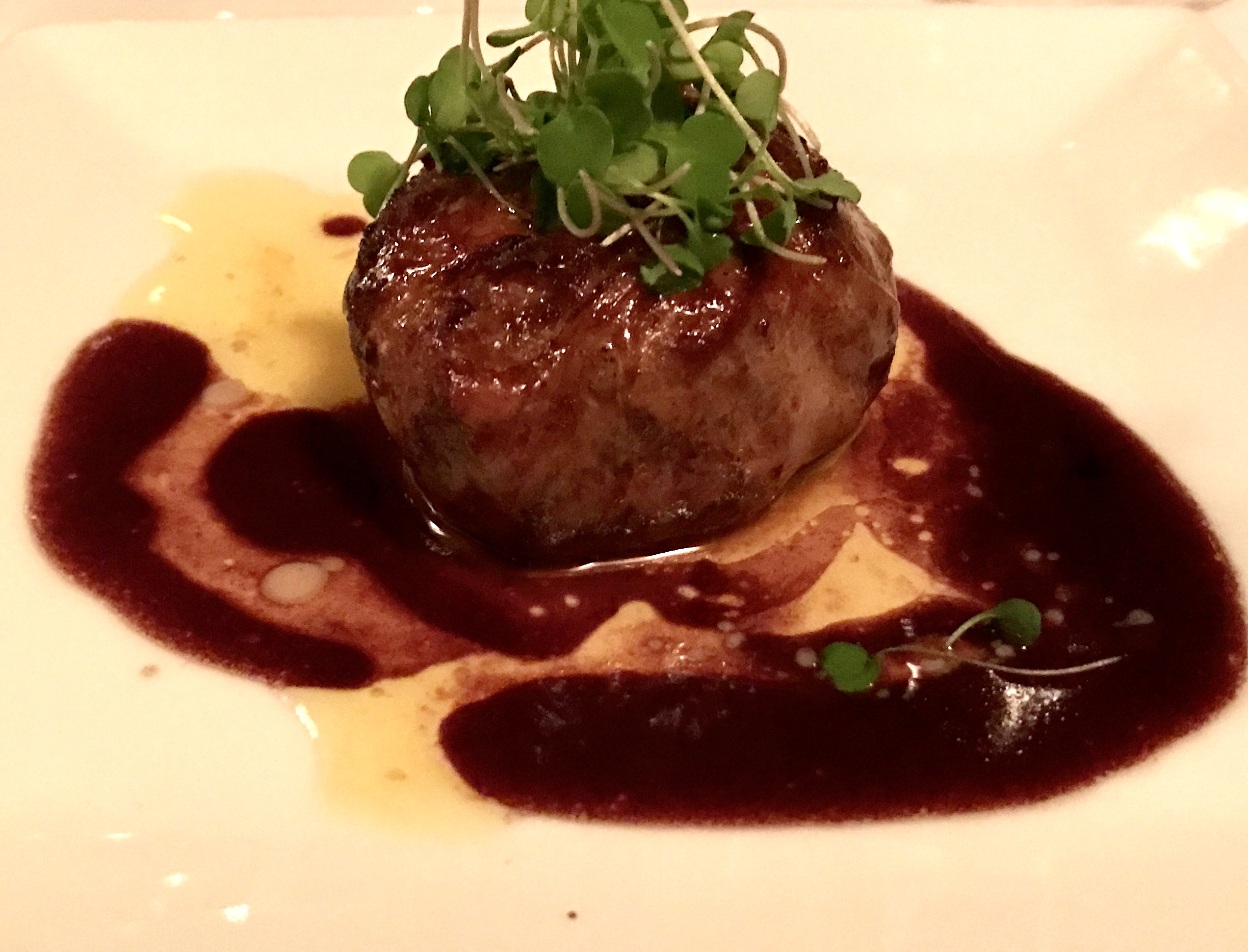 My favorite dish was definitely a close tie with the next course of Carmen Creek Bison Churrasco with Fingerling Potatoes, Chimichurri and Roasted Red Peppers. The Bison was cooked to perfection, so tender and juicy and of course all the flavors came together wonderfully. This was served with Cuttings, Cabernet Sauvignon, 2013. The Cab worked very nicely with the complexity of this dish.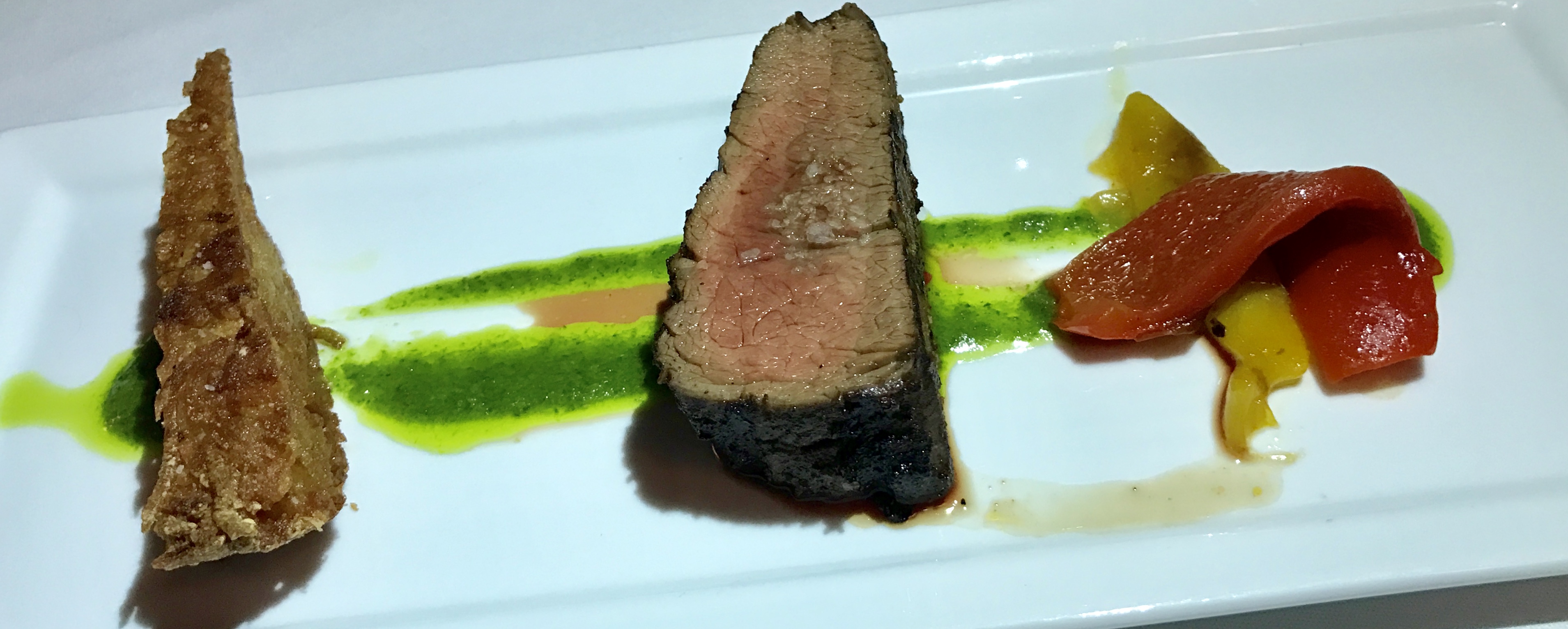 Not being a big dessert fan, it is ironic that Chef Tyson actually ran with my idea of a Brûlée style dessert. Pairing dessert with a red Zinfandel can be tricky, but he chose to use a triple cream with berries, honey, Prosciutto and a sharp cheddar. The combination worked amazingly well with the Saldo, Zinfandel, 2014. Again combining the salty, sweet and sharp flavors to highlight the slight jammy flavor of a red Zin. Ingenious!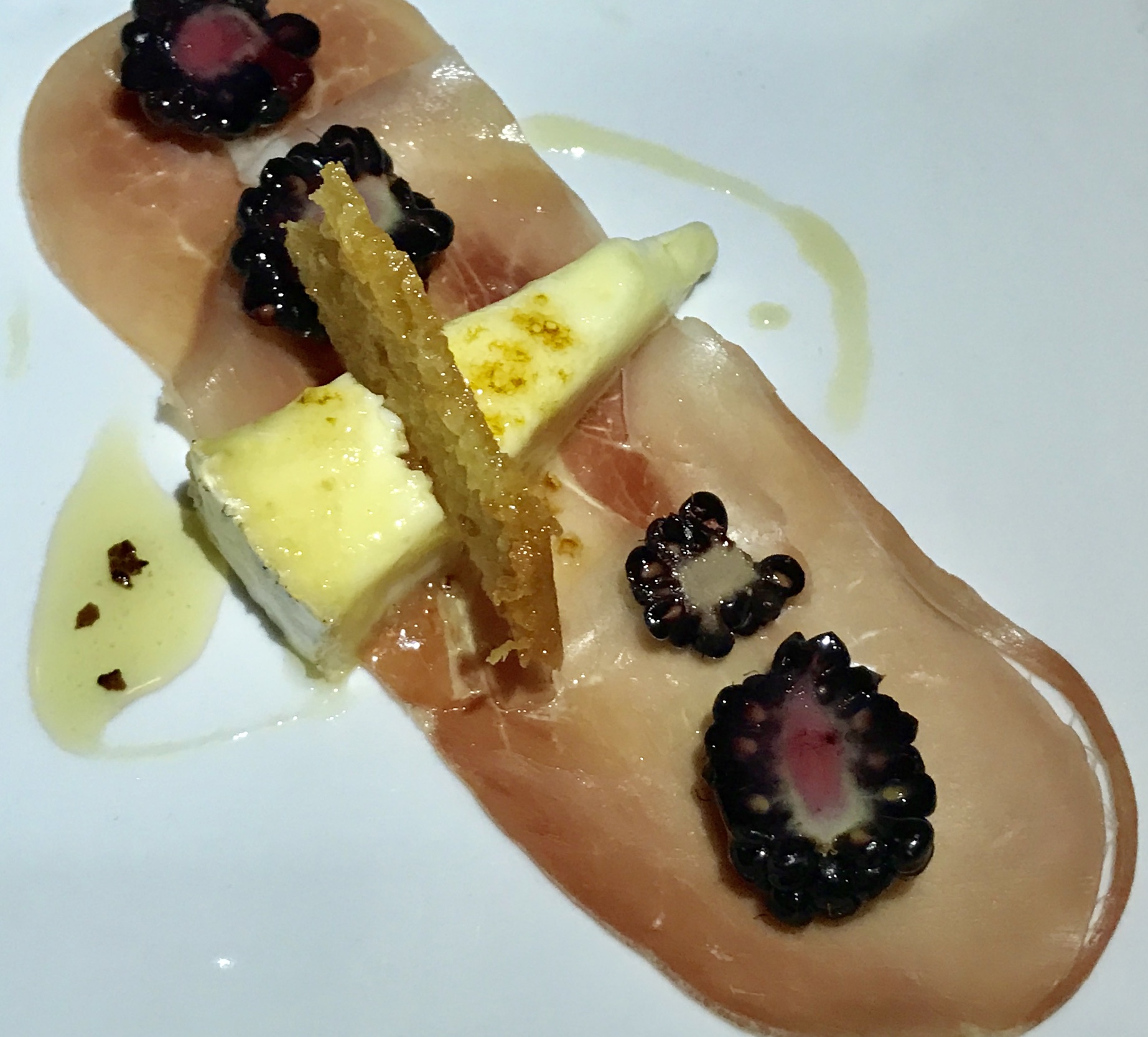 The event overall was a great success with a turnout of about 50+ guests who all seemed to enjoy themselves, the food, the wine and each others' company immensely. If you have never attended a Parkshore Grill wine pairing or special event dinner, you are in for a treat when you do. We highly recommend them!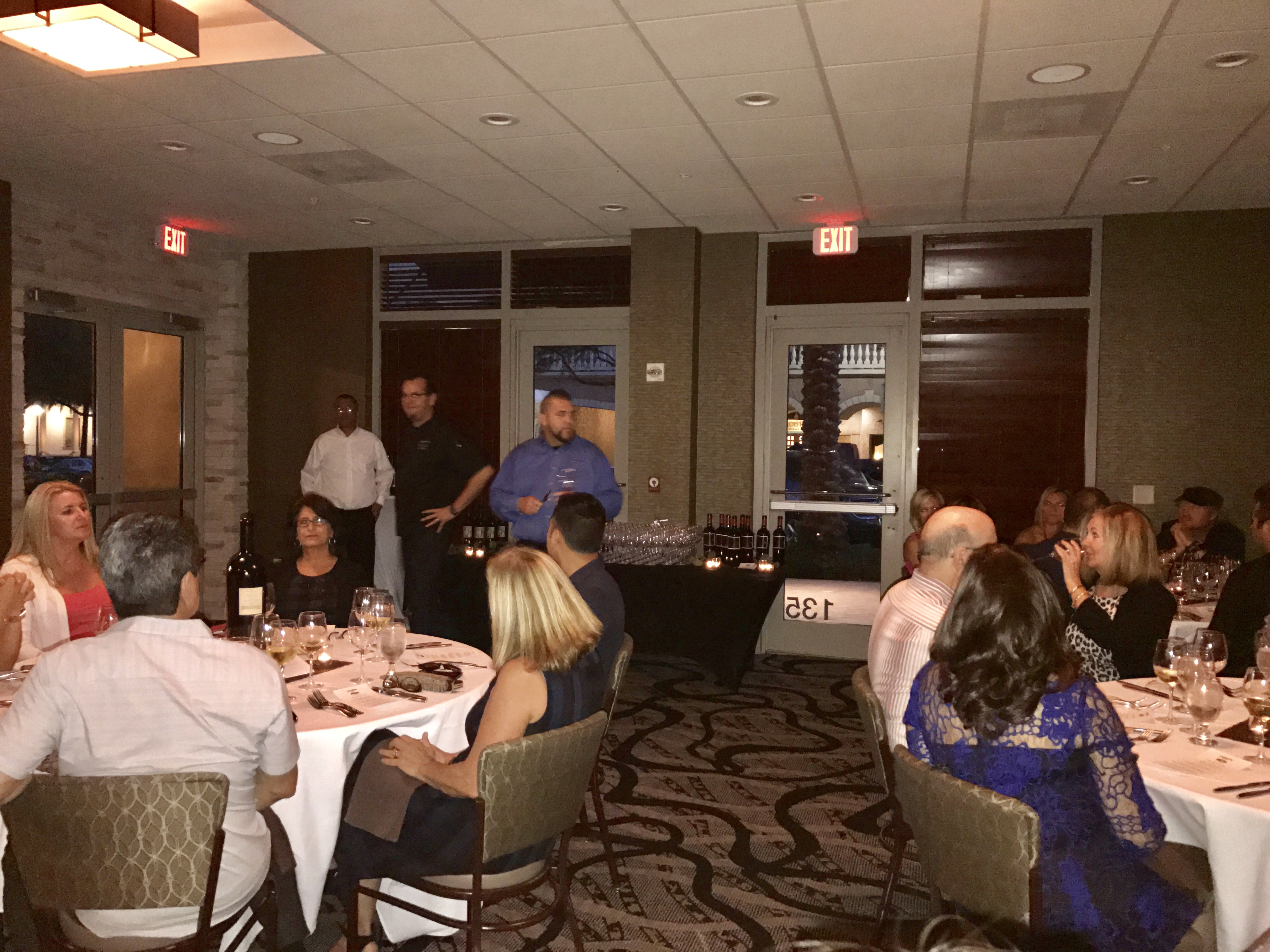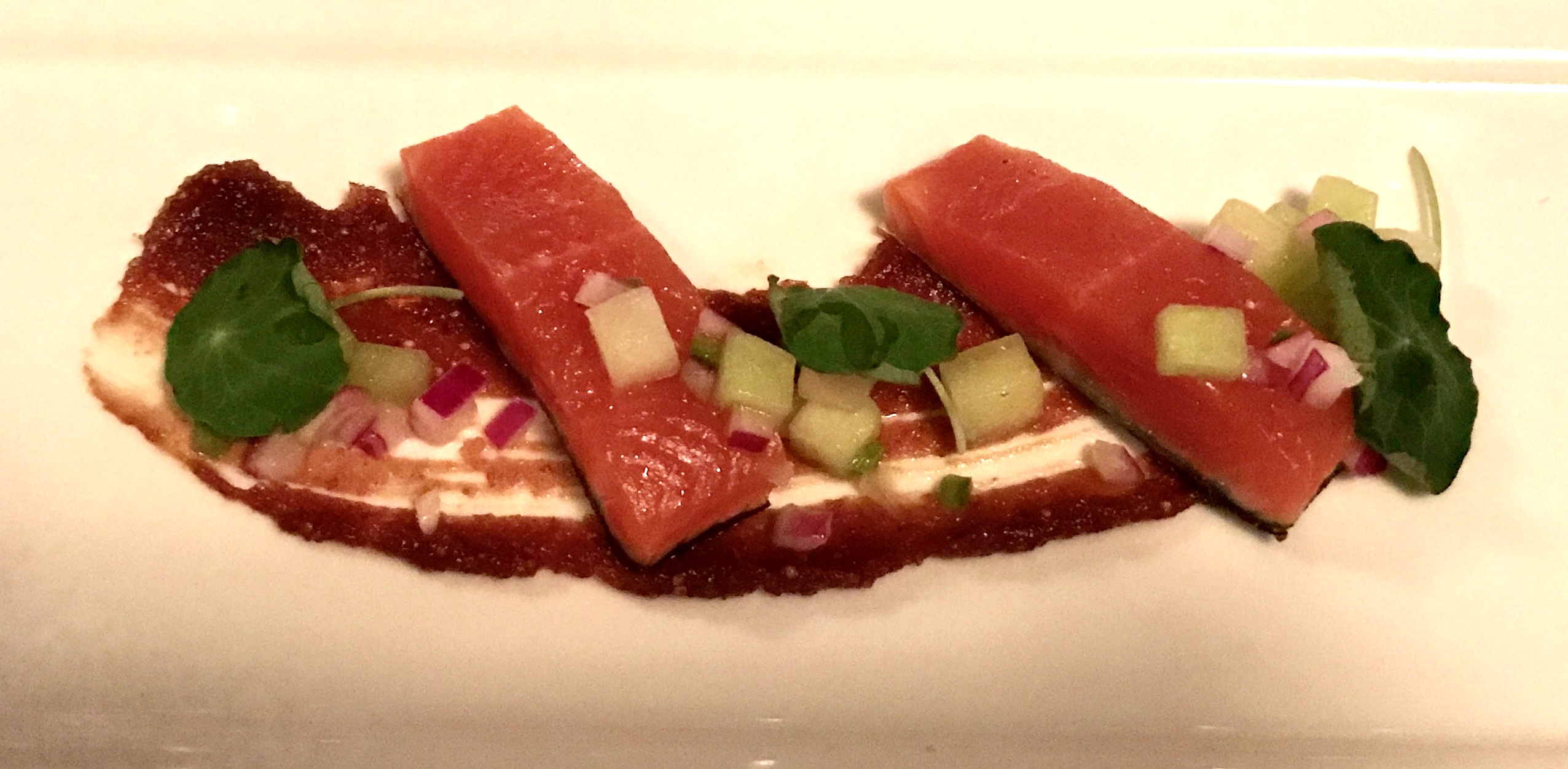 Editor Rating

Rated 5 stars

Spectacular
to $100/Person
---
Reviewed by:

Lori Brown

Published on:

November 8, 2016

Last modified:

November 30, 2016
---
Parkshore Grill's Prisoner Wine Dinner Pairing was a huge success!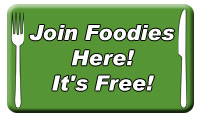 Beach Dr Restaurants, Best Restaurants in St Pete, Best Restaurants in St Petersburg, Downtown St Petersburg Restaurants, FL, Parkshore Grill and The Prisoner Wine Dinner Review, Parkshore Grill Review, Restaurants Downtown St. Petersburg, St Pete Foodies, St Petersburg Foodies, St. Petersburg Restaurant Reviews, Wine Pairing Dinners St Petersburg
Written by Lori Brown
Founder of St. Petersburg Foodies & The Largest Happy Hour List Ever.
Culinary Institute of America "DISH" Member.
I have lived in the Tampa Bay area for most of my life. But would never want to live anywhere else besides St Petersburg. What an amazing thriving city we have!
I have owned my own businesses, and in my past careers I have set sales records in Pharmaceutical Sales and I'm a top performer in Real Estate.
I am a University of Florida graduate with a degree in Business Finance and love living in the Grand Central District of St. Petersburg. I am mom to a son in college (Noah), long-haired female chihuahua (Lola), and a leopard gecko (Leo).... I think he's a boy. (Kevin kind of stole my dog though. He calls her his "Puppy".)
I'm also a foodie that loves to cook, and eat out at great restaurants. Years ago, I even had my own food store (with my friend Lisa) in the location where Jimmy John's currently resides on 4th Street North just south of 9th Avenue North called Weekday Gourmet. I've also been to Napa and Sonoma on wine vacations eight times.
Kevin and I used to go out 4 - 5 nights a week and write reviews on our own timelines. Because of this, I am always asked by people where they should go, what they should order, etc. When we created the group it just seemed natural since we were already doing that. I love to write and take photos, so it just all works.
Life couldn't be better!
View all posts by: Lori Brown
More Foodies News, Reviews & Recipes
1 Response
#stpetersburgfoodies #stpetefoodies
Recent Posts
Cooler Fall evenings in Florida are right around the corner (or at least I hope) and it's during this time of year that I really ramp up soup production in the kitchen. I know that everyone is still losing their minds over all things pumpkin spice right now, but it's really never been my thing. I, on the other hand, look forward to cooking up as much squash as possible. For this recipe, while I prefer a butternut squash from the produce section, frozen will also work just fine if your grocery story doesn't have any fresh available. Rollin' Oats has a handful of organic options available in ten ounce bags. If using frozen, just use two of the ten ounce bags. I know you've listened to us rave about Dave's Killer Bread before and you better believe that it is my preferred bread for this sandwich – specifically, the Good Seed. I love the texture that it takes on after spending some time turning crisp and golden brown in the skillet. You don't have to use Good Seed though, of course. A personal favorite of my husband's for a solid grilled cheese is Dave's White Bread Done Right. Both of which can also be found at Rollin' Oats, along with other killer options from Dave's. As far as the cheese for this sandwich is concerned, don't limit yourself to only cheddar. I encourage you to utilize any kind of good melty cheese that you prefer. The first time that I made this we actually used a mix of aged white and yellow cheddar and it was divine! If cheddar isn't your jam though, a luscious Brie would be a fine alternative, in my opinion. Grilled Cheddar Cheese, Apple & Onion Sandwich with Butternut Squash Soup An elevated spin on a classic duo – your new favorite soup and sandwich combination is here. If you can't find Butternut Squash in the produce section, check the freezer aisle. Two ten ounce bags will totally suffice. Blender Butternut Squash Soup1 Butternut Squash (Peeled and cubed. Or, 2 10oz bags of frozen Butternut Squash.)3/4 White Onion (Roughly Chopped.)1/2 Apple (Sliced.)1 cup Vegetable Stock1 tbsp Olive Oil2 tbsp Sage (Fresh – minced.)1 tsp Salt (Plus more, as needed.)1/2 tsp Pepper (Plus more, as needed.)Optional garnishes (chili crunch, sage, etc.)Grilled Cheddar Cheese, Apple & Onion Sandwich4 slices Bread (Like Dave's Killer Bread)1 cup Cheddar Cheese (Like Kerrygold, grated.)1/2 Apple (Thinly sliced.)1/4 White Onion (Thinly sliced.)2 tbsp Butter (Like Vital Farms.)1 tbsp Sage (Fresh – minced.)2 tsp Red Pepper Jelly (Like Bonnie's) Butternut Squash SoupPreheat the oven to 375. If using a whole Butternut Squash, peel and cube and add to a parchment-lined baking sheet with sliced onion and apple. Toss with olive oil, salt and pepper.Roast in the oven for 45 minutes to one hour (until everything has softened). If using frozen squash, heat according to package instructions and set aside until apple and onion have roasted.Add roasted vegetables (and prepared squash, if using frozen) to a high powered blender with one cup of vegetable broth. Blend until smooth and season with salt and pepper to taste.Pour soup into a medium dutch oven or pot and heat on low until ready to serve. Whilst serving, top with optional garnishments.Grilled Cheddar Cheese, Apple & Onion SandwichPreheat oven to 350. Evenly butter both sides of each slice of bread. Heat medium nonstick skillet over medium heat (we are going to make one sandwich at a time) and add one buttered slice of bread.Top with 1/4 cup grated cheese, half of the onion and apple slices, half of the minced Sage and another 1/4 cup of cheese. Add 1 tsp jelly to another piece of bread and place that on top of that in the skillet, jam side in the middle.Gently press together and cook until under side takes on a nice golden color – a few minutes. Carefully flip the sandwich onto the other side.Cook for another couple of minutes until sandwich is golden and crisp on both sides. Keep sandwich warm in preheated oven until you make your second sandwich. Assemble the other sandwich by repeating the same method. Cut sandwiches in half and serve along side a bowl of Butternut Squash Soup. Main Dish, Sandwich, SoupAmericanAbby Allen Recipes, Butternut Squash Soup Recipes, Grilled Cheese Recipes
Recipes
Cooler Fall evenings in Florida are right around the corner (or at least I hope) and it's during this time of year that I really ramp up soup production in the kitchen. I know that everyone is still losing their minds over all things pumpkin spice right now, but it's really never been my thing. I, on the other hand, look forward to cooking up as much squash as possible. For this recipe, while I prefer a butternut squash from the produce section, frozen will also work just fine if your grocery story doesn't have any fresh available. Rollin' Oats has a handful of organic options available in ten ounce bags. If using frozen, just use two of the ten ounce bags. I know you've listened to us rave about Dave's Killer Bread before and you better believe that it is my preferred bread for this sandwich – specifically, the Good Seed. I love the texture that it takes on after spending some time turning crisp and golden brown in the skillet. You don't have to use Good Seed though, of course. A personal favorite of my husband's for a solid grilled cheese is Dave's White Bread Done Right. Both of which can also be found at Rollin' Oats, along with other killer options from Dave's. As far as the cheese for this sandwich is concerned, don't limit yourself to only cheddar. I encourage you to utilize any kind of good melty cheese that you prefer. The first time that I made this we actually used a mix of aged white and yellow cheddar and it was divine! If cheddar isn't your jam though, a luscious Brie would be a fine alternative, in my opinion. Grilled Cheddar Cheese, Apple & Onion Sandwich with Butternut Squash Soup An elevated spin on a classic duo – your new favorite soup and sandwich combination is here. If you can't find Butternut Squash in the produce section, check the freezer aisle. Two ten ounce bags will totally suffice. Blender Butternut Squash Soup1 Butternut Squash (Peeled and cubed. Or, 2 10oz bags of frozen Butternut Squash.)3/4 White Onion (Roughly Chopped.)1/2 Apple (Sliced.)1 cup Vegetable Stock1 tbsp Olive Oil2 tbsp Sage (Fresh – minced.)1 tsp Salt (Plus more, as needed.)1/2 tsp Pepper (Plus more, as needed.)Optional garnishes (chili crunch, sage, etc.)Grilled Cheddar Cheese, Apple & Onion Sandwich4 slices Bread (Like Dave's Killer Bread)1 cup Cheddar Cheese (Like Kerrygold, grated.)1/2 Apple (Thinly sliced.)1/4 White Onion (Thinly sliced.)2 tbsp Butter (Like Vital Farms.)1 tbsp Sage (Fresh – minced.)2 tsp Red Pepper Jelly (Like Bonnie's) Butternut Squash SoupPreheat the oven to 375. If using a whole Butternut Squash, peel and cube and add to a parchment-lined baking sheet with sliced onion and apple. Toss with olive oil, salt and pepper.Roast in the oven for 45 minutes to one hour (until everything has softened). If using frozen squash, heat according to package instructions and set aside until apple and onion have roasted.Add roasted vegetables (and prepared squash, if using frozen) to a high powered blender with one cup of vegetable broth. Blend until smooth and season with salt and pepper to taste.Pour soup into a medium dutch oven or pot and heat on low until ready to serve. Whilst serving, top with optional garnishments.Grilled Cheddar Cheese, Apple & Onion SandwichPreheat oven to 350. Evenly butter both sides of each slice of bread. Heat medium nonstick skillet over medium heat (we are going to make one sandwich at a time) and add one buttered slice of bread.Top with 1/4 cup grated cheese, half of the onion and apple slices, half of the minced Sage and another 1/4 cup of cheese. Add 1 tsp jelly to another piece of bread and place that on top of that in the skillet, jam side in the middle.Gently press together and cook until under side takes on a nice golden color – a few minutes. Carefully flip the sandwich onto the other side.Cook for another couple of minutes until sandwich is golden and crisp on both sides. Keep sandwich warm in preheated oven until you make your second sandwich. Assemble the other sandwich by repeating the same method. Cut sandwiches in half and serve along side a bowl of Butternut Squash Soup. Main Dish, Sandwich, SoupAmericanAbby Allen Recipes, Butternut Squash Soup Recipes, Grilled Cheese Recipes

September 9, 2021

Cast Iron Skillet Buffalo Chicken Pizza Recipe

Football season is back and let's face it, we're all excited. Chalk up a win during game day with a Cast Iron Skillet Buffalo Chicken Pizza that'll keep you wanting more. Why use a cast iron skillet, you ask? Well, why not. We all know that a well-seasoned cast iron skillet makes most everything that much better, so why not pizza? Break out your most seasoned skillet that is approximately 9-10″. If you don't have a cast iron skillet, no big deal – use a pizza stone or baking sheet as you normally would. Okay, let's talk ingredients. Everything needed to make this pizza can be picked up at Rollin' Oats. I especially love that their store is loaded with healthier options, even when it comes to pizza. For instance, Simple Mills Pizza Dough Mix and Primal Kitchen's Buffalo Sauce and Vegan Ranch. Regarding spice level, this ranks right around a four or five, so it really isn't a ton of heat. You can easily adjust the heat level of this 'za by adding more Buffalo Sauce to the base of the Pizza and or finishing the pizza with Buffalo Sauce as it comes out of the oven. Also, you don't have to use Mozzarella cheese. Feel free to use Cheddar instead, or perhaps a combination of both. Cast Iron Skillet Buffalo Chicken Pizza Cast iron skillet pizzas further support the argument that everyone should own a cast iron skillet. Make this pizza in your most seasoned skillet in order to yield ultimate flavor. Cast Iron Skillet 2 cups Chicken (Cooked and shredded)1/2 cup Buffalo Sauce (I use Primal Kitchen from Rollin' Oats. This is to be mixed with the shredded chicken.)1/4 cup Buffalo Sauce (To be used as the sauce)12 oz Pizza Dough (Homemade or store bought)1/4 cup Semolina Flour1/2 cup Shredded Mozzarella (Low moisture is recommended)1/3 cup Blue Cheese (Crumbled)1/4 cup Red Onion (Diced)1/4 cup Green Onion (Minced)1/4 cup Celery (Diced)1/4 cup Ranch (Like Primal Kitchen Vegan Ranch)1 tsp Olive Oil Place a 9-10" cast iron skillet into the oven on the middle rack and preheat oven to 500F. Combine cooked, shredded chicken with 1/2 cup of Buffalo Sauce.Rub Olive Oil all over dough. Add Semolina Flour to a clean work surface and carefully stretch dough out until you have roughly a 9-10" circle. Remove hot skillet from oven and carefully lay stretched dough inside the pan.Add remaining 1/4 cup of Buffalo sauce and carefully spread evenly over the surface of the dough with the back of a spoon. Sprinkle with a couple pinches of salt. Disperse half of the Mozzarella cheese over the sauce, followed by the shredded chicken in Buffalo sauce, onion, then the rest of the Mozzarella. Top with blue cheese crumbles.Place pizza into the preheated oven for 20-25 minutes or until crust is golden and prepared to your liking. Remove pizza from oven.Finish pizza by drizzling the Ranch evenly over the top, followed by the diced celery and minced green onions. Slice and serve with more Buffalo sauce and Ranch as desired. Main DishAmericanBuffalo Chicken Pizza, Cast Iron Skillet Pizza, Pizza

August 2, 2021

Peach, Tomato and Cucumber Salad with Seared Halloumi Recipe

After eating Halloumi for the first time, I thought to myself, "how have I ever lived without this?' For those who haven't heard of Halloumi, it's a semi-hard unripe cheese with a high melting point, which makes it idyllic for searing, grilling, etc. In my opinion, seared/grilled Halloumi is best when enjoyed soon after it leaves the skillet when it's still warm. You won't find Halloumi everywhere, but Rollin' Oats has it of course – in addition to all of the other components in this salad. The crispy bread adds that bit of crunch that this dish was screaming for. I encourage you to use any kind of bread that you may have on hand. We always have a loaf of Dave's Killer Bread in our freezer (which you know that I use with a lot of frequency), so that's usually my go to. Toss in olive oil, toast for 15 minutes or so and then finish it with a pinch of salt if your heart desires – it makes all of the difference. This recipe is definitely one that wants to be made in the summertime. Best enjoyed with a cool bottle of Sauv Blanc or Rosé on a sweet little patio with irreplaceable company. Peach, Cucumber and Tomato Salad with Seared Halloumi An above average salad that is sure to give the people what they want. Also, if this is your first rodeo with seared Halloumi, you're welome! You're going to want it constantly. 2 Peaches (Cut in half, pit removed and sliced into thin half moons)2 Tomatoes (Make sure they are ripe. Slice them just like the peaches.)1/2 Cucumber (Sliced into thin rounds. Use any kind!)1/2 cup Red Onion (Sliced thin)7 ounces Halloumi Cheese (Sliced into 1/4" thick rectangles. Pat dry with papertowels.)1/2 cup Olive Oil (Plus 3 Tbsp, separated.)1 1/2 cup Bread (Like Dave's Killer Bread, torn into 1" pieces)2 tbsp Balsamic Vinegar2 tbsp Lemon Juice1 1/2 tsp Salt (Plus more, to taste)1/2 tsp Black Pepper1 tsp Honey1/4 cup Mint (Fresh, torn into pieces) Preheat oven to 375F and toss torn bread with 1 tbsp olive oil. Bake for 15 minutes, or until crisp and golden and set aside to cool. In a large bowl, whisk Balsamic, lemon juice, salt, pepper, honey and 1/2 cup olive oil until well combined. Taste and season with more salt as needed.Add peaches, cucumber, tomatoes and onion to bowl with vinaigrette and gently mix and set aside.Heat remaining 1 tbsp of olive oil in a nonstick skillet set over medium heat. Carefully add slices of Halloumi (you may have to do this in batches), one at a time, to hot oil. Sear until cheese begins to take on a golden color, 2-4 minutes. Flip cheese and cook other side another 2-4 minutes. Remove from oil and allow to cool on a paper towel-lined plate. Add croutons, seared halloumi and torn mint to bowl with peaches, cucumbers, tomatoes and onions. Combine and serve. Appetizer, SaladAmericanPeach Salad, Seared Halloumi, Seared Halloumi Salad, Summer Salad

July 5, 2021

Curry Chicken Salad and Avocado Hummus Recipe

Hey party people, it's picnic season! And unlike in 2020, get togethers with friends and family are a thing again. This summer wow guests at any celebration with not one, but two sides that will keep them coming back for more. Chicken Salad is often a summer party staple. Now, take it to the next level with the addition of a curry kick, cashews and lots of green onion. Five little minutes is all you need to make this salad yours. Simply buy a Rotisserie chicken, shred the already cooked meat and combine with the rest of the ingredients. Seriously, that's it. Unless you plan on making this into a sandwich (which you totally should) with some toasted Dave's Killer Bread and lettuce. I love hummus a whole lot. You know what I also love? Avocados. When you combine the two, they become a super couple – Avocado Hummus. Also in this irresistible dip are a ton of fresh herbs: Basil, Dill and Cilantro. Use any combination of as many or as little as you like based on your own preferences. My personal favorite vessel for dipping into this hummus comes in the form of Simple Mills organic Seed Flour Everything Crackers, which you can find at Rollin' Oats. They have a delicious selection of flavors, as well as a large array of other health-forward crackers. And of course, you can find all of the ingredients for both of these recipes at Rollin' Oats, too. Curry Chicken Salad and Avocado Hummus It's picnic season, folks! Blow the crowd away at your next party with these simple and summer-friendly recipes. Food Processor Curry Chicken Salad1 lb Chicken Breast (Poached and shredded. Pick up a Rotisserie Chicken if you're looking for a shortcut!)½ cup Mayonnaise (Plus more, as needed.)½ cup Dried Cranberries½ cup Cashews (Roughly chopped.)5 Green Onions (Dark and light green parts only and sliced into thin rounds)2 Celery Stalks (Ends trimmed, cut lengthwise and then chopped into small pieces.)4 tsp Curry Powder1 tbsp Lime Juice (From approximately 1/2 of a lime.)½ tsp Pepper½ tsp Salt (Plus more, as needed)Dave's Killer Bread (optional) (100% recommend this chicken salad on a sandwich!)Lettuce (optional) (If you're making the sandwich, of course)Avocado Hummus½ Avocado (Make sure it's nice and ripe.)1 15 1/2 oz can Chickpeas (Drained and rinsed well.)1 cup Fresh Herbs (Such as Dill, Cilantro and/or Basil. Plus more for garnish.)¼ cup Tahini¼ cup Lime Juice (Plus more, as needed.)2 Garlic Cloves1 tsp Salt (Plus more, as needed)½ tsp Black Pepper2 tbsp Olive Oil1 tbsp Everything Bagel Seasoning Curry Chicken SaladCombine all salad ingredients in a medium bowl and mix until everything is well incorporated.Taste and season with more salt, as needed.To make a Curry Chicken Salad Sandwich, toast your slices of Dave's Killer Bread and assemble by adding a few spoonfuls of salad and some lettuce.Avocado HummusTo a food processor or high-powered blender like a Vitamix, add avocado, chickpeas, tahini, lime juice, garlic cloves, salt, pepper and 1 cup of fresh herbs of choice. Process ingredients for one minute or so until the mixture starts to become smooth (it'll still be a bit chunky, though).Taste and season with more salt, as needed. With the motor running, slowly stream in olive oil.Spoon hummus into a bowl and drizzle with more olive oil, top with fresh herbs and evenly distribute the everything seasoning. Serve with crackers, like Simple Mills. Appetizer, Salad, Side DishAmericanAbby Allen Recipes, Avocado Hummus Recipe, Curry Chicken Salad Recipe, Rollin Oats Cafe St Petersburg FL, Rollin Oats Recipes, Rollin' Oats Natural Food Market

Okay folks, it's June…and that means summer, picnics and the start of grilling season. I don't know about you, but when I think about grilling, a juicy rack of ribs often comes to mind. However, being that we live in a small downtown St. Petersburg apartment with very minimal outdoor space, grilling is not something that we are able to do. Therefore, over the years, I have had to learn how to recreate favorites from the grill in our kitchen. Oven-baked ribs, when cooked properly, are just as satisfying as a slab from the grill if you ask me. Low and slow at 325 degrees and then finished with some high heat will yield a similar product. I typically gravitate towards Babyback Ribs. However, Rollin' Oats offers some incredible St. Louis style spareribs that have changed the game. St. Louis Style Ribs often have more fat (much like a Ribeye steak), but fat means flavor. In addition to quality ribs, Rollin' Oats also has a selection of premium organic barbecue sauces. St. Louis-Style Ribs with Hasselback Cantaloupe St. Louis style spareribs may contain more fat, but that means more flavor. Hasselback Cantaloupe1 Cantaloupe (Sliced into quarters, seeded and then sliced into half moons)1 bunch Fresh Basil 8 oz Fresh Mozzarella (Cut into approximately 1 1/2 inch slices)Olive OilSaltPepperSt. Louis-Style Spareribs1 rack Spareribs (Approximately 2-2.5lbs)1.5 tbsp Garlic Powder1.5 tbsp Paprika1 tbsp Salt1 tsp Brown Sugar1 tsp Cayenne Pepper1 cup Barbeque Sauce (Any will work – we love Annie's Organic!) St. Louis-Style Ribs Preheat oven to 325 F. In a small bowl, combine garlic powder, paprika, salt, brown sugar and cayenne. Rub spice mix evenly all over the ribs.Wrap seasoned ribs in foil completely, place on a baking sheet and bake for 2-2 1/2 hours. Remove ribs from the oven, unwrap. Coat ribs all over in barbeque sauce of choice. Increase heat to 425 F. Place ribs in the oven, uncovered, for 15 minutes (sauce will begin to caramelize). Remove ribs from the oven and serve.Hasselback CantaloupeTake the melon half moons and cut slits every 1" without cutting through the skin. Stuff 1 leaf of basil and a thin slice of Mozzarella into each slit in the melon. Drizzle with olive oil and season with salt and pepper. Appetizer, Main Dish, Side DishAmericanCantaloupe, Spareribs, St. Louis Style Spareribs