Lori Brown · Nov 8, 2016 · 2 min read
What an amazing dinner we attended on October 28th at Parkshore Grill prepared by Chef Tyson Grant and his staff. In September we wrote an article about the process that Chef Tyson calls the breakdown. This is the process of tasting the wines and then coming up with the food that will pair just right with each glass for each course. We were honored to be invited to be a part of the breakdown and then to be able to taste the culmination of our efforts at this dinner was truly awesome!
Read the original article here.
The evening started with a reception outside with a sampling of Blindfold, White Blend, 2014 which was to accompany our first course. Once inside we were seated and served our first course of Serrano Cured Arctic Char, the figs and melon salsa mixed with the saltiness of the Serrano and highlighted the bright, clean and crisp flavors of this fantastic white wine blend. The textures all went together perfectly as well.
Our second course, the Local Fall Squash Risotto, was savory, creamy and oh so tasty. Perfectly paired with one of the best Merlot's I have had Thorn, Napa Valley Merlot, 2013.
Next came my favorite of the night, the Niman Ranch Lamb Crepinette. Seasoned and cooked to perfection and served with a Foie Gras butter and Prisoner Glace...and of course paired with the incomparable The Prisoner, Napa Valley Red Blend, 2015. Just heavenly!!
My favorite dish was definitely a close tie with the next course of Carmen Creek Bison Churrasco with Fingerling Potatoes, Chimichurri and Roasted Red Peppers. The Bison was cooked to perfection, so tender and juicy and of course all the flavors came together wonderfully. This was served with Cuttings, Cabernet Sauvignon, 2013. The Cab worked very nicely with the complexity of this dish.
Not being a big dessert fan, it is ironic that Chef Tyson actually ran with my idea of a Brûlée style dessert. Pairing dessert with a red Zinfandel can be tricky, but he chose to use a triple cream with berries, honey, Prosciutto and a sharp cheddar. The combination worked amazingly well with the Saldo, Zinfandel, 2014. Again combining the salty, sweet and sharp flavors to highlight the slight jammy flavor of a red Zin. Ingenious!
The event overall was a great success with a turnout of about 50+ guests who all seemed to enjoy themselves, the food, the wine and each others' company immensely. If you have never attended a Parkshore Grill wine pairing or special event dinner, you are in for a treat when you do. We highly recommend them!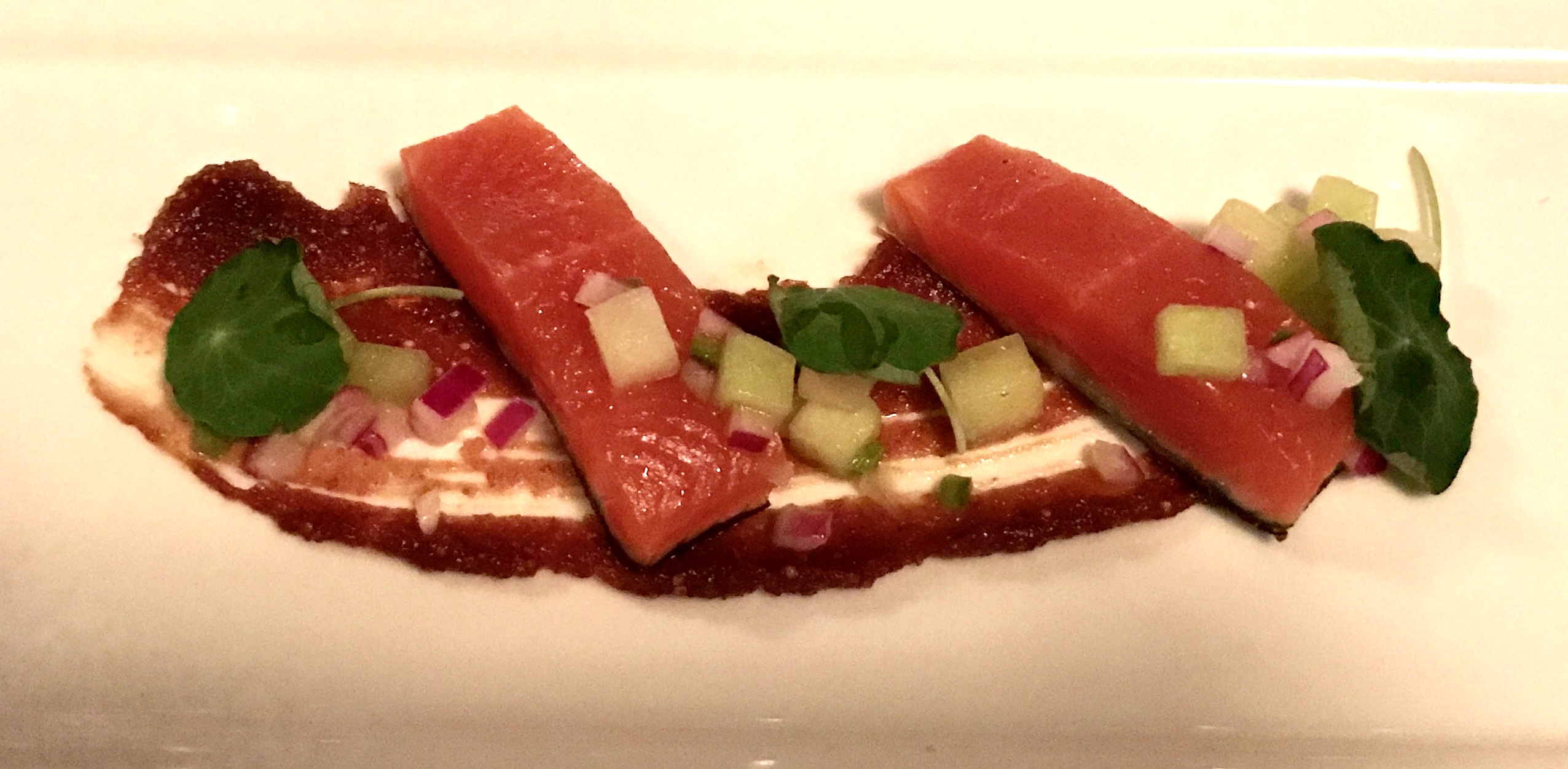 Editor Rating

Rated 5 stars

Spectacular
to $100/Person
---
Reviewed by:

Published on:

Last modified:
---
Parkshore Grill's Prisoner Wine Dinner Pairing was a huge success!