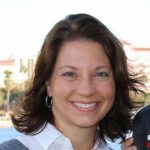 Michelle Ferrer · Oct 20, 2016 · 2 min read
Oh, the pumpkin rush of the season has begun and I am all in. My love of pumpkin isn't merely reserved for the fall months; I love making pumpkin bread, waffles, muffins, and pancakes all year long. What I don't do often enough is get creative with those pumpkin goodies. My mind started to wander the other day as I cracked open a can of sweetened condensed milk for my Vietnamese coffee. I started dreaming of Magic Bars; you know, those 7-layer bars drenched in an entire can of this creamy, sweet goodness. The fact that I can eat an entire pan of those bars by myself should indicate that the classic recipe is already perfect, but I questioned if they could use a makeover--a pumpkin makeover.
My first step was to recreate these bars with fall flavors in mind: toffee, nuts, butterscotch, spice--and pumpkin--are the tastes l look forward to this time of year. Next, I ditched the chocolate chips; as much as I love pumpkin, I do not love it with chocolate. Coconut stayed on the list not only because I love the taste and texture, but also because a Magic Bar just needs coconut; it's a rule.
Incorporating pumpkin into these bars isn't as simple as just sprinkling it on top as with the other ingredients. In order to get it to a perfectly spreadable consistency, the pumpkin is whisked with pumpkin pie spice to loosen it up and add flavor. A thin layer of the mixture goes down on a briefly-baked crust. After layering the remaining ingredients, a second trip to the oven melts and caramelizes everything. My only complaint is that you have to wait until these bars are completely cool before cutting them, or you may as well just get a spoon; the pumpkin renders them softer than the original recipe. If you are as impatient as I am, grab that spoon and scoop some ice cream onto those warm, gooey bars for an extra decadent treat worth not waiting for.
Aside from manually turning the page on my calendar, living in Florida gives no indicator when October is upon us. Until the weather begins to change, I have to look for the tell-tale signs: pumpkin spice flavored everything; random pumpkin patches set up around town; an abundance of squash in the grocery stores; and Halloween costume stores occupying random vacant storefronts. We may still be walking around in shorts and flip-flops for now, but I taste fall in these Magic Bars and it reminds me that the change of season is just a few short weeks away.