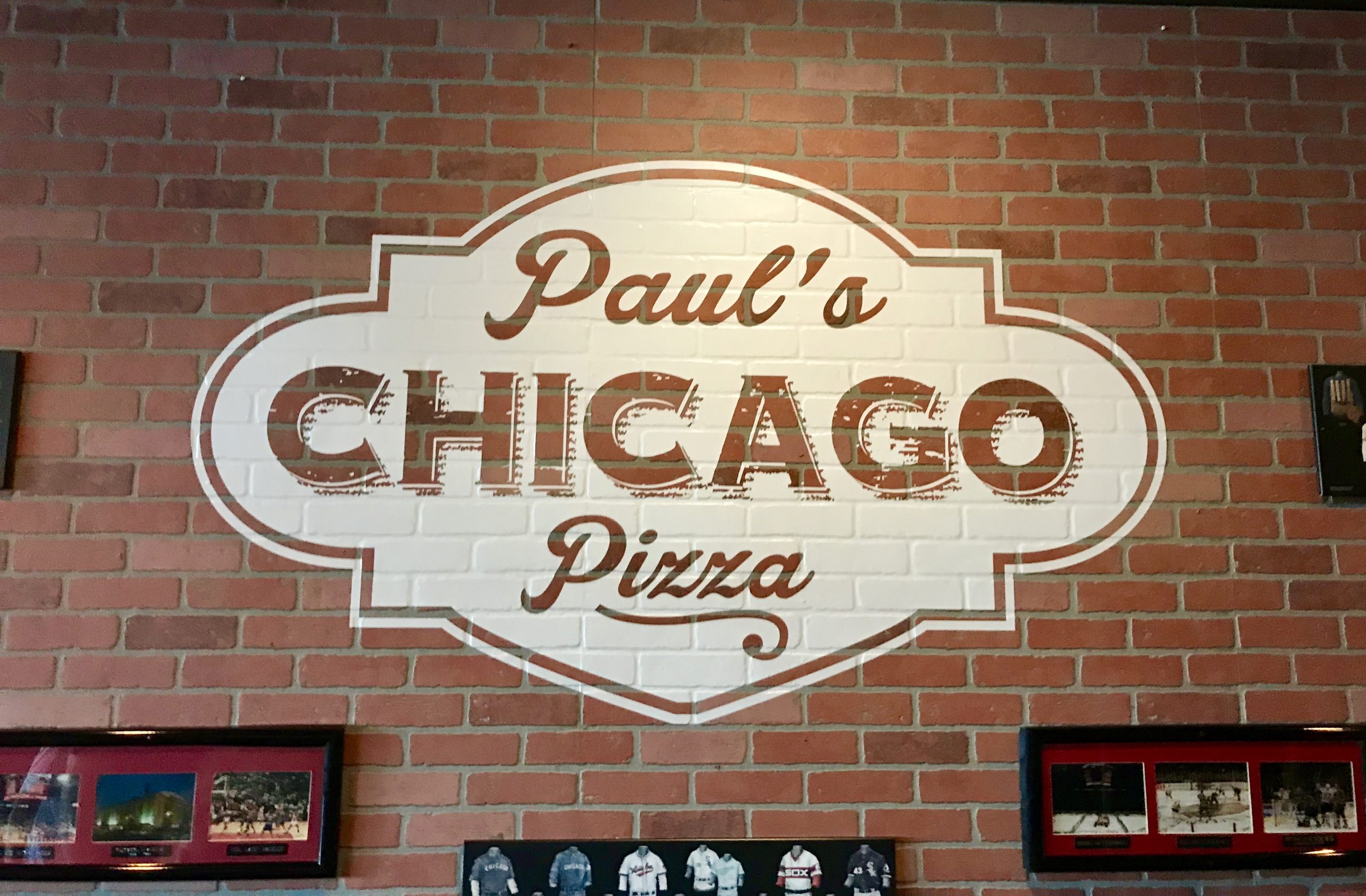 Paul and Donna Coumoulos opened the original Paul's Chicago Pizza in Clearwater at 1500 McMullen Booth Rd in February of 2001. The restaurant has become a Clearwater staple and now St Petersburg gets to enjoy. I read one review that said that they drive from North Tampa to get the pizza and another said that they drive 40 minutes to the Clearwater location – that's pretty impressive!
I asked Donna to what she attributes the success of Paul's in Clearwater, "I have to say that my husband deserves all of the credit. The Clearwater location was a 3-time loser (Pizza World was the previous tenant and they were evicted by the sheriff from what I remember). Paul has poured his heart, soul, blood and many tears, missed many birthdays, baseball games etc. to make the restaurant a success. He is a fantastic cook and a Chicago original. It's all him!"
Next I asked Donna if they are considering opening another location, "Our son (the baby) left for college in August. We had heard that Ricky P's was selling and were told that we had better look quick because the location was peaking a lot of interested buyers. We went in for lunch, fell in love immediately, and then asked ourselves the all-important question, do we want to be empty nesters, or go for it one more time? And obviously you know the answer. So, to answer your question, nothing is off the table about a 3rd location. That's my husband's dream."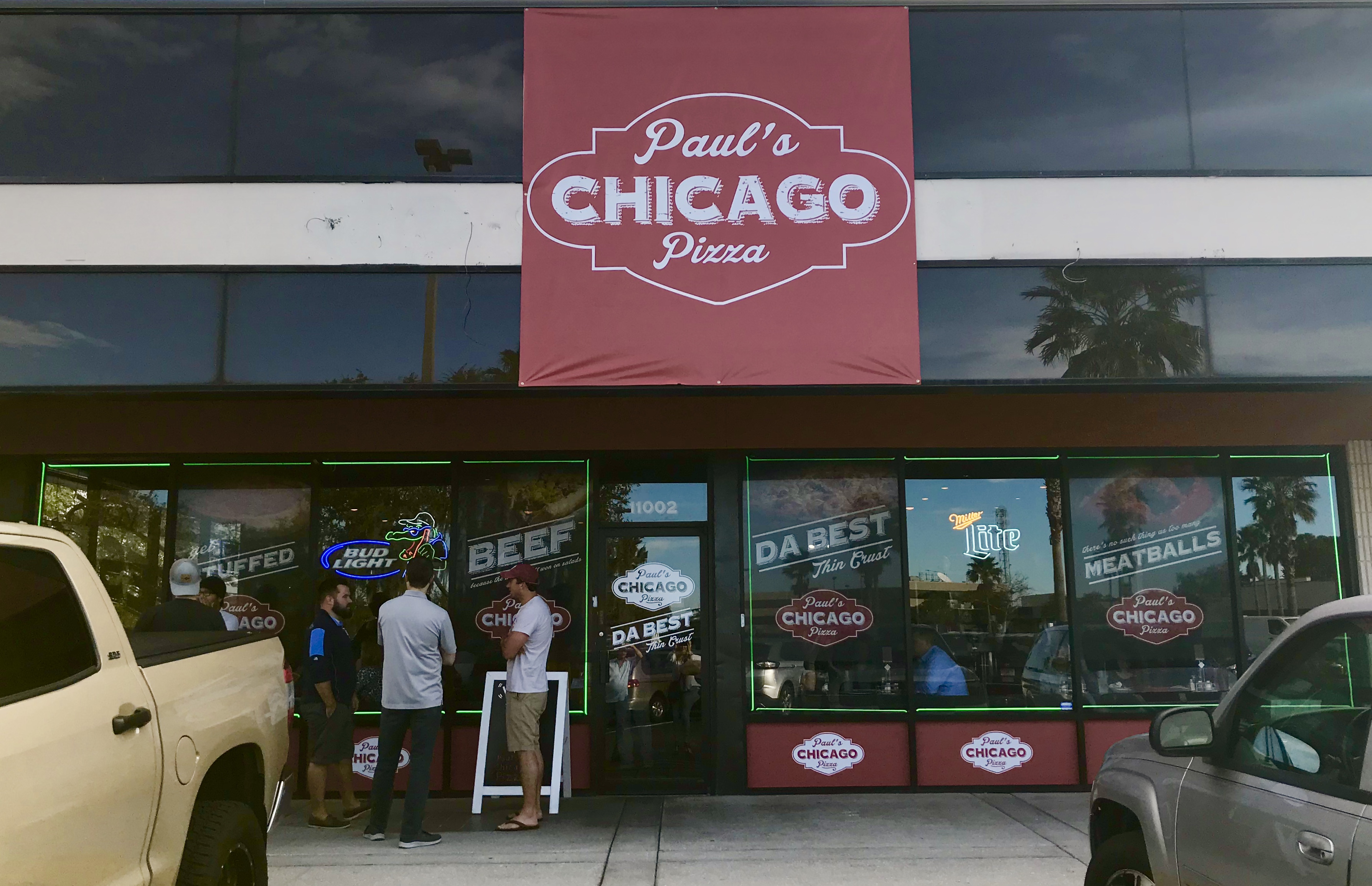 On Sunday, Kevin and I attended the friends and family soft opening of Paul's. It started at 2:00 and we arrived around 2:15. Apparently everyone had the same idea that we did to go very close to the start time because it was packed! We found two seats at the bar and we were quite comfortable there.
The interior has a nice cozy feeling with brick walls, booths and tables. There are two bar seating areas, one to the right with two TV's and the one that you can see straight ahead that also has a TV. Great for sports watching! And the bar stools were quite comfortable with nice backs. I am not a fan of barstools without backs.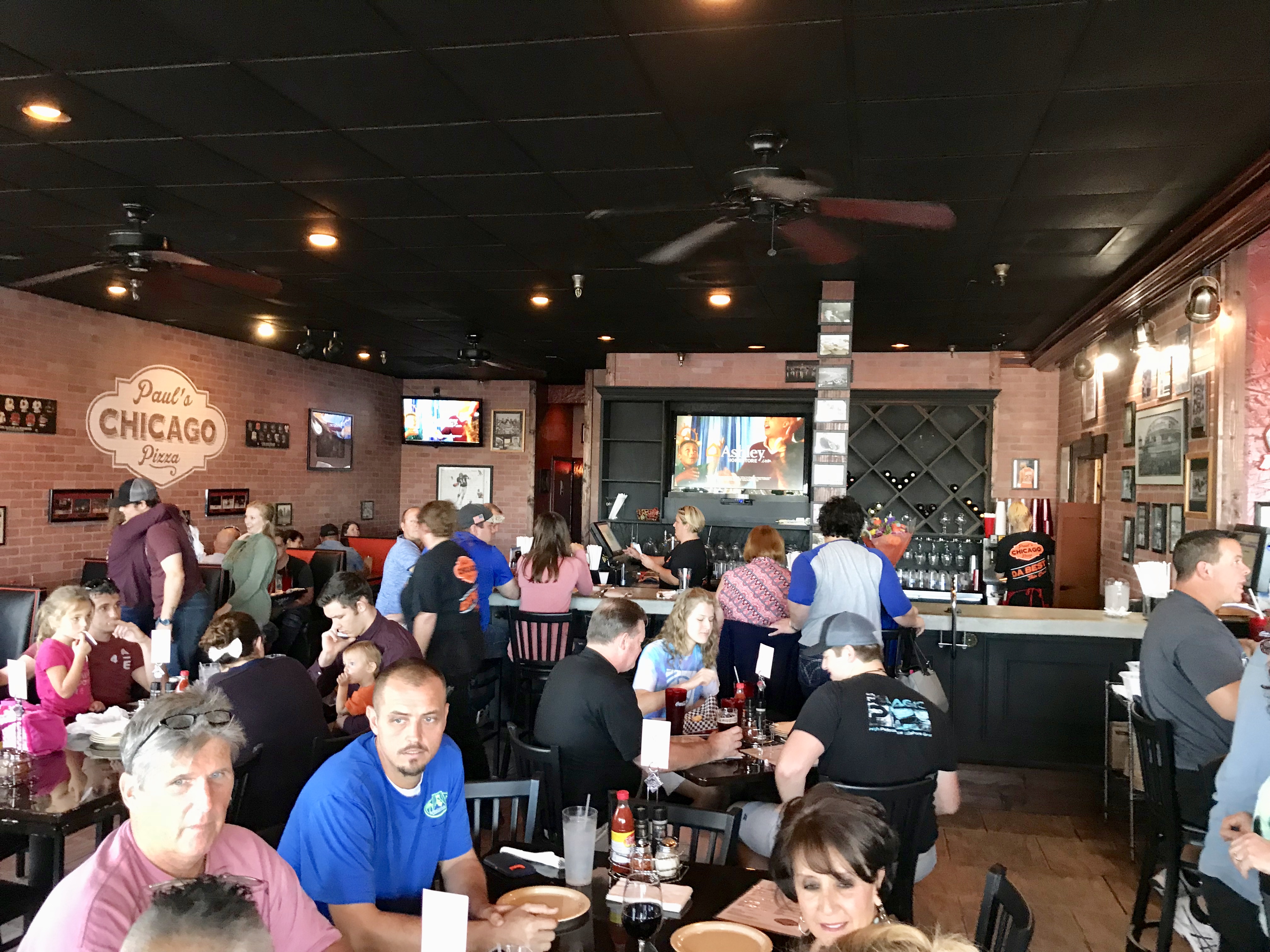 I have eaten Chicago style pizza in Chicago but that was years ago and I truly don't recall. Of course my first thought was deep dish style pizza. Kevin quickly informed me that that wasn't the case and he did some research.
From Kevin: When someone says "Chicago Style Pizza", the uninitiated think of only deep dish pizza, and people from New York / New Jersey think "that's not pizza!" Well, this Jersey boy sure found out that Chicago Style Pizza, while quite different than New York style, is seriously delectable! There are actually three main types of Chicago style pizza, and one of them is a thin crust. Surprisingly, in Chicago, the thin crust is more popular than the Deep Dish or Stuffed. The thin crust can be made round, square, or rectangular, and then it is cut into small squares that are two to three bites each. These are often served at parties and get-togethers. The Deep Dish and Stuffed are almost the same. They are both more like a pie than a flatbread, and have the ingredients added onto the crust in reverse order with the sauce being last, covering everything else. The difference is that Stuffed pizzas have a second crust, like a covered pie with sauce on top of that. Paul's serves the stuffed version.
Onto the food! We started off with the Fried Ravioli appetizer. I really enjoyed the breading on the outside. This was a great appetizer! The ravioli is stuffed with ricotta cheese, mozzarella, asiago and romano. It reminded me of the fried cheese I used to get as a kid, but much, much better!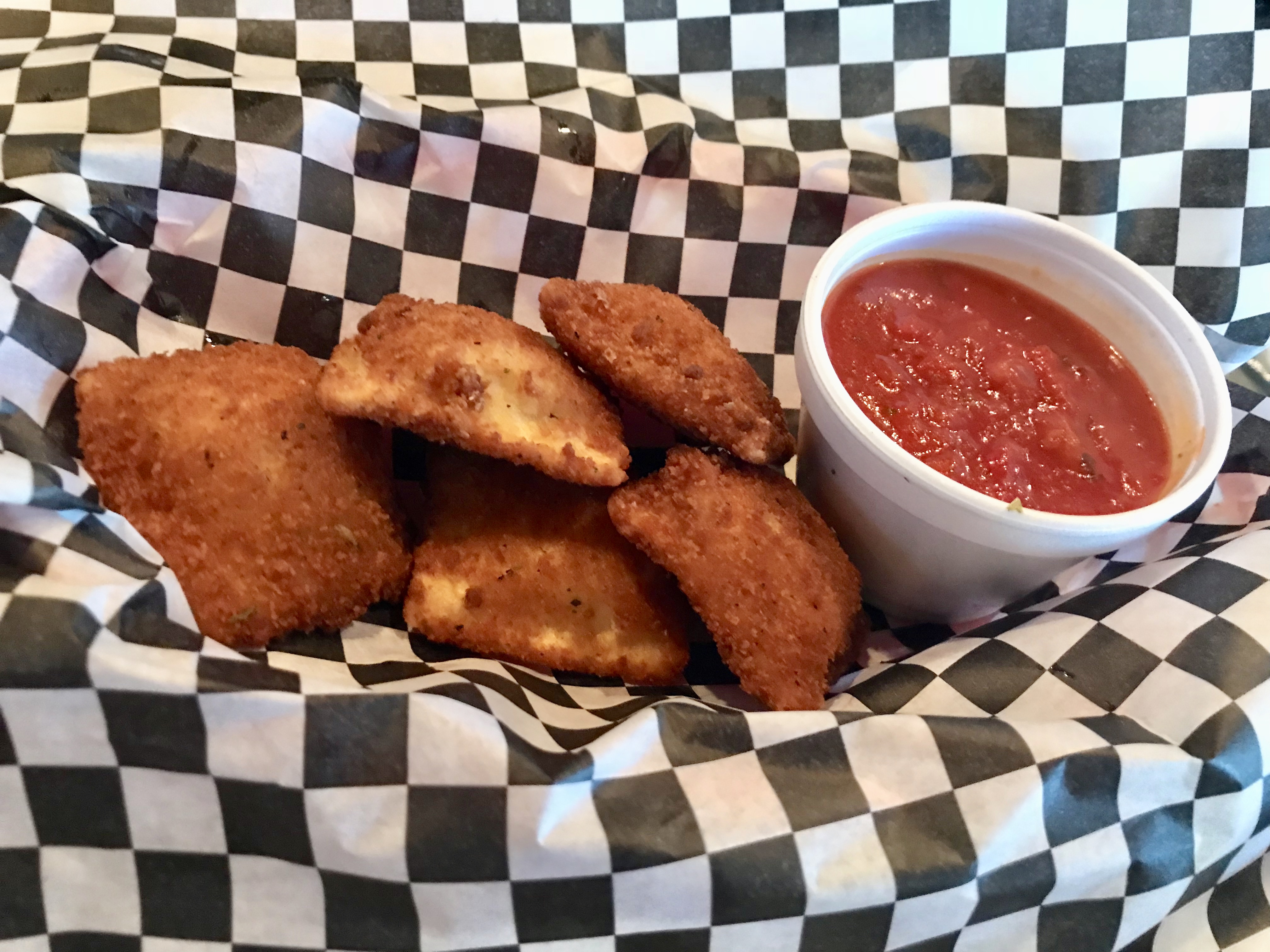 Next we had the Italian Style Beef sandwich. It comes with au jus and Kevin ordered spicy peppers on the side. I only had a couple of bites of this. Kevin loved it! I thought it was good but was left with a strange after taste in my mouth. Kevin said he thinks that that was the peppers. He is most likely right about that as my palate can be very sensitive to certain flavors. The only other time I have ever had Chicago Italian Style Beef is at Chi-Town Beefs and Dogs and I didn't have any peppers on that one and it was quite good.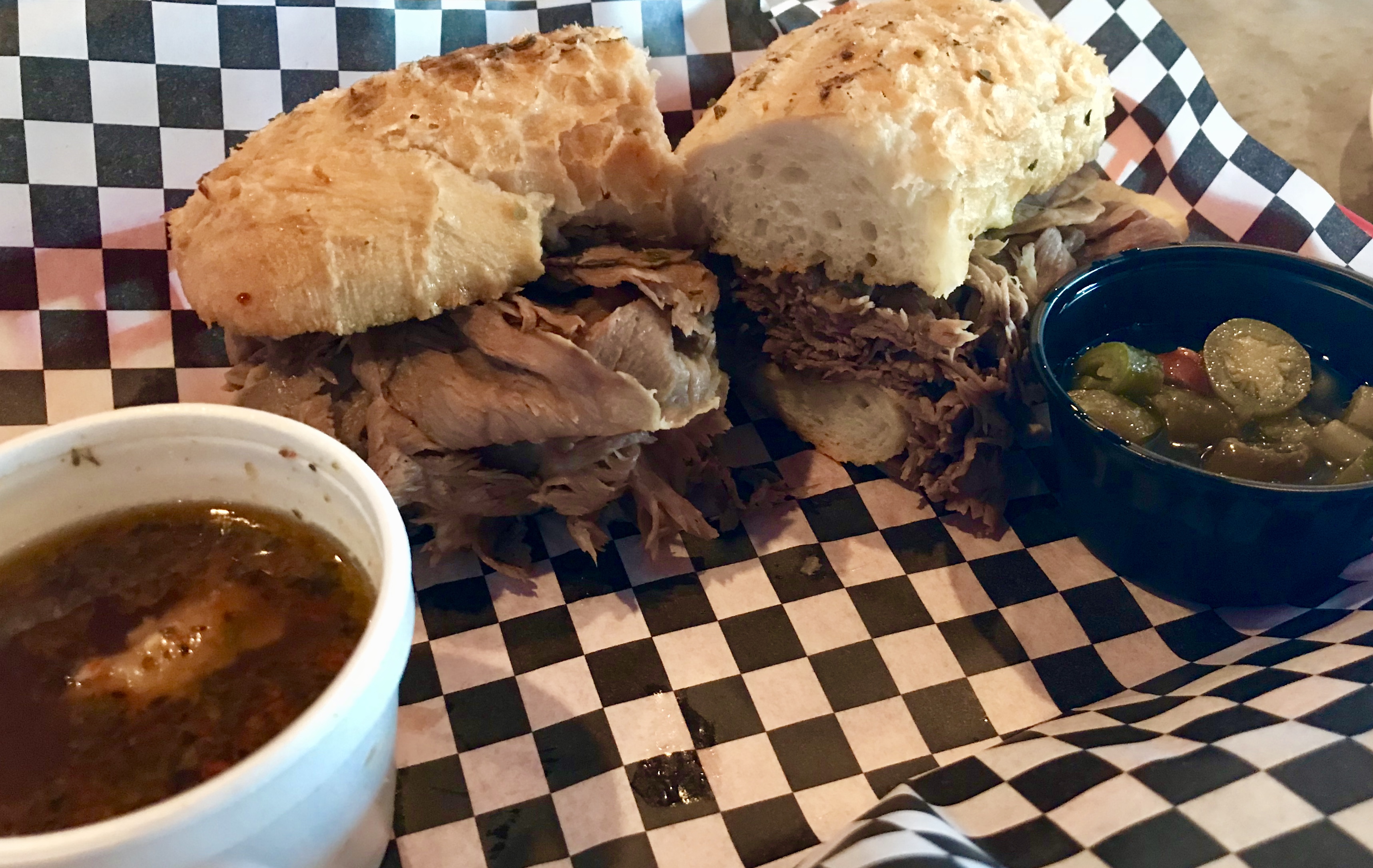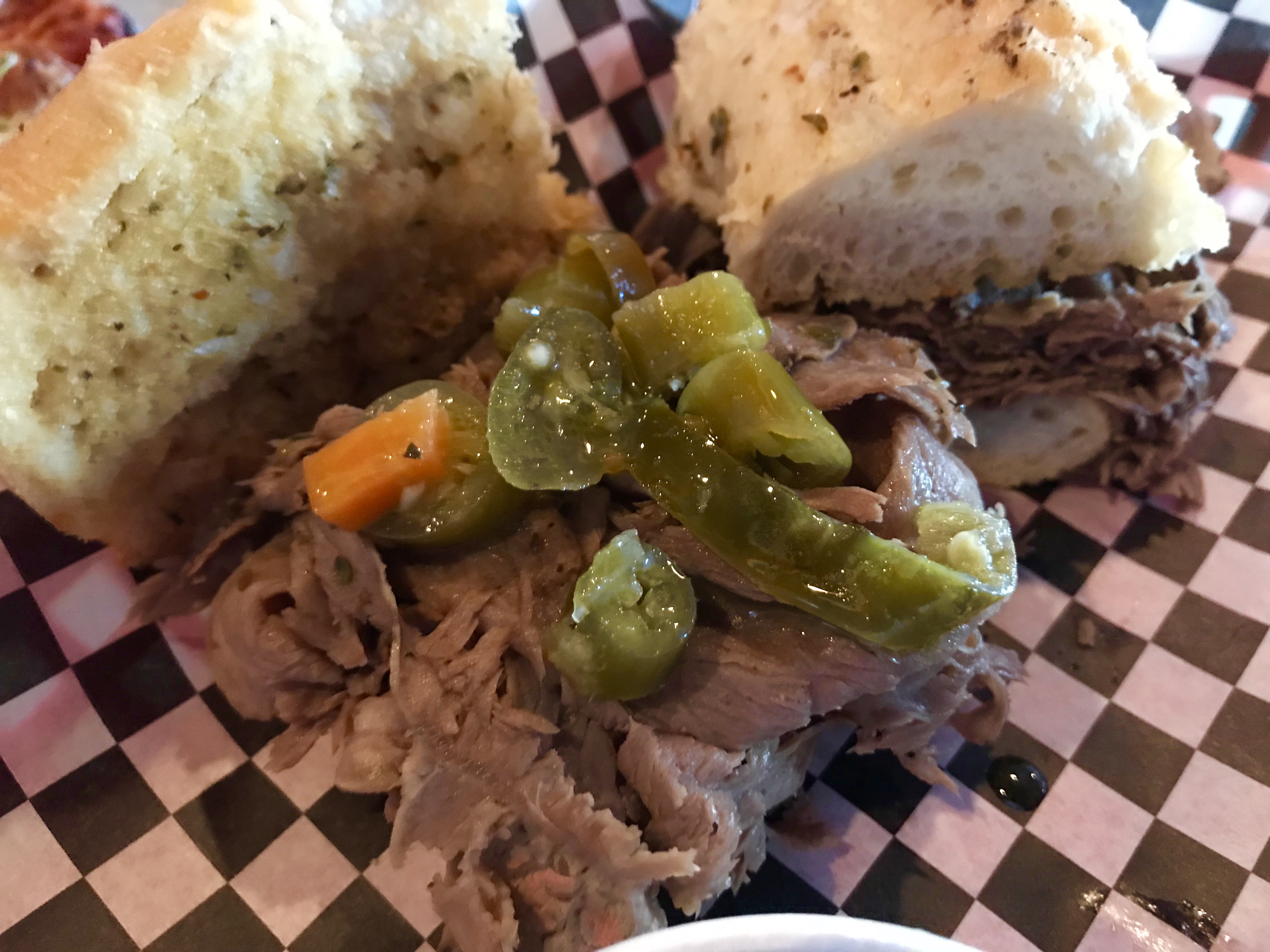 And now for the pizza! We wanted to try both styles so we ordered the 8″ small (personal size) thin crust Classic pizza which has sausage, pepperoni, mushrooms, onions and green peppers. Thin crust and cut into squares is the true Chicago style pizza. It was scrumptious with the right amount of very tangy and tasty sauce and generous fresh toppings. They make their own dough, sauce and sausage in house and you can tell!  I am not usually a sausage fan because of fennel but I loved theirs. They apparently don't put too much fennel in it. This made me a very happy girl! I didn't want to stop eating it but had to save room for the stuffed pizza. I know the pizza below looks a lot bigger than 8″ but it's just the camera angle.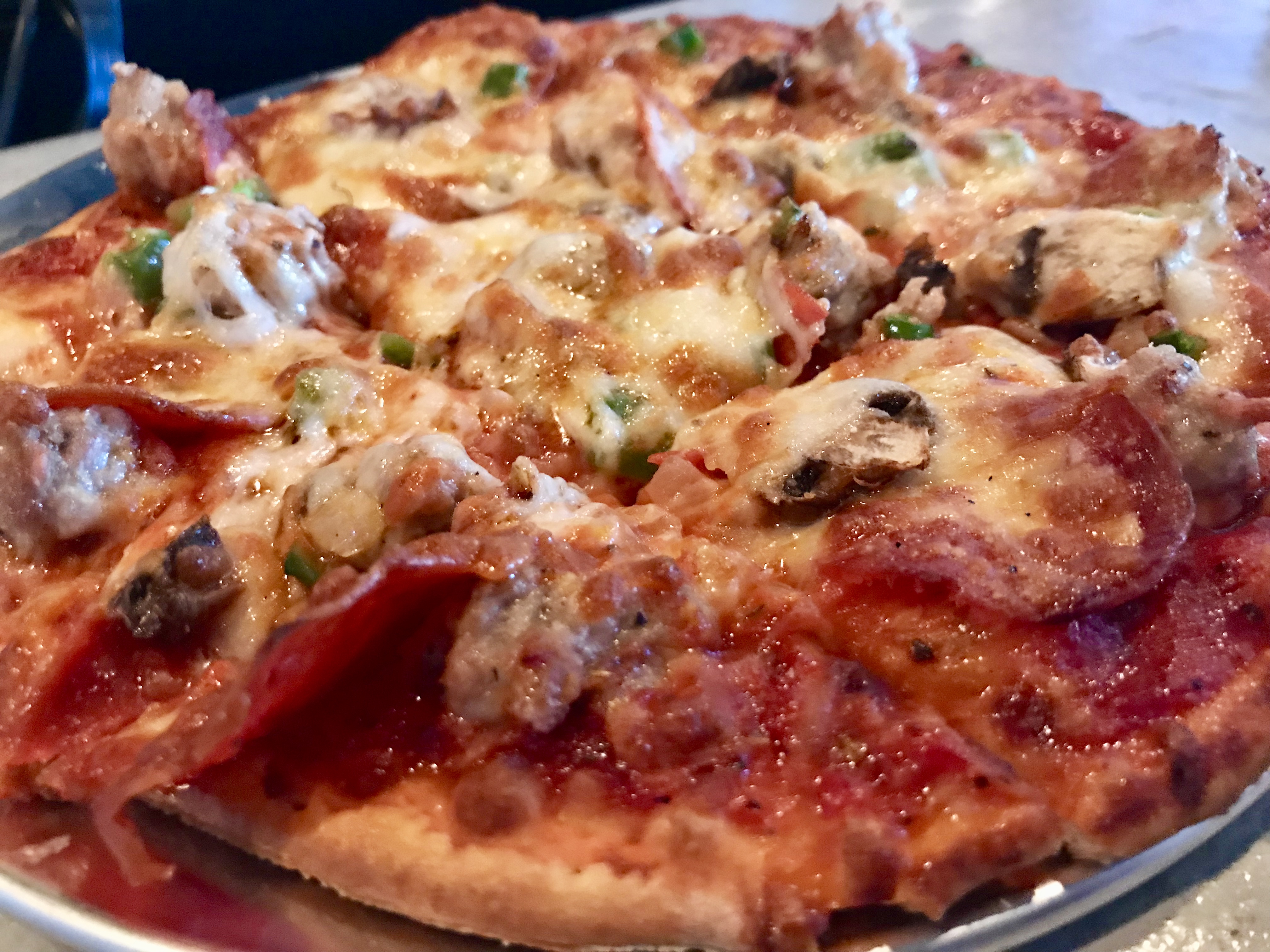 They only serve their stuffed pizzas in size medium and large so we ordered the 12″ medium because we knew we were going to be getting full by then. Stuffed pizzas are made in reverse order (after the bottom crust) with the cheese and toppings underneath a crust and then topped with the sauce. And I love sauce! This was really filling and had such rich, tangy and delicious flavors. And we ate it again that night as we had plenty of leftovers.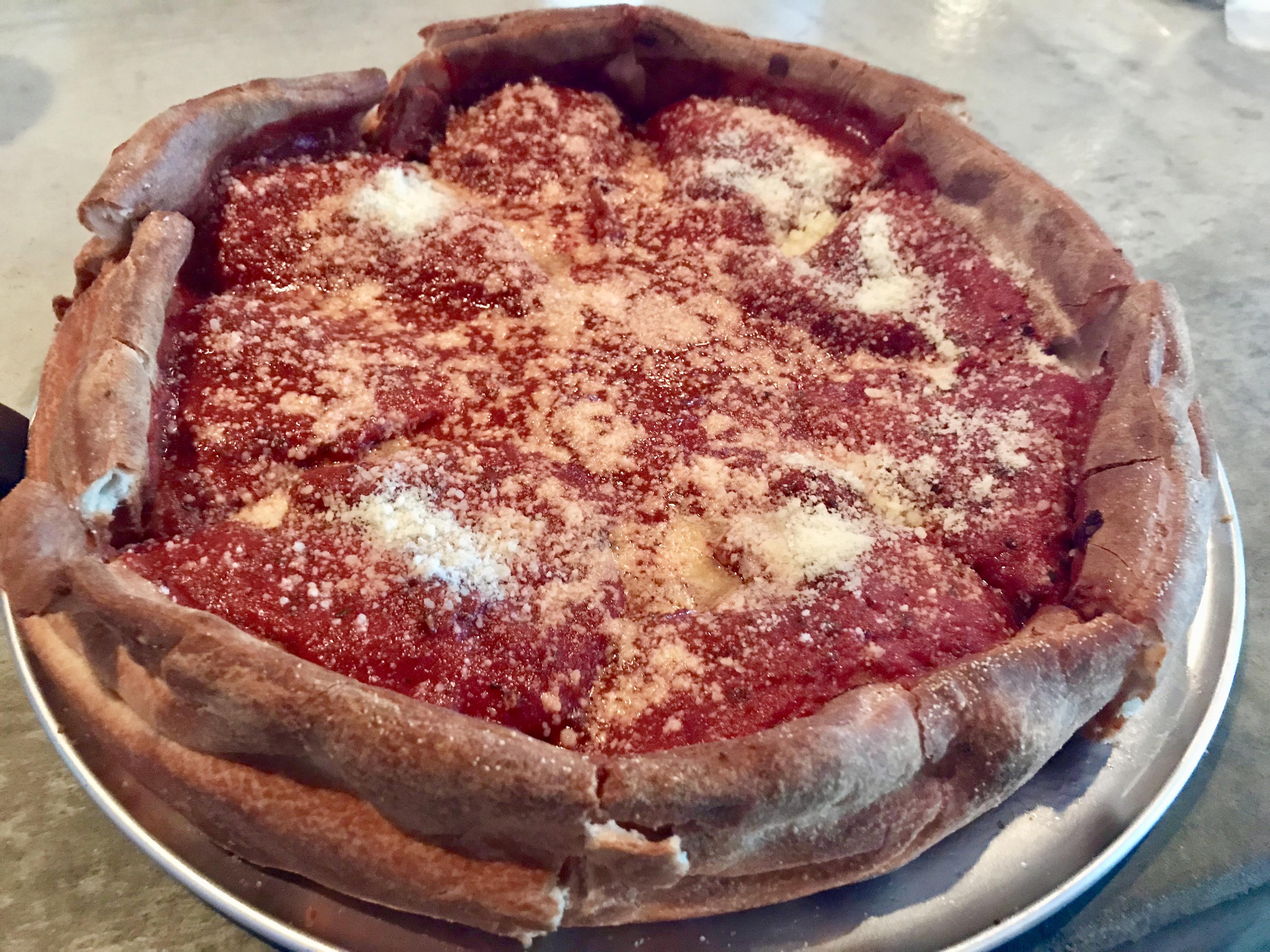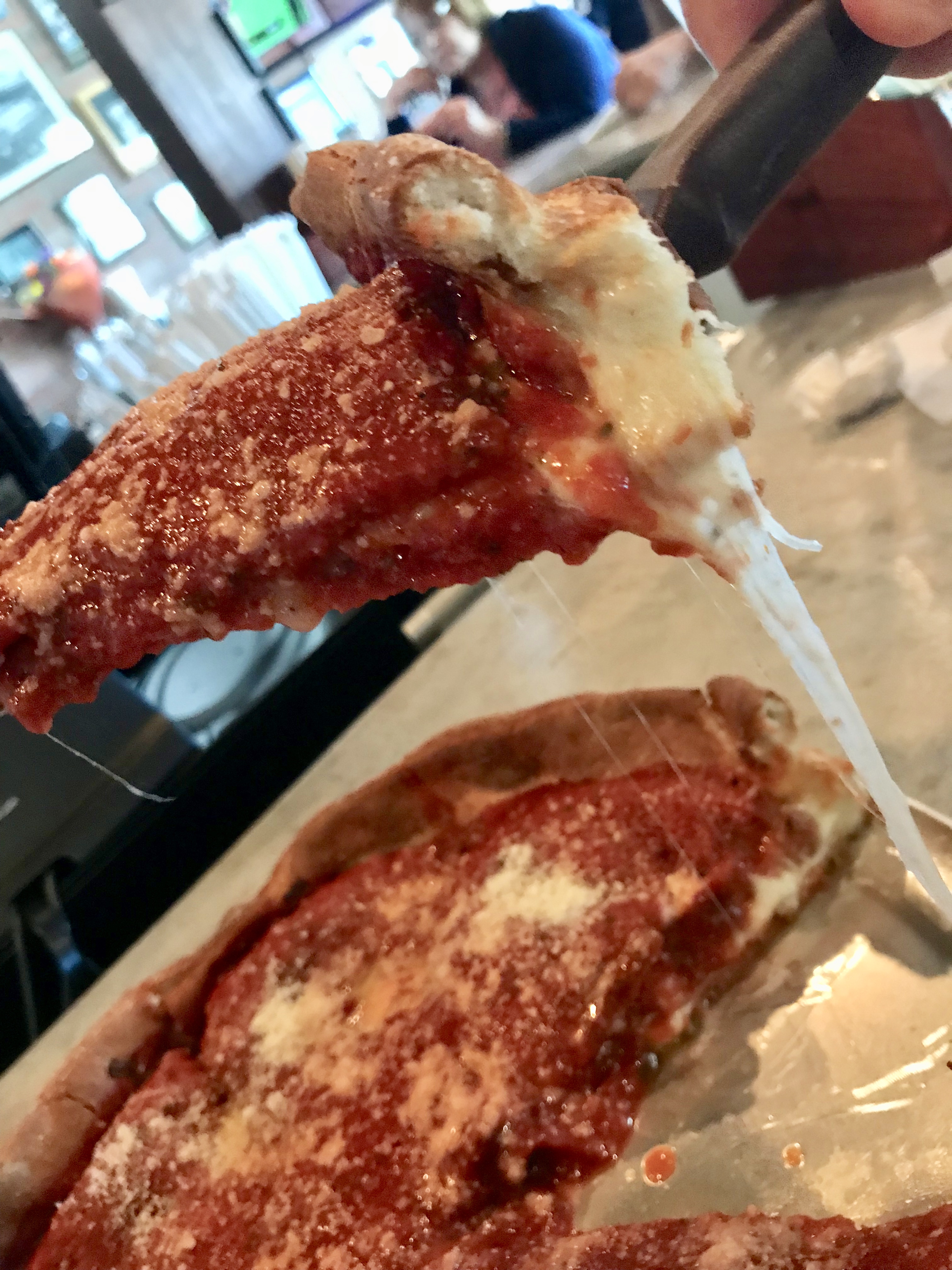 Paul's Chicago Pizza is definitely a welcome addition to the North St Petersburg pizza and restaurant scene. I believe they will do very well in that location as that area is sorely lacking in numbers when it comes to good restaurants. It just feels like a place that you want to hang out and eat in.
Check out this menu: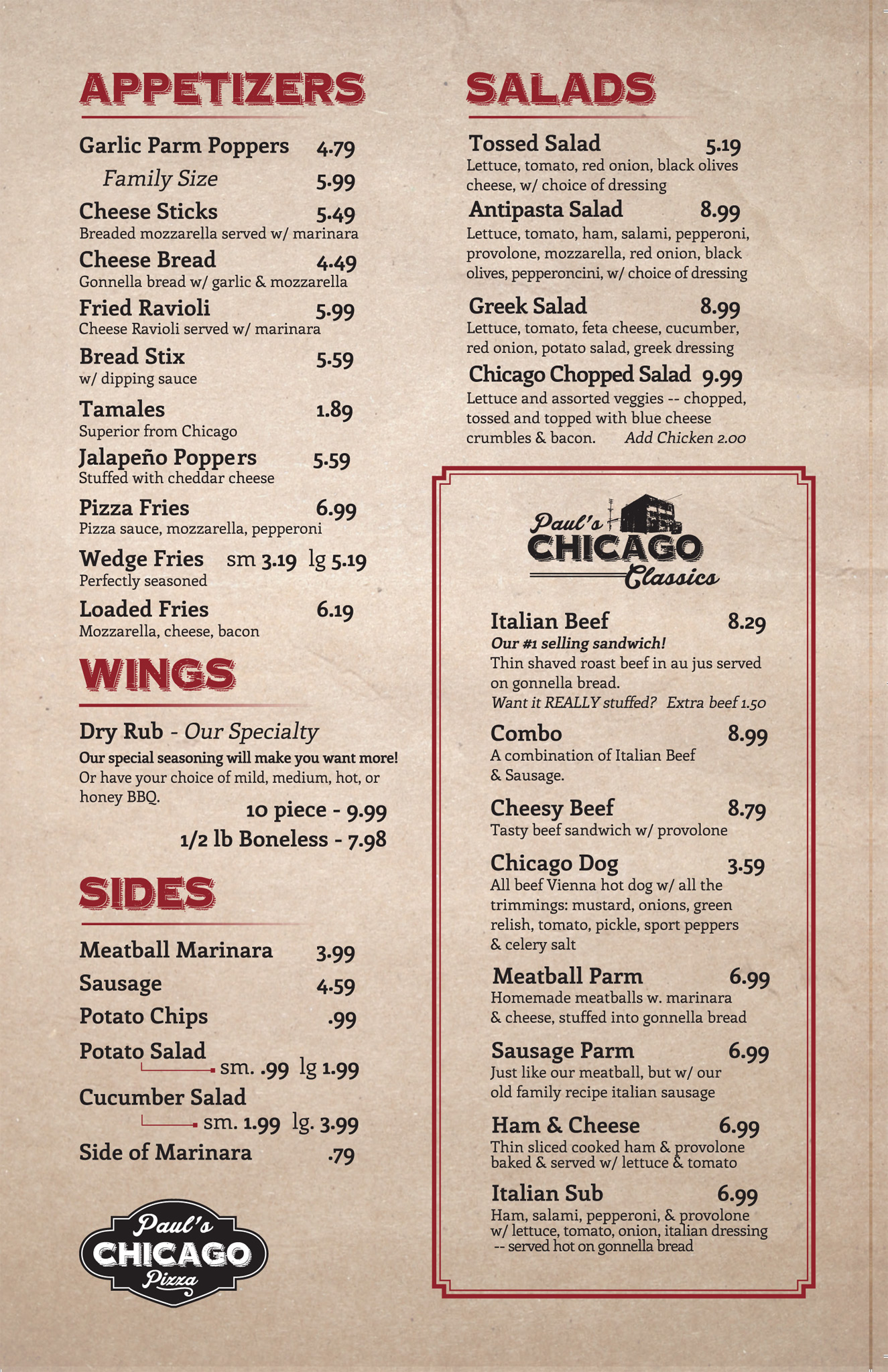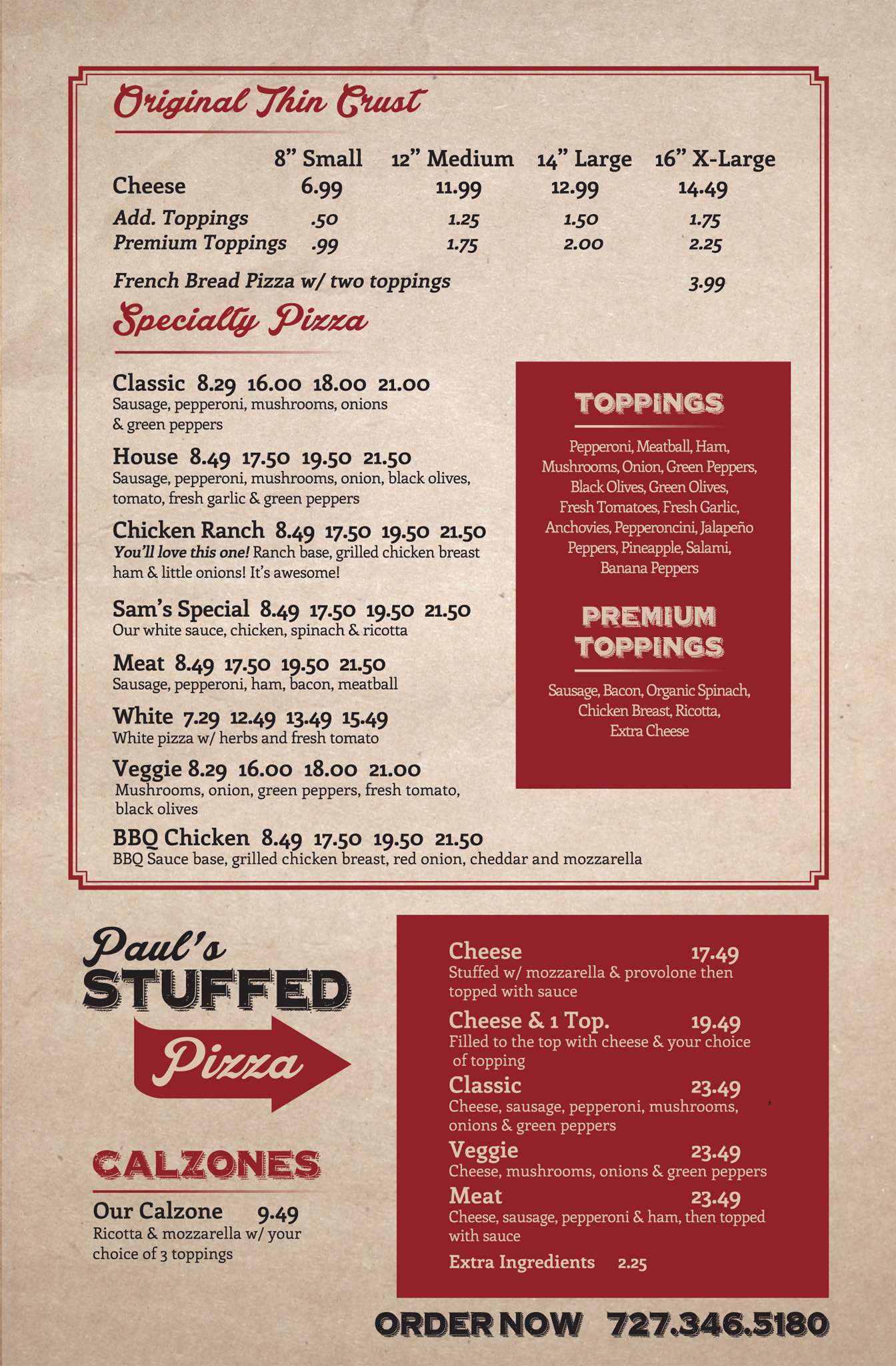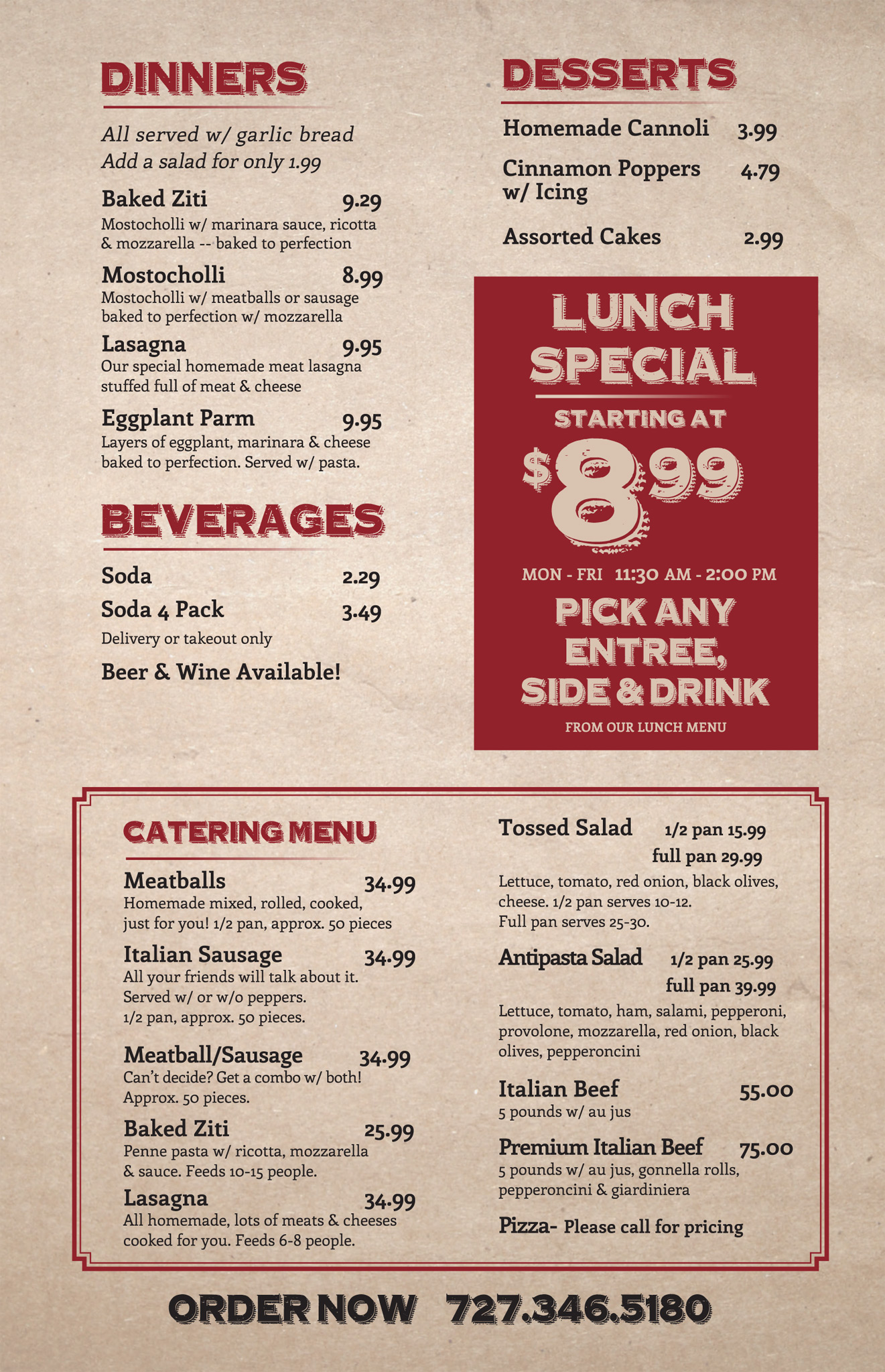 A Chicago style casual dining restaurant featuring Italian beef, meatballs, thin crust and stuffed pizza.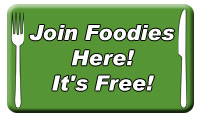 More Foodies News, Reviews & Recipes
3 Responses