Abby Allen · Feb 10, 2020 · 3 min read
I cannot tell you how many salad recipes that I have made for dinner that do not translate well for lunch the next day. That's right - I've opened up my pyrex containers the next day to many, sad, sad desk lunch salads. However, with this salad, recipe, it was my goal to create a bowl of greens that would stay perfectly crisp through lunch the following day (and then some). How, you ask? Well, with this hardy steak and potato salad.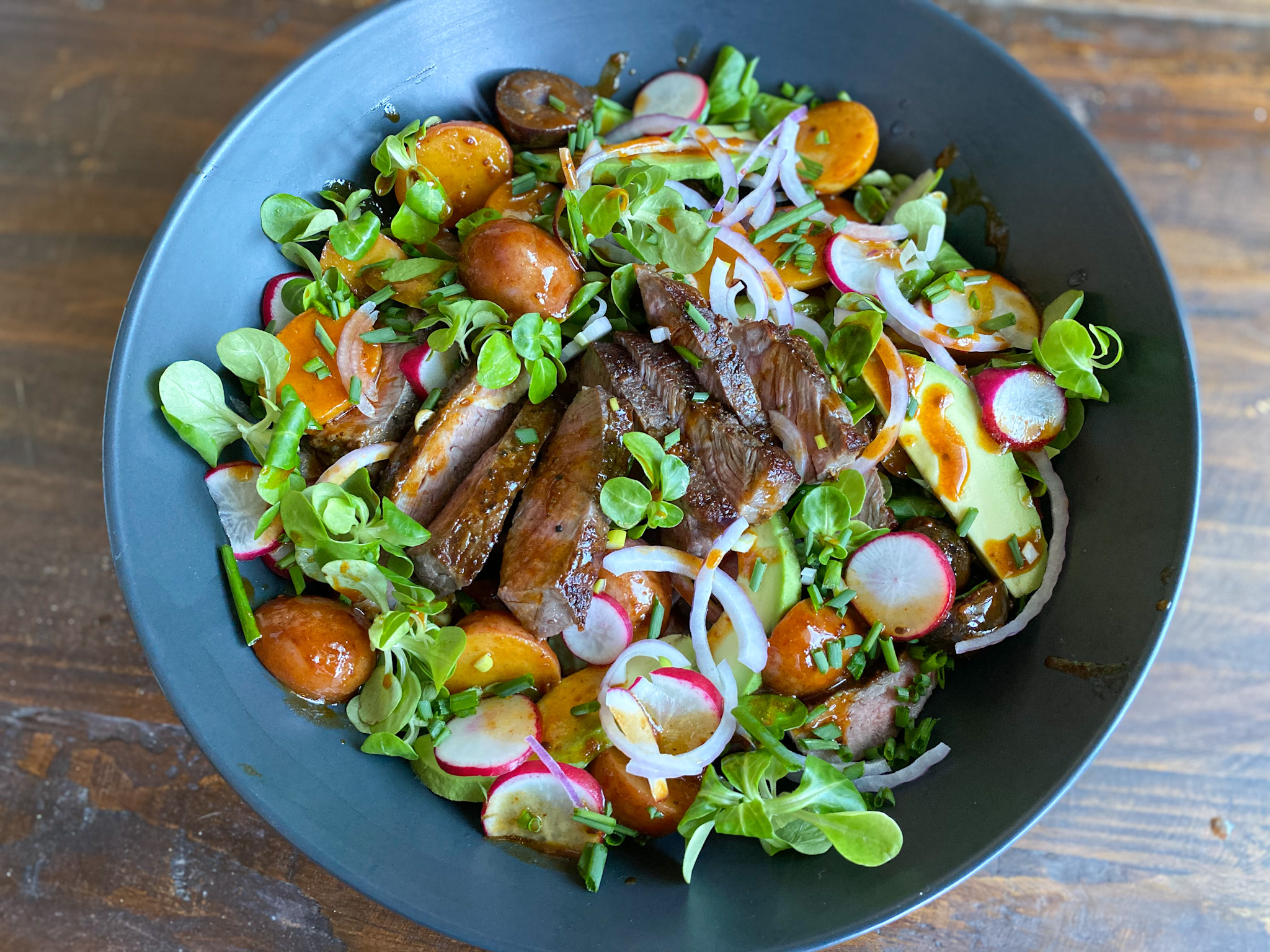 If you weren't already aware, Rollin' Oats Natural Food Market has a fabulous selection of grass fed meats...specifically, steak! In my humble opinion, grass fed steak is just, well, more delicious. When you pair it will a bowl of premium, organic vegetables, well, that's a done deal fore me!
For this recipe, you can cook the steak with a sous vide (such as Anova) if you have one, or, you can simply sear the steak in a ripping hot pan, for a similar effect.
The vinaigrette is super versatile. Use it to dress this beautiful salad, or even as a marinade for other meats. Additionally, feel free to use any steak that suits you! A ribeye would work equally as well for this recipe.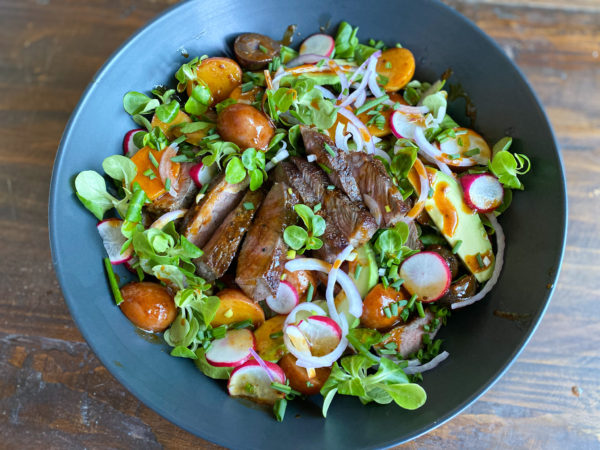 | | |
| --- | --- |
| | |
whisk together all ingredients until combined in a medium bowl. Set aside.
Heat a medium, salted bot of boiling water over high. When water starts to boil, add potatoes and cook for 6-8 minutes (until fork tender). Strain and add to bowl with vinaigrette.

If cooking via sous video, preheat sous vide to 129F (or desired temp). Salt steaks heavily on both sides. Vacuum seal and cook when preheated (to desired time and temp). For medium rare, 129F for an hour works great! When finished, remove from water bath. Heat skillet (such as cast iron) over medium-high with Ghee and sear for 1:00 minute on each side.

If cooking steak only via skillet, salt steak on one side heavily. Heat a cast iron skillet over medium high. Add Ghee until melted and add steak, salted side down and cook for 4 minutes. Flip and cook for another 3 minutes until a good crust has appears on both sides.

Remove steak from pan and allow to rest on a cutting board for 8-10 minutes. Cut steak against the grain into 1/2" thick slices.

Spoon potatoes from bowl with vinaigrette (reserve bowl with dressing) and combine with lettuce, radishes and onions. Top with steak with remaining dressing from bowl with potatoes and Avoacdo slices. Garnish with chives and serve.