***PLEASE NOTE THIS LIST IS IN ALPHABETICAL ORDER AND IS NOT A RANKING.***
Of our top 10 best Italian restaurants in St. Petersburg, FL, some have been around for many years, some for just a few, and a couple are somewhat new. Another interesting note is that 9 out of 10 provide Southern Italian cuisine, and one—IL Ritorno provides their own unique, gourmet, modern Northern Italian. (When most people think of Italian cuisine, they are thinking of Southern Italian.)
There were many Italian restaurants that have been highly touted in our Facebook group that were on our list to try. I can assure you that we tried them all. If they did not make the list, there is a very good reason why. We had some very disappointing experiences with a few and some great surprises too.
Before we get into the list, an important thing you should be aware of is that there are other publishers of "best of lists" that do not actually go to the establishments, or actually eat the food. (Sounds ridiculous, right?) They just download photos from the internet, or embed Instagram posts from someone else. Instant top 10 list produced without having to leave the house.
That's NOT how we do it.
We absolutely DO eat at all of the restaurants on all of our lists. (How can anyone recommend something they never experienced?)
Unfortunately, we've seen these junk lists a lot—from national and local publishers. We are also aware of a local publisher that offers paid placement in best-of-lists. There is no paid placement here.
WE PERSONALLY ATE ALL OF THE FOOD BELOW, AND WENT TO ALL OF THESE PLACES, AND THESE ARE ALL ST. PETE FOODIES PHOTOS.
1. Annata Restaurant & Wine Bar (Closed for renovations until Summer 2022)
300 Beach Dr NE #128
St. Petersburg, FL 33701
(727) 851-9582
Annata Website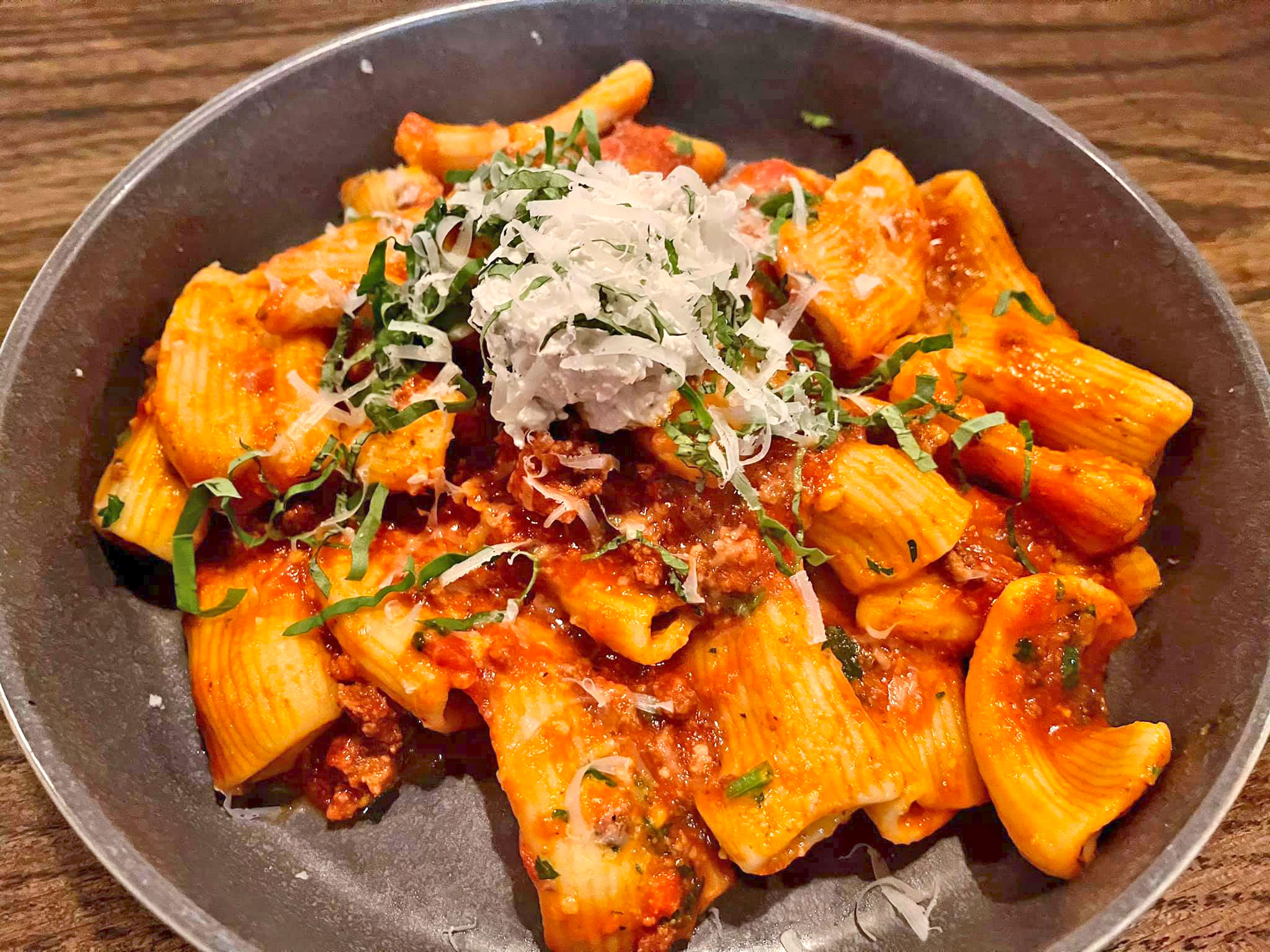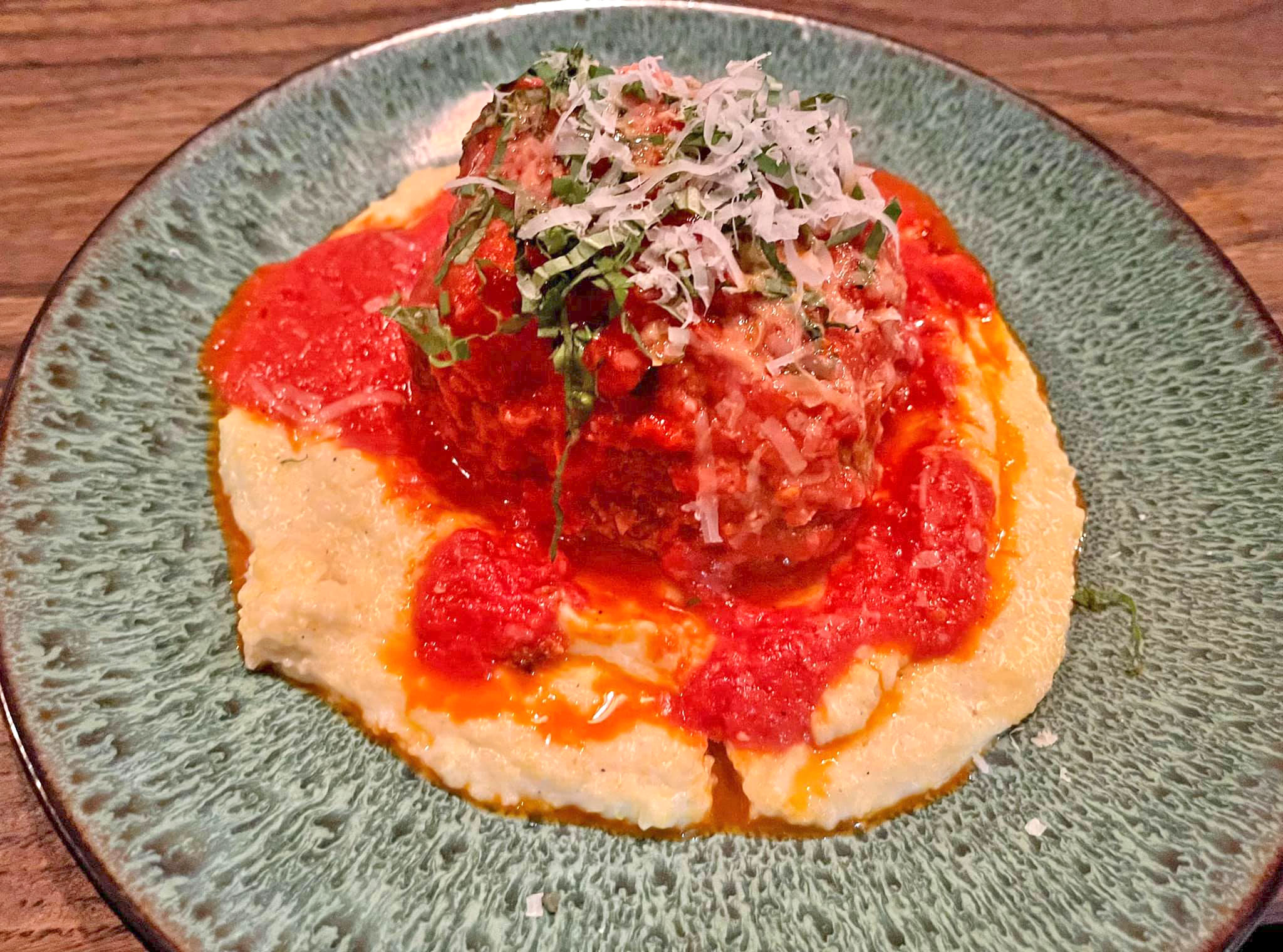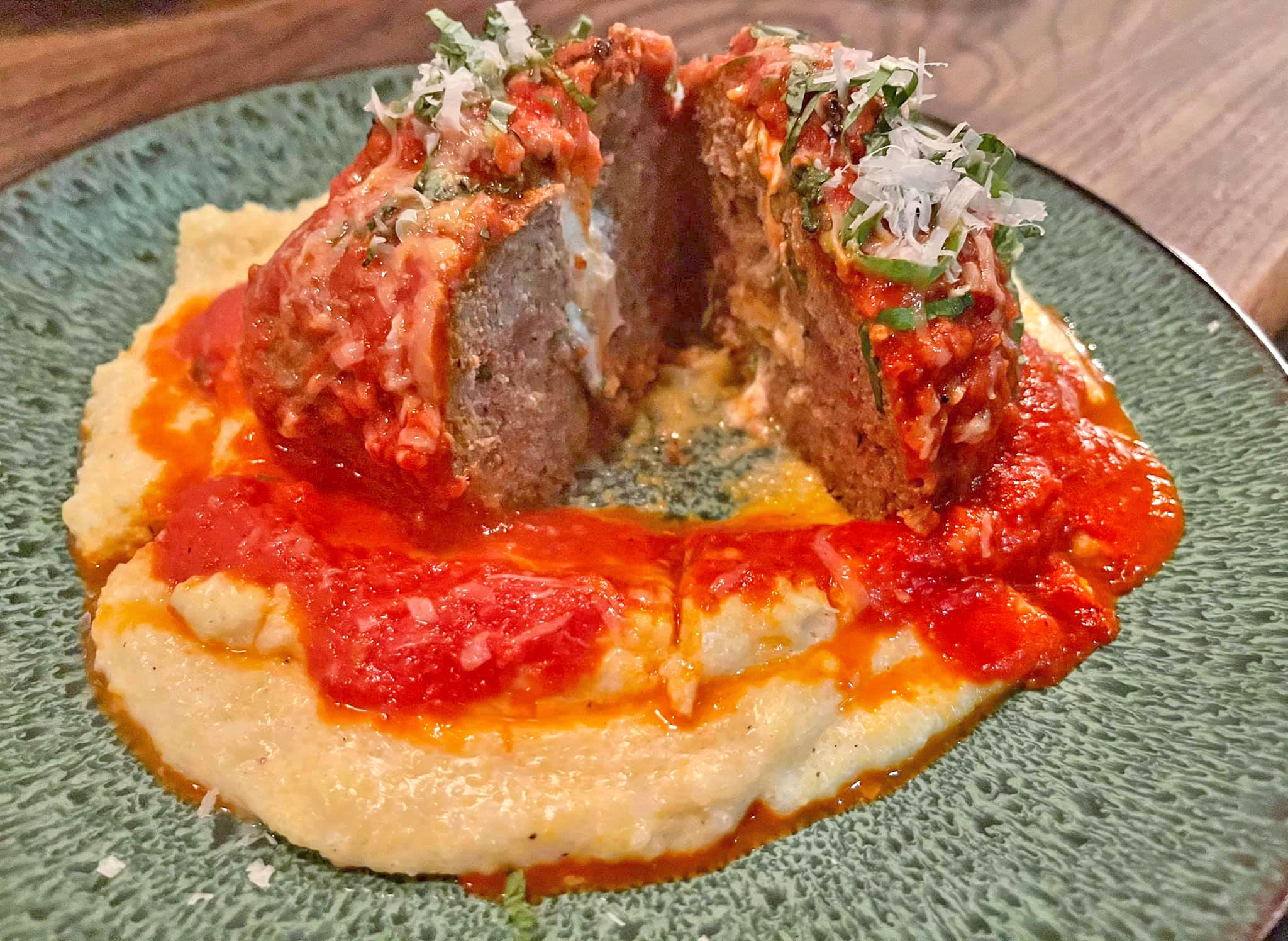 The Rigatoni with Short Rib Bolognese at Annata is completely craveable. We get it almost every time we go. The Ginormous Meatball is aptly named. Kevin could barely finish it, and he was completely stuffed. He is a total meatball snob, and said the flavors on this were amazing.
2. Beau n Mo's Chicago Style Steakhouse
2924 5th Ave North
Saint Petersburg, FL 33713
(727) 771-3690
Beau n Mo's Website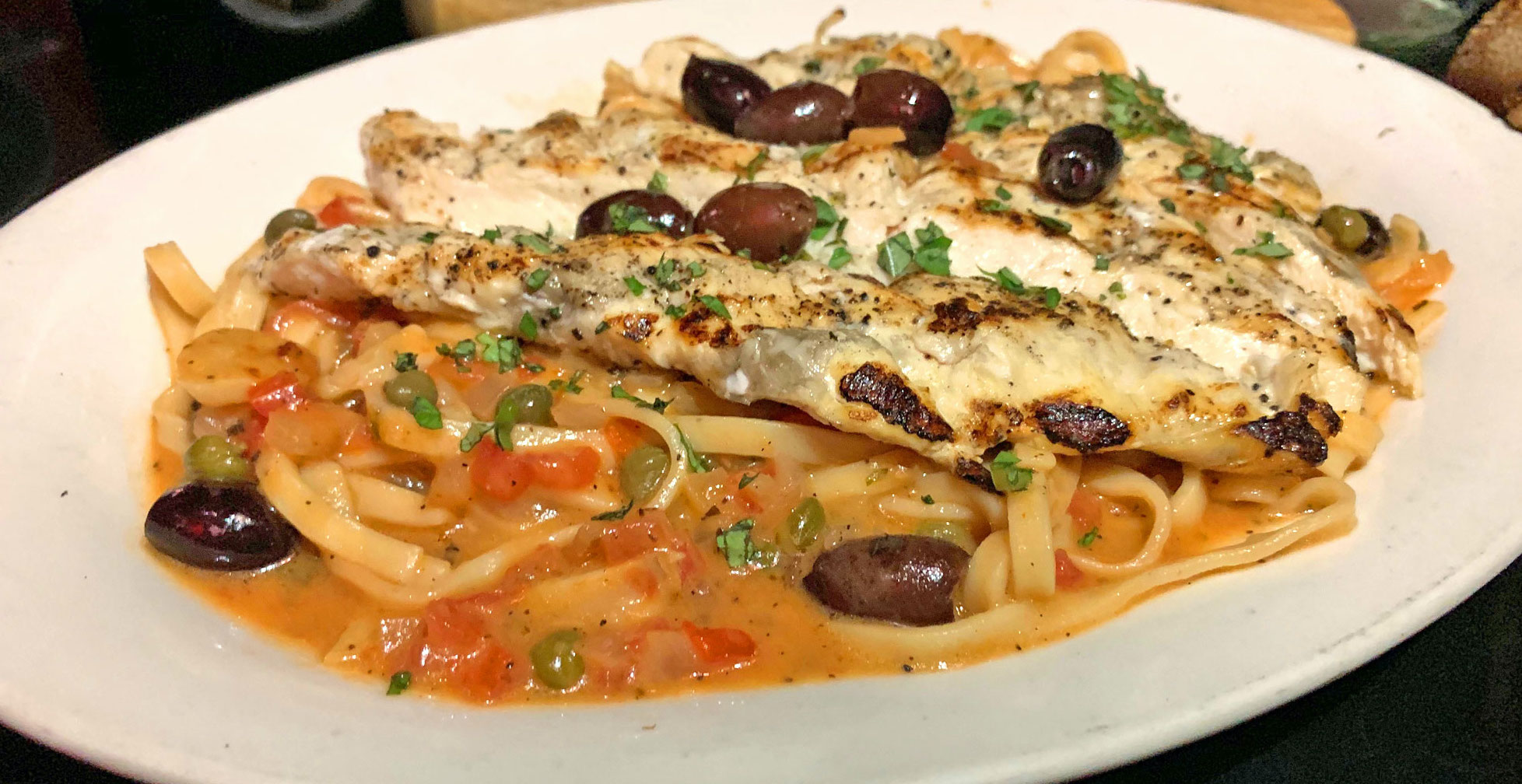 Beau n Mo's is a casual, off the beaten path, "Chicago-style Italian Steakhouse" located in the Historic Kenwood district of St. Pete.  They offer pasta dishes, USDA Prime steaks and locally caught seafood all served with a family atmosphere that is so friendly that anyone is welcome to walk back into the kitchen to say hello to Chef Beau.
Latest review of Beau n Mo's Chicago Style Steakhouse
They offer a fantastic selection of classic Italian dishes including homemade scrumptious rustic lasagna, Gnocchi with pulled tenderloin in a spicy red sauce, the above pictured Chicken Puttanesca (which is one of my favorites) and a create your own pasta where you choose your favorite sauce and pasta. They also offer some of the best Chicago style steaks in town. That ribeye is to die for! All of this in a quaint, charming setting that is a throwback to the days of grandeur and glory. Madonna and Beau are always there to greet you and to make sure your experience is amazing!

3. BellaBrava
204 Beach Dr NE
St Petersburg, FL 33701
727-895-5515
BellaBrava Website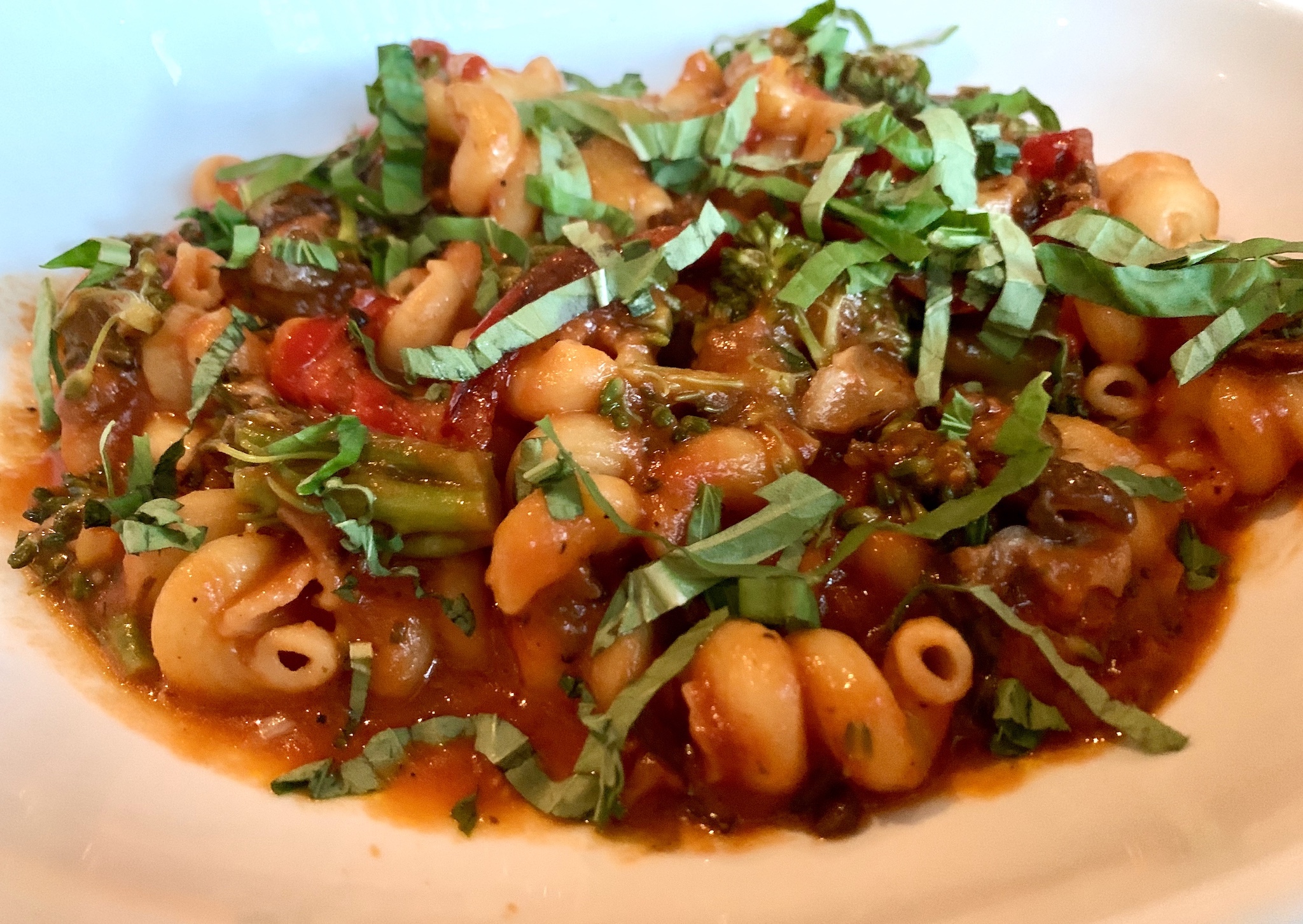 BellaBrava first opened its doors in 2005 at 515 Central Ave where The Acropolis currently resides. After five years of unbridled success they moved to their current location on Beach Drive in 2010. Through ups and downs, menu changes and facelifts, BellaBrava still remains. It sometimes gets a billing as a tourist destination, so we wanted to check it out now.
Some of our favorites include Trattoria Meatballs, Antipasto, Bianco Pizza, Pasta Arrabiatta, Bistecca Alla Palamitana and Seared Snapper.
I love arrabiatta sauce so I was definitely intrigued. The Pasta Arrabiatta is very fresh and flavorful made with roasted red peppers, broccolini, mushrooms, blistered heirloom tomatoes, arugula, red pepper flakes and cavatappi pasta. Though it wasn't as spicy as I normally like, and it did need more salt, the rich and bright flavor kept me coming back for more. My cousin, Kim, having never been to BellaBrava, ordered the Pasta Brava, which is the restaurants best seller. She absolutely loved it! Kevin has had it before and he very much enjoyed it too. It is made with wood-grilled chicken, fresh pappardelle, cotto ham, peas, roasted mushrooms, pecorino and asiago cream.
If you haven't been to BellaBrava recently, I recommend giving them try. They also have one of the best happy hours on Beach Drive.
4. Gratzzi Italian Grille
211 2nd St. South
Saint Petersburg, FL 33701
727-579-1570
Gratzzi Website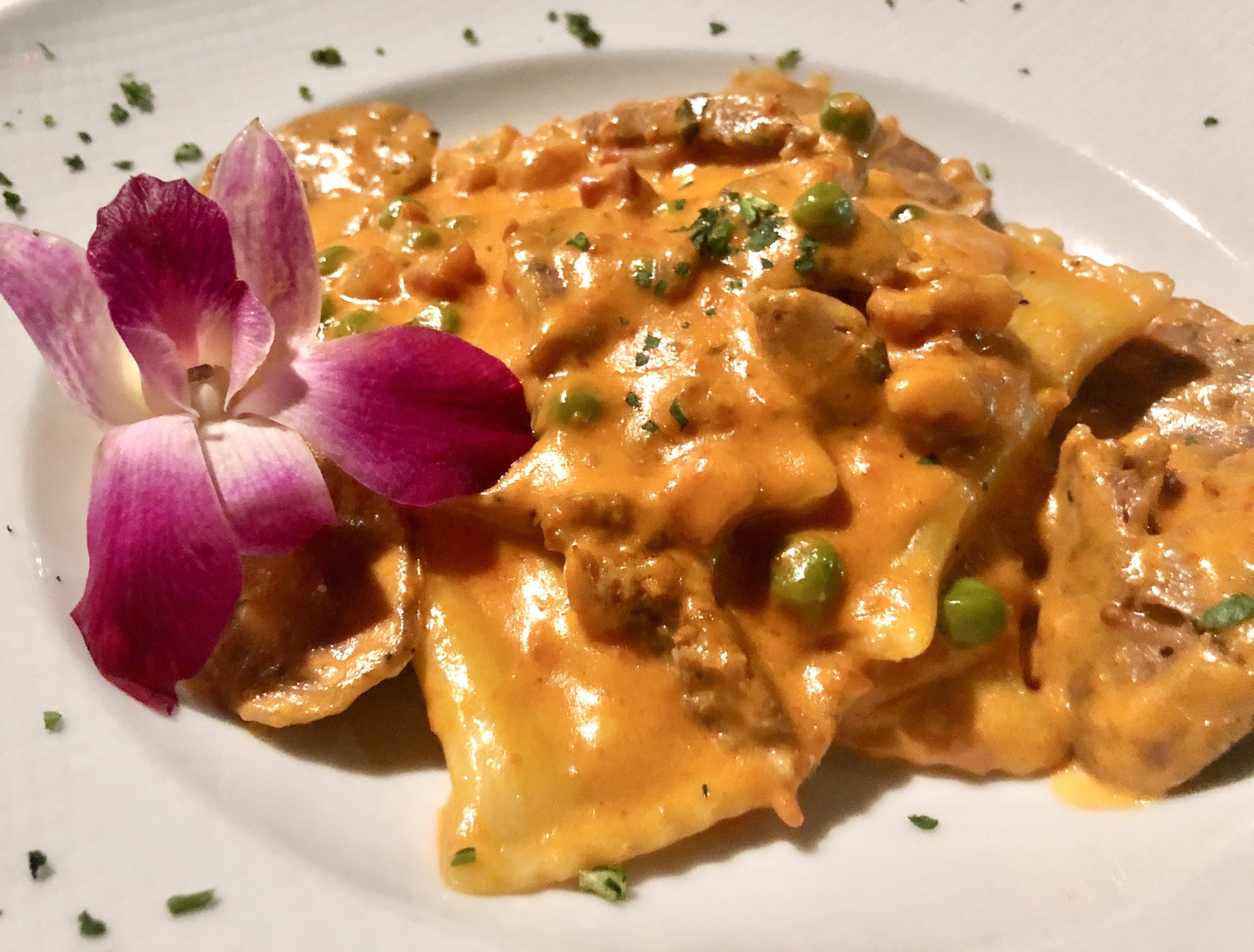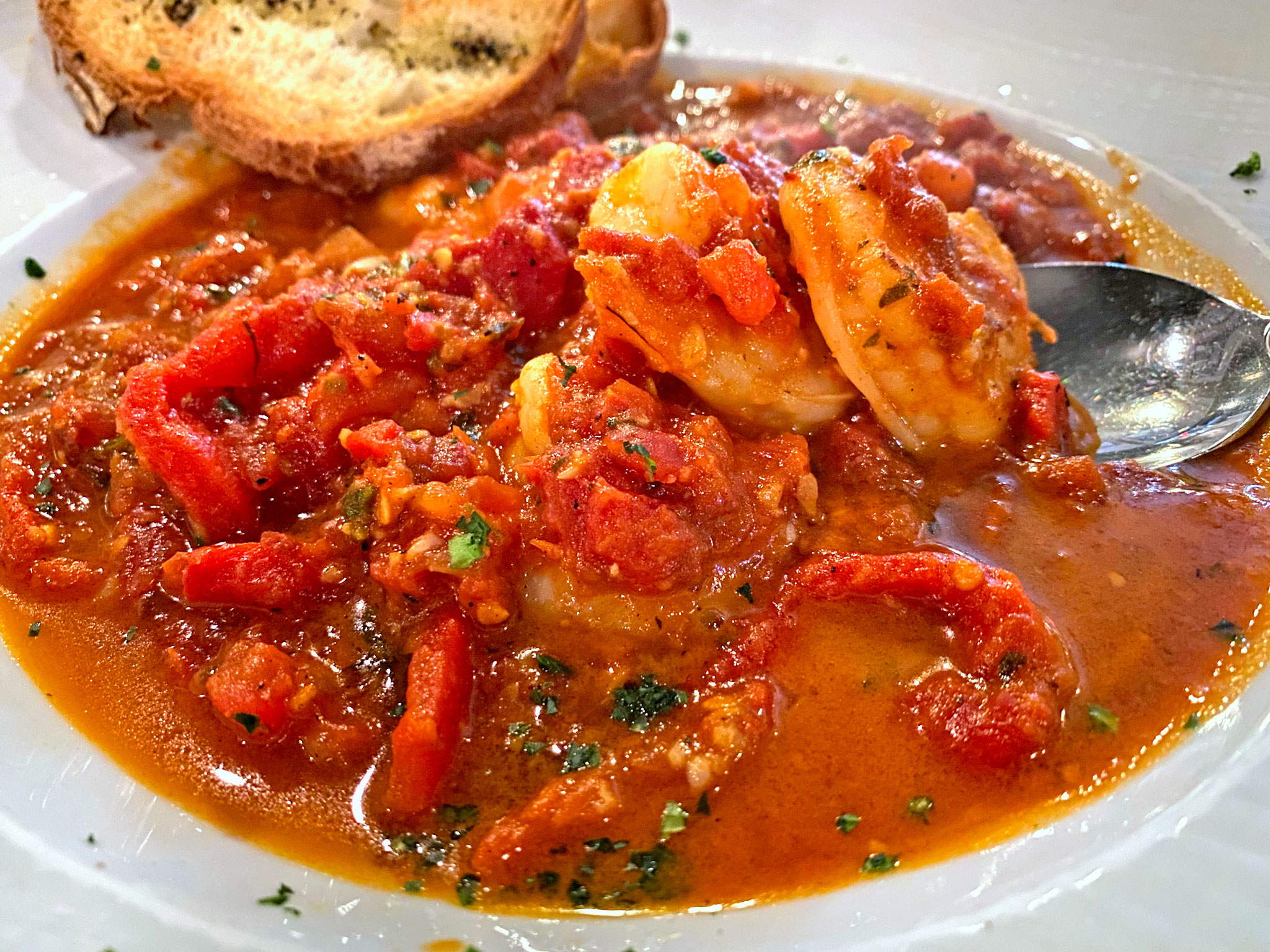 Gratzzi always comes out on top in reviews and surveys. Chef Tony Mangiafico and co-owner / General Manager Domenic D'Angelo are both from Italy and bring great Southern Italian authenticity to the food and atmosphere. Many of their recipes come from the old country, and some are centuries old. They offer "fine dining with a family atmosphere".
One of Kevin's favorites is the Rigatonacci alla Vodka, and we always get the Shrimp Arrabbiata every time we go.
One of the reasons Gratzzi does so well is that they have something for everyone. They have the classics that everyone expects from an Italian eatery, but their steaks and seafood also rival specialty steakhouses and seafood restaurants.
Lastly, we would be remiss if we didn't mention their signature Cavatelli Bada Bing—cooked table side—handmade ricotta cavatelli, vodka flambéd in a pan and then poured inside of a giant Padano parmesan wheel with San Daniele prosciutto, tomatoes, and basil. It is stirred and stirred as the walls of the cheese start melting and coating the pasta.

5. Il Ritorno
449 Central Ave #101
Saint Petersburg, FL 33701
727-897-5900
IL Ritorno Website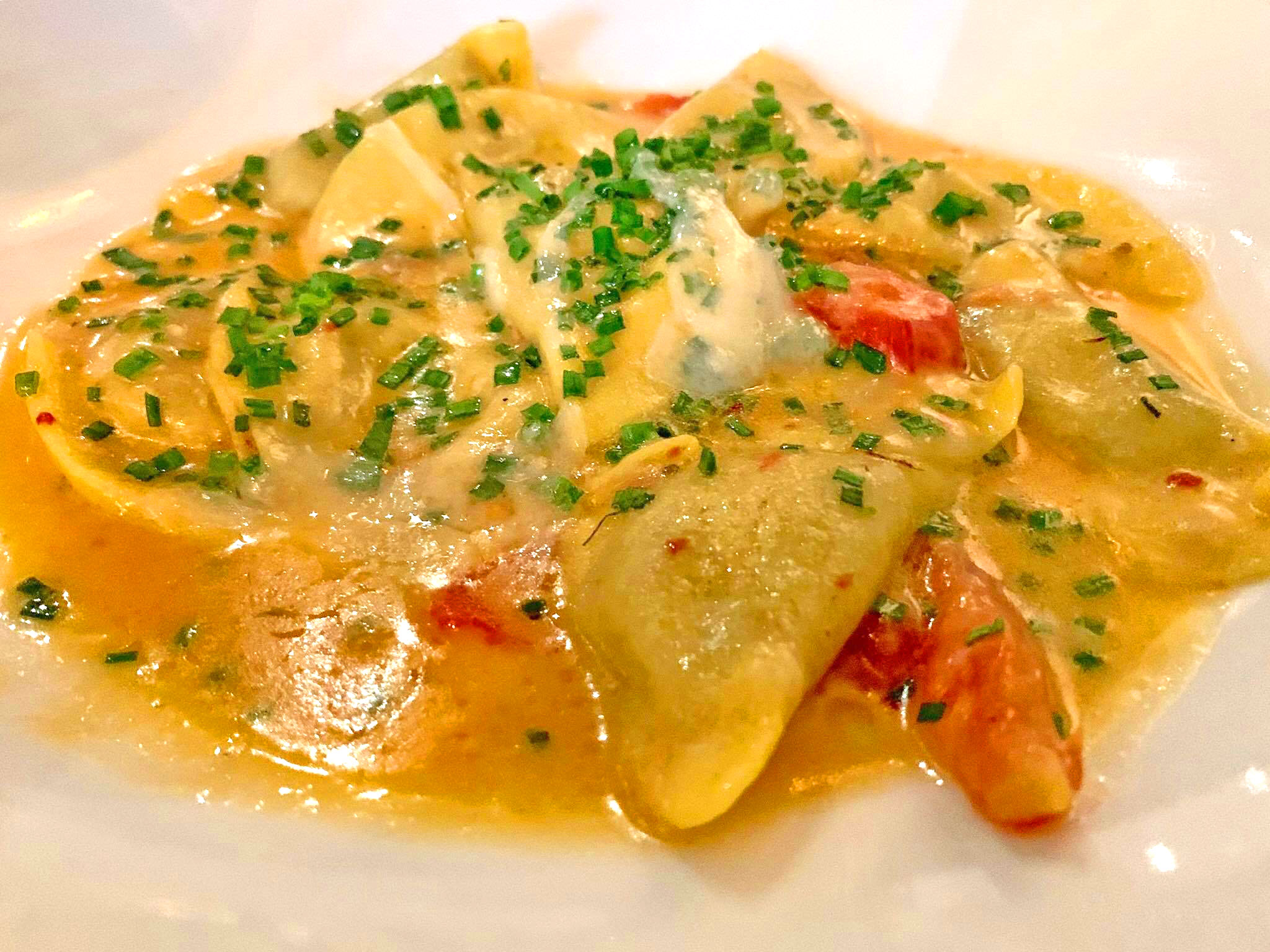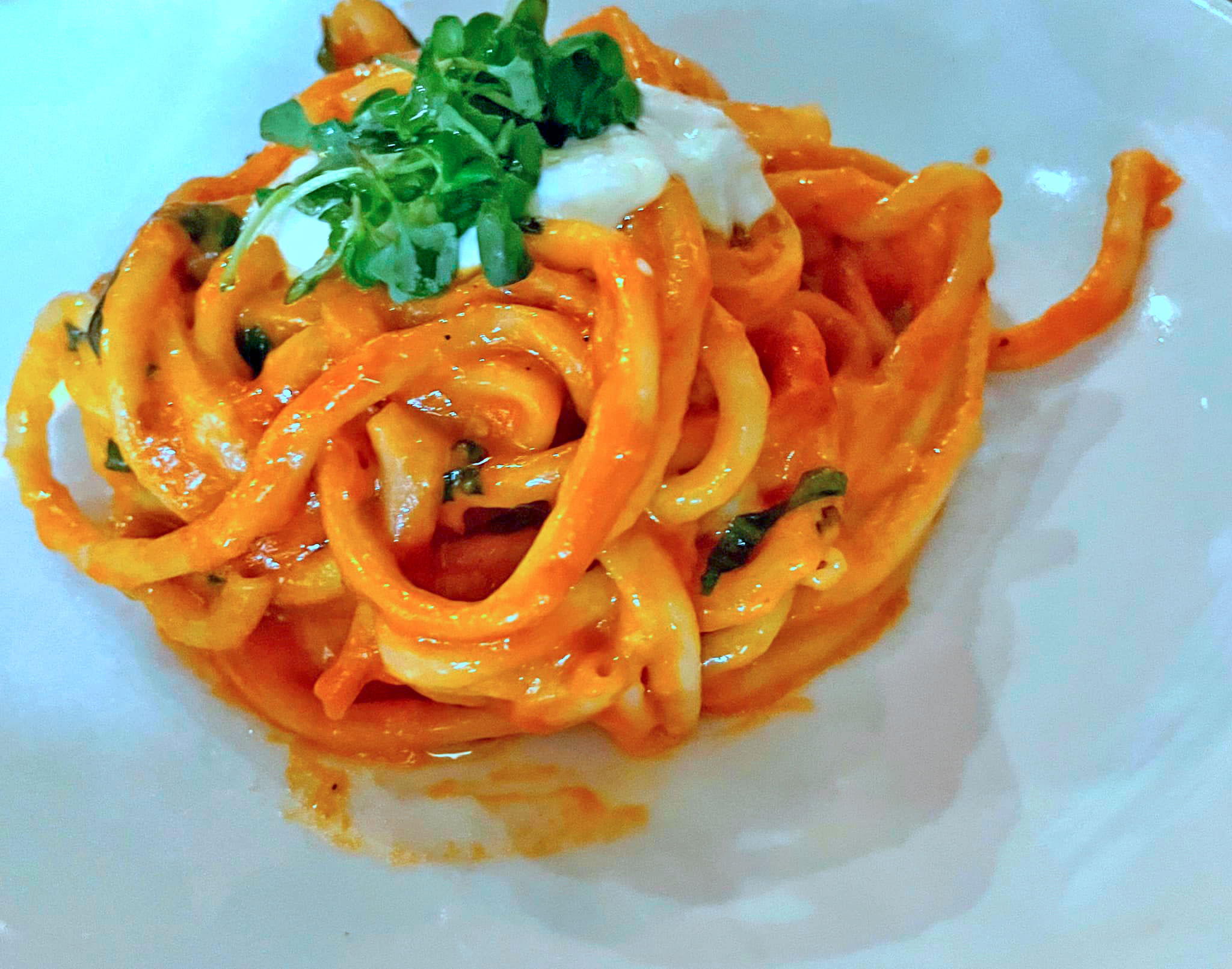 IL Ritorno arrived on the Downtown St. Pete foodies' scene in late 2013, held their Grand Opening on January 30, 2014 and quickly became a popular destination with their unique modern style of Northern Italian cuisine.
Chef David Benstock and his wife Erica are the sole proprietors of the restaurant aptly named "The Return" in Italian. Chef David grew up in St. Petersburg and after high school he attended and graduated from The Culinary Arts School at Johnson & Wales University in Denver, Colorado and then went onto to hone and perfect his craft, cooking in kitchens in Colorado, New York, Italy, Miami and Tampa before "returning" to his hometown and opening IL Ritorno. And so lucky we all are that he did!
All of the pasta is house made and Chef Dave tries to use locally sourced ingredients whenever possible. However, he refuses to sacrifice quality and does fly in cheeses and some other items from California, Italy, etc.
IL Ritorno has an intimate setting with rustic brick walls and a view of the park across the street that will one day be a new high-rise. The setting and the amazing food remind us of being in Manhattan. The service is impeccable and you won't find food like this anywhere else. The Octopus, Smoked Meatballs, Short Rib Mezzaluna, Cappelini Nero, Bucatini Pomodoro, and Diver Scallops are some of our favorites.
Here's Kevin's recent review of the new seasonal spring menu items.
Reservations are suggested as the restaurant is most always busy. For a special treat, make sure to try the Chef's Bar.
6. Matteo Trattoria & Pizzeria St Pete
2363 Central Ave
St. Petersburg, FL 33713
(727) 851-9114
Matteo Website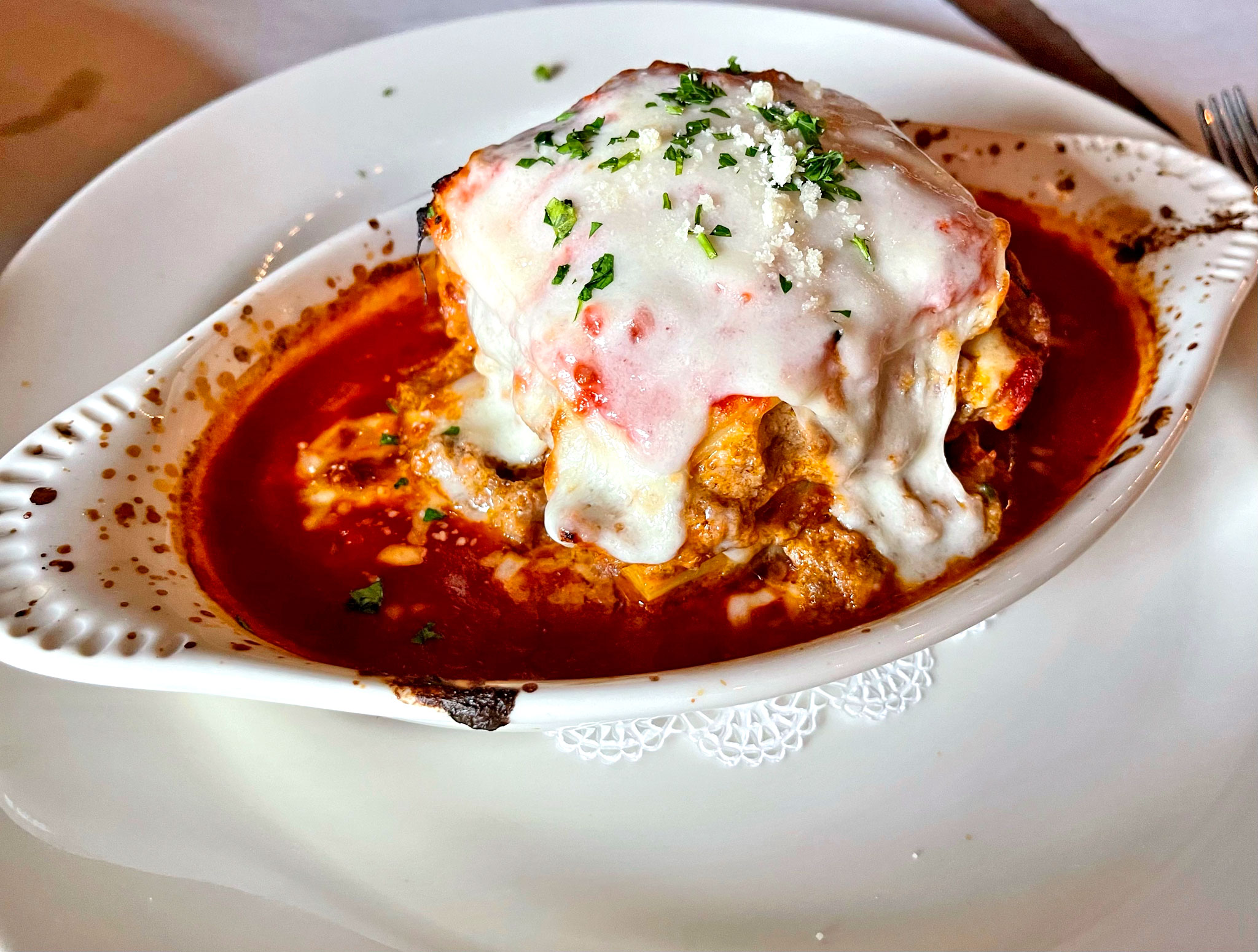 The restaurant is named after owner Nando Silvestri's son. Silvestri started with his first restaurant in Los Angeles in 1992 when he was just 21. He has owned several eateries around the LA area, and still has one there—Tramonto Bistro Malibu.
This unstoppable restaurateur's next move was to open Matteo Trattoria & Pizzeria in Tampa in September 2020.
The St. Pete location at 2363 Central Ave opened to rave reviews in July 2021. The quality of the food and service is right up there with a great NYC restaurant.
The Lasagne is one of the best in St. Pete. Layers of ricotta cheese, Bolognese sauce and pasta sheets. Like meatballs to Kevin, lasagna is my go-to as a test of an Italian restaurant. This one gets an A+.
Other favorites include Polpette Della Casa (meatballs), Cozze Tarantina (P.E.I black mussels), Amatriciana, Bolognese, and Gnocchi Boscaiola. There are great wood fired pizzas done in the traditional Naples fashion. Two of our favorites are the traditional Regina Margherita, and the spicy Messicana pizza.
7. Noble Crust
8300 4th St North
Saint Petersburg, FL 33702
(727) 329-6041
Noble Crust Website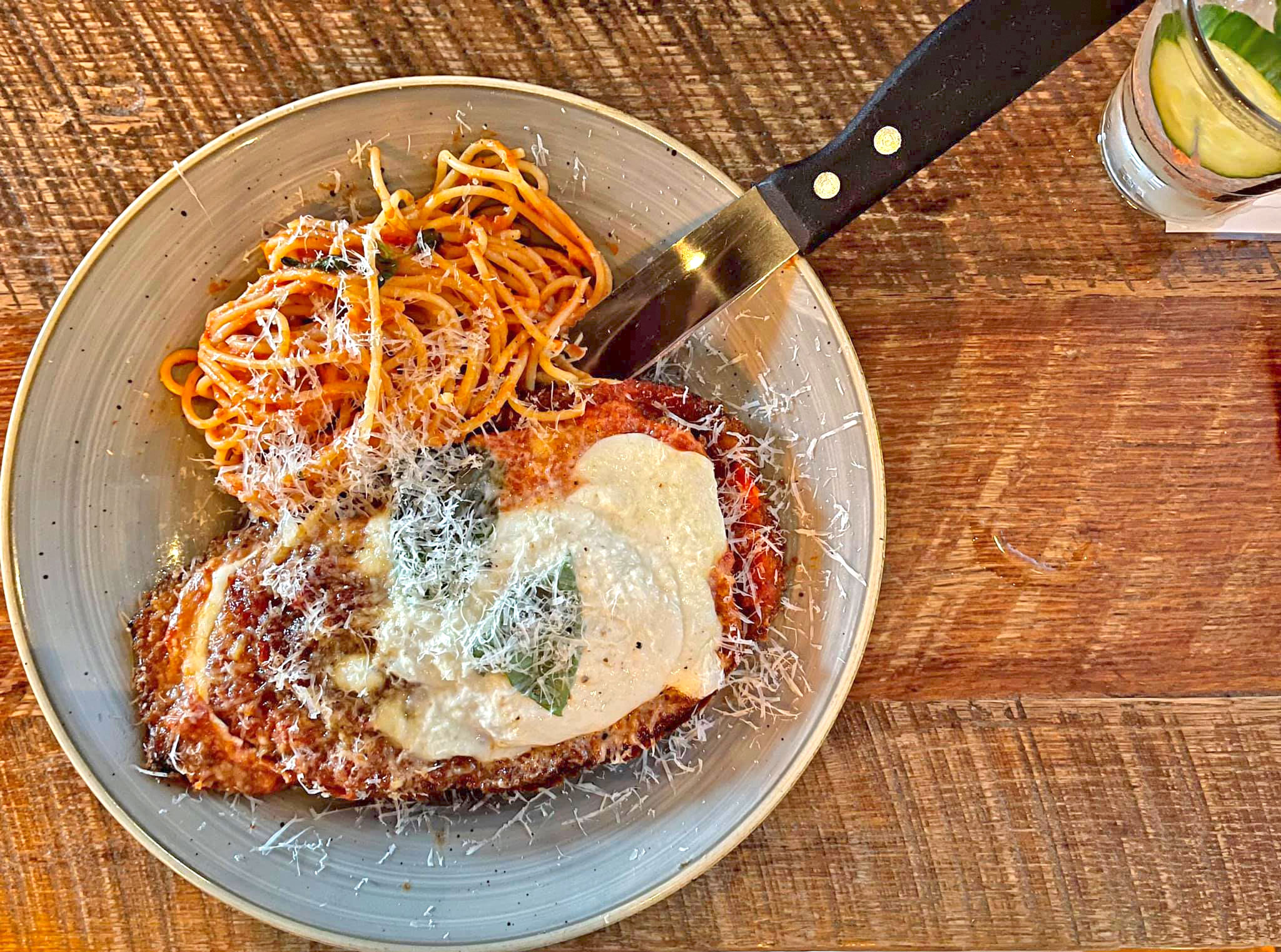 Noble Crust has their own particular style that they call; "Seasonal Italian with Southern Soul". Noble is known best for their creative weekend brunch items, as well as their inventive pizza creations. Their menu changes with the seasons and features locally grown ingredients. It was opened in 2014 by local restaurant veterans TJ Thielbar and John Mays, two of Bonefish Grill's original founders.
A couple of their uncommon delectable starters are the Brussels Sprouts (which they are famous for and you must find out why) – goat cheese fonduta, agrodolce, citrus, mint, pickled frescos and spiced crisps, the F.G.B.L.T – fried green tomatoes with Tabasco-honey glazed pork belly, & pimento cheese and the Meatballs – beef & pork, tomato sauce, ricotta, parm and basil (these made the top 5 meatballs list).
Some of our favorite pasta dishes are the Ricotta Gnocchi – this is an appetizer and has pancetta, black pepper cream, parm, pecorino and scallions, the Rigatoni & Short Rib Ragu – creamy burrata and Calabrian chili, and the Eggplant Parmesan – crispy eggplant, parm, tomato sauce, Calabrian chili, burrata and tomato jam (the best eggplant parmesan I have had anywhere). You can't go wrong with any of these. They are all delectable!
Pizza: The Noble Pig is where it's at! It has pepperoni, sweet fennel sausage, spicy soppressata, pickled cherry peppers, caramelized onions, tomato sauce, fontina, parm – and to complete the pig and a sunny side up egg. The Margherita and the Meatball Pizzas are two more favorites.

8. Pia's Trattoria
3054 Beach Blvd South
Gulfport, FL 33707
(727) 327-2190
Pia's Trattoria Website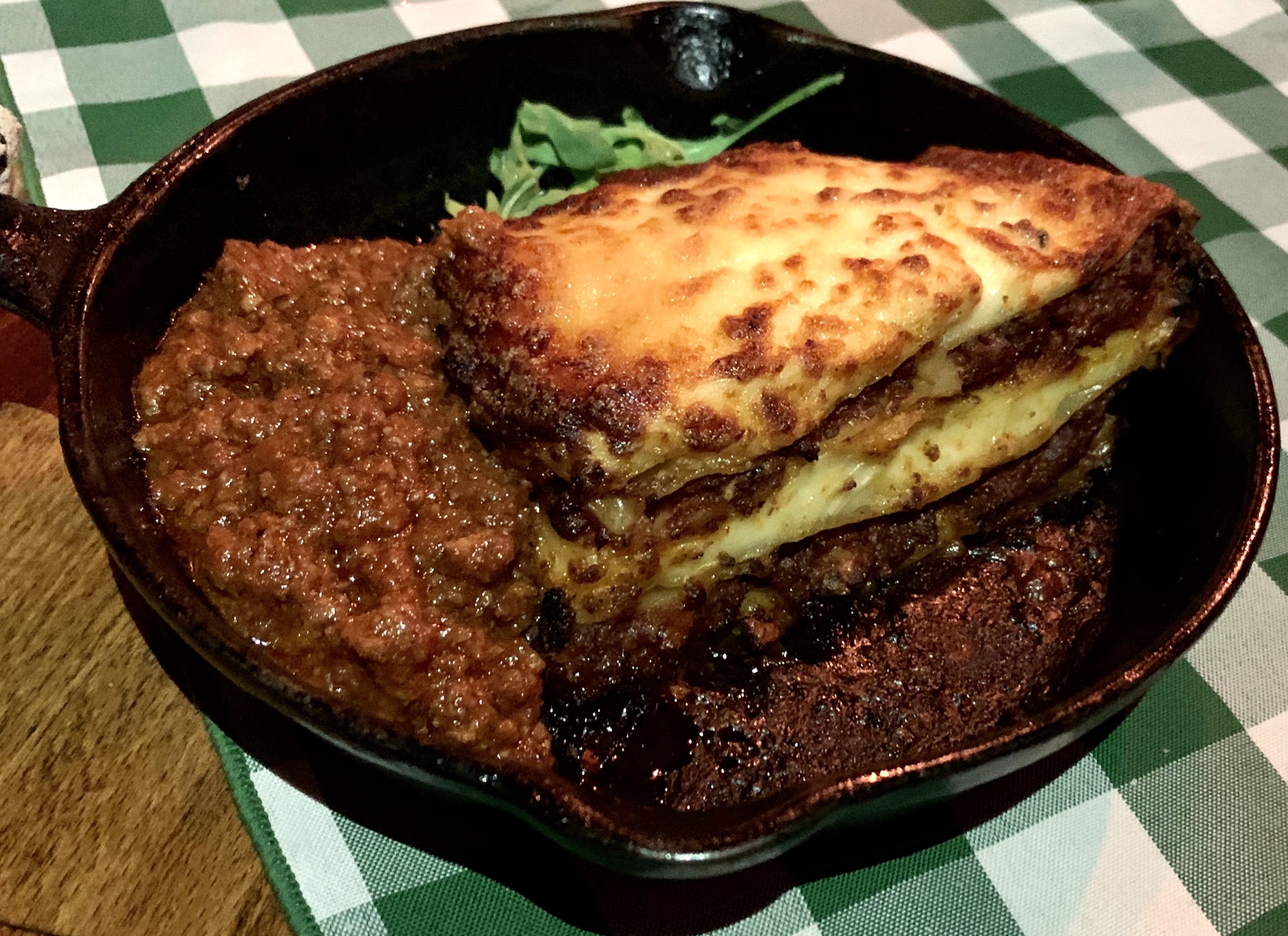 In 2005, Pia-Maria and Tom Goff opened Pia's Trattoria in Gulfport. Having just arrived from Europe with their four small children and a new resident in Gulfport, FL, Pia was homesick for Italian food made from scratch, the food she grew up with. So they decided to open just a small Pasta-Panini-Salad Bar called Pia's Trattoria. A small place with only 3 tables inside and an outside shaded courtyard. Well, that didn't last long, her pride as a chef and her love for food, and the hospitality business in general, changed the face of the small Trattoria rather quickly. Adding space and surrounding herself with an exceptional talented culinary team gave way to welcomed growth.
"Being the chef in your own restaurant is like an obsession. You want to show what you can do. You always try to be better, wow the customers and challenge yourself. It's not just a job, it's a calling.  You don't just give your food away, you give your passion, your love, your integrity. You grow with your customers and learn to trust in your staff."  -Pia
The menu evolved from only pasta and Panini to chef driven menus, fresh seafood, hand crafted pasta, authentic and modern Italian dishes, wine tasting dinners and of course… homemade desserts in a rustic Italian atmosphere. After 14 years in business Pia's Trattoria has accumulated many awards and culinary recognition in the Greater Tampa Bay area. The Trattoria prides itself in its effort to source locally, cook seasonal and they change their menu bi-weekly. Everything is made from scratch. Pia always has grown with her customers' demands and culinary needs. "We are good in re-inventing ourselves on a regular basis" she jokes. They also offer Gluten free pasta options and vegan choices for every course. Several years ago Pia's was awarded the "Best Vegan Place for Carnivores" by Creative Loafing, recognizing the effort to work with new food trends and customer demands.
But really, word of mouth is the reason why Pia's is so successful and a favorite in midst of the bustling and ever changing restaurant scene of the Greater Tampa Bay area. Although it still is a family owned and operated place with a big heart and excellent food, the place has expanded and offers a candle lit wine dining room, outside covered garden patio seating, a full liquor bar and two private dining rooms for groups of up to ten guests.
The Trattoria's beautiful outside courtyard with a recently built barn roof is a beloved spot for weddings, receptions, rehearsals and other celebrations. And Pia is still happy to do what she loves to do most: serving authentic Italian food in a warm ambiance to customers she calls her friends.

9. Sauvignon Wine Locker & American Trattoria
241 Central Ave
St. Petersburg, FL 33701
(727) 827-7896
Sauvignon Website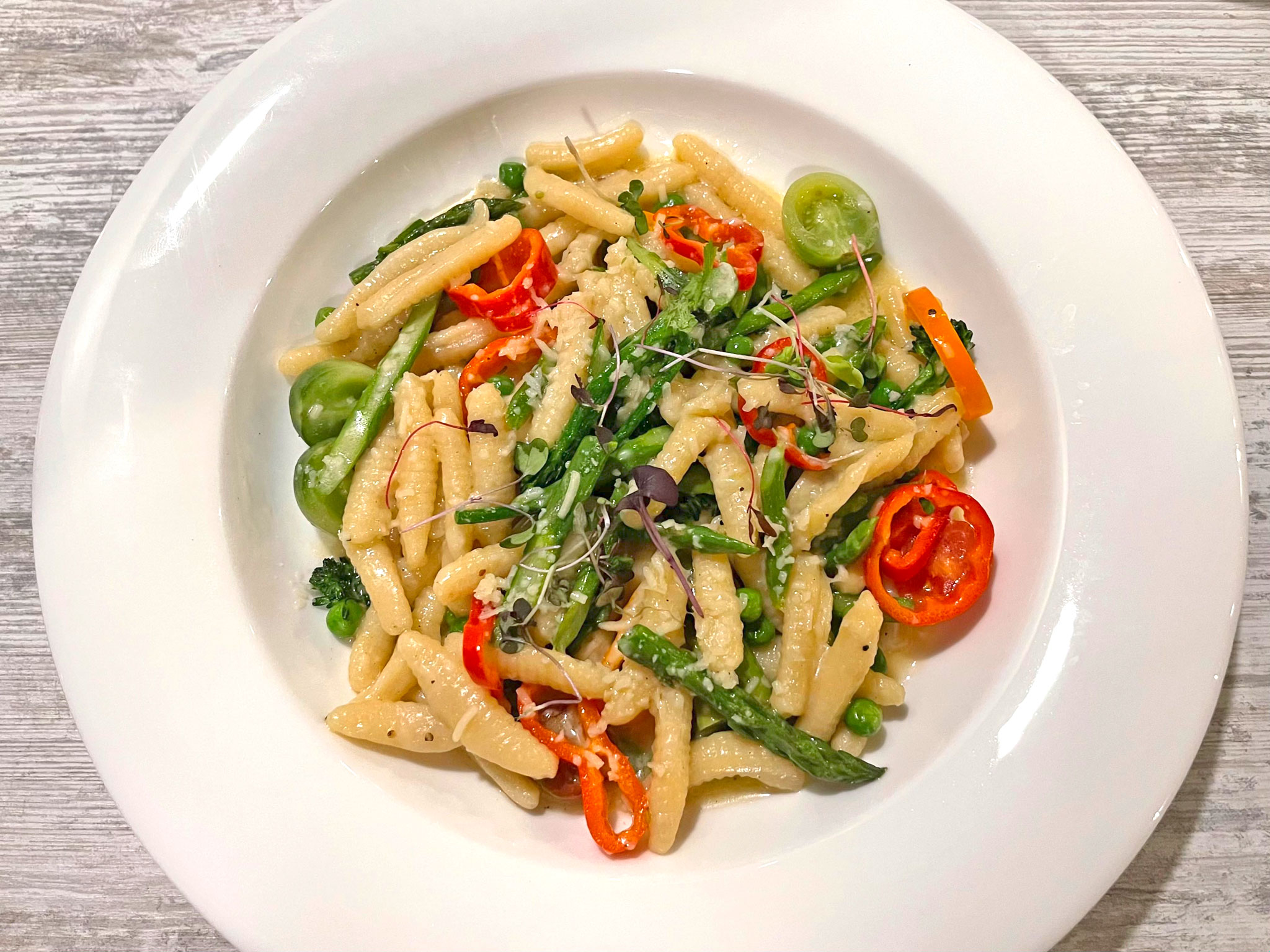 Sauvignon Wine Locker & American Trattoria just opened recently, and they hit it out of the park. They have a great international wine list with profiles and prices for everyone. They have a membership club that includes climate-controlled wine lockers, and the cuisine is out of this world. It's really spectacular.
Cavatelli Primavera – seasonal vegetables, Champagne beurre fondue. The seasonal veggies here are peas, asparagus, baby heirloom tomatoes, and sweet peppers along with some micro greens.
The perfect al dente chewiness of fresh housemade cavatelli combined with the crispness of the fresh veggies and rich butteriness of the sauce marries perfectly. You just can't stop eating it.
10. Sea Salt
183 2nd Ave N
St. Petersburg, FL 33701
(727) 873-7964
Sea Salt Website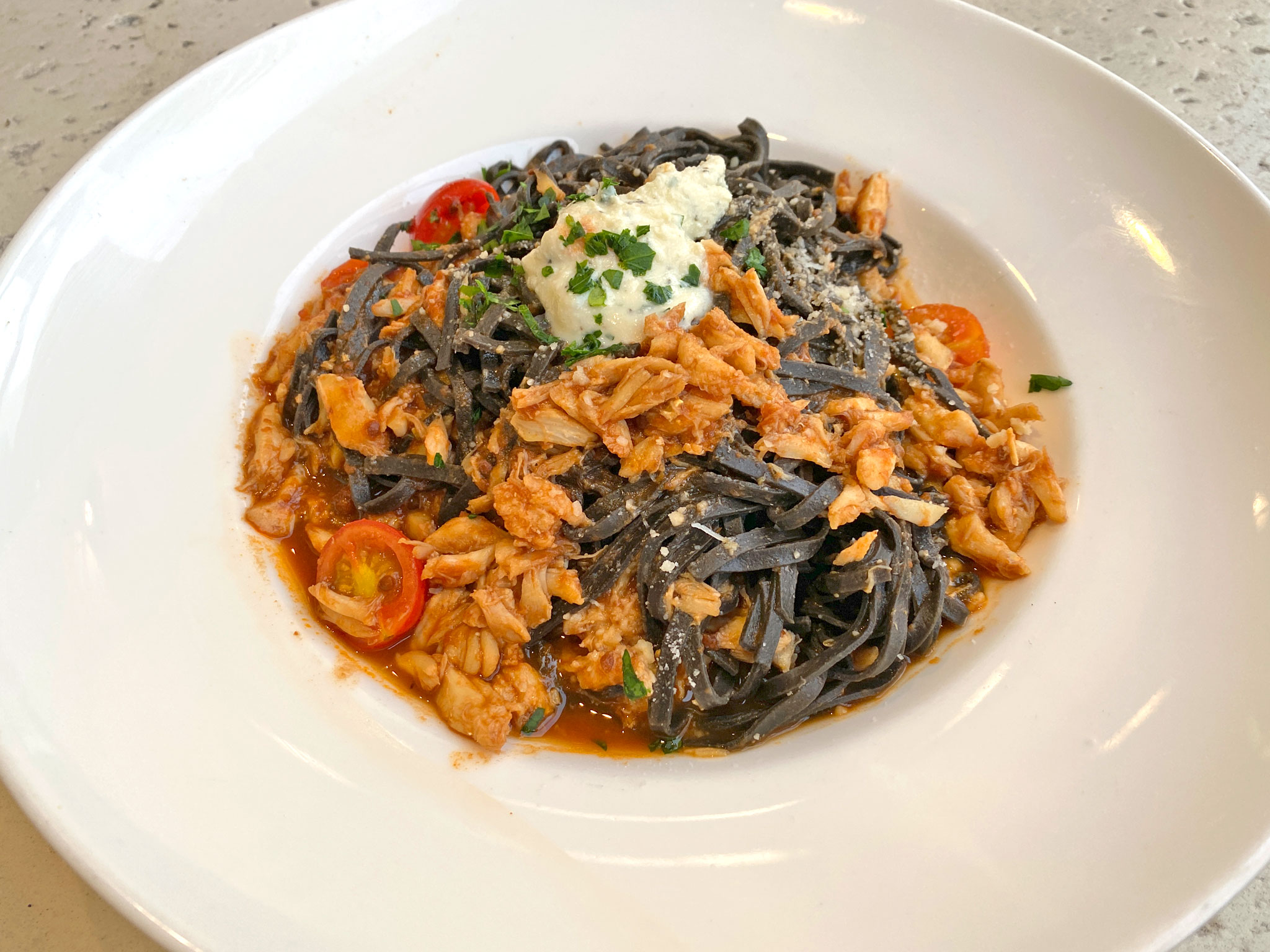 Linguini Nero – with blue crab, spicy tomato broth, herbed ricotta. This a great dish when you're in the mood for something a little different, and fresh, but still want pasta. You can tell that the squid ink linguini is fresh made, and with year round crab season in Florida, the blue crab is just as fresh. The ricotta and fresh tomatoes add the brightness to balance it out. I didn't think the tomato broth was spicy, but I'm one that likes extremely spicy food.
Other Italian favorites at Sea Salt include: Rigatoni Bolognese, Cavatelli with Maine lobster, Potato Gnocchi, and Osso Bucco Ravioli .
Tell us what your favorite Italian restaurant is in the comments below.
(Kevin Godbee and Haley Haman contributed to this article)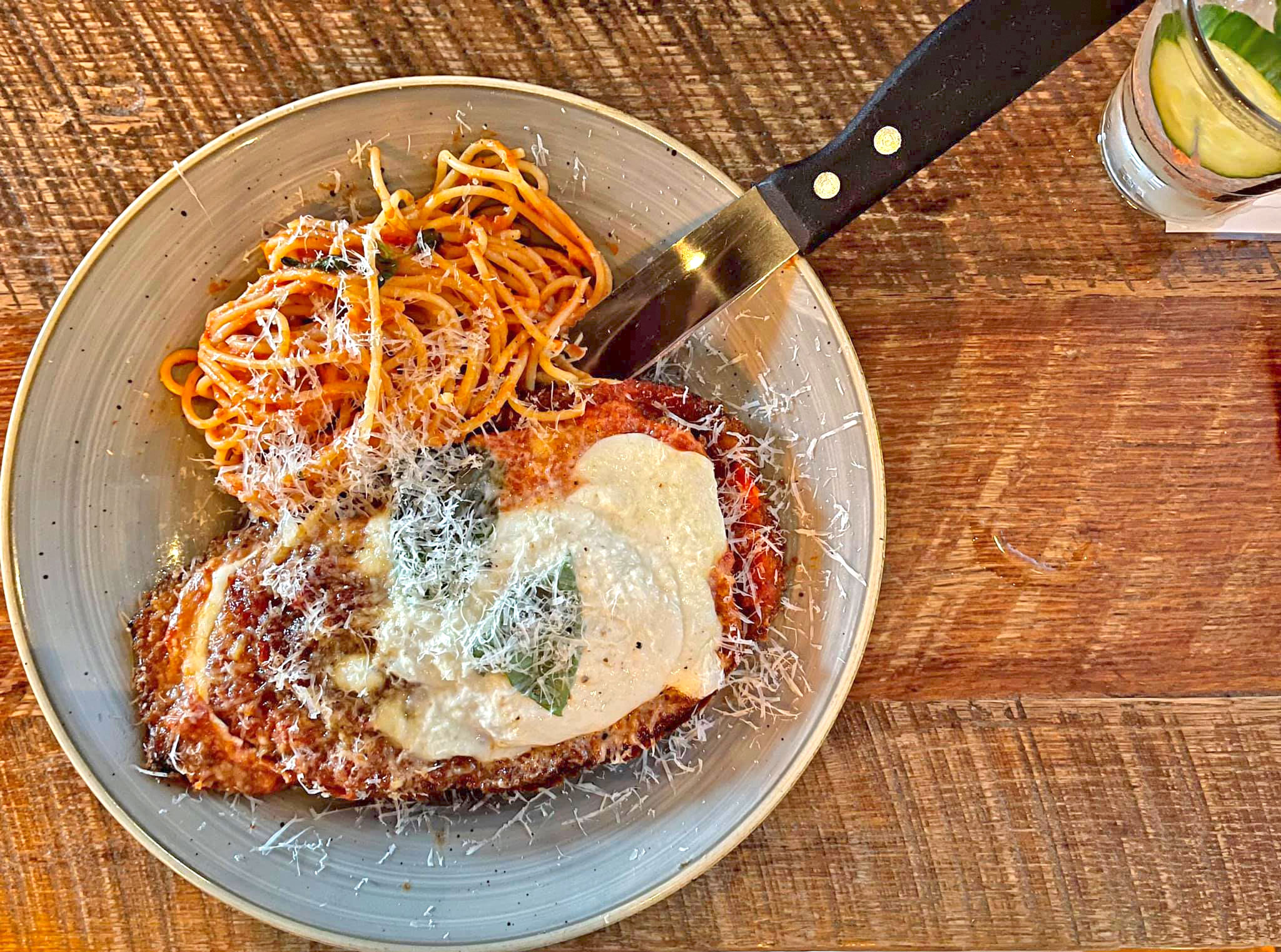 Readers Rating

Rated 4.2 stars




4.2

/ 5 (

Reviewers

)

Excellent
---
The 10 best Italian restaurants in St. Petersburg, FL chosen by locals.