Biting into a flavorful sandwich is often overlooked with the number of unique restaurants and offerings St. Pete has, but sometimes you just want a dang sandwich! Luckily, the food scene here is exceptional even when it comes to perfecting that lunch craving for a simple yet delicious sandwich. There are endless combinations to create the best sandwich but we recommend you try these favorites from local foodies. Within the first bite, you should know if it's the real deal or not.
We've rounded up some of the Burg's best sandwiches/sandwich shops just for you.
(Editor's note: Someone from St. Pete Foodies actually visited all of these restaurants, took our own photos, and ate this food – unlike many other best-of lists, that are auto-generated, or pulled from Yelp reviews or Instagram.)
The order is alphabetical by restaurant name.
Best Sandwiches/ Sandwich Shops in St. Pete
1. Bacchus
124 2nd Ave NE
St. Petersburg, FL 33701
Bacchus Website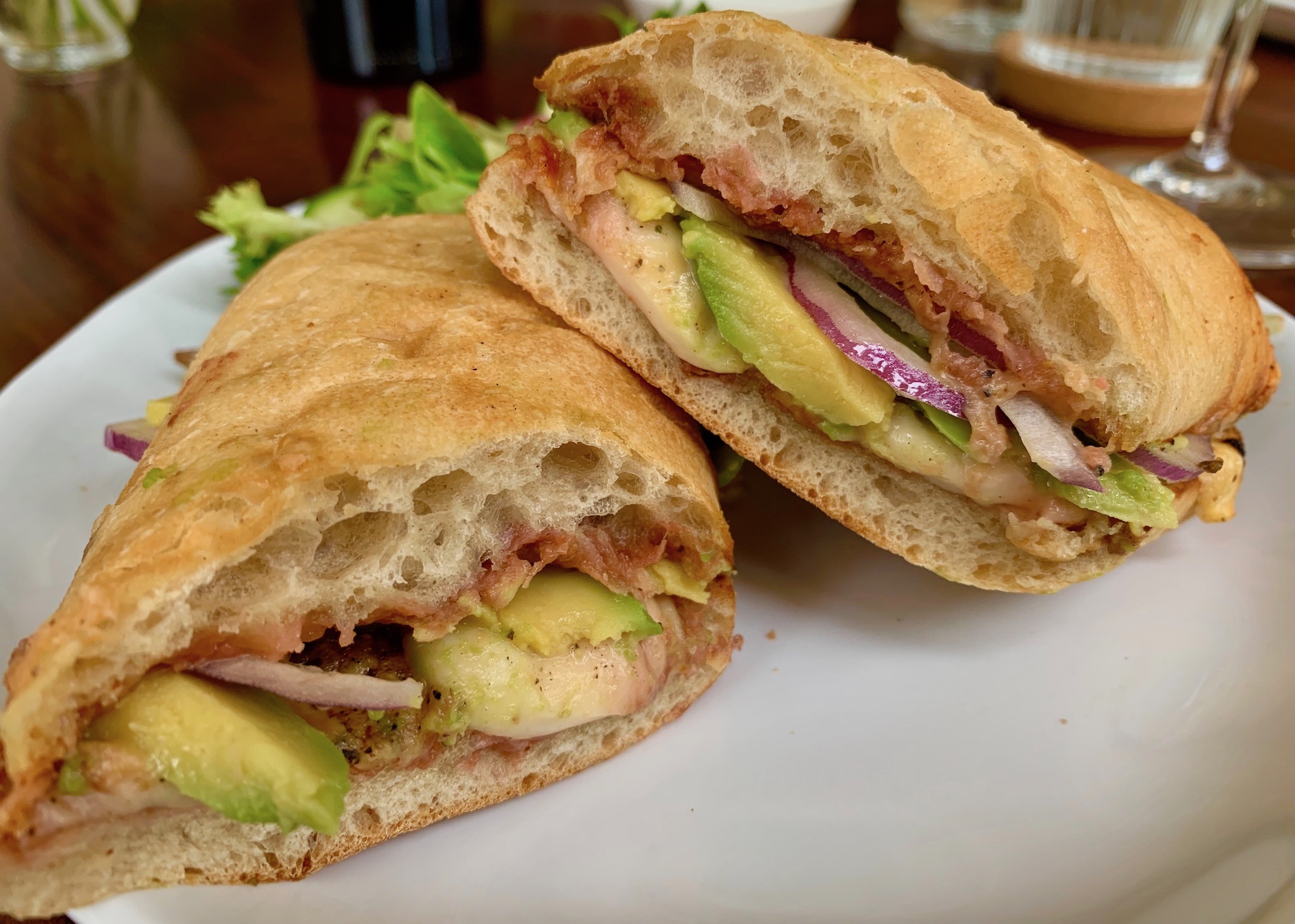 Bacchus Grilled Cheese sandwich – Beet pesto, avocado, red onion, mozzarella, gouda. Kevin really enjoyed this. This takes a simple grilled cheese to a whole new level!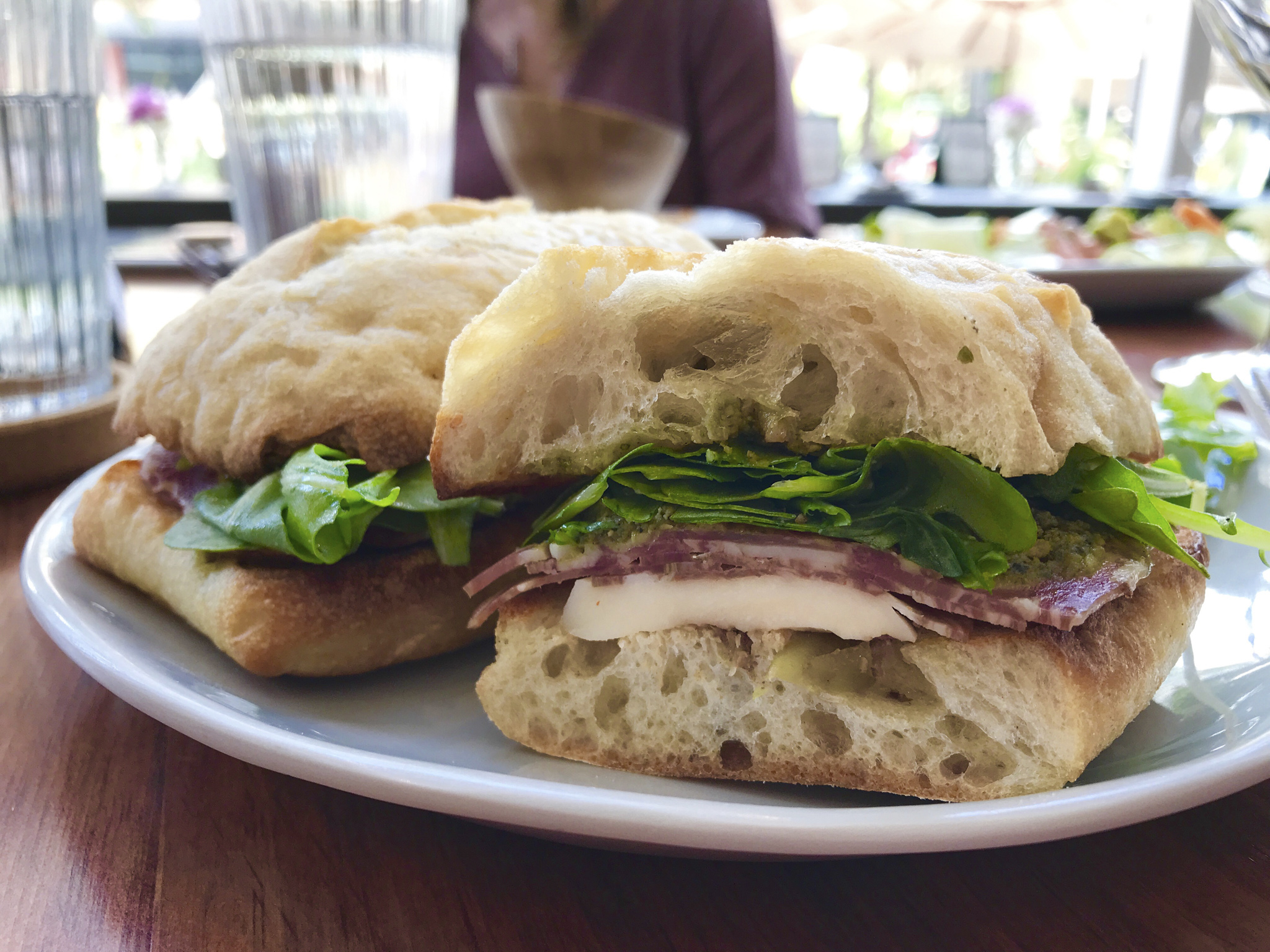 Bacchus Muffuletta Sandwich – Salami, basil pesto, mozzarella, fennel, arugula, lemon vinaigrette. A popular Italian sandwich that is tasteful and with fresh meat and cheese.
Bacchus is a local gourmet market offering a great selection of European products from wine, beer, sodas, fresh bread, charcuterie, soups, salads, sandwiches and cheese boards.
2. Bodega on Central
1120 Central Ave
St. Petersburg, FL 33705
Bodega's Website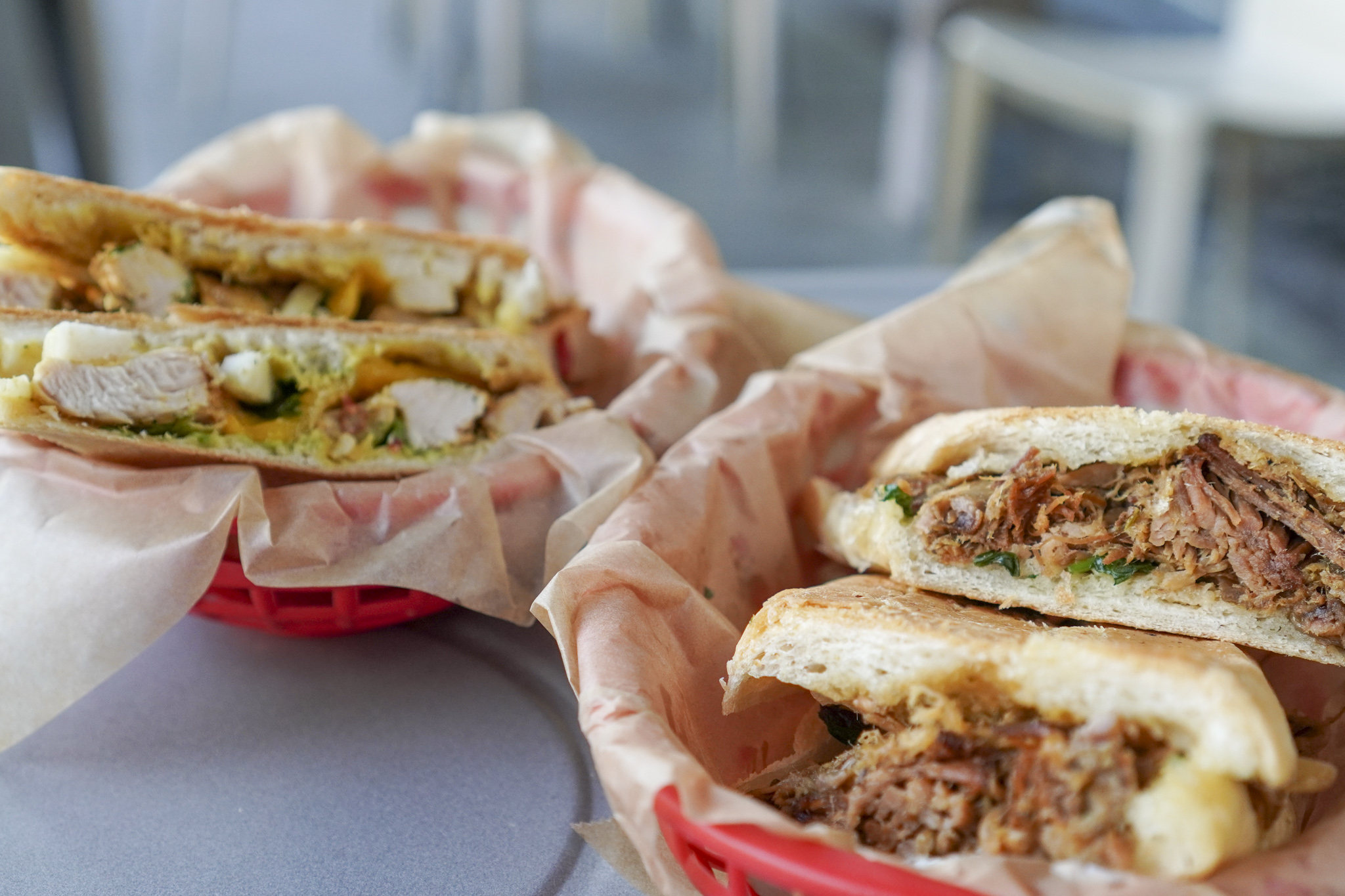 Bodega Pollo Asado – Coconut marinated, mango mayo, avocado, fresnos, fresh mango, cilantro, and jicama. Bodega Lechon – Cuban style roast pork, garlic mojo, and grilled mojo, grilled onions and cilantro. Both sandwiches were fresh, delicious and large! We'd recommend adding some spicy mayo to the Lechon since it was just slightly dry. The fresh mango on the Pollo Asado sandwich was very unique and added so much more flavor to the sandwich.
Have you seen the line for Bodega at lunchtime? That should be enough proof that St. Pete LOVES their food. They have delicious Latin American fresh food from sandwiches, platos, salads, coffee and more.
3. Brooklyn South
1437 Central Ave
St. Petersburg, FL 33705
Brooklyn South Website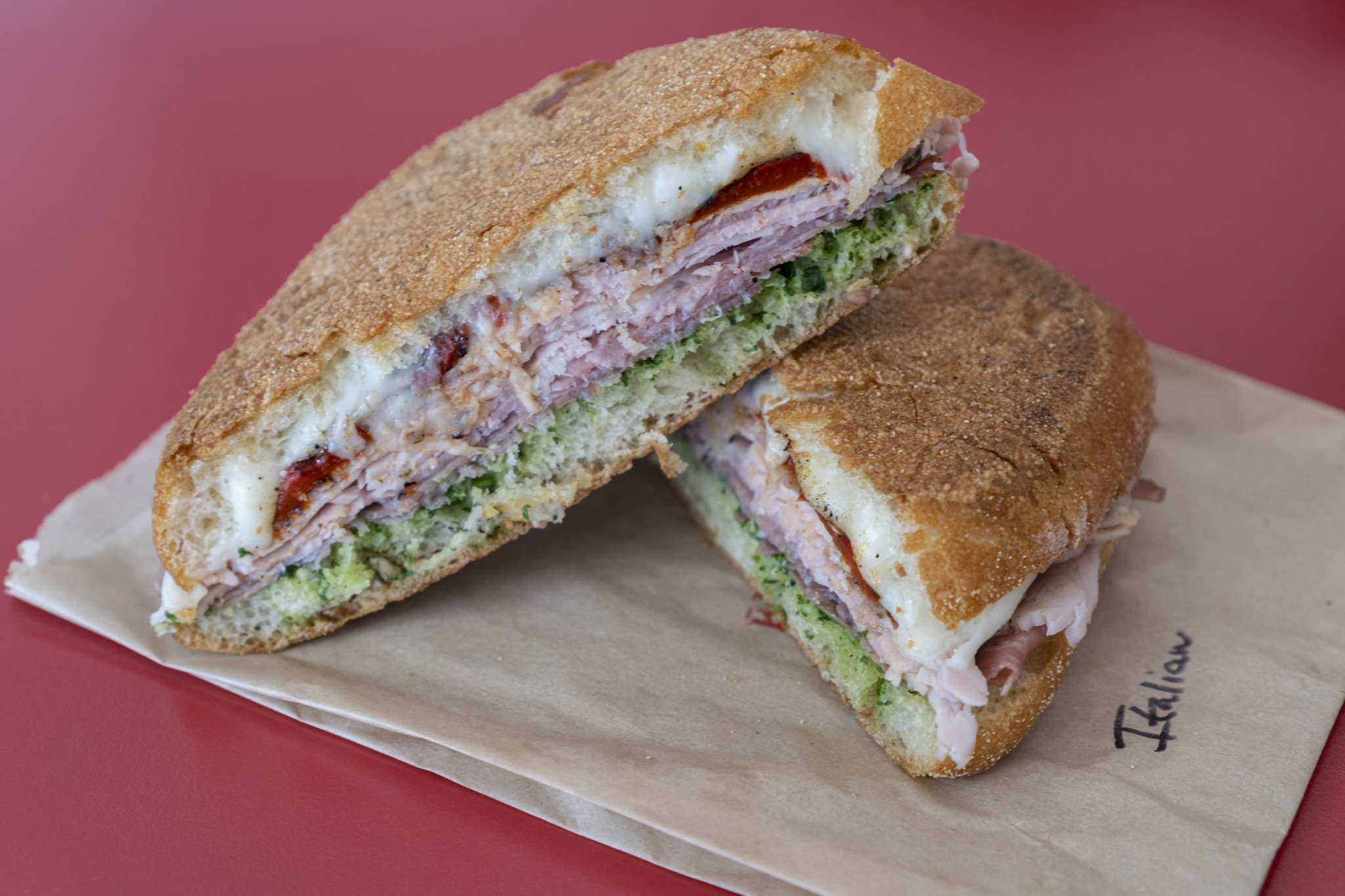 The Italian – Chef's choice of meats, roasted peppers, mozzarella, and pesto. What a hefty sandwich! This one will break your jaw, in a good way.
Brooklyn South is an amazing sandwich shop on Central Ave. They have an excellent selection of homemade cheeses and meats, and they get their bread fresh daily. The service is friendly and very knowledgable.
4. Cassis St. Pete
170 Beach Dr NE
St. Petersburg, FL 33701
Cassis Website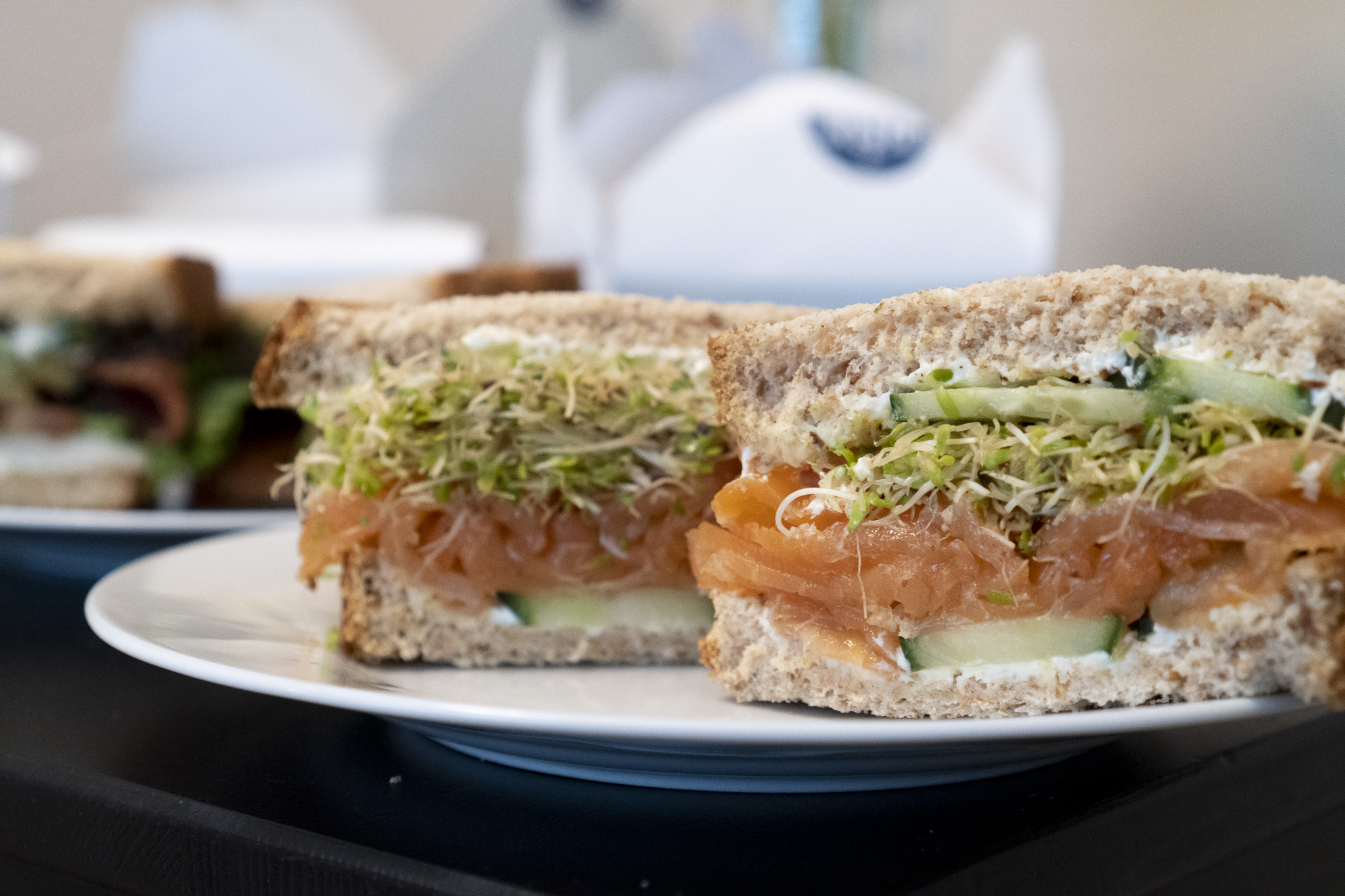 The smoked salmon at Cassis is something I constantly crave. Whether it's on the smoked salmon Benedict on their brunch menu, or between 2 slices of bread on this sandwich, their salmon is fresh and very tasteful. The Smoked Salmon Sandwich – cucumber, cream cheese, alfalfa sprouts, on wheat bread is great. The atmosphere here is prime people-watching on Beach drive, or in this case, in the comfort of my own home- thanks Uber Eats!
5. Central Melt
685 Central Ave
St. Petersburg, FL 33701
Central Melt Website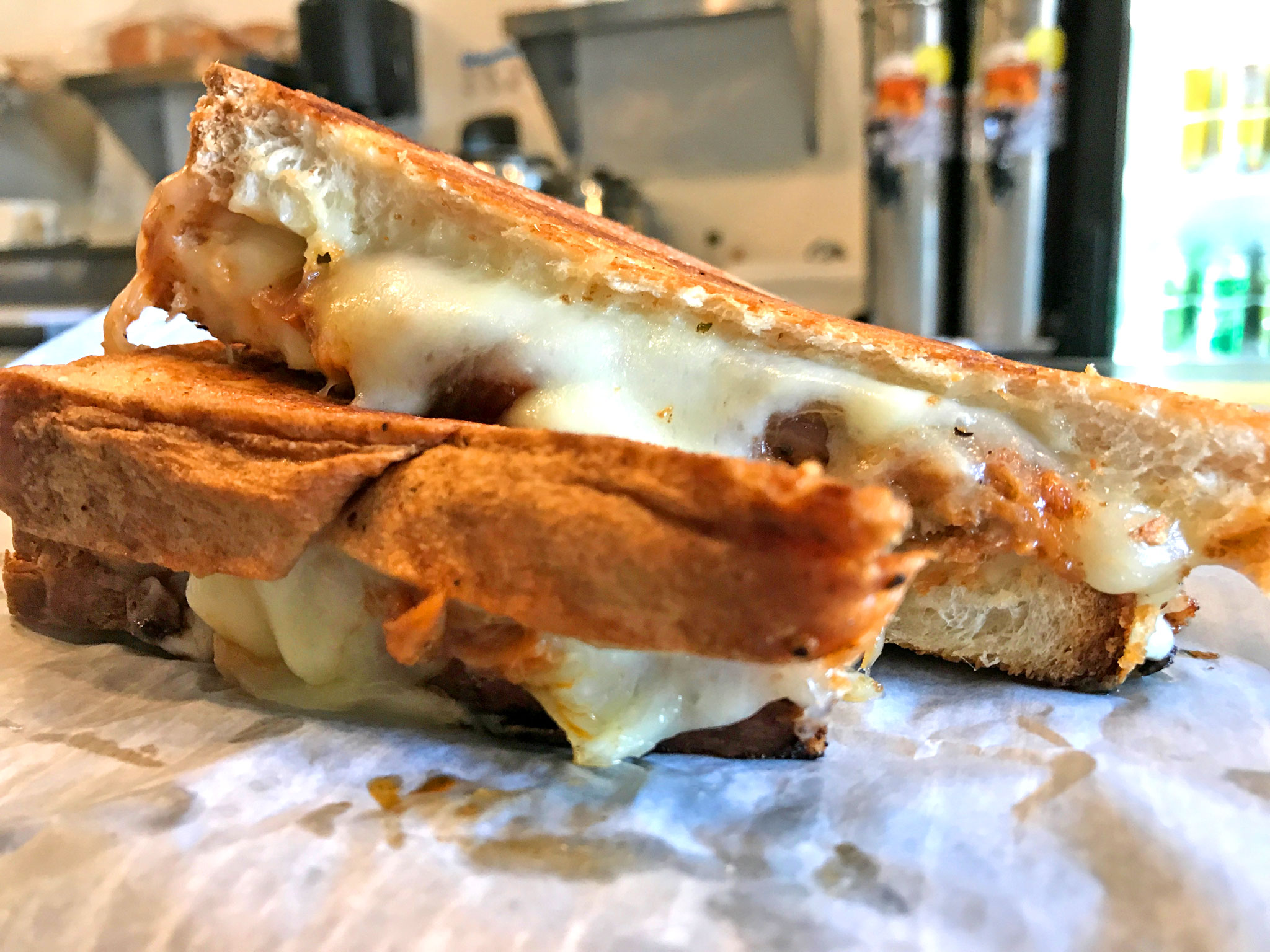 Kevin had this to say about the Notorious P.I.G. – BBQ Pork, homemade red onion & bacon jam, white cheddar cheese on white bread – This is one of the most popular, and most hearty items at Central Melt. It's comfort food at its finest, gooiest, and richness. The plain white bread and white cheese nicely balance the "in your face" richness of the BBQ pork and onion and bacon jam. You should get this one in your face as soon as possible.
Central Melt specializes in elevated grilled cheese sandwiches that are hearty, guilty pleasures.
6. The Galley
27 4th St N
St. Petersburg, FL 33701
The Galley Website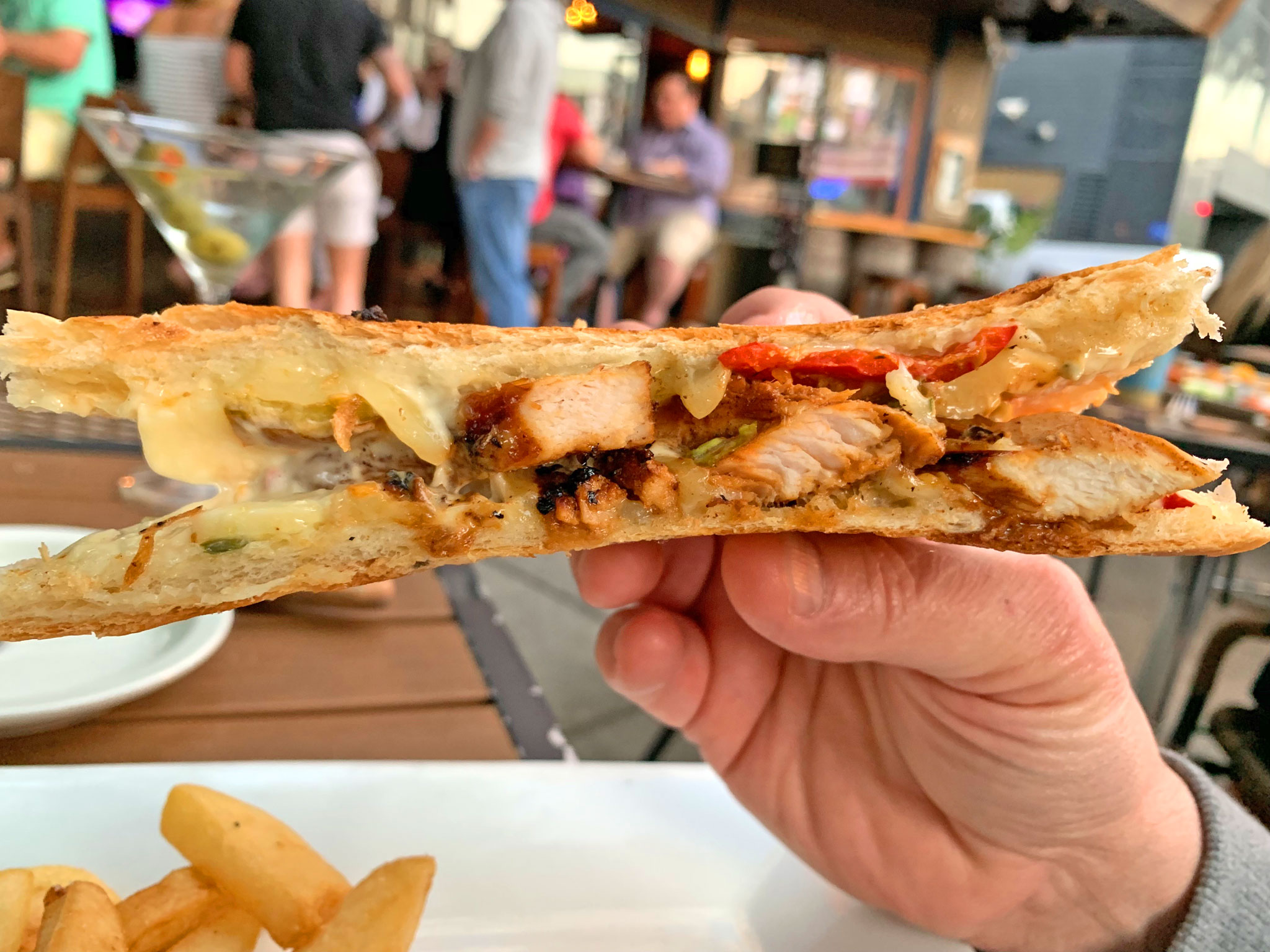 Kevin's favorite: The Don Pollo – sliced grilled chicken, havarti, & cherry peppers with pickle aioli on pressed Cuban bread. It's mouthwateringly delicious with a nice spicy kick from the peppers.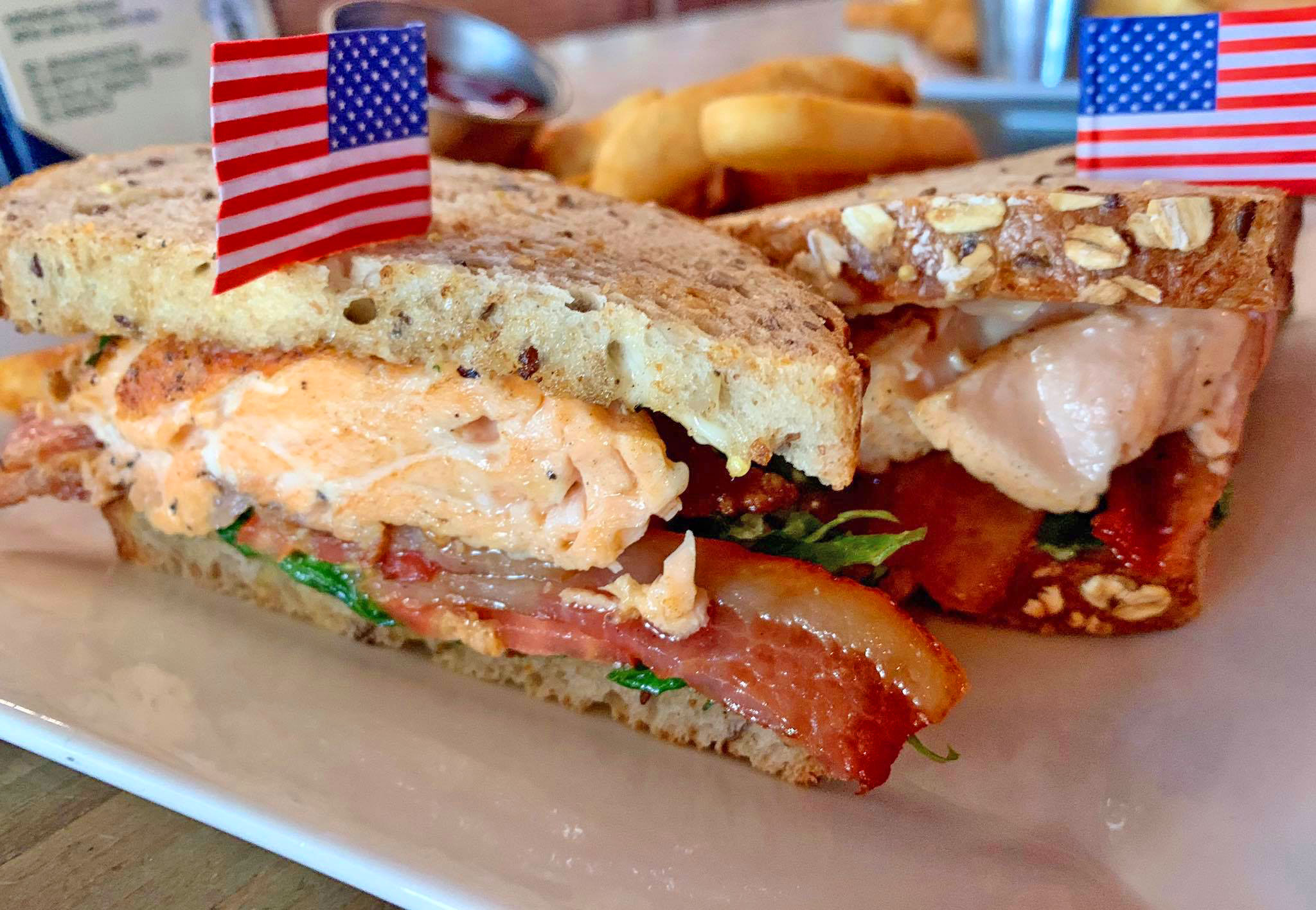 Lori's favorite: The Salmon BLT – salmon thin-sliced & grilled with bacon, lettuce, tomato & pickle aioli on multi-grain bread. Lori likes this one so much that she had it for lunch on Monday, and dinner on Tuesday.
The Galley is 'that' neighborhood tavern in the heart of downtown St. Pete where you go for good food and drinks with good friends. The Galley's Cuban Sandwich ranked #2 in our Top 5 Cuban Sandwiches and now they are making another appearance on our Best Sandwich list. Needless to say, they have tasteful food and you should get there now.
7. Lonni's Sandwiches
425 Central Ave
St. Petersburg, FL 33701
Lonni's Website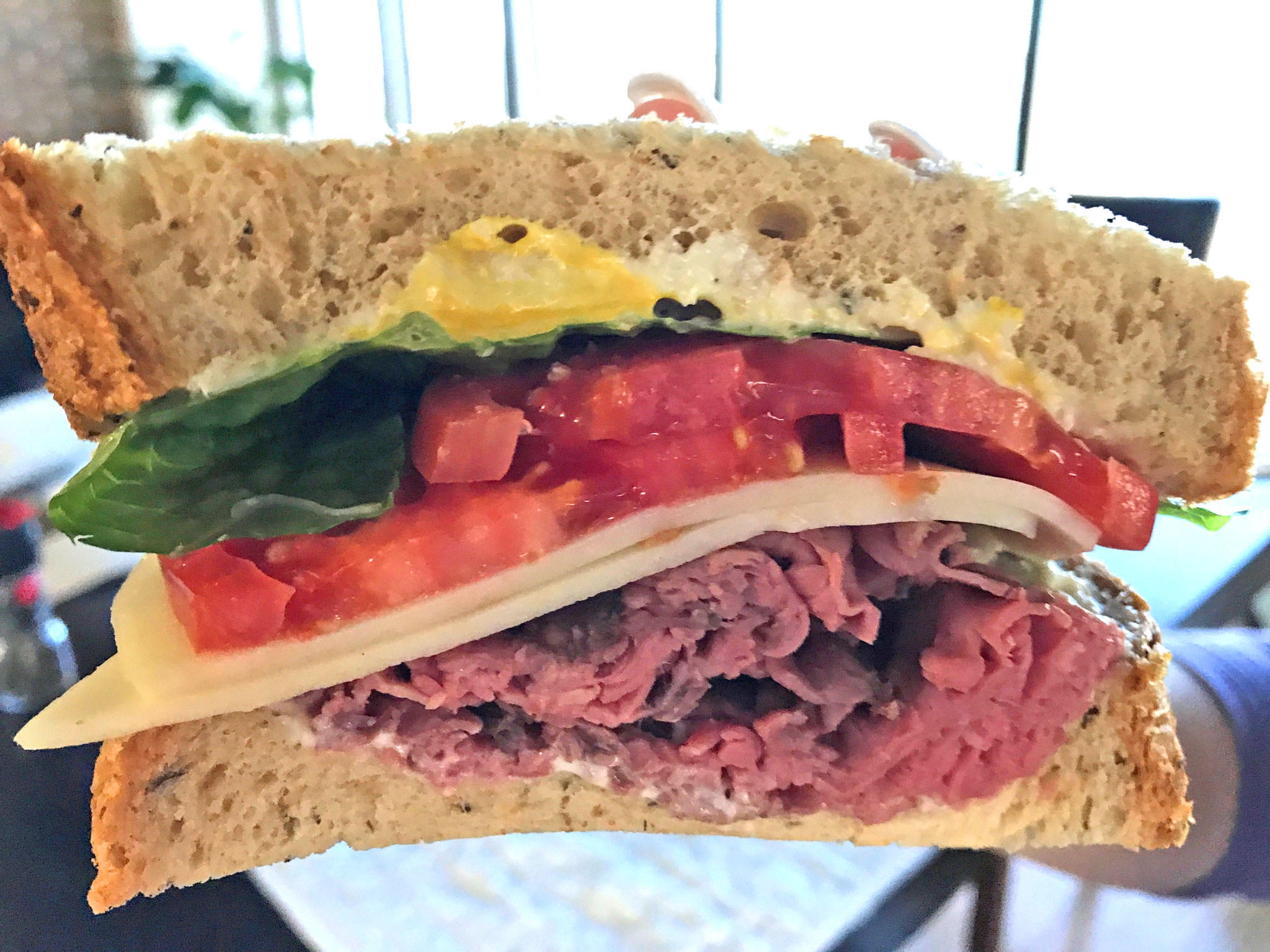 You can't go wrong with any sandwich at Lonni's, and in this case, the bread makes all the difference. "Lonni's original wild rice bread is baked daily with stoneground wheat, honey and Minnesota wild rice, no preservatives and hand-sliced." Their most famous sandwich is the "Famous Sunny Bird"  – cream cheese, turkey, sunflower seeds, sprouts and homemade honey French dressing served on wild rice bread. Lori's favorite, however, is roast beef with added tomato, provolone, mustard & mayo.
8. Mazzaro's Italian Market
2909 22nd Ave N
St. Petersburg, FL 33713
Mazzaro's Website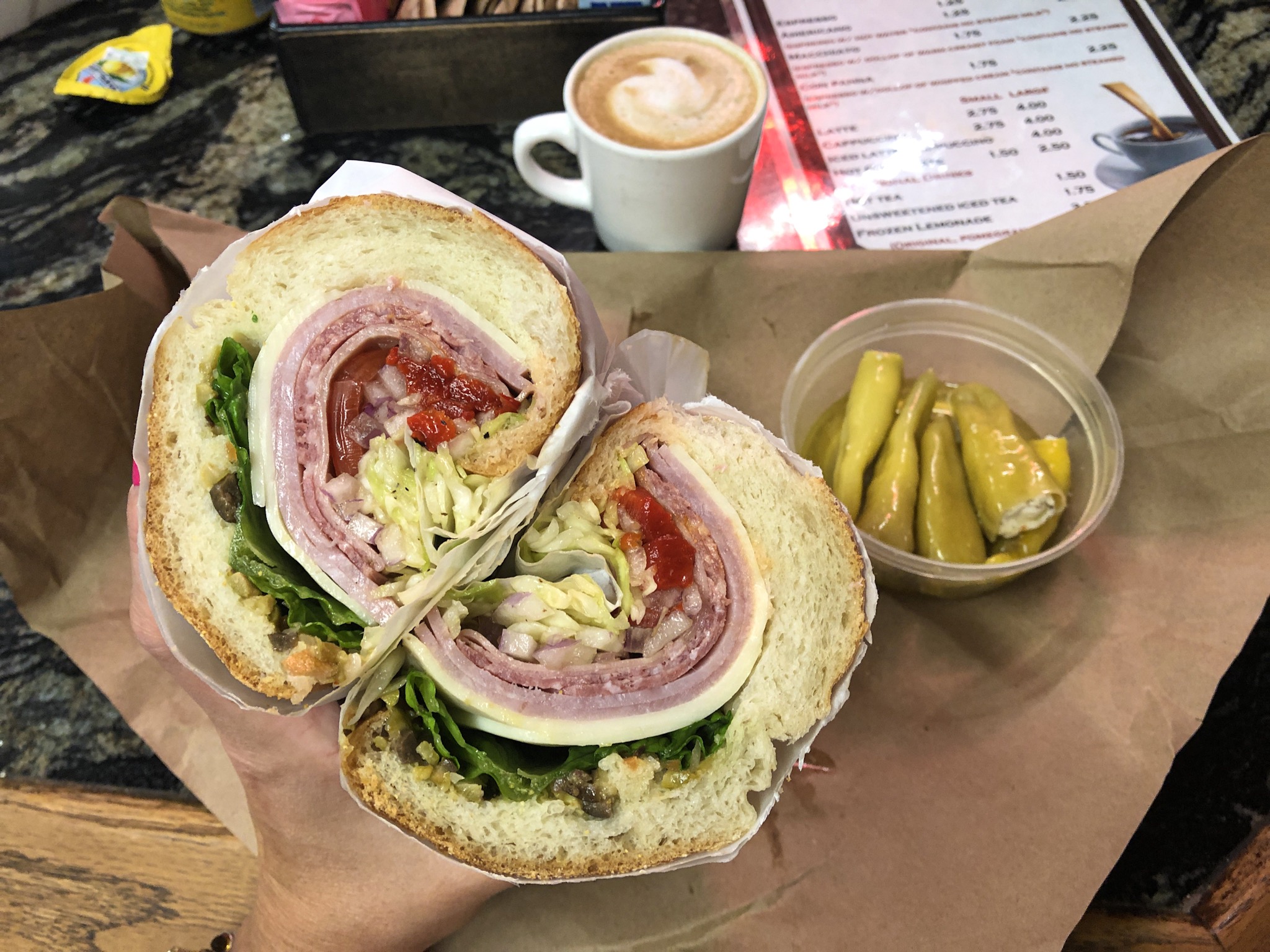 Mazzaro's leaves me speechless. The food is so good and fresh no matter what you get. A staple sandwich on their (sometimes intimidating) menu is The Muffaletta – Ham, Mortadella, Salami, Provolone and Olives. If you happen to stumble in around lunchtime, take our advice and order The Muffaletta. You won't have time to look over the entire menu with the crowd and we wouldn't let you down!
9. Pom Pom's Teahouse & Sandwicheria, St. Pete
2950 Central Ave
St. Petersburg, FL 33712
Pom Pom's Website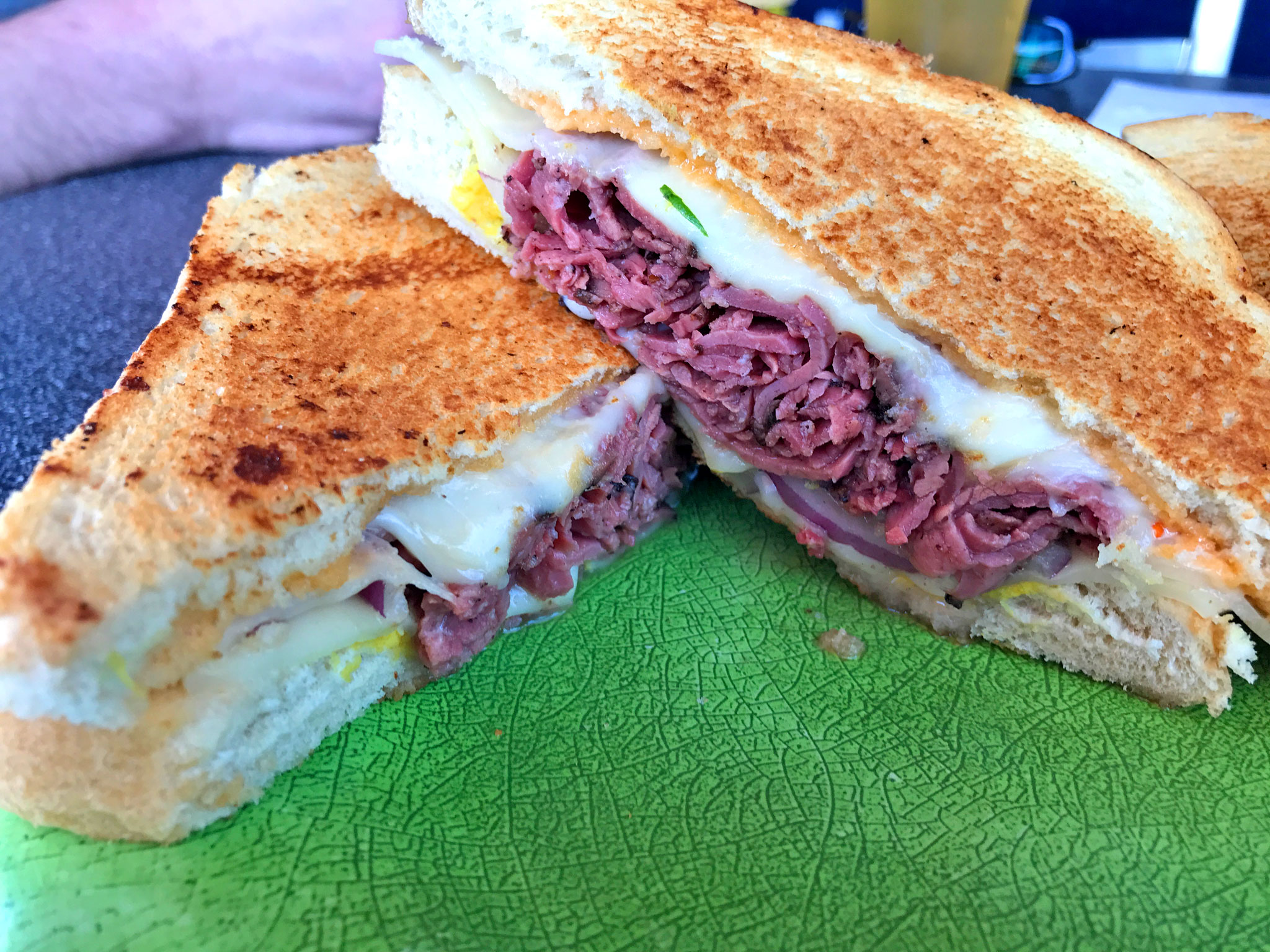 Hot Pastrami – with Provolone Cheese, Thousand Island, Red Onions & Yellow Mustard (Choice of Honey, Brown or Yellow) was juicy and delicious. It's a quaint, quirky place with a chill vibe. If you want to try one of the crazy sandwiches, check out the Mama Ling Ling's Thanksgiving – Turkey, Gouda, Stuffing, Ginger Cranberry Chutney, Mashed Potatoes, Cream Cheese with a side of Gravy.
10. Rollin' Oats Market & Cafe
2842 Dr M.L.K. Jr St N
St. Petersburg, FL 33704
Rollin' Oats Website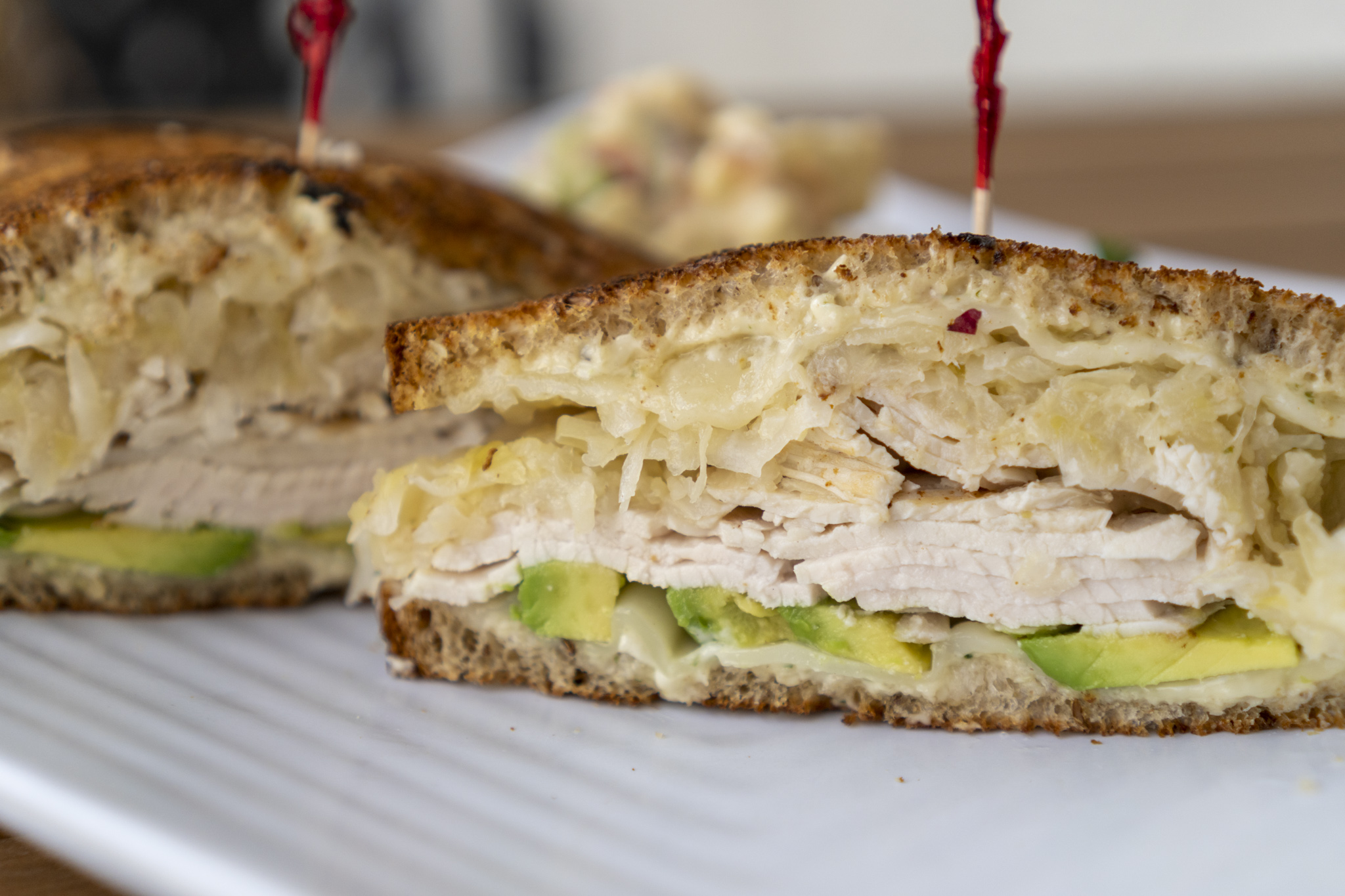 Looking for something with a unique twist? Try the Avocado Reuben – Beagle Bay Local* Raw Living Sauerkraut, Swiss Cheese, Vegan Garlic Sauce on Rye Flax Bread, and I added grilled turkey too. A healthier version of a traditional reuben and it is still full of flavor, and ridiculously filling. Rollin' Oats has an exceptional cafe menu with a variety of sandwiches, salads, entrees, smoothies and more, and everything is made with fresh, all-natural ingredients. Can't beat that!
So there you have it. We hope this list encourages you to try something new between the bread. With so many options, you'll be set for lunch plans for days, even months! Share your favorite sandwich in St. Pete in the comments below!
(Lori Brown & Kevin Godbee contributed to this article.)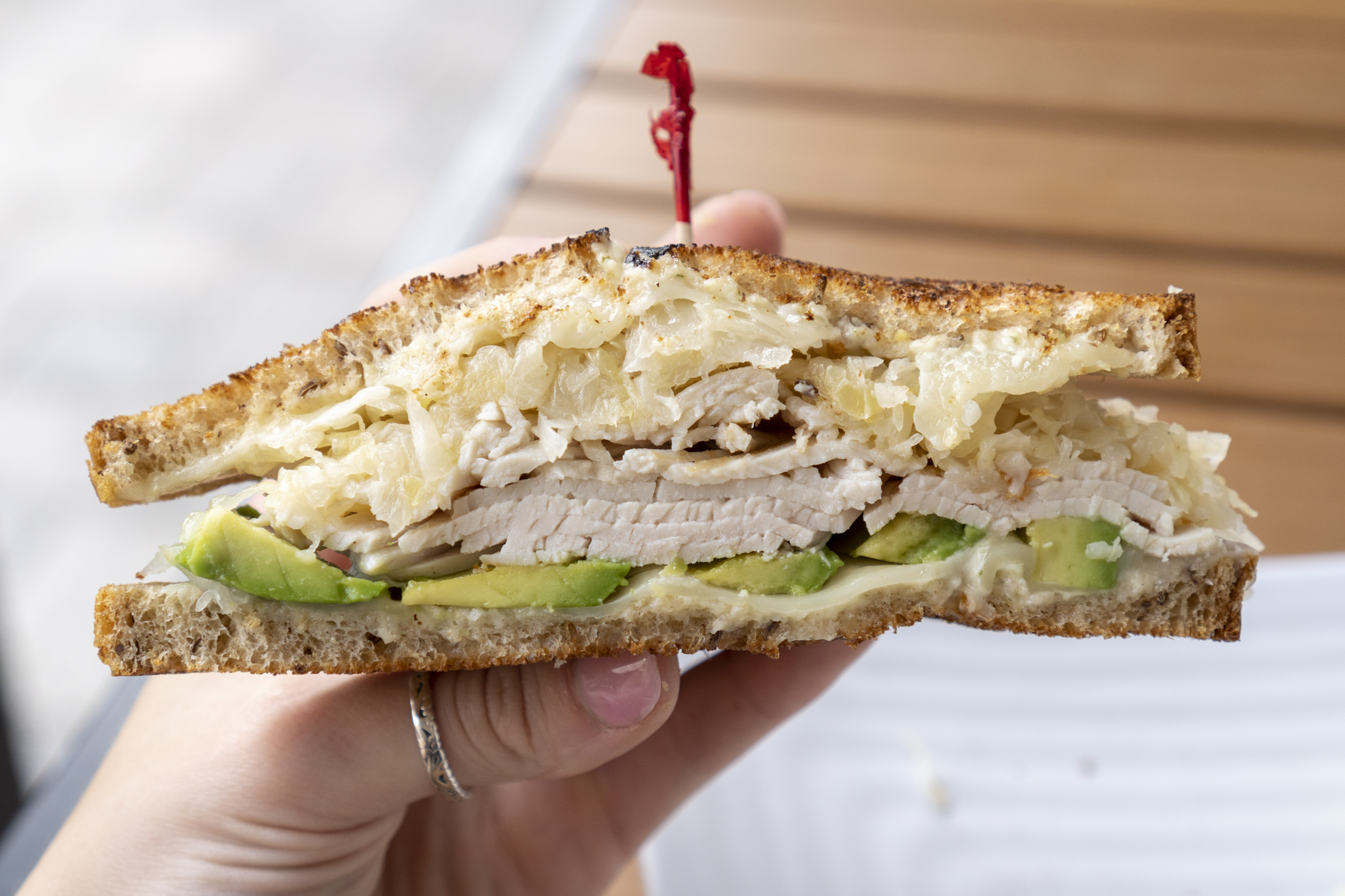 Readers Rating

Rated 4.5 stars




4.5

/ 5 (

Reviewers

)

Outstanding
---
Here are the best sandwiches / sandwich shops in St. Pete.