I moved to St. Petersburg a little over 13 years ago, and it seems like we've had an average of two Italian restaurants open each year since then, if not more. Lately, it seems like two every few months. There's definitely no shortage of Italian eateries to choose from here. We're always interested in checking out the newest places, and you'll find some of them in this round-up. We also give respect to those establishments that have been knocking out great food day in and day out for years and stay on top of their game even with all of the new arrivals.
We utilized our team of five, including myself, to assess what we consider to be the essential Italian food spots in our area. As our name would suggest, we focus on St. Petersburg, but there were also a couple of standouts in St. Pete Beach, and one in Gulfport.
There were many Italian restaurants that have been highly touted in our Facebook group that were on our list to try. I can assure you that we tried them all—over 20. If they did not make the list, there is a very good reason why. We had some very disappointing experiences with a few and some great surprises as well.
In reality, this list is about Italian-American restaurants. I had someone contact me for recommendations on the most authentic Italian restaurants as her father was coming to visit from Italy, and she wanted a place where he could eat the exact same type of food he would have at home. This is what I told her.
"We have lots of good Italian restaurants in St. Pete. However, I do not think we have any that are not Americanized. Italian-American style has lots more sauce, over-cooked pasta, and even several dishes that don't exist in Italy – like chicken parmesan. We also serve some things differently, like Spaghetti & Meatballs – these are two separate dishes in Italy and never served together there."
Another important thing you should be aware of is that there are other publishers of "best of lists" that do not actually go to the establishments, or actually eat the food. Most don't. Recently, one even pretended to. (Sounds ridiculous, right?) They just download photos from the internet, or embed Instagram posts from someone else. Instant best of list produced without having to leave the house.
That's NOT how we do it.
We absolutely DO eat at all of the restaurants on all of our lists. (How can anyone recommend something they never experienced?)
Unfortunately, we've seen these junk lists a lot—from national and local publishers. We are also aware of a local publisher that offers paid placement in best-of-lists. There is no paid placement here.
WE PERSONALLY ATE ALL OF THE FOOD BELOW, AND WENT TO ALL OF THESE PLACES, AND THESE ARE ALL ST. PETE FOODIES PHOTOS.
The list is in order of oldest to newest establishment.
Gratzzi Italian Grille
211 2nd St. South
Saint Petersburg, FL 33701
727-579-1570
Gratzzi Website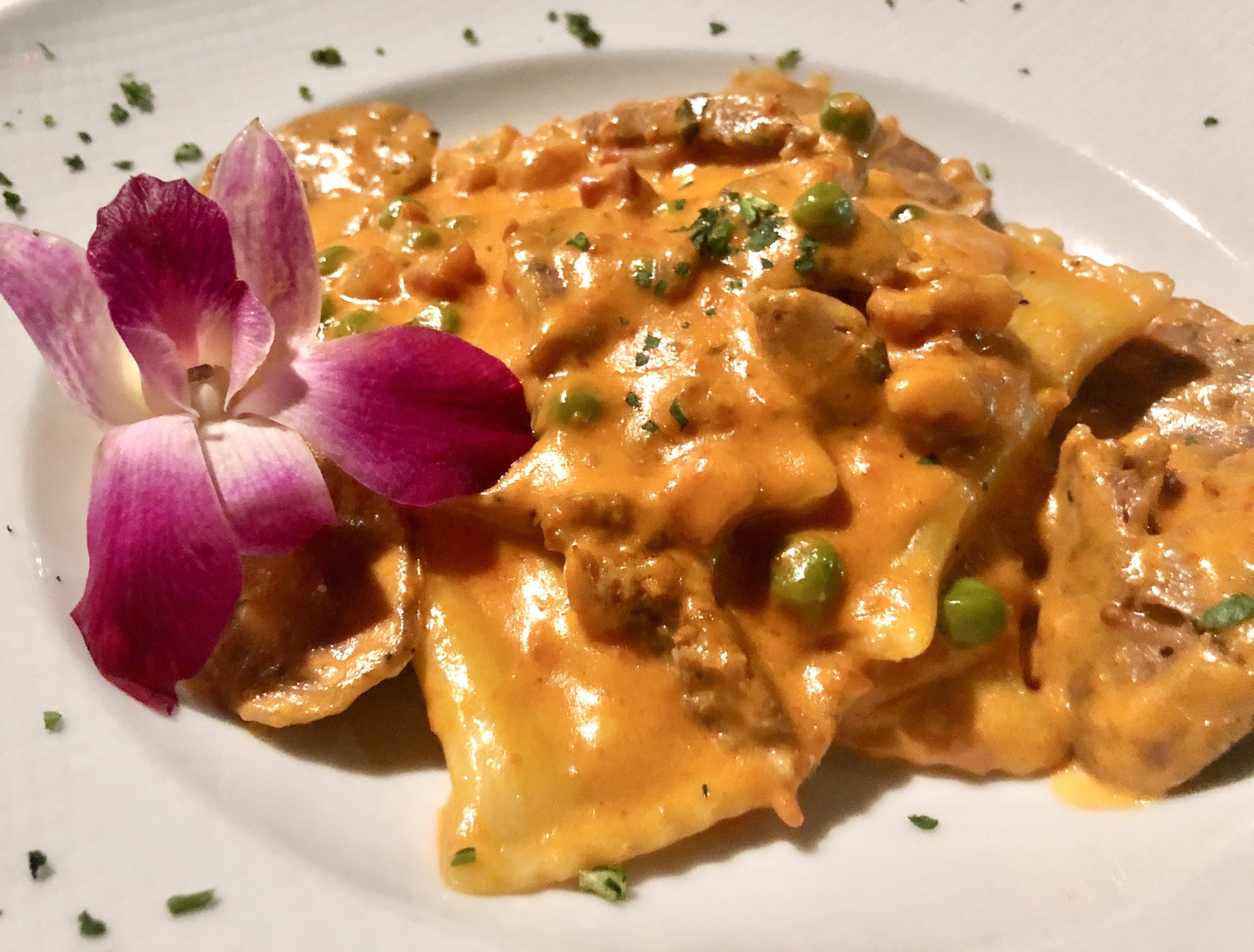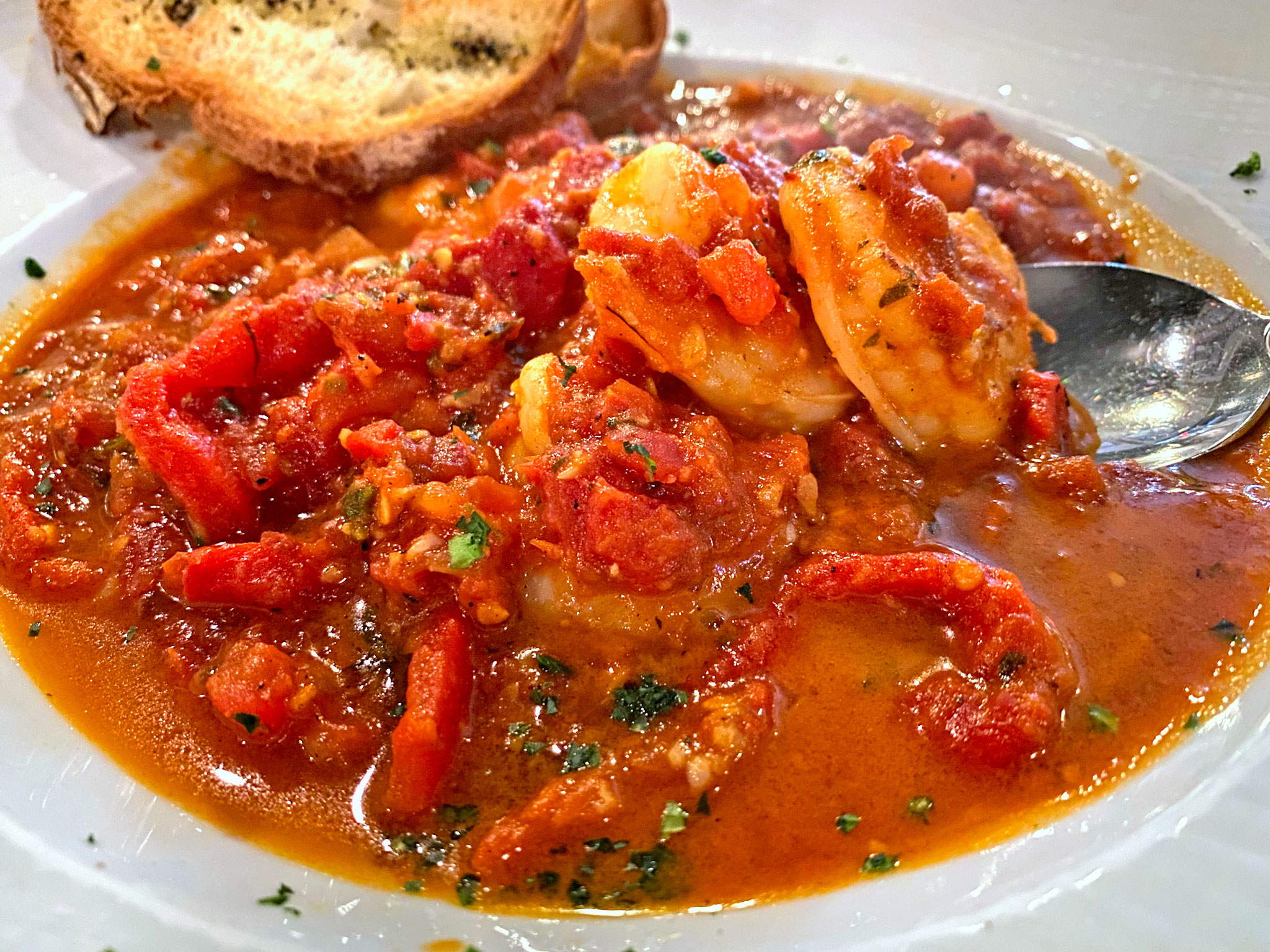 Gratzzi always comes out on top in reviews and surveys. Chef Tony Mangiafico and co-owner / General Manager Domenic D'Angelo are both from Italy and bring great Southern Italian authenticity to the food and atmosphere. Many of their recipes come from the old country, and some are centuries old. They offer "fine dining with a family atmosphere".
One of my favorites is the Rigatonacci alla Vodka, and we always get the Shrimp Arrabbiata every time we go.
One of the reasons Gratzzi does so well is that they have something for everyone. They have the classics that everyone expects from an Italian eatery, but their steaks and seafood also rival specialty steakhouses and seafood restaurants.
Lastly, we would be remiss if we didn't mention their signature Cavatelli Bada Bing—cooked table side—handmade ricotta cavatelli, vodka flambéd in a pan and then poured inside of a giant Padano parmesan wheel with San Daniele prosciutto, tomatoes, and basil. It is stirred and stirred as the walls of the cheese start melting and coating the pasta.
Pia's Trattoria
3054 Beach Blvd South
Gulfport, FL 33707
(727) 327-2190
Pia's Trattoria Website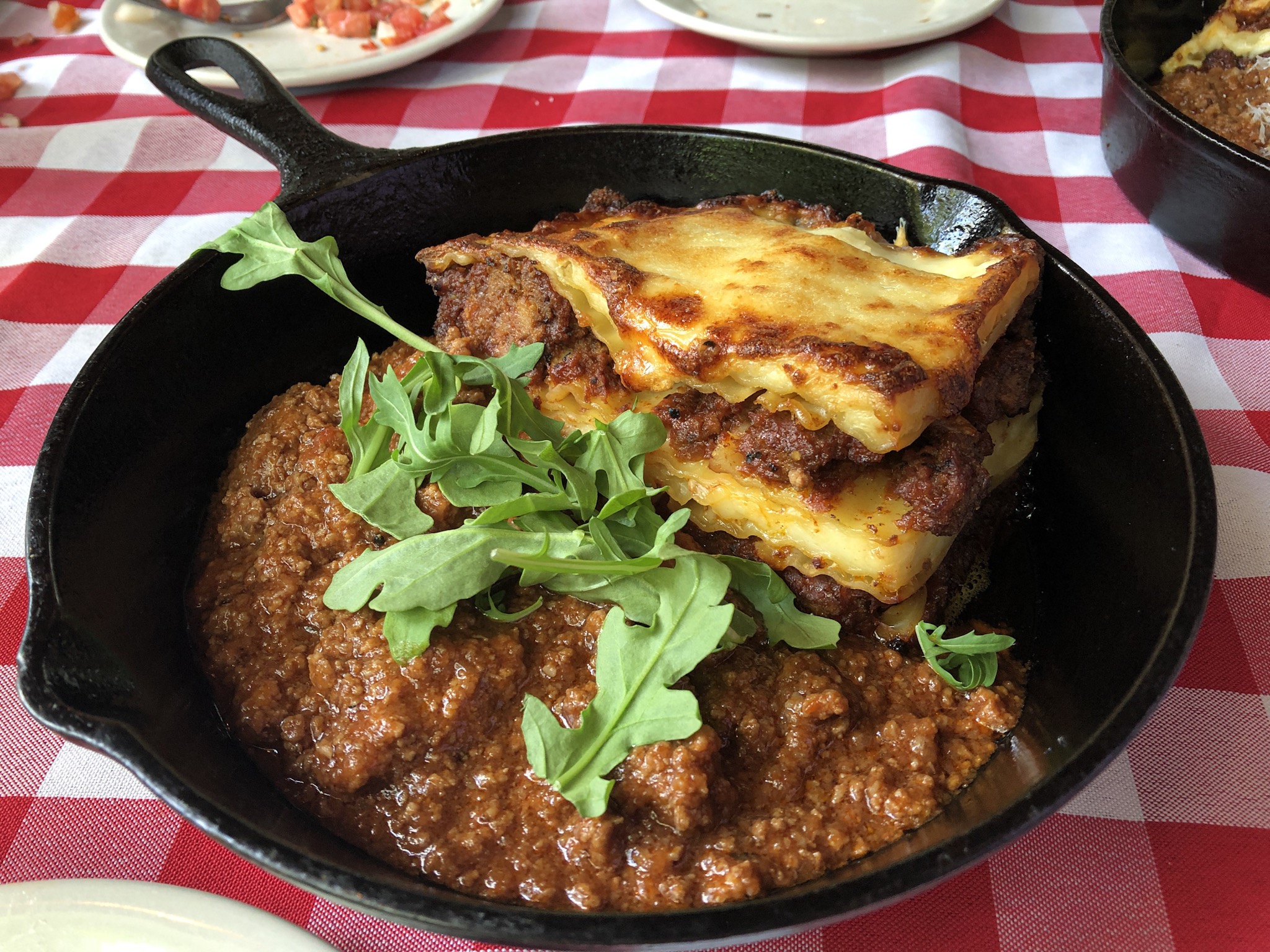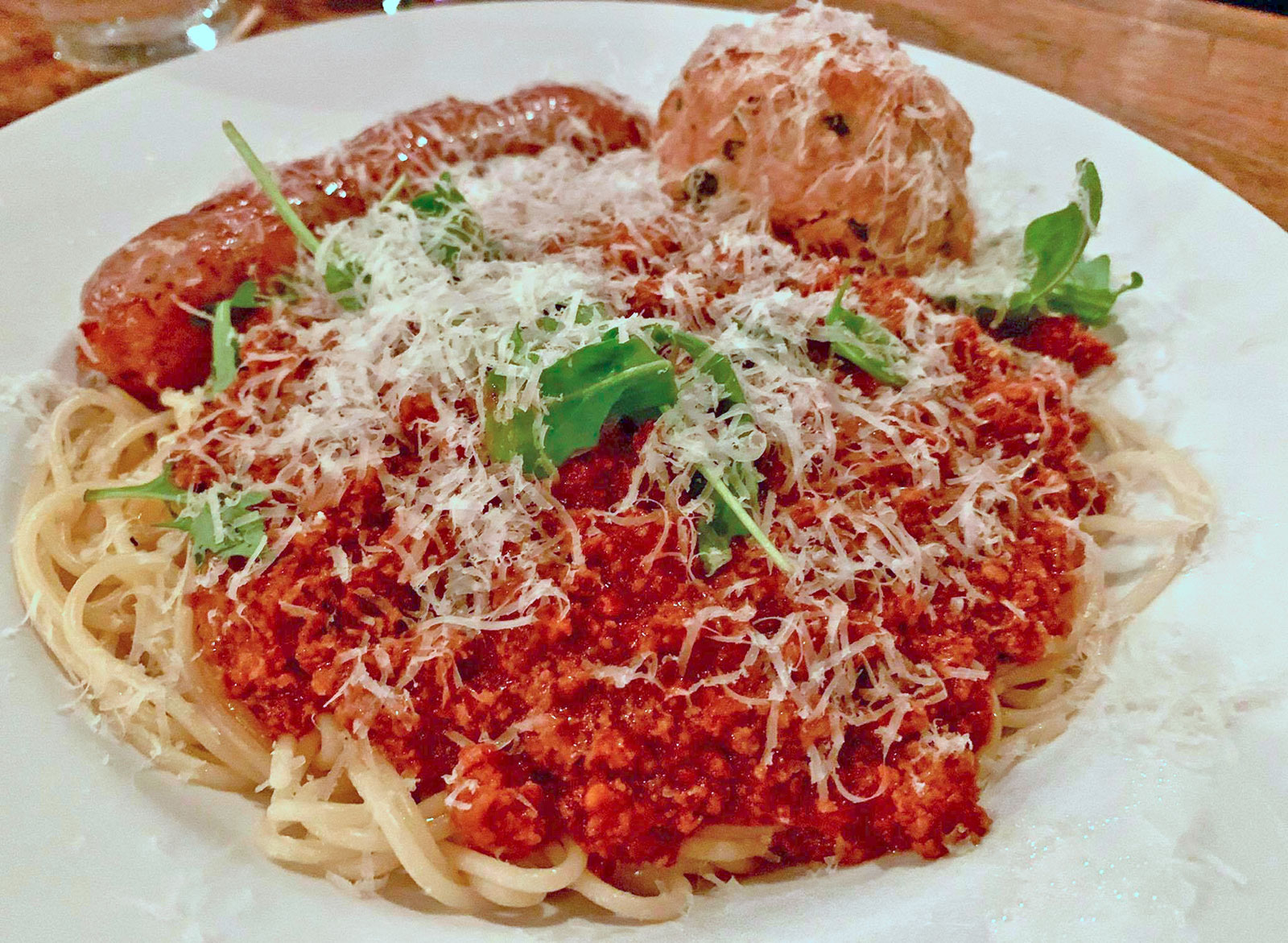 From Abby: Pia's is the Italian heart and soul of quaint Gulfport, FL. Located just minutes from downtown, Pia's has an attractive, romantic and cozy vibe that is quite easy to fall in love with. In Italian, Trattoria translates to "eating house," which is exactly what they pride themselves as being. No fuss, nor frills, just simple, fresh Italian food that is prepared exceptionally well.
From Lori: Two of our favorite dishes are the hearty, rustic Lasagna, and the Spaghetti Bolognese pictured above with added veal meatball and a sausage.
In 2005, Pia-Maria and Tom Goff opened Pia's Trattoria in Gulfport. Having just arrived from Europe with their four small children and a new resident in Gulfport, FL, Pia was homesick for Italian food made from scratch, the food she grew up with. So they decided to open just a small Pasta-Panini-Salad Bar called Pia's Trattoria. A small place with only three tables inside and an outside shaded courtyard. Well, that didn't last long, her pride as a chef and her love for food, and the hospitality business in general, changed the face of the small Trattoria rather quickly. Adding space and surrounding herself with an exceptional talented culinary team gave way to welcomed growth.
But really, word of mouth is the reason why Pia's is so successful and a favorite in midst of the bustling and ever changing restaurant scene of the Greater Tampa Bay area. Although it still is a family owned and operated place with a big heart and excellent food, the place has expanded and offers a candle lit wine dining room, outside covered garden patio seating, a full liquor bar and two private dining rooms for groups of up to ten guests.
There is also the new Pia's Veranda right next door in the former Tutto Bene space at 3038 Beach Blvd. The Veranda with a small inside space, and larger outdoor area has live music and is dog friendly on the patio. It's the same menu.
The Trattoria's beautiful outside courtyard with barn roof is a beloved spot for weddings, receptions, rehearsals and other celebrations. And Pia is still happy to do what she loves to do most: serve authentic Italian food in a warm ambiance to customers she calls her friends.
Buona Ristorante
4705 Gulf Blvd
St Pete Beach, FL 33706
(727) 360-7970
Buona Ristorante Website
From Abby: Buona Ristorante has been serving up their Italian classics in St. Pete Beach for the past 14 years. The restaurant, that is ultra popular with locals and visitors alike, is tucked in the back corner of the Dolphin Village plaza on the busy main strip of Gulf Blvd. Because of its location in the plaza, Buona is not exactly visible from the road, but that doesn't keep the masses from flocking to enjoy their Italian cuisine daily. For a nice water view, don't miss the hidden waterfront patio overlooking Boca Ciega Bay in the back.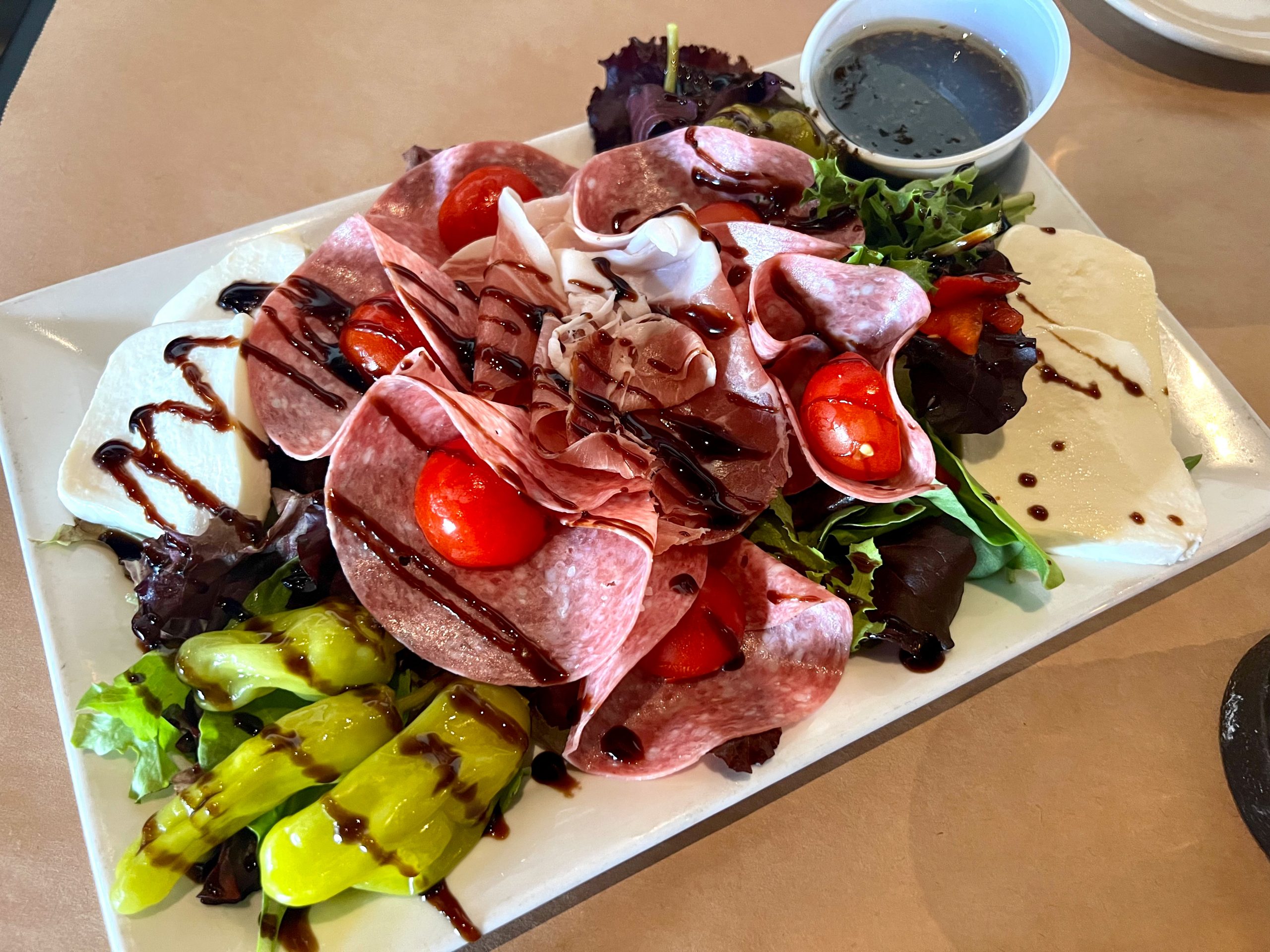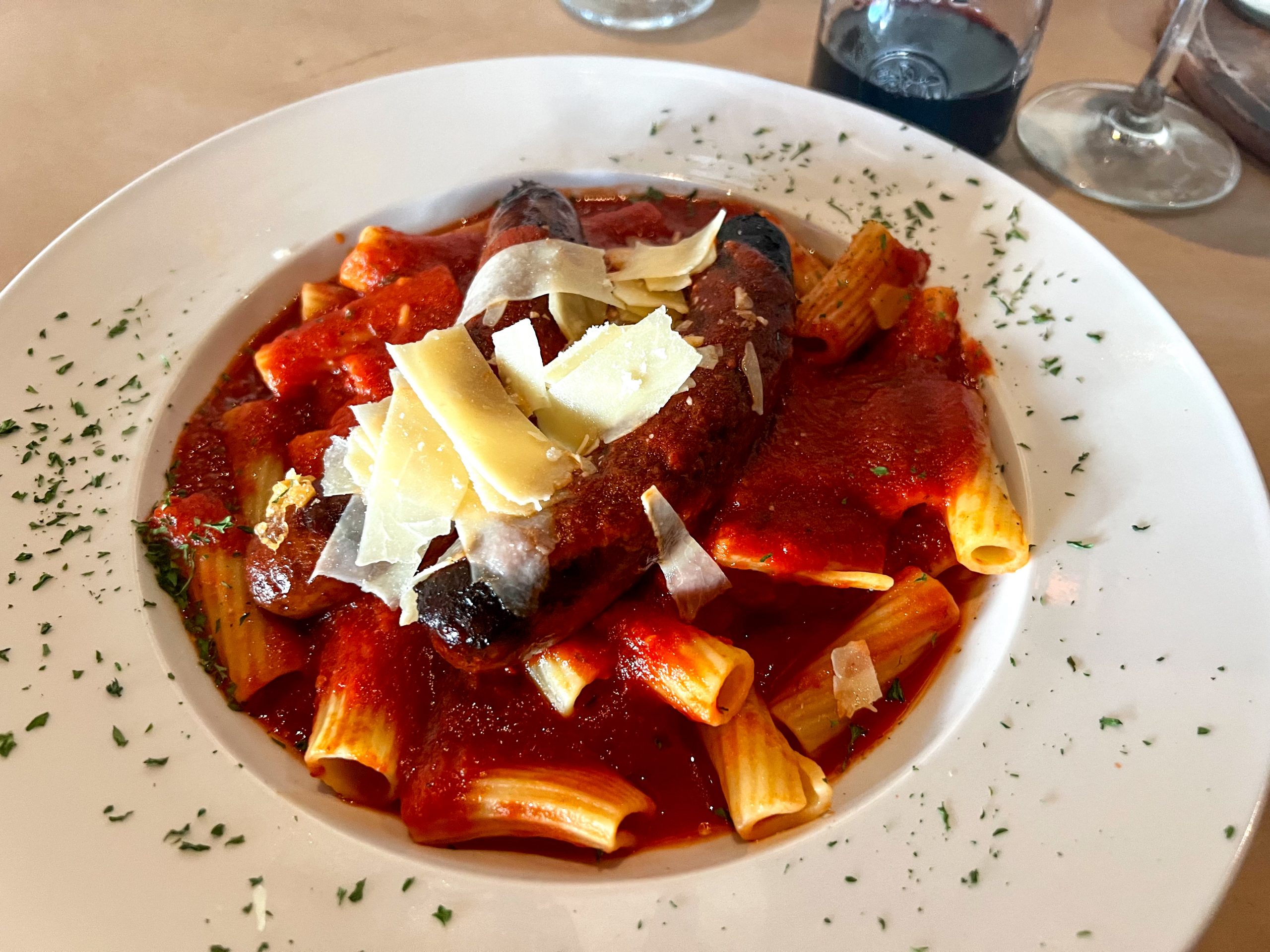 Il Ritorno
449 Central Ave #101
Saint Petersburg, FL 33701
727-897-5900
IL Ritorno Website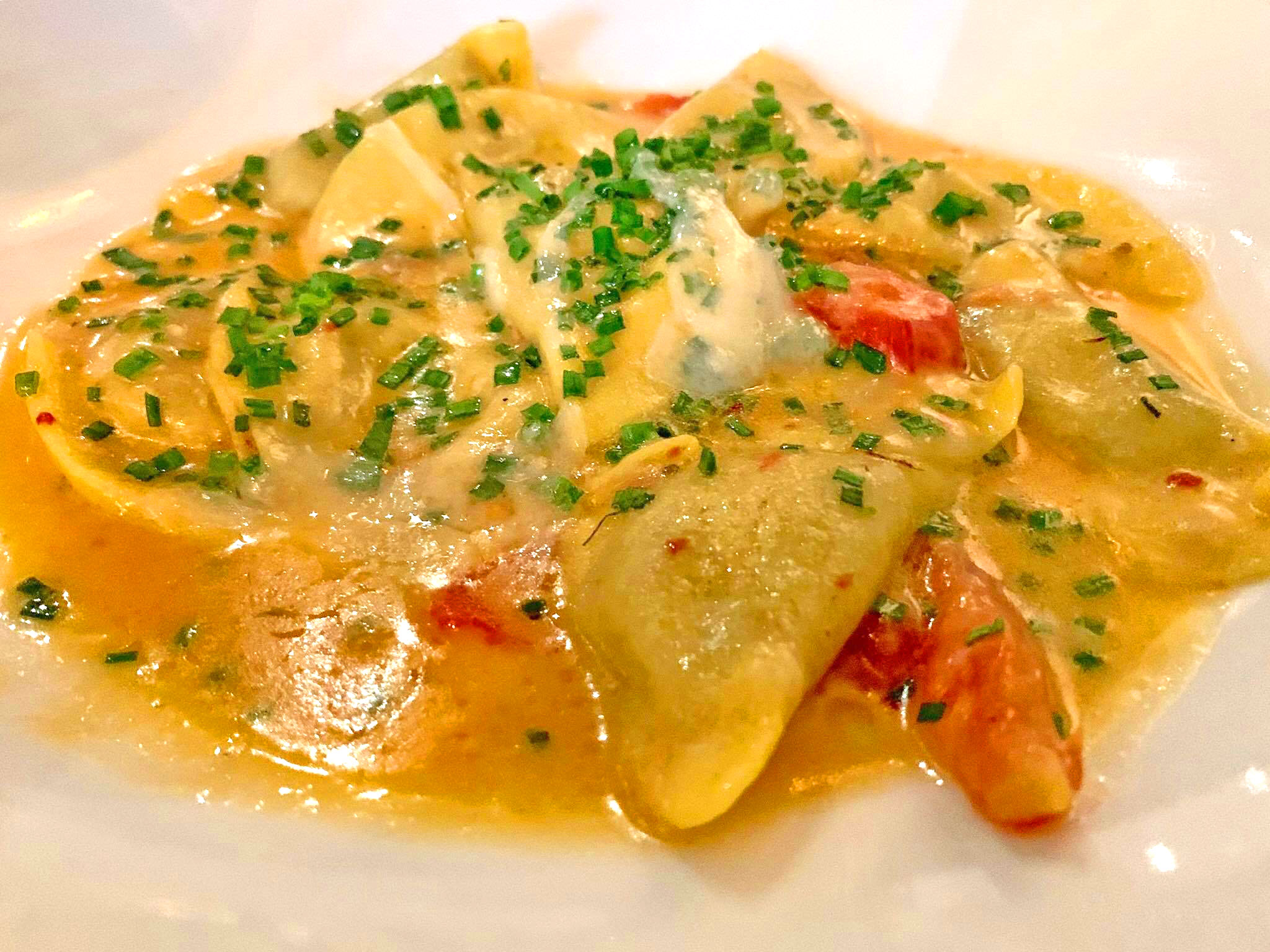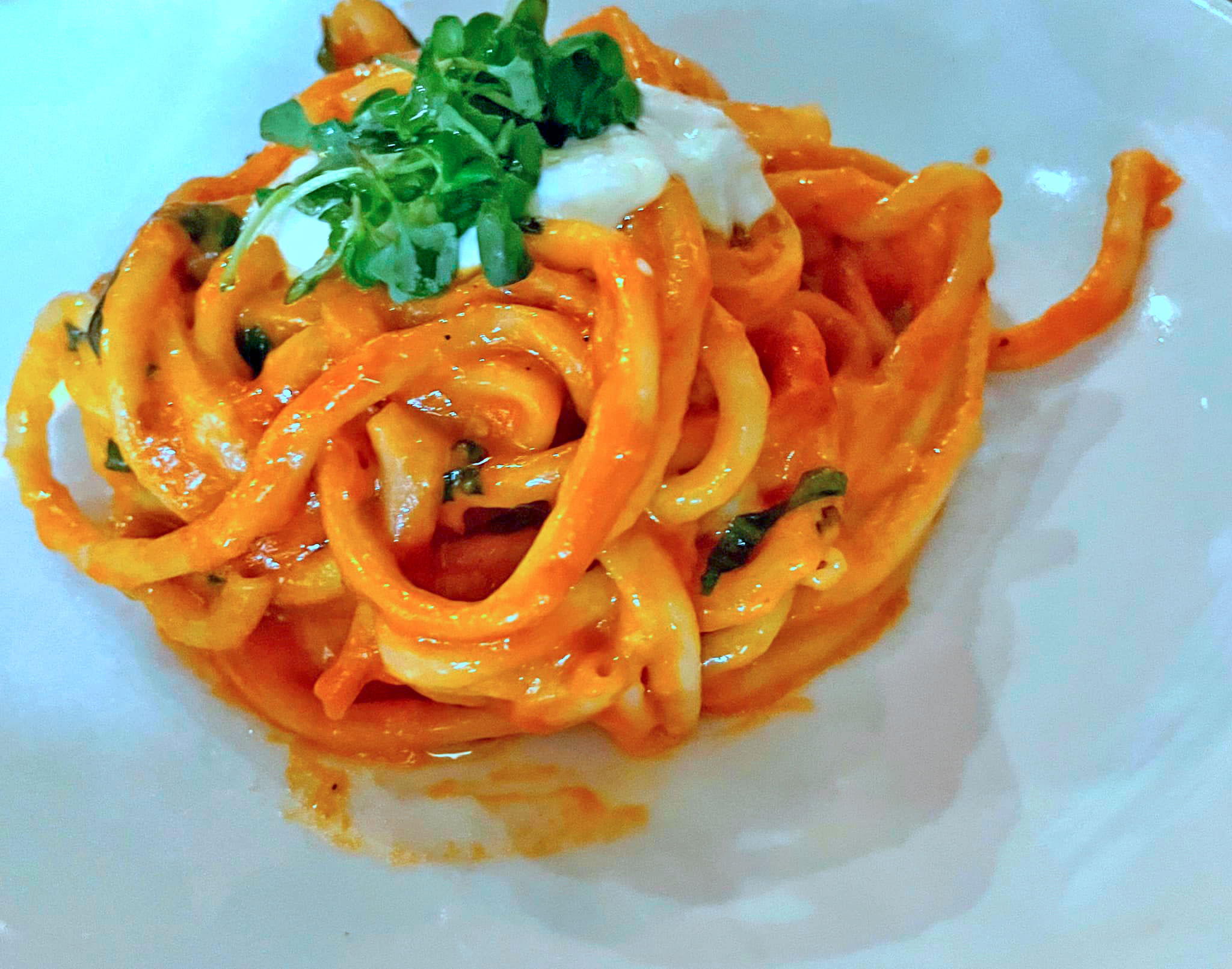 IL Ritorno arrived on the Downtown St. Pete foodies' scene in late 2013, held their Grand Opening on January 30, 2014 and quickly became a popular destination with their unique modern style of Northern Italian cuisine.
Chef David Benstock and his wife Erica are the sole proprietors of the restaurant aptly named "The Return" in Italian. Chef David grew up in St. Petersburg and after high school he attended and graduated from The Culinary Arts School at Johnson & Wales University in Denver, Colorado and then went onto to hone and perfect his craft, cooking in kitchens in Colorado, New York, Italy, Miami and Tampa before "returning" to his hometown and opening IL Ritorno.
For a special treat, make sure to try the Chef's Bar, which we did earlier this year for Valentine's Day. My re-cap of that experience:
We decided to celebrate Valentine's Day early with a Saturday night dinner at IL Ritorno at the Chef's Bar. It was sublime. This is just elevated, next-next level gastronomy. It's not for everyone, and it's not priced for everyone, but it was worth every single penny. What a phenomenal culinary experience. I also love to watch the perfectly choreographed harmonious ballet of the Chef de Parties with Executive Chef David L. Benstock as the Conductor. This is one of those dinners that you will always remember.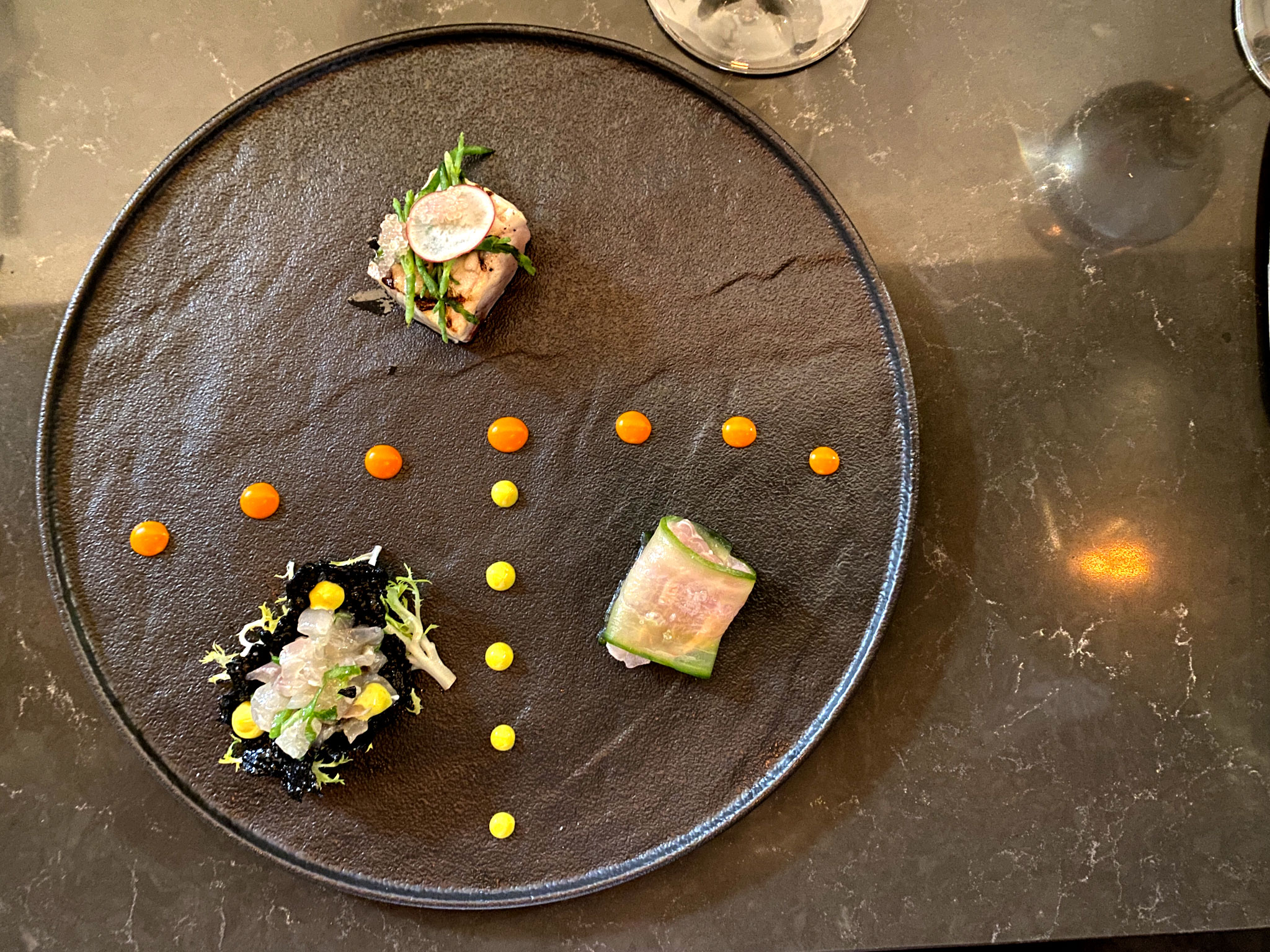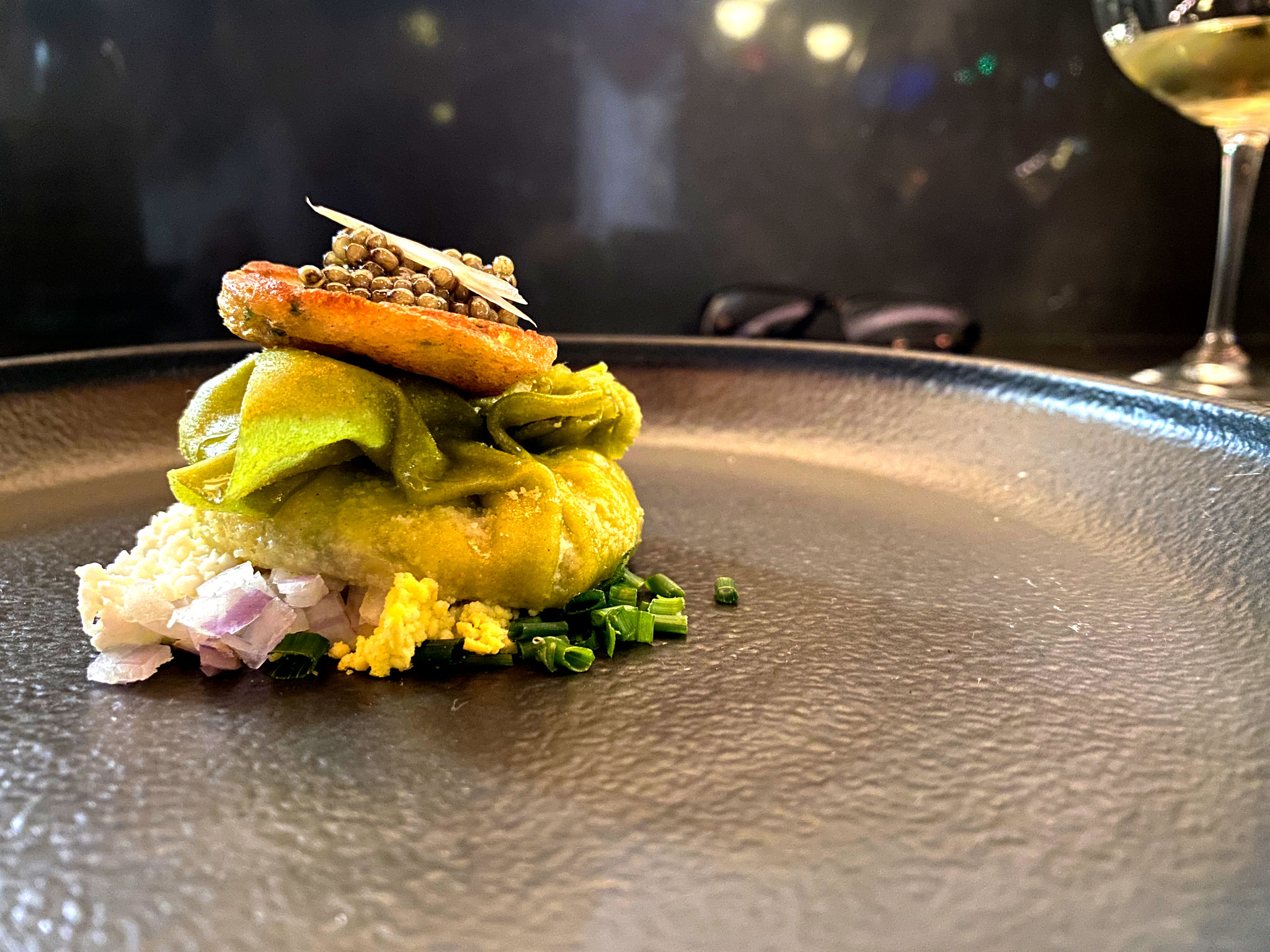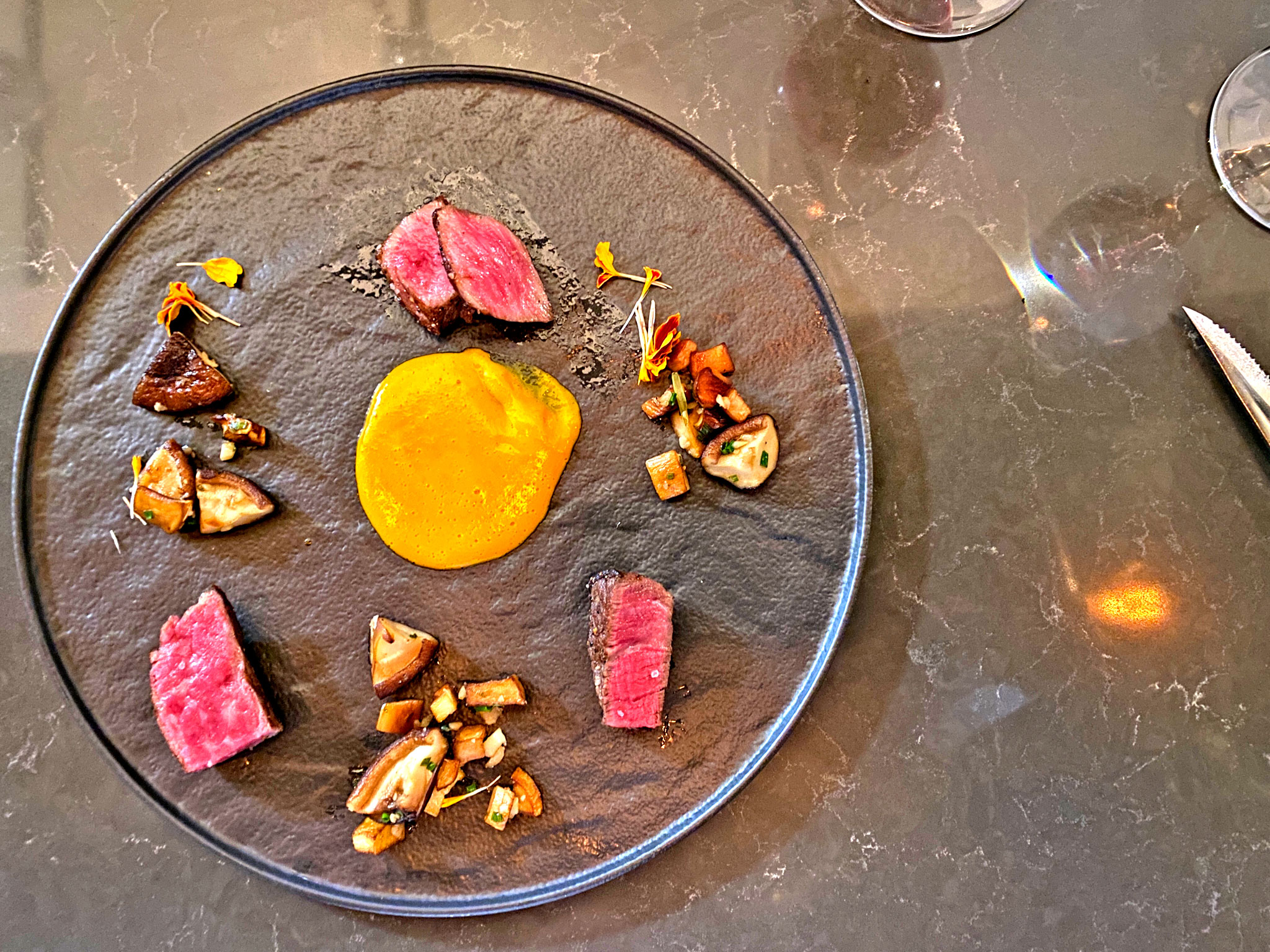 Last year, Benstock appeared on Food Network's "Beat Bobby Flay", and he did just that. The Short Rib Mezzaluna, which is the first photo above, is the dish that won.
All of the pasta is house made and Chef tries to use locally sourced ingredients whenever possible. However, he refuses to sacrifice quality and does fly in cheeses and some other items from California, Italy, etc.
IL Ritorno has an intimate setting with rustic brick walls and the amazing food reminds us of being in Manhattan. The service is impeccable and you won't find food like this anywhere else. The Octopus, Smoked Meatballs, Short Rib Mezzaluna, Cappelini Nero, Bucatini Pomodoro, and Diver Scallops are some of our favorites. Reservations are suggested as the restaurant is most always busy.
Noble Crust
8300 4th St North
Saint Petersburg, FL 33702
(727) 329-6041
Noble Crust Website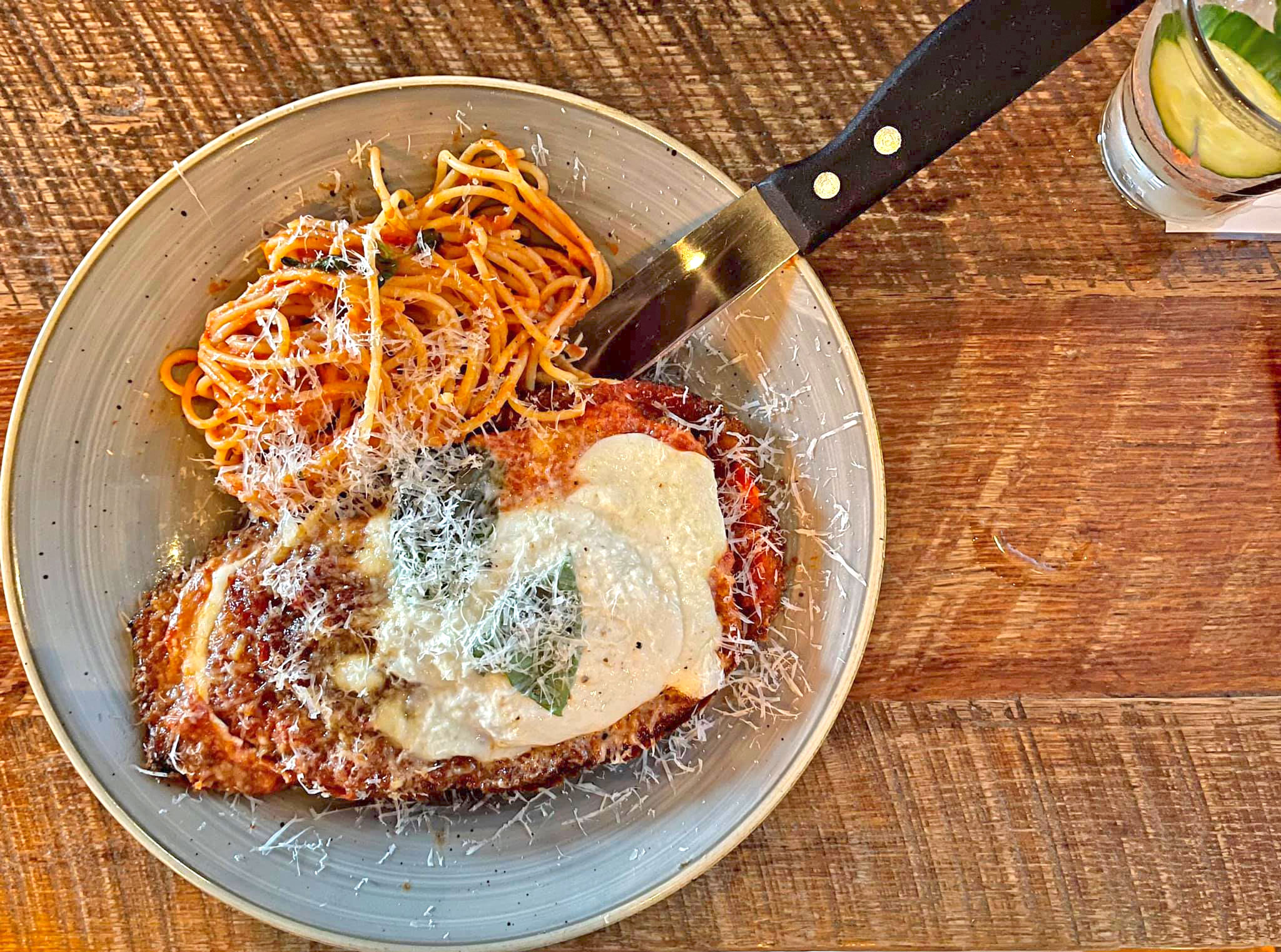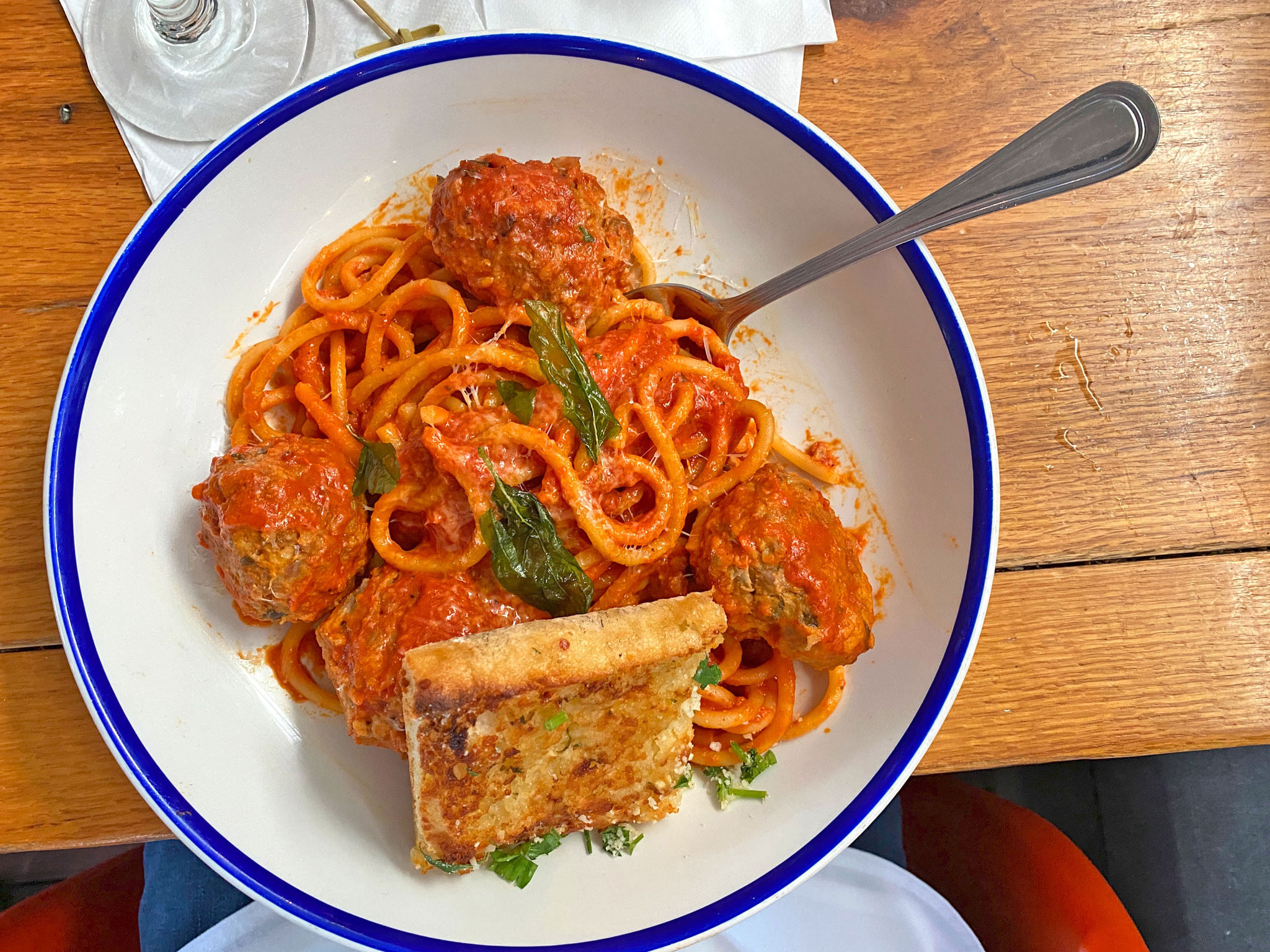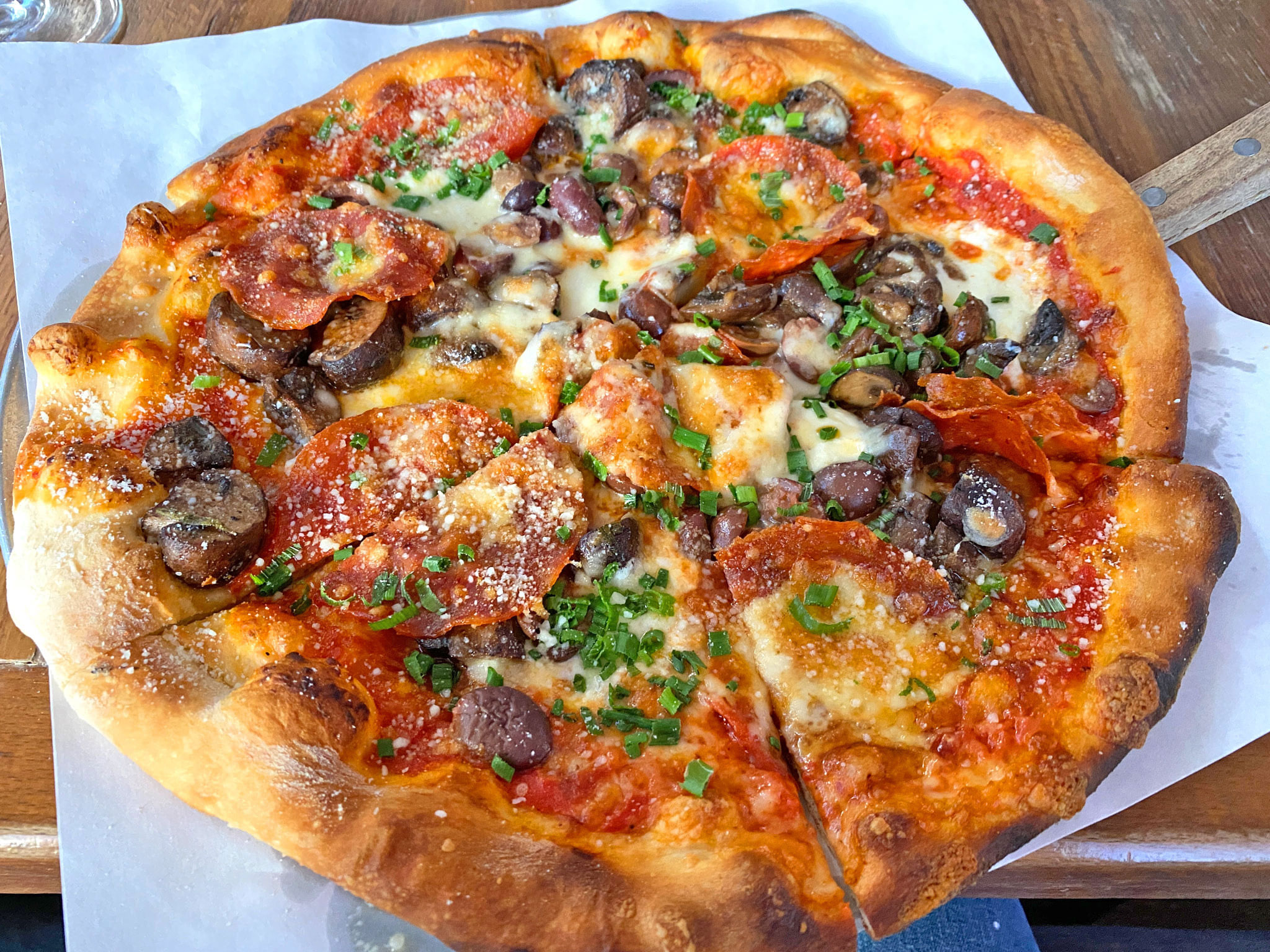 Noble Crust has their own particular style that they call; "Seasonal Italian with Southern Soul". Noble is known best for their creative weekend brunch items, as well as their inventive pizza creations, and fried chicken. Their menu changes with the seasons and features locally grown ingredients. It was opened in 2014 by local restaurant veterans TJ Thielbar and John Mays, two of Bonefish Grill's original founders.
A couple of their uncommon delectable starters are the Brussels Sprouts (which they are famous for and you must find out why) – goat cheese fonduta, agrodolce, citrus, mint, pickled frescos and spiced crisps, the F.G.B.L.T – fried green tomatoes with Tabasco-honey glazed pork belly, & pimento cheese and the Meatballs – beef & pork, tomato sauce, ricotta, parm and basil.
Some of our favorite pasta dishes are the Ricotta Gnocchi – this is an appetizer and has pancetta, black pepper cream, parm, pecorino and scallions, the Rigatoni & Short Rib Ragu – creamy burrata and Calabrian chili, and the Eggplant Parmesan – crispy eggplant, parm, tomato sauce, Calabrian chili, burrata and tomato jam (the best eggplant parmesan I have had anywhere). You can't go wrong with any of these. They are all delectable.
Pizza: The Noble Pig is where it's at. It has pepperoni, sweet fennel sausage, spicy soppressata, pickled cherry peppers, caramelized onions, tomato sauce, fontina, parm – and to complete the pig add a sunny side up egg. The Works is another favorite – tomato sauce, mozzarella + fontina, pepperoni, crimini mushrooms, crushed olives, spicy Calabrian chili -honey.
Tuttorosso Restaurant & Pizzeria
7863 Blind Pass Rd
St. Pete Beach, FL 33706
(727) 800-9864
Tuttorosso Website
From Haley: Once the aroma of hand tossed pizzas and pasta hits you, you'll understand why Tuttorosso on St. Pete Beach is the go-to casual Italian restaurant and pizzeria that everyone raves about. Tuttorosso is family owned with a comforting menu packed with Italian classics like pizzas, calzones, pasta, salads, desserts and more, like a lot more, the menu is massive. Everything I had came with good levels of warmth and sharpness and I can't wait to continue going back to try more. Tuttorosso is very much a neighborhood spot with pizza boxes flying out the door just as often as people meander in for a table.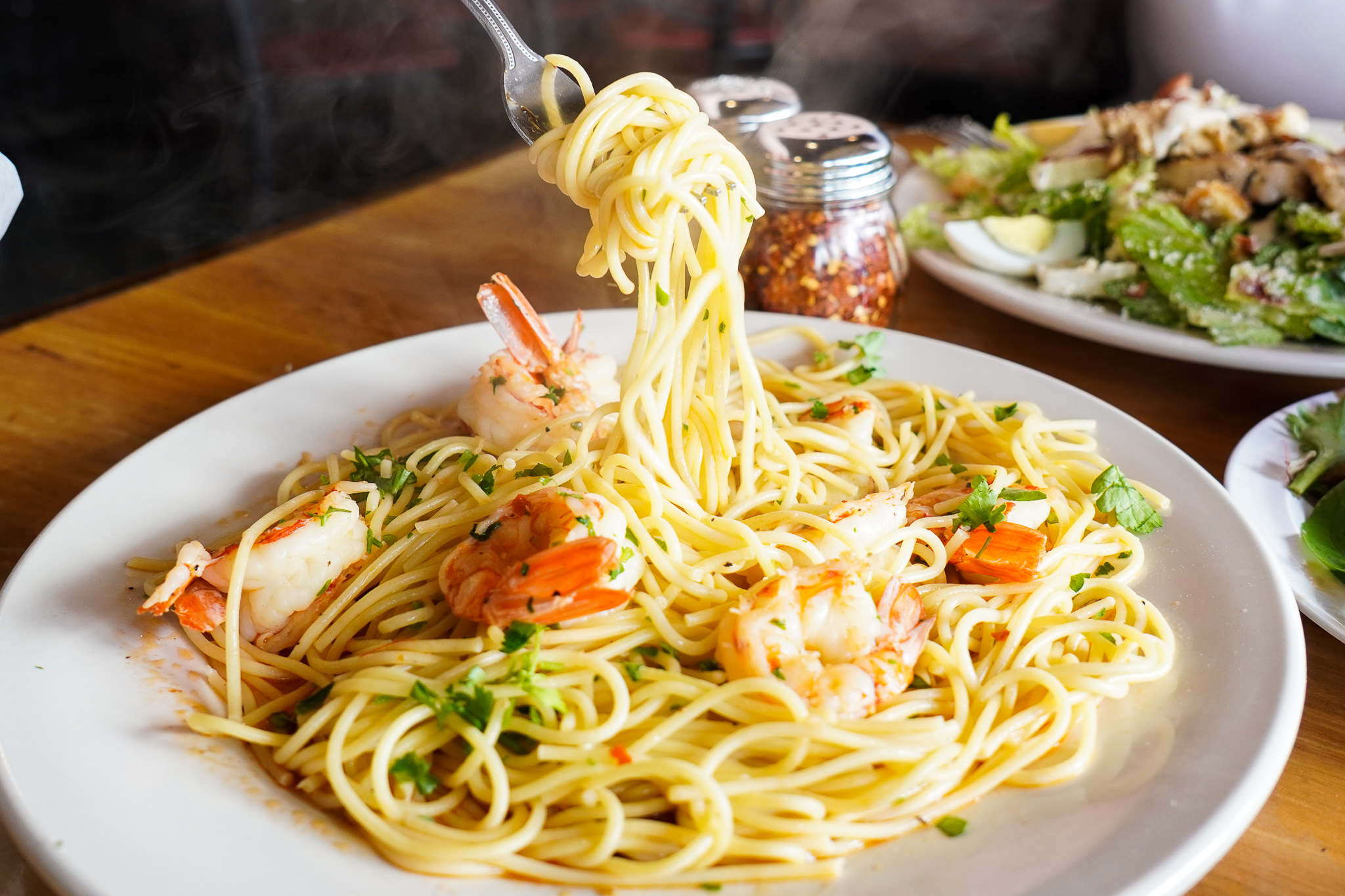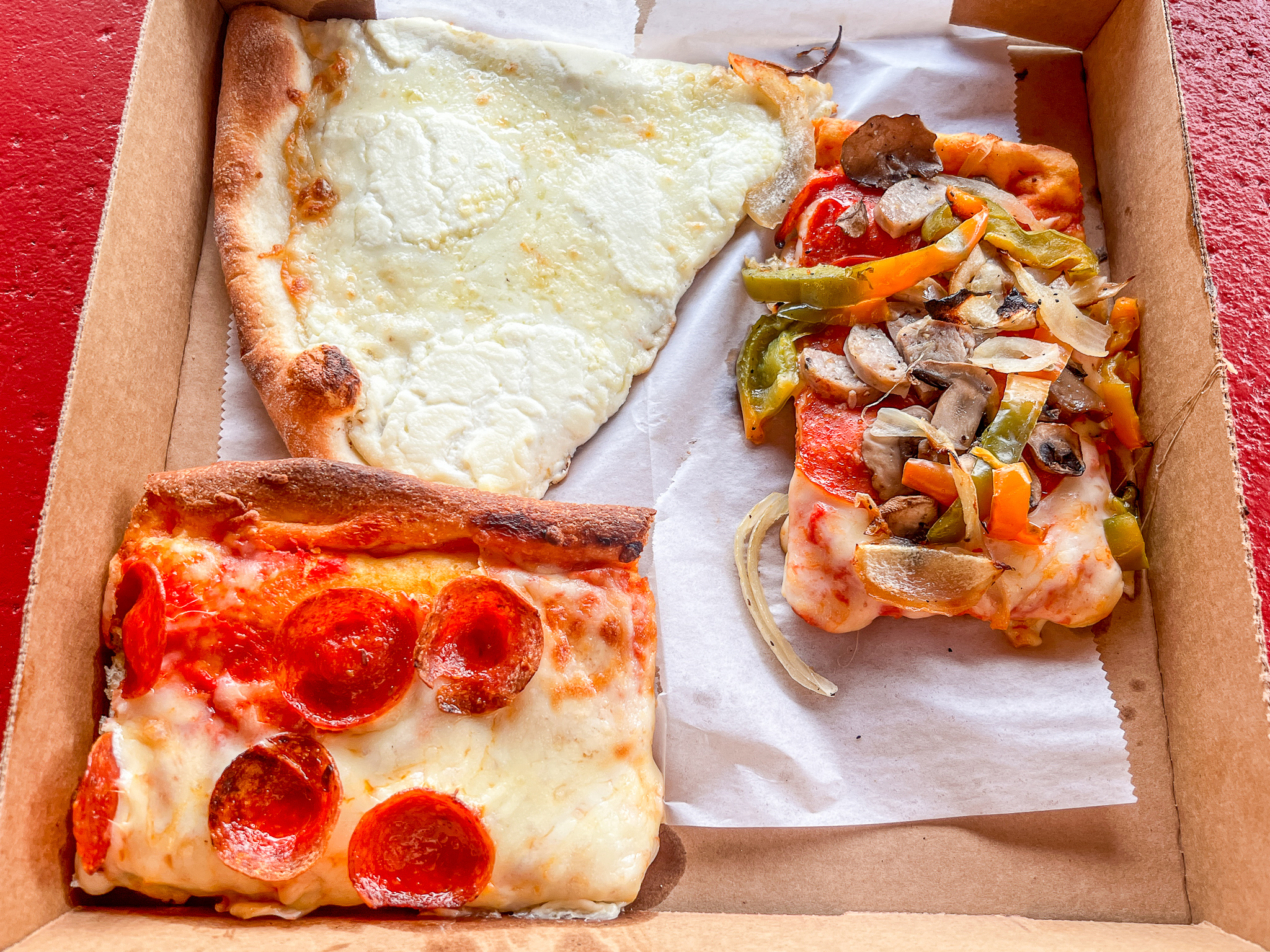 Sauvignon Wine Locker & American Trattoria
241 Central Ave
St. Petersburg, FL 33701
(727) 827-7896
Sauvignon Website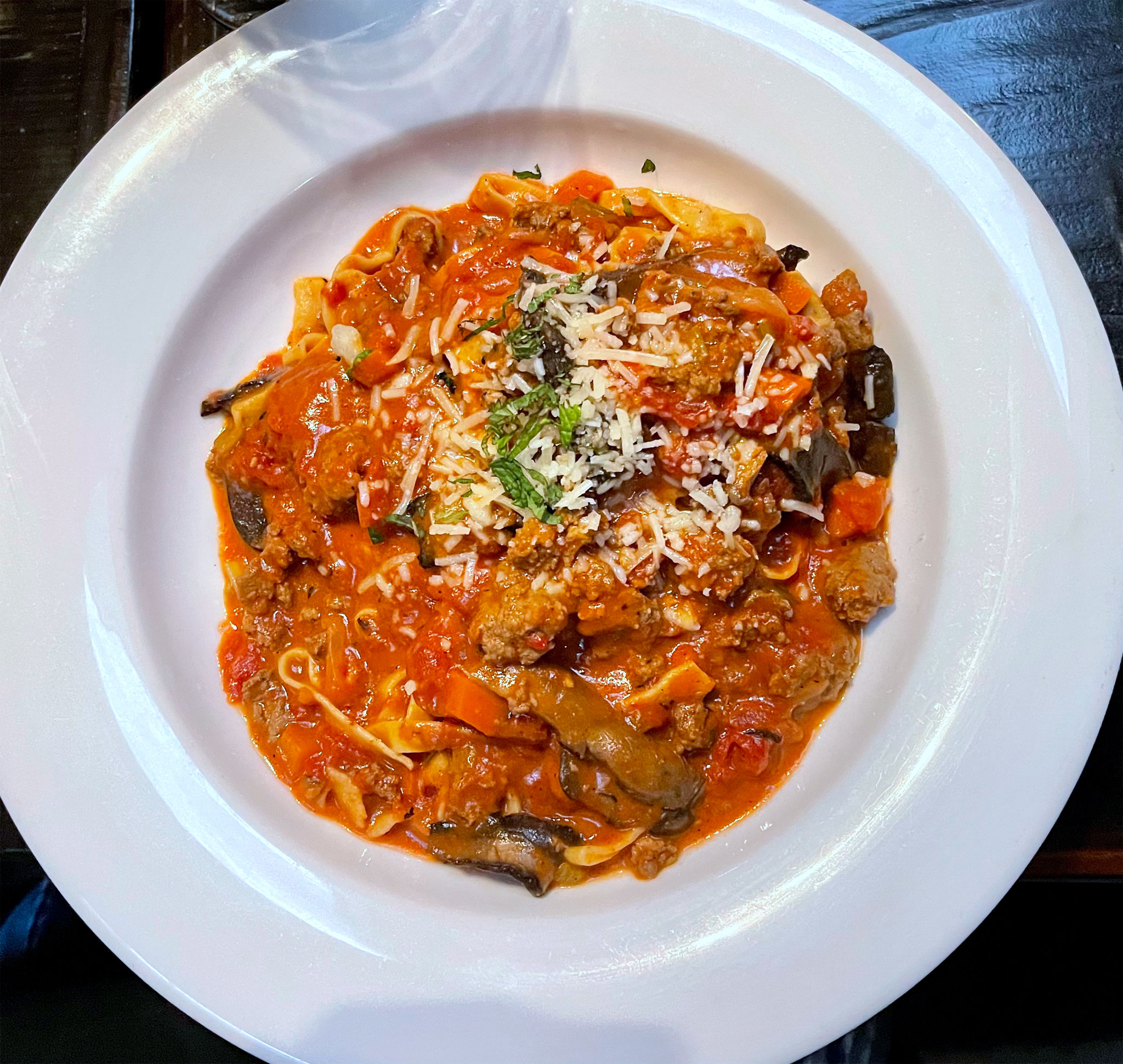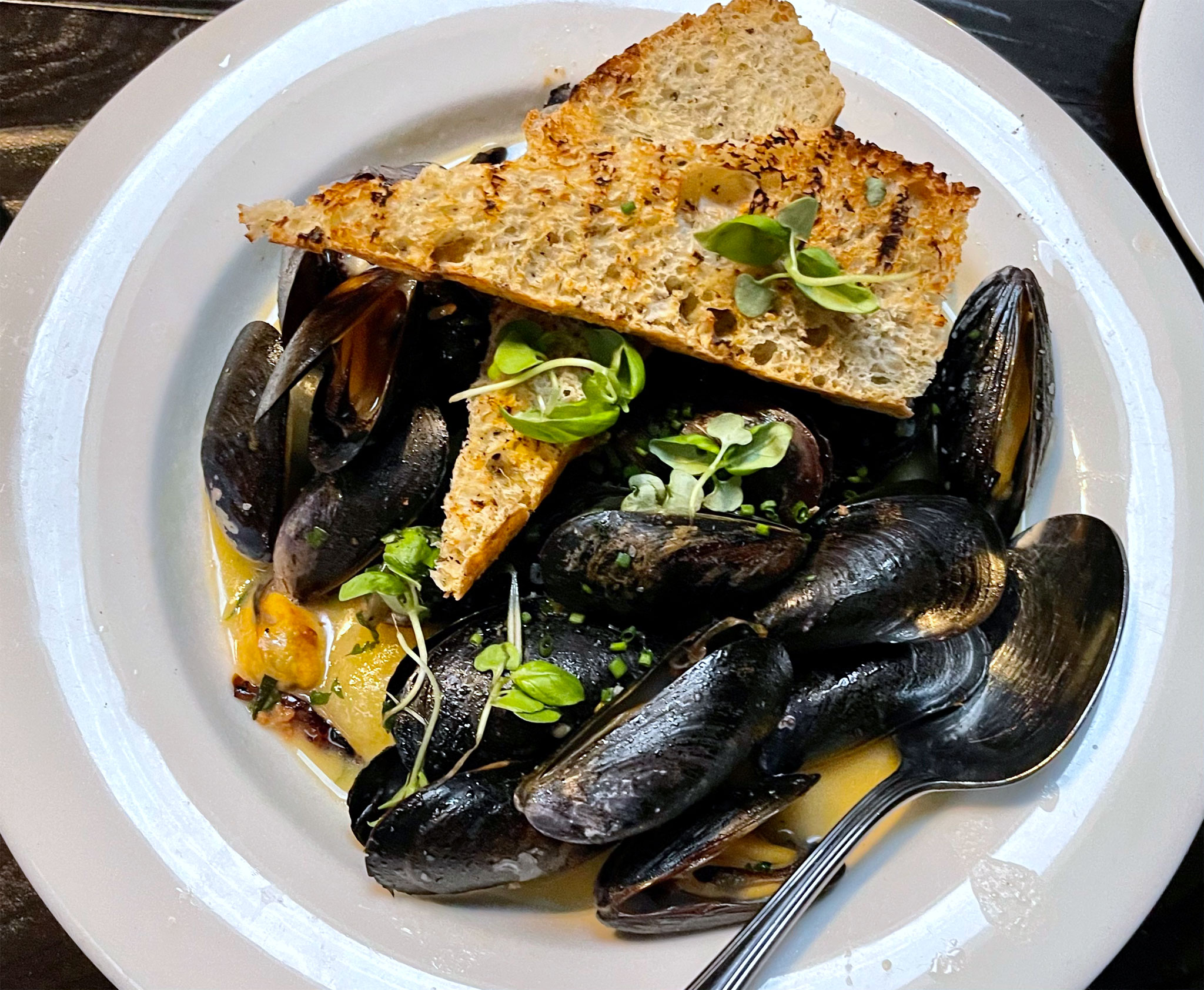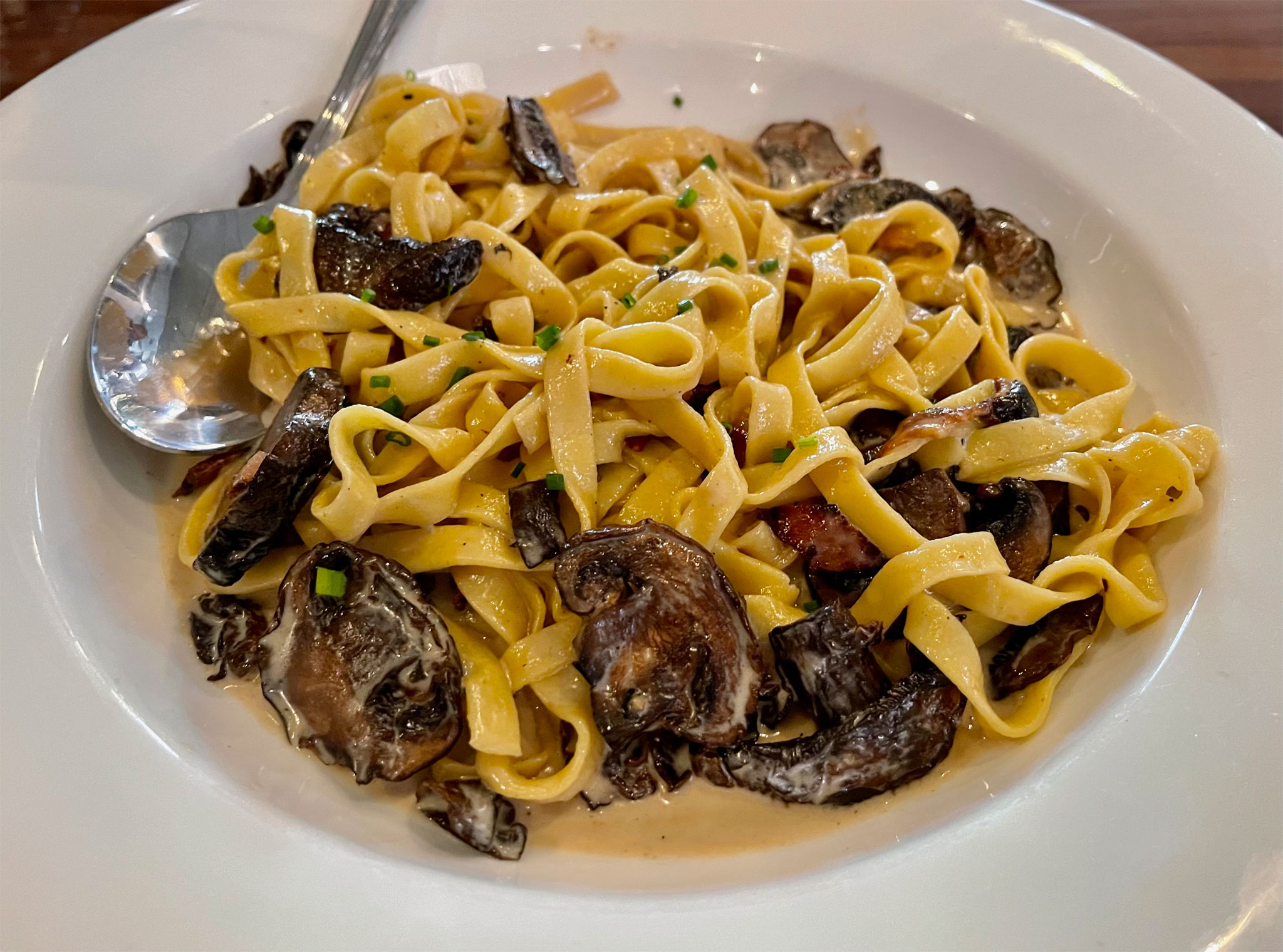 Sauvignon Wine Locker & American Trattoria is a little over a year old and they have been hitting it out of the park ever since. They have a great international wine list with profiles and prices for everyone. They have a membership club that includes climate-controlled wine lockers, and the cuisine is out of this world. It's really spectacular.
Two of our many favorite dishes shown above are the Homemade Pappardelle – Oyster Mushrooms, Caramelized Tropia Onion, Lamb Sugo, Mint, and the PEI Mussels – Pancetta, Heirloom Tomato Confit, Chardonnay, Herb Butter.
We also love the White Miso & Mushroom Pasta. The fettuccine is made from scratch in-house, as is all of their pasta. The dish has great creamy umami, arugula, seared mushrooms, and crispy bacon. This is a scrumptious, rich, creamy dish that features trumpet & oyster mushrooms tossed in a brandy cream sauce. They have half off pastas on Thursdays.
All of the staff is highly knowledgable about all of the food and beverages, and we've had some fun and interesting conversations about food, wine and travel while enjoying our meal. During the week they have dinner service, on Saturday they offer lunch and dinner, and Sunday there is brunch and dinner. You can't go wrong here. Almost everything is made in-house, and is of the highest quality.
Matteo Trattoria & Pizzeria St Pete
2363 Central Ave
St. Petersburg, FL 33713
(727) 851-9114
Matteo Website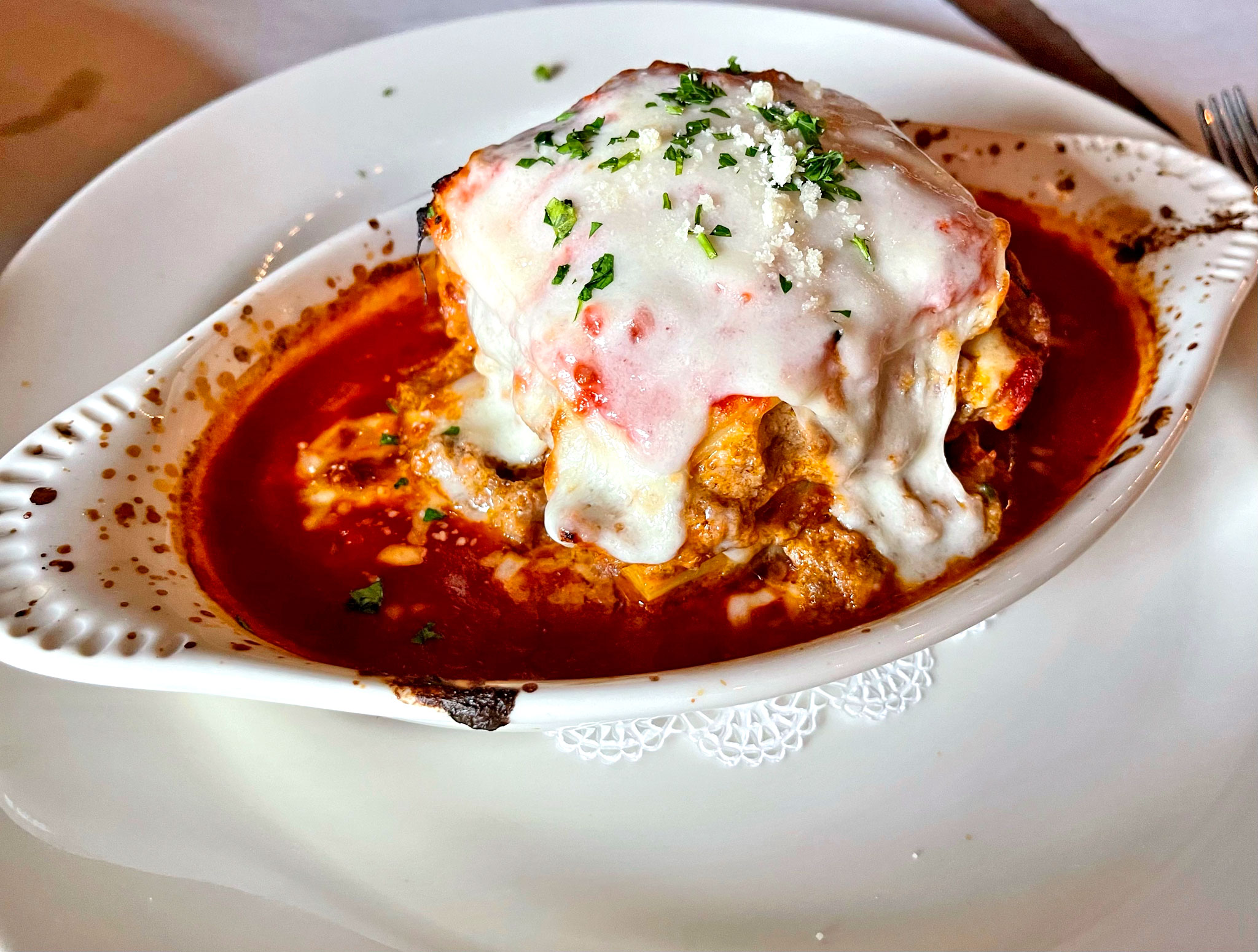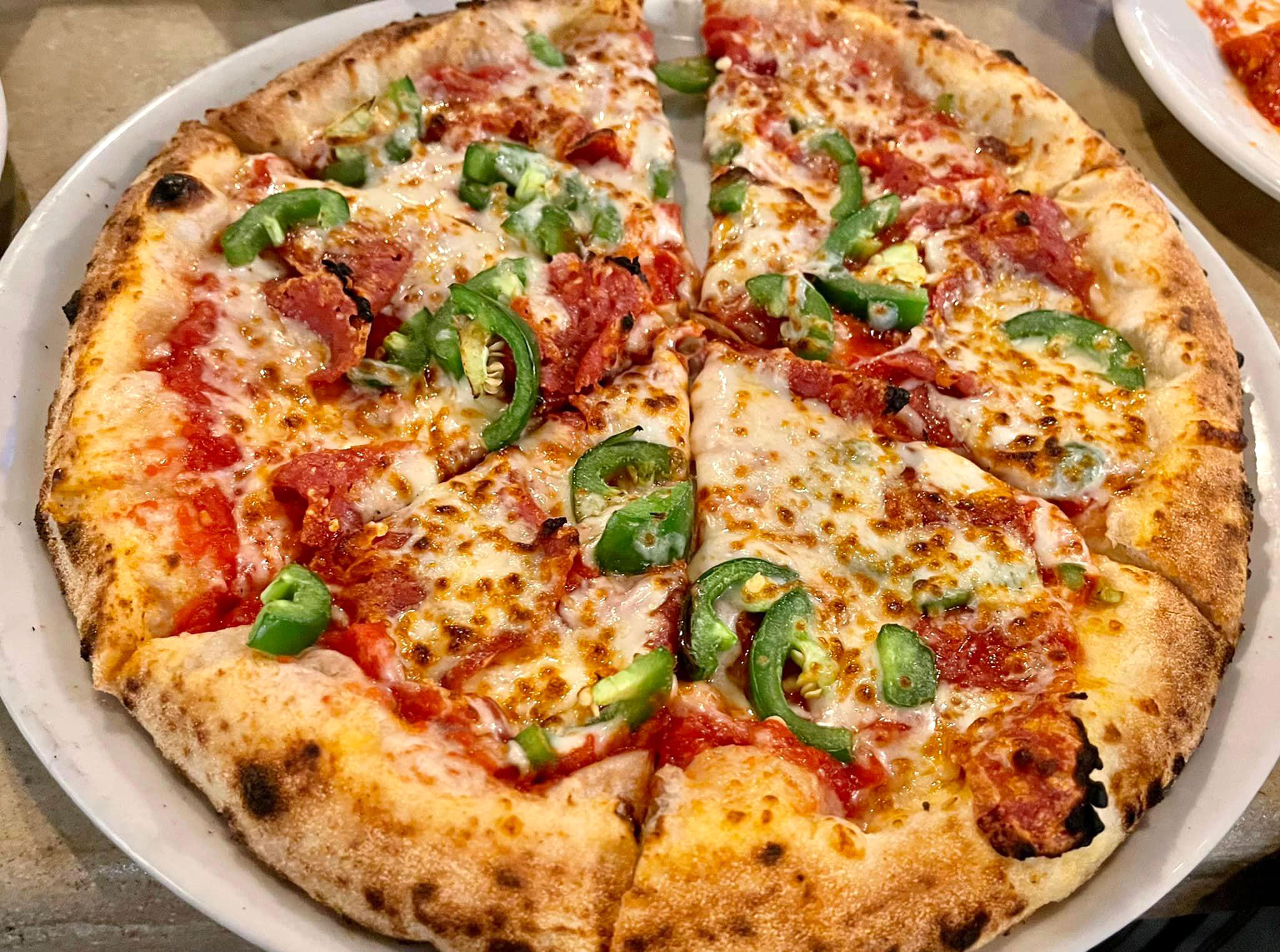 The restaurant is named after owner Nando Silvestri's son. Silvestri started with his first restaurant in Los Angeles in 1992 when he was just 21. He has owned several eateries around the LA area, and still has one there—Tramonto Bistro Malibu.
This unstoppable restaurateur's next move was to open Matteo Trattoria & Pizzeria in Tampa in September 2020.
The St. Pete location at 2363 Central Ave opened to rave reviews in July 2021. The quality of the food and service is right up there with a great NYC restaurant.
The Lasagne is one of the best in St. Pete. Layers of ricotta cheese, bolognese sauce and pasta sheets. Lasagna is one of Lori's go-to dishes as a test of an Italian restaurant. This one gets an A+.
Other favorites include Polpette Della Casa (meatballs), Cozze Tarantina (P.E.I black mussels), Amatriciana, Bolognese, and Gnocchi Boscaiola. There are great wood fired pizzas done in traditional Naples fashion. Two of our favorites are the traditional Regina Margherita, and the spicy Messicana pizza.
Taverna Costale
200 Central Ave Ste 165
St. Petersburg, FL 33701
(727) 954-3863
Taverna Costale Website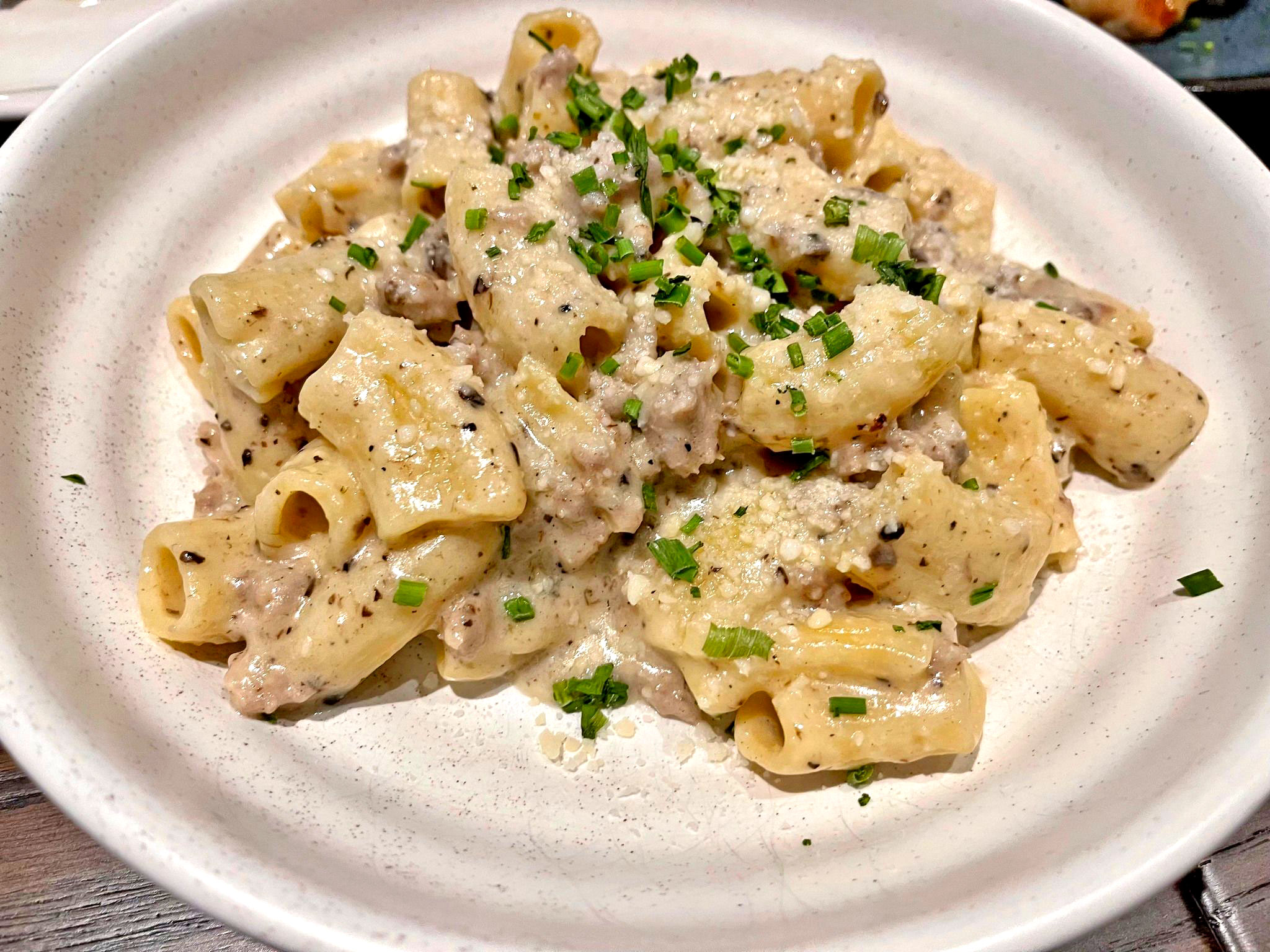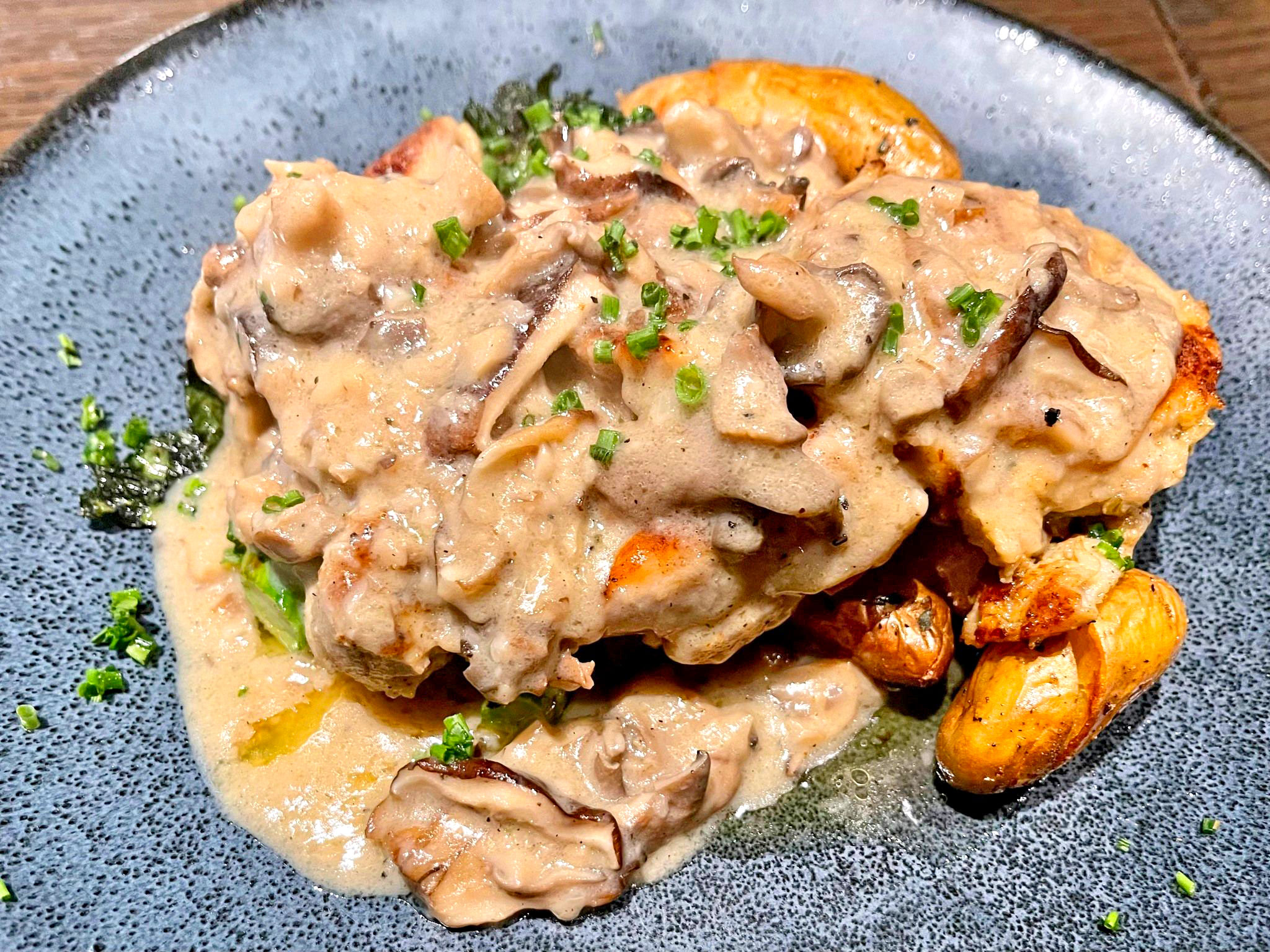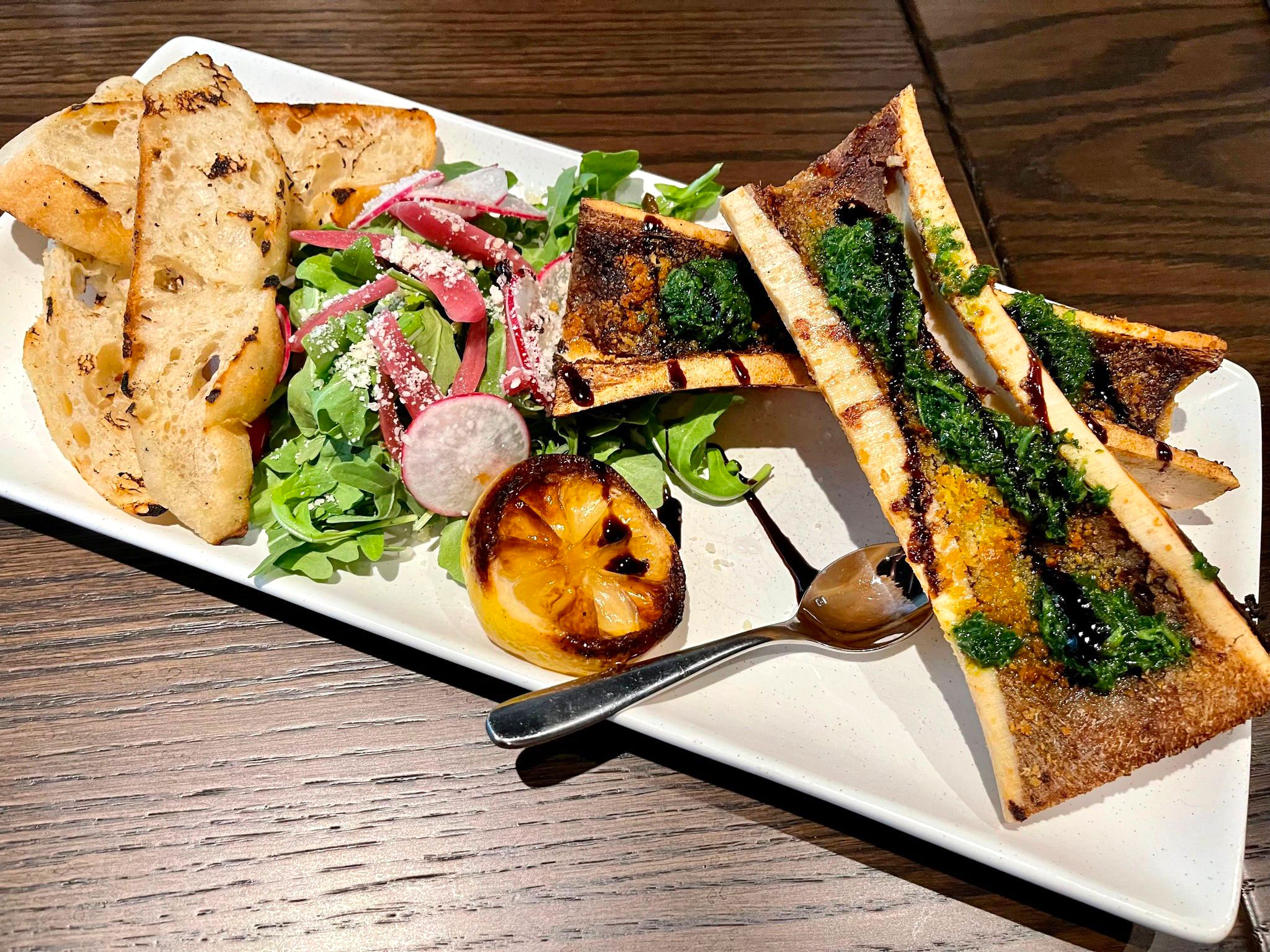 Taverna Costale, created by celebrity chef Fabio Viviani, features exceptional pastas, pizzas, and signature seafood dishes. We enjoyed watching Fabio on the fifth season of Top Chef, and then on Top Chef All Stars. They opened on New Year's 2022 on the corner of the 200 block of bustling Central Ave, which has great people watching and several places to bar hop afterwards, if you are so inclined.
Three exceptional dishes are the Rigatoni Tartufo (Truffle Parmesan Cream & Italian Sausage), the Chicken Thigh Marsala (Woodland Mushrooms, Crispy Potatoes, Broccolini), and the Grilled Bone Marrow (Toasted Breadcrumbs, Balsamic Onions, Citrus Gremolata, Grilled Bread). The rigatoni is pure comfort food. They are geniuses for using chicken thigh instead of breast in the Marsala, as it is so juicy and flavorful. The bone marrow is expertly done, and you don't find it at too many places in St. Pete. Taverna Costale also gets credit for being unique, as one of the only places serving Roman-style pizzas even though it's not our favorite style of pizza, we give them credit for being different. (They are one of three on this list that make Roman-style pizzas and the only three we know of. The next two below are the other two.)
Jay Luigi
3201 4th St N
St. Petersburg, FL 33704
(727) 390-8883
Jay Luigi Website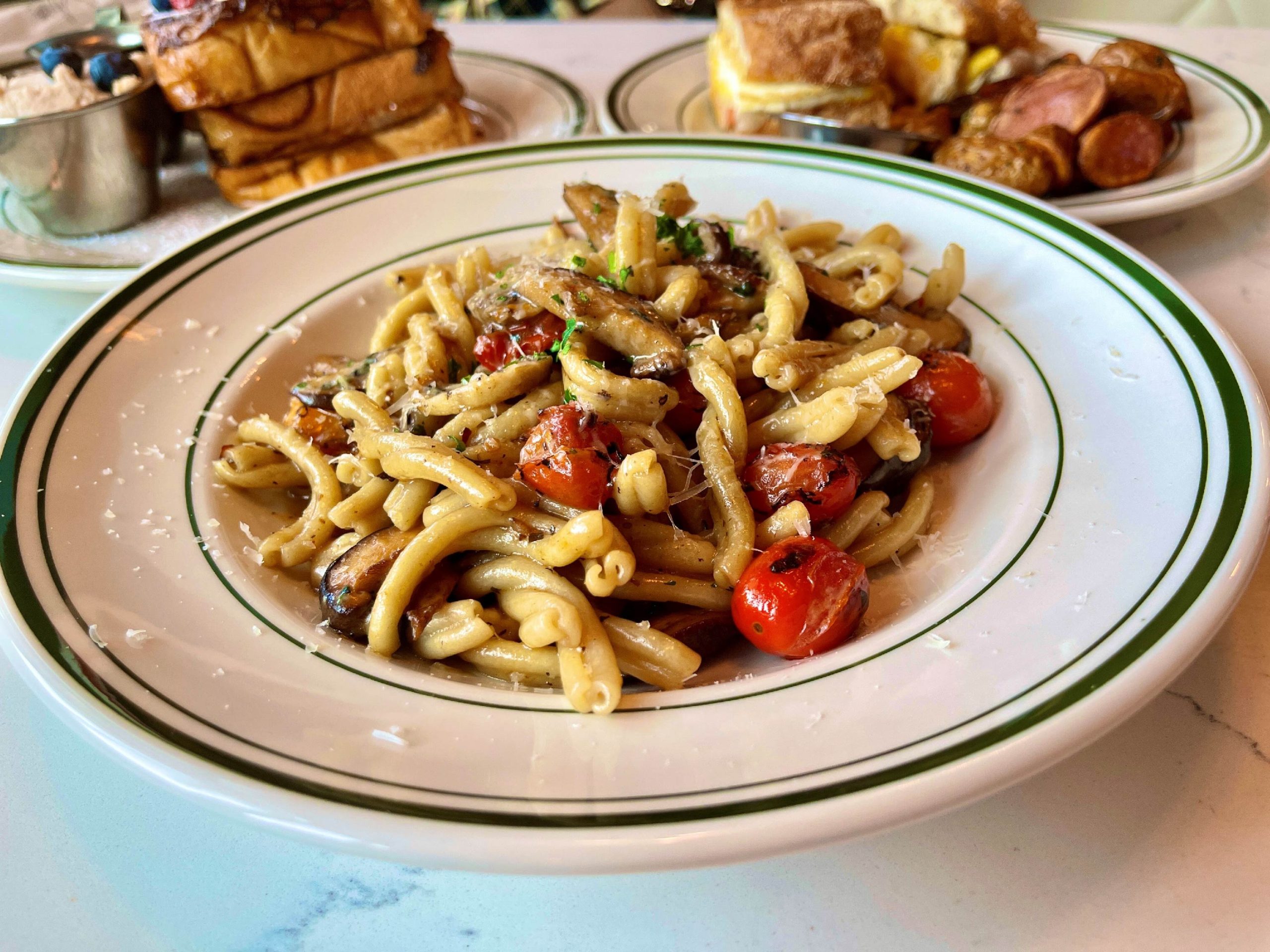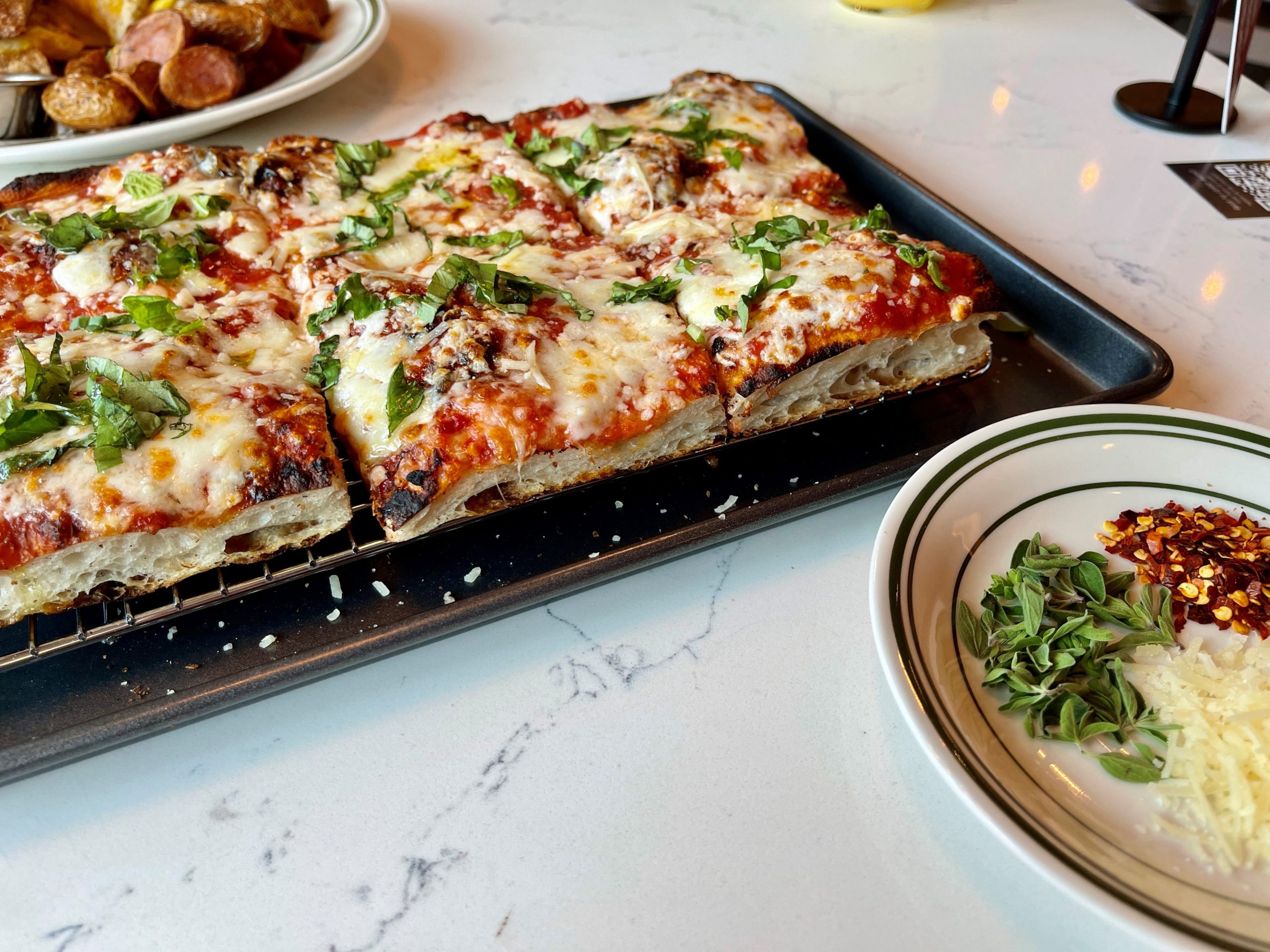 From Lindsey: Jay Luigi is an "attentive counter service" restaurant serving up authentic Italian cuisine, including pasta and pizza while not leaving out the CRG staple… bowls. Attentive counter service happens when you mesh counter service and a full-service restaurant together. You'll order at the counter and will be fully tended to once you're at your table. Want a refill on your soda? Another beer? Dessert? They have servers to assist and QR codes on the tables so you won't have to get back up.
The Drunken Mushroom pasta is a vegetarian dish made with casarecce pasta, blistered tomatoes, white wine, cremini mushrooms, garlic, chili flake, mushroom stock and grana padano. You can win me over with any dish if it has blistered tomatoes.  And these tomatoes beautifully balanced the dish adding some acidity to the umami flavor of the mushrooms and was punched up a notch with the spice of the chili flakes.
We mulled over which pizza to choose… do we go simple? Or do we do one with several toppings? Do we go Romana-style? Or do we go NY-apolitan? We settled on the Stella Pizza Romana. Stella is their most simple of Romana-style pizzas with tomato sauce, house-made mozzarella, basil and grana padano. While the pizza was more on the simple side, it truly let you enjoy the authentic flavors. The pizza was served with a small plate holding fresh grated grana padano, red pepper flakes and fresh oregano. I sprinkled a little bit of each on my slices and it was the perfect addition to step the pizza up another notch.
While we were dining, we enjoyed a couple of visits to our table by one of the partners at Jay Luigi, Jay Brunetti, who explained the process of how they create their pizza. And while I can't remember all the scientific details, I can tell you they use the best of ingredients and techniques… including importing wild yeast from Italy (dubbed "NIKI"), using 00 flour, creating a crispy, fluffy crust by using 80% water in their dough and whipping up house made mozzarella.
Bonu' Taverna Italiana
601 Central Ave
St. Petersburg, FL 33701
(727) 623-4505
Bonu' Taverna Website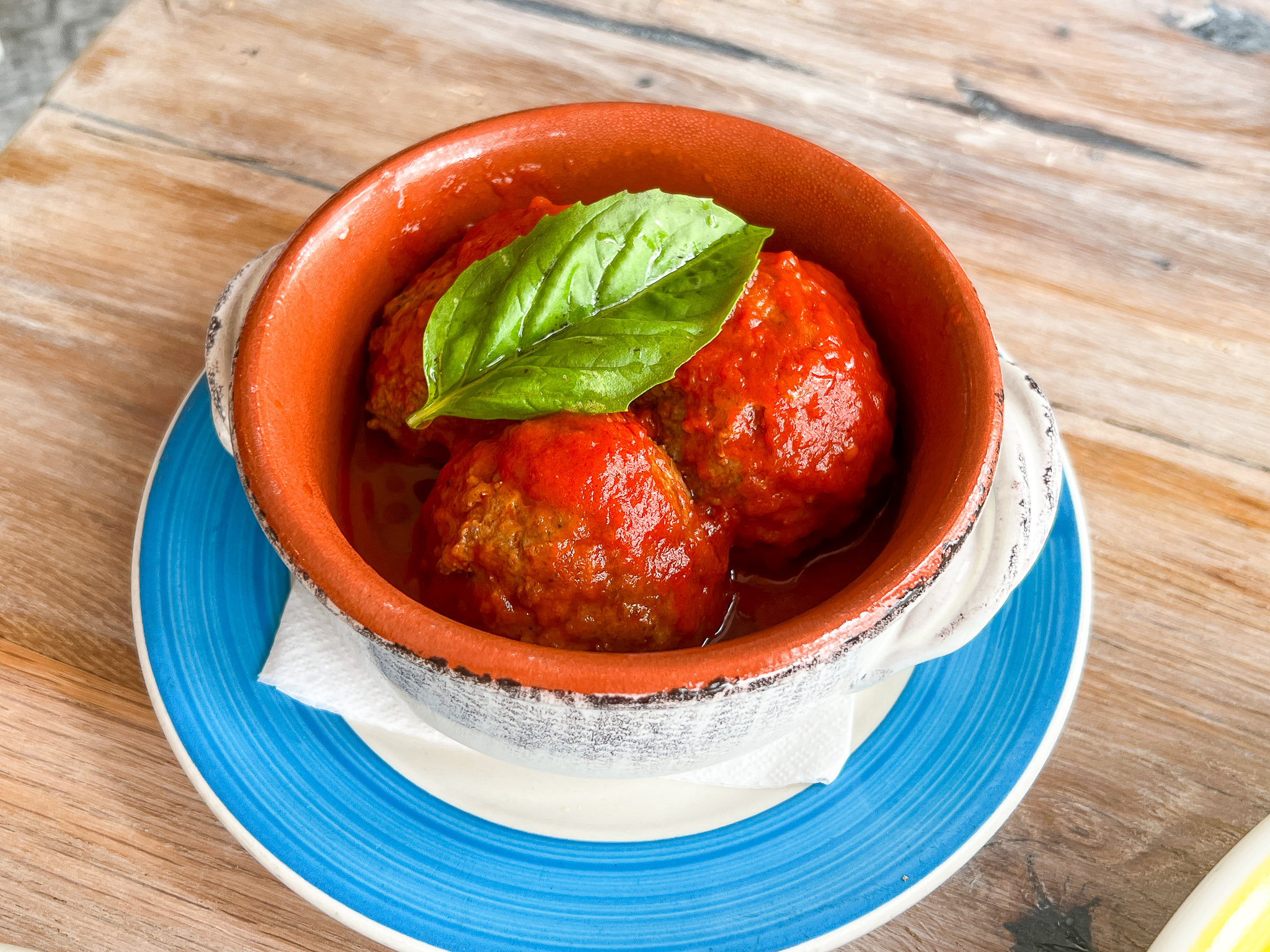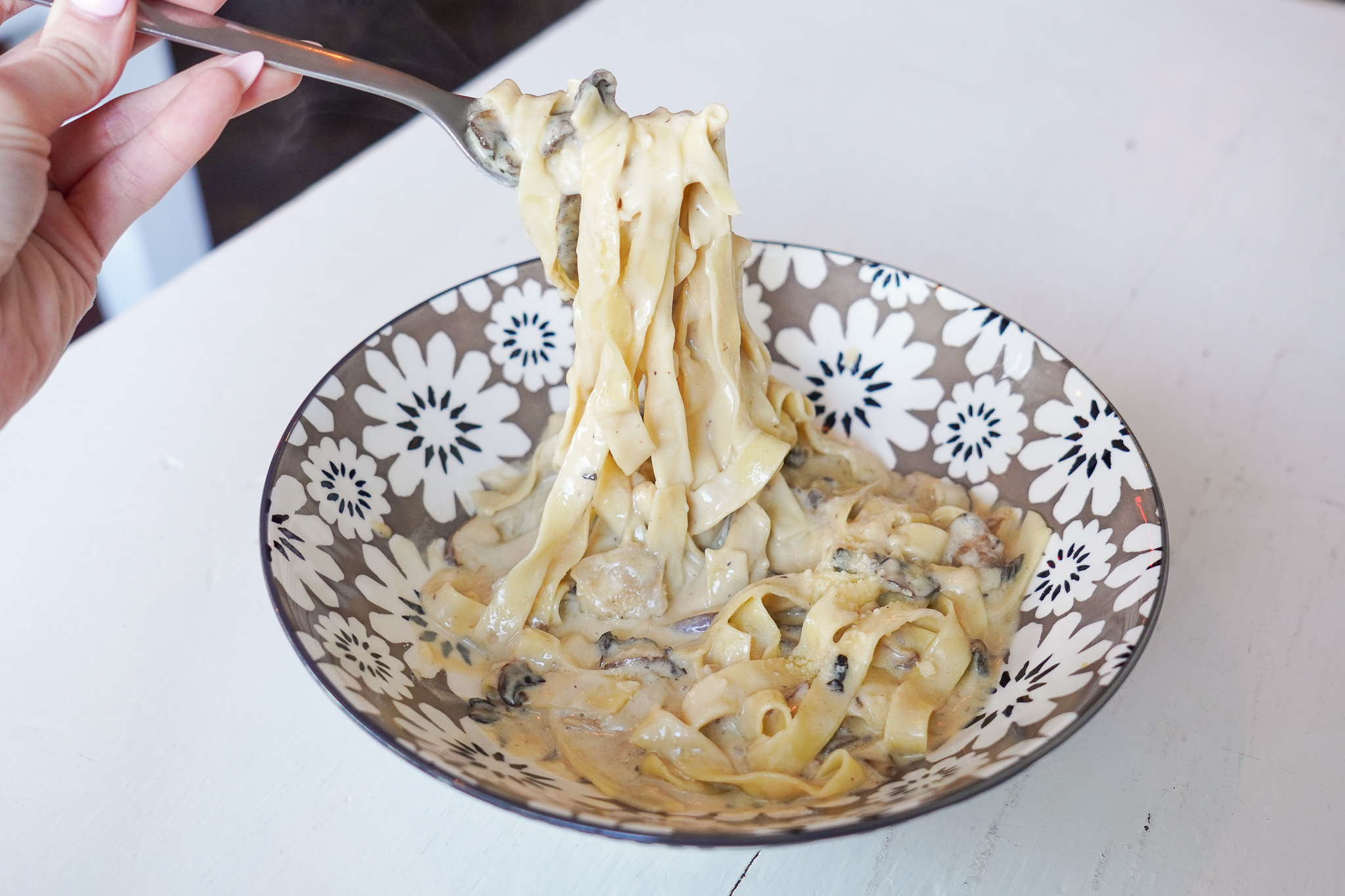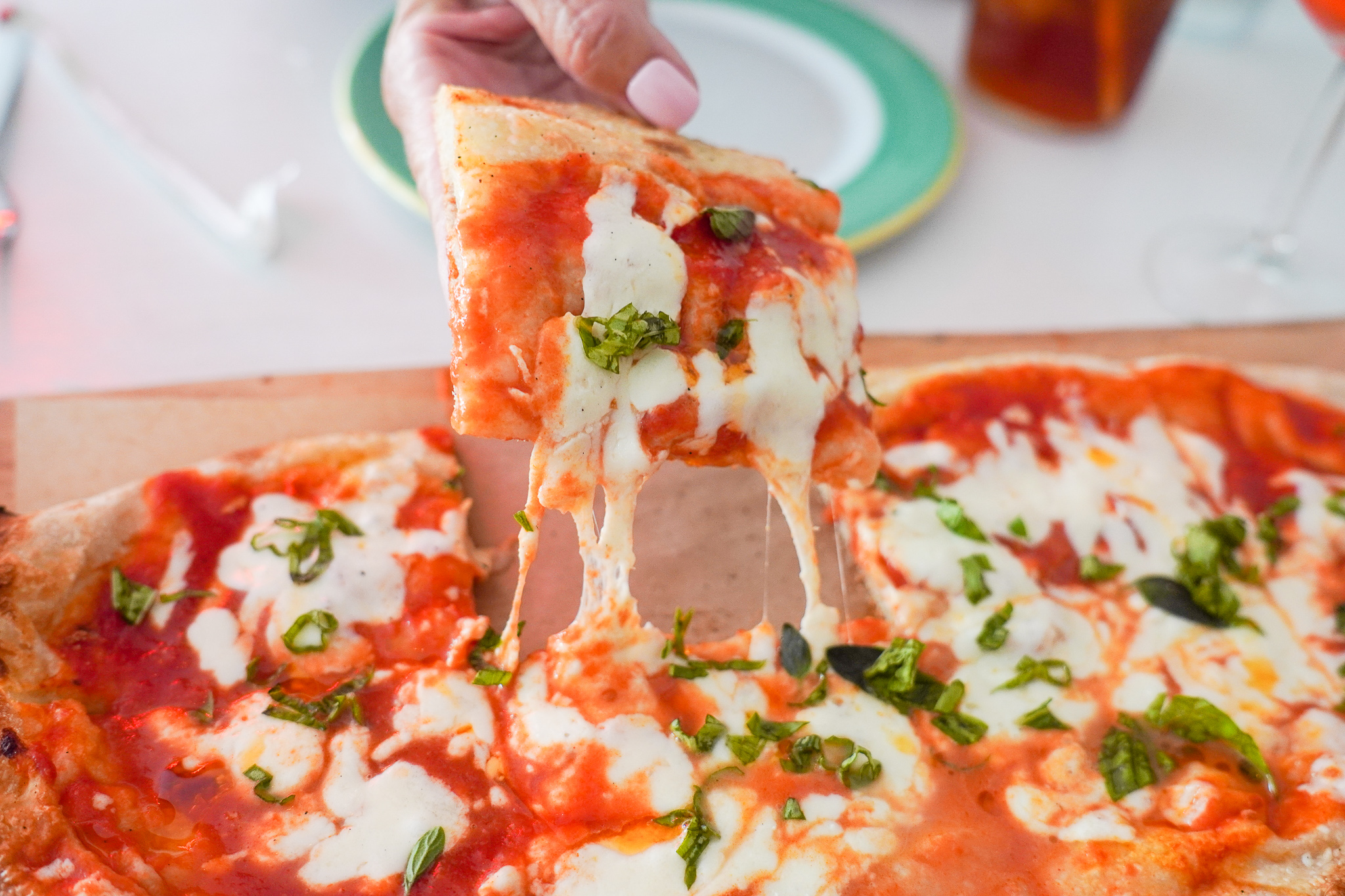 From Haley: There are new restaurants opening left and right in St. Pete, right? This is no secret. What makes Bonu Taverna stand out is that I visited three times and each time I was greeted like family. Call me a millennial or whatever, but I love all the little touches that made this restaurant what it is. The interior is so cute and totally my style with a boho feel to the bar, a mural by my good friend and local muralist Leo Gomez, and a grass wall with a neon sign "Love is love". I mean, how much more St. Pete can it get? Peering behind the wooden wine wall, you'll see the chefs making all the magic.
Growing up with a mom who made homemade meatballs and marinara every Sunday really set my standards high. The Polpetta, meatballs and plum tomato sauce at Bonu Taverna are just shy of perfect. The meatballs are tender, juicy, and perfectly seasoned and the tomato sauce is so bright and fresh.
My absolute favorite dish from Bonu Taverna…the Fettuccini. Some might say this handmade pasta is transcendental. The Fettuccini is created with dried porcini and mixed mushrooms, a divine cream sauce and truffle oil. It's so good you might even want to swim in the creamy sauce and lick the plate dry and I wouldn't even judge you. You must like mushrooms and truffle to fully enjoy this dish.
There's something unique about the pizza at Bonu Taverna. They call it Pinsa which I learned is a style of Roman baking and cooking where they hand press the pizza dough. Pinsa translates to "push the dough by hand" which makes sense. They have four pinsas to choose from and we went with a basic, Regina with fior di latte mozzarella, tomato sauce, and basil. I'm a big believer in not overcomplicating recipes, and this is a fine example of how with just four fresh ingredients, you can have a glorious meal.
Contributors to this article: Lori Brown, Abby Allen, Haley Haman, and Lindsey Harris.
Tell us what your favorite Italian restaurant is in the comments below.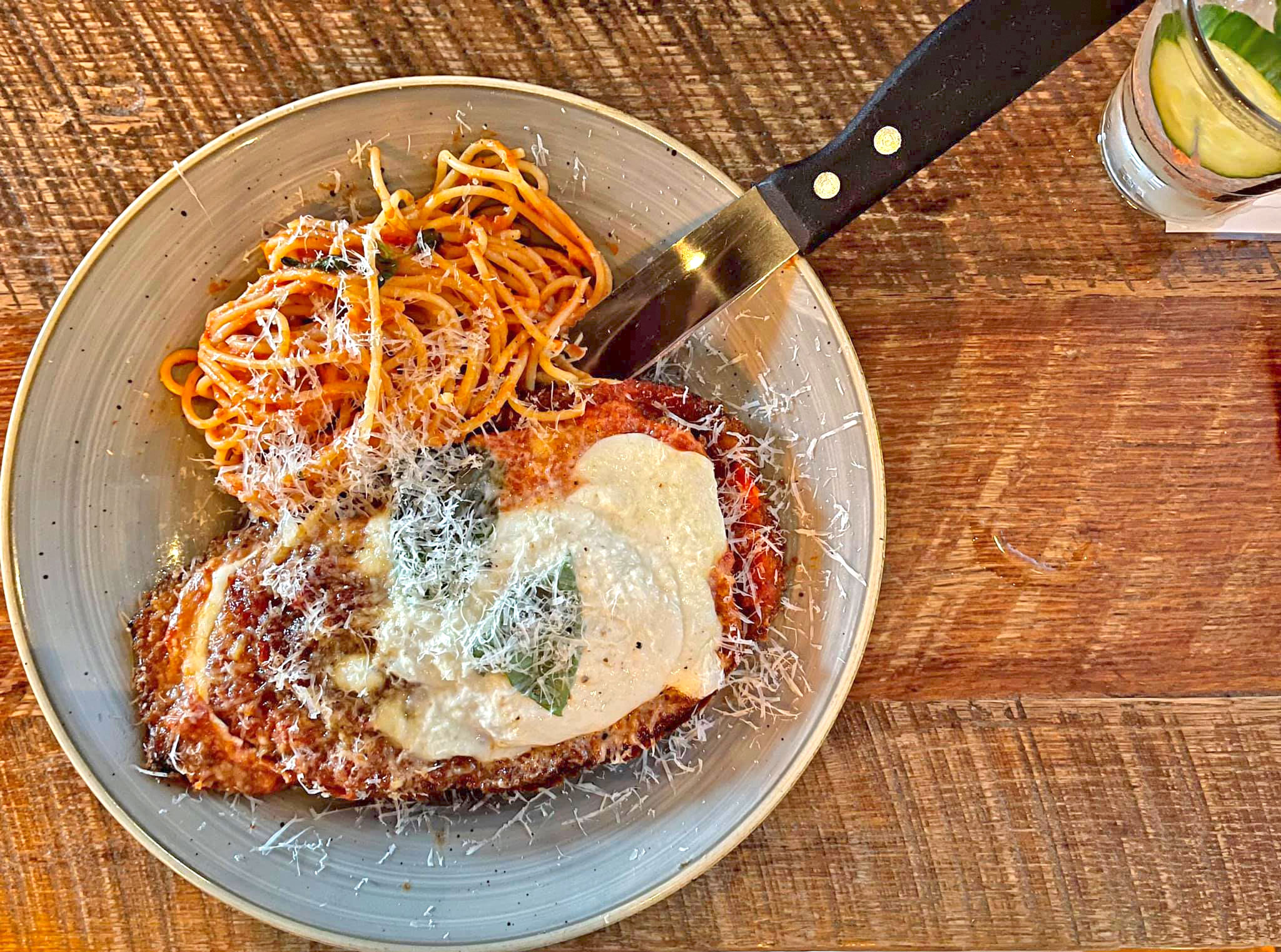 Readers Rating

Rated 4.6 stars




4.6

/ 5 (

Reviewers

)

Outstanding
---
The best Italian restaurants in St. Petersburg, FL chosen by locals.