How do these restaurant delivery services work?
Each service partners with specific restaurants that agree to a certain percentage off of their food price. The service lists that restaurant on their website or app. When you click on the restaurant you will get the restaurant menu to choose your food. Select your food and enter any special instructions and then checkout. You, as the consumer, pay the same price as you would at the restaurant but you agree to pay the posted delivery fee for the restaurant that you select. Then you wait for your food to be delivered. Note: The delivery fee is not the driver's tip.
Why would I choose one over the other?
There are several reasons to choose one over another. Some of them require a few experiences with each particular service to decide:
Selection of restaurants
Delivery fee
Quickness of delivery
Accuracy of the order
Professionalism of the drivers
The level of customer service provided if there is an issue
What are the differences between the three?
Bite Squad
Bite Squad's Website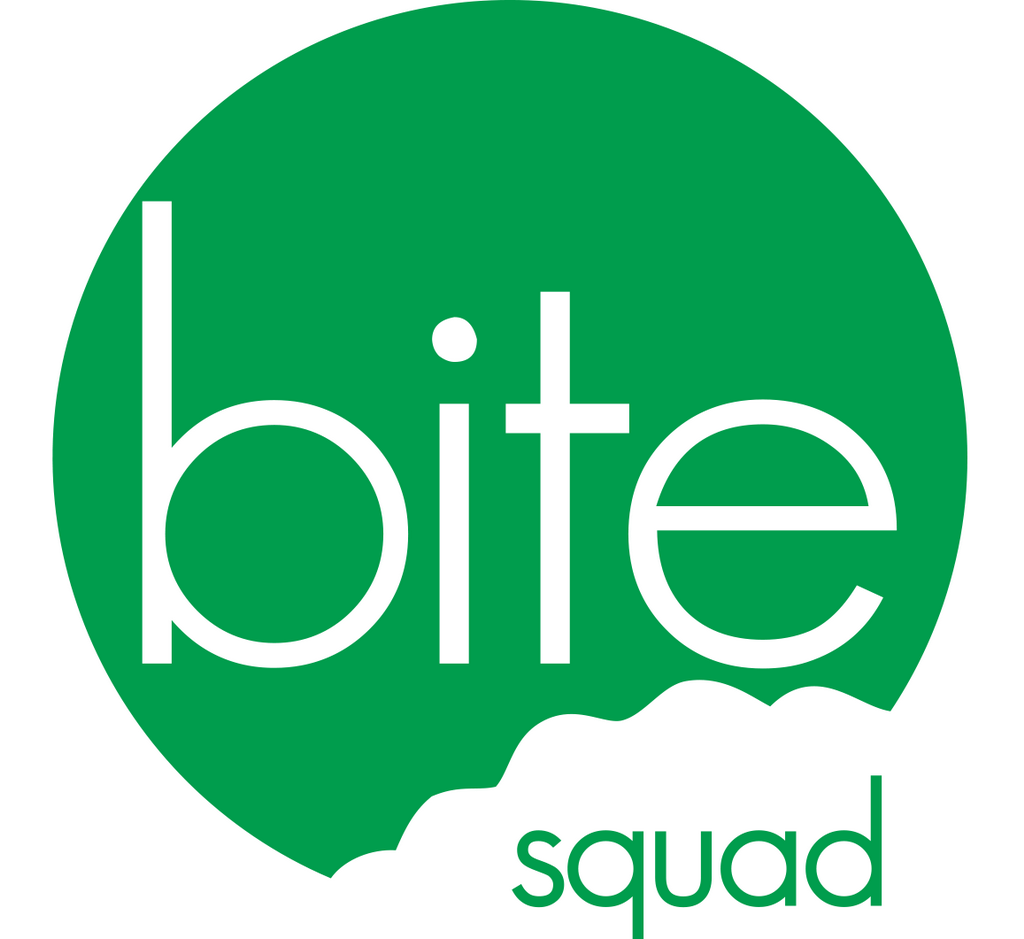 Formerly FoodNow, Bite Squad is based in Minnesota and offers customer's live chat support on their website. They have a great selection of restaurants, with 109 current restaurant partners available to the downtown St Pete area and over 300 in Pinellas County. Many of these partners were built in when they purchased FoodNow and Doorstep Delivery several months ago.
A big difference between Bite Squad and both of the others is that their drivers are true employees that are paid an hourly wage and given benefits. This means that Bite Squad is able to staff for specific heavier use hours and your driver is not rushing around and cutting corners to race to the next order because they know that they are getting paid. And for the restaurant, it means that if the order is not quite ready when the driver arrives, the driver is more relaxed about it.
As employees, they are required to wear the Bite Squad uniforms, deliver the food in the Bite Squad insulated bags, drive a Bite Squad Prius from their fleet while delivering and to always be and look professional.
Their delivery fees range from $.99 to $6.99 currently. It is interesting because you may see a restaurant that is just as close to you as another restaurant but the delivery fee is higher. The reason for this is that they allow the restaurants to buy down the delivery fee. Interesting, right?
Bite Squad deliveries are all placed either on their website or on the Bite Squad app. You choose, order, pay and tip when you checkout. Your order goes from you directly to the restaurant's tablet in the kitchen, where they prepare your order and give Bite Squad a time for pick up. The driver arrives, picks up the food and delivers it right to your doorstep.
During this process, you can track it all as it is happening on your app or computer. It shows you that you placed your order, when it is sent to the restaurant, when it is cooking, when it is being verified and when it is out for delivery, you can even track the driver's car as it travels to you. We have been told by some restaurant owners that, on their end, this system with the tablets has some glitches and can go down, which can cause issues and confusion.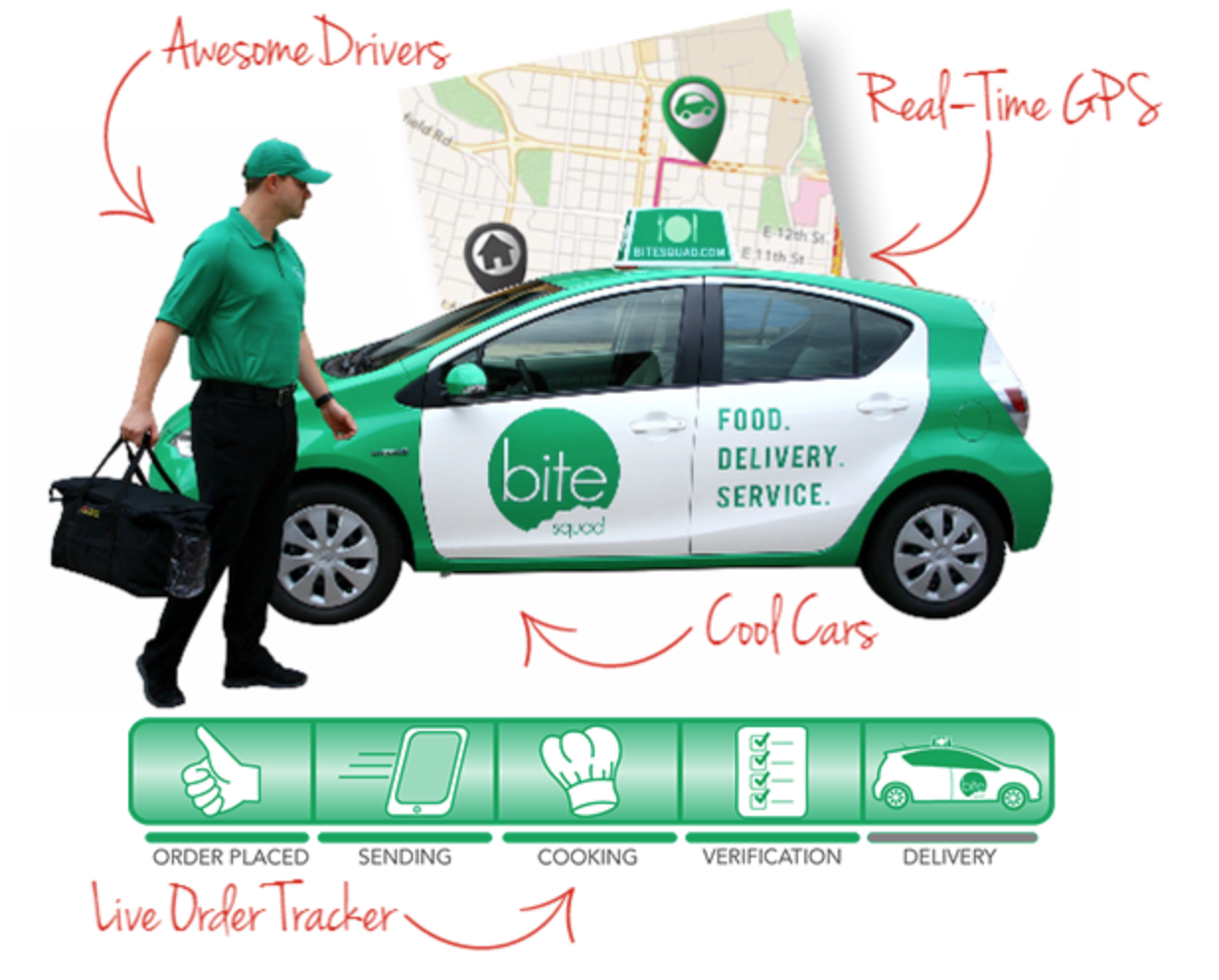 Kevin and I have ordered from Bite Squad, since the conversion from FoodNow (which I used to use all of the time), several times. The first couple of times, we experienced some issues with the speediness of the delivery and accuracy of the order. On both occasions Bite Squad offered some type of reimbursement or offered to redeliver. We were satisfied with the customer service and have used them very successfully since.
Delivery Dudes
Delivery Dudes Website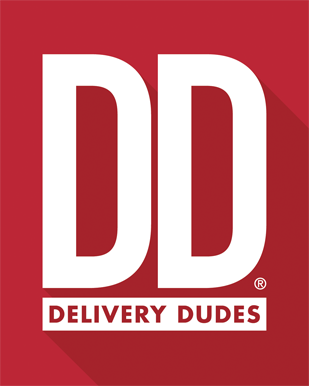 Delivery Dudes is the new kid on the block. But the concept is not. The owner, Max Schumacher, is a St Pete native who was living down in South Florida when the concept was launched there. Delivery Dudes grew really fast and was very successful, pretty much the biggest game around in restaurant delivery for South Florida. Max thought that the concept would really take off here, in his hometown of St Petersburg, so he bought a franchise and launched it a couple of months ago.
With all of the competition in St Petersburg, why do we need another? Quite frankly, personal service is what sets them apart. They deliver from 11am – 10pm, seven days a week and during those hours you will always get a live, local person on the phone to place an order or help you if there is an issue with an order. They also have a smaller delivery area to ensure that food arrives in a very timely manner, and of course, hot or cold and fresh.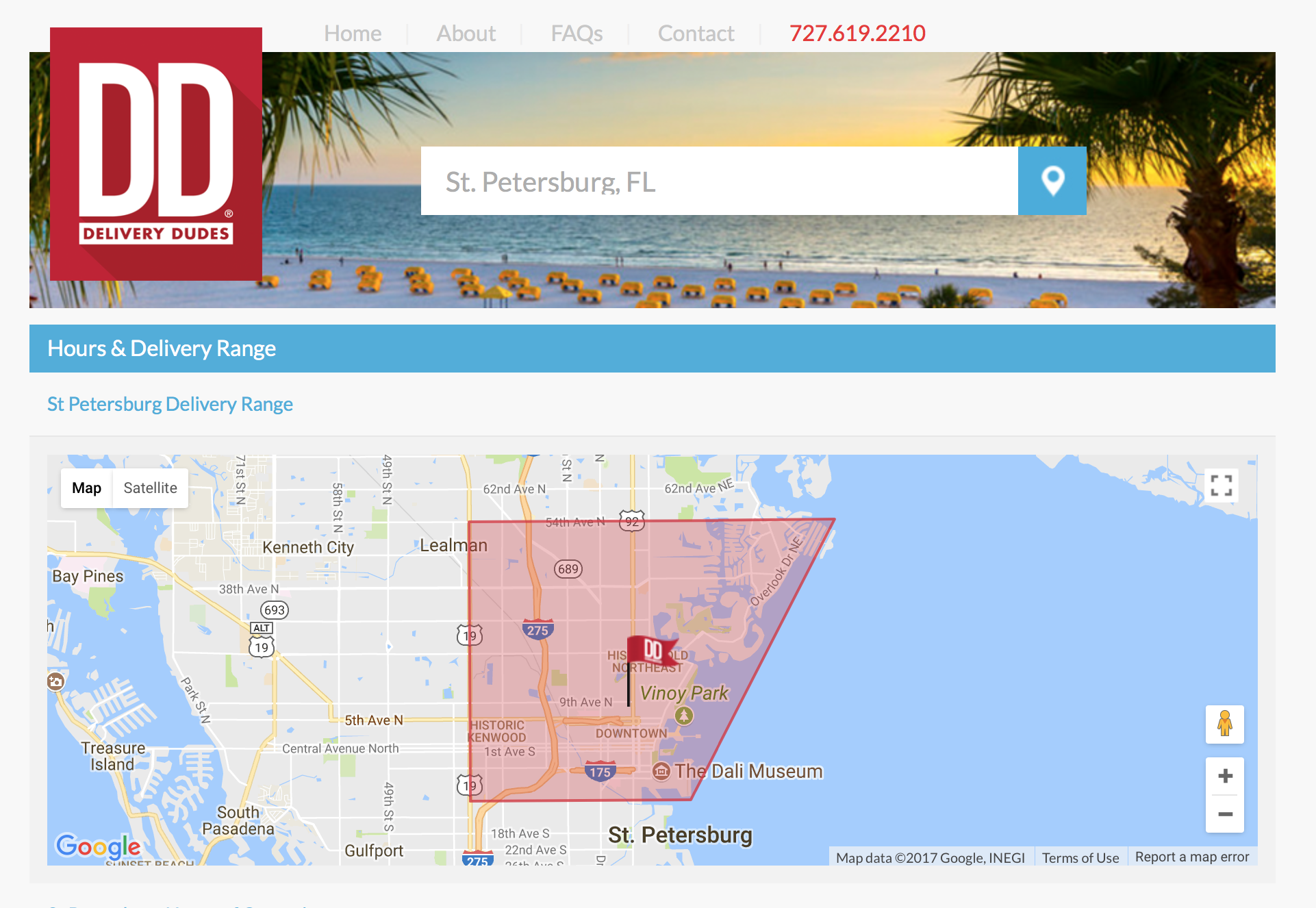 Currently, they are still building their restaurant partners. With 23 current restaurants on board, the list is growing daily. For restaurant partners, they are different because the drivers pay for the food on the spot, when they pick it up. Both of the other services, pay the restaurants in a lump sum either once or twice a month, meaning they have to wait for the income. With Delivery Dudes, it is instant income.
The delivery fee is a flat $5 ( if paying by cash) or $7 (if paying by credit). By the way, if you mention St Petersburg Foodies when they arrive with your food, you get $5 off. You can still order online, but unlike the other two, if you prefer to place an order over the phone, with a live person, to emphasize something like NO CILANTRO, for instance, then you can. You also do not pay when you place the order. You pay either with cash or a credit card when your order arrives. This gives you the opportunity to make sure the order is correct before paying.
Delivery Dudes also offers delivery from Publix, CVS or Walgreens and if you call them and ask, they can even pick up your dry cleaning or whatever else you may need. Fees for these services are different so you need to verify that prior.
One of the other distinct differences between Delivery Dudes and the competition is that all of their drivers, even though they are independent contractors, spend several days riding along with a veteran driver to be trained on proper food care practices as well as the importance of checking the accuracy of the order and making sure all requested items are present before leaving the restaurant. The other two delivery services do not train their drivers to check the orders. They are also required to wear the Delivery Dudes t-shirt and deliver the food in an insulated Delivery Dudes bag and they also drive clean, branded Delivery Dudes cars. So, professionalism is required.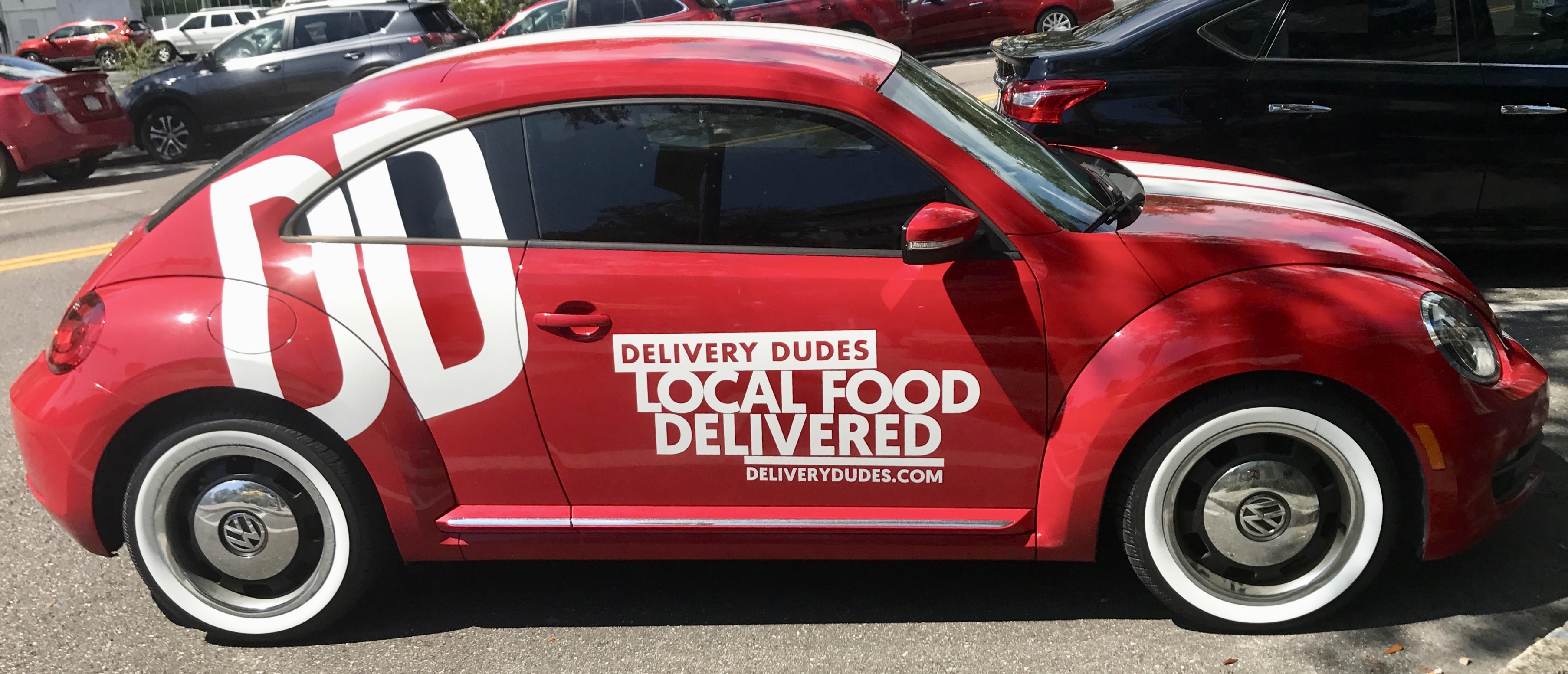 Kevin and I have also ordered from Delivery Dudes several times. The default delivery time is 45-60 minutes but two of the times we ordered we received delivery within a half hour and the other was 45 minutes, it depends on the time of day. Though it is not as cool as being able to track the delivery on an app, we have been extremely happy with the professionalism, consistency and quality of the food and the order accuracy. Because they call the orders in themselves, they wait to call until they know they will be ready to pick it up. And if there is a problem, they will call you right away to go over it; such as a restaurant running out of something you ordered. That's when personal service is really important!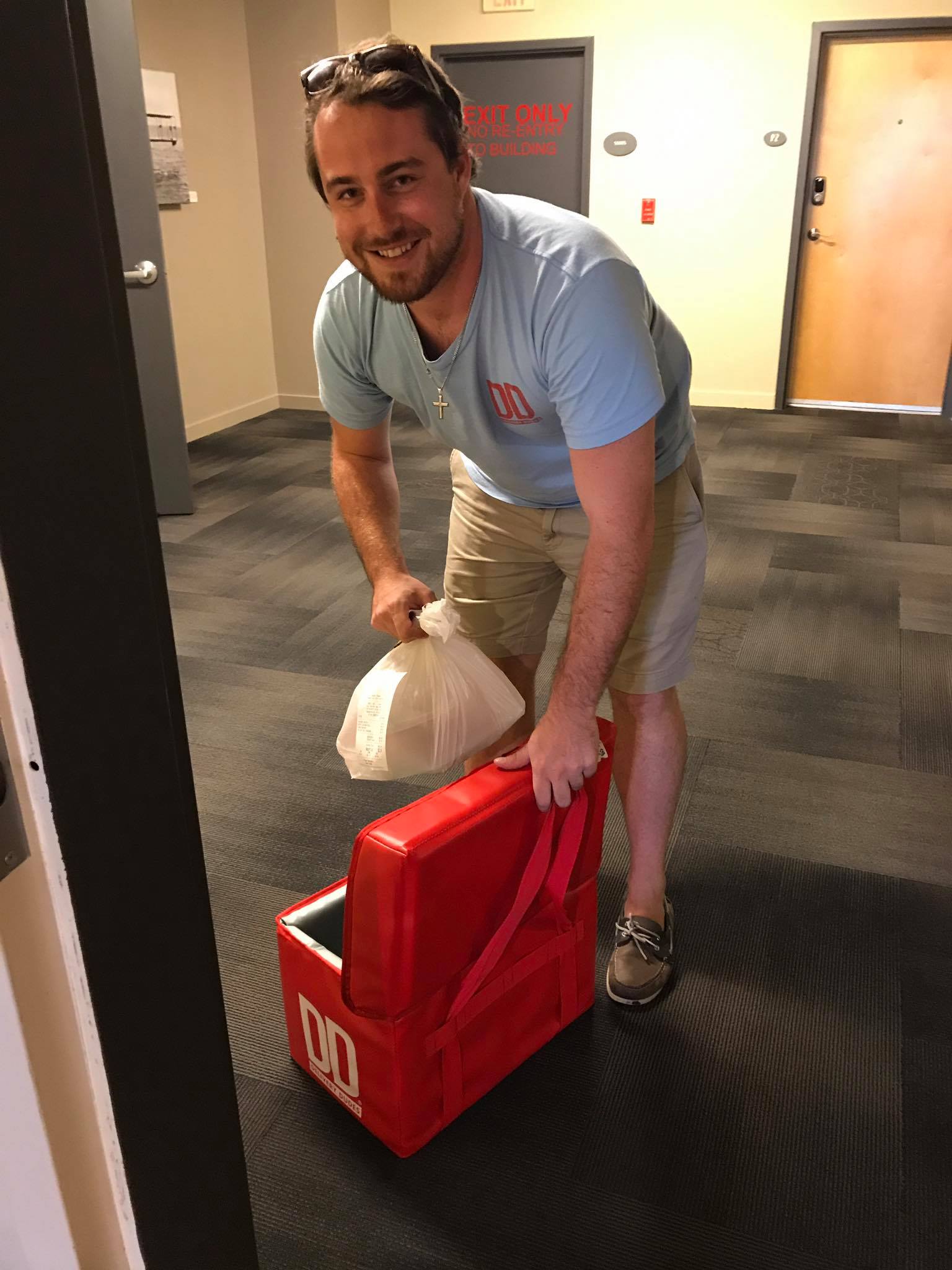 UberEats
UberEats Website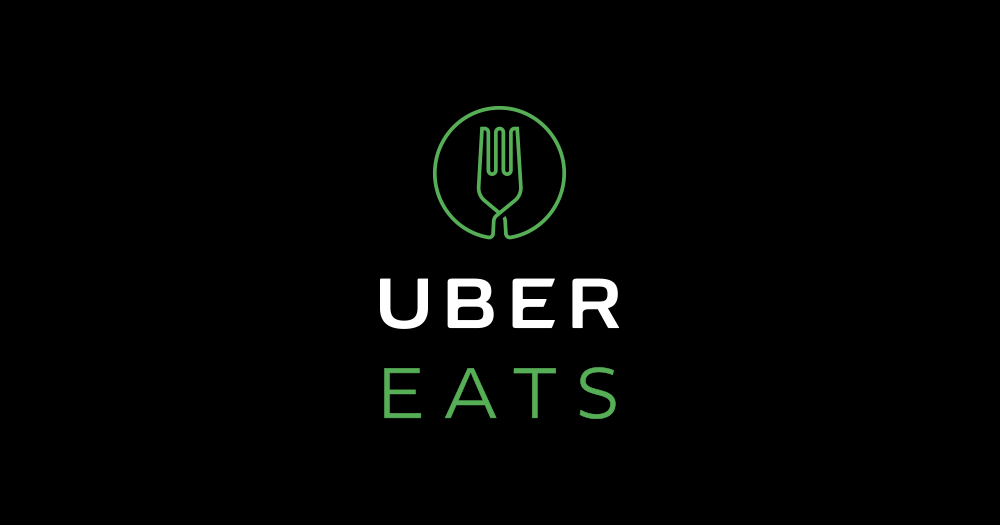 Well what can you say about UberEats that most of you don't already know? They are a huge corporation. They have a very wide selection of restaurant partners and well, they are Uber. If the restaurant is open, you can most likely get delivery, even at 2am (which we have done).
UberEats handles orders in the same way as Bite Squad, though we have heard that their restaurant app is even more unreliable. The drivers are, of course, independent contractors who are not monitored at all or required to wear or do anything special as far as professionalism goes. They do provide the restaurants with 250 UberEats large paper bags with handles for delivery at first. After the restaurant goes through them, Uber charges a fairly steep price to reorder them (I was told) – not required.
I just found this on their website while I was trying to find their delivery fees, which they don't list. So basically they can at will, charge us more for an item than the menu price at the restaurant. Neither Bite Squad or Delivery Dudes does that.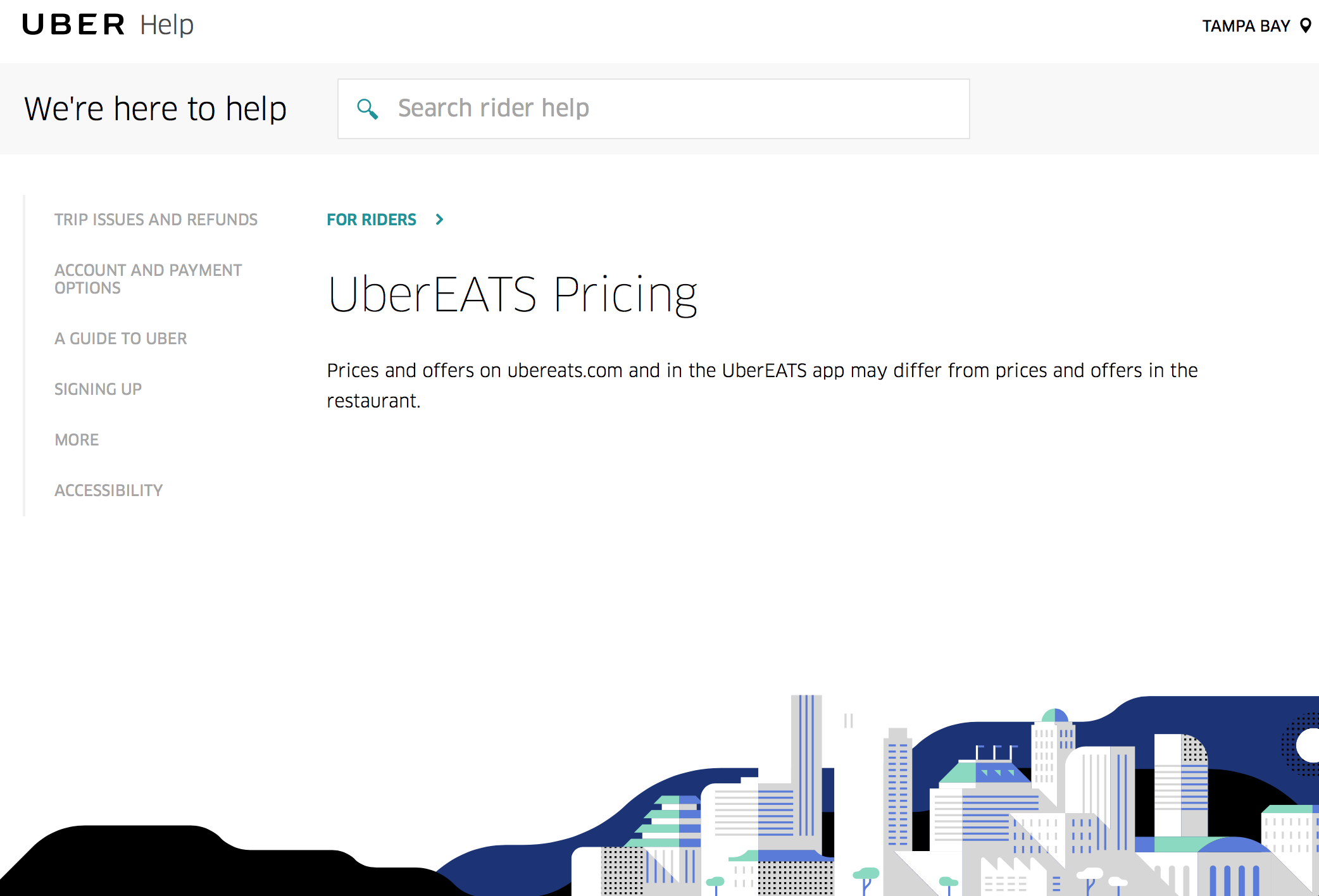 Personally, we have ordered more from them than from the other two services, basically because of restaurant choices. It has completely been a mixed bag. I would say about fifty fifty on whether we were happy or not. One time the driver completely left with half of our order in his car. We contacted (via email) Uber right away and they said we would not be charged for the order. Not only were we charged, but it took many emails, multiple phone calls (that landed with a call bank in Asia) and twenty days for the refund to be issued. They blamed the bank. So much for personal service!
Drivers have also delivered to us completely unkempt, smelling of smoke, etc. and who knows what there cars look like. I hope they weren't smoking in the car with my food in there and not in a zipped, insulated bag.
Don't get me wrong, I will still order from UberEats if I want specific food from a restaurant that only they offer. But I am glad to know that we have better options.
Will Amazon delivery make it to St Pete?
And now we wait for Amazon Delivery to some day make it here too, maybe. Back in February 2017, they were delivering tablets to the restaurant partners waiting to come on board. Then they even sent professional photographers to photograph food at these restaurants. After that, the process seems to have been stalled with no particular explanation. After the acquisition of Whole Foods, it will be interesting to see if maybe they just decided to not reinvent the wheel. Maybe they will make another established acquisition. Stay tuned. It sure will be interesting!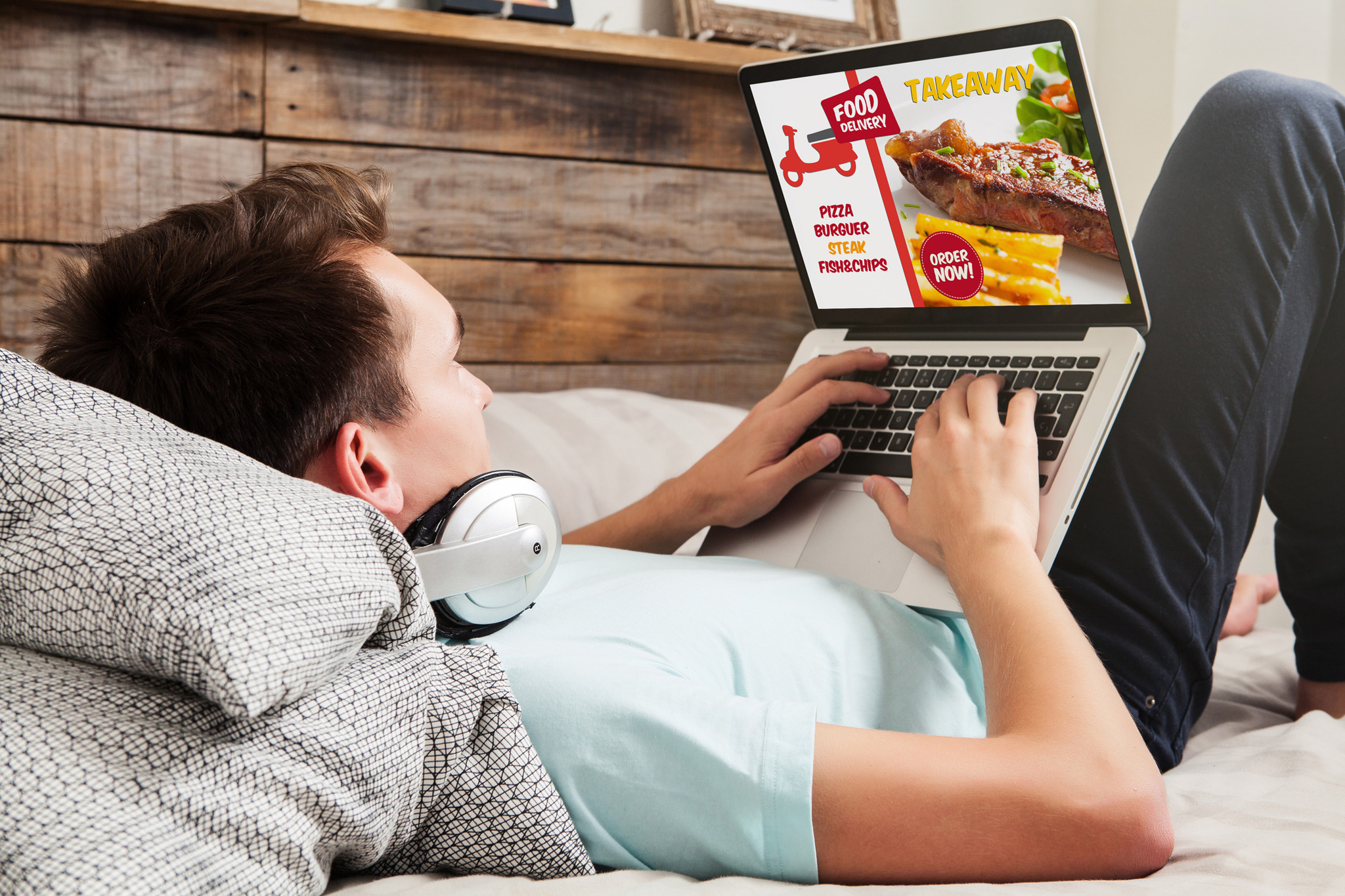 Readers Rating

Rated 4.7 stars




4.7

/ 5 (

Reviewers

)

Outstanding
---
The pros and cons of food and restaurant delivery services in St Petersburg, FL.