Hey, Hey You'll Wanna Eat at Rawk Star…
Hey, Hey You'll Wanna Eat at Rawk Star…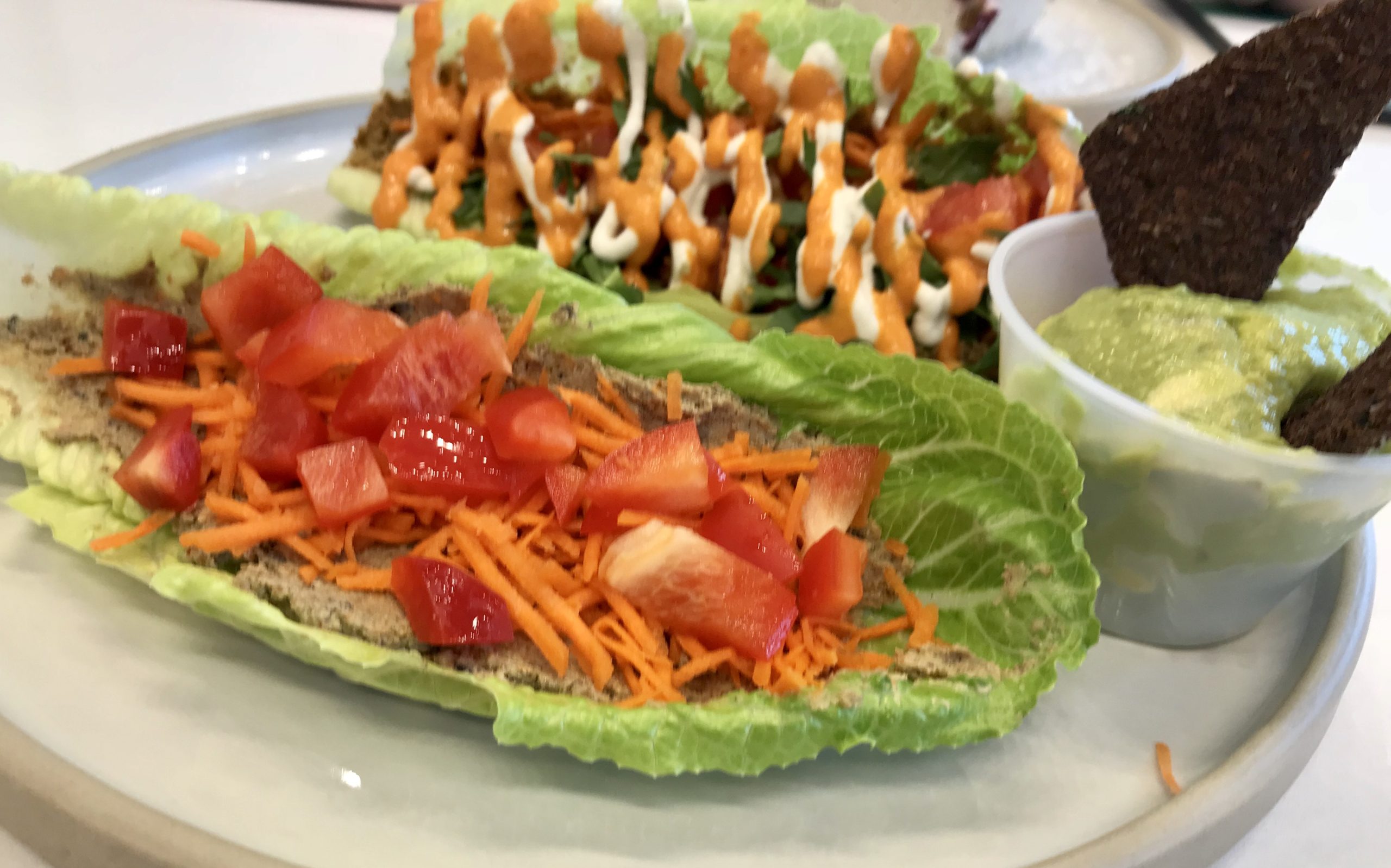 Mike and Arielle Collins are a brother and sister team born and raised here in our beautiful city of St Petersburg. Now they are the proud proprietors of one of the newest restaurants downtown, Rawk Star Café. There is one other location in Oldsmar that has been around for eight years.
Mike and Arielle fell in love with the plant-based, raw and organic driven concept and asked the owners for years to let them buy a franchise. Mike says, "this took five years to come to fruition. They weren't established in order to franchise." They finally went through the process. Now Mike and Arielle's dream of bringing the Rawk Star Café brand to St Pete, is alive and cooking (so to speak).
Mike describes Rawk Star as "a business with a purpose and with lots of heart behind it." And do they ever mean that. The cafe opens at 7am but they are in at 5am. "At 5:00 in the morning we are doing everything from making the burgers, which require about eight hours of preparation. And everything we use here is 100% organic, soy free, requires nuts, seeds, spices and vegetables and that is all we are using in the food. There are no burners, no grease trap, no gas line. All we require for our food preparation is dehydrators. So essentially we only need electrical and plumbing."
Some of Rawk Star's offerings are their plant-based, raw, organic version of burgers, pizza, onion rings, spaghetti, tacos, salads and of course desserts.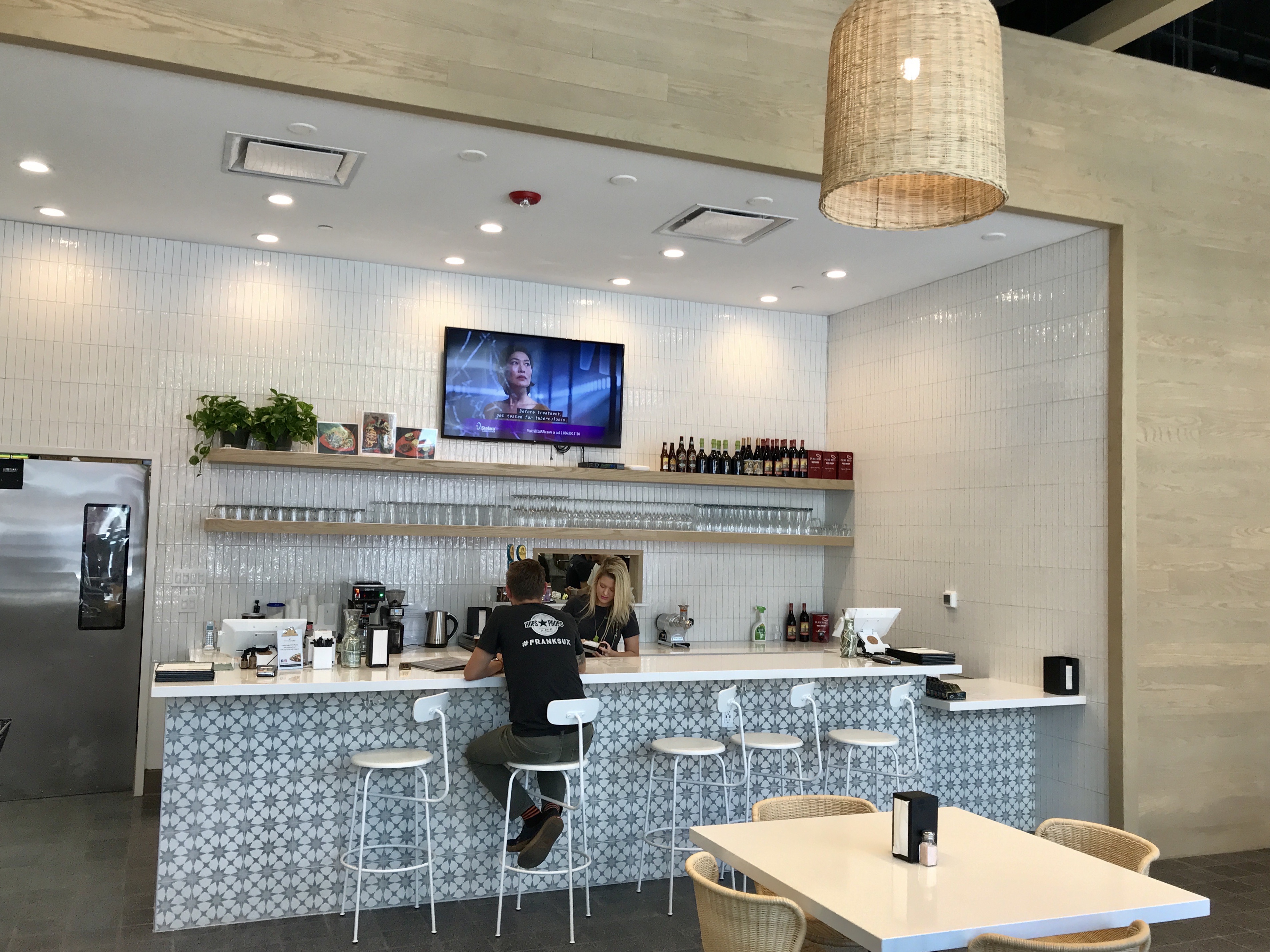 The original Rawk Star does not sell alcohol, but the St Pete location does offer all organic beer and wine. Arielle says of their alcohol program, "the organic alcohol market has not been tapped into as much from what I have been noticing. So we decided to get our alcohol license because it's a cool thing." Traditional red wine can cause headaches due to preservatives and sulfites. Organic wine does not have any added sulfites or preservatives. "So yes, it doesn't stay long on the shelf, because it does oxidize, so we have to obviously turn it quickly but our customers are not going to get headaches from the wine we serve. So that was a big deal." They actually even have gluten free beer. Go figure.
They also have Mother Kombucha on tap and they make smoothies, organic pressed juices and wheat grass shots in-house. Wheat grass apparently has many health benefits, one of them being that it is very alkaline in nature, which in turn helps to balance the body's acidity levels which is believed to aid in the prevention of cancer.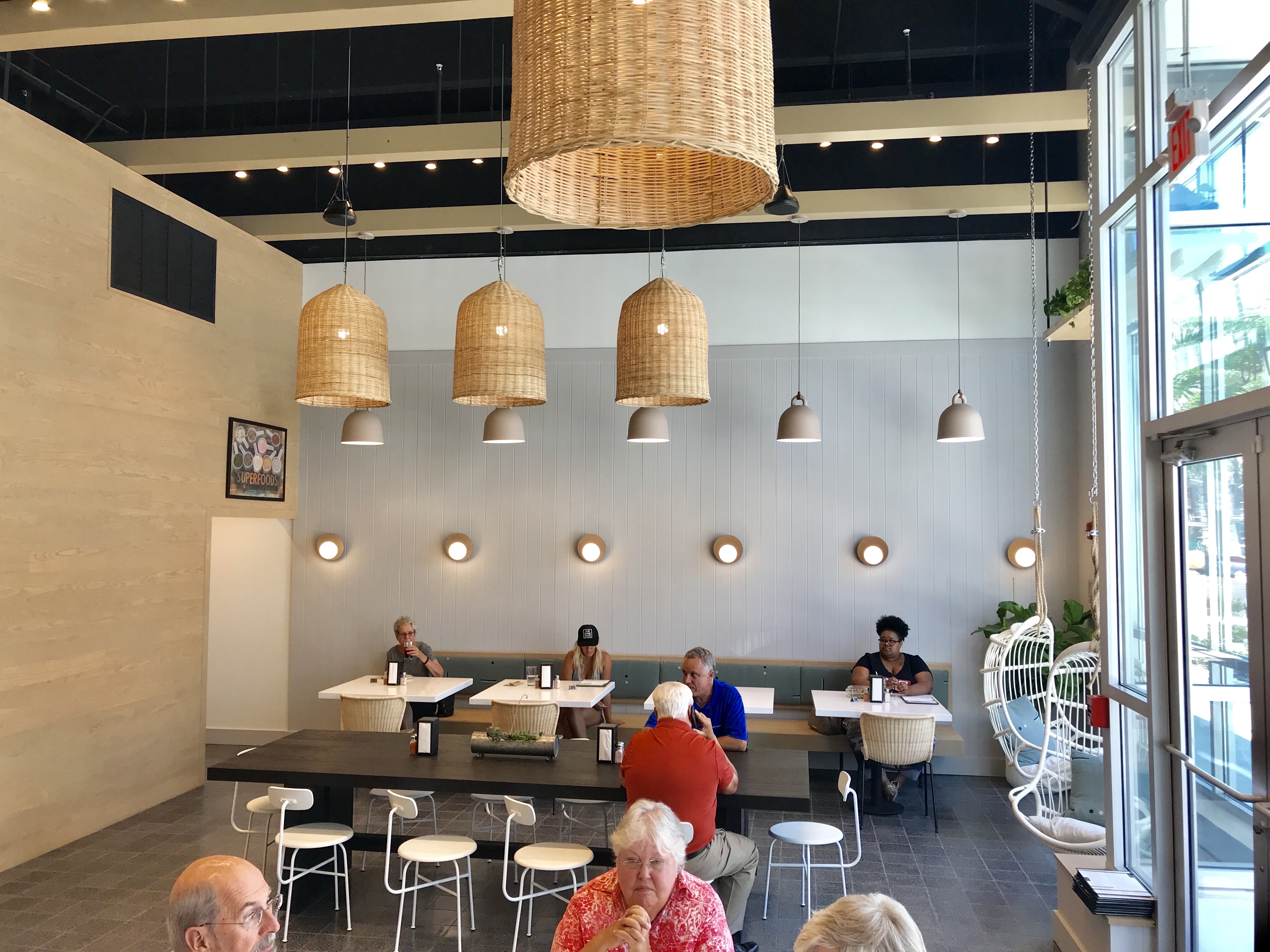 They were so excited about their sweets offerings that they started us off with dessert. We weren't going to argue. And boy were we in for a surprise. They do pies, cheesecakes, donuts, different macaroons, chocolate turtles. They sweeten the desserts with agave, stevia and erythritol.
Our first treat was what they call Bullet Balls. These are made from Bullet Proof coffee, cashews, cashew butter, coconut flakes, cacao nibs, lucuma, sesame seed butter, Smart-E, vanilla bean, vanilla stevia and sea salt. Wow was this a surprise! It was like popping a shot of creamy mocha cold coffee in your mouth. You would never know that this was not made with sugar or traditional chocolate.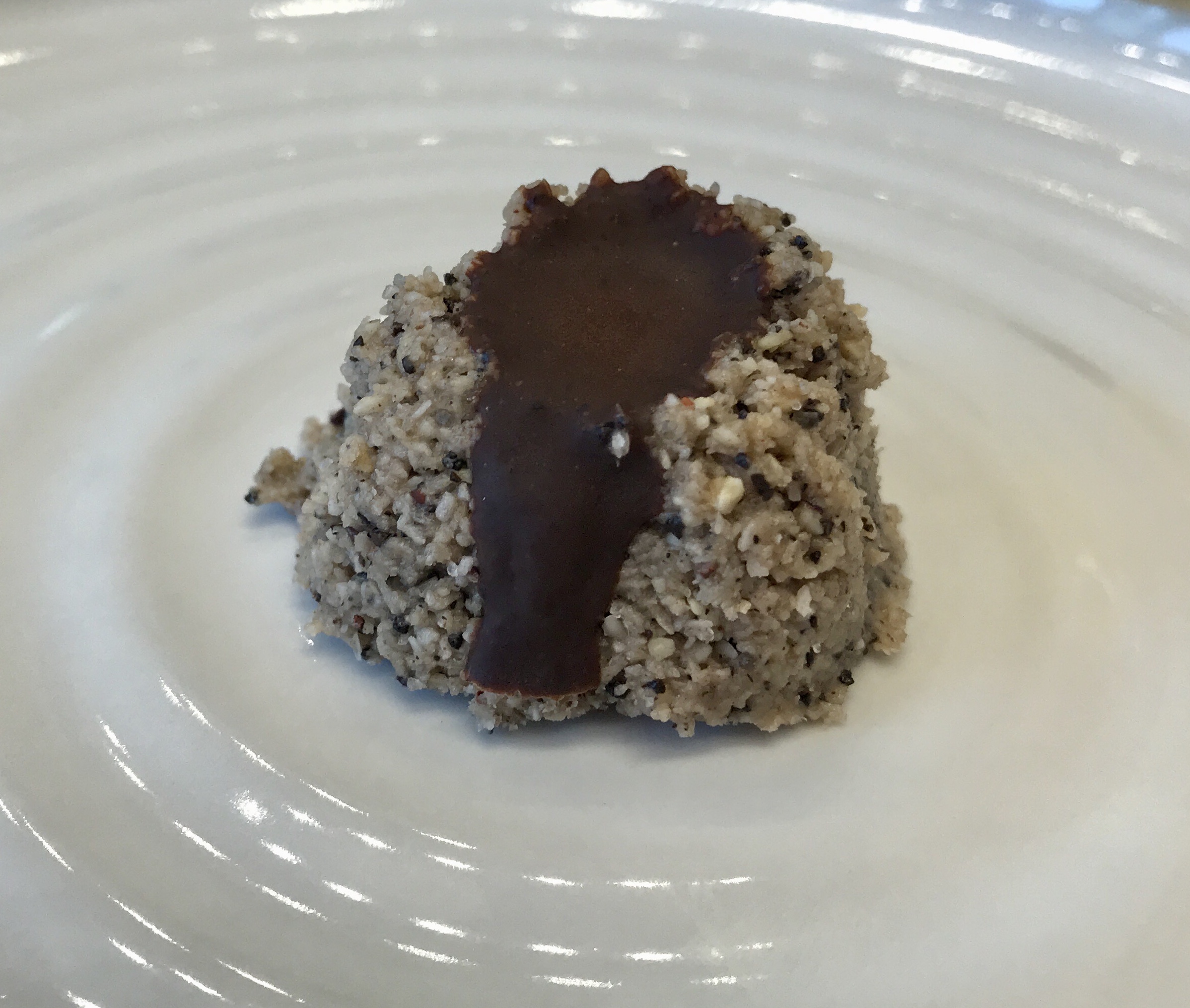 The same goes for the La Caramel Turtle bites. It looks like chocolate, it tastes like chocolate, but it is not traditional chocolate. It is what they call raw chocolate. To create the raw chocolate they use cacao butter, cacao, agave, lucuma, vanilla bean and spices. Next la caramel is made with lucuma, agave, coconut oil and water with pecans and prana. These are delicious and have the mouth feel of a traditional turtle though they are shaped differently.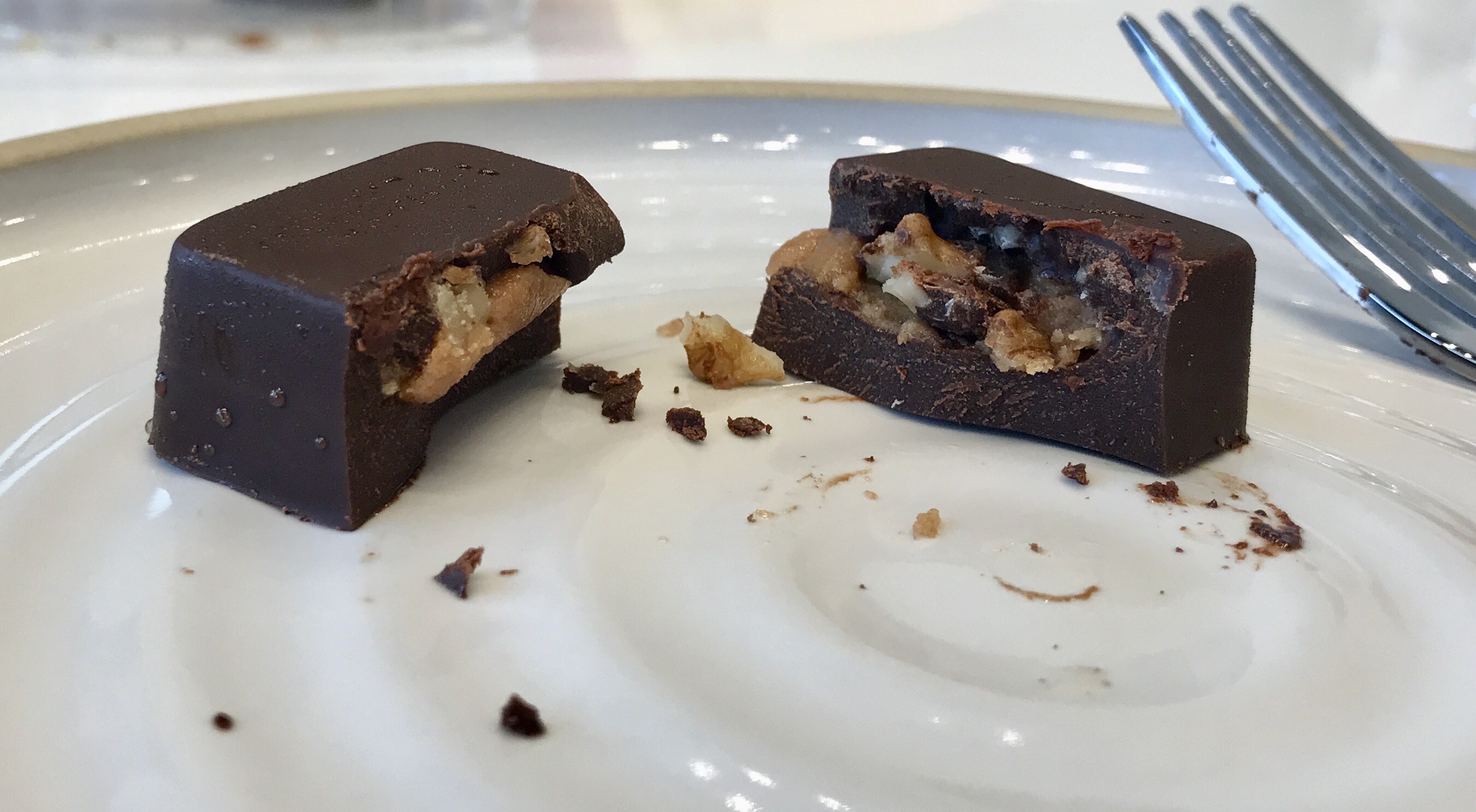 Next up was Blueberry Cheesecake and Key Lime Pie. How do you make cheesecake  or key lime pie without cheese, you ask? They create the elements of cheese for the cheesecake with cashews. The cashews give it the creamy texture and flavor. And that it definitely has. Same elements are used for the Key Lime Pie just different flavoring techniques. We were completely stunned by how good these desserts were.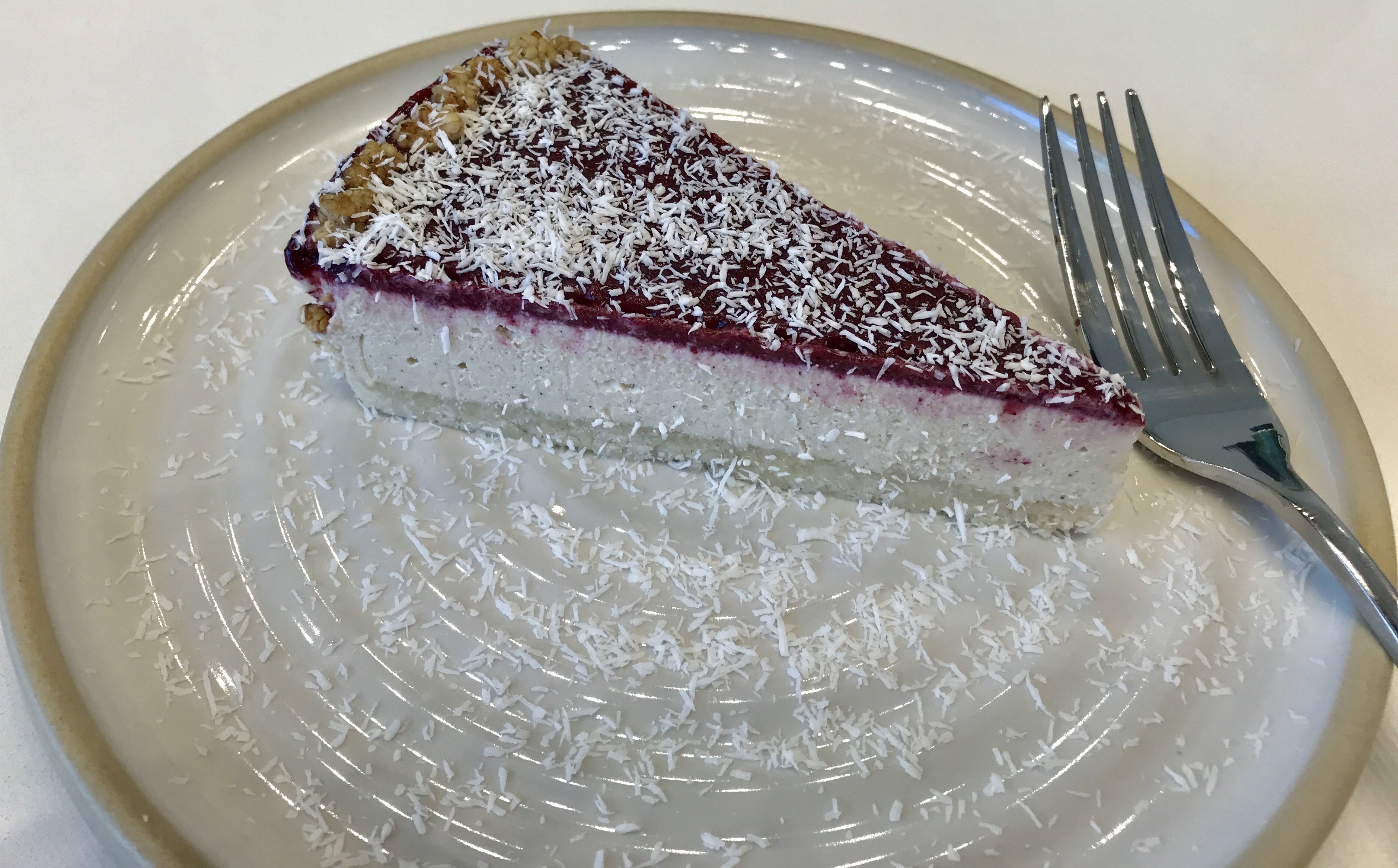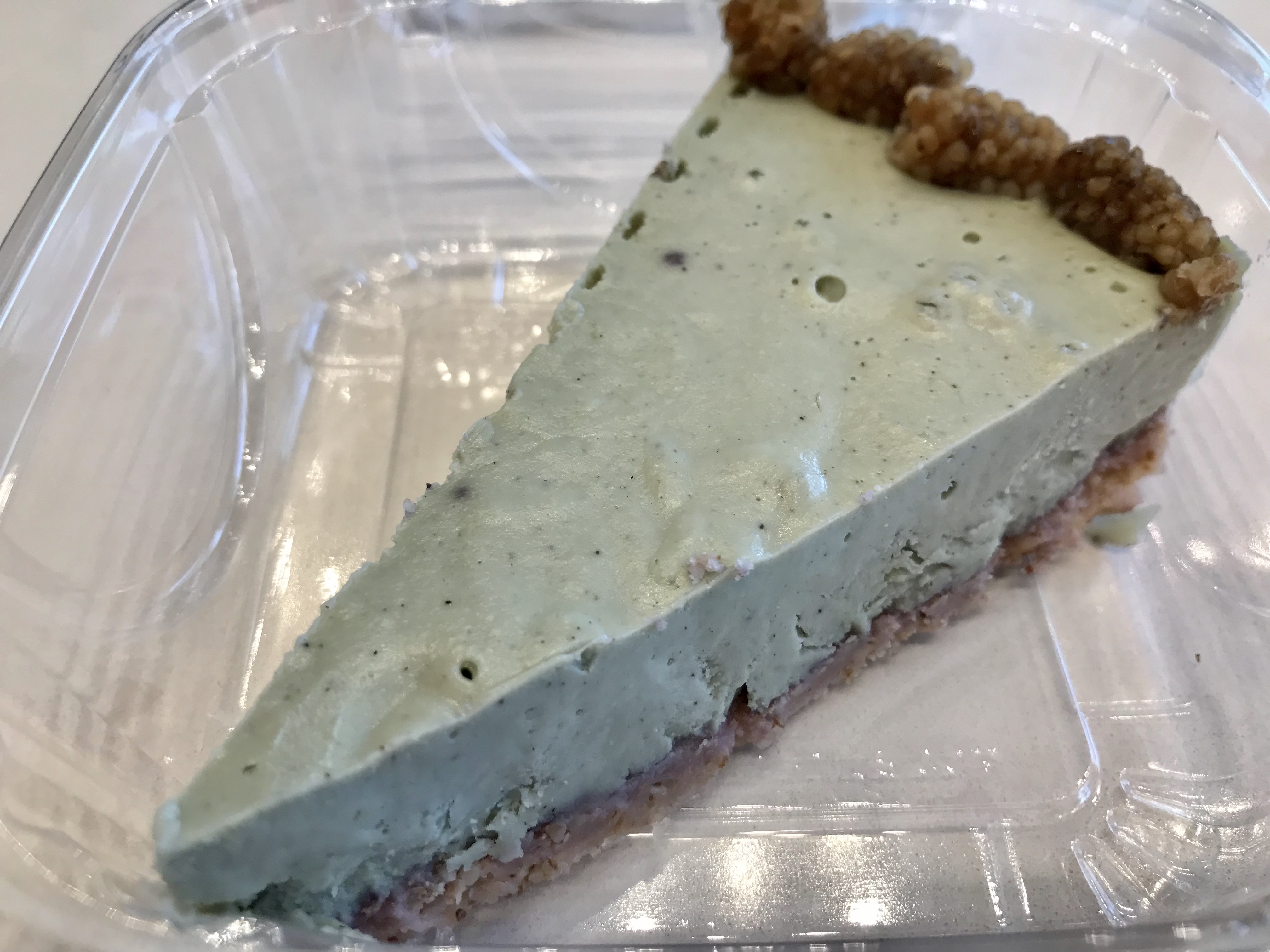 Mike and Arielle are full vegan. In Arielle's words, "Sometimes the word vegan can be off-putting. People think oh, that's not for me. I am not vegan, I can't eat there." At Rawk Star they strive to infuse everything with tons of flavor so that anyone feels they can eat there. "We want to make sure that there is something for everybody." They actually live, breathe and eat what food they offer to you. "We believe in this life and we try to live this life."
Okay, now for these carnivores to try plant-based, raw, organic, flavor infused food. We started with the Thai Lettuce Plate with Guacamole and Crack (their version of crackers or chips). Mike says that this dish is one of the easiest for meat eaters to start with, some of the other dishes can be overwhelming for someone new to this type of eating.
The Thai lettuce wrap is in the front, the taco in the back. The "meat" consists of ground walnut and different spices. Carrots and walnuts are what give it that meaty sort of texture. The taco's "nacho cheese" sauce is made primarily of red bell peppers.
The "cracks" are made with cabbage. They take 26 hours for preparation. Two hours of processing. Made primarily of red cabbage and carrots and then sesame seeds and flax seeds. They hand cut every little piece and then they go into the dehydrator for 24 hours. The guacamole is also housemade.
What did we think? We both agreed that the cracks are terrific. They have a great, hearty crunch and texture and the flavor, which comes mainly from the carrots, is tangy with a tad of sweet. The guacamole (which, yes, is made with avocados), was very fresh and flavorful and much to my delight, made sans cilantro. No, I did not request that.
The Thai Lettuce Wrap was our personal favorite. Simple ingredients packed with flavor. If you prefer hard tacos to soft, these won't be your thing, but personally I really enjoyed the lettuce casing. The taco was tasty too, but a little much. It has a lot going on and ironically I did not enjoy the mix of the flavors as well in comparison.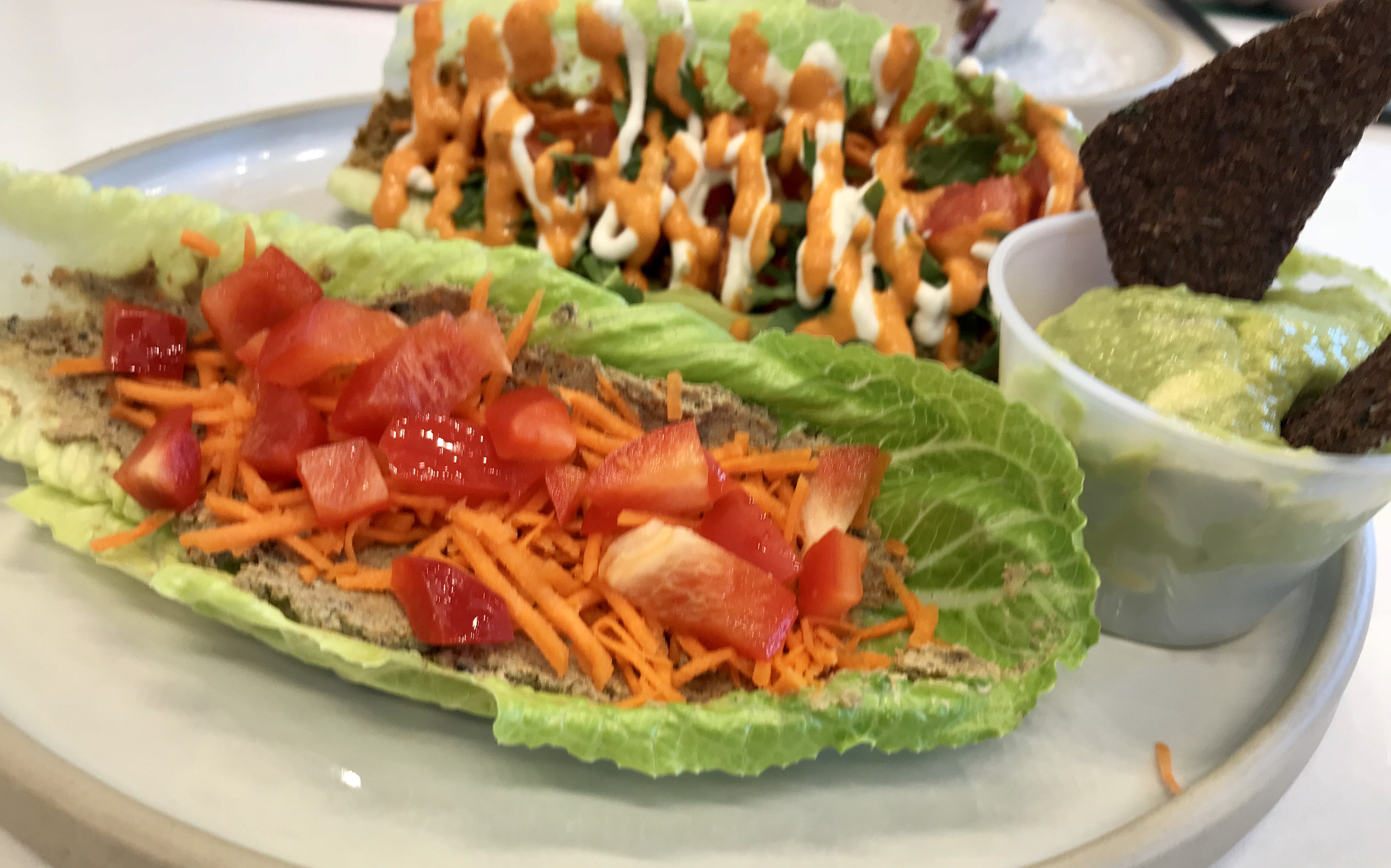 Another easier dish for newbies to enjoy are the salads. We got to try two. First was the Drumbeat Salad which is a blend of organic, mixed baby greens served with freshly chopped cucumber, celery, carrots, tomato and red bell pepper with an eggless nut pate as a protein substitute. The dressing is raw hemp seed oil and raw apple cider vinegar for a great tangy flavor. The salad pictured below is a side. The actual regular portion Mike describes as huge. It was very good and salady. Everyone eats salad but this one is especially healthier than your average salad and tastes just as good, if not better.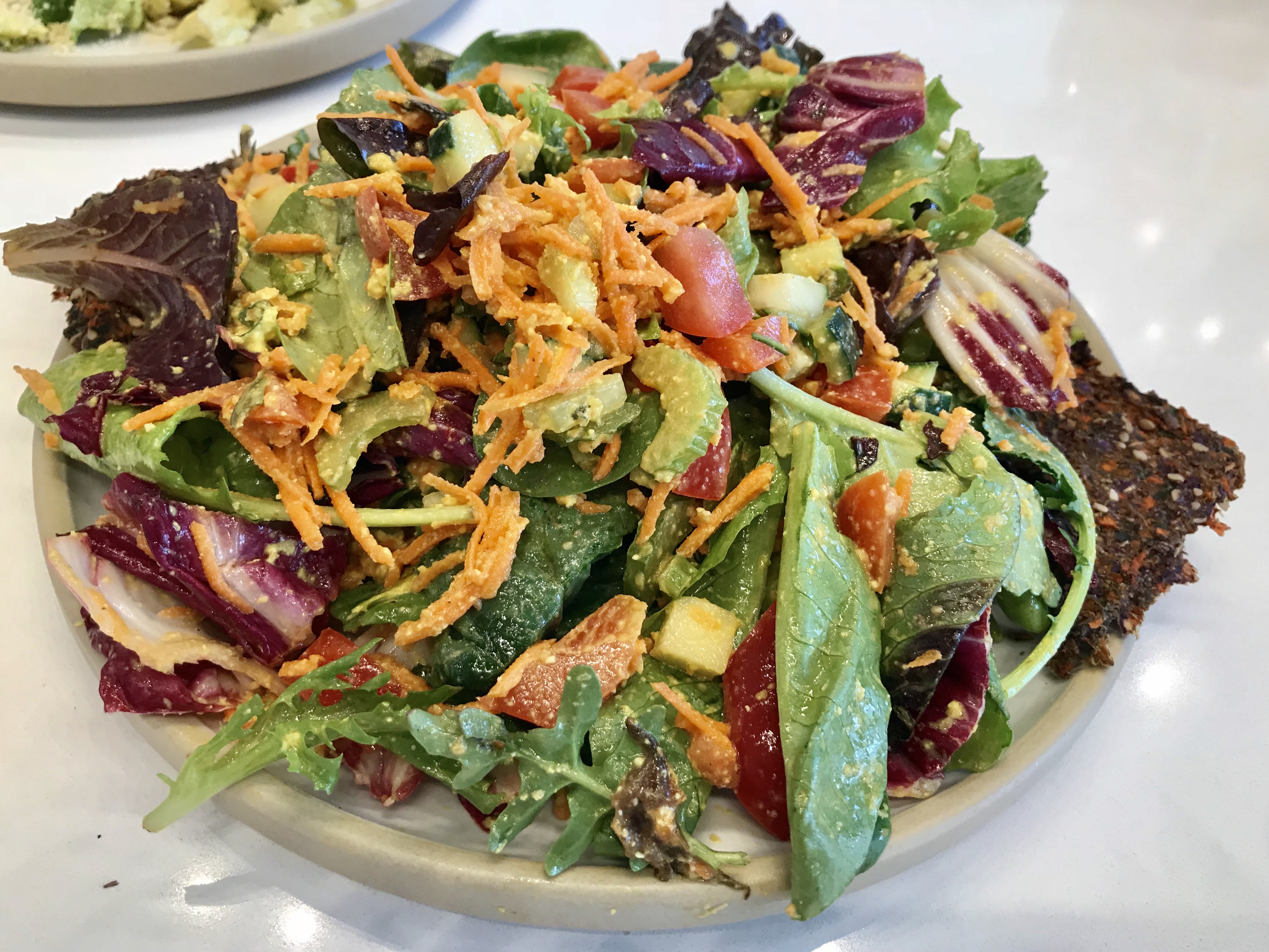 Kevin loves Caesar Salad! I mean loves it! So this was a true test. The "parmesan cheese" is made from cashews, garlic and sea salt. Kevin really liked it. He said it tasted like a regular Caesar Salad. I thought so too, but his opinion on this is more important.
It also comes with the onion rings that I was very interested to try. Says Mike of the onion ring making process, "we make them all by hand. We literally cut open every single onion and we wash everything off and then we make our batter for the onion rings which again is made out of only nuts, seeds and vegetables. We mix everything together by hand and then we take out the dehydrating trays and we take the rings of the onions and by hand place each ring inside the other." This process takes several hours and then they are put into the dehydrator to suck out the moisture. They keep the temperature under 110 degrees so as to not mess with the natural probiotics and enzymes of the onion. So it is still considered raw with all of the nutritional benefits in tact.
I really liked them. They have crunchiness without being fried and greasy. The flavor was zingy and zesty. I would definitely order these again.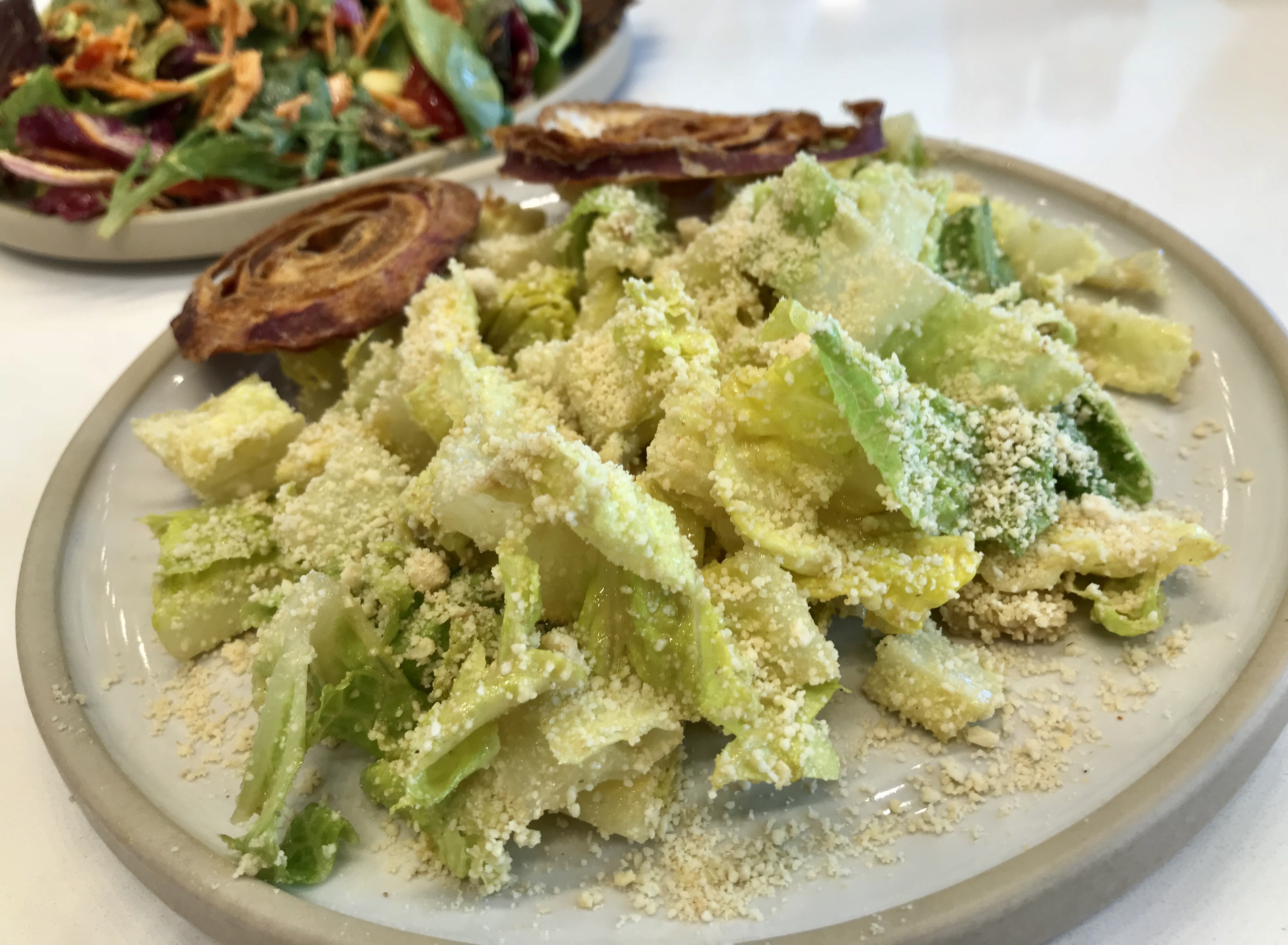 We did not try a wrap on this visit but will definitely try one on our next. The below picture (courtesy of Rawk Star) is the Egg-less Wrap that is made with their Egg-Less Nut Pate (macadamia nuts, cashews, turnip, turmeric, apple cider vinegar, lemon, etc.) wrapped in a collard leaf with mixed baby greens, cucumber, celery, carrots, tomato, and red bell pepper. Looks great, don't you think?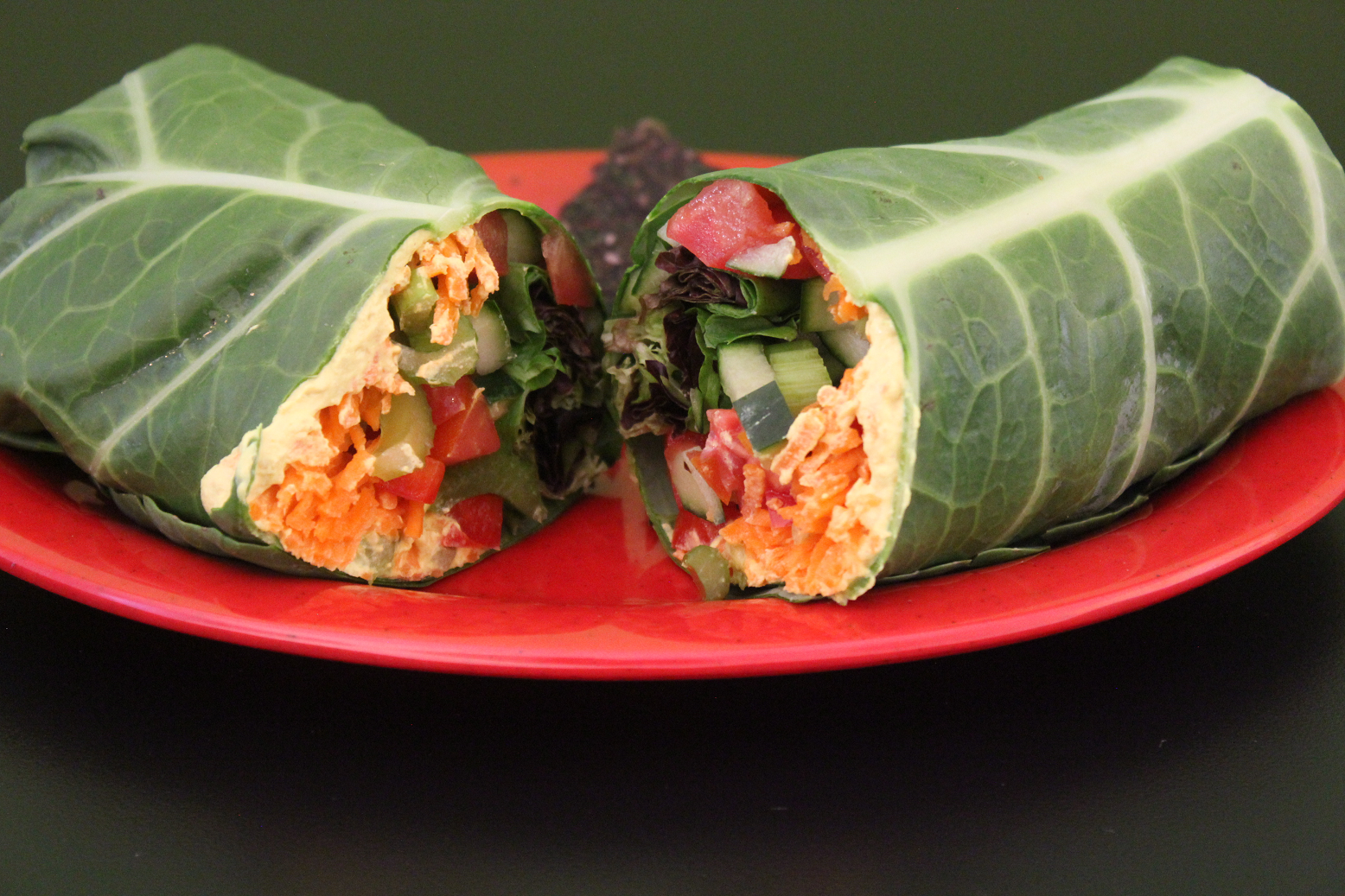 The next items we did try a few bites of, but these are the dishes that they would not recommend to someone trying their food for the first time. We completely agree. While they were good…it was a tad difficult to get past the regular idea of spaghetti, burgers and pizza.
Below is the Rawghetti: zucchini pasta and kelp noodles served with their hemp pesto sauce, topped with fresh veggies and their house-blended Prama Sprinkle.
The kelp noodles really gave this dish more of a pasta mouth feel and this dish we actually find quite good. It's much better than just zucchini noodles by themselves.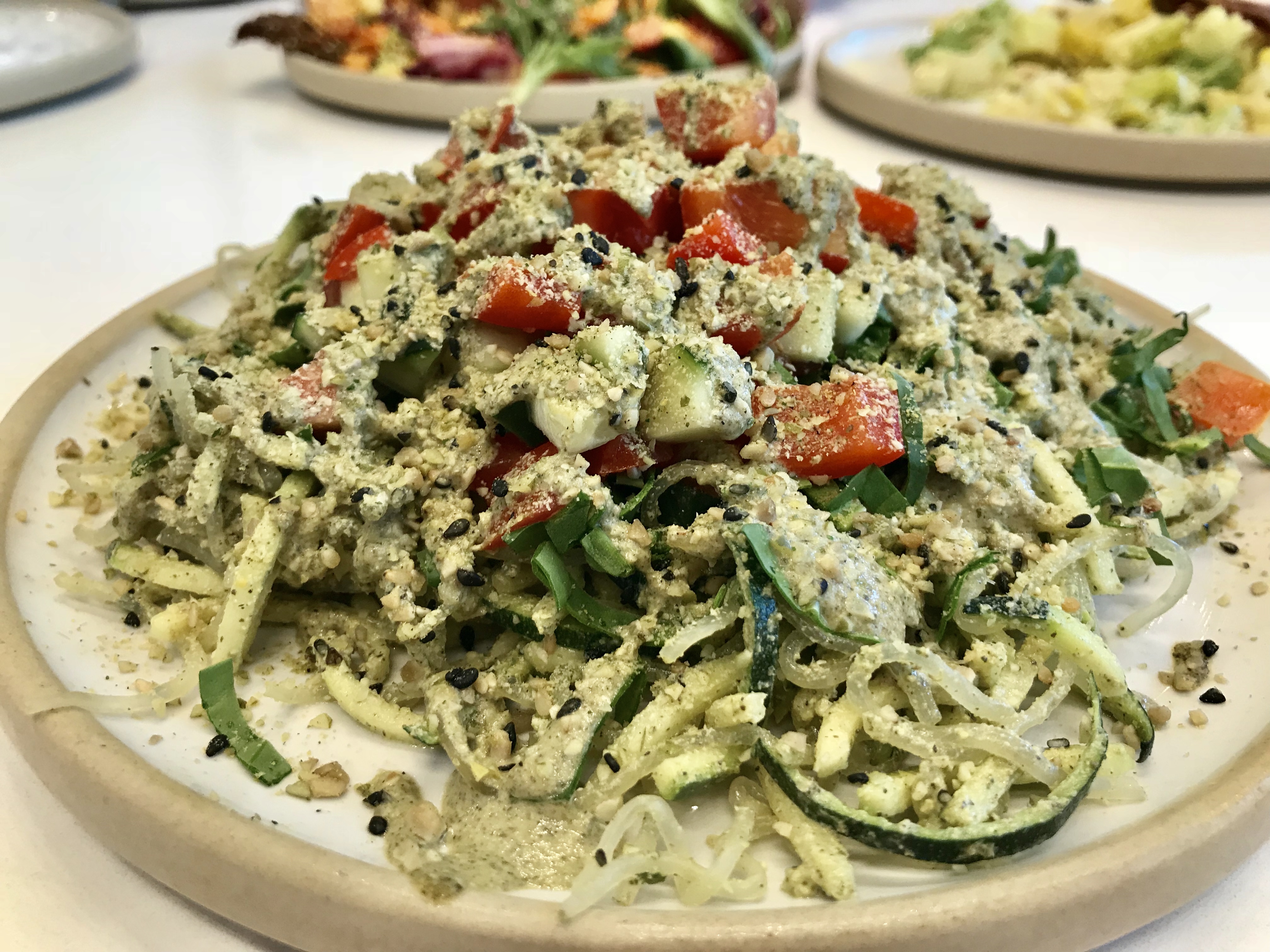 Then we tried the Raw Burgers which consist of two seed burgers that are made with sunflower seeds, shiitake mushroom, sun-dried tomatoes, green cabbage, zucchini, carrots and select herbs – served between their dehydrated flat bread consisting of sunflower seeds, freshly ground flax seeds, black sesame seeds and coconut. Each burger is topped with their house tahini mustard sauce along with organic baby lettuce, sliced tomato, cucumber and a dehydrated onion ring.
Each burger takes about four hours to make as far as creating them during prep.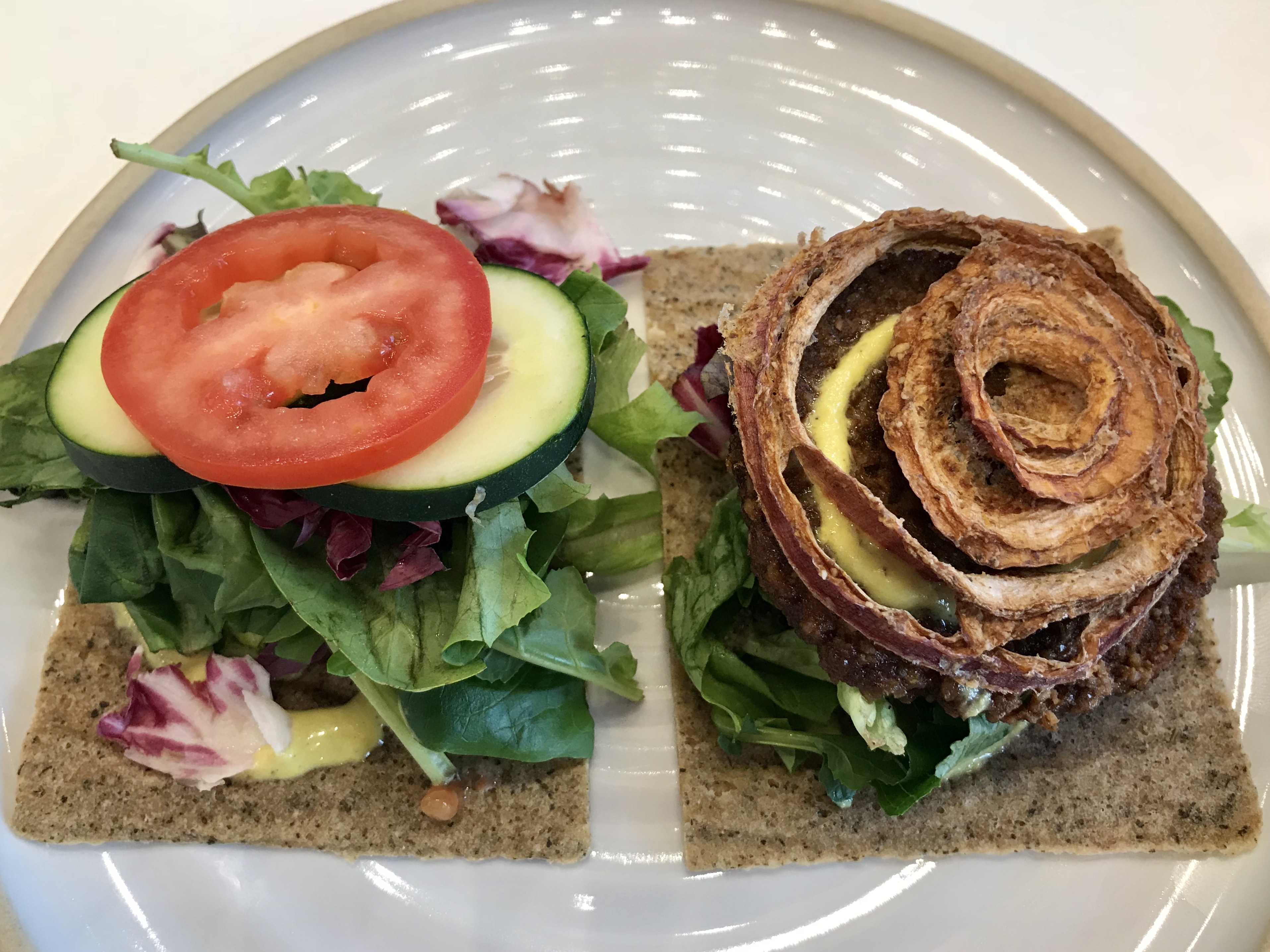 Think you can fit all of that in your mouth at one time?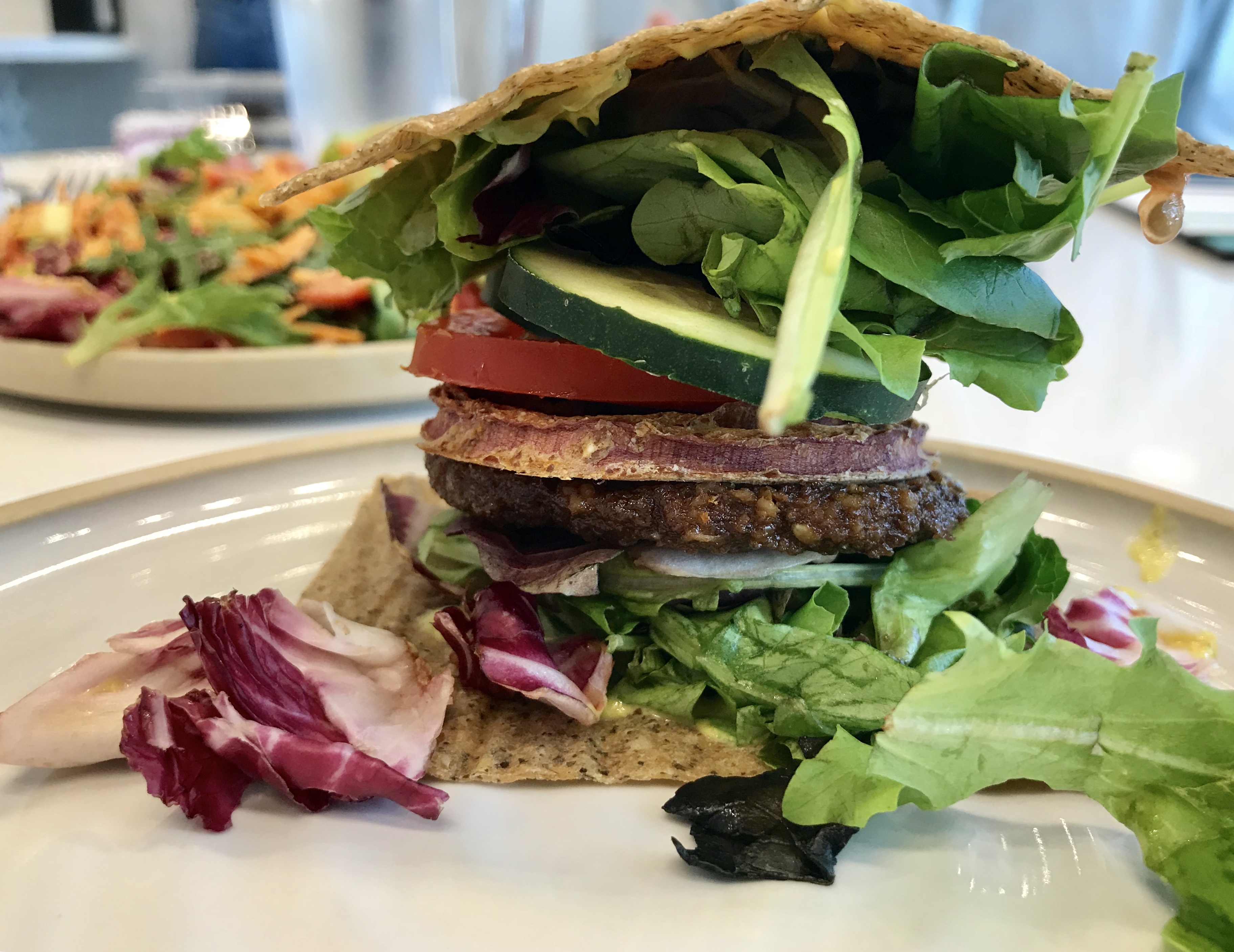 The next is the Raw Chili Plate made with fresh tomatoes, sun-dried tomatoes, walnuts, carrots, celery, shiitake mushroom, red bell pepper, and jalapeno and cayenne served over a bed of thinly chopped zucchini, and then topped with a macadamia nut "sour cream," fresh tomatoes and their house-blended Prama Sprinkle.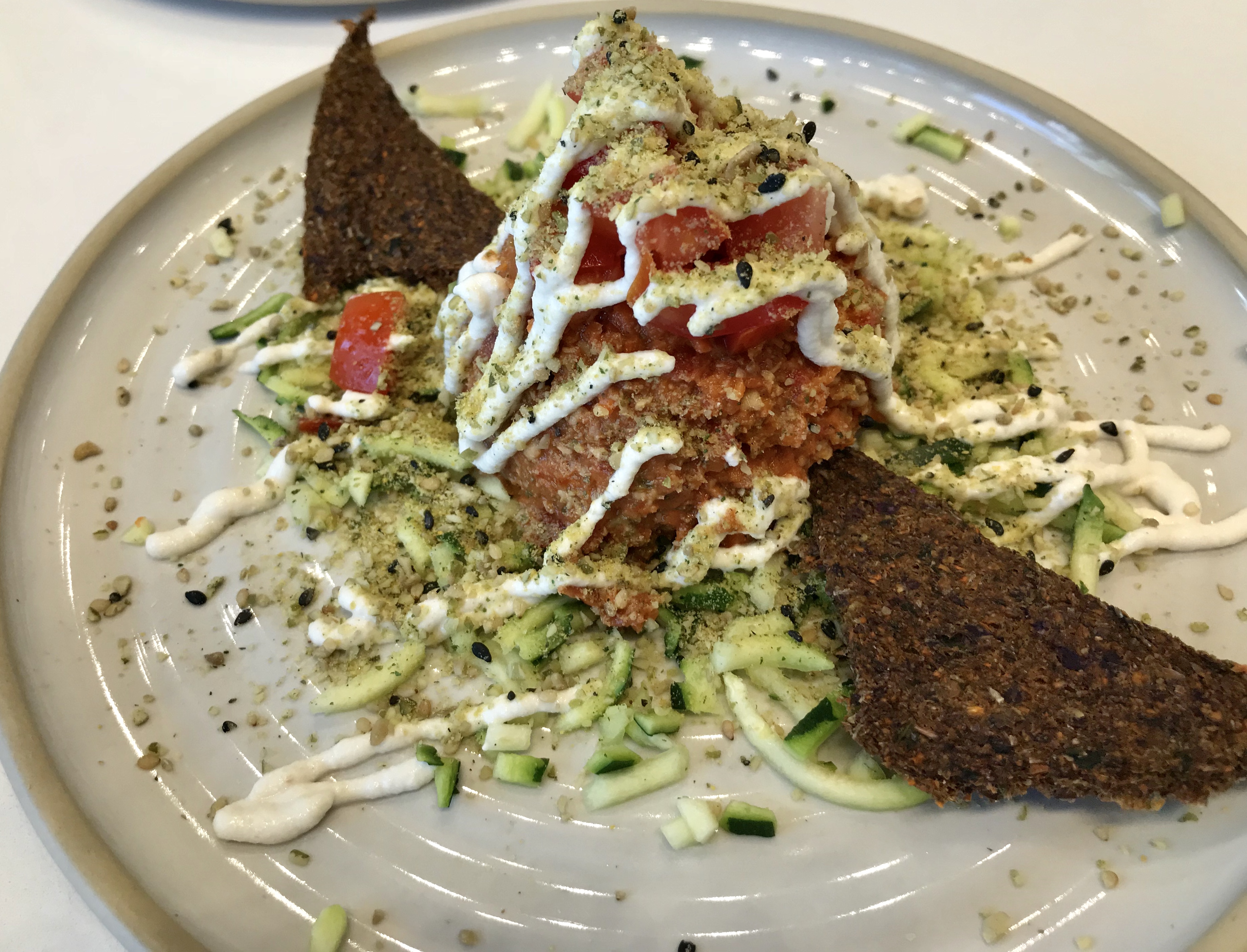 What makes this not your typical franchise? Typical franchises do not generally allow changes at the local level. The original store's owners developed the menu but "we've added certain elements to it, like the alcohol, for example". They also redesigned the logo (the original store is going to adopt the new logo too), added wheat grass and baklava to the menu and are choosing to buy from local organic farms. They have a true say in the direction the cafe will take.
We wish Mike and Arielle much success. Their excitement is infectious and their drive remarkable! You can't be around them without smiling. Carnivore or Vegan, check out Rawk Star Café, if even for the desserts. You will be completely surprised!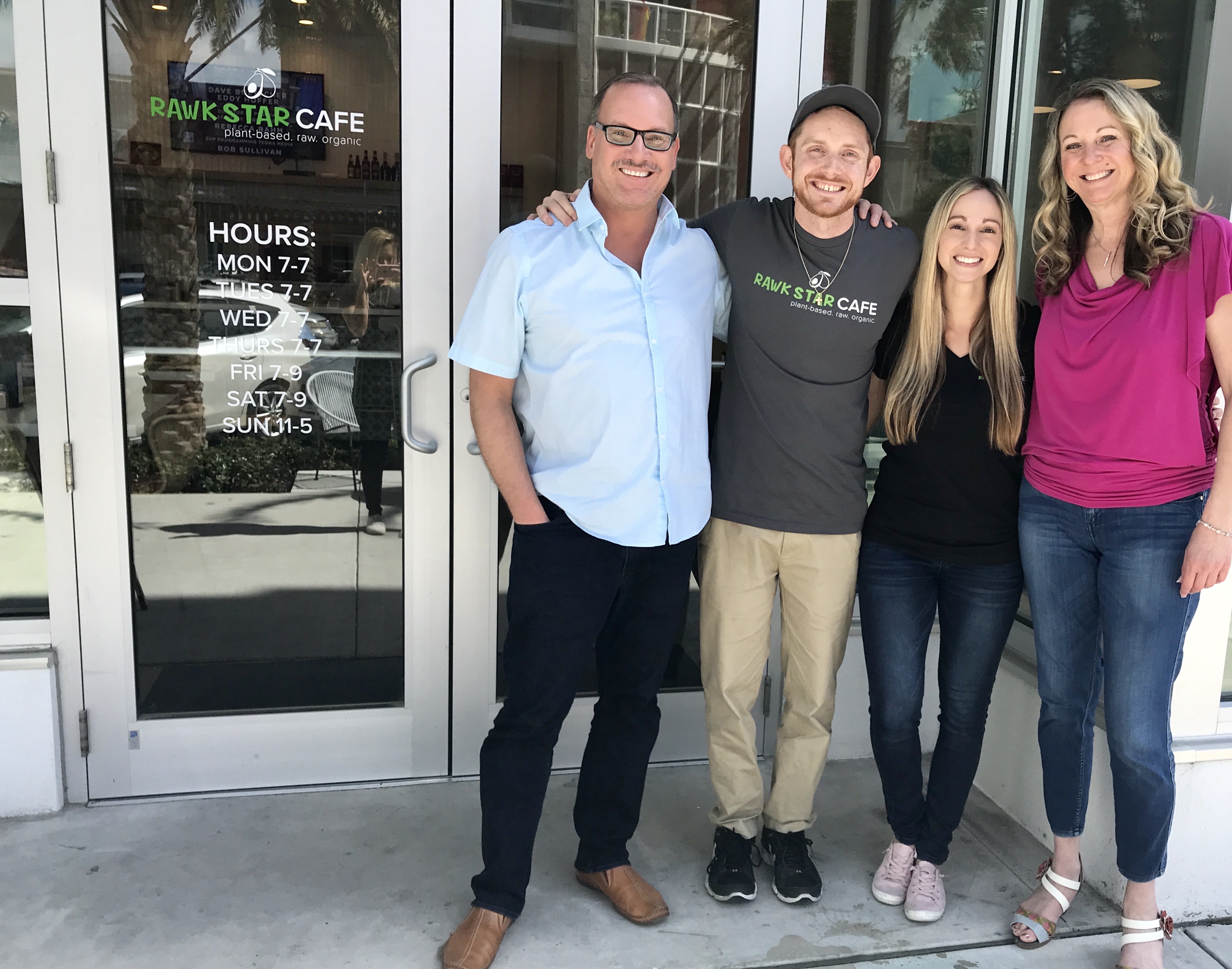 Pure, natural, plant-based, vegan, organic cuisine. Creative and delicious.
DISCLAIMER: Kevin, Lori, Abby, Haley, & Lindsey do not dine anonymously (this would be impossible) and we sometimes get free food (though never expected). However, we dine with the locals and we support our own. You will always get honesty in a respectful manner. We do not include any large national or regional chains in our ratings and reviews. We focus on independent locally owned eateries exclusively.

PLEASE NOTE: Reviews reflect a certain moment in time. Some restaurants stay extremely consistent over many years, and some change for the better or worse. Some things that may change are: chefs, recipes, food suppliers, ingredients, philosophies, ownership, etc. We always hope that you have the same good, or great experience we had.
More Foodies News, Reviews & Recipes